2016: Only 52 Weeks, but So Much Done!
All righty. The Christmas tree's been taken down, the New Year merriment appears to have vanished, and it's still very cold and snowy. So what better time for a bit of taking stock in the calm, cold light of day January. Therefore, as per tradition (2015, 2014, 2013), herewith, a cursory glance back over my personal highlights my year…
The first thing I can say is that it was a relatively calm year. In all 92 flights – lagging quite a bit behind the previous year's record of 116. All the same, a couple of months were very intense aviation-wise: 12 flights in March and 13 in September. On the other hand, I had my first whole month without flying anywhere at all in many years: November.
Now – a bit more detailed: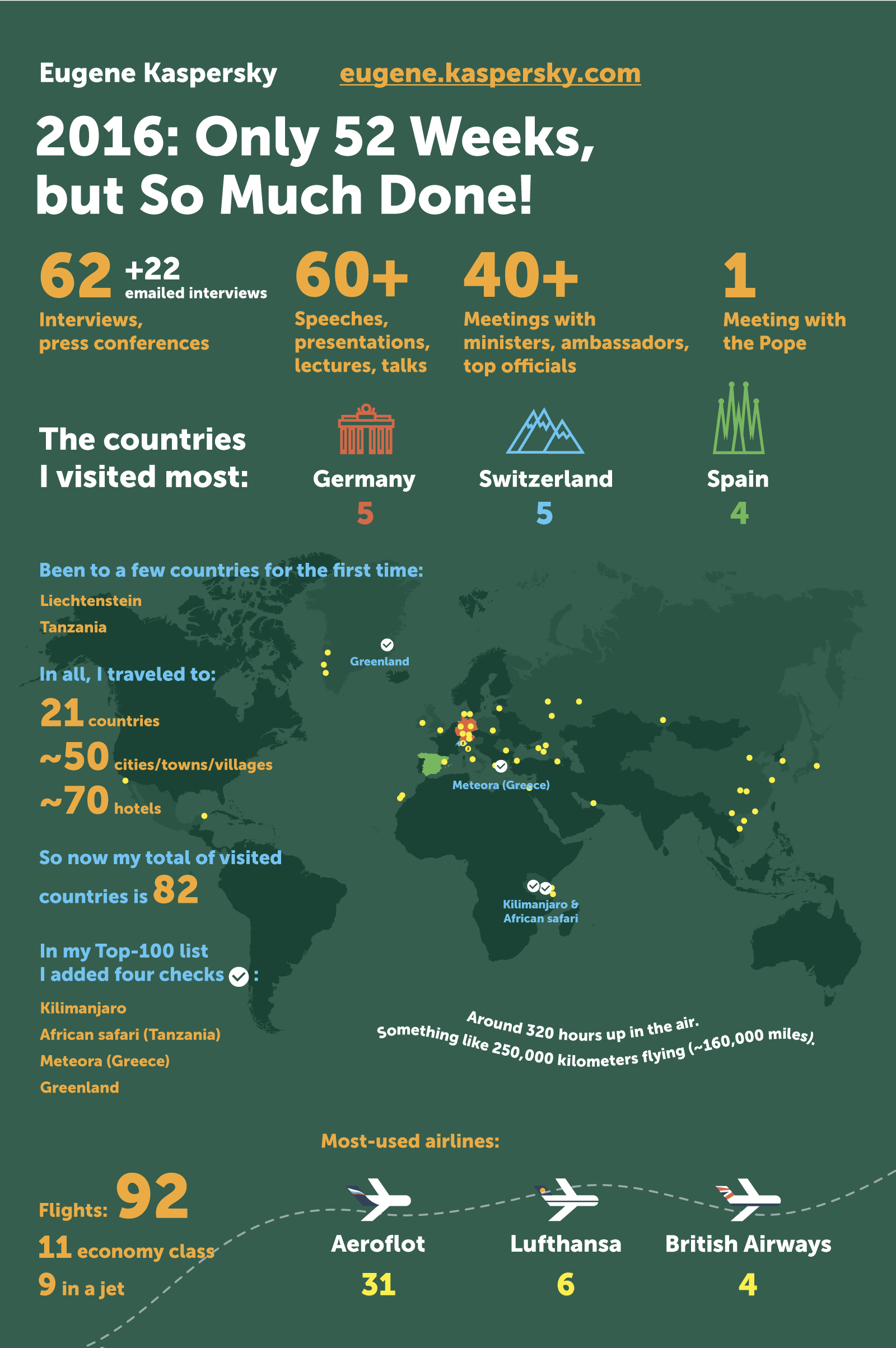 Flights: 92. 11 – economy class; 9 – in a jet (like this one).
Around 320 hours up in the air; something like 250,000 kilometers flying (~160,000 miles).
Round-the-world trips this year: none. We were aiming for flying Cancun to Sanya with Aeromexico via the Pacific but, alas, in the end we had to go over the Atlantic and via Frankfurt with Lufthansa. Here are the details:
Most-used airlines:
Aeroflot (31 flights)
Lufthansa (6 flights)
British Airways (4 flights)
First time flown on:
There were also a few helicopter flights: in the Alps, Novorossiysk, and Altai.
Other transportation highlights:
Driving through a cool tunnel under the Alps
Flying on a Sukhoi Superjet
Been to a few countries for the first time:
Liechtenstein (alas, hardly any pics)
Tanzania (overlapping from 2015)
So now my total of visited countries is: 82.
Greenland, which I visited for the first time, doesn't count, for it's not a country.
The countries I visited most:
Germany (5)
Switzerland (5)
Spain (4)
In all, I traveled to:
21 countries
~50 cities/towns/villages/settlements
~70 hotels
And I spent around 150 nights at home ).
Geographical novelties:
In my Top-100 list I added four checks:
Expedition: +1: Altai. At last a long-held dream came true – to raft down the Akkem rapid. Check!
Assorted other on-the-road tales:
More curious totals:
– Conferences and exhibitions: ~50
– Speeches, presentations, lectures, talks: 60+
– Interviews, press conferences: 62 (+22 emailed interviews)
– Meetings with ministers, ambassadors, top officials: 40+
– Meeting with the Pope: once :).
And the 'suddenlys':
– Alpine Formula-absurd!
– Good news from Virgin Galactic!
– A small but VERY important amendment here :-). Can you guess it?
Industrial-scientific.
The highlights of my business trips are – unsurprisingly – the non-work bits I fit in between events/meetings. And I like my non-work bits scientific and/or industrial. Where cogs whirl, blast furnaces sizzle, and production lines whiz past, and where the micro and macro-worlds are studied.
In just a year I got to see quite a few:
– Canary Island telescopes
– The biggest hydroelectric power plant in the world
– A super-pure glass production facility
– The magic of steel production
– And I got involved on the industrial side myself too
Iconostasis:
I didn't write much last year about all the medals we received for our products, reliability of protection, speed, and other useful stuff – just the bare minimum. Don't want to blow my own trumpet too much, after all; ok, just this once: we've been the world champ in independent tests for several years already, and last year was no exception ).
Preliminary results look like this: we took part in 56 tests; we were in the top-three in 52 of them, and in 40 of them we were top dog ).
And finally:
– We released Kaspersky Anti Targeted Attack (KATA) for enterprise customers
– helped launch the NoMoreRansom international project against ransomware
– came up with the first commercial device based on our own secure OS!
– opened an R&D office in Ireland
– celebrated our last birthday as a teenager in style
– opened the branded Barkas restaurant at our HQ
– decided to take on Microsoft to protest its abuse of its market dominance
– + 1 me-authored hardback book published in English – on our New Zealand expedition
– finally! – started the archeological dig at Akrotiri
– sponsored both the Riga Masters Snooker Tournament and a world chess championship
– held the first ever cybersecurity world championship
Phew. Quite a year. I hope this year's just as action-packed; I hope yours is too – and as widely traveled. But if it isn't for whatever reason, just keep tuned in to this here regularly-updated blog of mine, and you can accompany me, sort of, on my various adventures around the world –and within the business sector that exists to save that same world.
Later folks!…