All right, here we go again…
Alarm clock; where am I?; hotel; shower; suitcase; taxi; airport; check-in; x-ray; 'breakfast' (sandwich and tomato juice); gate; window-seat. Here comes the first petty torture of this sunny day…: I find myself sat right above the wing – a filthy one at that; a really wide one at that too (we were on a Boeing 777). It was gonna be one of those days. It was indeed…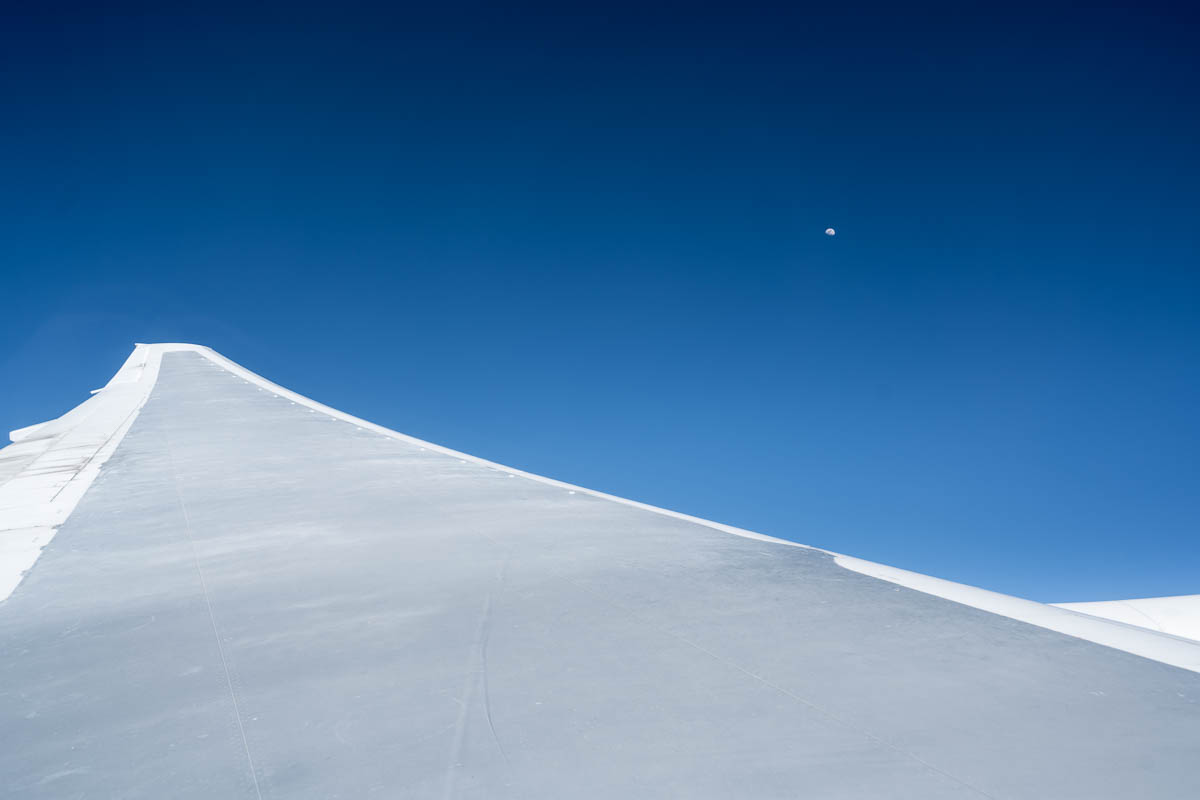 Oh well. No view? I'll just have to get some more shut-eye then. It was an early flight – around 8am – so catching up on the ZZZs would be just the (air) ticket…
I'd just dropped off when I was abruptly awoken by the pilot. He was announcing that due to a technical issue we weren't able to take off. Boo! Still, better safe than sorry. So we taxied back to our departure gate and all had to pile off and back into the airport until they sorted the problem.
We were sat there for two hours while they pulled out the defective part from the aircraft and replaced it with a new one. At least they had the spare part to hand, I thought.
We piled back onto the Boeing, ushered by the somewhat curt 'British' BA flight attendants with strange accents.
Back to my view-less seat, hoping to get back to my snooze – hoping there'd be no more incident à la Mexico-China.
We quickly shuffle over to the runway, the pilot hits the gas kerosene, the aircraft shudders and the volume goes way up, and off pop. I check my watch: 10:50. We were meant to fly at 08:15. Gonna be late for my meeting. Grrrr.
'Every cloud has a silver lining'. Actually, today I think it was the lack of clouds that provided the 'silver lining' outcome: a day-time visible moon!…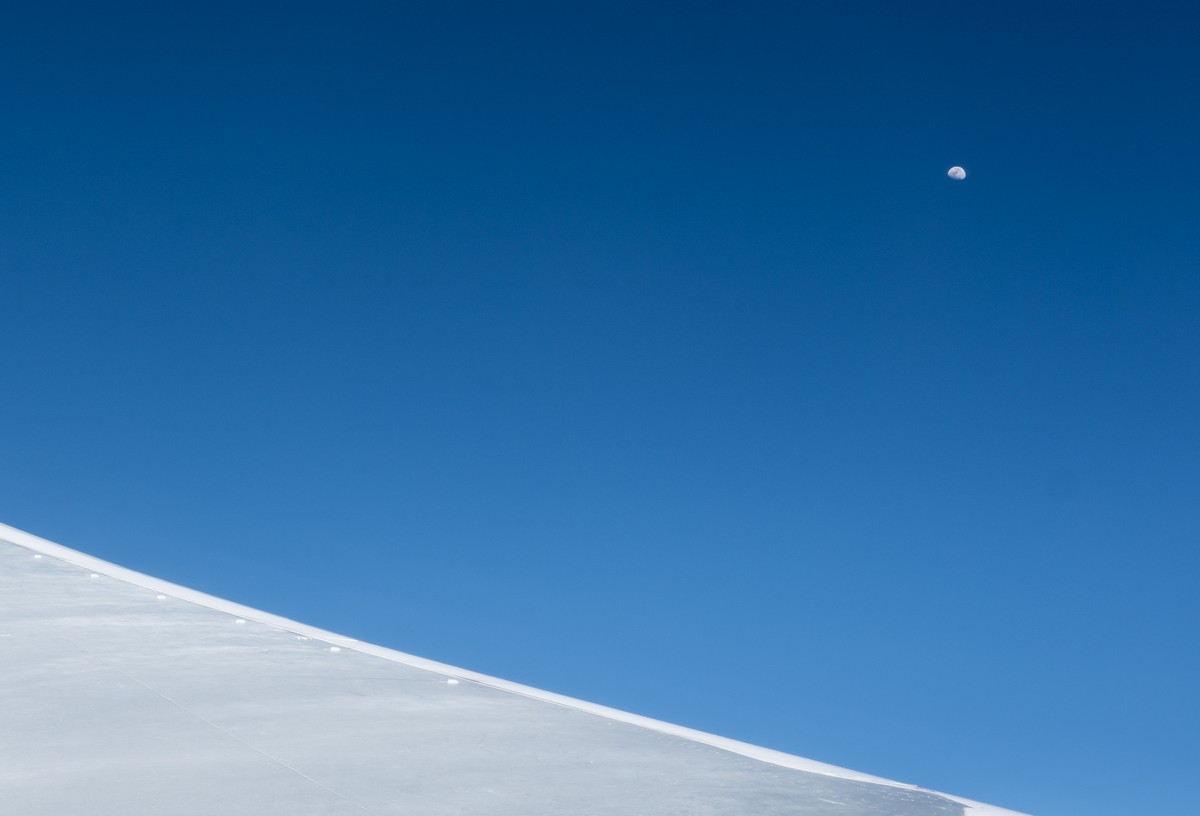 Besides the moon – again nothing but that darn wide wing. One of the darn dirtiest I've ever seen…
Despite the rocky start to our journey, it was pretty much plain sailing flying all the way to our destination…
…Pretty much…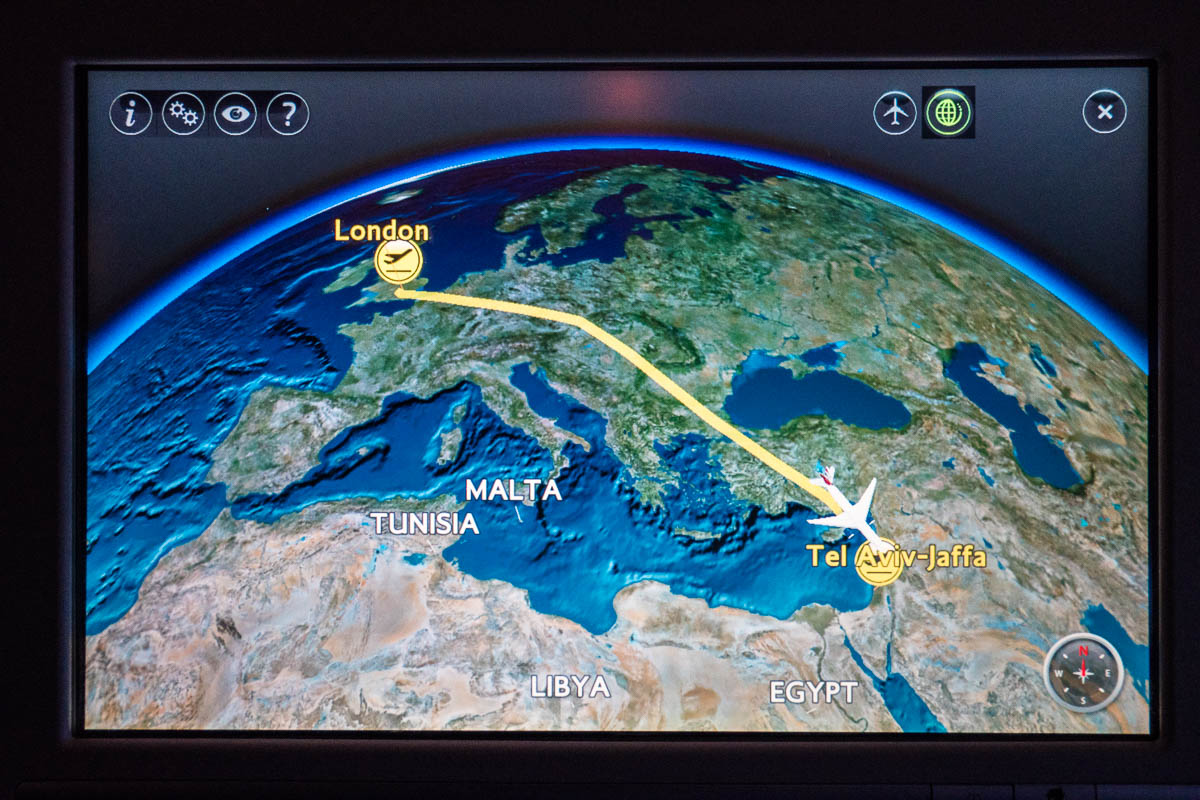 …I get awoken – again! – by the pilot. This time I don't mind a great deal: he's announcing our descent…
The chassis is lowered, the wings get their flapping thing going on… we fly lower and lower, but no! The descent turns into a sharp ascent! This flight, I mean, really?!
I was expecting worse, but, after painting a pretty figure-of-eight on the flight-tracker over the Med, it wasn't much later when we were finally touching down in Tel Aviv. Turned out a behind-schedule Lufthansa plane was blocking our way down on the runway.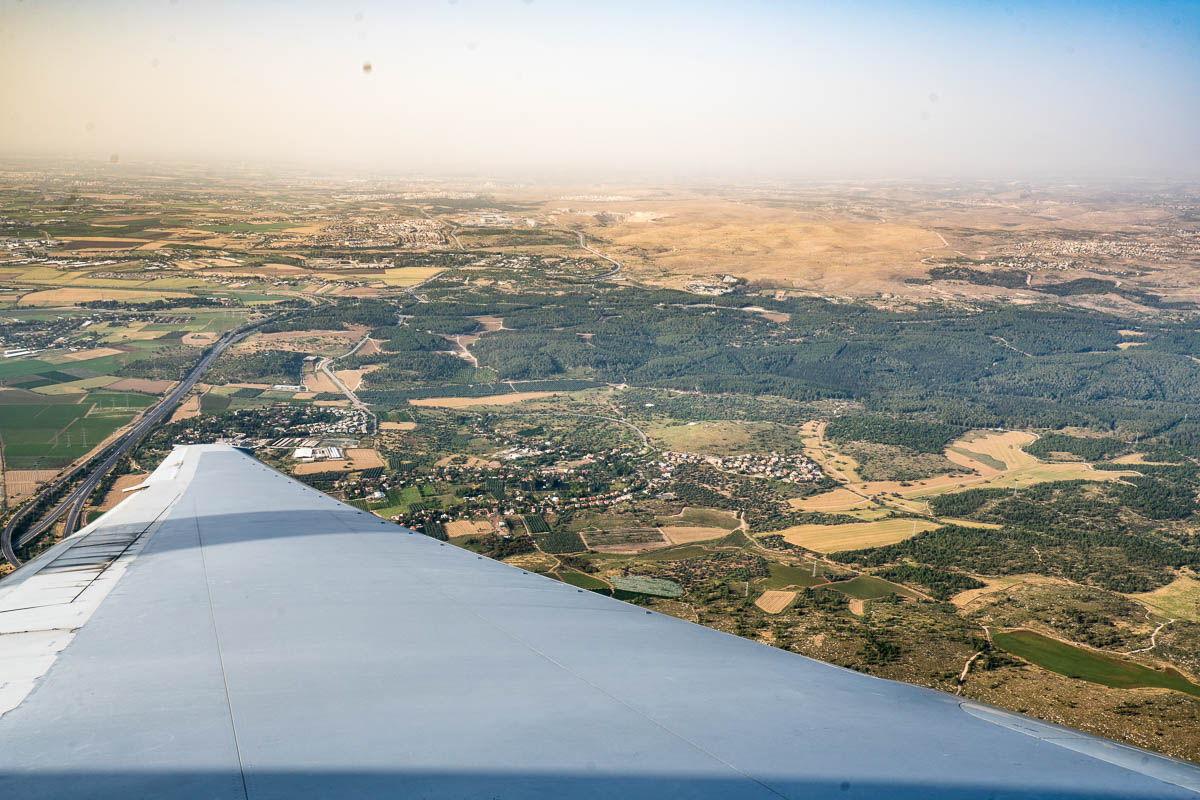 Btw – about BA business class: of course, it's nice I have it in the first place, but, compared to other business classes, I don't like it one bit. Main reason – the seats face one another in pairs. I mean, one faces forward as per the norm, but in front and to the side from you the next seat faces you – real close. And it's the backward-facing seats that have the window views I very much appreciate. Also, flying backwards – something just ain't right about it. Example: when accelerating to take off, instead of the customary getting pushed back into your seat, you get pulled off it! Ok, I guess you could get used to it; no, actually – I have gotten used to it, as I covet the window view. But it doesn't make it any less weird…
Oh, one more gripe… the seats are packed too tightly together on British Airways – eight per row in business. A bit like on United, but worse due to the back-facing seating.
And another thing! On BA flights, you only get air miles for BA flights only – not for any other flights on planes of the same alliance. It seems to be an issue with the Oneworld alliance (it's the same with Cathay Pacific – also Oneworld allied).
All righty, enough spleen venting for one day. It's time to get off this aircraft and get some business done finally…