Business done successfully will always tend toward becoming bigger. C'est la vie.
It often goes like this: In a given field, the big and strong gobble up the small and… smart (exceptions prove the rule). But what also sometimes happens is the big and strong with breakthrough technologies in one field gobble up everyone in different field. Example: once upon a time there was the giant, all-powerful Kodak, but then the era of digital photography came along, and the film-based photography field was wiped out. And this is how scientific-technical revolutions come about, and they're useful: they help humanity progress.
But there's another scenario: the big and strong become… so incredibly big and strong that they start dictating rules to all the other players in their industry, they strangle the natural selection of innovative and successful companies, and even try to hamper the development of any allied companies or markets that represent potential danger for their business. And in this case, antimonopoly bodies have to intervene to put a stop to such abuse of power so as to protect progress.
Domination in a market isn't unlawful under antimonopoly rules. However, companies that dominate have a special responsibility not to abuse their power by limiting competition.
This latter scenario is being played out right now on a (socially-distanced) stage in a suspenseful IT-show whose main characters are Amazon, Apple, Facebook and Google – operators of the world's largest online platforms – three of which (all bar Facebook) also act as the world's largest online marketplaces. The other main characters in the show are the U.S. authorities, which are trying to rein in these online platforms – meaning checking they're not unfairly taking advantage of their powerful positions – including hindering their ability to be judge, jury and executioner in their marketplaces. They are trying to prevent unfair competition – including exertion of pressure on competitors to ease promotion of the marketplaces' own products. I've already written about one such high profile show case like this: the one where Apple has been driving out independent developers of parental control applications from its App Store.
Let me give an analogy here:
A landlord starts to lease out his land to farmers on equal terms and conditions, which suit everyone just fine. But at the same time, the landlord keeps a close watch on the farmers to see which are doing best. The following year, he starts doing what those successful farmers do himself. He also changes the terms and conditions of the leases 'to protect worms': now all farmers under those leases aren't allowed to use spades – they must use trowels, and they should stop using fertilizer. But this rule doesn't apply to the landlord. It's like, he's not actually preventing the farmers from going about their farming business – and he's declaring worthy intentions – but how on earth can the farmers with trowels compete with the landlord with his spades and the very latest fertilizer?
Sounds all very Middle Ages, right? But a similar thing is happening in 2020 – only not in farming but in the modern digital economy; however, finally, the powers-that-be appear to be waking up to the fact. Or so it seems…
In early 2019, U.S. Senator Elizabeth Warren gave a watershed interview to The Verge, in which she stated that she "would classify any company that runs a marketplace and makes more than $25 billion a year in revenue as a 'platform utility', and prohibit those companies from using those platforms from [sic] selling their own products." Put simpler – incidentally when referring to Apple in particular – she stated: "Either they run the platform or they play in the store".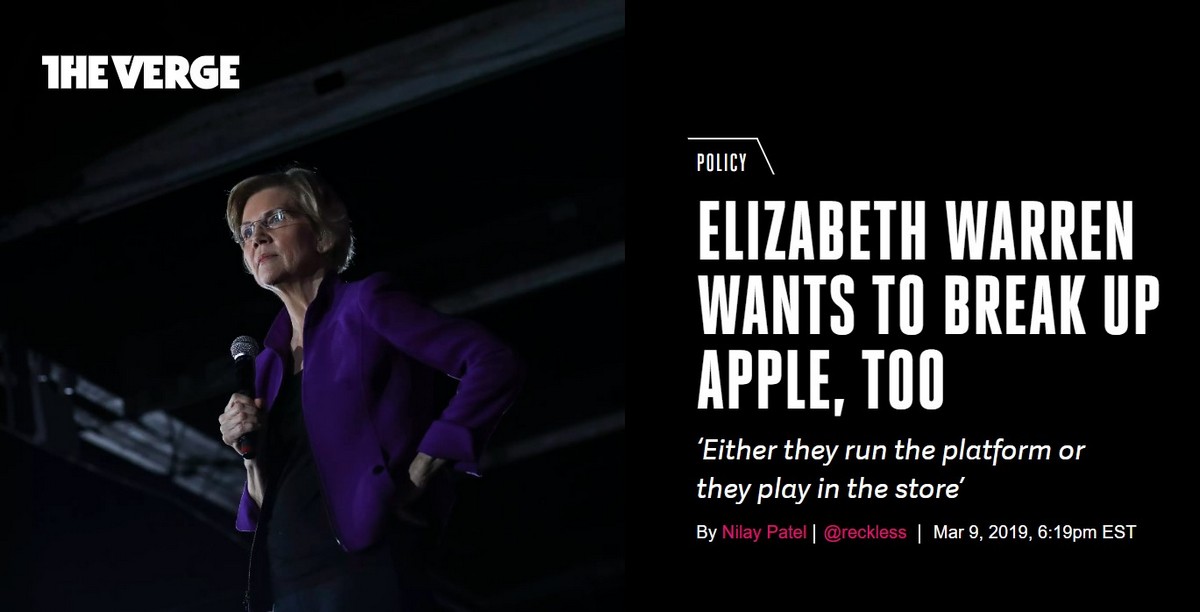 And that was that: despite the fact these were Very Big Boys she was talking about, the starting gun was duly fired…