Last month was a great month for K-intellectual property. So nice to get such good news to brighten up dull, damp, dreary March days.
But we've had other great months IP-wise of late too…
In September of last year, for the second year in a row we were included in the Derwent Top 100 Global Innovators listing, making us the first – and only – Russian company to get onto this meticulously researched list of the world's 100 most innovative organizations! Hurray!
A few details about this top-100: Every year the independent U.S. company Clarivate Analytics chooses its most innovational companies in the world based on the quality of their patent portfolios. In particular, Clarivate selects its top-100 based on the following four criteria:
How successful a company is with its patent applications in actually being granted patents;
How global a company's innovations are;
How often a company's patents are cited elsewhere (in applications of other IT companies); and
The total number of patents a company has.
This year eight IT players made the list: Amazon, Facebook, Google, Microsoft, Oracle, Symantec, Tencent and us! Nice to be rubbing shoulders with such worthy contemporaries!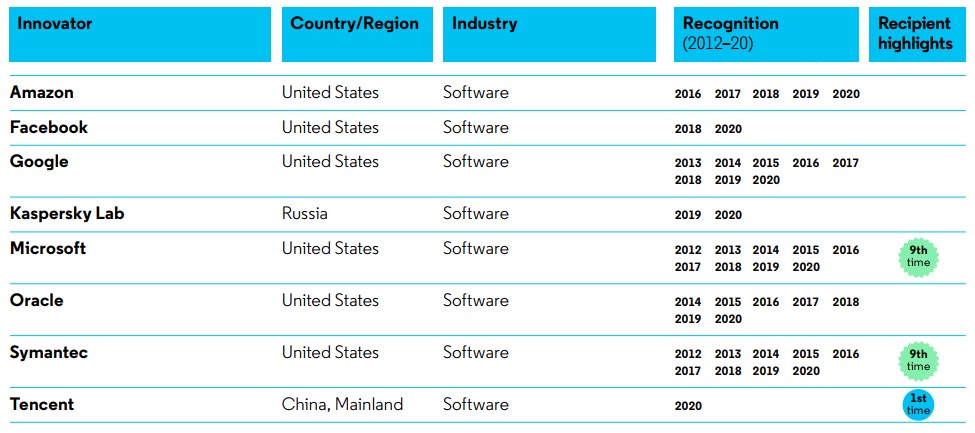 Now for an update to the numbers of our IP team, who never cease to amaze with their hard work and successful results: Our patent practice was established back in 2005; since then our patent portfolio has grown from 0 to 930+ patents obtained in Russia, the U.S., Europe, China and Japan! Besides, we have more than 500 patent applications pending; we've won nine court cases, two are ongoing, and we've lost none!
In short, we continue to fight – and beat – patent trolls. Trolls – take note!
That's all for today folks. See you again tomorrow!…