More good news from the IP frontline.
I couldn't help but notice the buzz our latest patent news had gotten about our patent lawyers' amazing win :). So I'm excited to keep the ball rolling with news of another bombshell victory just a few days later…
We reign victorious in a very important patent lawsuit again! This time against Uniloc (the same Uniloc that managed to snake $388 mln from Microsoft). You should know they sued us over the same patent in 2018, but we came out on top.
Recently, during the negotiation process of yet another patent infringement lawsuit filed by Uniloc, we received a message from the company's representatives that they're tired of fighting and ready to end this. Meaning: they're ready to drop the suit if we are. Of course we were, only without the red tape and within the hour. So we drafted a joint statement on the spot for 'dismissal with prejudice', which is a final judgement meaning the case is not subject to further action.
Now to get down to brass tacks…
According to Uniloc, the software license and settings management software used in our My Kaspersky license manager was 'stepping on the toes' of other patents. My Kaspersky is a web service to remotely renew subscriptions, launch scans, get product reports, and do all sorts of other useful stuff.
Below is a list of the patents containing descriptions of configurable settings for authorized users. The general idea is that a user with several devices who configures their settings on one can then open the product on another and the settings are already saved. All of these patents (with a priority date of 1998) were acquired from IBM. They had 31 respondents, including Akamai, SAP (represented by subsidiary Concur Technologies), Oracle (represented by subsidiary Netsuite), Ubisoft, Tencent (represented by subsidiary Riot Games), and Zendesk.
US6324578
US7069293
US6510466
US6728766
Expert analysis put our potential damages at $7 million, assuming a claim amount of $90 million.
This was a long-haul case starting back in 2016, but it was temporarily put on hold because the patents in one of the claims processes started before us were invalidated. A year later, the United States District Court of Texas confirmed the invalidation of two patents: `766 and `466, but upheld `578 and `293. Regardless, this was still a win for us, even if we were only involved indirectly. It's important to understand that when patents 'survive' the court of appeals, trolls start doubling down on respondents. However, Uniloc withdrew its claims against us, all the while continuing litigation against other companies. This court of appeals decision was one of three key points on our path to victory. We also helped other companies getting sued to formulate their arguments, as we held a stake in their verdicts as well.
The second major point was our case, which Uniloc was already well acquainted with. We had to keep it ironclad to hold up against all their pressure.
And third was an eight-hour face-to-face mediation with the Uniloc team.
Note that Uniloc revoked its claims exactly one week after GBAS closed its case against us. That just goes to show that our reputation as an uncompromising destroyer of dubious patent practice proceeds us. And I couldn't be happier!
By the way, this was just one of three lawsuits we've been tangled up in against Uniloc, all of which ended in our favor — 3:0.
Our overall patent lawsuit score is 9:0 (not counting pre-trial dismissed claims).
1:0 IPAT v Kaspersky
2:0 IPAT v Digital River (indemnity)
3:0 Lodsys v Kaspersky
4:0 Device Security v Kaspersky
5:0 Wetro Lan v Kaspersky
6:0 Uniloc (1) v Kaspersky
7:0 GBAS v Kaspersky
8:0 Uniloc (3) v Kaspersky
9:0 Uniloc (2) v Kaspersky (the lawsuit I'm writing about here).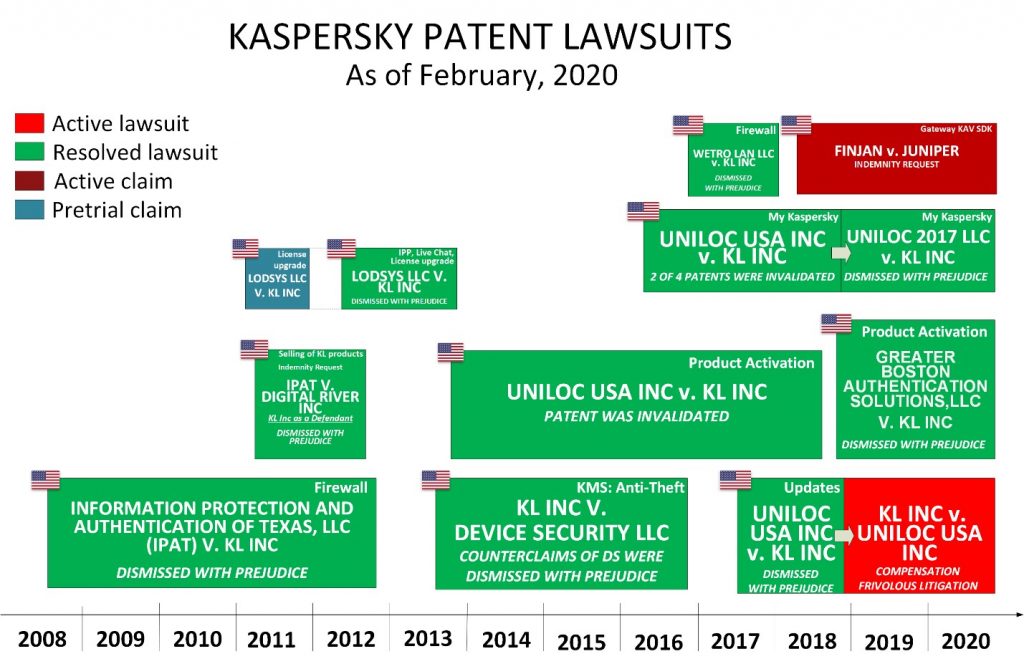 So there you have it. Don't bother wasting your time or money.