We've done it again! For the second time we're in the Derwent Top 100 Global Innovators – a prestigious list of global companies that's drawn up based on their patent portfolios. I say prestigious, as on the list we're rubbing shoulders with companies such as Amazon, Facebook, Google, Microsoft, Oracle, Symantec and Tencent; also – the list isn't just a selection of seemingly strong companies patents-wise: it's formed upon the titanic analytical work of Clarivate Analytics, which sees it evaluate more than 14,000 (!) candidate companies on all sorts of criteria, of which the main one is citation rate, aka 'influence'. And as if that wasn't tough enough, in five years the threshold requirement for inclusion in the Top-100 on this criterion has risen some 55%: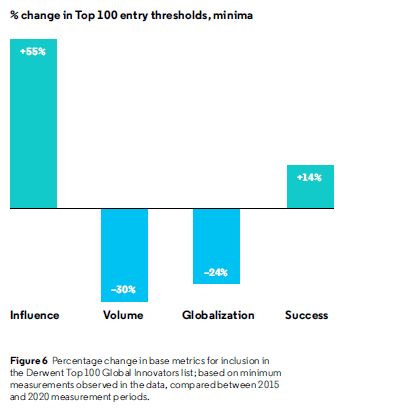 In a bit more detail, the citation rate is the level of influence of inventions on the innovations of other companies. For us, it's how often we're mentioned by other inventors in their patents. And to be formally mentioned in another company's patent means you've come up with something new and genuinely innovative and helpful, which aids their 'something new and genuinely innovative and helpful'. Of course, such an established system of acknowledging other innovators – it's no place for those who come up with mere BS patents. And that's why none of those come anywhere near this Top-100. Meanwhile, we're straight in there – in among the top 100 global innovator companies that genuinely move technological progress forward.
Wow, that feels good. It's like a pat on the back for all our hard work: true recognition of the contributions we've been making. Hurray!
Still reeling – glowing! – from all this, ever the curious one, I wondered which, say, five, of our patented technologies are the most cited – the most influential. So I had a look. And here's what I found…
5th place – 160 citations: US8042184B1 – 'Rapid analysis of data stream for malware presence'.