Last week, Kaspersky Lab was in the spotlight again in another 'sensational' news stream.
I say 'again' as this isn't the first time we've been faced with allegations, ungrounded speculation and all sorts of other made-up things since the change of the geopolitical situation a few years ago. With the U.S. and Russia at odds, somehow, my company, its innovative and proven products as well as our amazing employees are repeatedly being defamed, given that I started the company in Russia 20 years ago. While this wasn't really a problem before, I get it– it's definitely not popular to be Russian right now in some countries.
For some reason the assumption continues to resonate that since we're Russian, we must also be tied to the Russian government. But really, as a global company, does anyone seriously think we could survive this long if we were a pawn of ANY government? Our whole business is based on one thing – besides expertise – and that's trust. Would we really risk our whole business by undermining our trustworthiness?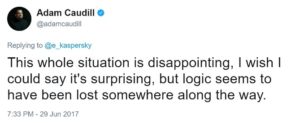 Especially given that the best non-Kaspersky Lab security researchers (hackers) are constantly scouring our code/products to find and report vulnerabilities. In fact, we even have a public bug bounty program, where we pay researchers to examine our products and search for any issues or possible security concerns. If there was anything suspicious or nefarious to find, they would have publicly shouted it to the roof tops by now.
Read on: Five destructive repercussions of a technology sanctions game…