I'll cut to the (car) chase: it was a real fun race.
No one was expecting such mad twists and turns on Sunday. Especially me after the fairly dull race in Sochi a few weeks back – and also since last year's Grand Prix in Baku was very boring too (so I've been told). This year – oh my gravel trap! No one could have foreseen such a lineup on the podium. But I'll get to that a bit later…

So here we were, in the Azerbaijani capital. Salam Baku, say the teams and spectators…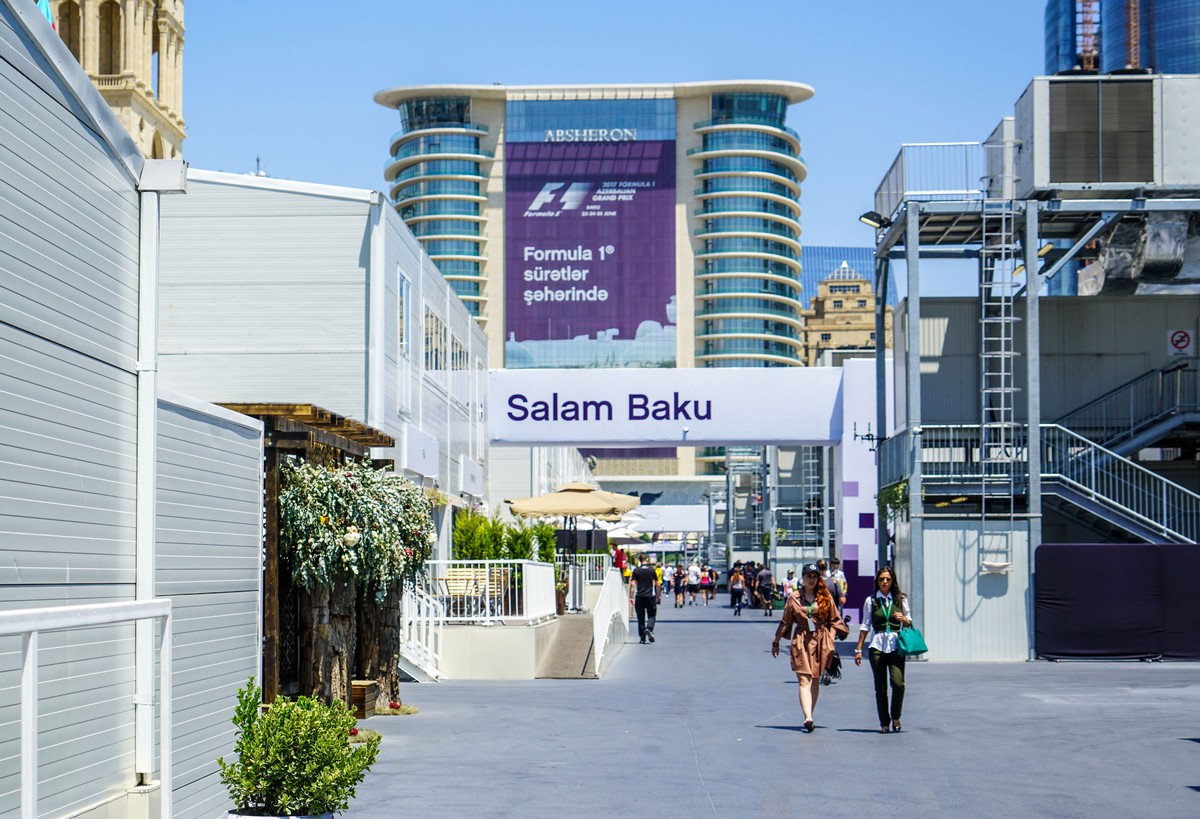 Peace be upon you too, says Baku, after having prepared the track and its bends on the city's roads à la Monaco Grand Prix ahead of the race…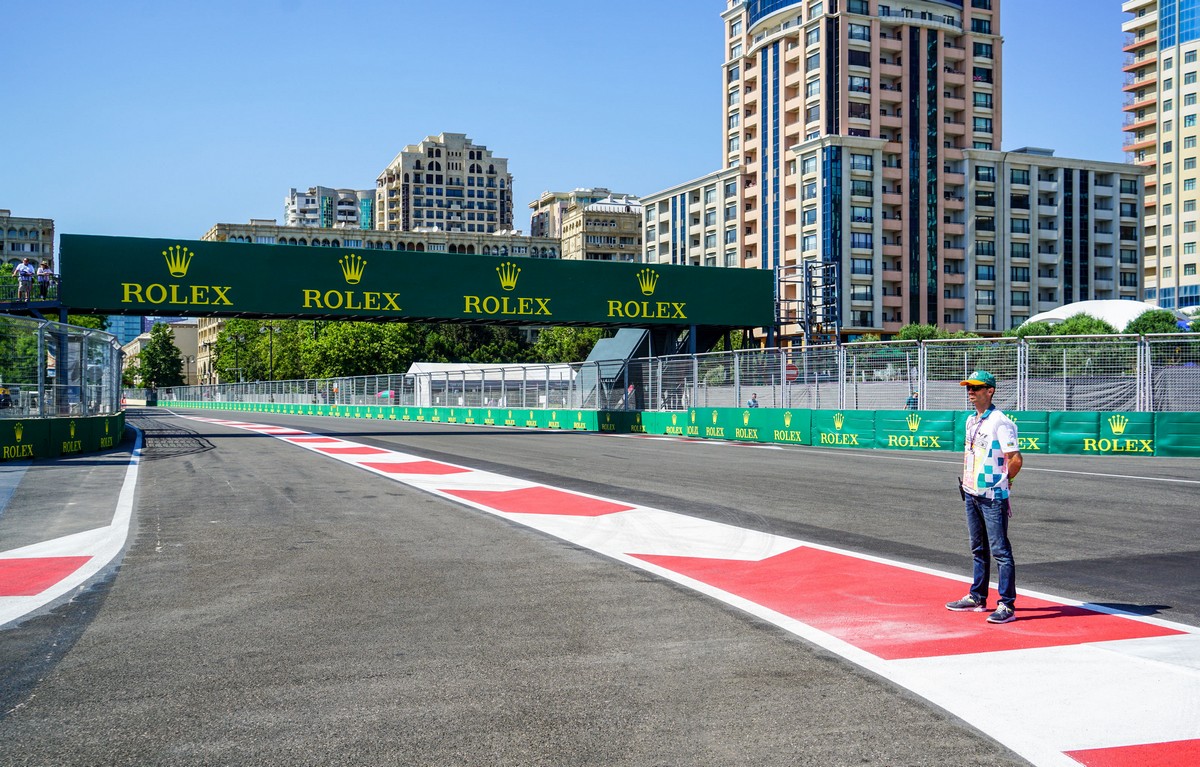 The pic above is of the 90-degree left turn that comes right after a two-kilometer straight stretch. Just imagine… you're hurtling along at 350 km/h – that's a lot faster than an airplane taking off – and next up there's a blind turn like that? Oh my grid!
Here are the reds making their final pre-race preparations:
Check it out: '20 years of Kaspersky Lab' on the nose cone!
And they're off!…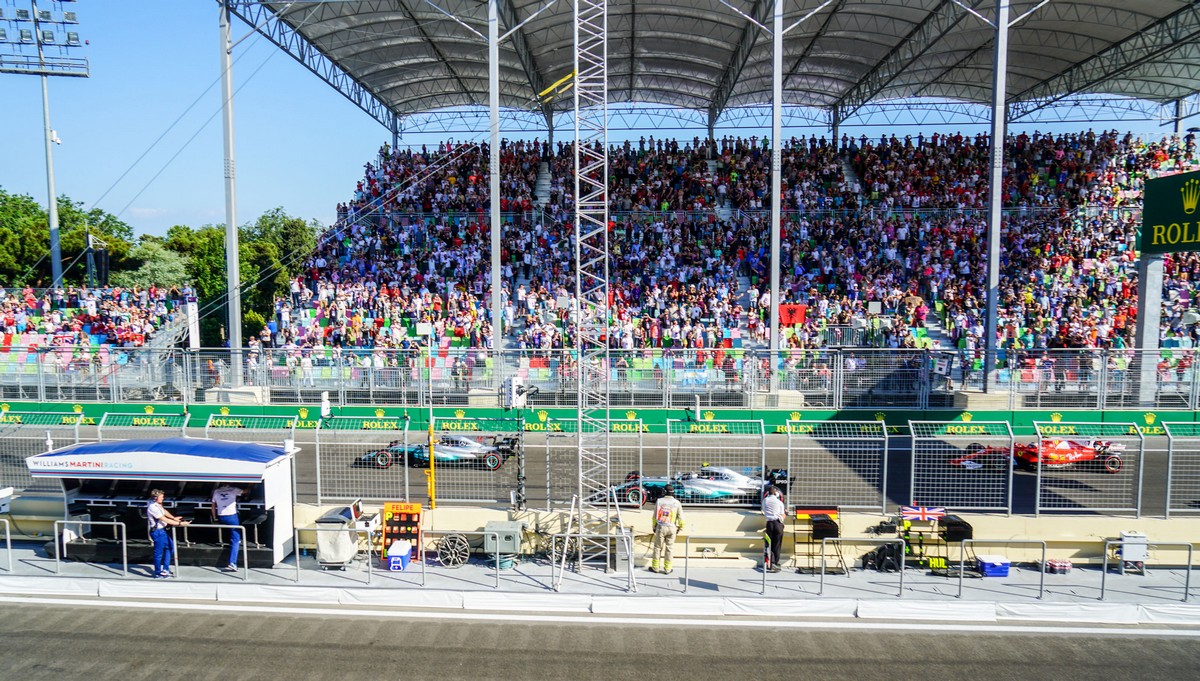 Practically straight away Bottas ripped a tire on a projecting part of Kimi's car, and he limped to the pits for repairs. Everyone thought it was over for Bottas, but they were counting their chickens before the eggs had hatched!…
Then someone else had collided into something (can't recall who, or into what, but that's beside the point), and the track gradually became littered with more and more bits of racing car. So up went the yellow flag – but no use. So a safety-car period was called.
Meanwhile, Bottas had been repaired, got back onto the track and (it turned out, I wasn't aware at the time) was able to save himself a lap instead using his right to overtake the whole pack. Instead of '+1 lap', he simply tagged onto the back of the pack! Crafty.
Green flag, and we're off, but before you knew it, again there was a collision incident between a car and a wall. So, again, bits of car needed to be swept up to keep things safe.
Next: Kimi incurs damage below the waterline not compatible with keeping in the race – and again – safety car, and then – oh no! – red flag. Must say, I'd never seen such a thing in my life. Anyway, onward!… all cars to the pit lane ready for the restart!…
Btw, while everyone was trudging behind the safety car, the drivers amused themselves in different ways…
First, to keep the tires warm, they zigzagged behind the safety car.
Second, because they're bored senseless they shake things up a bit for fun. For example, Hamilton decided it'd be amusing to suddenly brake – with Vettel right behind him. Very amusing. Vettel nearly rammed straight into him. The result was unexpected: First, Vettel forgot for a moment he's a cool-headed German. Second, he forgot he was a professional Formula One racing driver. Due to this brief onset of absentmindedness, he acted anything but like a calm and collected German professional F1 racing driver. Oops.
Vettel lines up alongside Hamilton and, it looks like on purpose, lightly rams Hamilton's car! A watered-down version of what they do in Hollywood car chases, where one car tries to push the other off the road with a sharp turn of the steering wheel in that other car's direction – either hitting it or sending it flying off the road! Anyway, the marshals didn't miss this high drama on the track, and so gave 10 seconds to Seb during the following pit stop. Eek. Check it out. And again!
Next up: red flag – all to the pit lane while they clear up the track. During the red flag, the drivers got out of their cars to take a breather. I was expecting them to crack a box of cigars or something. But no. All back into their motors for the off again. But Hamilton had a problem: they'd forgotten to put his head rest in place. Oh my goof-up! I wondered was it karma for his earlier shenanigans? )
In the end it went like this:
Bottas was one lap behind at the very start, and had to catch everyone up (which he did).
Hamilton lost a ton of time due to the head rest fiasco.
Kimi had to retire.
10 seconds to Seb for his fit of ungentlemanly behavior.
The winner was, thoroughly unexpectedly, Australia's Ricciardo (Red Bull).
Second – BOTTAS! After such a disastrous start!
Third – up-and-coming debutante Lance Stroll (Williams). What a race for him – and indeed for his team, which hadn't won much for years. Well done!
What a race. Now that was something.
Check out these three faces – the smiler, the 'I wasn't expecting this today', and the 'woah – so this is the view from a podium'!
A fantastic race. Ok, shame Ferrari ain't up there, but it was still a super race.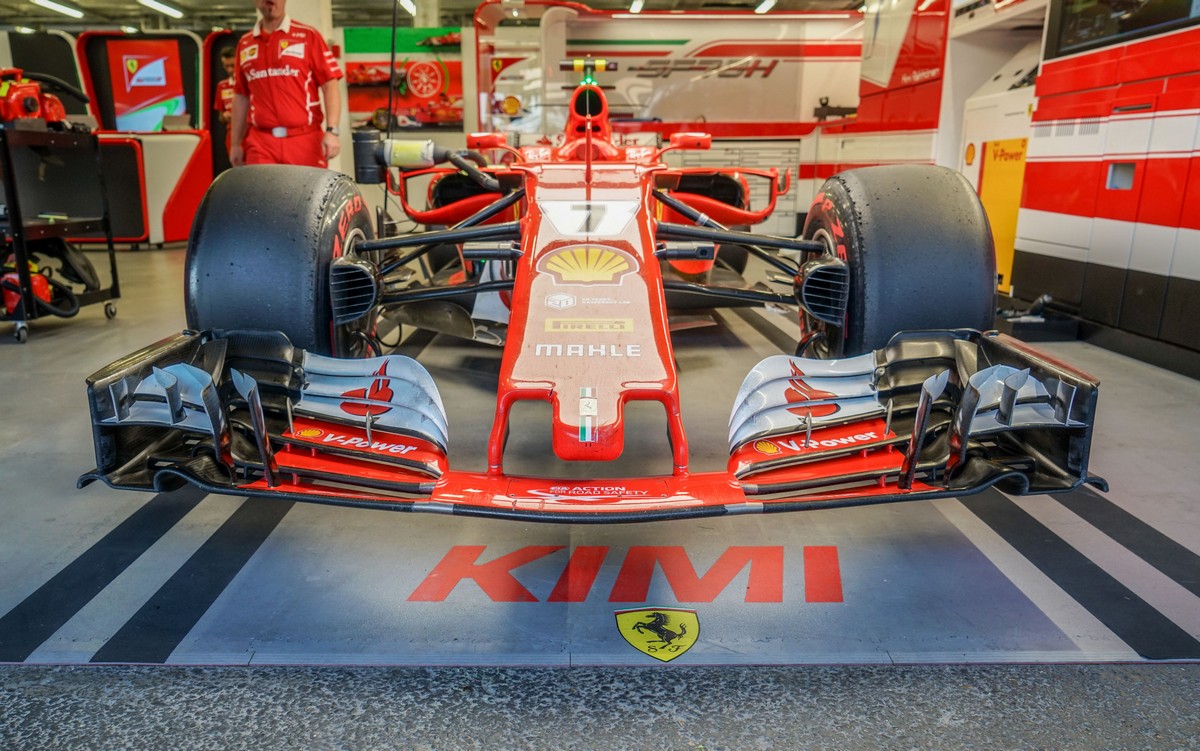 And that was that. Time for farewells. Goodbye Azerbaijan, you really it did it for F1 fans!