Sun in Trondheim – It's All Mine.
No, not Fog on the Tyne, but Sun in Trondheim! I could hardly believe it either!…
And, in anticipation of the 'inevitable' rain before getting here I'd gone and prepared a quote from my fave authors about the stuff! Oh well, you might at well still hear it…:
 "It was getting dark, and still pouring with rain. Large, heavy droplets of unhurried rain, in no rush at all. The rain will fall on an empty city, washing pavements and trickling through rotten roofs… Then it will wash everything away, dissolving the city to reveal virgin land again. While the rain keeps falling, falling.
All over the world it's raining. Over steepled roofs – rain. Down hills and ravines – rain. One day it will wash everything away, but not soon…"
So, like I say – the sun came out to play that day :)…:
When I looked out the window of my hotel room after waking up I had little trouble noticing this temporary guest in the port. It had more than double the number of floors of our hotel (in the pic after it):
A slick bit behemoth of modernday seafaring engineering. Impressive from all angles:
Some kind of modern-kunst installation on a sidewalk, freshly showered from yesterday's rain:
Ah – and what a sunset. This pic was taken around 23:15: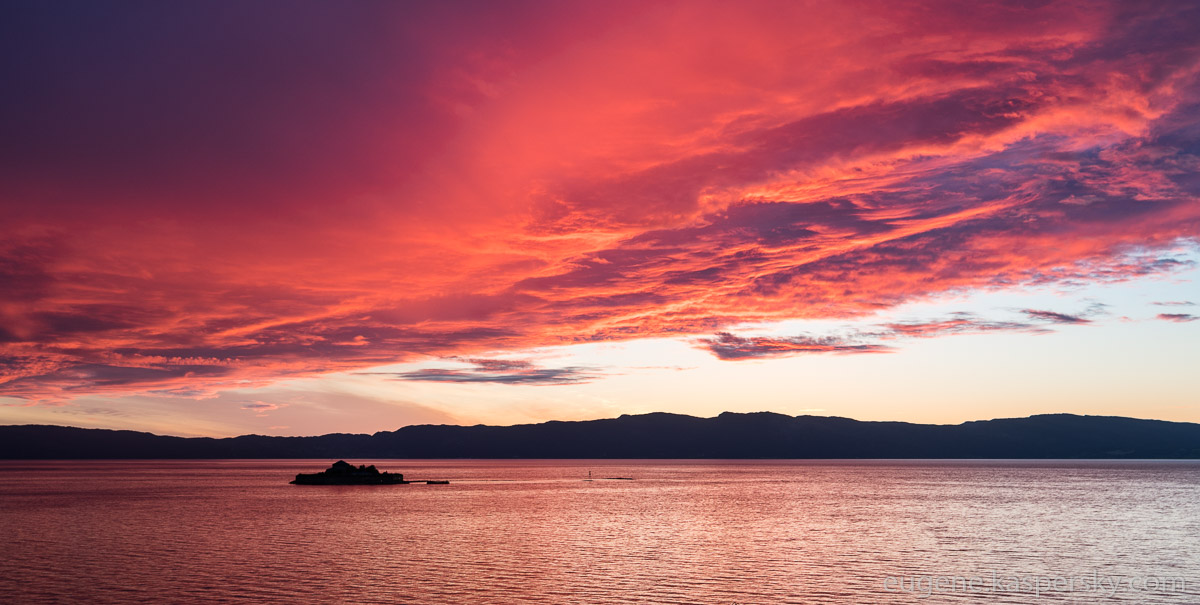 In the other direction from the sunset was a rainbow. Alas, I didn't get a pic thereof; shame – never seen a rainbow during a sunset :).
And on that aesthetically pleasing note, I sign off from Starmus at Trondheim.