2013 – hardly unlucky for us… 2014 – up all year to get lucky.
As per tradition, the festive season for KL kicked off with our Christmas/New Year shindig – this year on the already decidedly tipsy December 20.
The following week another tradition was duly observed – the annual tour of every room in the office by Santa (me) and his little helpers, which this year also took in some of our neighbors' offices, to personally wish everyone personally a merry Christmas and a happy upcoming New Year.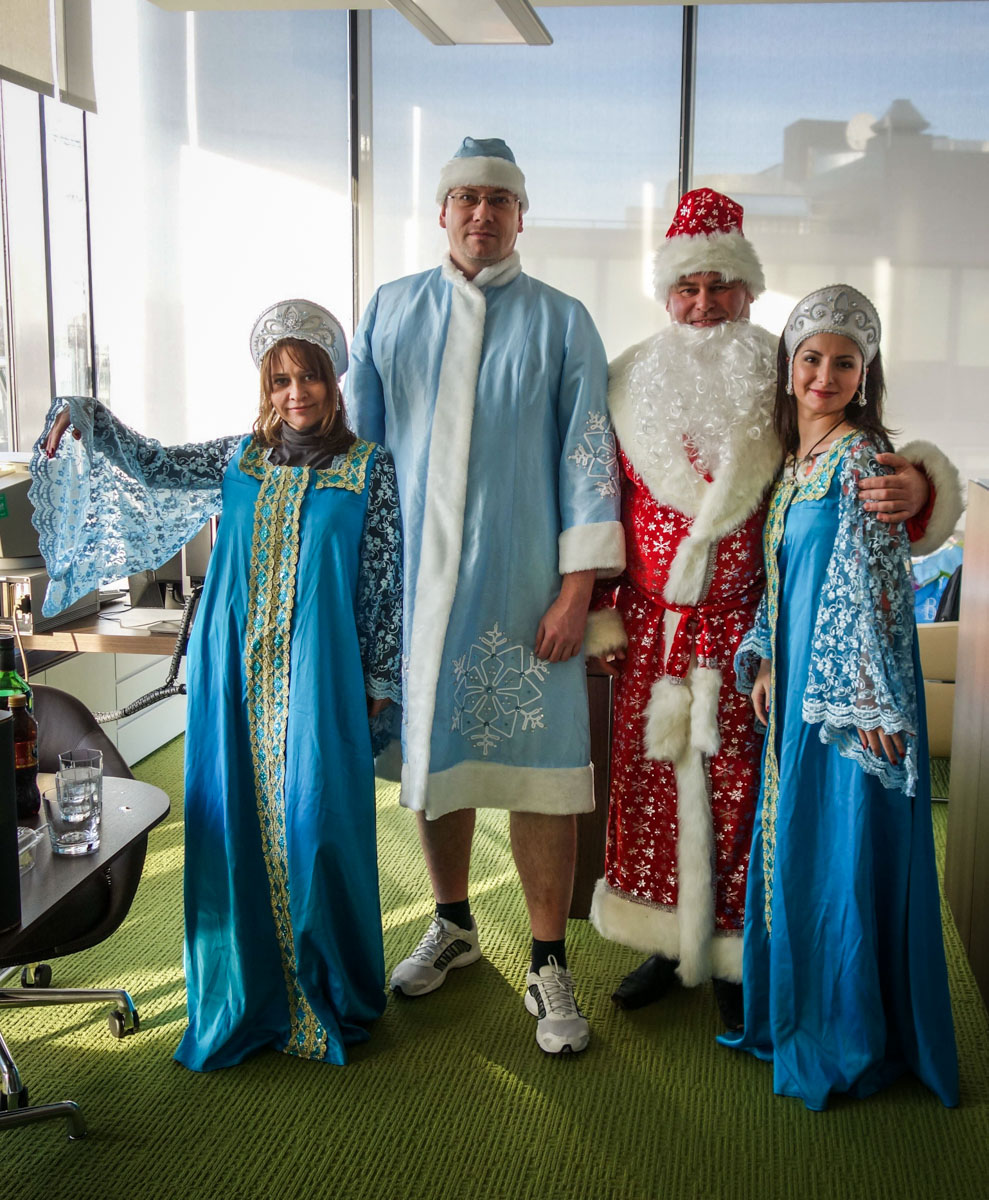 + two snow queens + one snow queen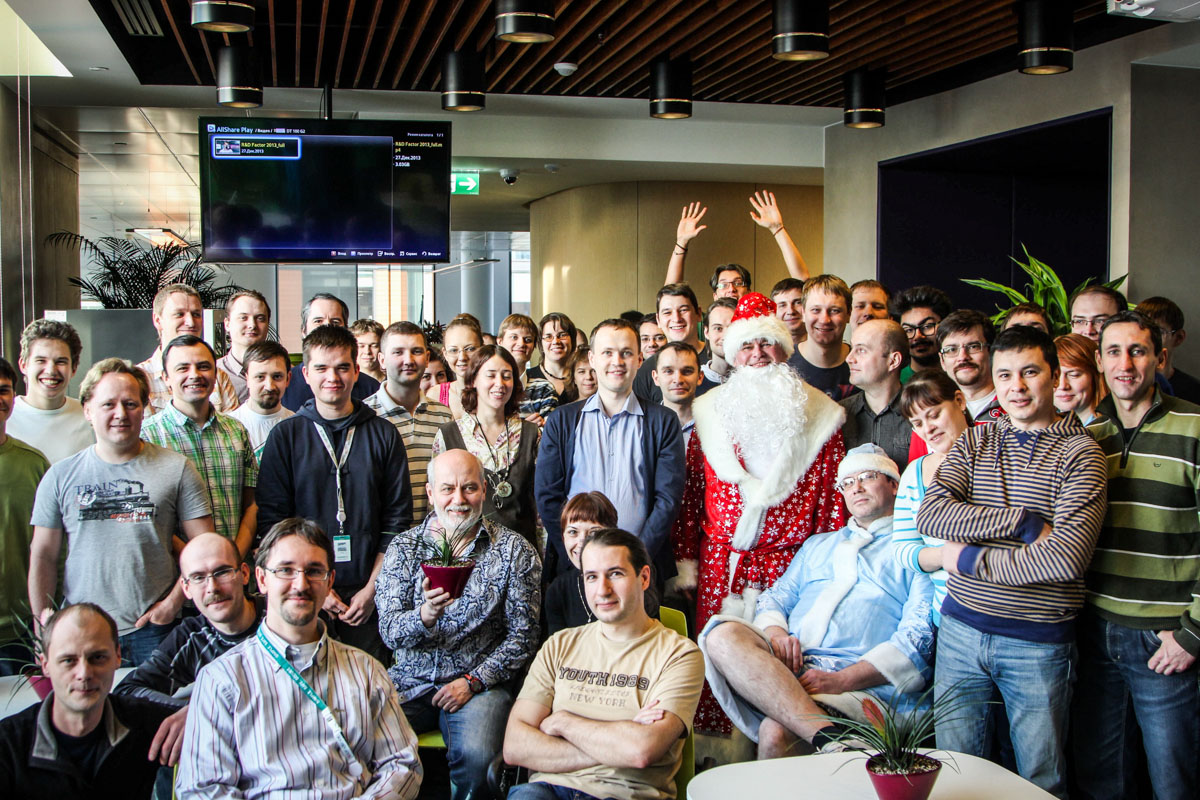 To kick off lucky 2014, I think a brief review of the highlights of unlucky 2013 for both me & KL is in order. So here we go…
Geographical discoveries
My Top-100 Must-See Places in the World appeared in English around the back end of 2013, while the year on the whole saw quite a few sites on the list move from the 'yet-to-see' to the 'done it, T-shirt procured' category, including…
And I can add one new country to my 'been there' list – Saudi Arabia. Arid Arabia. Oiled-up Arabia. Just one? Yes. But it's bound to get more difficult to add countries – I'm running out!
2013 was also the year KL-buddy Olga Rumyantseva got to the top of the highest volcano of every continent! I got quite a few volcanos in too, including Tolbachik in Kamchatka and ones in both NZ and Washington state.
Good stuff closer to home
1. In 2013 I was awarded an honorary doctorate from the Armenian State Engineering Institute in Yerevan. This follows 2012's doctorate from Plymouth University. I'm on a roll! I hope…
2. 2013 was the year our cooperation with INTERPOL kicked in with full gusto – unluckily for cyber-swine the world over.
3. Can a Russian company crack America, in particular – Washington, D.C.? Of course not. Not!
2013's best wins
The most impressive, without a doubt, were the following:
Down with the trolls! Our anti-troll campaigns yielded some seriously sweet fruit last year. The patent parasites are now running scared, their tails between their legs.
Two London Oscars with one KL. We won the two top awards at Infosec in April.
Where are we? Who are we? Here. A leader three times over – from all three of the top analytical agencies (IDC, Gartner and Forrester).
Tearing up the rulebook
1. A Tolbachik eruption – reading about one of these rare events in the news and on blogs isn't the least bit as good as… going to see one for yourself! It was the first time I got so up close and personal with an active crater and red-hot lava. Out of (ok, out from inside:) this world!
2. A dream come true! I managed to travel the world's longest civil aviation route – 18+ hours up in the air non-stop. Alas, if you haven't already tried it yourself, you never will: the SQ22 is no more – forever. I caught one of the last flights – just in time.
Mega-mileage
To fit in all the above took a lot of traveling, naturally.
The airplane bit: In 2013 I took 81 flights – about 20 less than my total for 2012, but with about the same number of hours – 445, including one round-the-world trip.
Especially memorable were the following aerial leaps:
New Zealand – Germany – Switzerland – USA (East Coast) – Puerto Rico – Mexico – USA (West Coast);
USA – UK – Germany – Israel – Spain – USA;
UAE – Australia – Singapore – USA – Saudi Arabia – Japan.
On the road I clocked up around 10,000 kilometers, 6000 of them being in New Zealand, 1500 in Europe, 1500 in Australia, 1000 in California, and around 500 in Hawaii.
Other highlights
We finally moved to our brand spanking new office; we presented a heck of a lot of new technological gadgetry, we neutralized an extraterrestrial virus; we discovered and secured the Industrial Control System of Planet Earth; and we inflicted irreparable damage to global cyber-evil, having blocked something like five billion malicious attacks! And let's not forget the 1985 Olivetti M24 that took up residence in my office, which shortly after getting settled got all non-retro and went and opened a Twitter account!
Right, best wrap it up here. Otherwise we'll be here for hours… If there's anything I've missed I'll add it a bit later…
Back soon folks!…