King of the castle: triple crown turns from yellow to green.
In astrology – squares are bad news. They represent conflict. (How or why I might know this I'll not share with you here. Cough.) But in IT-industry analysis – squares are good. Real good! To get into one of four squares – ok, they like to call them quadrants – and especially the best of the four (leader/visionary) is no mean feat, so breaking and entering a square – especially leader/visionary – is all the more fantastic.
We are now in three such quadrants (actually, one quadrant, one "scape", and one wave) – those of Gartner, IDC, and Forrester. All three have unanimously made us "leaders" in the class of corporate endpoint security! But this isn't just the usual round of yet more medals being fastened to the old KL lapel. Oh no. We've received the honored "triple crown" from the three most respected international analytical agencies. Incidentally, this crown has only ever been worn by one other – our competitor with the soft spot for all things yellow. Well, now the triple crown is a nice shade of green.
IDC MarketScape (*)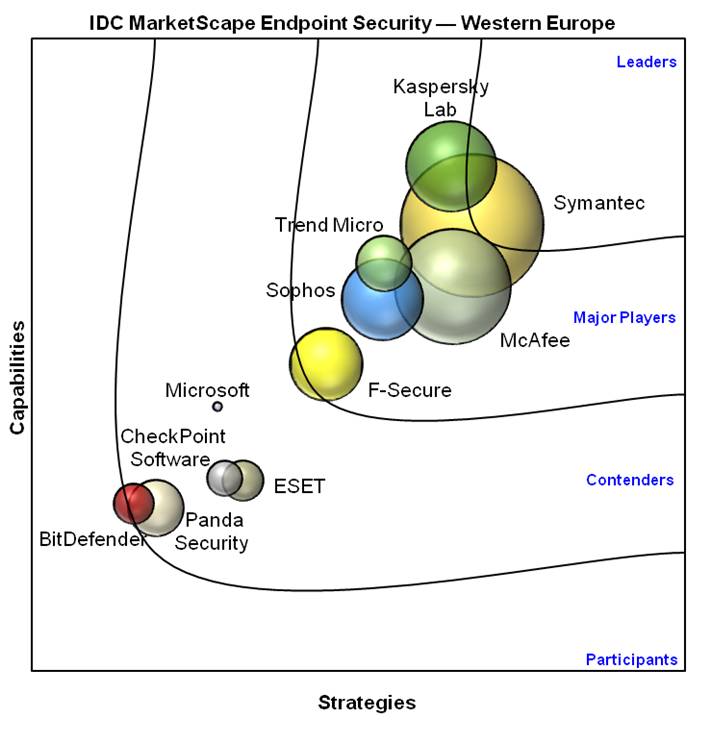 This is really good news, for it's a confirmation that the "big three" of analytical agencies now regard us a lot more seriously than before. It means we're ready to enter the upper corporate segment of the global market. Hip, hip, hooray!
But personally I have to admit I'm not that surprised. Why? Because such a result was confidently expected by anyone who's been following closely the development of our corporate products (that'll include me then) – especially our most recent business product, which premiered not long ago in New York.
Looking back over the years of our participation in analytical ratings, one sees how we've been crawling our way up in the rankings steadily but surely. We've had nothing but six years of steady movement northeastwards:
Open, close cooperation with industry analysts is both necessary and useful. First, their opinions are listened to most attentively by both existing customers and prospective ones. And the bigger and more global a company – the more closely they pay attention: too high is the price of mistakes; they need to make sure all cyberthreats and all security possibilities are fully 'covered'.
Second, analysts provide plenty of accurate, detailed information about the development of the market ("what's your neighbor up to?"), monitor technological breakthroughs, analyze trends, and give recommendations. Thus, the better a product is found out to be technologically, naturally the more positive the verdicts of the analysts, which in turn make the product more attractive to the market. That's the simple math.
There are a great many analytical agencies of different types – local, global, niche, whole-industry, and so on. And it's best to maintain good relations with all of them – by keeping them up to date with all that's going on at the company, with its products, technologies, plans, and more.
Of course, the larger the agency, the more difficult it is to attract and hold its interest. We suffered from this early on when we started working with them in the early 2000s. Back then we tended to not get noticed all that much generally. It's some extension of Darwinism or something along those lines. Agencies take notice of the fittest, strongest, best… and the ones with the greatest market share. Then year after year the situation improved for us, and now we have a whole unit dedicated to working with analysts. We conduct regular briefings, meetings and conferences. I won't tell you any more – in case I give away valuable know-how.
The IT Security market is growing, developing, diversifying. So are analytics.
In the consumer niche there are the traditional PC/Windows focuses, but these are now complemented by mobile products and Macs. And in the corporate segment there's plenty going on too (like endpoint, gateway, mobile, virtual environment, backup, etc.). Still, there's room for more development – e.g., other interesting niches like anti-DDoS solutions and protection of industrial systems. So overall, there's a lot to look forward to.
See you in the quadrants!
(*) IDC MarketScape vendor analysis model is designed to provide an overview of the competitive fitness of ICT suppliers in a given market.  The research methodology utilizes a rigorous scoring methodology based on both qualitative and quantitative criteria that results in a single graphical illustration of each vendor's position within a given market. The Capabilities score measures vendor product, go-to-market and business execution in the short-term. The Strategy score measures alignment of vendor strategies with customer requirements in a 3-5-year timeframe. Vendor market share is represented by the size of the circles. Vendor year-over-year growth rate relative to the given market is indicated by a plus, neutral or minus next to the vendor name