K(E)L(vis) has left the building.
Ladies and gentlemen!
I've got some very good news! Well, at least, for some – particularly KL employees…
Our decade and a half of rented-office-space hopping has officially come to an end. Yep, we've finally done it – we've gone and bought an office building – rather, three. Well, better late than never, I guess. Anyway, just recently, the last of the last of the departments which were holding out at the old office (at Oktiyabrskoye Pole ([Red] October Field)) in the north-western suburbs of Moscow) have finally left it for good, turning up for work the next day at the new office, as can be seen in this photo – of our corporate admin elite and their favorite rubber plants: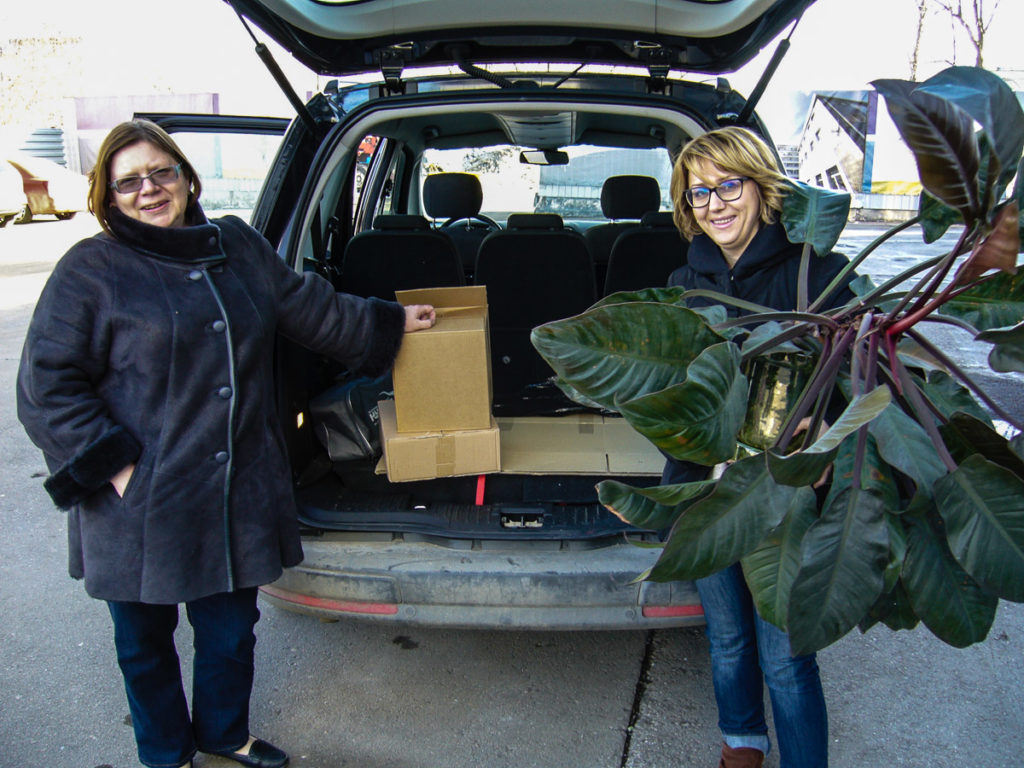 Yup, we now have our own small piece of north-west Moscow, housing more than 1500 company HQ employees who've voluntarily signed up for careers in the fight against global cyberevil.
Leaving a 'home' you've lived years in is always difficult, no matter what. It's the same for an office, since the office is really one's second home (and for some it seems the first – judging by the time they spend there!) This time was as sad as it was in 2005 when we moved from our burrow in northern Tushino (incidentally, also in north-west Moscow) – even though back then we were leaving behind all the old-school pleasantries (annoyances) of a Soviet "scientific-research institute". Oh yes, it was a real freak show in Tushino: the pedantically strict "babushka security", as coined by our foreign guests; the strange smell in the lobby (the babushka fed stray dogs); elevators that would always jam; smoking allowed – thus intensely practiced – in all the corridors and stairwells… Still, on the positive side – we did look out onto this view every day:

Then for seven years we 'lived' in a much more reasonable office – the one we've just left. Here it was much more civilized – with a nice park and wood next to it to walk off heavy lunches. There were of course a few shortcomings here too; for example, some parts of the building would vibrate when a heavily loaded cargo train passed along the railroad that ran nearby. A bit like that old flat in London in Lock, Stock and Two Smoking Barrels.
But that's also now in the past too. For here we are now in the new place. And again, like last time, here it's another step up. On one side of the office there's a busy main road (boo); but on the opposite side there's a touristy-jetset resort with beach, marina, swanky restaurants and nightclubs, a new sports complex with swimming pool, and a nice view of Khimki reservoir. There's also underground parking, the metro's a short walk away… and practically everything here is brand spanking new – which is all really rather nice!
The buzz word with this move is "new" – it's a move ushering a new era and new possibilities. On a personal level, for example, weaklings can start to visit the gym. And chronic smokers can quit slowly killing themselves, because, unlike in the old office, in the new one there are no smoking rooms at all – "as per the design plan"! Cancer stick toking can now only take place outside.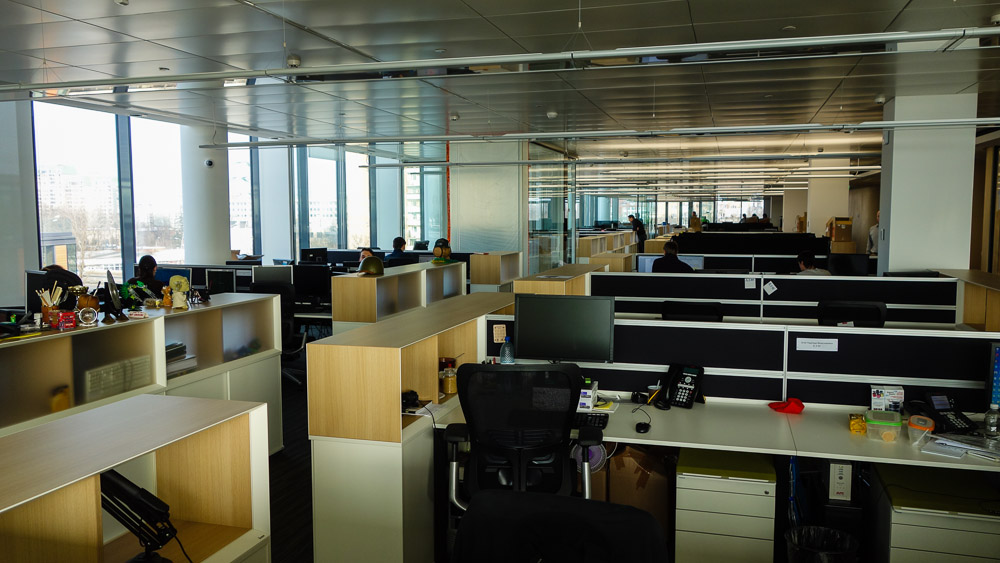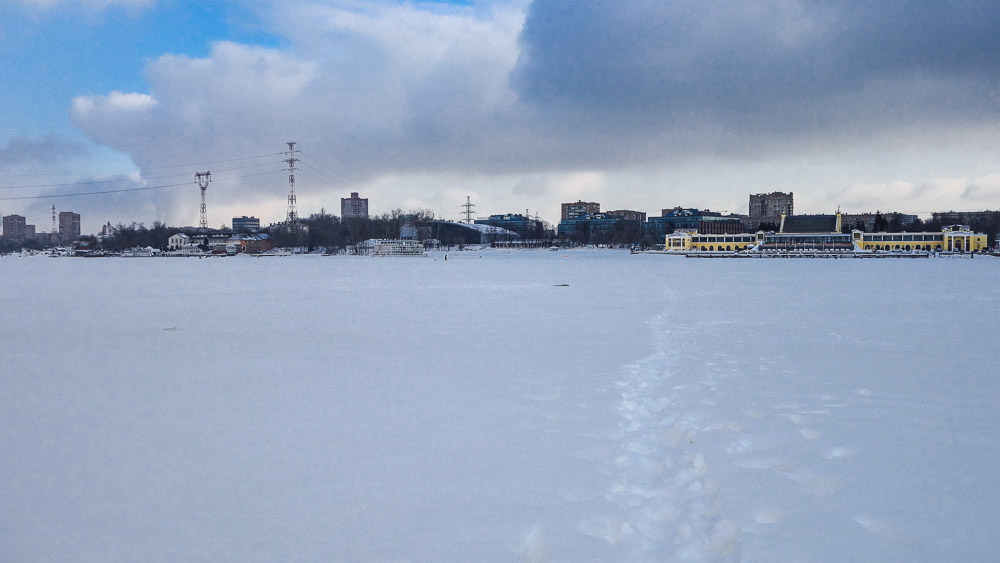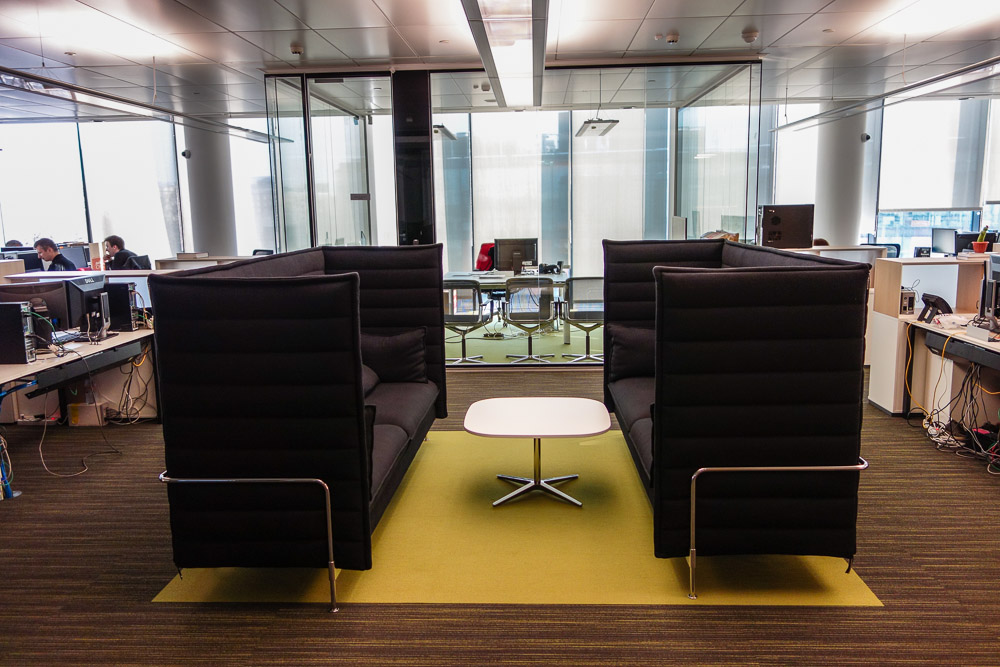 Now firmly behind us are more than a year of negotiations, signing this and that document, battling bureaucracy, painstaking planning, detailed designing, ingenious installation, sensible space allocation, plus the pleasant and not so pleasant hurly-burly connected with the move… But there's still a lot that lies ahead. For, as is inevitable with such complex and difficult operations, there've been a few missed deadlines in the fitting of all the interiors. This has meant we've had to start to work in… er, slightly incomplete premises. The situation reminds me of the folk wisdom that dictates, "Doing up the apartment [or office] can never be completed. It can only be stopped." :)
Quite a bit in fact still needs doing: the main reception area is still in full construction site mode, as are the antivirus lab, mini-gym, and company museum. There are hardly any plants to be seen yet, and there are no fully functional partitions dividing up the work space to keep a lid on excessive concentration-destroying noise pollution (everywhere at the mo is open space). A few unexpected minor inconveniences have arisen too, like difficulties in navigating between buildings (labyrinth passages, many a heavy door…) and also between floors (sloooow) quickly. But hey – we're KL. We'll sort it! Like we always do. Just add perseverance :).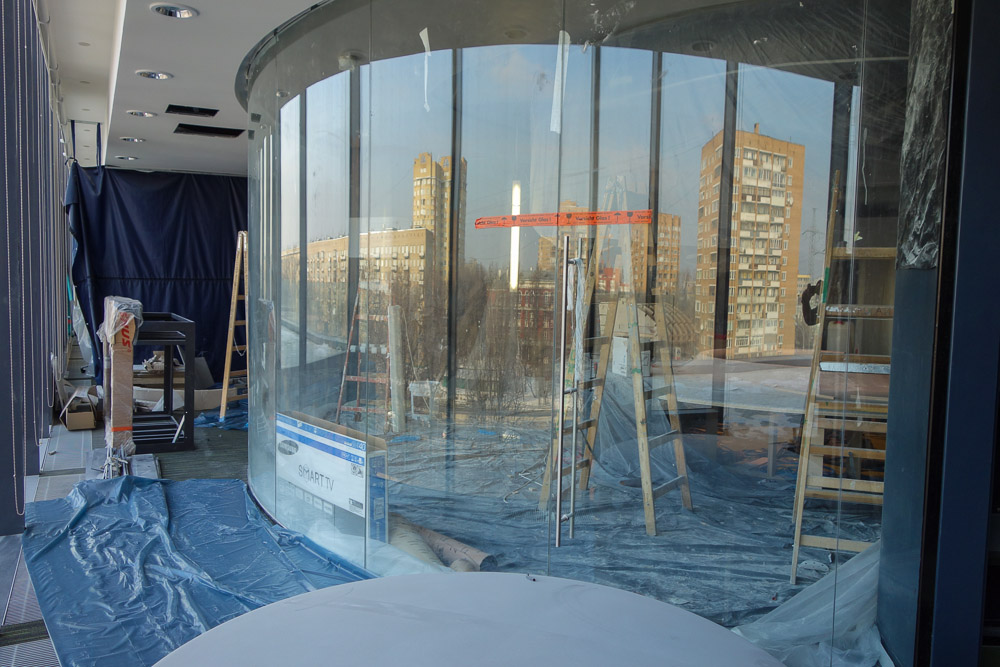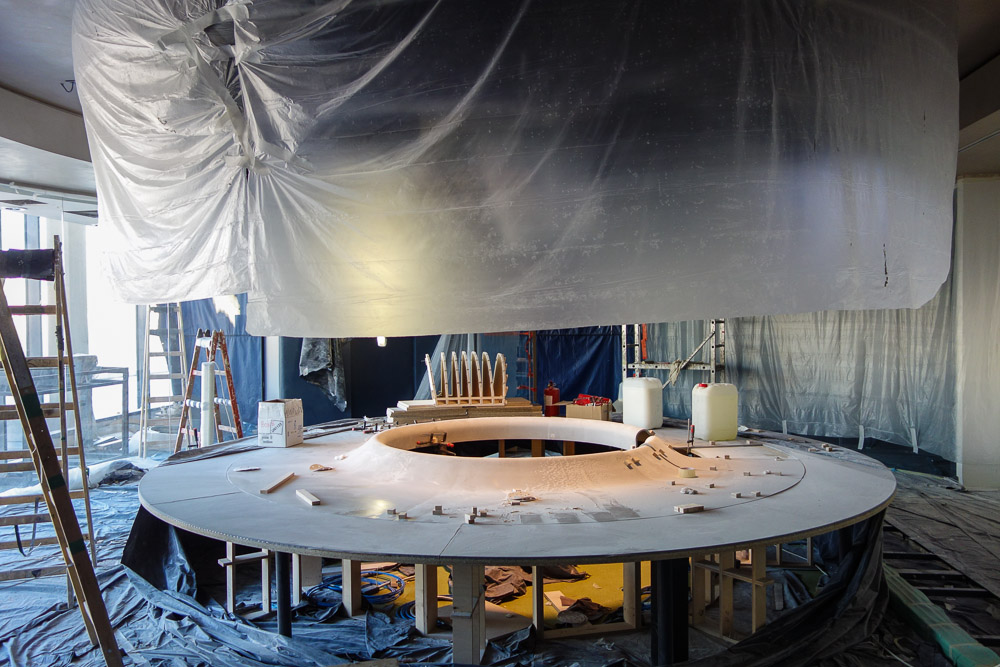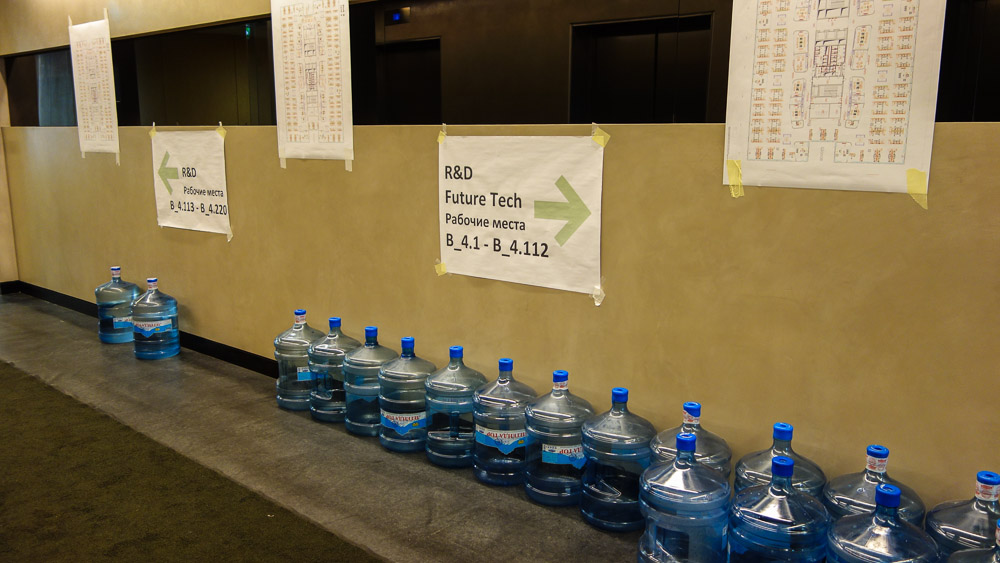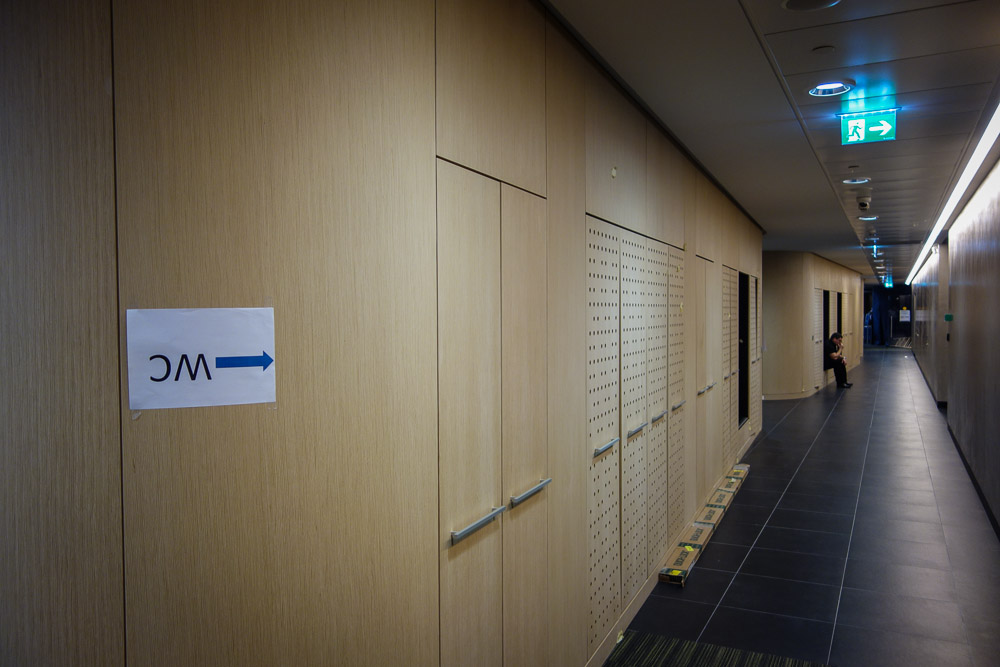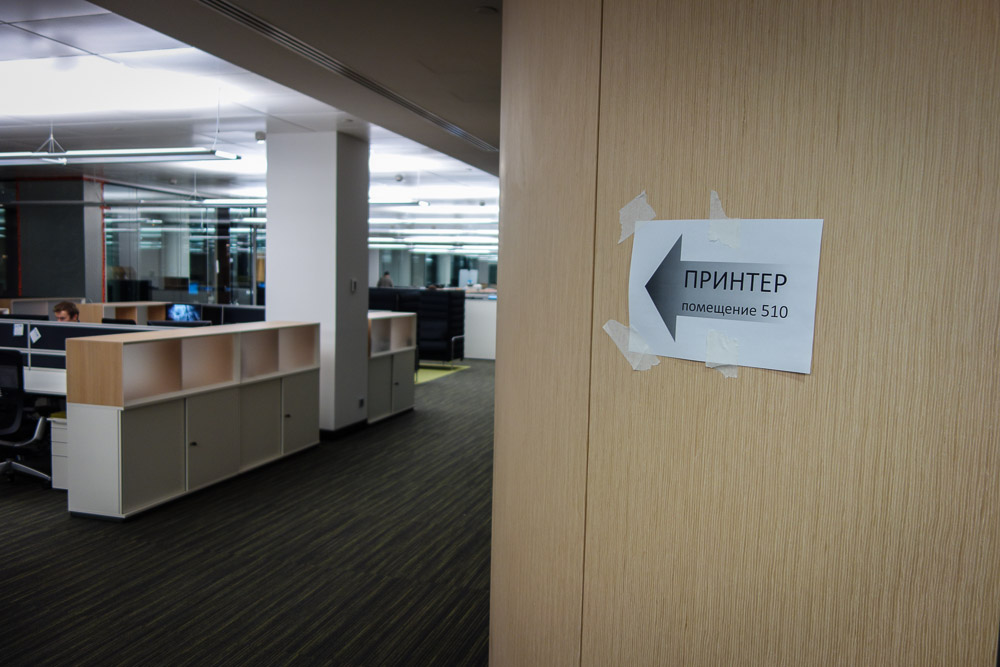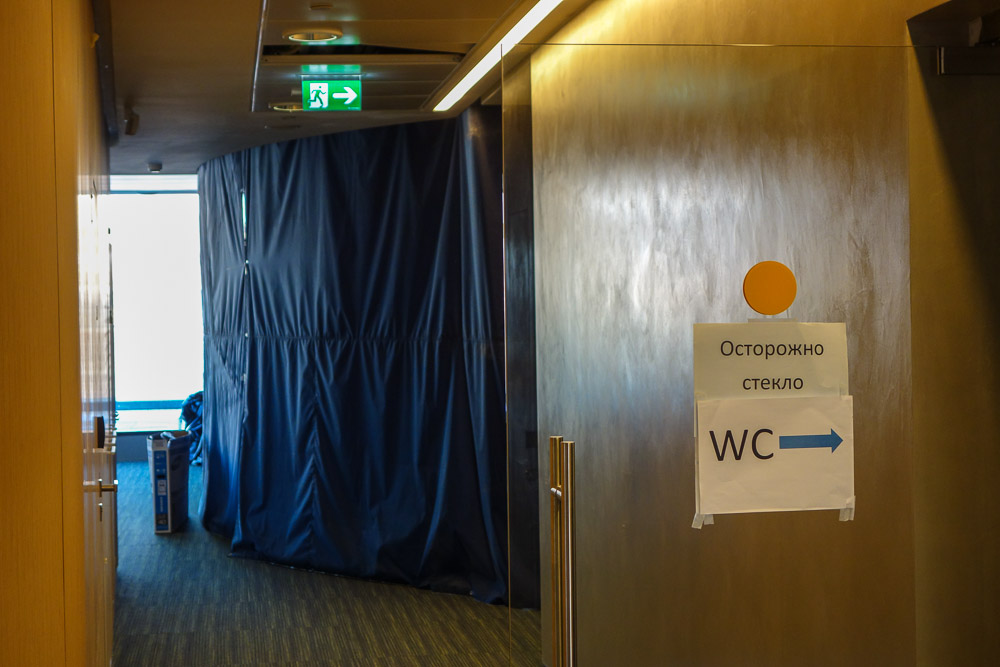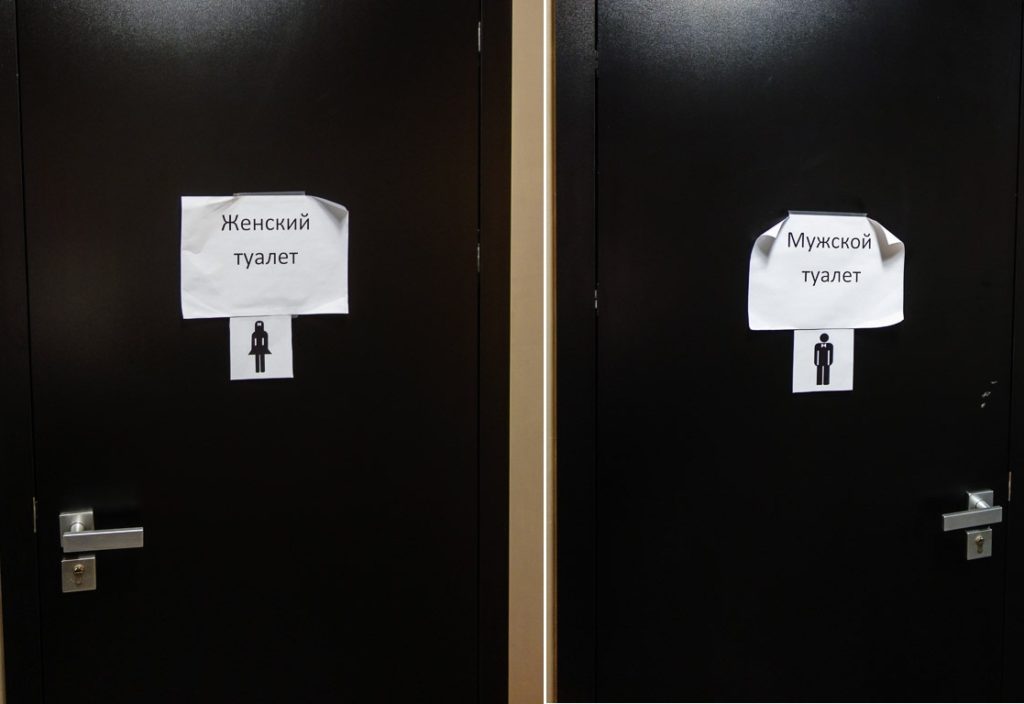 Still, "every cloud has a silver lining" – says another nugget of folk wisdom. The incompleteness of the premises at least leaves some room for flexibility with regard to work space customization possibilities for our patient employees. The nuances of the office space and everything that's filling that space are being tested directly in real time mode by the office's inhabitants, making tailoring to particular preferences and whims easier: if everything had been completed, there would bound to have been various complaints that this and that weren't quite right… Also – the current office situation… it's simply been sent to make us stronger :).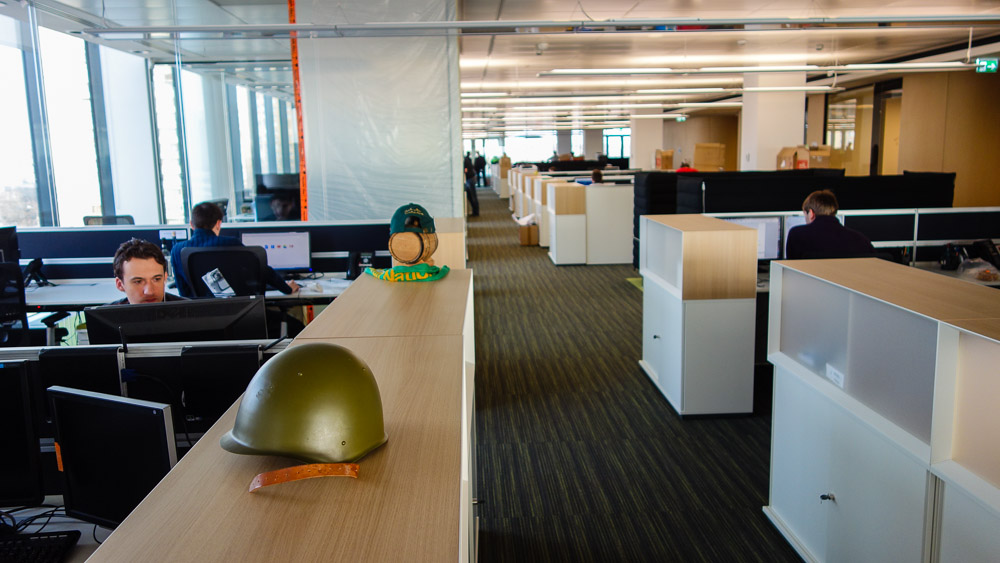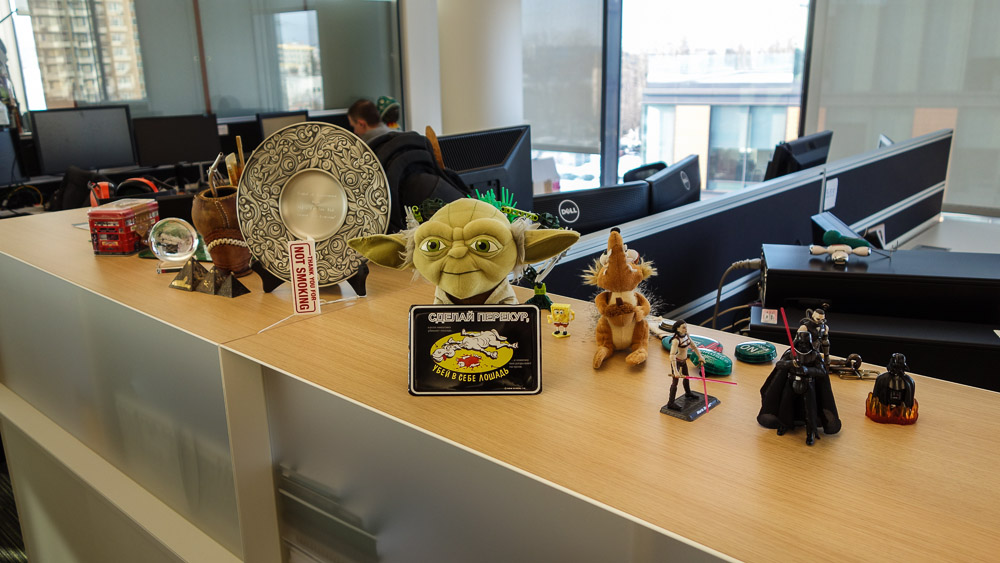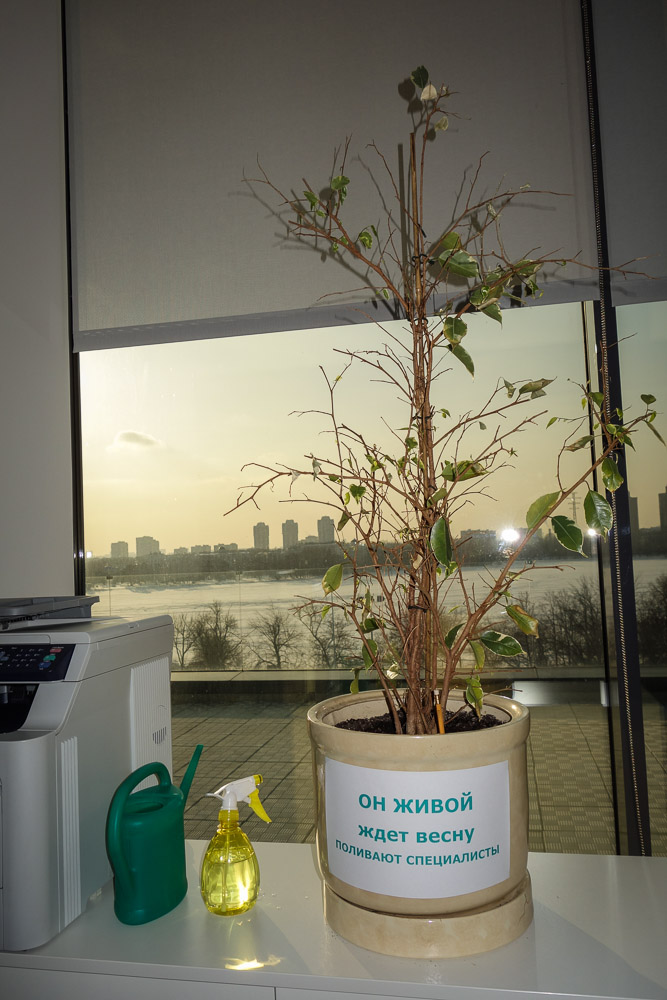 One of the few bits of greenery, if it can be described so
But no matter the incompleteness – we've already received our first guests! Andreas Clementi from AV-comparatives dropped by to give us an award for developing one of the best antiviruses of 2012: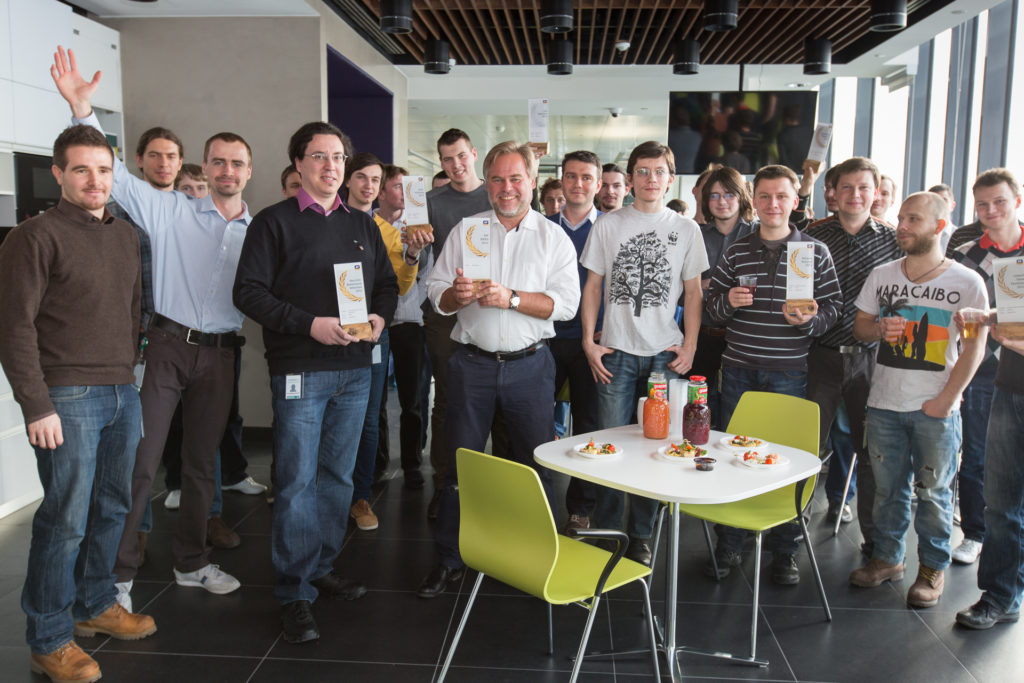 In the meantime, HQ KL'ers are still enjoying the novelty of the previously rare occasions where they bump into colleagues in unexpected places in the swathes of open space. They're also finding out the who, where, why, what, and how of the new environment; admiring, grumbling, planning, arguing, laughing; testing the different settings on the new coffee machines; and carefully selecting suitable places for lunch, parking spaces, optimal routes to the metro… in short – not-so unpleasant fussing… in this – our new home!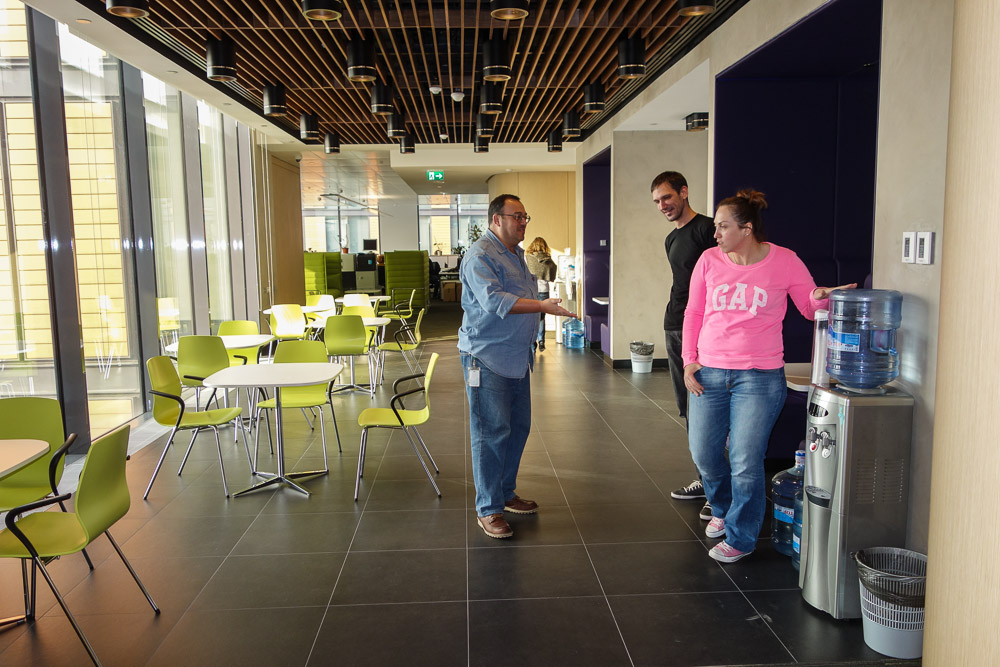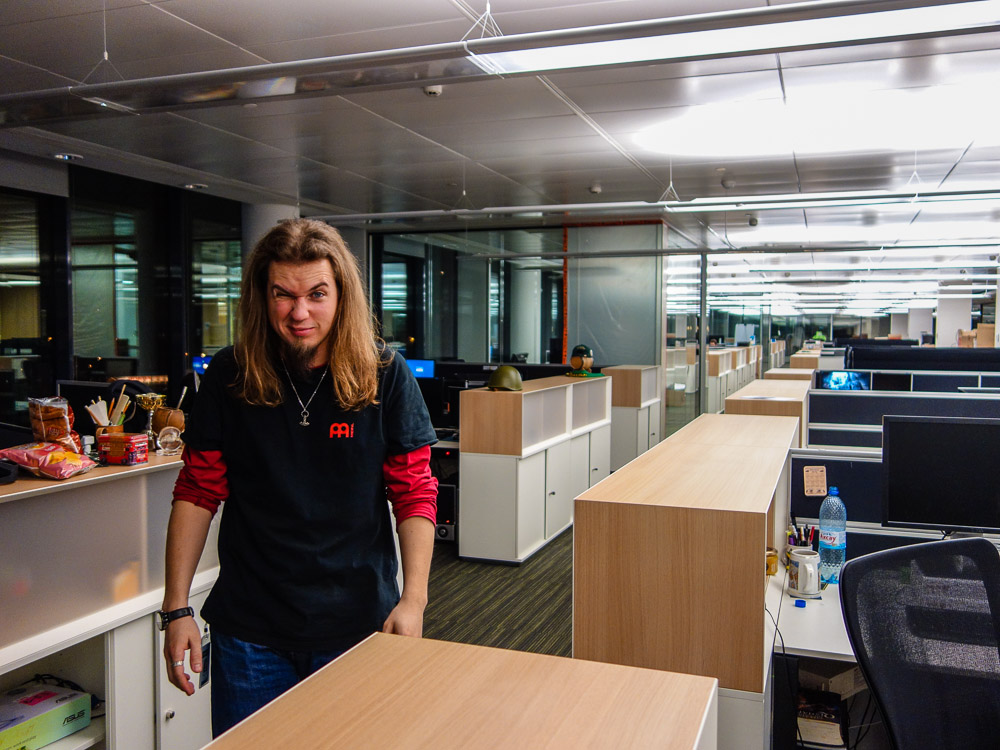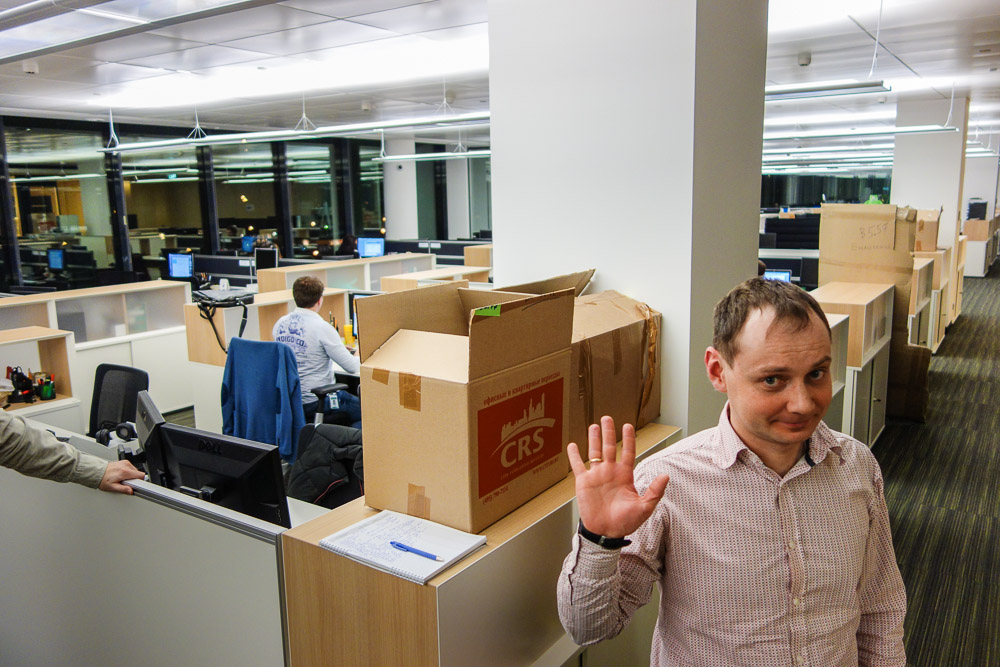 In May, when really everything will be done and dusted, we'll definitely be doing a virtual video excursion around the new office to show you all its niceties and of course inhabitants. For a sneak preview, check this out. This was how the fairer sex congratulated the stronger (?!) sex on February 23.
Right, that's all for today. For several years (maybe more) it'll be here within these (sexy glass) walls where we'll be laboring – before another move to bigger and better premises? We'll just have to wait and see about that!
Pip pip!