Aloha everybody!
Should fate ever be so mean to you as to see you dropped all of a sudden on the island of Maui of the Hawaiian archipelago – don't feel too hard done by. You'll find something to do there.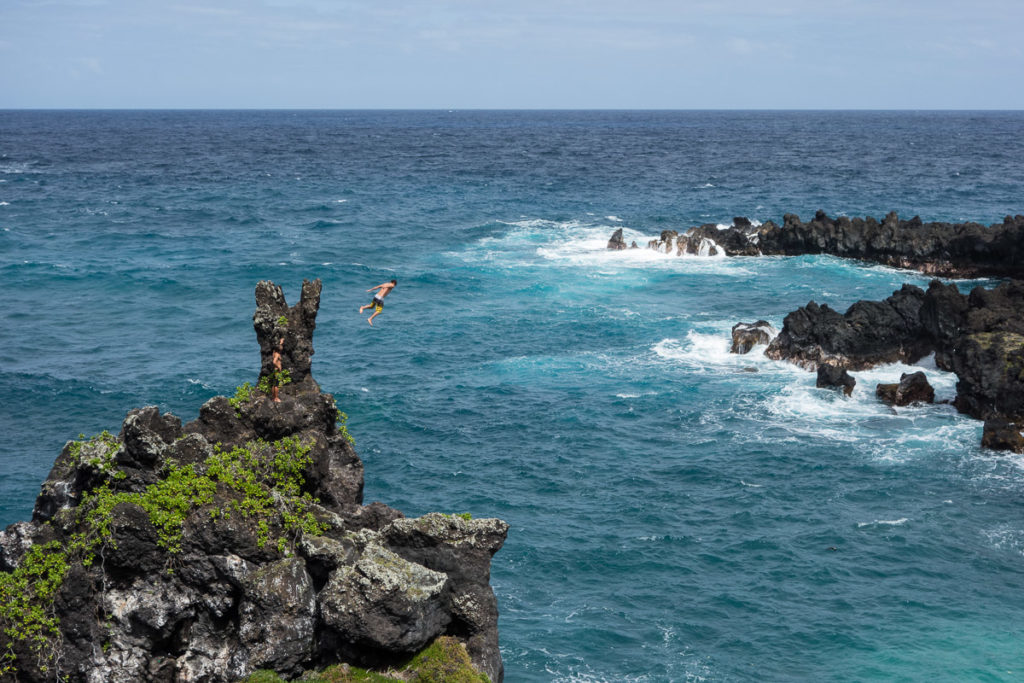 First, you'd need to learn a bit of the local dialect:
Aloha means hi (also goodbye – a bit like ciao);
Mahalo means thank you;
A sign of the horns on the right hand – extended toward someone upon meeting or parting, or just out of a car window at traffic lights, or from a passing boat, etc., means yo, bro!, yeah man!, or thanks, dude!
Next – you'd do well to rent a car and get out and about around the island to see the sights it has on offer…
…and those sights are, principally: (i) volcanism (including lava caves); (ii) the remarkable road round the island; (iii) the countless waterfalls; (iv) whopping whales in the surrounding ocean; and (v) the dense rainforests in the volcanic valleys; among all sorts of other wonderful nature.
0. Attention!
Practically none of the natural attractions here are free-of-charge for non-residents, and cash is preferred. A few hundred small and mid-sized dollar bills should be carried on the person to cover the various entry fees, which are usually 10 or 15 dollars per person, plus around the same for a car.
The weather on the island is rather varied. In the North there's always lots of rain, while in the South there's hardly ever any – and therefore the landscape is one of a dry steppe with just the occasional tree. Accordingly, always have a waterproof with you as well as shorts/bathing togs and sun cream.
Though rather small in size (around 80 by 40 kilometers), by far not the whole island is easily navigable (and some parts are completely inaccessible): The roads in places are rather narrow and winding; then there's the traffic to contend with – which gets quite chocka in the resorts, and there are never any route-b's. The island resembles something of a wonky figure of eight (or even a Russian matryoshka doll), and in the middle of the two circles making up the eight reside volcanoes, with no roads thereto at all.

Curiosity alert!
In 1986 a hurricane hit the archipelago, which destroyed lots of farm buildings. They say that the domesticated chickens and pigs that ran away (or were blown away by the wind) adapted to the wilderness and became wild animals – much like in The Call of the Wild! What's more (according to the locals) the wild pigs are still dangerous. As are the wild chickens with their chicks – as observed in one of their raids on a parking lot: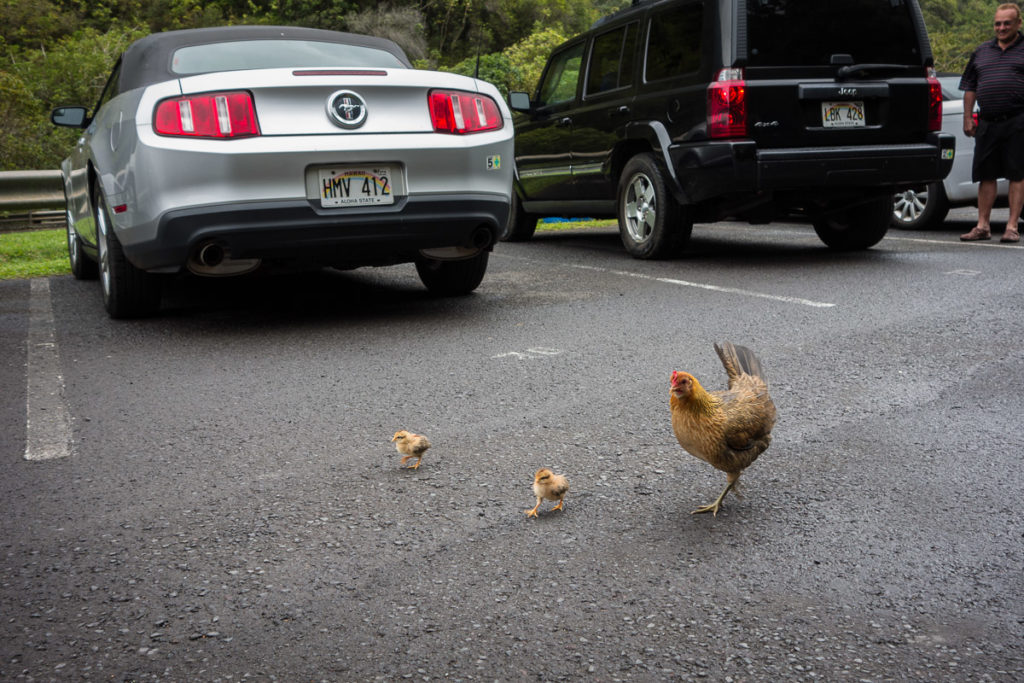 I'm hooked on this place. It's no Kamchatka, of course – nothing ever will be for me :) – and it's no NZ either, but it's still a place totally worthy of inclusion in the Top-100 must-see places in the world. I'm deffo planning on a return trip. I think we'll have to have one of our future North America Partner Conferences here.
As we traveled round this incredible island I took notes on my trusty laptop. Herewith – those notes on the highlights of Hawaii's Maui, embellished later back at the hotel…
1. Volcanism.
Dominating the island from up above is the Haleakala volcano, stretching more than 3055 meters above sea level. It's the dawn here that really needs to be experienced. It's best to arrive near the peak about half an hour before daybreak to get the best spots for the spectacle – at the top there's a fenced-off area for spectators, and beyond the fence – no spectating allowed! It gets cold up there – down to just five or ten degrees centigrade and with a very strong wind. You need to wrap up warm. And that's where a problem arises. For tourists coming to Hawaii tend not to pack warm gear (funny, that). So you see them kitted out in borrowed hotel blankets and towels!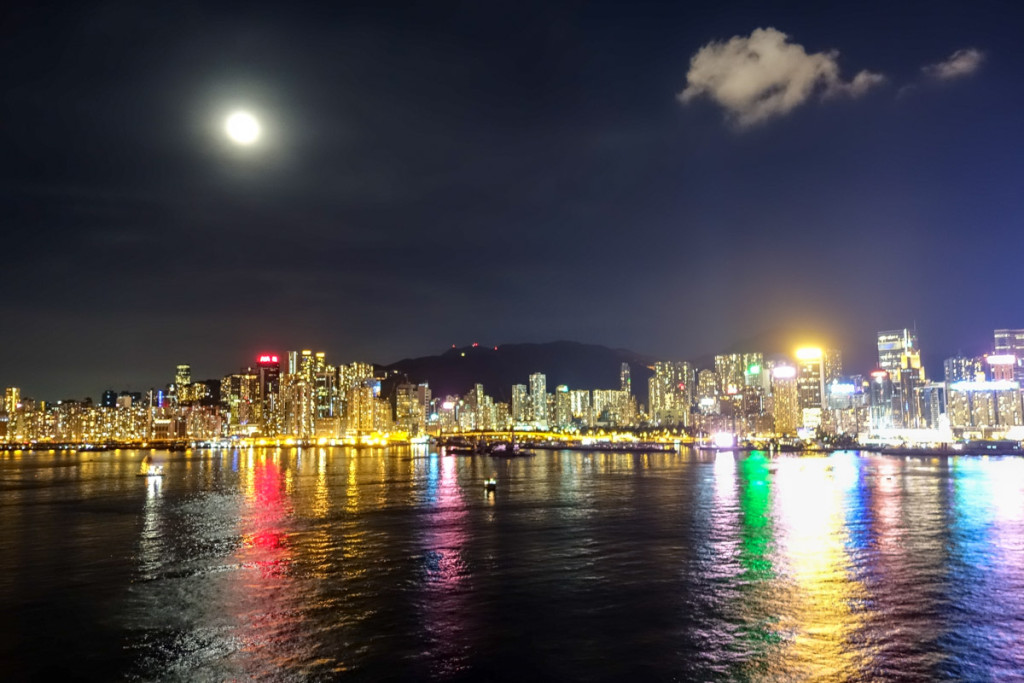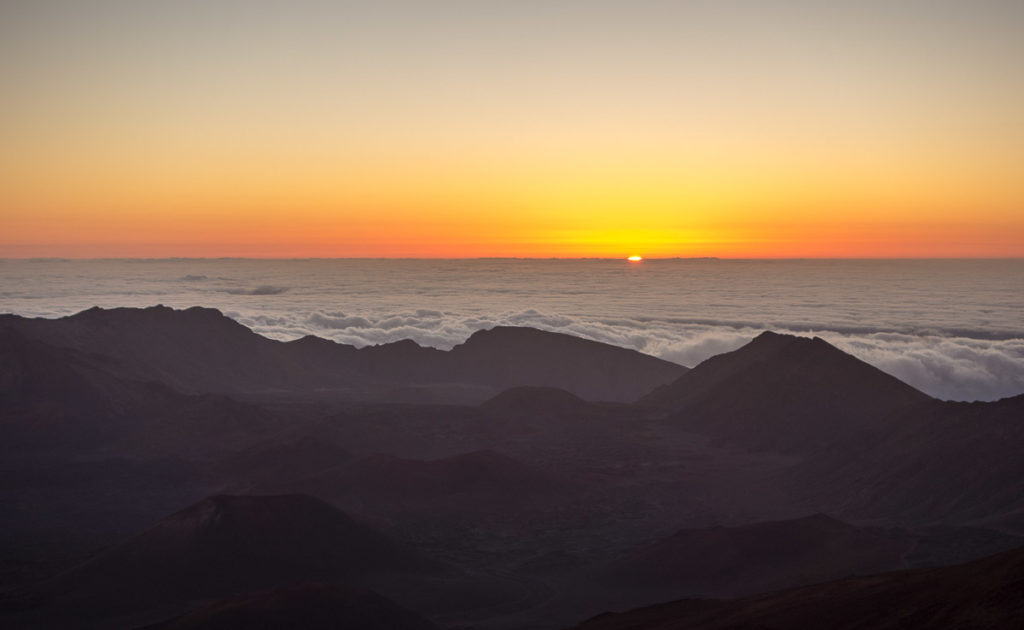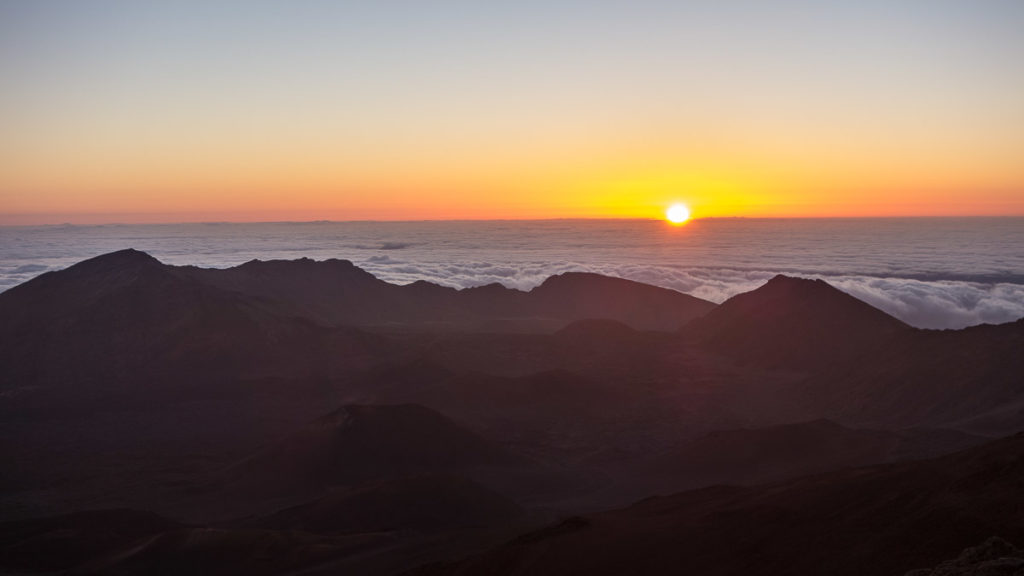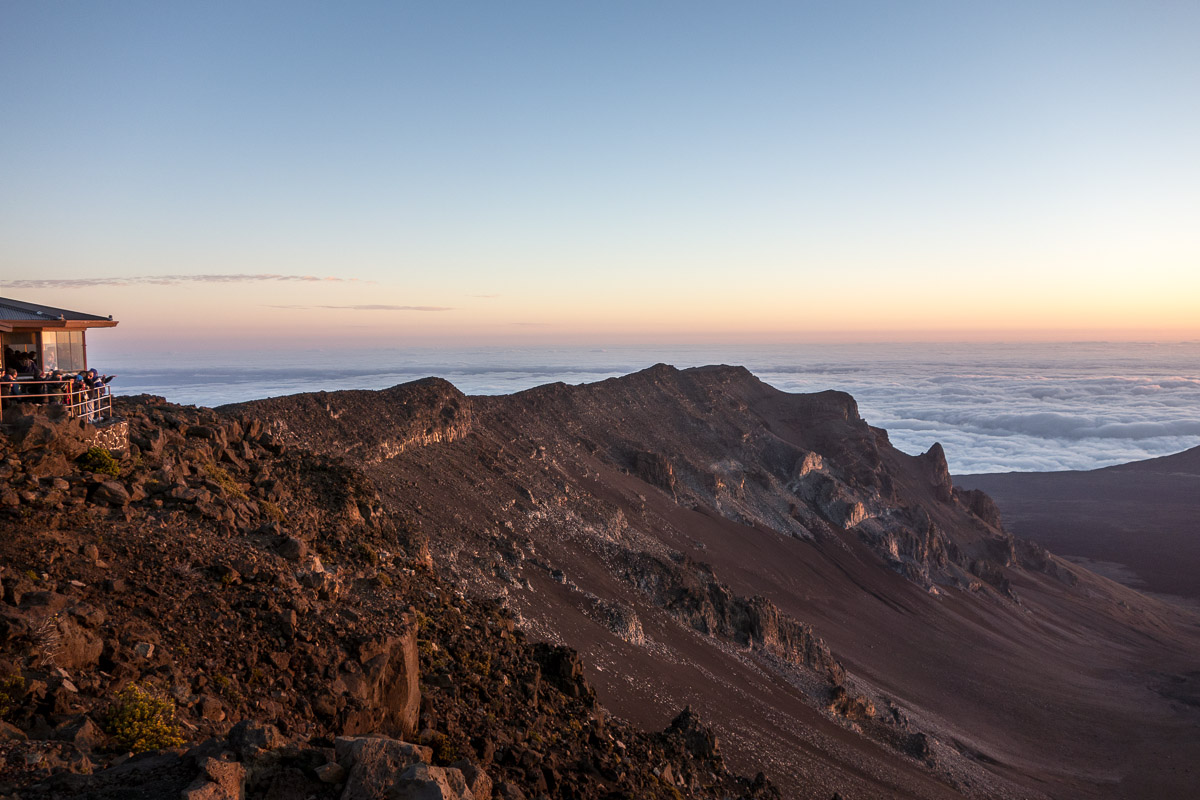 The ridge of the volcano is all barren and black and looks like a black version of the landscape in Prometheus. Several paths cross the area, some taking a few hours to complete, others several days. Camping places need to be booked in advance. All details are on the Internet. A good long gawk at the black paysage up here really needs to be experienced. Pics never quite do it.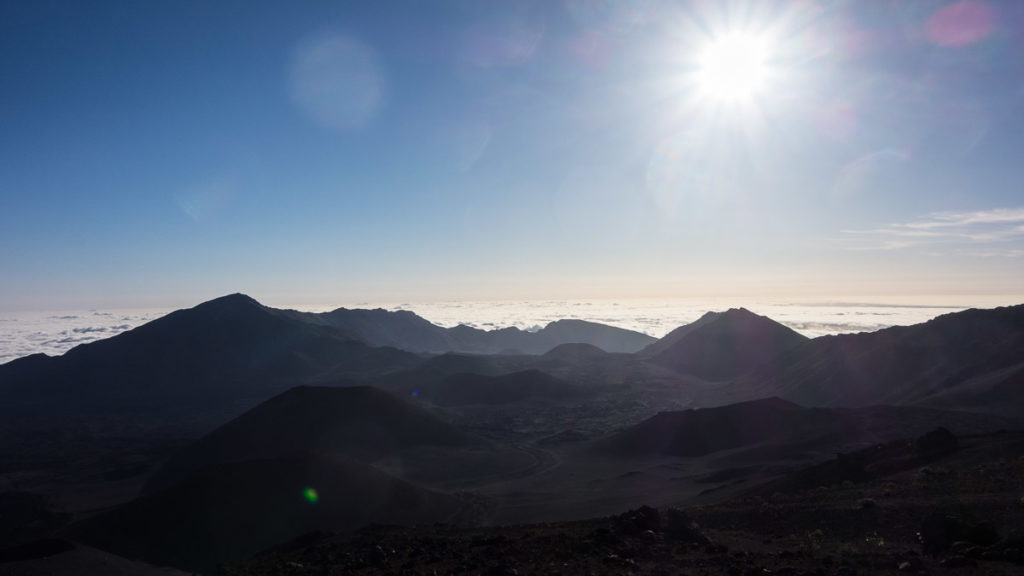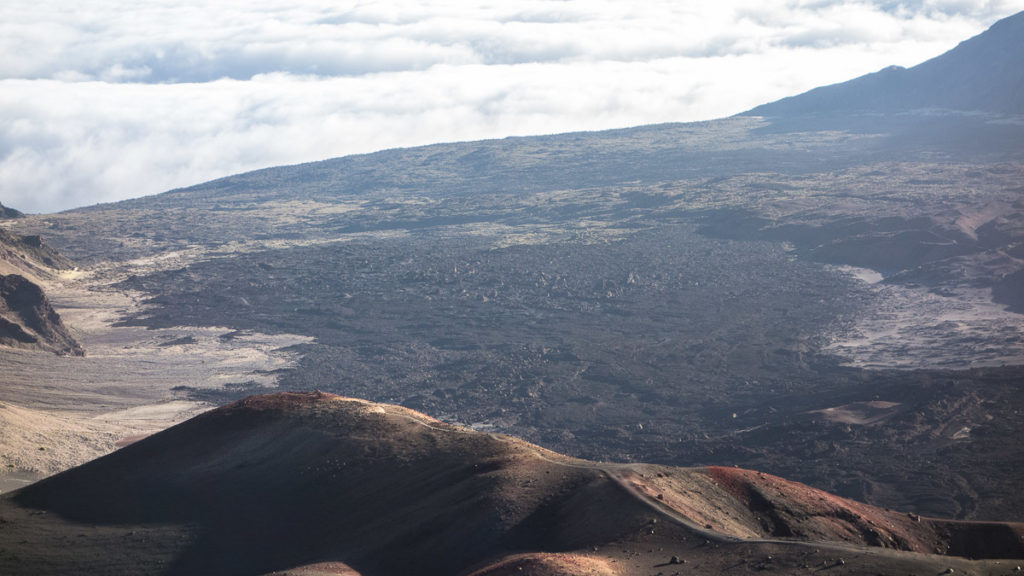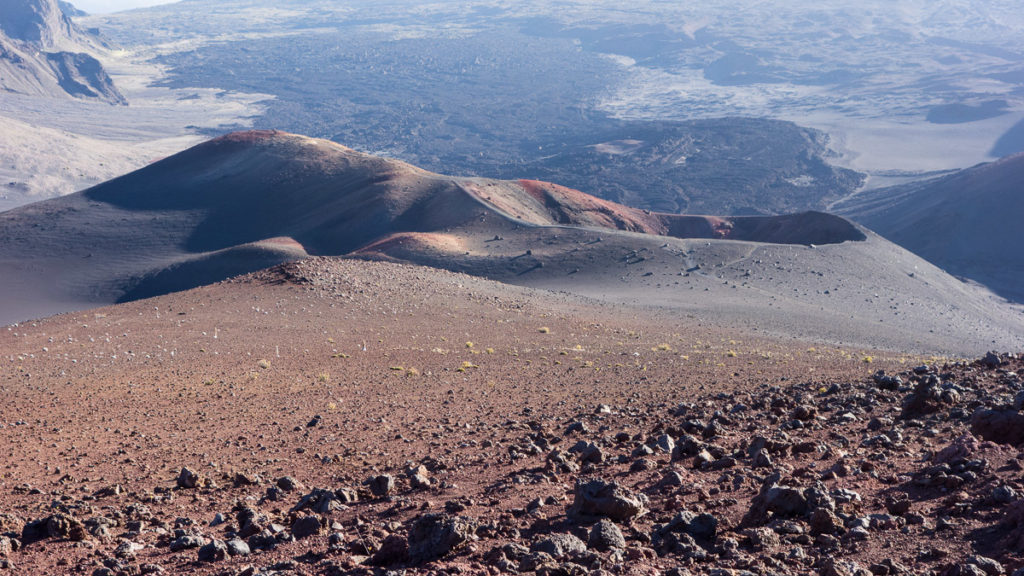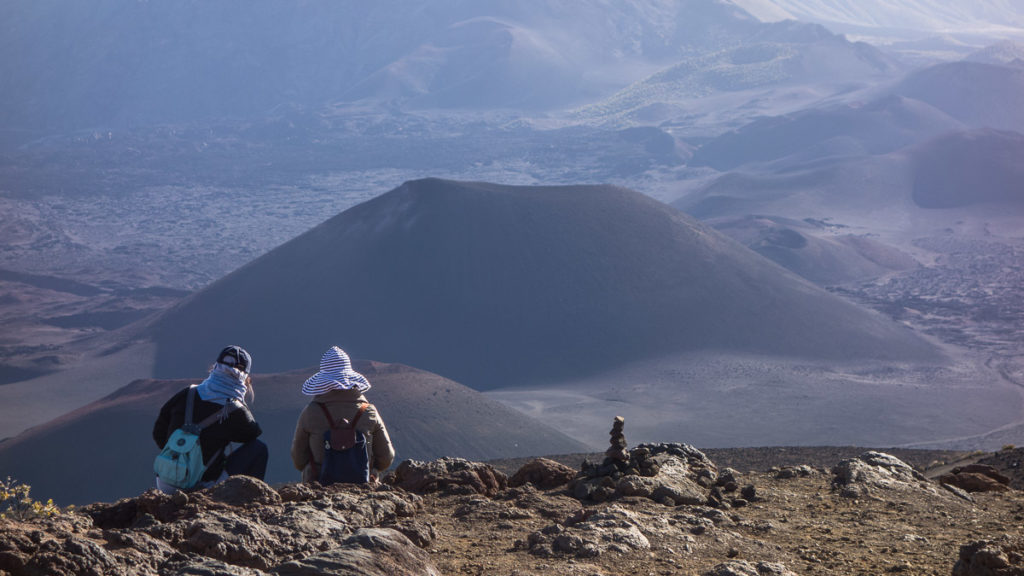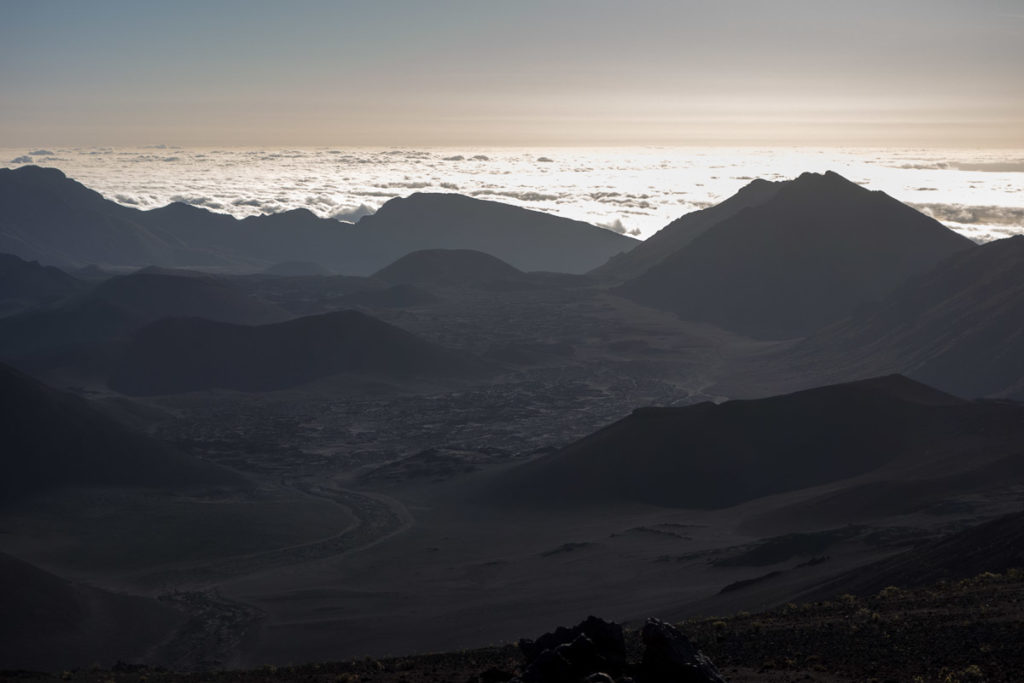 Particularly awesome is the path up to the summit of the volcano. It's three kilometers up, while the distance of the path runs up to over 40km – of practically non-stop hairpin bends.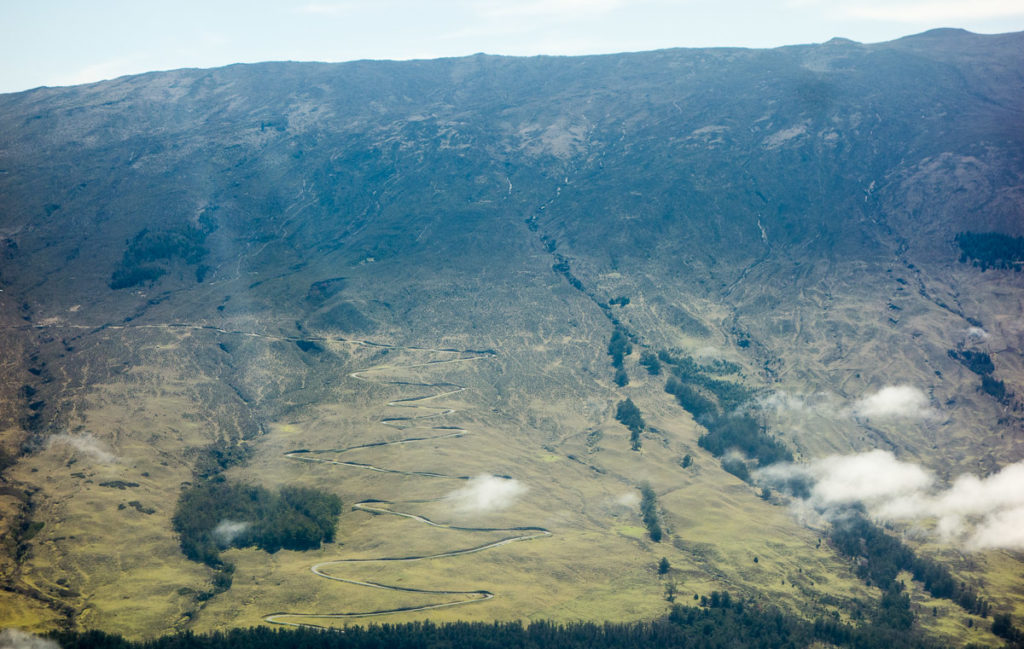 The slithering serpentine to the summit
2. Whales
Both humpback and blue whales roam the sea around Maui. We didn't see any blues, which was a shame as they say there are plenty. The sea here is their "bedroom", where mummy whales give birth to and feed their little ones around this time of year. They also do the bedroom thing with their boyfriends here, and then set off for the kitchen, I think in the direction of Alaska, where they do nothing but eat and eat and eat to get fat enough to be able to make the return trip to Hawaii. And the whole cycle gets repeated year after year.
// This got me wondering. Why such a long distance between kitchen and bedroom? Maybe many millions of years ago Hawaii and Alaska were regions sharing one and the same small water body. Then the two were dragged apart, eventually ending up where they are now, but the whales decided to stick to what they know (their kitchen > their bedroom > their kitchen > their bedroom…) and so just decided to keep on making the increasingly long journey as the millennia passed? Ah – who'd know now anyway? Oops, got a bit carried away there with my musings.
Powered rafts can be rented in the coastal town of Lahaina to check the whales out. It's best not to fill up these rafts with too many passengers – they're more maneuverable with just a few folks on them – and you can get up closer to the whales.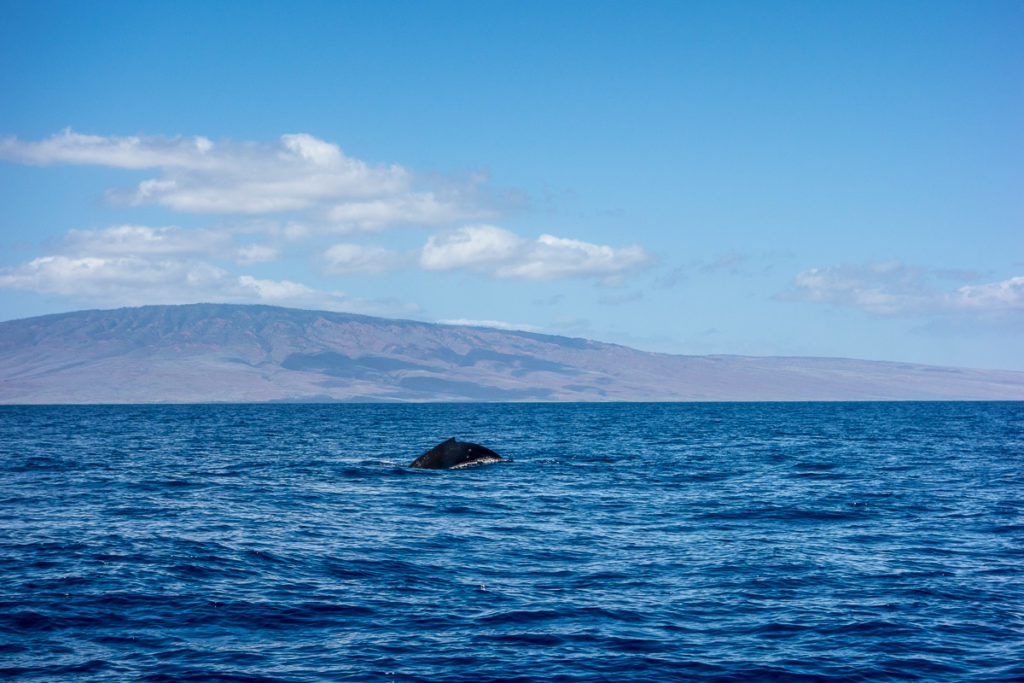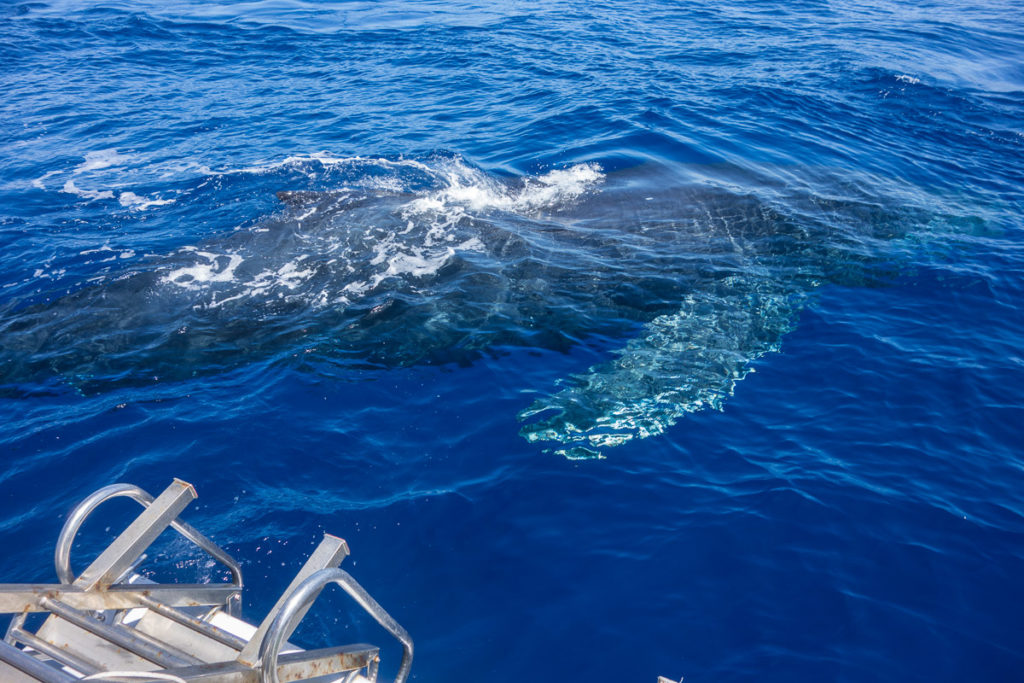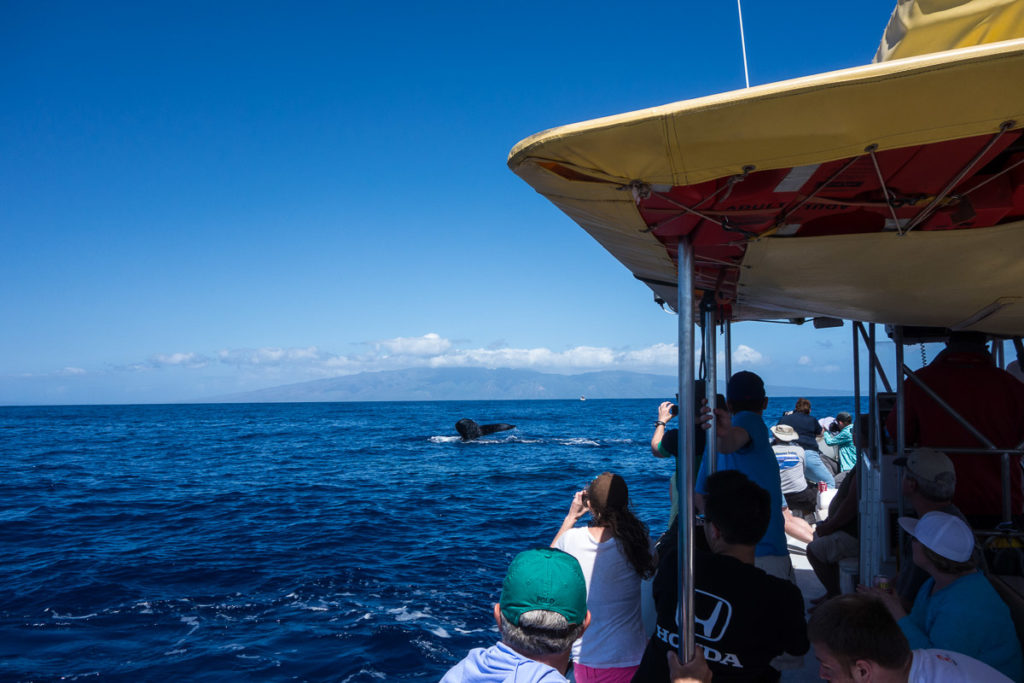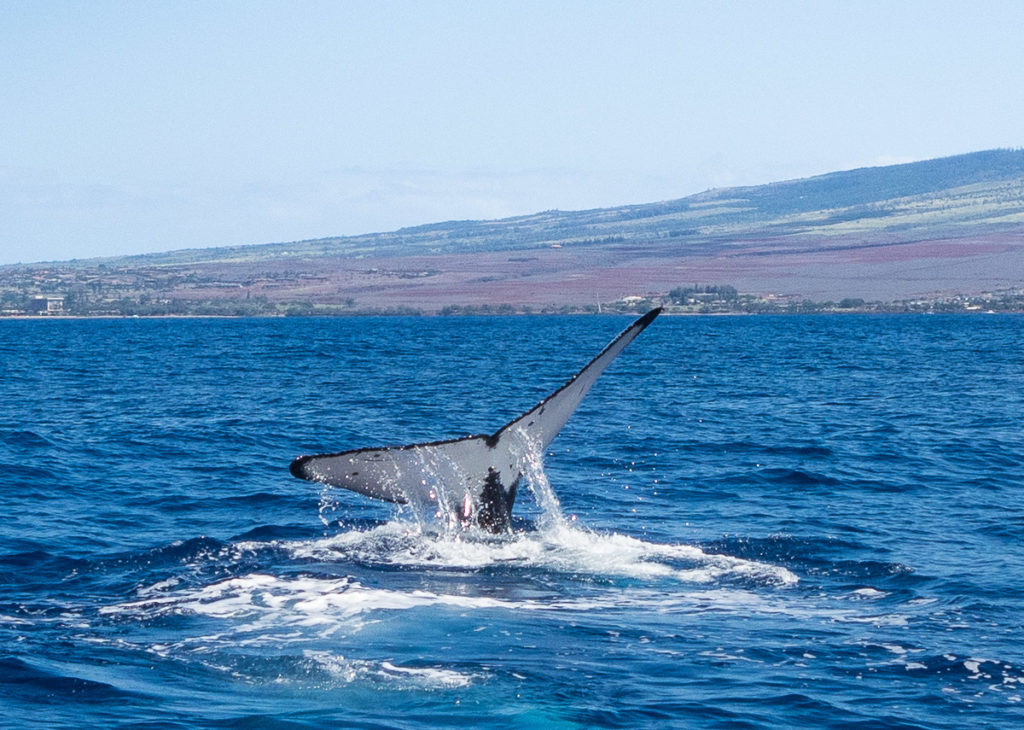 3. Walks
There are plenty of trekking trails to take you through the tropical forests here. Especially praised is the "Waihee Ridge Trail", but we couldn't fit it into our tight schedule. One for next time…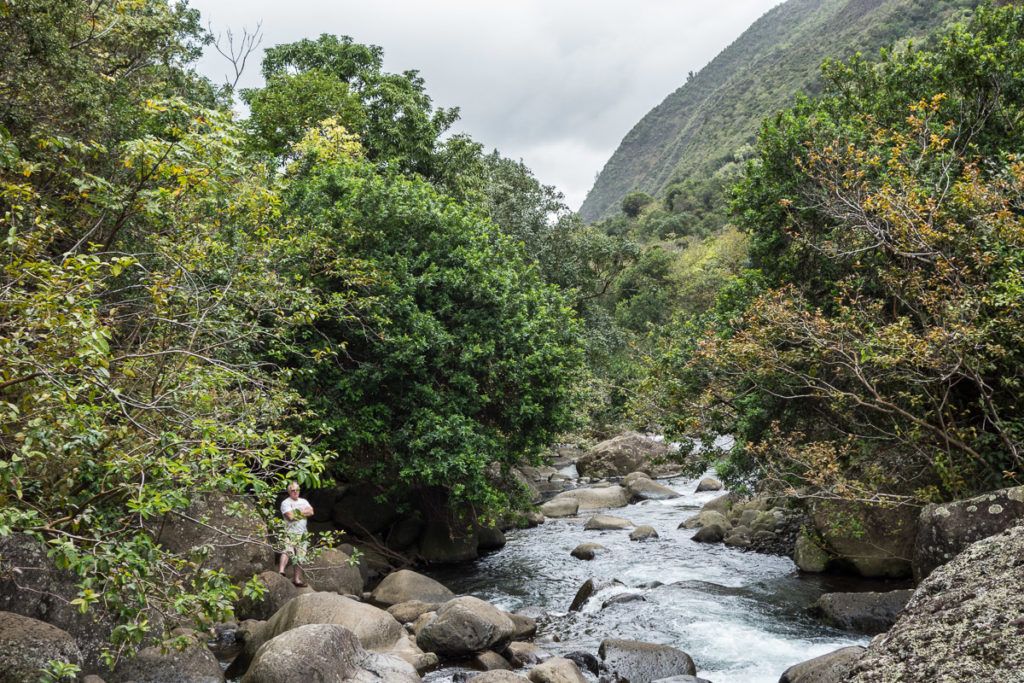 4. Waterfalls
The islands of Hawaii are among the rainiest places in the world. And where there's lots of rain + lots of tall volcanoes, there needs to be somewhere for it all to drain away. Enter a zillion streams and waterfalls, all of them naturally inflicting a lot of irretrievable damage on the surrounding… nature!
// "Volcanoes are suffering from erosion" – this is what the local naturalists are always saying, who also in all seriousness keep attempting to "save" the lie of the land here in its present condition. "No walking here, no going there, no touching this, no prodding that…". It makes everything here just one big conservation zone. Why? So that everything will be nice and untouched by the hand of man – just in time for the hand of God and the next eruption, which will likely obliterate everything here – the lush views, the hotels, roads – and conservation zones? Don't get me wrong: I'm against reckless laissez-faire. To foul up nature is of course totally wrong. But to take it to insane proportions, as in "no touching or walking on the volcanism"… that's just absurd. Rant over.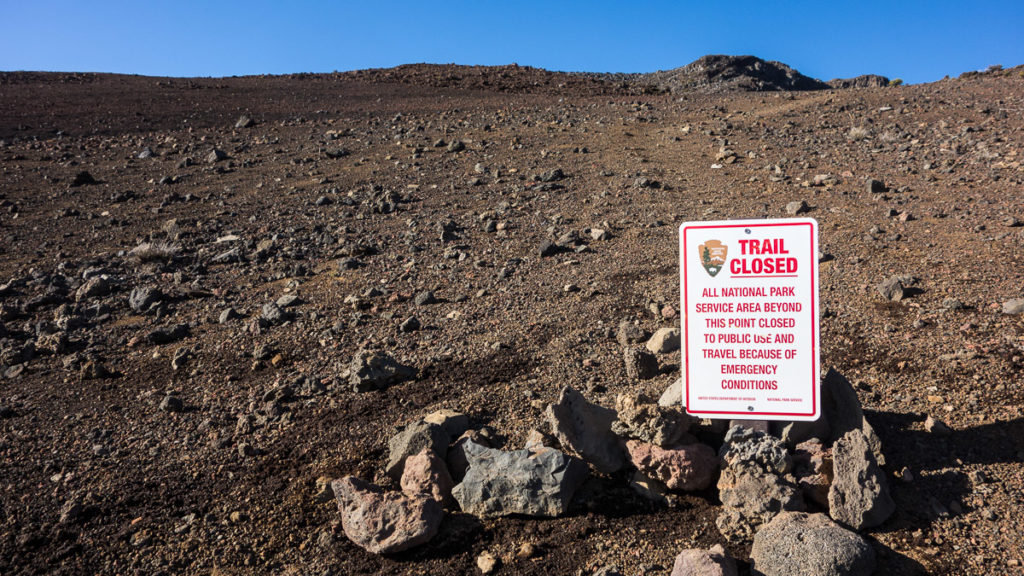 Back to waterfalls… As I say, there are lots of them here – practically everywhere on rainy slopes, and visible from the roads too (see below). Sometimes you come across cascades of waterfalls and idyllic lakes – perfect for a dip. But the most wondrous waterfalls, alas, are those hidden away from the roads, and getting to them can be rather problematic, if not impossible – since a lot of land here is private property – not that that bothered us all that much, as we switched from car… to helicopter! Incidentally, Hawaiian private property… reminds me of the country pile looked after by that Brit ex-services man in Magnum!
Anyway, out of the numerous waterfalls we saw on our travels, the very best are the following: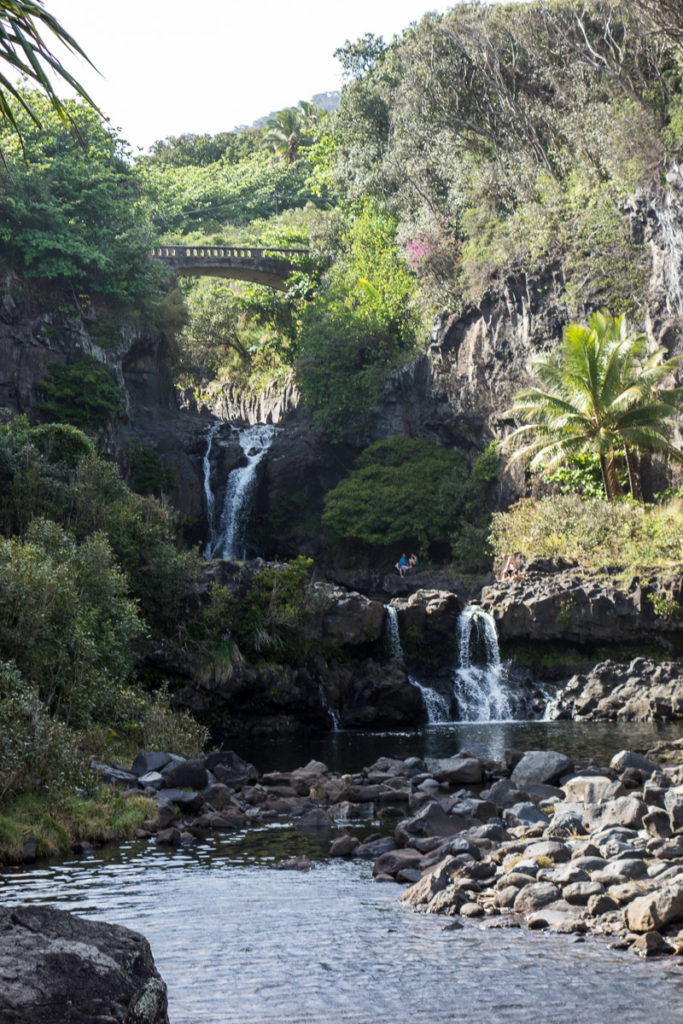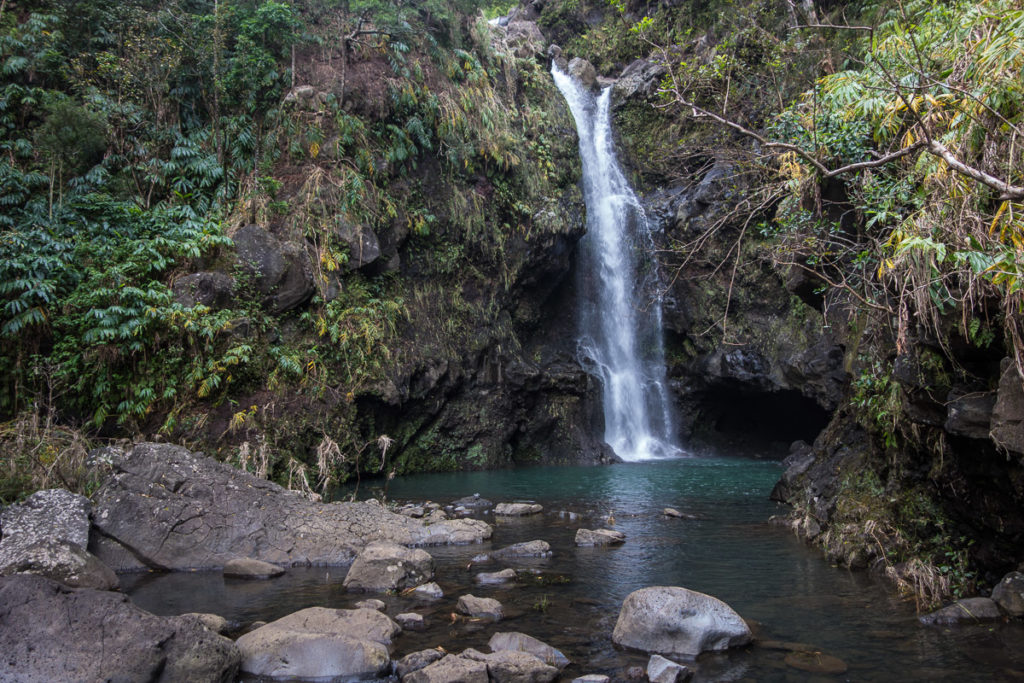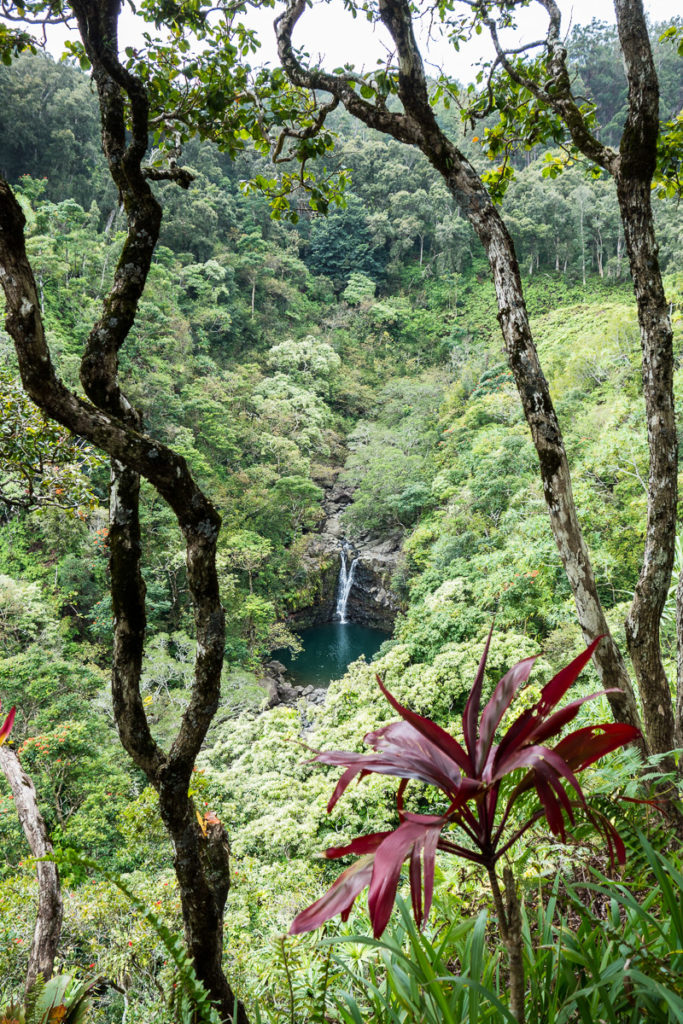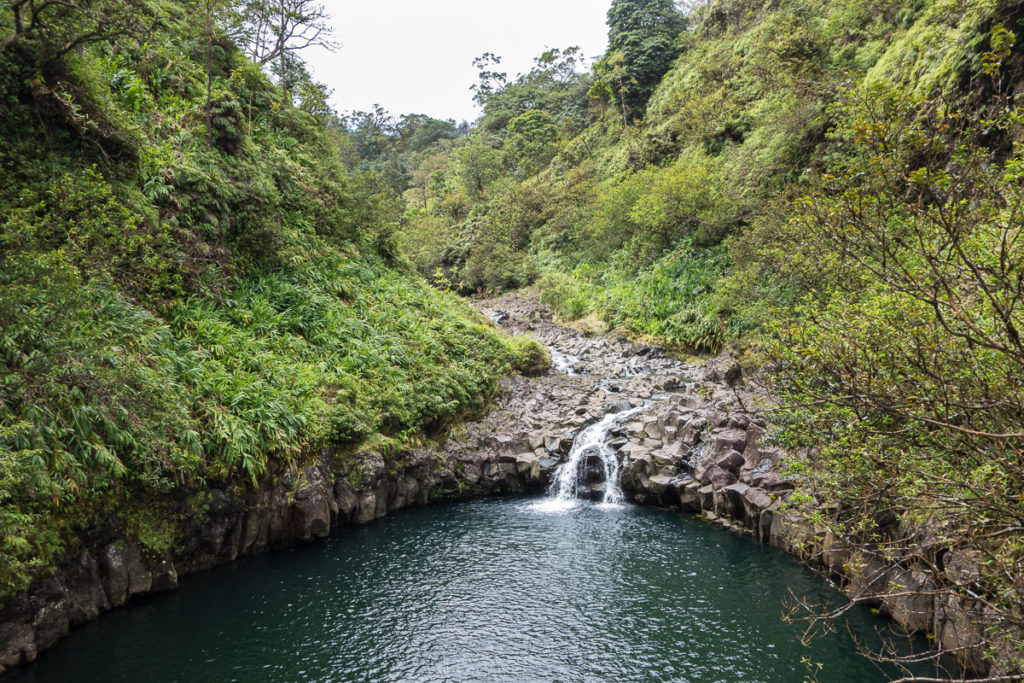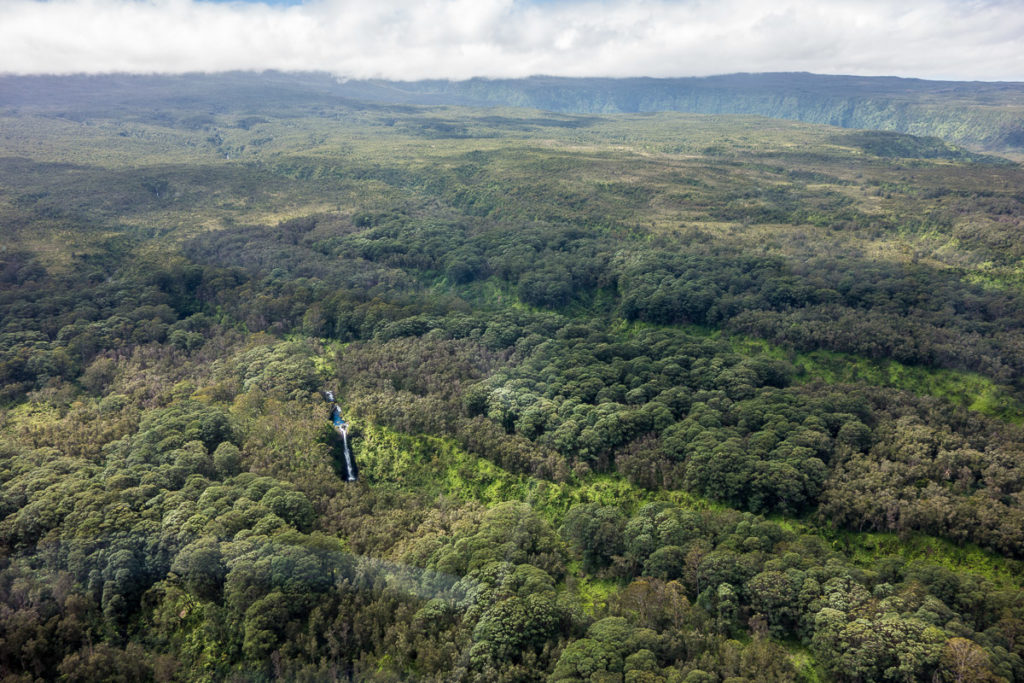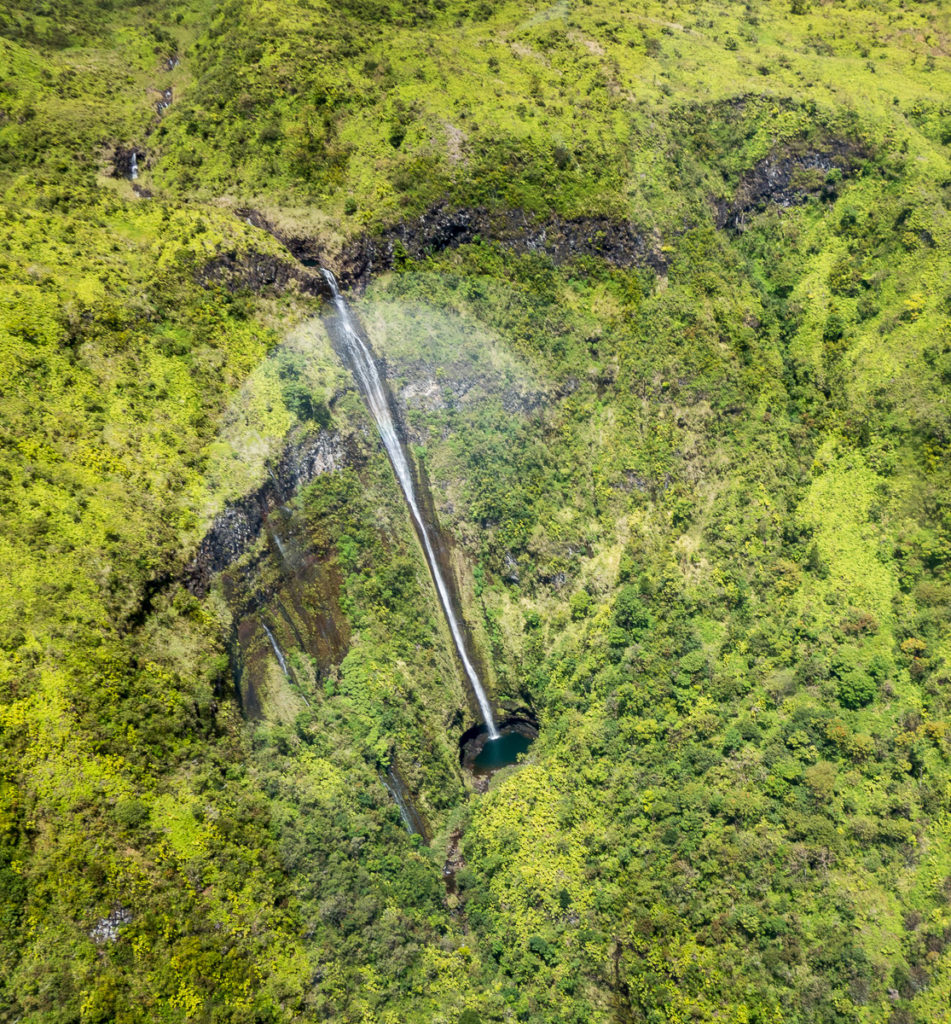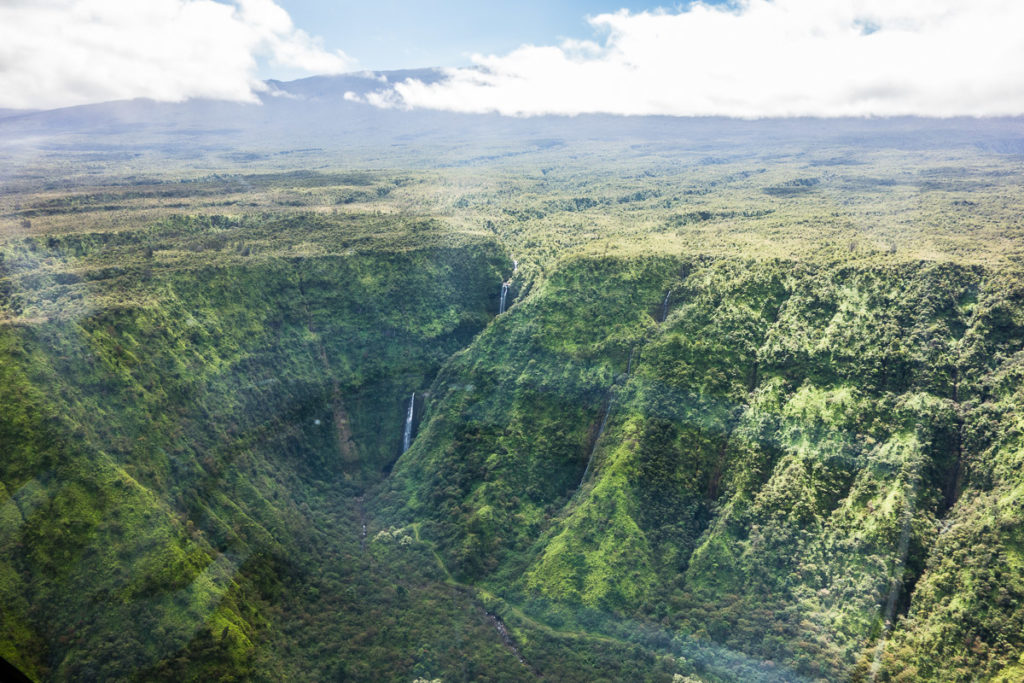 5. Other must-sees
The Garden of Eden – a beautiful botanical park. They're being a little ambitious with the title of course (I observed neither Eve nor Adam), but it is an amazing place – and incredibly neat and tidy, with smart roads and paths, plus its own waterfall. Two or three hours can easily be spent here – and they'll fly past in a flash. By the way, it was here where they filmed the opening scenes of Jurassic Park. Note: the park – not the Jurassic one – is open until just 3pm, so best get there am!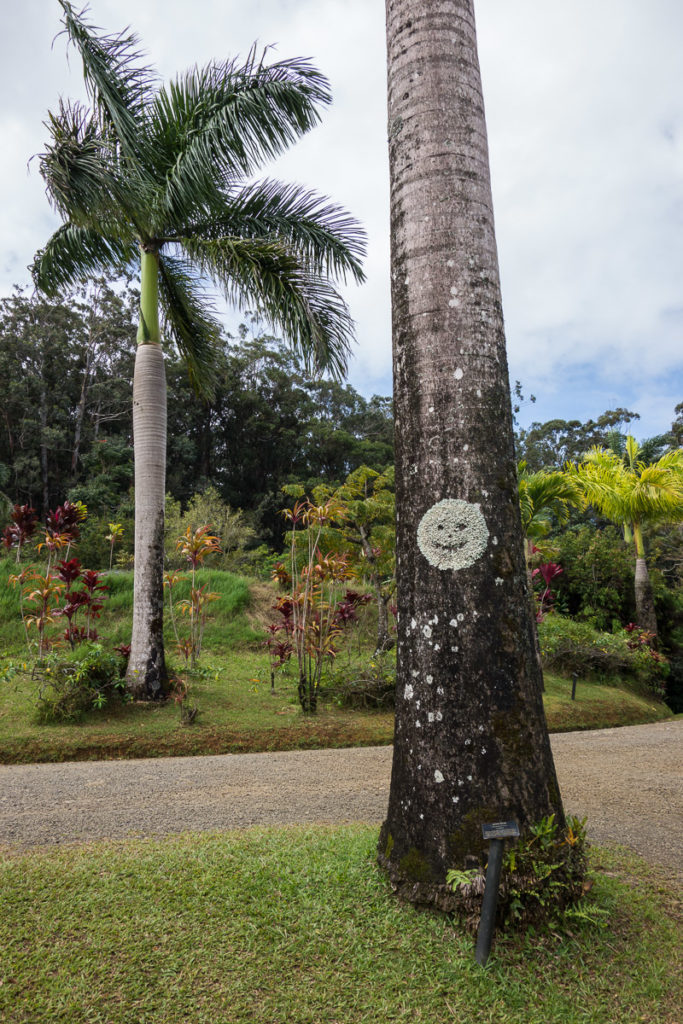 Kaeleku Cavern – a good sized volcanic lava cave. One of the biggest in the world. It used to be an atomic bomb shelter!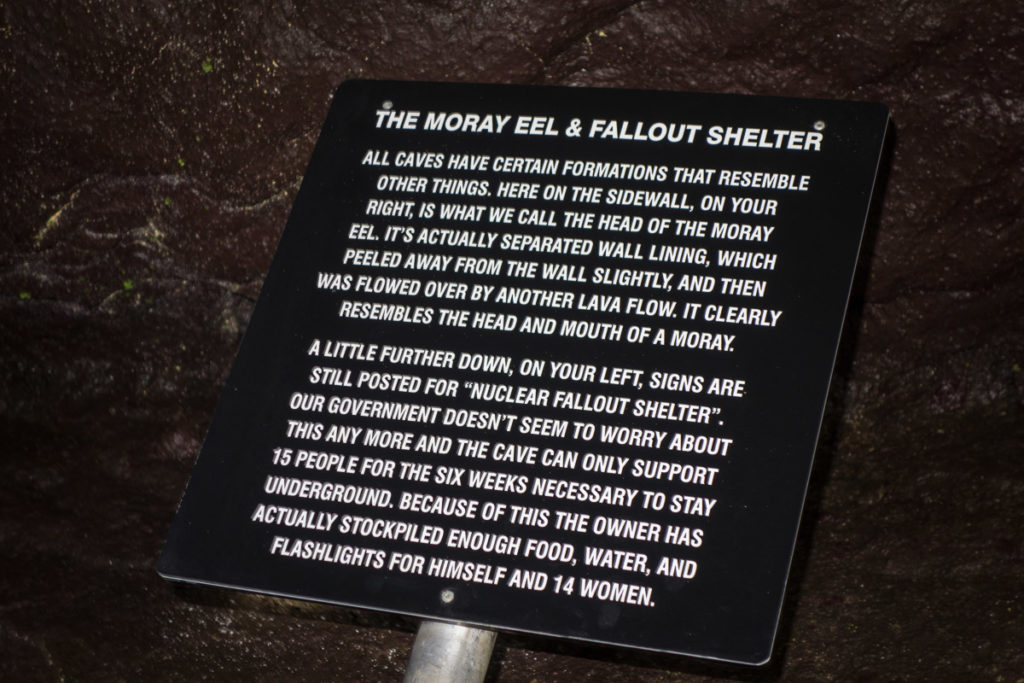 Who said Hawaiians aren't known for their humor? :)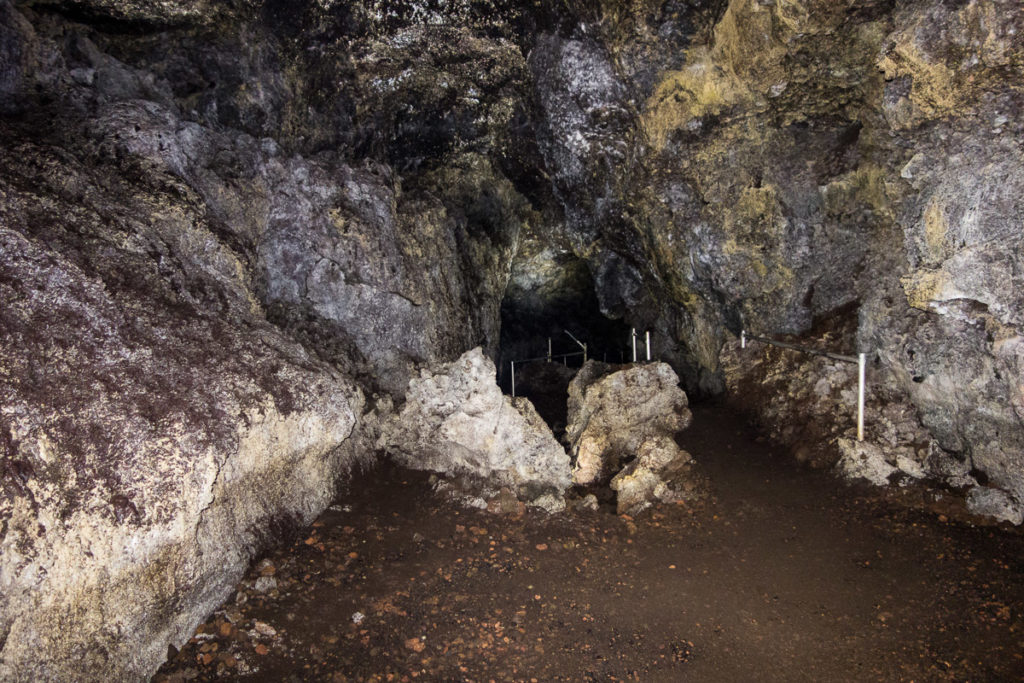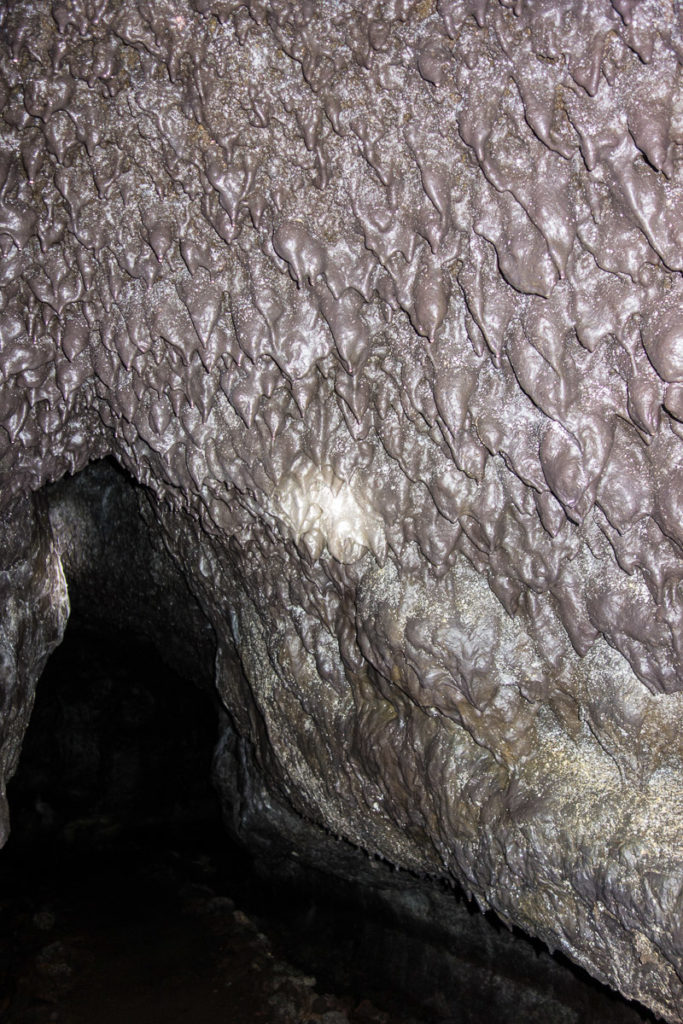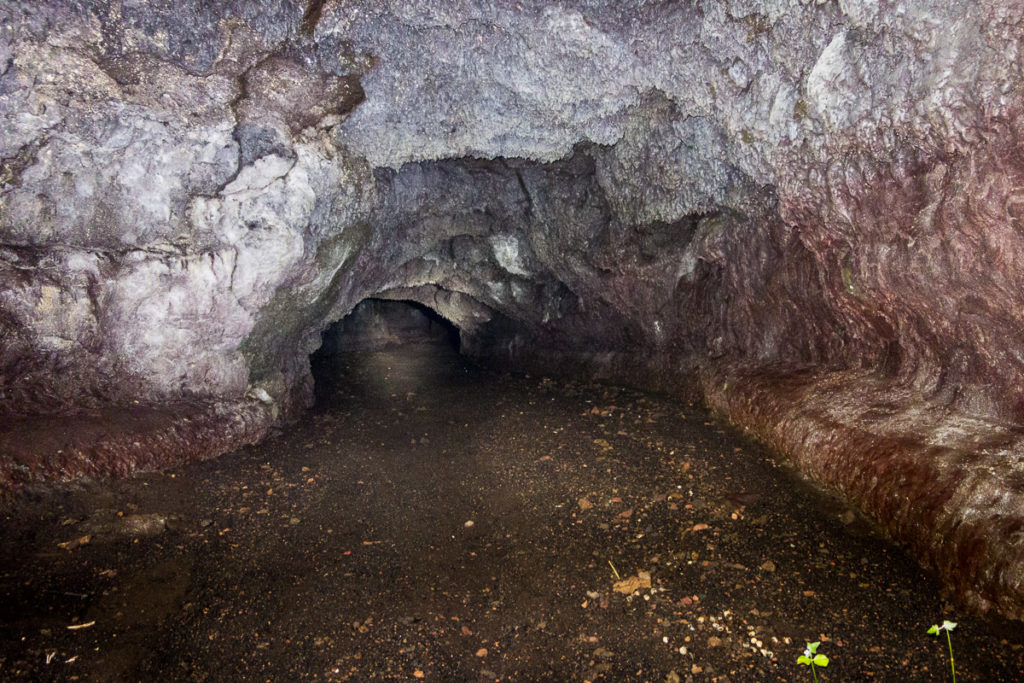 And practically everywhere along the coast, besides the sandy beaches, there are eerily black volcanic cliffs onto which fierce oceanic waves crash and make one heck of a din. But then the cliffs would be black. This is after all a volcanic island. A place where millions of years ago a volcano started to grow on the bottom of the ocean, which eventually became an island, from which flew burning lava into the ocean. A place where fire took on water. And water won. So far…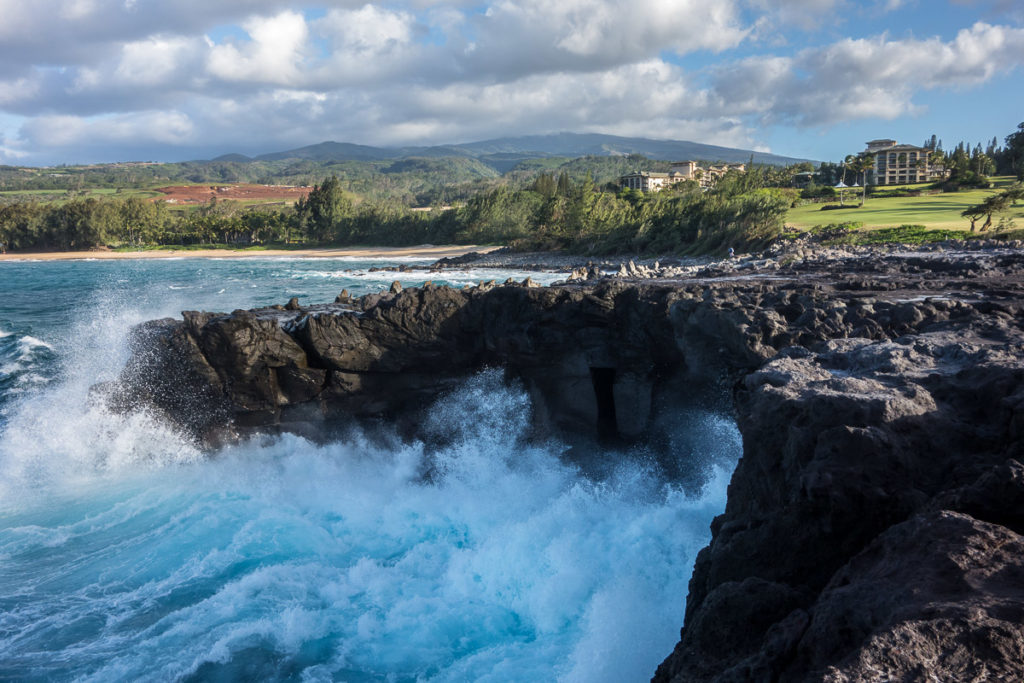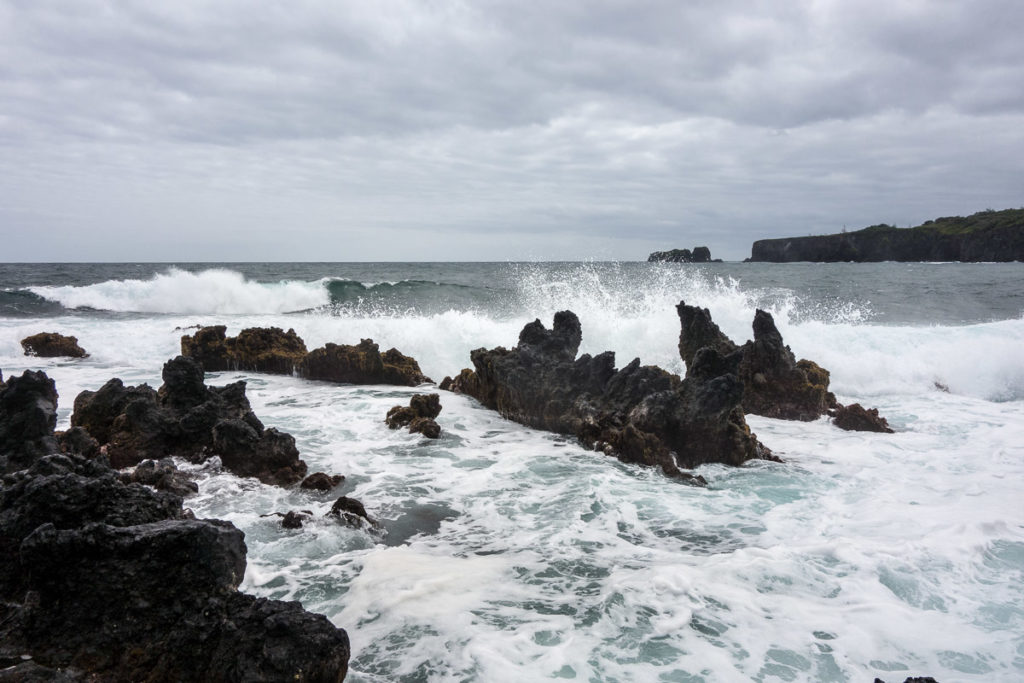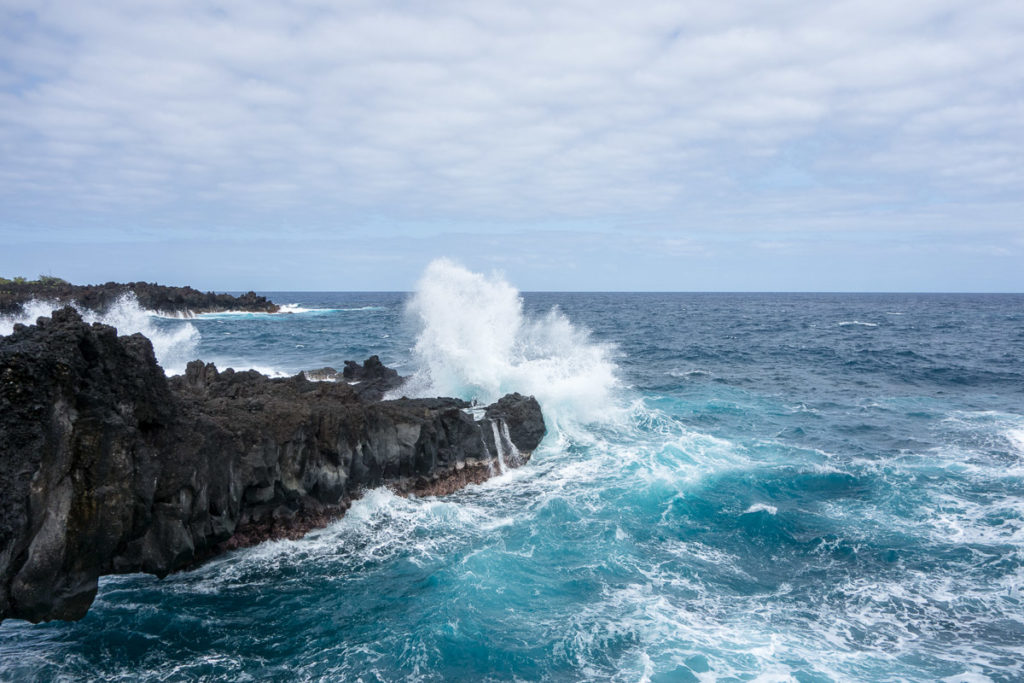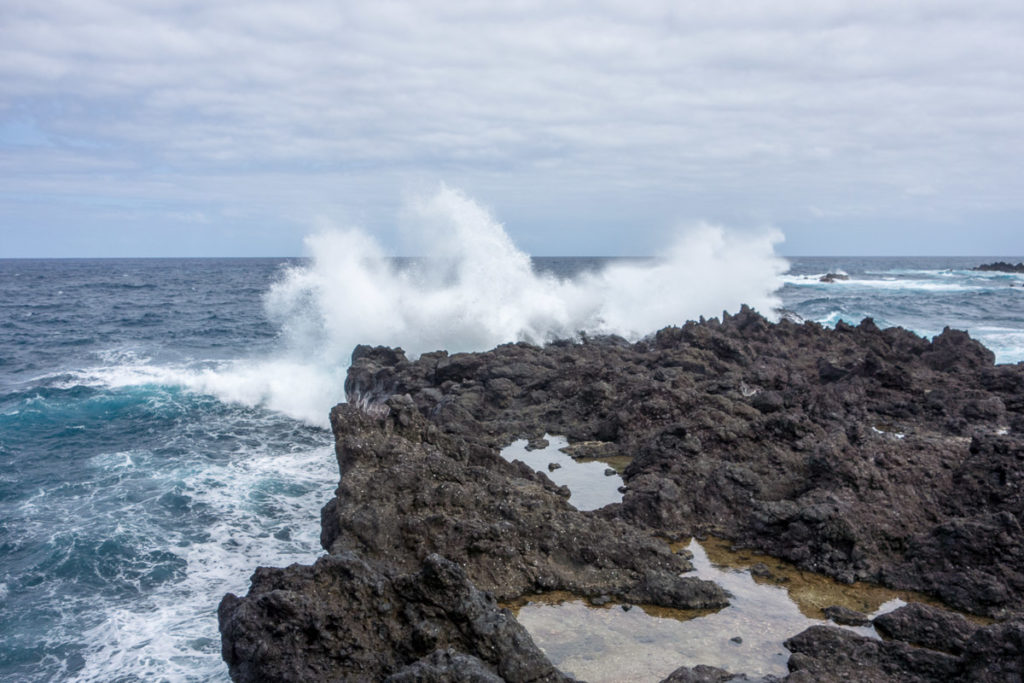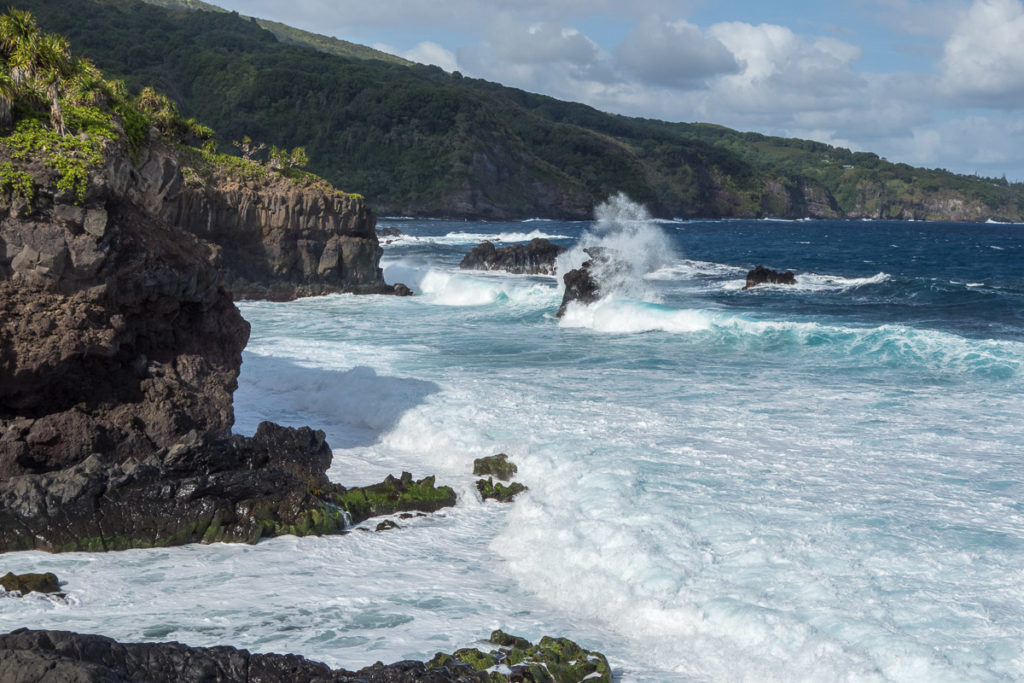 6. Route 360.
Hawaii State Route 360 goes round the eastern part of the island. As mentioned, the island itself is a figure of eight (made up of two almost round volcanic peninsulas connected by a valley), or a matryoshka – with this road going round the lower part (the Russian doll's backside and legs, as it were!). In all – around 80 kilometers, on which there are 56 bridges and 617 bends – if the t-shirts are to be believed that are sold along the road.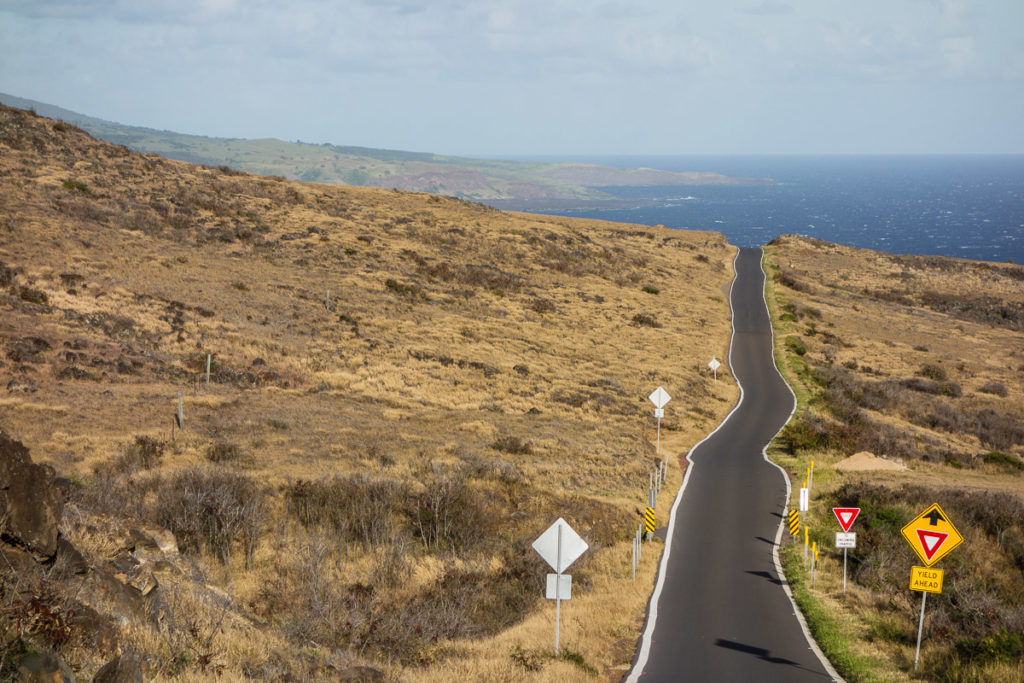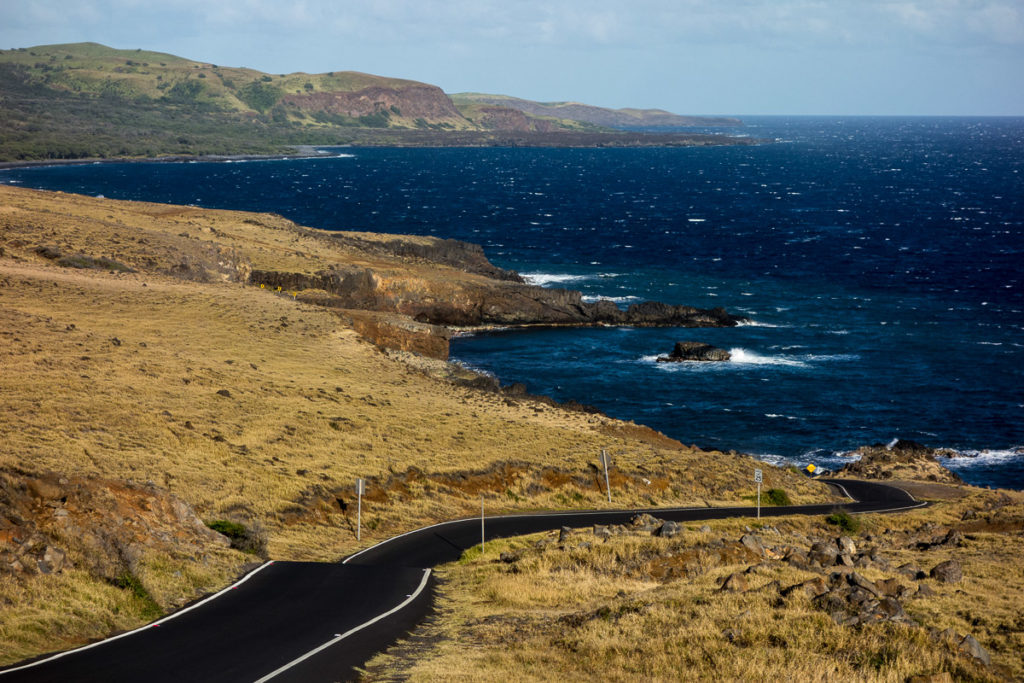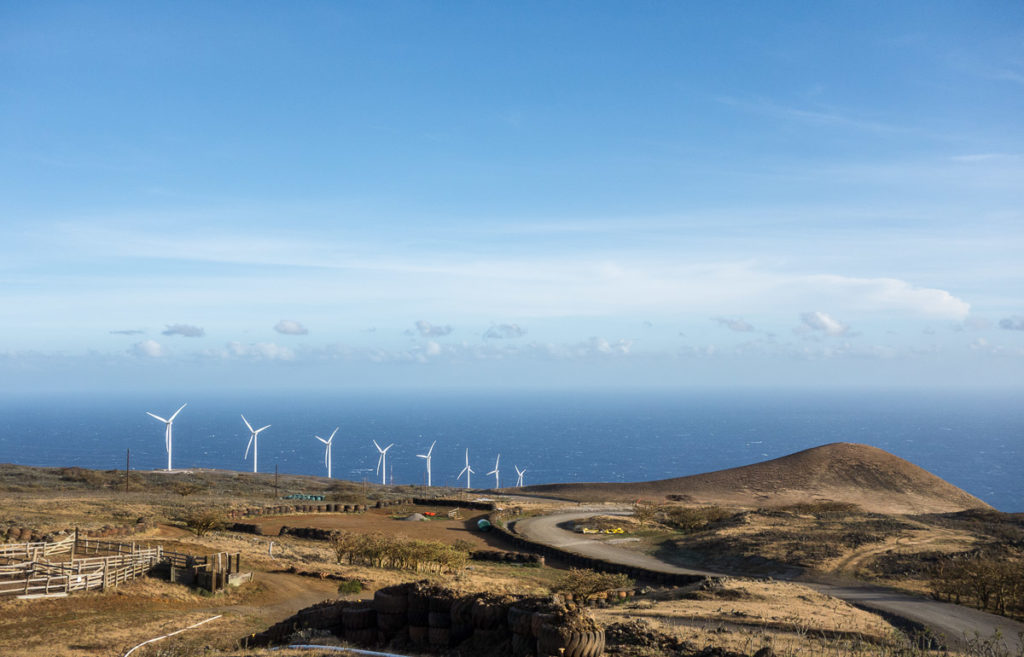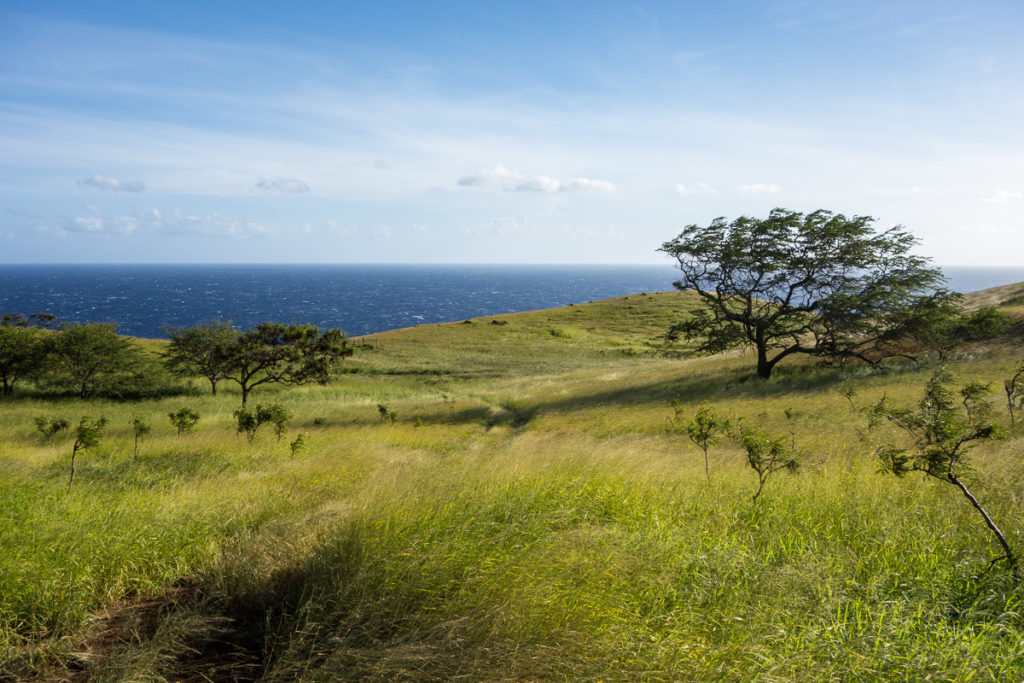 Along the route there's some breathtaking beauty to be observed, and an uncountable quantity of waterfalls. A summary of the highlights:
Garden of Eden (see above).
Honomanu Bay (a beach of black sand, crazy surf crashing against black volcanic rocks).
Waianapanapa State Park (superb lava cliffs, black sand beach. V. cool.)
Hamoa Beach (a white sand beach).
Kipahulu Pools (cascade of high waterfalls (April-May). In low season still worth a look.
It's best to go anti-clockwise round the peninsula on Route 360 – so as to get to see the lush sunset full on – but plan for a very early start otherwise you'll miss it. Our steady-pace circuit, stopping off at all the above-mentioned places of interest for half an hour or so, took us 12 hours!
The rest of photos are here.
Aloha!