Three Gorgeous Gorges of Energy.
Let's continue the electricity theme…
Actually, more specifically, in this post it's a hydroelectric theme; more specifically about a hydroelectric power station; more specifically – the largest hydroelectric power plant in the world. It's so gigantic you can stare at it for hours, hypnotized: massive majestic concrete walls, vast open spaces… extraordinary in the extreme. And the best bit is the flowing water – which acts as a magnet for the attention of Homo Sapiens.
It's called the Three Gorges Dam. It's around 30km from the city of Yichang, and around 300km – or 2½ hours on a train – to the west of Wuhan.
A dam more than two kilometers (2300m!) long, 180 meters high, with a width of the dam wall at the top of 50 meters, and at the base – 120m (as we were told by the girl who was our excursion guide for the afternoon). I mean – just how much concrete was needed for all that?! Oh my gorges.
More crazy numbers: 1084km² of land were flooded to make the installation, and more than a million folks had to be evacuated to make room too!
More: The hydroelectric power station has 12 + 14 + 6 = 32 turbines. And each turbine… I'll show you in a bit…
Thirty-two turbines?!! Just to compare, Russia's largest dam has just 10, the USA's – six.
More: Six of the turbines at Three Gorges wouldn't fit into the massive building that was meant to house them all, so they had to bury them underground next to the dam!
More: the sluice gates at Three Gorges are double-sided for water transportation, and there's even a lock (water lift) for small boats!
The sluices doing their sluicing thing (according to same guide) takes around four of five hours. How long it takes for a boat to go up the 'elevator' I still don't know. Here's the top of the lock: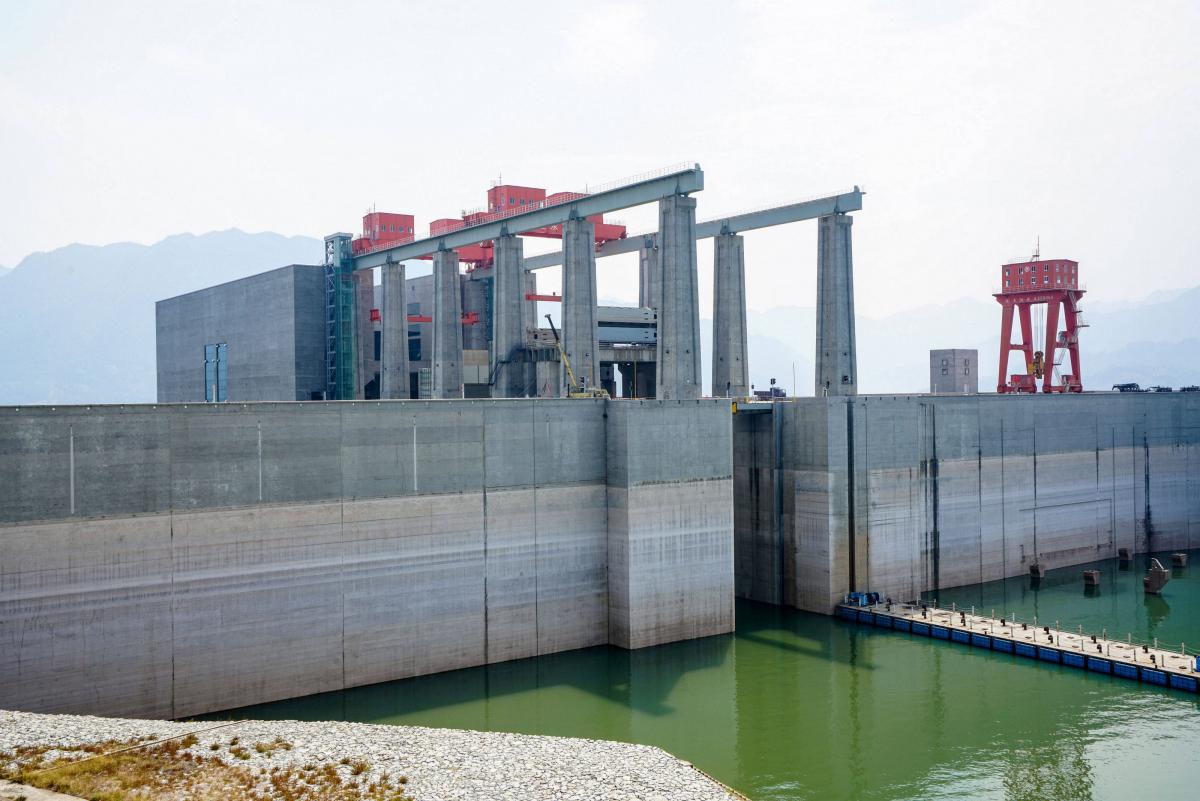 Alas, the rules and regulations here are drastically draconian: you can't walk across the dam, and can't even touch the concrete! The nearest you can get is as near as we were taking the above pics. But you can study this scale model: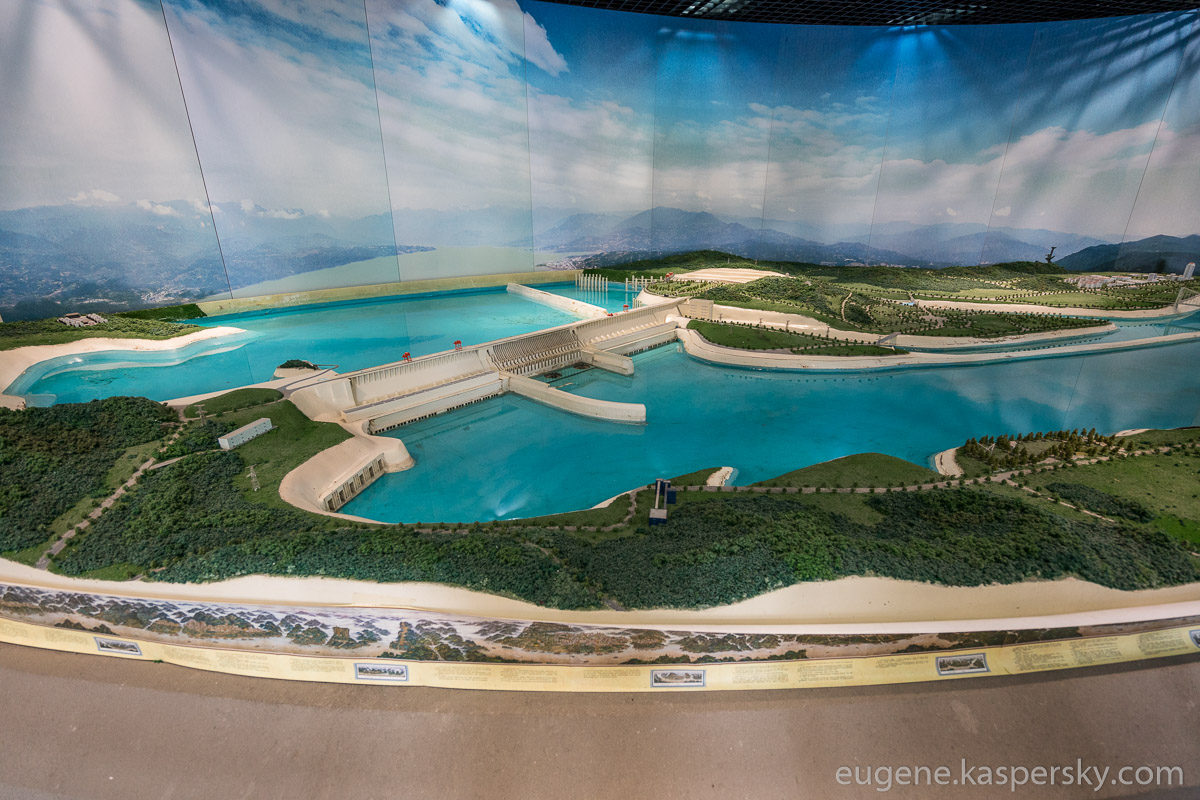 And you can get a good panoramic view of the place by climbing up a nearby hill. Actually, you don't climb it (boo!), you go by escalator. Up a hillside :).
Whoah. The views from up top are outstandingly outsize and awesome. Gorge-ness gracious!
When we were viewing the dam from where the below pic was taken, our guide… threw a wobbler…
You see, we're observant. No. We just have eyes…
Now, if you look at the far end of the dam you can see there's a small island out in the water with a bridge connecting it to the dam. And if you look carefully, you can see that when the water is at its highest level (we were there when it was at its lowest level) both the island and the bridge will be underwater.
But when we pointed this out to our guide, mentioned wobbler ensued…
She came over all agitated and insisted that "nothing at all ever gets submerged, the water level never rises so high, and everything is just fine"!
But then, how come there's this big poster on display on the way out?…
I LOL'ed – literally :).
Ok folks, so, who can guess (or maybe who simply knows) why they made such a bridge, which sometimes does get submerged? Or was the bridge there already before the dam came along? Answers please in the comments.
And to finish, a bit more on the hydroelectric theme…
Since we weren't allowed onto the dam or inside to see the generators' turbines, to get an idea of what was inside, here are some pics of other hydroelectric power plants I've been to:
PS: I hear rumors they'll be building a tidal power plant in the Sea of Okhotsk. Crikey. Now that is ambitious. I'll have to get there one day – after it's built of course.
PPS: Don't forget about my quiz-question about the submersible island/bridge: why?