And finally – the South Base Camp of Everest!
It's been long. It's been winding. But finally, the (Nepalese) South Base Camp is no longer a long and winding way away: it's just around the corner! After spending our last night on the trek in spartan surroundings in Gorakshep, we were up and out for our final push to the SBC!…
But once out of our lodgings, I couldn't quite fathom the eager wonder expressed in the faces of my fellow trekkers. I couldn't fathom it out since the weather was absolument merde (pardon my French). Ok, so the snow was falling from behind – but we had to come back down again later that day!…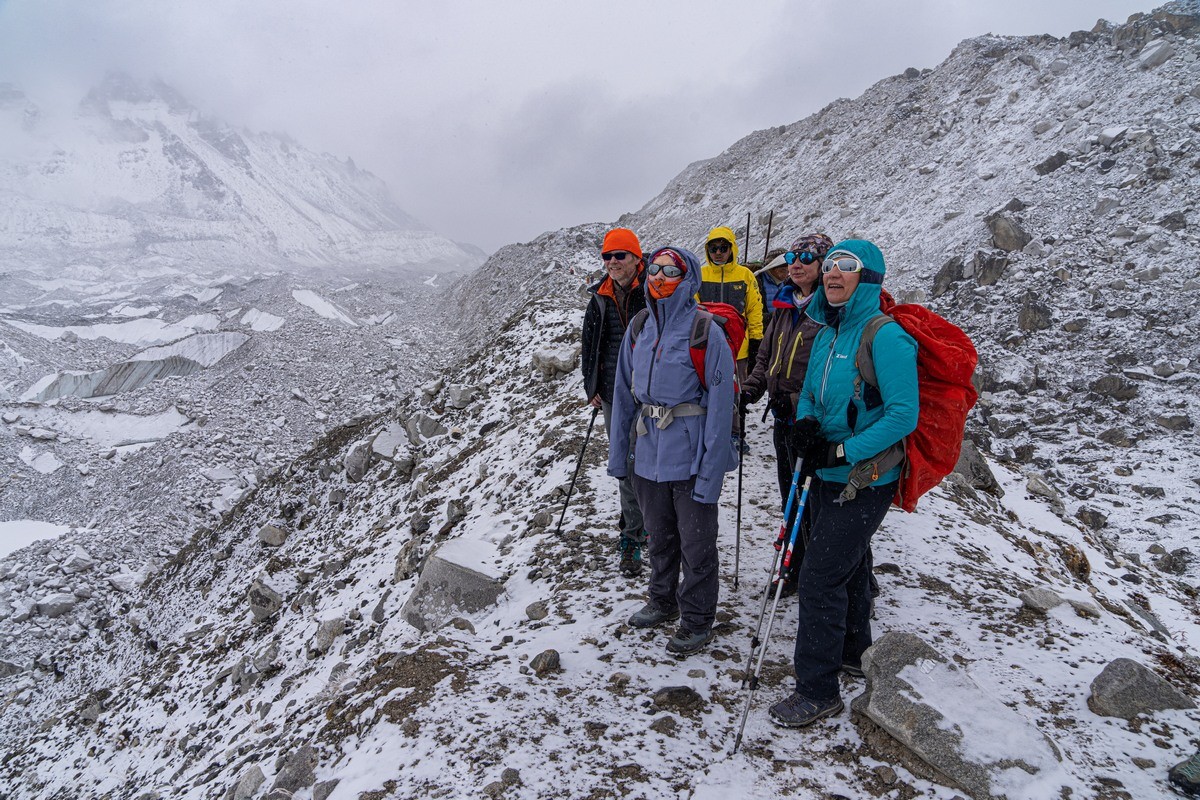 And here's the photographic evidence of the merde weather. I took one look at it and floated the idea of my refusing going any further and heading back down to the snooker hall, but must have been too half-hearted about it for I was quickly talked out of such mutinous designs. So off we popped, all together – up to the SBC, then up to the top/far end of the SBC, and only then back down. But as we set out in the morning, this is what we faced ->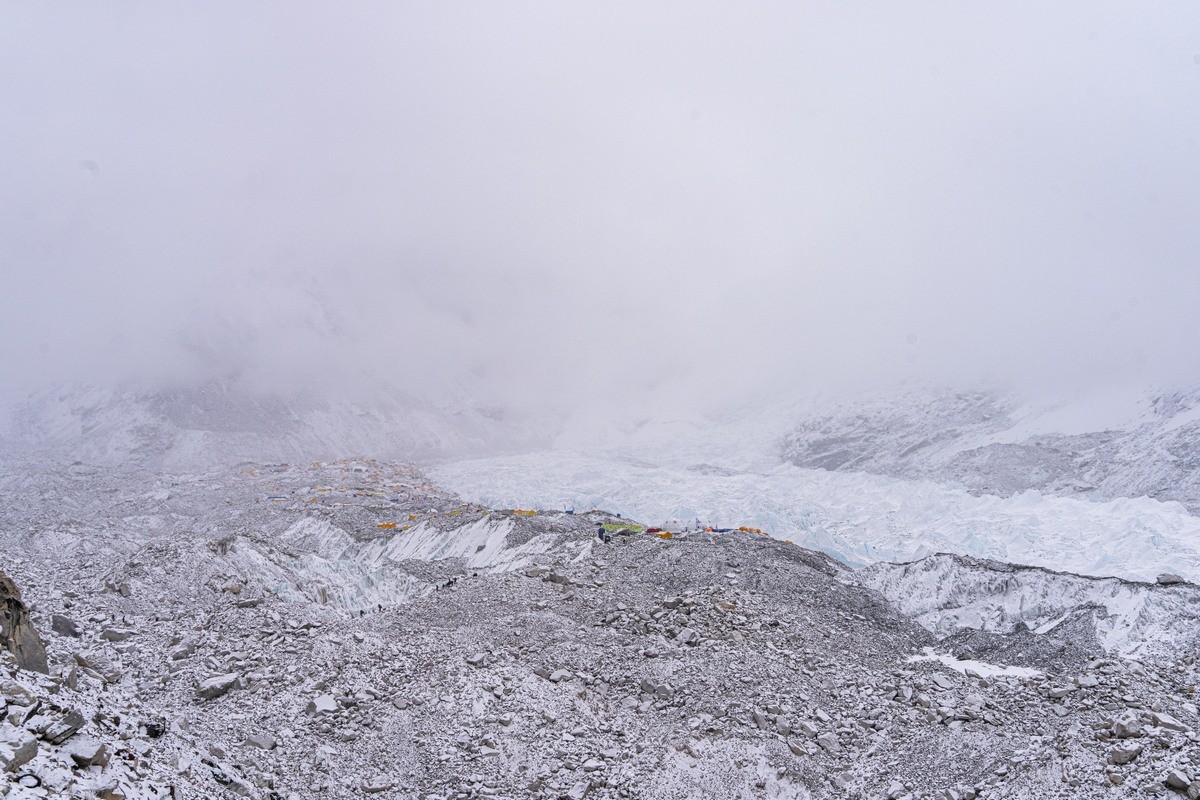 Finally – our first glimpse of the SBC! ->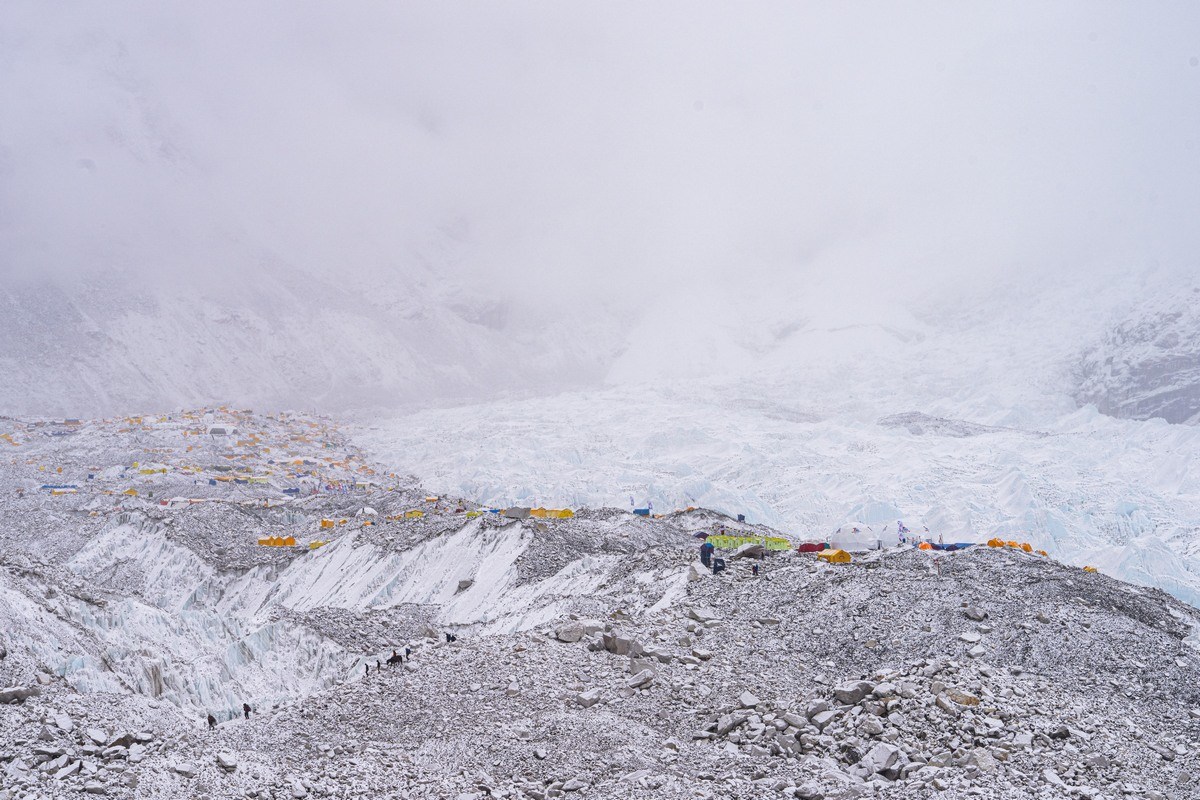 The camp is around a kilometer-and-a-half long, sitting atop a strip of moraine. In season around 1500–2000 folks stay there – made up of climbers heading upward, plus twice as many Sherpas and twice as many camp workers. And here's the "entrance" to the camp – the famous graffitied rock. We came at a good time – there was not a soul around; normally there are lines to get your photo taken ->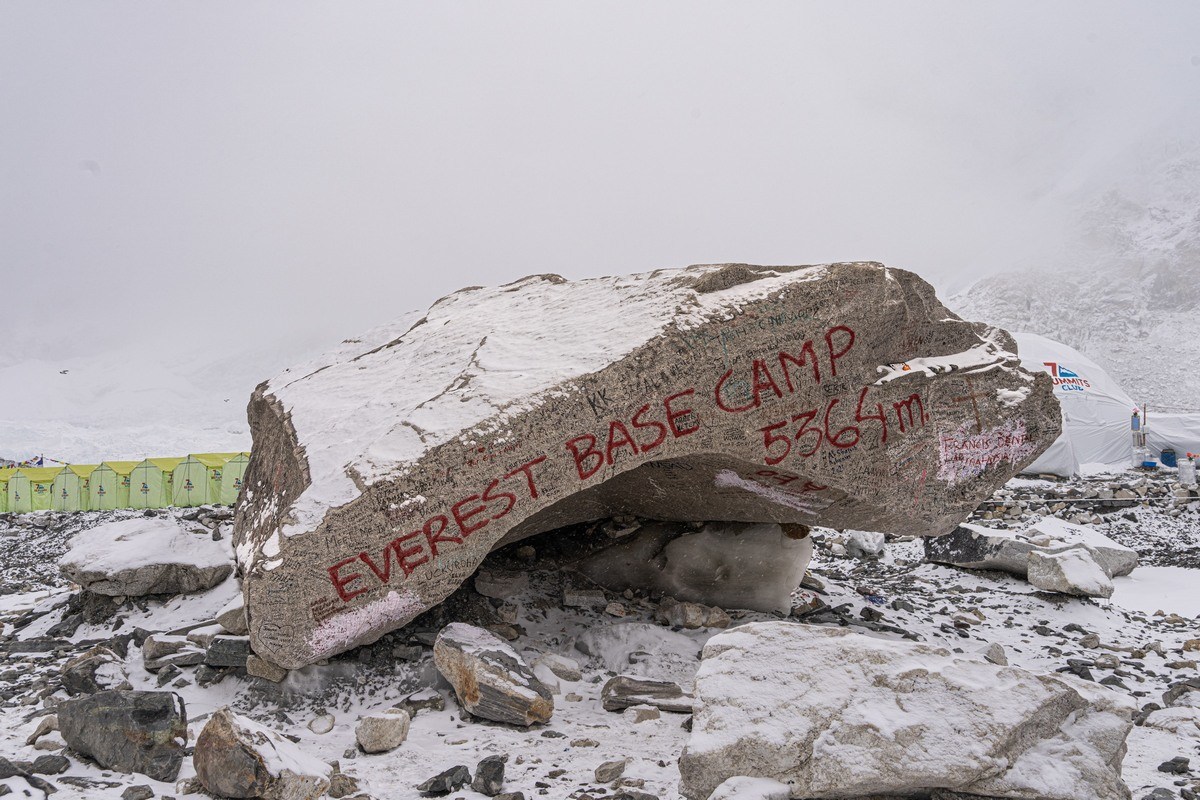 No queuing necessary! ->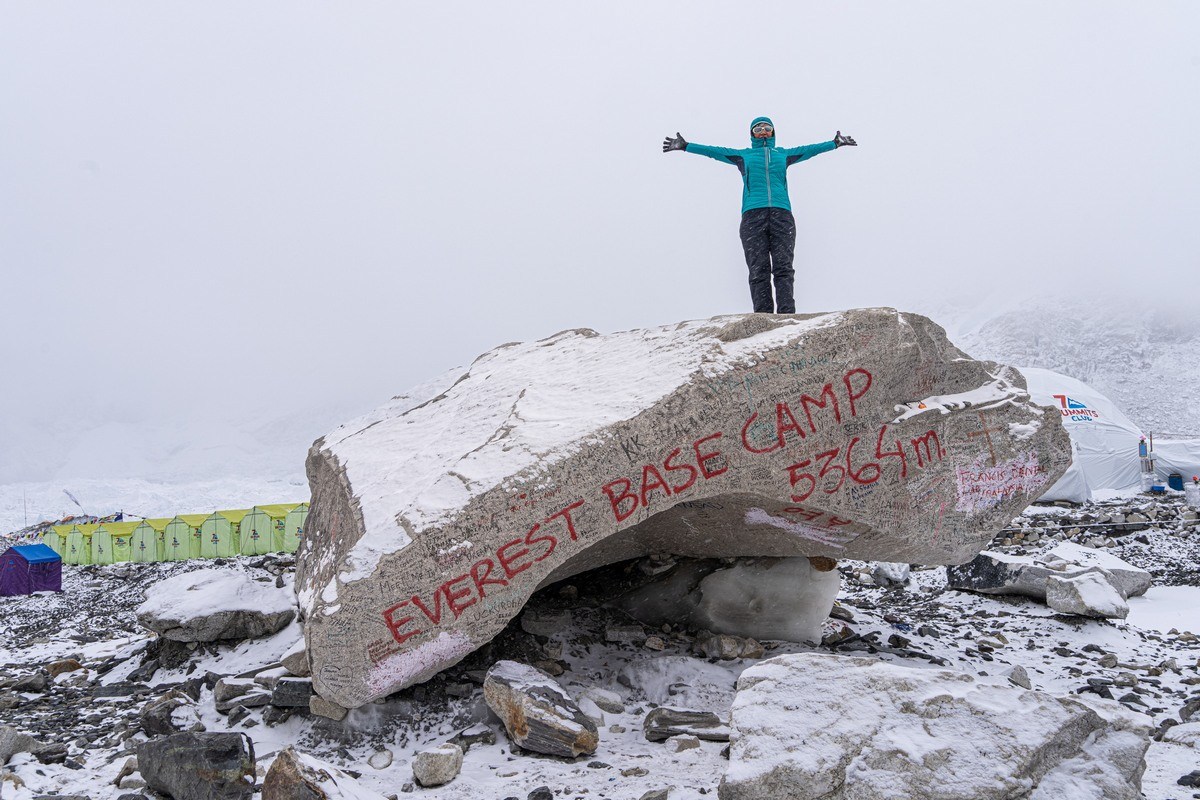 A proud moment for Midori Kuma too ->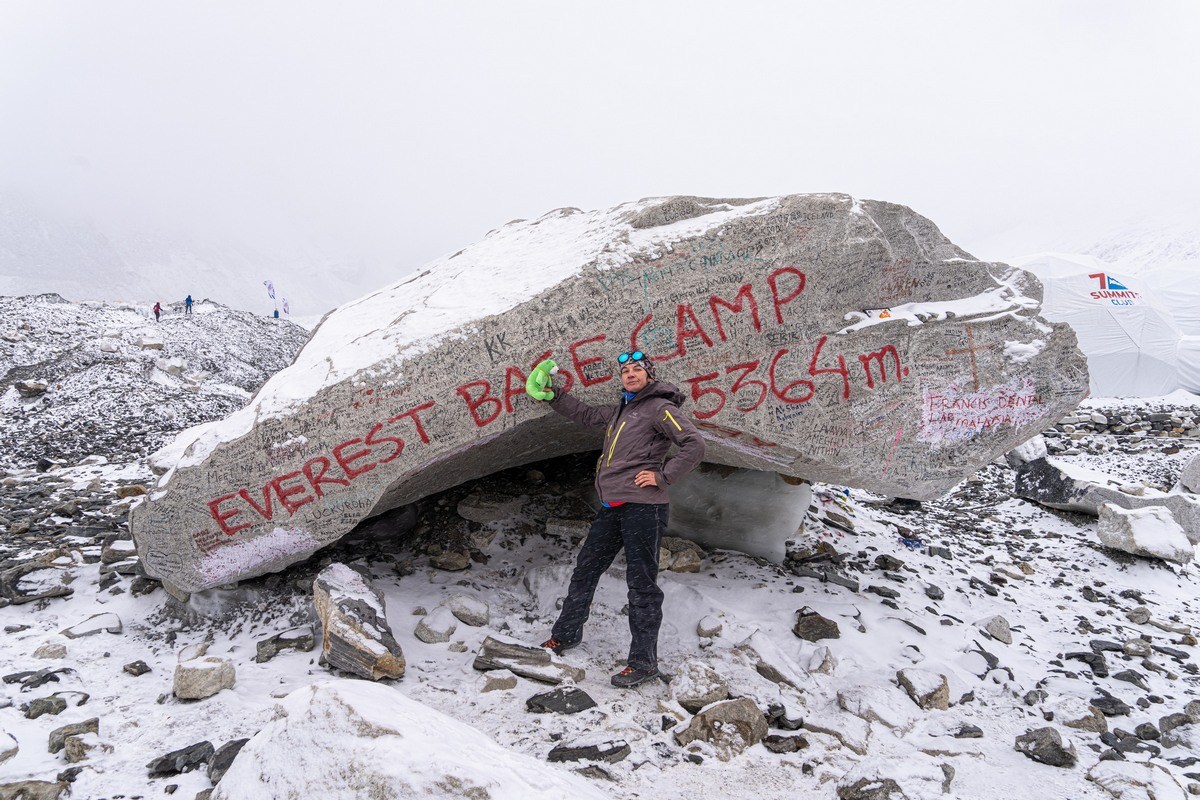 "It's not so heavy after all!" ->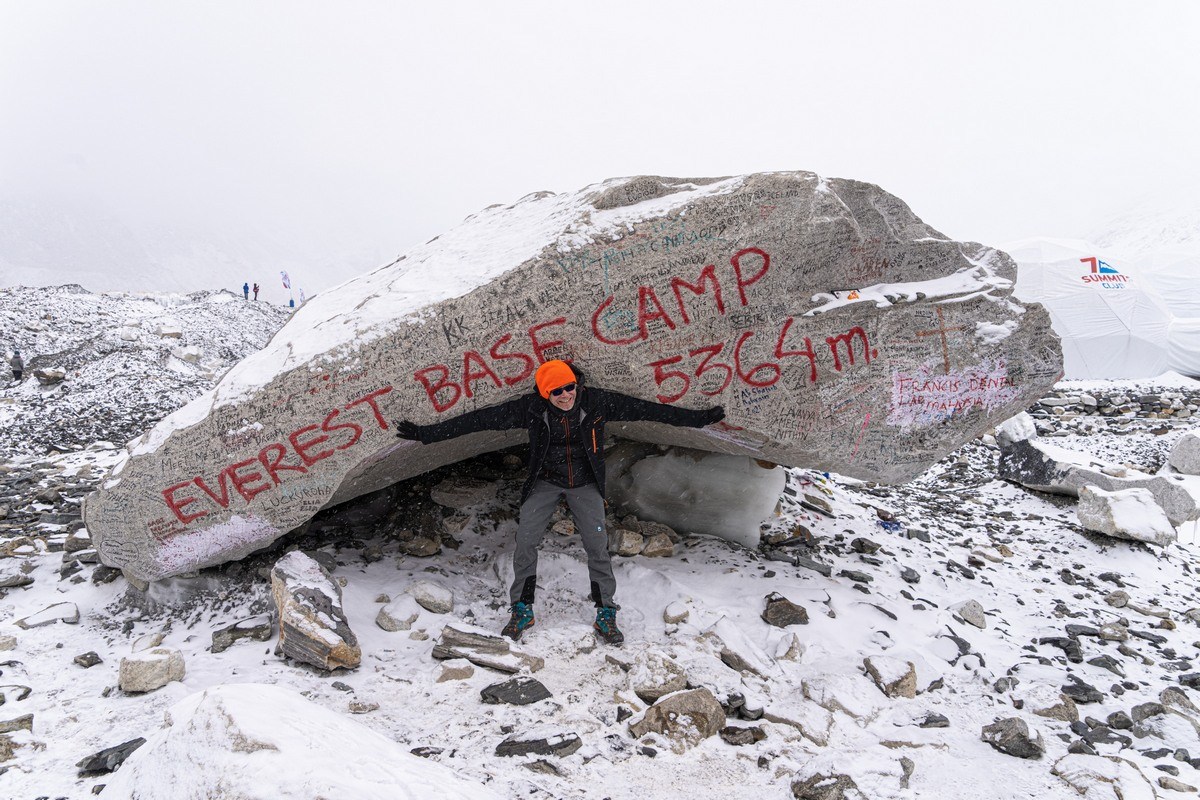 And here's the sub-camp our travel agency "7 Summits":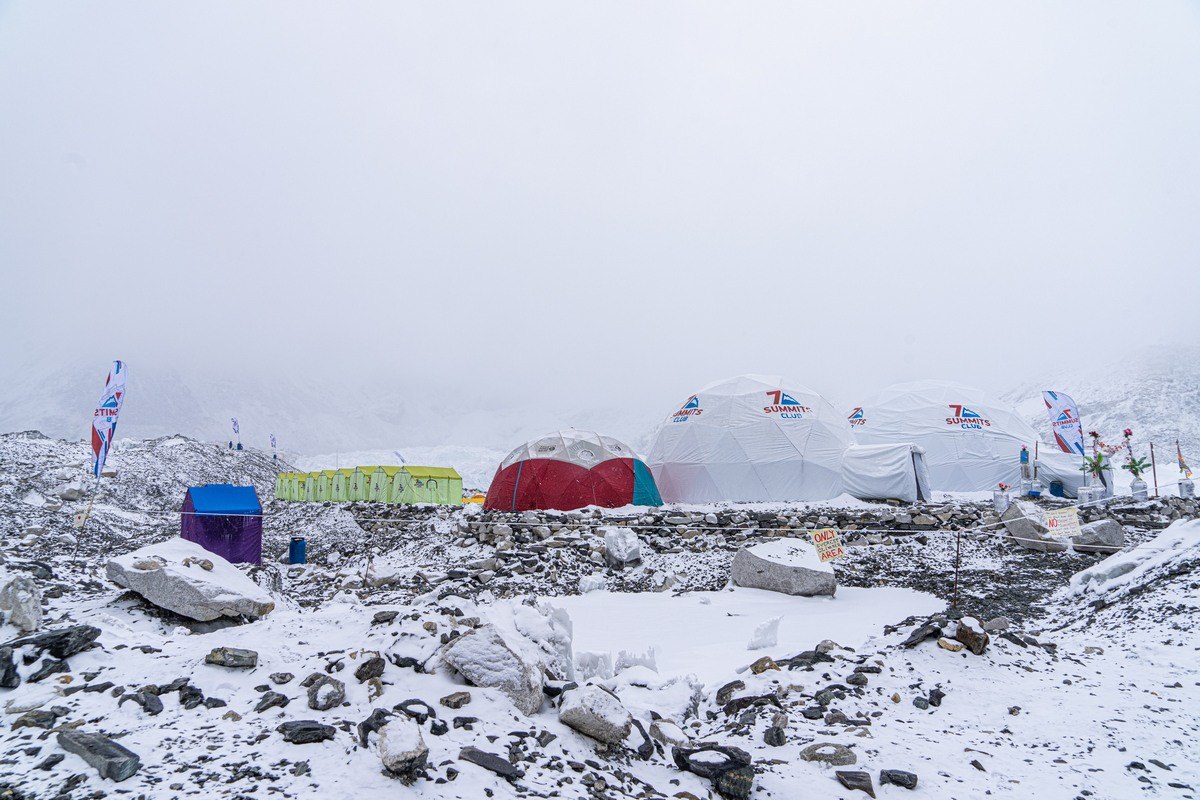 Oh – that's only for those going up Everest! We duly kept away (even though it was our travel agency!) – didn't want to disturb the serious mountaineers with our touristic amateurism )…
On our stroll through the camp – we observe installations of various kinds, designs and purposes: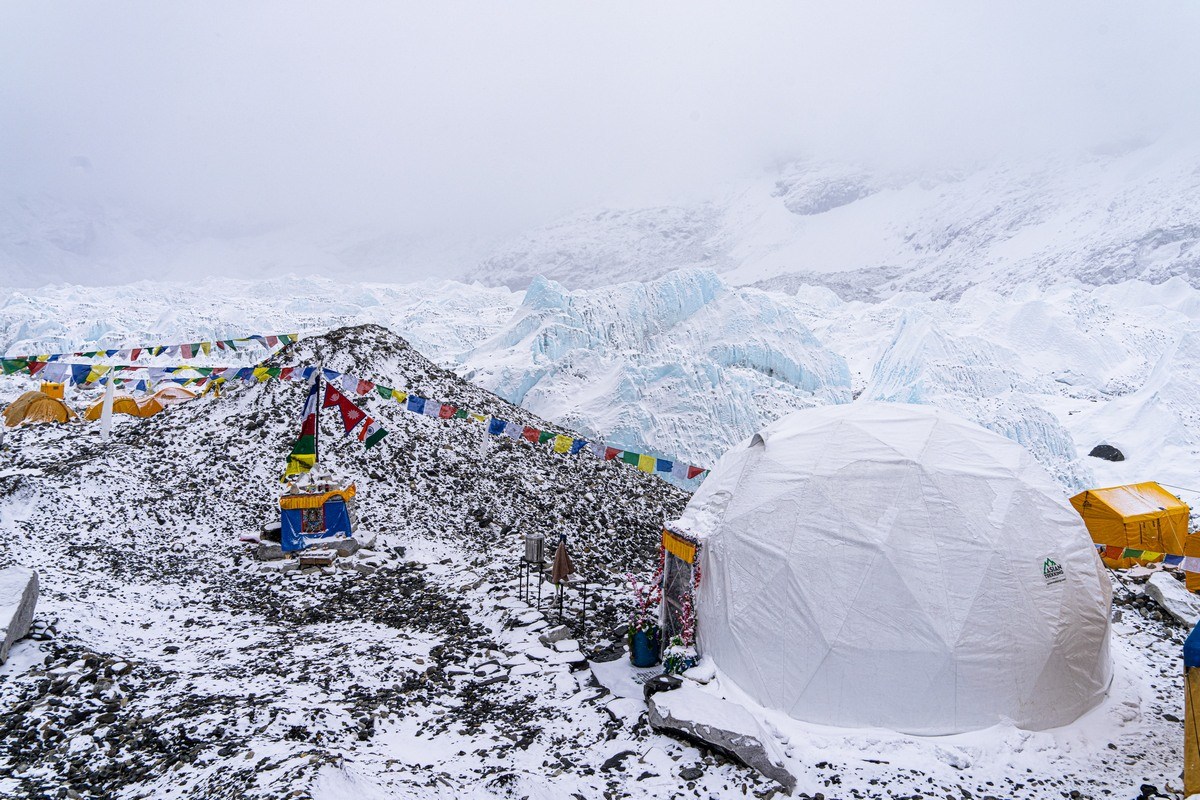 It turned out that the (Chinese) Base Camp hadn't been opened yet, which was the reason why it was so busy here: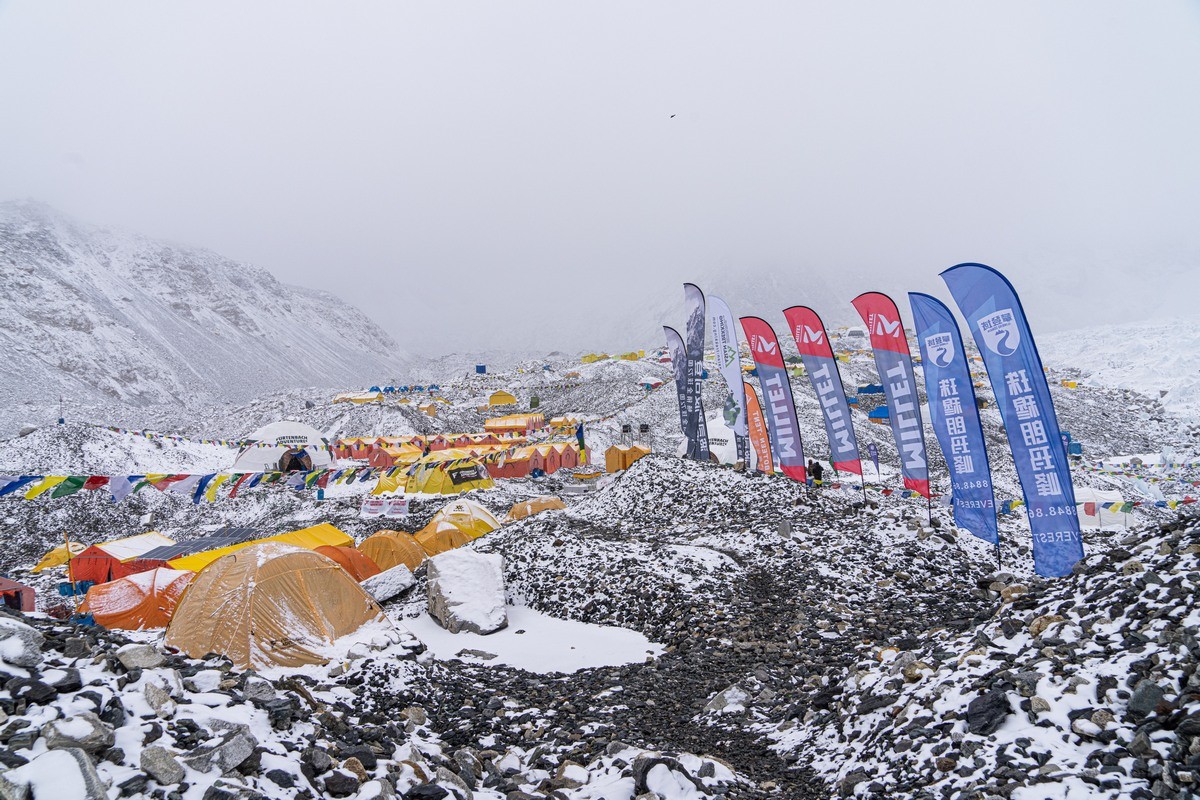 Up there – the Khumbu Glacier:
…But you can't see it (.
Up there: wonderful views, endless expanses, magnificent mountainsides – for all of which we'd got good tickets. Alas…
And that was that. Base Camp – done. We weren't staying the night, so we headed on back down…
Good luck to all the mountaineers heading further upward! Meanwhile we – dispirited pilgrims that we were – were already on our way back down…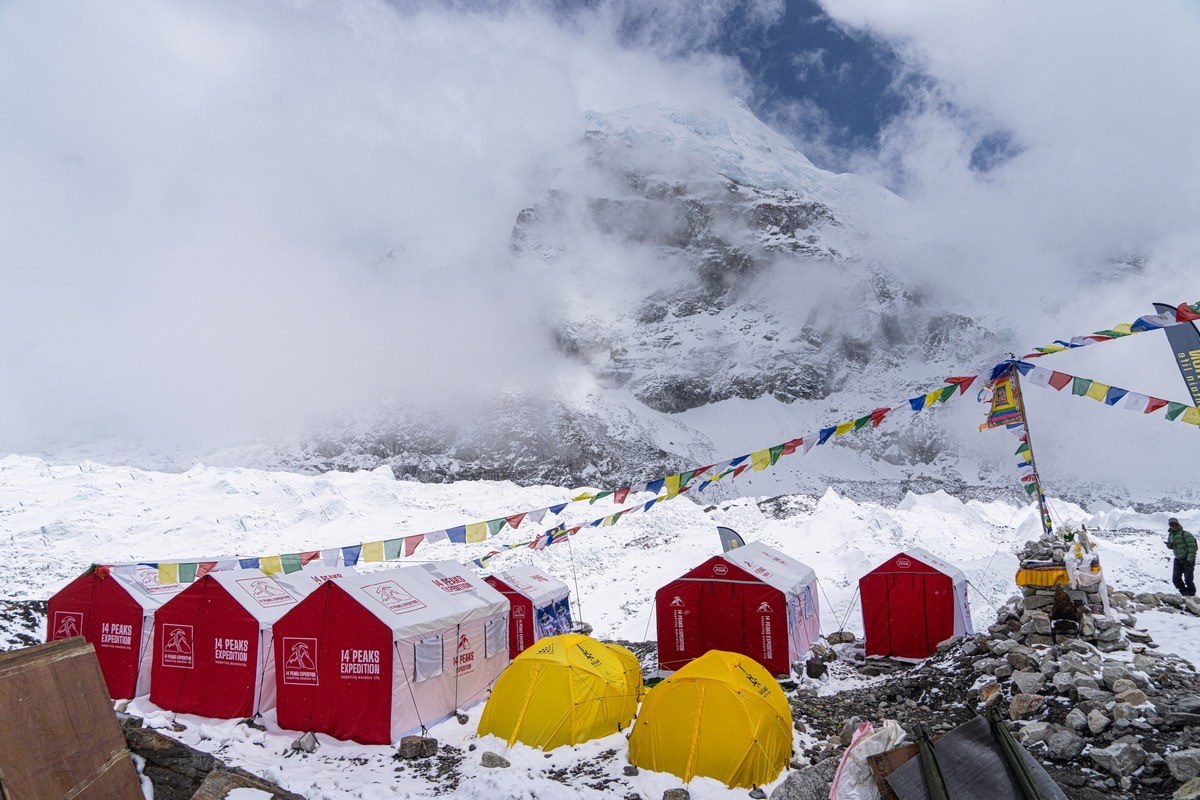 Farewell Himalayas; you've been… intriguingly ambiguous )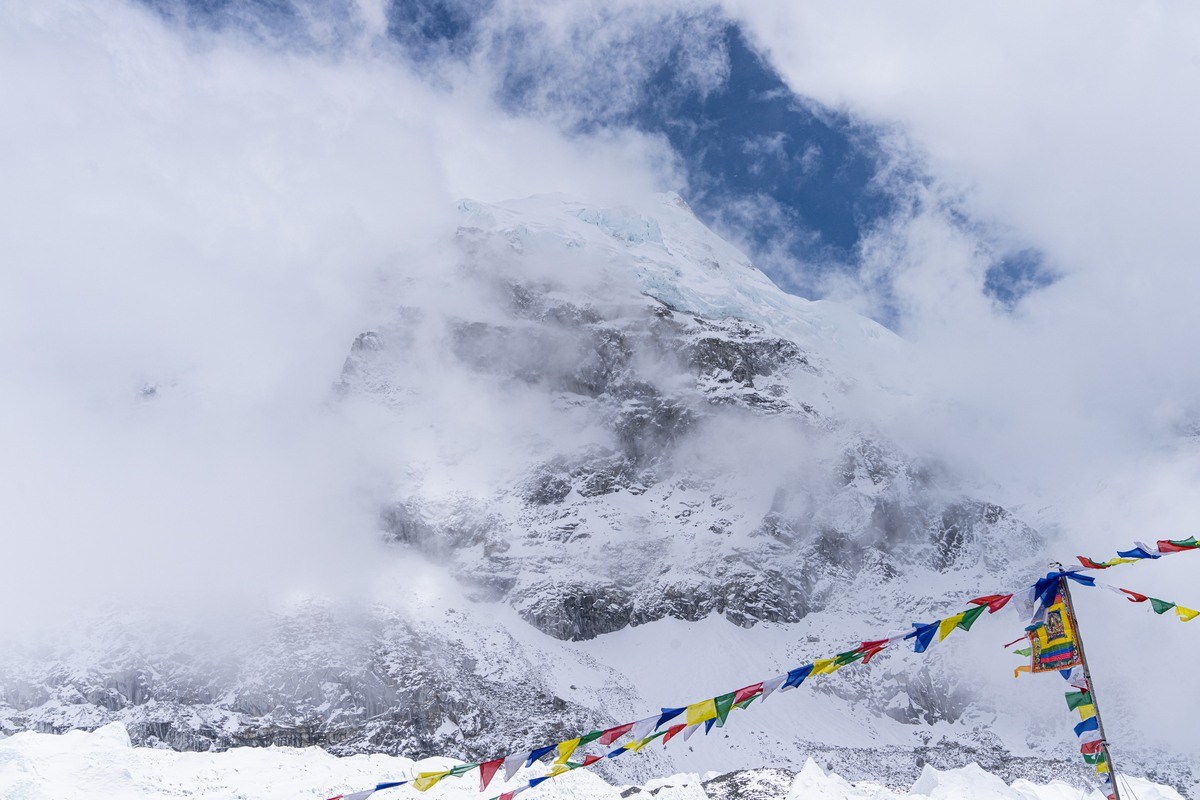 Hope to see you again next time!…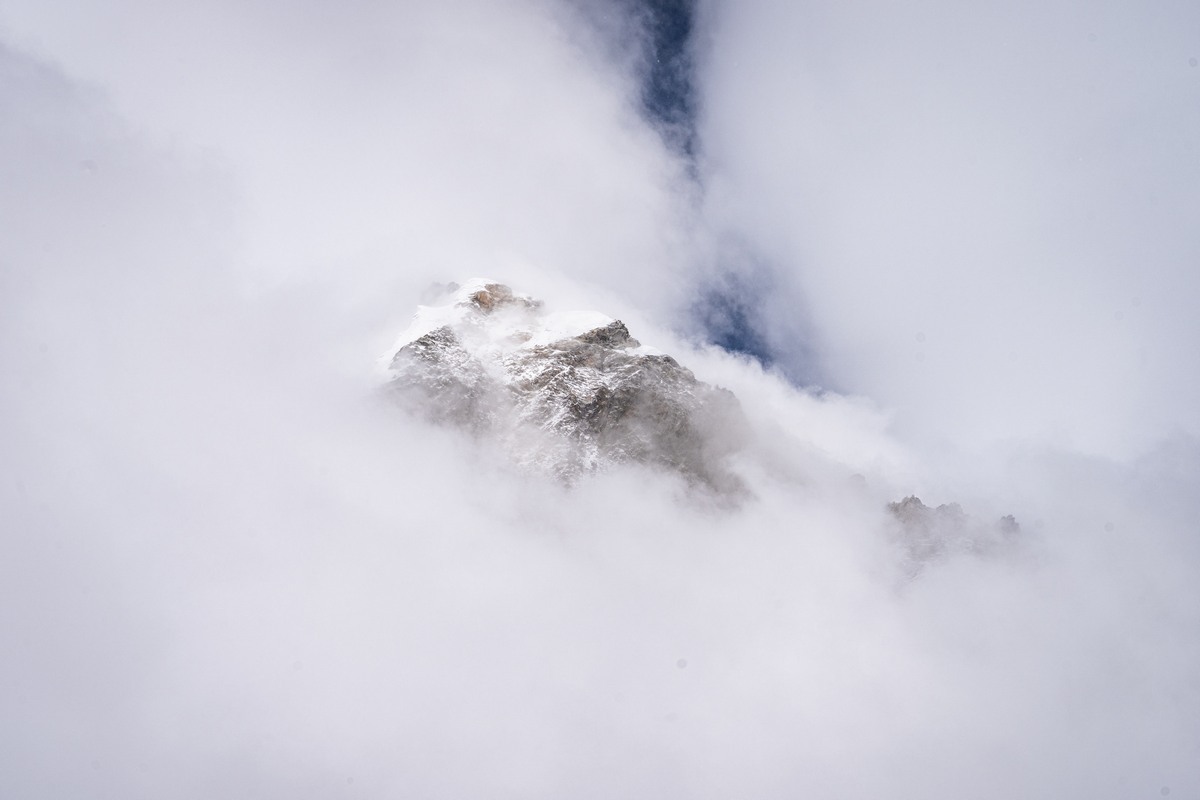 We head back to the hotel, then it was back home. In closing – a few pics (some you've seen earlier) of the Sherpas carrying their heavy cargoes to and fro and up and down. Remarkable chappies. And it turns out they have a "rat race" just like elsewhere: there's a career ladder going from hauling cargo around lower altitudes, then up to the Base Camp, then higher, and then – super-pro level – up to the mountain peaks themselves!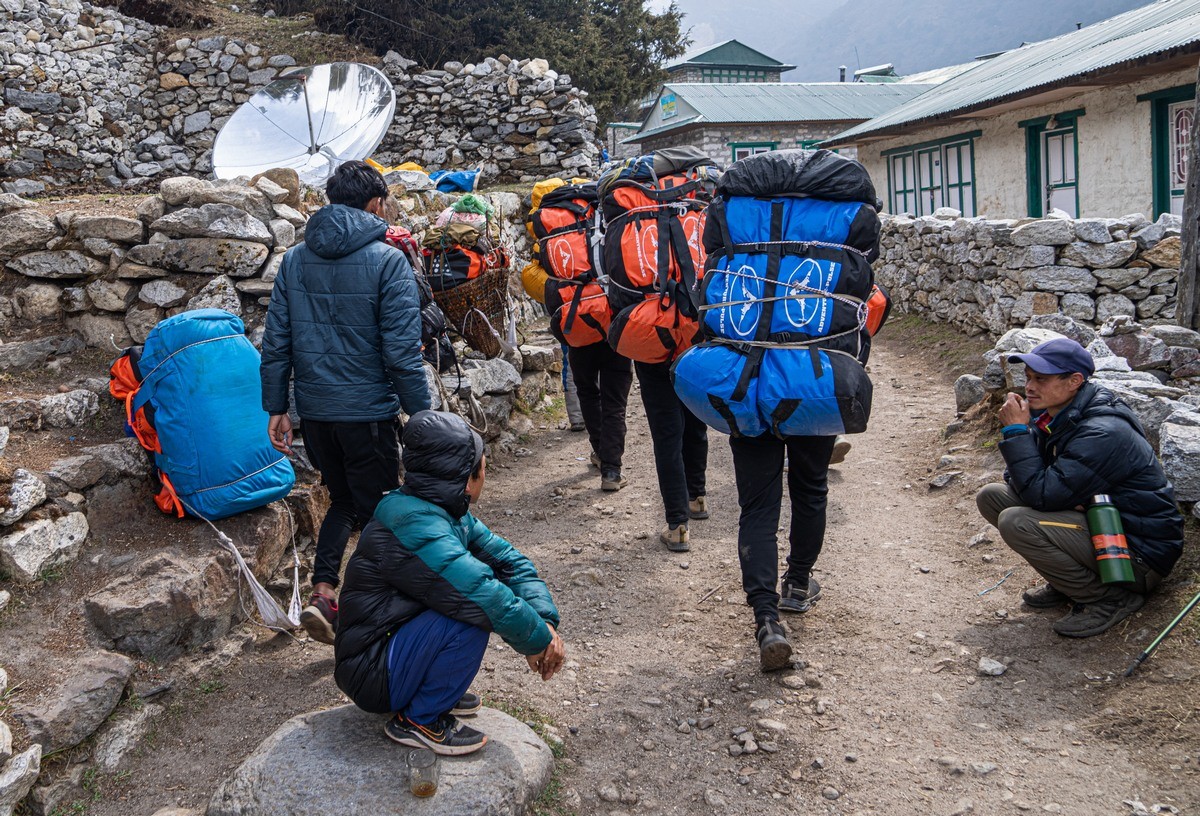 Remember – no cars, so even construction materials – it all goes up on a Sherpa's back! ->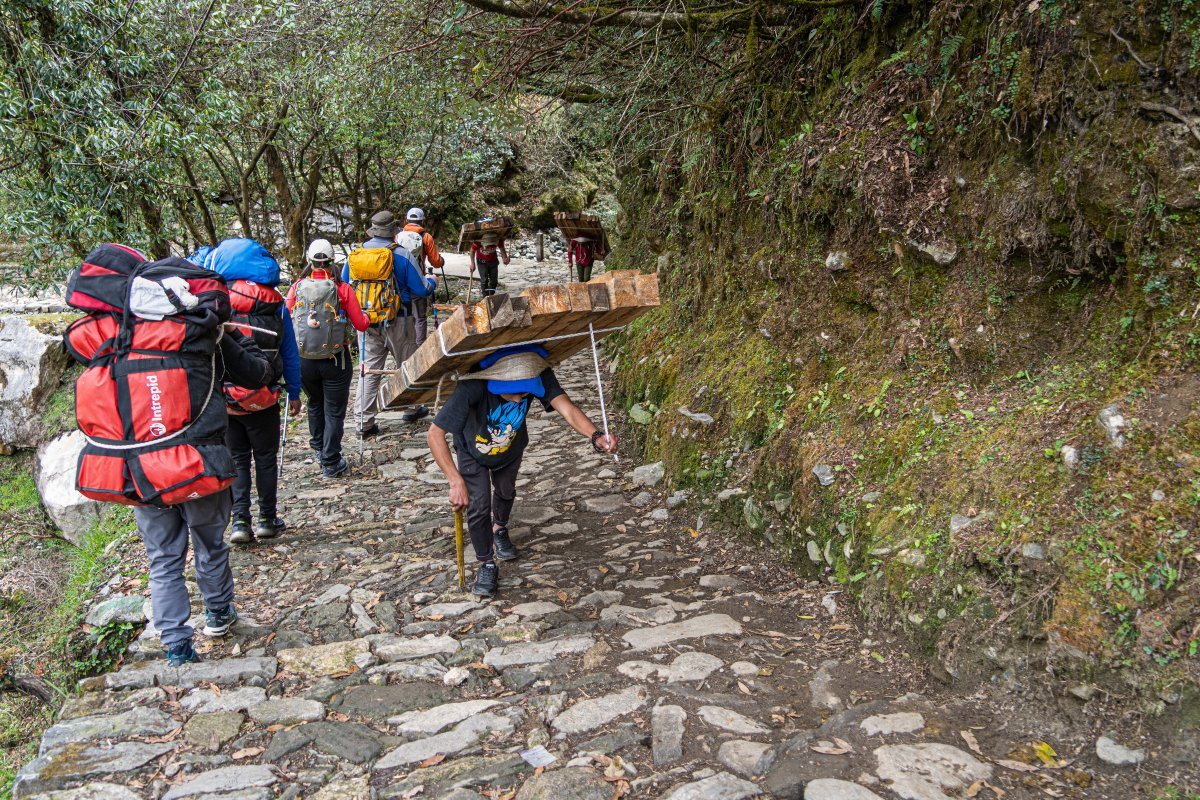 The younger Sherpas are often glued to their smartphones, with music playing through a speaker; again – just like (the younger generations) elsewhere!
And just like elsewhere, the labor force organizes itself: apparently the Sherpas' trade union put paid to plans for an airport at Namche Bazaar, since it would deprive them of paid carrying duties there from Lukla!
PS: the previous installments in the series on the trek up to the Base Camp of Everest:
Warm-up
Another warm-up!
Lukla Airport
Lukla to Phakding
Phakding to Namche Bazaar
Acclimatization day in Namche Bazaar
Namche Bazaar to Deboche
Deboche to Dingboche
Nepalese alpine snooker
Dingboche to Lobuche
Lobuche to Gorakshep
Places to stay
The rest of the photos from our trek up to the South Base Camp of Everest are here.