Trekking up to the Mount Everest Base Camp: places to stay.
Our trek up to the Nepalese Base Camp of Everest was all but complete, with just a little way still to go –from Gorakshep to the base camp itself. But before we get to the culmination, a brief time-out from all the extreme-trekking for a brief review of all the places we stayed overnight at on our trek. This is just in case you ever – and you really should – decide to give possibly the world's most unforgettable trek a go for yourself…
I'll pass on the potential first and last nights of any trek up to the South Base Camp: in Lukla (of world's craziest airport fame), and in the Nepalese capital of Kathmandu. We didn't stay overnight in the former, since we began our trek right from the airport (note: not a bad idea for you to copy folks!); and as to the latter – there's any kind and standard of hotel you could wish for there, so there's no "inside information" to speak of.
All righty, on to our first overnight stay. It was in Phakding – at the Sherpa Shangri-La Resort: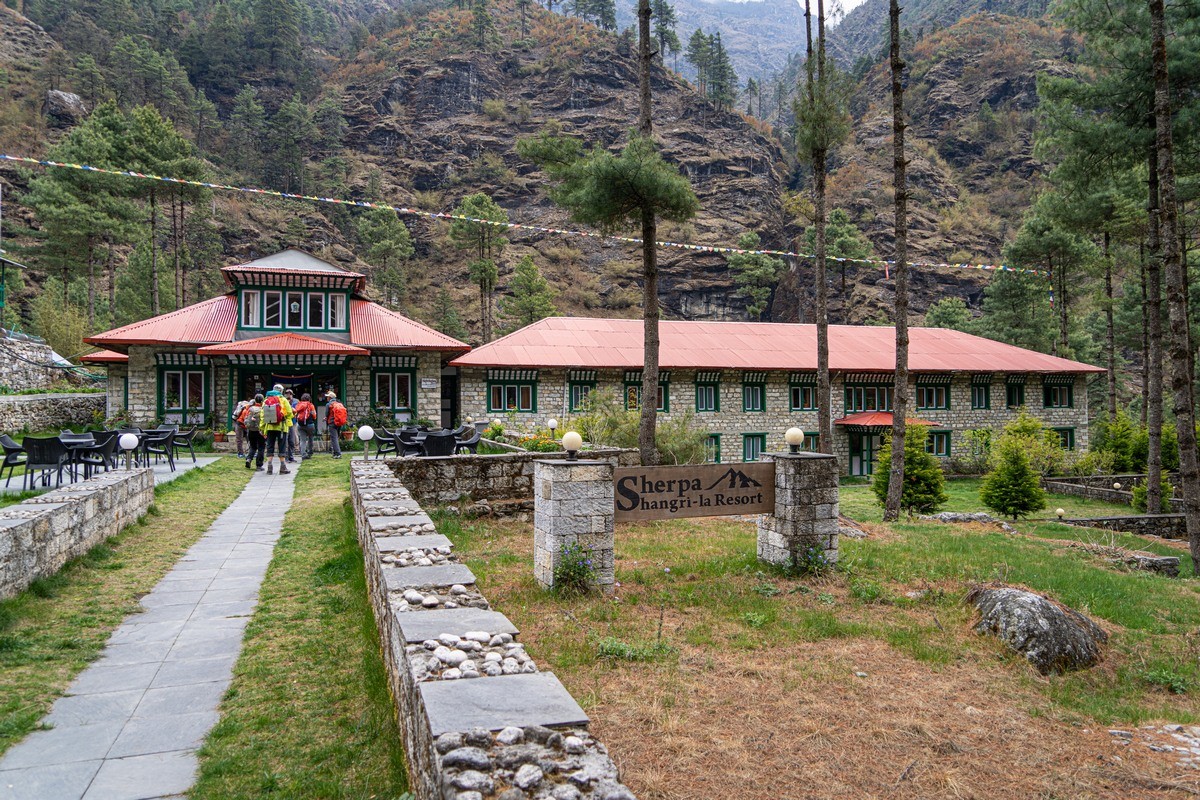 A charming, cozy boutique hotel with tasty dinner and breakfast. Not bad at all.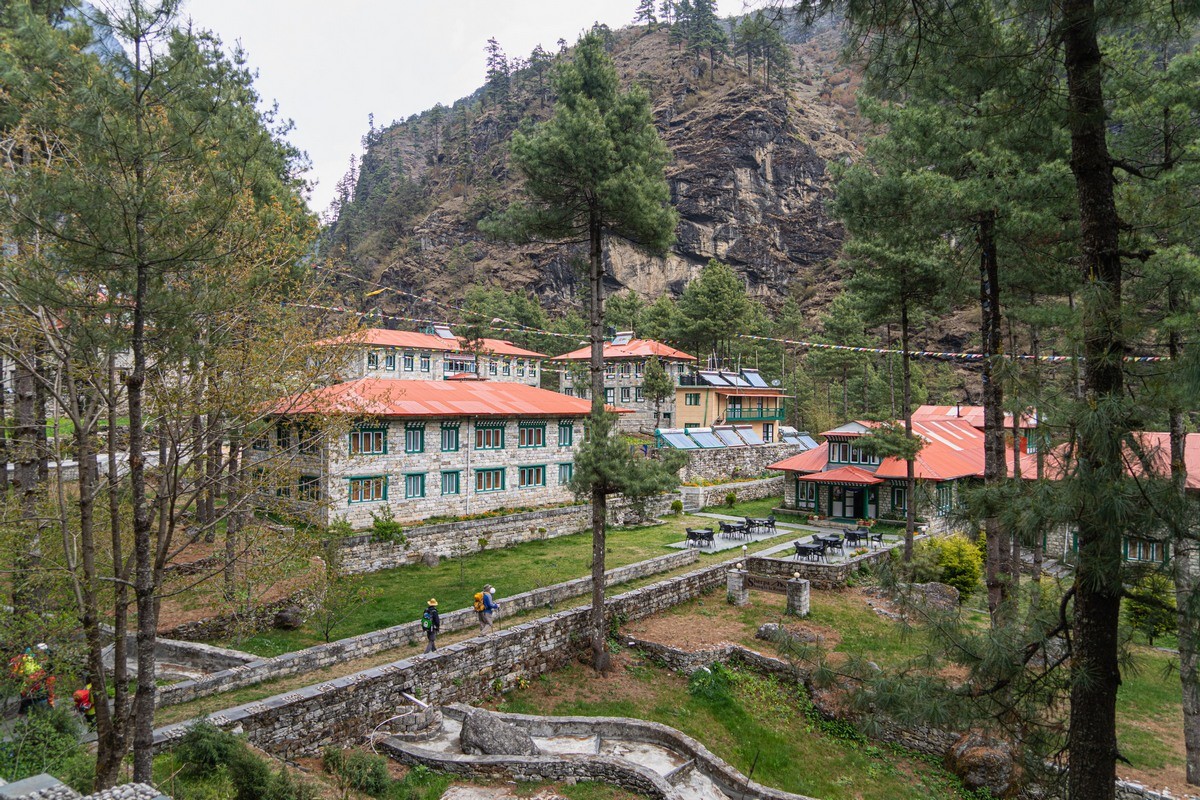 The rooms are somewhat spartan and basic but clean. The beds feature electric blankets since the rooms are cold – no central heating. Indeed, all hotels and guesthouses we stayed at were without central heating. To a Russian who's used to piping-hot central heating being on 24/7 in their home from ~October to ~April (!), this could cause some disquiet/discomfort, but I hardly noticed ).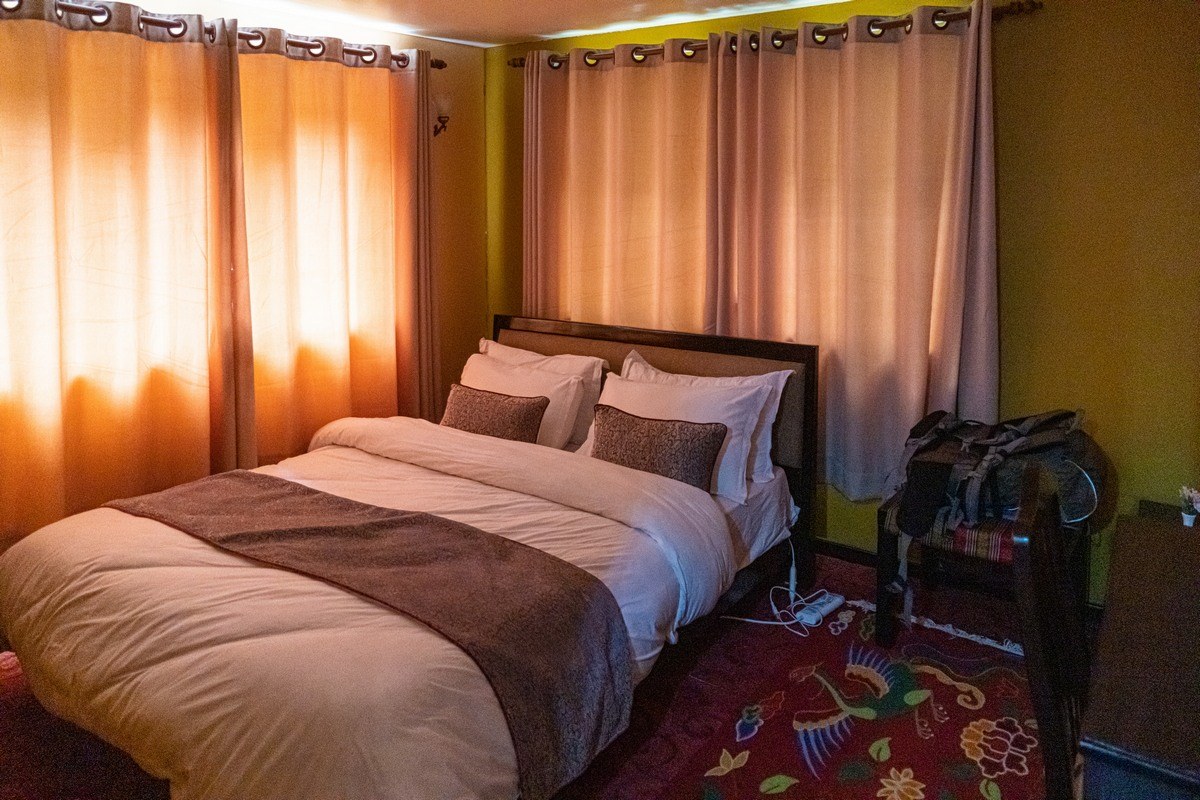 En suite bathroom, but no bath – just a shower. Water nice and hot: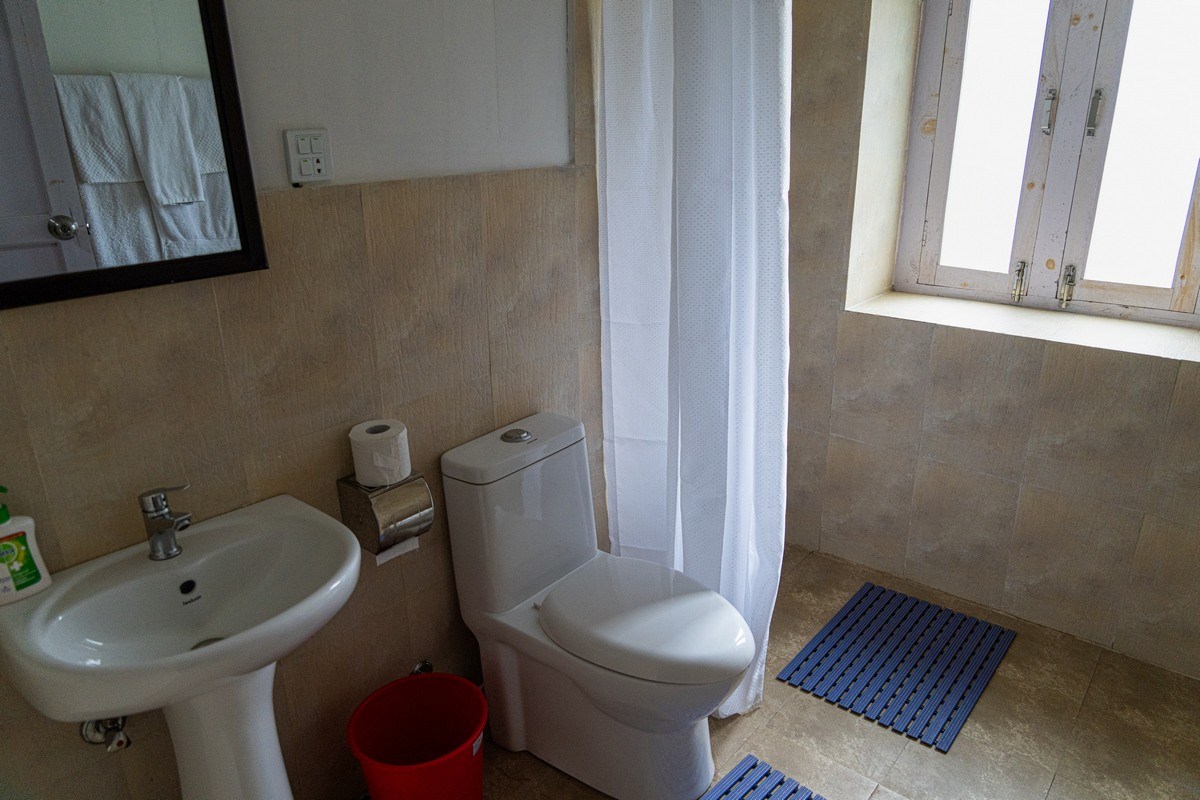 Nights two and three were spent at Hotel Namche in Namche Bazaar: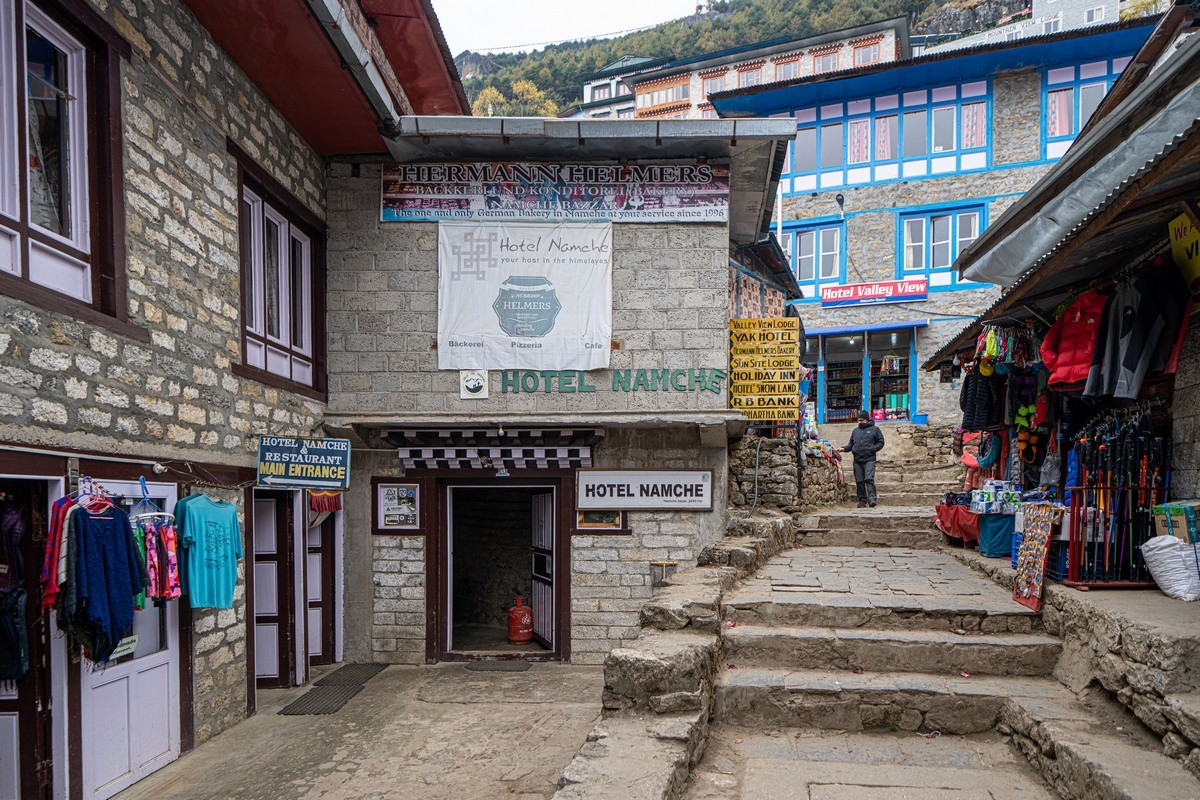 Again – not bad at all: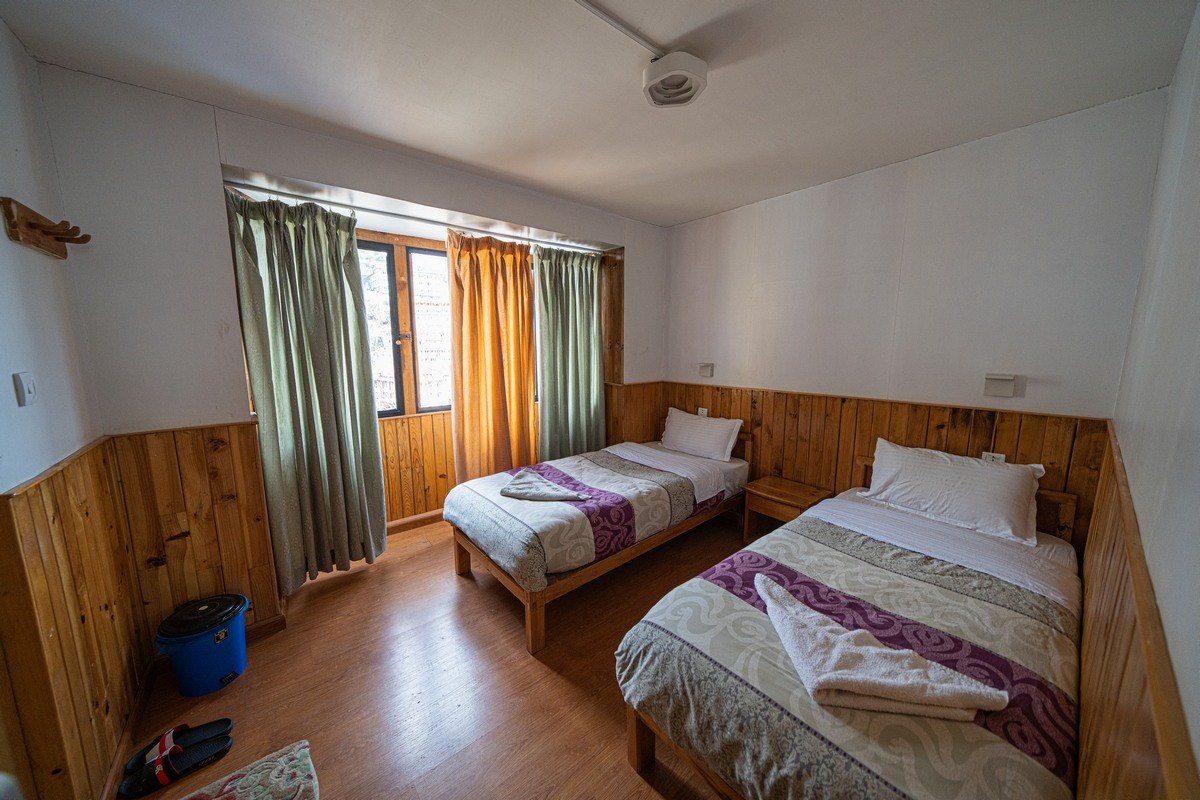 En suite bathshower-room again, but I can't quite recall if it was here or another hotel where the hot water wasn't really hot at all – merely tepid (and, again, maybe it's just Russians who are sensitive to running (hot) water temperature, spoiled as they are (scalding-hot fairly standard across the country!).
The view from my window: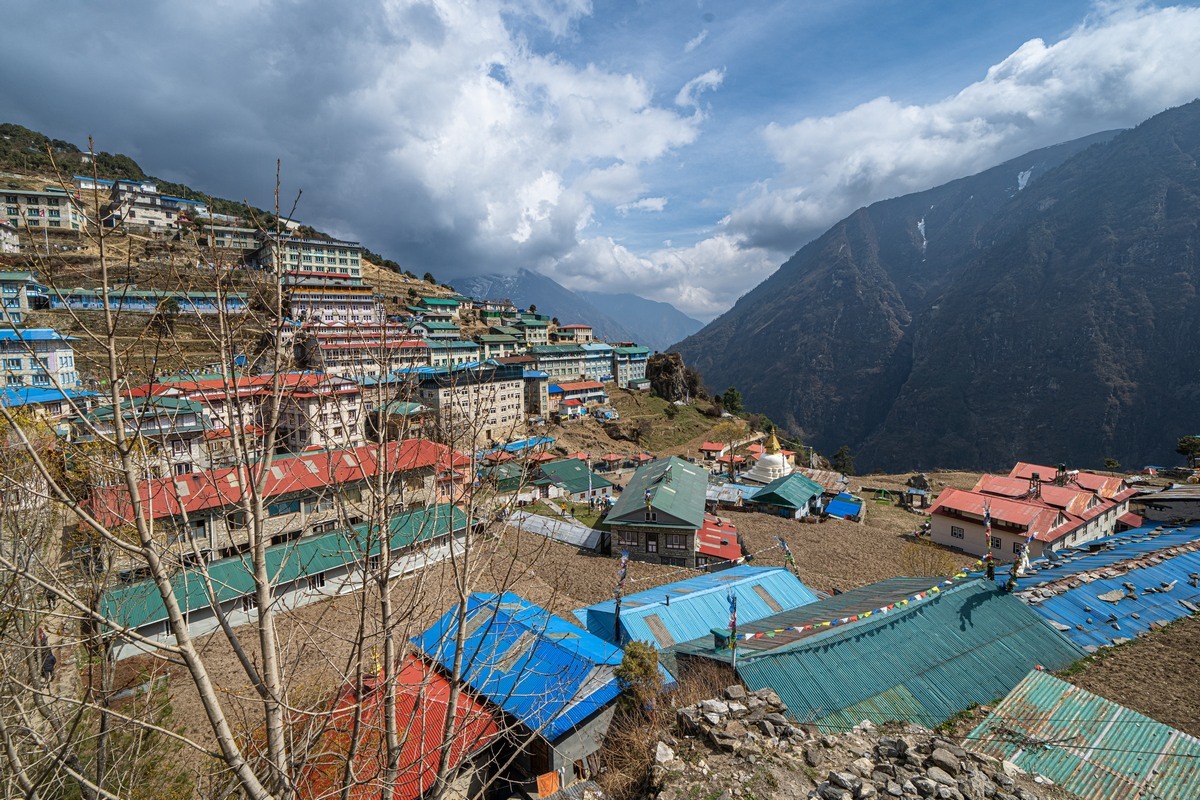 …And from the other side: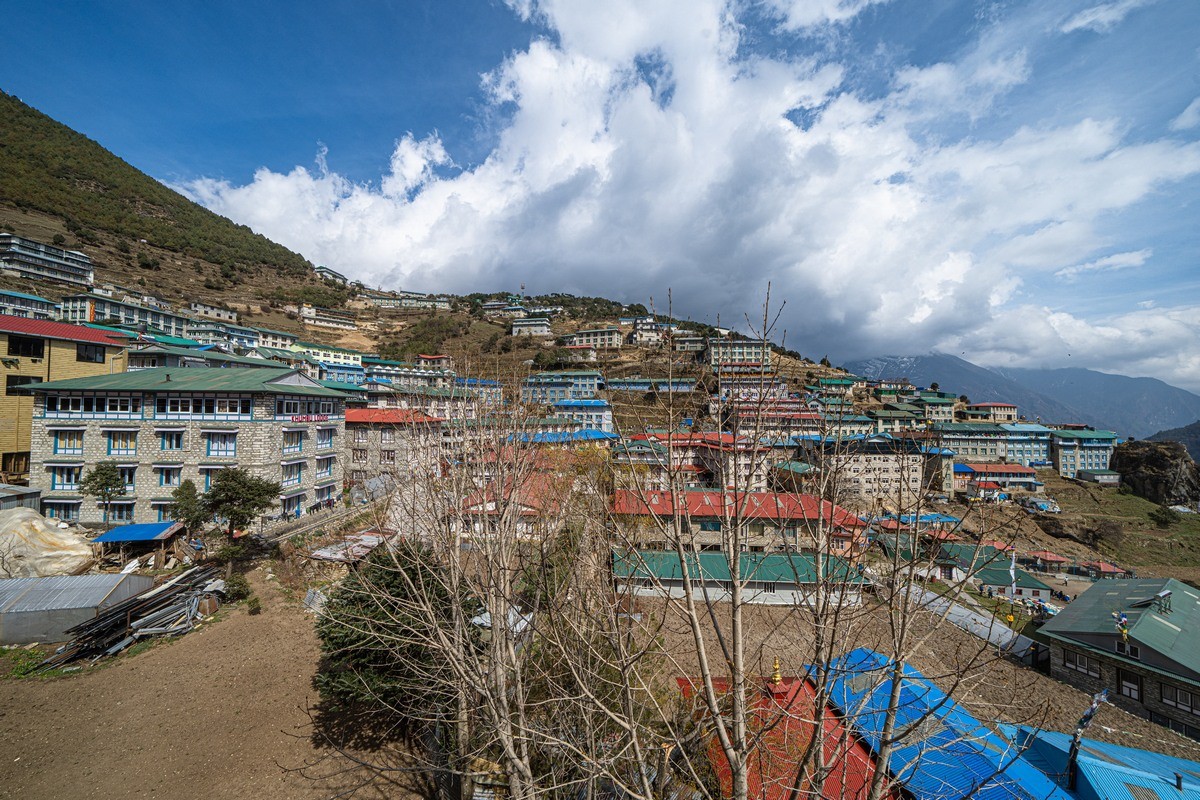 The hotel's restaurant: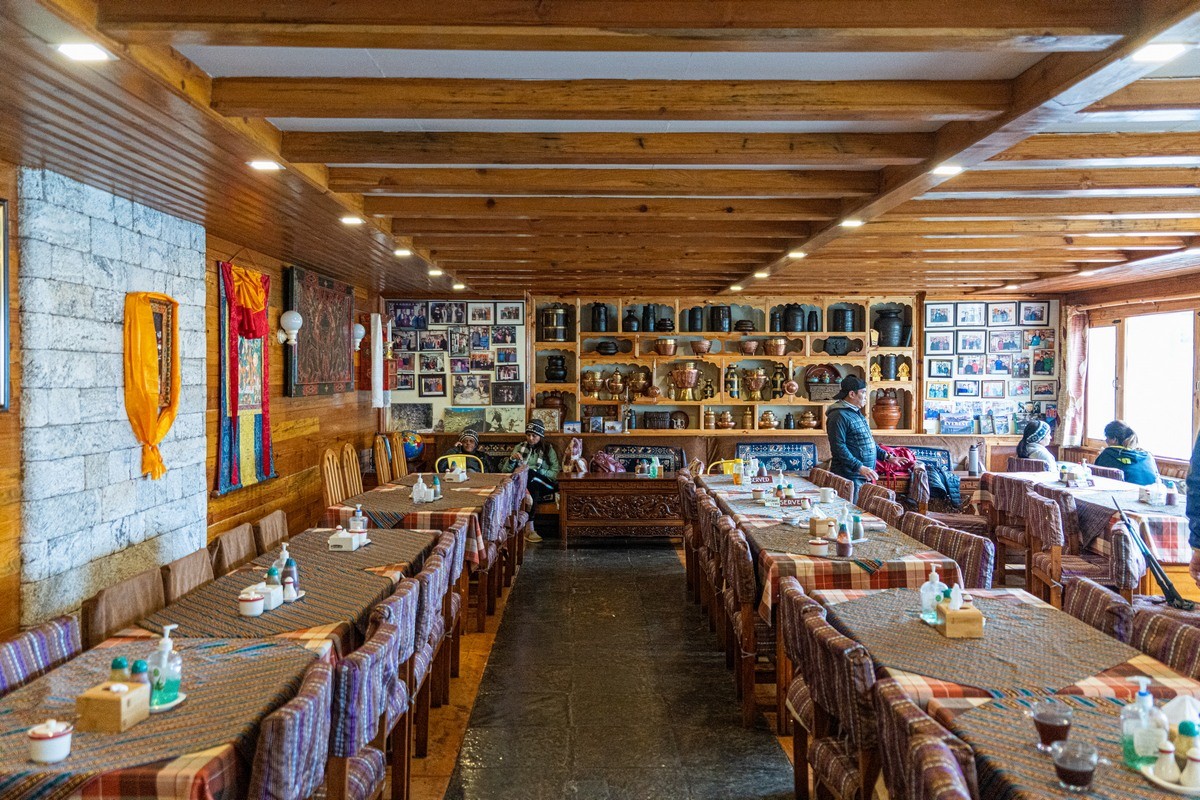 Night number four (our third lodgings) was at Rivendell in Deboche! And yes, the name does come from Tolkien's tales. Well, why not? Just as homely and sacred; not sure about Elfishly magical ) ->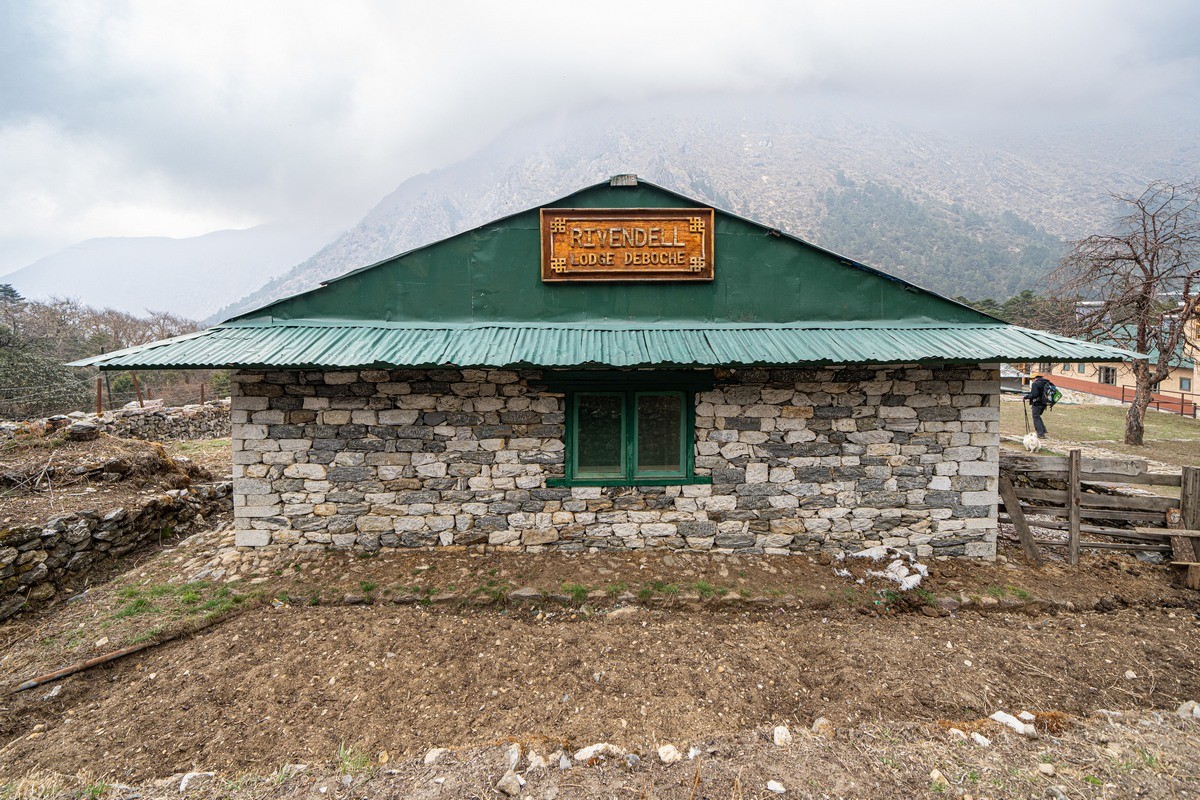 Neat: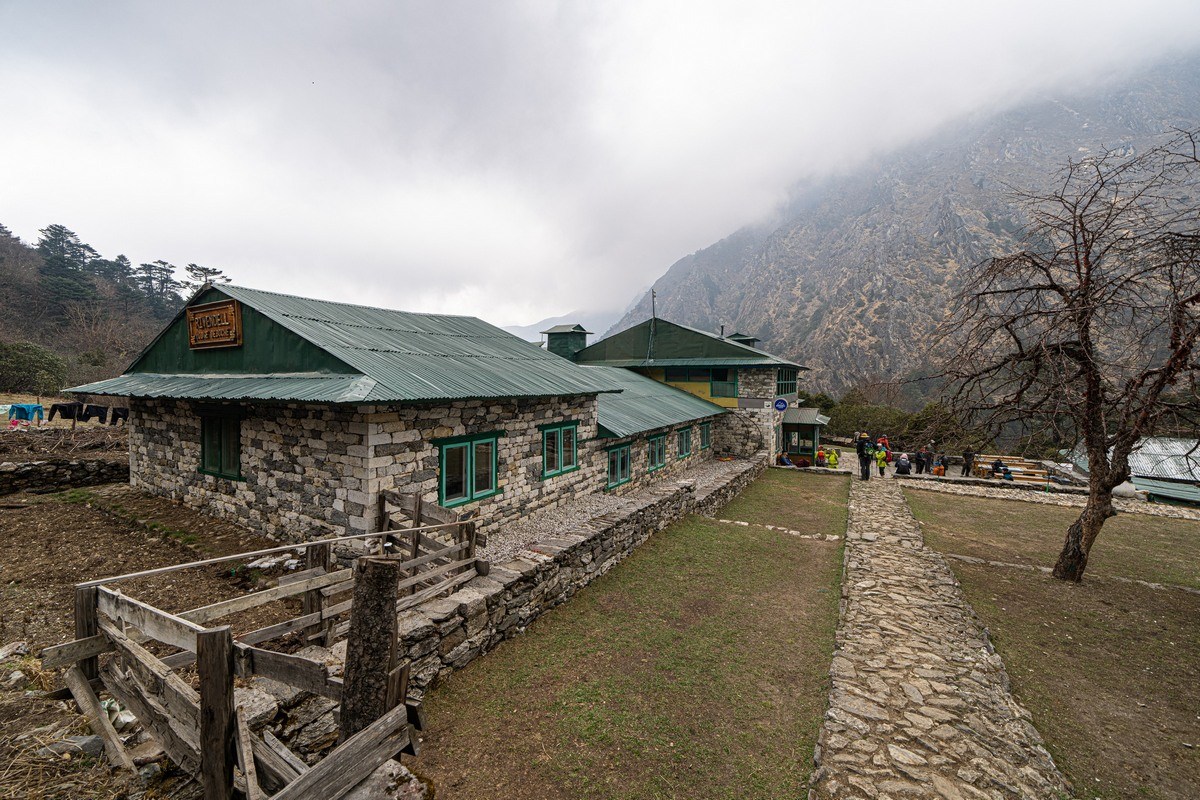 If only the weather had been nicer, the views from the grounds would have been marvelous: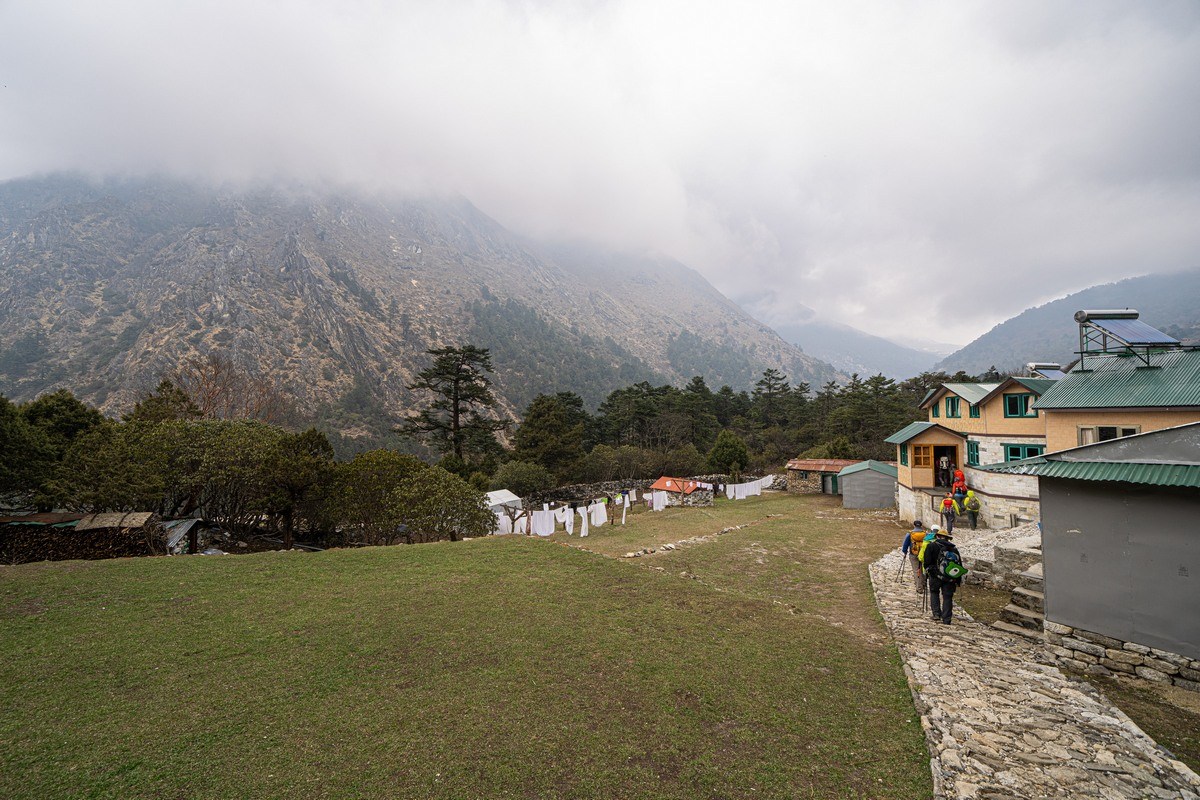 Wooden panels for walls – who'd have thought it at an altitude of nearly 4000m at the foot of the Himalayas in provincial Nepal?! ->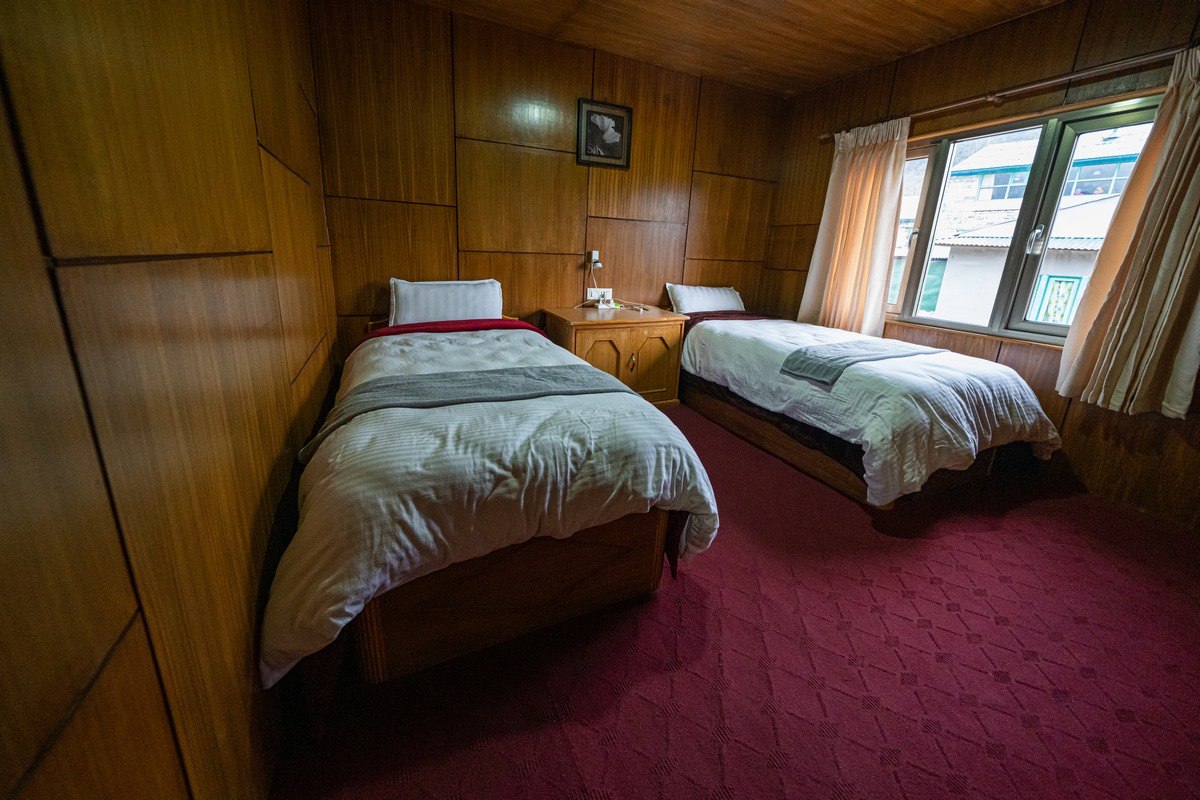 As far as I remember – all the plumbing worked (again – no bath, but we hardly had time for baths) ->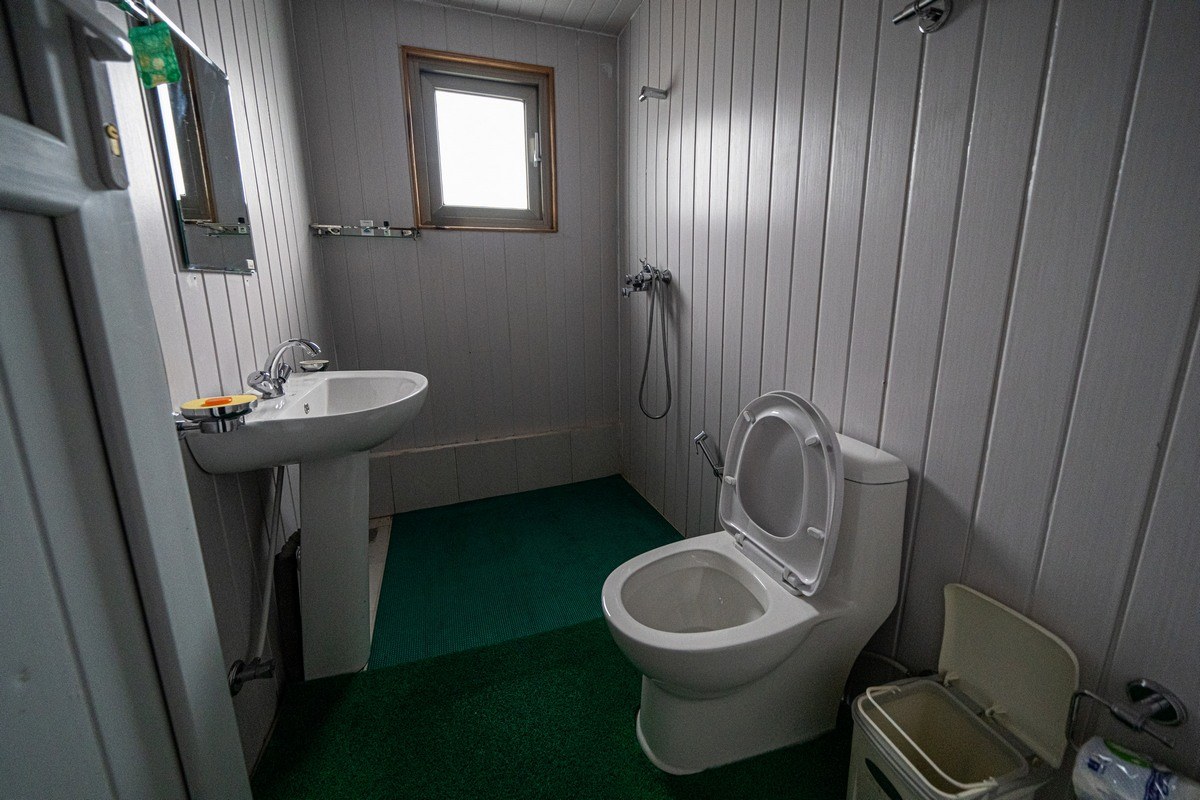 Electric blanket again; actually – more like an electric bedding sheet! ->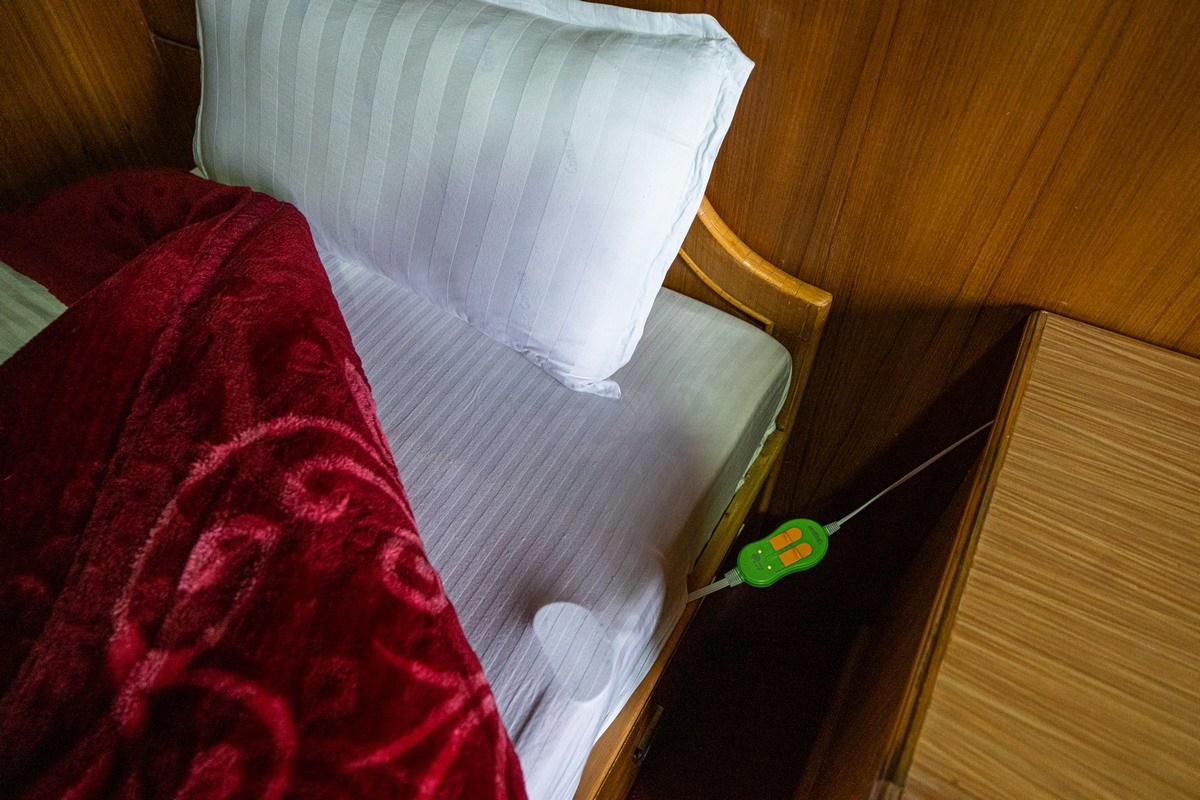 The view from my room, alas – modest: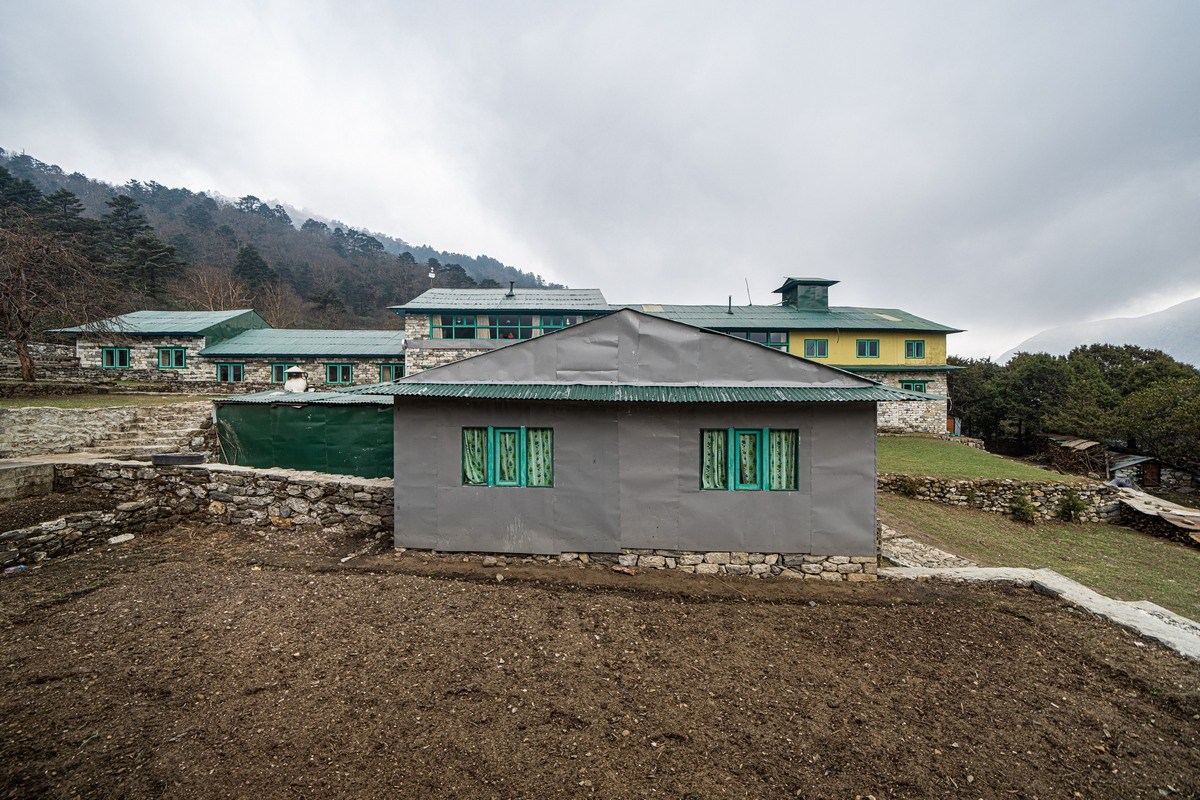 Restaurant – decent, and with a stove in the middle. Such a stove featured in all such dining rooms henceforth: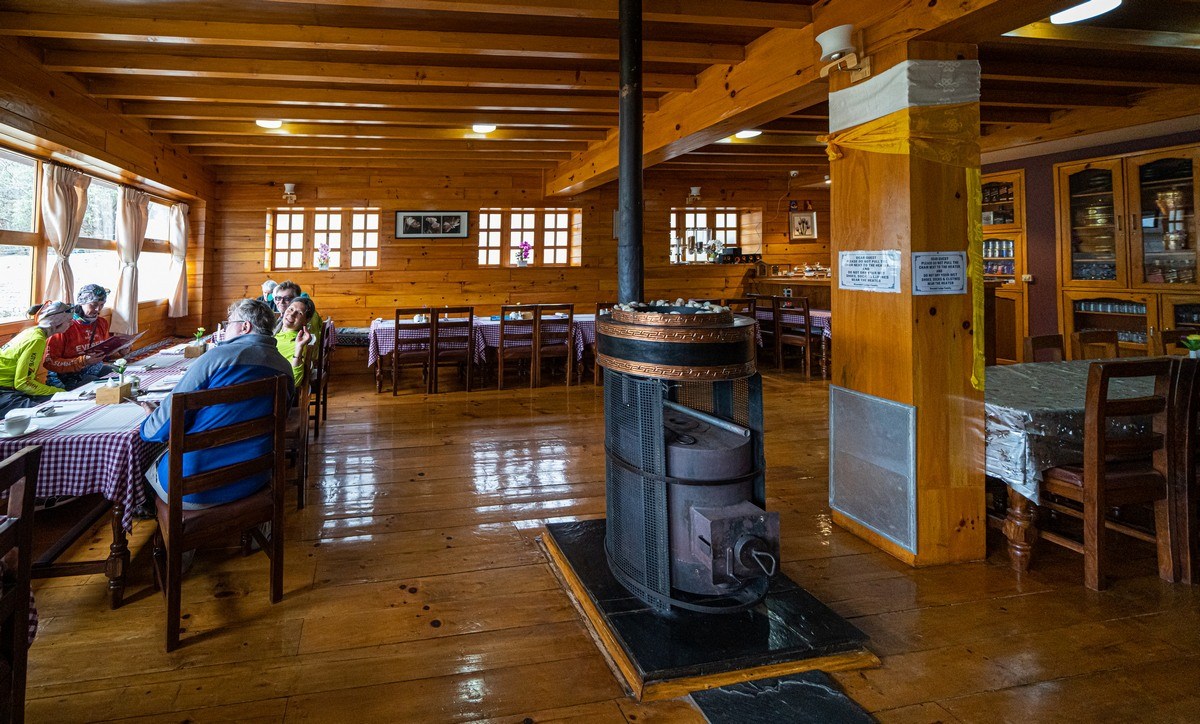 Day… – whatever ). 4400 meters above sea-level. Our heads began to buzz and/or go mushy just due to the lack of oxygen. The Dingboche Resort! ->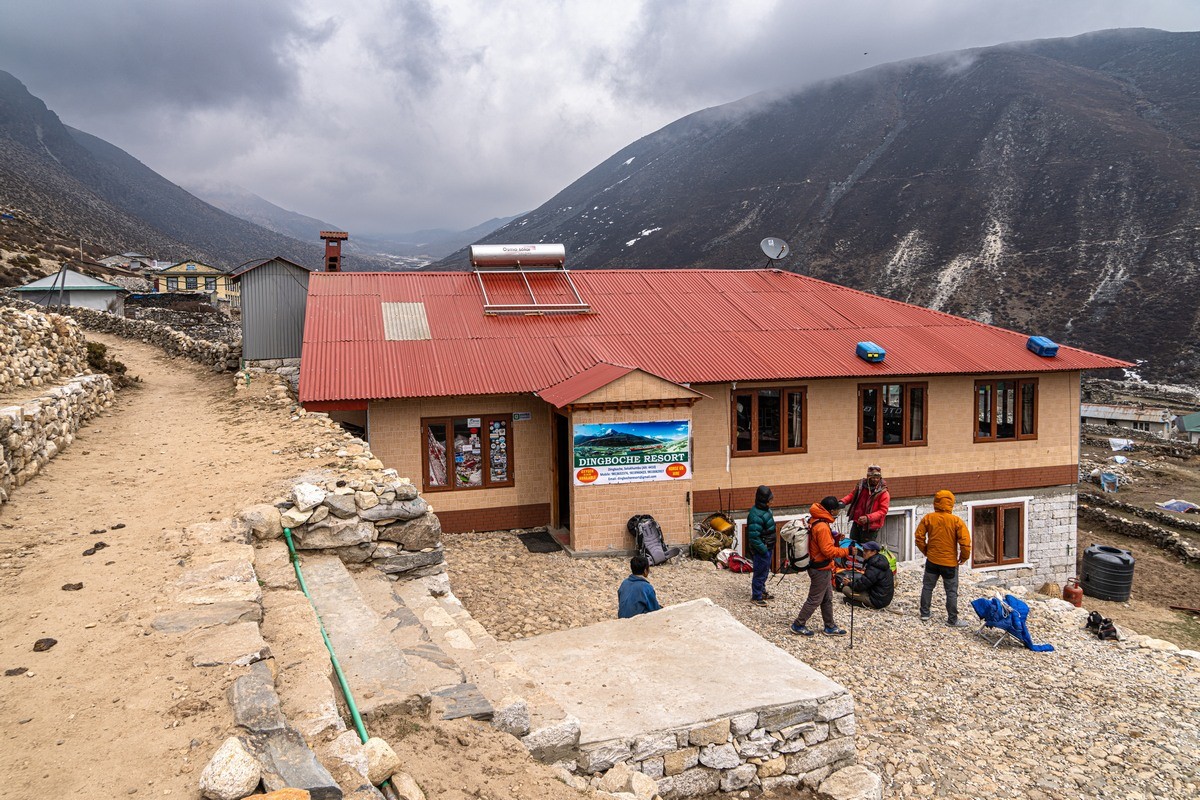 And here's that poster I've shown you before that demonstrates just how good the weather can get up here. Or is it Photoshop?! ->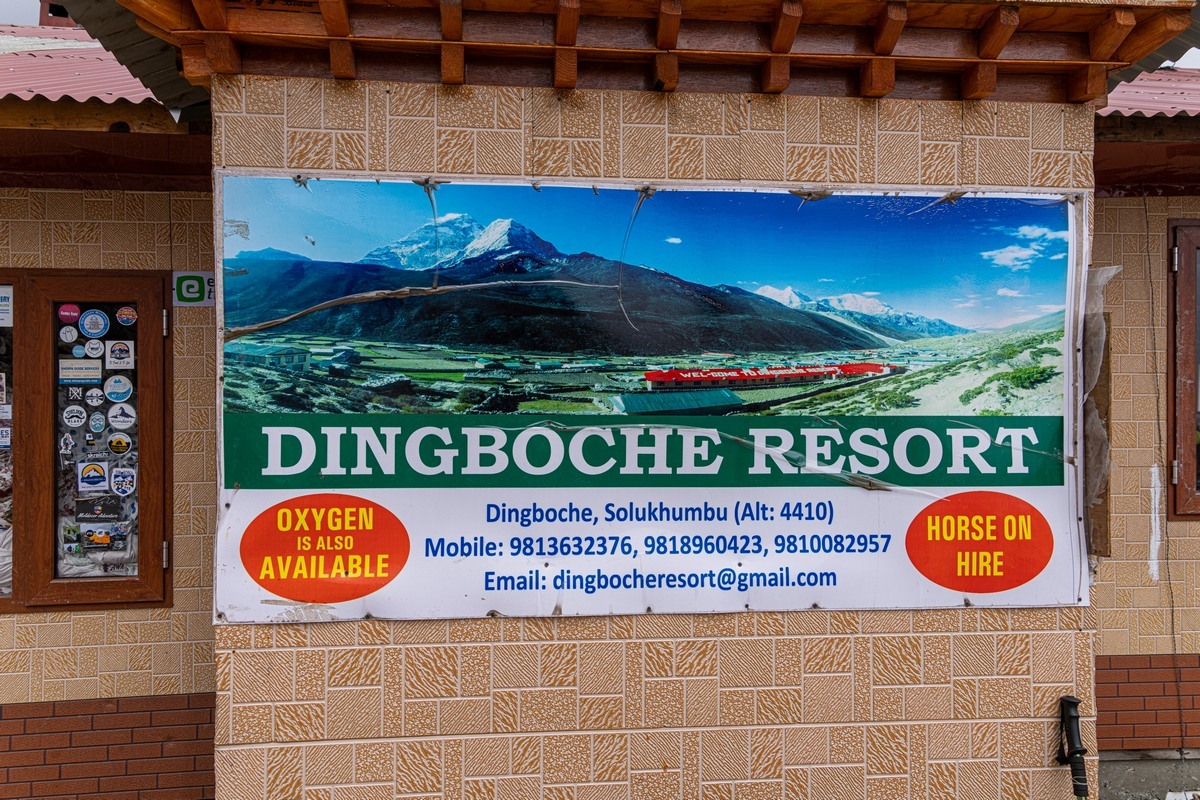 So, what are lodgings like in Nepal at 4400 meters? Like this ->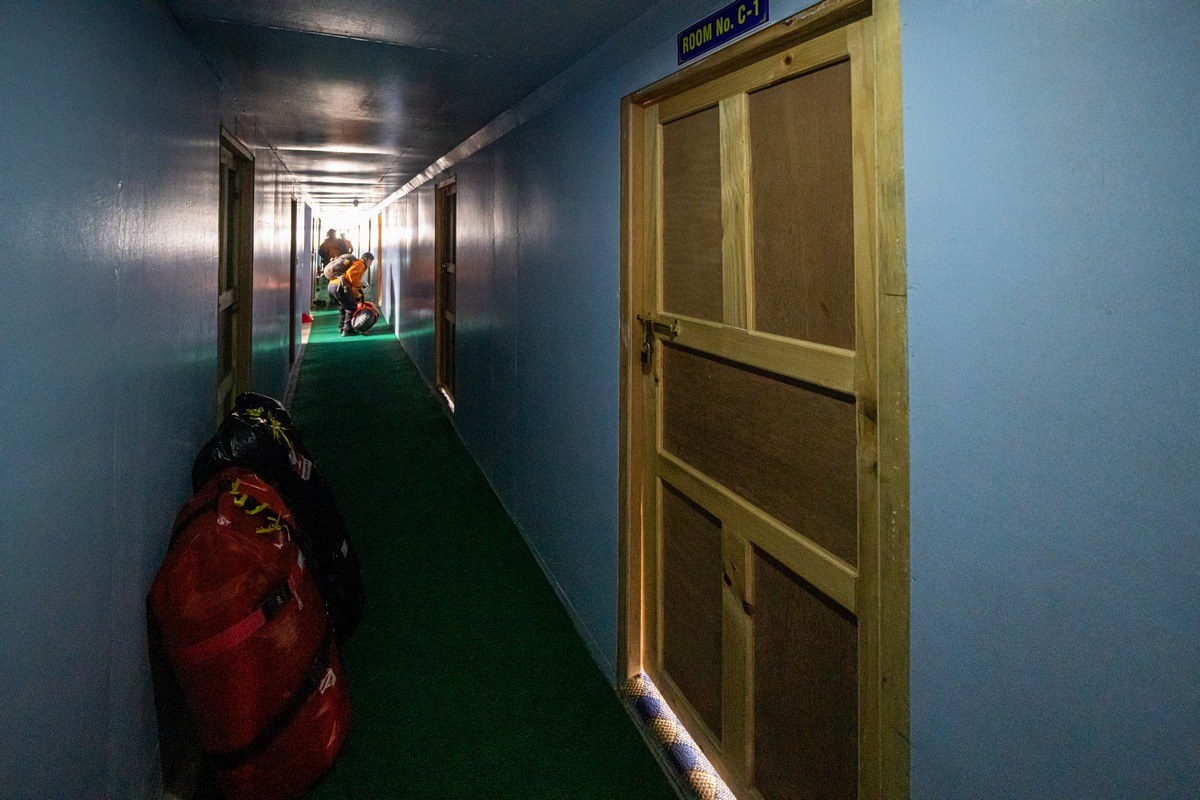 Ooh, now this is getting… basic. Time to whip out our sleeping bags. But there were still the ubiquitous electric blankets ->
The bathroom – also basic. There's running water but… only cold! Fancy a shower? Brace yourself (or don't bother:) ->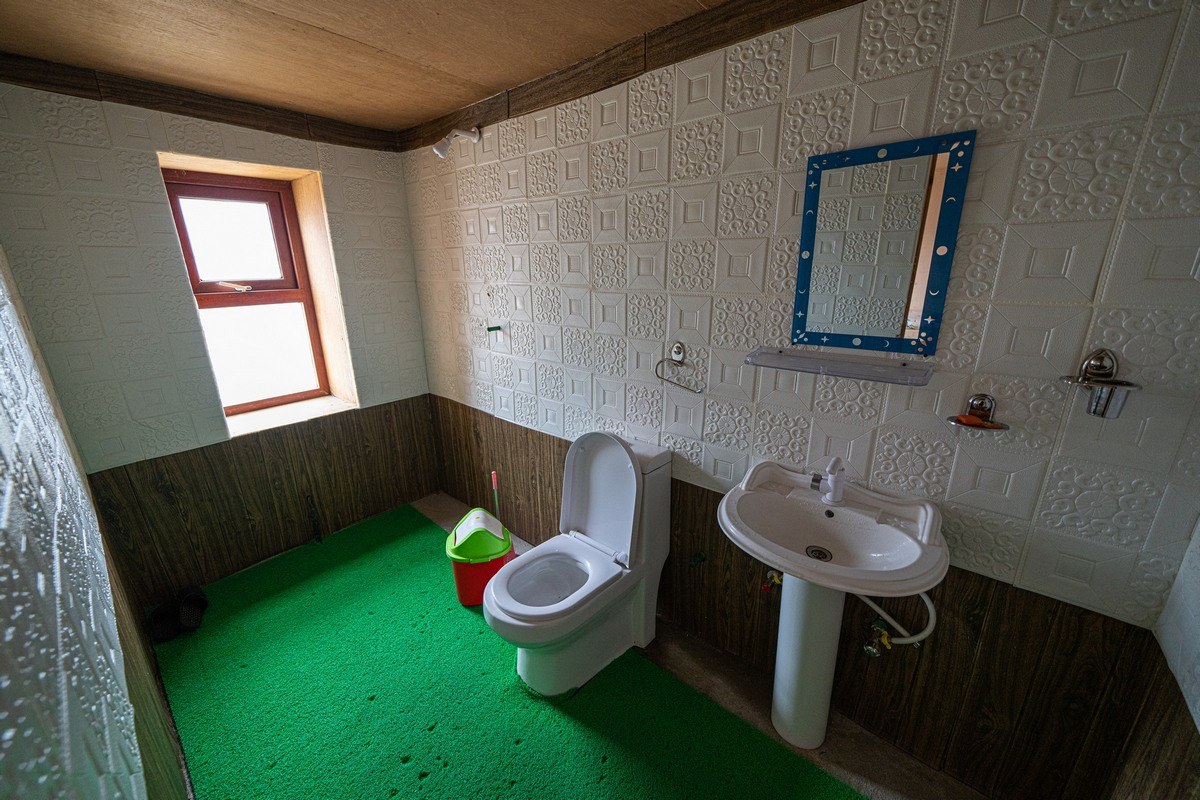 The view from my window; better than yesterday ->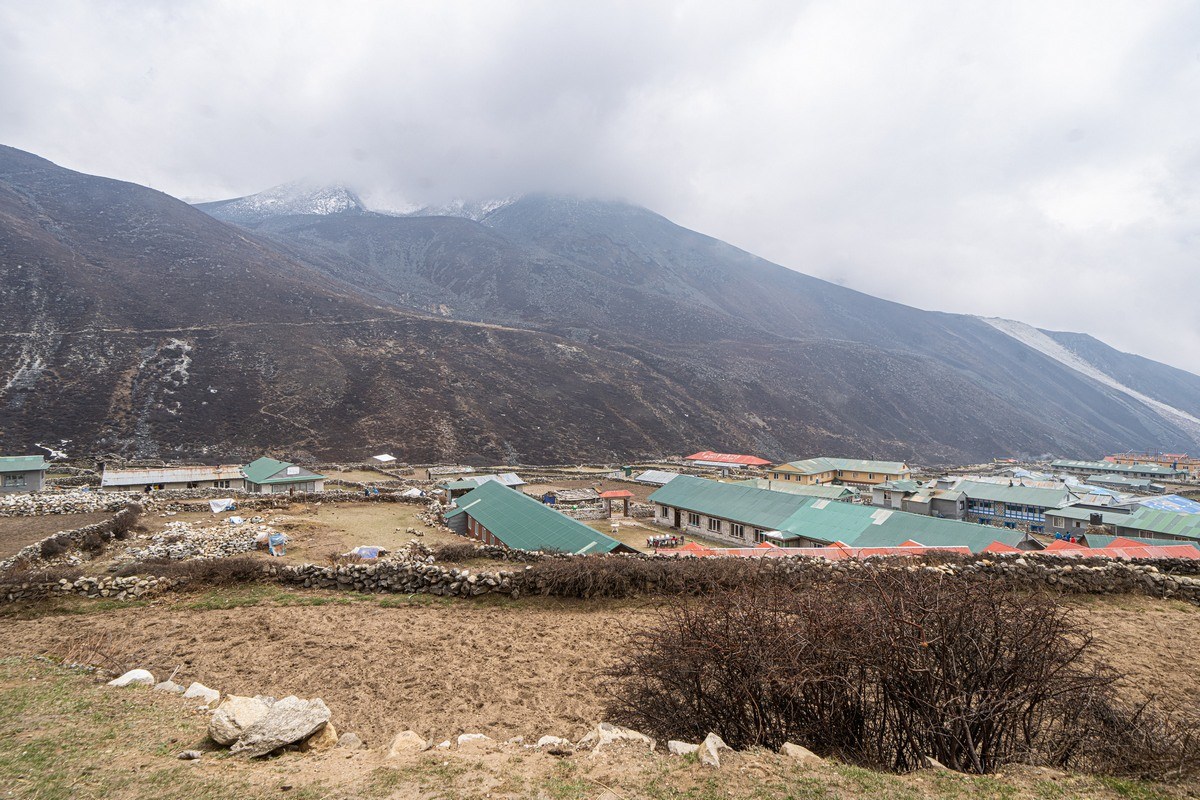 A café elsewhere in Dingboche. Not bad, but… they use a peculiar fat to fry with (yak fat?), which not only smells bad but, to me – tastes bad too. Now, I'm always on for trying out the local cuisine (e.g., when touring the Kurils, I tried out… guillemot eggs, and didn't mind them – unlike most of my fellow travelers!), but this was something else… I mean – I did try my best, but I just couldn't get used to the taste. Accordingly, I avoided anything fried. I stuck to the pies they make (yum), and the fresh "Tibetan" bread and – get this: lost around six kilos!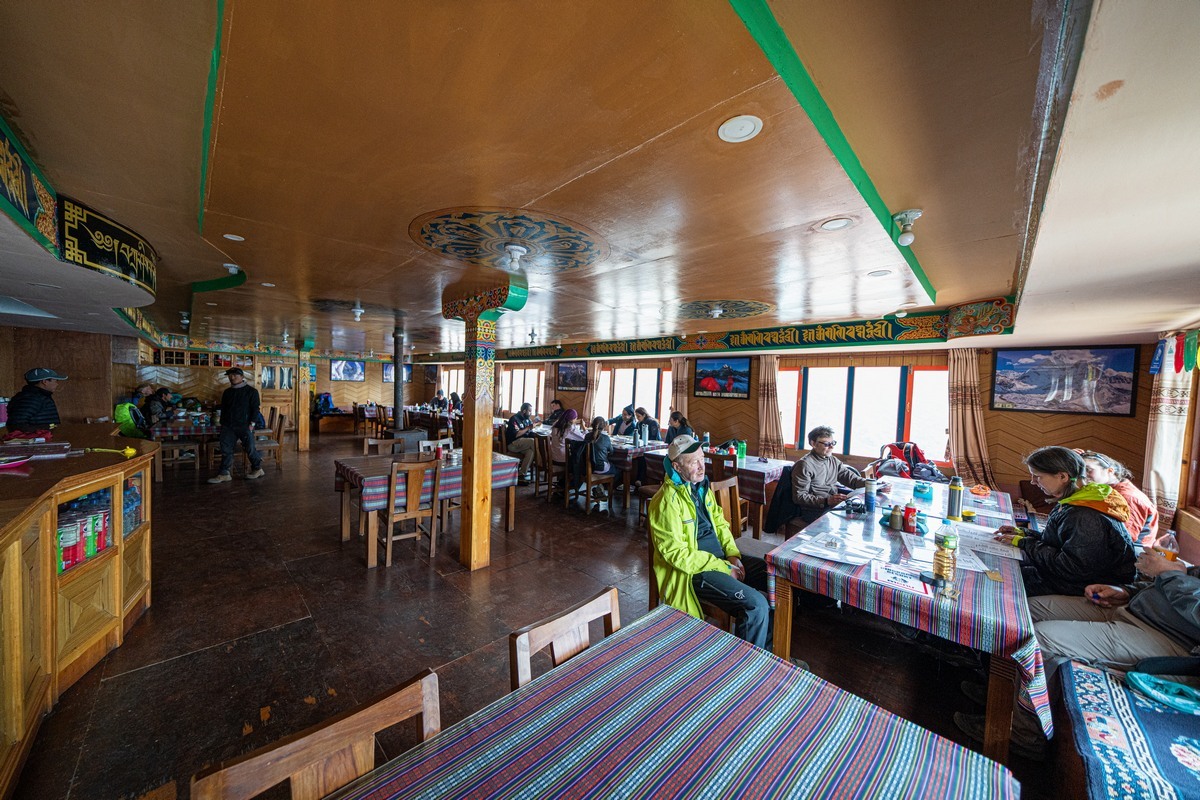 Next up – Lobuche (just under 5000 meters!). Our heads even weirder, fuzzier. The trade in oxygen cylinders up here a roaring one…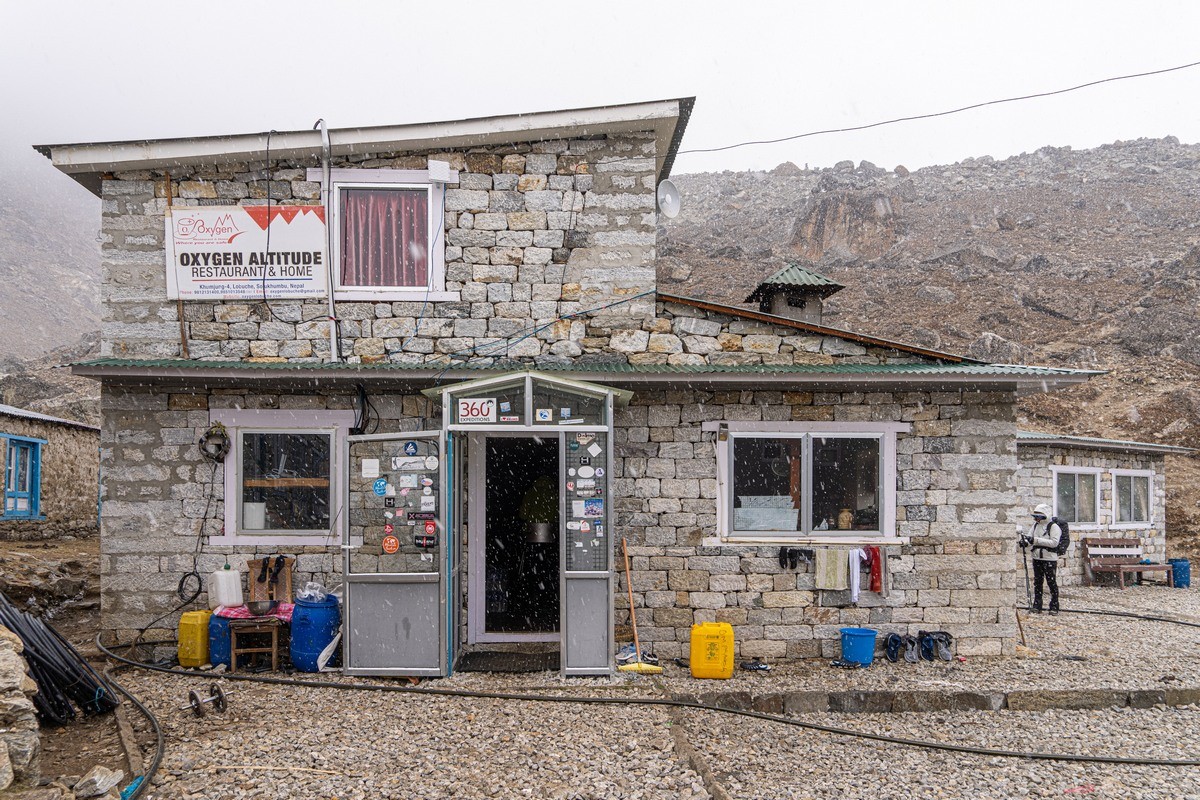 Given the rubbish weather and low oxygen, we didn't go out for our traditional evening stroll, preferring to stay indoors instead. Our lodgings – all the more spartan, and no electric blankets! So this time, in addition to our sleeping bags, we also got out our warm socks and thermals. This was going to be a cold night…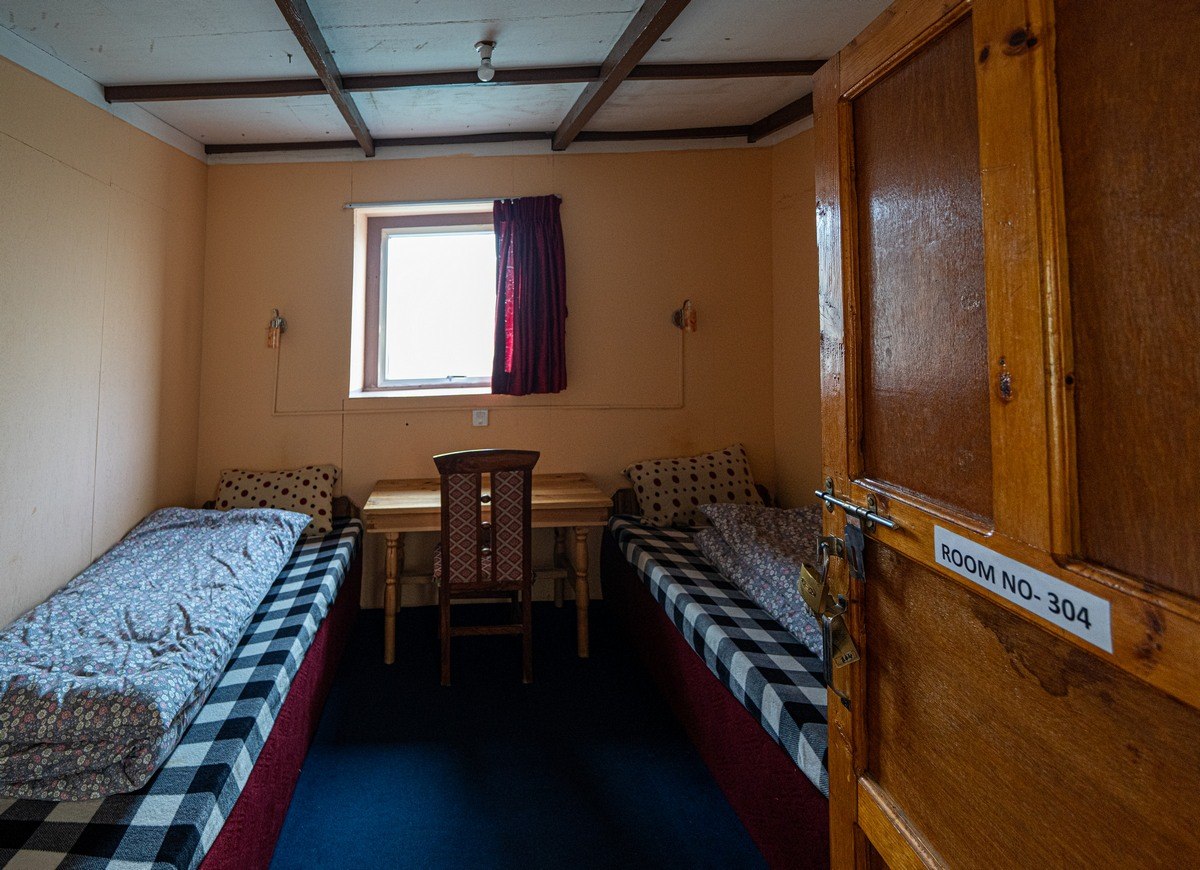 Washbasin and toilet – shared (at the end of the corridor)…
The toilet looks good enough, only – there's no flush! Instead, there's this blue barrel with a matching (color) jug for that purpose ) ->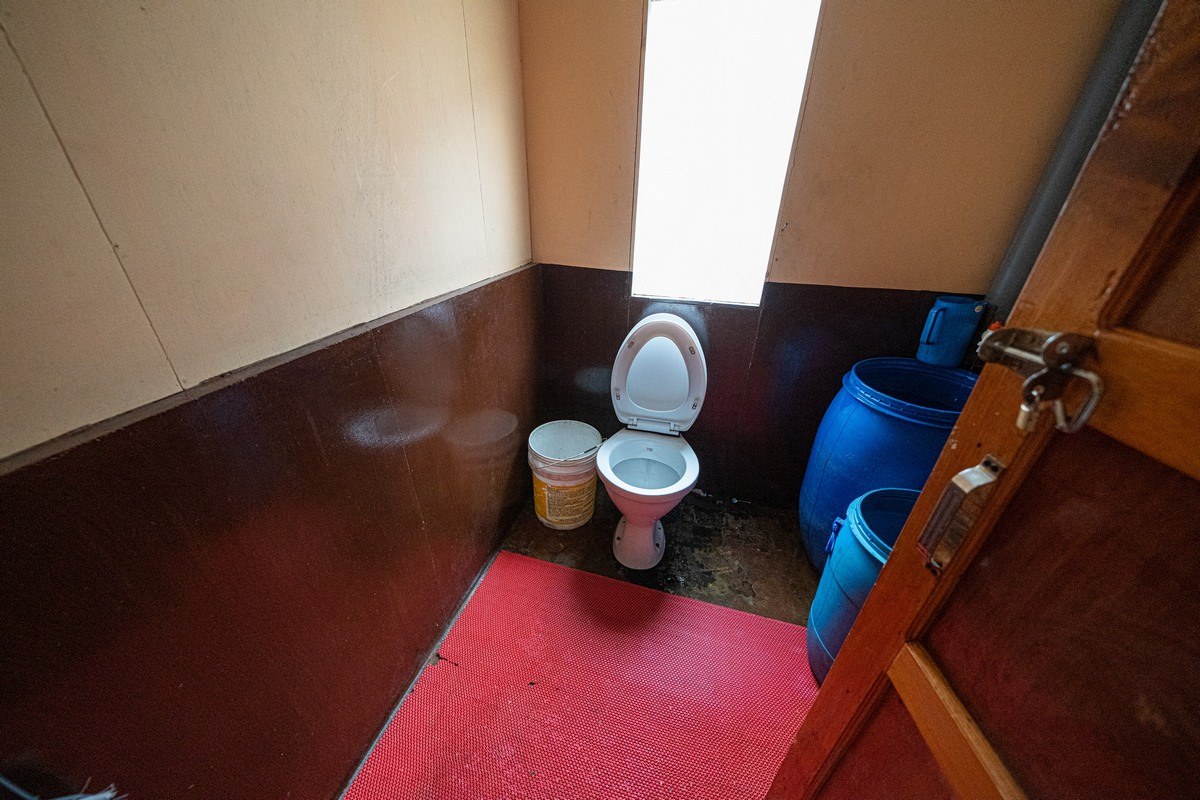 At least the restaurant was decent; and the nearer the stove in the middle – the better! ->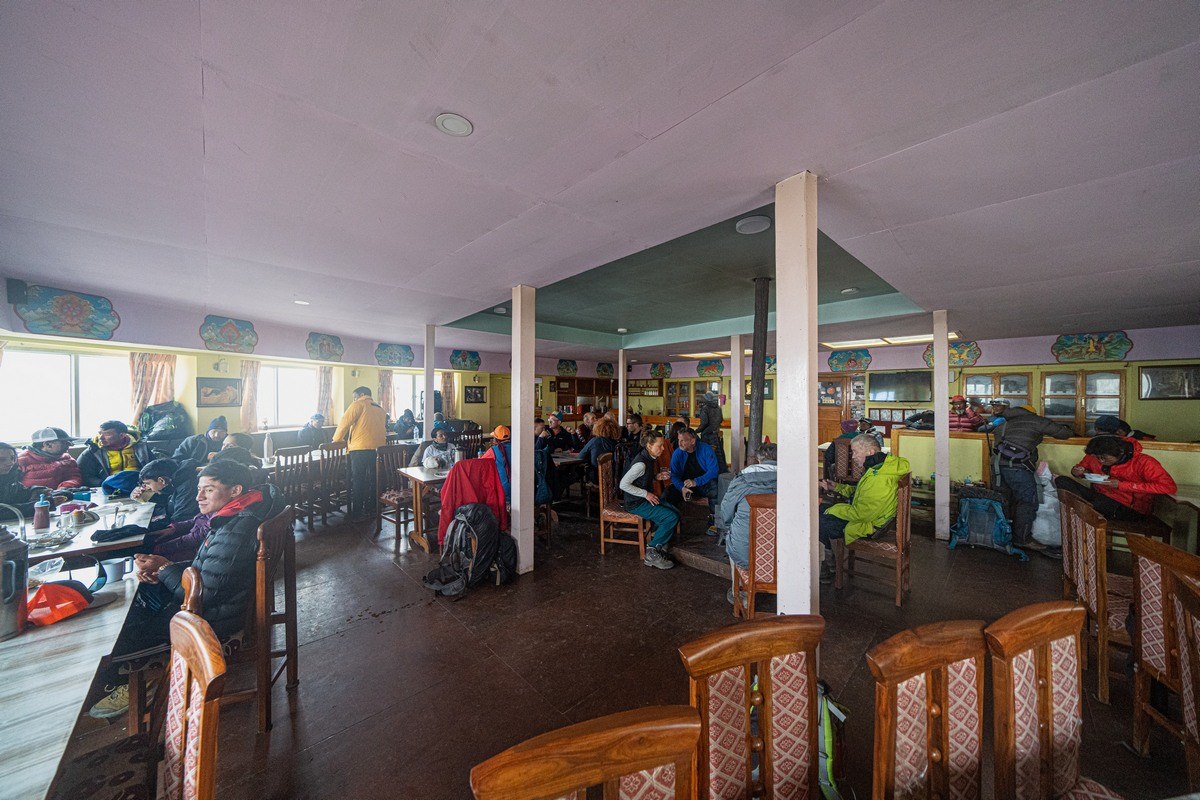 Btw – our travel agency was the "high-altitude adventure sports logistics company" 14 Peaks Expedition. To them – a big shout-out and spasibo!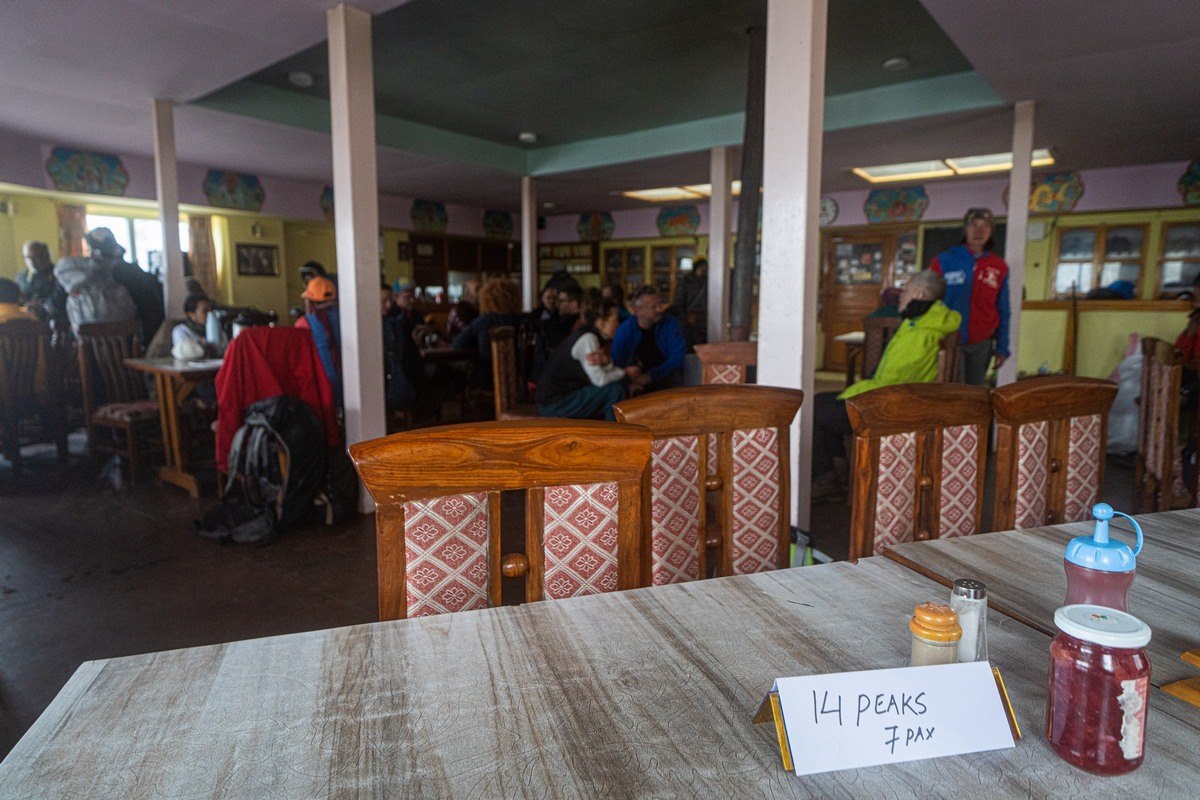 Our final overnight stay on our trek was at the Everest Inn Gorakshep. This was all the more basic, though I was expecting worse. It was actually relatively comfortable even…
Like I say, the conditions weren't too bad – considering we were more than 5000 meters up!
Literally – bed & breakfast: no electricity, toilet down the corridor! ->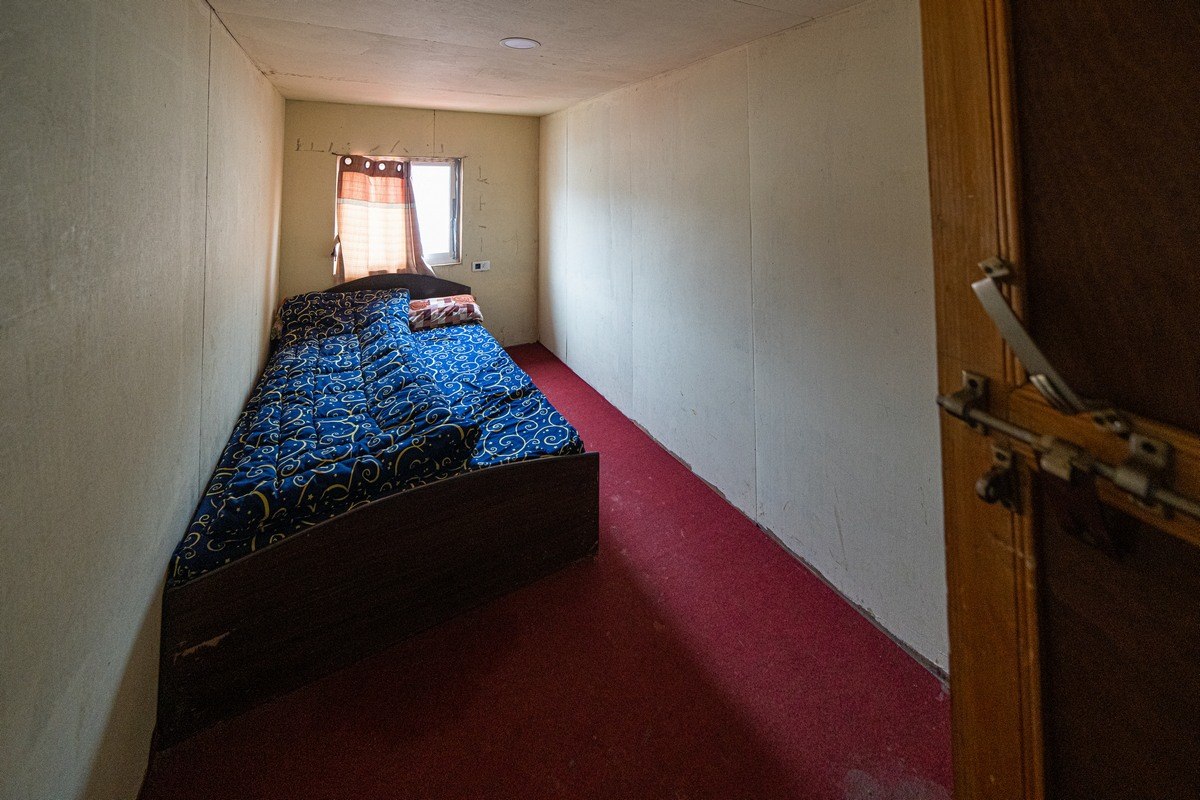 Again – the restaurant (stove in the middle) saved the day. A long leisurely evening can be had there before the final push the following day up to the Base Camp. If the weather had been better we might have investigated the nearby Kala Patthar, but there was zero point given the practically zero-visibility. We were fine in the warmth of the restaurant ->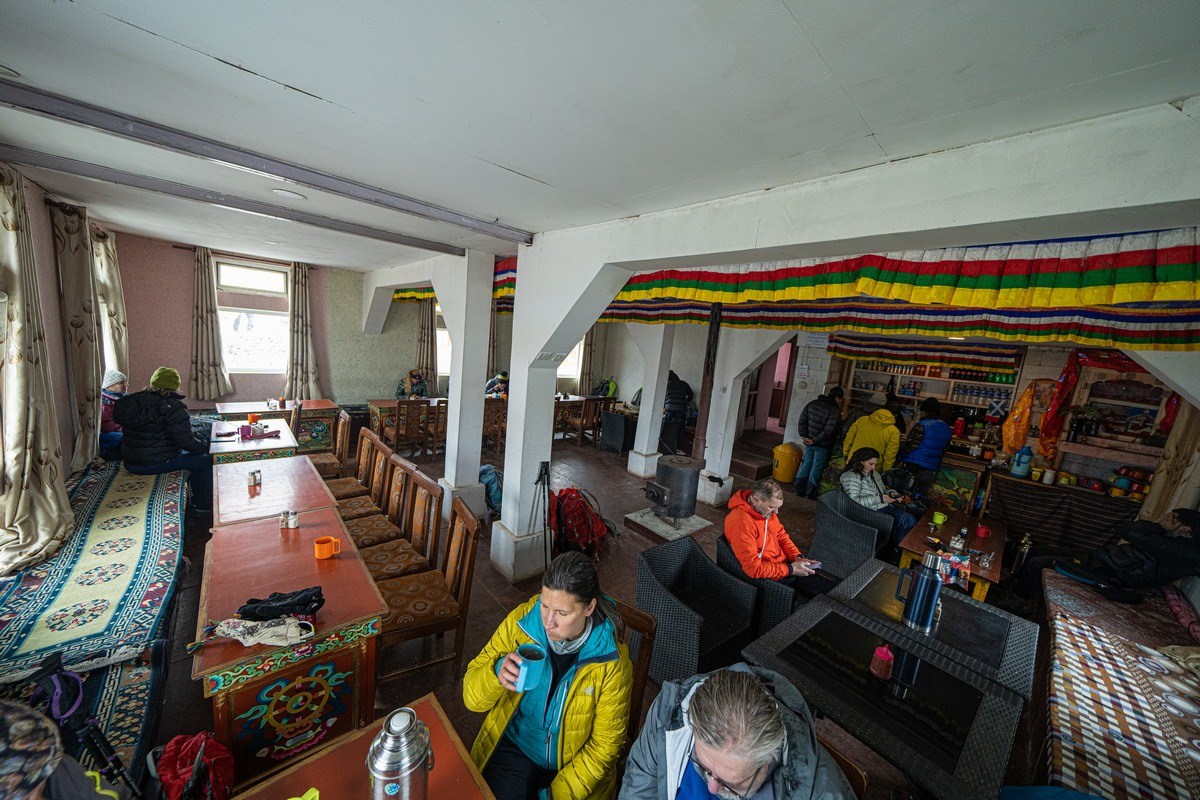 Curiously, though made of wood, I didn't see a single fire extinguisher in the Everest Inn Gorakshep – nor any emergency sprinklers. The (already frazzled) mind boggled!…
And that, folks, brings my tales from the high-altitude-Nepalese-accommodation side to a close. As you now know, there are… nuances to accomodation here. But they're not real hindrances to your ever doing the trek up to the Base Camp. If we can do it – anyone can!…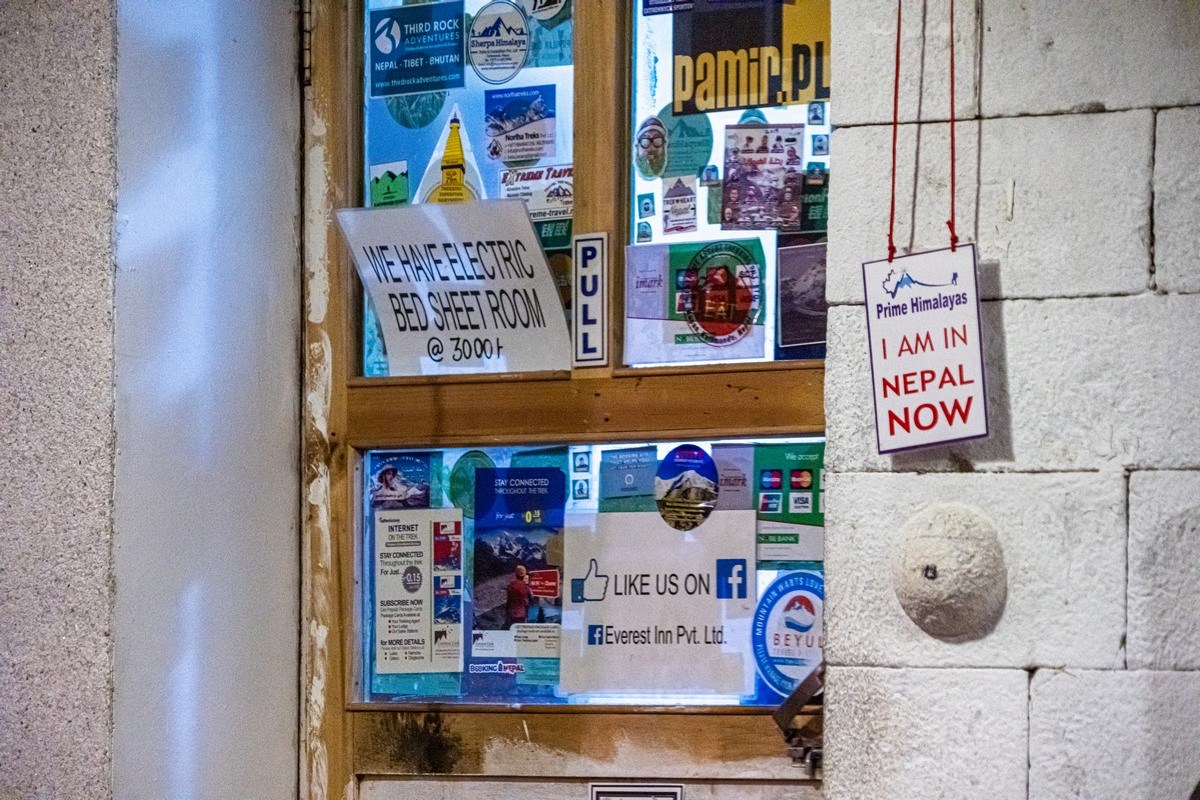 The rest of the photos from our trek up to the Everest Base Camp are here.