Our Kurils-2022 expedition: between the lines.
After Ebeko volcano, the trans-Paramushir trek, and the climb up Krenitsyn volcano, this here travelogue-blog series of pics-and-tales could have been brought to a close. For the weather after these three was practically always like this: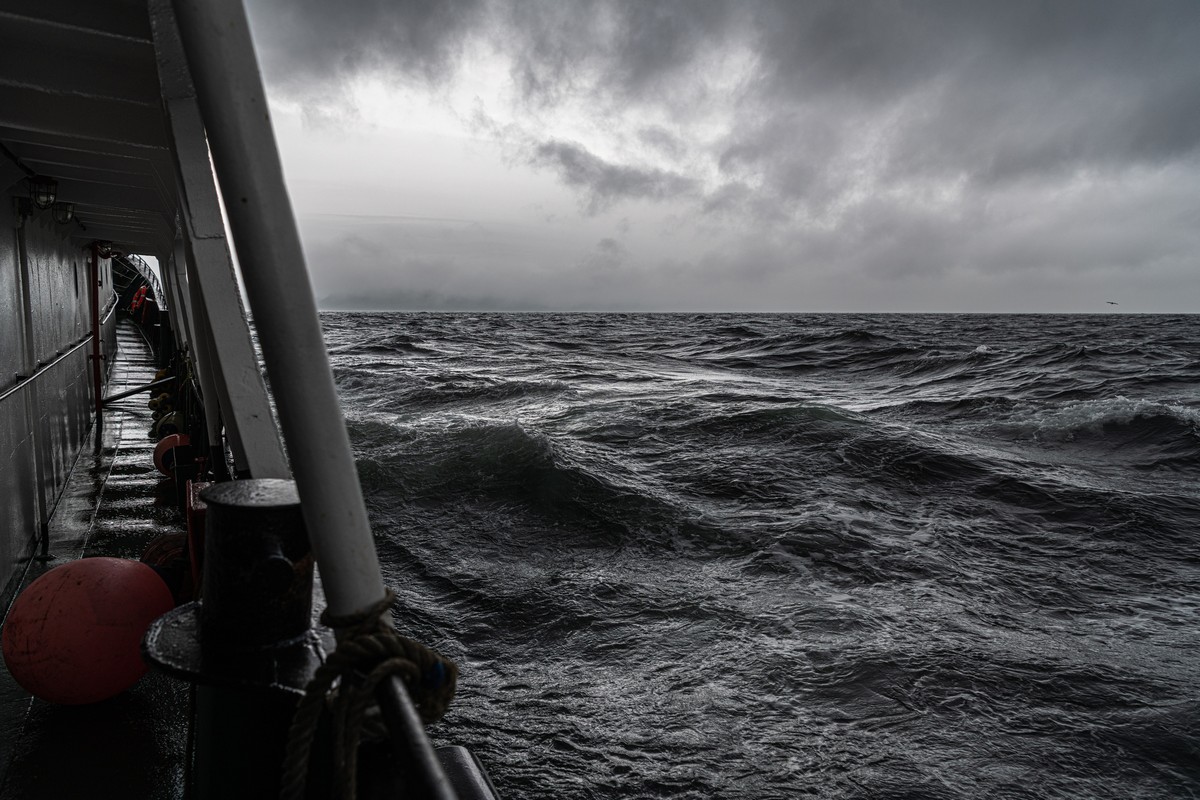 …But that would be giving in. Better would be to press rewind and look at the Kurilian adventure from the very beginning…
It's early July: our flight from Moscow is coming in to land at Petropavlovsk-Kamchatsky – the hazy outlines of the city's nearby volcanoes just visible: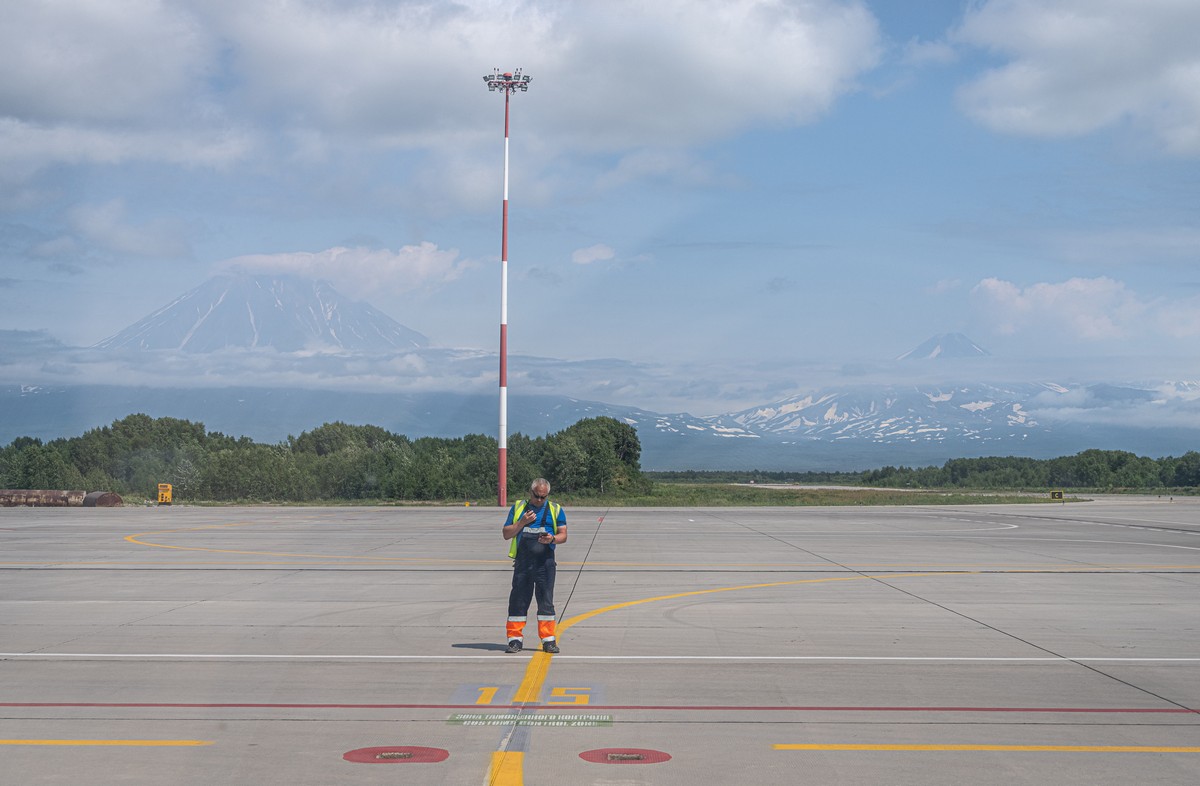 And this is where my first doubts arose about this expedition. Was it jinxed from the outset? See, normally, our plane does a large turn above Avancha Bay to land from the east. This time, it landed straight down from the west – no circling. That meant there was an easterly wind. Eek. We should have realized then that the whole expedition had "bad-weather spell" written all over it. But we didn't. We were undeterred in our optimism (as is most always the case:)…
There was nothing of our traditional views of the Sopki Mishennaya mountain this time. Everything was shrouded in low cloud and mist (with the benefit of hindsight – another red flag (even before arriving!)).
A while later, it was time to transfer to a different mode of transport – ship! Unlike in the past, this process was straightforward, comfortable and pleasant – via a newly-built sea port ->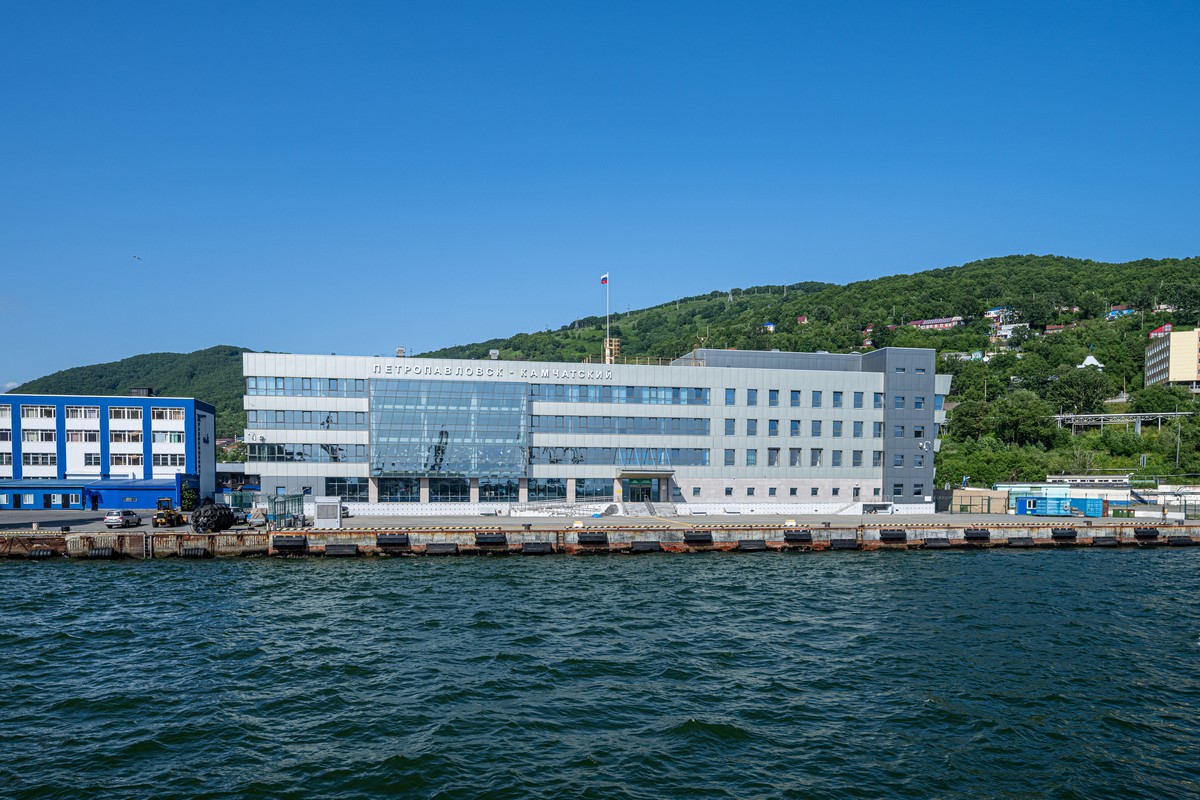 // This is what the previous sea port looked like (photo from 2010) ->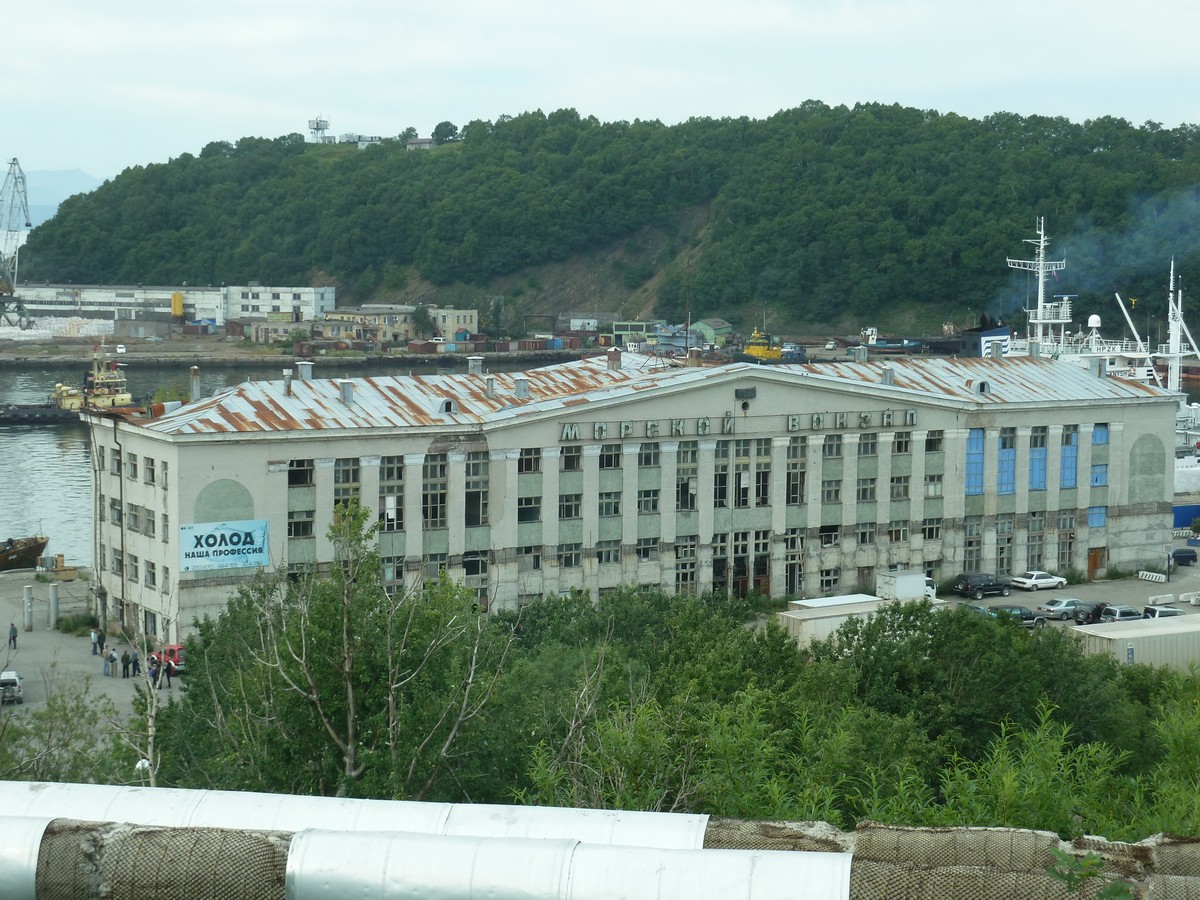 And there she is – the Afina (Athens) ->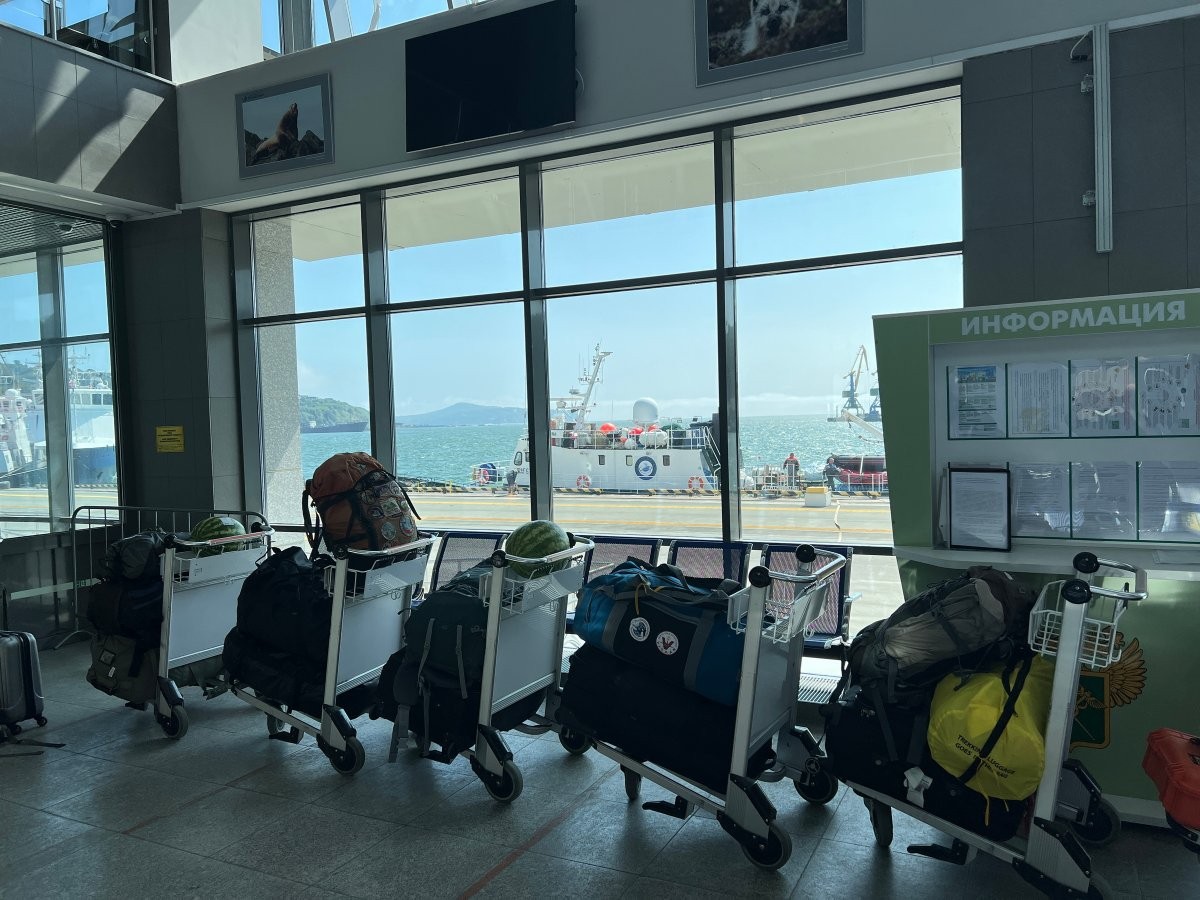 Practically nothing had changed inside the ship – just as cozy as the first time. It would be here we'd be discussing the logistics for our forays onto the various islands, where we'd let our hair down of an evening, where we'd breakfast and have dinner, where we'd watch the goggle-box occasionally, edit photos, and try to connect to the internet via our satellite connection: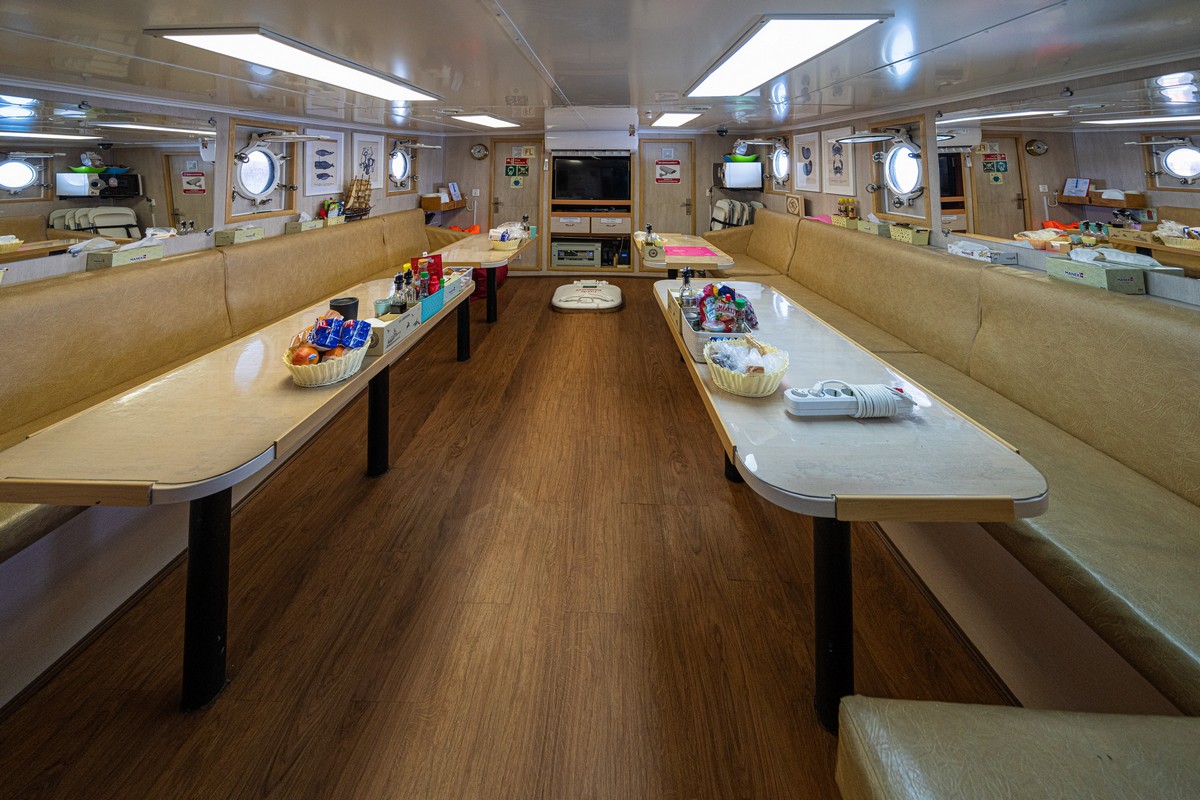 … And we're off!
That first day, as the sun was setting – our first stop: Russian Bay. Nothing special, just still-life vibes…
Cape Lopatka and environs. Pics here – all curtesy of DZ, btw:
And that was Kamchatka done. For we were here for the Kurils. Fast-forward a bit here – to our landing on Atlasov island…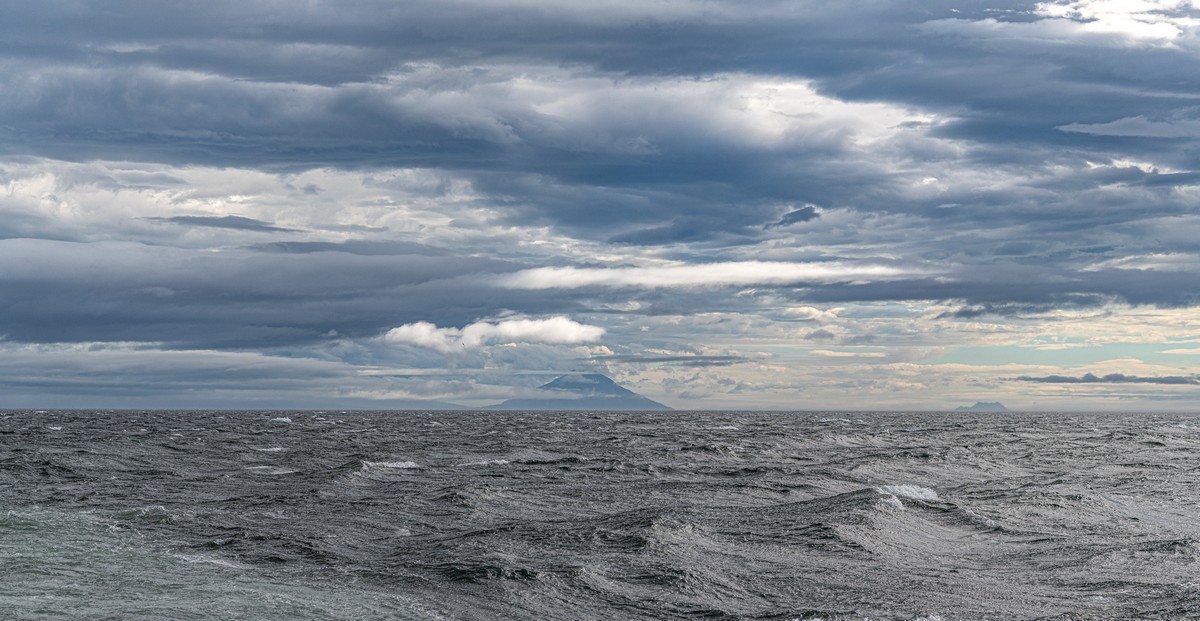 A storm was kicking in big time to one side of Atlasov, but we – mercifully – were well away from it, in freakily calm and comfortable weather conditions ->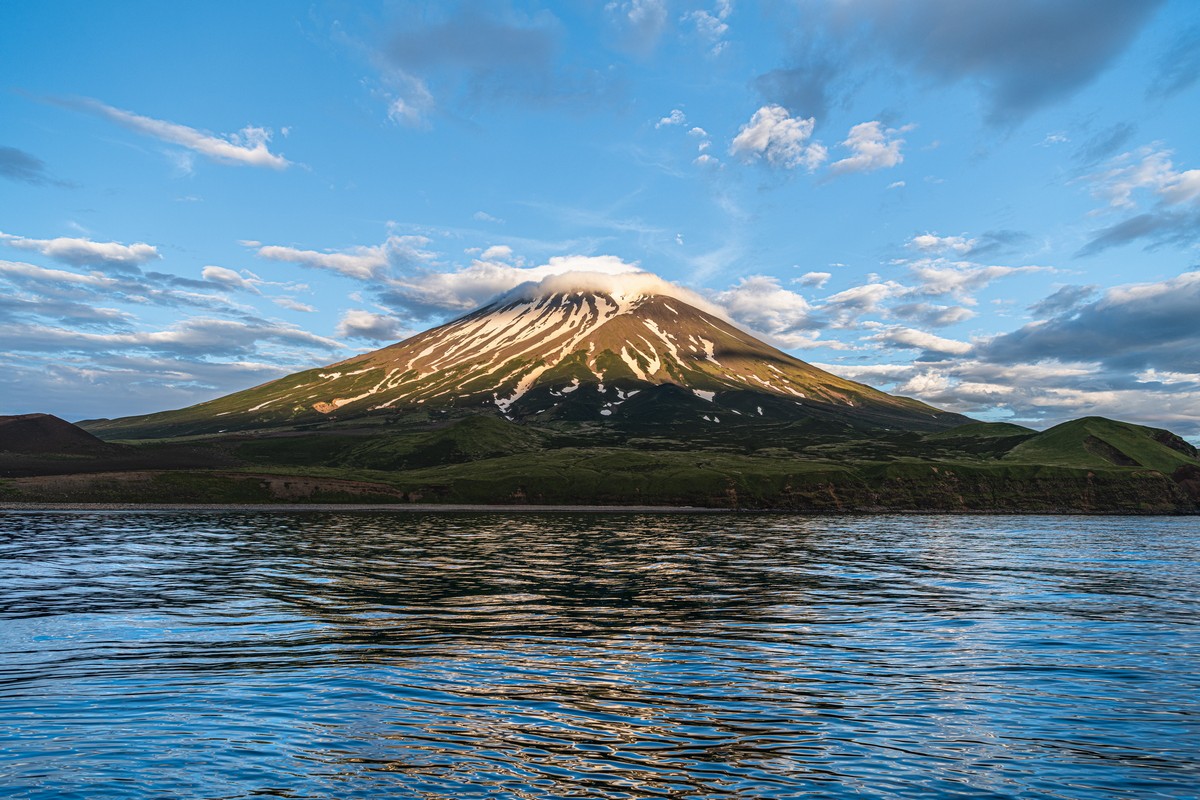 Next, some of our group decided to try trekking up Alaid volcano. I passed. I didn't think the sun that day would last long (and I didn't want a repeat of 2019). And I was right! They couldn't see a thing after a while, and never made it to the top.
Meanwhile, those left on the Athens worked on the "Olympic Breakthrough" droning and photo-editing ->
The next few days we simply laid low – hiding from the high winds, storms and rough seas near various islands. Occasionally some of us would row the dinghy to a shore – but that's as far as they'd get: any further inland there was nothing to be seen through the fog (.
Storms can get so powerful here they can toss logs hundreds of meters from the shore ->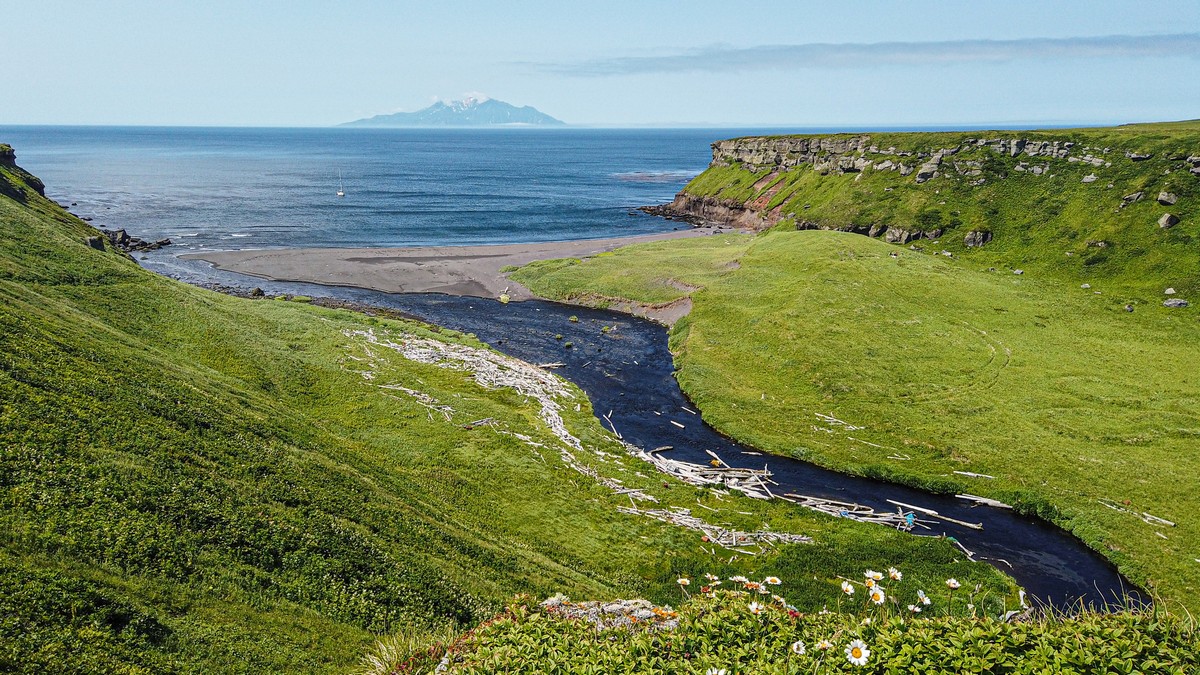 Quite why we didn't climb Nemo Peak on this beautiful day I will never know. Oof! ->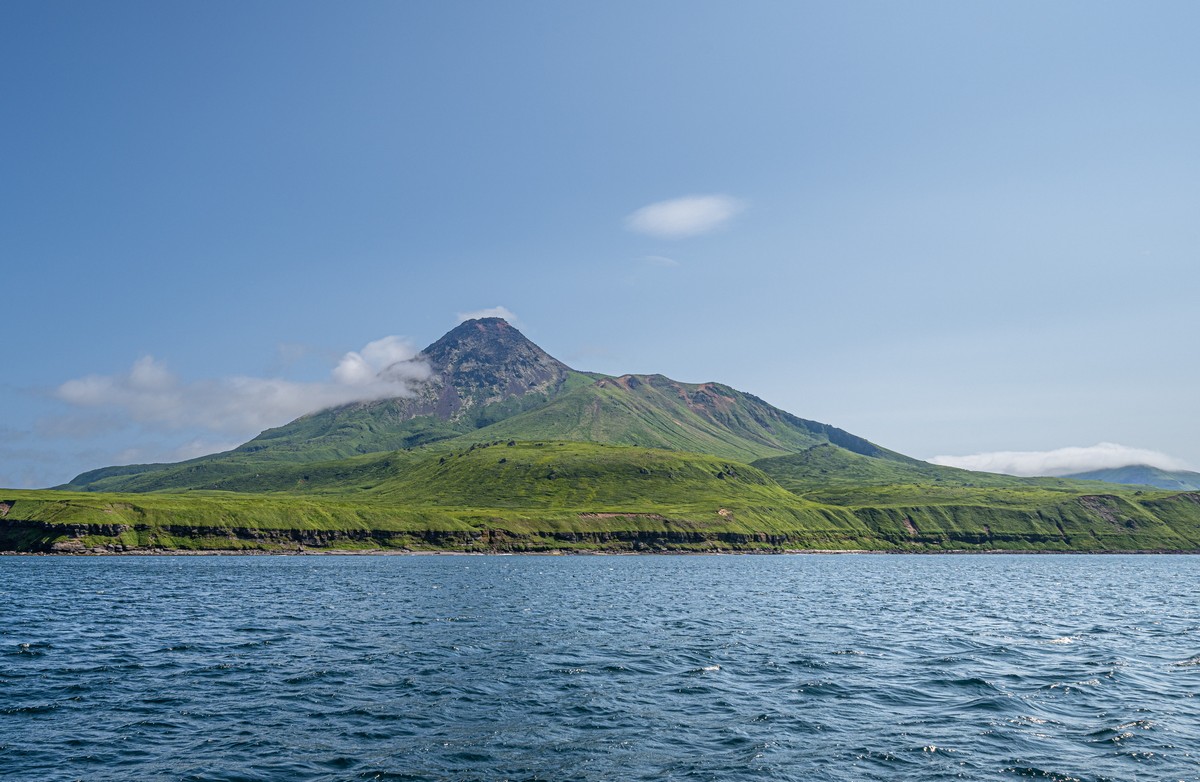 Seals! Plenty thereof! ->
"Sunny" Shiashkotan… – hardly. We sat out the bad weather there, taking the odd stroll around and about (check out the map) ->
The sun tended to appear only at dawn or sundown, at times along with rainbows ->
Our beach-walks were somewhat spoiled by all the trash that's been washed up upon them. Sad. Terrible. And mostly ugly and banal wood, plastic and rope – no intriguing Kharimkotan glass floats (.
And that was that – the Kurils, this year at least, done (hardly) (.
Next – Aniva lighthouse, just off Sakhalin. Been before, done, took the pics (plenty). Here's how it looked this year:
Next – Tyuleny Island in the Sea of Okhotsk. Tyuleny in Russian means… can you guess?! ->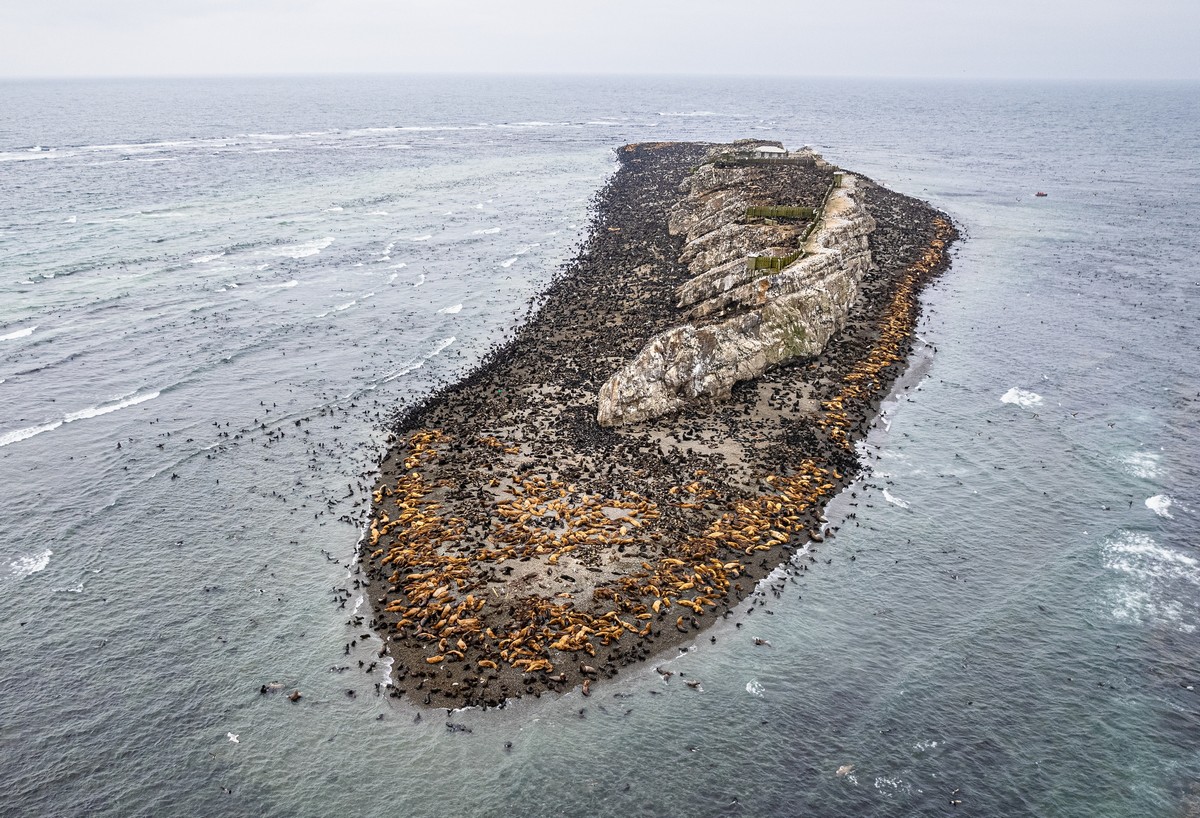 Nearly 200,000 seals inhabit the island, nearly a quarter of which are baby or teenager seals.
There used to be a fishing-industry base here; now – only volunteers (who maintain the infrastructure, monitor the seals, and sometimes invite tourists to visit). Was there in 2019 ->
Guillemot eggs are collected – and eaten! – here! They're… strange. They smell of… fish, and are the size of a pear. They taste strange too: a bit like… Eggs Benedict with salmon! And the egg-white doesn't go white when cooked – it stays translucent. That proved too much for some of us: they simply couldn't try out this odd culinary delight :).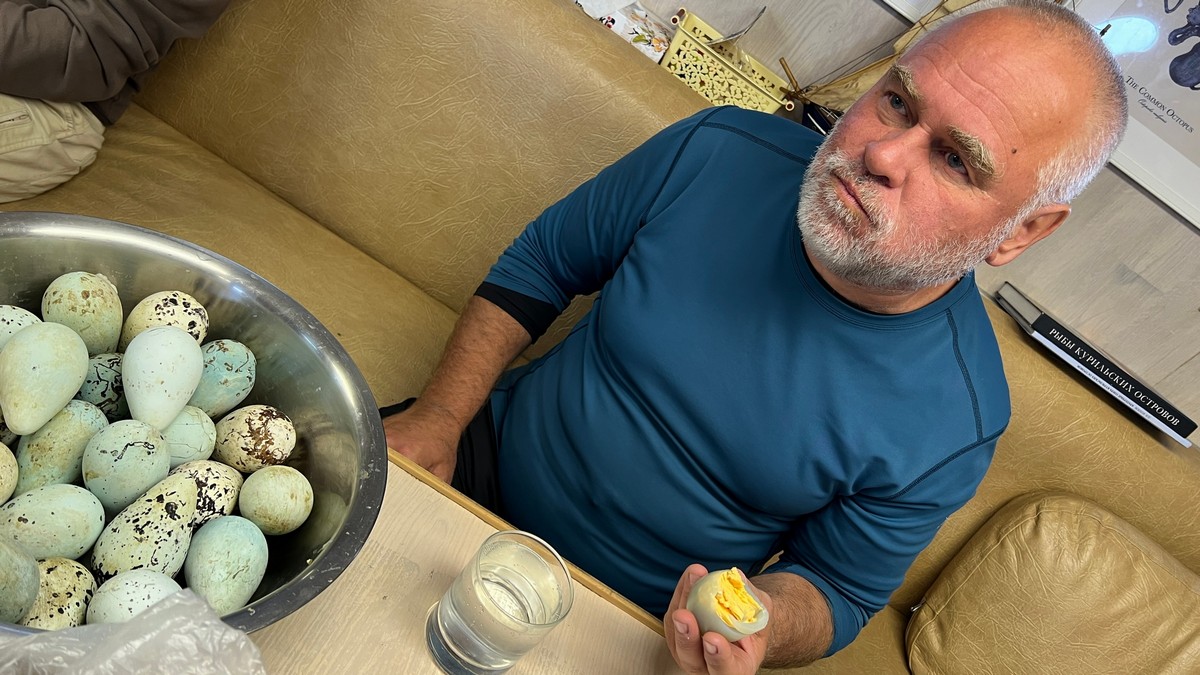 Suddenly, boobies! Surely they didn't fly in from the Galapagos Islands?
For the next two-and-a-half days we sailed toward the Shantar Islands. But that's a tale for another post!…
PS: What did we do during the bad weather? Well, there was fishing (sole, halibut, cod…) ->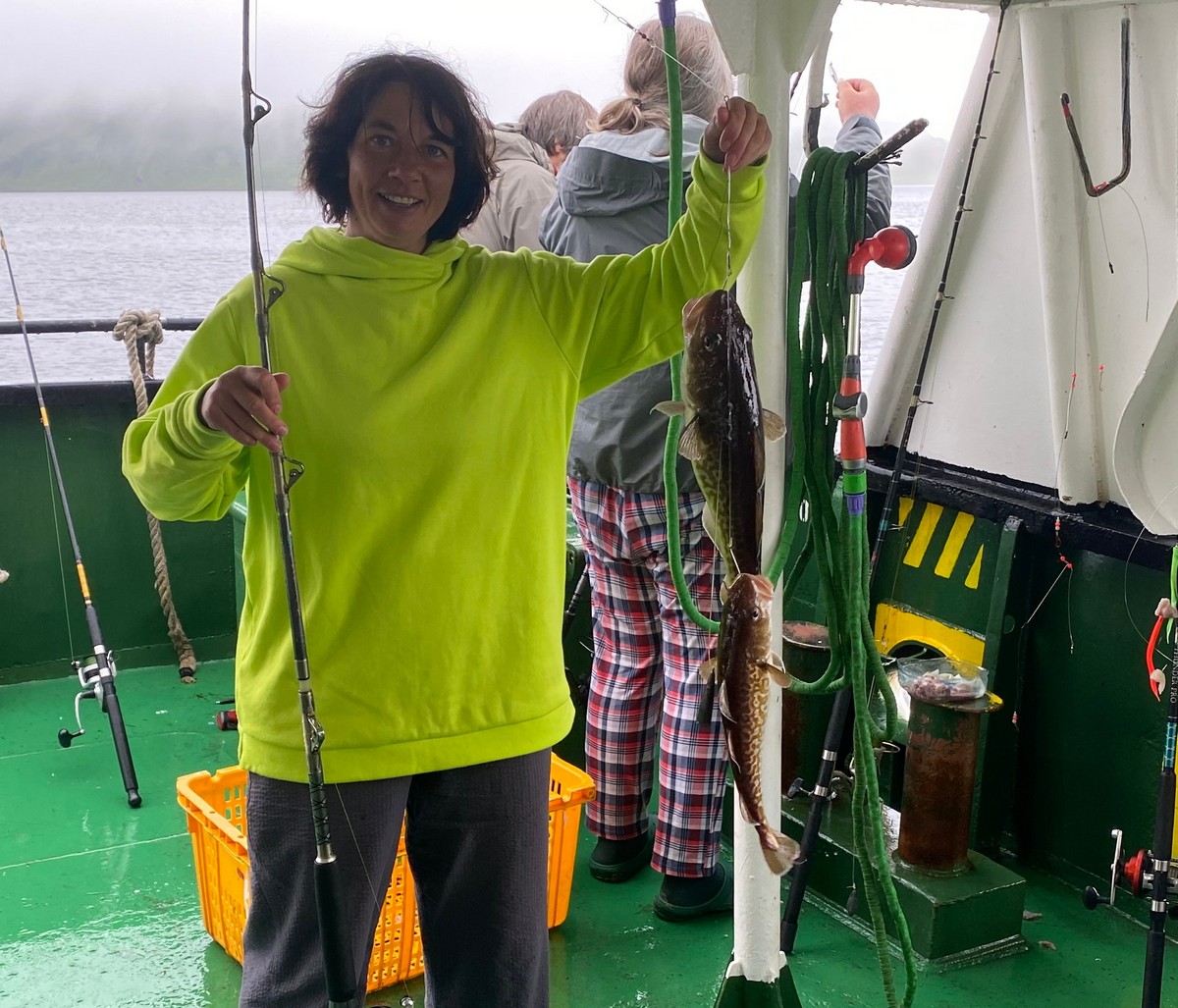 …And there was acting daft:
And, of course, we slept – a lot…
All the photos from our Kurils-2022 expedition are here.