It's usually the case that if an area is volcanic, wet and not too cold, then there are going to be lots of waterfalls. Take, for instance, Iceland, Hawaii, Kamchatka, the Faroe Islands – and other places that have temporarily slipped my mind.
And the Azores are no exception. On the island we're exploring – San Miguel – there are several waterfalls worth seeing; we had time to see two of them.
I. Salto do Cabrito – a picturesque double waterfall. On the internet, the water looks crystal clear, but we got there just after it rained, and the water was anything but clear. We decided to skip having a swim and just enjoyed the view :)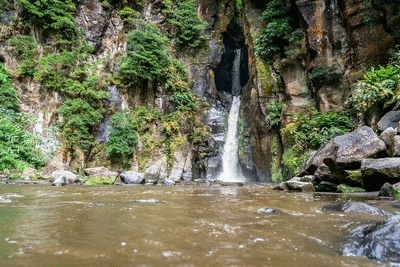 You can drive almost right up to this waterfall, and can go down a cool little path, alongside the pipe to the local mini-hydroelectric station. I recommend approaching it from above.