Wuyishan paths through crevasses and… tea plantations.
Privet boys and girls!
I know it was only a few weeks ago when I finished my travelogue-mini-series on our China-2018 trip, but I just know some of you are already missing my daily updates of the red, rocky and rainy landscapes of the various Danxia landforms. Well, just for you, herewith – yet more of all that red-rocky-rainy-ness! But it's not all good news today. The bad news is that there'll be just one installment – this one – for I really have, finally, run out of pics. I eventually managed to finish editing my last China-2018 gigabytes, and this is the result…
On today's menu – Wuyishan, or the Wuyi Mountains (武夷山), in the Fujian province. Remarkably, the non-Chinese internet knows about the place, which is surely a good sign that it may be even better than all the other rocky tourist attractions in this part of the country. Let's see…
Only recently did this place became a full-fledged tourist attraction, which means it's even newer, cleaner, tidier and shinier than all its other new, clean, tidy, shiny 'competitors'. It also looks like it could be a lot larger than its competitors – or maybe that was just because it was so empty (yeh!). No, this place really is massive. Scores of ticket offices, turnstiles, shops, and all the rest. It never fails to impress me how the Chinese do practically everything on a huge scale, or, as one of my business teachers loved to say of the Chinese: 'If it needs doing, it needs doing massively'.
You see those red armchairs – make a mental note thereof; I'll be returning to the topic of red armchairs a little later.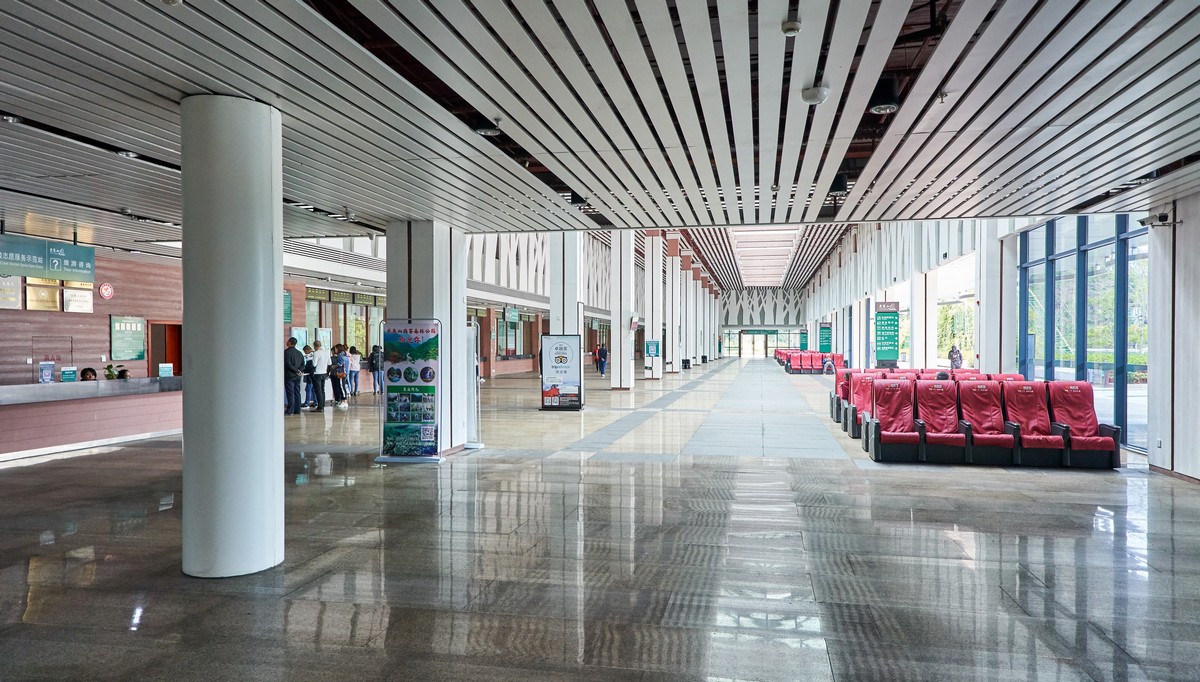 We take a few pics of the maps – they could come in handy…
As per usual, we were driven to the first highlight of the day – only this time it wasn't a bus!
There are three of five routes here that go off in different directions. We went for the left-most one for it promised to take us past mountains, caves, incredible views, and a river trip – in short the full monty, as we were pleasantly used to already.
We climb off the 'train', checked out the sign ahead of us, and, well, we didn't have a clue really which would be the best of the two options given, much less, actually – what they in fact were:
We tossed a coin, and 'Left A Thread of Sky' won it. Which is just as well, because when we returned to have a go of 'Right A Thread of Sky', it turned out to be much cooler. Good: it's always best to increase coolness, as you all know…
Anyway, the Thread of Skies turn out to be just that – almost: you see a thread of sky up the two (right and left) cracks in the rock leading to the respective caves?
Up the steps we climb. It's after about a hundred of them that we realize it's a sweltering hot and humid day. And there we were in jeans. Other folks seemed to be a lot better prepared than us, coming with a change of clothes – modern breathable sporty kit. Good idea.
We returned back to the entrance of the cave and took the right-hand route this time…
Well, I told you this right-hand route was cooler – well it was sure steeper and thinner too. At one point I had to give first my backpack to a fellow traveler then even my camera too so I could get my not meager torso through!
Ah – we finally come out the other end…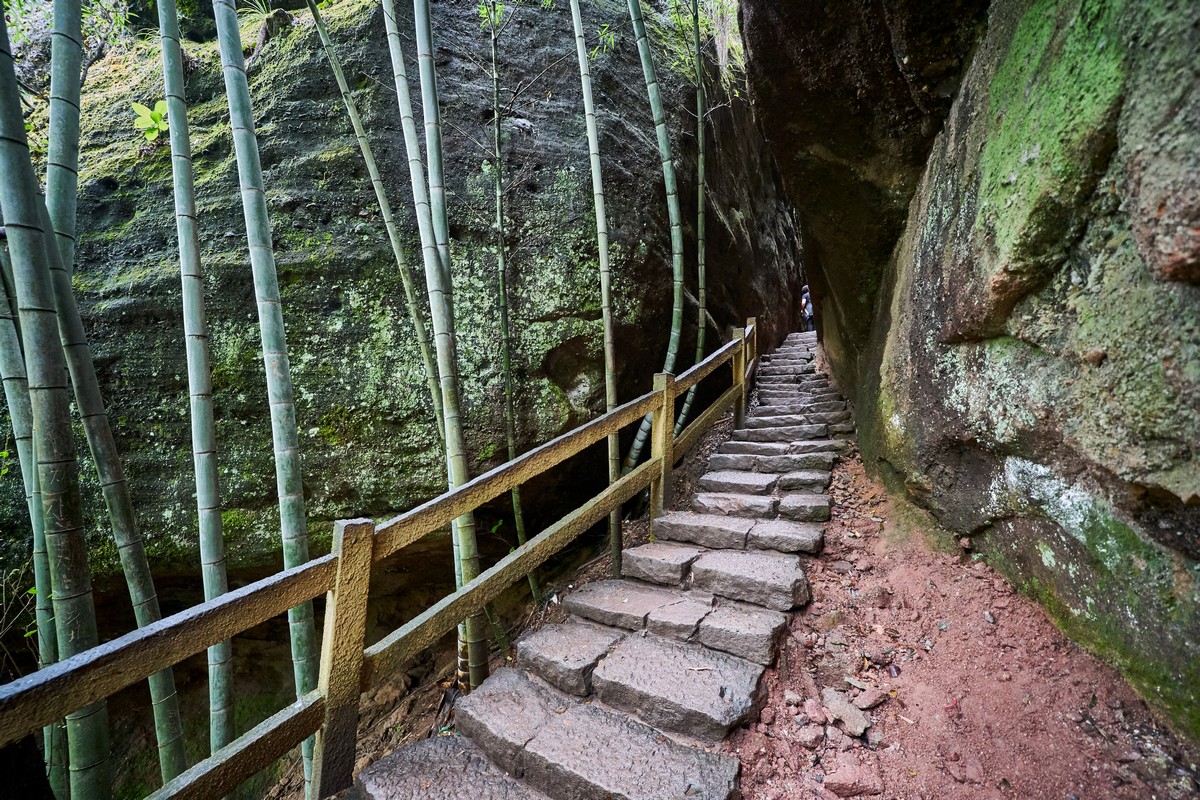 Woah – fields of tea! Lovely!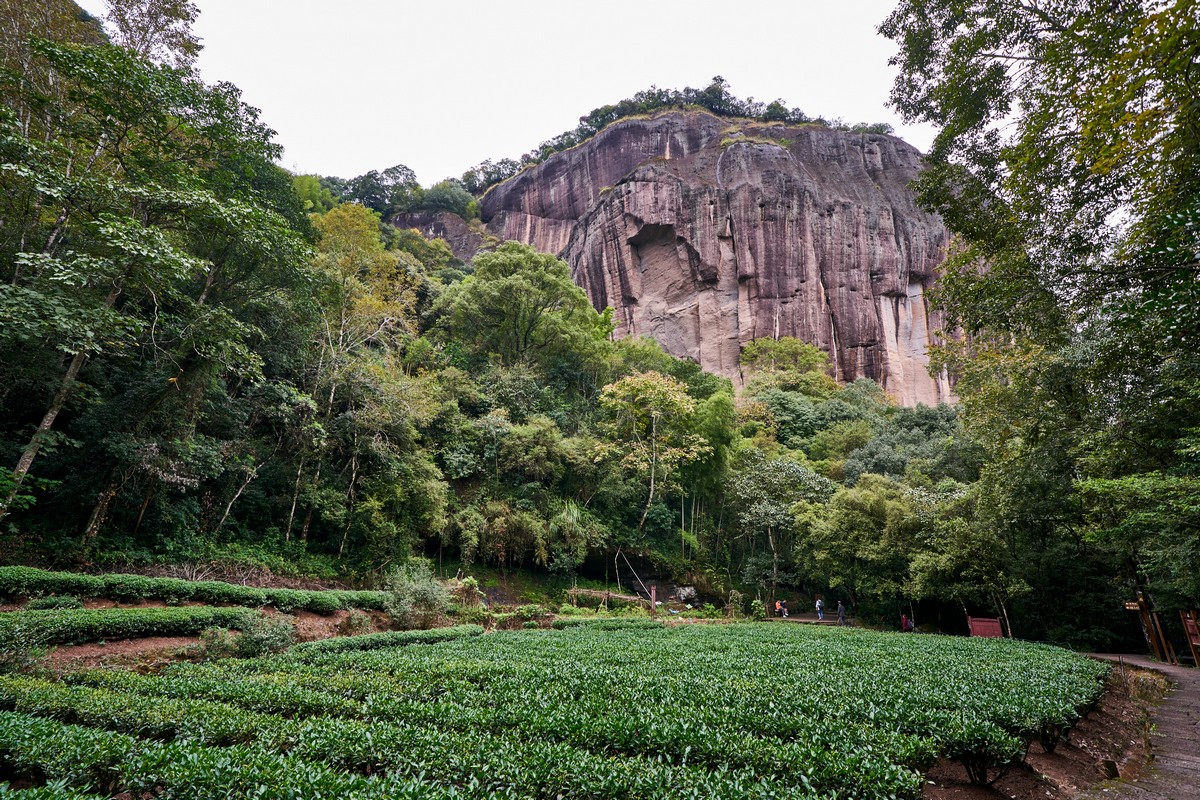 Onward we march, along what's known as the Wizard of Oz Trail. Its length cited on the map, and the actual length are quite different; but that's seems to be normal around here. But then the next signage also gave utterly different distances, meaning we really didn't know which routes to take (given that evening was fast approaching). I mean, I'm sure even native speakers wouldn't make head or tail of these signs. In fact – we had native speakers with us, and they were as confused as us!
Oh well, we just picked a route at random and off we shot…
Yes more tea plantations: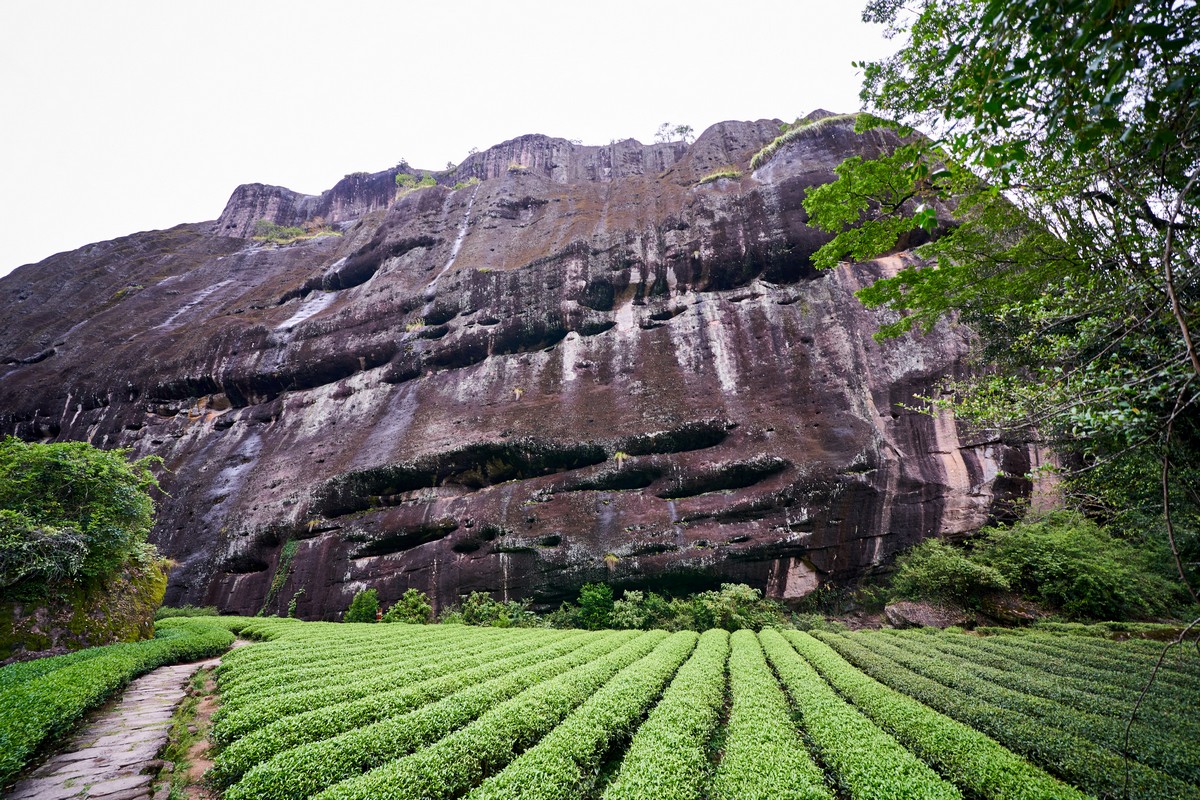 Up, up, up!…
And back downward again – and another disorientating overhang again. Clearly here the same rock-shape designer had been at work billions of years ago…
Next up – as if you couldn't guess – river rafting! Sure, we'd done it the day before, but why not again? After all, this was officially an 'expedition', not a beach-pool-laziness vacation. But we were nearly too late for the bamboo rafting, as the maps and signs again caused us difficulty. They just seemed to be bereft of any logic: for example, you can get from point A to B, and B to C, but you can only get from D to E via point B, or some such. EH? Brain melt…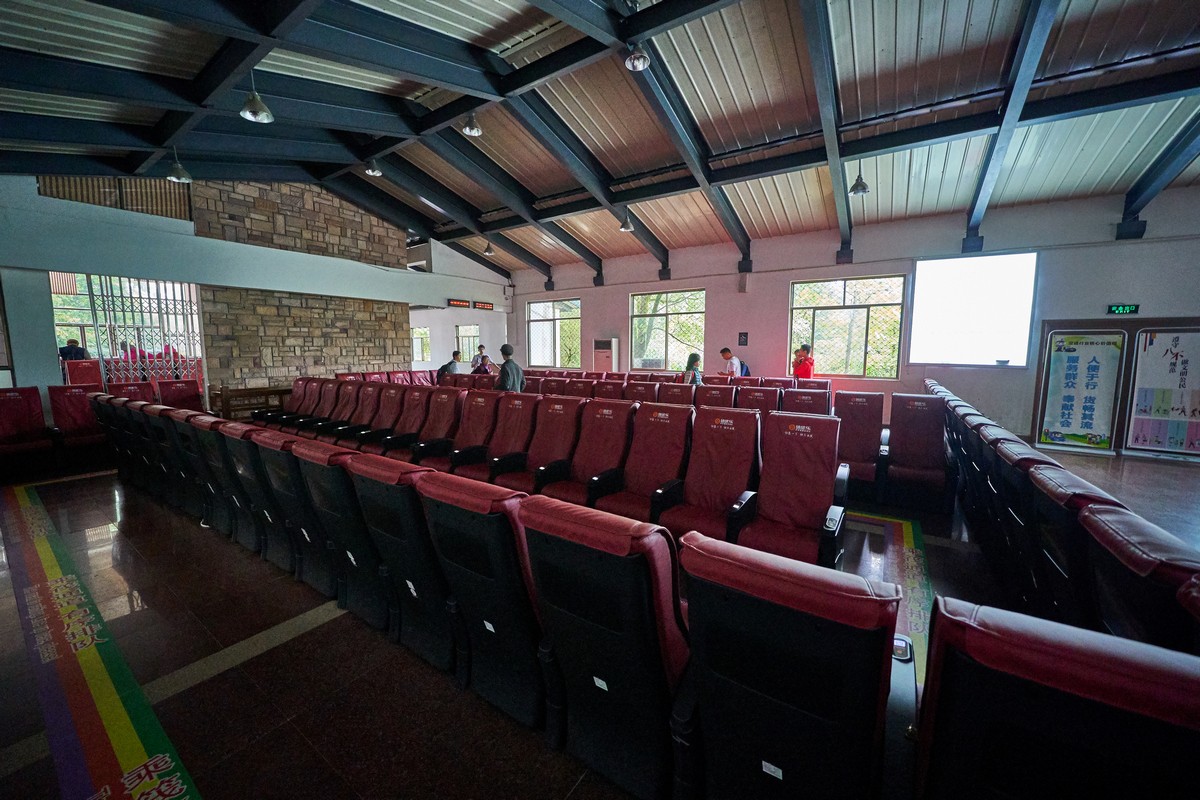 Now. You recall the red armchairs. Turns out they're not regular armchairs – they're all massage armchairs. And here they're in place of the usual zigzagging barriers for lines of folks – so they can enjoy a massage instead of getting all up tight standing in line forever. Oh China!
Off we float…
// Check out the fish in the last pic!
The next day was our last of this year's China expedition. We were getting accumulatively tired after days of trekking up mountainsides, but could manage just one more day. Especially since on the menu for the day was TianYu Peak – the most beautiful spot in the whole of Wuyishan…
(Btw – you can get up to the top in a taxi; not us though!)
Hmmm – this mode of transport was tempting… but I needed to exercise my weak leg after the break in Kamchatka in summer…
Yet more astoundingly awesome rocky mountains: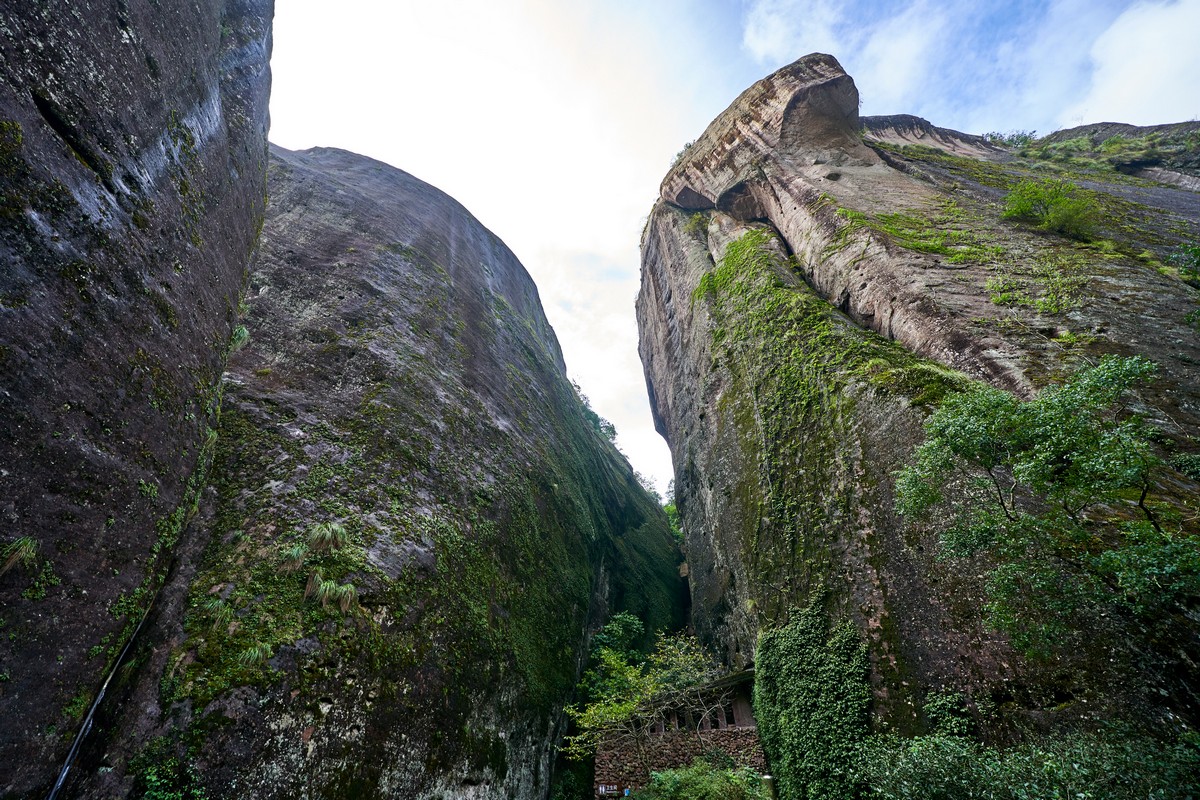 The hut at the bottom? Public conveniences!
More tea! They say the stuff produced here is of a very high quality. Well, I like my green tea, but I'm no expert on different types and calibers.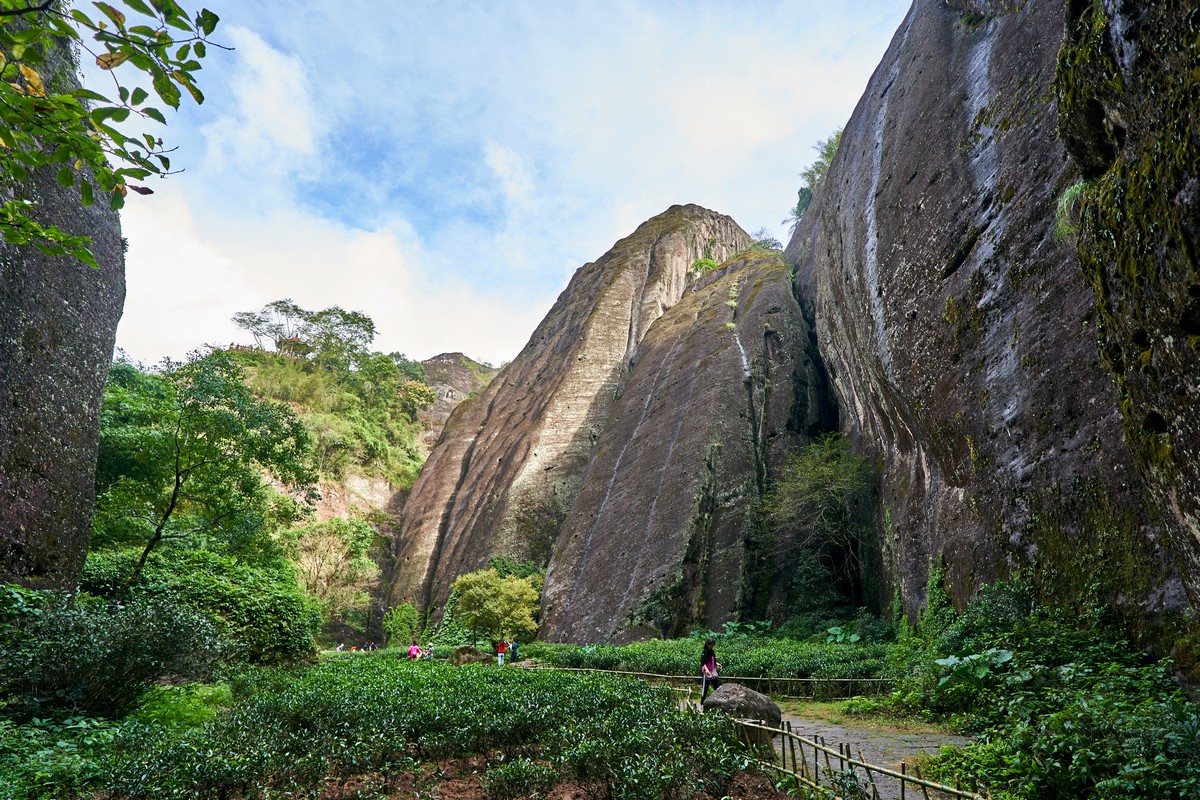 Up and up!…
Up top!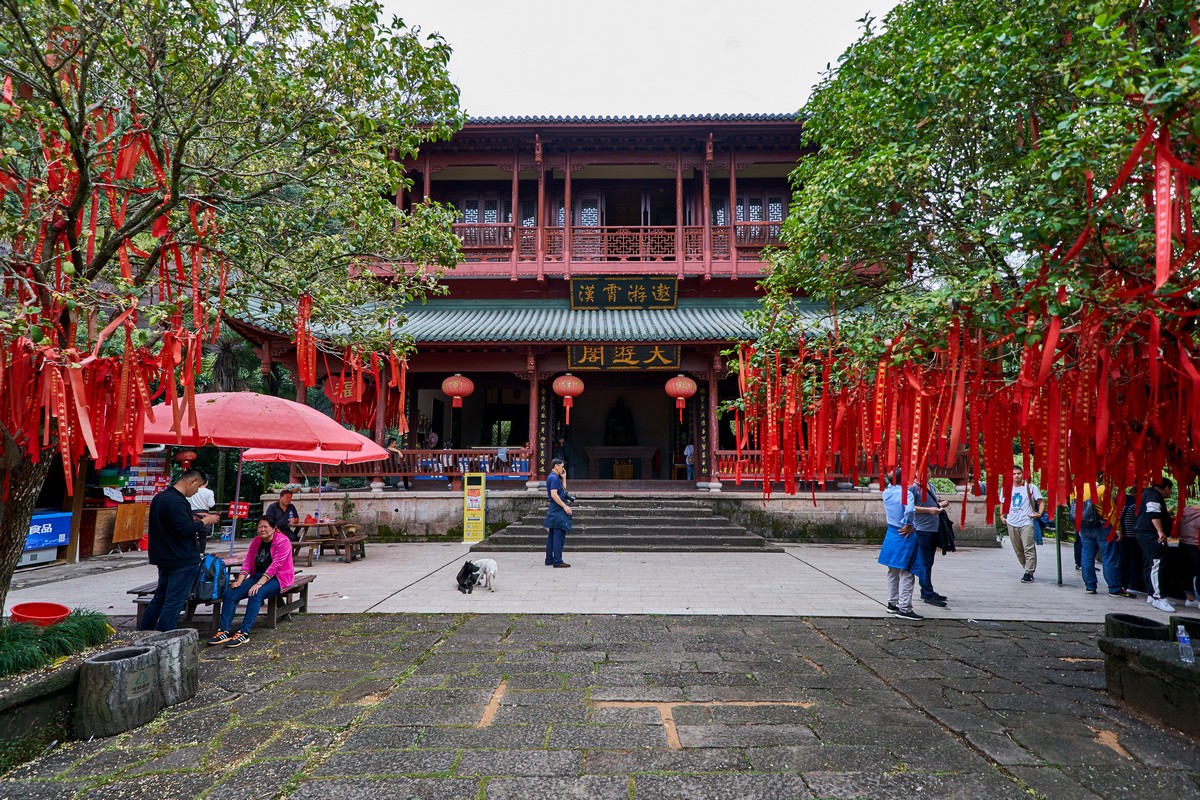 My fellow traveler D.Z. helping with the photography duties for some natives: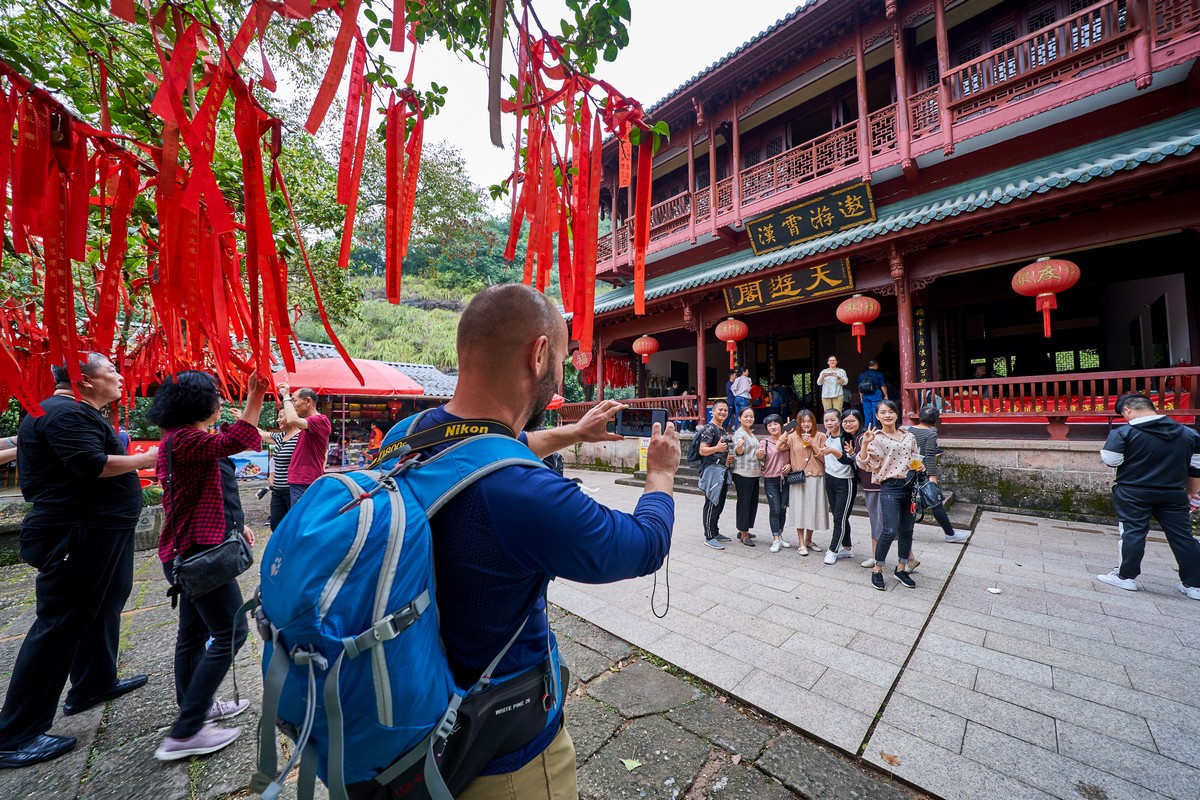 If you can see – D.Z. taking those pics on their smartphone is being videoed by one/some of those girls' mom in the background!
And that was that. It was time to head back to the hotel and pack our cases. A few more OMG views on the way back to the bus, which of course warranted plenty of pics:
Water Curtain Waterfall! Not really a curtain at this time of year; I bet it's more impressive in other seasons.
And back to the airport. Wuyishan has an airport – via which we flew to Guangzhou, and then back to Moscow.
A last look around at Danxia Wuyishan, and we were gone…
Must get back here…
And now – back to work!
Here are the links to the whole China-2018 trip series: