China trip-2018: warm-up.
Hi folks!
As you can no doubt tell by these pics, I was recently in China. In fact, a trip to China is becoming a bit of an autumn tradition already, timed perfectly to catch the lull after National Day Golden Week holidays (in honor of the founding of the People's Republic), during which practically the whole country takes the full week off work. It's a bit like the first week of every year in Russia: the whole country comes to a stop. Don't even try getting anything done – work-wise (no ones' working) or tourism-wise (the locals are doing the home-grown tourism thing so the lines you have to wait in are just silly).
Apparently, some 700,000,000 Chinese (!) were on the move during this this year's Golden Week. Yes folks, you did read that right: a full eight zeroes there! So as I say, best to keep away during Golden Week. The week after though: knock yourself out! All the parks, cities… in fact any tourist attractions are practically empty – for a good two weeks.
Which is just as well, for China – being as massive as it is – has a lot of phenomenal natural beauty that needs checking out. I mean, the country is number two in the world on the number of UNESCO World Heritage sites (after Italy). Formidable rock formations, voluptuous valleys overgrown with gorgeous greenery, lovely brightly-colored lakes, and more – ensuring China has a full 10 entries on my list of the Top-100 Most Beautiful Places in the World (+ six bonus tracks:). And this list of mine I occasionally edit as and when new places need adding. And they need adding in China more than in most other countries. See for yourself:
You've probably already guessed that there are going to be not just a lot of photos here but a TON of photos. Accordingly, as I like to say, get plenty of popcorn in!…
In this intro-post you're reading now, almost all the pics were taken by my regular travel companion D.Z. (who I hope will be adding the odd commentary in this China mini-series as we go along). And here he is: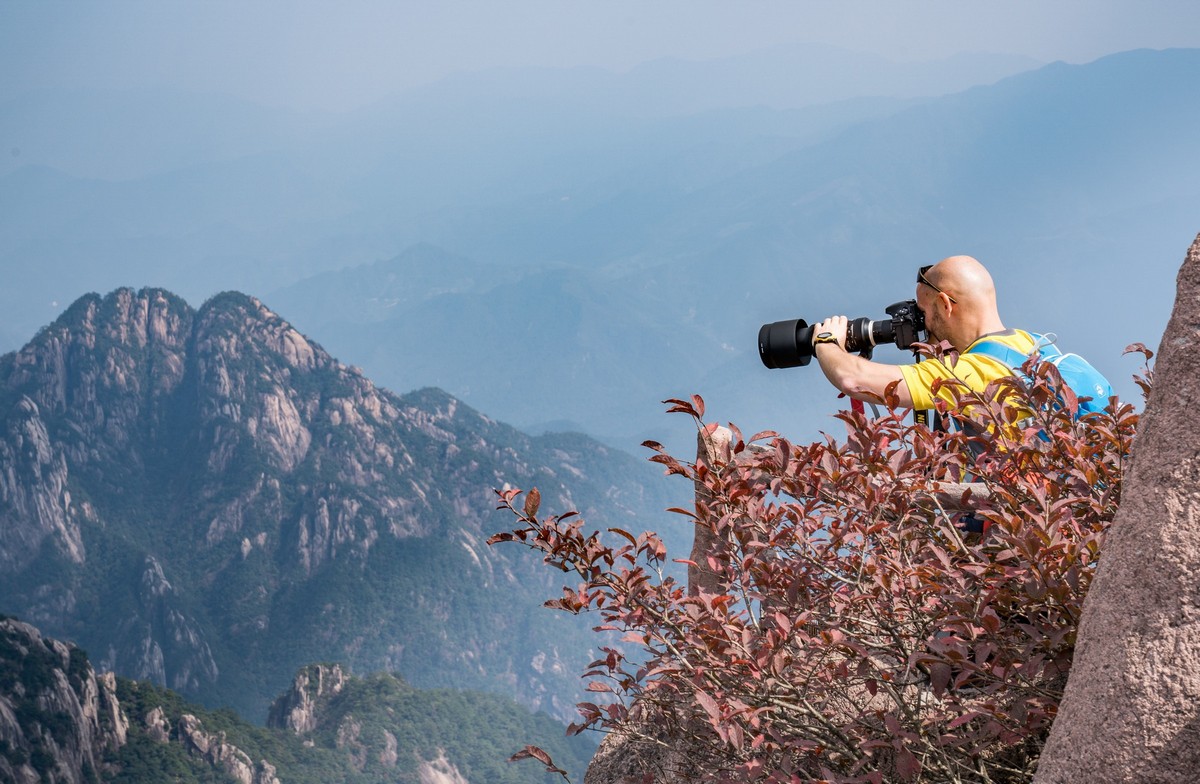 While I've been procrastinating, daunted by the prospect of sifting through and editing my almost 3000 photos (!), I've decided to let D.Z. take the reins on the edited-China-photos-publishing front. Phew!…
Here's the route we took on our China trip, btw:
Shanghai > Huangshan > Longyou Caves > Mount Jianglang > Mount Longhu and its park > Guifeng Mountain > Taining Geo-park > Wuyi Mountains > flight back home via Guangzhou.
From Shanghai to the Wuyi Mountains we traveled by car; the distances involved didn't add up to much, and besides, there are hardly any airports in this part of the world.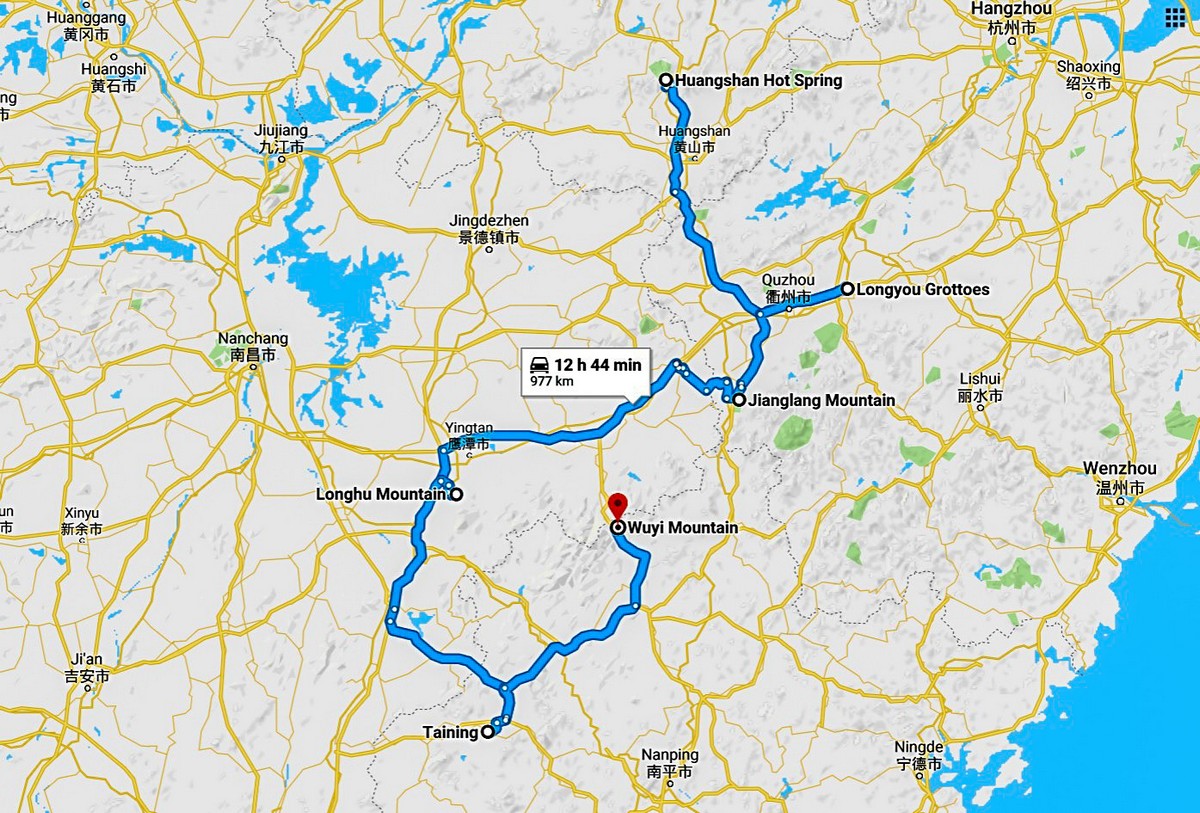 And here's a larger scale so you can see better where we were: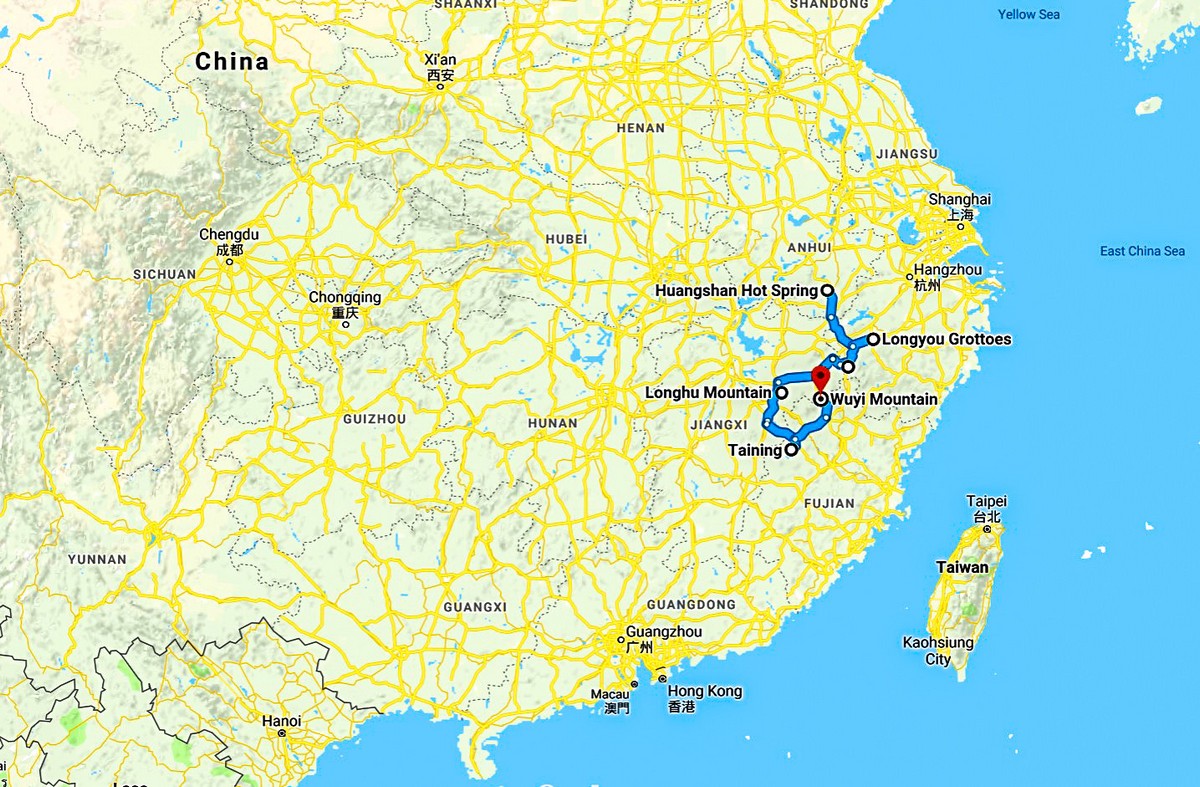 And herewith, some en-route highlights:
0. Shanghai
1. Huangshan /黄山 – Wiki.
2. Longyou Caves / 龙游石窟, Zhejiang – Wiki.
3. Mount Jianglang / 江郎山, Zhejiang Province – Wiki.
4. Mount Longhu (& Park) / 龙虎山, Jiangxi Province – Wiki.
5. Guifeng Mountain / 龟峰.
6. Taining Geopark / 福建泰宁, Fujian Province.
7. Wuyishan Mountains/ 武夷山, Fujian Province – Wiki.
All right folks – that'll do for your China mini-series hors d'oeuvres. Several main courses – coming right up!…