Taining, though raining – still amazing.
Our China-2018 trip continues!…
Our next port of call – the city-county of Taining (福建泰宁) in the Fujian province. Actually – not the city, but its Geopark. This is one of the most famous natural tourist attractions in China, on the List of UNESCO Global Geoparks, and so on.
It's a place, as is often the case in China, with several different tourist attractions kind of all rolled into one: Danxia landforms, a 'golden lake', rafting down labyrinth streams, several temples, a nature reserve, and some kind of 'forest park' – perhaps for Chinese city dwellers who've never seen a wood before?!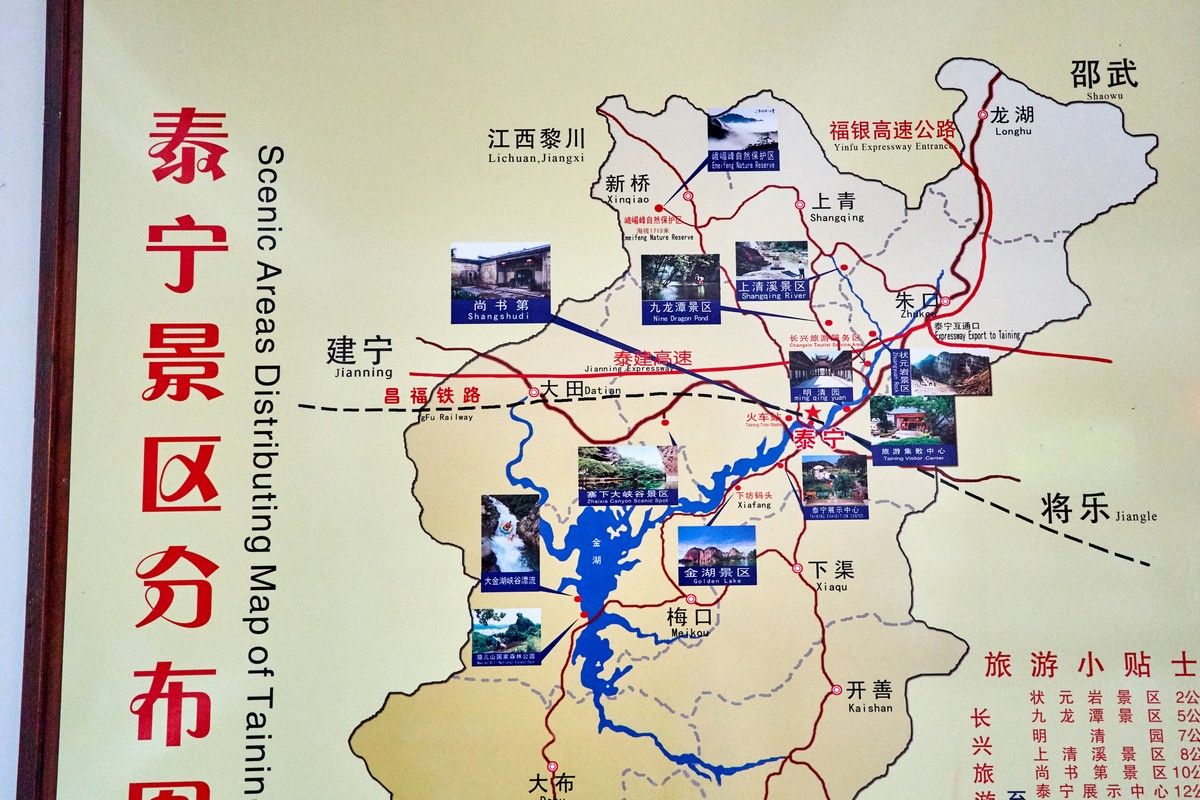 So where were we headed first? Wherever the bus would take us, which turned out to be… Jinghu Golden Lake (金湖).
Which would have been super but for one thing: the weather forecast was… inaccurate. It had been promising two days' worth of rain coming soon for a while, and they finally came while we were here, darn it. So, though beautiful, both the water and rock installations here were beheld wet through to the skin, which sure put a dampener on our mood too ). The wet weather also hindered our habitually industrial volumes of photographing – the lens would steam up and of course the cameras would get wet if not constantly sheltered from the rain.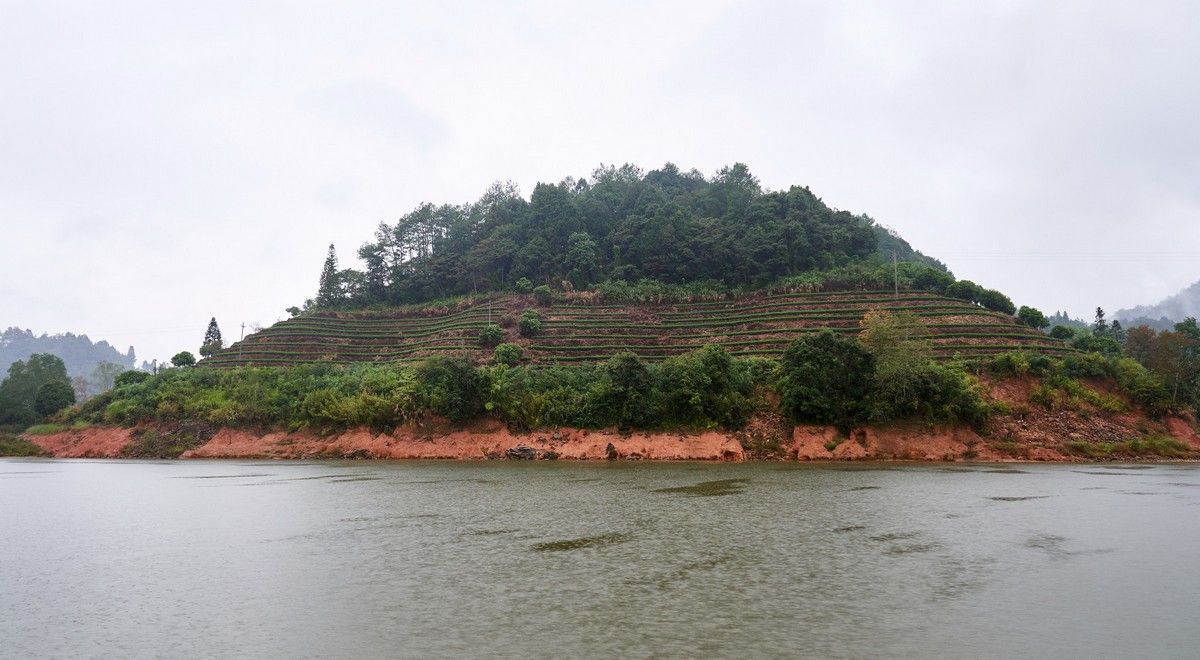 We hopped onto a boat and set off across the lake. Btw, you can rent a whole boat, which is much better than being part of a group of boats on an excursion: you can take your time and stop off exactly where you want to.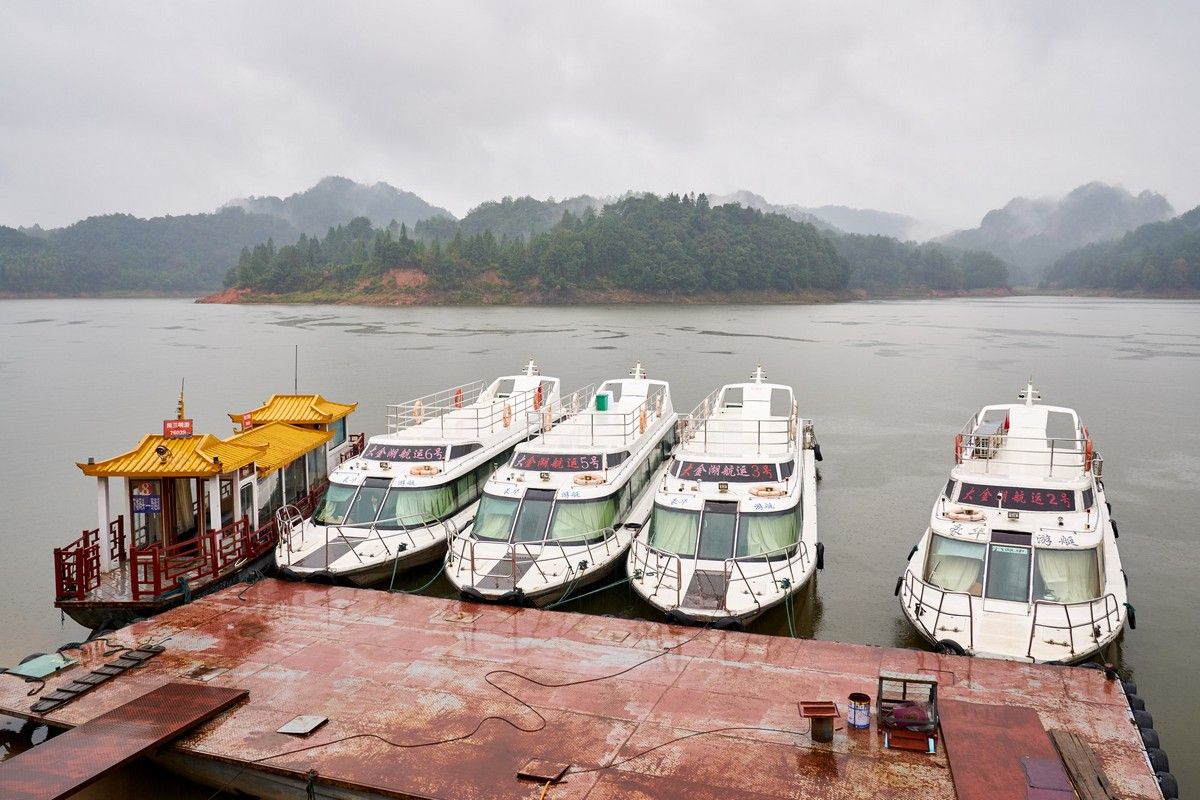 We cruised, stopped occasionally, disembarked, looked around, re-embarked, and cruised some more to the next stop on our route.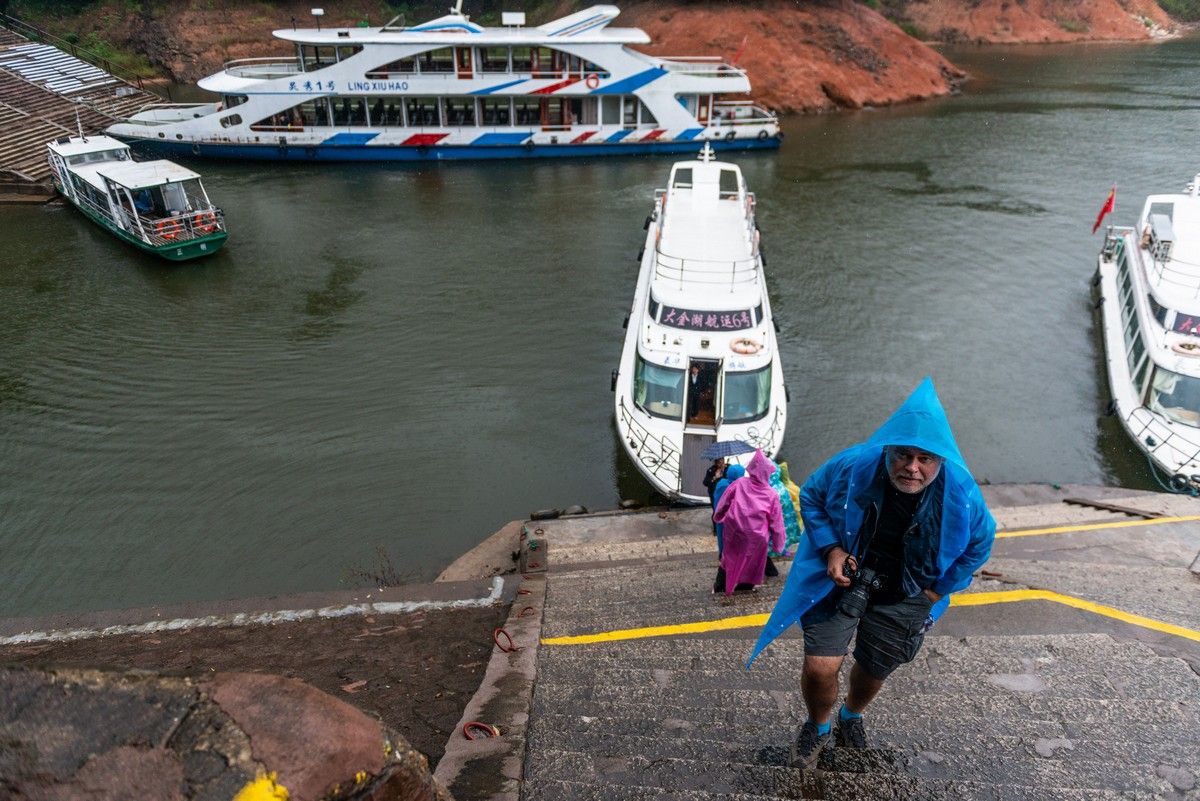 Our first stop was at Ganlu Rock Temple – which is built into a cliff face. This magnificent building is another Chinese tourist attraction about which there's hardly any information on the Internet outside the country. And since we were guide-less here, and I not understanding the China tongue, I had to settle for just lots of pic-taking here, which, I'm afraid, is what you'll have to settle for too!
As you can see, the weather continued to be a little unkind to us while here, with a light drizzle and much mistiness going on most of the time. Nevertheless, I'm sure you'll agree this place is really something.
Next stop – Elegant Graceful Bearing: a walk among the rock formations.
Wow: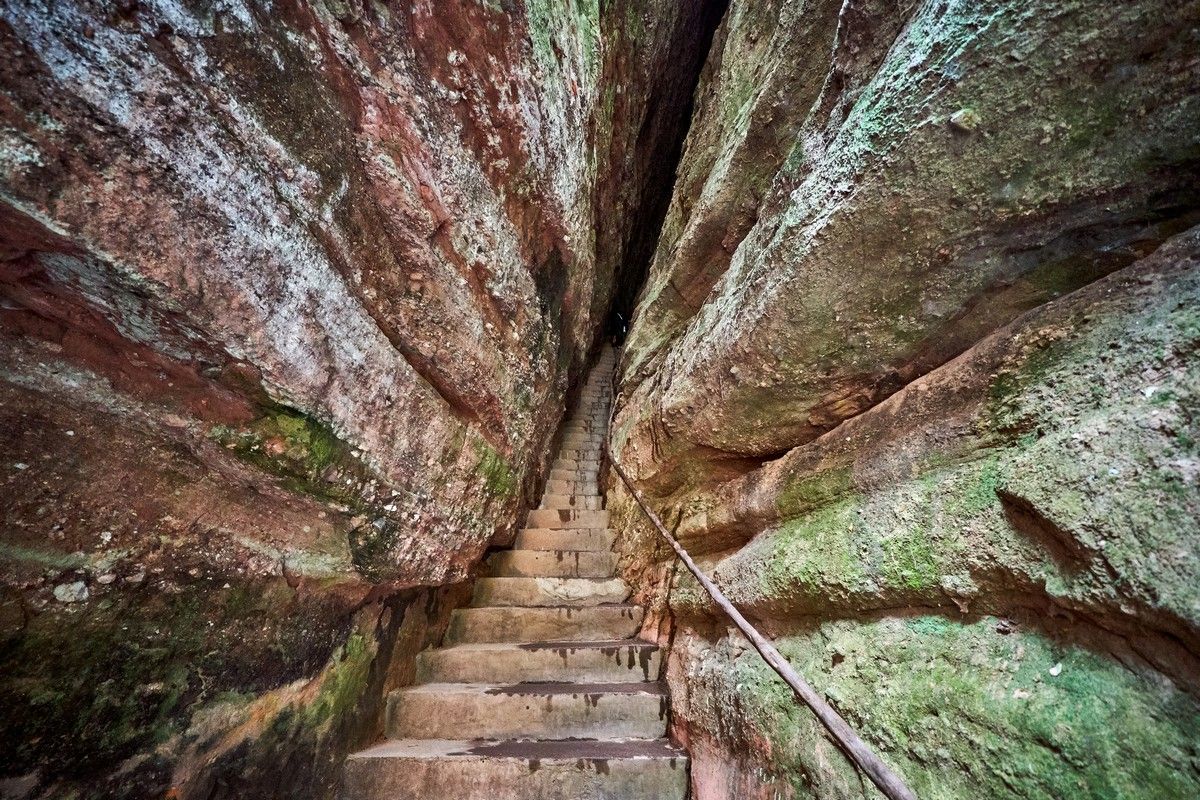 It's called 'Narrow Valley', but it didn't specify quite how narrow ).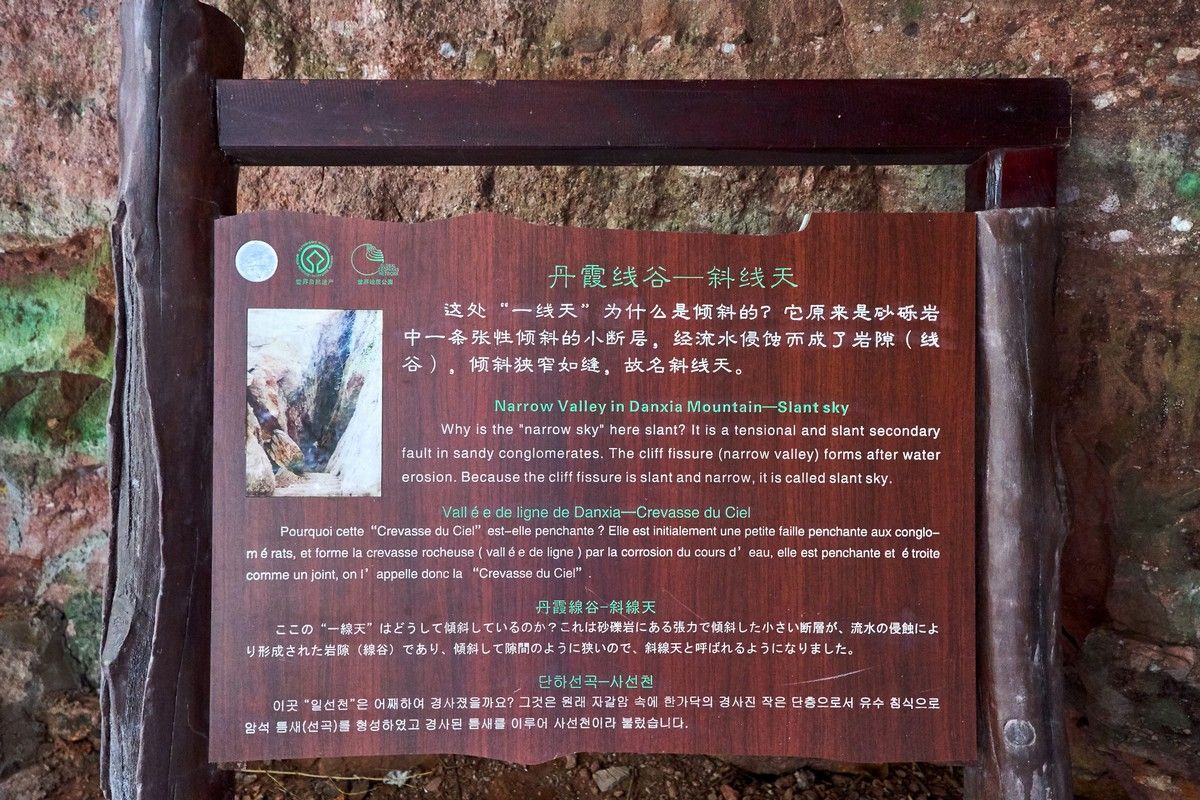 In some places it was so narrow we rubbed against the rock with both shoulders. In others – it was on our hands and knees again…
So that was two amazing spots given as many boat stops.
But it just couldn't last…
The next attraction was a bit of a letdown, which is quite surprising as I do like my waterfalls. It was just that it was kinda small. Or maybe we didn't give it the benefit of the doubt, racing on past it and its surroundings as we did.
And that was that. We had a last look around, we left the Golden Lake, and we were headed onward…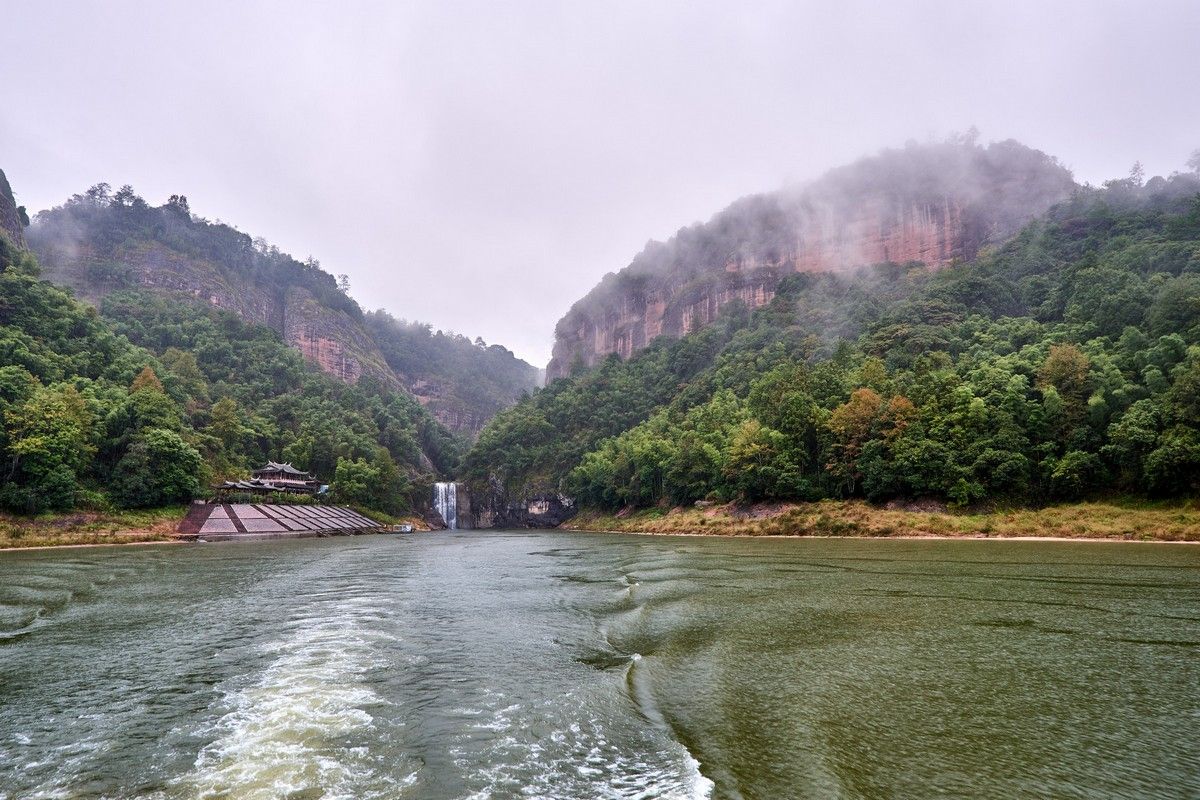 …Onward to – the next Taining tourist magnet (but not in the post-Golden-Week lull:), the Zhaixia Canyon (寨下大峡谷)
Of course, about this place the non-Chinese section of the internet contains practically nothing, apart from a few rare exceptions. Which again confirms my thesis that China isn't that bothered about attracting foreign tourists – it has a billion of its own, thank you very much! But that's what makes visiting these 'unknowns' all the more exciting and exclusive to we, non-Chinese!
This unknown is more than just a canyon; there are several – and all interconnected by a path. Walking the whole path takes two or three hours, depending on how often you stop to gawp and take snaps. If you add to that more stopping for meditative contemplation – add another two hours.
But without further ado – let me cut straight to the chase pics:
We start, logically, at the neat – and surprisingly non-grandiose! – entrance/tourist center:
On with our waterproofs, we set off along the stone path cutting through freshly-showered bamboo shoots!
Almost straight away – steep cliffs. We descend into the first canyon: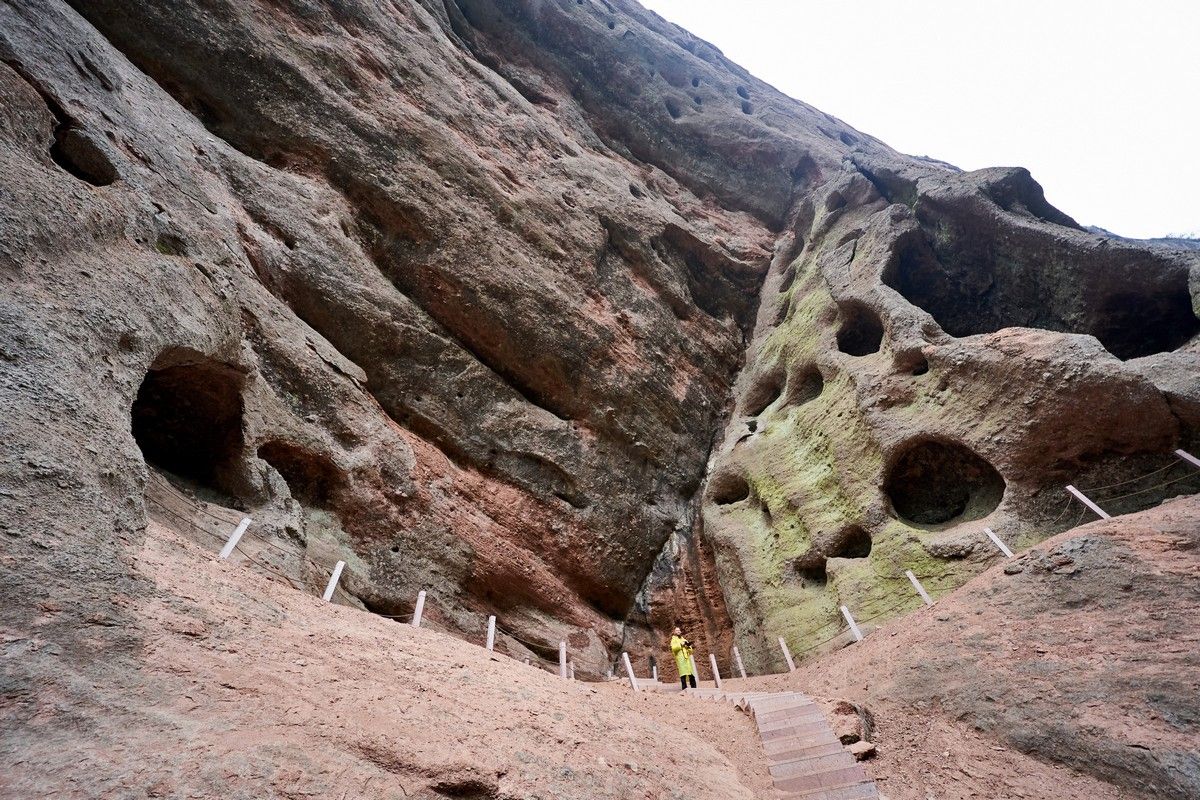 What do you see? A gigantic paw print? A ghoulish face?!…
At this point we were overtaken by a group of red-capped Chinese tourists. They don't hang about, the locals!
Onward we march – under a cliff overhang, which was handy as it protected us from the rain – the path was dry.
Can you see the tiny thin waterfall in the next pic? Sweet!
Oh my gouged-effect!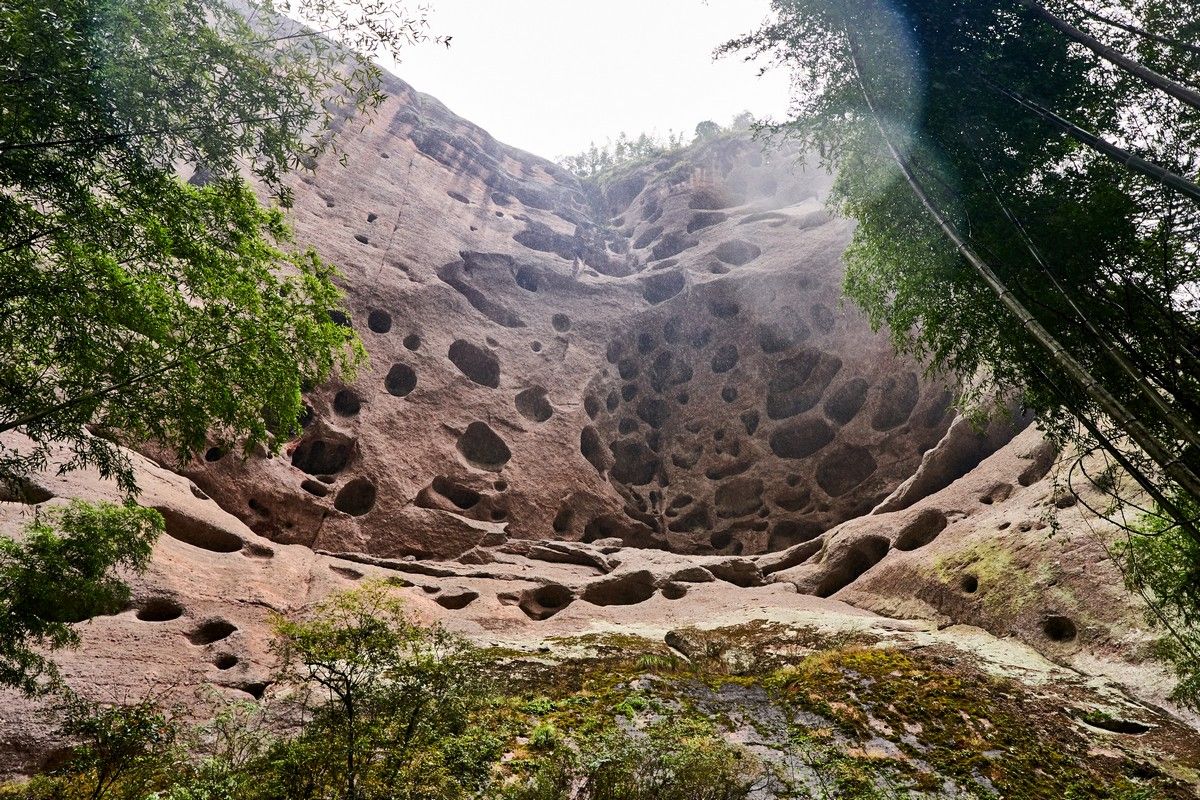 And here's the explanation: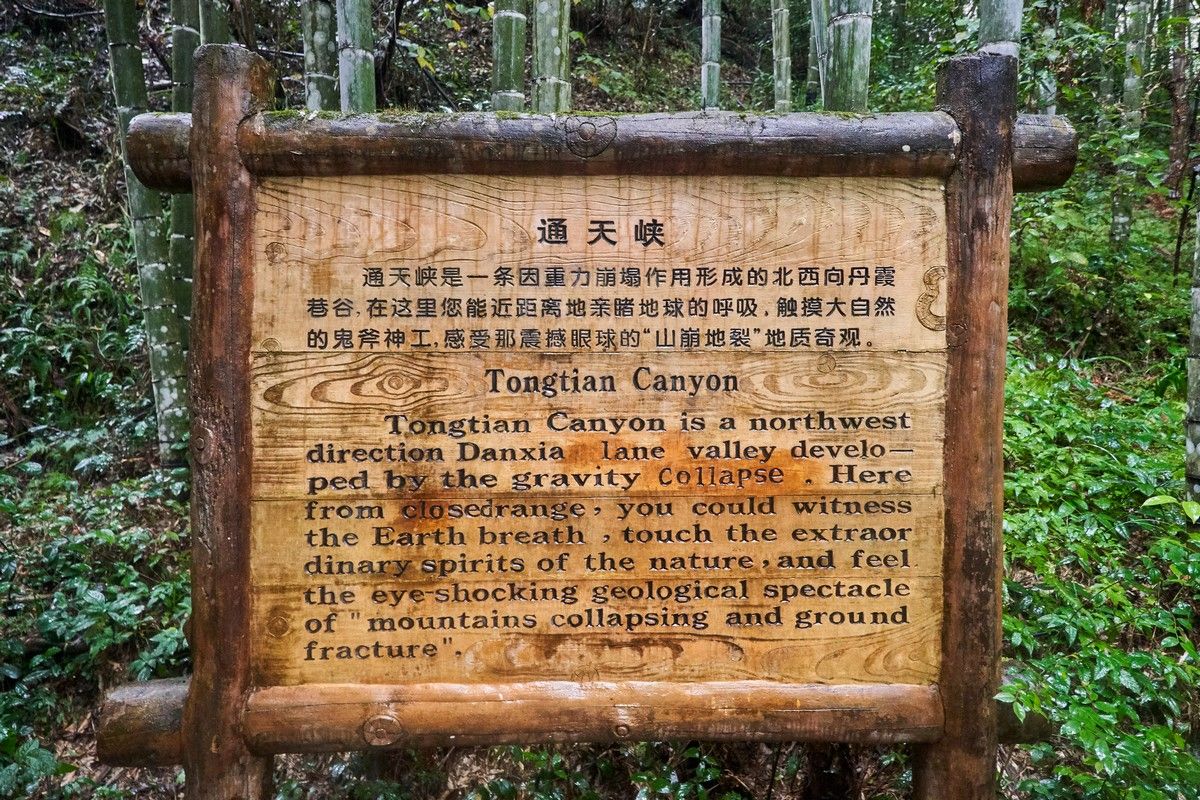 Our path takes a turn into another wet valley:
Ah – finally!…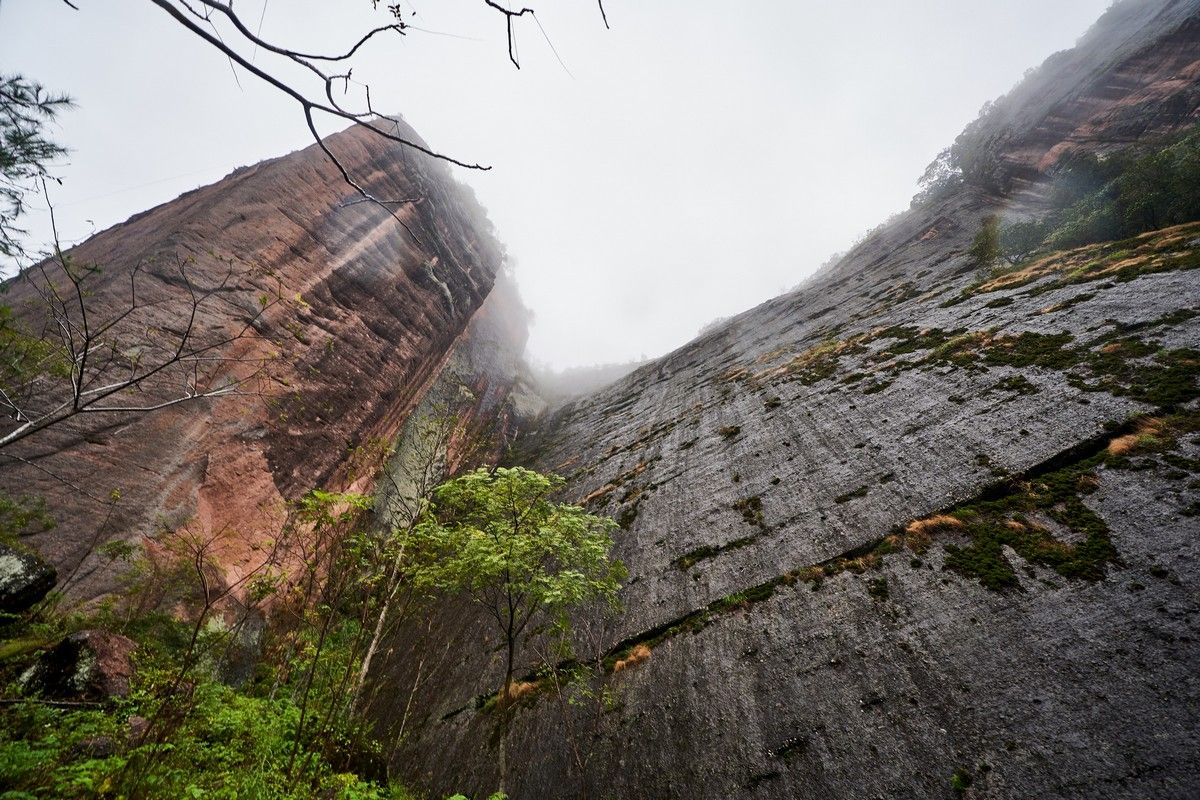 And again – back under an overhang to keep dry: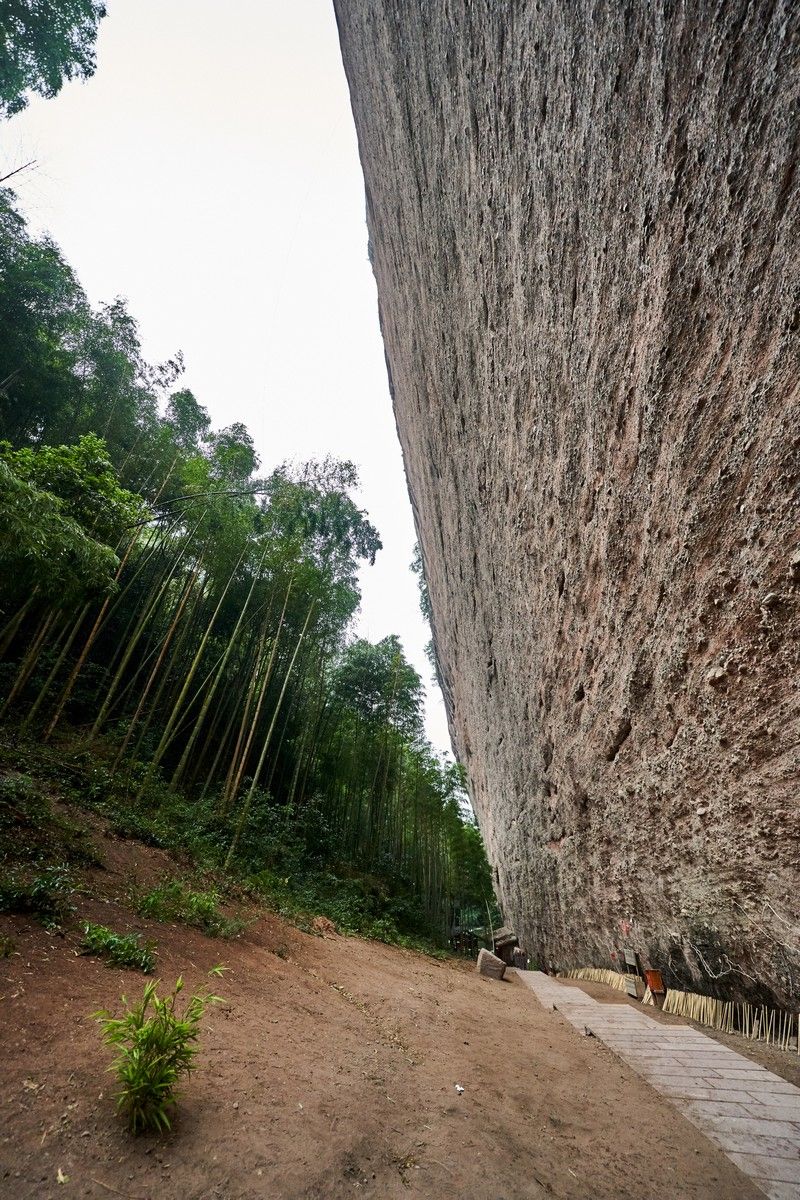 What a wall! 100+ meters high; 220 meters across. So, like, how am I to get all that into a photograph? )
Lake!
The line across the lake: rain from the top of the overhang:
You thought the last waterfall was tiny? Check out this one – a microfall!
Our photography equipment starts to get wet. Time to wrap it up, as well as wrap up this walk, perhaps…
Turtles are following me around everywhere!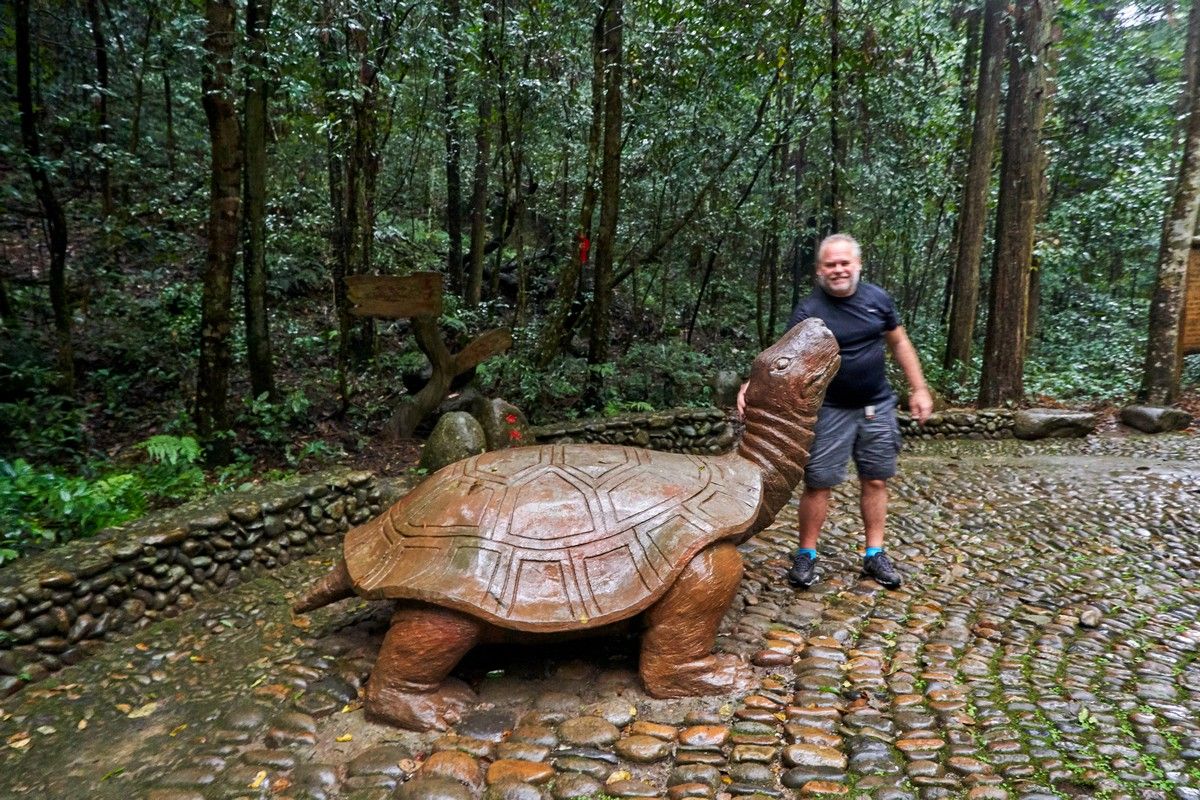 And a few photos from my travel companion D.Z.:
The next day was misty and drizzly just like the day before. This was especially disappointing because what we'd planned for the day was a lot of rafting. And the rafting was among the most interesting I've ever tried – and I've tried plenty ). Here the rafting – on bamboo floats, naturally – was through crazy narrow labyrinths cut in rock either side up to 200 meters high!
The place is called the Shangqing (Shang Qing Xi) Stream (上清溪). Once again, there's nothing on the place on the net outside China – but for the odd exception.
Ok folks, get ready… here come a LOT of pics. It's just that I took that many, and they all happened to turn out that nice, that I thought you might as well see them all!…
First – of course! – came the grandiose tourist center:
Also as per the usual template, it was check out the map, pile onto a bus, and off we popped – to the site of the start of the day's adventure: the raft embarkation point. We embarked…
Calm at first. Then into the labyrinth:
Again – gurning faces in the rock!
Suddenly – fish!
The halfway point: on the shore – parking lot and public conveniences.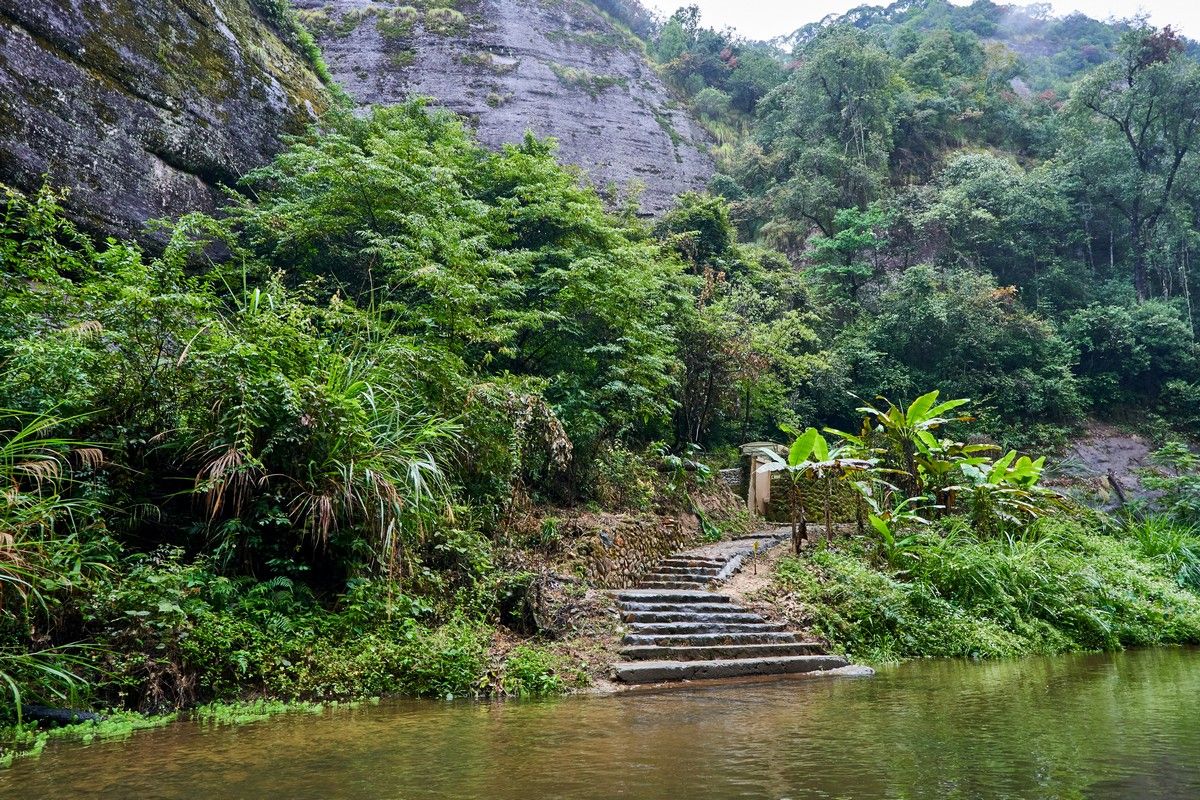 Onward we float, as the rain starts again…
And that was that Taining installment.
Taining Geopark is so gigantic that I'm sure there are very few tourists who come here who see practically everything in just two days. Well, as you'll have guessed, we're included in those few!
We wiped off our cameras, and we were back at it – with more water-based tourism planned: Bamboo rafting on Longtan, or Nine Dragon Pond (九龙潭). But it's not really a pond – more a water labyrinth.
But the rain wouldn't stop. So we passed on the rafting: we'd had enough of water for one two days! We just went for a stroll.
Our route:
Ahh – the views! Yes, I am repeating myself, but what can you do?!
Btw: the Chinese for 'beautiful' is 'meili'.
Mama meili!
It was here, in the rain, when we realized we were completely alone in this park. Normally that would be nice and exclusive, but I think this time it was telling us something: 'maybe come back another day?' like all the Chinese?!
Oops – my camera here started to let water inside it! Not good. But not much longer left here…
Woah – we were not alone, after all!
And that wraps up our Taining two-dayer folks. Four of its natural wonders all checked out. We fancied the fifth – Zhuangyuan Rock (状元岩) too, but we didn't really have enough time, and anyway – it's more 'secret' (invisible to the non-Chinese internet) than all the other four put together, so we didn't want to take a chance on it possibly being a let-down (though somehow I doubt it would have been:).
Woah – and I do believe that wraps up China-2018 folks. Hope you liked it! Bye for now…