African vacation – ver. 2023: why, where, how.
As you can work out from the title to this post, this year's trip to Africa wasn't my first lengthy vacation on the African continent. In early 2016 I was in Tanzania, where I scaled Kilimanjaro, went on a safari around the country's savanna, and wunderbarred in Zanzibar. And details and pics of that African adventure were later all compiled into a hardback illustrated travelogue book – Awesome Africa.
Fast-forward to 2023, and here I am again – this time in Kenya!…
Africa: jaw-dropping landscapes, vast swarms of roaming wild animals, and the ultimate in stark continent-specific daily-life-with-a-difference! In short: all the ingredients for an amazing vacation!…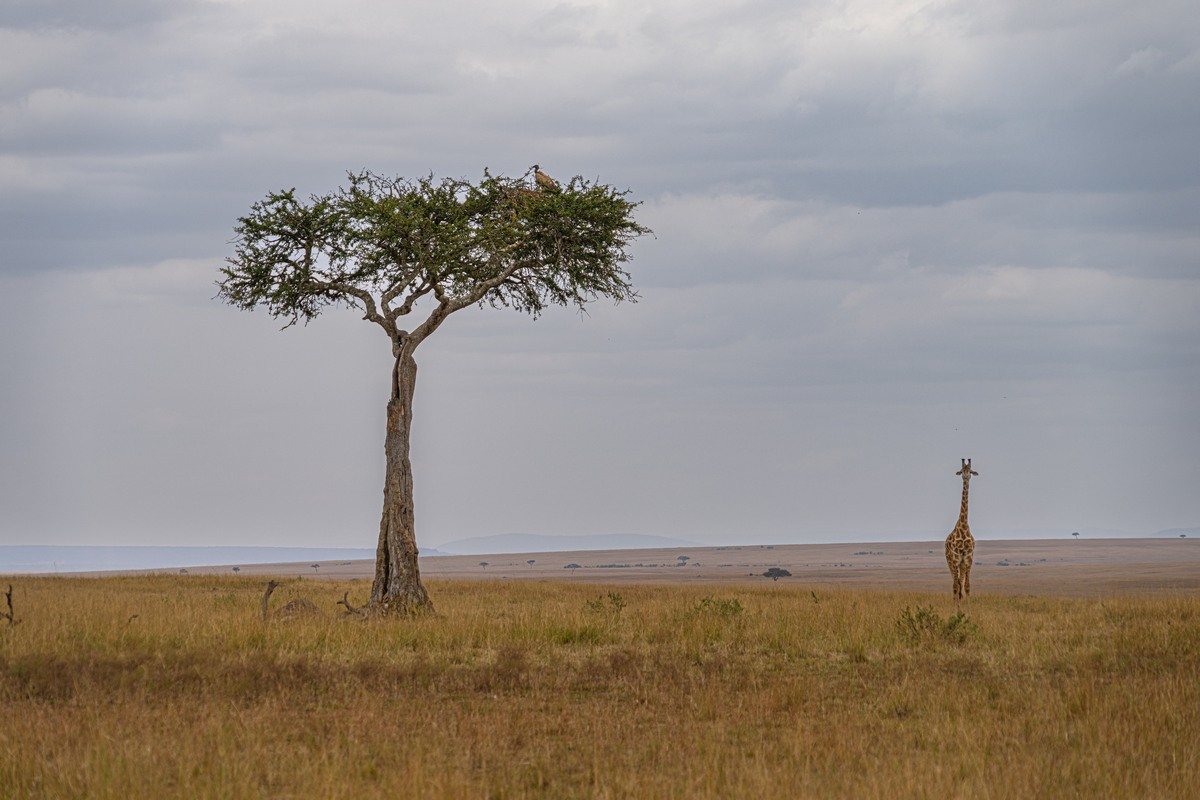 In Kenya there's poverty, misery, mud-and-tin huts for homes, and the rest of it. But there are also plenty of new residential and business districts that are gradually changing the urban landscapes and thus identity of the country.
Alrighty. Are you ready to dive in to a journey with plenty of pics and tales from the Kenyan side? Popcorn at the ready? Then we shall begin – with this here intro-post!…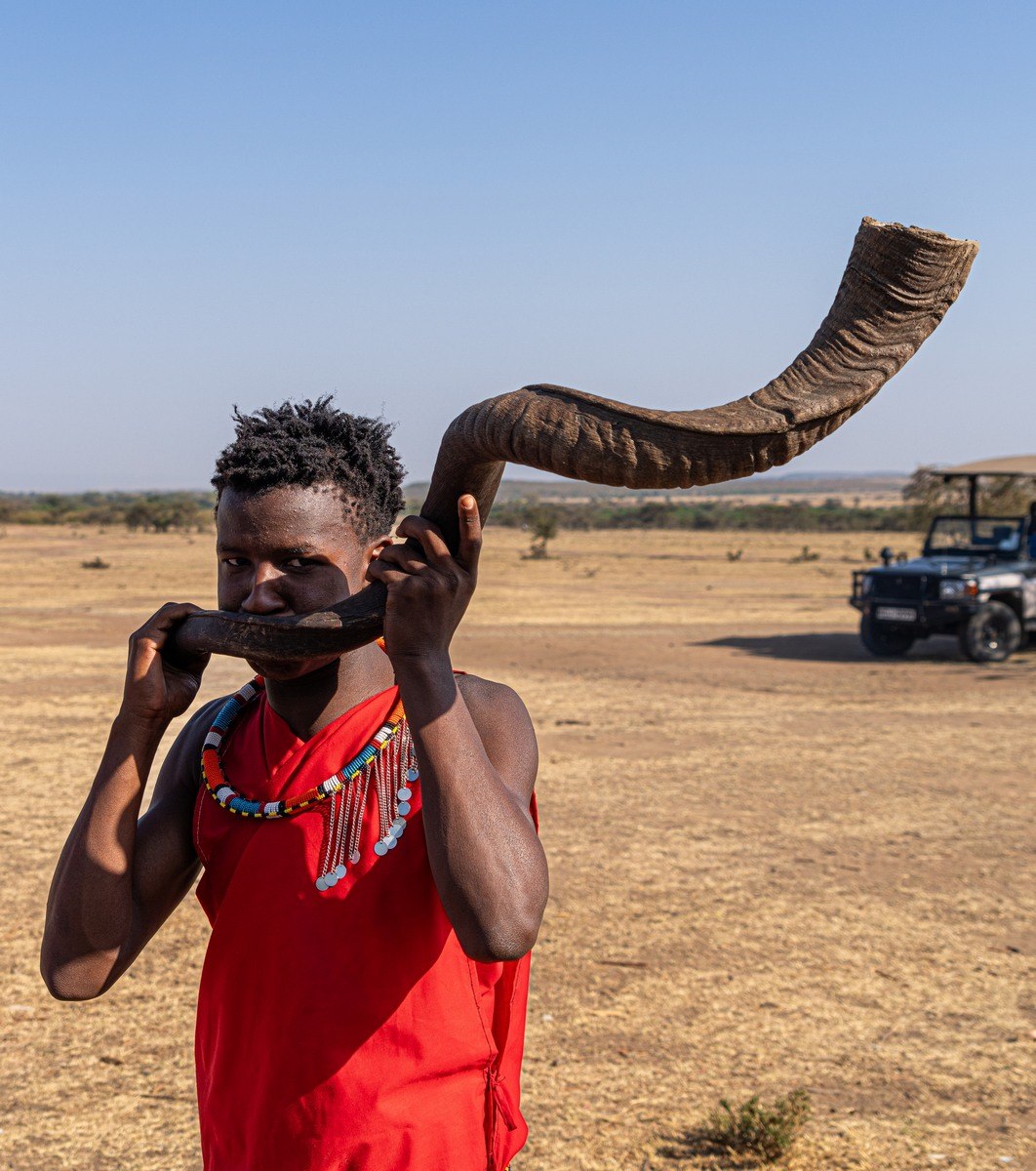 But first – why Kenya of all places?
To start with: I just fancied mixing things up a bit instead of the usual summer vacation in either Kamchatka, the Kurils or Altai. I took a look at the globe and there was Africa. But where to go in particular? It had to be somewhere I'd not vacationed in, or – better – where I'd not even visited (since I'd get myself a +1 to my countries-visited list [103+1 = 104] :). So it couldn't have been: Egypt, Morocco, the Sahara, Lake Victoria, Namibia, Madagascar, Rwanda, Cape Town, Tanzania (Kilimanjaro). And there it was – Kenya: beckoning, crying out to be visited…
Another reason Kenya seemed suitable out of the plenty of other countries in Africa was that I wanted to show my younger kids classic African wildlife – where tens-of-thousands-strong herds of this, that and the other beasts graze upon or migrate across the African savanna. Tanzania is noted for this – but I'd been there. Where else is noted for it? Kenya. And that was that: decision made.

So – Kenya. A large country and a significant one. With a territory covering nearly 600,000 square kilometers, it's around the size of France. It has a population just of under 60 million – similar to Italy. Per capita income, alas, is low: the country is 140th out of the 192 countries in the world today. Kenya's economy is mostly based on agriculture. And Nairobi, the capital, is home to more than three million. That's just to give you the overall picture about Kenya.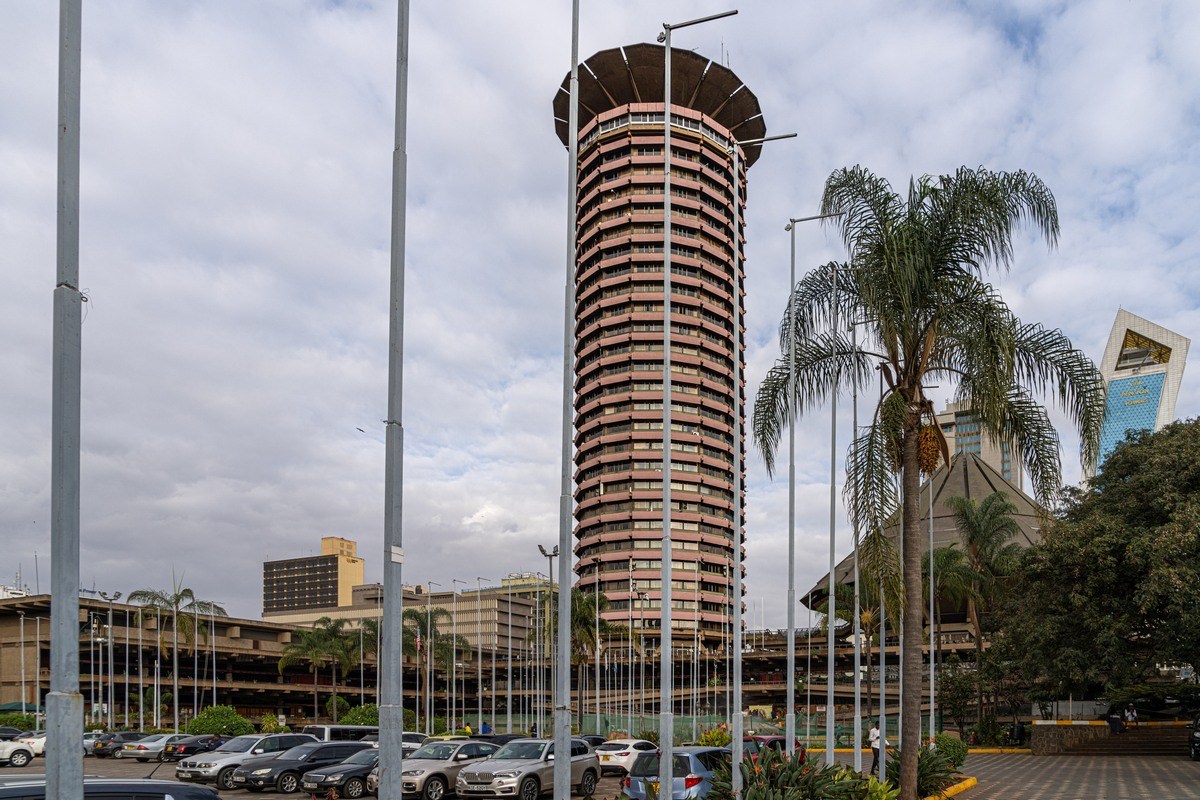 The capital is on the whole rather clean, neat and tidy (albeit not everywhere). There are plenty of fancy cars on the roads, and many of the homes and other buildings look well designed and built. Of course – at the other end of the spectrum things are quite different – but where isn't that the case in the world?…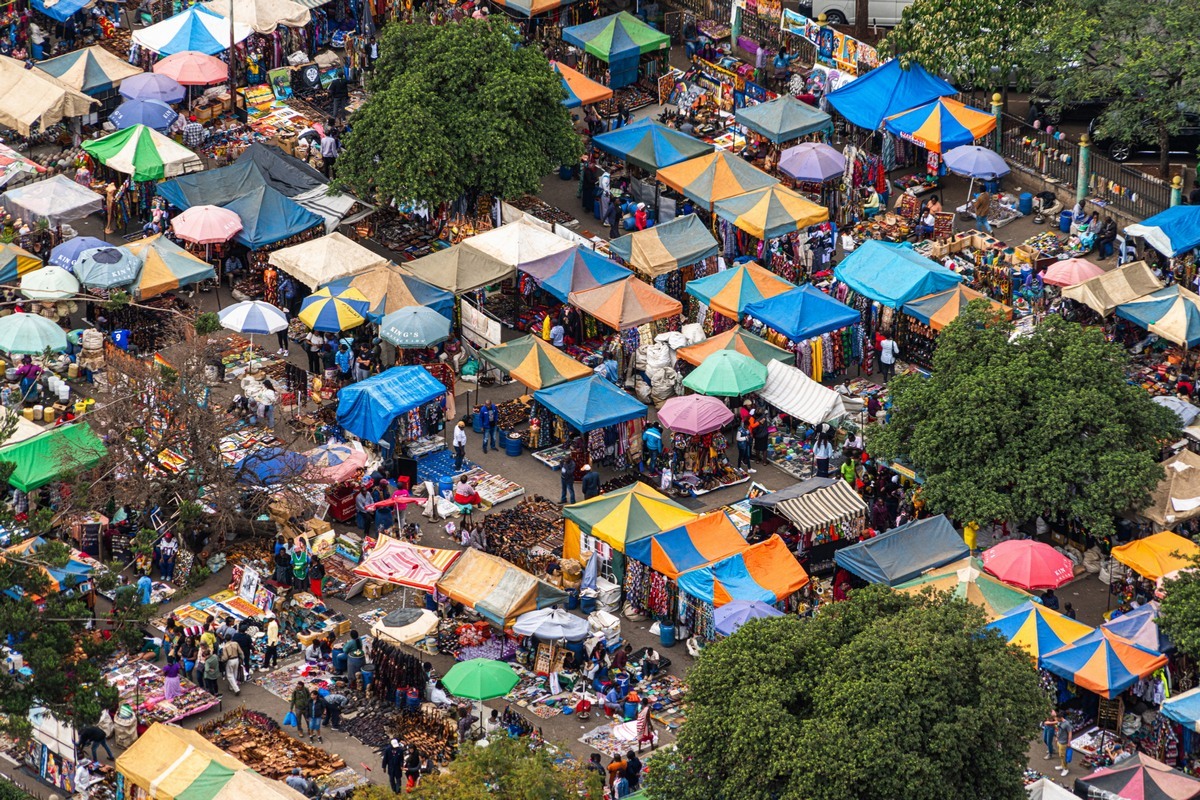 The internet reports that Kenya is home to more than 60 protected territories: national parks, nature reserves and the like. Of course, we couldn't check them all out – and I'm not sure we'd want to. Instead, with the help of a reliable travel agency, we chose some of the main places of interest, drew up a route, and we were good to go…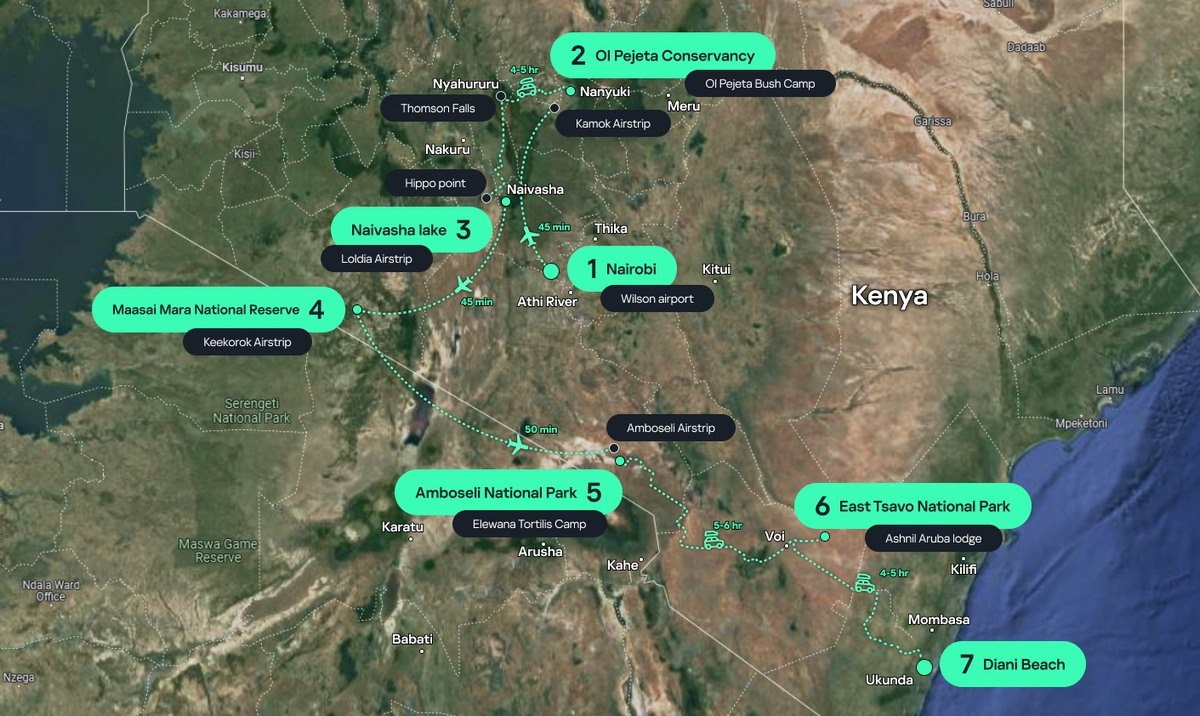 In all we visited four national parks and four large lakes featuring birds and hippos; and to finish off we had a few days at Africa's best beach – the 17km-long Diani Beach.
For the optimal routing – in terms of both time economy and fullness of the program – we combined both road and air travel. That worked out at four flights – three of which were on private jets planes, since scheduled commercial flights weren't always too convenient for us. And in cars we covered some 700km mostly on roads that were surprisingly well-built, smooth and rather new (not including off-road safari-ing around national parks) ->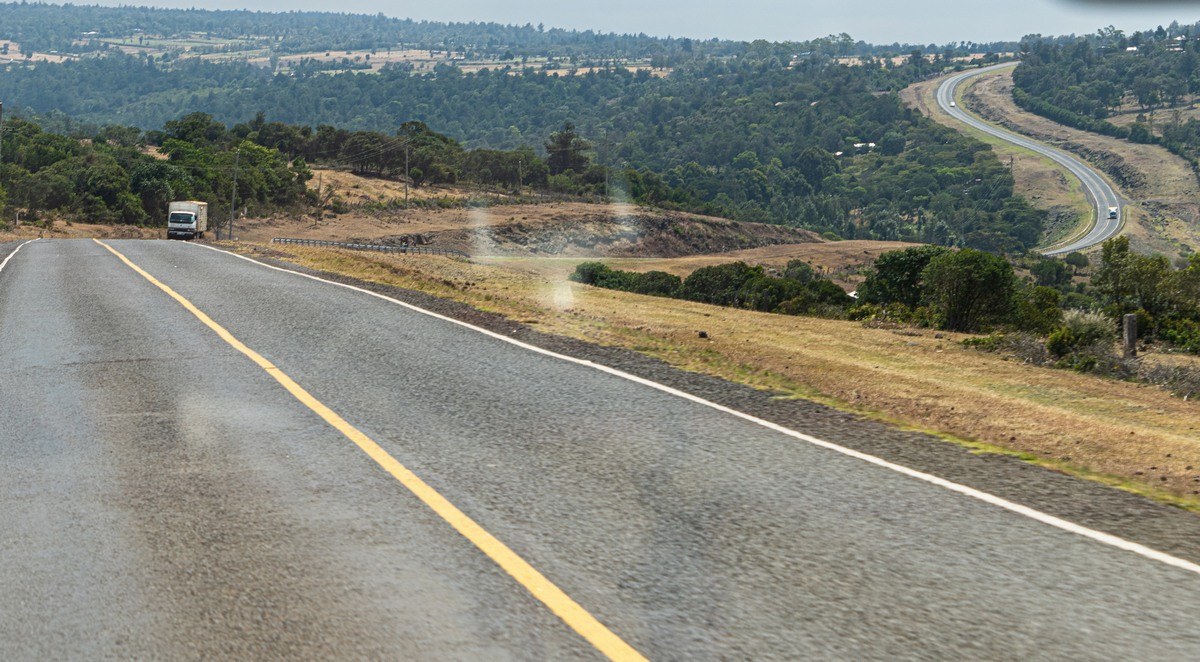 And the private planes look like this: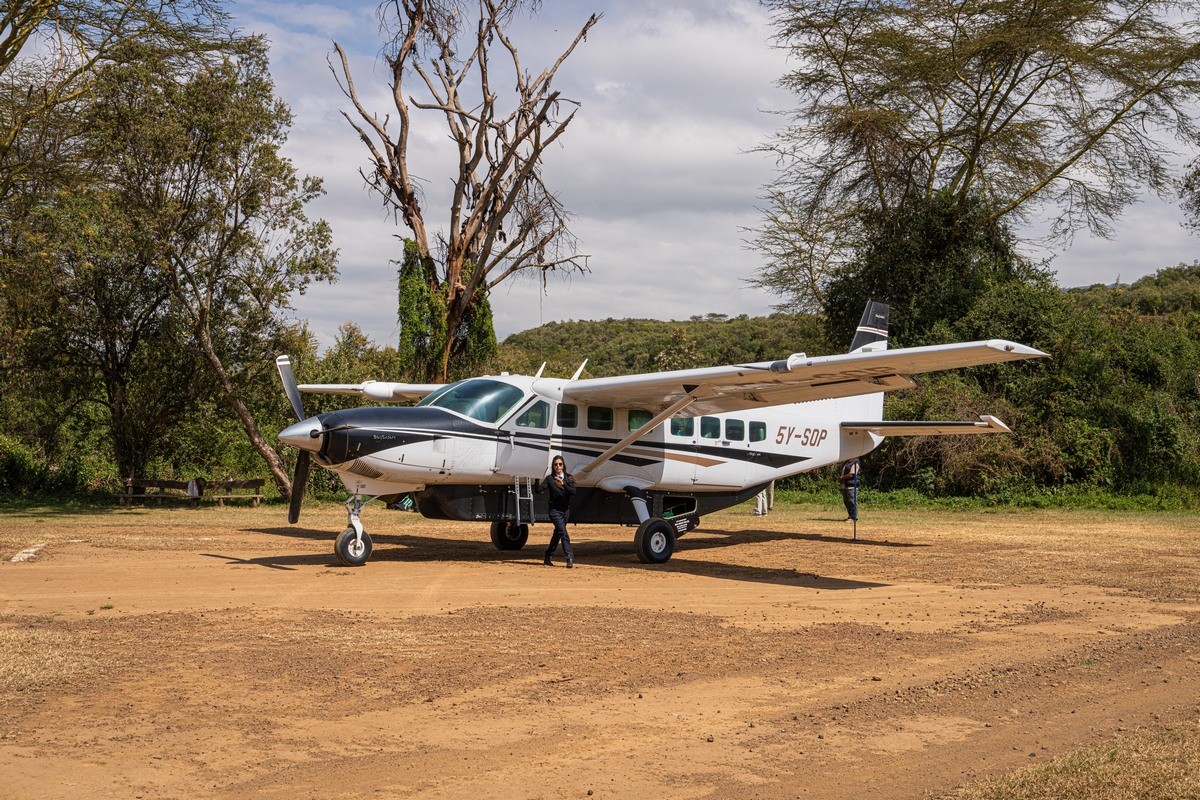 But most of the time we were in Land Rovers – from morning to evening, and hardly ever getting out! ->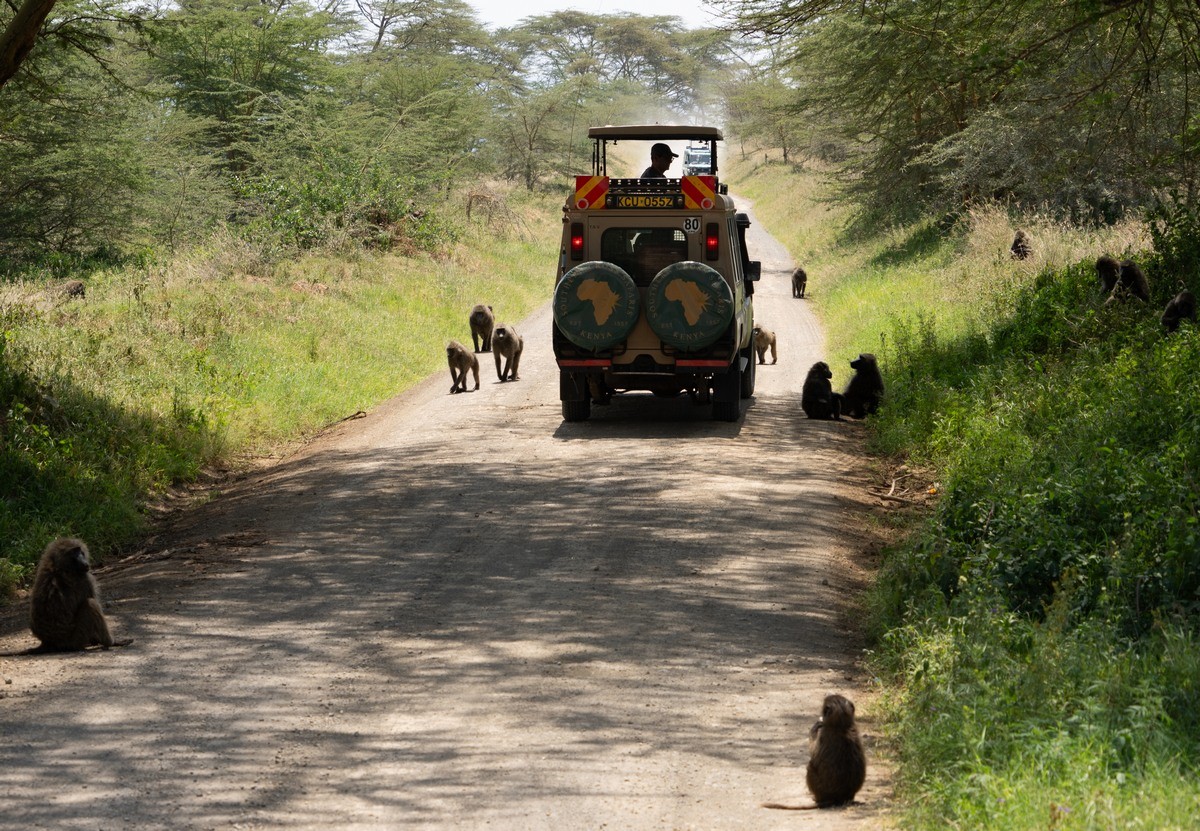 Still – the Land Rovers were ~convertibles! ->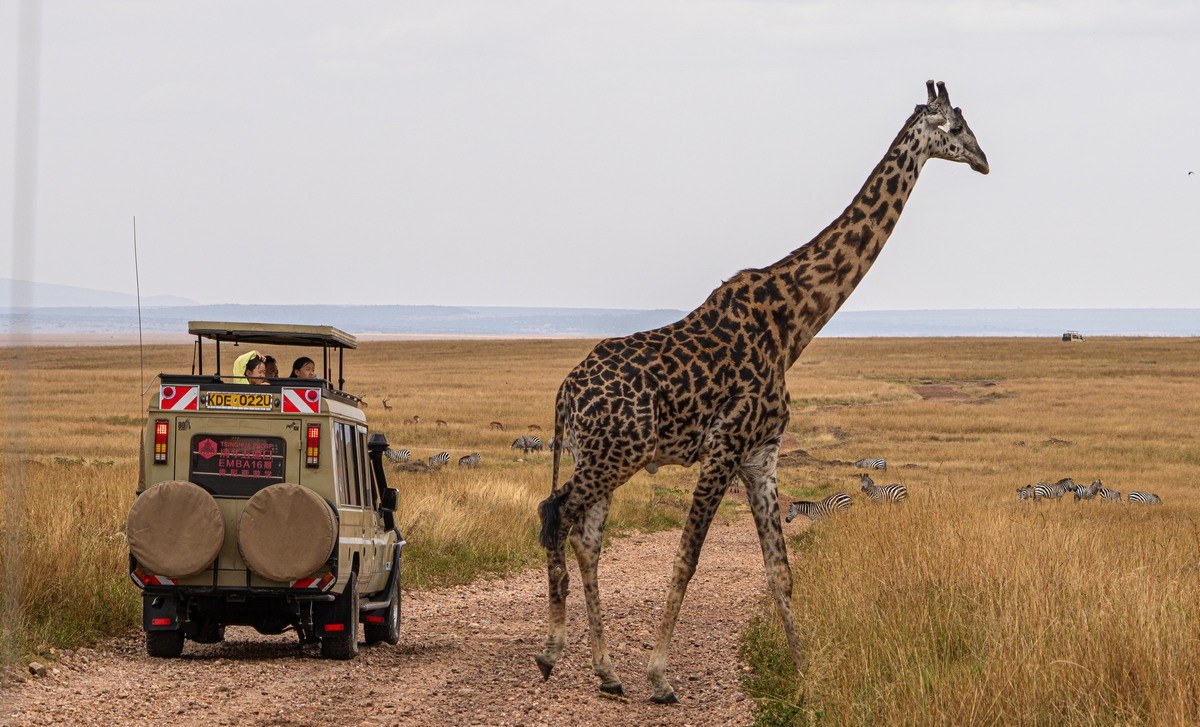 "Calls of nature" are somewhat tricky (rather – risky!) on (off-road) safari, but it's all doable. On asphalted roads things are easier – with roadside stores permitting visits to their WCs. As a token of appreciation we always bought a small souvenir therefrom: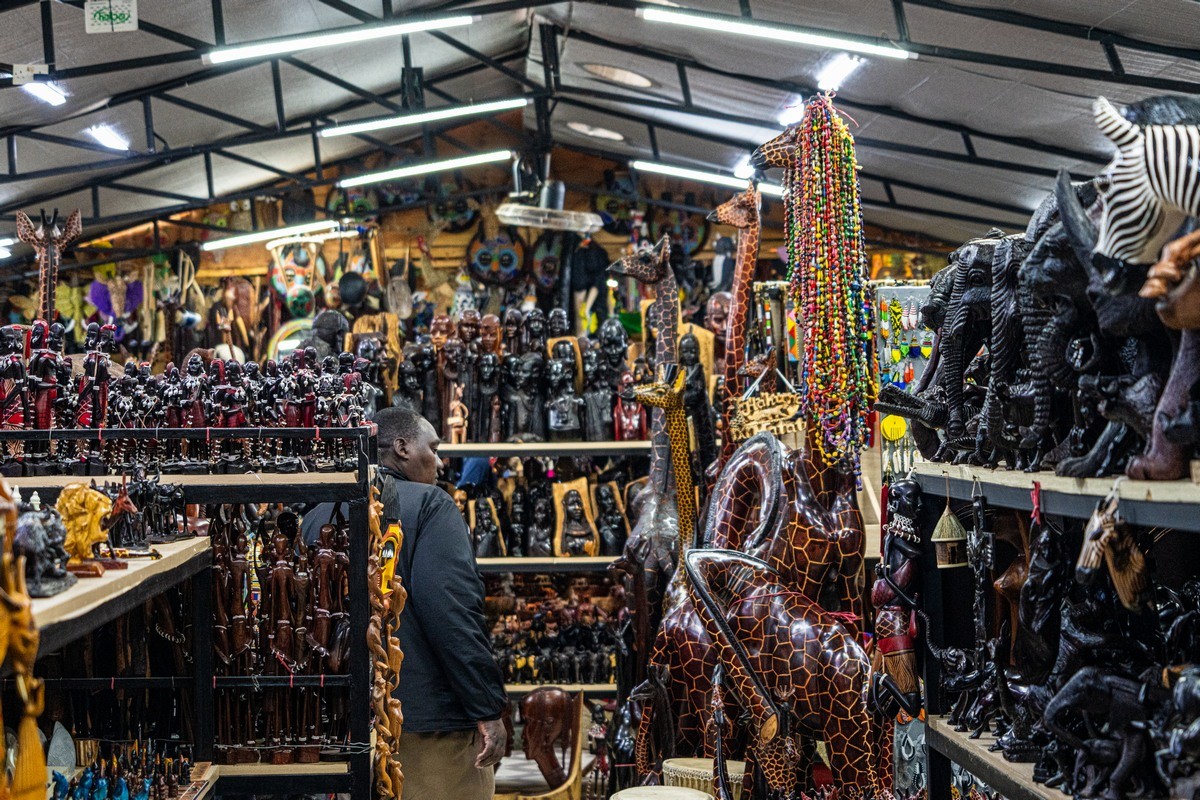 Now for a brief outline of our route, with the main highlights along the way…
The Ol Pejeta nature reserve. Main highlight: rhinos – both black and… white! Apparently nowhere else boasts such a quantity of these fine beasts. Alas, everywhere else they've died out from poaching.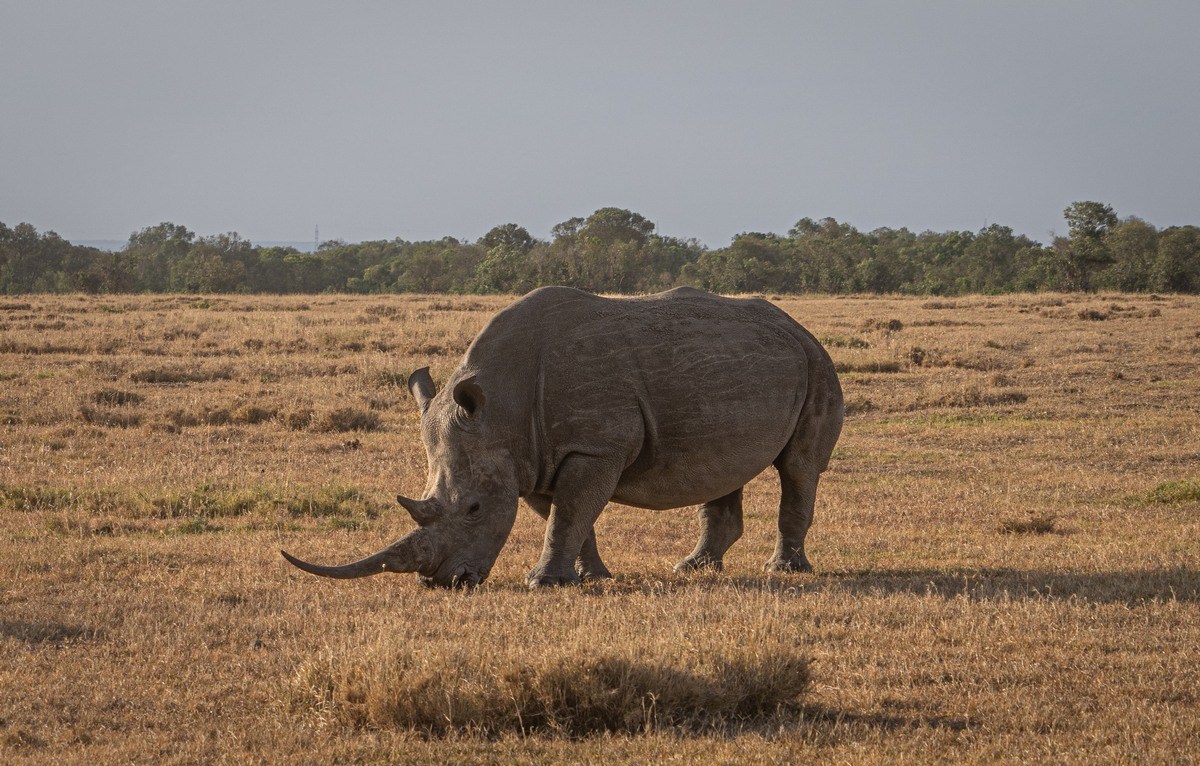 But not just rhinos…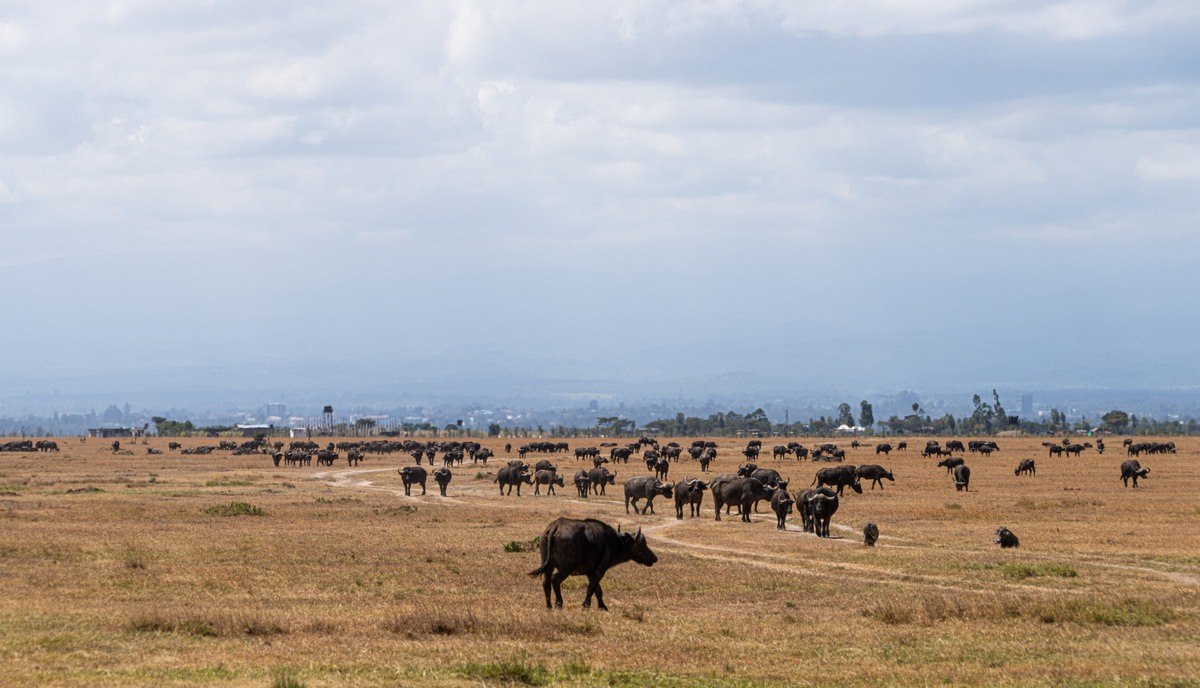 Big cats too ->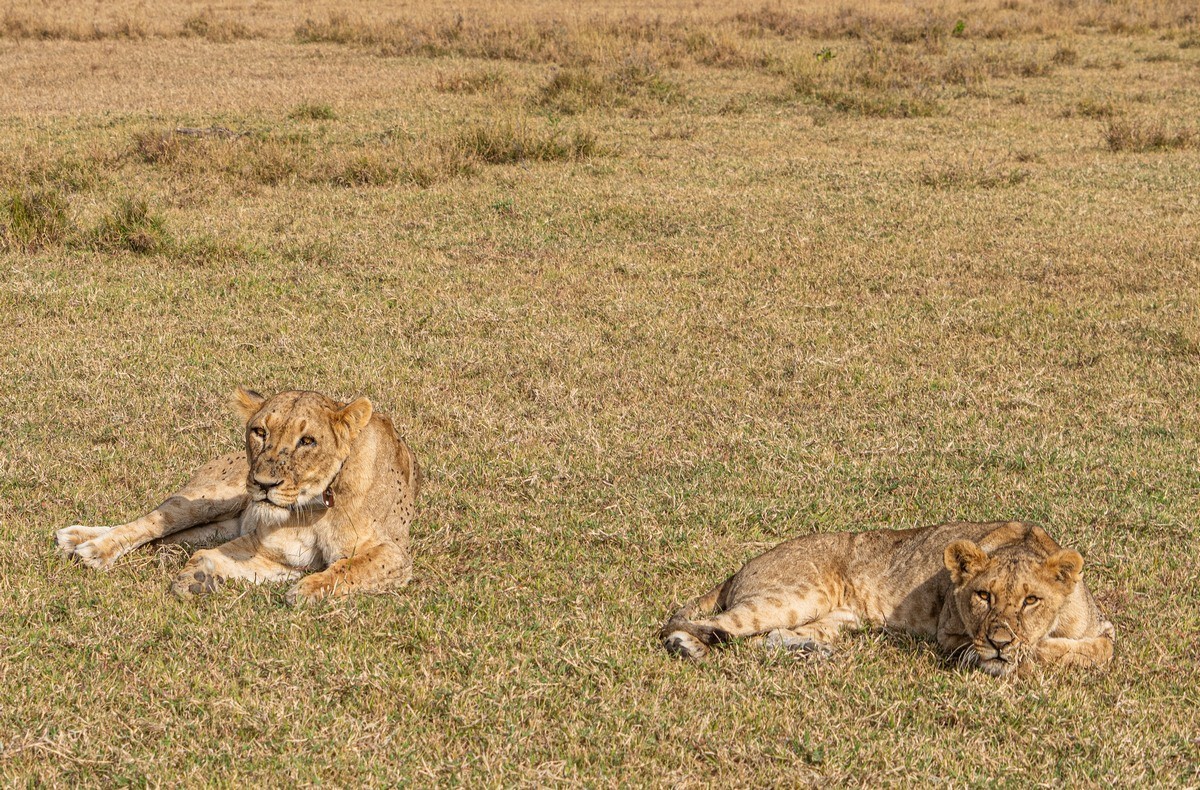 Alas, we only saw reticulated giraffe from a long way away and in among the bushes – so no photos (.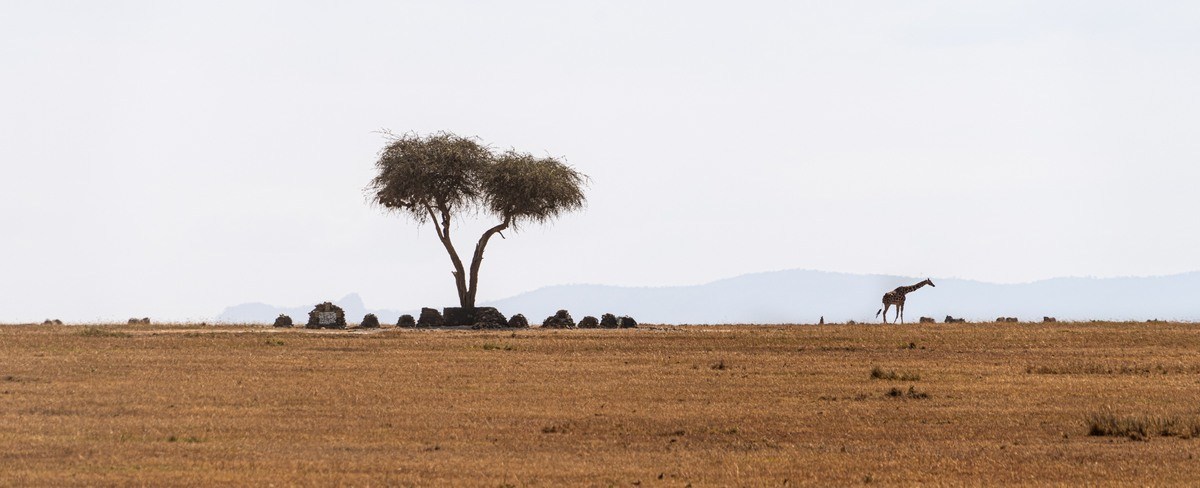 We were luckier with the elephants! ->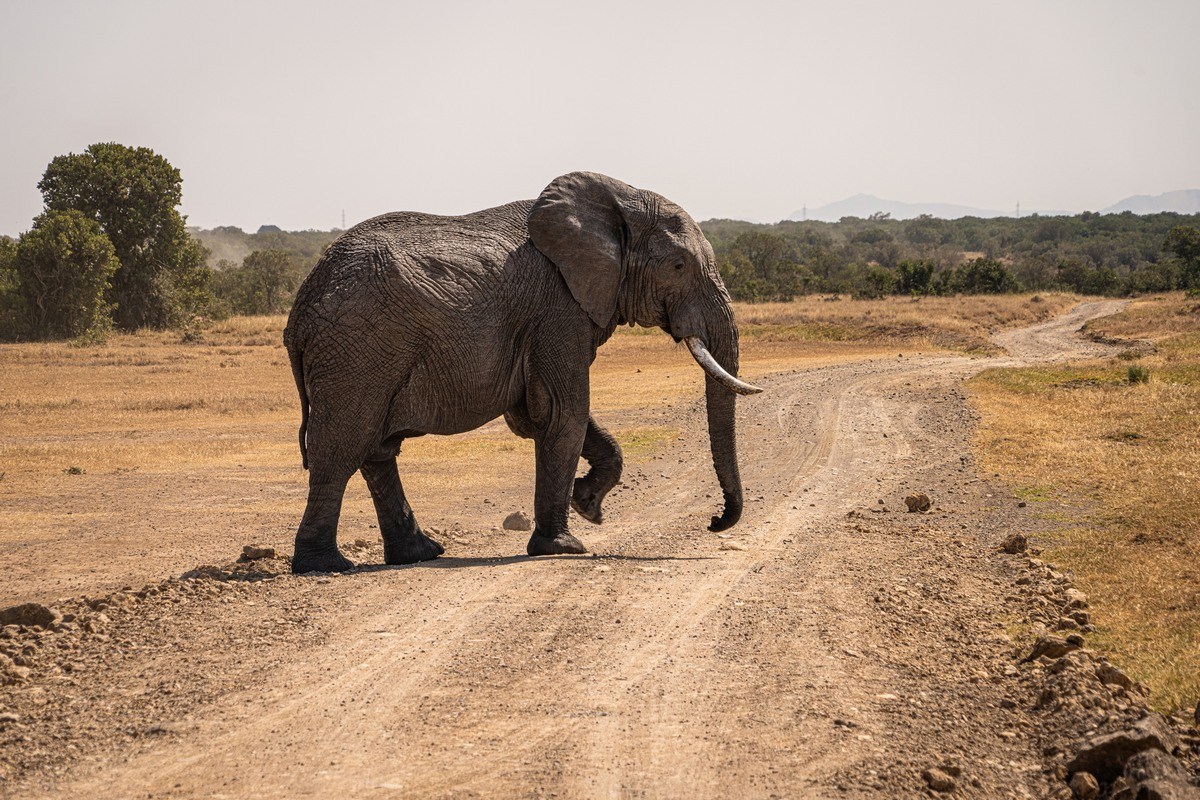 Next up – Lakes Nakuru and Naivasha, containing large populations of pink flamingo and hippopotamus, respectively. Here are some of the latter: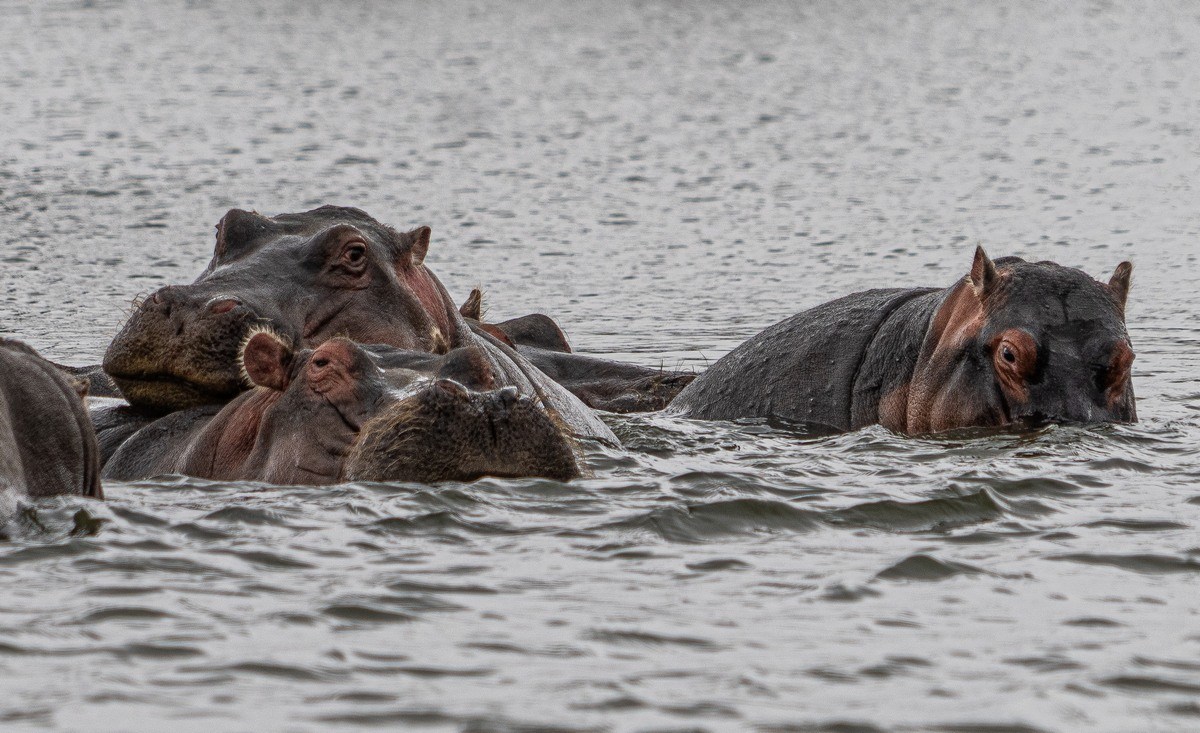 And the former: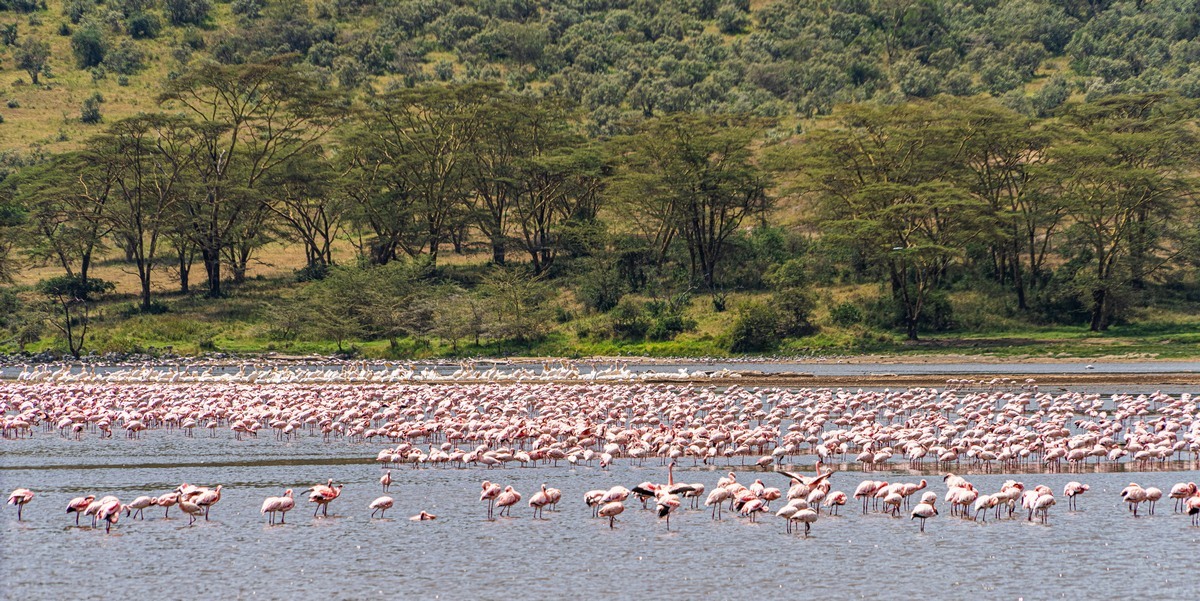 Simply a wonderful view of the shore of Lake Naivasha: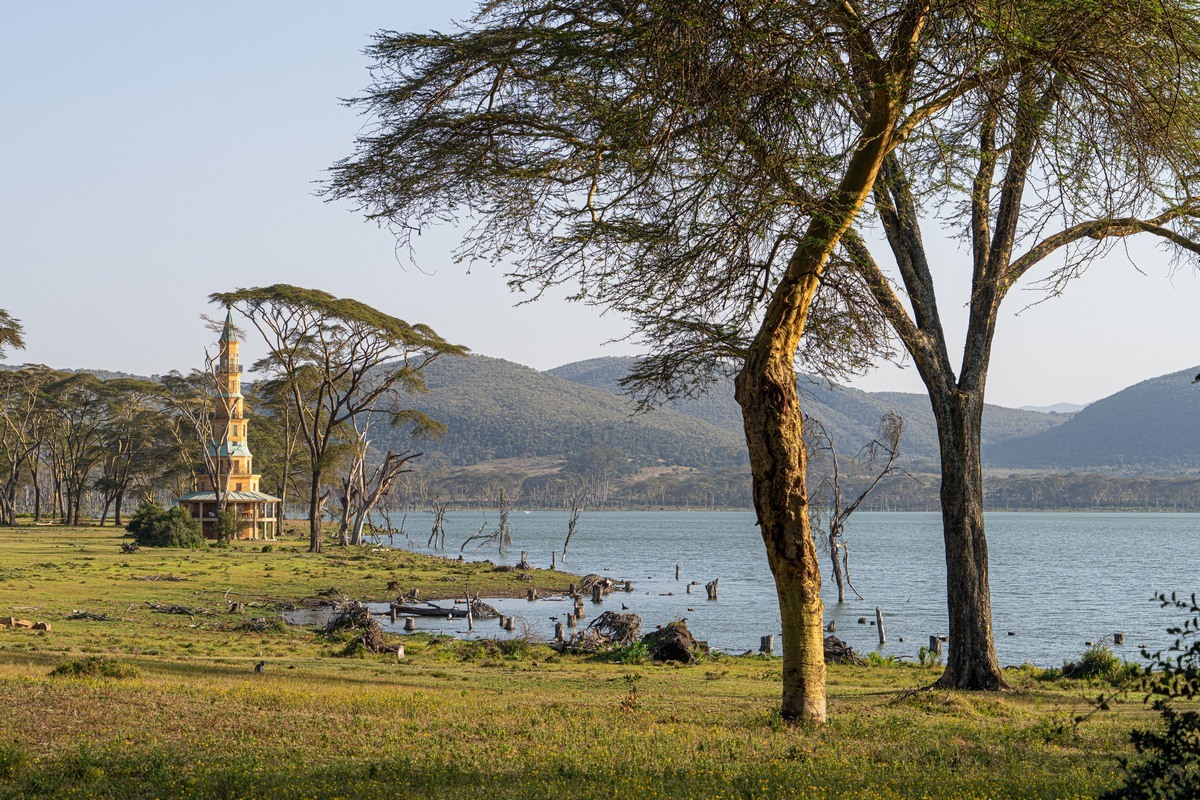 Next up, the Maasai Mara game park – probably the main highlight of our whole vacation.
Yes – I like to take pics of trees that stand all on their lonesome ) ->
More fine wild beasts here too, naturally ->
Next – the Amboseli National Park. Yet more wildlife grazes, nests, bathes, and swarms about the arid landscapes as far as the eye can… – oh wait, no: as far as Kilimanjaro (if it's not shrouded in cloud)! ->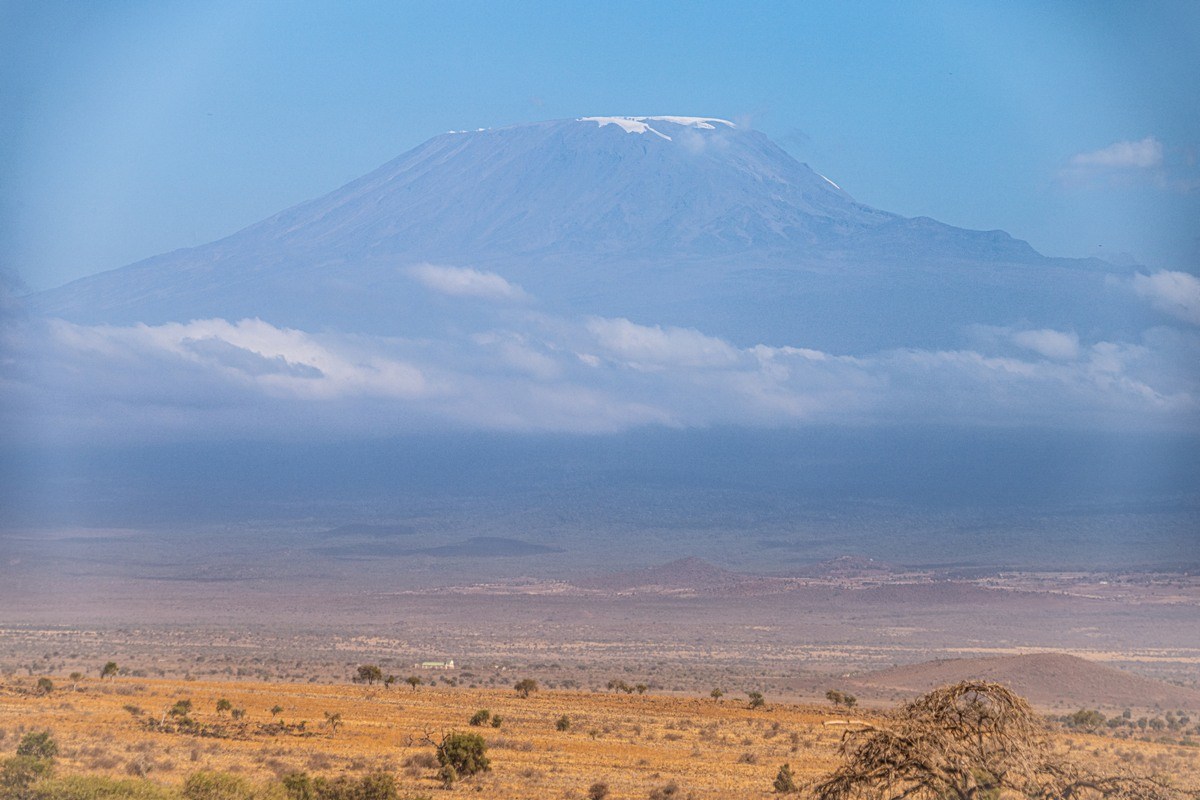 More elephants – enjoying the mud, of course ->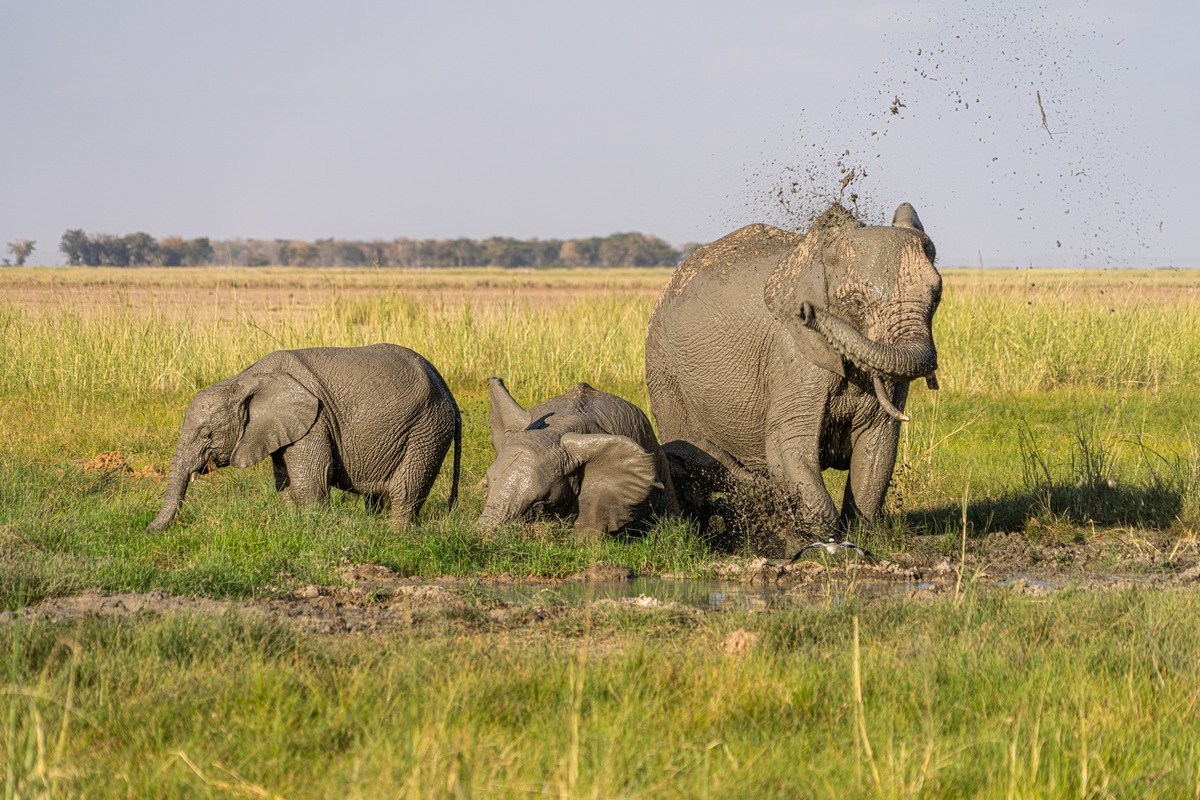 Flamingoes in dance formation ->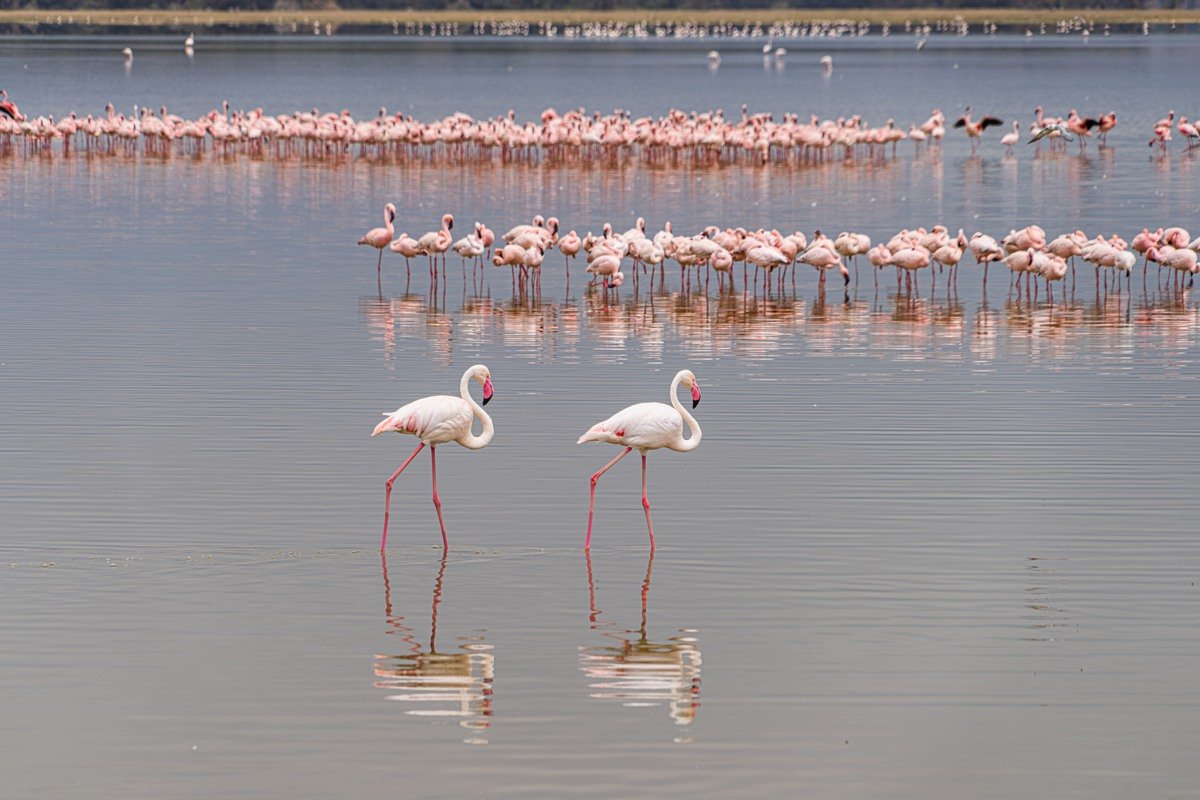 Assorted other feathered exotica ->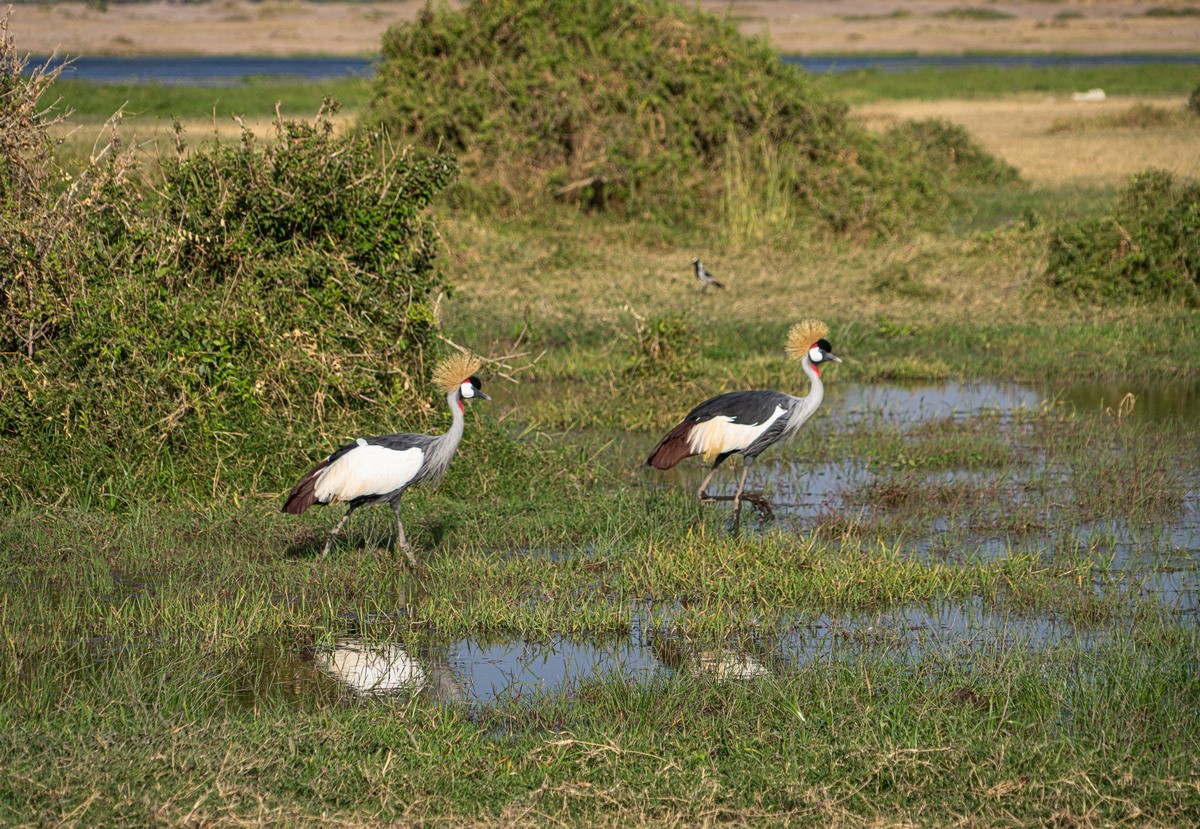 A predator with its catch ->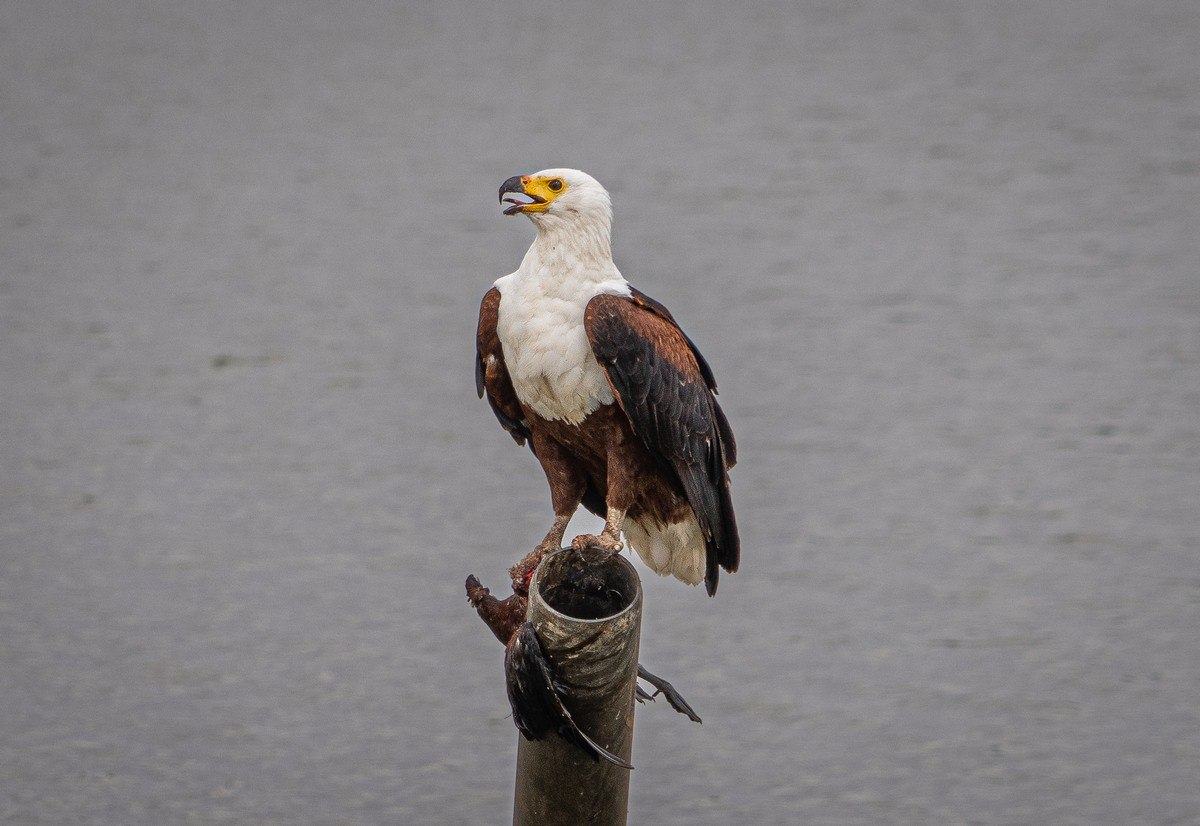 The Tsavo East National Park – one of the largest protected territories on the planet.
Red sand, red earth, and red wild animals ->
All this safari-ing – but did we see all the big five game? We did indeed!…
Elephant: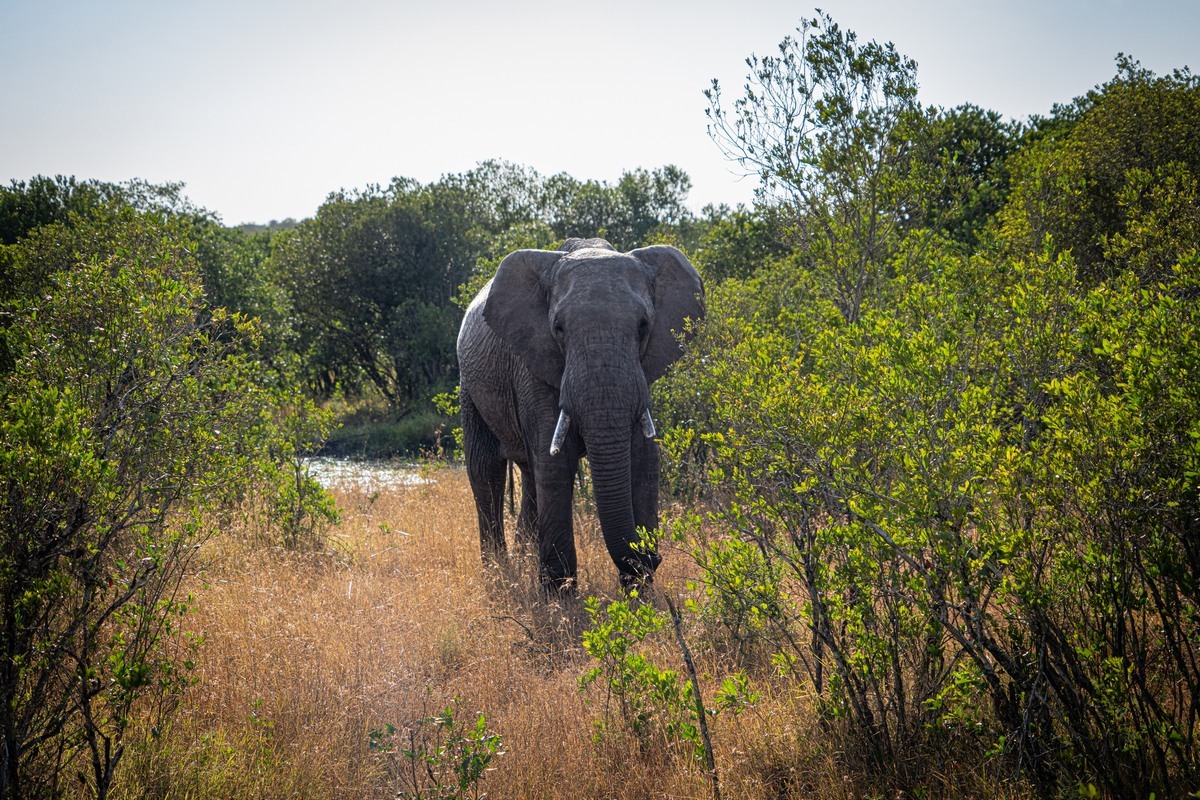 Rhinoceros: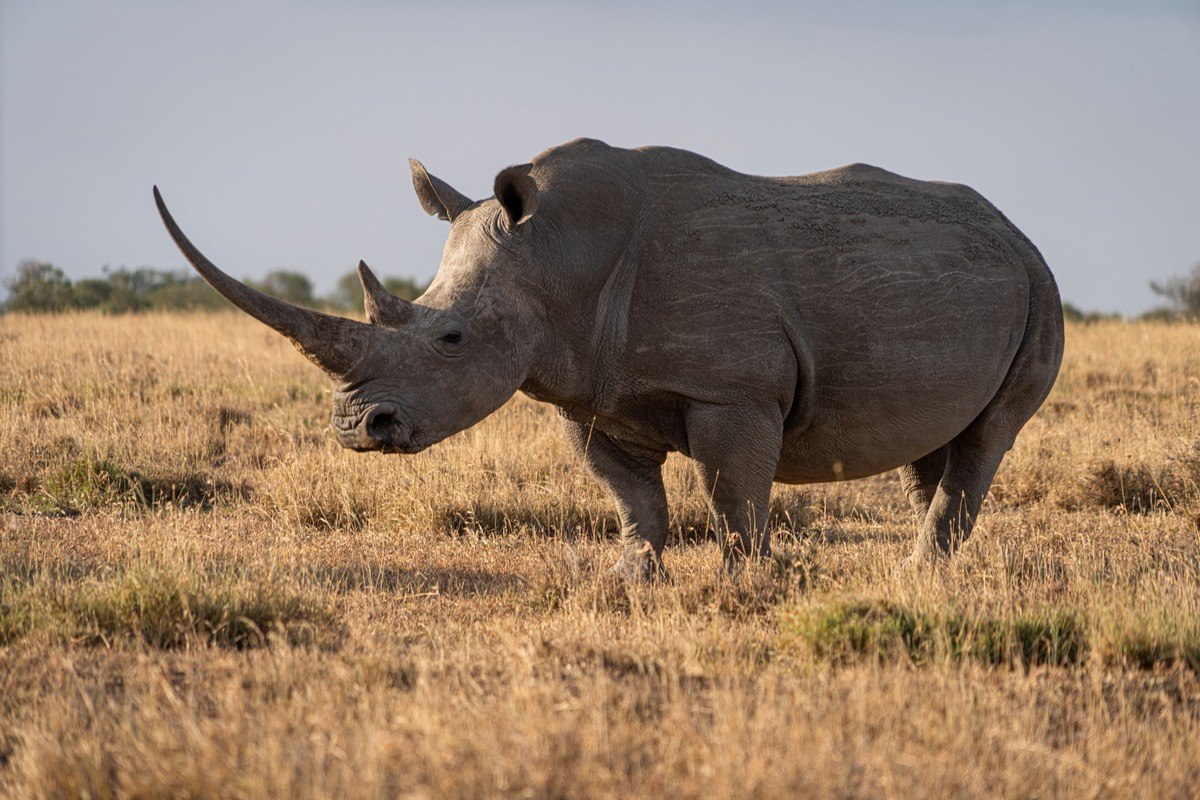 Buffalo: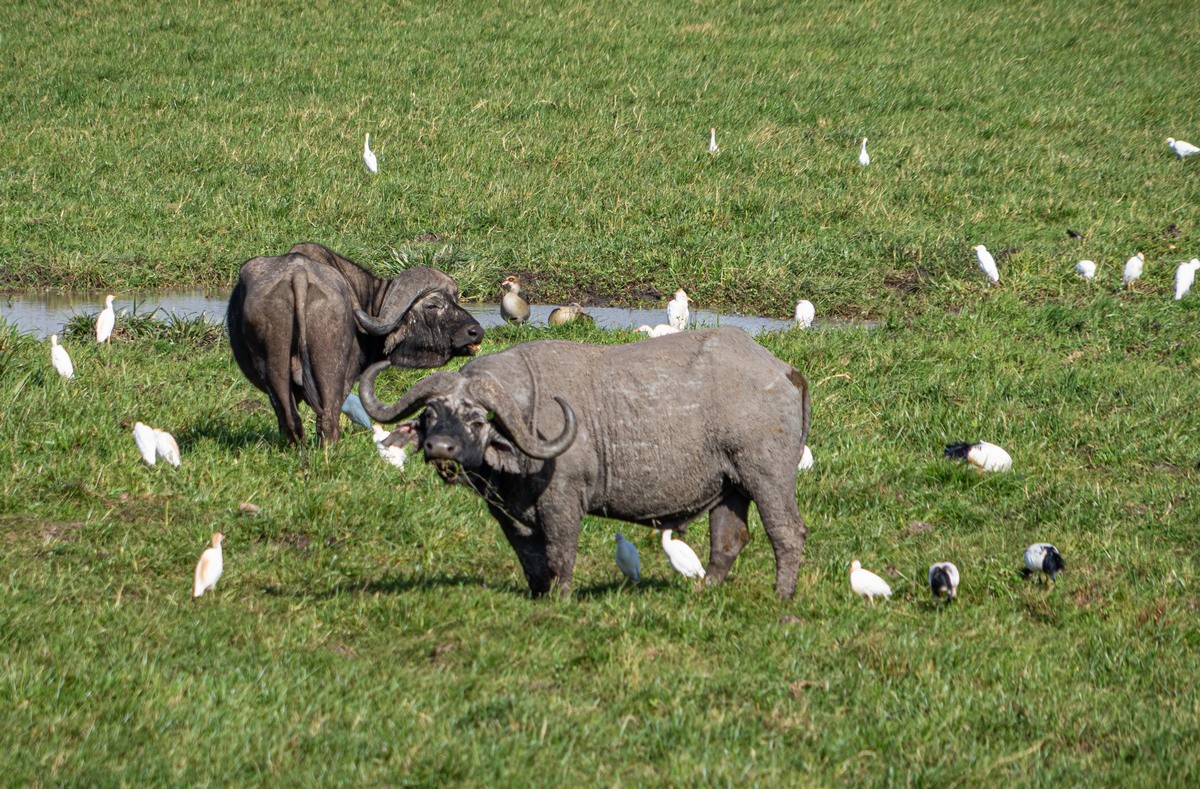 Lion: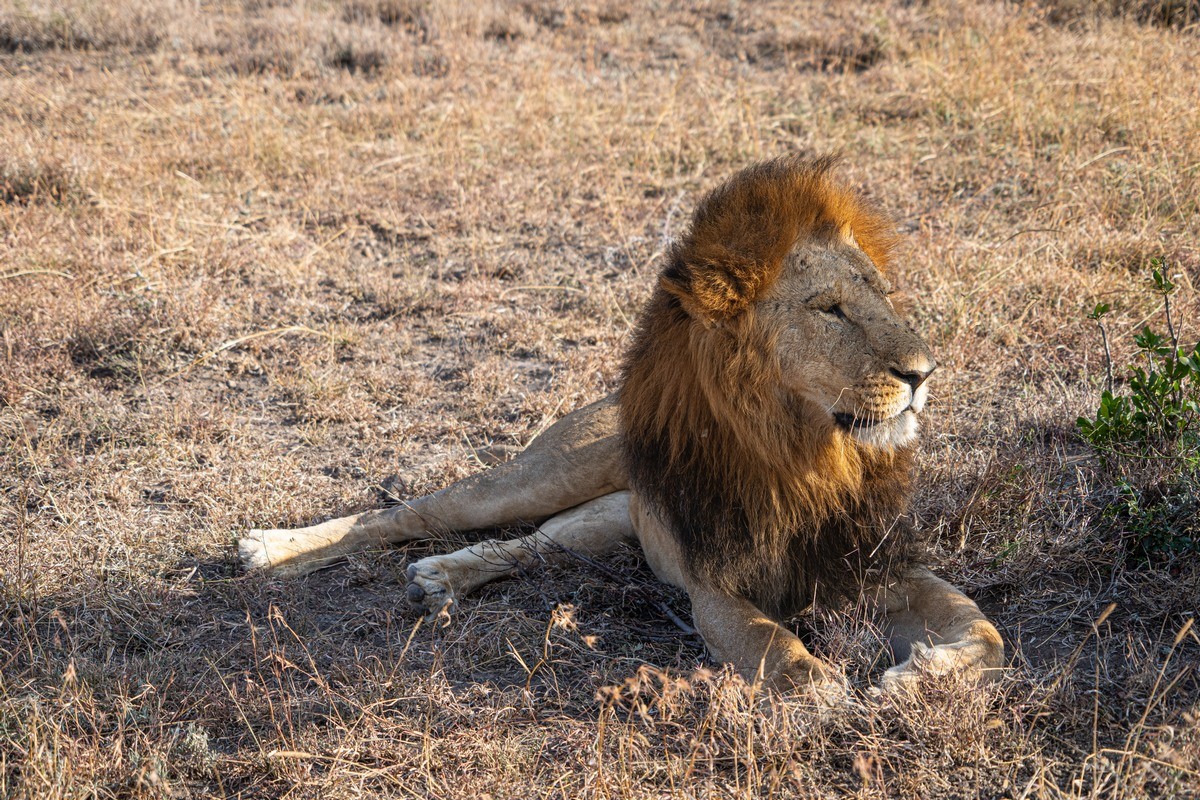 Cheetah: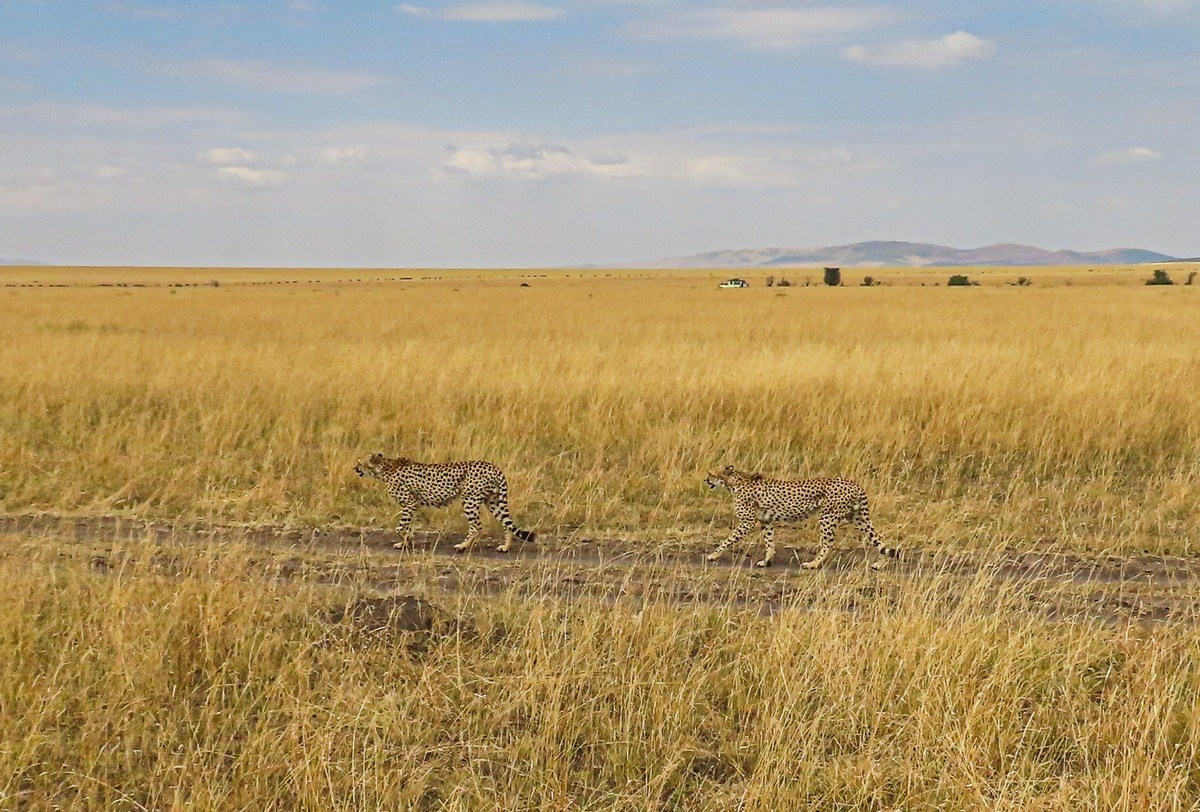 So which is better for African wildlife and nature in general – Tanzania or Kenya? I'd say either – depending on whether a great migration is taking place there or not: wildebeest, zebras, or gazelles migrating en masse. En masse – as in millions thereof! An incredible, unforgettable sight to behold…
And migrate they simply must – no matter the crocodiles, big cats, droughts and other dangers!…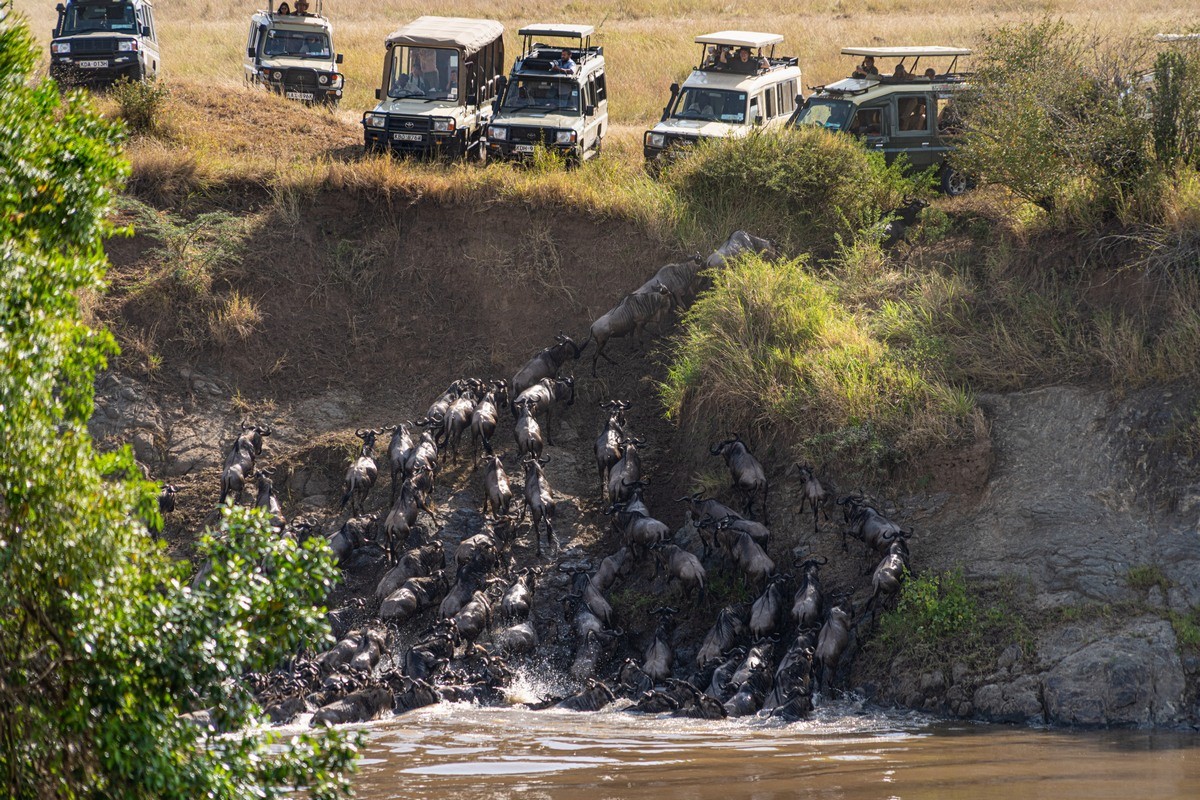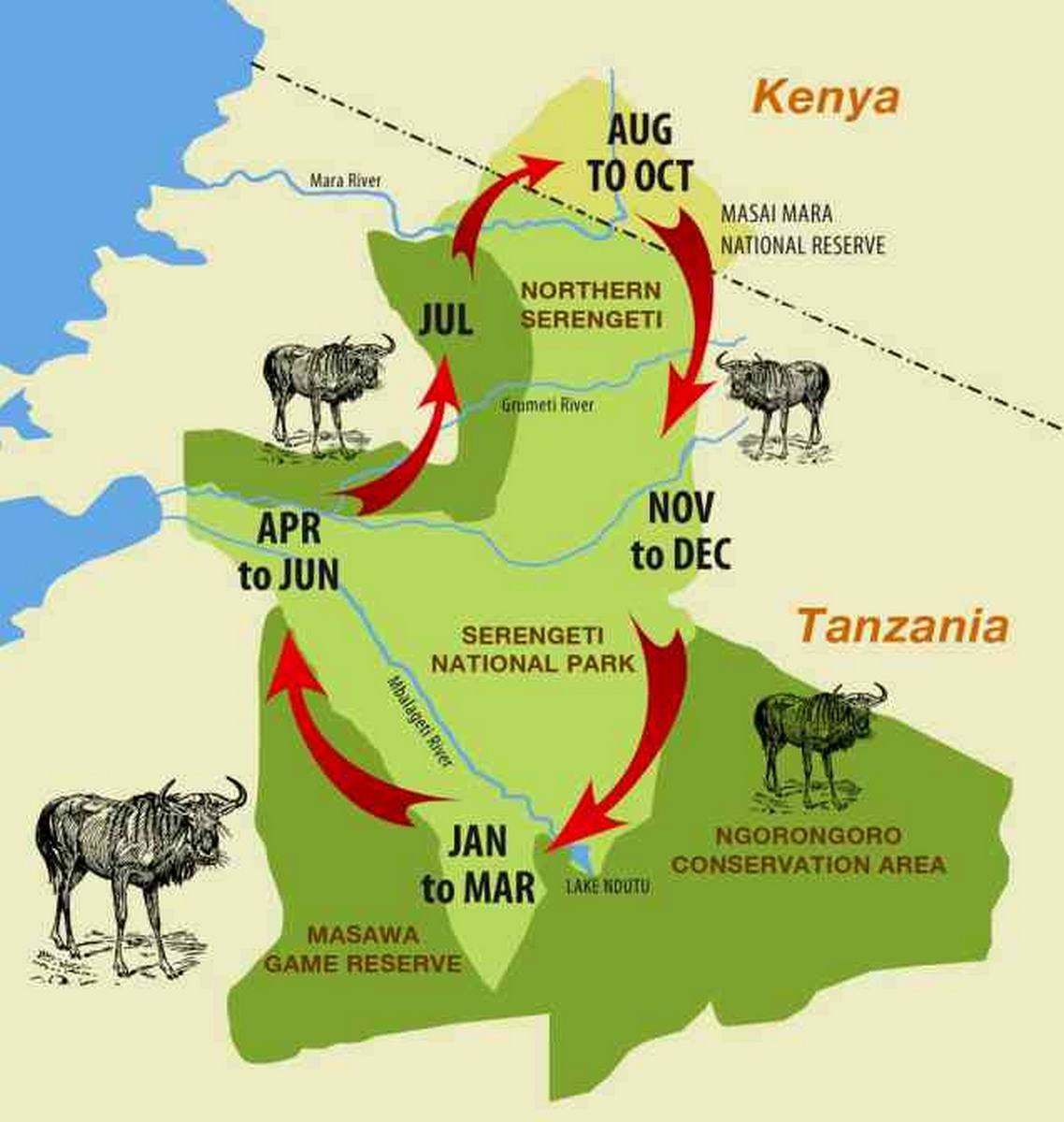 (source)
Probably the deadliest of hazards in the rivers ->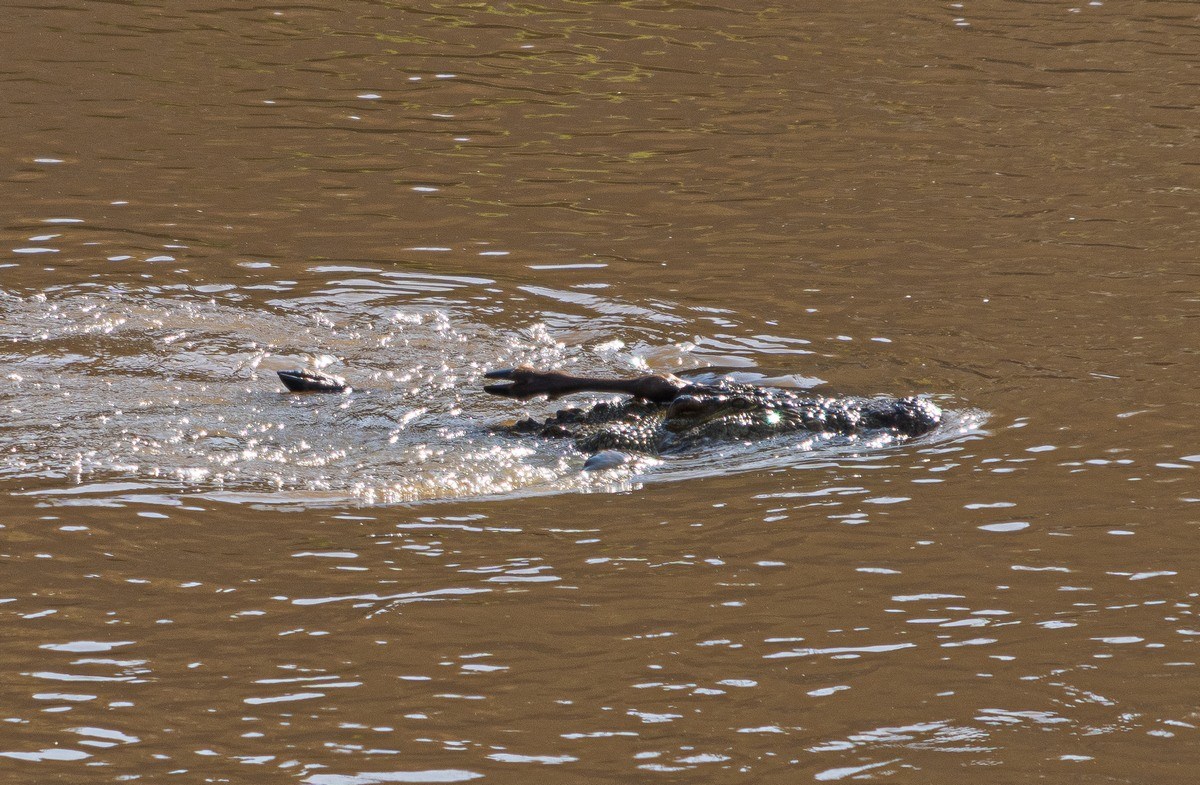 So, yes – make sure to time a trip to Africa so as to observe a migration.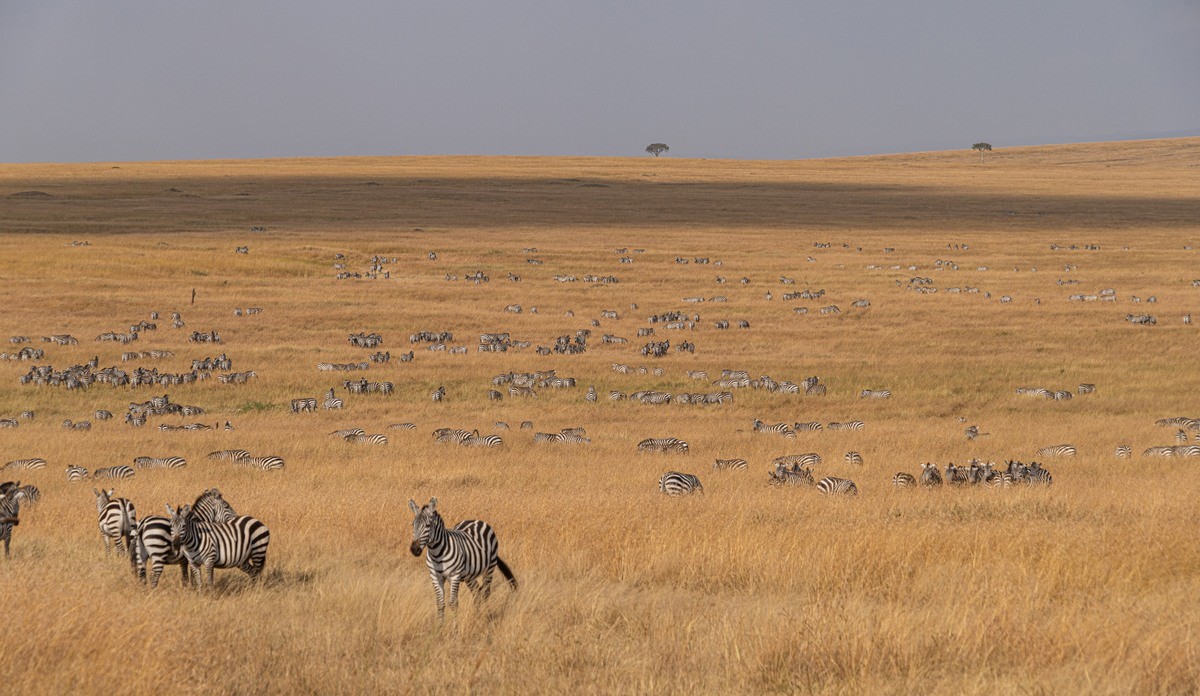 But still – which out of Kenya or Tanzania is better? Neither: they're simply different. In Kenya you can get up close to rhinos – guaranteed, while in Tanzania you need to sweat a lot for the privilege. There again, in Tanzania there are unique sites like the Ngorongoro Conservation Area (about which I wrote in 2016).
Back to our trip: we finished it, as mentioned, with decompression at Diani Beach…
An uninvited guest turned up at our hotel! ->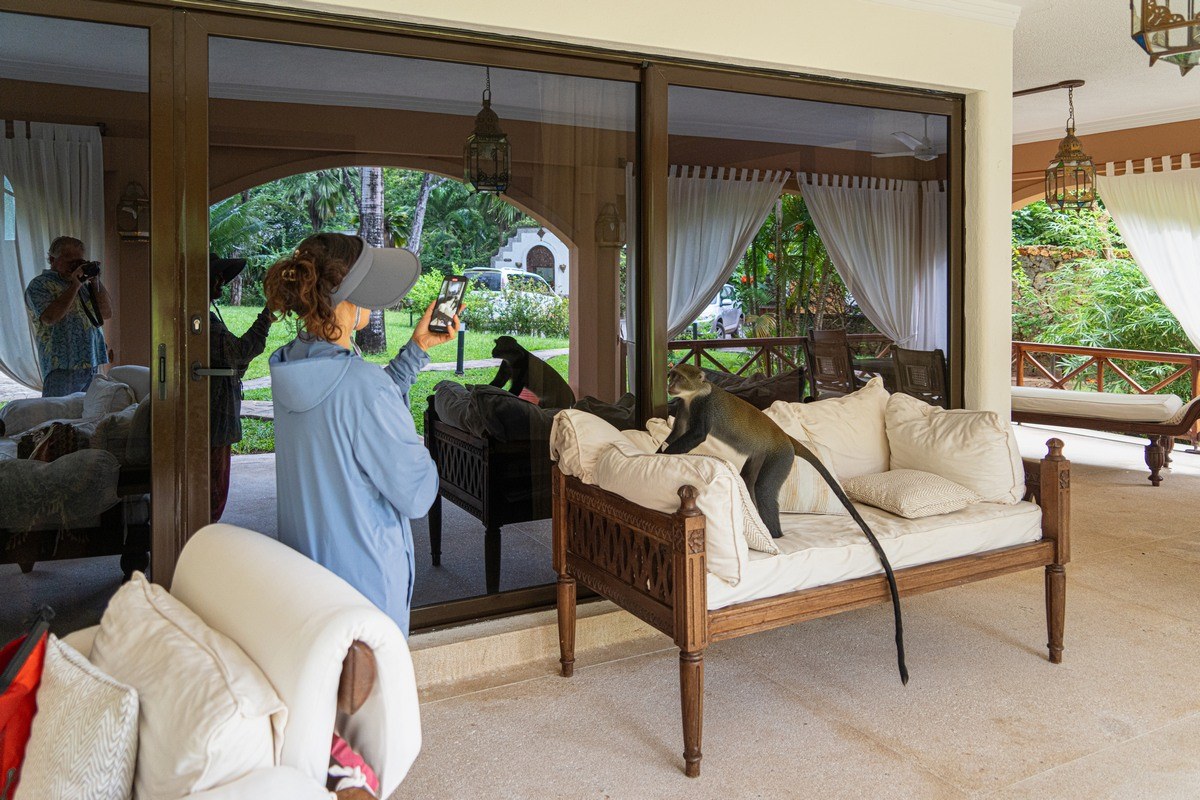 And that's the brief outline of my Africa-2023 summer holiday. Coming up, in series-form – the details. Stay tuned!…
The rest of the photos from Kenya are here.