Table Mountain: heavenly going up; hellish coming down…
NB: with this post about the place I visited before the lockdown I want to bring you some positivism, beauty and the reassurance that we will all get a chance to see great different places again. Meanwhile I encourage you not to violate the stay-at-home regime. Instead I hope you're using this time for catching up on what you never seemed to find the time to do… 'before' :).
After we'd checked it from a chopper – it was time for a cable-car ride up the hill that's a whopper: Table Mountain!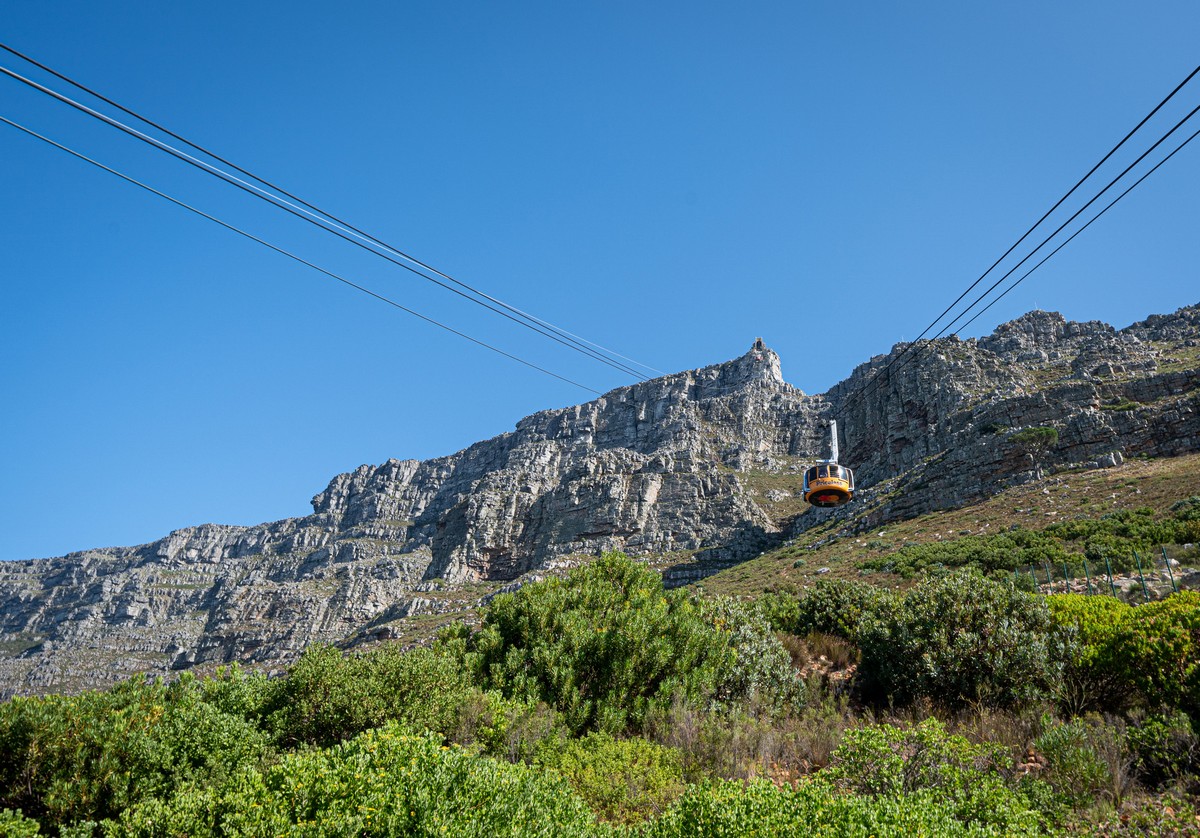 We got up to the top in a funicular car, which has a rotating floor (like in some TV towers) so you get to see all 360 degrees of the view below!
Backgrounder (including its height – 1085 meters above today's sea level):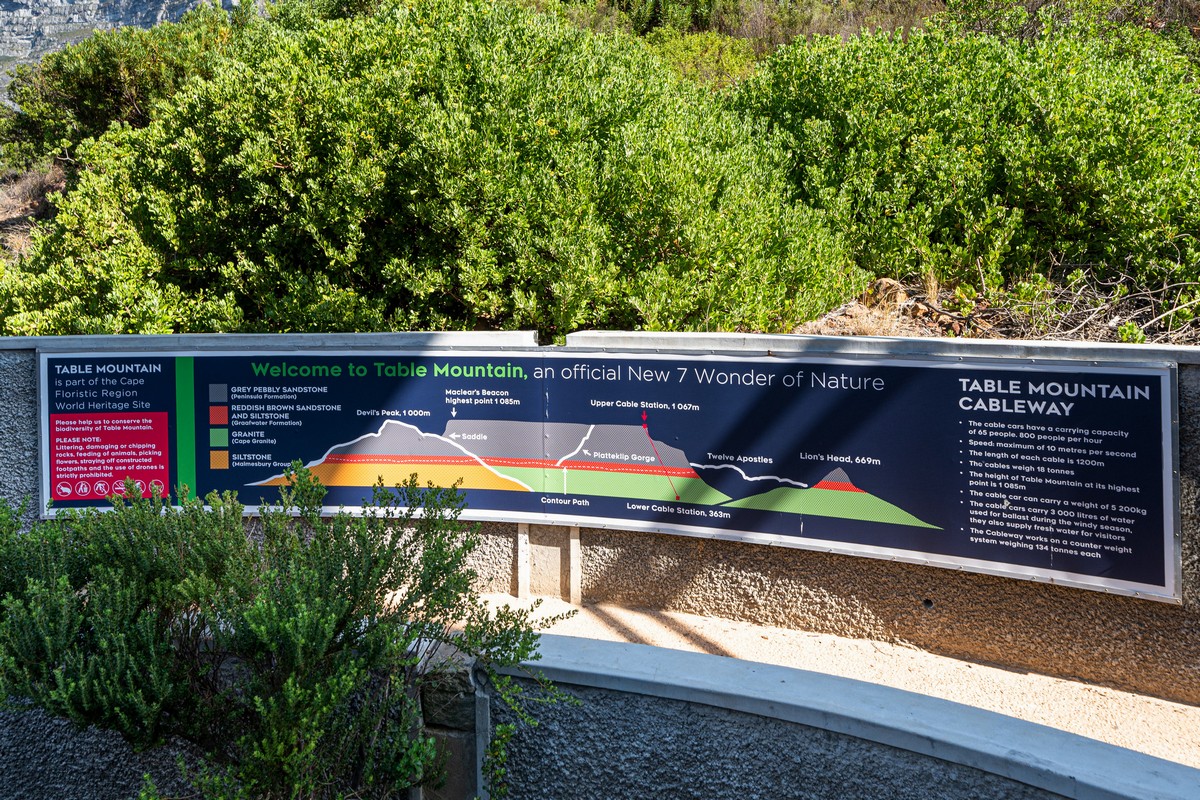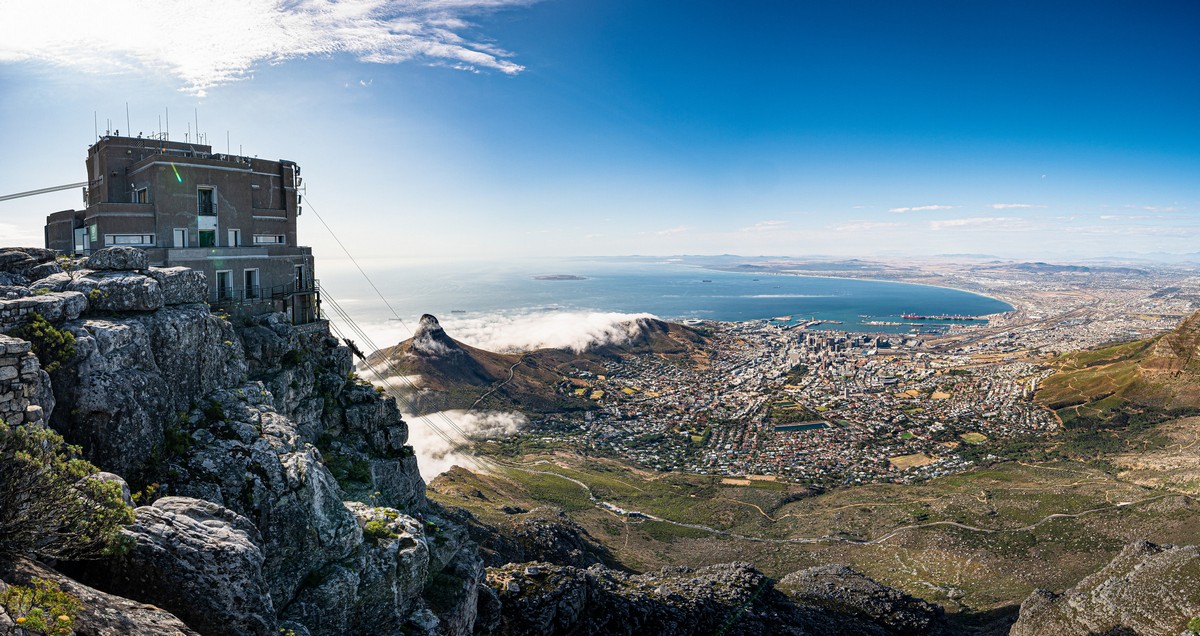 Off we go!…
And before we could say 'funny funicular in the vernacular', we were already up top! I wish they'd have gone a bit slower; it is for tourists, after all…
Here we are up on the top of the 'Table'. Yes, nice and flat just like a tabletop. Nice paths too – something I always appreciate…
So, like – why is the top of the mountain so flat? Geologists have a theory: that it is the remains of an ancient………… valley! So, up around this 'table' there once stood tall mountains? Those mountains were eventually worn down by the elements, leaving this bedrock underneath the valley. Well, well. I wonder if this is true…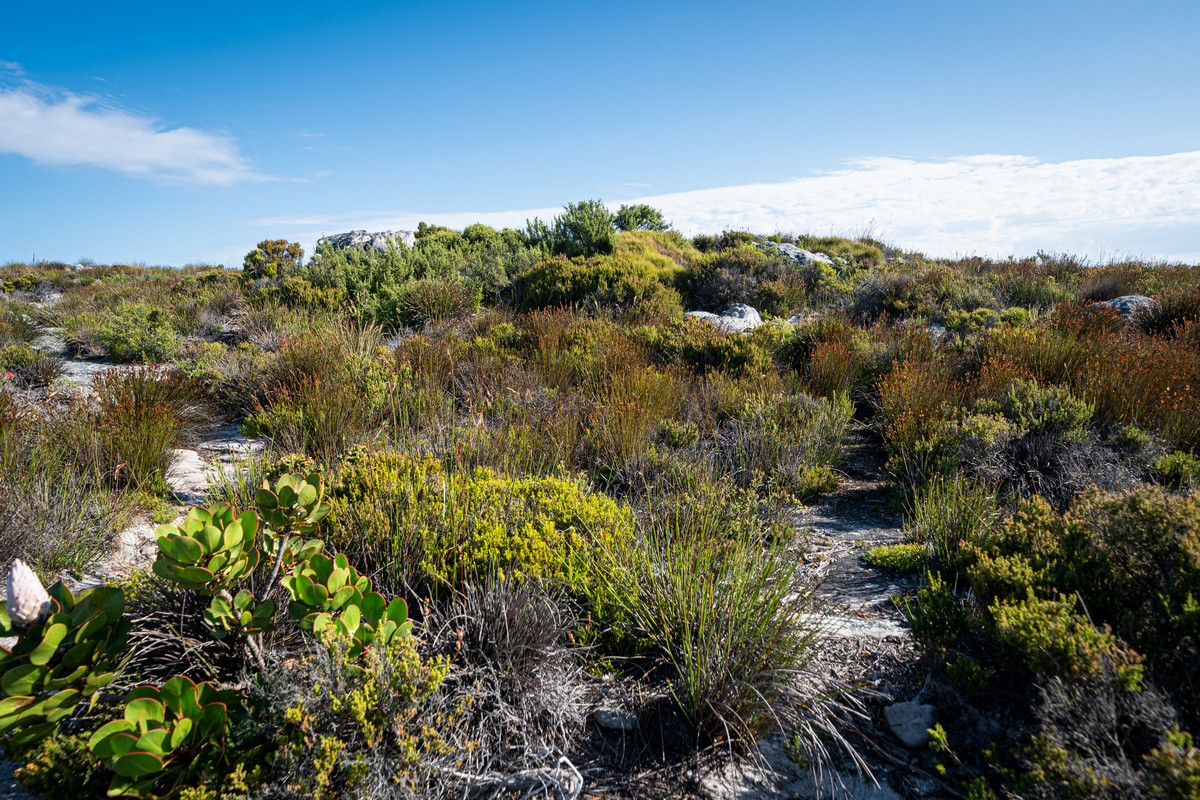 Enough historical theory. Time for capturing today's captivating view of Cape Town!
And to the south – toward the Cape of Good Hope ->
Oddly, we were only around a thousand meters above sea level, yet still we were way above the clouds. Like being at 5000 meters, but without the altitude sickness!…
Assorted pics, in assorted directions ->
Time for us to head back on down. But we pass on the cable car. Walkies time! 700 meters down the vertical to where our car was waiting for us. M.T. and I set out optimistically up-tempo…
Colossal cliffs; premium path…
A little while longer along this here easy path and we'll be back at the car. At least, so we thought…
…But then, suddenly, the 'format' changed. The easy path turned all 'no path at all' on us: in its place huge boulders that had to be jumped over. I mean – I do squats in the gym (I have strong legs), but even for me this was tough going… For poor MT too.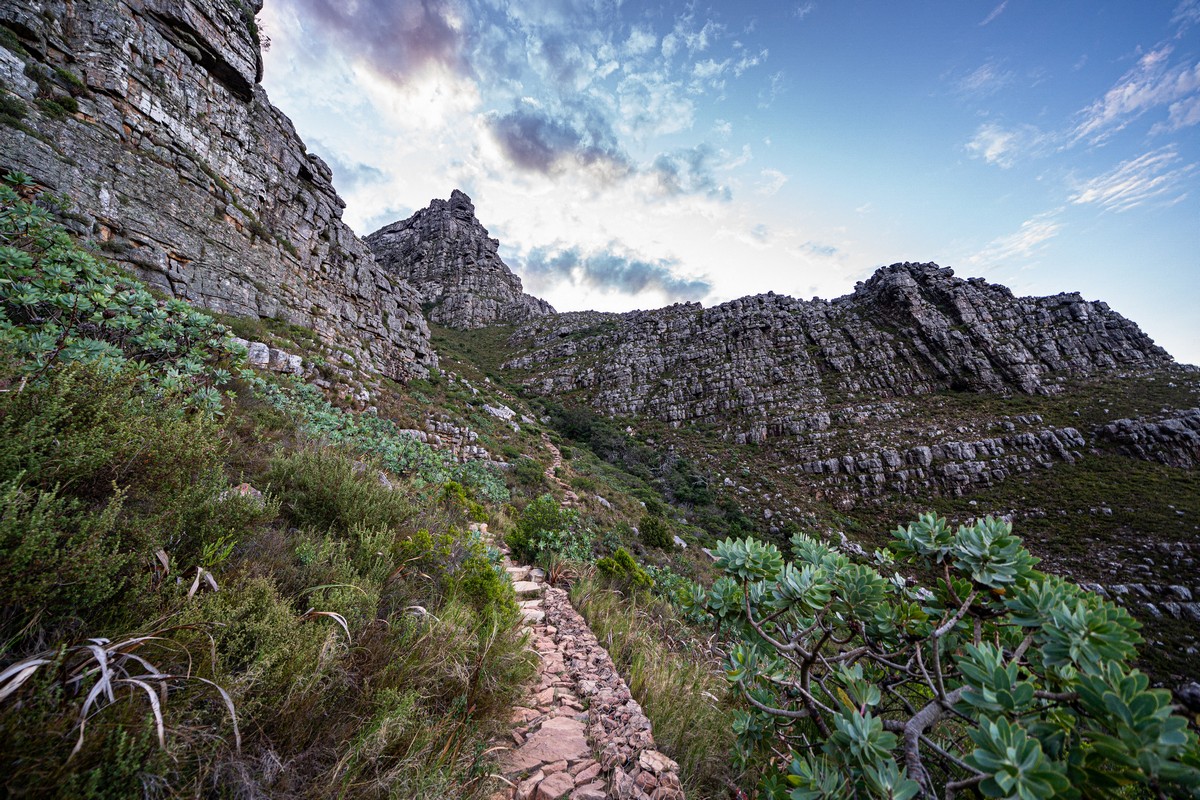 At least the views all around were still oh-my-Good-Hope!
And it just got worse and worse. MT had to be carried down the last stretch by our uncomplaining guide, with me carrying her backpack along with my own. Get this: my legs ached a full FOUR days afterward! Never known that, even after a long break from the gym and going heavy straight off the bat on the above-mentioned squats!
MT was so disturbed by the whole experience that later she found this here vid on the net when looking up 'Table Mountain Hell?':
'Table Mountain Heli'!!
We finally make it to our car. Phew. Already dark too – it looks light here since my camera's got a real wide lens ->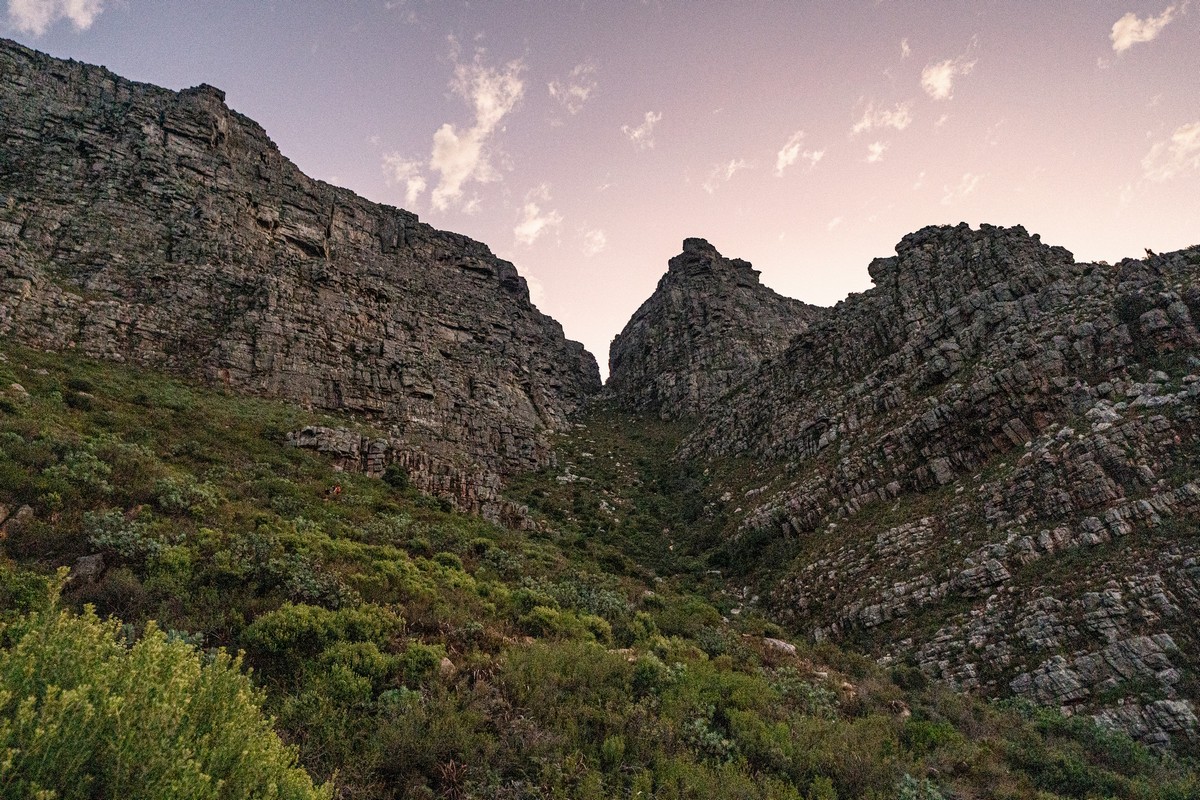 And that was that for our quick spot of tourism in South Africa. Farewell Cape Town. See you around!…
PS: A tale told by our taxi driver on the way to the airport, as retold by my traveling companion, M.L.:
En route to the airport, we soon found out that our taxi driver was a chatty sort. He was a Xhosa, one of the main ethnic groups making up South Africa's population. Nelson Mandela was a Xhosa; Desmond Tutu is half-Xhosa. Anyway, our friendly driver noticed our interest, so… chatted even more! Well, why not, given the awful traffic?…
He told us how, already 32 years old, he still wasn't married, since he still hasn't earned enough to buy… eight cows. For this is how much a dowry costs to get married! At least! (If the bride-to-be comes from a wealthy family it's a lot more than just eight cows.) At present, our driver had six cows. He has them looked after for a small fee by his nephew. And he aims to buy the minimum extra two within as many years.
 The Xhosa are still very into their initiations. At 18, young men are sent out into the 'bush' with just a few bits of light clothing and a spear handed down the generations. They eat what they hunt with that spear. After the three months, the boy man returns to his village. His clothes are burnt and he must make friends with other adults who've already passed the initiation. Then he must turn his attention to finding a mate; i.e., saving up for at least eight cows; i.e., he must start working.
These days, saving for eight cows takes around 15 years. Once procured, he can meet with the father of his 'chosen one', giving him a bottle of brandy (before the Dutch colonialists, this used to be ~homebrew beer). If the father endorses the suitor, the dowry is discussed – how many cows are needed, details of which are negotiable: for example – eight cows now, two more after the wedding.
Our driver looked every bit the modern man: smartly dressed, smartphone user, etc. Nothing in his appearance betrayed his belonging to an ancient tribe. But back to what he told us… He said he's known his bride-to-be for years already. She also works in Cape Town. They live apart, but they date. They have to be 'careful', mind: a child born out of wedlock incurs a heavy fine on the young man – to be paid to the bride's family. And anyway, such things are very much frowned upon.
Our talkative driver finished by giving us a quick lesson in the Xhosa language, know for its click consonants. I wondered, how would you translate such clicks into English, Russian, or indeed any language? )
The rest of the Cape Town pics are here.