Corona cancellations, plus my 100th country – Angola!
As you'll know perfectly well, I love to travel. Far. More often than not I travel for work, but two or three times a year it's for R&R and tourism. Anyway, toward the end of any year, normally I've totted up more than a hundred flights throughout the year or, if not, am not far off. I long ago became accustomed to living like… a rock star on a world stadium tour (the traveling bits, not the rock 'n' rolling excess:), or… George Clooney in that film where all he seems to do is live onboard planes up in the air. For me, 'on tour' is all about conferences, exhibitions, business meetings, new acquaintances, exchanging ideas, discussions – and all in different towns and cities and countries across the world. In-between there are of course the airports with their inevitable passport controls, security checks, lines, all of which I fairly hate (and you don't get fast-track lanes everywhere on the planet). Once on the plane I don't mind it at all: an ideal time for catching up on reading or viewing or emailing. But I digress…
Now, normally come almost-April, I have at least 25 flights under my belt so far in any particular year. But this year, I've a mere 17. Which is rather surprising given that I'd gotten in a full nine flights just in January on just one vacation – our Africa-2020 jaunt. So I wanted to get to the bottom of this – why the slow start? After all, this nasty coronavirus can't have been the reason – its impinging on everyone's travel plans has only just fully kicked in…
It turns out that, actually, I have been becoming less and less active during the early months of a year. Here's how…
First: I've stopped going to Davos. I used to go every year (since 2012), but no more. Why? Well, it used to be the World Economic Forum. Then, somewhere around 2016–2018, it turned into the World Geopolitical Forum. In a word: cancel. Shame though. It was a rather useful get-together (maybe I should reconsider? I just don't know).
Second: I've stopped going to the yearly winter Munich Security Conference. Sure, it's a very cool, elite event. But besides useful meetings and acquaintances… there's a rotten feeling one gets while there. Alas, like with Davos, the inroads politics has made are just too much to bear. Nah. Nyet, spasibo. Not off there again.
Btw: as if to highlight some of the reasoning behind by gripes, check this pic I took while waiting – way to long! – to taxi at Munich Airport right after the conference in 2018. Grrrr!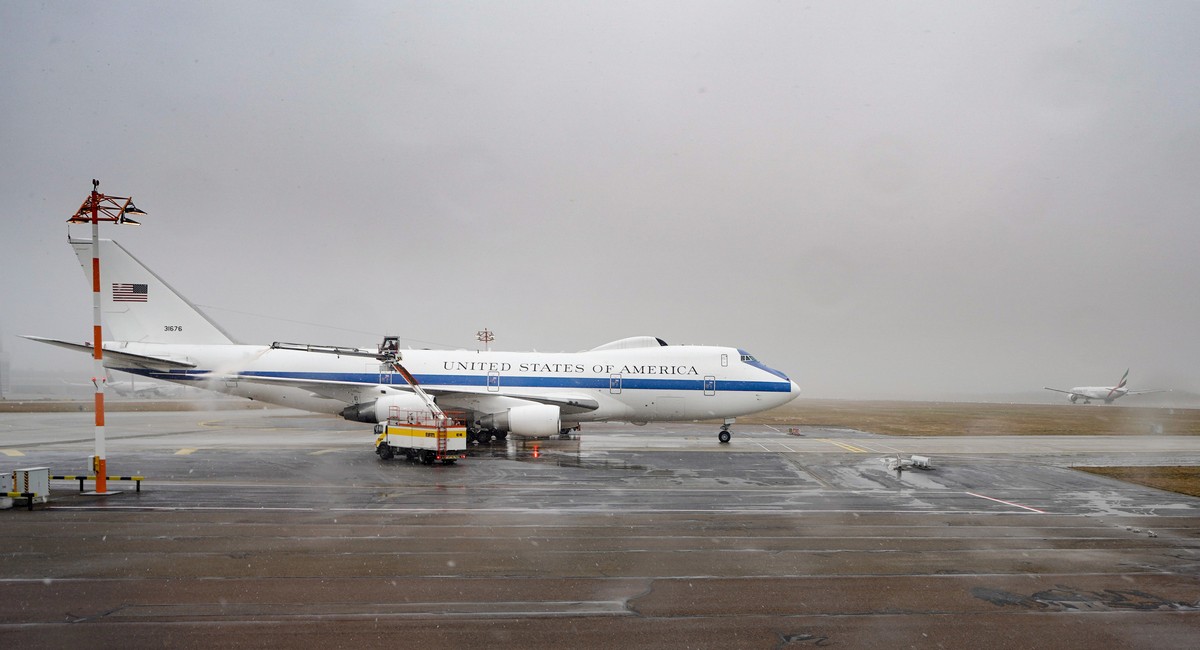 And of course Hannover's CeBIT is completely kaput these days. After its glory days every February/March/April in the nineties and early 2000s, alas, it is no more. The economic crisis of 2008-9 saw it off once and for all. Shame. Here's a pic from 2009 (empty stands. Eh?!) :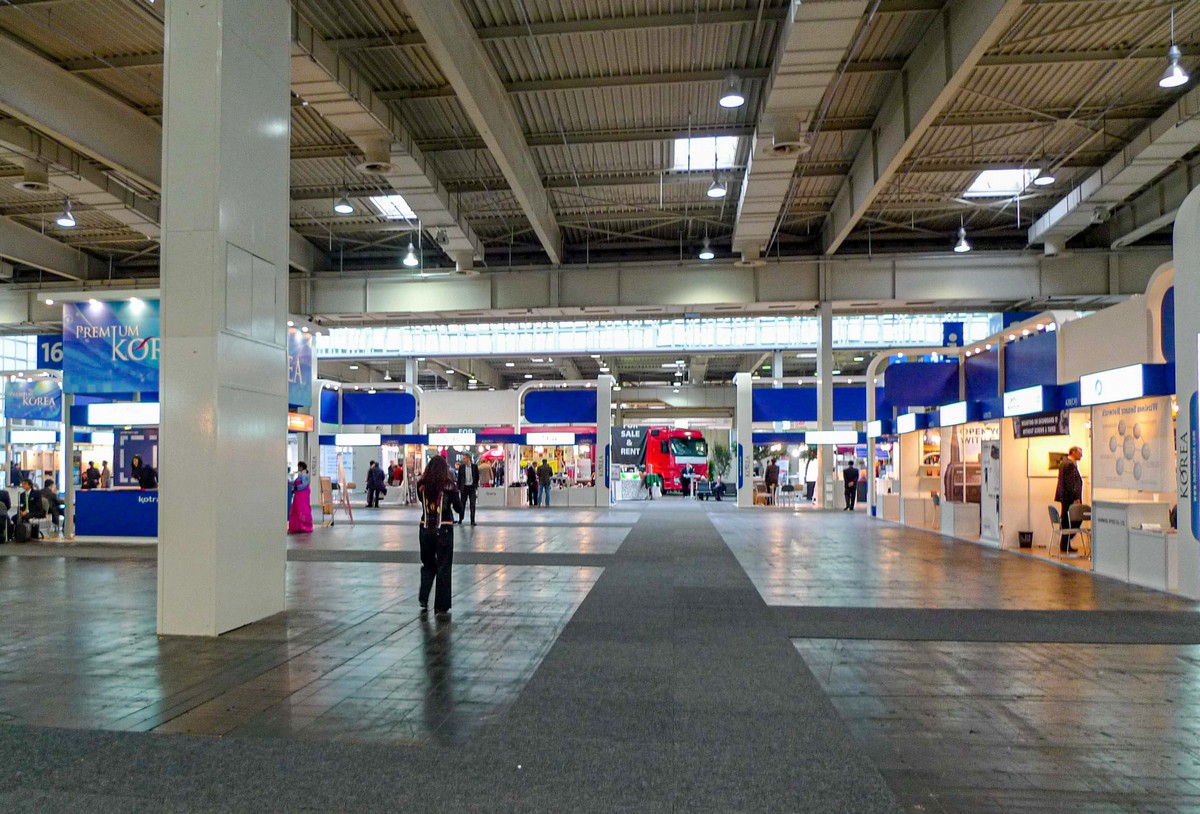 I remember that 2009 visit well; or, to be more precise, I remember that feeling of… Rome's last days: looking at the mushroom-like DJs on one of the stands, I just didn't see any future for CeBIT and felt in my gut that that was probably to be the last CeBIT ever…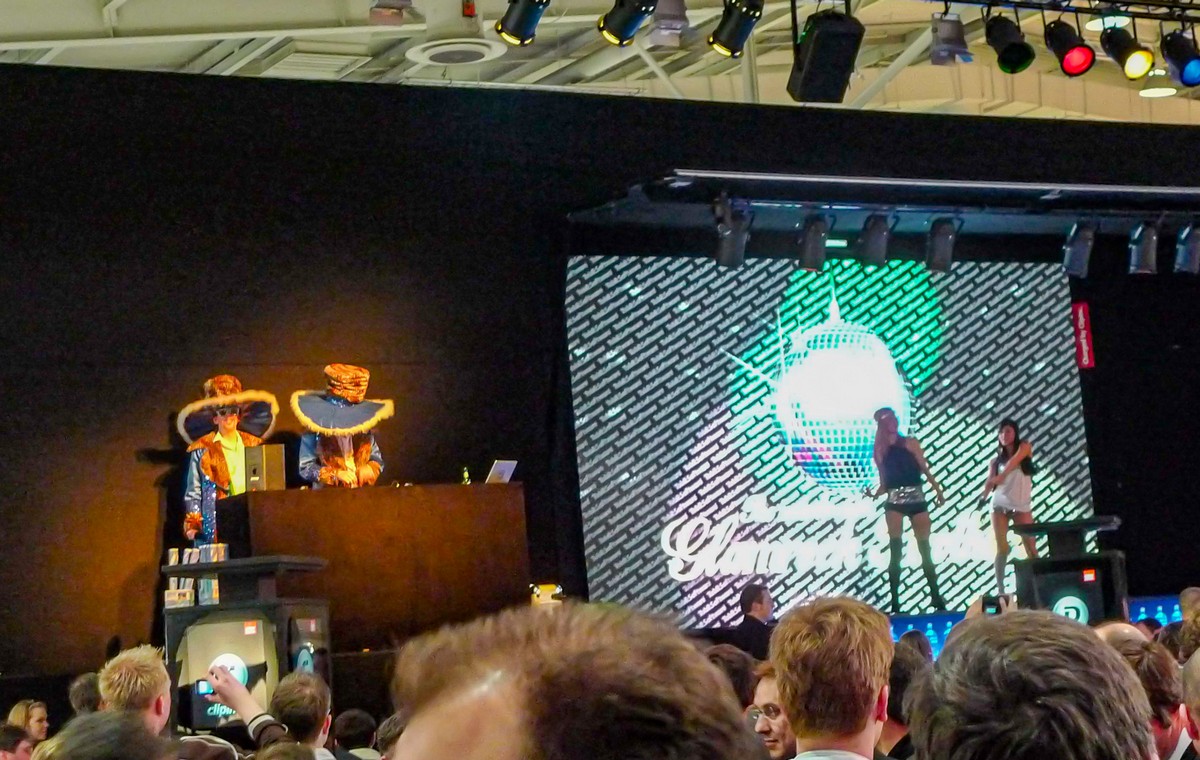 Alas, I was later proved right…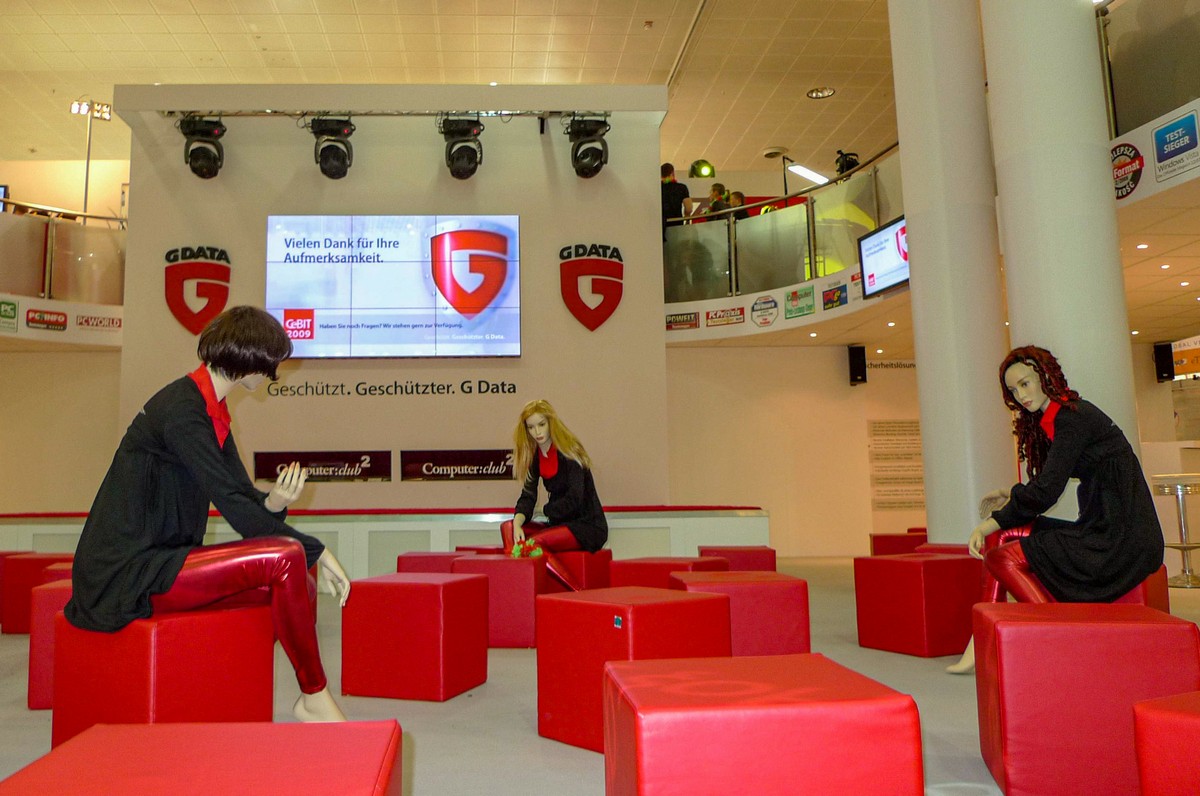 One factor in CeBIT's downfall was the rise in fortunes of another monster euro-exhibition – Barcelona's Mobile World Congress, which seems to just get bigger and shinier, and also less mobile-focused – more tech-universal – by the year. Which brings me to this year's MWC: it was cancelled, as I've already mentioned. This vile virus is getting out of control…
Now, if it were a computer virus, we'd have released a vaccine in no time at all, we'd have taken it to bits in a day or two (maybe up to a week at the very most), and released a full descriptive report on it and a free utility against it.
Alas, Mother Nature is a lot more resourceful, imaginative and technological than the digital world: a physical-world virus is a million times more complex than a cyber-world virus. And please don't come bandying about the trendy term artificial intelligence; if it's so intelligent, why has it proved useless faced with this nasty pathogen? And the patented-up-to-the-gills AI 'scientists' – where are they now? Why the deathly silence from them?
It's clear as day even to… a hedgehog, that shiny fancy marketing BS aimed at investors with deep pockets is sooo much easier than the hard work that goes into complex, groundbreaking, hi-tech development. Aaannnyway all you AI 'experts', for now, please step aside and don't distract the genuine work needed to create a vaccine against this virus. AI won't help them. Only traditional machine learning, aka humachine-ing will.
This virus… It's affecting us, too. We normally have a large stand at MWC; not this year. And now we've had to postpone our yearly super-mega SAS conference until fall. Darn it! But safety first, of course.
As you'll no doubt already know, the corporate world is banning business trips (we, too, have limitations in place), and companies are pulling out of practically every event in the world planned for the next few months. Everything's been hit: conferences, exhibition, concerts, other events (there's even a list been published online, updated in real time). Soon travel agencies will go under, as will hotels, airlines. On the other hand, telecoms, Netflix, and home delivery services will do well out of all this. Er, as will we – as demand for online security goes up too. Another thing on the rise for sure: paranoia/hysteria.
I digress again. Ok, back to the on-the-roadness…
Righty. Suitcase packed, taxi ridden, airport, avant-garde selfie, and onto a plane – heading south…
Quick (another?!) digression back to physical-world viruses: my long experience has shown, and my doctor agrees with me: alcohol guards against virus infections, and helps fight them during the early stages of an infection. Accordingly, the prescription is obvious! Just don't go overboard. It's not an excuse to get blotto every evening! Meanwhile, we're flying south…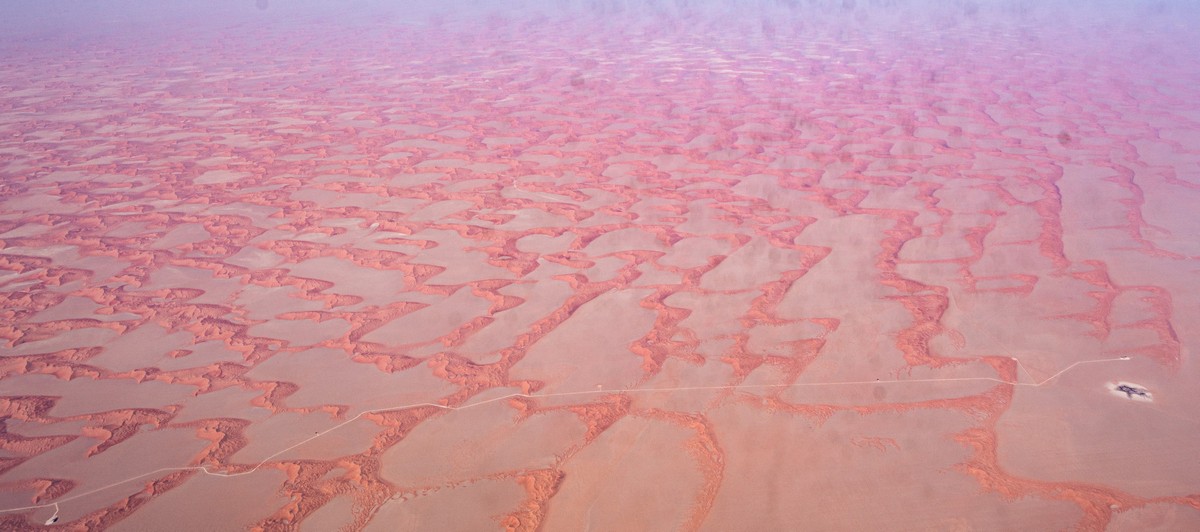 … And we finally land in… Angola! Specifically, its capital – Luanda.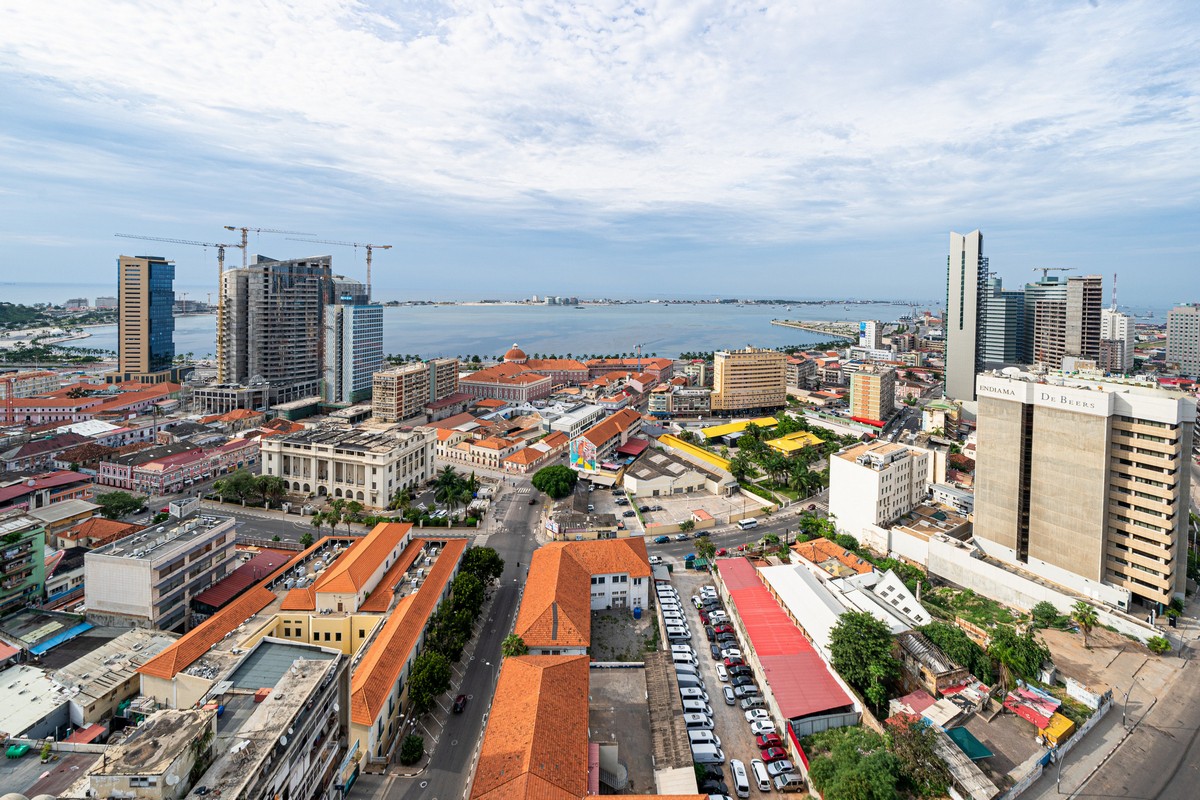 // Brief background info:
22nd largest territory in the word: half the size of Kazakhstan, twice the size of France;
Population: 20 million – 46th largest in the world; more than Australia, less than Poland. Population of the capital: 2.8 million;
GDP (PPP): in the lower hundred.
// Backgrounder – done
That's all very well (or bad), but for me what was significant about Angola was… it was a jubilee country for me. My hundredth country visited!
Alas, I was only here for a whirlwind spot of business – all in less than 24 hours; therefore, the famed Kalandula Falls and the Miradouro da Lua would have to wait till next time…
As far as tourism went, I only got as far as snapping a few scenes from my hotel room balcony: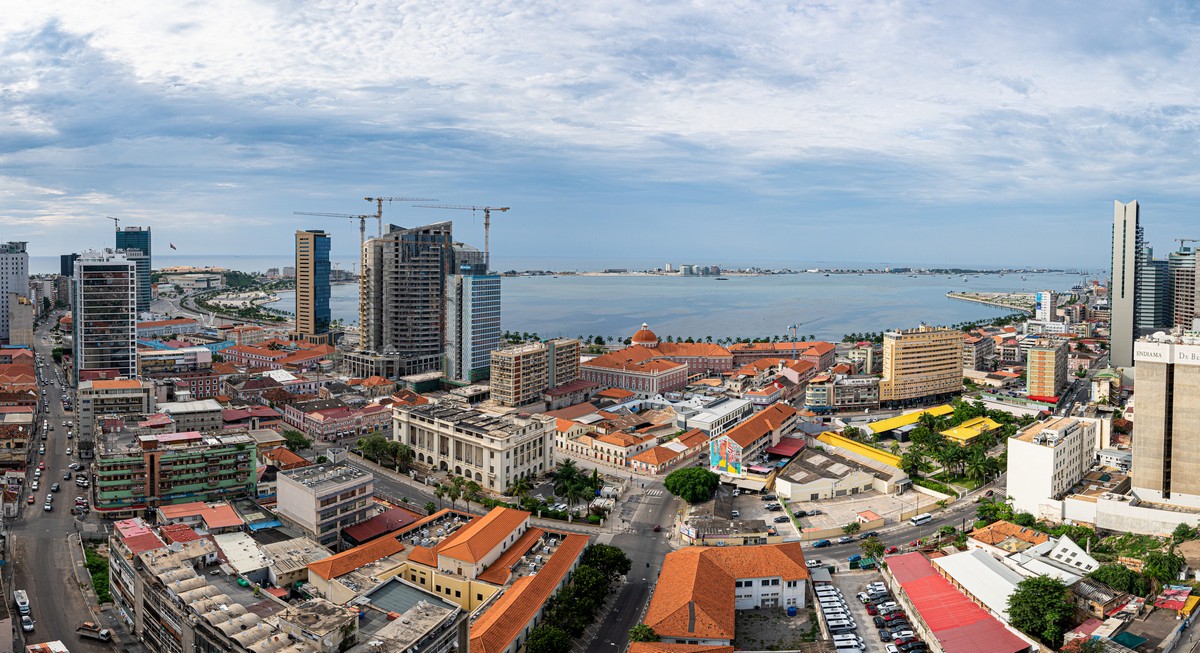 All rather nice looking really: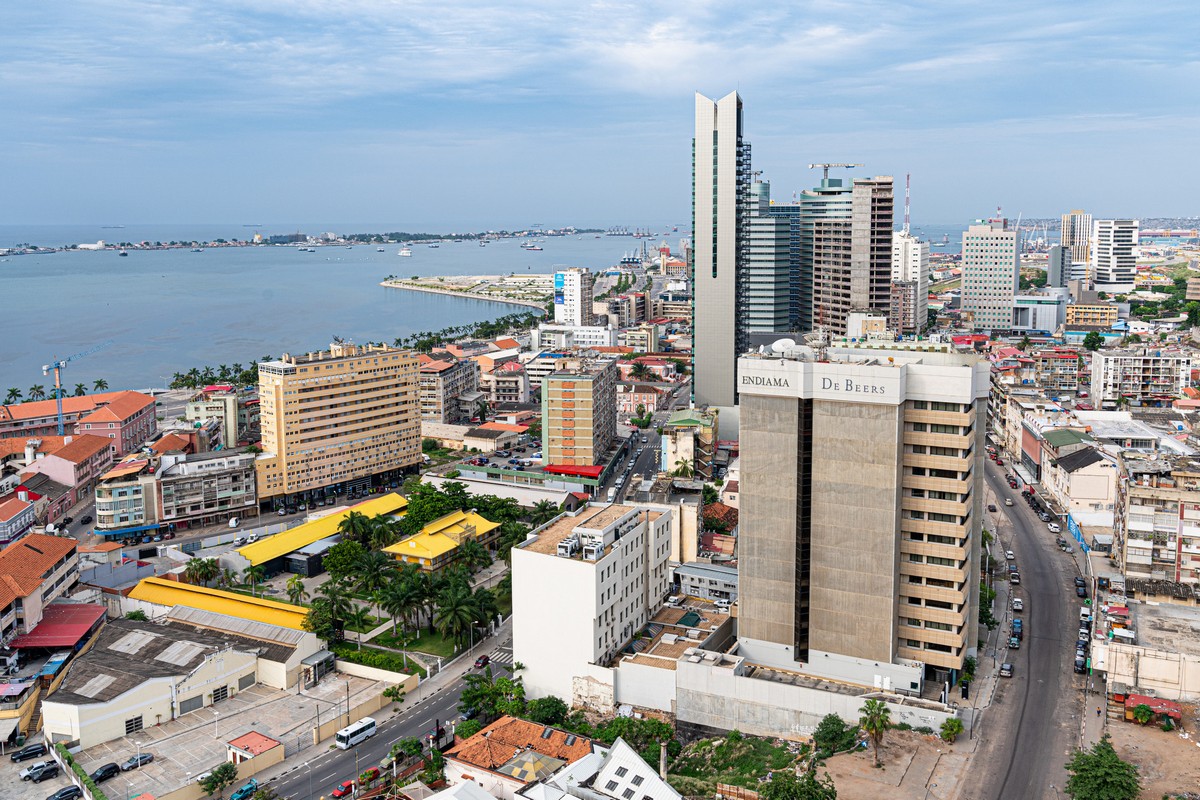 Clearly the old colonial quarter: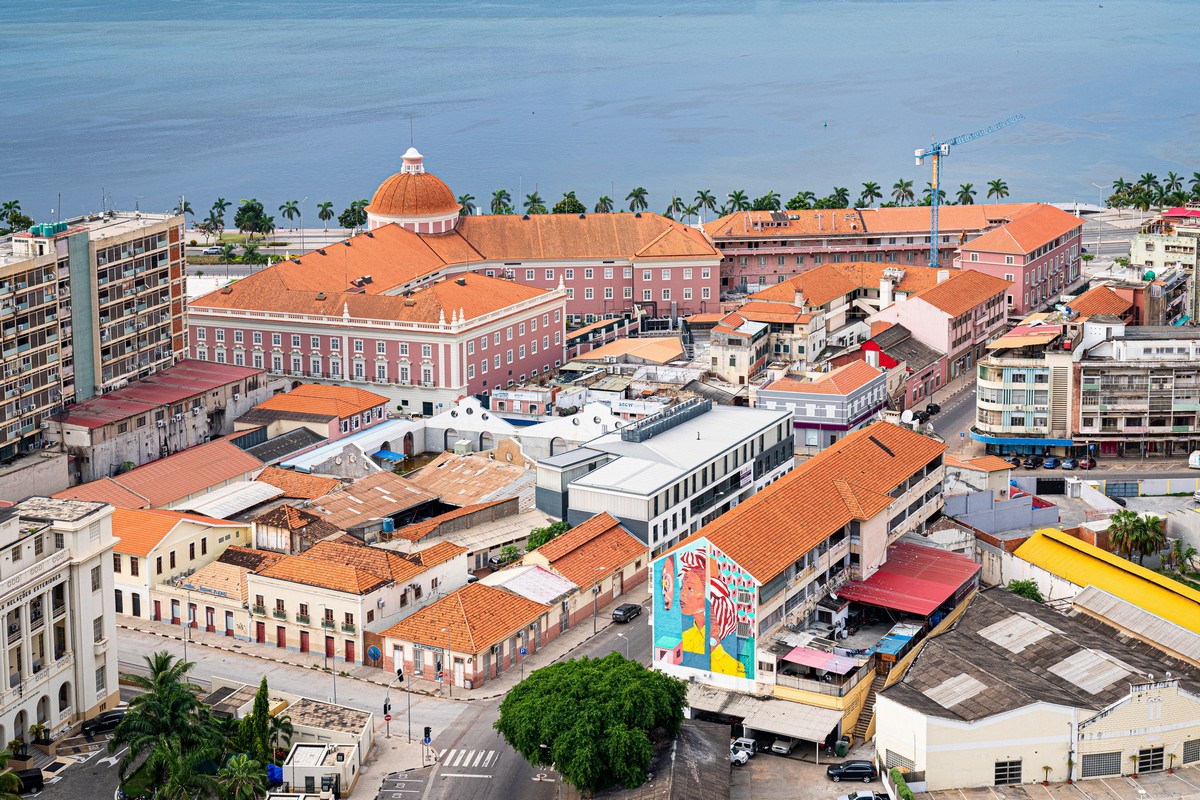 Sweet…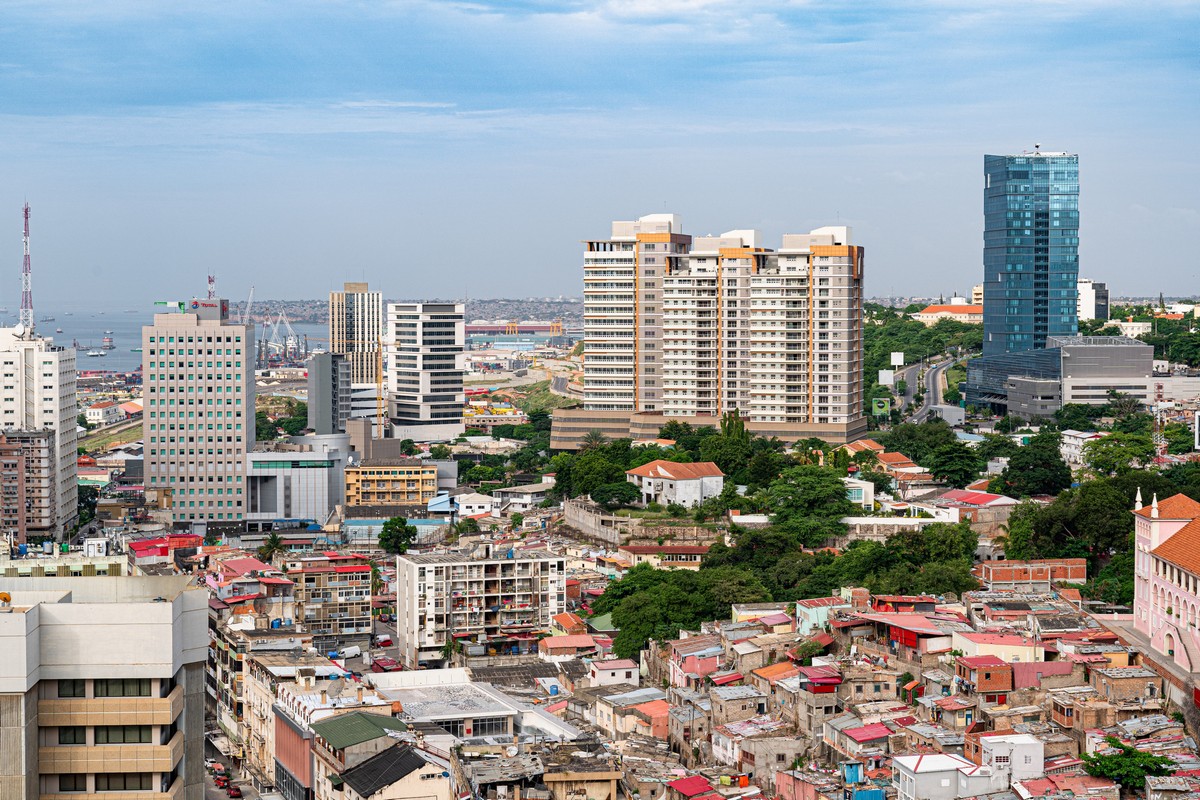 But then you look down. Ouch! ->
Indeed, it looks like the country has some way to go in terms of development. Corruption and the country seem to have gone hand in hand. Some say all that has been left in the past, with those responsible duly punished or being hunted down to pay for their crimes. Well, I've always been an optimist; I believe in a brighter future – and that includes one here for Angola…
PS: I was here on business basically because the country is planning on becoming totally digital; and that, of course, requires good digital security. So of course they called me up. And I was only too willing to get on down there for a chat – even if it meant having to wear a tie ).
Right after the business – out we flew…
… And we were flying – south. What? From Angola? Yes. Which means… more African tales coming up shortly!…