My definition of happiness: In excellent company; in nice weather (under a warm sun and clear blue skies); with oh-my-gorgeous views all around (and no other tourists getting in the way!); not counting the great many kilometers trekked, or the number of rivers waded or zip-lined across, or the masses of mosquitoes and innumerable insects (which mysteriously disappear all of a sudden); having ones mind, body and soul filled with the rejuvenating tonic of exotic expedition; with a fresh wind blowing; with a spirit that is tranquil, contemplative and meditative… where?… – you guessed it: in KAMCHATKA!!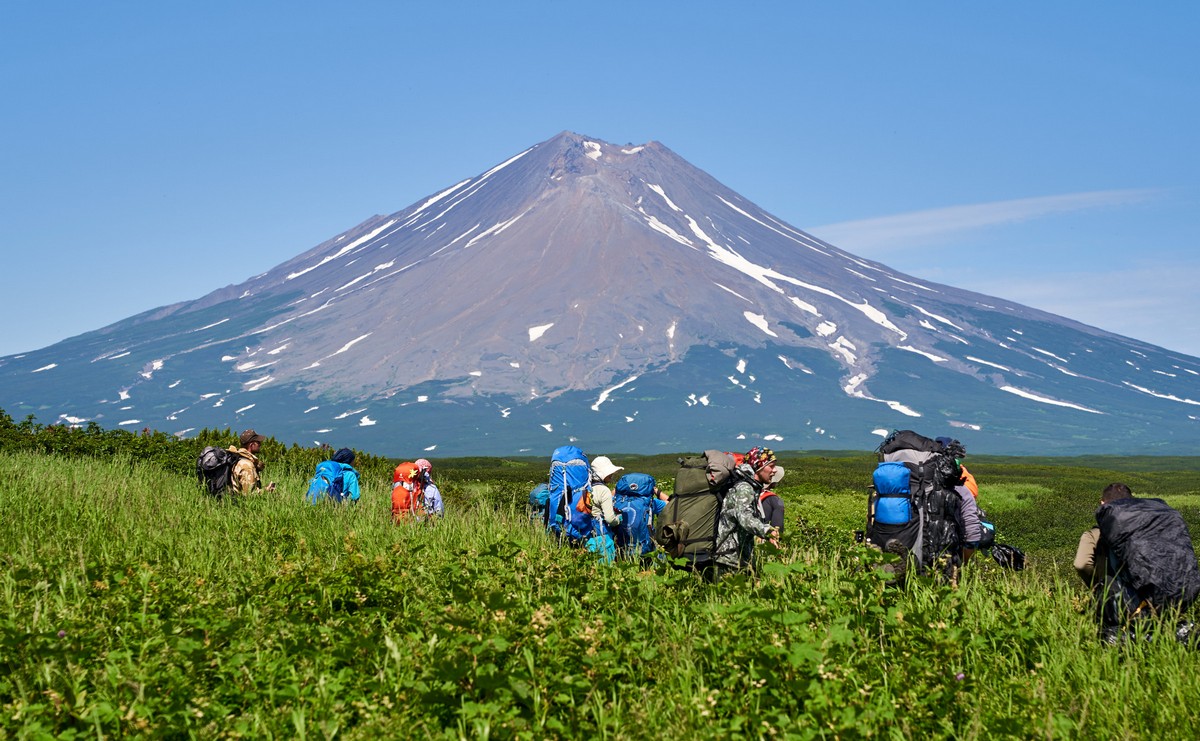 Along wild meadows, dry tundra, and sometimes swampy stretches; across volcanic rubble… – it all equals contentedness.
A young bear observes us from afar. She really was taken by us. But, then, I reckon we could have been the first human beings she'd ever seen.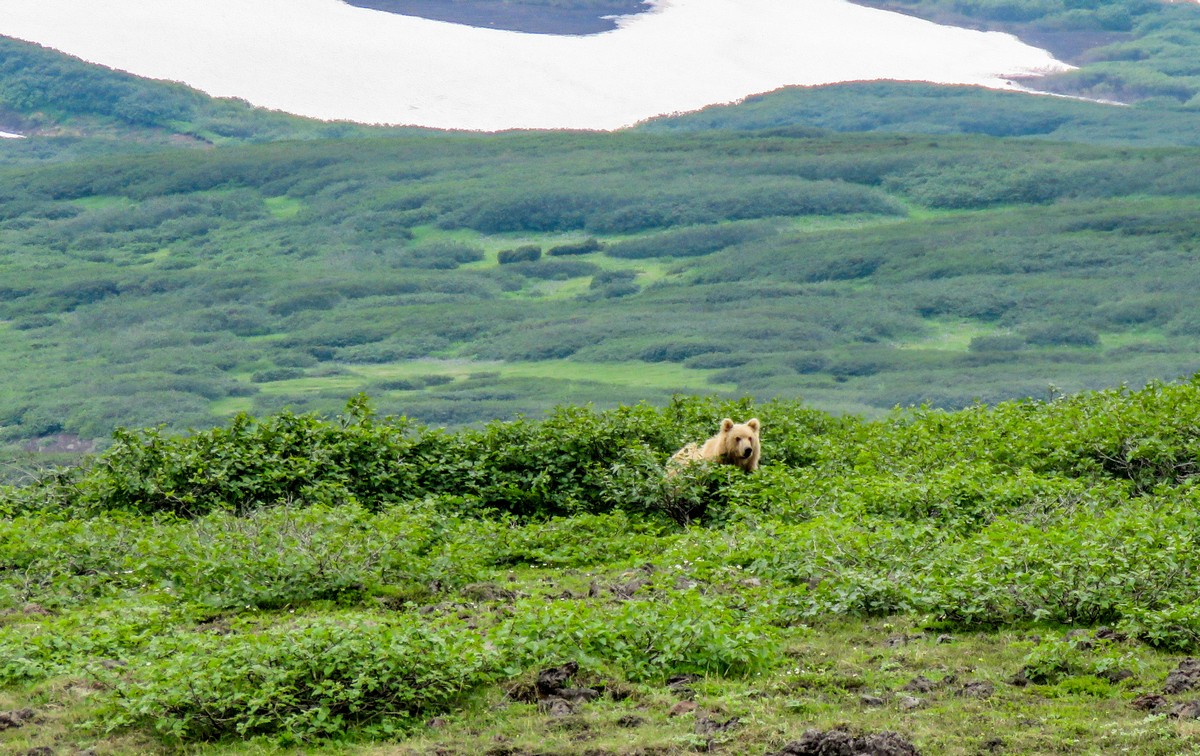 The going on this expedition was very varied. Sometimes we were slowed by the rivers we needed to cross – some of which needed to be zip-lined over:
Other times the vegetation we had to wade through was belly-height or ever taller than us, and the hills we had to climb were steep:
The most unpleasant underbrush we had to deal with was the dense shrubby trees: montane alder tree and dwarf pine, etc. Still, looking on the bright side, traversing it must have given us all a good boost to stamina and overall fitness levels (not forgetting the heavy rucksacks on our backs). Sometimes the stretches of this thick brush would last hundreds of meters, and you never could tell when it would stop. Yes, it was tough.
It was tough for us; I wonder if it's tough for bears: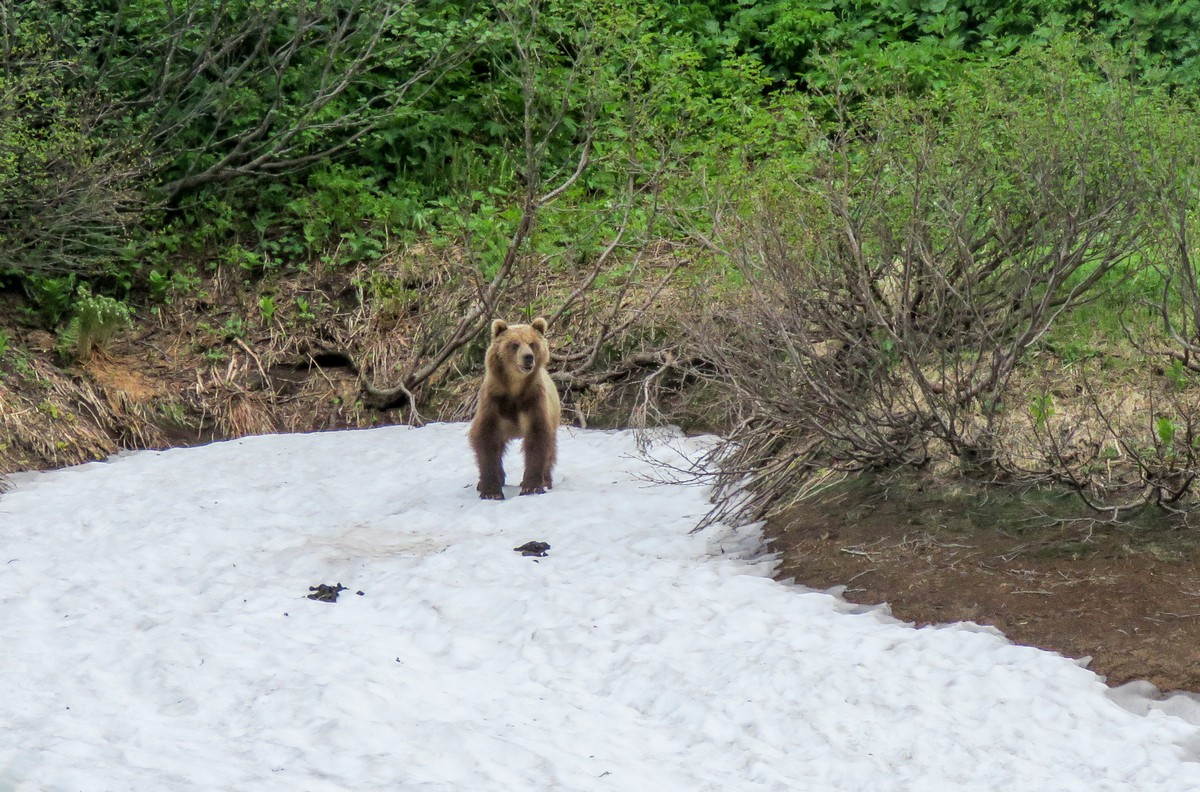 The going got so tough we all made a democratic decision to avoid as best we could stretches of the demon scrub – even if that meant clambering up steep, rocky slopes, or even streams!
So, as you can see: a Kamchatka expedition is a roller-coaster ride – both emotionally and physically. It starts out all easygoing and thoroughly enjoyable (see the first paragraph, above), then…
Then… you remember you're climbing a volcano. No one ever said this would be a walk in the park.
Meanwhile, we were nearing the peak of a colossal volcano… and things were getting decidedly snowy: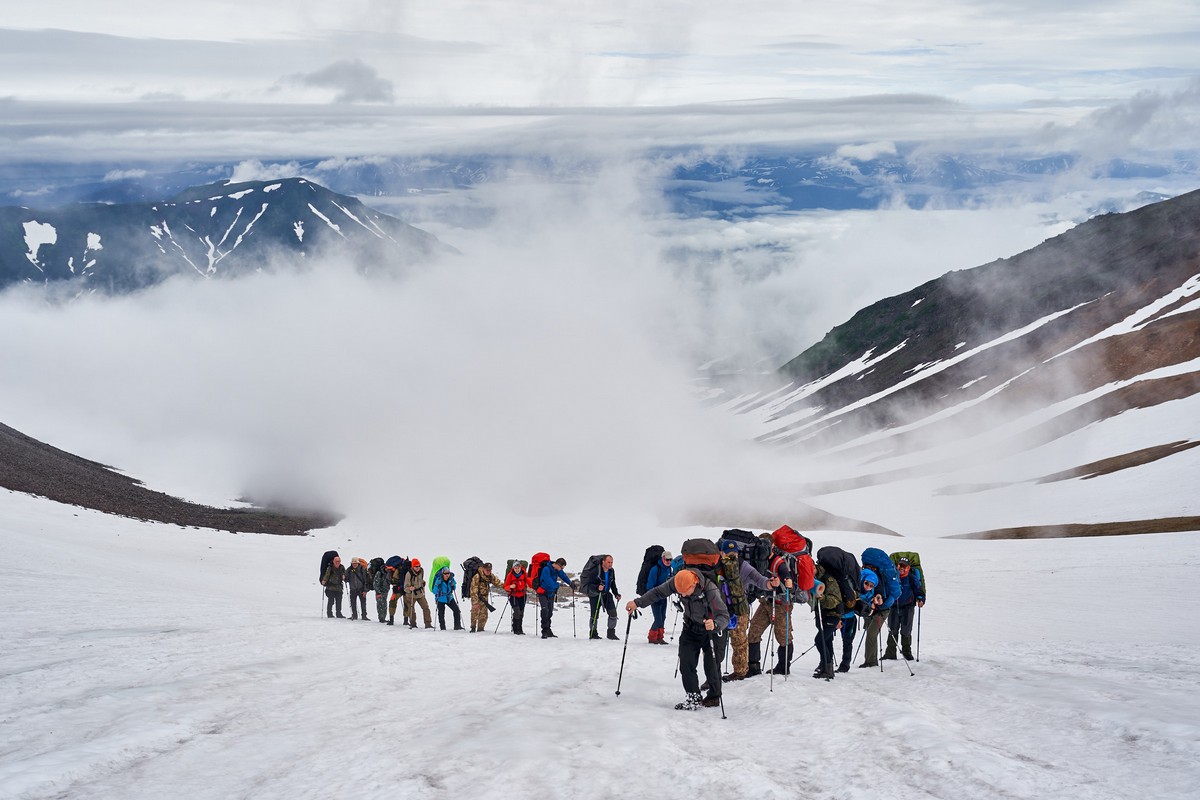 Things were also getting decidedly foggy – at one point so much so we couldn't see a thing. Of course, this brings the comfort level right down, making my definition of happiness given above some distant, unimaginable dream.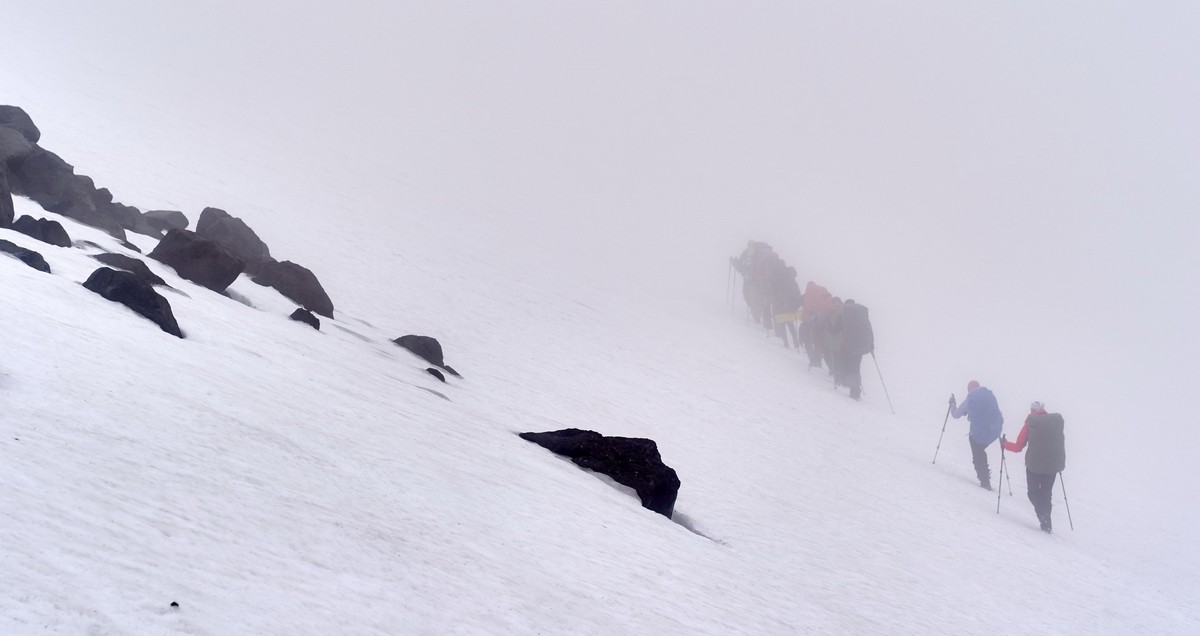 And then it started raining…
And not just a brief shower you can wait for under some trees for a while. No, this was a torrential downpour lasting hours. And we still had quite a way to go, so we couldn't stop. We had to carry on – up loose rocks (and 'squidgy' rocks – which would start to move and turn over as you stepped on them – ugh). And still we could see nothing. Remember the orange rocks? Well that's all they were to us too: memories. They seemed to turn a dull browny color in all the murkiness: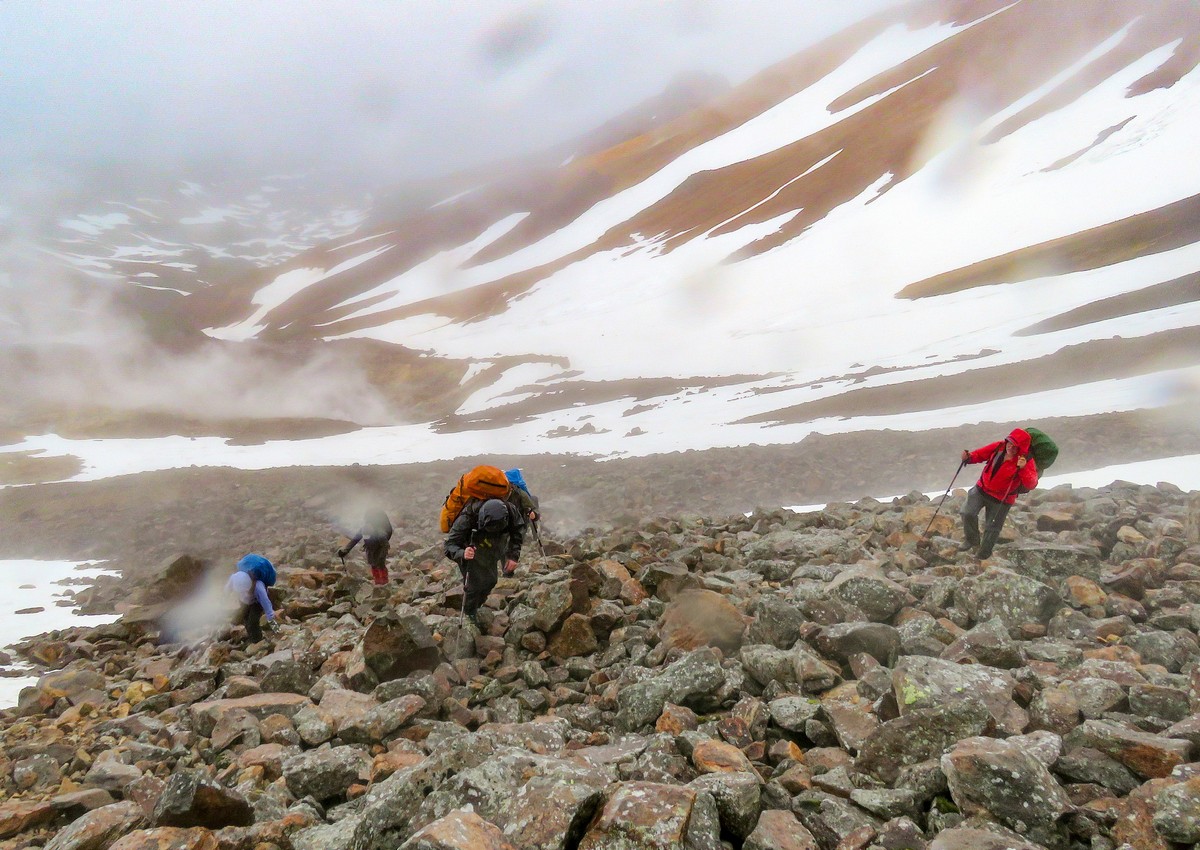 After such an ordeal, every one of us was exhausted. Even our lead guide. Now that's saying something.
Accordingly, it was time for 40 winks for everyone:
Our route that day went like this: we walked/clambered from Pauzhetka to the white waterfalls, then up to the craters of Koshelev volcano, across three passes (over orange rocks), down to the shore of the Sea of Okhotsk, a spot of beach-marching, and we finally came to the little house in the middle of an endless expanse of green, which goes be the name of Priberezhny Ranger Station.
Curiously, Google Maps refers to the ranger station as an 'Emergency Hut'. Thankfully, no emergencies while we were there.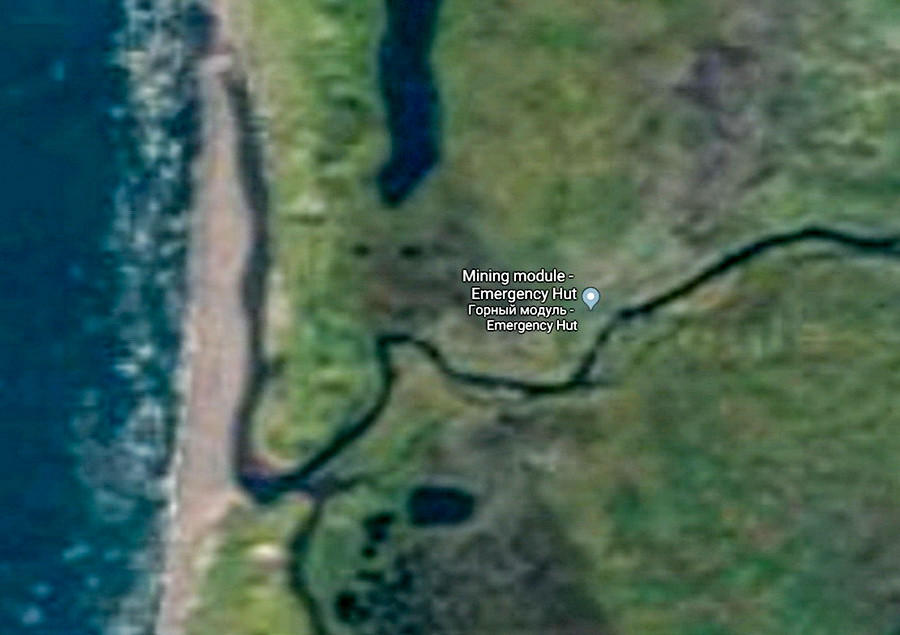 Ranger Hut, or whatever it's called, turned out to be a very welcoming and much appreciated microcosm of civilization after our very long day. The ranger who lives there was most hospitable, the outhouse was in fact a banya (Russian sauna), and in the back was a fine selection of local grass-based moonshine! Oh yes: perfecto!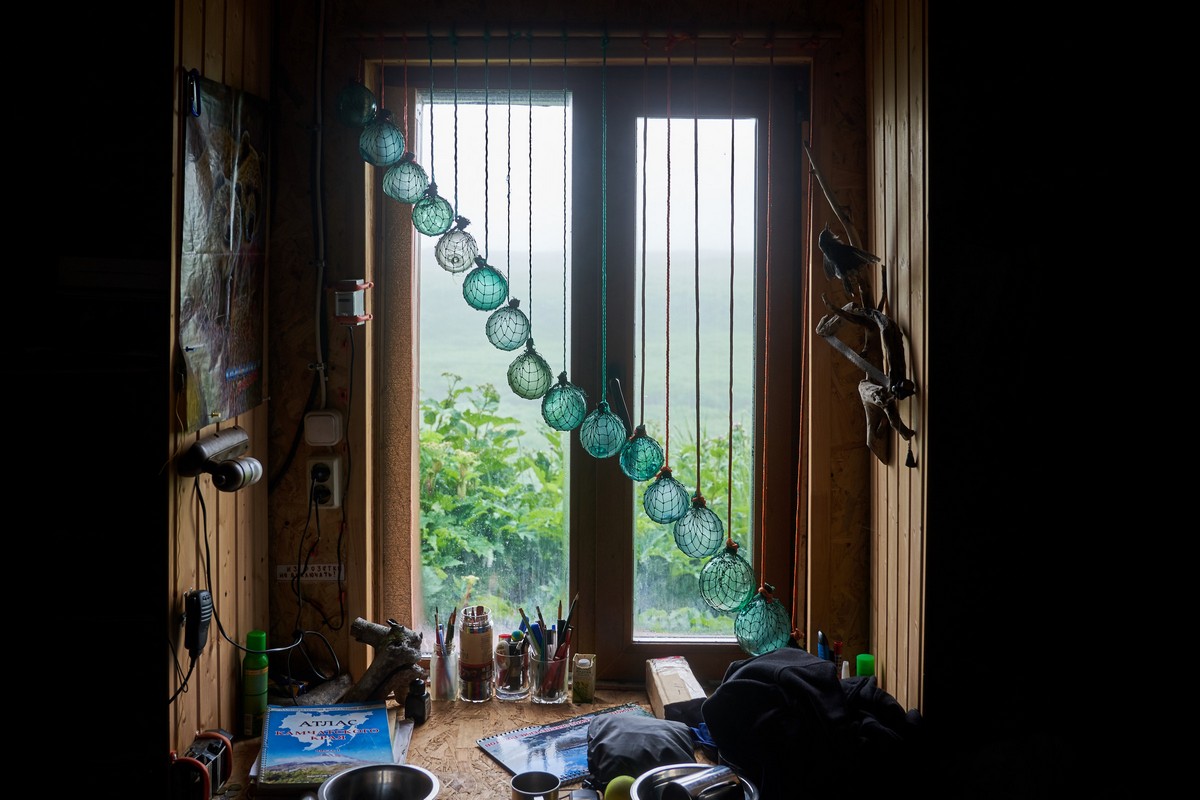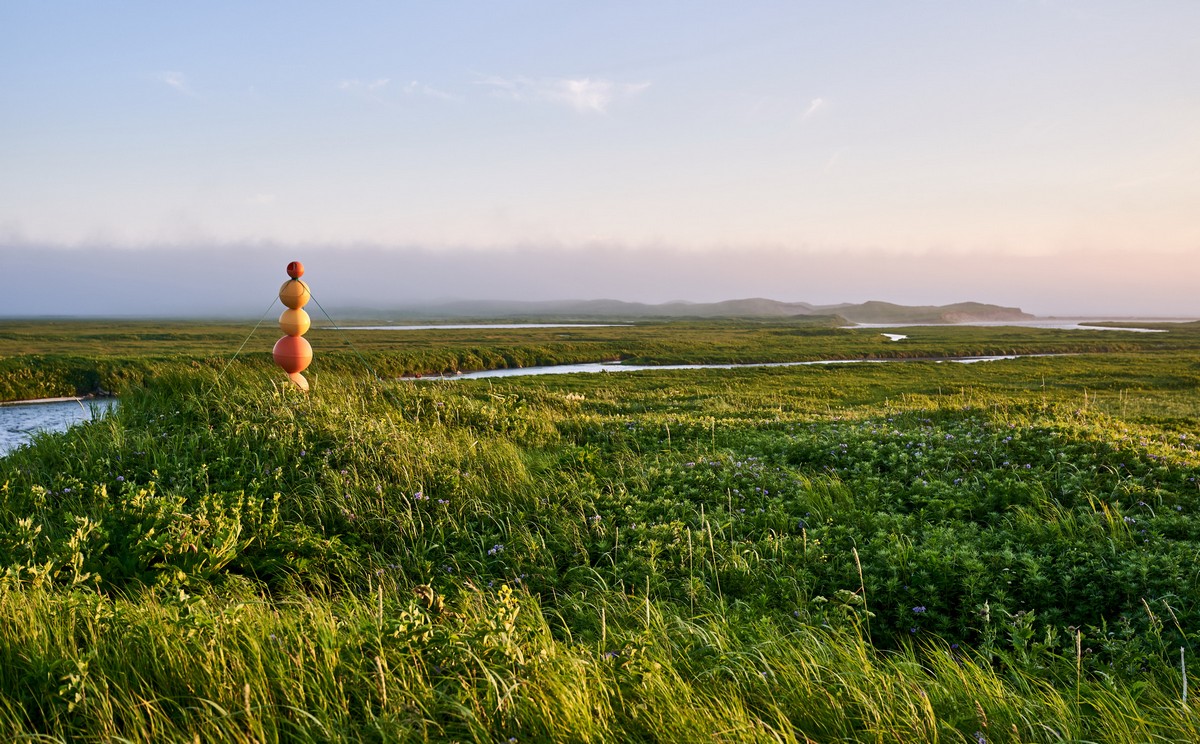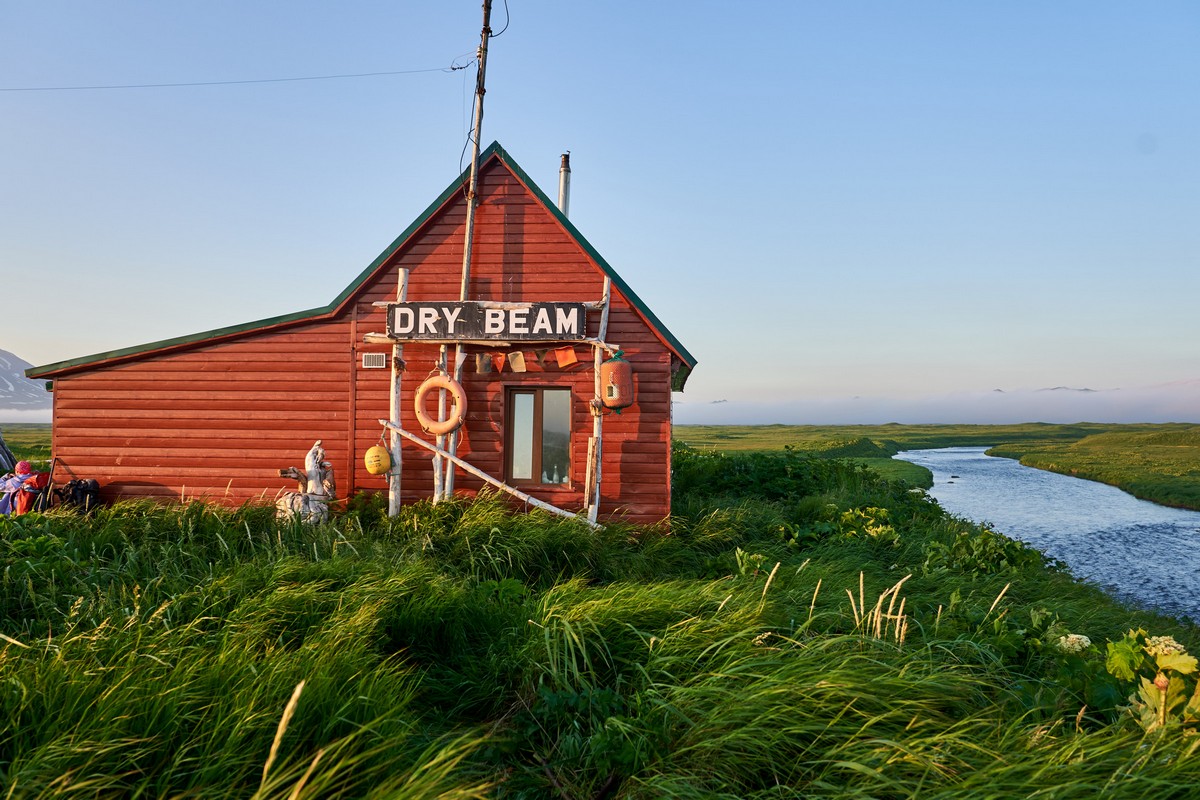 Our lead guide got on the phone – a satellite phone (no mobile coverage here, remember?) – to call back to base to hear the weather forecast for the next two days: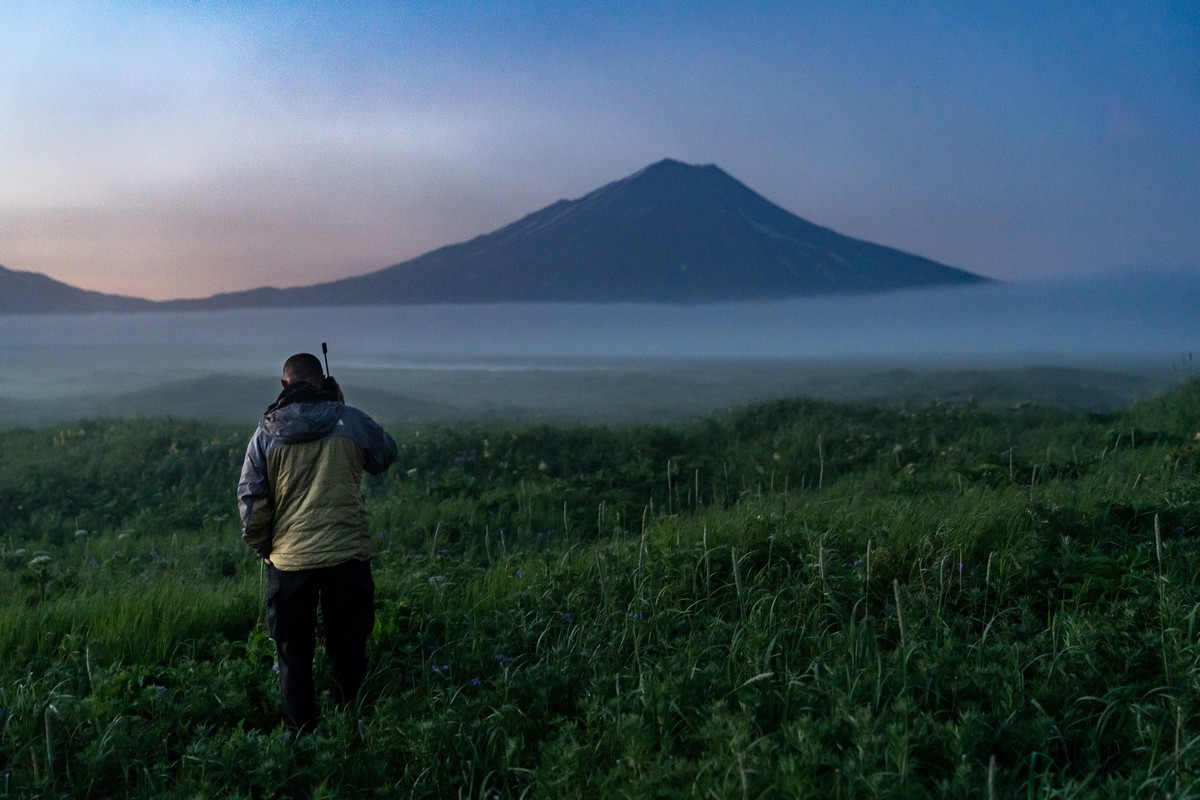 And was told…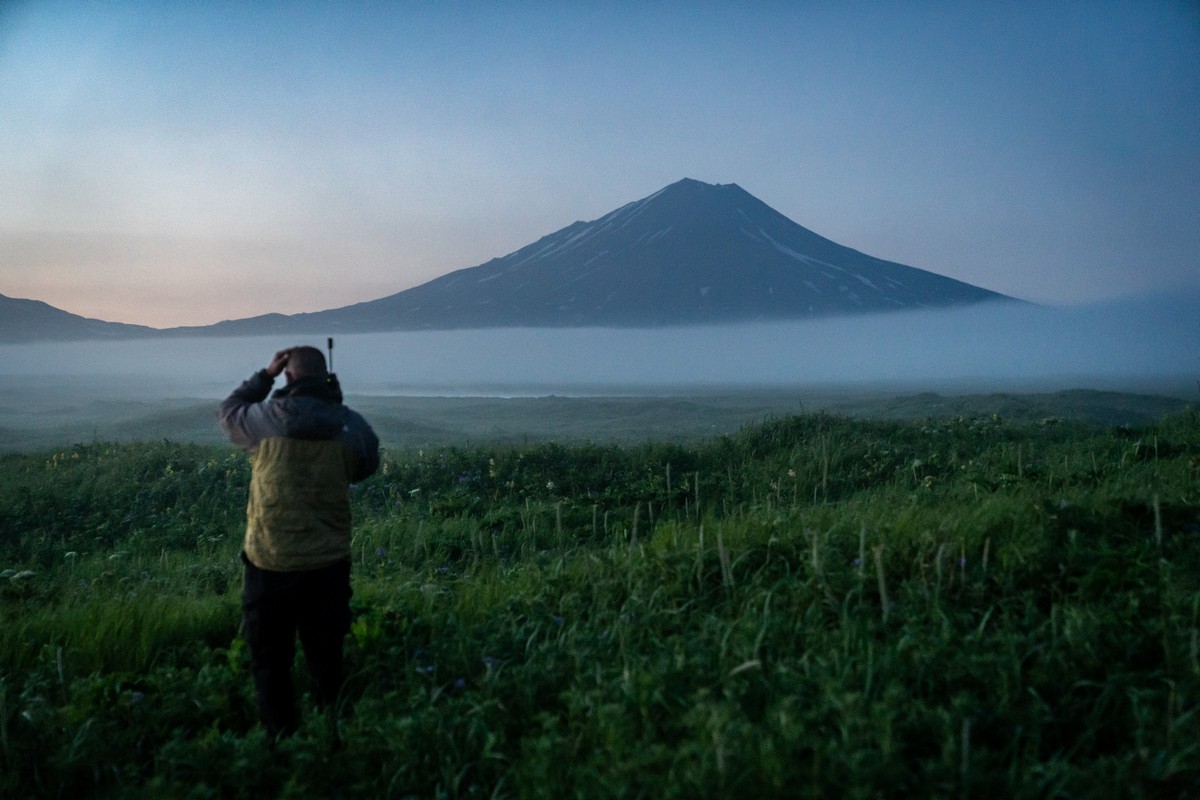 Next day, for starters we were coastal meadow walking. Then we were tundra trekking. Next up were more of those awful bushes-cum-trees we needed to hack through – plus rivers to wade across. We were headed in the direction of Kambalnoe Lake, next to Kambalny volcano.
Kambalnoe Lake (very small, it turned out):
The volcano: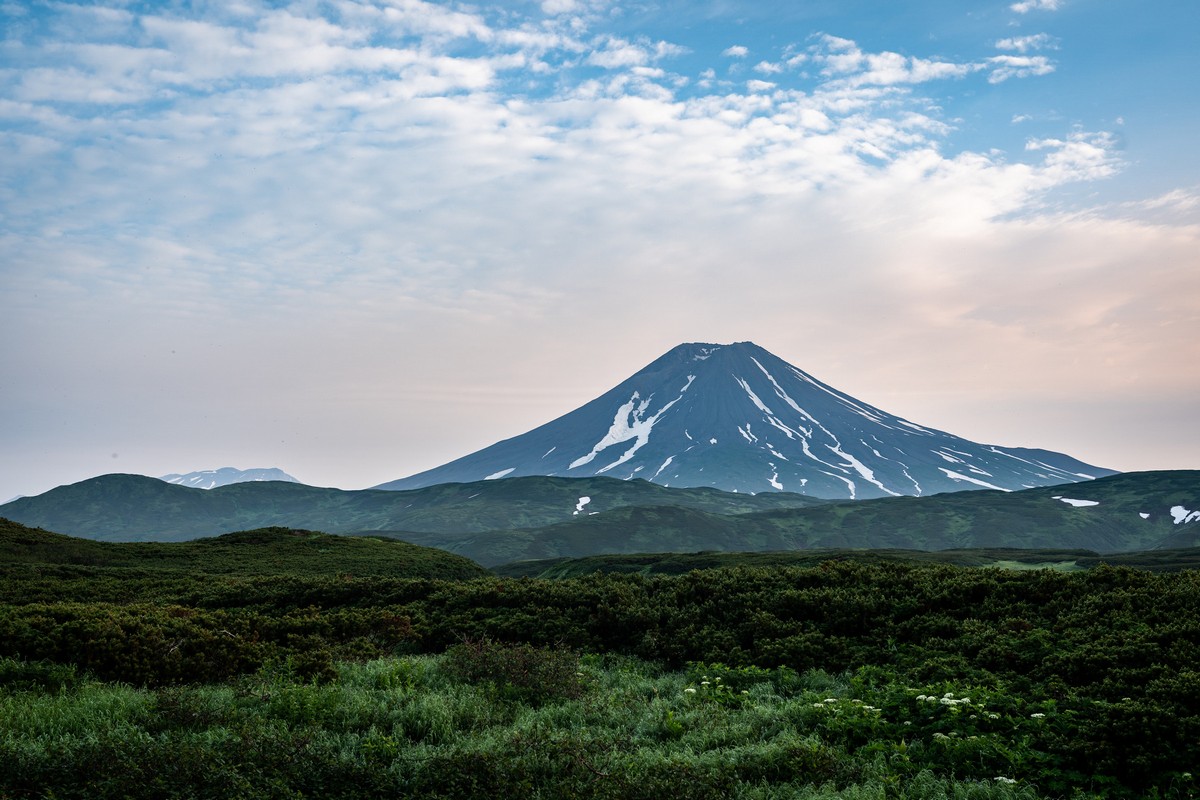 Approaching the volcano: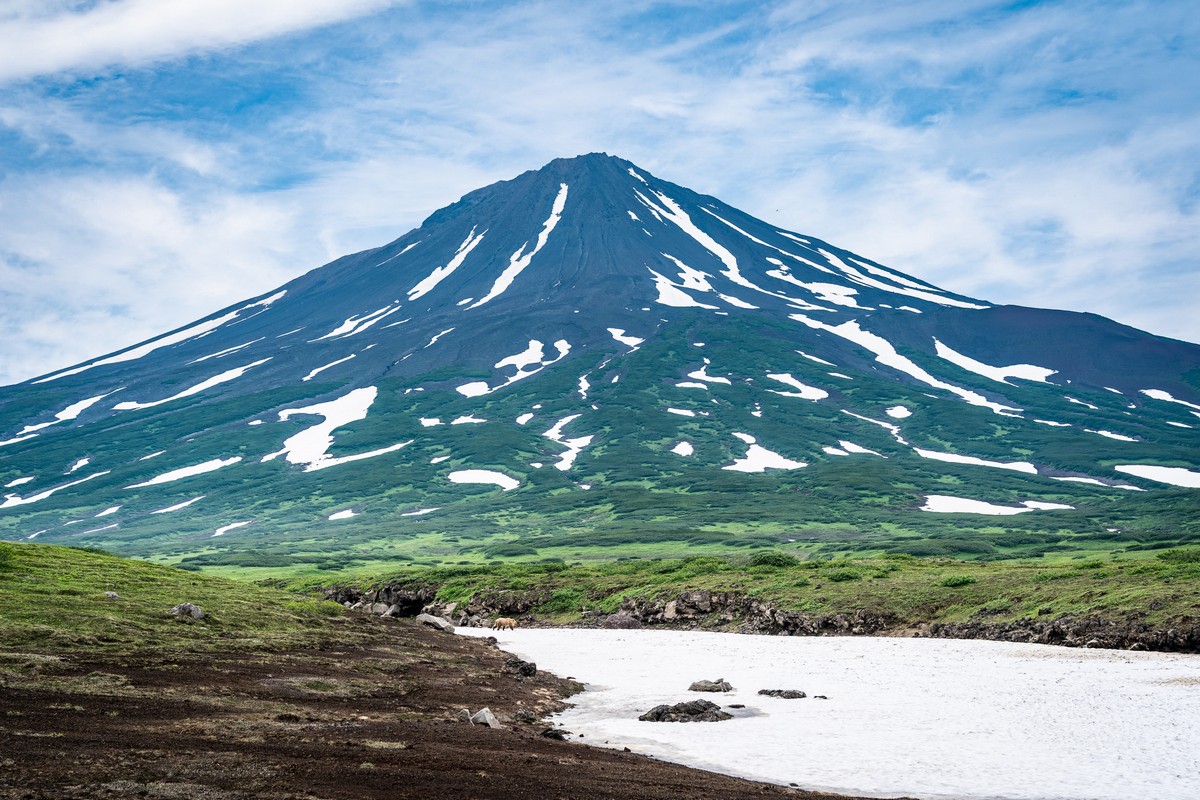 Spot the ball bear!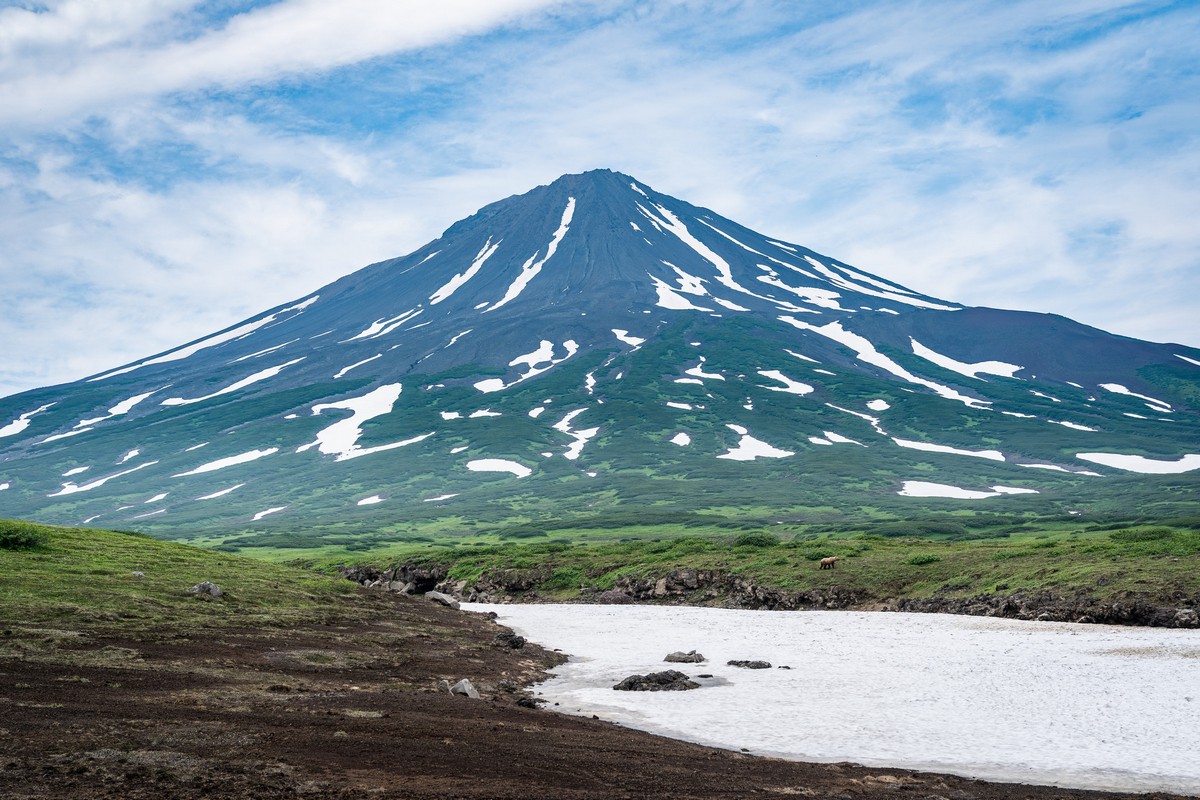 We got about halfway up Kambalny – to the ledge visible in the above pic to the right. Once there, the setting sun lit up the whole surrounding scene, making visible the neighboring Kuril Lake and the peaks of both the Ilinsky and Zheltovsky volcanoes. A beautiful site; a beautiful sight ).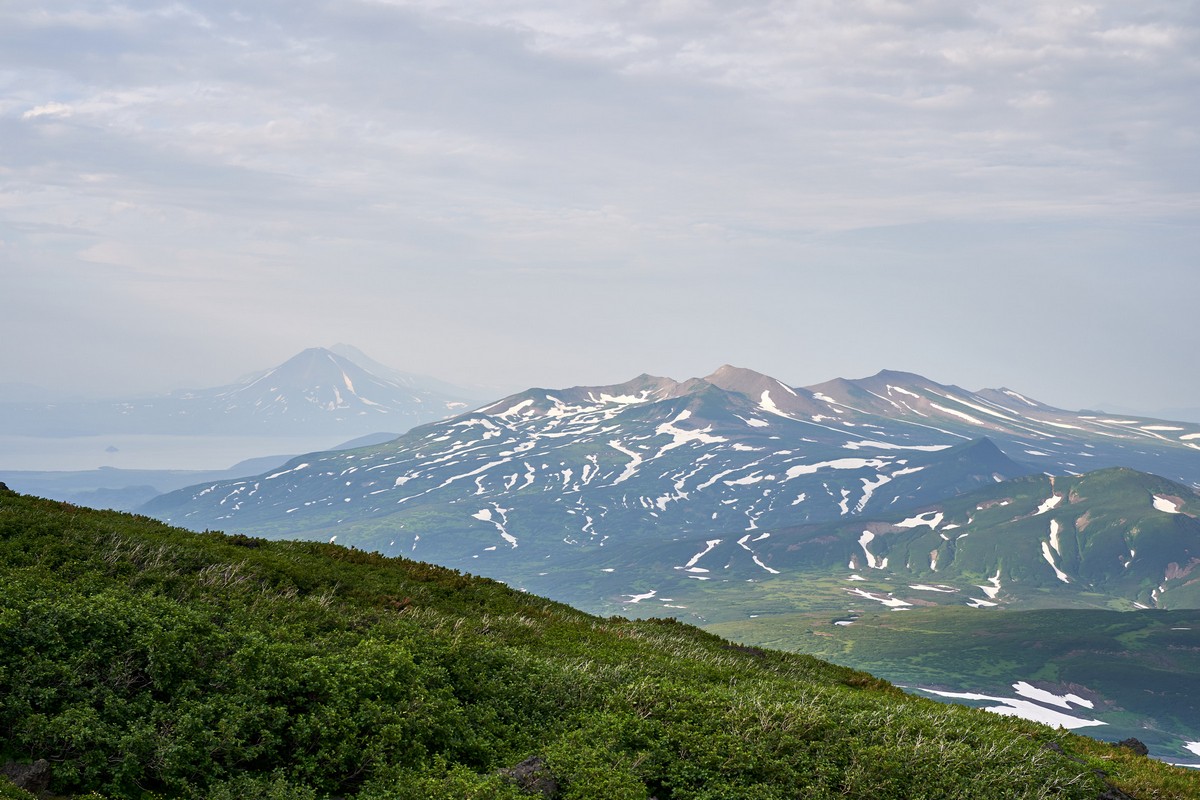 Check out the shadow of our volcano!
All this natural beauty was dizzying. But it was time to bed down for the night. Up go the tents! And up go we to that there peak tomorrow! At least, that was the plan…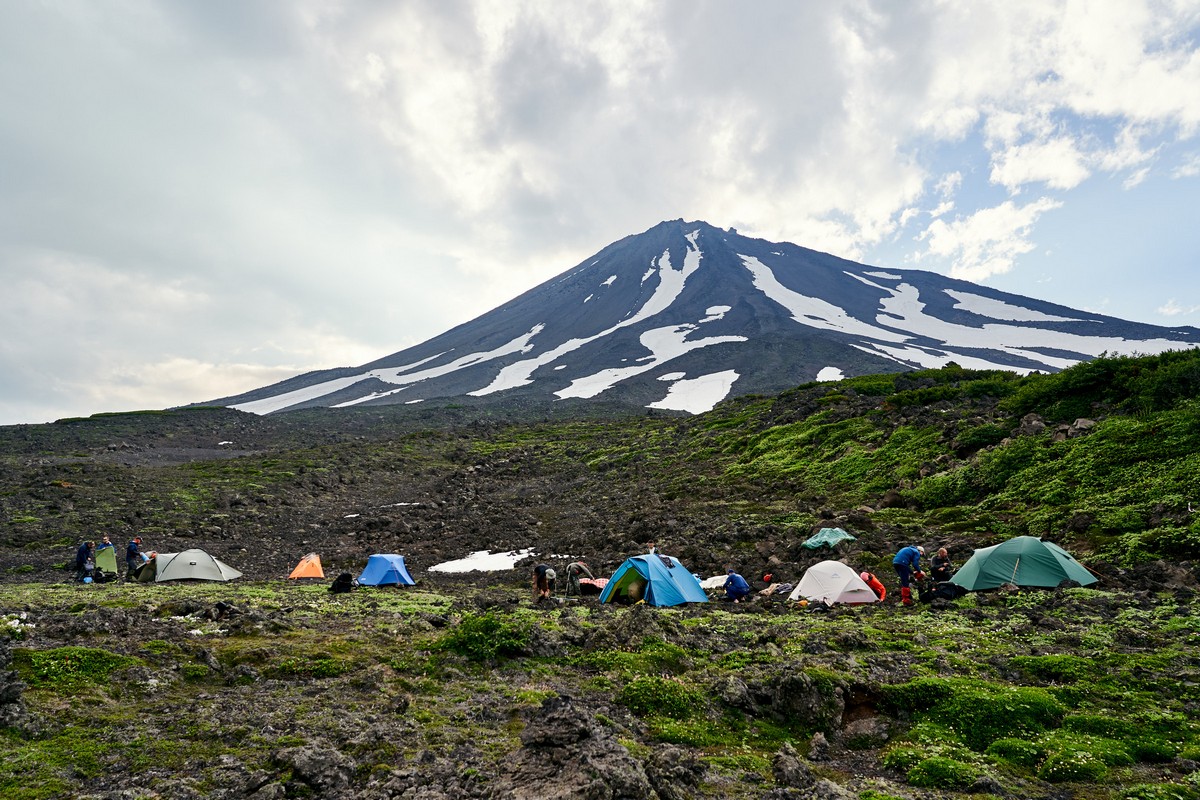 …The next morning the weather had taken a sharp turn for the worse. So much so it made our ascent to the top suicidal impossible. Alas, it'd have to wait for another year (…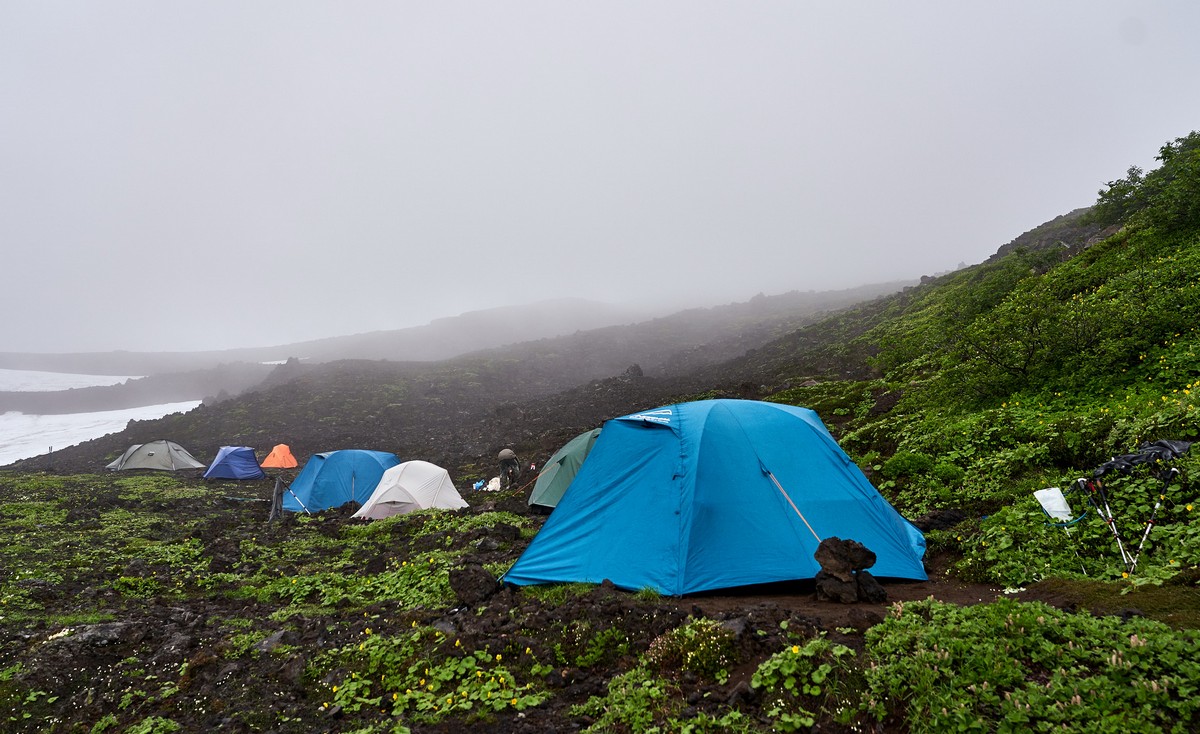 So what were we to do? We could have sat it out, waiting for improvements in the weather conditions, but we could have been there days – and we didn't have sufficient supplies for a couple of days halfway up a remote volcano. So off we popped – back in the direction of Pauzhetka. At least there there were hot baths, mammoth tomatoes, and even a local store…
There are around here some of the most out-of-this-world – Martian – vistas on the planet; I know as I've seen them before. Alas, this day – hardly a peak at them. What a letdown…
More disappointment was yet to come. We came to a patch of snow, I slipped, BANG, and broke my leg! Hospital > plaster > and, for me > home – two weeks early! In a word: bummer.
PS: A few more pics of the Kamchatka-2018 expedition. Here and above the photos are mostly mine, but there are also some taken by A.D., M.L, and S.S. – huge spasibo to all three!
It goes without saying really that we need to get back to Kamchatka. After all, the 2018 expedition wasn't the luckiest – what with the weather then my accident. Never mind: there's a silver lining – we get to go back for sure!
That's all folks! Over and out on the Kamchatka theme.
All the pics from Kamchatka-2018 are here.