Er… oops. In my previous post in this series, I forgot all about Uryupinsk! Accordingly, here's adventure-tourism story of the unique/unusual kind No. 7…
In the fall of the year 2008, we took a business trip to Volgograd to sign official agreements on friendship and cooperation with the Governor of the Volgograd region. After the official part of the proceedings there was a short and friendly meeting, during which I noticed a map on the wall – a map of the region. And since I'm a big fan of examining geographical details on maps, I proceeded to duly scan it. And straight away I noticed the "legendary" (see below) Uryupinsk on it: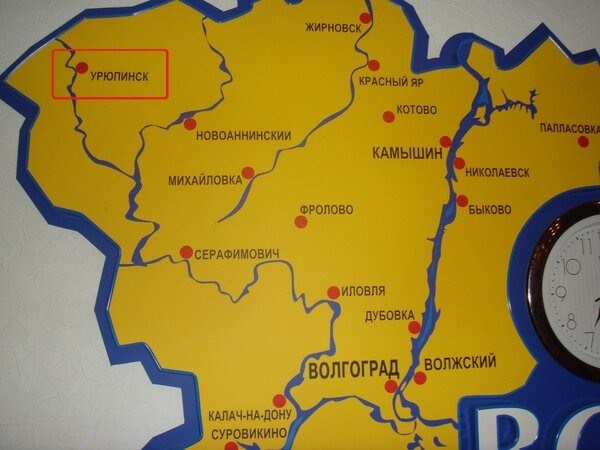 I say "legendary", since, in Russia, the town of Uryupinsk has traditionally been used as a synonym for a bland, provincial backwater; and now, in the digital-era, it's long been an internet meme for much the same thing. I'm not sure I even knew where it was (though, like every other Russian, I knew what it stood for), but here, in the governor's office on the big wall-map, there it was – as large as life!
So, I pipe up with: "Is Uryupinsk yours?", addressing the governor. "Yes, it is ours," he answered. And then, contrary to both common sense and official etiquette, I made a joke. I said that, since Uryupinsk is a well-known internet meme, and we should hold an internet conference there!