How to do time-off in lavish, adventurous style, pt. 2.
Hi folks!
Since in part one we finished up in the Antarctic, let's stay there – remembering fondly our journey to… the South Pole!
It all happened suddenly and wholly unexpectedly, yet it turned out to be one of the most memorable trips of my life. Accordingly, it comes in at No. 3 in this here list of mine highlighting my most unusual, unique and unbelievably amazing touristic adventures from the awesome side…
No. 3: the South Pole
Briefly about this trip – here; in depth about this trip – here. Today though – a summary, plus few pieces of crucial photographic evidence… ) ->
First up – selfie, using the actual (ceremonial) South Pole to get our reflection in! ->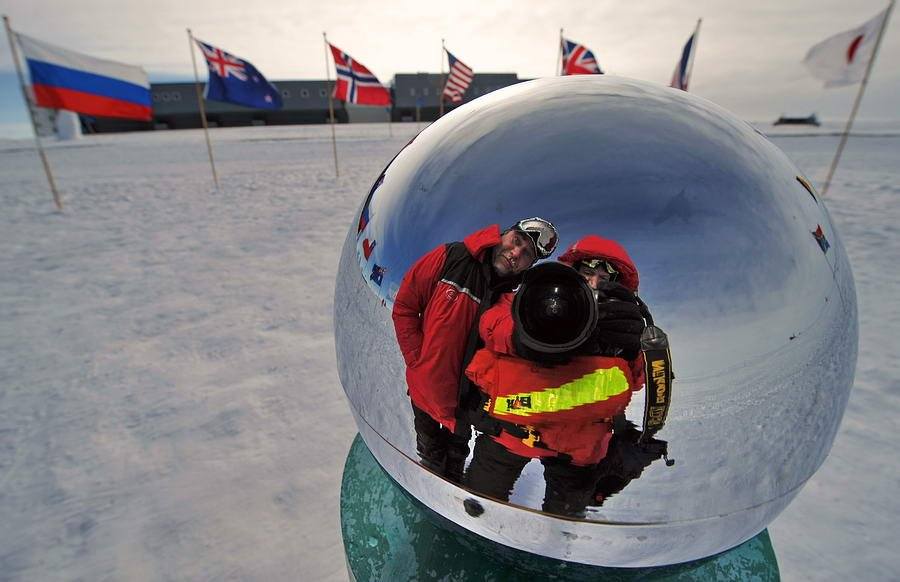 The more cynically/critically-minded among you, dear readers, could be forgiven for thinking something along the lines of: "South Pole? Sure – cool, but hardly super-exclusive/awesome, and actually costing something like the price of a small car". And I'd have to agree; however, our expedition to the South Pole was uniquely unusual…
It all started when a fearless, ambitious and energetic Brit brought together a group of like-minded adventurous women who decided to ski from the shore of Antarctica all the way to the Amundsen–Scott South Pole Station. All the ladies were set, trained-up, equipped-up and raring to go, but they were lacking one not insignificant ingredient for the expedition to get underway – a sponsor that would support this [bonkers] undertaking :)…
And what do you do when you need a sponsor? Start (cold) calling round potential candidates, of course. So the team did just that…
One of them – a Singaporean – was one of our users, and she called our tech-support, but instead of seeking the solution to an anti-virus trouble-shooting issue, she sought… sponsorship, of course! And instead of ignoring this bizarre, unfitting enquiry out of hand, the tech-support guy passed it upstairs to his superiors, who passed it up to theirs, and up and up until it reached Harry Cheung, our then-APAC-regional-director (who's since founded the startup Ipification). And the rest, as they say, is history…
We became the general sponsor of the Kaspersky Commonwealth Antarctic Expedition, which saw eight brave women ski 900 kilometers fully autonomously to the South Pole. And it goes without saying – they made it! Later, the expedition's leader, the above-mentioned ambitiously energetic Brit Felicity Aston, wrote (and had published) a book all about it.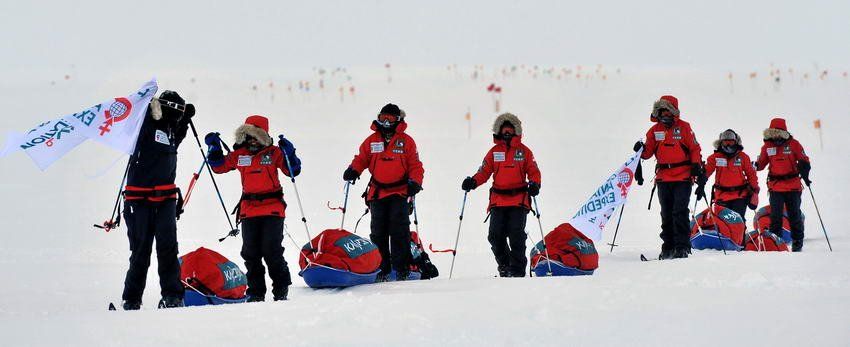 But where do I fit in with the ladies' expedition?…
Well, back in Moscow, discussing this crazy (to our minds) idea, we realized that, if all went to plan, the ladies would reach the South Pole just before New Year. And then it came to me: "Stop! How about we get on down there to meet the intrepid skiers as they arrive at the Pole – flowers and champagne in hand?!" And that was that – everyone agreed that's just what we should do. What's more, we decided taking some journalists with us would mark the special occasion all the better!
So six of us headed set off for Antarctica – Harry Cheung, Aleks Gostev (expert in both cybersecurity and sub-zero mountain trekking), moi, plus three photo-video journalists (from Izvestia (Alexander Blotnitsky – the photos here are his, btw), the Associated Press, and Agence France-Presse).
To cut a long story short, it all worked out to plan: we flew to the South Pole – arriving on New Year's Eve just before midnight (Moscow time), and were there waiting for the ladies as they arrived. We celebrated the occasion triumphantly, then flew with the skiers home. Alas – Antarctic temperatures sit well with neither champagne nor fresh flowers. Accordingly – slight change: vodka (doesn't freeze) + a plastic Christmas tree (around which a ritual dance was performed): perfect!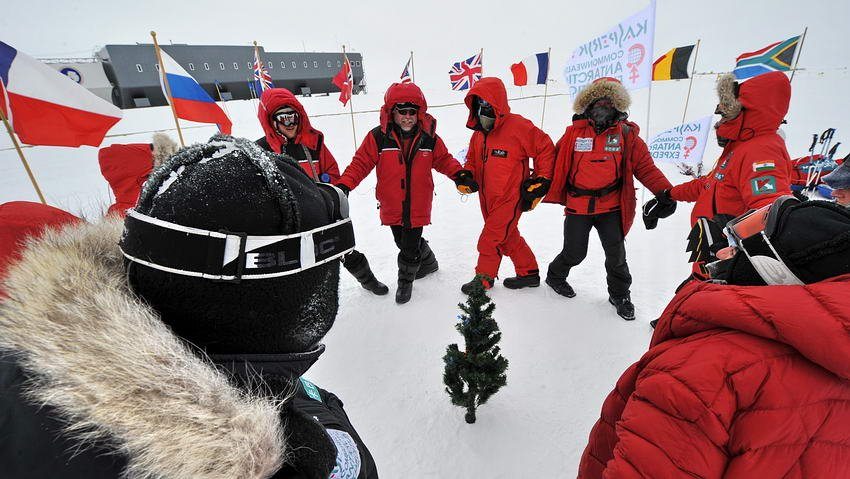 And here we (practically) all are – at the ceremonial Pole: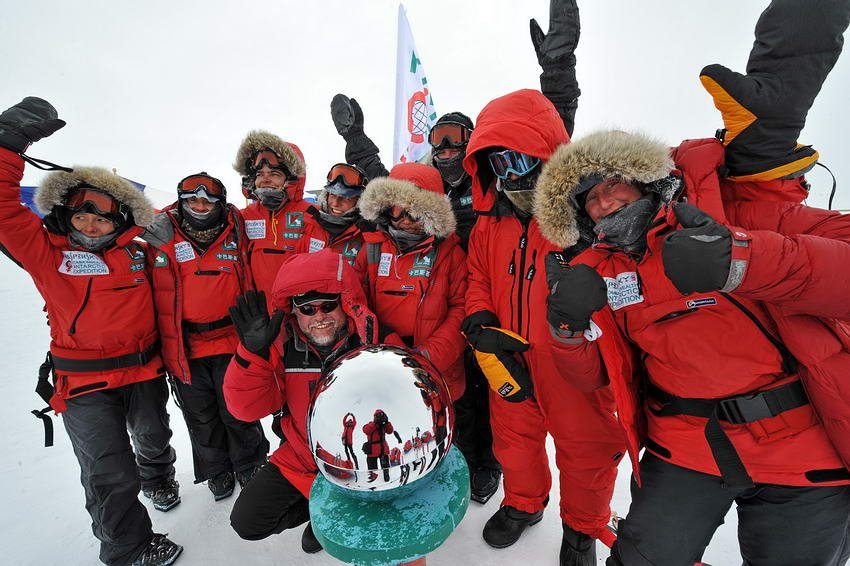 And here we are at last year's (third!) South Pole: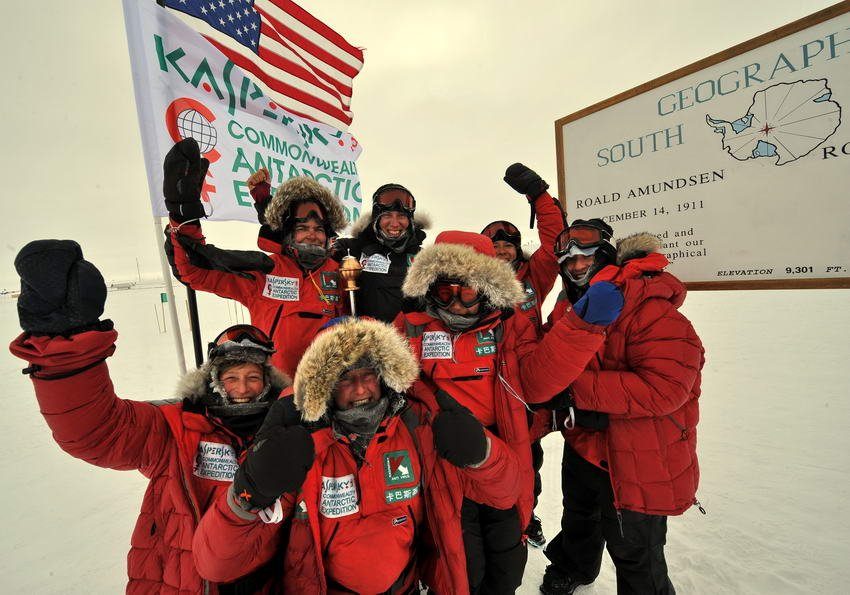 Btw – there are normally two South Poles: the original ceremonial one – placed there in 1911; and the current, actual (true) South Pole, which is repositioned every year (the Earth's axis moves somewhat from year to year, as does the glacier on which the Pole's placed). A third South Pole exists on New Year's Day every year – last year's Pole, which hasn't been removed yet!
In all – a wonderfully unusual outing. Again – for more (briefly), go here, and in depth – here.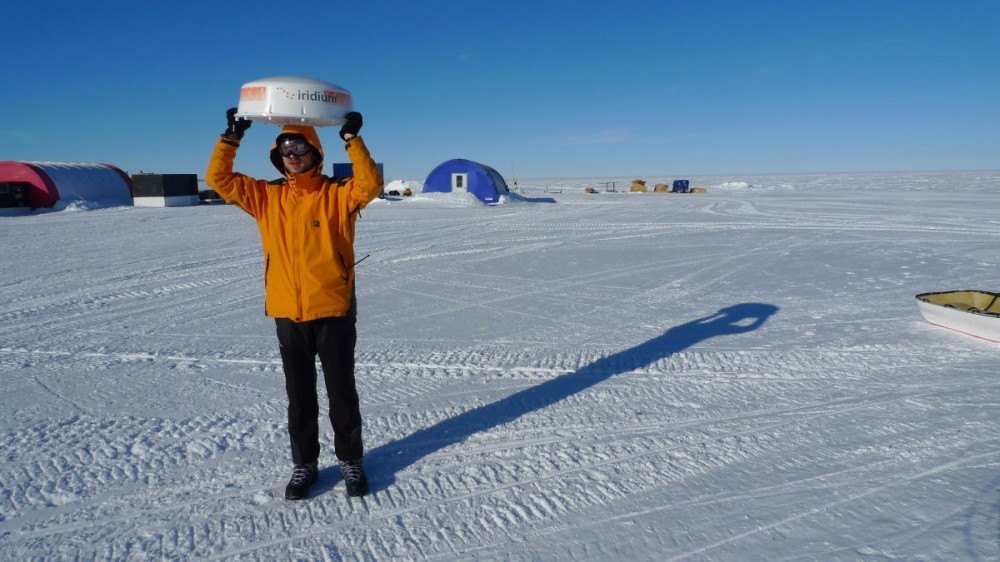 The above pic was taken (on the 80th parallel south)… in the middle of the night! The only way night differs from day here at this time of year is in the length of shadows – that is, if the sun is shining (which is rare).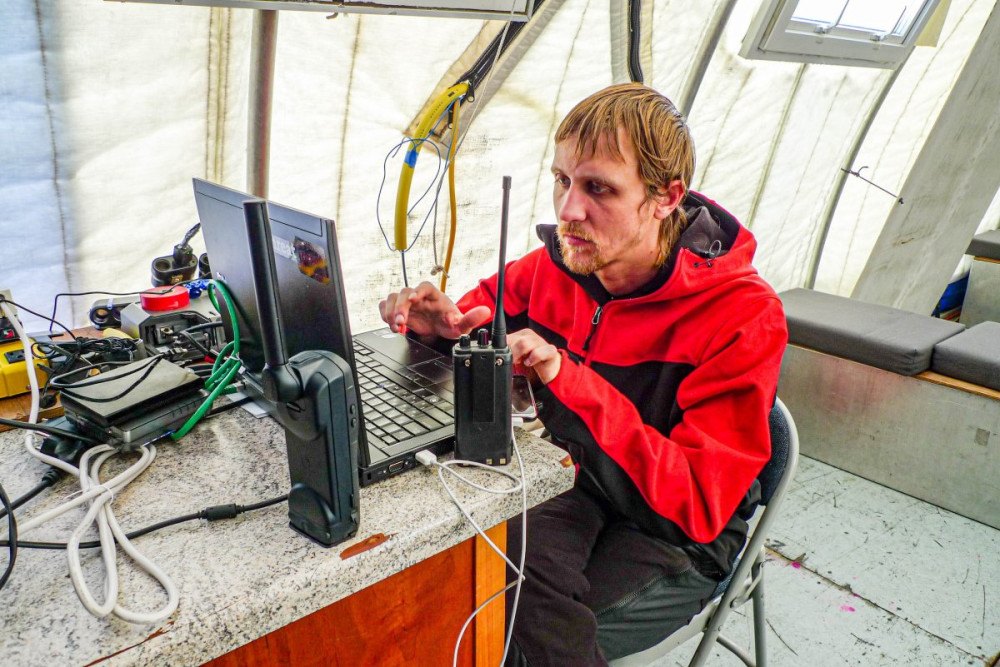 The above pic shows Aleks at the controls attempting to send a whopping 300 TB GB MB (!) of data from Antarctica back home. That's how many megabytes of photos the journalists had taken, compressed, and needed to send home via our Iridium satellite link – fast! But it wasn't easy…
We kept trying to get the positioning of the unit right (a bit like moving a TV antenna 20+ years ago) – but kept failing…
In the end I managed to bat out "delay.com" in machine code (we had no compiler), and… it worked! Apparently we were the first to send such (then-) prodigious amounts of commercial data from Antarctica! But the process was a long and arduous one…
An abandoned Chilean Antarctic base: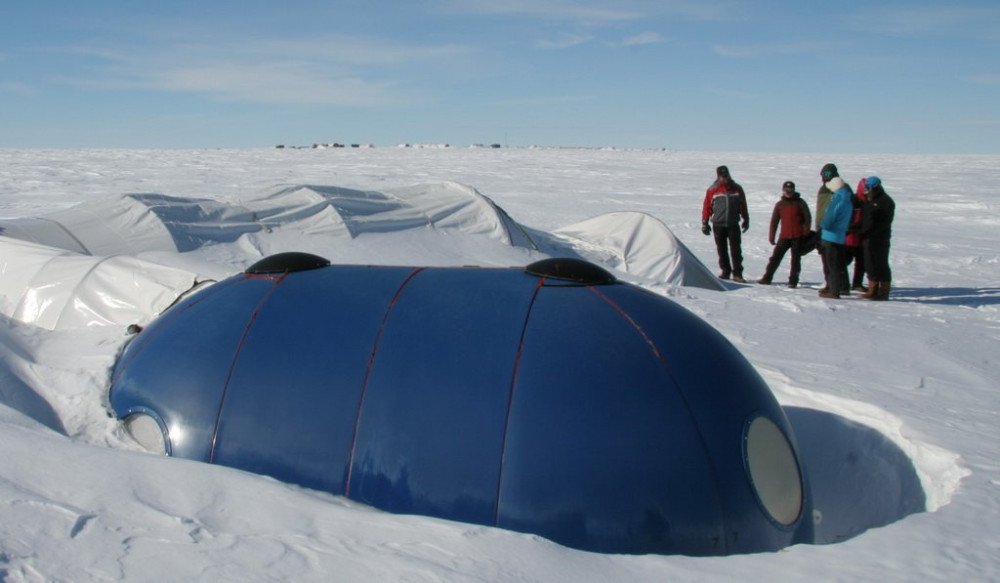 South Pole – done. North Pole – next, naturally!…
No. 4 – the North Pole
Again under the leadership and guidance of Felicity Aston, again a team of brave women from all over the world – again skiing across snow and ice, but this time (in 2018) to the North Pole! This expedition was shorter and easier, but it's still skiing to the North Pole – not something for everyone…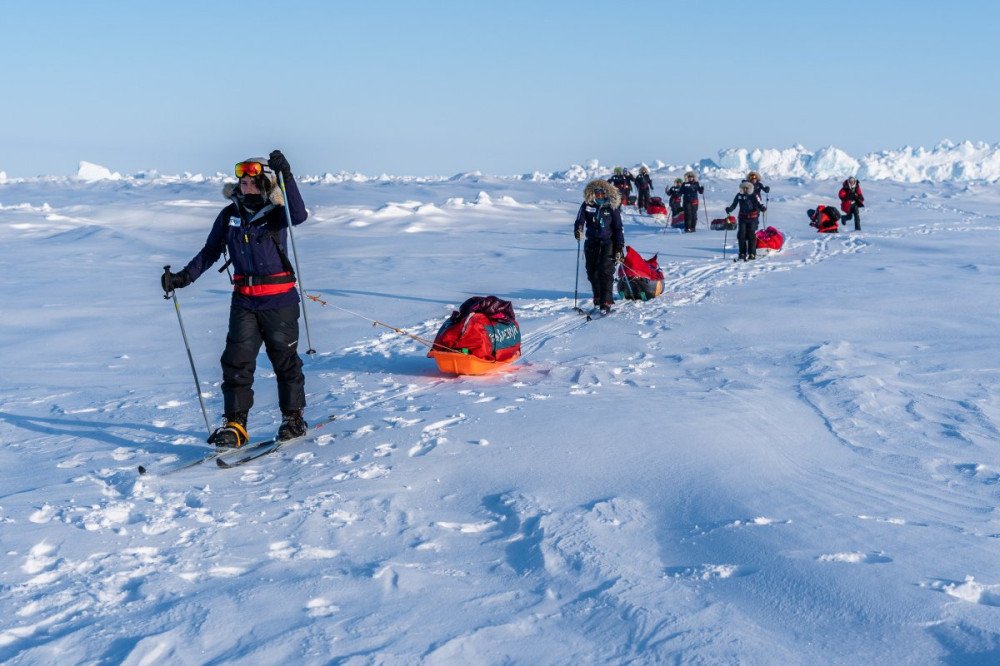 And besides, for some of the women – from Arabiс countries – this was to be the first time they'd seen snow!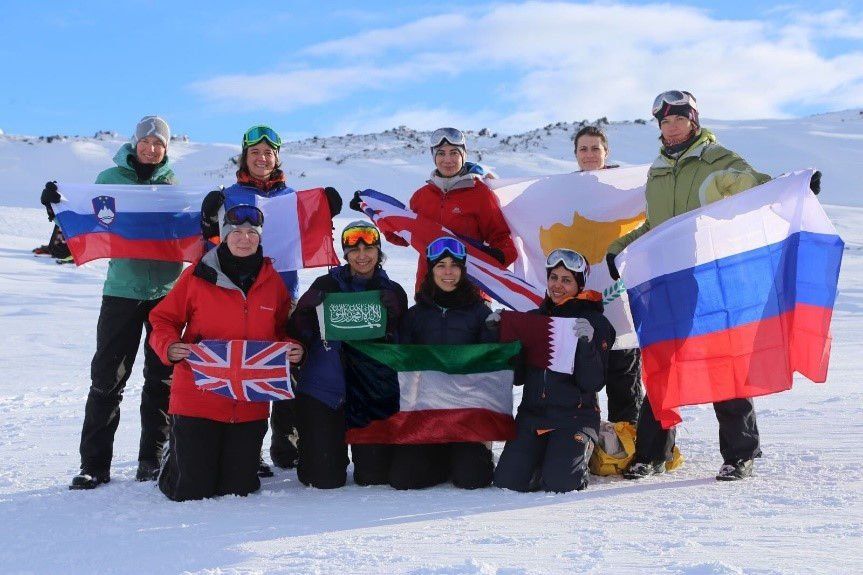 // In the photo there are nine, but there were 11 – honest!
And as for me? Pretty much like with the South Pole (minus the Christmas tree) – I flew in, met the ladies at the Pole, then flew them all back home. This is turning into a tradition!…
There are plenty of interesting tales from this trip – starting here and here.
To be continued!…