The Woman Who Single-Handedly Conquered Antarctica.
She has made it!!!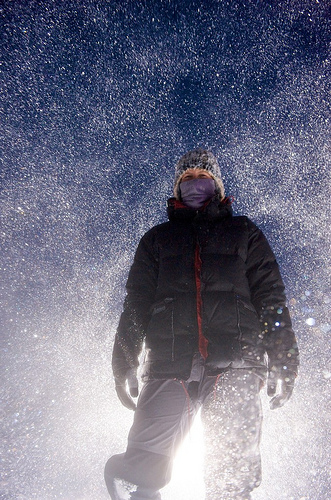 'She' is the intrepid polar skier and explorer Felicity Aston, 33, from Kent, England. And they don't come more intrepid or polar than Felicity! In 2009 she was the leader of and inspiration behind a 900km Antarctic expedition by a group of women (which we were more than happy to support). You can find out more about that expedition here.
In November of last year she set off once again on a pair of skis, but this time she was alone and her journey was not just to the South Pole but right across the Antarctic, from coast to coast – a solo Transantarctic expedition via the South Pole. Once again, we helped out emotionally and financially.
Here are Felicity's social network pages at Facebook and Twitter as well as an interesting video about her preparations.
Why did we sponsor this completely crazy and extremely risky project? First of all, we know Felicity very well from New Year's Day 2010 which we celebrated together at the Patriot Hills base in Antarctica. Secondly, she presented us with a difficult choice – basically, "I'm going to do it whether you support me or not". And, of course, we were worried about her…1700 km and two months all alone on a pair of skis in a frozen wasteland without any seagulls, penguins or polar bears to keep her company – they don't even exist there.
From "door to door" Felicity covered 1744 km in 59 days, or almost 30 km a day! She tweeted regularly along the way and communicated with her logistical operators via satellite phone at set points. This is how it all unfolded: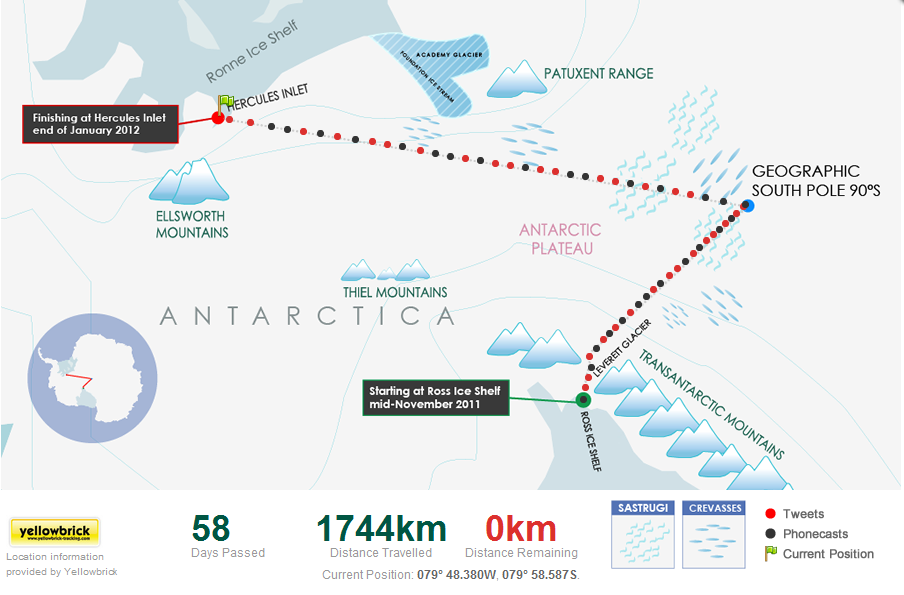 Read more about it on her Twitter account. It wasn't all plain skiing…At first the expedition couldn't set off. She had to sit around in Punta Arenas waiting for the weather to clear before she could fly to the Antarctic (we experienced the same problem back in 2009). Then the first stage of the route was tough going, which was only to be expected – she had to get used to some very grueling conditions, including being completely on her own as well as the hardships of Antarctic life. The South Pole brought a little light relief and contact with people. But after briefly recharging her batteries she was off again. The second stage, however, went very quickly. And just a few days ago I got a text message (via Iridium): "I did it! I just arrived at the coast having crossed Antarctica! Wanted to let you know myself."
I'm glad everything was a success. In February I'll get to congratulate her personally in London!
Here are a few photos from this expedition and the previous one.
//If the truth be known, I didn't write anything about this expedition in my blog because I was just too worried for her. Well, I didn't put the kiss of death on the project… I can now relax and have a drink…or two!