Nearly two weeks crossing Tibet – along a route we won't forget.
Hi folks!
As you'll have guessed from the title of this post, I recently – a mere few months since my previous mega-expedition! – had a vacation in Tibet…
Spoiler alert! It was awesome!
…But don't feel I've spoiled things for you now you know the ending: there are a lot of words and – as per tradition – a lot of pics and vids coming up in a series on this oh-my-Gimalaya trip!
Ok, first, let me give you an overview of our itinerary of the trip – the where, when, how far, and what we saw – broken down into days (with altitudes noted too!)…
Where: This will come as no surprise – Tibet.
When: 7–17 October. This is straight after the National Day of the People's Republic of China, an ideal time to come as there are a lot less folks around (just don't tell anyone [sic]!). Plus tag on a day or three to cover flying in and flying out, which makes about two weeks. Out of those, 11 days were full to the brim with tourism activities, and saw us cover almost the whole of southern Tibet along the base of the Himalayas from east to west – 2000km in all (route map).
We arrived in Lhasa on the train along the world's highest railroad, and we flew out of western Tibet from one of the world's highest airports – Ngari Gunsa Airport:
Now for a bit more detail about the route, breaking it down into the separate days of the journey – in case any of you, dear readers, might one day fancy following this heroic up-tempo march across the vast mountainous terrain of Tibet. First though – a few things I should mention that need to be taken into account.
Thing No. 1: Place names. The names of historical and geographical places is, as we say in Russia – porridge. First of all it seems different names for one and the same place in different languages are used interchangeably – at a minimum in Tibetan and Chinese, but also maybe in English and others. For some place names it's simple when they're similar (for example, Lhasa and Lasa), but when you delve deeper into the country, that's where you get the lumpy porridge. For example, everyone calls the village next to Mount Kailash Darchen, but on Google Maps it's marked Bagaxiang, from the Chinese! While the same mountain – Mount Kailash (the most sacred mountain for Buddhists) – is given as Kangrinboqe Peak. Eh?!
Or, the final city on our route is sometimes referred to as Ngari Prefecture; other times, by others – Seng-ge Kambab! Meanwhile, its airport refers to itself as Ali Kunsa Airport! And it's like this everywhere. Accordingly – be prepared!
Thing No. 2: Altitude sickness. I've talked about this plenty before, but in Tibet – a country that is practically all high mountains – you need to take it even more seriously. Btw: to get the full picture, I'll be giving the heights we were at above sea level on each day.
All righty. Here's our journey:
Day 0-1: The train from Xining to Lhasa. On the evening of Day 0 – we board the train. Come the evening of Day 2 – we exited the train in Lhasa.
Heights: 2300m (Xining); 5072m (on the train); 3600m (Lhasa).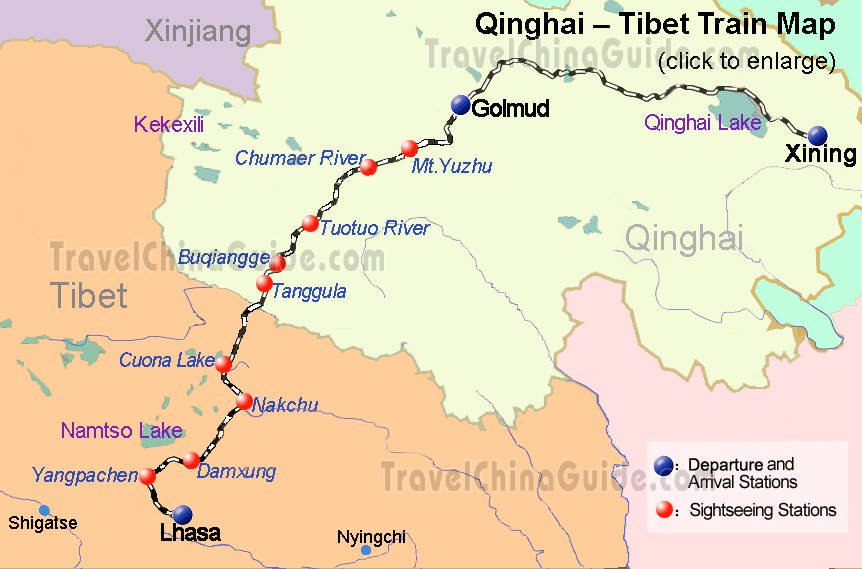 Day 2: Lhasa (3600): Potala Palace, aka (especially on maps) Sera Monastery, and Jokhang Temple.
We wanted to get into the Drepung Monastery, but we didn't have time to fit it into our single day here. The local tour agency messed up and didn't tell us. Be very careful with local tour agencies – double check everything yourself. For us this was not an isolated mess-up.
Day 3: Lhasa to Shigatse. Across Yamdrok Lake, past Karola Glacier, and a quick look at Kumbum Monastery in the city of Gyantse – or Jiangzizhen!
Heights: 3600m (Lhasa); 5000m+ a few times en route (a couple half-hour walks a must); 3800m (Shigatsa; sleep).
Day 4: In Shigatse – inspection of the residency of the Panchen Lamas – Tashi Lhunpo Monastery, and from there – to the base camp of Mount Everest!
Heights: 3800m; 5200m (en route); 5000m+ (guesthouse with a view of Mount Everest).
Days 5-6: Everest (the town of Saga) to the village of Darchen (at Mount Kailas). Overnight we stayed in a small hotel.
Heights: 5000m – 4500m – 4600m.
Days 7-9: Encrustation around Mount Kailas.
Heights: 4600m; 5000m+ (overnight stop); 5700m (en route); 4800m (overnight stay); 4600 (Darchen, by Manasarovar Lake, aka Mapam Yumtso!
Day 10: Darchen to Tholing/Zanda, where there are the ruins of Guge Kingdom set in a mountain.
Height: 3700m (the first time in six days we went below 4000m!).
Day 11: to Ngari/Seng-ge Kambab, from where we flew home; rather – onward somewhere to work.
Heights: 4500 (Ngari); 4270m – airport.
That's all for today folks, but you… can bet I'll be back soon with more from Tibet!… This will be top-drawer – for sure :-)…