Tibetan autumn: oh-my-awesome!
Tashi Delek (བཀྲ་ཤིས་བདེ་ལགས།།) folks!
Well, I've given you an overview of our Tibetan expedition route. Oops, and I appear to have given you a few Tibet on-the-road daily reports too. So now let me back up a bit, and give you a few words – and a lot of pics – from our initial train ride into Tibet: from Xining to Lhasa.
We were, as it happened, not far from Tibet, so no plane needed: we took the train instead. Well why not? After all, Chinese railroads are among the most advanced – and fast – in the world. Also, we were to take the Qinghai–Tibet railway, which is the highest in the world that carries scheduled passenger trains. But we had to take it easy – slowly – since Tibet is one really high autonomous region: its main city is 3600m above sea level, while much of the rest of the region's populated centers are about 4000 meters. Accordingly, we took it steady so as not to suffer from altitude sickness, which I've talked about before. Accordingly, the first day of our Tibetan was completely rail-based: hurray! Why hurray? You'll see…)
1000km along a high-altitude Tibetan railroad was pure heaven. Sat in our compartments, transfixed by the paysages passing by, to the clackety-clack rhythm of the wheels running over the tracks' joints… oh my goody! The occasional whistle from the locomotive, the occasional perplexing shouting (in Chinese) of the stewardesses, the occasional stops at remote stations with meeters-and-greeters and drop-off'ers on the platforms, the occasional constant… specific long-haul train carriage smells… See – heaven!
High-altitude desert scenes…
Since it's so mountainous round here the railroad relies on plenty of long bridges and viaducts. Of course, being on the train itself, I couldn't take pics of any from the side; but I did catch the train's shadow:
Along almost the full length of the route there's fencing, and in many places walls to protect the railroad against sand and the wind.
From what I saw, the railroad is exclusively single-track. Therefore, occasionally there are sidings used for the trains to pass one another.
And there's always a highway running parallel along the railroad:
Mountains in the distance…
Higher and higher we go as we travel deeper into Tibet. At around 5000 meters above sea level generally there's snow on the ground:
Also at 5000 meters above sea level – stations!
Meanwhile, we have a stint in the corridor to check out the vistas on the other side of the train:
Brief rewind: the above, you'll notice, are exclusively Tibet pics. We decided to miss out a first long leg of train travel across China from Beijing or Shanghai as that would have added a day to our journey, which we didn't have. So we took a scheduled flight from Chendu to Xining, which is much nearer Tibet. And while in this city, of course… walkabout! ->
After our brief stroll – it was over to the typically-modest-for-China train station to hop onto the Shanghai–Lhasa express that was passing through…
Now – technical data!
(i) We got the logistics just right for getting to Lhasa. We caught the train that came from Shanghai in the evening in Xining, slept the night, and come morning we were already in Tibet!
(ii) The train had a diesel engine; electric trains stll not installed round here.
Btw, those pics I got from here, here and here.
(iii) I've mentioned before how gigantic Chinese train stations are. Not sure I mentioned how on the second floor of a station they serve oh-my-gourmet Chinese cuisine. You get to said second floor on an escalator. Curious fact – there's no escalator going down: just regular steps!
Negativity alert! Don't come here (to train stations like this one) expecting everything will be clean, shiny and new, as seems to be the case in these pics of the station. The public conveniences… – oh my gross! They can be completely blocked with… yes – that. Probably because they are mere holes in the floor. For guys, at least there are working urinals, but the pong… oh my gruesome! For the squeemish – best wait until you get onto your train, where there are no such issues. Talking of which, here is our chariot ->
One word inside my head: clean! No – three words: shiny and clean!
Inside, equally so…
Four bunks to a compartment – just like in Russia:
Restauant car also just like in Russia:
A few things set Chinese trains in Tibet apart from the traditional Russian trains I know, rather – knew:
Oxygen!
Since the carriages aren't hermetic (it's not a plane), so the passengers don't faint from lack of oxygen, they pump it into the carriages from outlets like this one!
Wash basins – in the corridor. Good idea: no more lines of a morning waiting for folks to finish brushing their teeth of putting on their make-up ).
The in-between bits between the carriages – neatly carpeted. Russia: metal plates on the floor – noisy, unsteady, and there's often a draught ).
Wi-Fi – only for Chinese smartphones!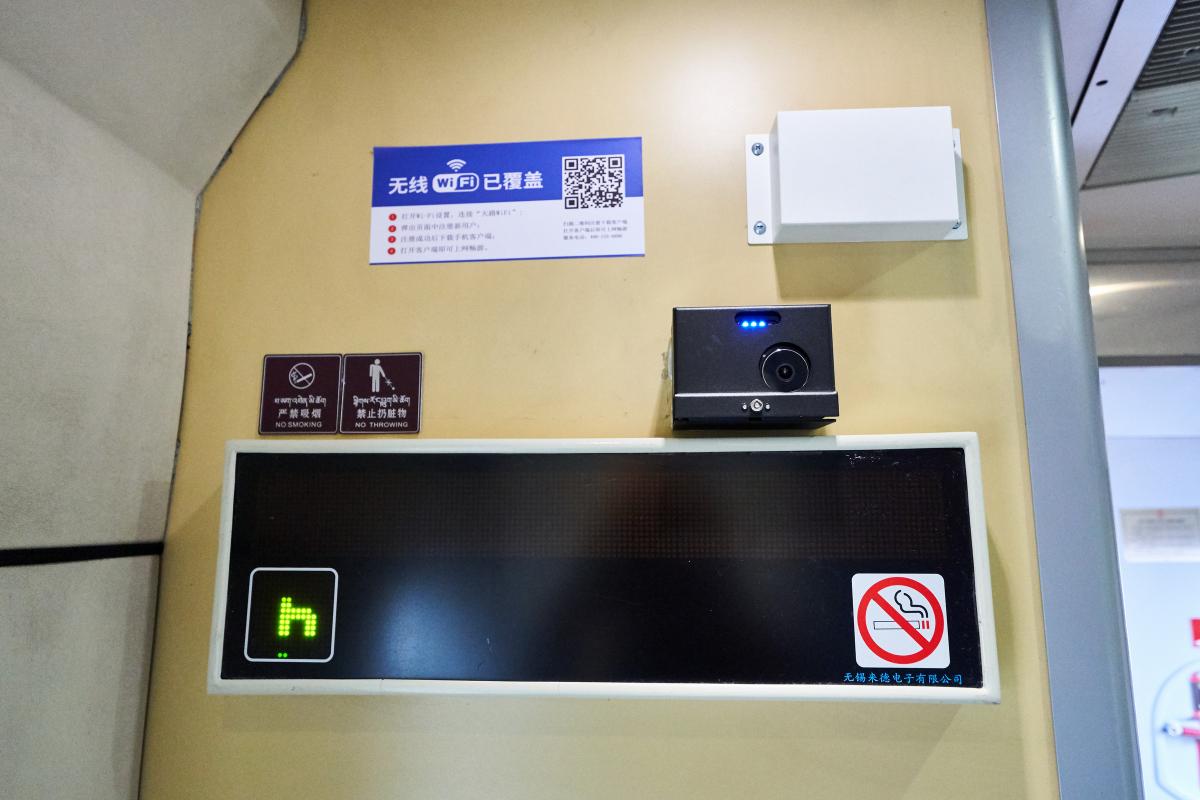 Now for the negative: just two loos per carriage: one – hole in the floor; other – 'euro'-toilet. But both – when we boarded: overflowing; filthy; foul; horendous even. Stink too. You want to buy new shoes after a single visit. Er, and no – I didn't take any pics. This is a PG-rated blog ).
Come morning, the lavatories had been cleaned; but there was no making up for trauma of the previous night's horror show.
We breakfasted, had a wash, and it was back to the windows for more meditative Tibetan landscape watching.
…And if one side starts to get a little bit samey and dull, we just switch sides!
Up and up and up and up goes the train – here, already around 4000 meters above sea level. Accordingly, the landscapes become more and more barren, bare, and in some places – with snow.
Judging by these here constructions installed on the ground alongside the railroad, strong winds playing havoc with sand are a bit of an issue. Apparently those lattice thingies provide protection from sand buildups. In more temperate climes, they would of course simply plant trees. Alas, up here – no country for old trees ).
Multicolored rocks!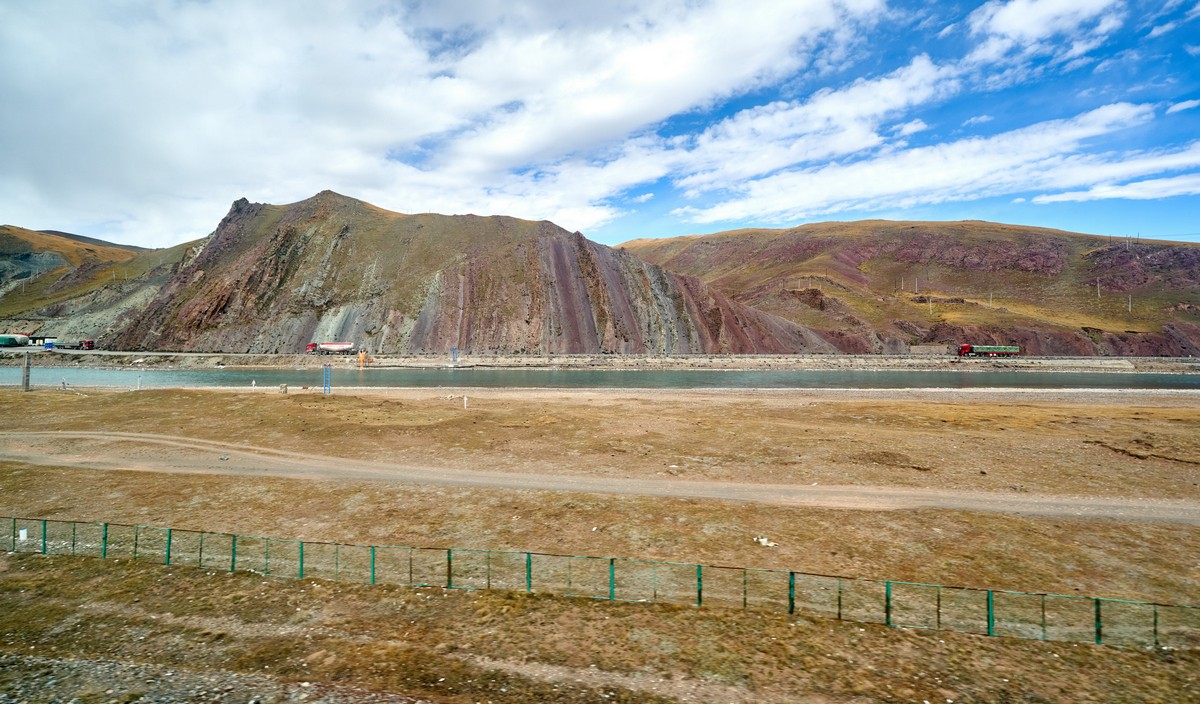 Some settlements we pass through without stopping: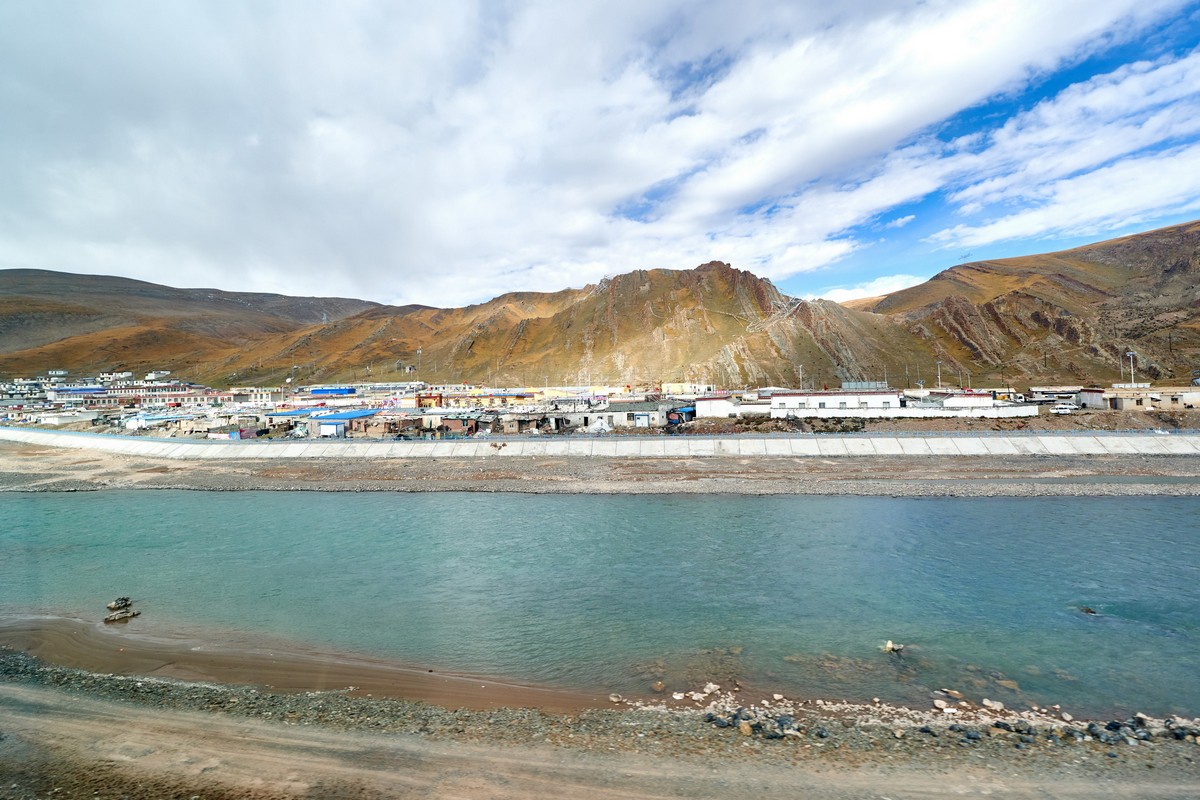 Up, up, up. The rivers flow against us – meaning they're flowing down, while we travel forward and up.
We had an altimeter for two hours – checking the altitudes. And we continued our Tibet-gazing…
Still up, up, up. When's it going to stop?…
But the rivers keep on flowing against us; and more and more snow is evident.
The train comes to a halt.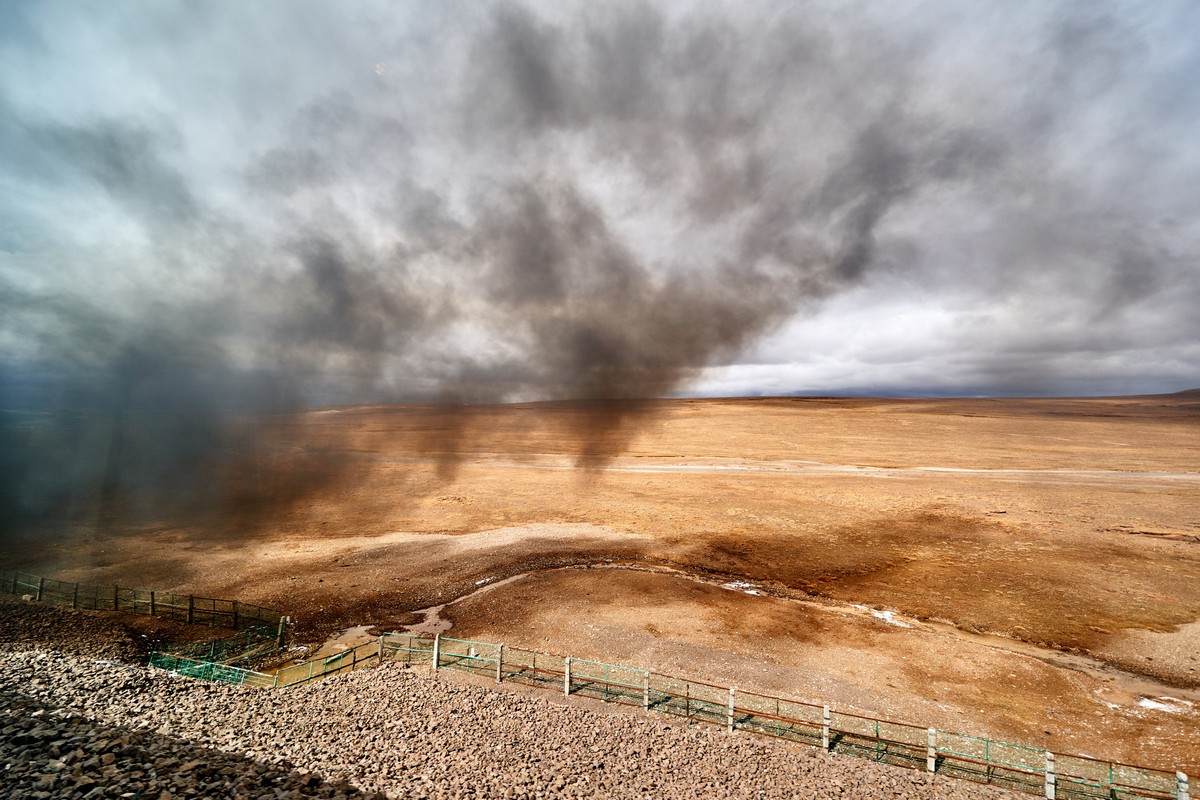 Woah – we're on the mountain ridge. 5072 meters above sea level – a world record for a railroad, and right here!
There are even stations up here; but we passed through without stopping…
Next, the rivers start flowing in the direction we're going! We're descending!
4702m. Some folks actually got on the train at this station!
We are greeted by railworkers. Very formal ).
Photogenic clouds shoo away the darker, ugly ones…
Down, down, down, to Lhasa…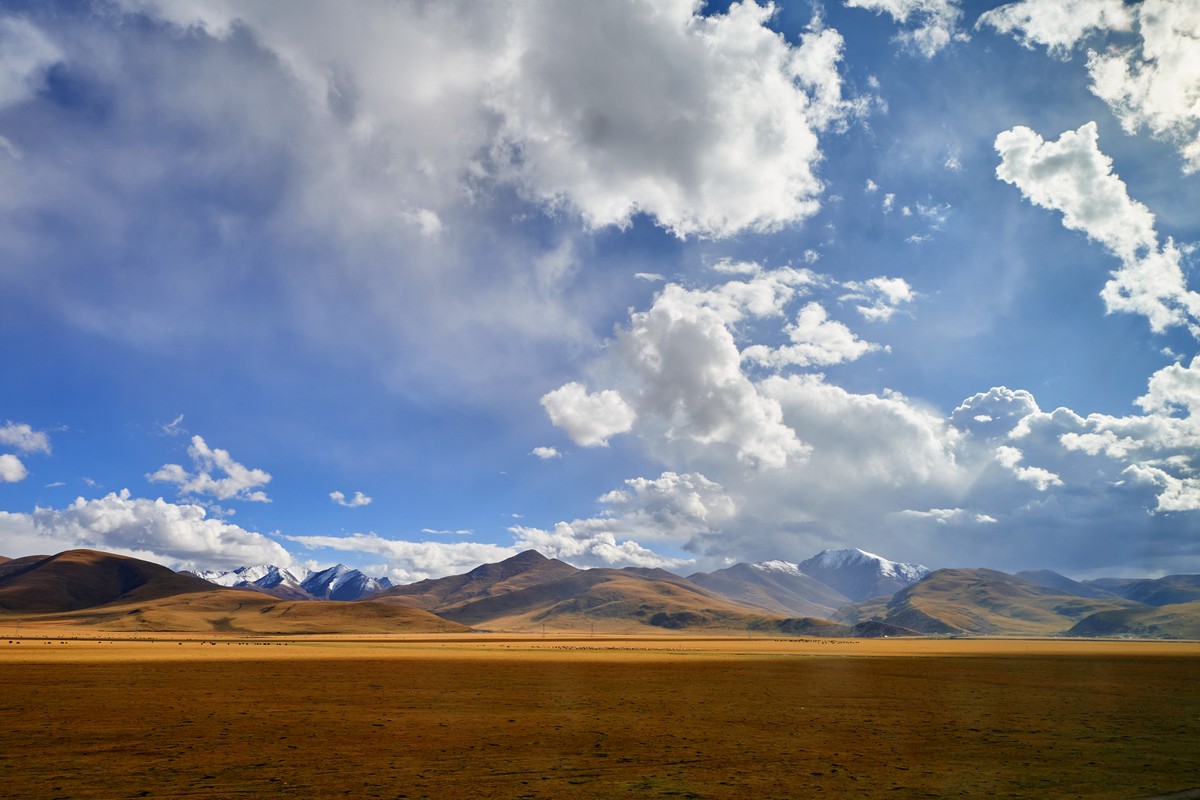 Nearer the capital we notice a highway being constructed, of Chinese proportions:
Pretty valley…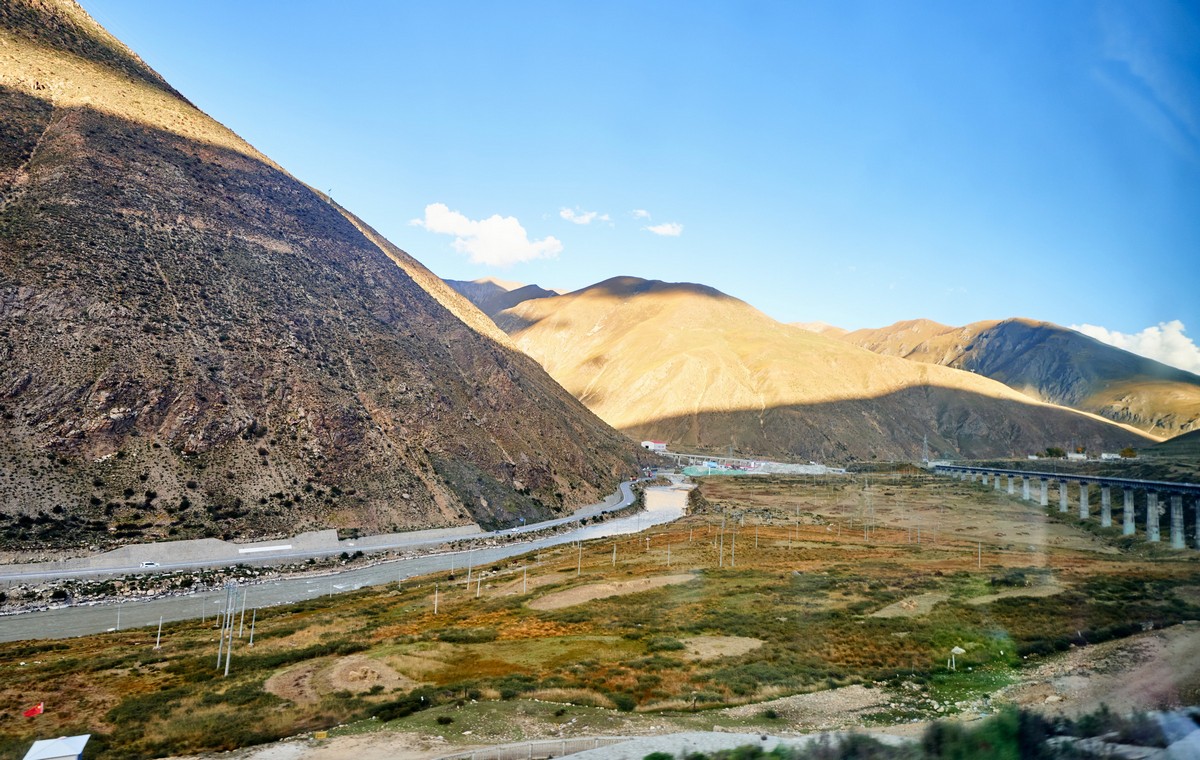 We arrive!
PS: a few photographic masterpieces of travel companion DZ:
Right at the top of the ridge:
Assorted passing scenes:
What an appropriate name of a station: Tuo Tuo He! He means 'river', like in the name of the great Chinese river the Huang He (Yellow River). So, this station is called 'Tu Tu River' = ~'Choo Choo River'!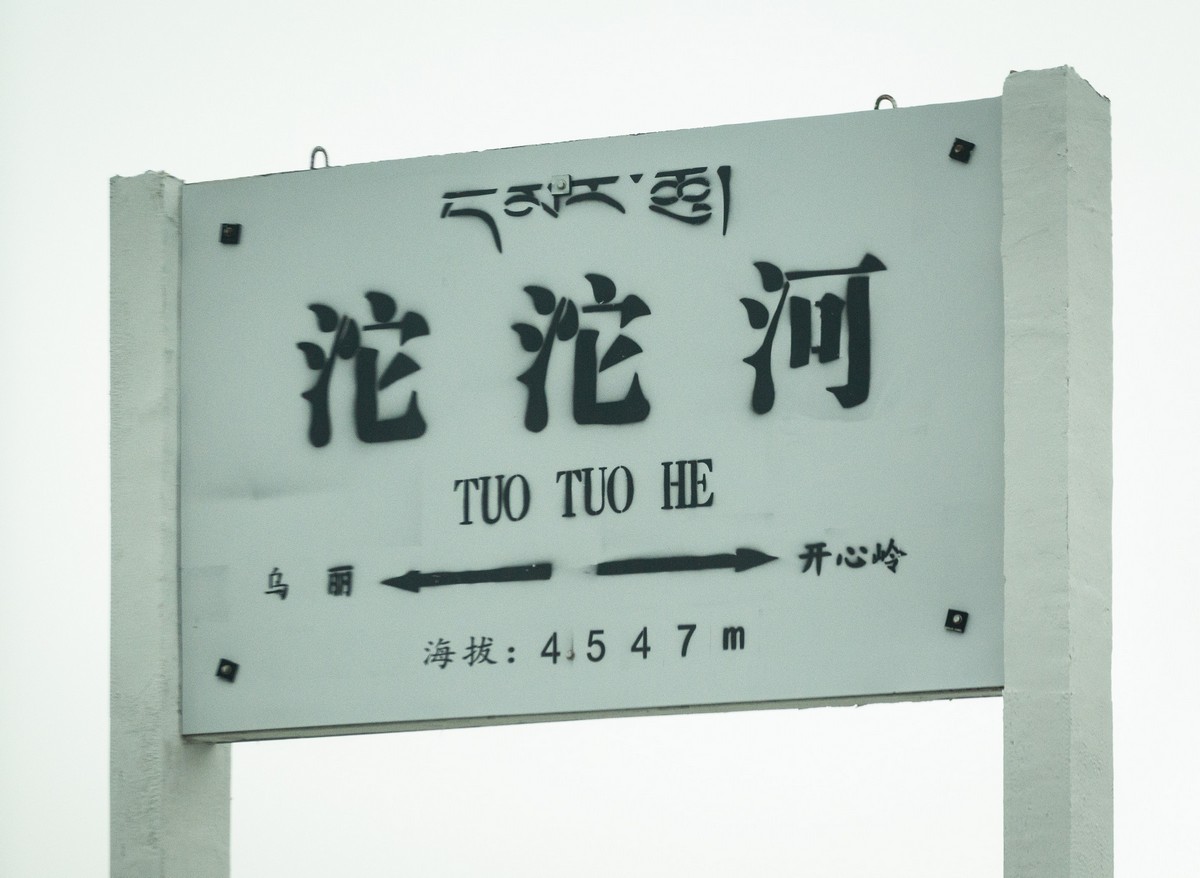 These aren't cows; they're yaks. And sheep…
Assorted magical views:
And us:
The rest of the photos from Tibet are here.