Ladies and gentlemen, your attention please!
Good news! After 3.5 years of legal battles with patent trolls we have finally won a resounding victory! This was our first patent litigation battle in the US and we won! // Well, we needed to make up somehow for Russia's poor display at Euro 2012 :)
Here's a recap.
Four years ago the patent trolls suddenly came on the scene trying to prove that we were using technology that had been patented by somebody else.
Because we were expecting this sort of thing, and knew all about patent trolls – albeit in theory – our very own patent department had for a number of years been quietly working away preparing our patent firepower in readiness for a showdown with all types of various patent trolls and black hats.
And then this story began, in the United States District Court for the Eastern District of Texas. By the look of things, the situation was only going to get worse for us, but we had absolutely no intention of just giving in. Even if we lost, we were going to go down fighting and make it as brutal and bloody as possible for them.
And just a few days ago came the final denouncement.
The Court for the Eastern District of Texas announced its verdict in the case brought by IPAT and completely dismissed all the charges against us. What's more, it did so WITH PREJUDICE, i.e. IPAT can't bring any more claims regarding those patents!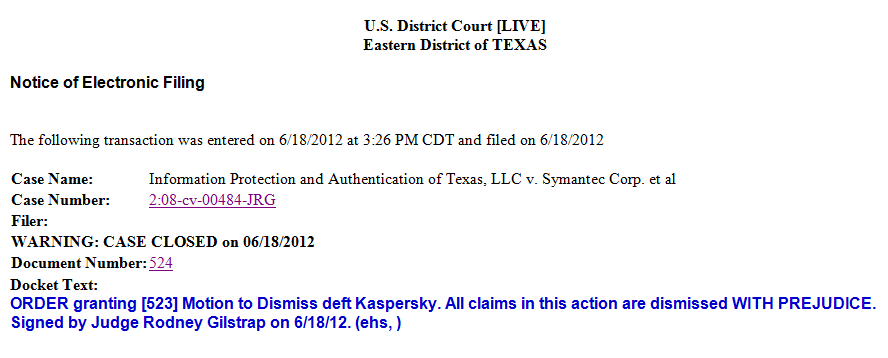 But this is not just some ordinary legal victory.
More: An insight into troll business, US patent system and search for a solution…