Finally: water fun – down the Katun!
At last – on my Altai-2020 trip the water-based action was about to commence. Ready for some Katun white-knuckle/white-water fun?…
But first we had to get over the mountain between us and the Katun – the final hop before the water. And the best way to get over it? By hopping onto a chopper of course…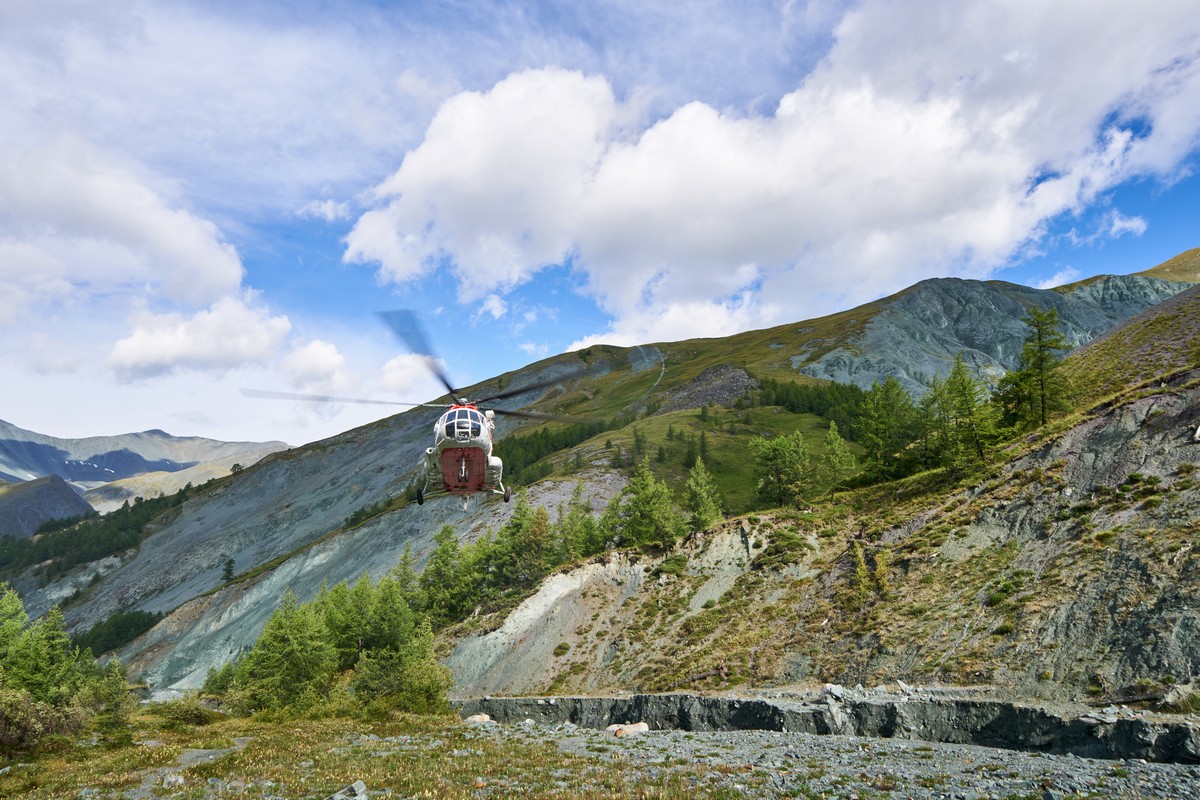 Given fine weather you can normally fly around (Altai's highest mountain) Belukha and be mesmerized by the aerial views thereof through the helicopter's windows. Alas, this time it wasn't to be. Low cloud spoiled the fun: much of the mountains weren't visible. But if you're curious, have a look at an installment of my Altai tales from 2016.
Farewell Yarlu and your multicolored mountains. Till next time!…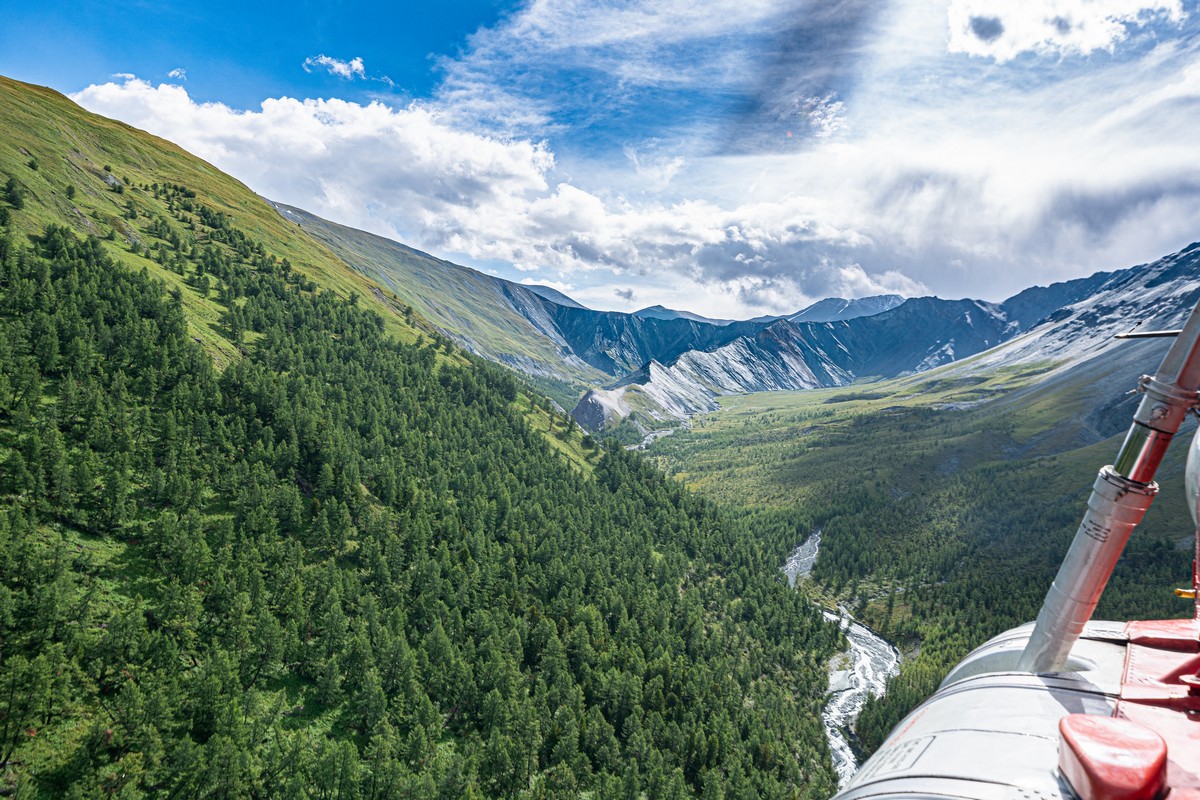 We land at the exact same spot as we did last time, in 2016: by the Upper Kuragan – a Katun tributary, here. We even got all nostalgic – and donned our 2016 Altai tour t-shirts! ->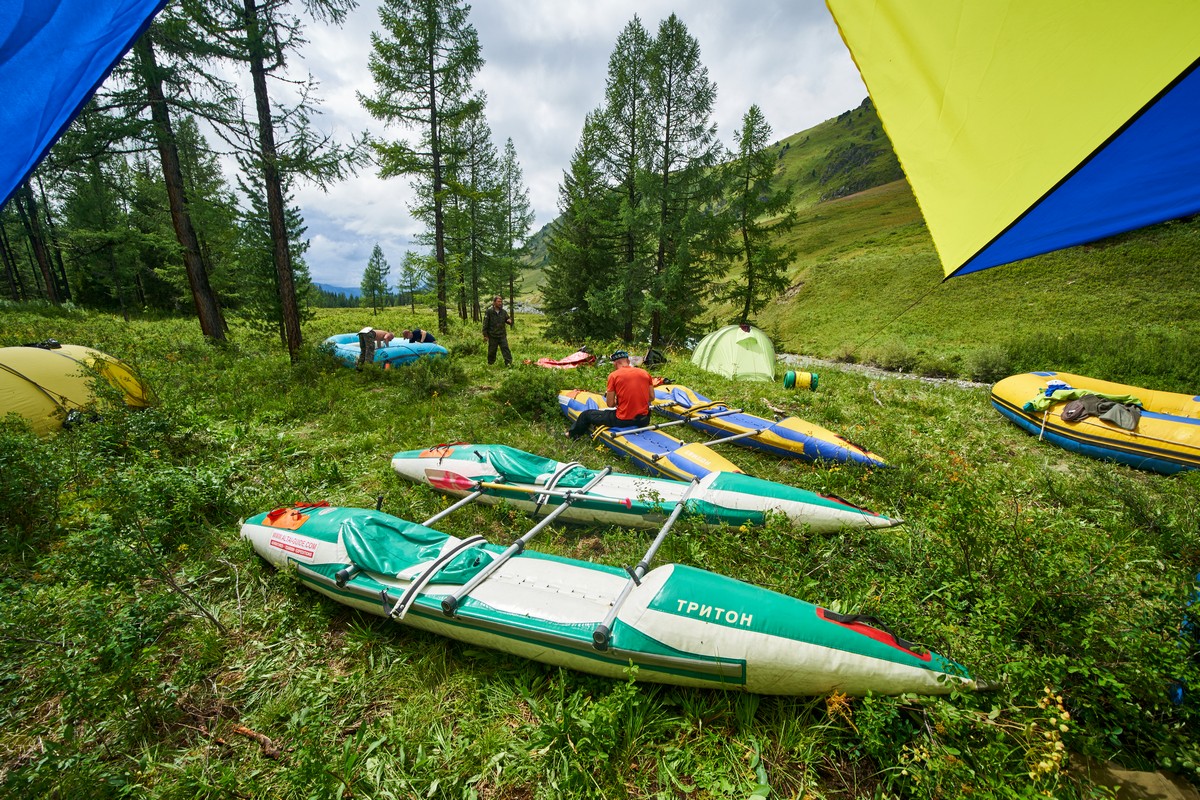 We get the kit organized and set up. It needs to all be in perfect working order since it won't be just a few kilometers of Sunday-afternoon paddling we'll be doing: a full 400+ kilometers (!) of rafting lie ahead (below) us – along the full lengths of both the Upper and Mid-Katun…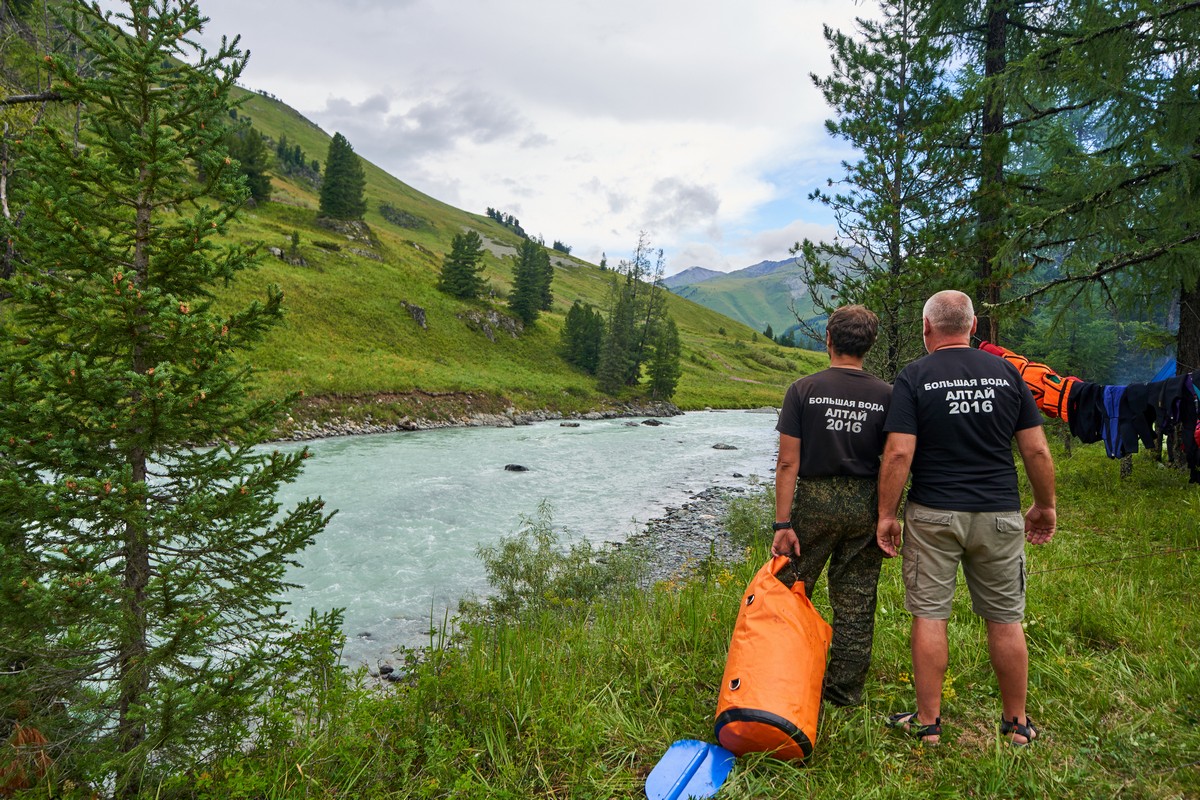 Finally, really, after so long trekking and clambering and camping and choppering to get here – we hit the Katun!…
The Katun's water is oh-my-gorgeous: blue or green or turquoise or gray – depending on how much clean stream water flows into it at a given point, and on how much 'glacial milk' (finely ground rock dust) is added to the mix too. Meanwhile we're racing down it on rafts and catamarans amid rifts, sandbars and shoals, and navigating riffles from rapid to rapid.
AFAIK, the Katun is the optimal river for non-professional rafters in terms of (i) the right quantity and sizes of the obstructions, (ii) how long the raftable stretch is, and (iii) the awesomeness of the natural surroundings to be relished along the way (on the calmer stretches; no time for taking in the scenery during the choppier sections:). Wait: there's a fourth 'best': it's relatively safe for amateurs: (an extension of (i)) the rocks are never of the lethal sort (like large, sharp ones near the surface), there are no crazy water flows sending you into rocky walls, and you come out of 'barrels' straight away (i.e., not getting caught in things resembling whirlpools). And even if you get sucked down below the surface when things are getting reeeaaaal intense, you simply get 'spat out' a few seconds later – no bother :).
Rivers that are a bit tougher to raft down need to be prepared for plenty in advance, so office-based amateurs from big cities with little experience are recommended not to take the risk. Then there are other rivers that are accessible to amateurs, but they aren't that long. But here on the Katun you can raft 400+ kilometers and descend a full kilometer on the vertical axis! We started out some 1500km above sea level, finishing around 400 meters above it in 11 days. Oh my gradient! Highly recommended for extended corporate teambuilding!
Here's the first set of rapids – Shyoki (Cheeks).
Last time we were here nature treated us to many a mushroom and very many a berry; this time the only thing I personally was treated to was very many a wasp sting after a bear had destroyed a nearby wasps' nest. Still, at least we got through the cheeks with no incident. Meanwhile the Katun water took on some kind of magical color, and it was here I tried my first Katun water. As in – drank some. And it's the tastiest, freshest, cleanest water you'll ever taste!
Here's some more action, all from the raft, with occasional slo-mo. I think it gives you a reasonable impression of what it's like doing the actual rafting:
Another great thing about rafting down the Katun is the way there's hardly anyone else doing it besides you. Thing is, as mentioned, the border with Kazakhstan is nearby, and that brings with it all manner of absurd bureaucratical hurdles. Then there's the physical getting here – as highlighted by my last dozen or so (!) Altai-2020 posts, which have all detailed separate days of the long-winded 'getting here': it's a long way! Then there's the lack of infrastructure – there's no road to the top of the Katun: it's either a trek with horses and spending nights in tents or a helicopter helping out here and there, and these luxuries are expensive. So as you can see – that's a lot of reasons why it's so 'exclusive' here. In fact – so exclusive, it seems, that we reckoned that since our last trip here in 2016 no one else had been here. There sure weren't any signs of visitors having been at the designated camping spots…
Here's the remnants of our camp-fire from four years ago! ->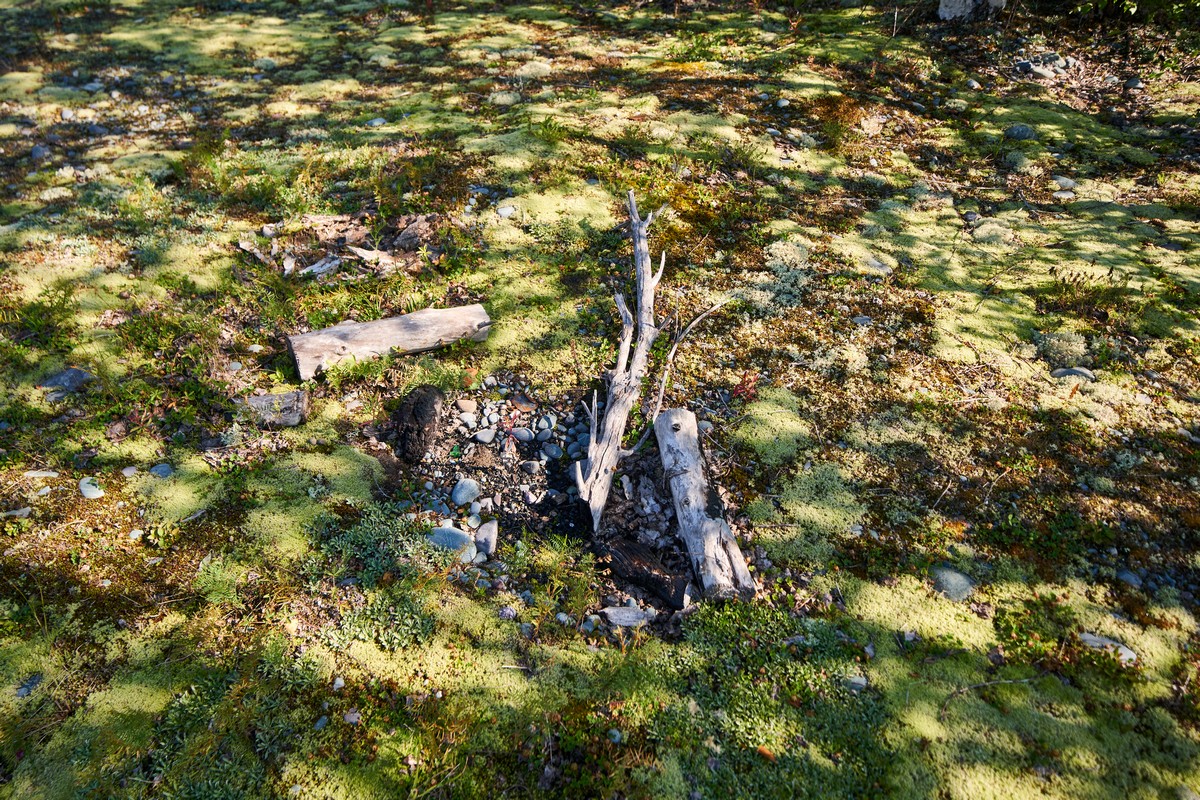 On the third rafting day a few artifacts of civilization start to appear: huts, nature reserves… even an apiary, which sells the world's tastiest honey – and honey mead!
That's all for today folks. But I'll be back with the next Altai-2020 chapter soon…
All the pics from Altai are here.