There's the famous inflation-indicating "basket of goods". Much better – the "K basket of goods"! Another annual review…
There's no stopping – not even a slowing down of – the passing of time, no matter how much we might want it. So we don't waste… time, energy and nerves on fighting the inevitable. But what do we do instead? Well, I reckon that if you pump the time you have on the planet with meaningful and useful goals, events, achievements, excitement, and assorted other positive, busy "content" (though I do so dislike that term:), then said time we have will leave two-dimensional linearity and inevitability and blossom into a multi-dimensional world of energy and vigor to give life meaning. Yep – you know me: always positive – no matter what )…
Routine screws up memories, while the passing of time steadily nullifies the memory cells that store those memories. Life imperceptibly turns into an expressionless mass of vague sensations, and after renewing your passport two or three times – there can be emptiness. Note – "can" be. But life is what you make it: you can instead live as "correctly" as possible. And for me, included in my list of living maximally "correct" come my annual reviews! To stop, duck out of the routine, think, remember, write, think again, and be amazed. And out of the fog of the passing year an outline of experiences, events and achievements becomes distinguishable. Then, emboldened by pride, I find myself fully ready for new endeavors in the New Year.
In the oh-so tricky year of 2022, the chances of losing oneself all the more in the fog were through the roof: geopolitics gets in the way of all that's good. But at the same time this makes summarizing the results of last year all the more a correct and necessary endeavor. So this time I've split up my reviews to make sure we don't miss vital detail: I've already shared my mostly-personal annual review, and also my patent review.
What remains is the concluding third part – which is what I'll be giving you today in this here post: about our product-and-tech achievements – our "bread and butter" that makes up our whole raison d'être: protecting the world from cyber-evil. And there were plenty such achievements – a lot more than might be expected given the difficult circumstances throughout the year… All righty – enough "intro"; let's get to it (after all, it's February already, like – tomorrow!!)…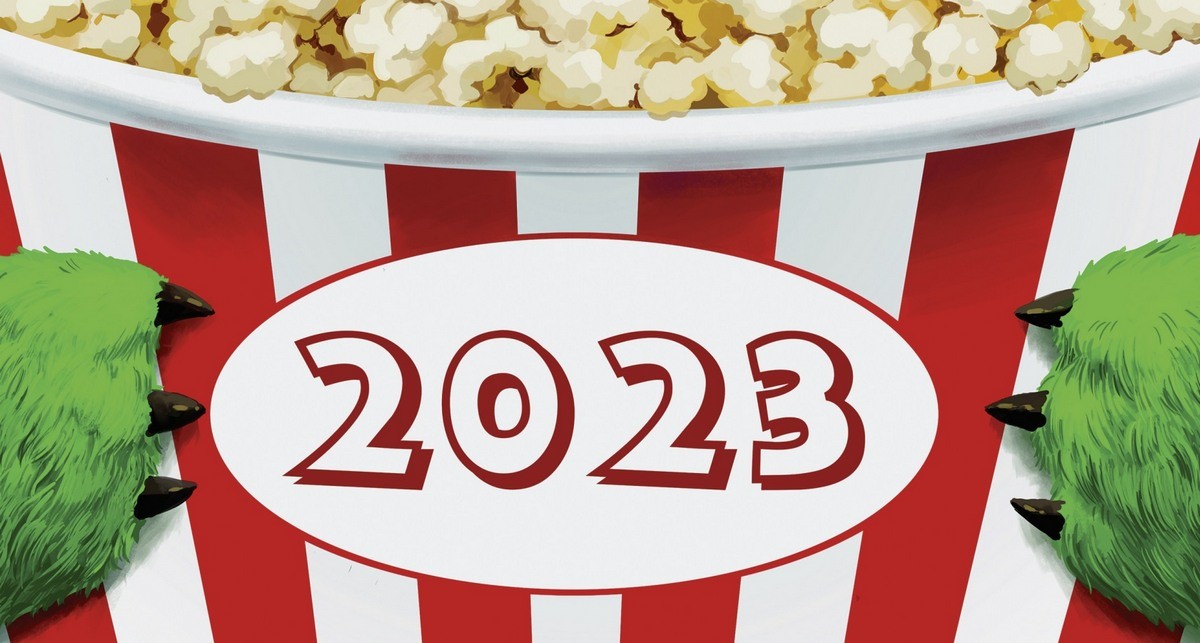 // Btw – that's the cover of our Midori Kuma 2023 calendar – simply to brighten up this here text ). As per, it can be downloaded – here.
Ok – sit  down. Better – fasten your seatbelt too! For this number is a shocker – in the good sense: last year we launched more than 750 releases! No, no typo there folks. Really: seven hundred fifty releases! By that I mean new products, updates, patches, and assorted other localizations/customizations. // And some folks still think we just do antivirus?!!
Out of that huge bulk, here are a few I want to highlight…
First, our new product line for home users. This is the most significant change we've seen over recent years: many new features, plus a dramatic overhaul of product interfaces. Examples:
✅ Smart home monitoring (tests the security of home Wi-fi and warns about connections from unknown devices);
✅ Secure QR-code scanner (which reports if something malicious is lurking within a QR-code);
✅ Checking social networks' privacy settings (so you know what others can find out about you);
✅ A smart telephone-number identifier + protection from spam calls;
✅ Searching for leaks of your passwords, bank card numbers, and assorted other personal data on both the internet and darknet;
✅ Cleaning up disk space and speeding-up your computer.
But that's by far not everything!
Second, our first Cyber Immune thin client – our Secure Remote Workspace (KSRW). No – not a customer who looks undernourished, this is mega-useful piece of hardware for corporate clients. It permits on the one hand saving on outlays on equipment (instead of expensive desktop computers or laptops – a small but smart box), and on the other – improving network security (the thin client features only the most necessary tech (= thin) while being fully controllable via centralized management). But the main thing – this hardware is based on our Cyber Immune KasperskyOS (note: I – personally – normally drop the "Kaspersky" prefixes to our products, but with this one – KasperskyOof!:) ->
Third, the new version of KUMA – as in Kaspersky [Koof!] Unified Monitoring and Analysis Platform (and nothing to do with our beloved Midori Kuma). So, KUMA – it's kind of a mega-brain that analyzes signals from a great many products (ours and other companies') across a corporate network to then help it uncover even the most complex of cyberthreats. Being the central element of our XDR platform this SIEM-class solution has been boosted with extra capabilities for proactive threat searching, collecting wider telemetry, aggregating data from other systems (MaxPatrol, HR systems, access control, etc.), and a lot more besides ->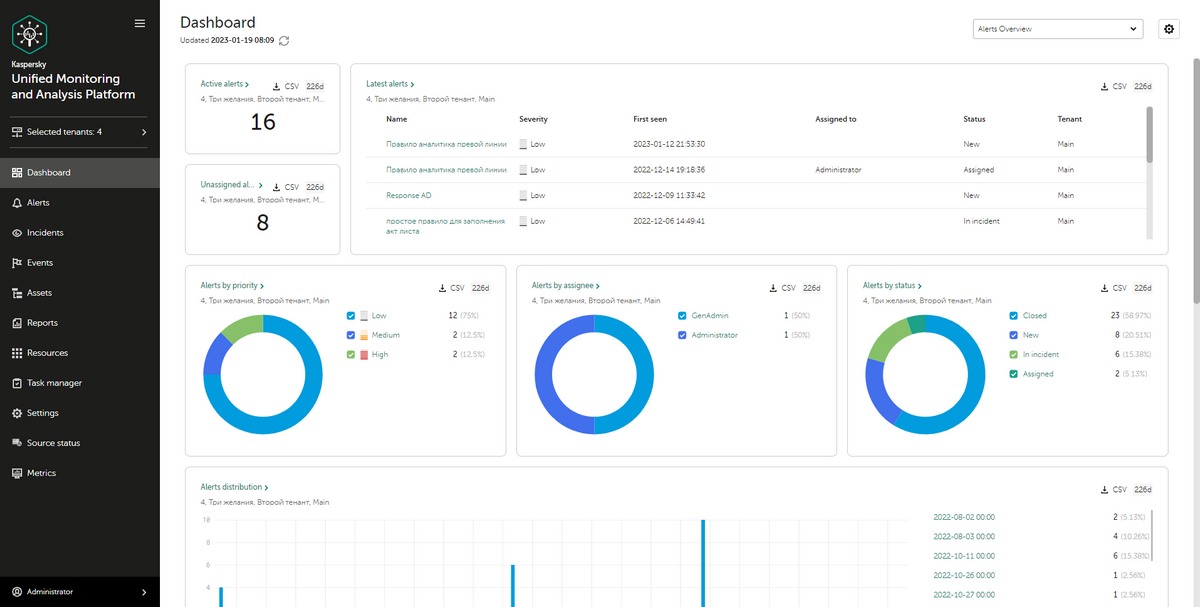 Fourth, the various icings and cherries and sprinkles on top of the (calorie-dense) cake: (i) a substantial update to our Threat Intelligence Portal (about which I wrote in some detail – here); (ii) further development of our MDR service for finding, investigating and neutralizing cyberthreats; (iii) a new data feed with information about backdoors in third-party open-source software; (iv) a new version of our KICS for Nodes industrial cyberprotection with (a) a function that audits systems, and (b) an ICS-vulnerabilities database; and (v) five new online courses on our Expert Trainings education platform (details).
I hope you can see – we got a lot ton done in 2022. But not only did we "do" a lot – we also earned recognition a lot: we continued to take first places in tests run by independent laboratories (details – here). There's just one more test I want to mention here: the LSASS Credential-Dumping test by AV-Comparatives in Austria, in which we demonstrated 100% effectiveness against specific techniques used in complex cyberattacks. And if we bring together all our top-three wins over – ooh, nine years already, here's the overall picture masterpiece! ->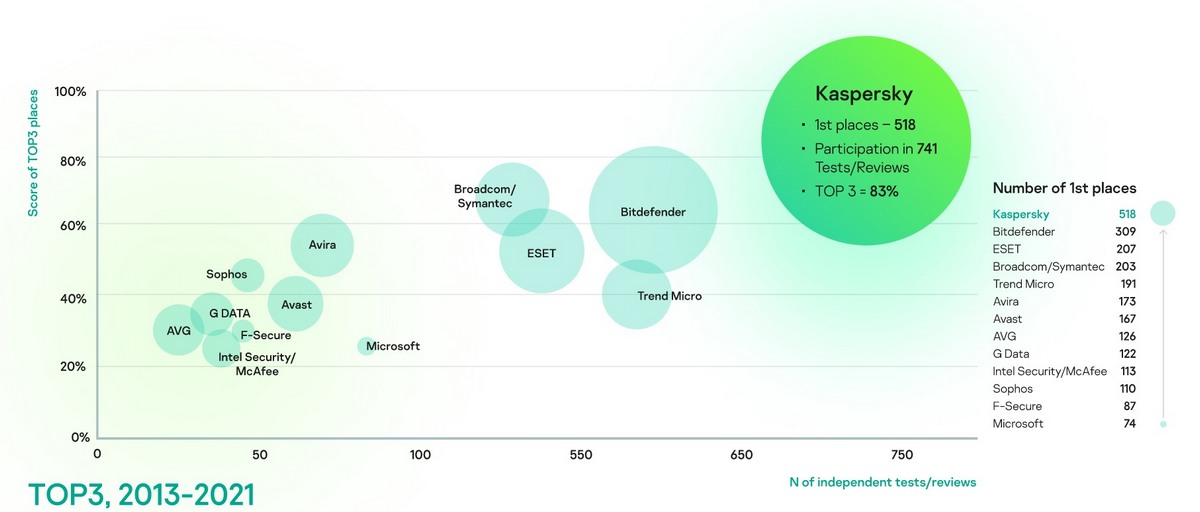 (Briefly from the graph: in nine years we've won 518 independent tests – almost twice as many as our nearest competitor! And soon we'll have the data for 2022, which will extend our breakaway from the pack out front still further!)
So there you have it folks, 2022 products-and-tech under-the-hood overview/review – done! Thank you for your attention, and here's to a cyber-safe 2023!…