My very first world expo: in Dubai. Hi-tech and polished, but in the long lines you will fry!
As you'll probably know, I get myself to all sorts of exhibitions and events. Naturally most have an IT flavor. For example, there's Hanover's CeBIT (RIP); Mobile World Congress in Barcelona (where I was in June of this year); Interop in Japan; the industrial Hannover Messe and Innoprom in Ekaterinburg; the Chinese World Internet Conference; assorted regional get-togethers; the exclusive WEF conference-exhibition event in Davos; INTERPOL-World, and even modern art in an exhibition format sometimes.
So, yes – I visit plenty of exhibitions, knowing the ones I frequent inside-out. However, there's one type of exhibition I didn't know much about, for I'd never been to one. I'd always heard about them down the years, but never had a taste for myself. I'm talking about world's fairs, aka world expos. There's a reeeaaal long tradition of them, starting out in 1791 (!) in Prague, through 1900 in Paris, 2010 in Shanghai, to 2020 2021 in Dubai – where I happen to be writing this from. And yes – you've guessed it, now I know what the deal is with these world expos. And if you don't already know the deal yourself, you will do by the time you reach the end of this post!…
What exactly is a world expo?…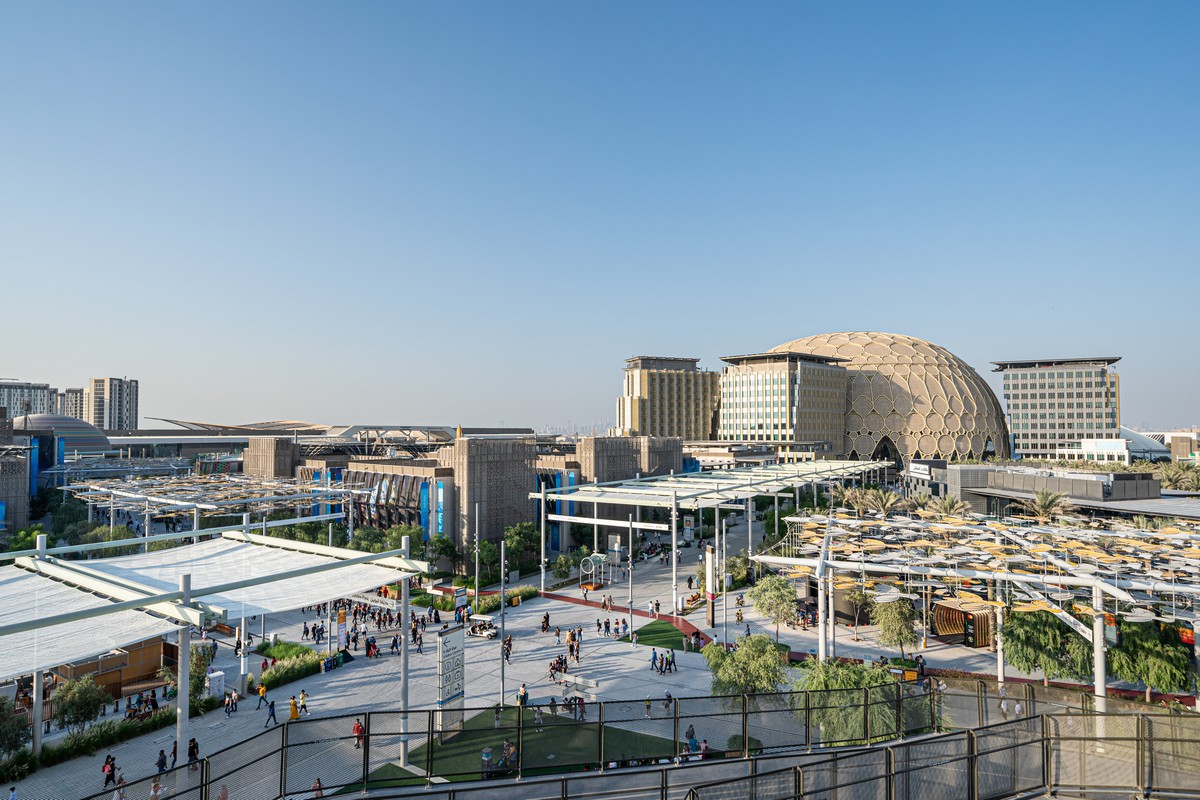 First, world expos are big. World expos are grand and grandiose. Swanky, swish, refined. Pavilions representing countries of the world that line neatly decorated boulevards: a very pleasant environment for walks and assorted other leisurely pursuits.
Last This year's Expo 2020, for example, covers a 438-hectare territory, on which beautifully presented expositions from 192 (!) countries feature.
And here she is from up above: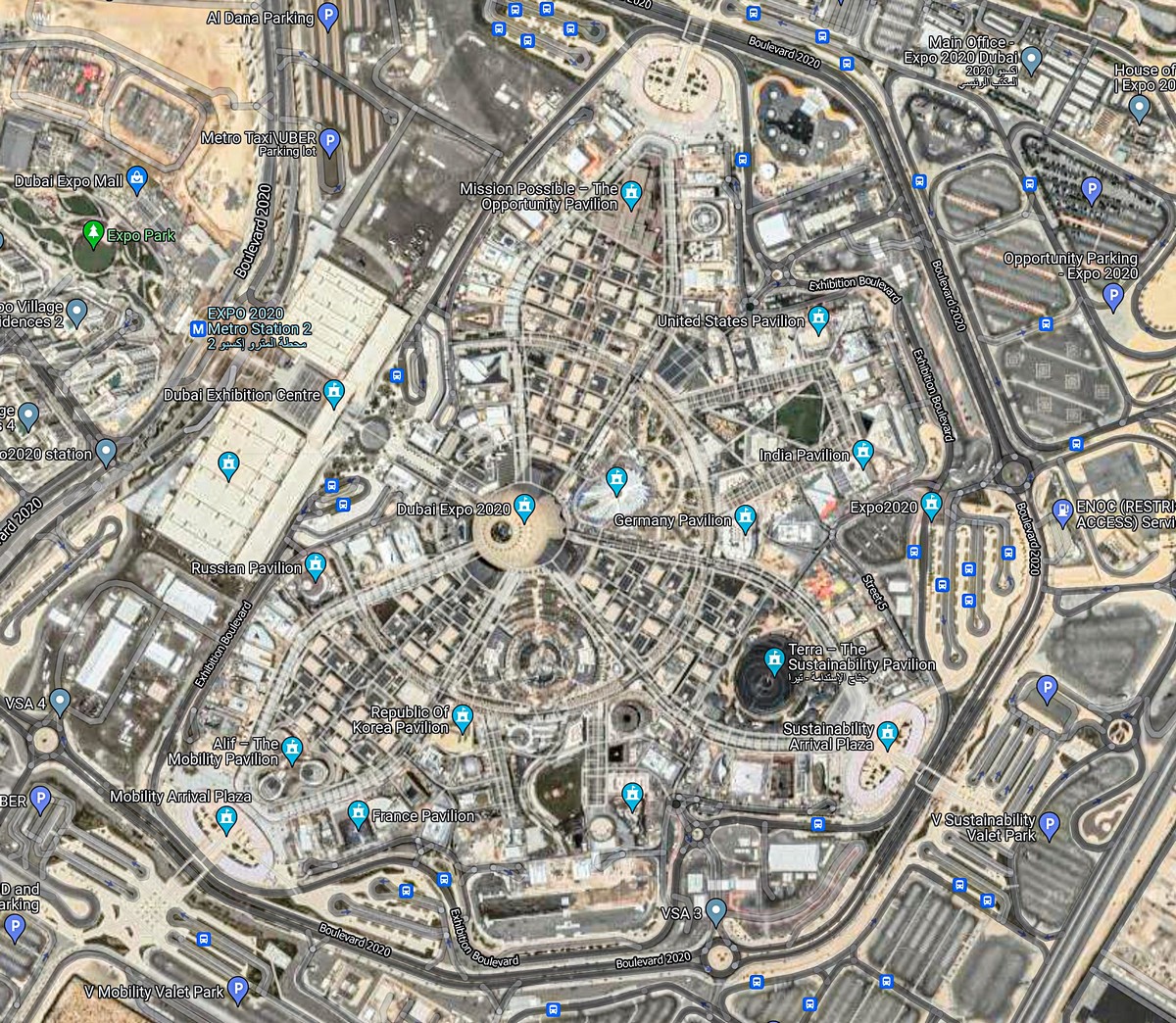 Very comfortable surroundings, easy on the eyes, electro-mobiles zipping past silently. All good, but… oh my gradus! It's hot! Too darn hot!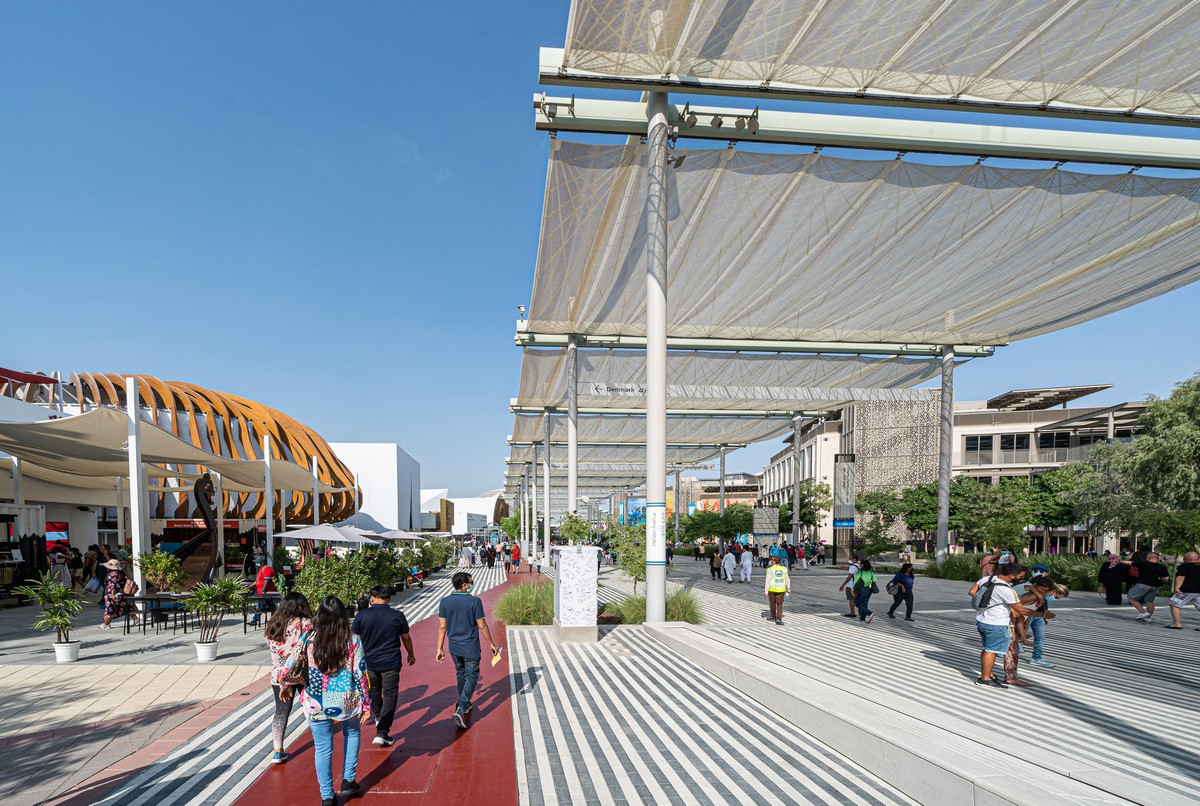 See those awnings/covers up above? They're not to keep the rain off; they're to block out the sizzling sunrays!
Ornate, watermarked constructions…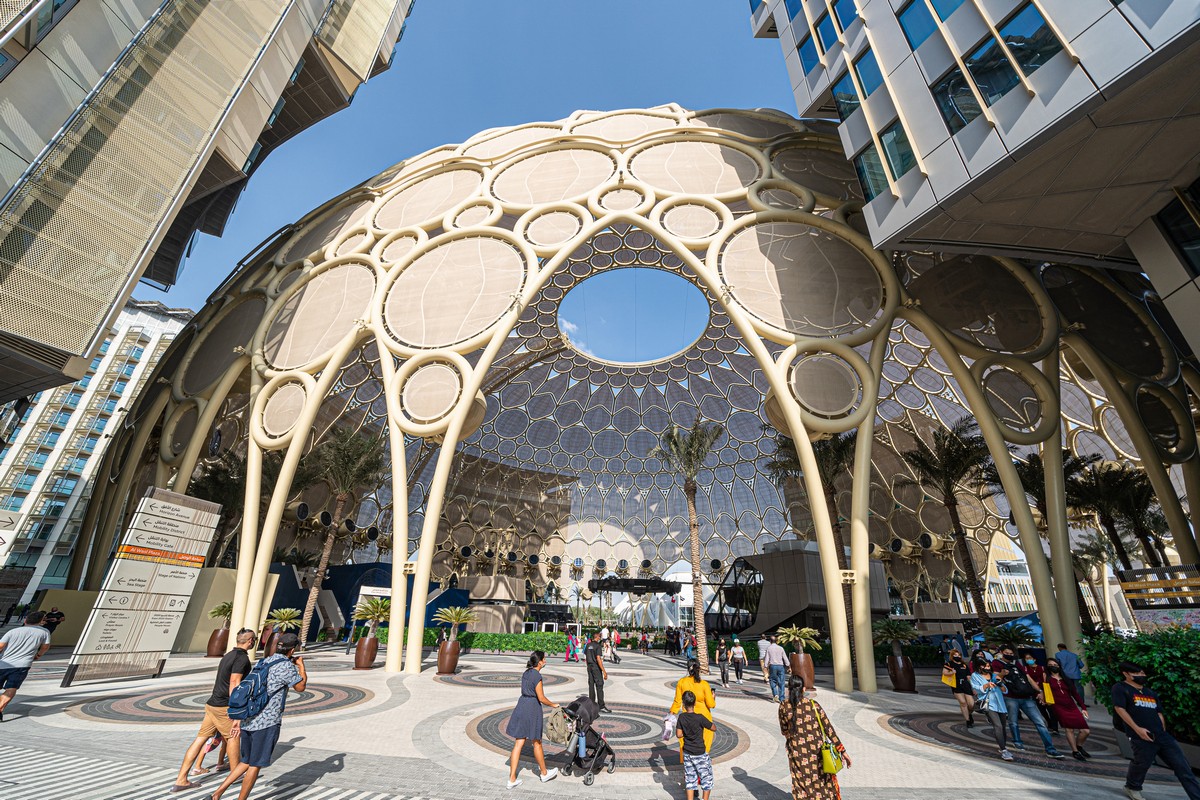 Or austere cubism (actually, upon closer inspection – also watermarked/etched:) ->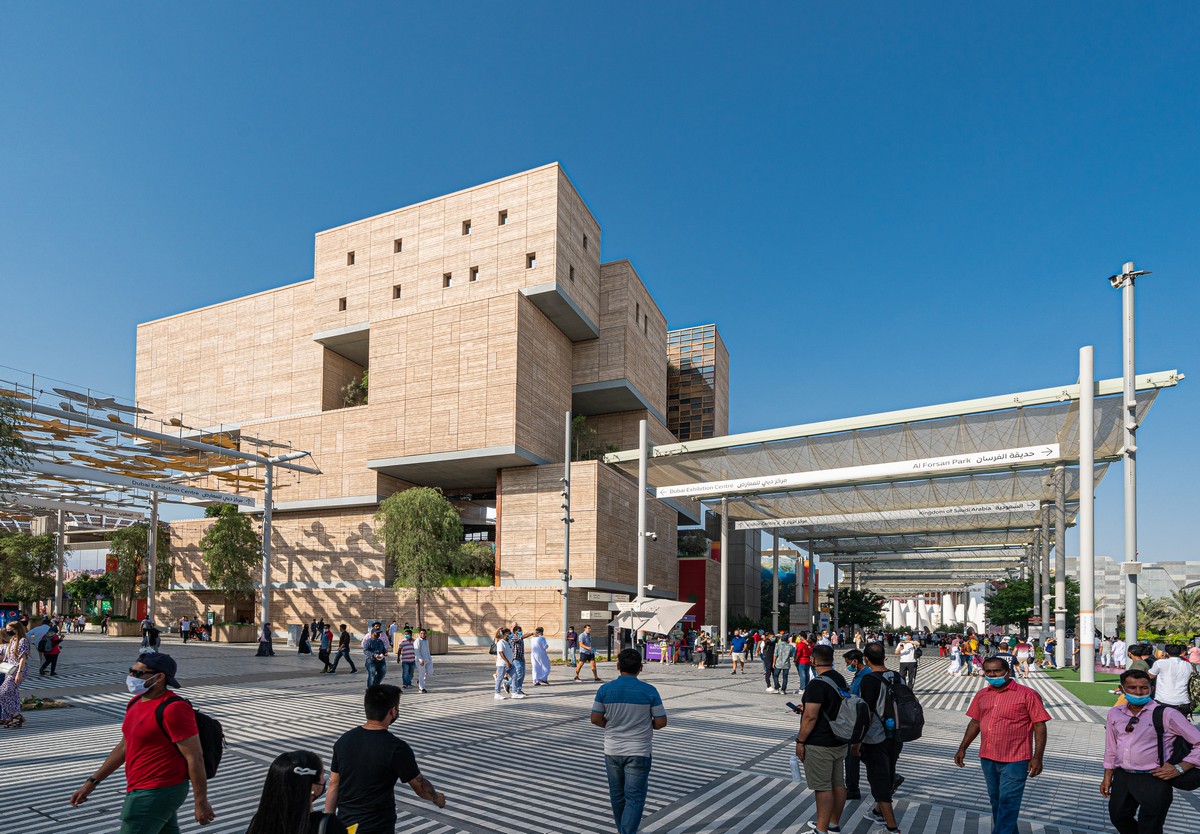 Magnifico-futuristico: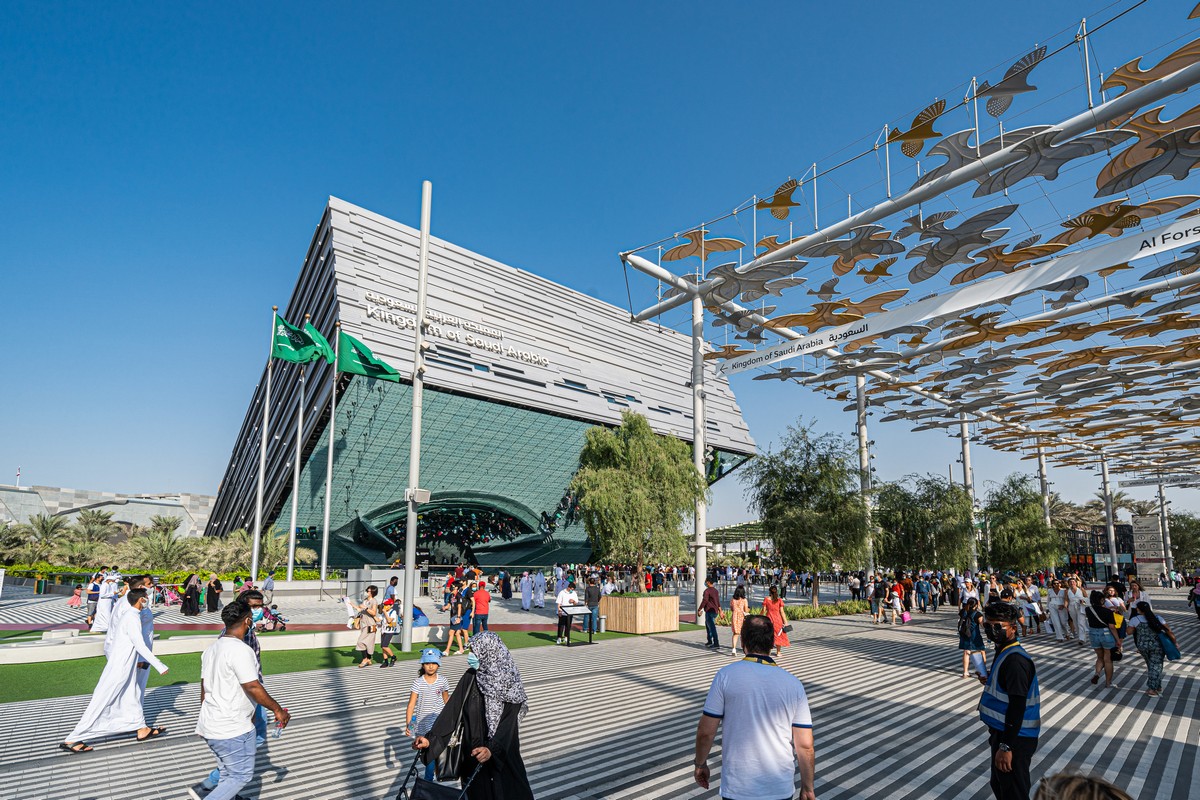 All very interesting. But what's it all for?…
Let's have a look inside some of these pavilions for that, eh? And that's when it hits you. A huge 'WHAT?!'. For inside these buildings, there aren't a great many exhibits to look at. No technological breakthroughs being shown off, no amazing new products. All this space, all these futuristic fancy buildings and landscaped walkways… but with no 'filling'. Why?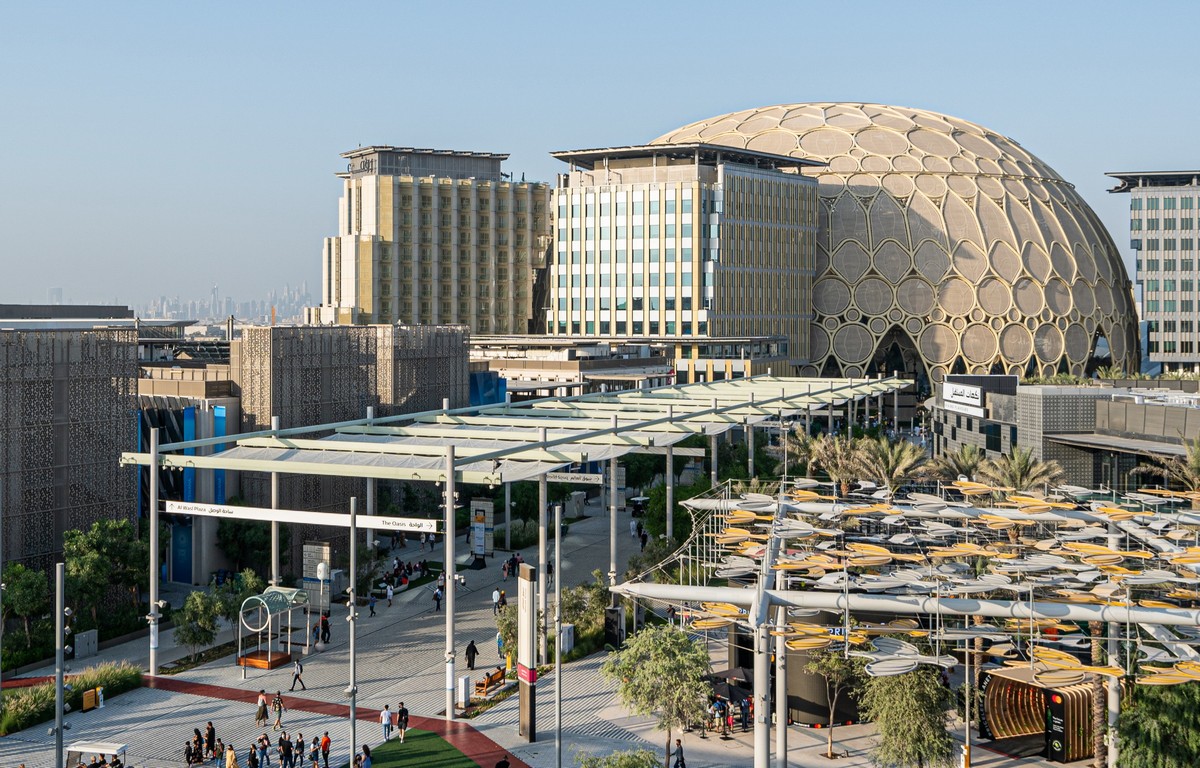 One of my travel companions on my Dubai trip described the expo with just three words: 'a vanity exhibition'. Despite sounding like a J.G. Ballard novel, I think that's a bit harsh; after all, as Wikipedia tells us:
'The character of world fairs, or expositions, has evolved since the first one in 1851 [sic]. Three eras can be distinguished: the era of industrialization, the era of cultural exchange, and the era of nation branding.'
And there you have it: expos these days aren't technological achievement exhibitions as they are perhaps best known to have been in the past, but nation branding events. So that's why the architecture and design and swishness and shininess is all so top-notch here: they are the expo, not where it is held, if you follow ).
Here's Russia's… object. I wasn't sure what it represents (a ball of wool?:), but I like it: unusual, original, bright, beautiful!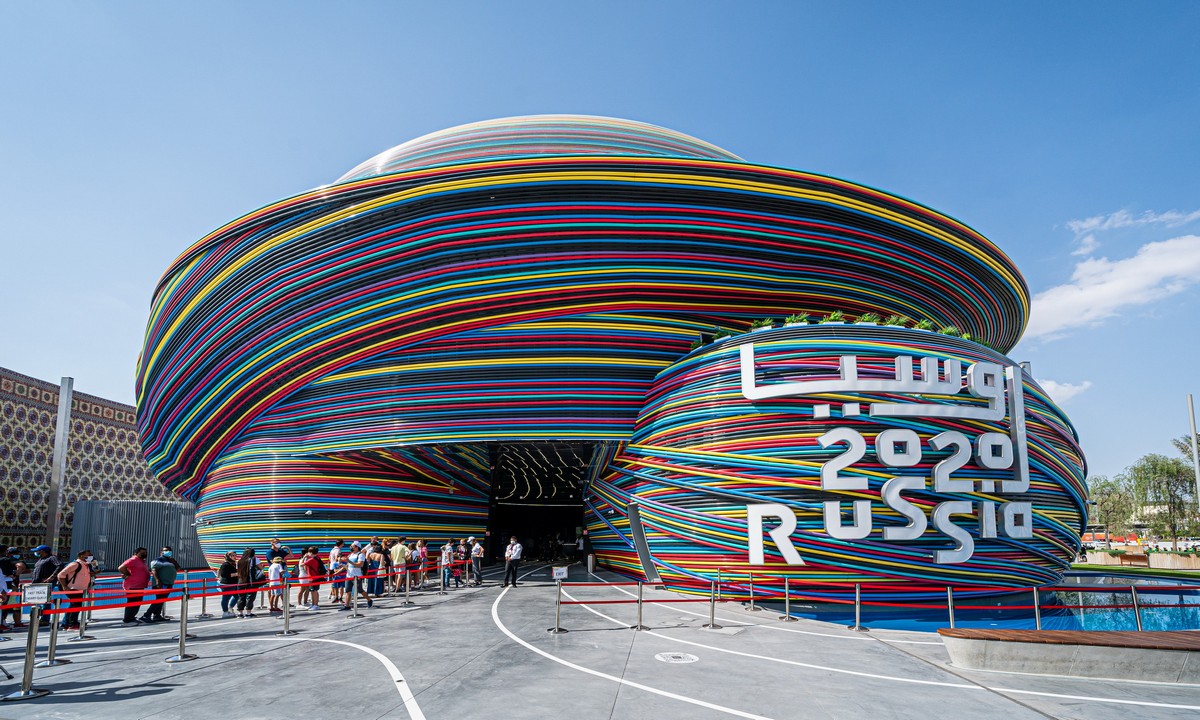 Then it became clear – it represents the inter-connectedness of everything and everyone; about the need for understanding, cooperation and all that. Something I wholeheartedly agree with. Meanwhile, inside… brain!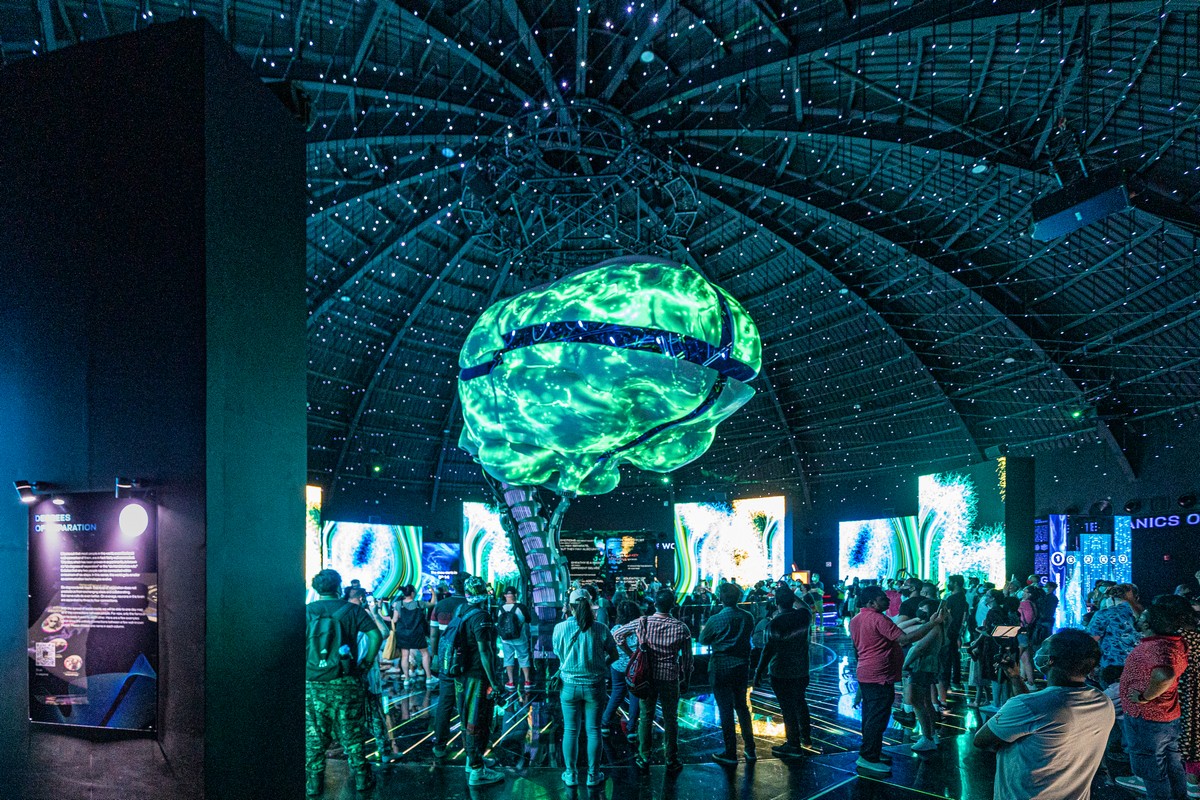 Aha – yes. Oh, quite right: branding! Russia = brain! // If we're referring to software development, I agree. But we also made the first anti-covid vaccine, and were the first to fly in space, but I digress…
And here it is, suitably massive (seven meters high) – like the collective brains of Russia: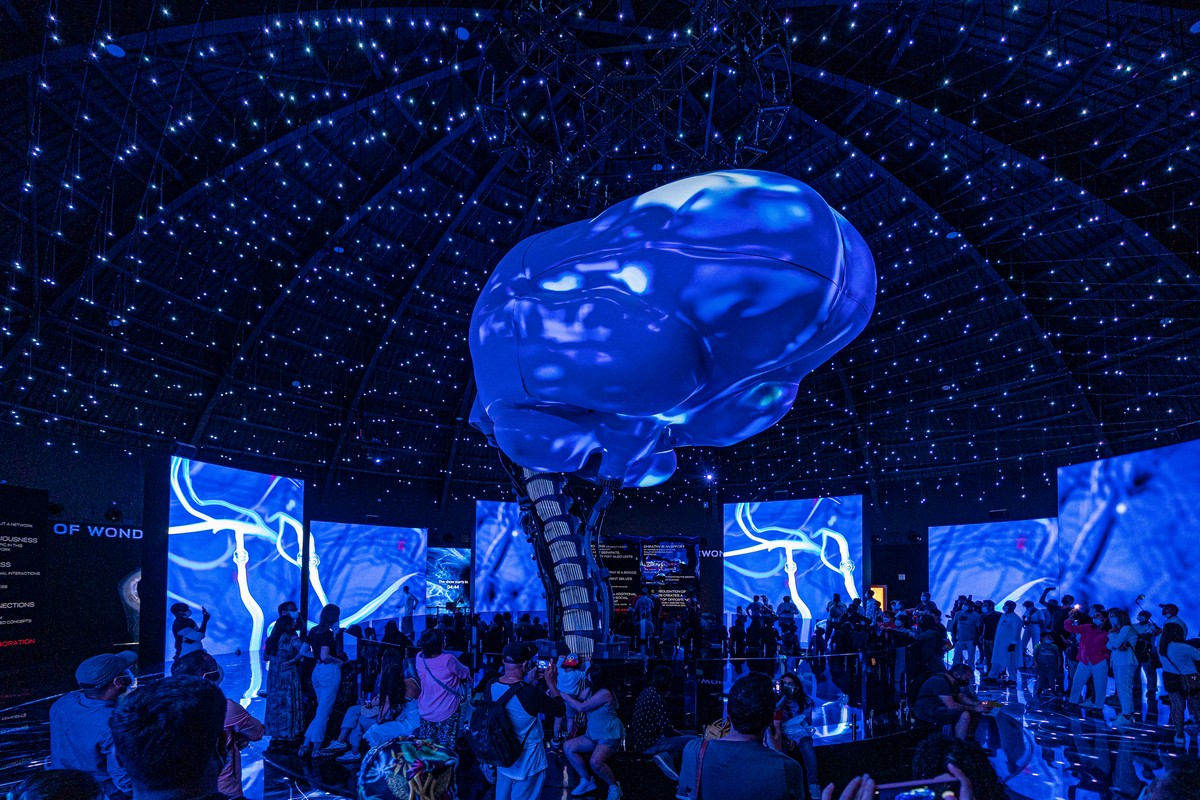 The Russian pavilion even has its own webpage; here's what it says about itself:
'The Russian pavilion answers essential questions: how do we find our place in an interconnected world, and how can we better understand each other despite our differences?'
…Nice. But here's a bit more practical detail, in the words of my travel companion MK:
"The interactive composition with the huge brain upon the cervical vertebrae comes to life every five or 10 minutes, and proceeds to inform the audience how cleverly constructed neural connections are: how neurons interact with each other, how they transfer and transform information, and how they can learn – if they work together. Key word – together; i.e., cooperation. Science knows no borders – it's international; therefore, the future depends on how freely and openly humanity can share information.'
…Nicer! Hurray! Bravo! Standing ovation! I couldn't have put it better. And I've been promoting this idea for years decades! Enough already of confrontation in cyberspace! They can do what they want in the physical world, but the digital world (also the scientific one) needs to be isolated from primitive geopolitical insinuations and distortions.
But back to the brain. It's a beaut! ->
In the Russian pavilion you can also read stories about scientific breakthroughs, modern technologies (including Russian ones), and how this all improves the world and accelerates progress. And also how everyone in the world is connected via five (or is it six?) handshakes.
Well, what a good start to our Expo experience, after all!…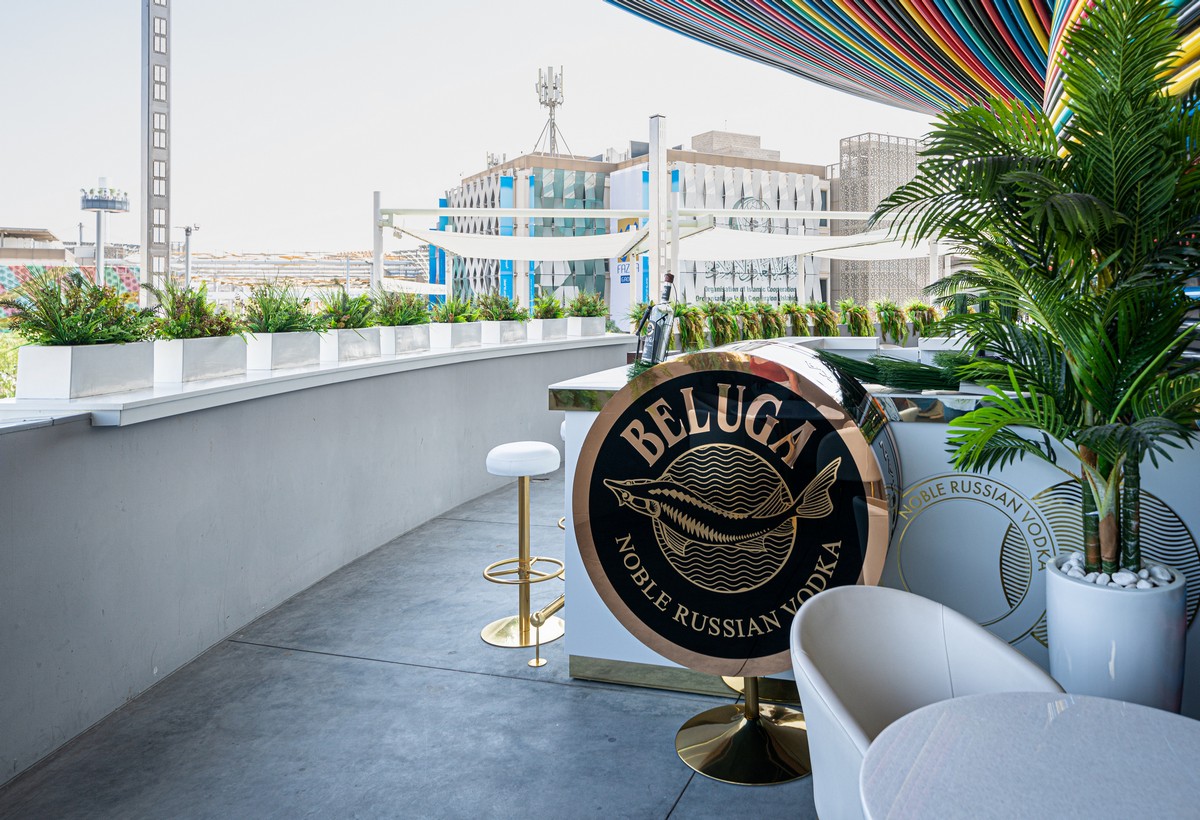 Vodka? At 33°C (early November!)? No thank you; no way! Ah, turns out indeed no one is drinking it; they just had that nice gold logo there for effect, apparently.
A swig of mineral water, instead, and onward we stroll…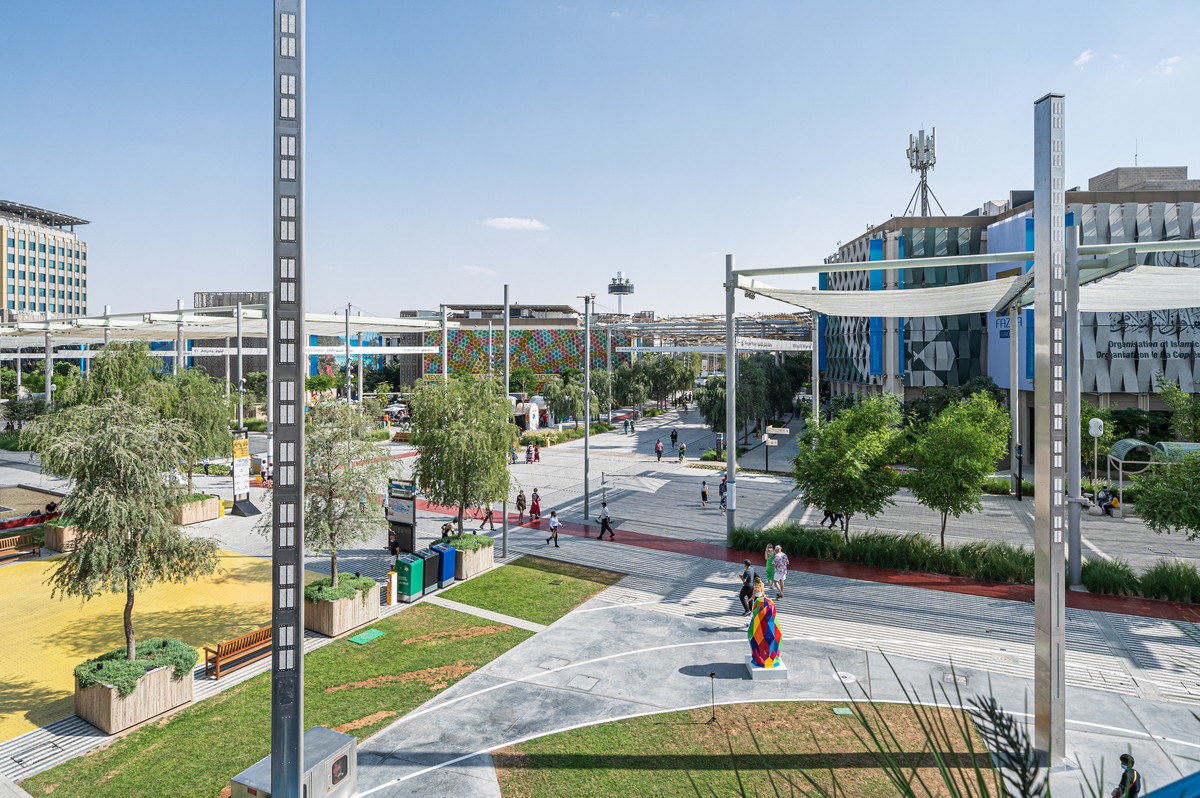 And it just kept getting all the more curious and grandiose…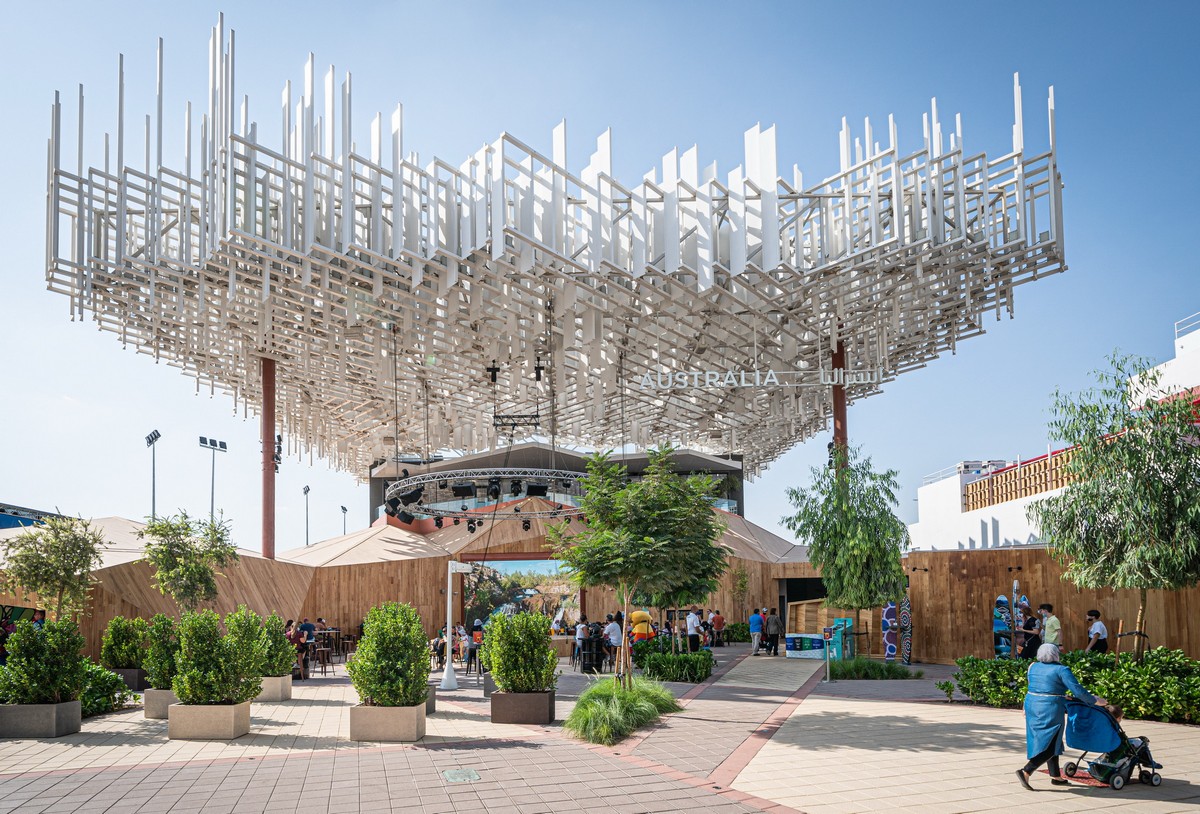 So, what's with this roof installation? What's it mean? I didn't find out. Imposingly, originally, bizarrely striking, though ).
We waited in line to get into Australia's pavilion. Inside, a black obelisk peers down at you from up above. You – plus a whole load of other folks…
After the obelisk room, you enter one dedicated to Australian nature, showing videos thereof. Again – agree! Australian nature is oh-my-grandiose-awesome. But we needed to get to the next pavilion…
Expo 2020 hosts – the UAE. Their installation was half-underground: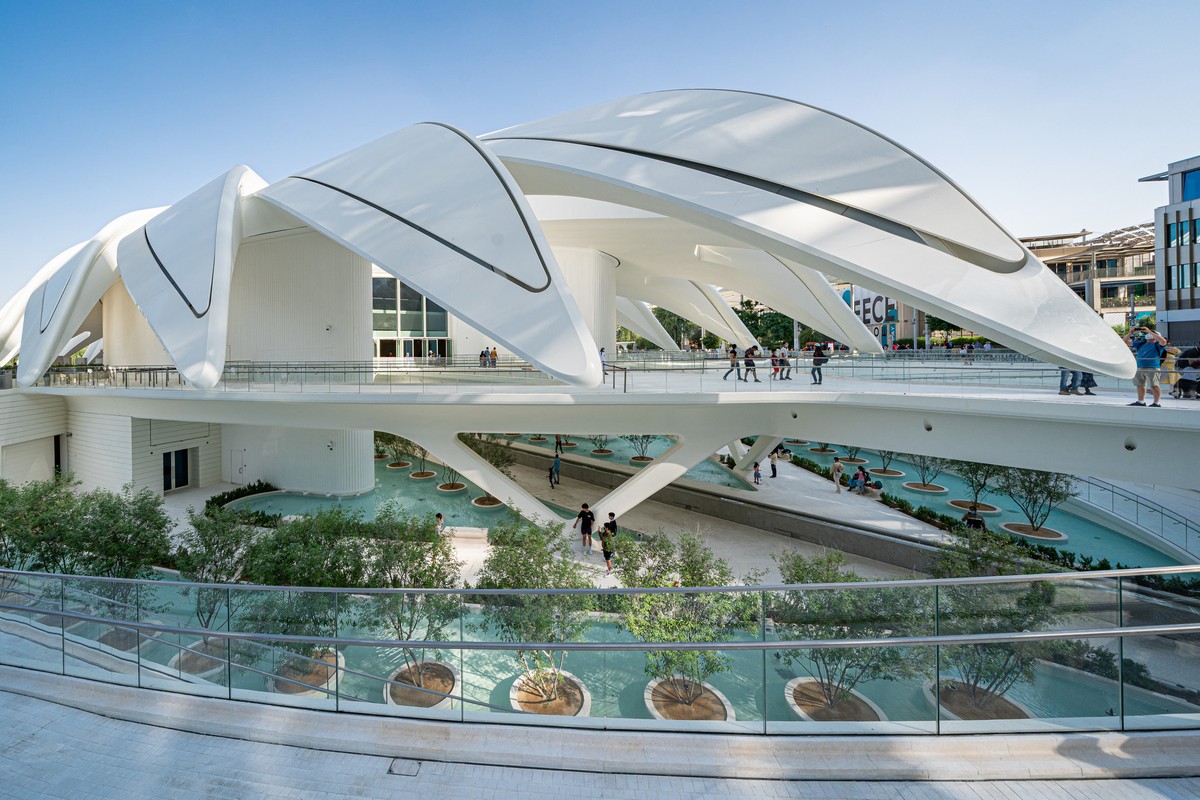 Another unusual configuration; well done, architects!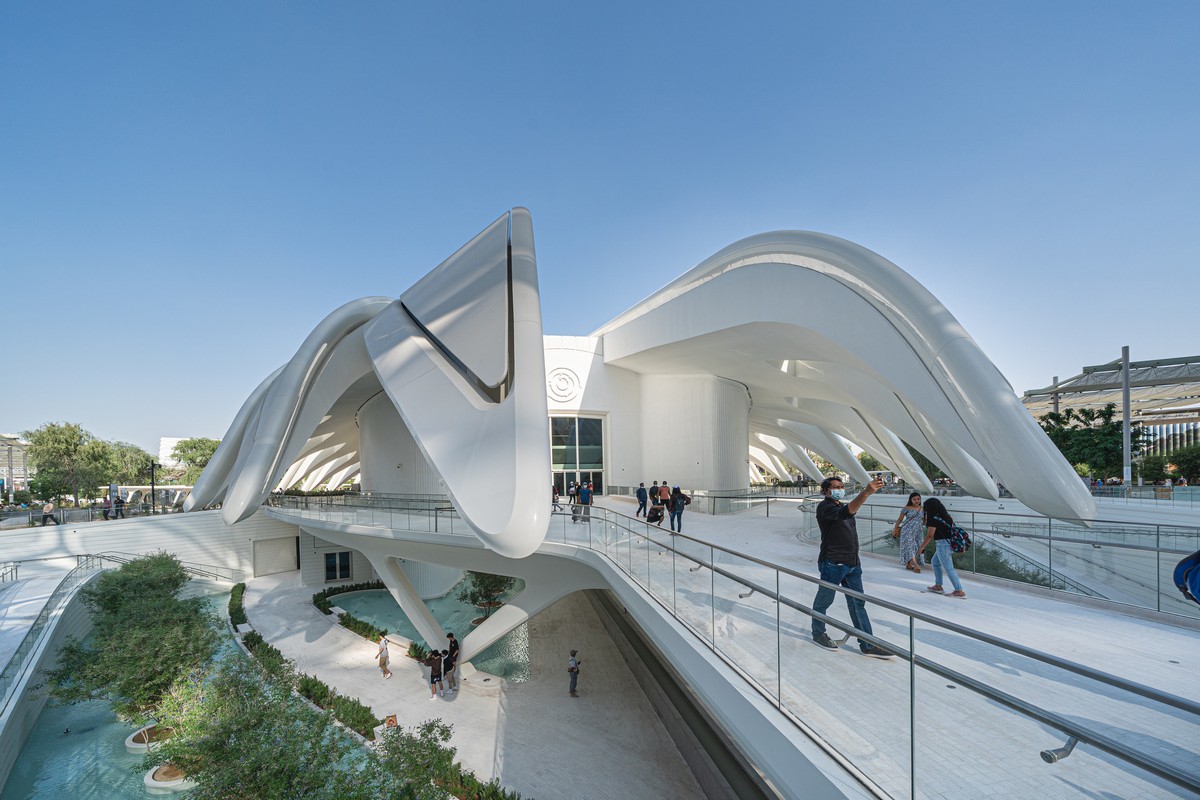 Underneath the futuristic architecture up top, down under there's a miniature Empty Quarter (I've been to the real one, and it was amazing!), in which they show projections telling the story of uniting – peacefully; i.e., voluntarily – a full seven absolute monarchies into a single union. A unique story! And look how well it's turned out?
Saudi Arabia's pavilion: mind-blowing…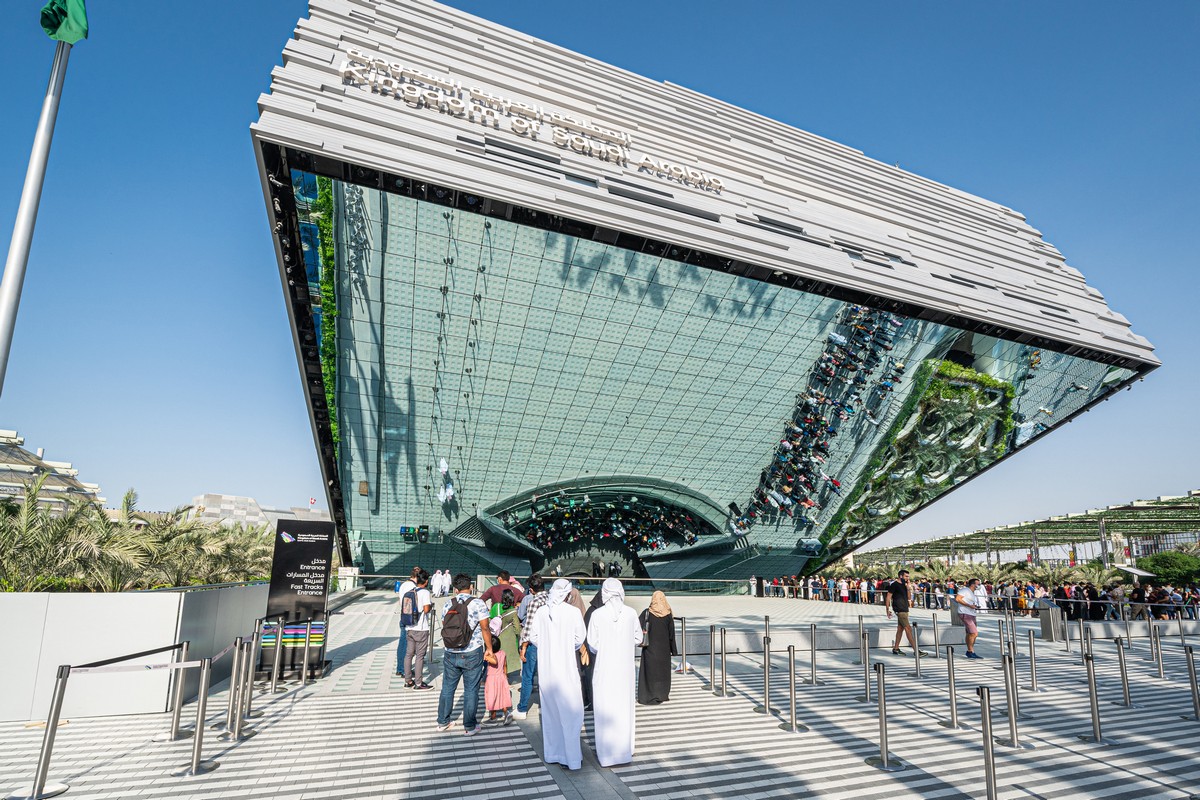 Yes – that's a mirror there. Ideal for selfies!…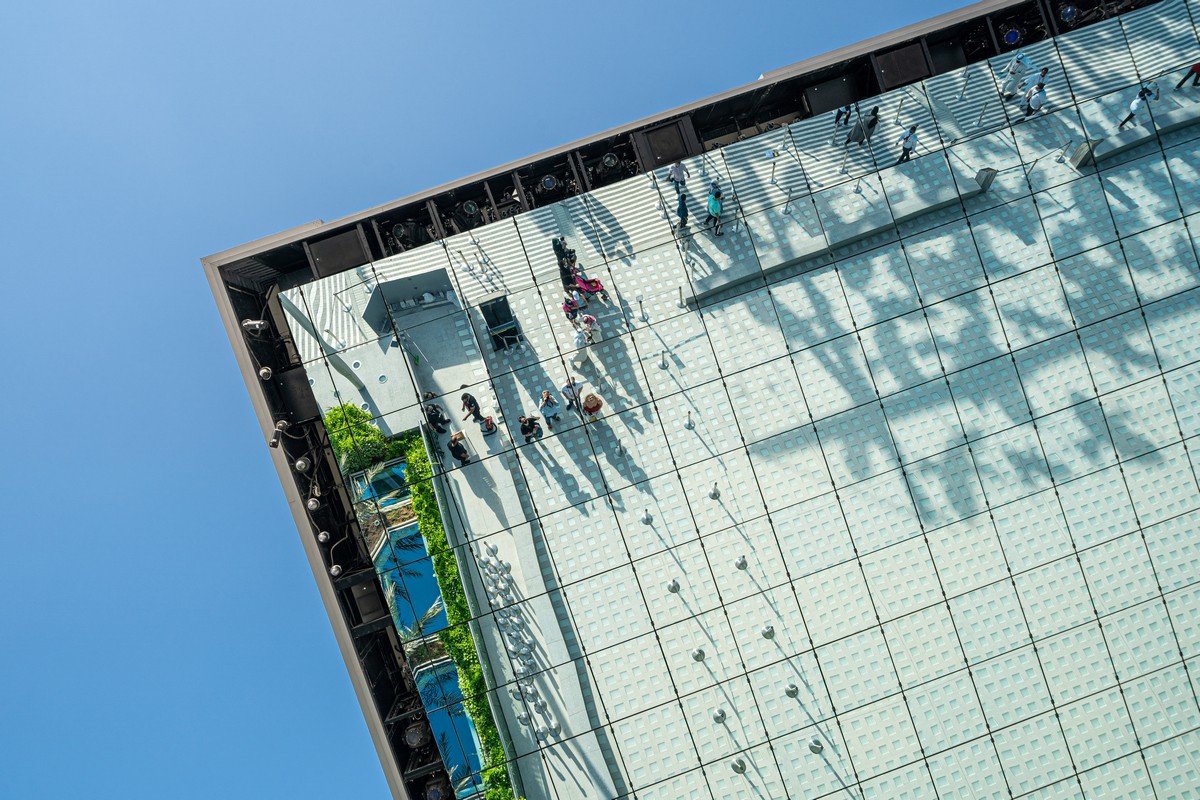 Can you see me there taking that one? With my three travel companions?
Inside, a 'smart waterfall'. The water pours down constantly, but if someone wants to get through to the inside – or leave it – it automatically creates a dry 'door' ).
The main message of this pavilion is that Saudi Arabia is a very beautiful and diverse country, and in the future it will attract millions upon millions of tourists who'll be treated to the most comfortable conditions possible for their stay. Sounds good; looking forward!…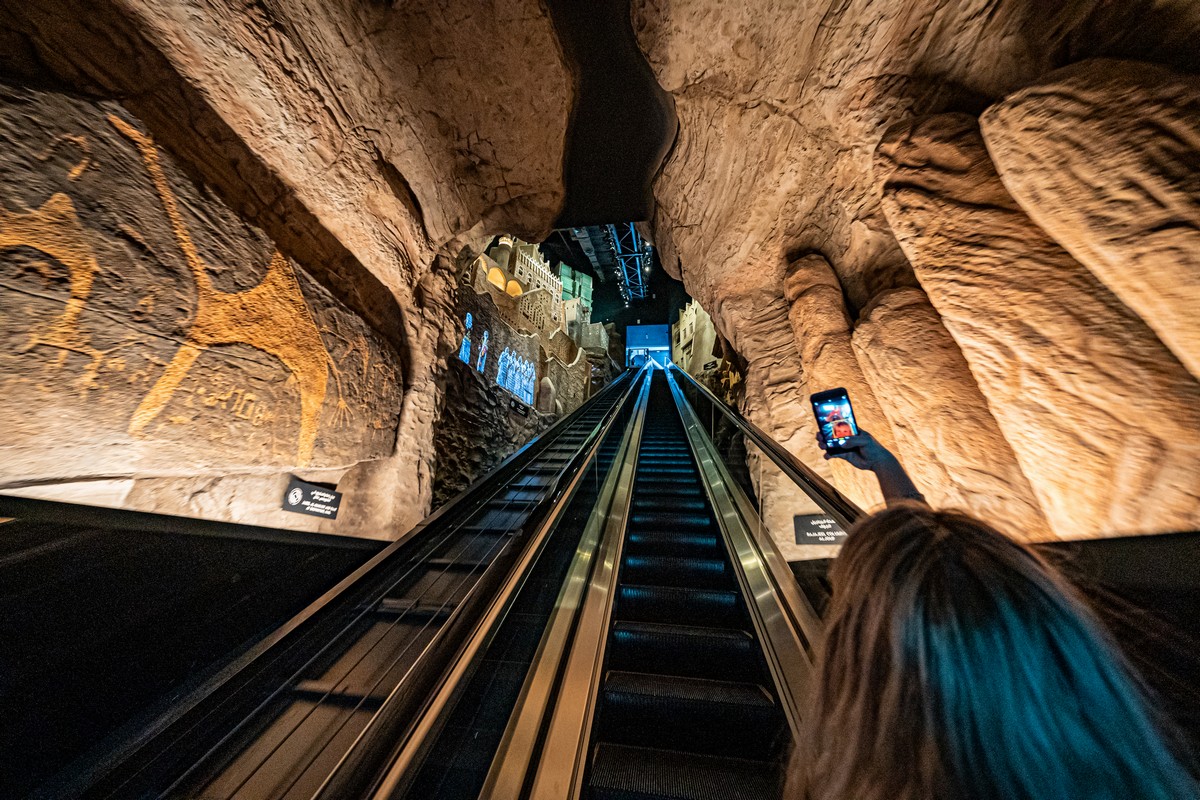 Just like the country's plans – the only way is up!…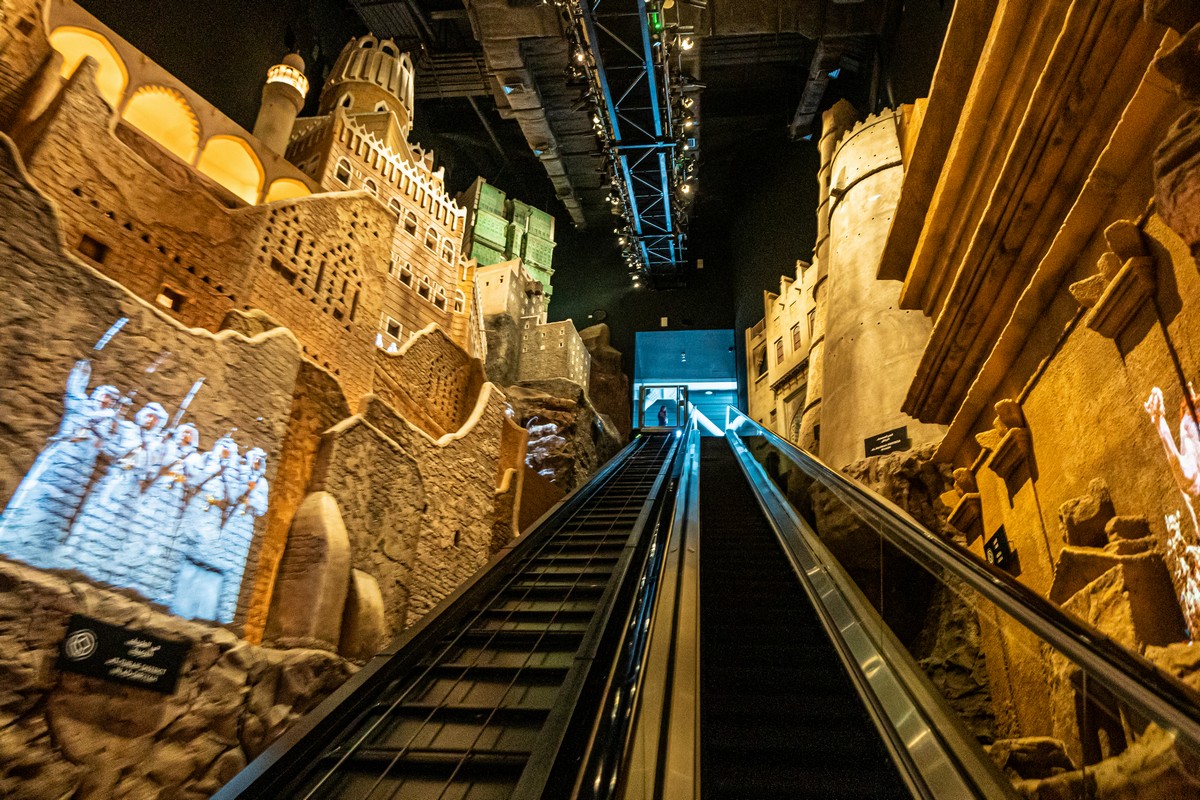 A colossal concave screen. They say making it was a colossal technological feat. Colossal cost too, I'm sure…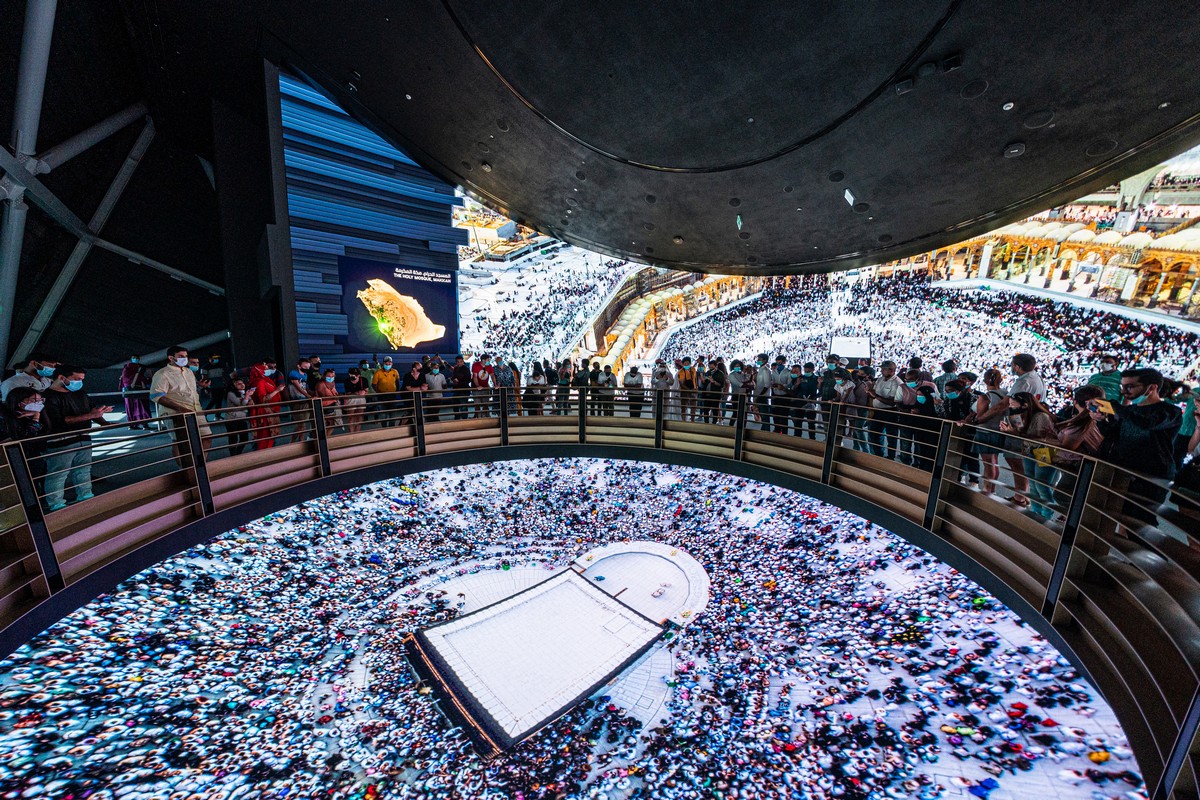 And here's an entry in the Guinness Book of Records! ->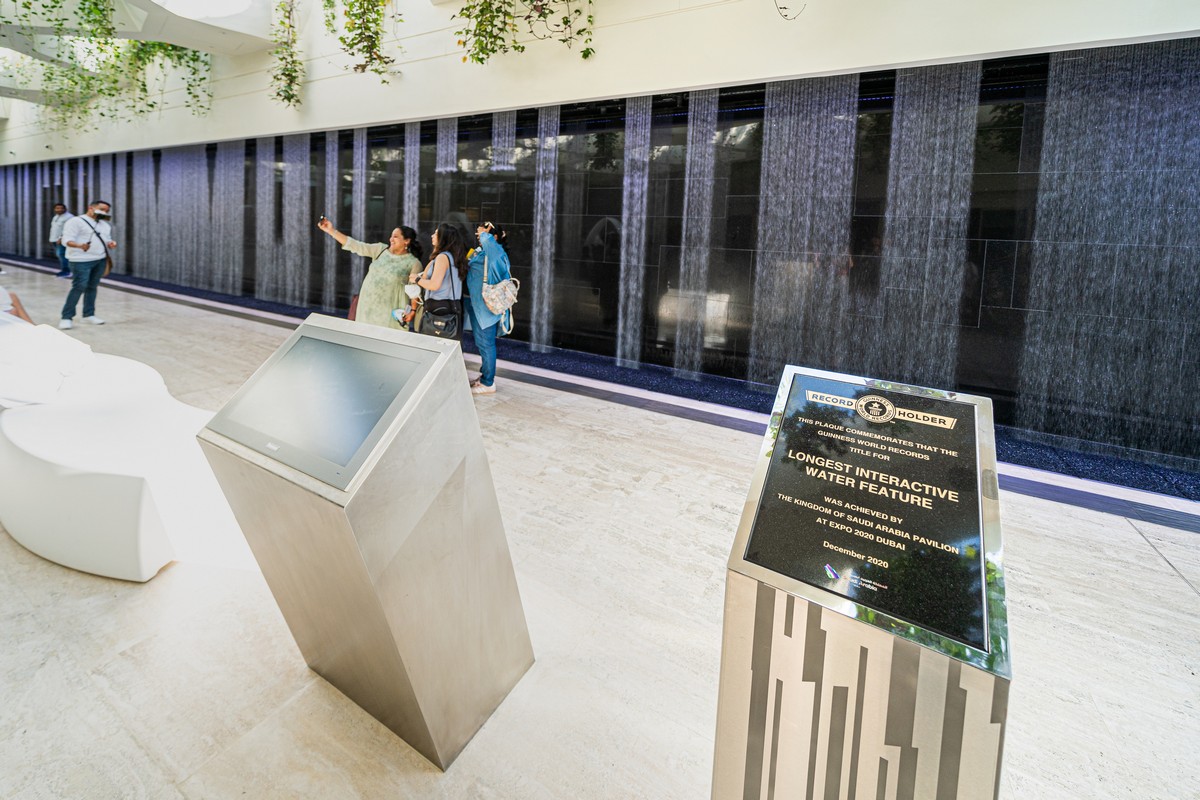 Interactive map of the whole country showing where the very best tourist spots are: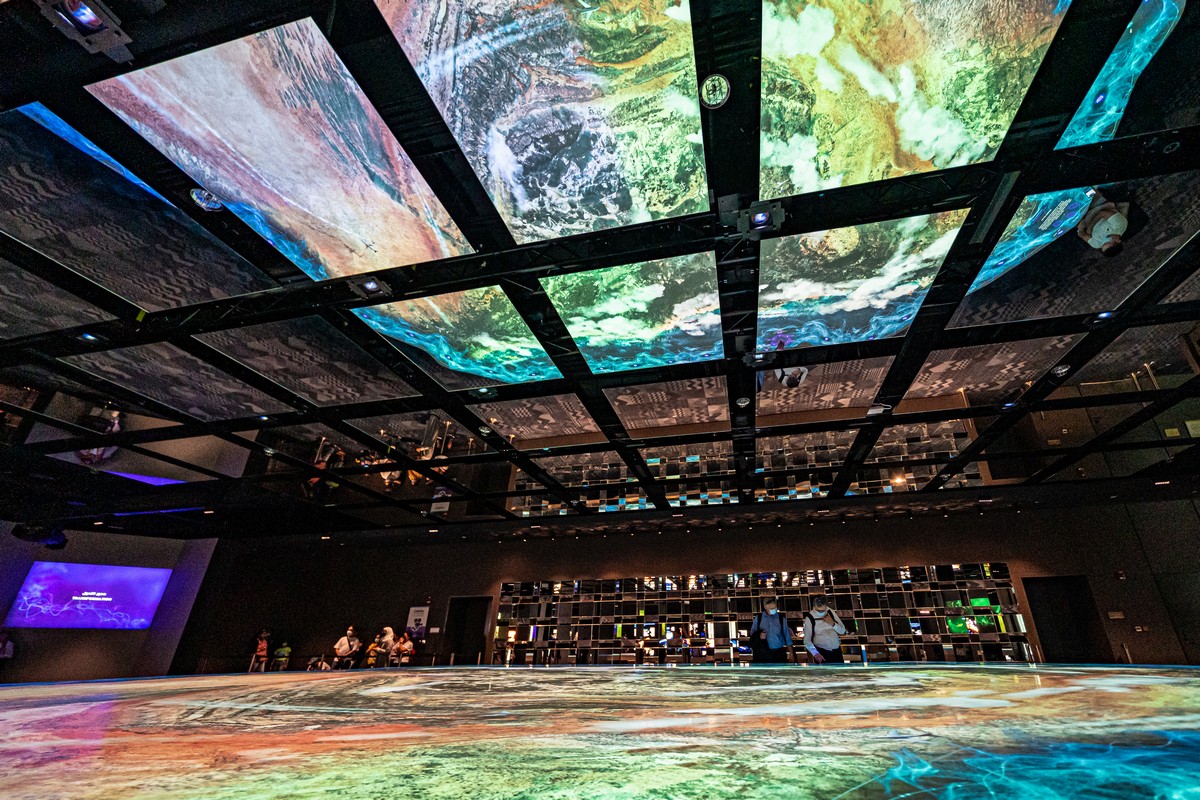 We were told the German pavilion is real special; alas, we didn't have time to check it out.
'Women's Pavilion'. Interesting…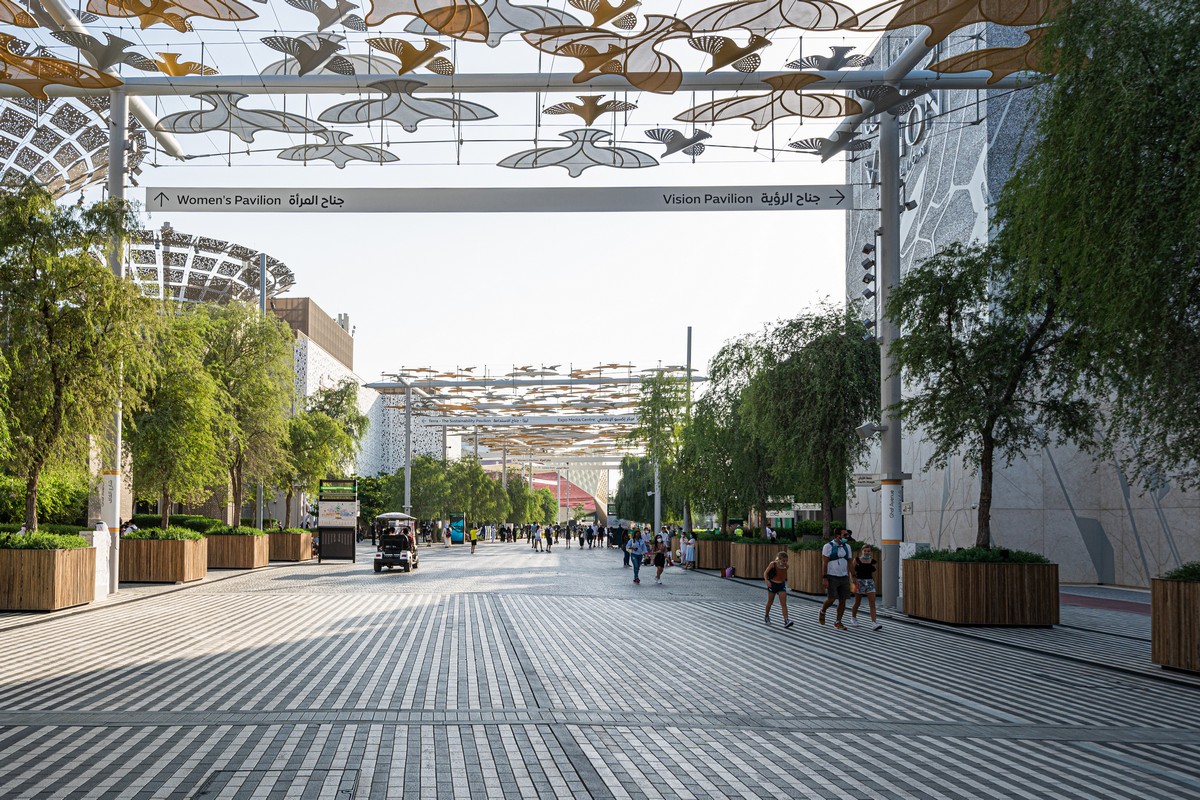 A long line for the Korean pavilion, with folks waiting and hour-and-a-half! But we were lucky…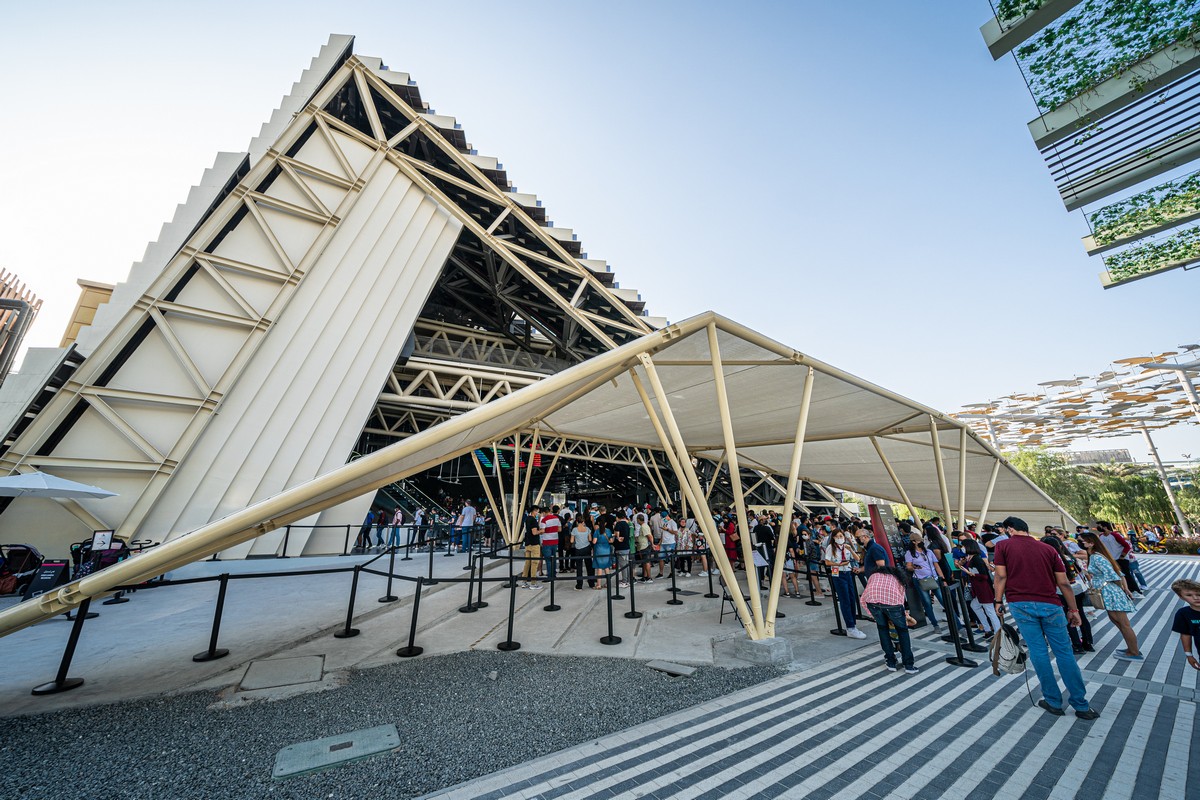 Inside – dancing show: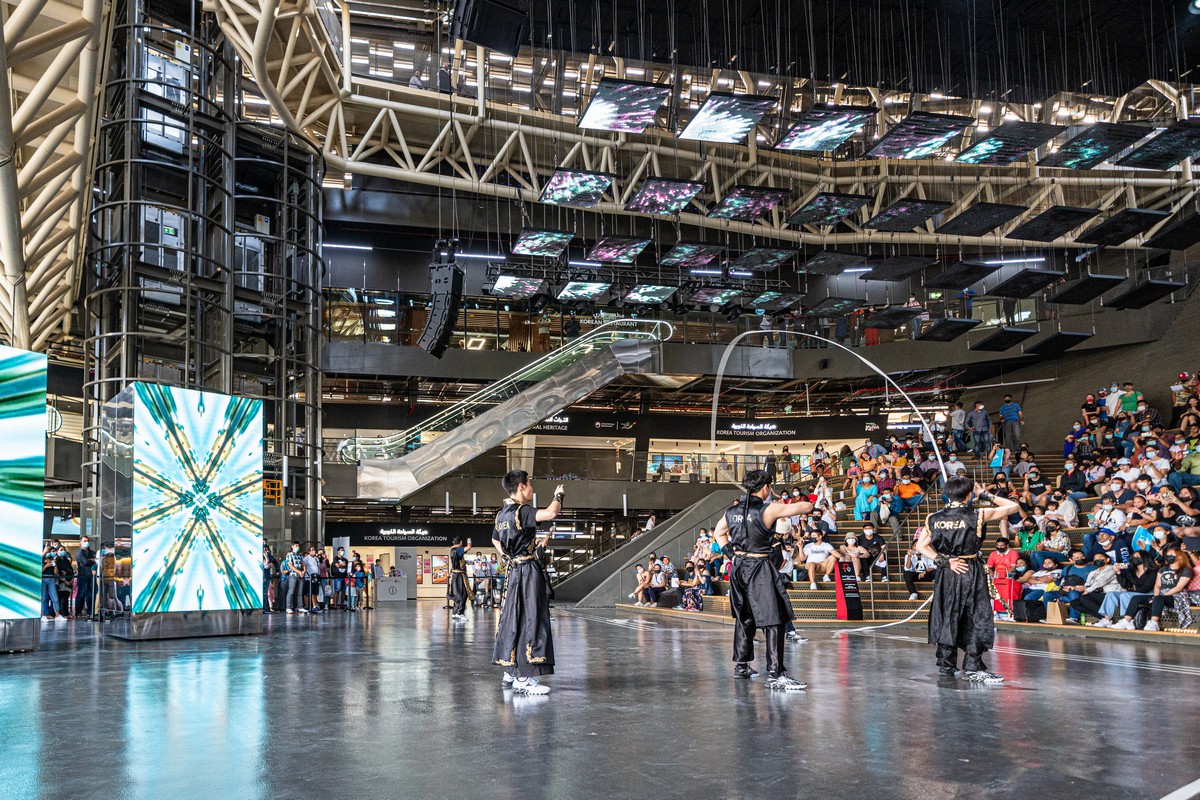 The view from up top: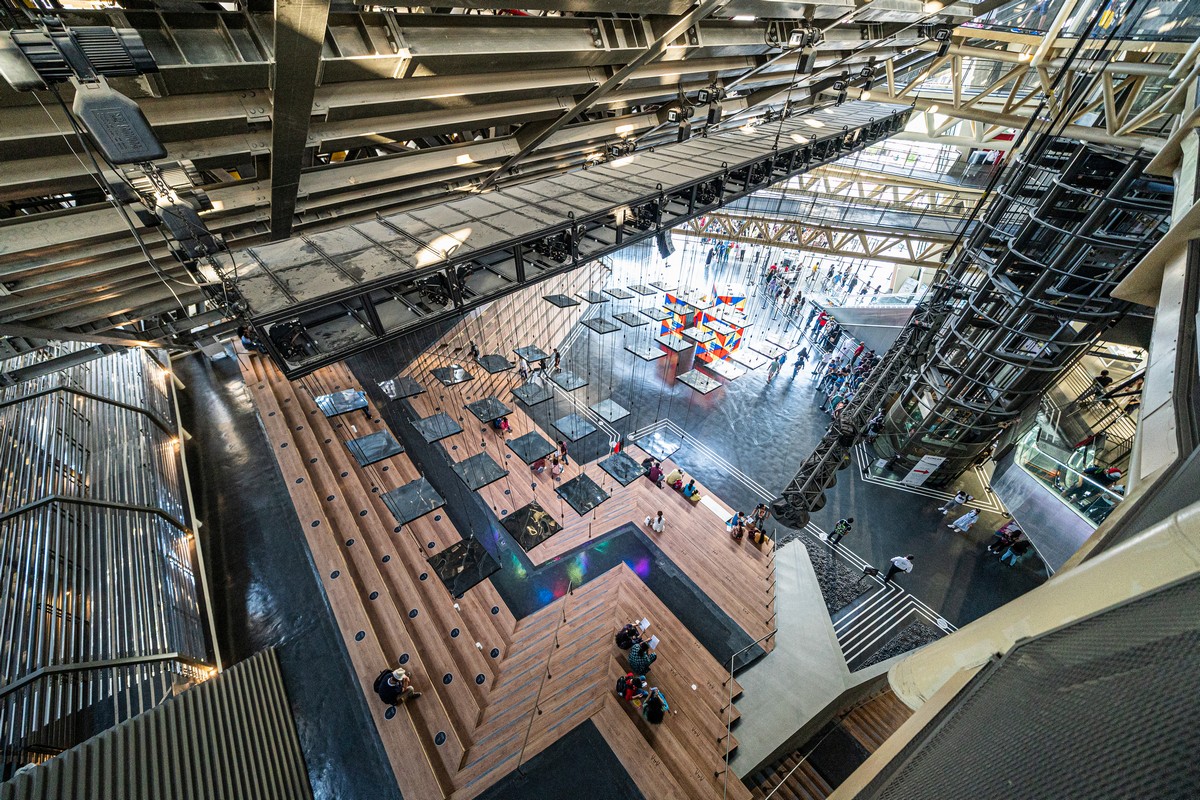 These yellow-and-red blocks light up at night to show all sorts of visuals; but we couldn't hang around till nightfall.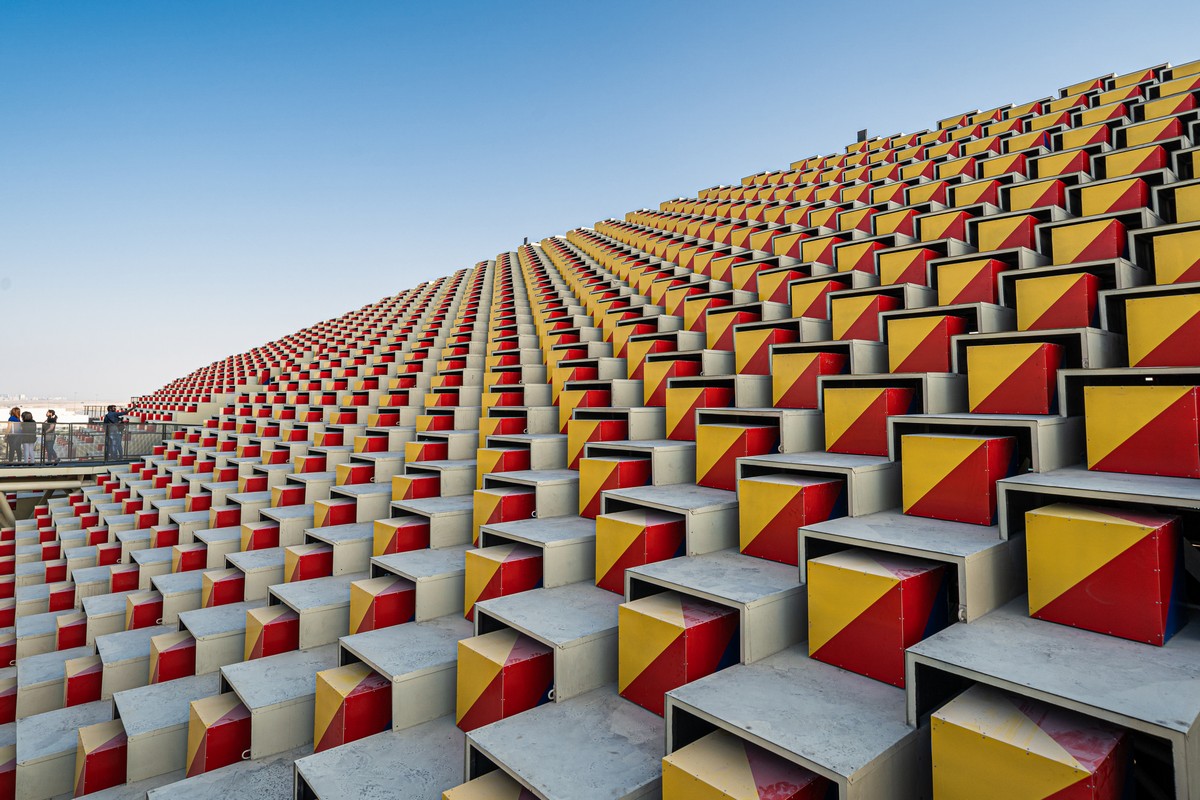 Watching a film about modern Korea… on the ceiling! ->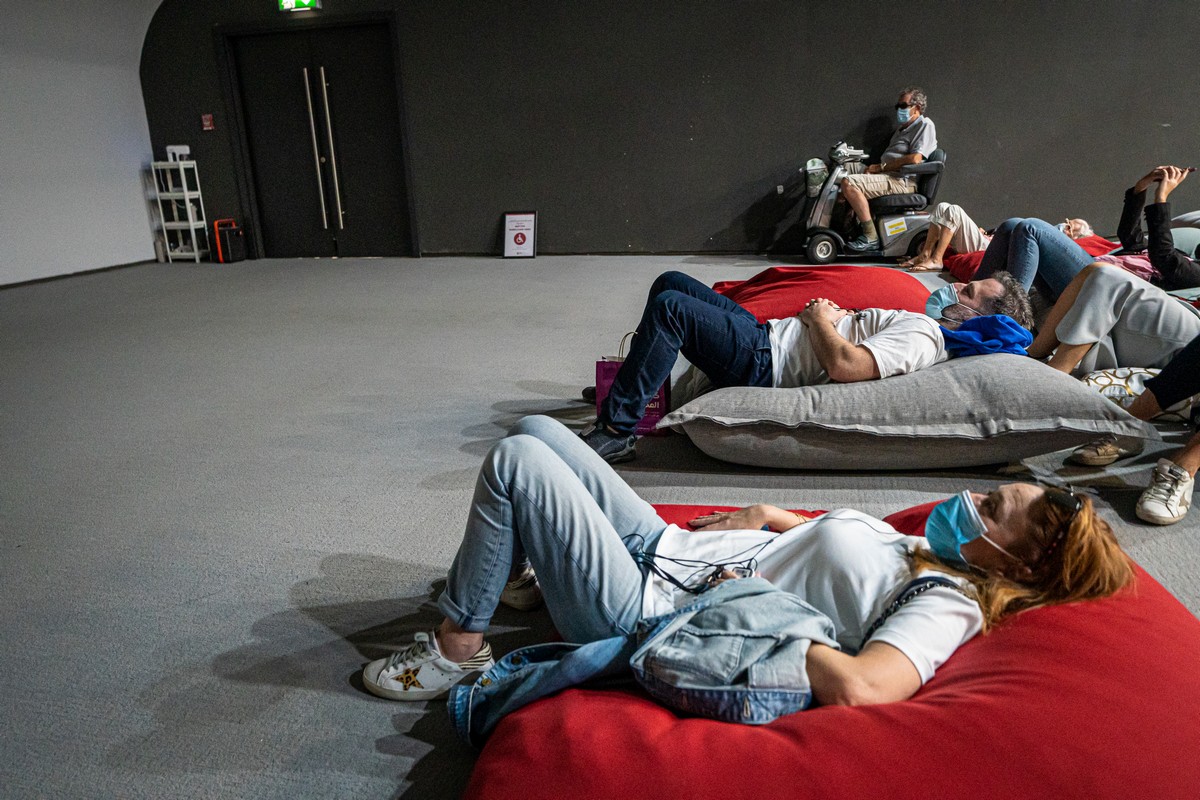 And that's about it in the Korea pavilion. Not bad at all. But standing in line for hours? Why? It's hardly a mummy in a mausoleum…
Onward… to Hungary's pavilion ->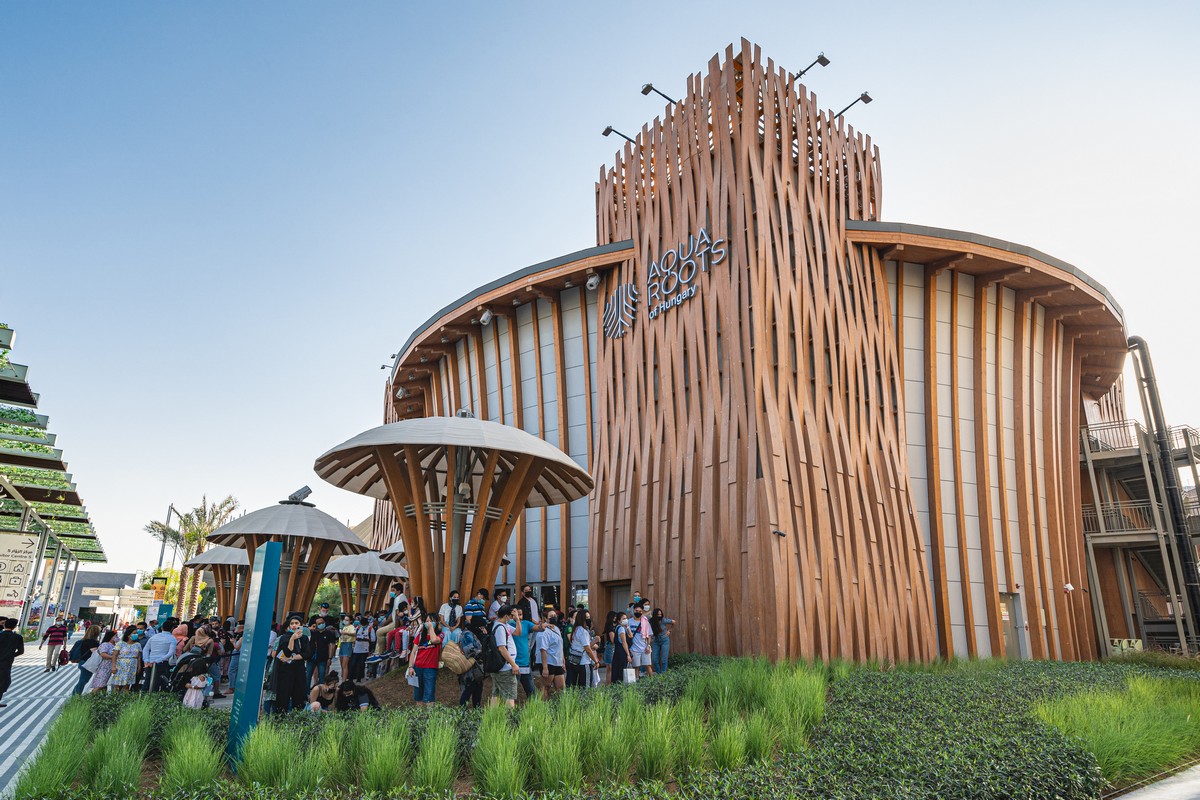 More lines!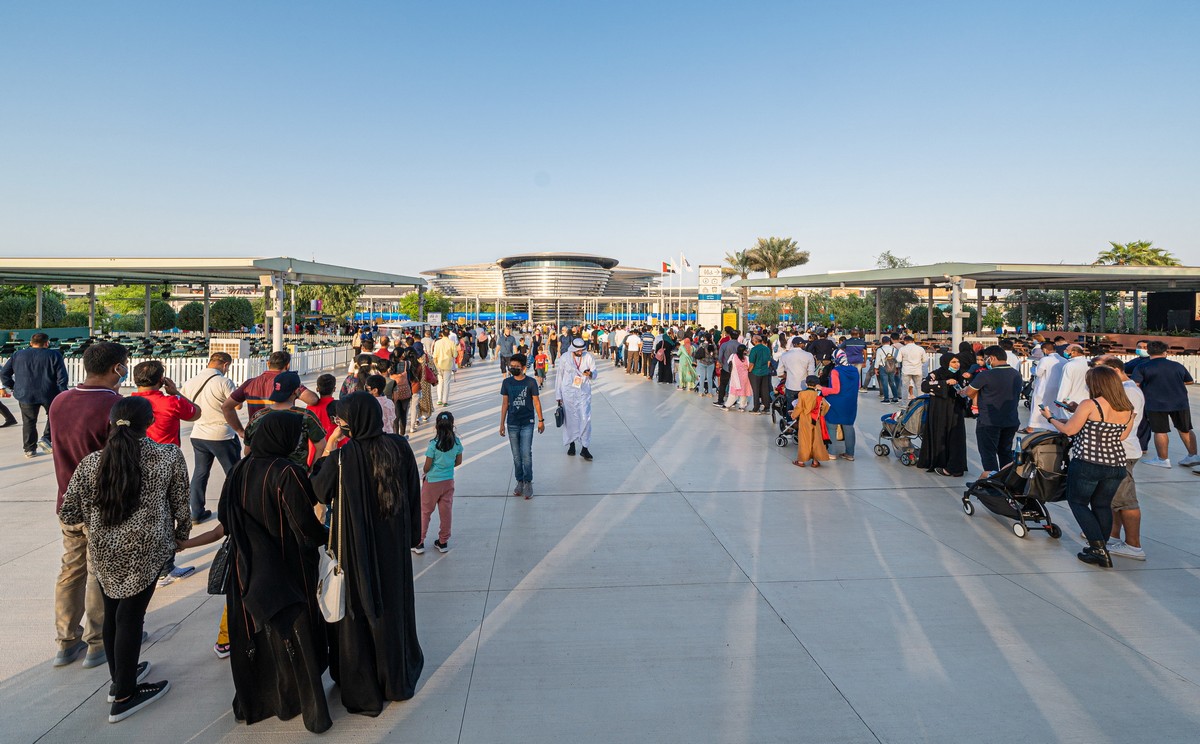 In all, my impressions were mixed. There's a lot of the intriguingly interestingly futuristic and sci-fi here. But all the lines? If you want to get into all the pavilions, that's around 100 hours of your life spent. Four days! Under the scorching sun? To see expos? Thank you, but maybe another time…
If it weren't for the lines, this place would rock: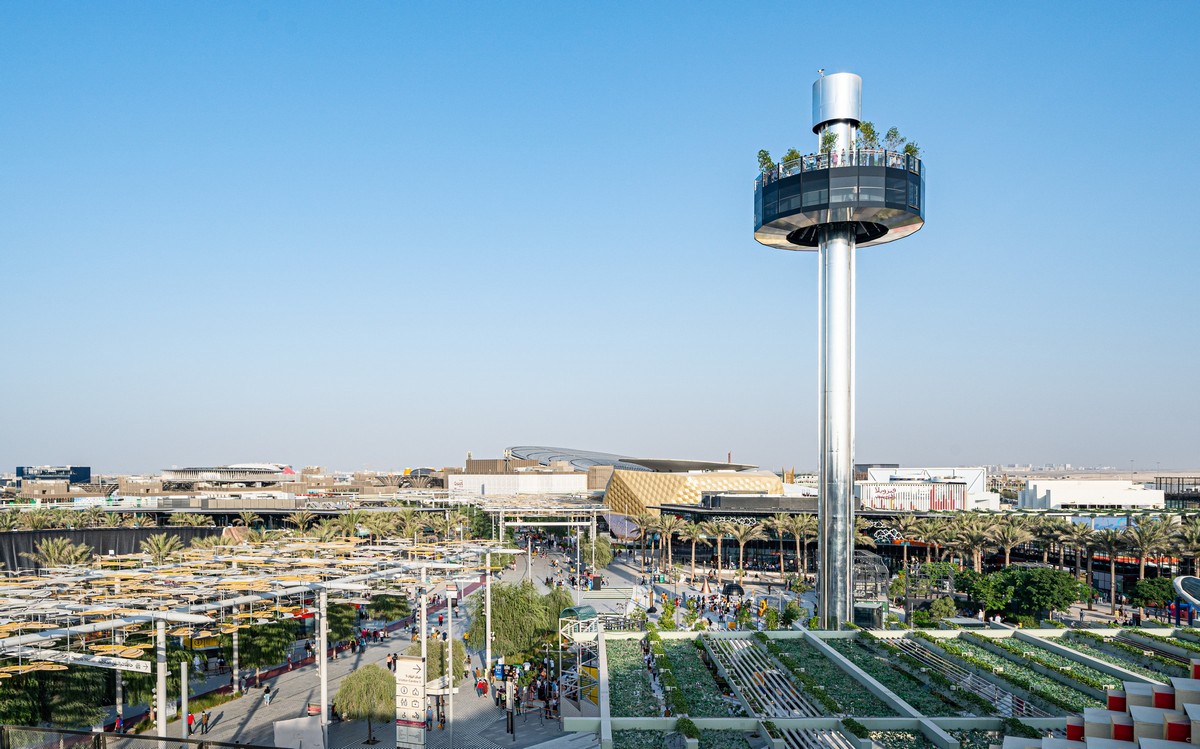 The rest of the photos from Dubai are here.