Hi folks!
Now, if you're a regular reader of this here blog of mine, you'll know how I like to keep things positive. No matter where I am, no matter the weather (mostly), no matter how jet-lagged, no matter how tired… – I keep things cheerful, cheery, chipper and chirpy. But sometimes, just occasionally, I find all that jolliness is tough to maintain. Not sure why. Maybe it's something to do with the poles or the moon and tides. Anyway, I need my readers to help me find worthy places to see in Morocco (for my inevitable next visit) because this, my second time in the country, gave me very little to say 'wow' about…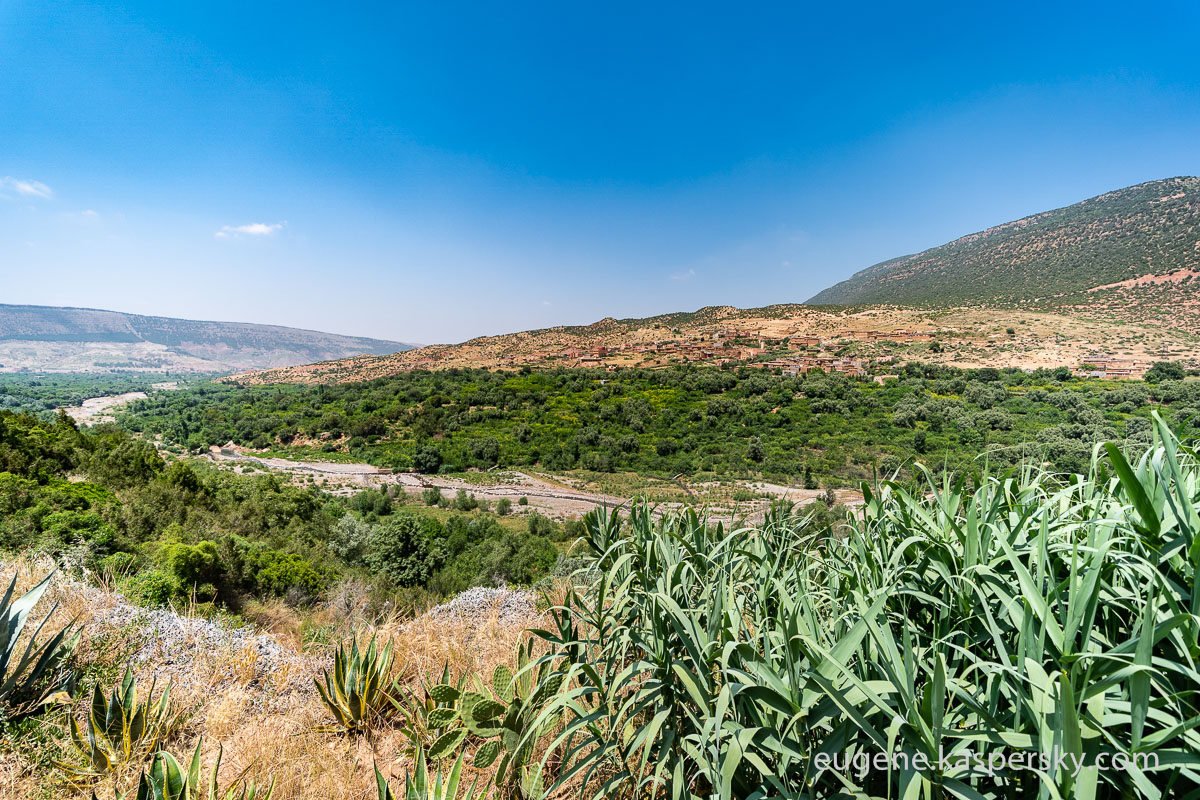 Morocco has a long and rich history, so much so you can become engrossed reading about it once you get started. Especially the bit about the fossils of very early (from more than 300 millennia ago) Homo sapiens/Neanderthals. So careful with that link folks: it represents a black hole for your precious time. Worth it though: it's the history of mankind, no less.
Today, there are suburbs that are more salubrious than the norm – pretty red residences, even new developments of villas with swimming pools in the back garden (as seen from the airplane), but these are very few and far between. Mostly here there's a marked absence of luxury and other well-to-do-ness.
And, of course, being in Africa, the climate… yes – it's no Faroese affair ). Hot and humid. In short, not my cup of tea, to put it mildly.
Now, given these unfortunate downsides, I did during my recent stay in Morocco wonder why the place so popular with tourists? Was I checking out all the wrong places in the country? Was I here in the wrong season? What else could I be getting wrong? Could any of you, dear readers, shed any light on this? What are the must-see places in Morocco I'm missing?
This was my second time in the northwestern African country. I was here back in 2012 for a conference in Marrakech. That time I was fairly in raptures about that ancient city with all its backstreets and hustle and bustle. So I'm warming to the theory that I may have got the season wrong.
Another thing: Marrakech isn't by the sea. Maybe it's the coast that's the tourist-magnet, much like, say, Surfers Paradise? Hmmm. There are also the Atlas Mountains – which I didn't investigate up close. Maybe those too?
Aaaaanyway. My mood sure lifted from this unusual and unexpected gloominess of mine when we reached our digs for the night: the Kasbah Tamadot. Just click that link and you'll see why ). Talk about 'oasis'?!
Btw: can you spot the telecommunications pole in the above pic?…
…It's that single tall, thin 'palm tree' on the other side of the road from the hotel. Camouflaged!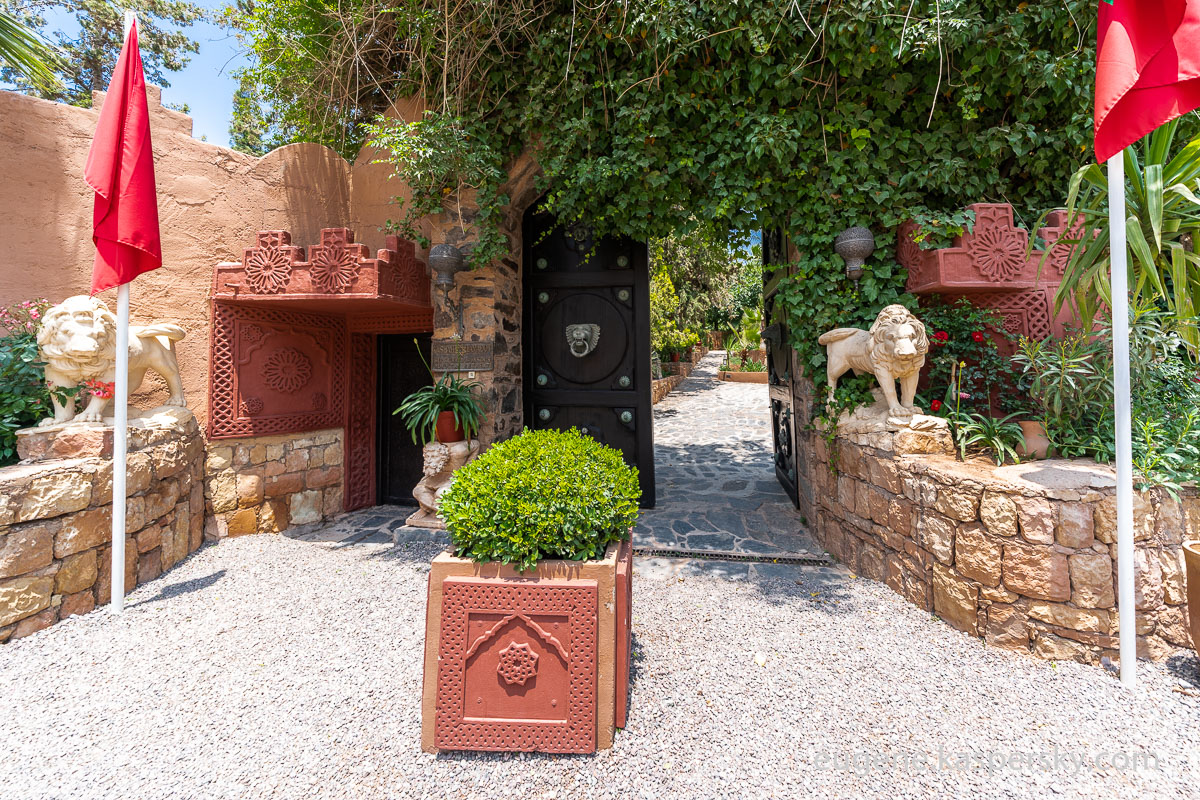 This hotel belongs to none other than Sir Richard Branson…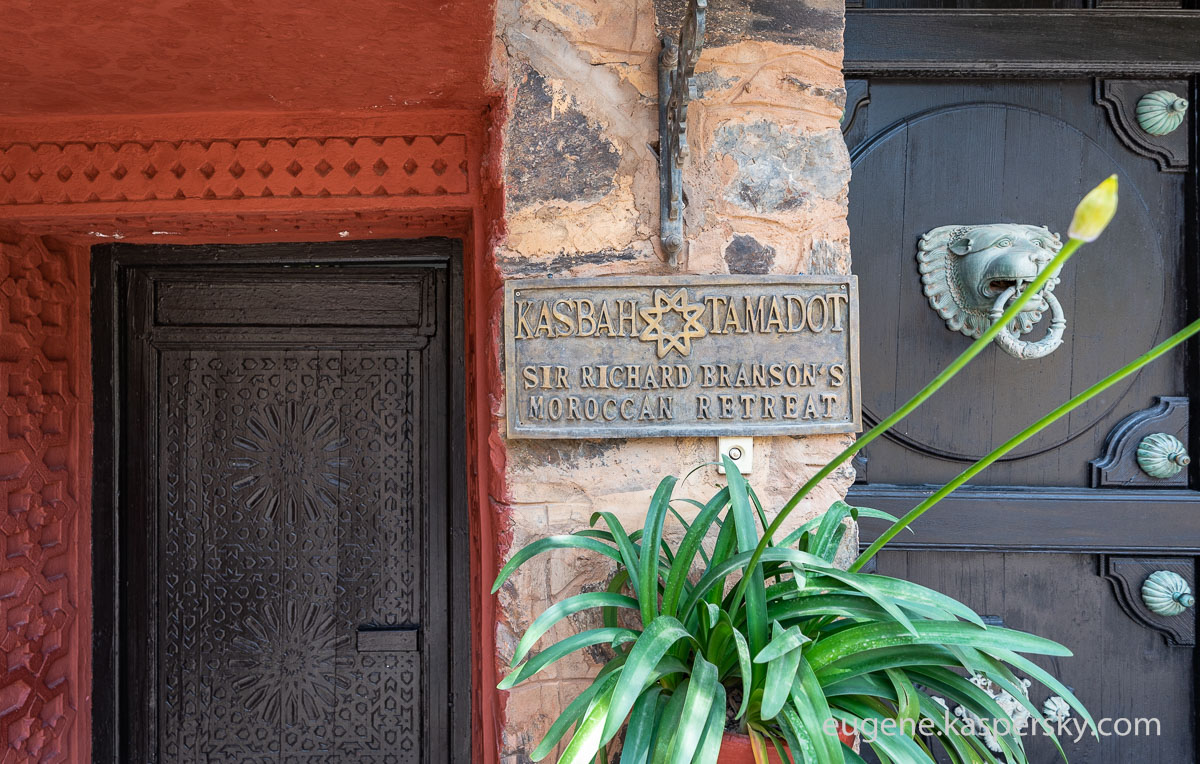 …And it's this fact that attracts most of the guests here. Sometimes he's here in person and everyone wants a selfie with him (poor guy; and he comes he to relax:).
A very nice place, as you can see. Plus the views all around – exclusively Moroccan:
The Atlas Mountains in the background: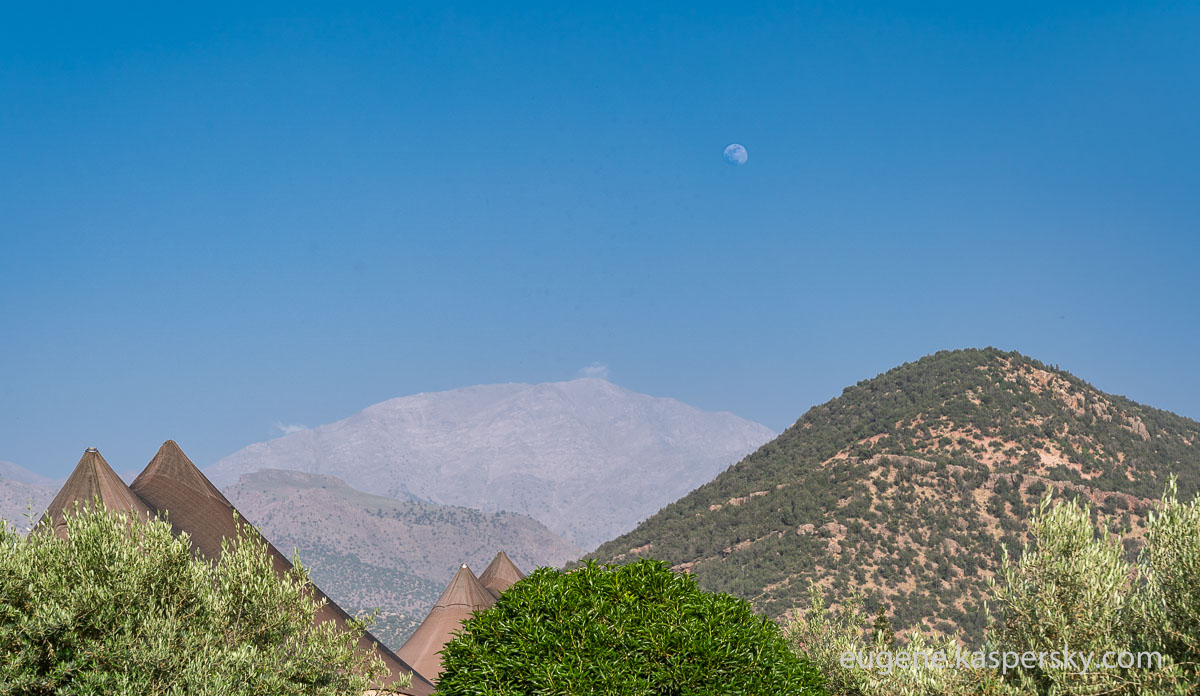 Kunst and birds…
We got up nice and early the following morning – before it gets crazy hot – for a stroll up the hillside at the foot of which the hotel is nestled.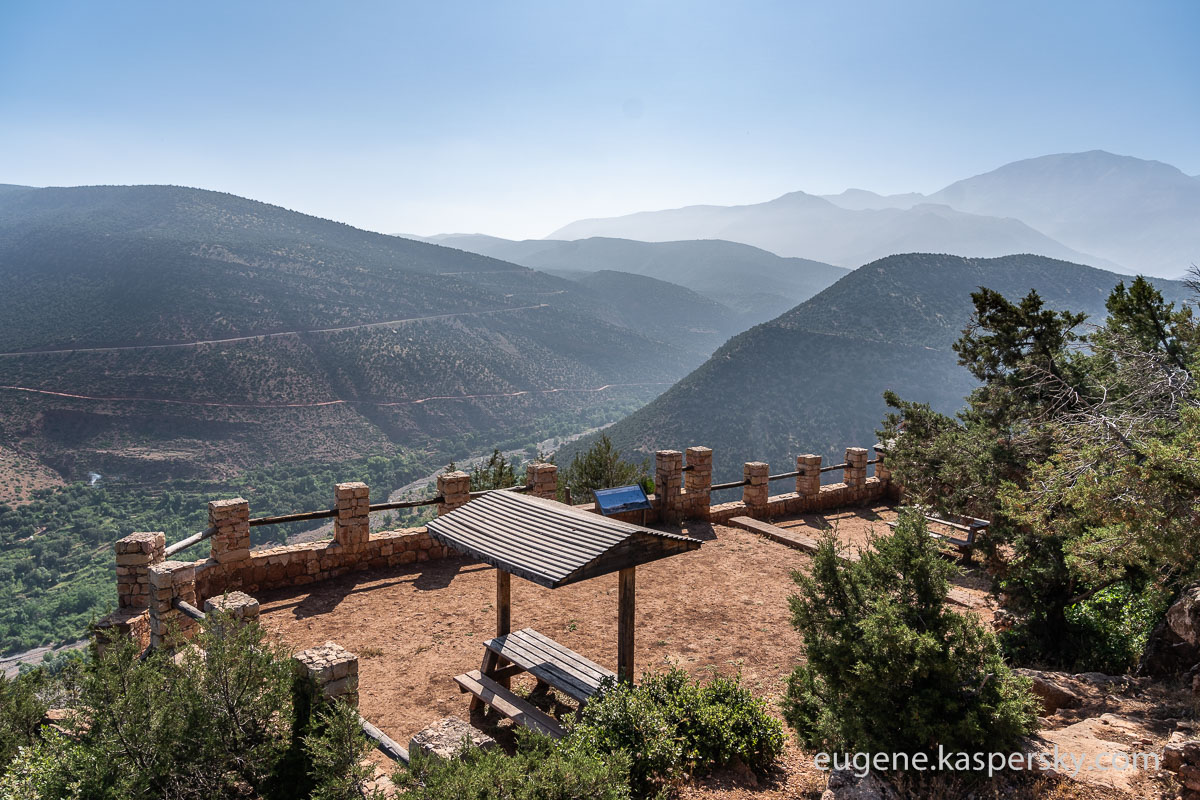 It's quite high up here (1300-1700 meters above sea level), plus the Sahara isn't far to the east, so the vegetation… well, again – it's no Faroes ).
There's Branson's hotel:
In closing, a word about the airport…
A grandiose construction, super-modern, really nicely done.
Btw – what's that alphabet there? Anyone know?
I've seen a zillion airports, but not many compare to this one. At least, looks-wise.
Because function-wise… I've never known a slower airport! Everything here takes ages! Passport control, baggage, taxis.. Even 'fast track' service is sluggish – its 'fast-tracked' passport control took five minutes – the actual 'control', I mean – not the queuing up!
Still, looking on the bright side – ok, things are slow, but at least the service is actually passenger oriented – and works. For I went and mislaid my trusty travel wallet – with all my travel papers and my two passports in it – while filling out all the forms at the airport. A while later – they found it, called me, I drove back to the airport, and was returned everything. Respect!
But I'm afraid that didn't make up for the 40-minute security check – just to get into the airport!
Then another 10 minutes for the other security check after passport control.
Then the five minutes while they check every page of my passport!
So again folks – please do tell me what I'm missing in Morocco, why am I… not 'getting' it? )
PS: Oh, and guess who was staying at the Virgin hotel?…
…Yep!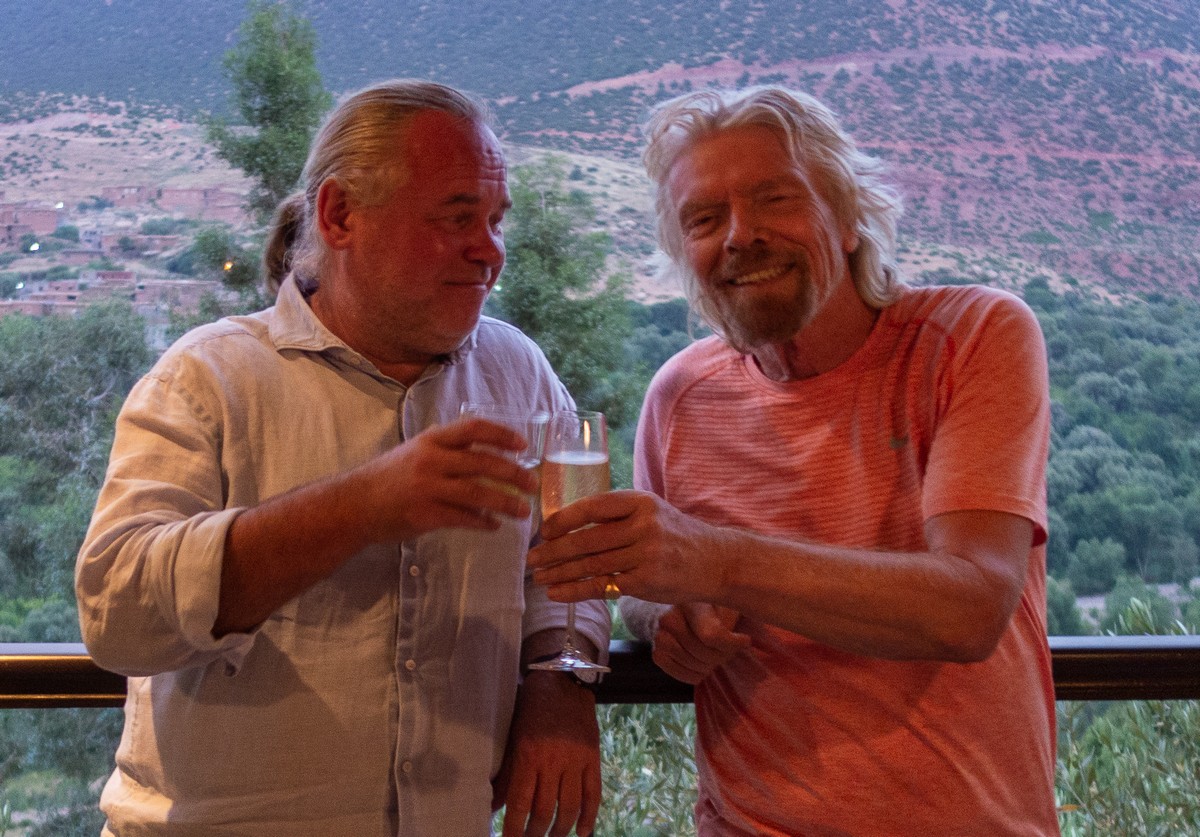 All the photos from Morocco are here.