Salam folks!
My list of the countries in the world I've been to has just had a +1 – Morocco. My total now comes to 72, including Antarctica. Kind of sluggish plusses of late being added to this list, but I guess that's mathematically unavoidable the longer the list gets, and of course the list takes no account of the multiple repeat trips I make to a handful of countries…
So here I am in Morocco – in the city of Marrakesh (sometimes referred to as Marrakech, but never Marakesh/Marakech!). We had our annual European Partners' Conference here. We normally have this somewhere on the European shores of the Mediterranean, but this year we fancied having it over the other side of that pond – on African shores. The conference was great – dynamic, fun, useful, interesting and entertaining. And an F1 replica racing car was present for the occasion.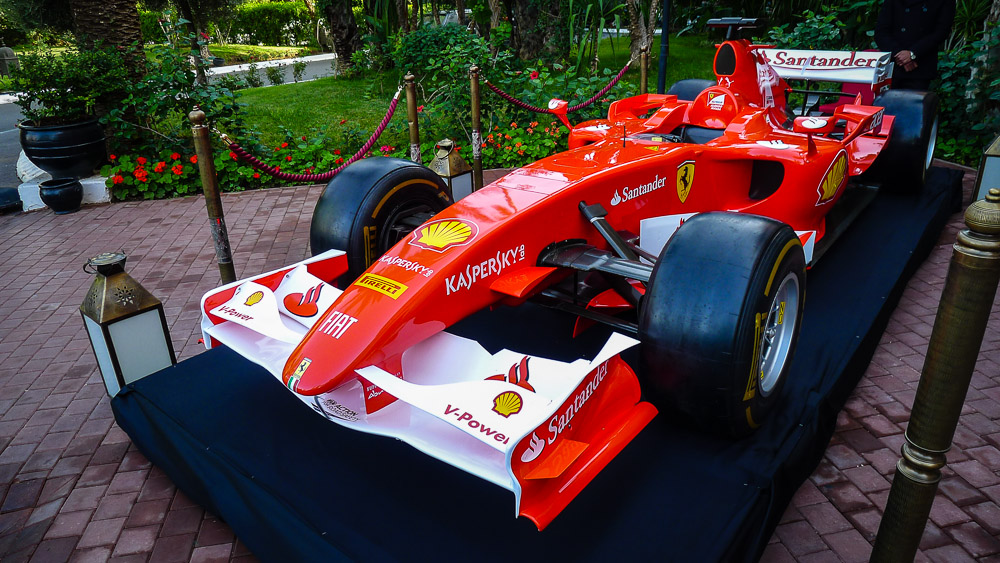 But that's all you're getting re the business bit of the trip. Now for the cultural bit…
Morocco. What can I say? To start off – that this is a very interesting place, and a fairly crazy one too! They say that a trip to Casablanca is a must-do in this country too, and they also say you should rent a car and drive up and down the Mediterranean shore and also take in the Atlas Mountains – but they'll have to wait till next time. Today I'll tell you about Marrakesh and environs.
The main "must sees" here are deffo the old town (Medina), the open-air marketplace quarter ("souq") and Jemaa el-Fnaa – "the busiest square in the entire continent of Africa".
Lively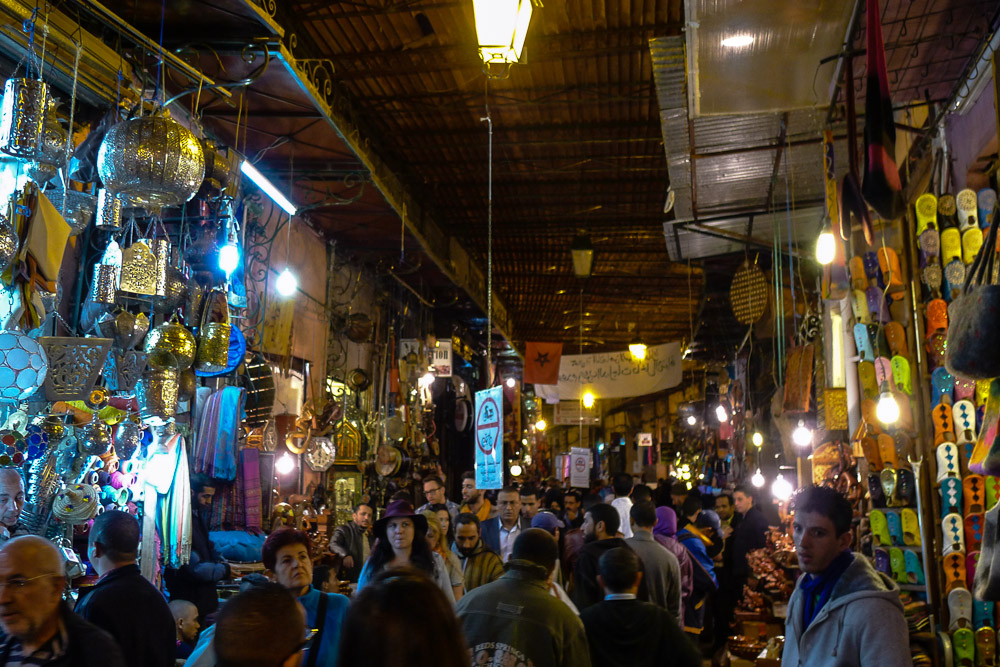 Thronging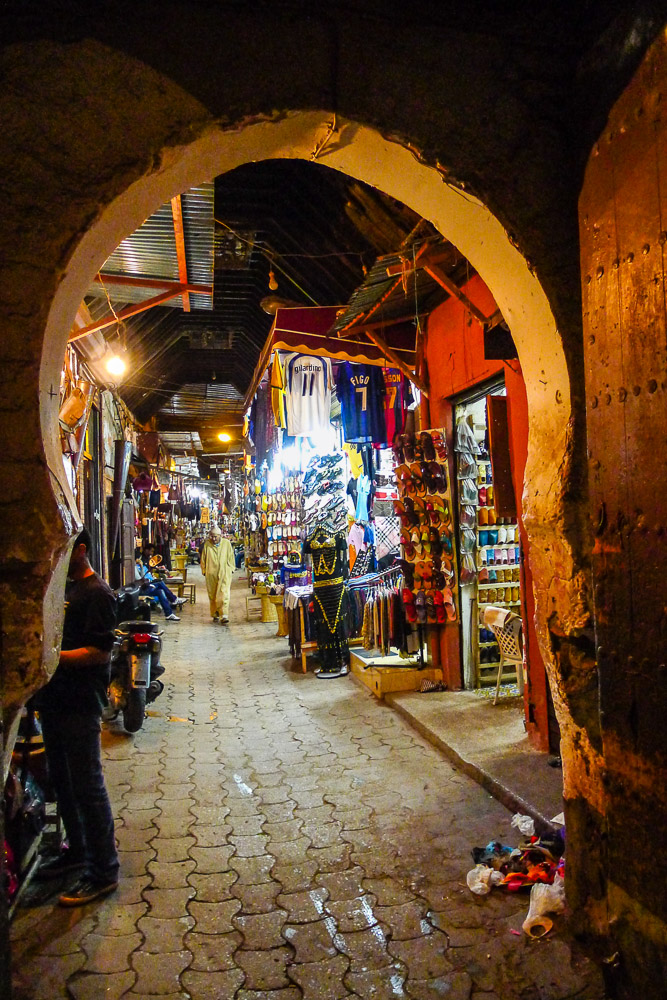 One of the quieter side streets
All this is on UNESCO's World Heritage List, despite, or maybe because of…:
… The topology of the labyrinth of side streets inside the red walls here. It's rather… wicked! "It's so complex – like the scar on Albus Dumbledore's knee"©. It's one big mish-mash of tunnel-like passages intertwining with one another, and filled fairly to the brim with both surefooted locals and dumbfounded tourists. Lots of bikes, lots of scooters (making their horrendous racket, reminiscent of South-East Asia); lots of workshop-cum-stores where everything and anything seems to be made, repaired and/or sold; beggars singing; noise, hustle, bustle, bright colors; and potent, mostly tasty smells – since they're forever boiling or frying something delicious, or painting iron, skin or other matter; and there's lots of wood being carved and turned; and all of it done much more frenziedly than the unquestionably frenzied side streets of Old Jerusalem.
There's hand-made practically everything – from Arab slippers to T-shirts and "Luis Vuittin" rugby balls (for the same price as the slippers). Ah yes – about the prices: This is the Arab world, and goods don't have prices. Here the main thing isn't the price; the main thing is trading – rather, haggling. Haggling's a whole way of life here and there's no getting round it. The locals have been doing it for thousands of years; the tourists, I guess, started joining in quite a bit later, but did a fine job catching up.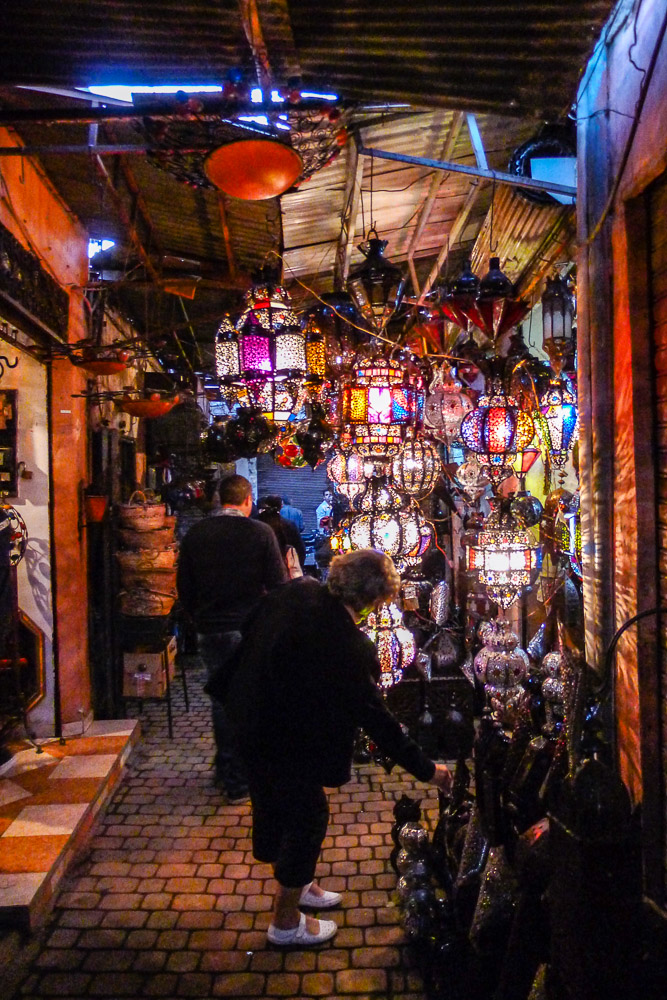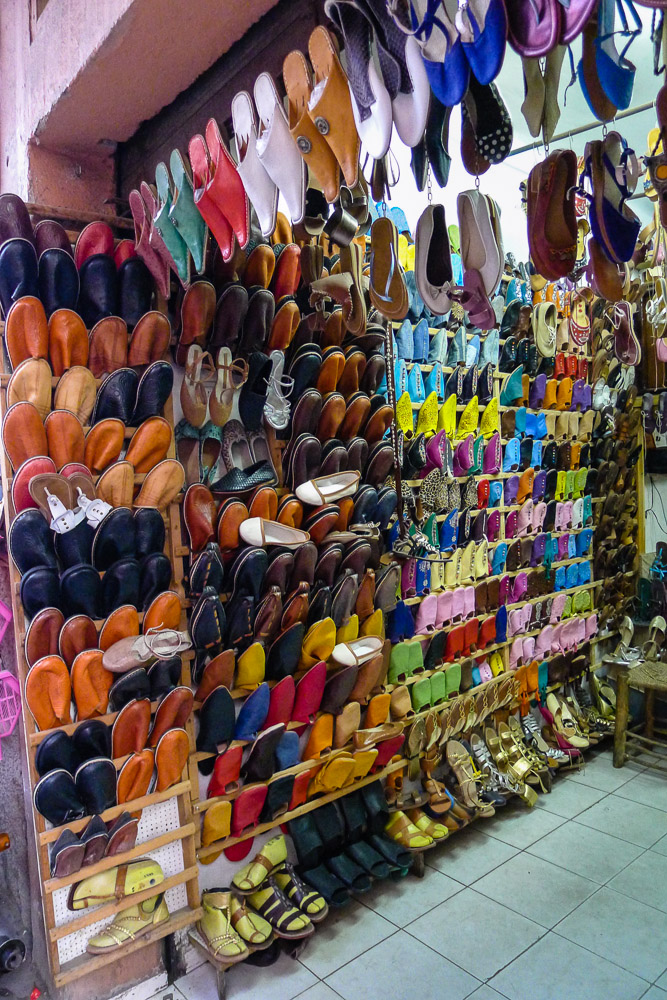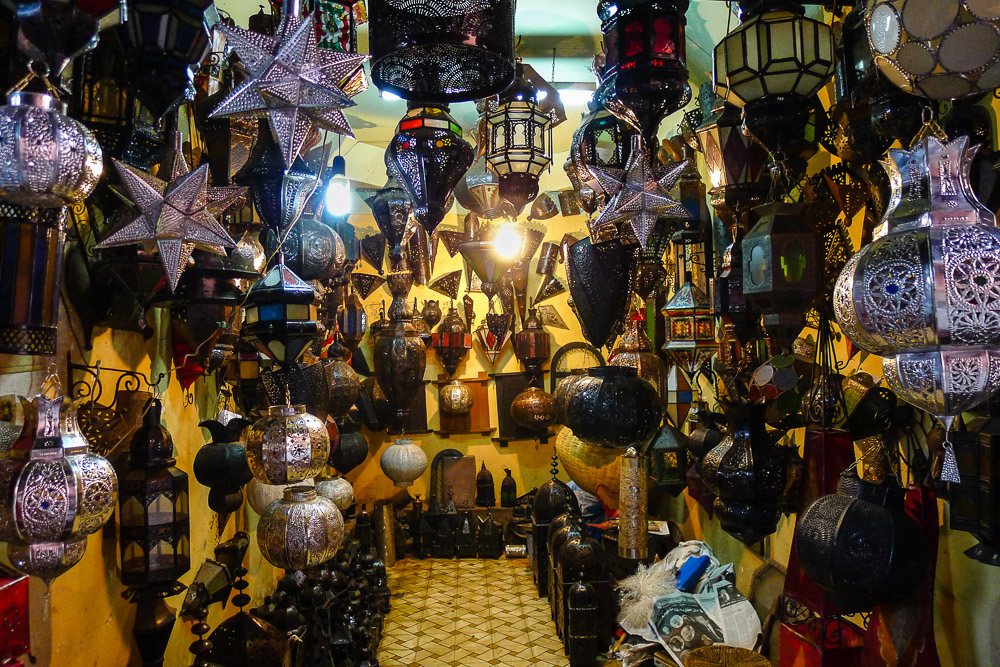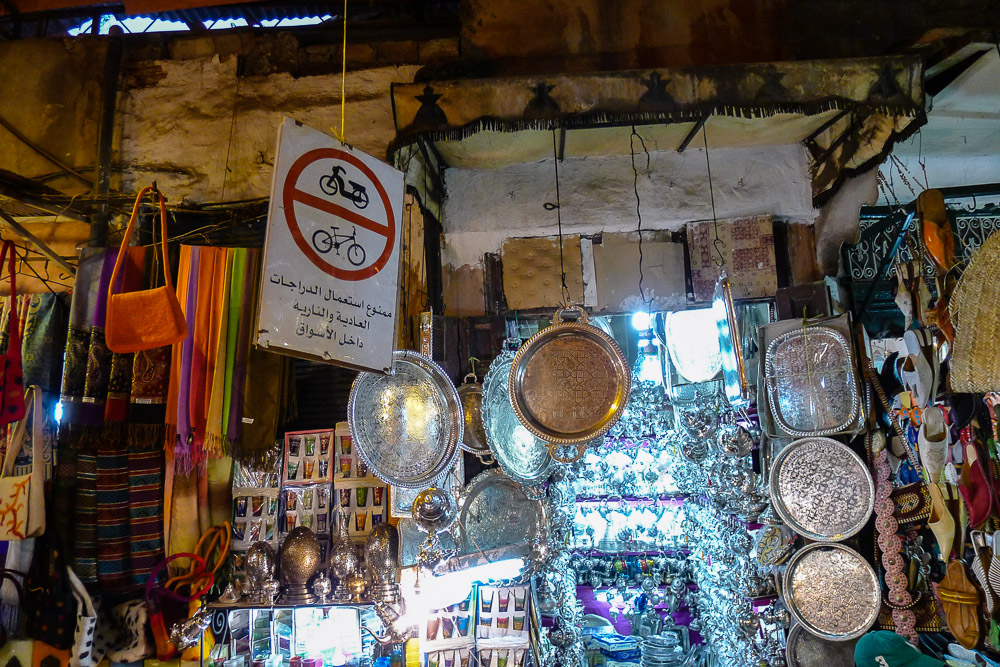 That's right. No bicycles or motorcycles allowed in this shop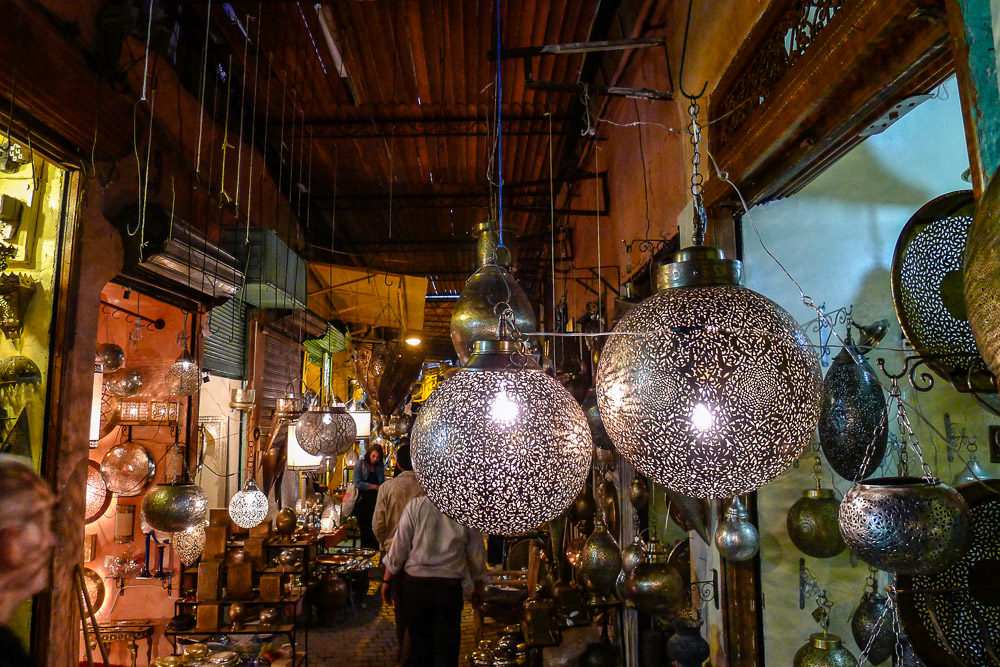 Giant Christmas-tree baubles!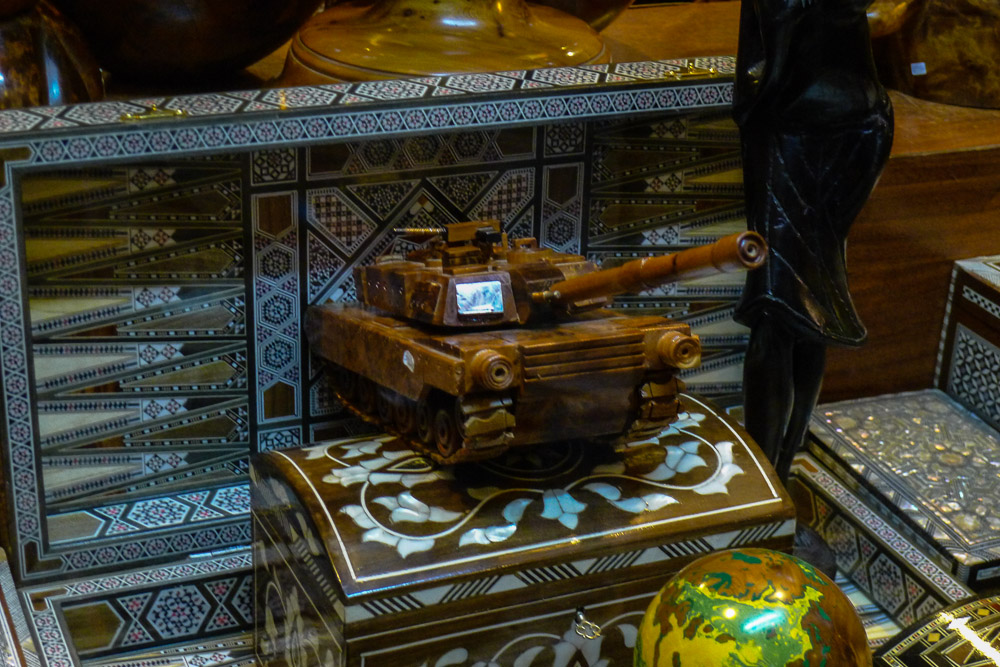 I did say hand-made everything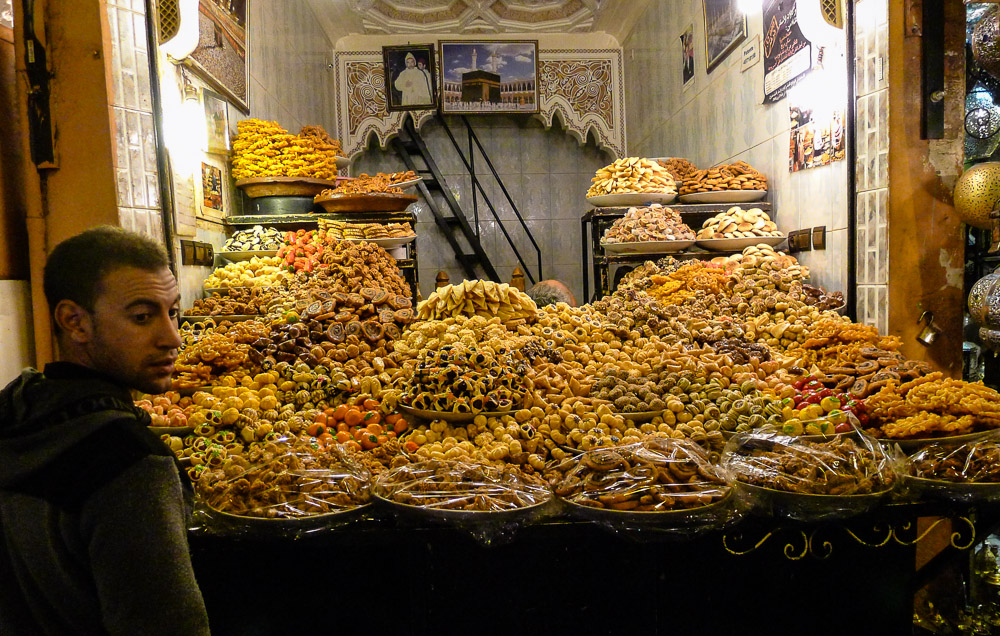 After two hours of strolling about, and having totally lost our bearings with all the crisscrossing of tunnels, we suddenly found ourselves in open space. Phew, we thought. Extricated. But no! This wasn't an exit. This was the culmination of the labyrinth! This was the bazaar square.
Here there's rather more of the same – oodles of tunnels and lively activity, but with a bonus in the shape of drummers and a crowd of folks intently listening to storytellers and newsreaders (Old-skool! Forget newspapers, radio, TV or Twitter! People here want news live and spoken – by someone they see physically in front of them. And pay for it!).There're also: fortune tellers, snake charmers, monkeys, and lots of other assorted assortments. Blue-gray smoke from bonfires, folks in caftans, horse-and-carriages… Life's really pumping here. And it's been exactly like this for a thousand years! Marrakesh bazaar square – where time stopped still a millennium ago.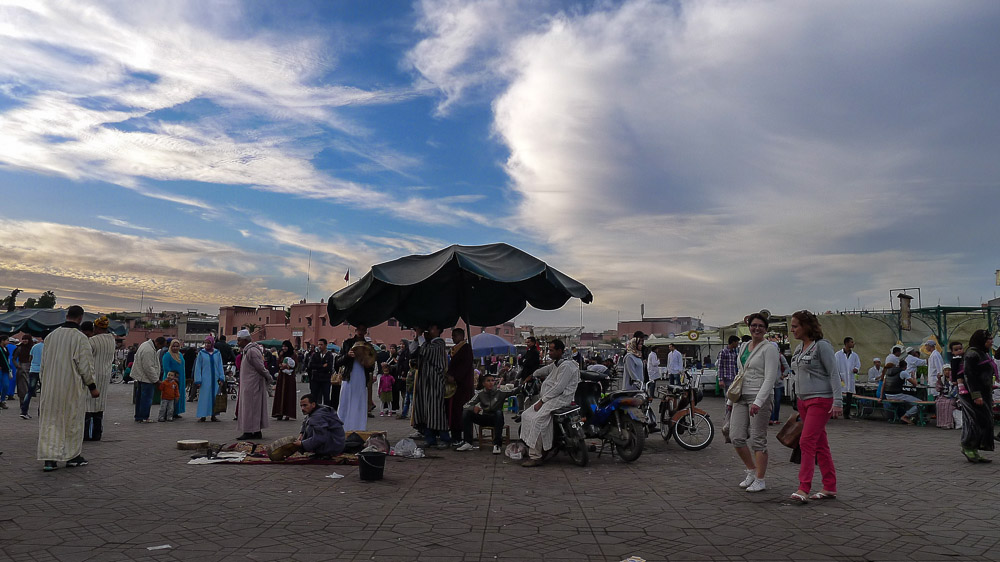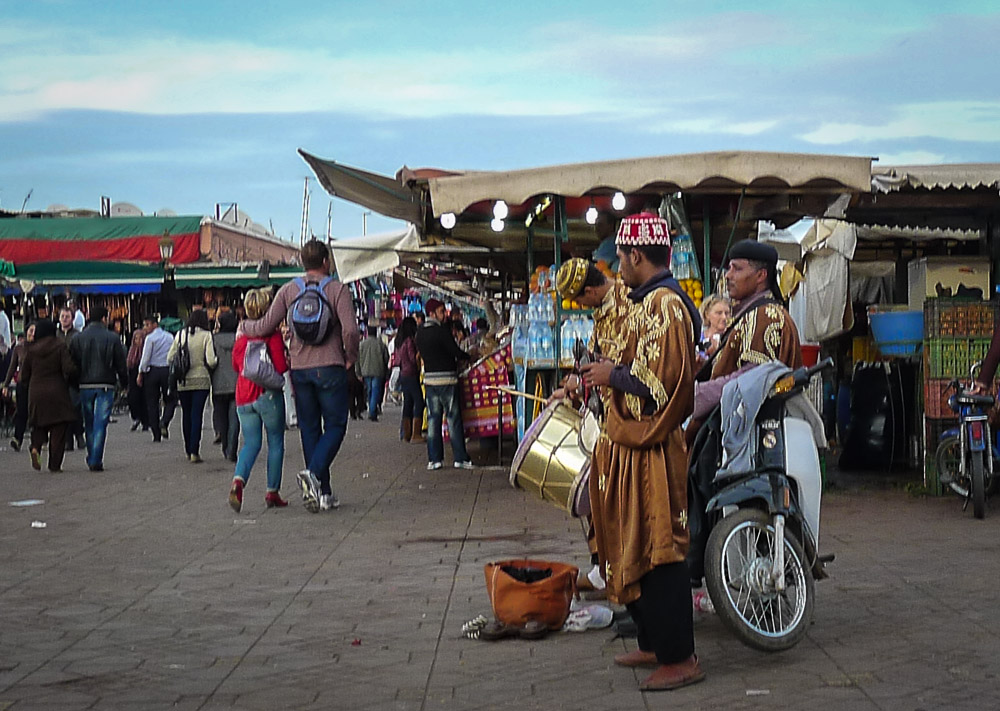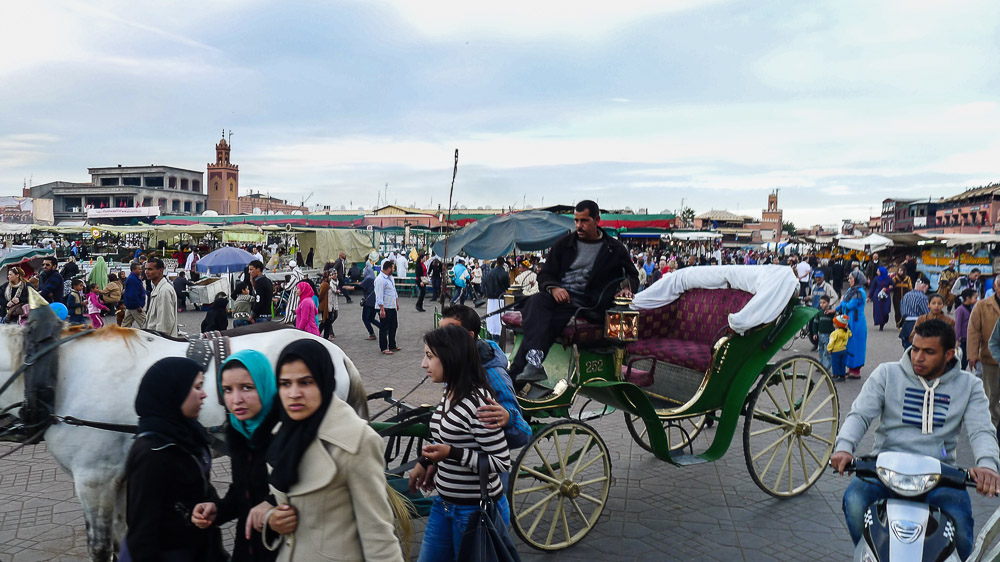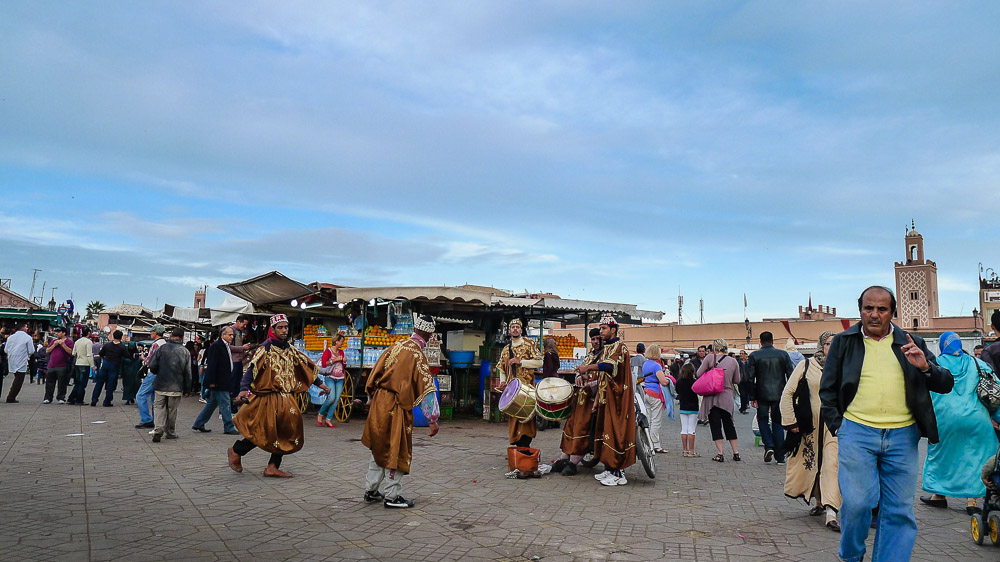 I was initially planning to stop at this juncture, but I changed my mind. I should share some more impressions with you. And there are plenty.
We decided to go up into the hills – the Atlas Mountains, which are visible to the naked eye even from our hotel. These mountains are impressive. I never knew that the Atlas range is "up there" (!) (in terms of looks) with the mountains of the Caucuses! I had a quick scan of Wiki… and yes – the peaks of these ridges are over 4000 meters high! Of course this is the reason for the snow on top (even though we're in Africa). The (seemingly) vertical cliff faces, the cold wind, the thin canyons… – all good. It all really needs taking a closer look at, with a rucksack and guide. Just a pity that my favorite natural phenomenon – volcanoes, of course – aren't present…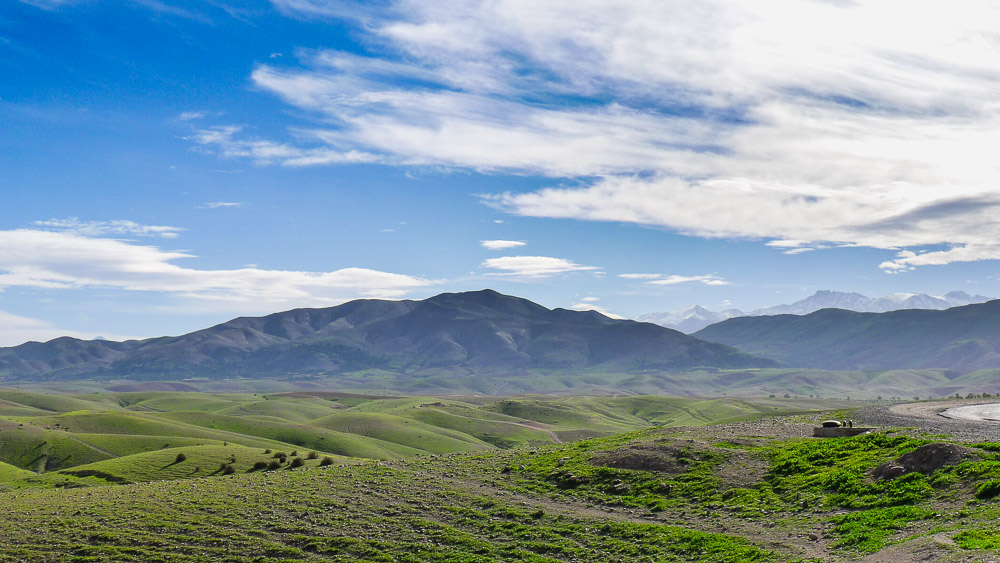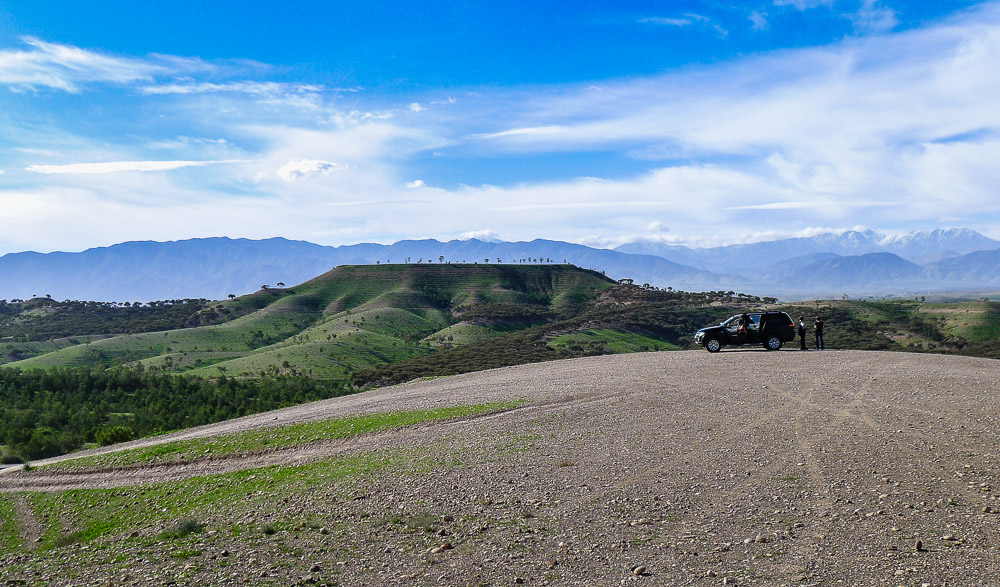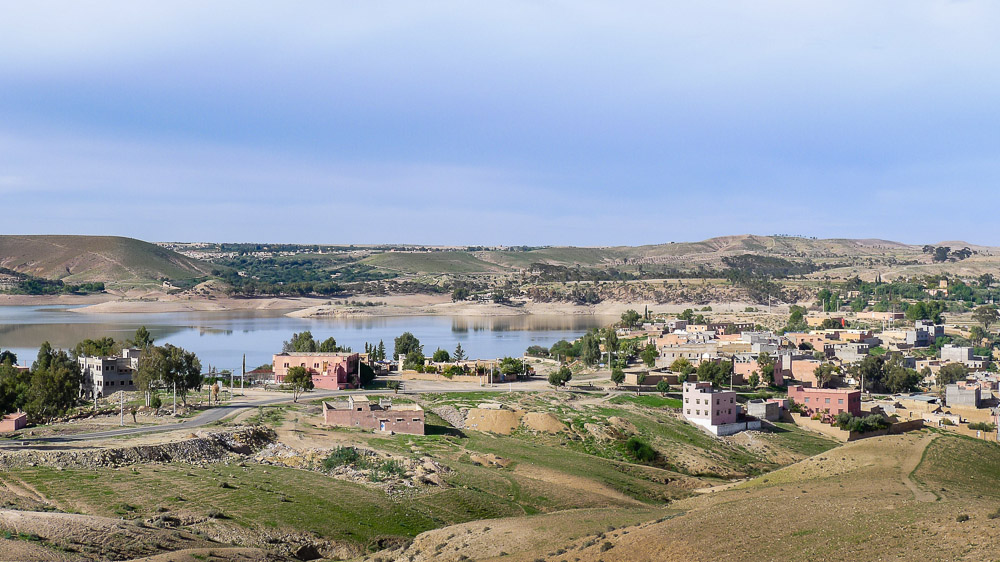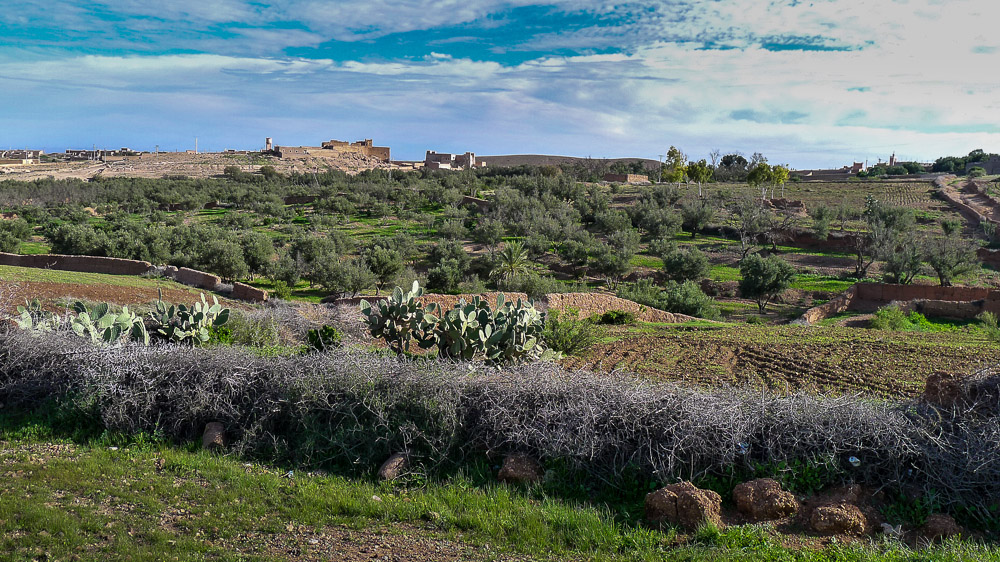 Now for what I didn't like.
First, the smoke everywhere from the bonfires on which people roast food and warm themselves. It gets literally everywhere, even through closed windows somehow. Second, and you won't believe this – flies. Even by the pool of a five-star hotel! Of course it's not their fault, but oh how they can be annoying!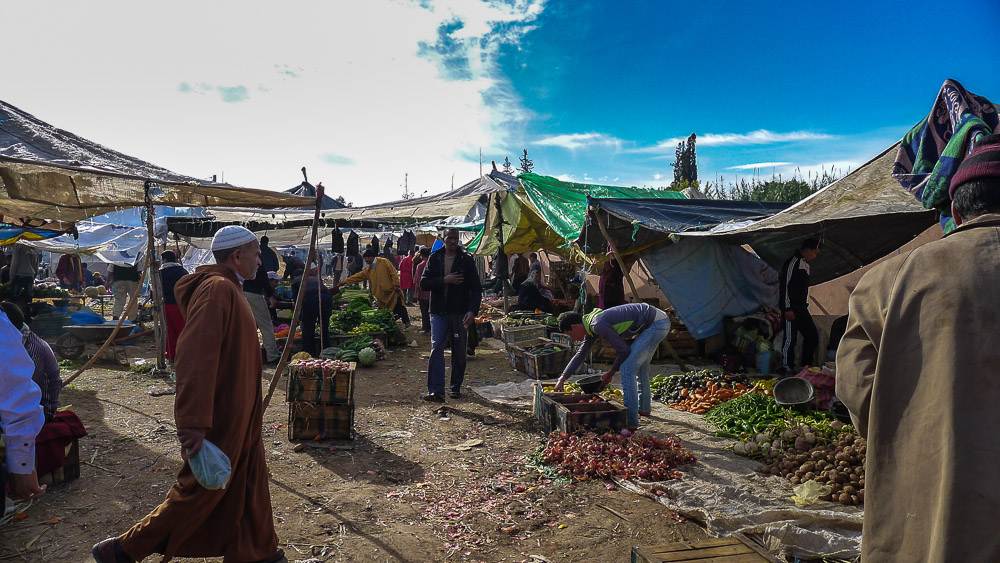 What else did I like?
Surprisingly, there are some not bad places for sun-lounger lizards. There's L'Oliveraie de Marigha, and the Kasbah Tamadot hotel and restaurant, which apparently belongs to Sir Richard Branson. All rather swish. In the African hills among Berber settlements – coziness, cocktails, neat lawns and a swimming pool! Who'd have thought it?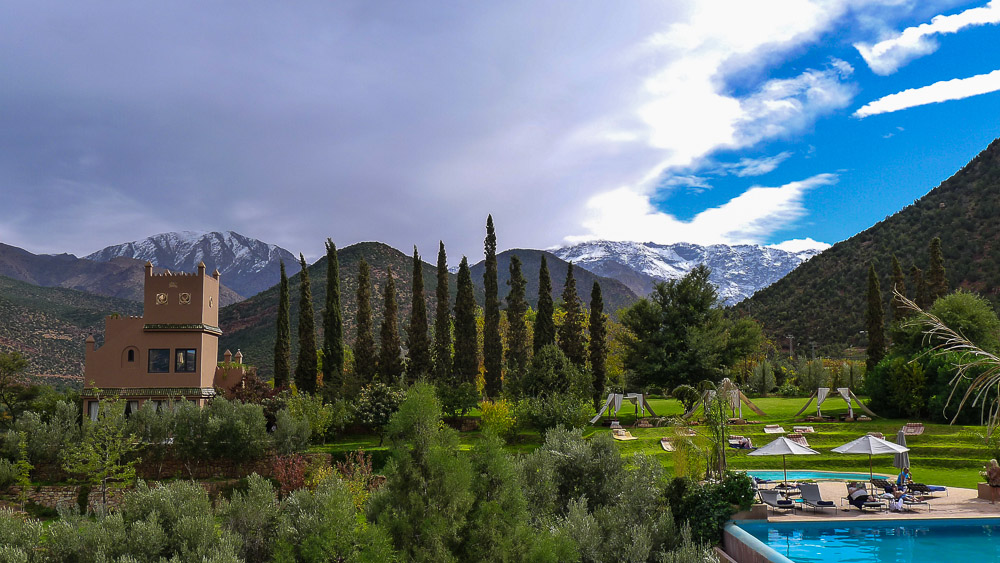 Tuscany? No, Northern Africa!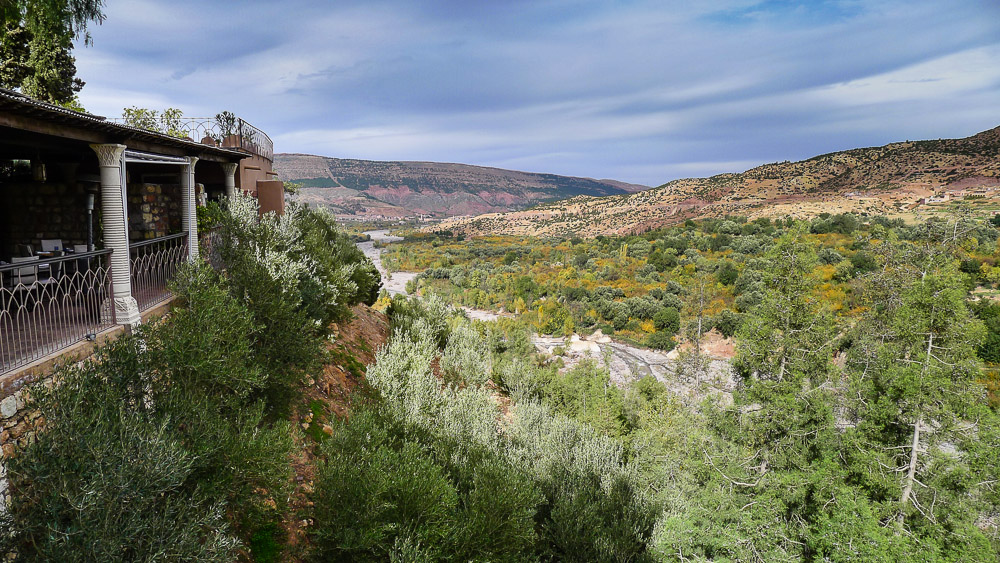 Red Rocks? Wrong again!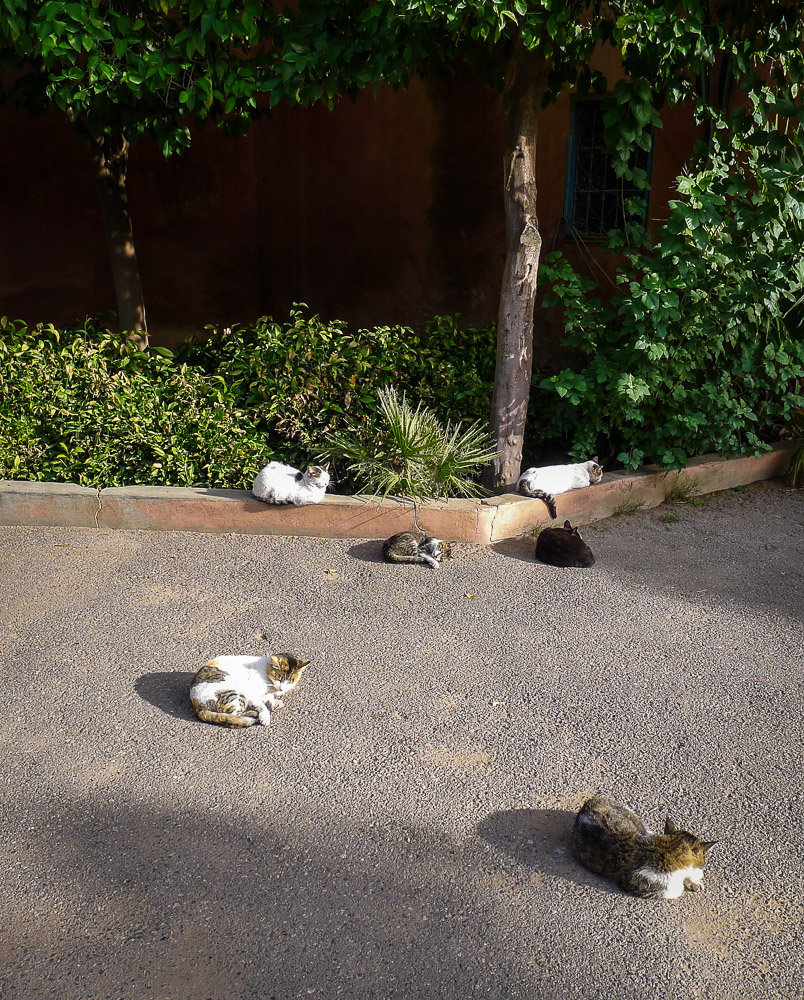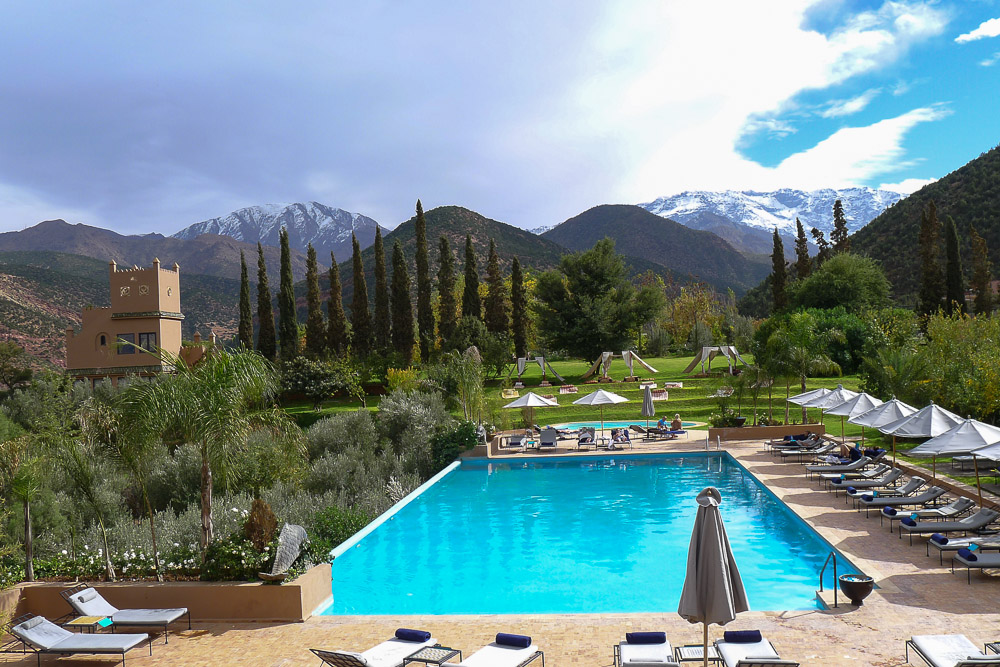 Btw, this isn't a paid-for ad-piece! I won't tell you anything more. That is, apart from the fact that Kasbah is much better than de Marigha, but the food at the Kasbah is made up exclusively of local dishes… and these are, quite simply, disgusting!  We didn't sample the cuisine at Marigha. But it has very progressive business cards – with a QR code! In the hills of Morocco!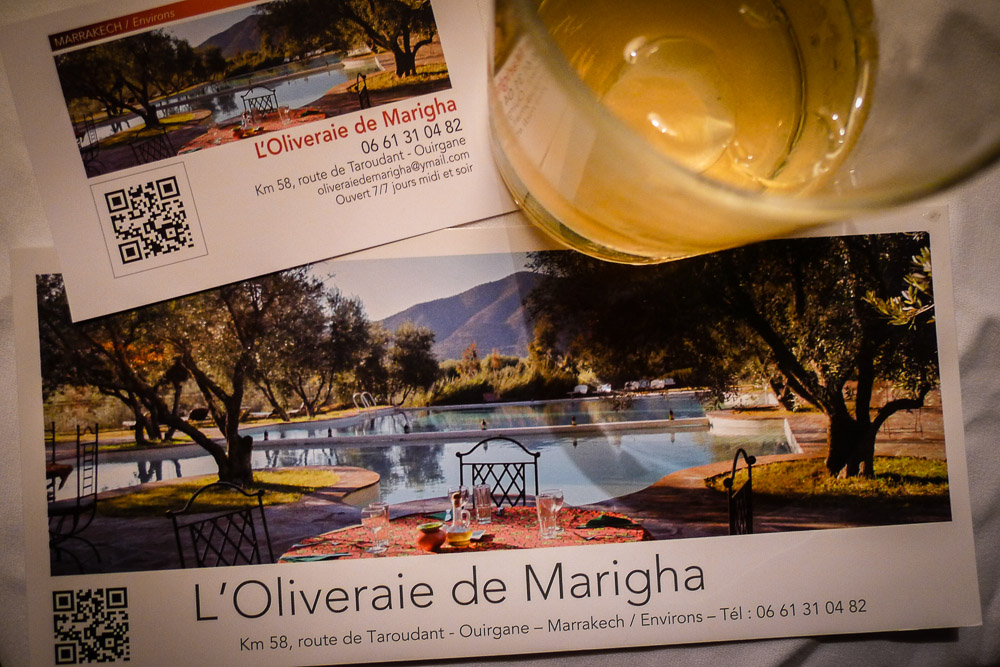 So, in all, Morocco – a very interesting place for tourists. Have a go for yourself! I think you'll like it. Not for nothing do millions (!) of tourists from all over the world come here every year. And why not? It's not too dear, not bad at all (don't mention the flies), and hey – it's Africa, after all; but not in that stereotypical sense of "not a place to let your kids run around freely in". No way. At least, not from where I'm sitting right now by the pool :) So get on down there!
Ok, this time it really is it. That's all about Morocco. Time to pack the suitcase and say our farewells to Africa.
Back on the road. To this soundtrack:

The rest of the photos are here.
// Addendum from K.A.: "If ever you need to disappear, lay low for a while – Michael Corleone style – Marrakesh is the place to do it!"
// And another: "These are a must-try (in the below pic): a sweet delicacy from every tray – that makes up a whole box of 20 delicacies! And all for one euro!!"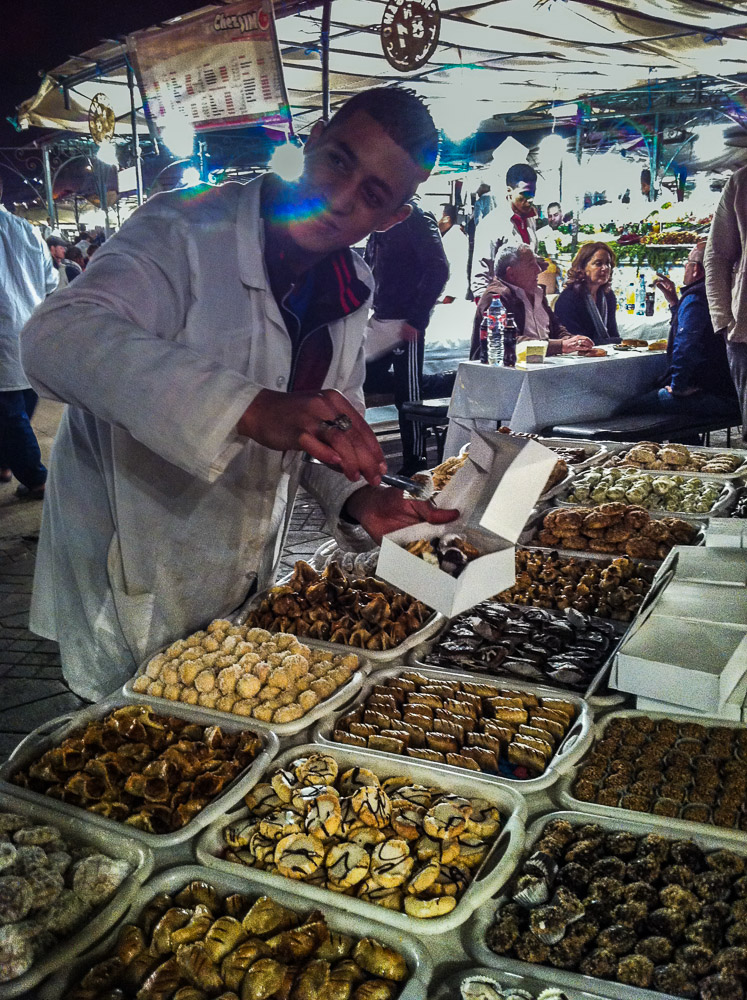 Have a nice day, or good night, whatever it may by with you!