For Those about to Rocks: Earth, Wind and Ocean. 
We recently had a day spare after a partner conference in Portugal.
What were we to do?
Easy: get ourselves a rented car and race along the country's south coast! We set out from the city of Faro.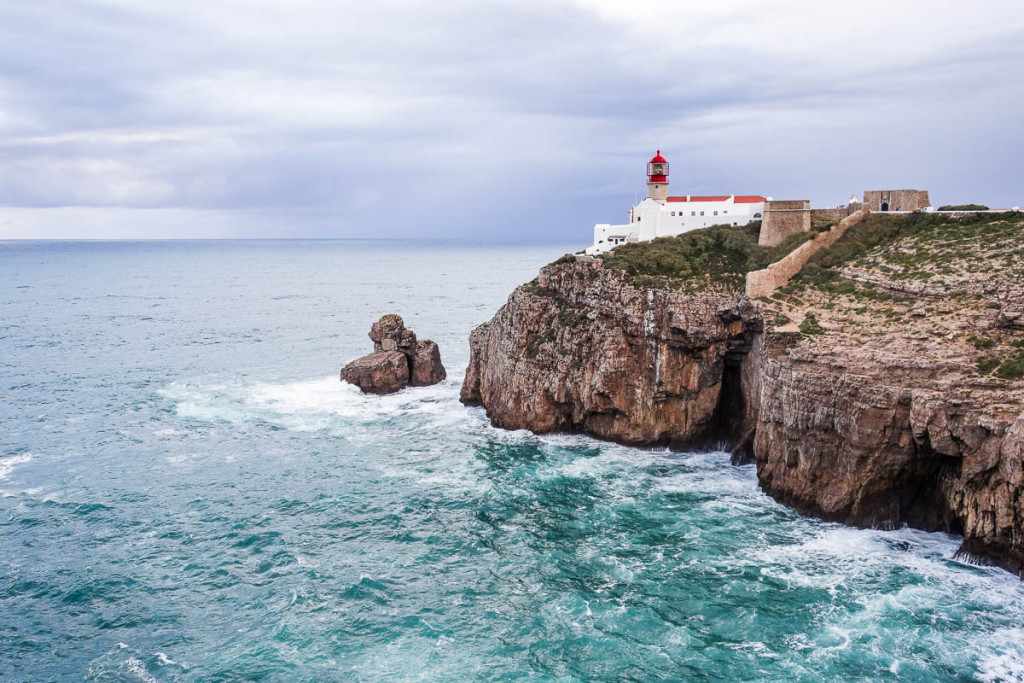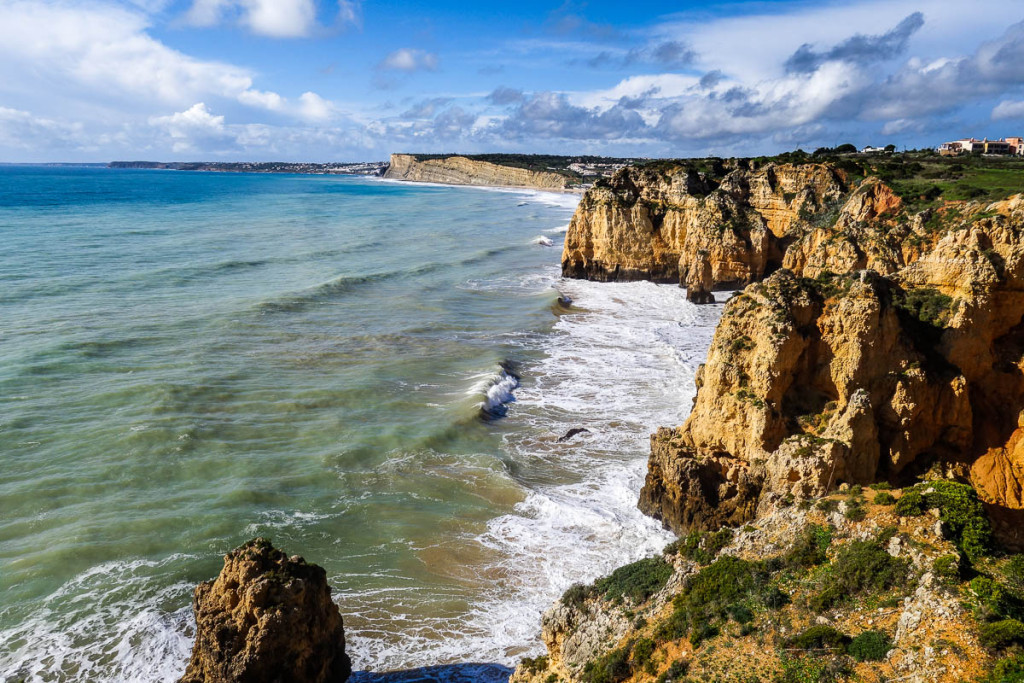 It's a coastline of very impressive imposing cliffs – forever battling the ferocious forces of the ocean.
The cliffs include: Ponta da Piedade near Lagos, and those on the cape of St. Vincent near Sagres.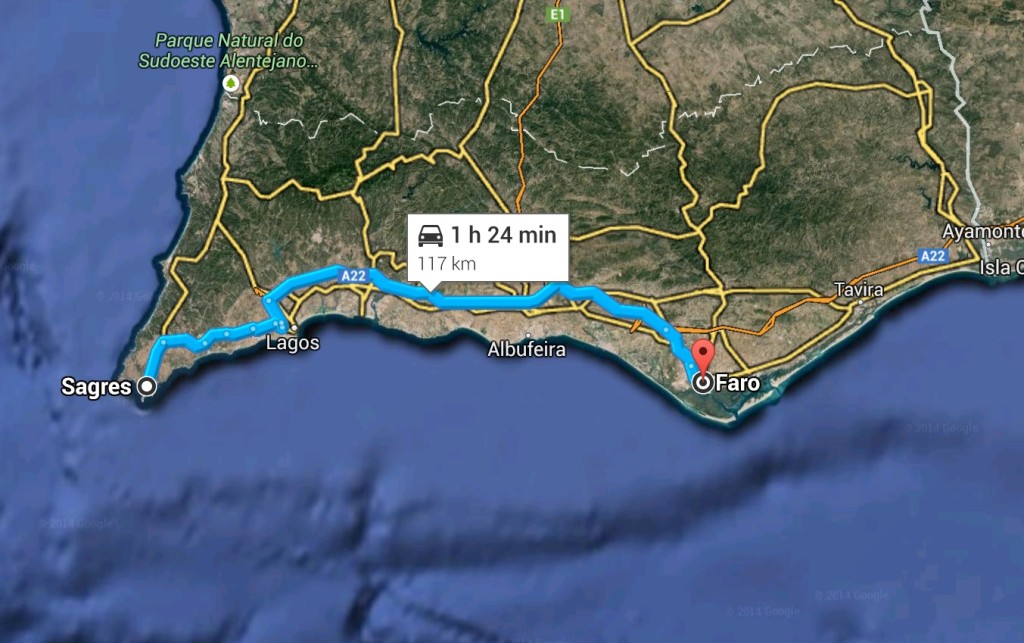 Source
All of them: startlingly stunning. Check the pics out:
The cliffs of Ponta da Piedade reminded me of various Gaudi palaces in Barcelona.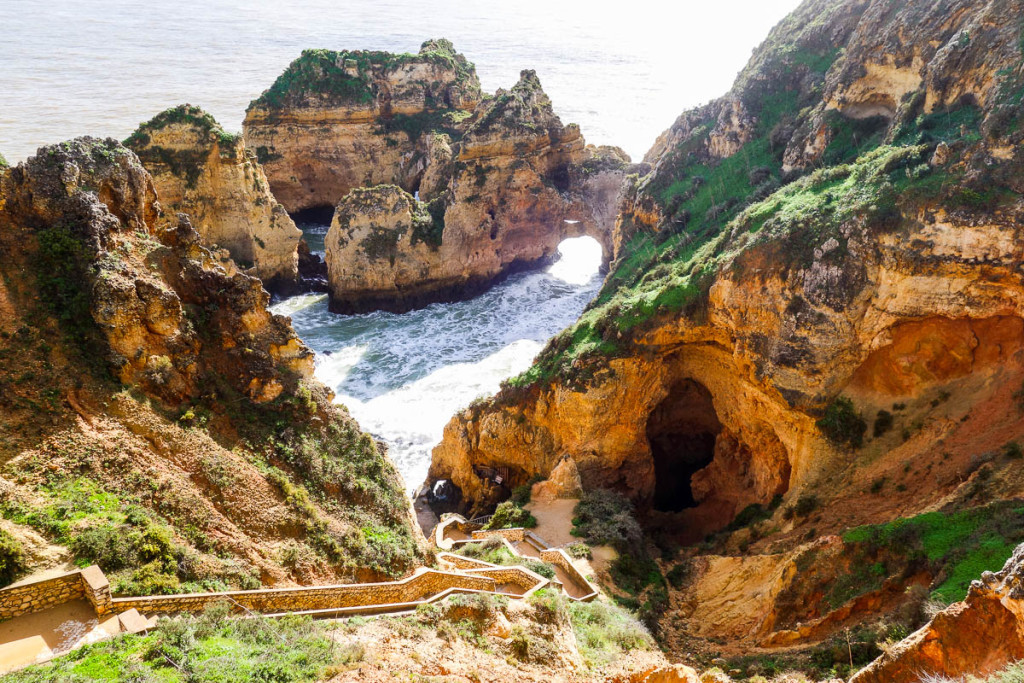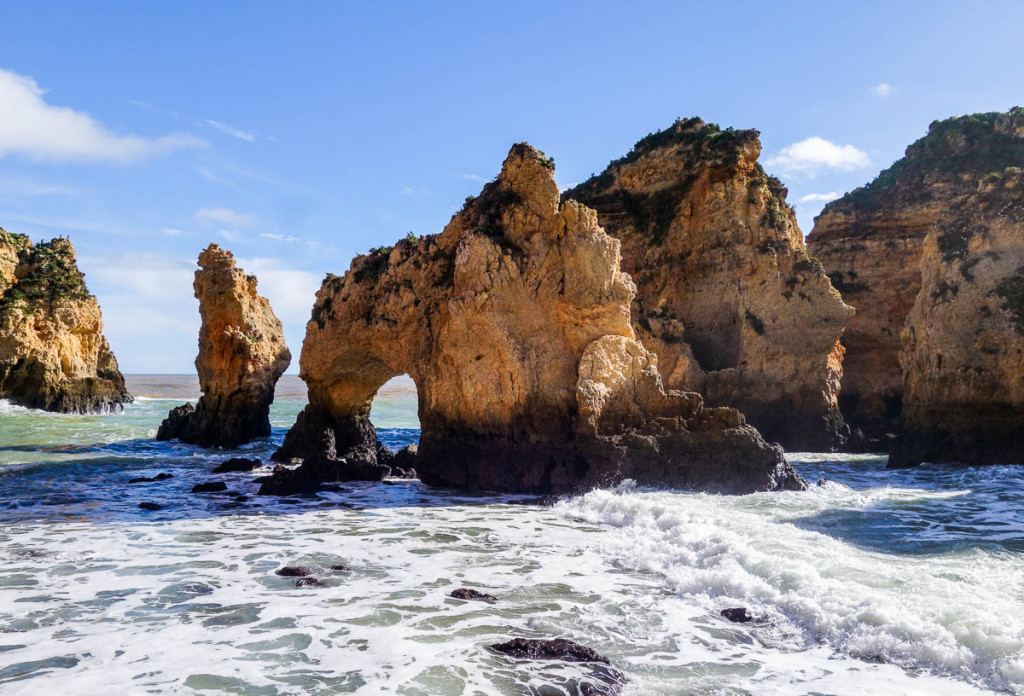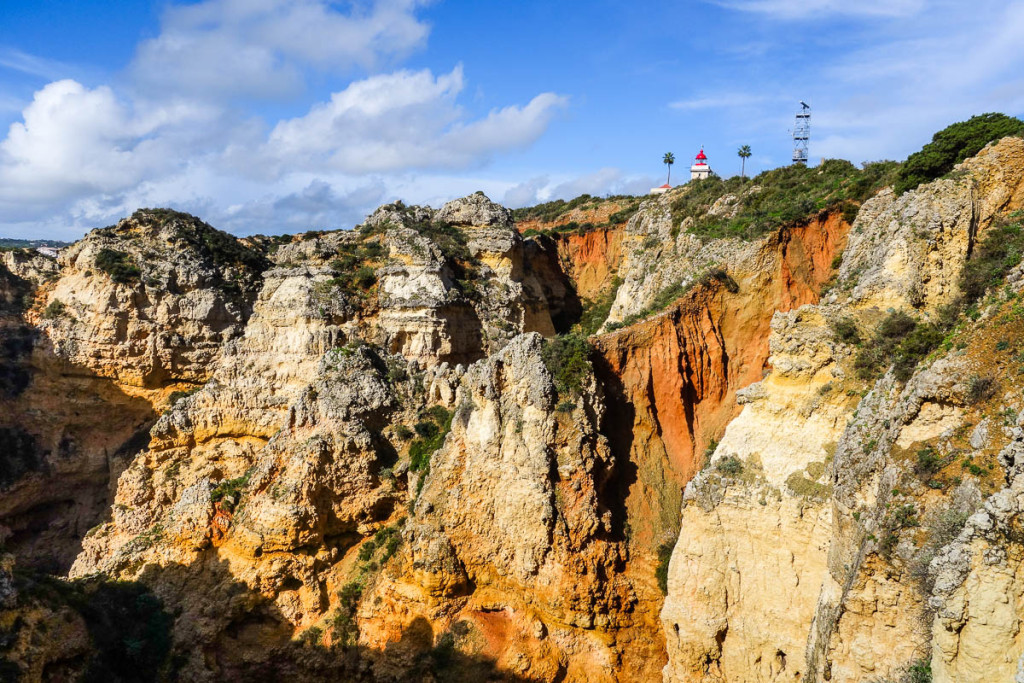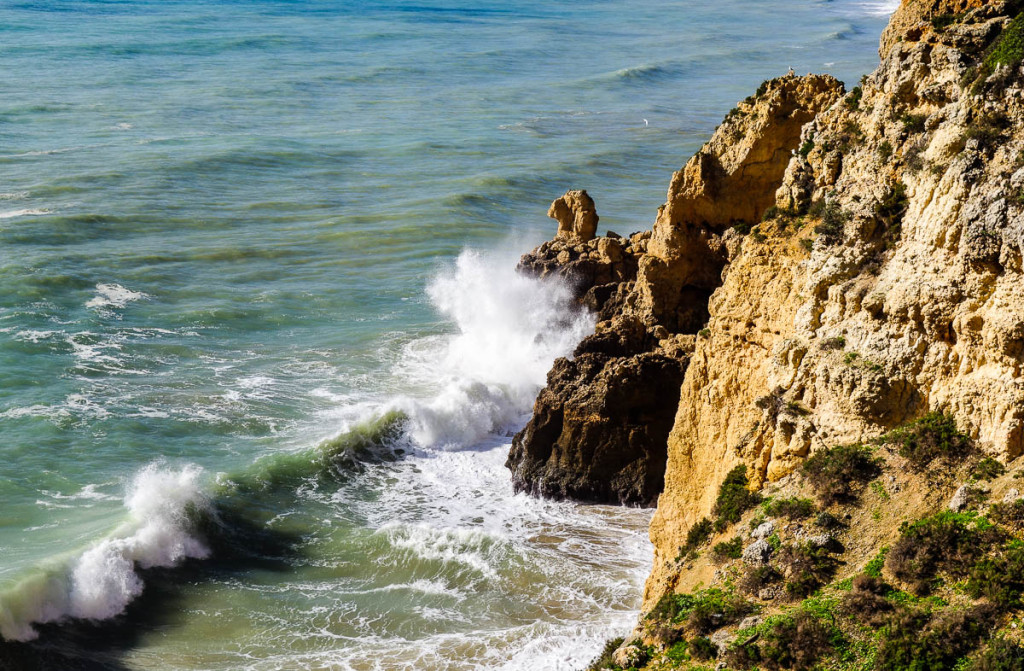 "My desktop's crying out for these pics," I remarked. "And my headphones are crying out for this noise of crashing waves," added A.B.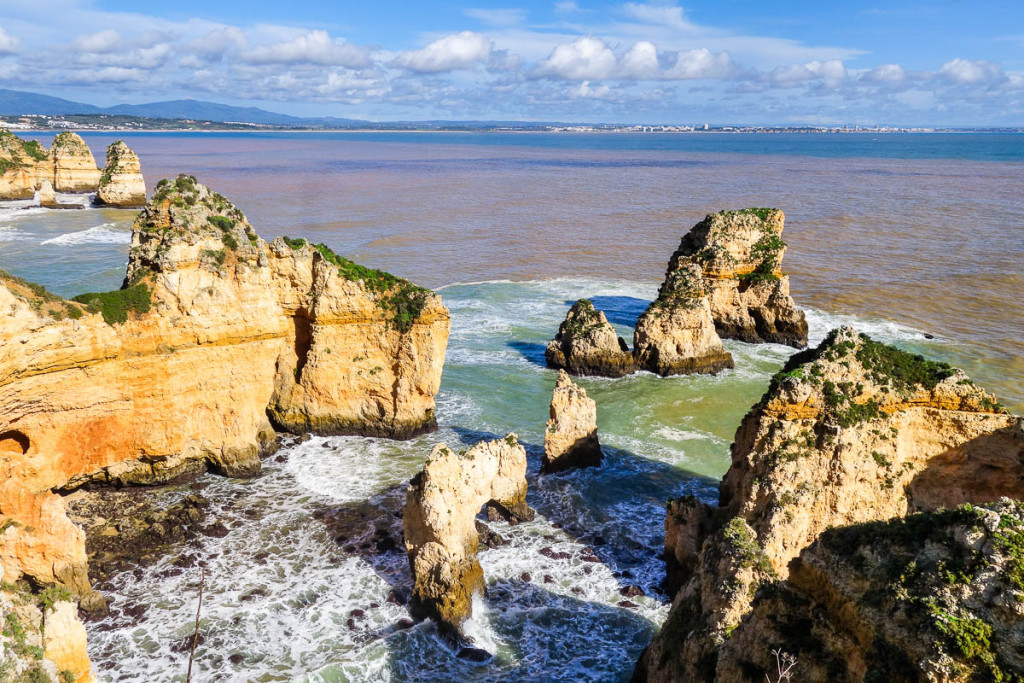 "The first cliffs – they're in the Mauritanian style, with rich décor, bridges, towers and steps," A.B. solemnly announced.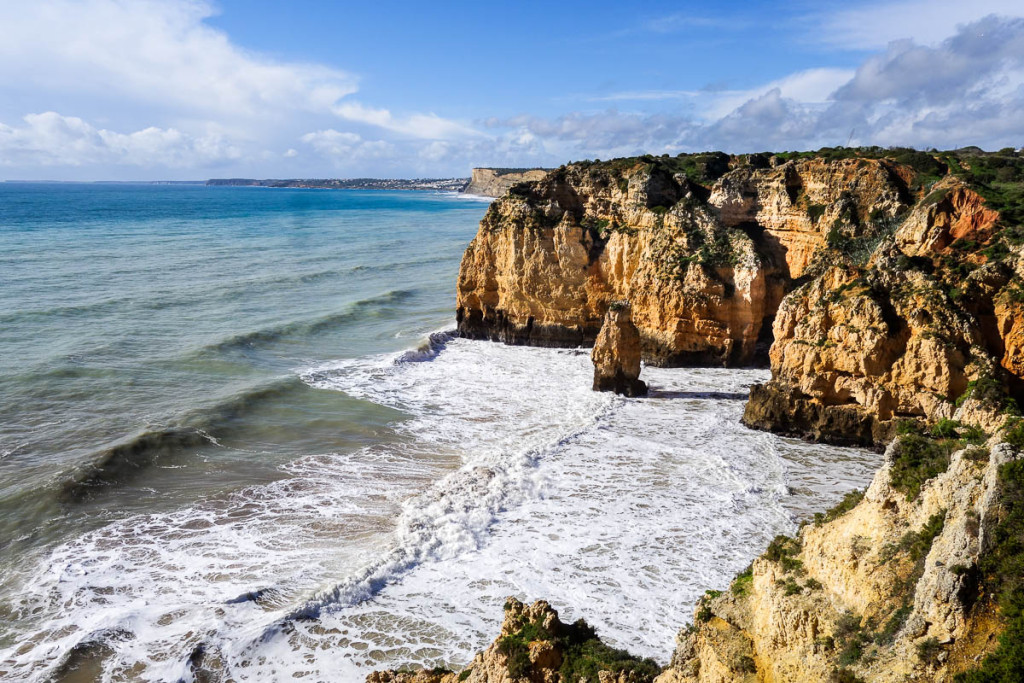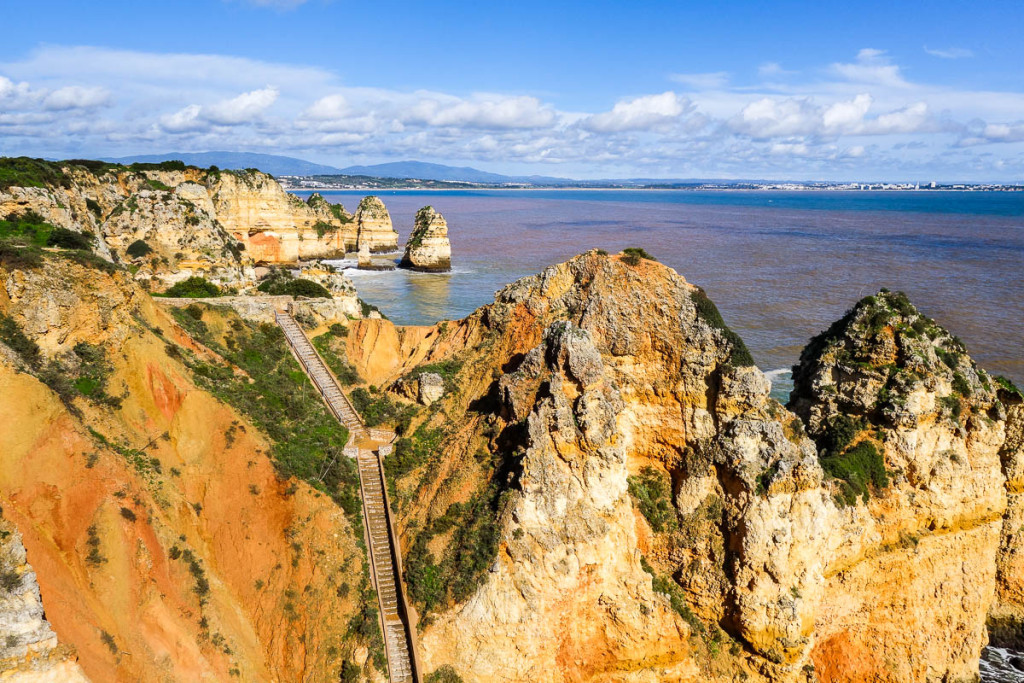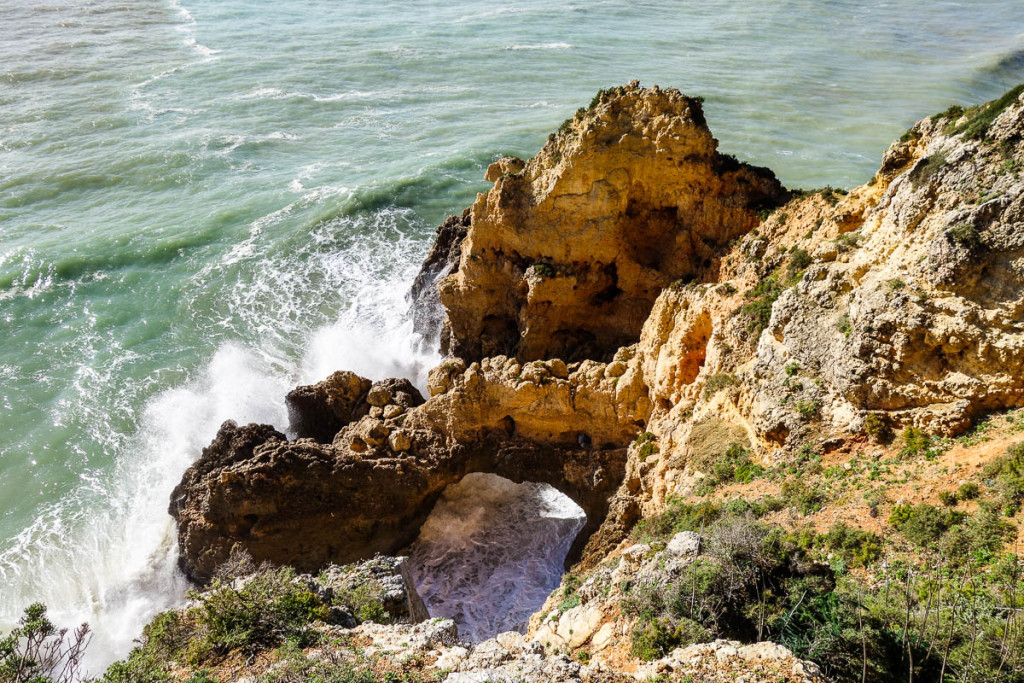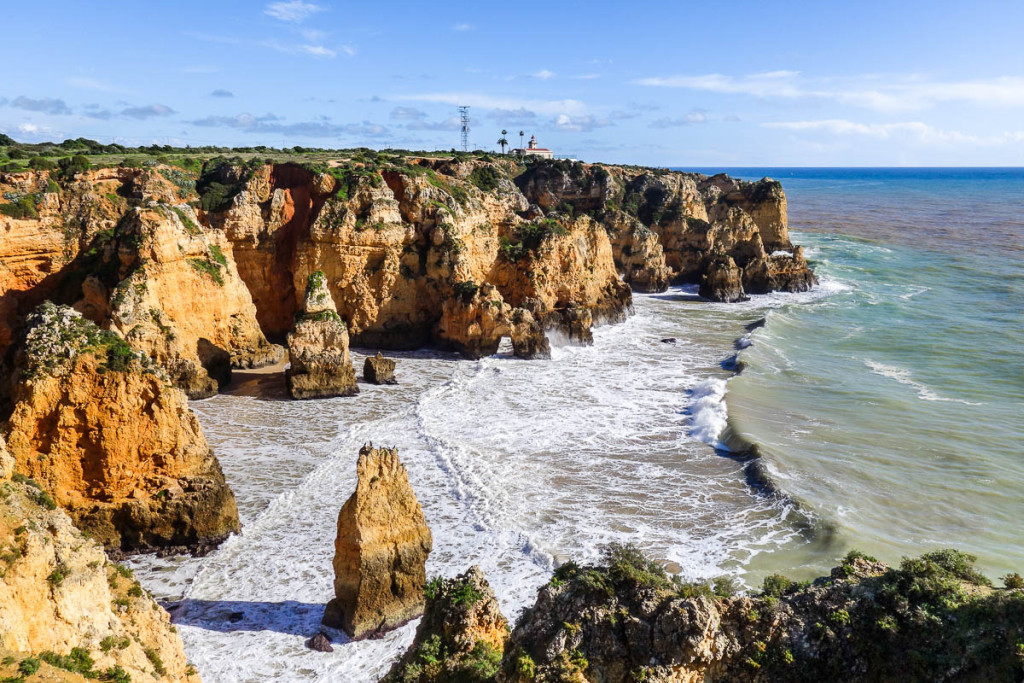 "The 'second' cliffs (Sagres and St. Vincent) are just the opposite. Severe, imposing, introvert…"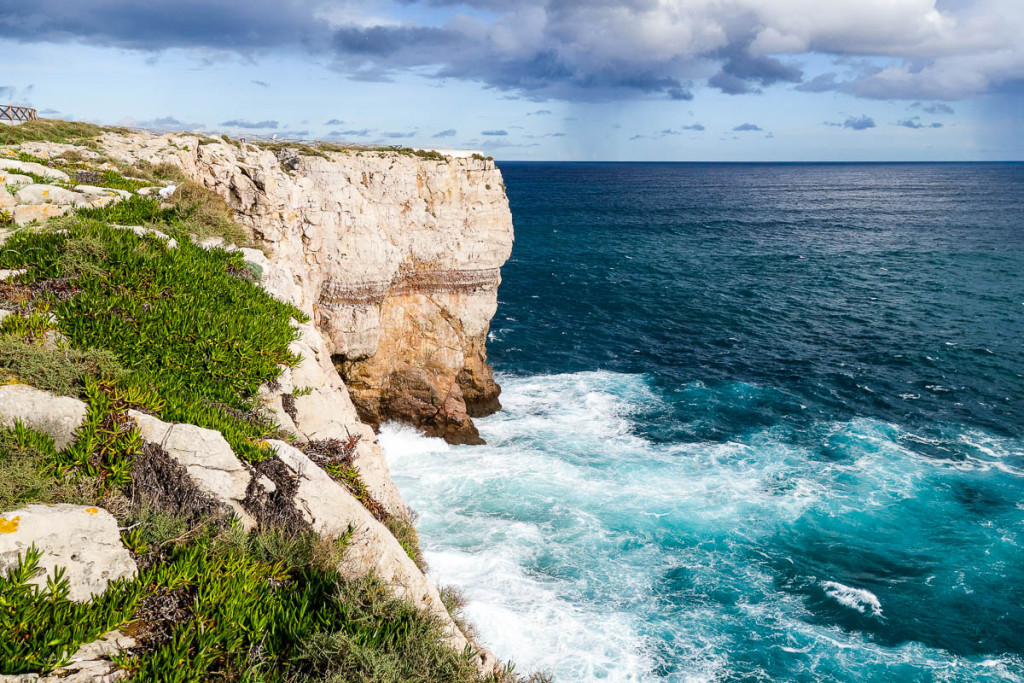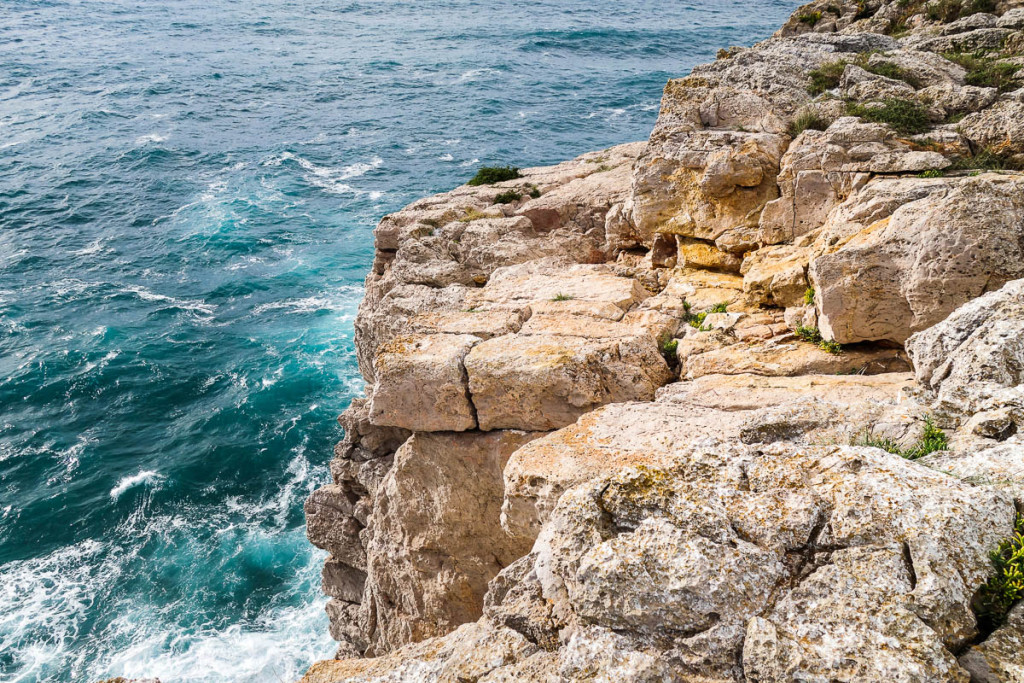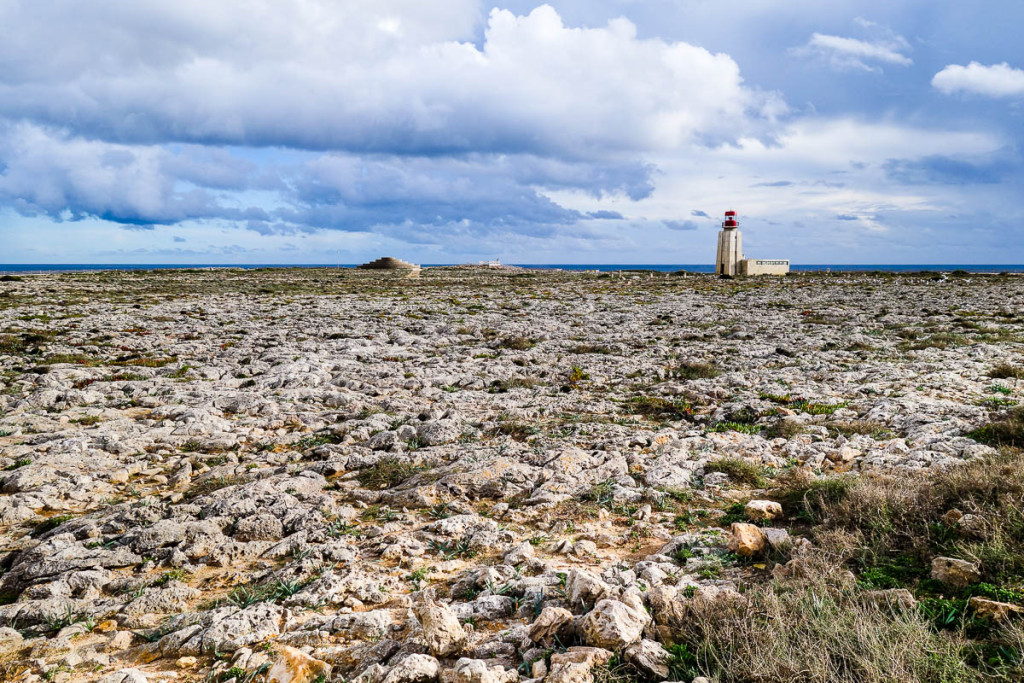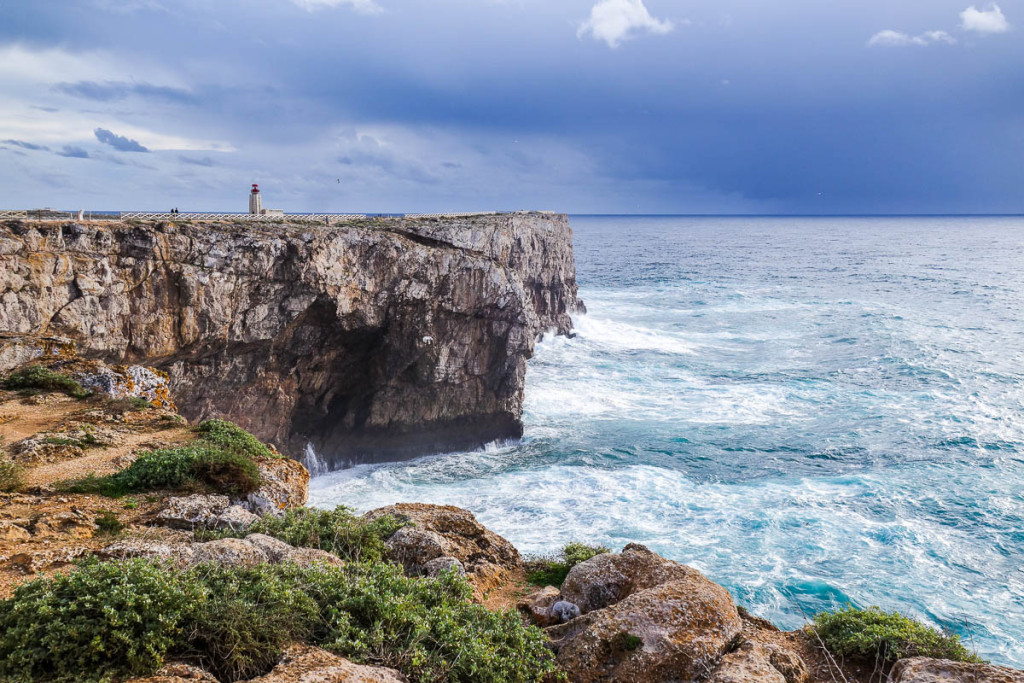 A.B. is right – the sounds here are awesome. Not just the usual ones of waves breaking and smashing against the rocks, but also occasional <100 Hz subwoofer bellowings! Eh? Where's the nightclub? Nope. It's just those same waves causing vacuums which then pop with an almighty sub-kick. These cliffs are perfect for bassheads!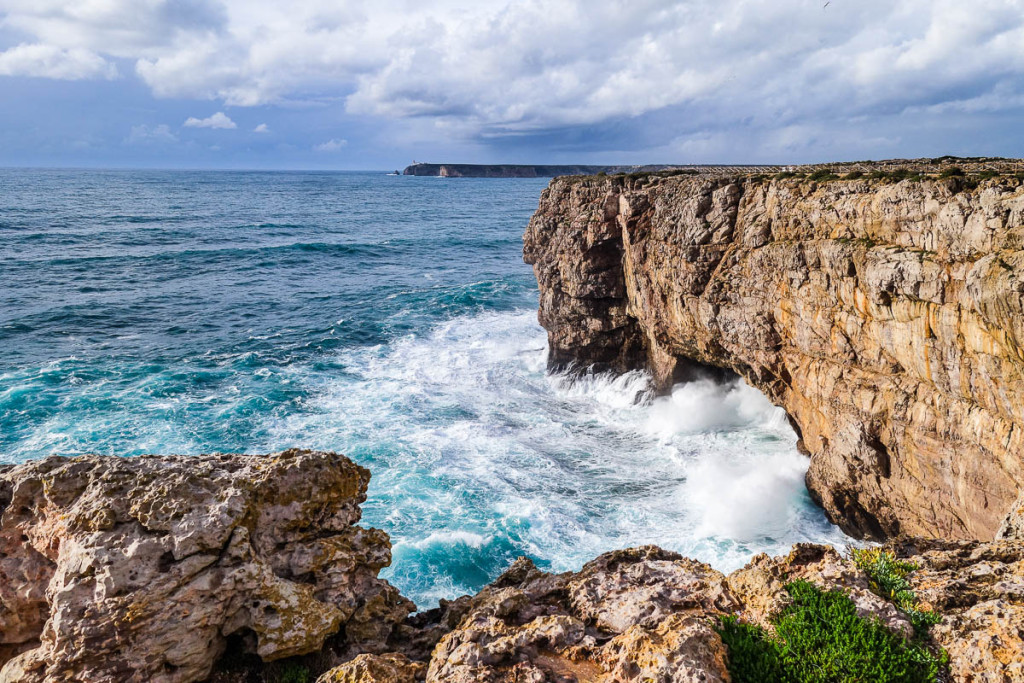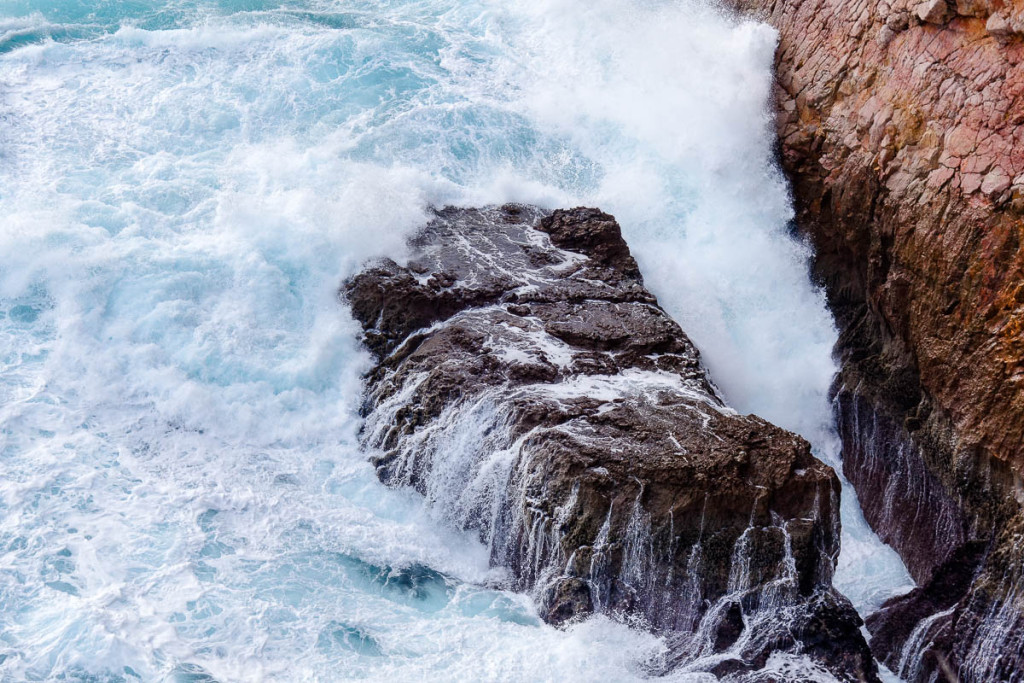 "Two capes right at the bottom end of Portugal – harsh and northern in spirit, nothing superfluous; laconic, bitter beauty," A.B. continued in thoughtful mode.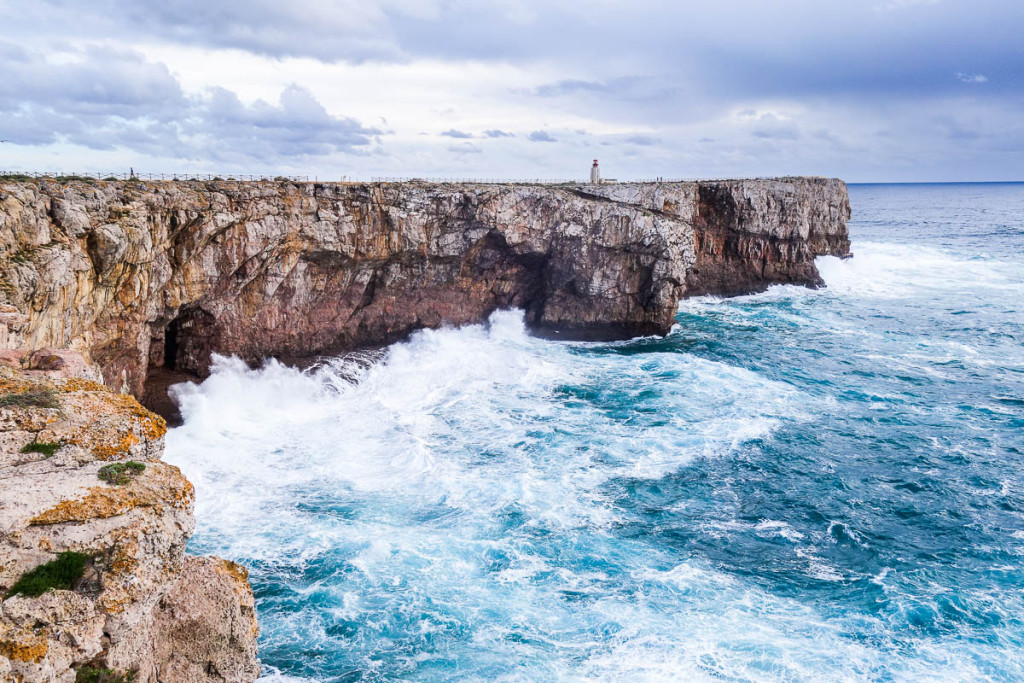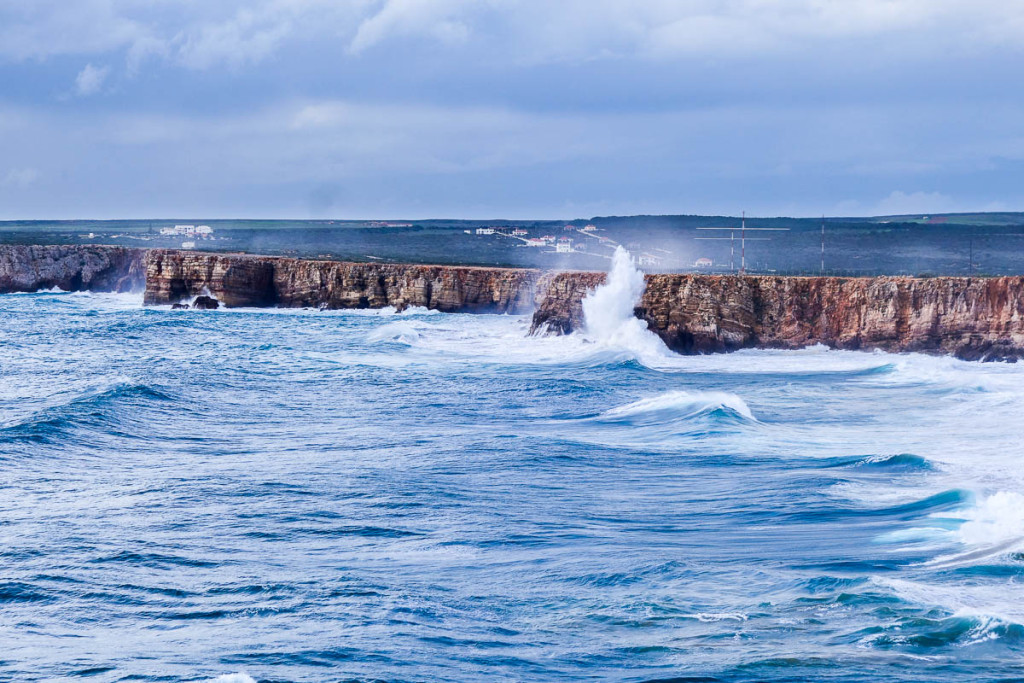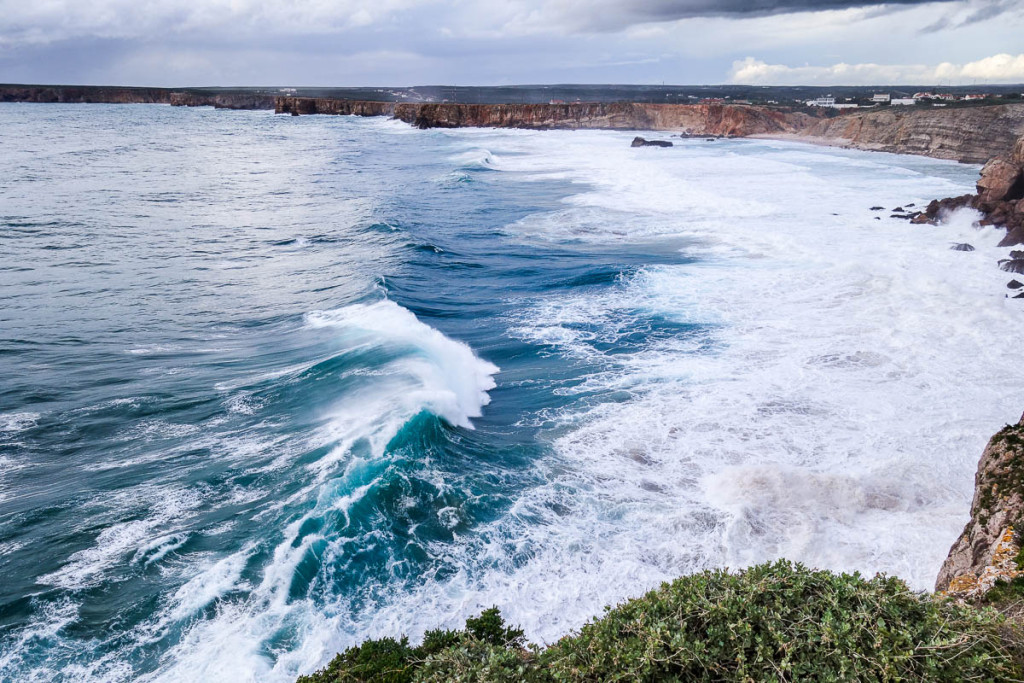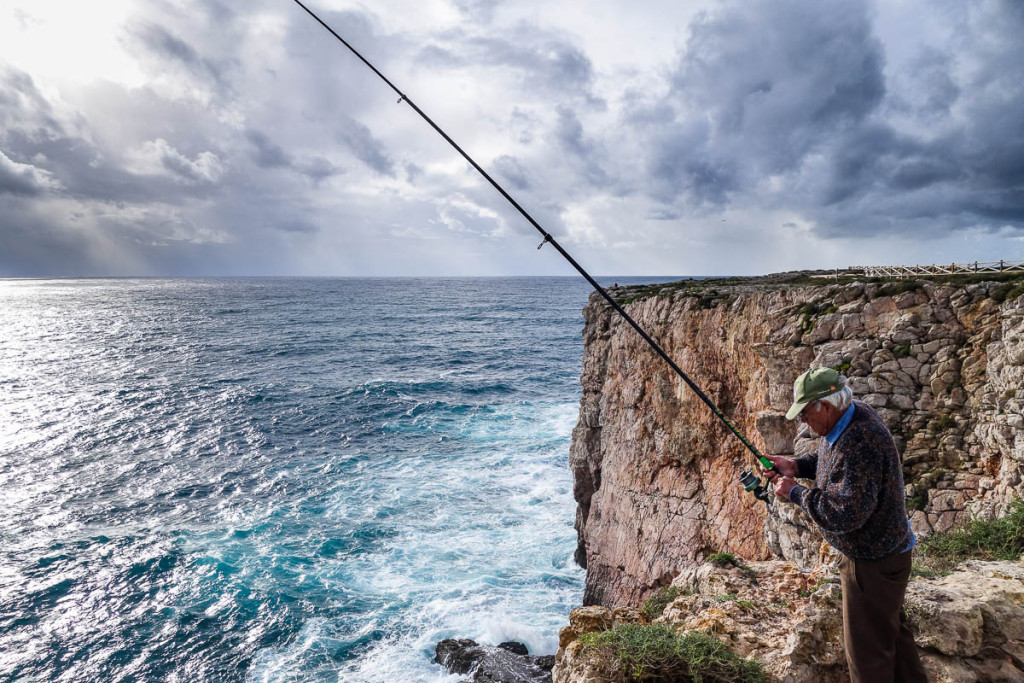 That line must take some reeling in! I noticed some fine-looking fish he'd caught. Dorado or something similar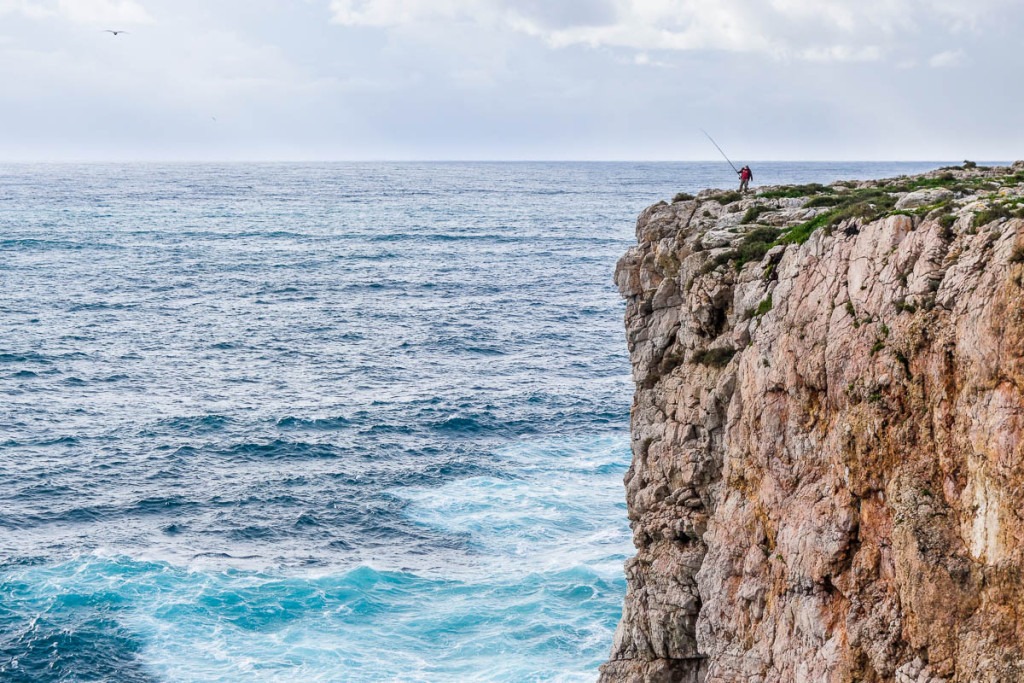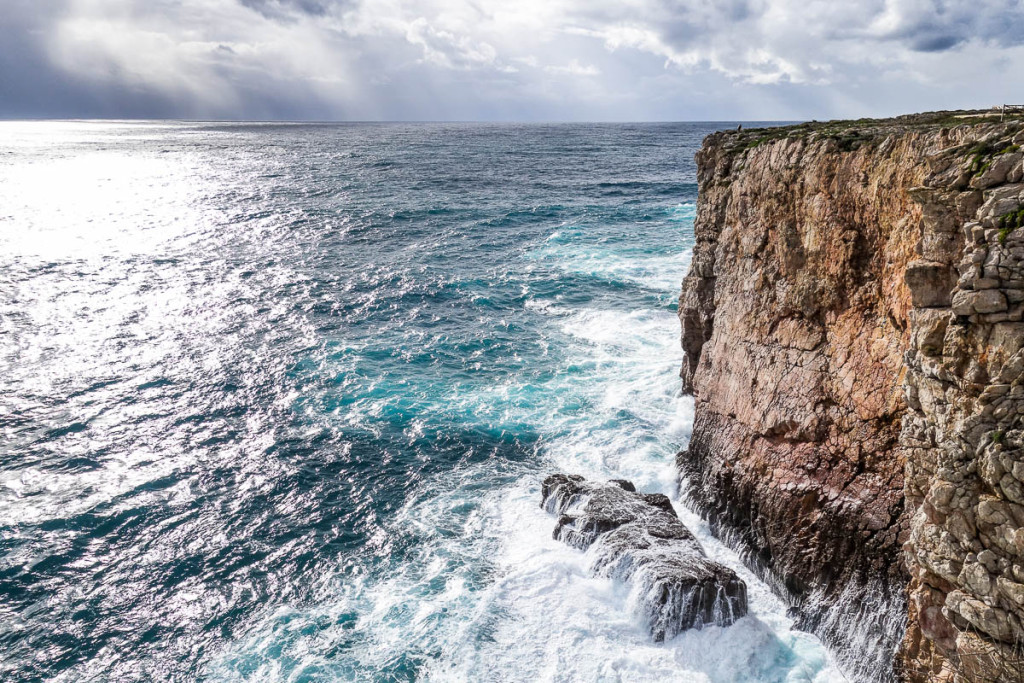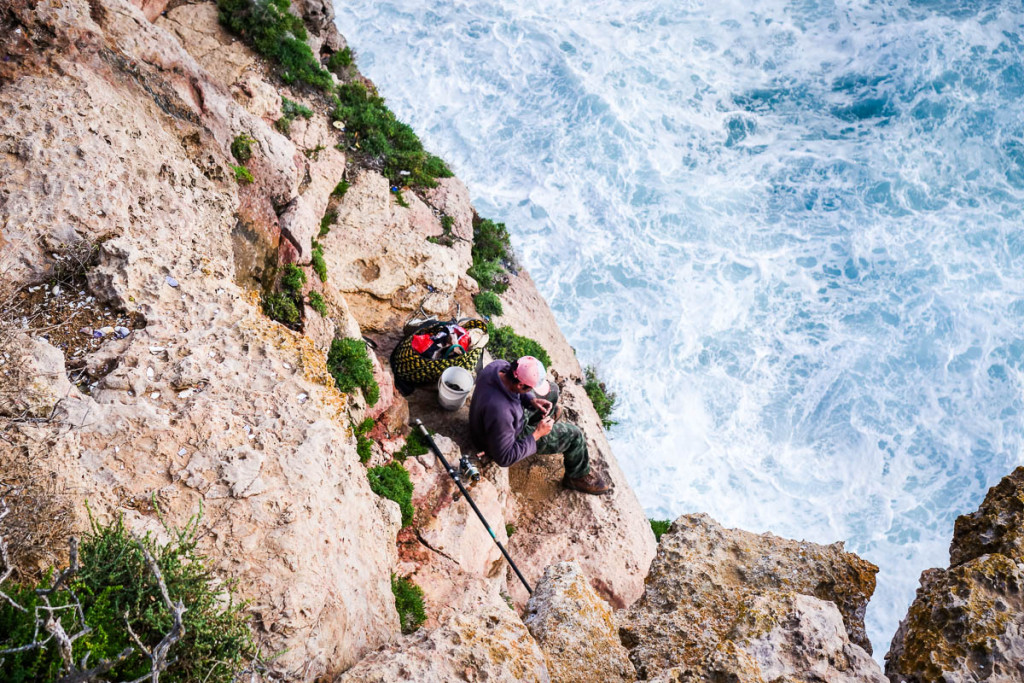 In places the ocean has cut out deep caverns in, and passages through the rock. Surprisingly, some 100 meters from edge of the cliffs you can suddenly come across a small hole in the rock floor you're walking over – it turns out it leads to a huge cavern from which emanates the sound of the surf howling deep below! Here's one – wisely covered up long ago to stop tourists falling in!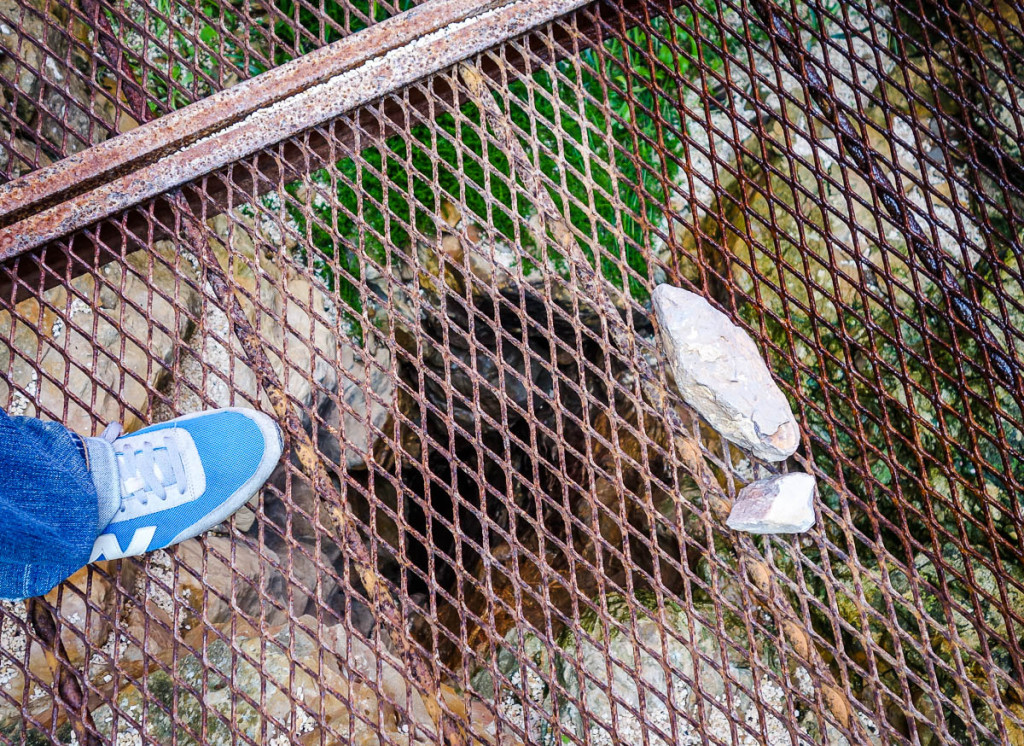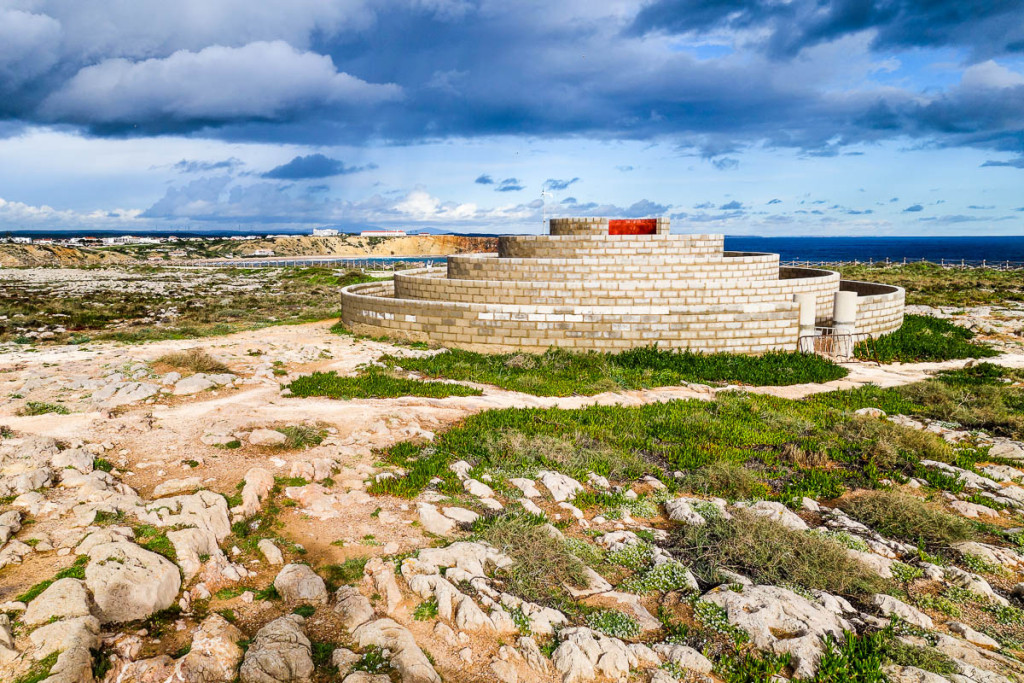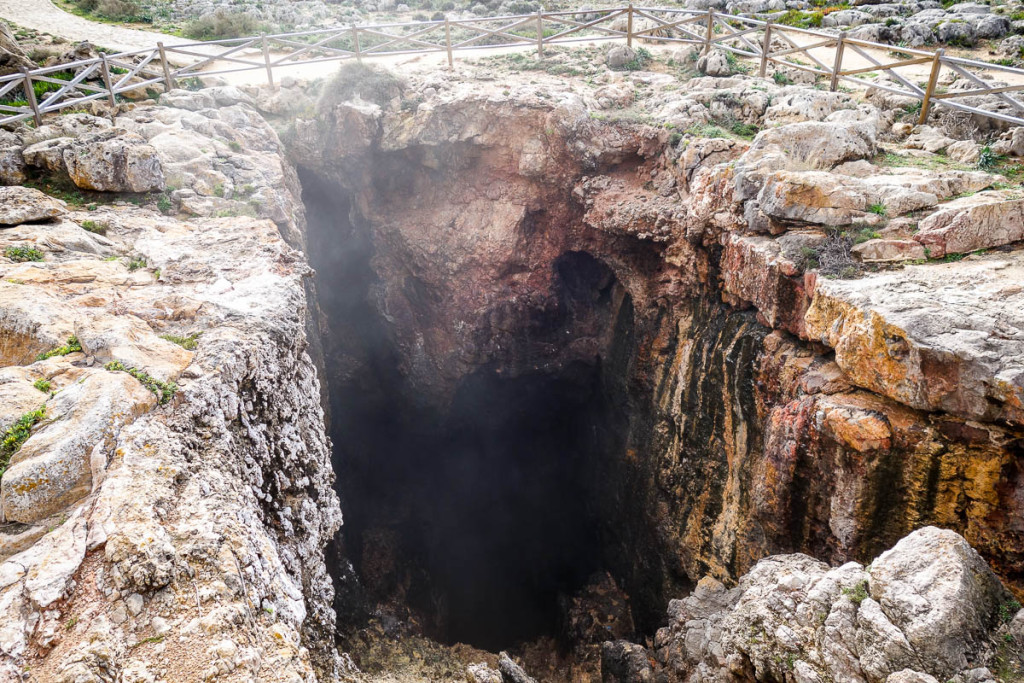 And this is how it looks (and sounds) :
This bizarre tricolor of the ocean was caused by a heavy downpour of rain: the rivers filled up and emitted sediment into the sea:
St. Vincent: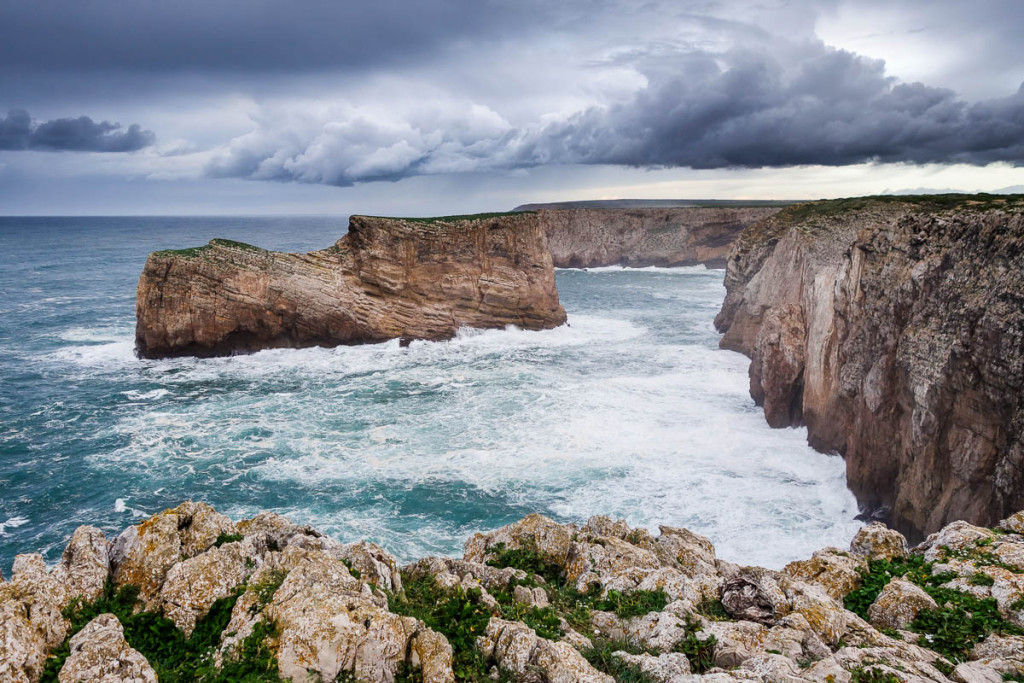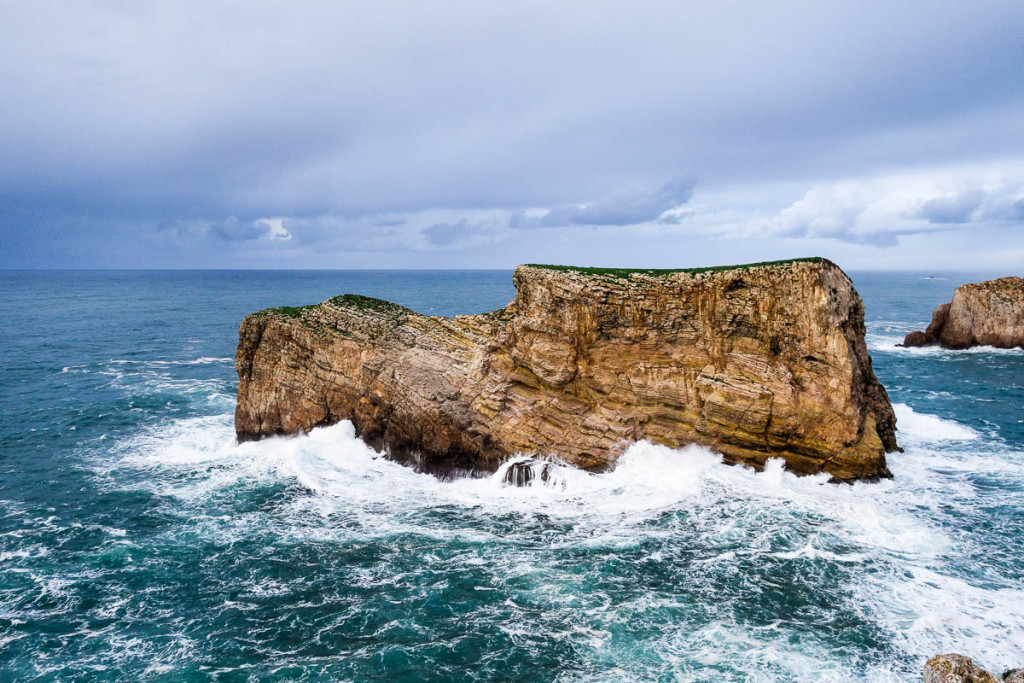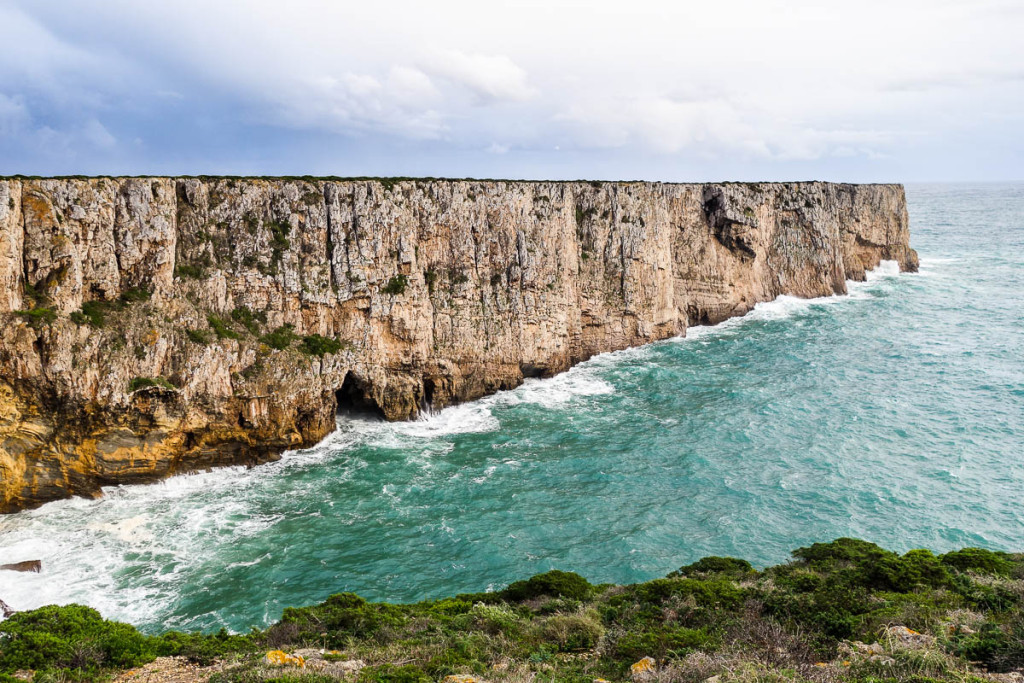 That flatness reminded me of the Lena Pillars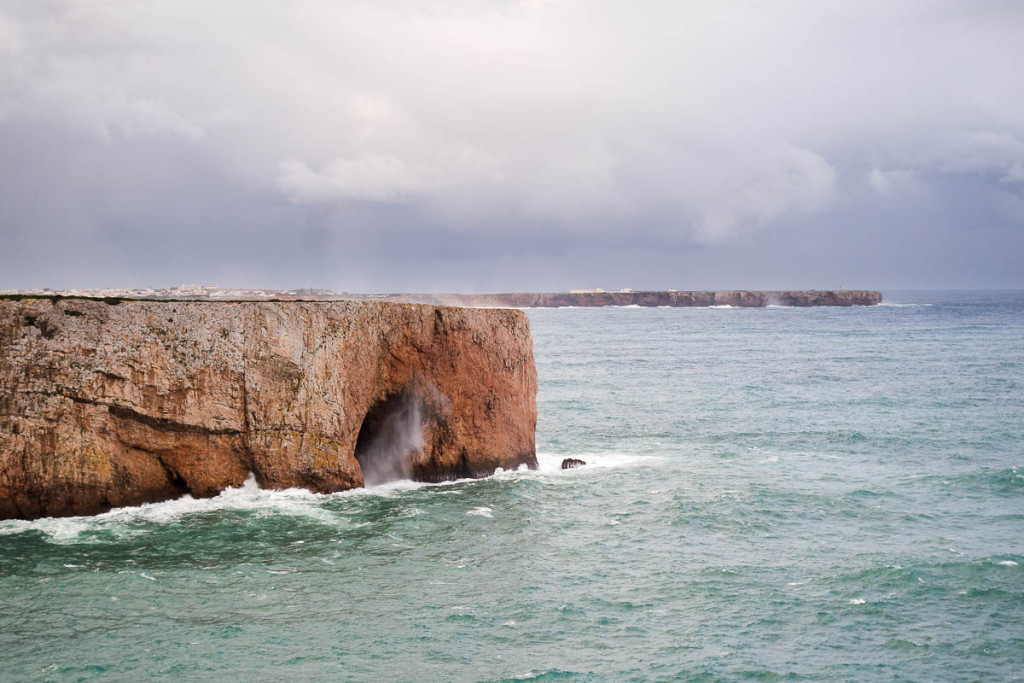 Bass bin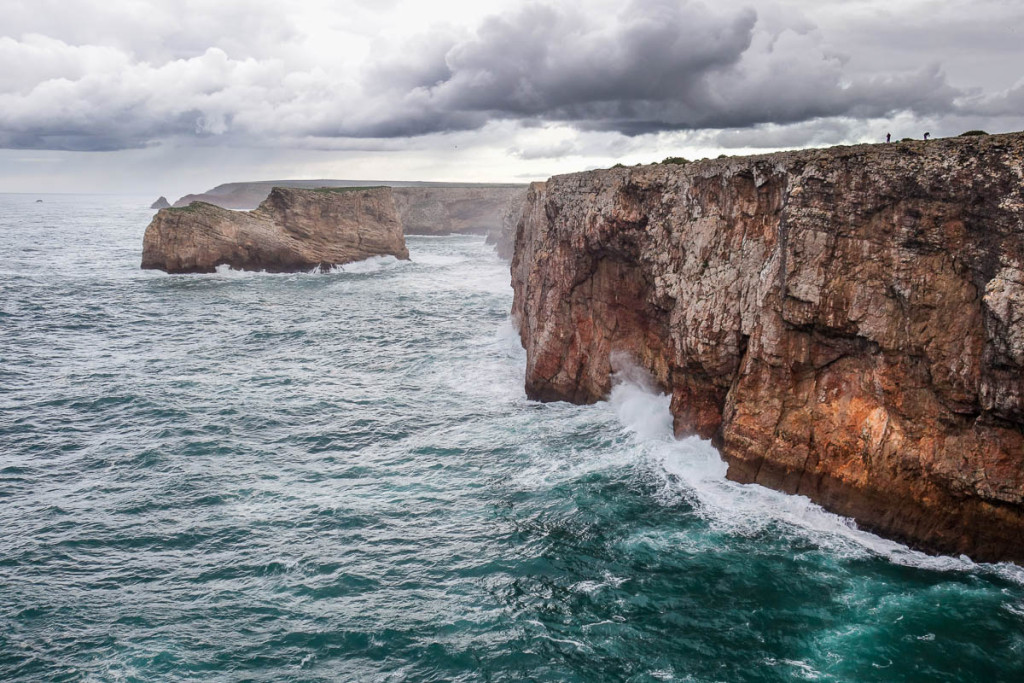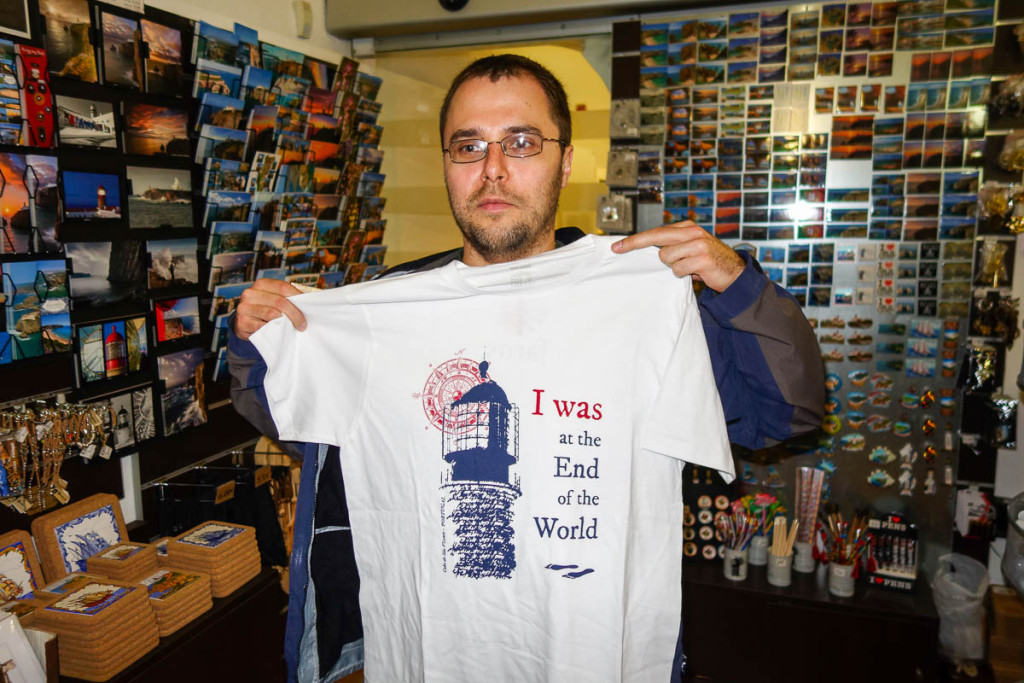 Hmmm. Seems they haven't been to the real End of the World. This is more the 'End of Europe' :)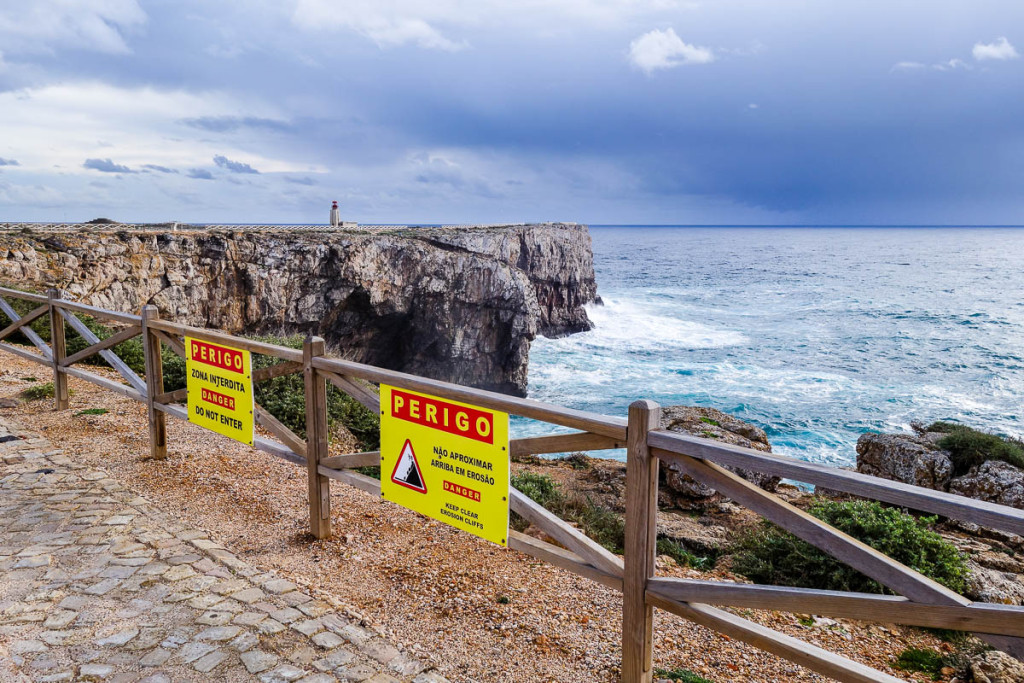 Tourist-friendly paths all fenced in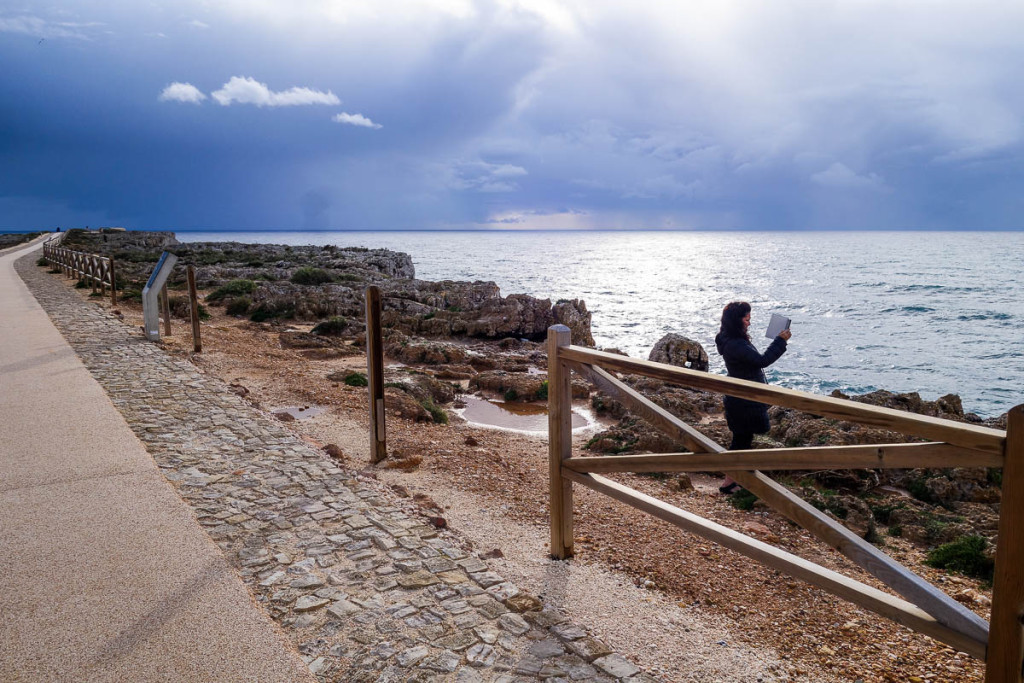 But there are … vulnerabilities
In all, these cliffs are like scaled-down versions of the cliffs on the Great Ocean Road in Australia. So, if you can't face the interminably long journey down to Melbourne, get yourself to Lisbon or Faro. It's 200 kilometers from Lisbon, and just a few from Faro.
Now a bit about the numbers of tourists here…
In the summer season there are bound to be crowds of thronging tourists here! The signs are obvious: the paths are not really paths, but well-worn and very wide pedestrianized highways!
But now, just into winter, the season is as dead as a doornail. There's literally NO ONE around (besides A.B. and me). Well, from time to time you see one or two folks milling about, and once an hour maybe a bus load of tourists on an excursion suddenly descends on the site for their 15 minutes of fame touristic fast-food and selfies, etc. But that's it. And it's just swell (like the seawater below:). The weather's swell too – between +15°C to +20°C by day (just the frequent heavy showers to dampen the mood).
Alas, once again we missed the sunset. Which means we'll just have to come back :).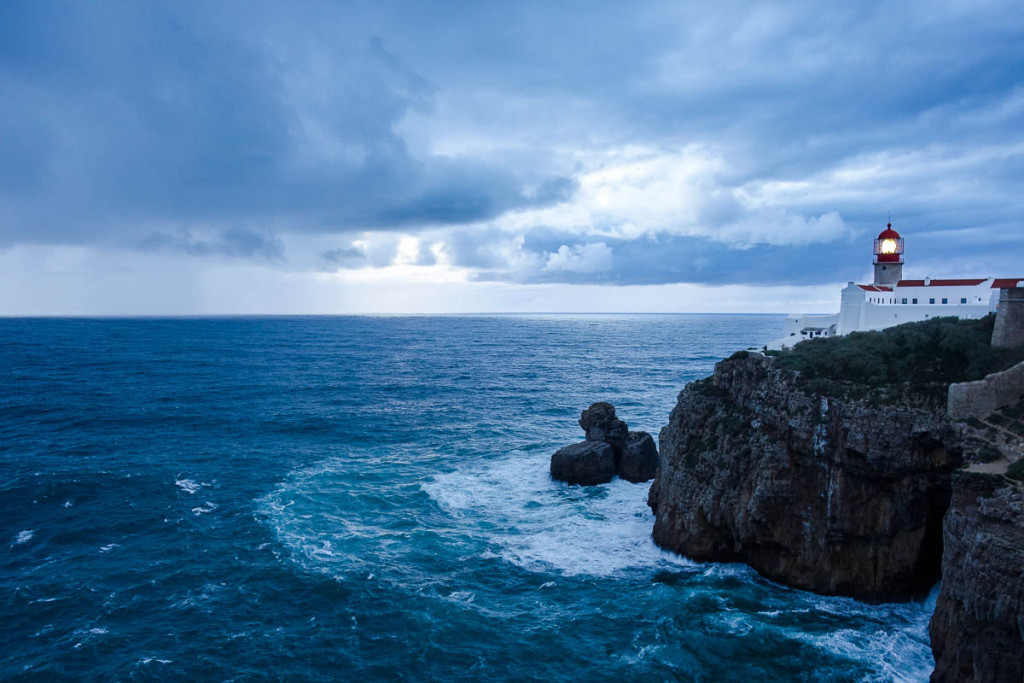 Next time we'll have to come for longer, with something to sit on (so the jagged rocks don't cut into the seat of our jeans) and with tripods. And a remote for the camera – so we don't have to get up from our meditation poses.
Till next time folks, adeus!…
The cliffs of southern Portugal: Ponta da Piedade, Sagres Point and Cape St. Vincent via @e_kasperskyTweet
All the photos are here.