Besides cha-cha, on Kunashir island there's still plenty to check out…
…Ludicrous lava columns on the coast, the fantastic fumaroles of Mendeleyeva volcano, and the magnificent mud baths in Golovnina's caldera, for example. Bathing in a 30°С muddy lake didn't quite do it for me, but the volcanism of Mendeleyeva – especially the lava columns there – now that was something else. Quite simply gobsmackingly unforgettable.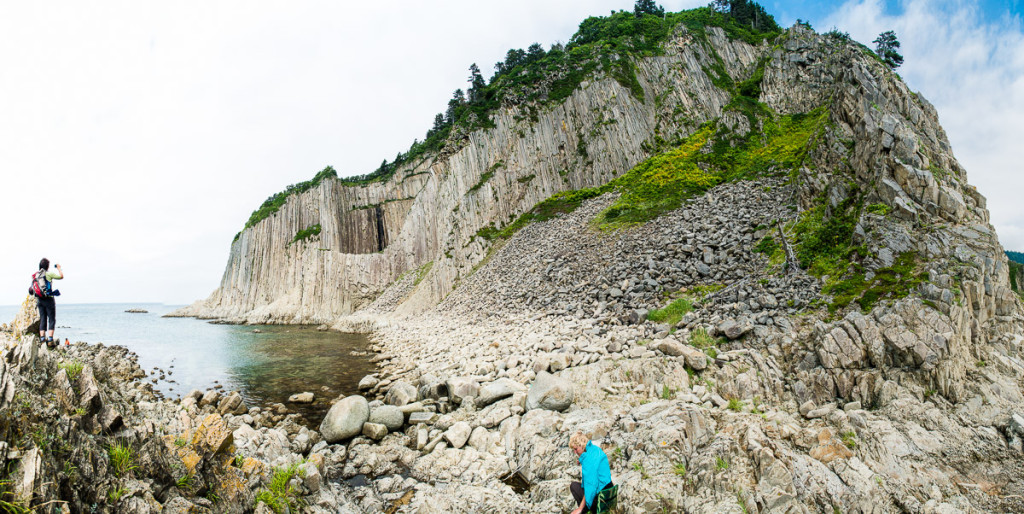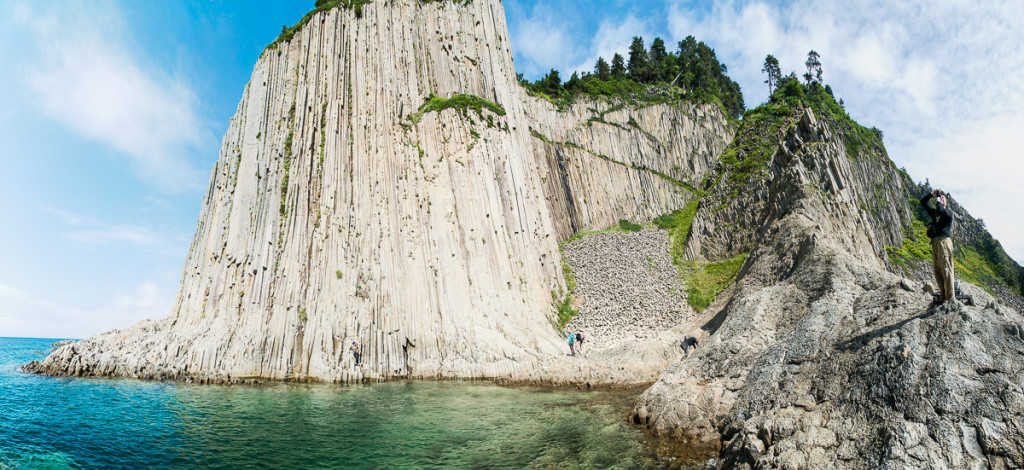 Stone columns on Kunashir – breathtaking! @e_kasperskyTweet
The stone columns on the shore at Cape Stolbchaty (Column Cape) are unique and stunningly beautiful. Huge stone pillars, almost perfectly hexahedral forms, and up to tens of meters high… but why am I attempting to describe them in words? It's trite, but pix do the job of a thousand words…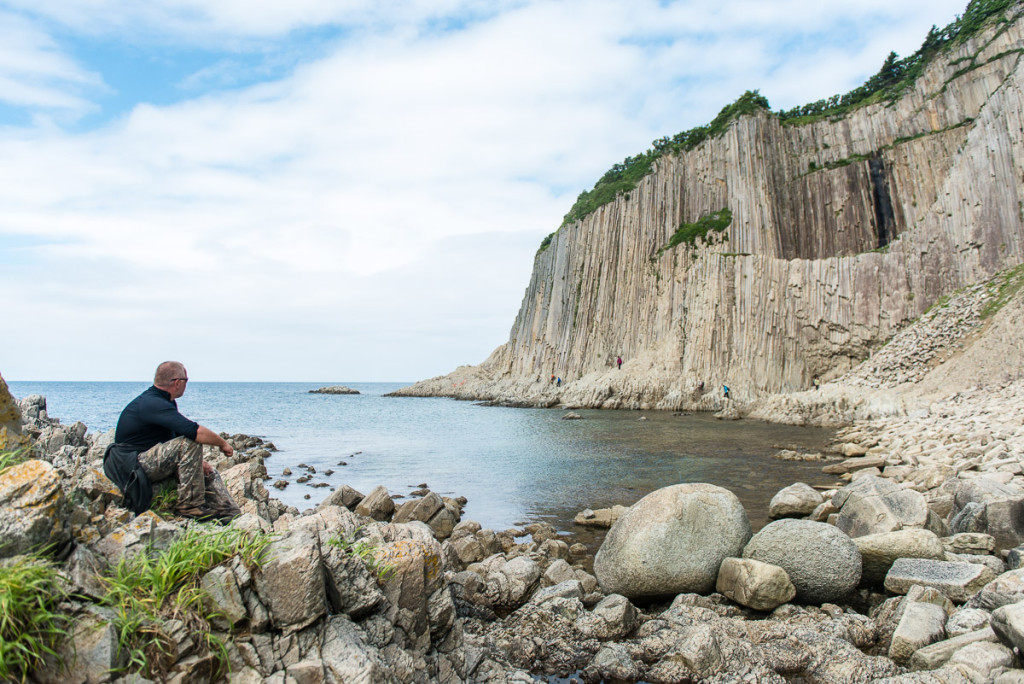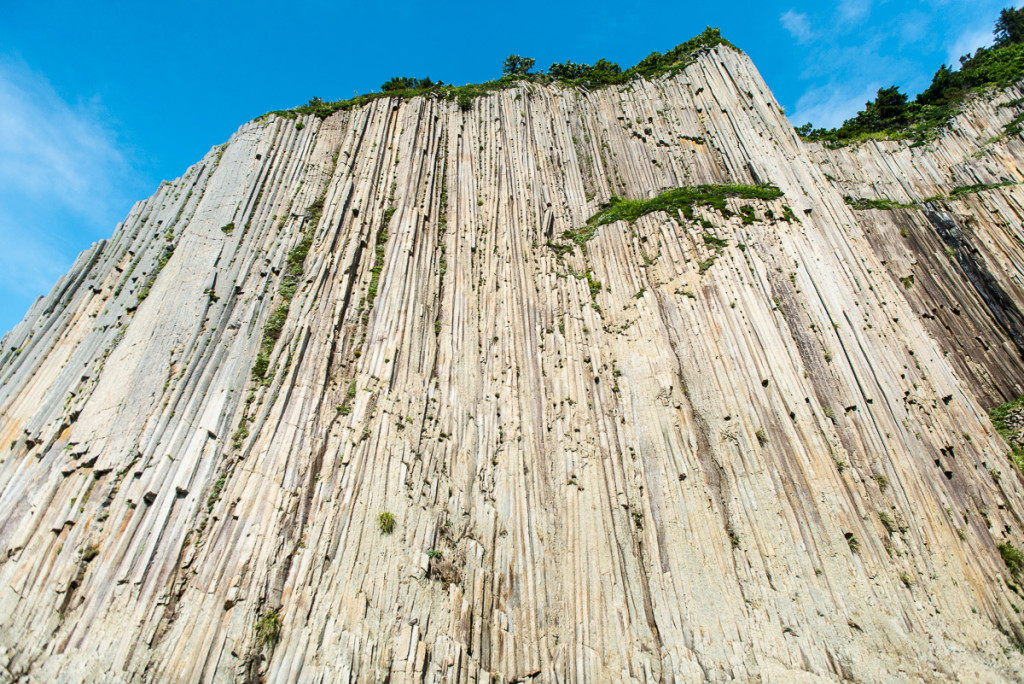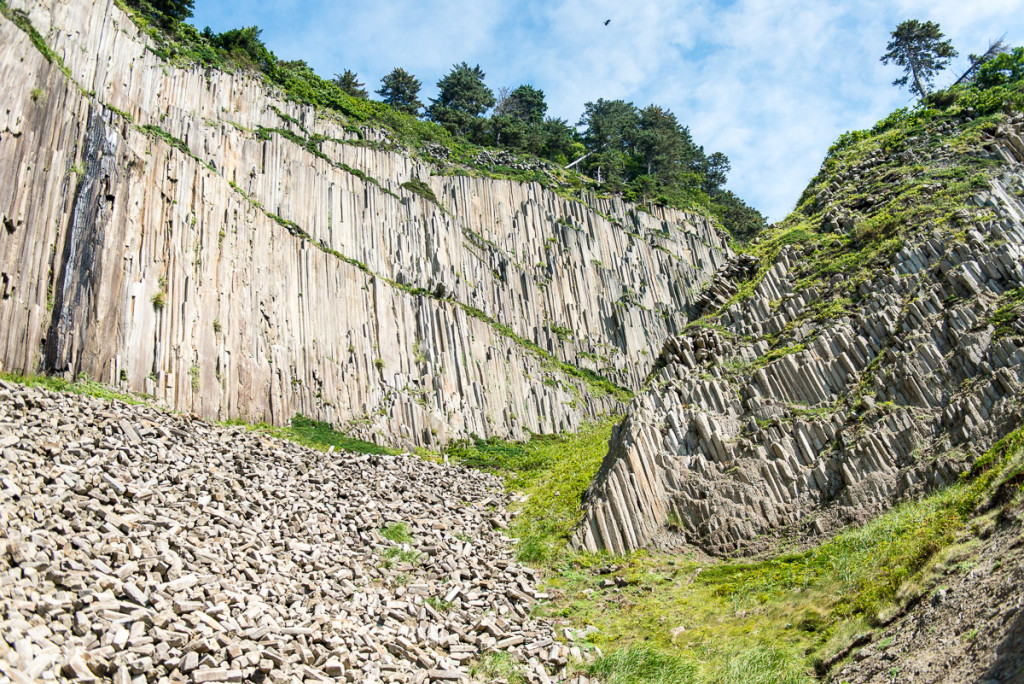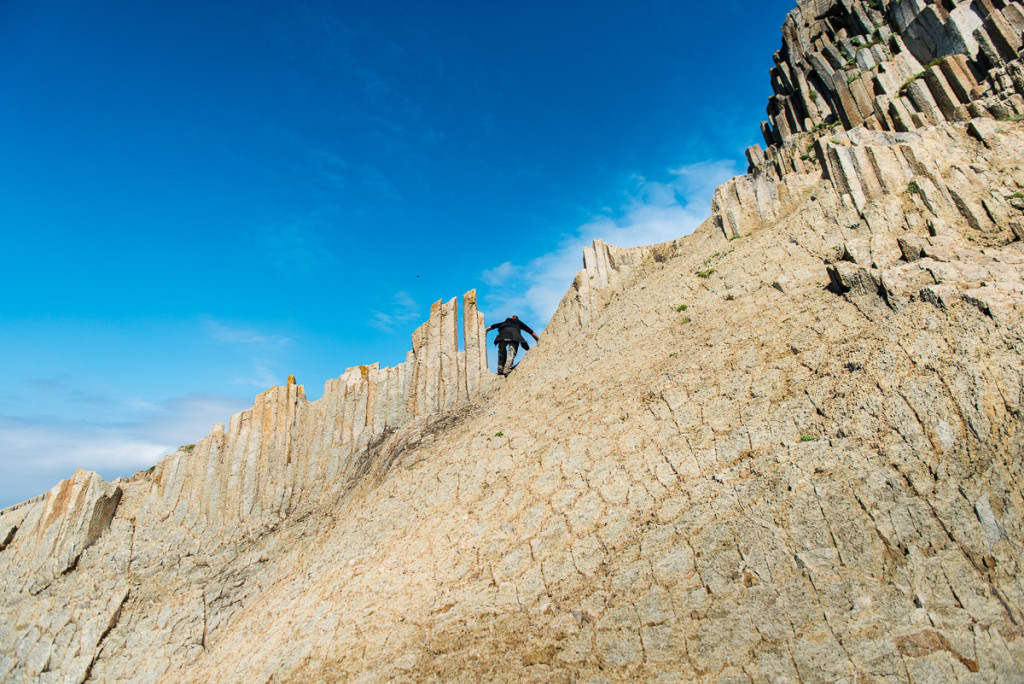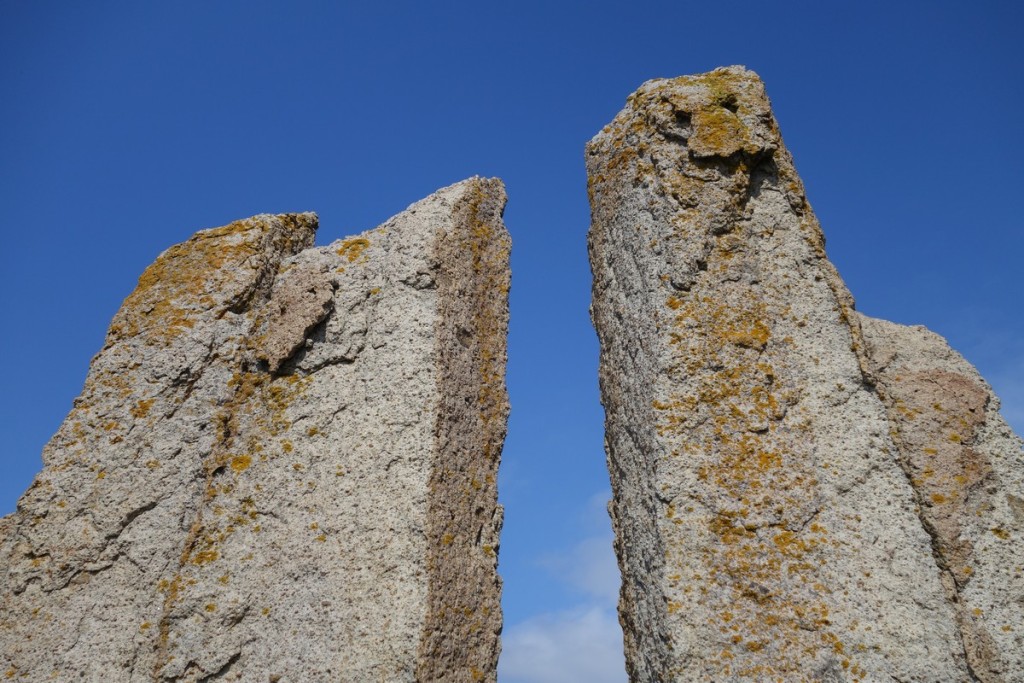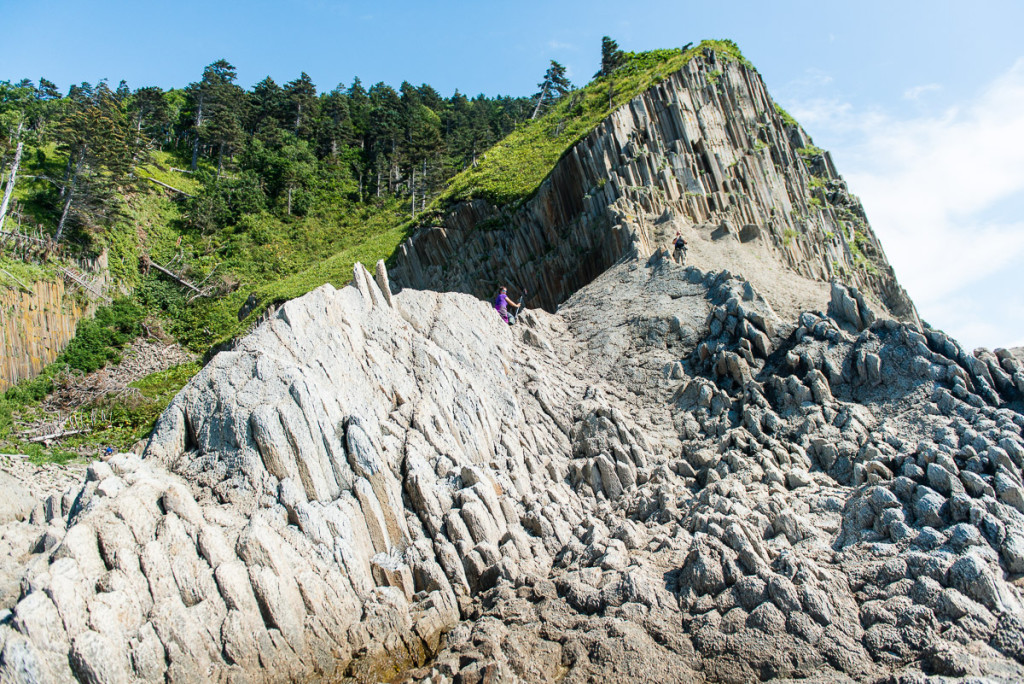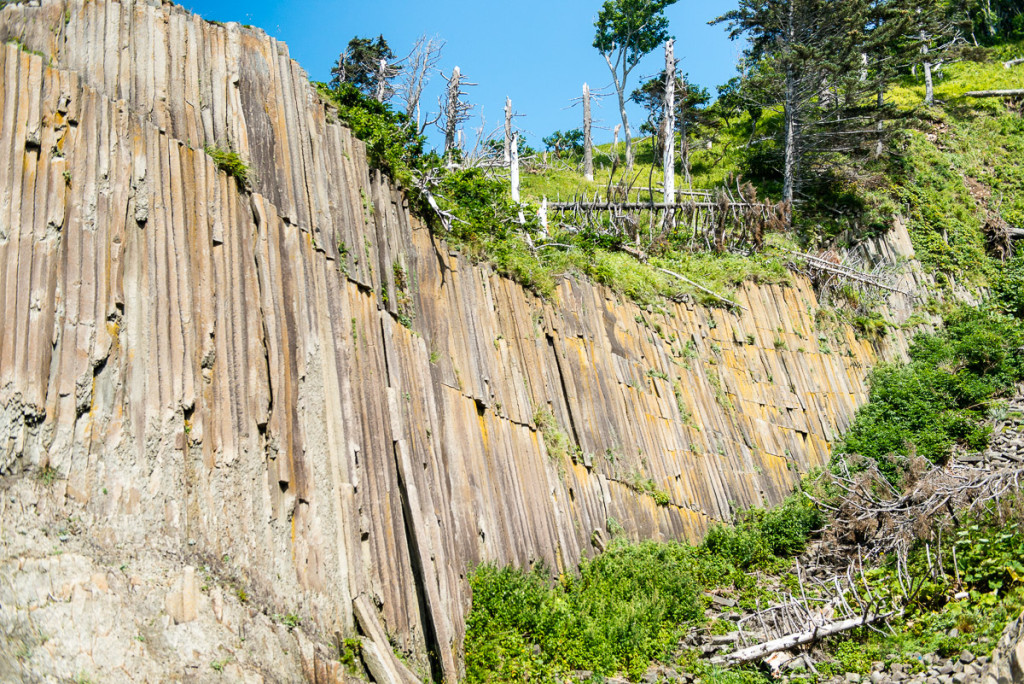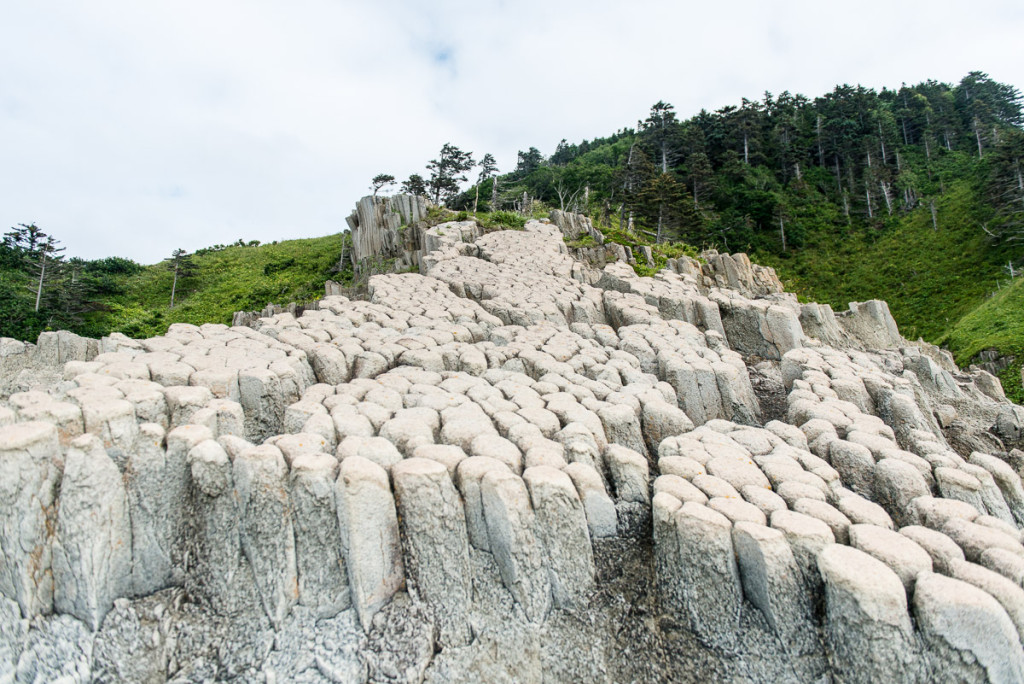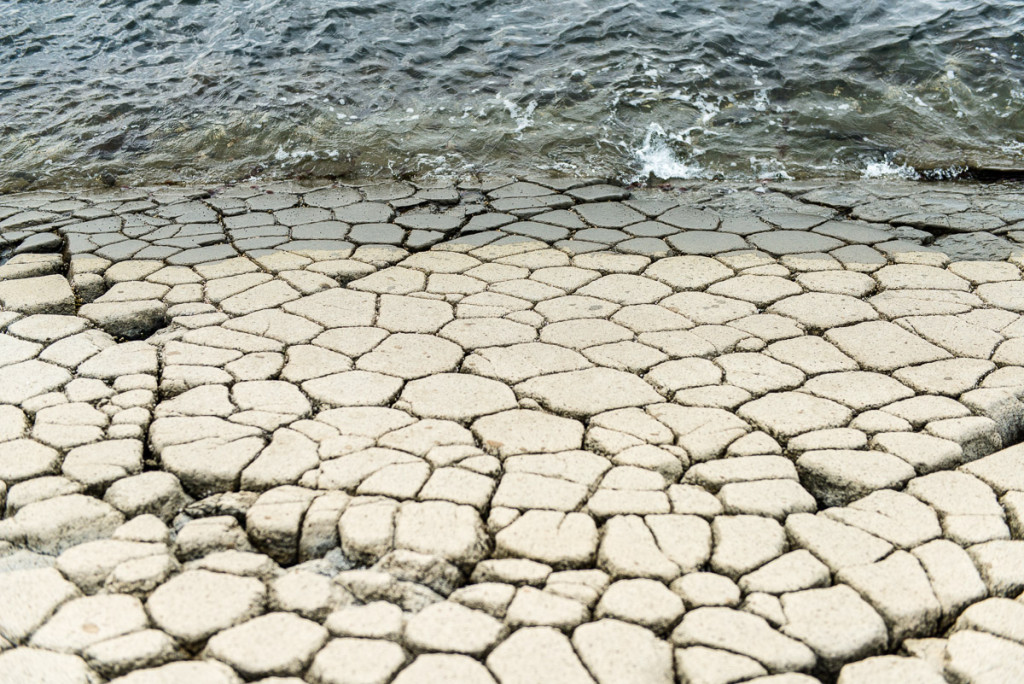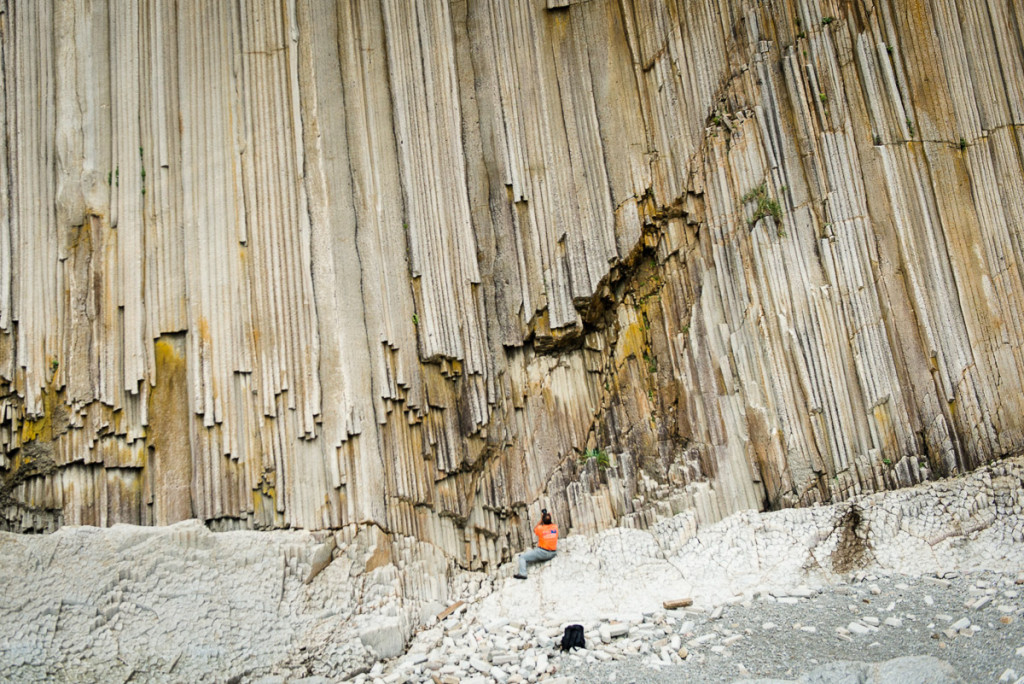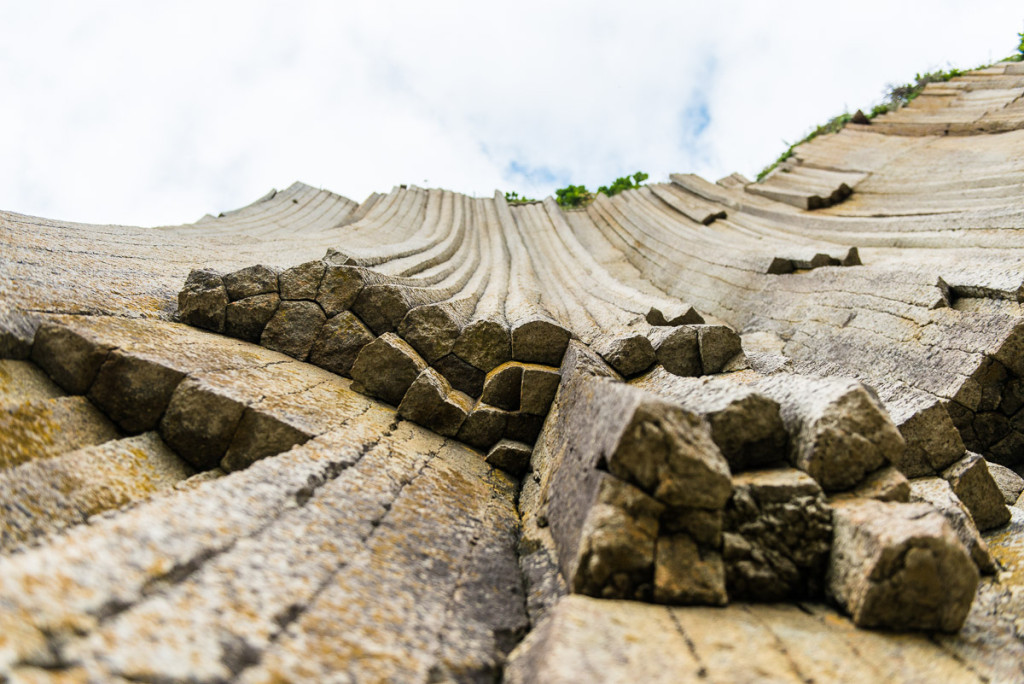 Here my mind was blown completely. Unbelievable!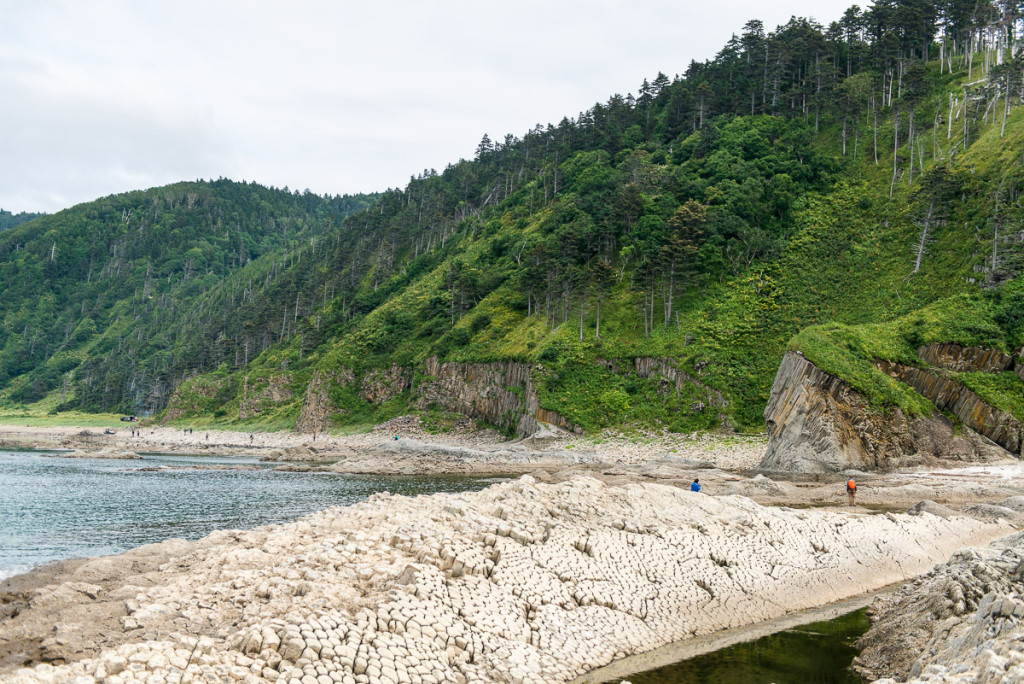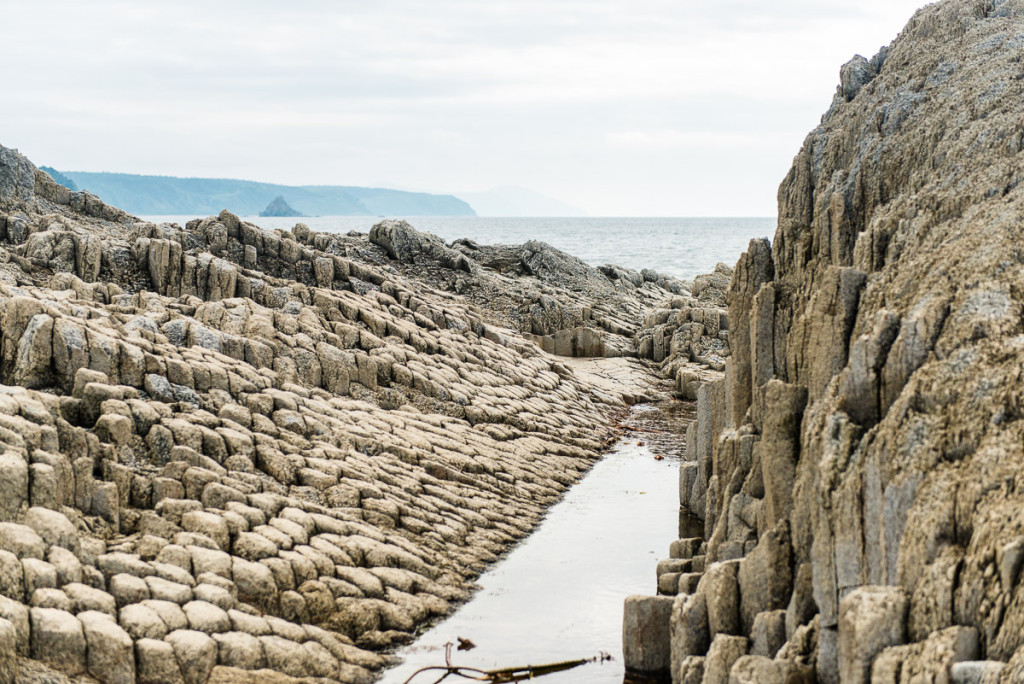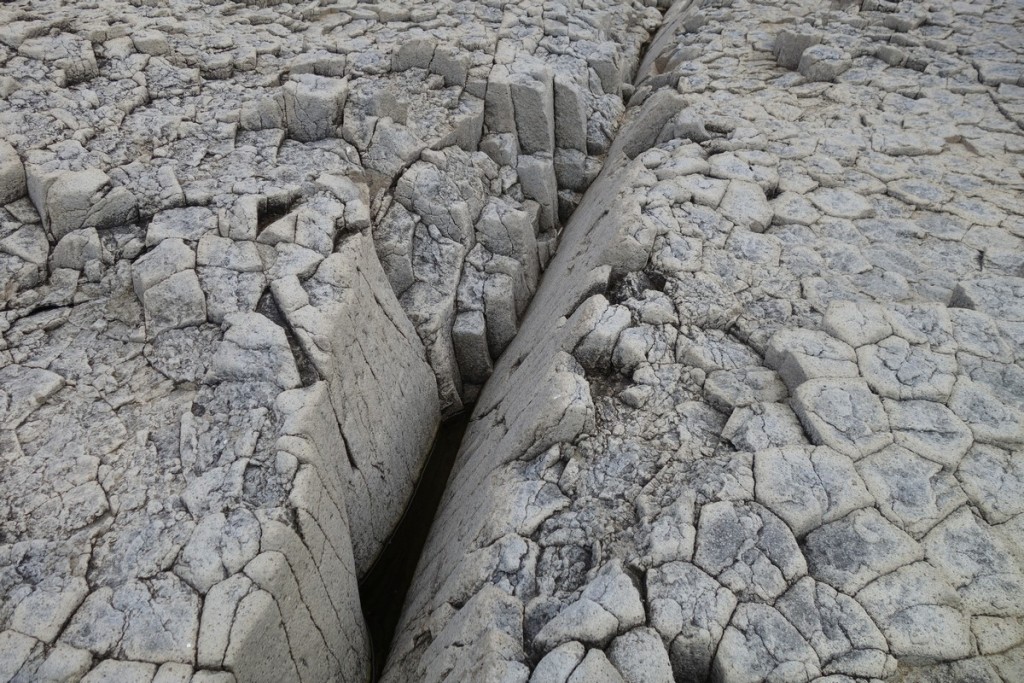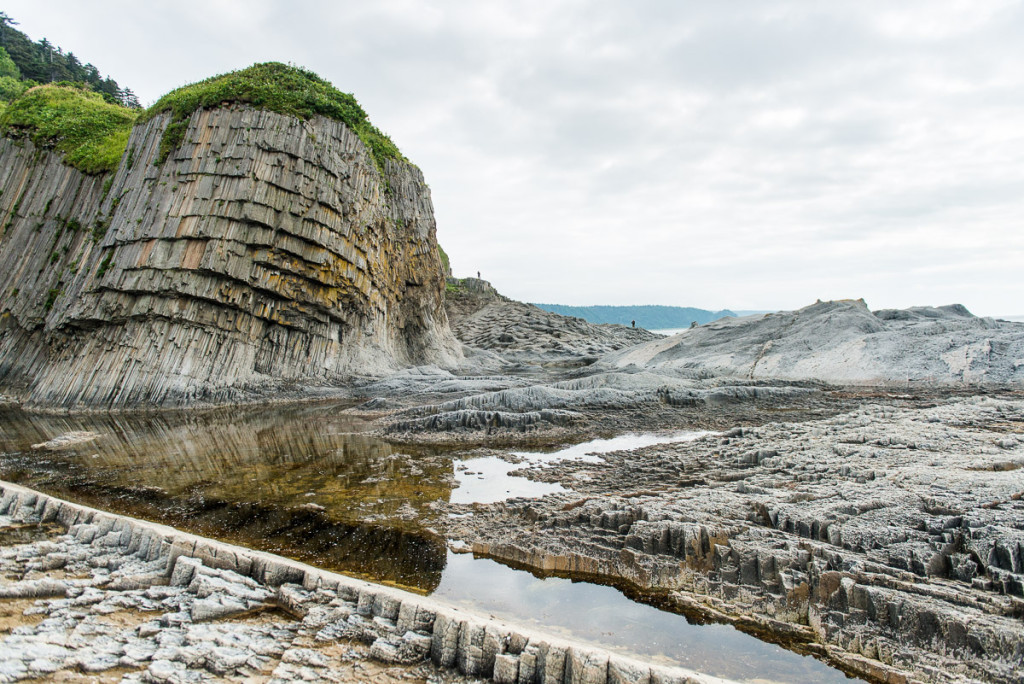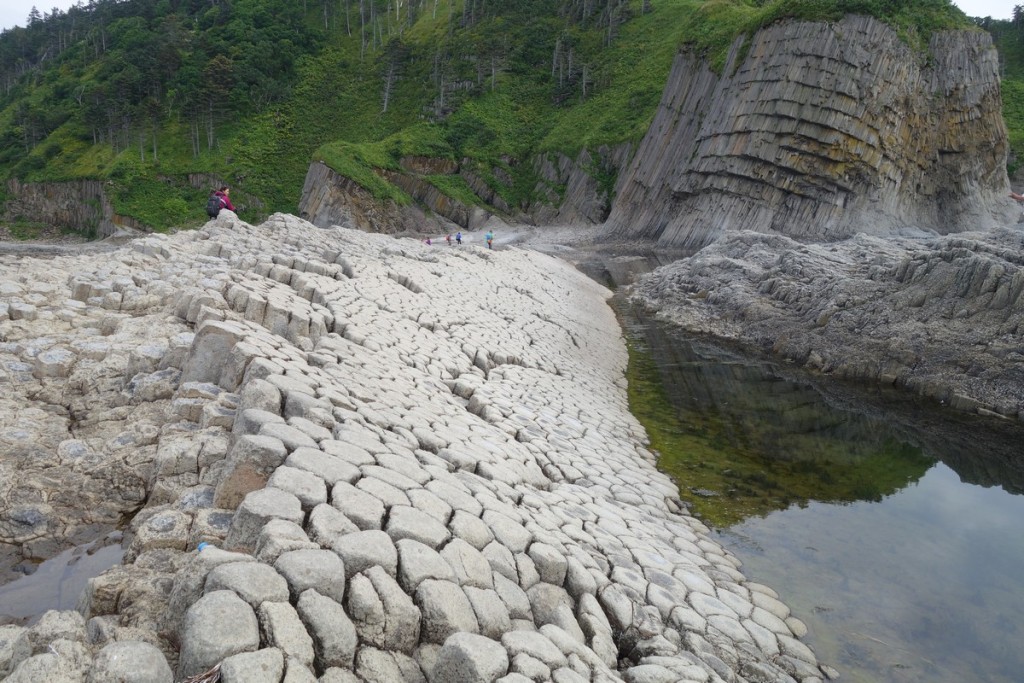 I've only seen something resembling such a phenomenon twice before – on Kamchatka (on a much lesser scale – a butterfly made out of such pillars) and in Northern Ireland (Giant's Causeway).
The columns are formed during massive volcanic eruptions, when huge quantities of basalt lava spew out of the earth and form a lava plateau several meters deep. Then, as a result of cooling this plateau gets 'column-ized': up above the lava quickly loses temperature and hardens little by little the further down it cools, while below all's still hot and liquid. With cooling the volume of the lava contracts and cracks appear on its surface, in places forming nicely symmetrical five or six-sided long 'tubes' of rock. Science calls this phenomenon Benard cells.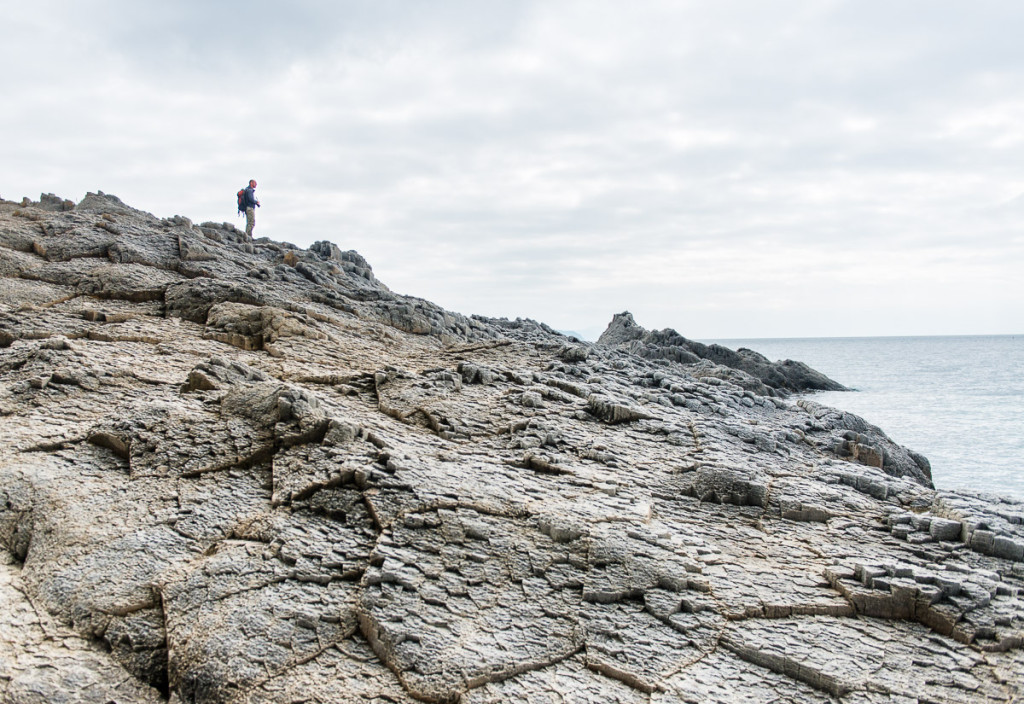 The stone formations also surround very picturesque little bays in which you can take a dip. The water's chilly, but at least it doesn't burn. It's nice just to float and meditate and slowly soak up the lush and utterly unusual surroundings :).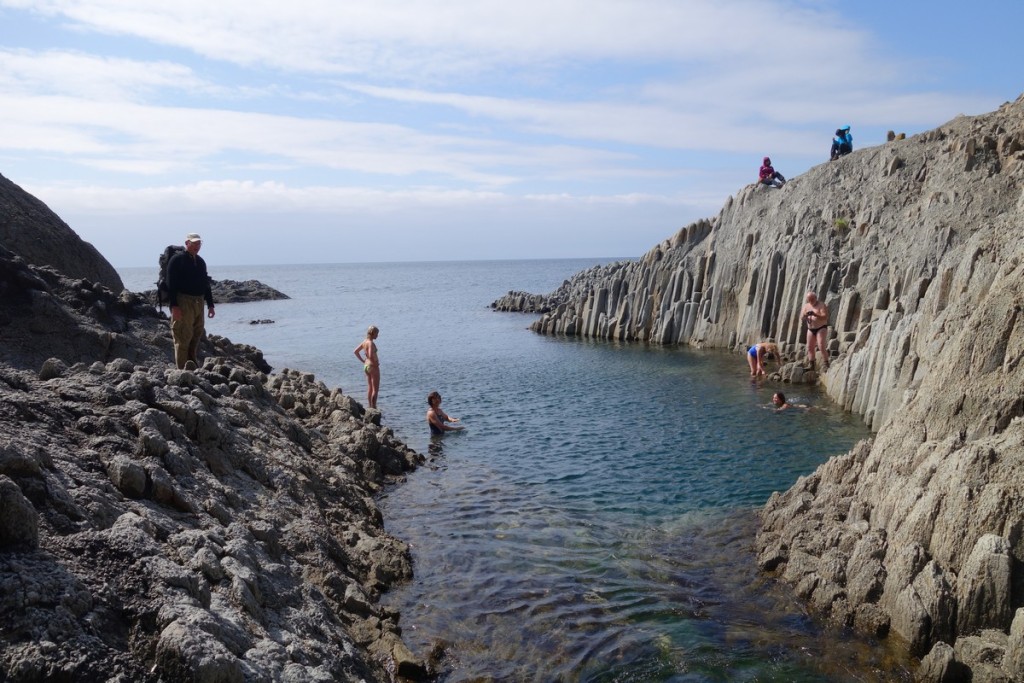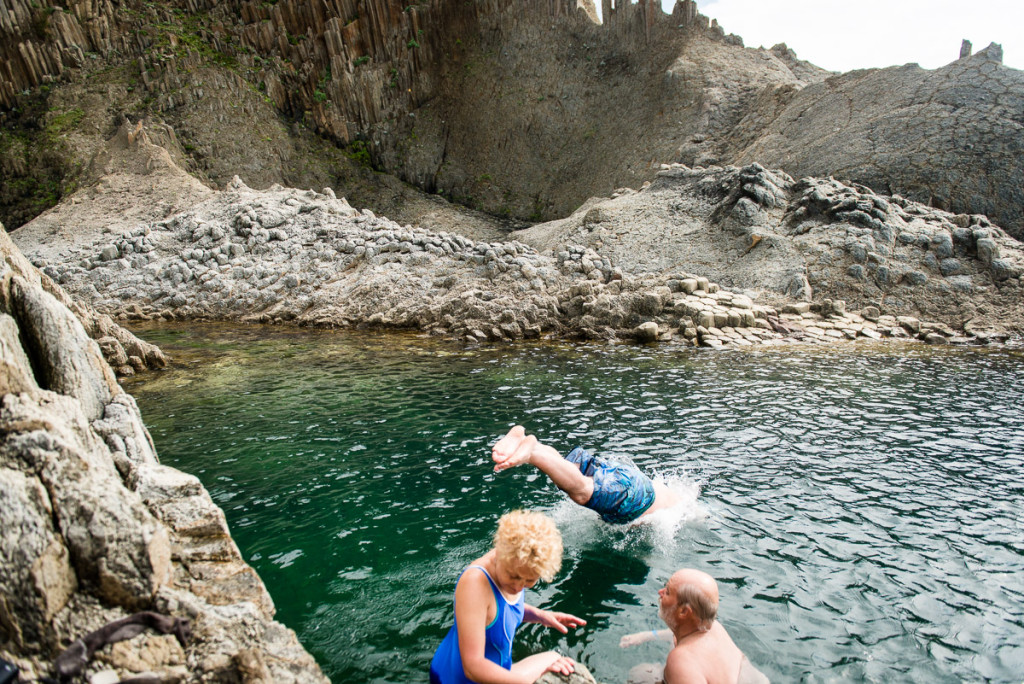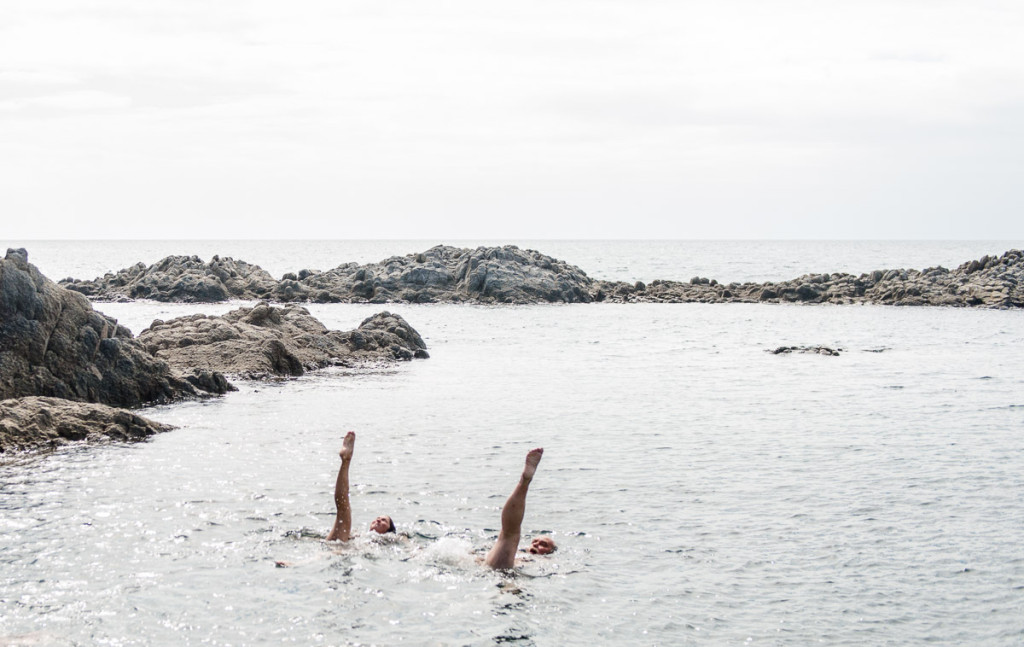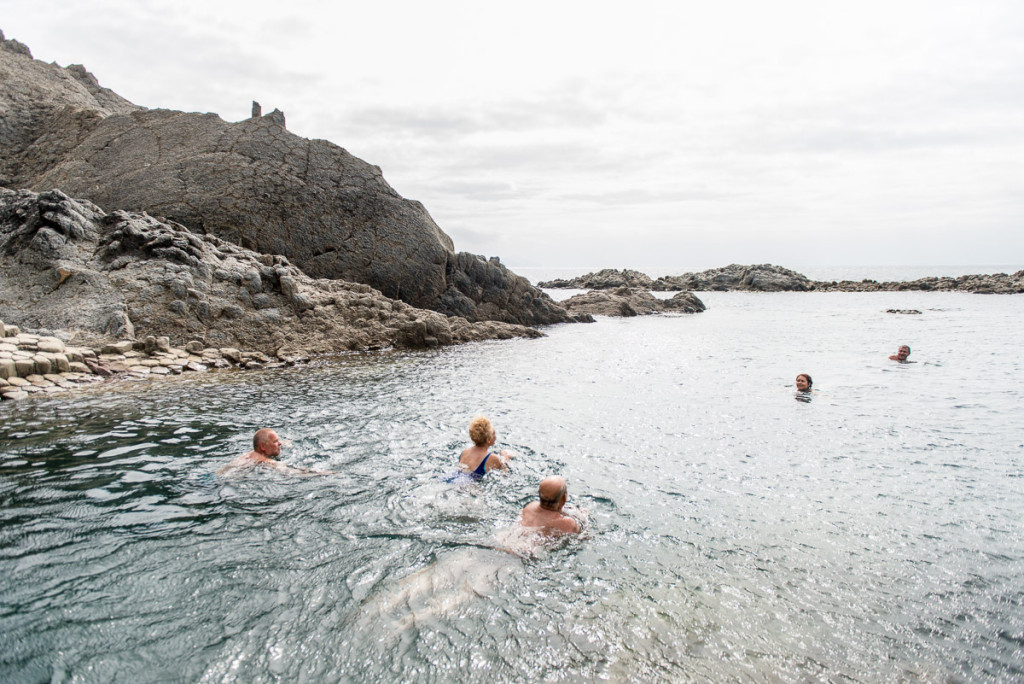 The Sea of Okhotsk is extremely invigorating for a swim even in summer. It almost brings on spasms!Tweet
The fumaroles at the foot of Mendeleyeva volcano are… interesting, but not super-duper-wowee. The fumaroles on Kamchatka's Muntovka are far superior.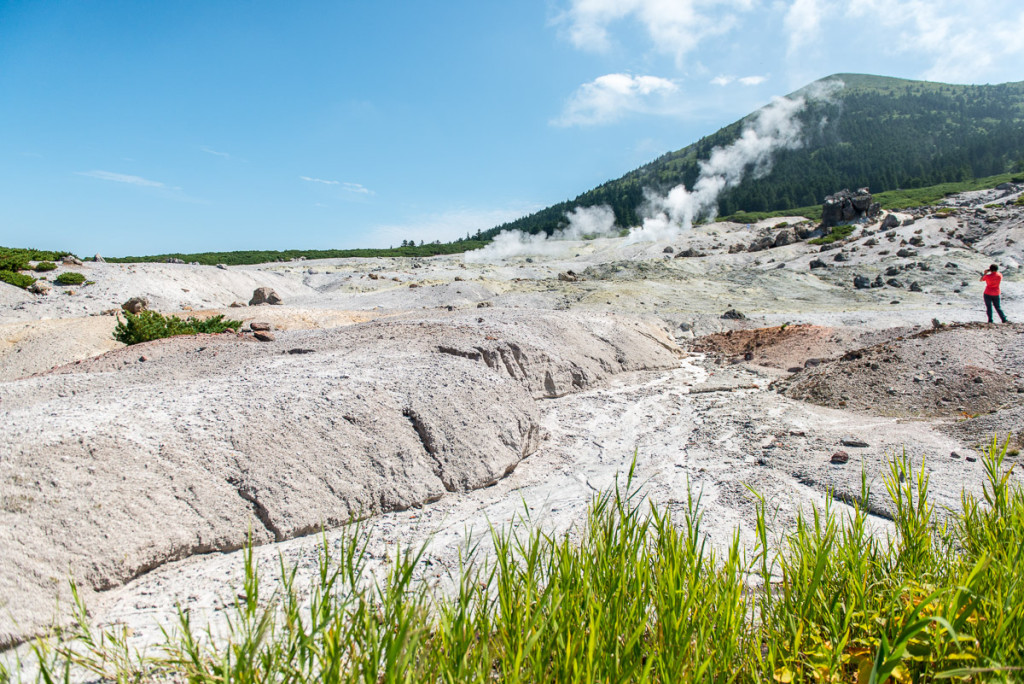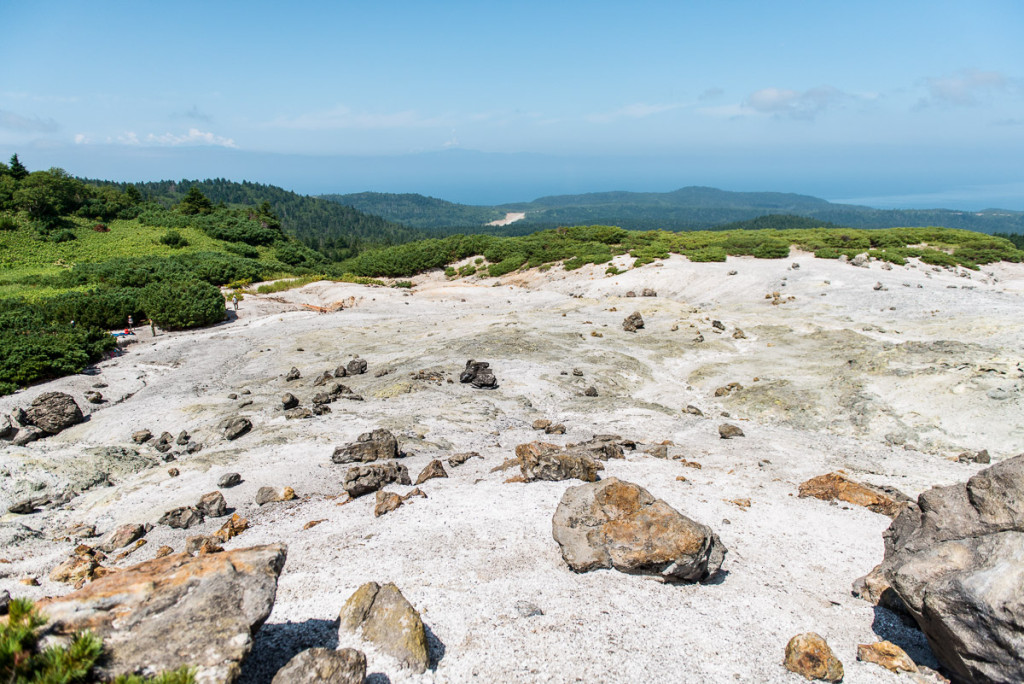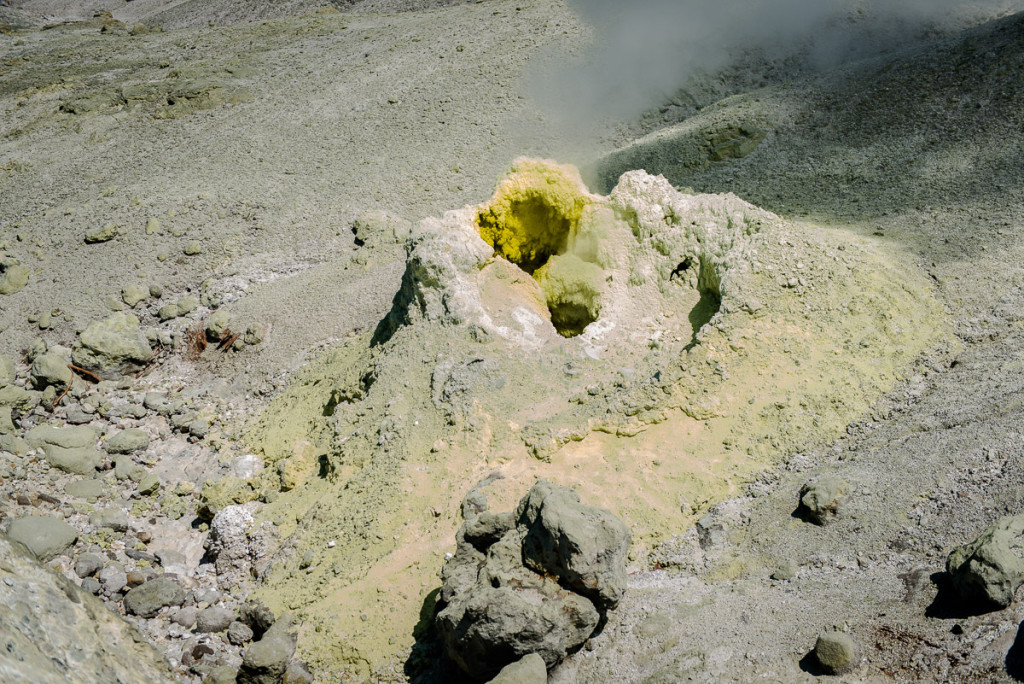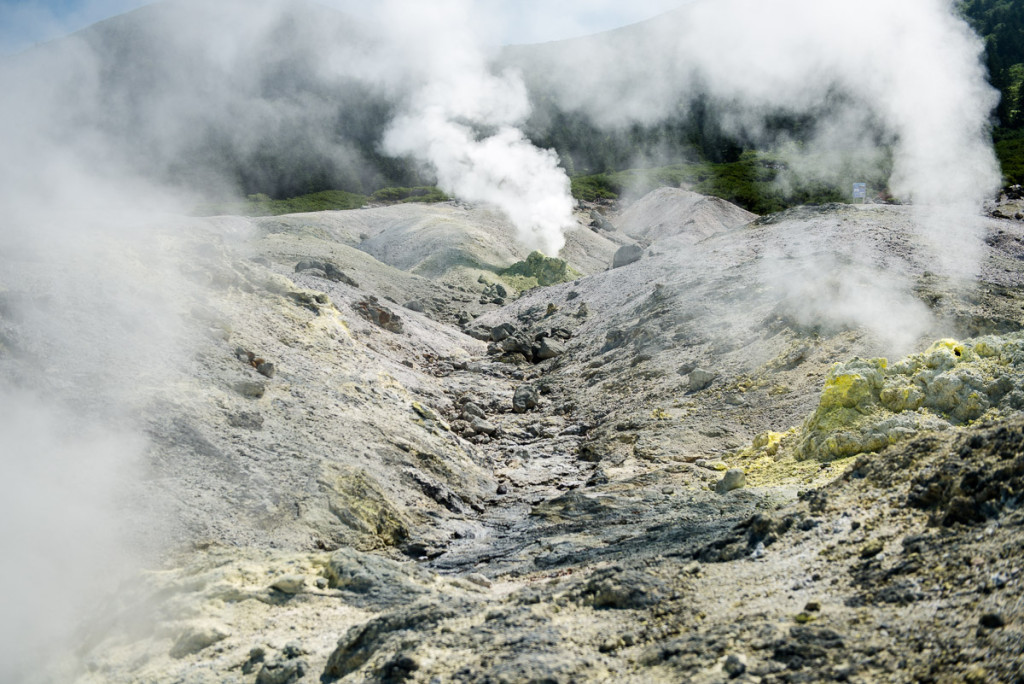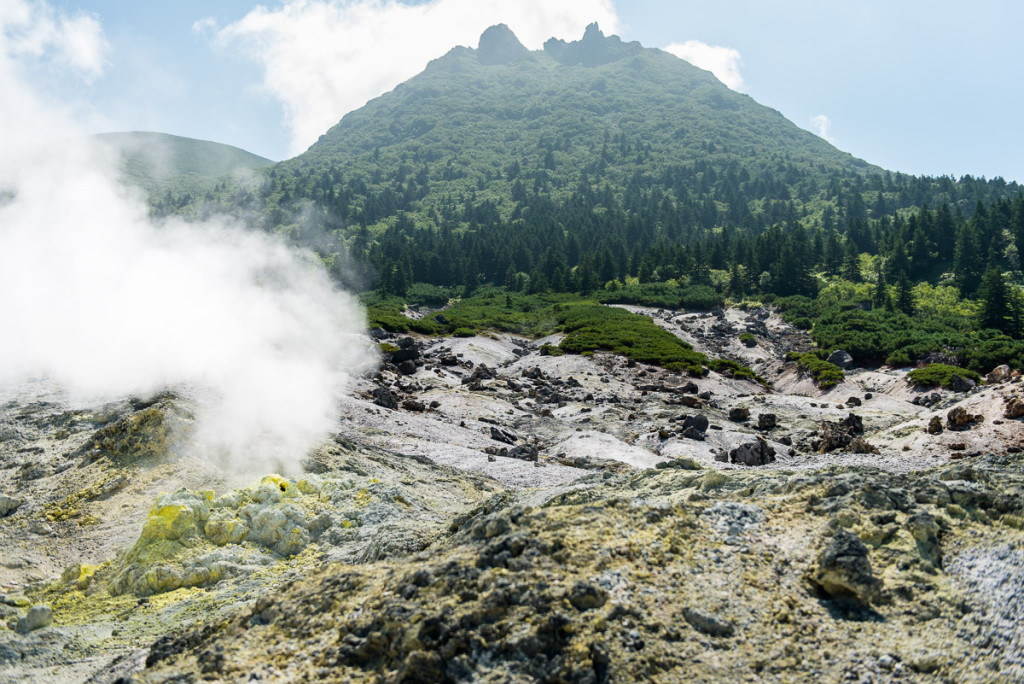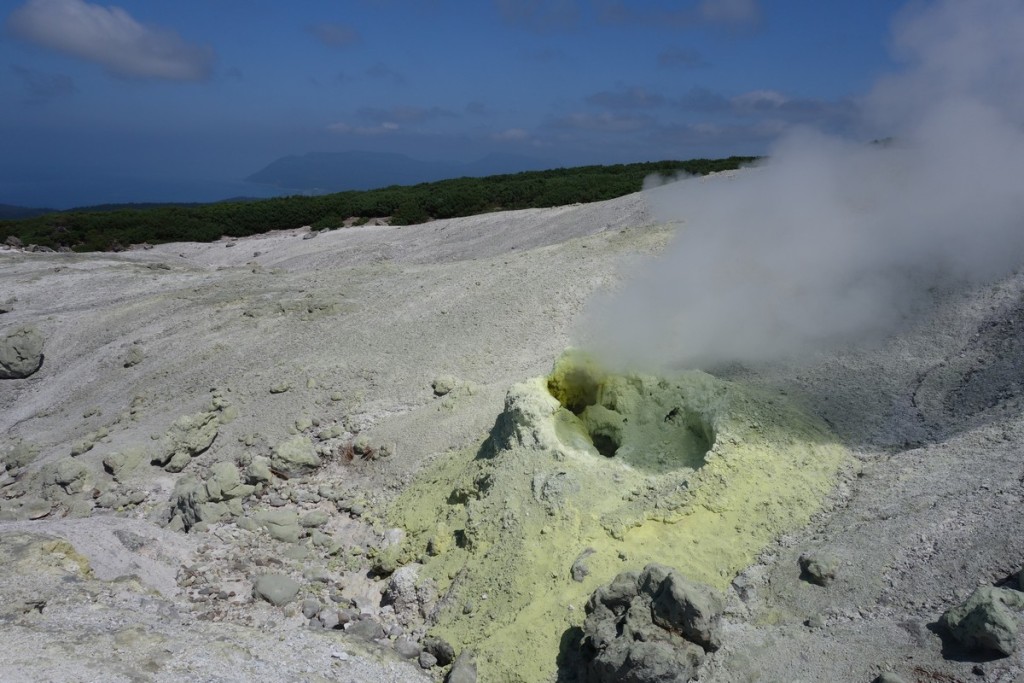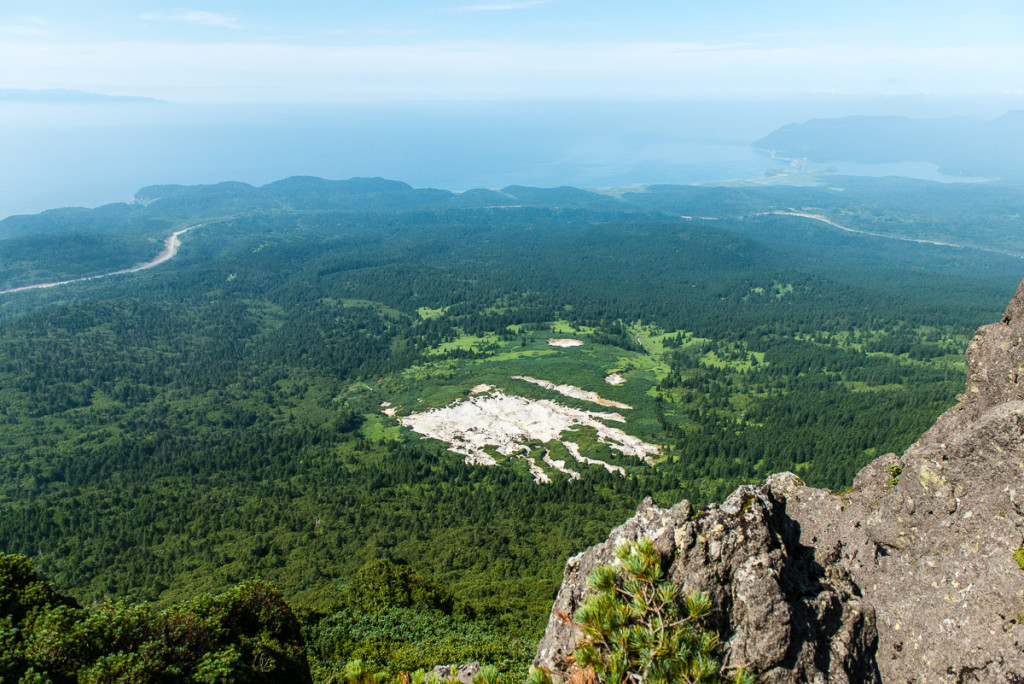 To get to the very top of this volcano is by no means easy, despite its being relatively modest in height – 886 meters above sea level. But the bit you actually need to get up is around half that… 'No problem!', we thought. But…
…But… you need gloves to go up the volcano – but not trekking sticks. Nope, sticks would just get in the way. For you don't walk up it – you clamber up it. We're talking almost sheer slopes, with bamboo and elfin wood and ipritka forever slowing you down. This was no ramble. This was pulling yourself up the volcano – grabbing onto bamboo and branches and roots of elfin wood. Thick strong gloves are a must – as are strong lats :).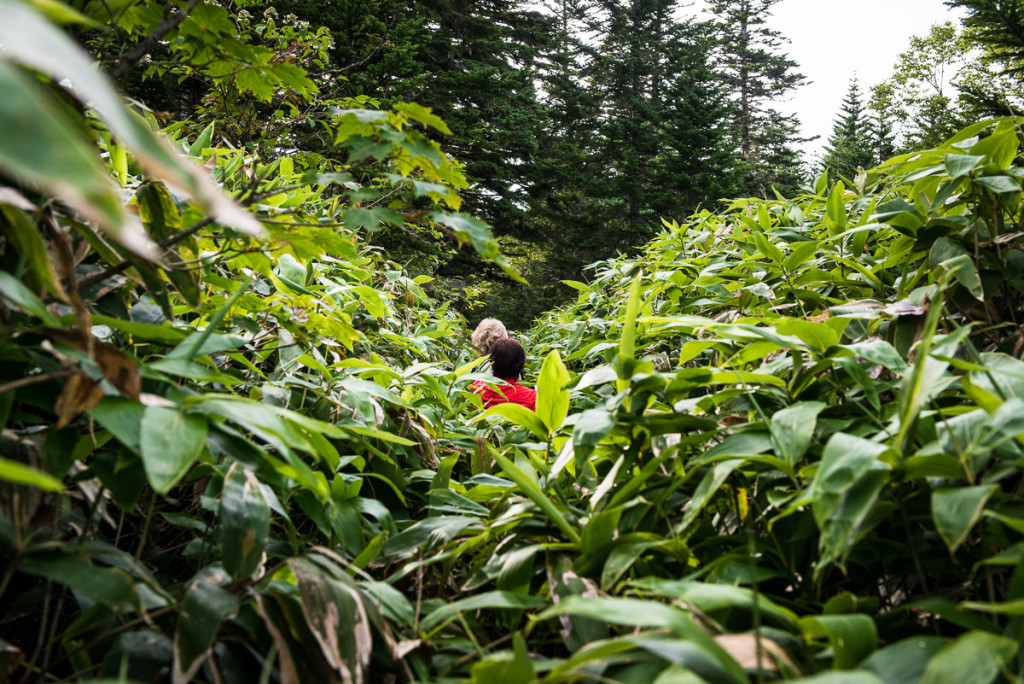 I lost track of time as I was just too busy concentrating on the climb so as to not fall off the side of the mountain. Still, we did eventually make the summit – thoroughly exhausted (everything ached!). The views are just astounding (we thankfully had sunny weather). Both shores – the Pacific and the Okhotsk – are visible, as are various volcanos, and as is Yuzhno-Sakhalinsk (as if in the palm of your hand).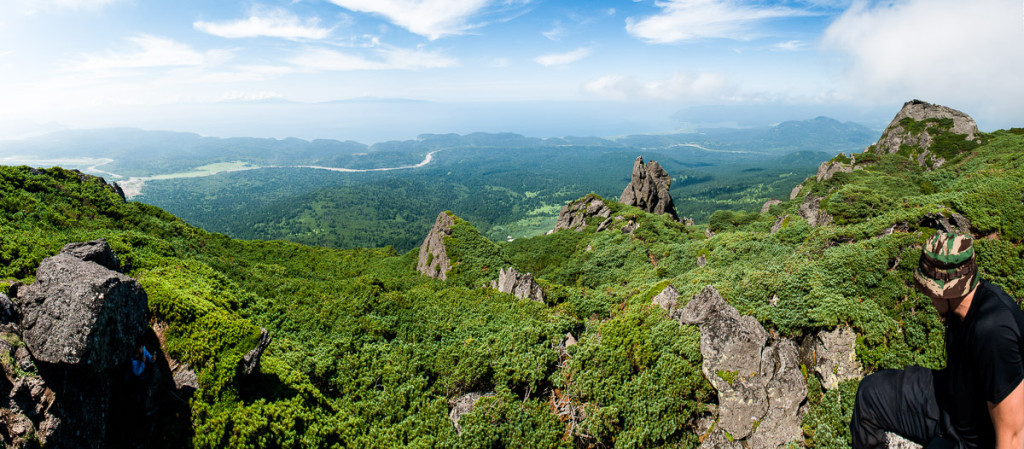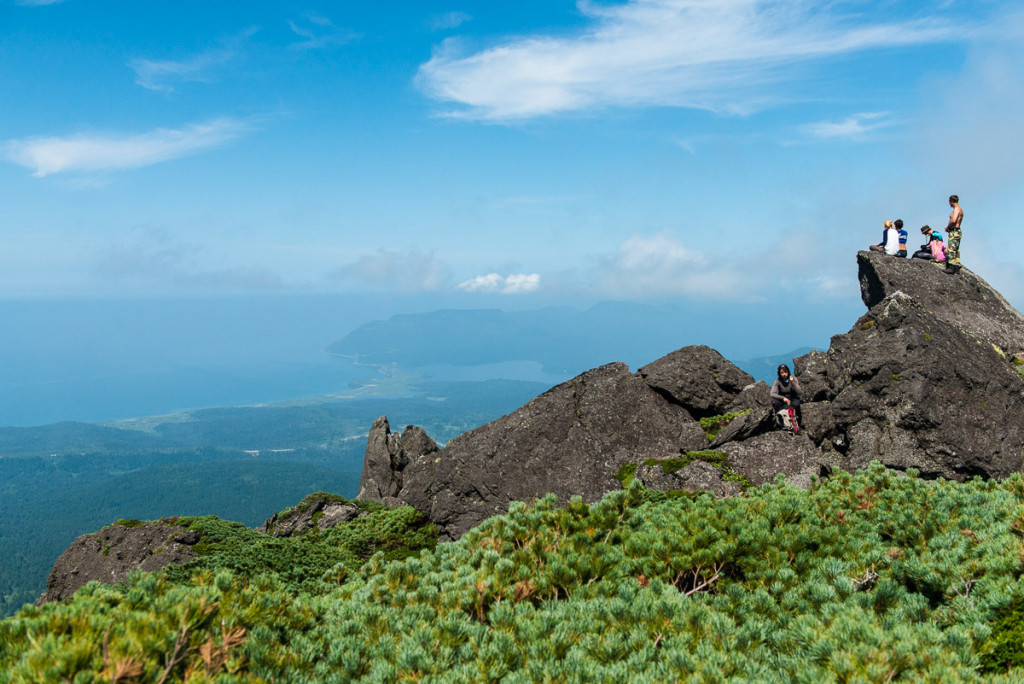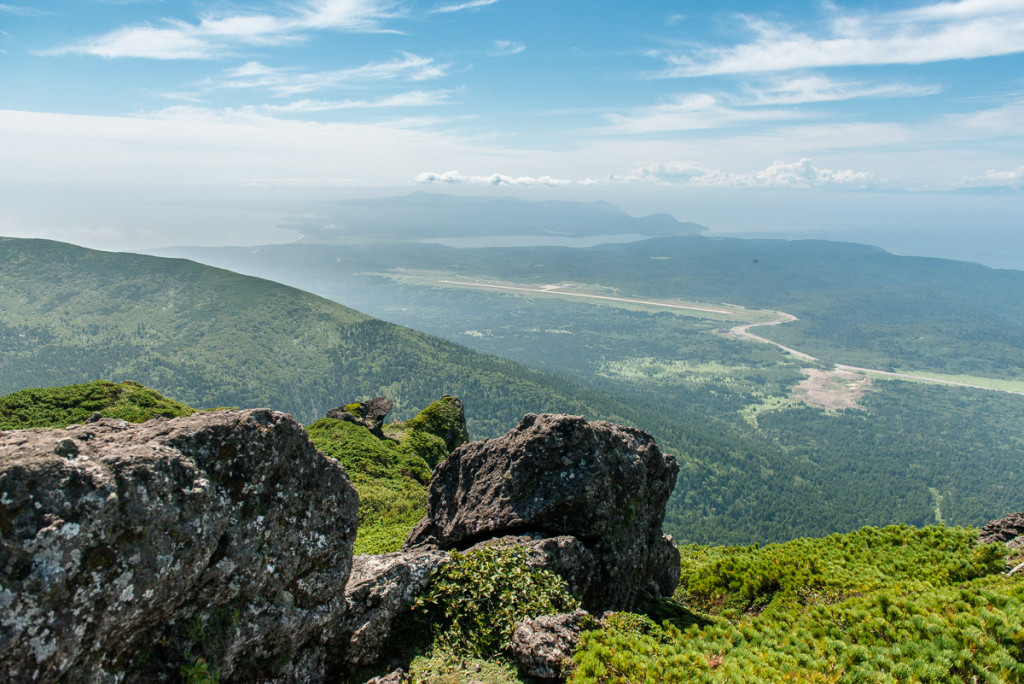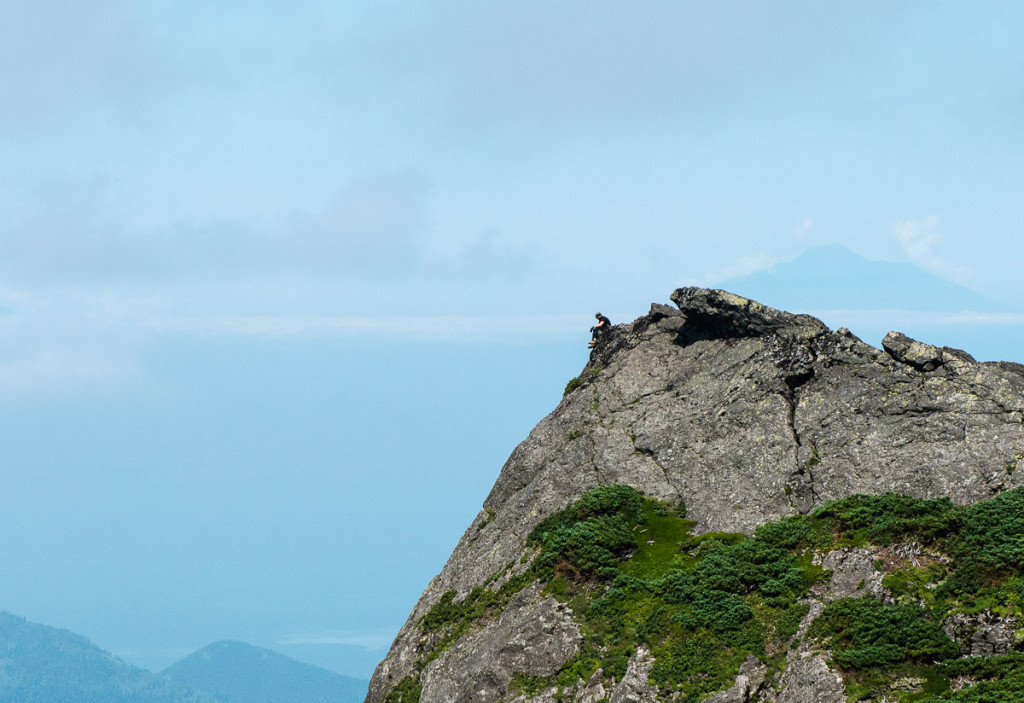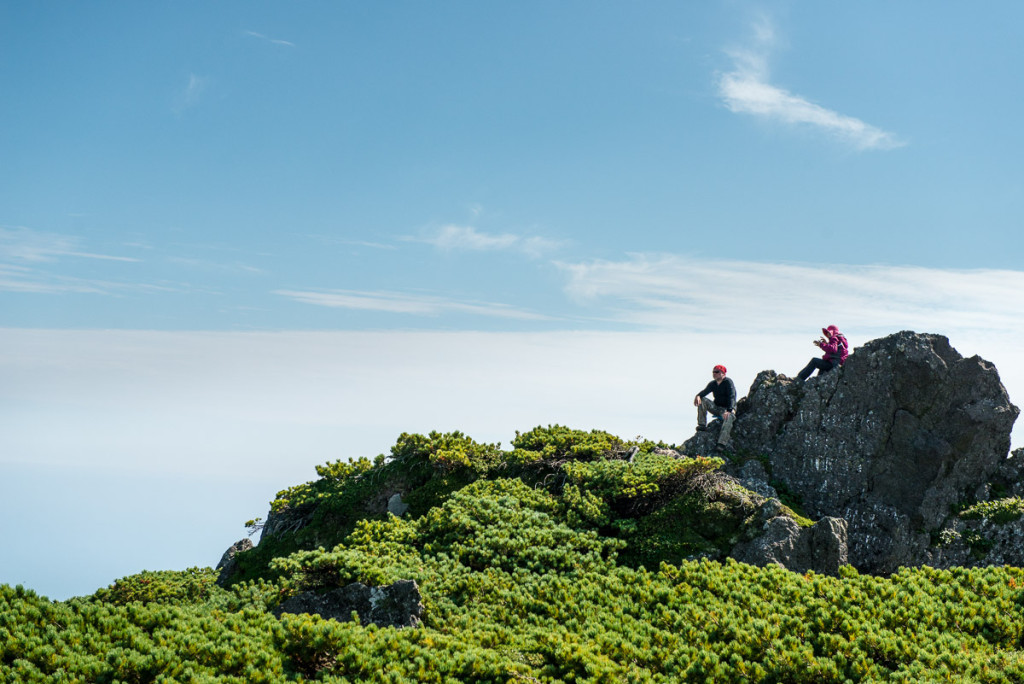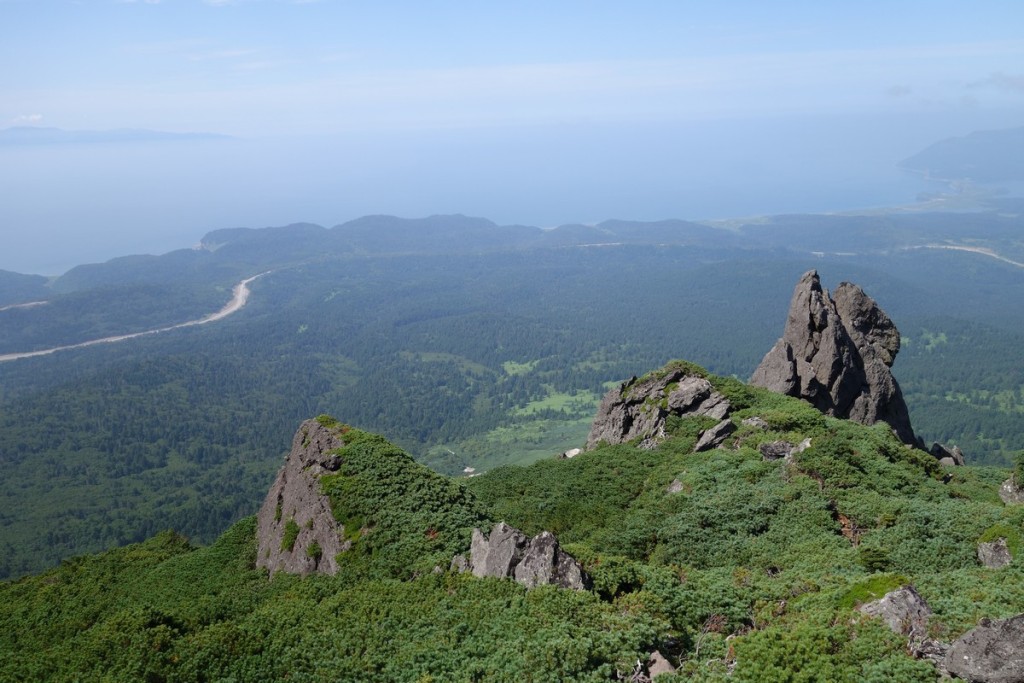 The view from Mendeleyeva volcano – Yuzhno-Sakhalinsk fits in the palm of your handTweet
Then it was time for the descent. And yes – the going was almost as hard as it was coming up. Still, utterly unforgettable. Totally recommended. But I'm not repeating it!
Btw, locals say that in profile the undeniably masculine Mendeleyeva resembles a sleeping beauty. Indeed, 'behind its back' that's how they refer to the volcano. Let's hope he never finds out :). Have a look for yourself: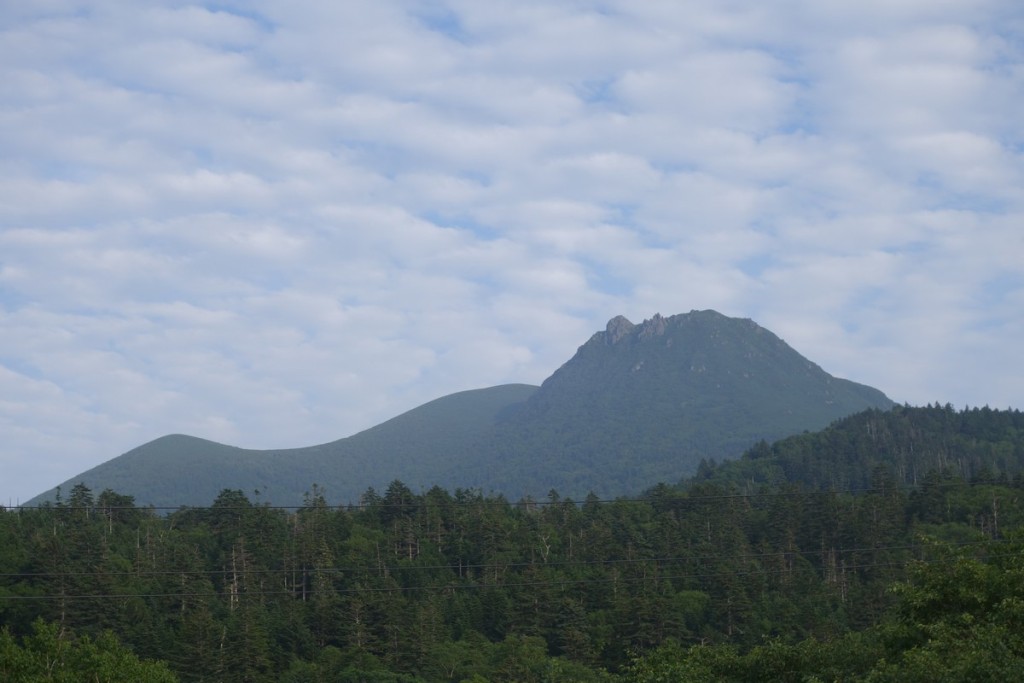 And now the bonus track – mini waterfalls at the foot of Mendeleyeva volcano. Perfect after an admittedly sweaty ascent and descent. The water's only about 20°С – just about bearable. An extra 5°С warmer would be nice…They say further up it's a lot warmer.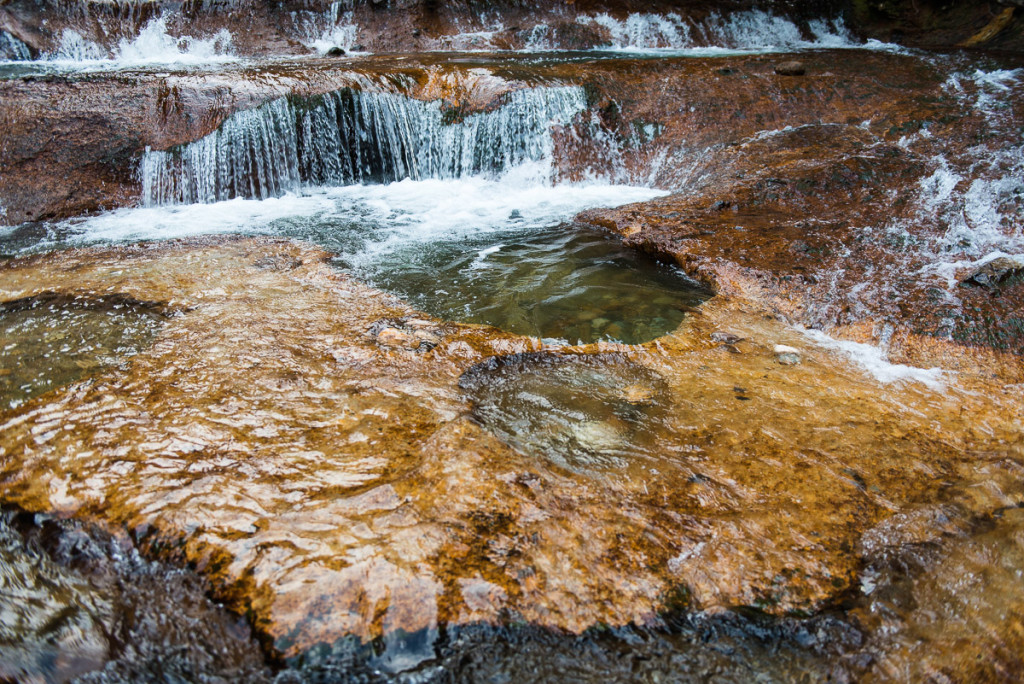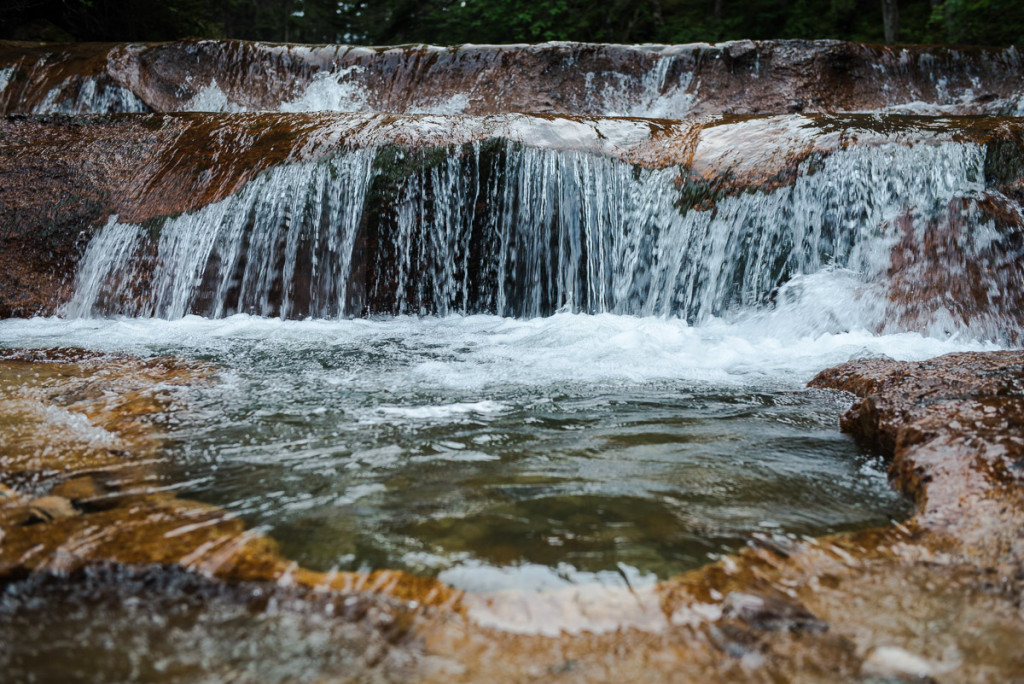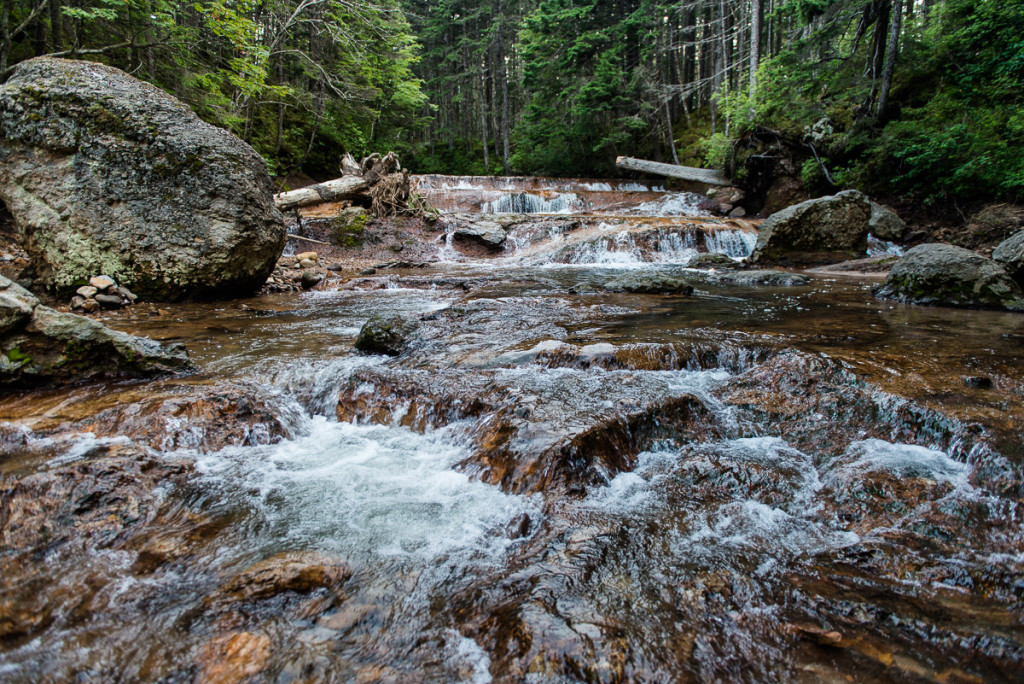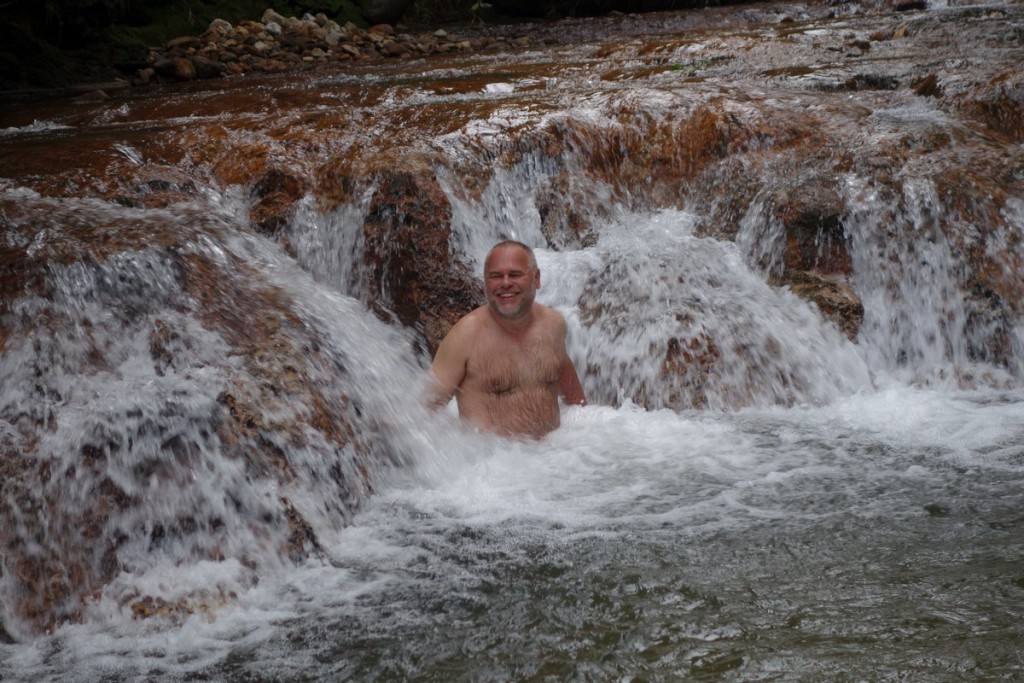 The lake in Govlovnin caldera looks like this: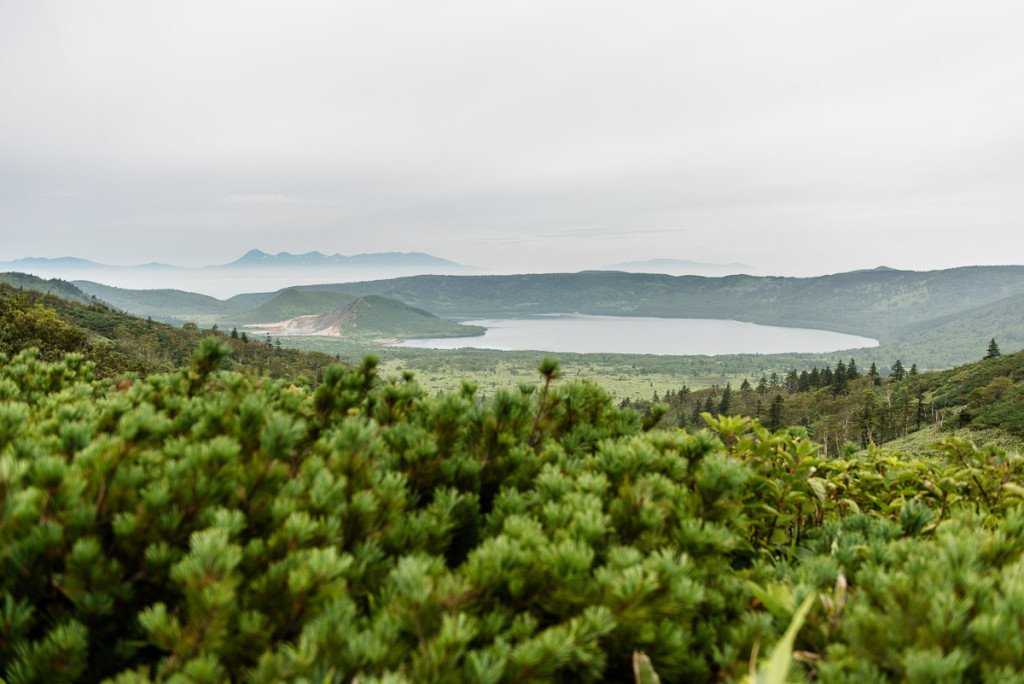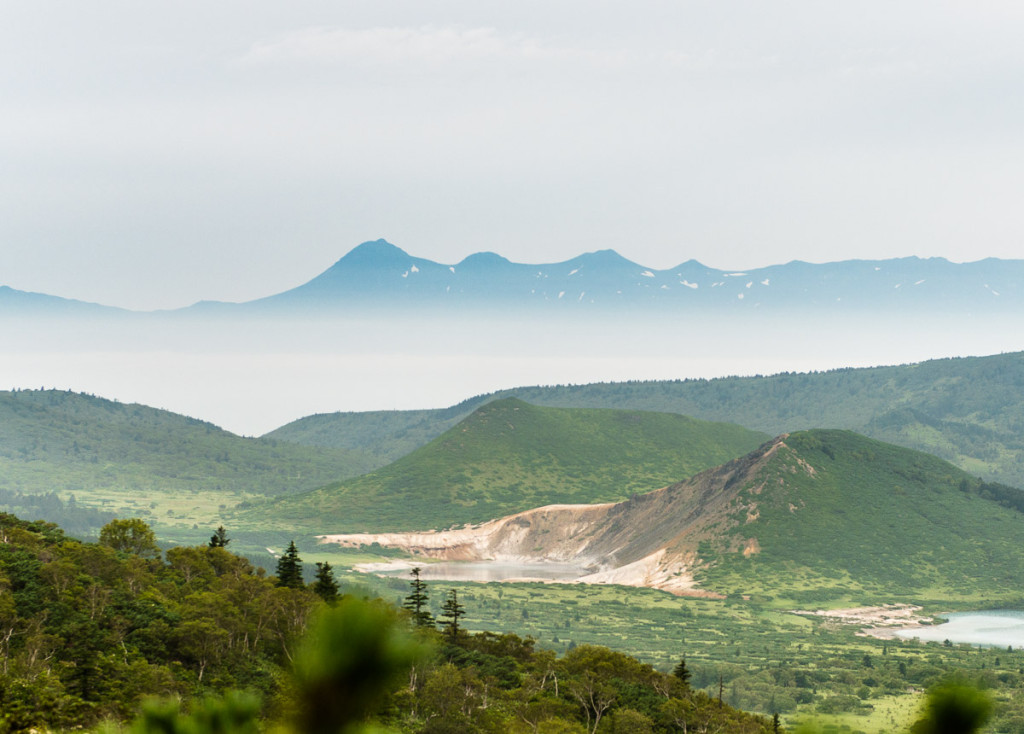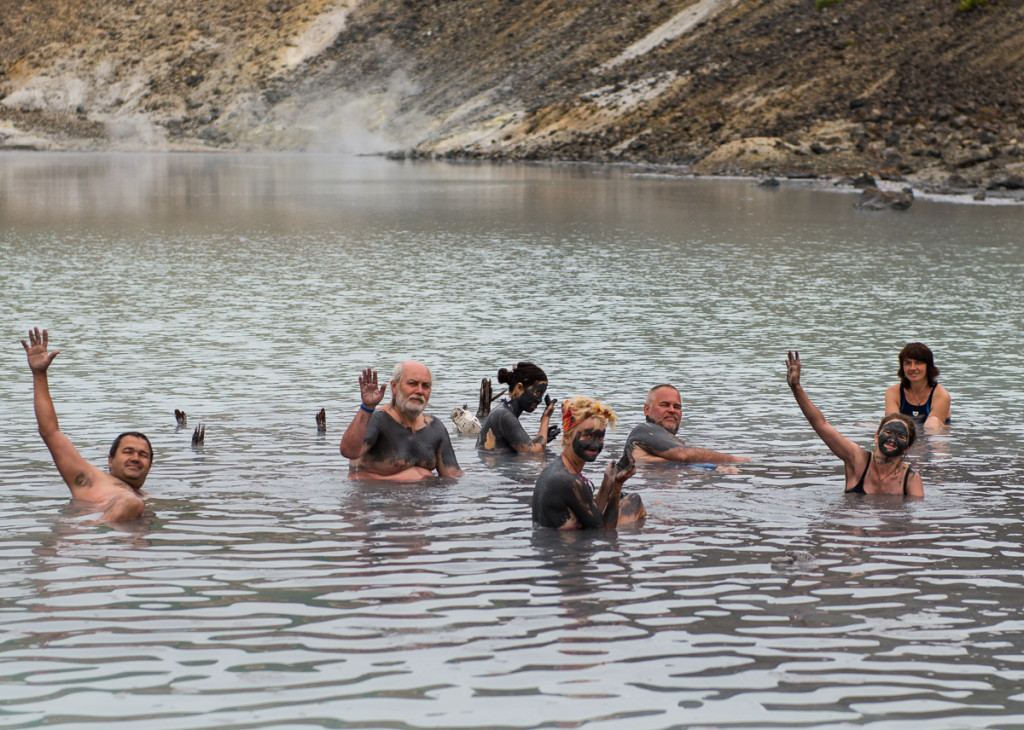 The caldera is approximately five kilometers in diameter, and inside it there's a fresh cone of a new volcano and two lakes. One lake's called 'Goriachi' (hot), which logically contains cold water; and the name of the second is 'Kipyashii' (boiling) (though the water's a mere 30°С). I'm sure that when they got their names one indeed boiled while the other was hot.
And at this happy juncture, alas, our cruise around the Kurils came to a close. Soon we were headed for Sakhalin from where we took a plane back home. We decided against flying out of Kunashir as the weather is just too unpredictable there and flight delays could have occurred. But about the weather and the Kuril climate… another time – soon…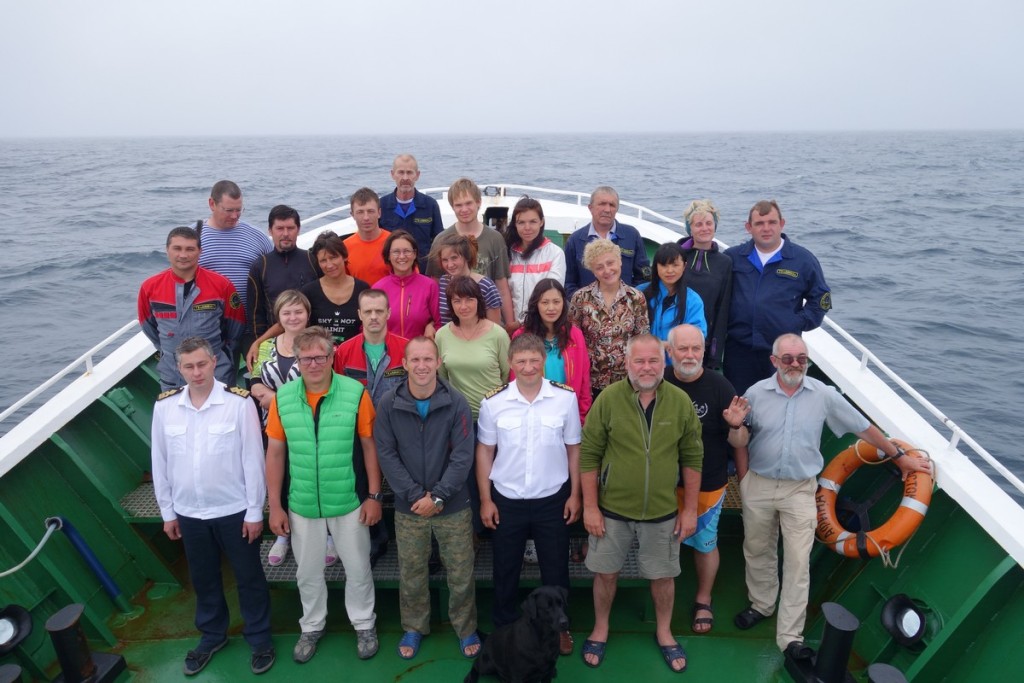 The rest of the photos are here.
Back soon folks!…