Kamakura – temples, bamboo forests, and the world's neatest gardens.
Hi folks!
I'd been meaning to put fingers to keyboard for a few days, but I'd been just too busy of late, as I've mentioned in my previous three posts. Finally, the much-anticipated downtime at the end of our stay in Japan had arrived, which saw most of the day dedicated to steady-tempo tourism and some free time in the evening to write this here post…
As mentioned, we were headed to Kamakura, just south of Tokyo. First up, we needed to drop by the hotel where we were to have dinner that evening (oh-my-gourmet that was too; more in that in a bit…). Alas, the hotel wasn't a traditional Ryokan, but it was just as charming – and our on-foot tourism began right from its front door…
First up, the Buddhist Hōkoku-ji temple: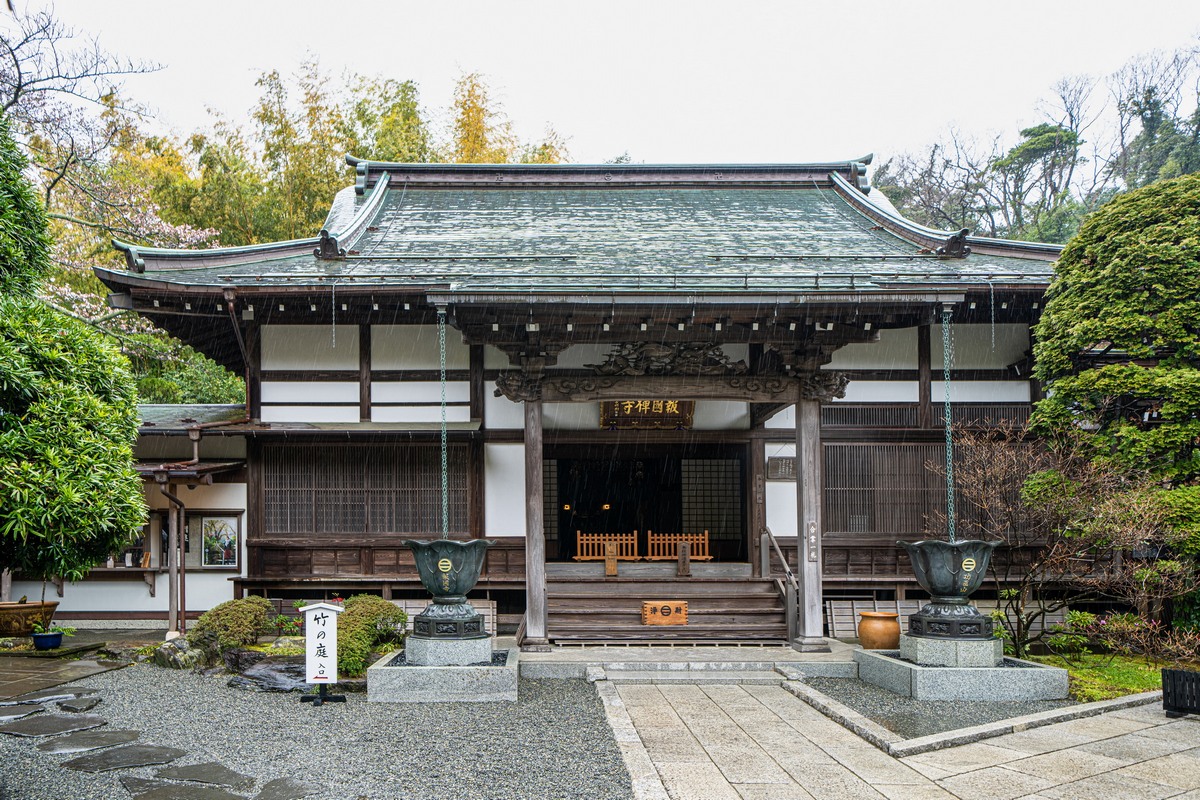 I've become used to beholding perfectly laid-out, ultra-neat landscaped Japanese gardens over the years, but when I haven't seen one in rather a long time – it's as if I'm doing so for the first time all over again, in full-on delight-mode; accordingly, out comes the Sony for some snapperty-snap: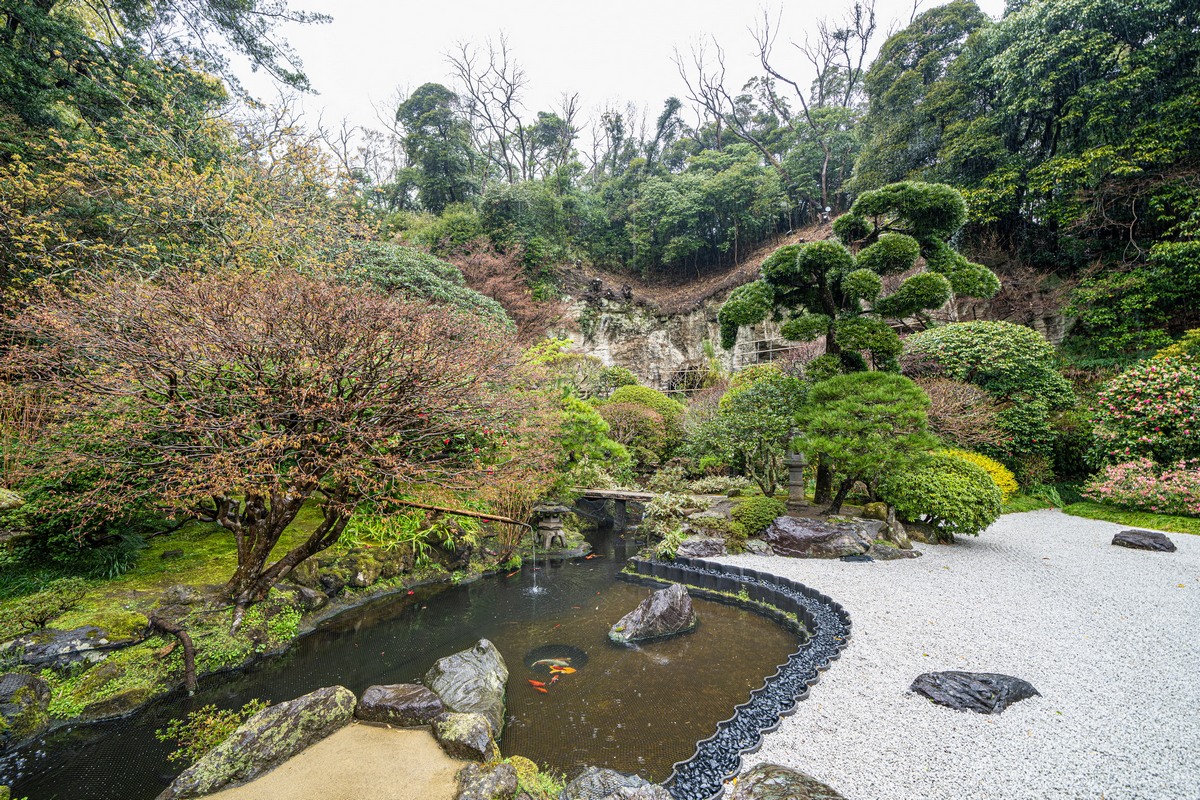 Next door – a bamboo forest: an astonishing phenomenon. However, I'm sure it's not a natural one, having taken decades of Japanese dedication to tend to and nurture such a unique forest…
Neatly laid-out bamboo trees, neat path, neat path border, even neat grass/~hay on the ground under the bamboo. Oh those Japanese!
Onward we stroll – the neatness still everywhere our gaze wanders. Walking in granularly-groomed Japanese gardens such as these is overwhelmingly pleasurable – even if the weather's not great (like it wasn't when we were there), and even in the rain: nothing diminishes that special pleasure…
Even the gravel on the paths is neat and tidy – clearly having been raked! >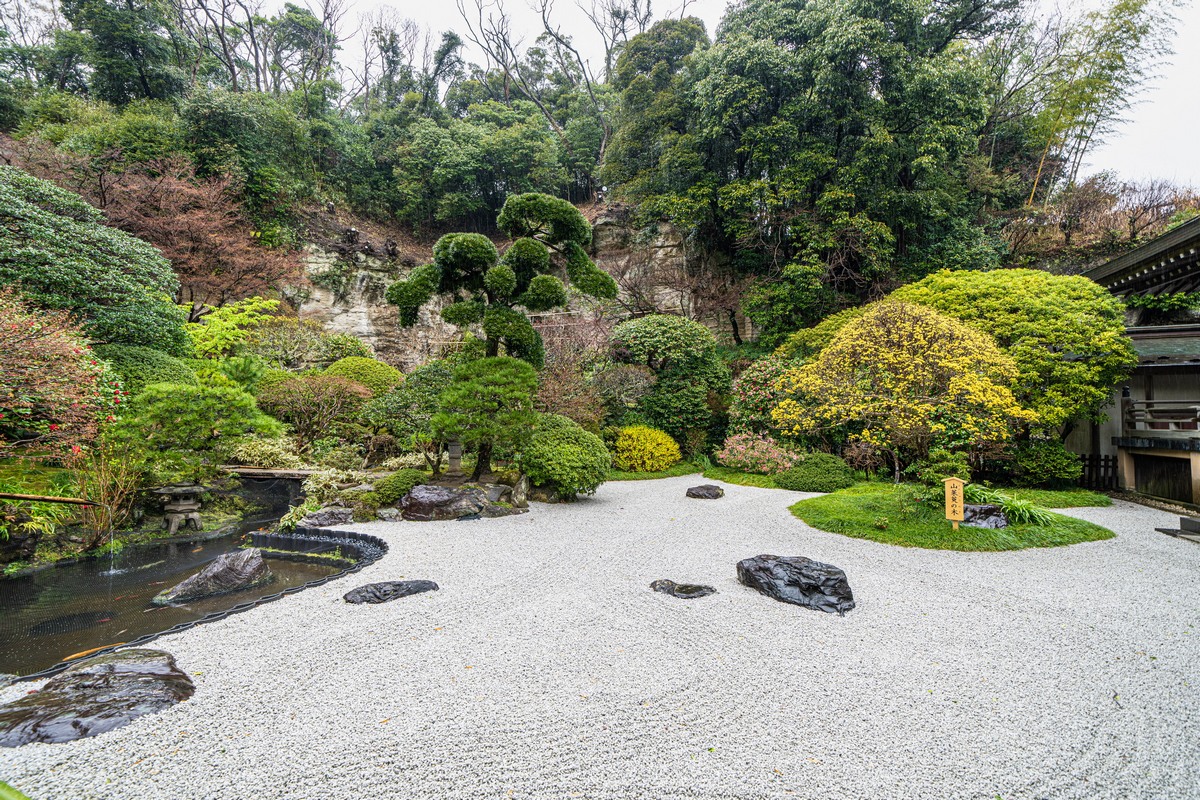 But it's the bamboo gardens that are the main attraction:
We were told how all these seemingly separate bamboo trees all grow from one and the same root :o)!
Tea and coffee stop…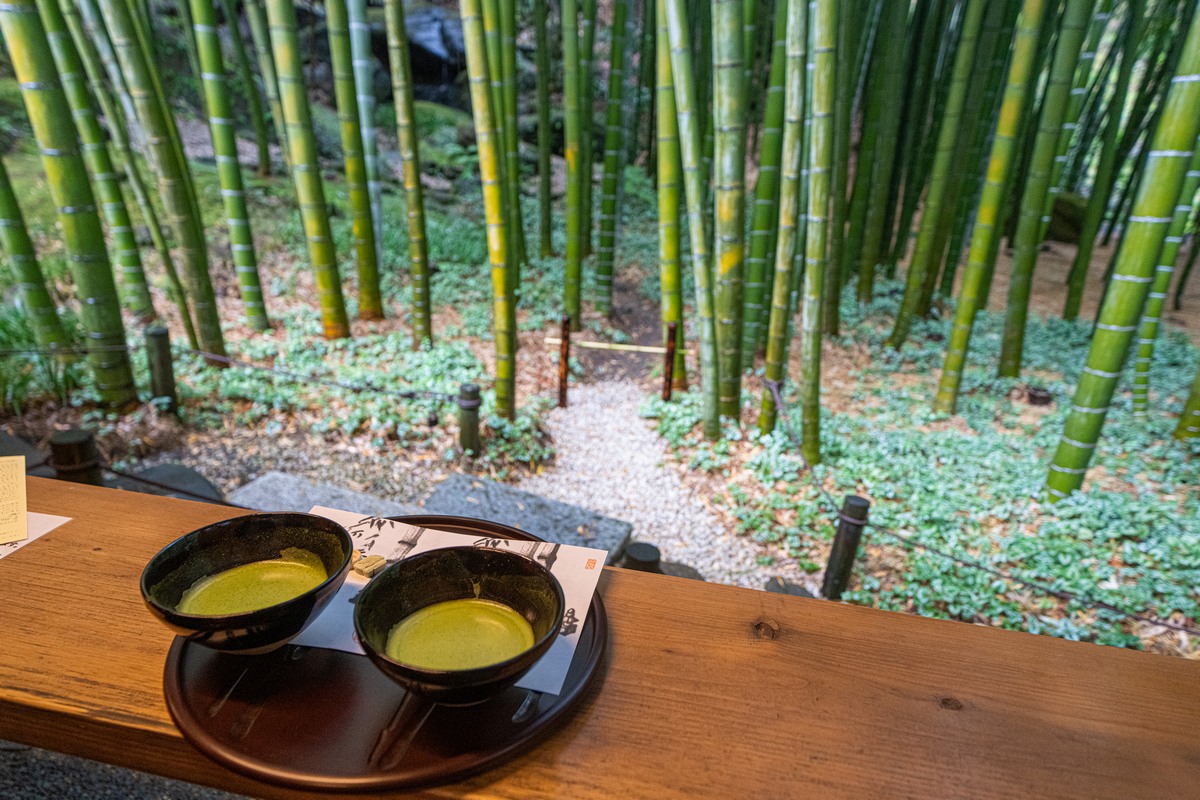 Amazing place!
The main let-down for us wasn't the rain – it was the lack of cherry blossom. Just another week and those small buds will be in full bloom. But what could we do – reschedule scores of business meets and events and public appearances arranged months ago to fit in with the cherry blossom? :)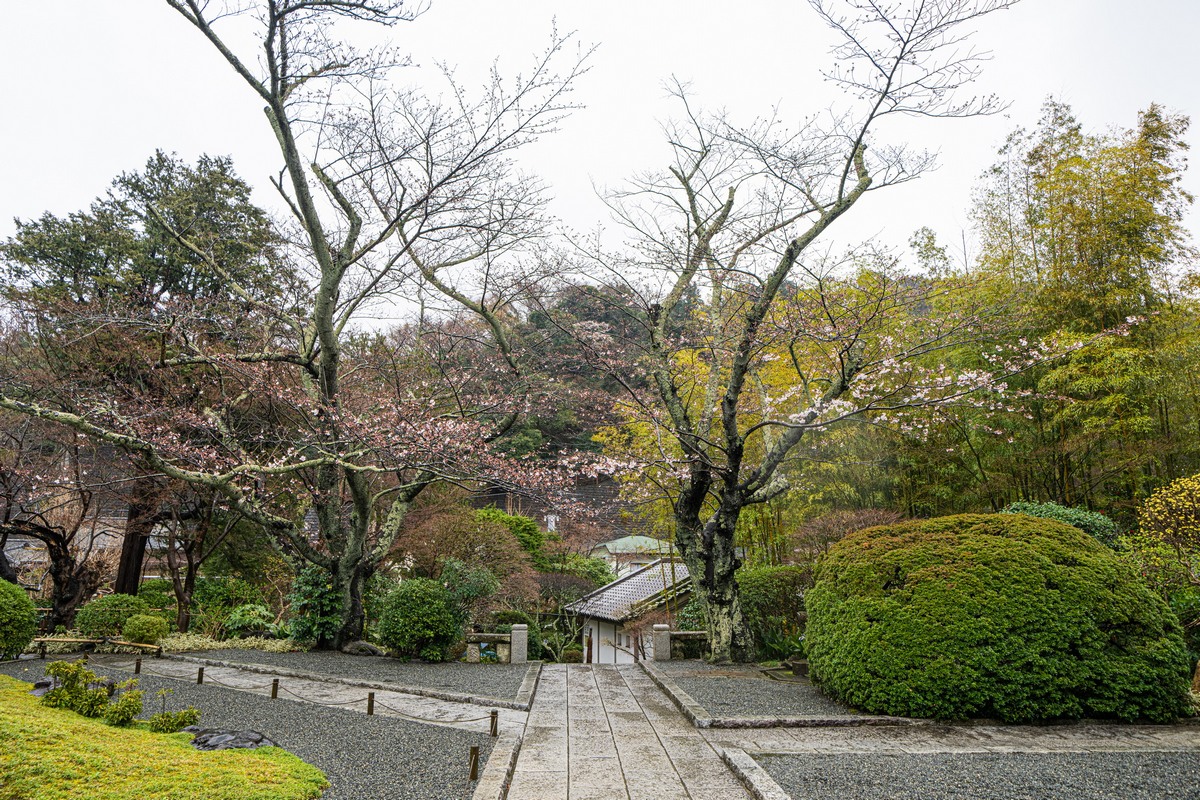 This is what the cherry trees looked like when we were there: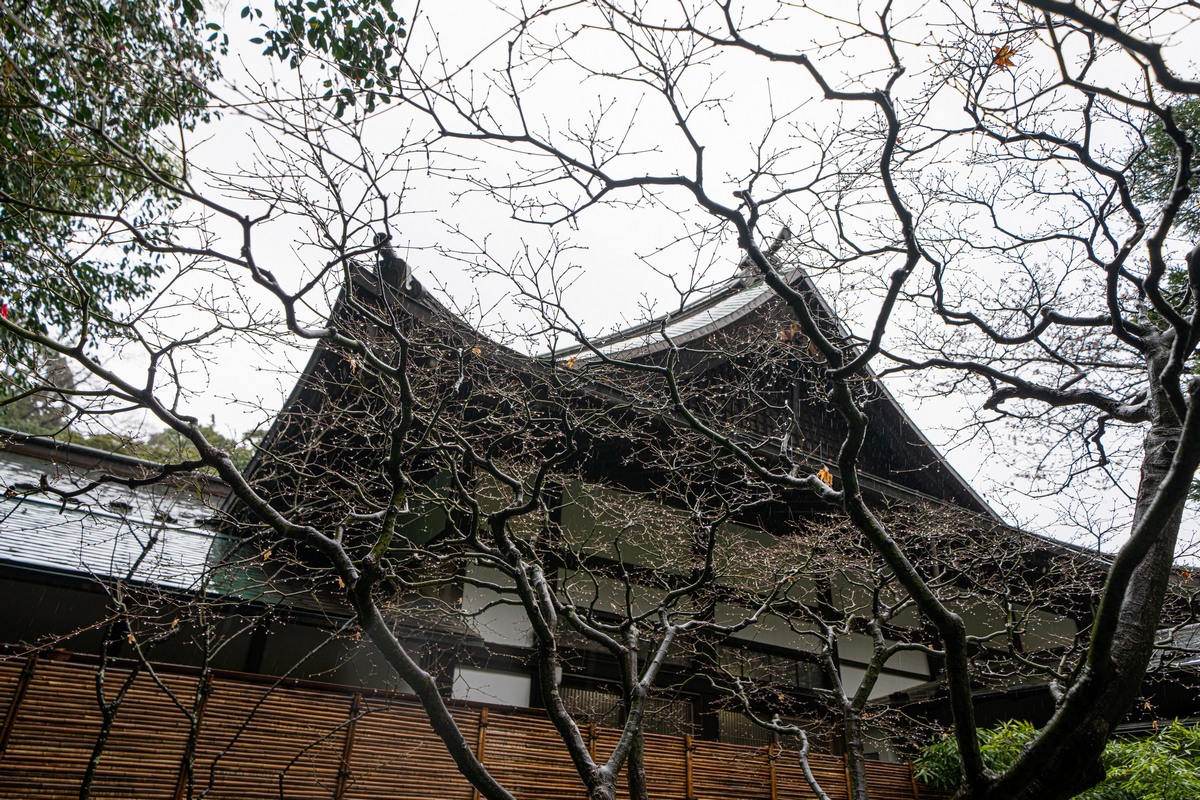 And this is what they'll all look like in a week or two: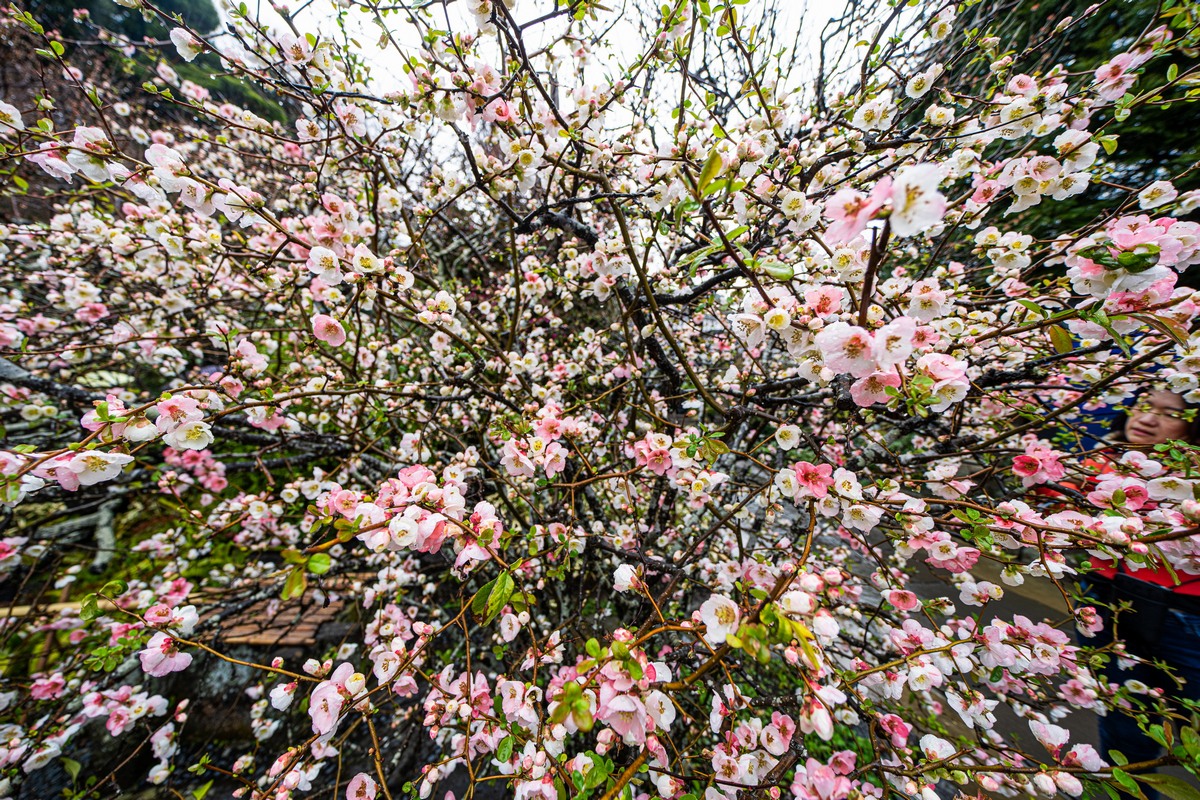 Avctually, the above pic I took of a single tree that for some reason bloomed earlier than the rest; soon all the trees will be like this – no doubt all the more blossomy…
I've been Japan 30+ times, but only twice have I caught it in cherry blossom season – in the fateful year of 2011 (during which Japan suffered an earthquake, tsunami and the Fukushima disaster), and in 2012 ->
Tsurugaoka Hachimangū Shrine was our next tourist spot, but when we got there, the welcome was a little cold! ->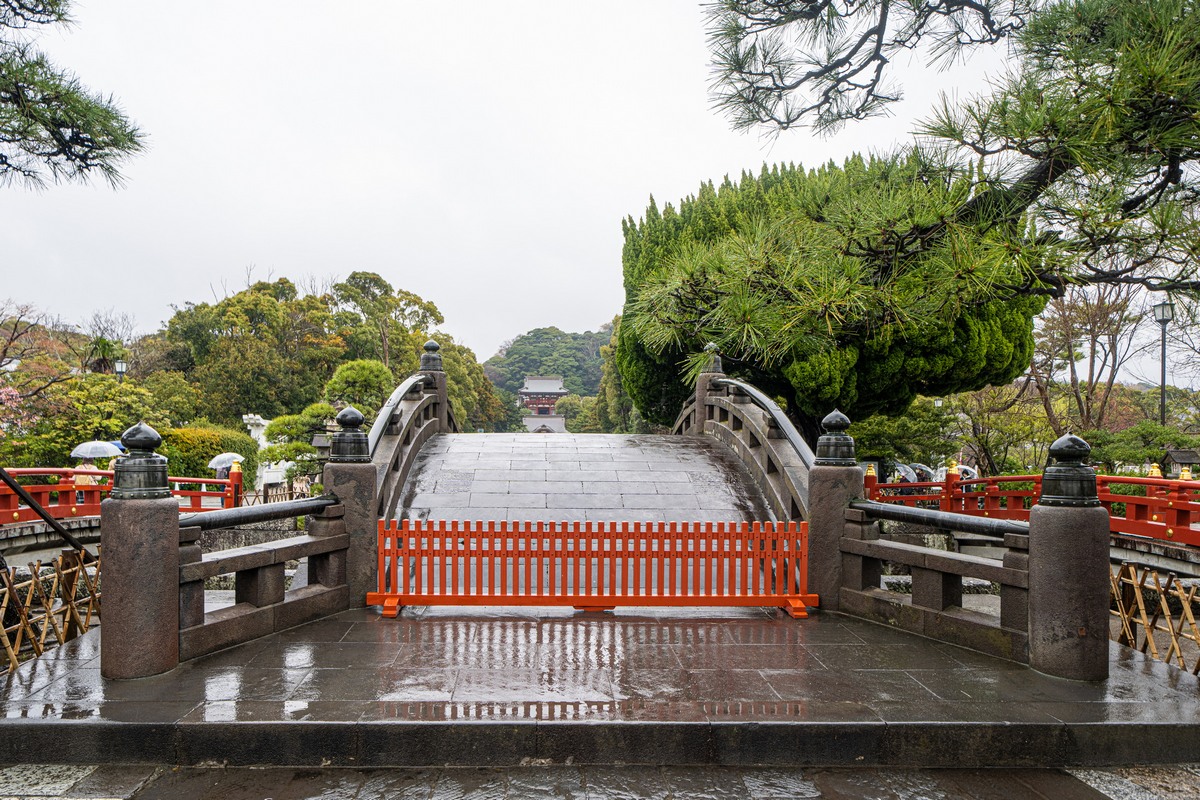 Actually, it was just that bridge – which happens to be truly ancient – that needs protecting from tourists; we entered the grounds another way. We were told that the central – paved – section of the wide path is reserved for the gods (but of course), while mere mortals by rights should stick to the gravelly sections to each side. But, then, why is everyone on the middle bit? :%)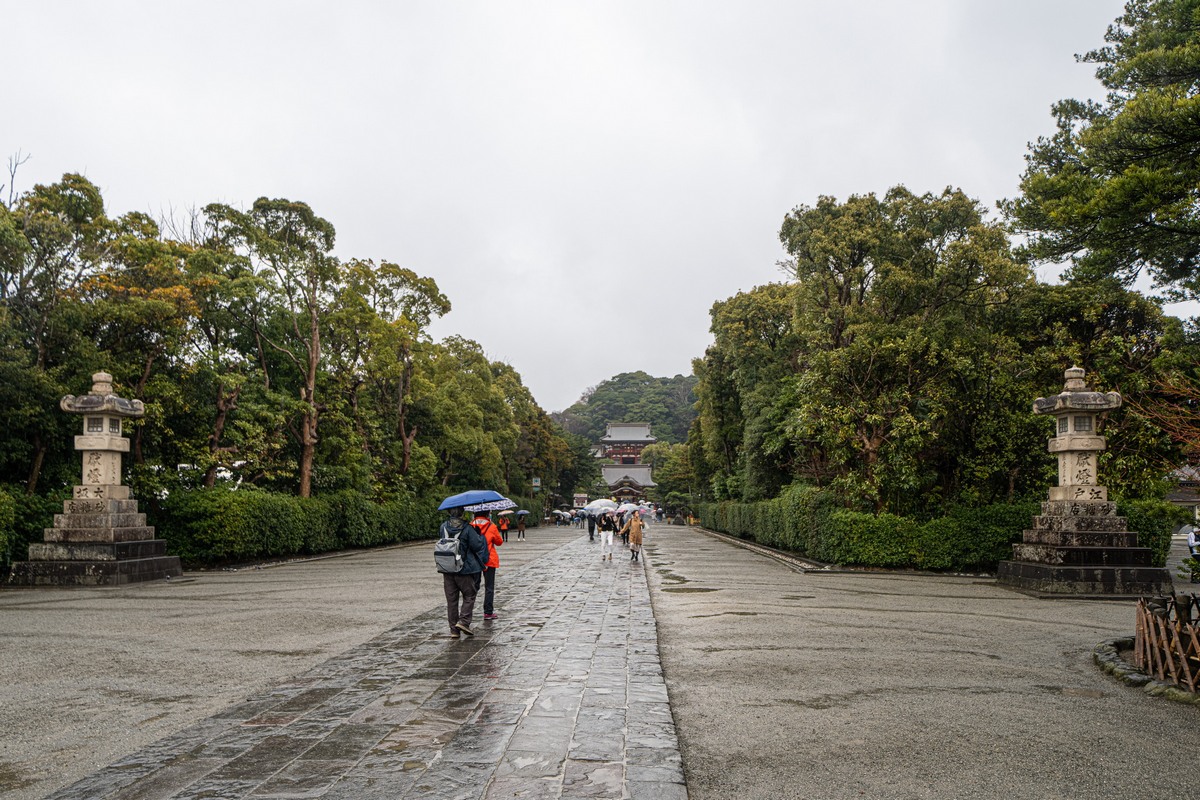 Meanwhile the rain becomes heavier; grrrr…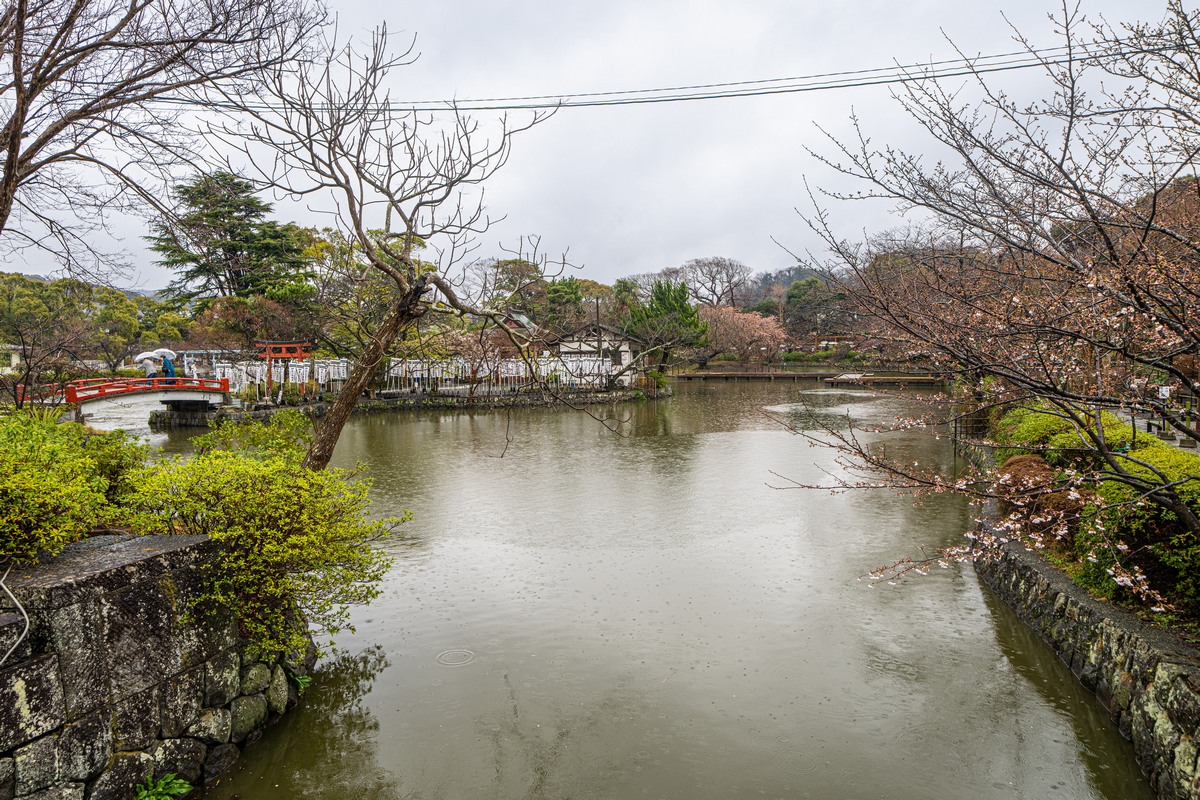 +1 early-budding sakura! ->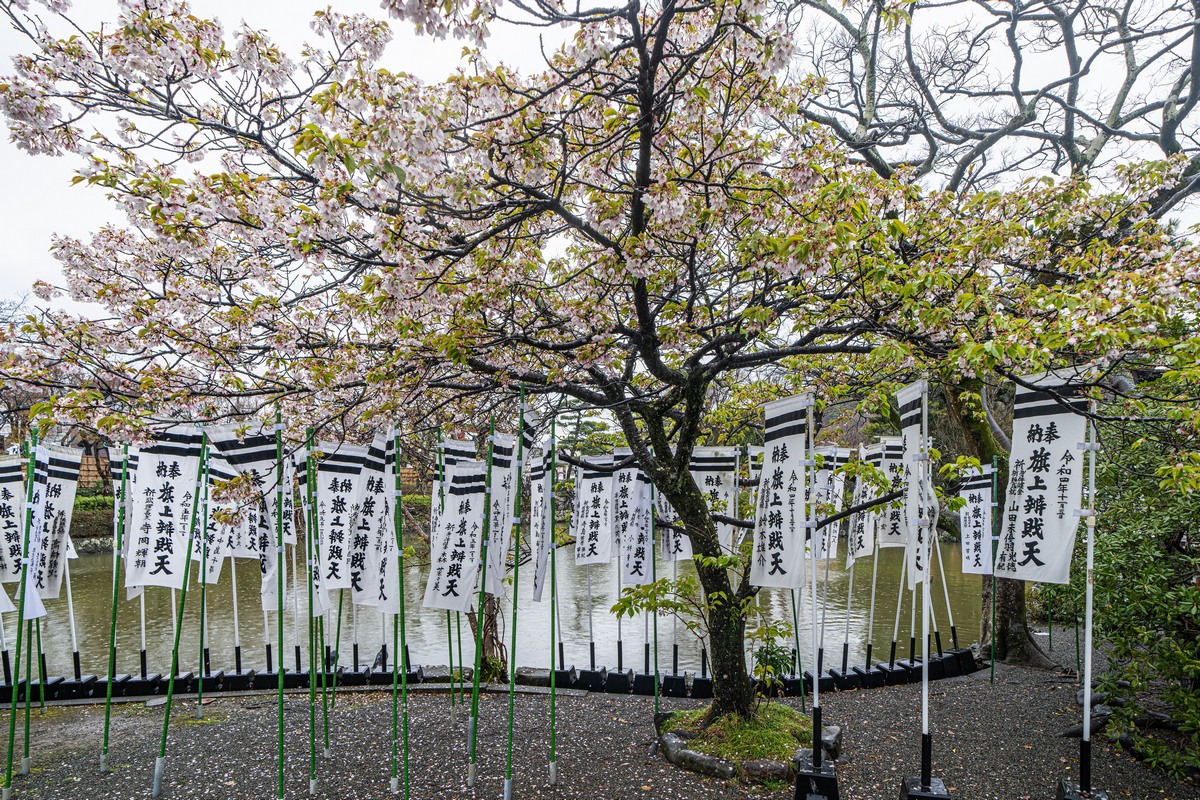 Nearing the temple…
And what have we here? A sake advertisement-installation! Rows of large pots of the stuff (empty – just for show, or full – for consumption, I didn't find out)! Also local coffee, cocoa and something else…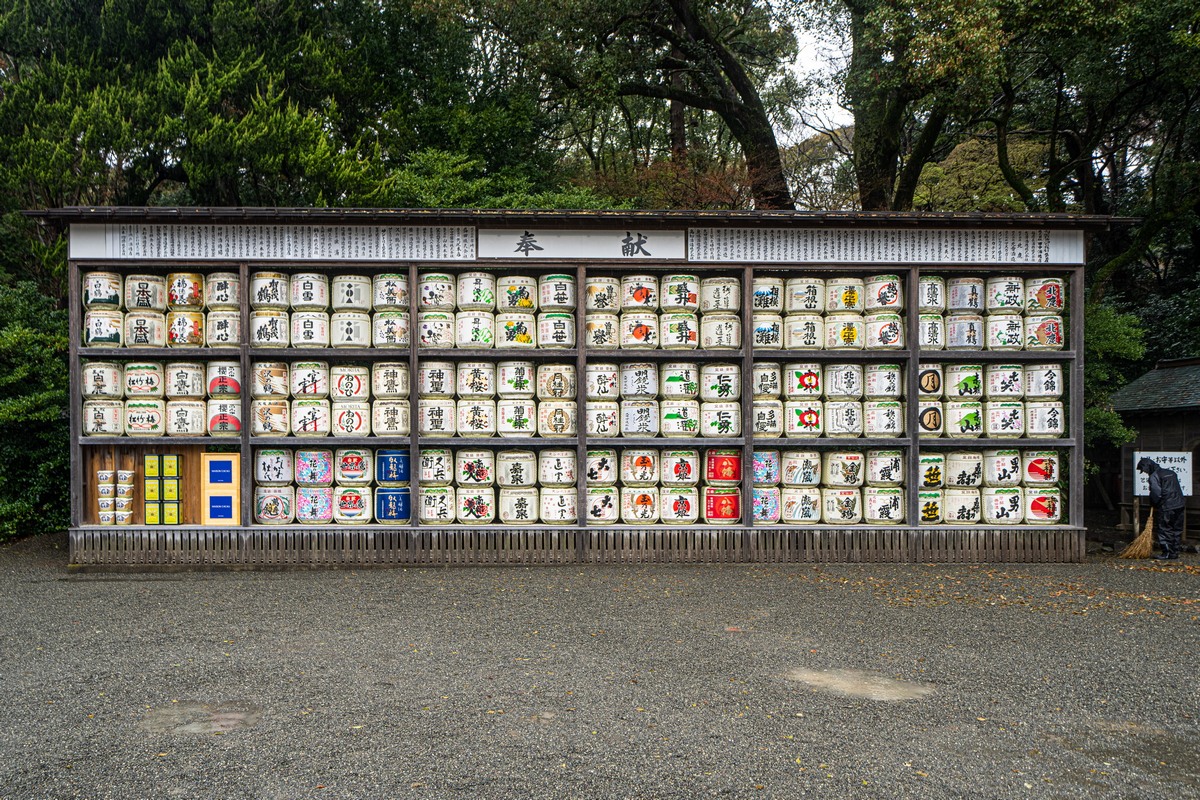 Meanwhile in the lower temple – a wedding was in full swing! If you look carefully, you can see the bride, and she's wearing a big white cocoon on her head. This, we were informed, is to hide the "horns of jealousy". No, really. Japan, baby!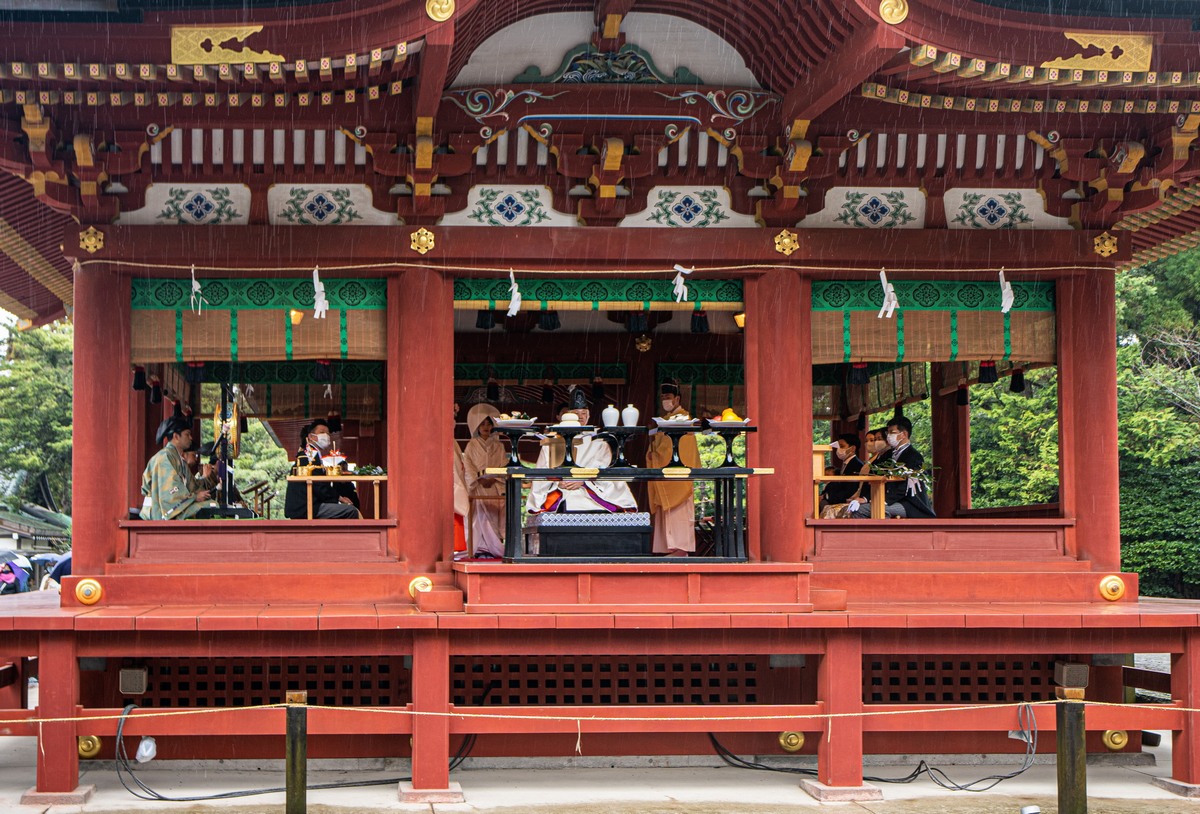 We walk on past the wedding…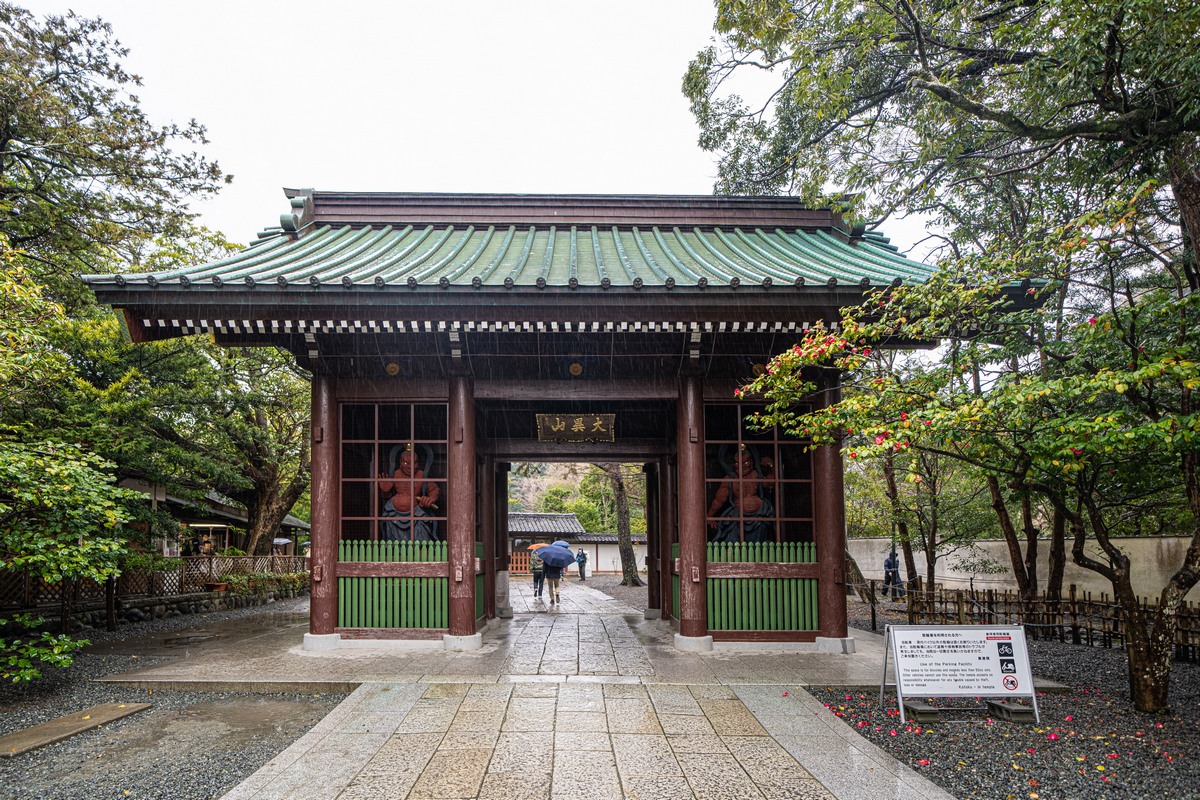 Hase-dera – another must-see temple for the tourist:
Here's its main hall (and the rain that persists in falling:) ->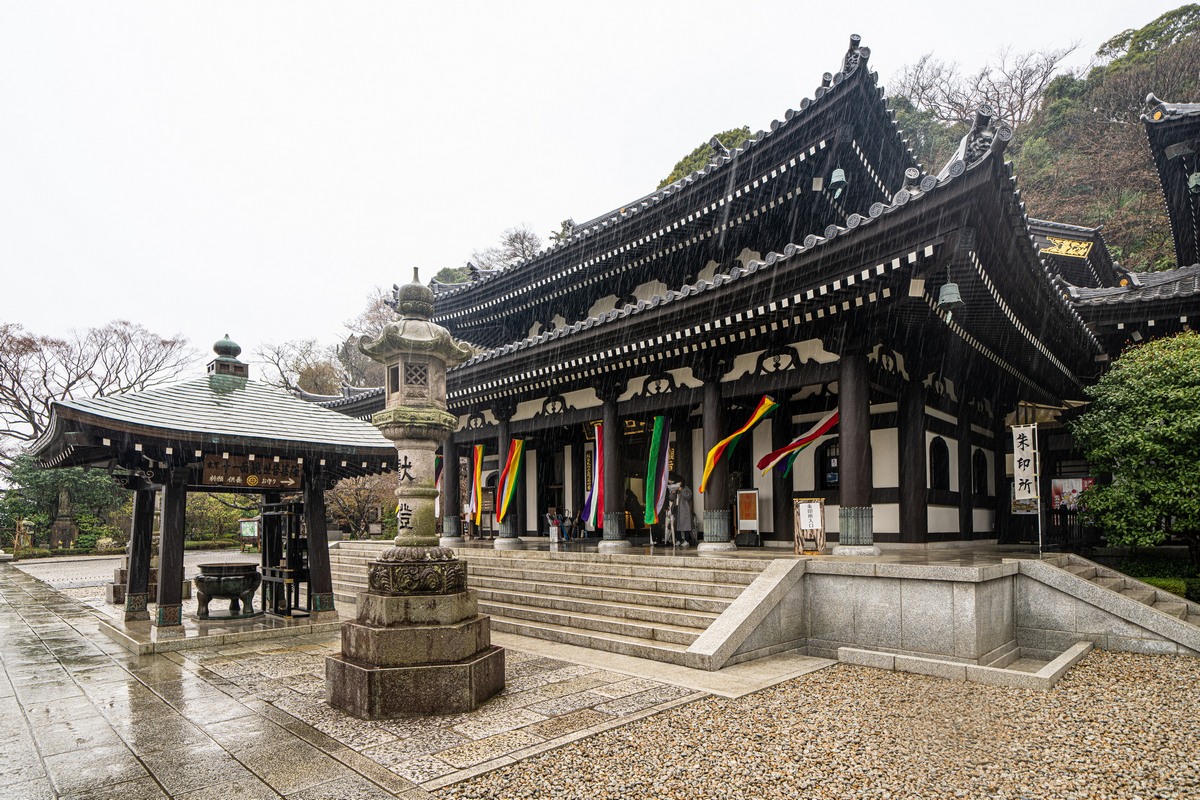 Our guide was a dedicated, respected veteran one, but he was oh-so chatty. Here, he stopped and recounted the history of the temple for what seemed like eons. I felt like saying, "enough already; let's get in there!"…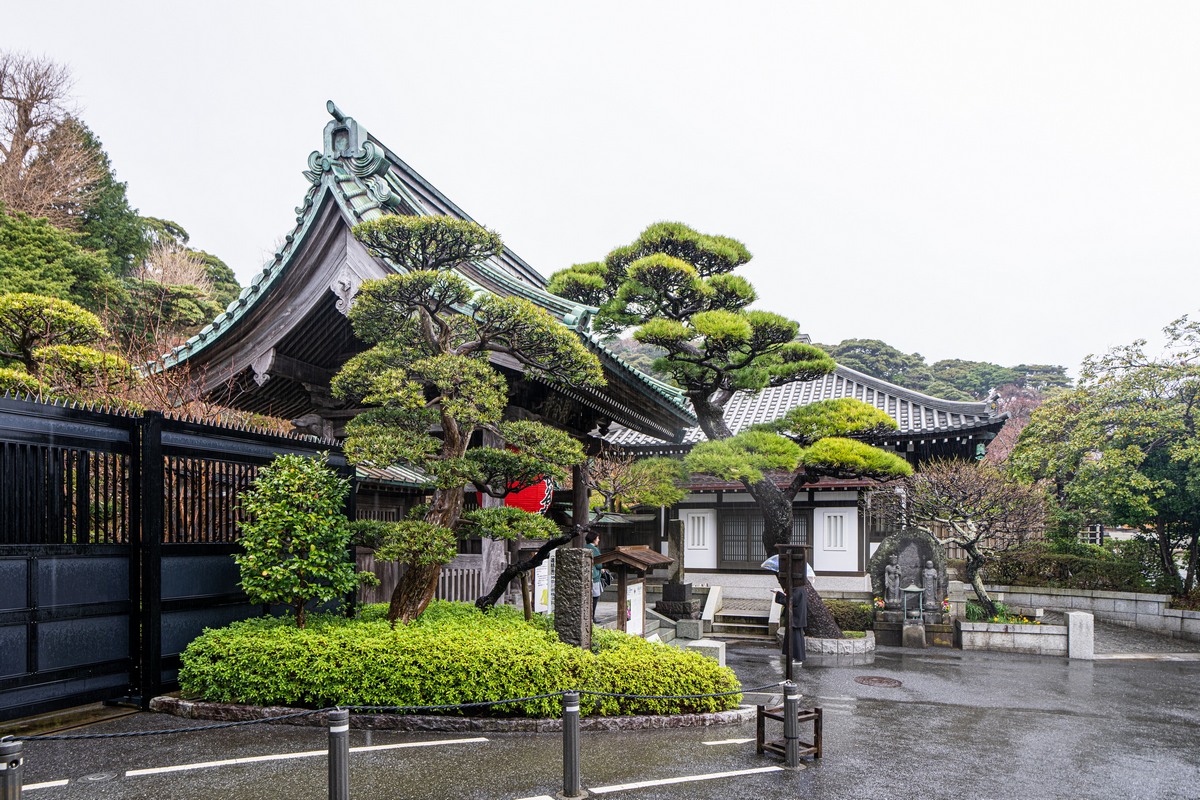 Yet more Japanese landscaped gardens – lovely (even in the rain)! ->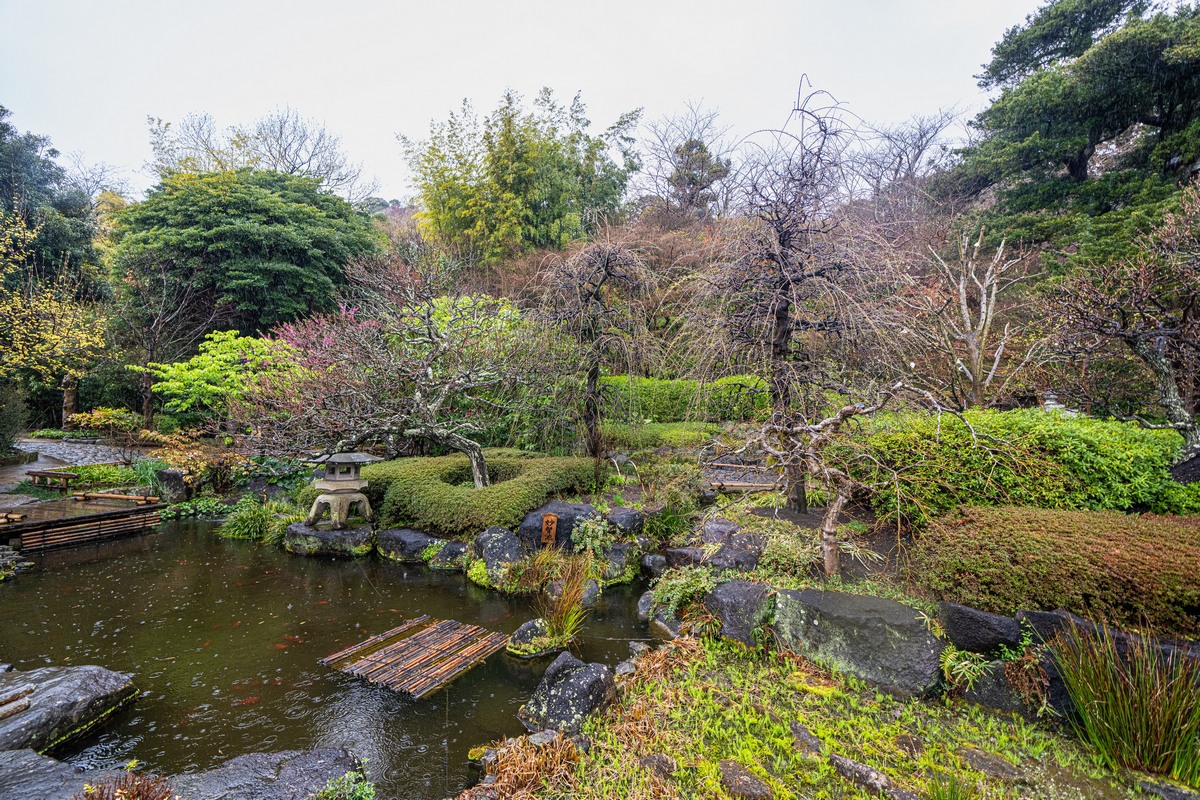 Suddenly…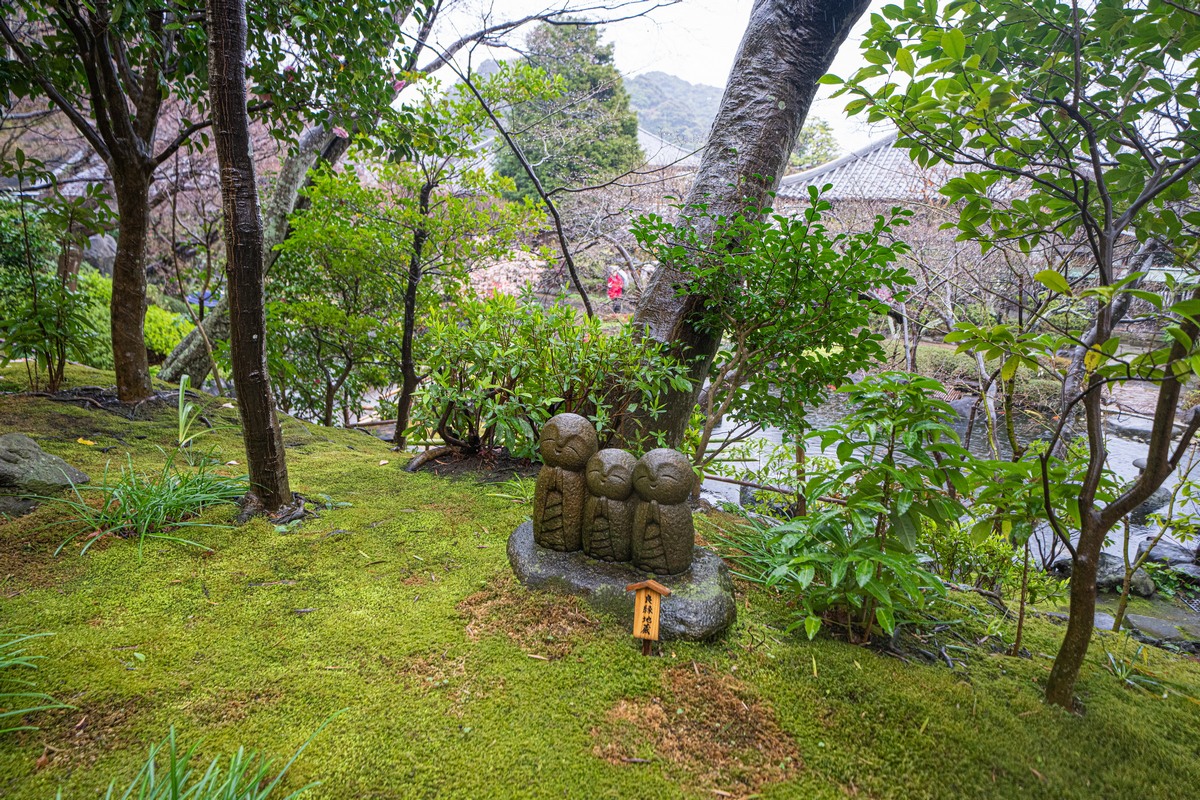 I'll give you just the photos here. The story behind these statues and statuettes is a little too sad…
(Reminded me somewhat of the Terracotta Army in China.)
Onward, and we finally approach the main feature – Hese-dera temple, while the rain just keeps on getting heavier…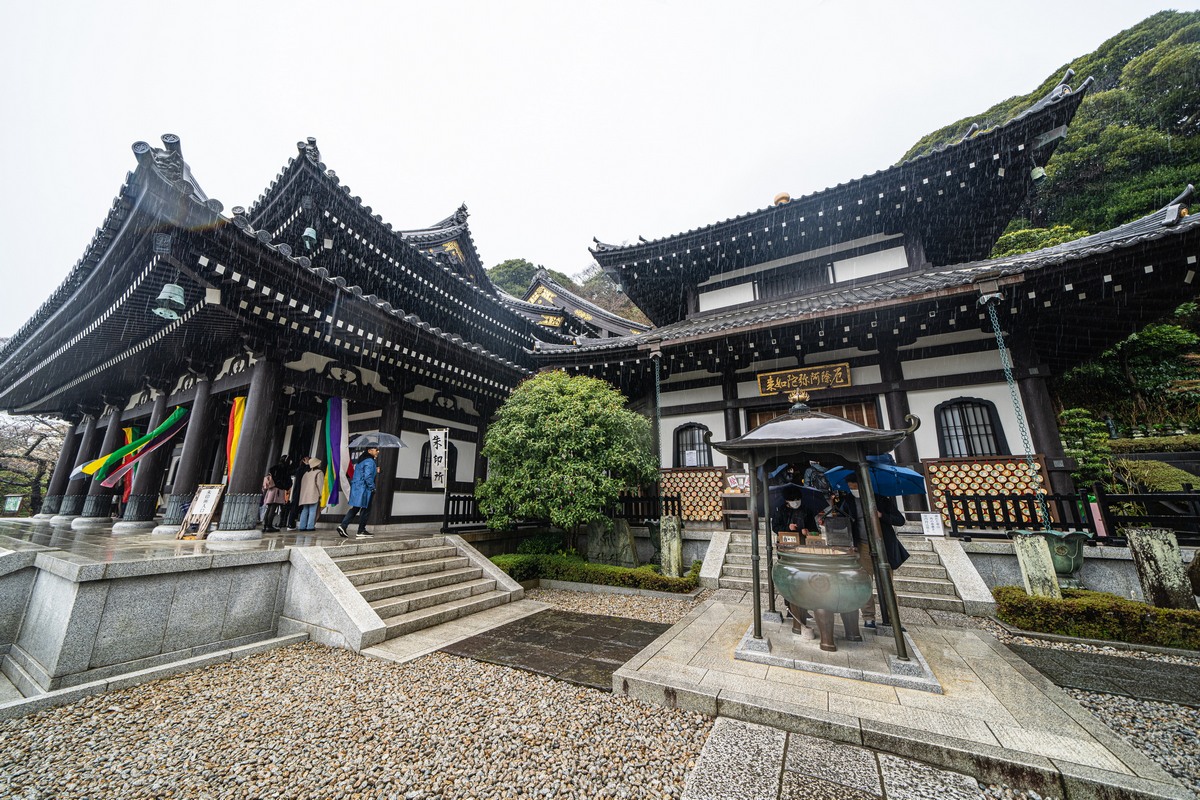 Photography's allowed inside this temple!…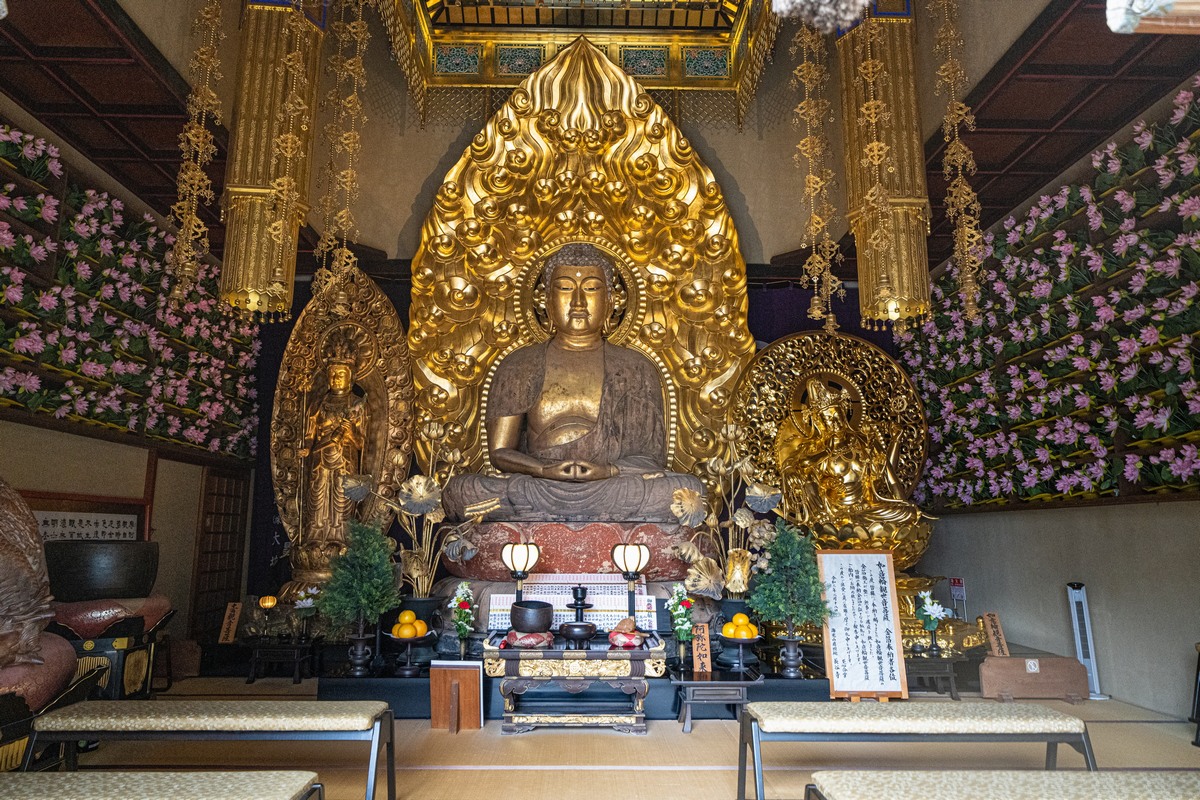 Souvenirs…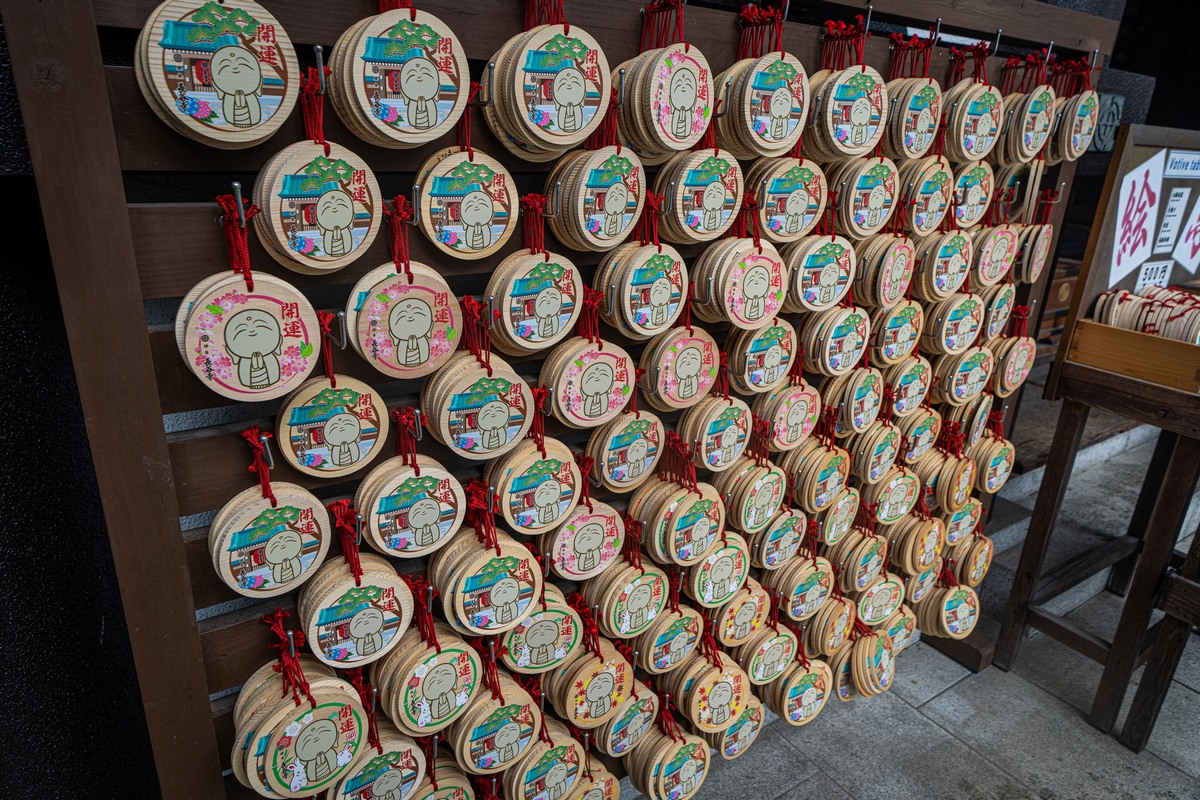 A balcony with a view over the suburban-feel city: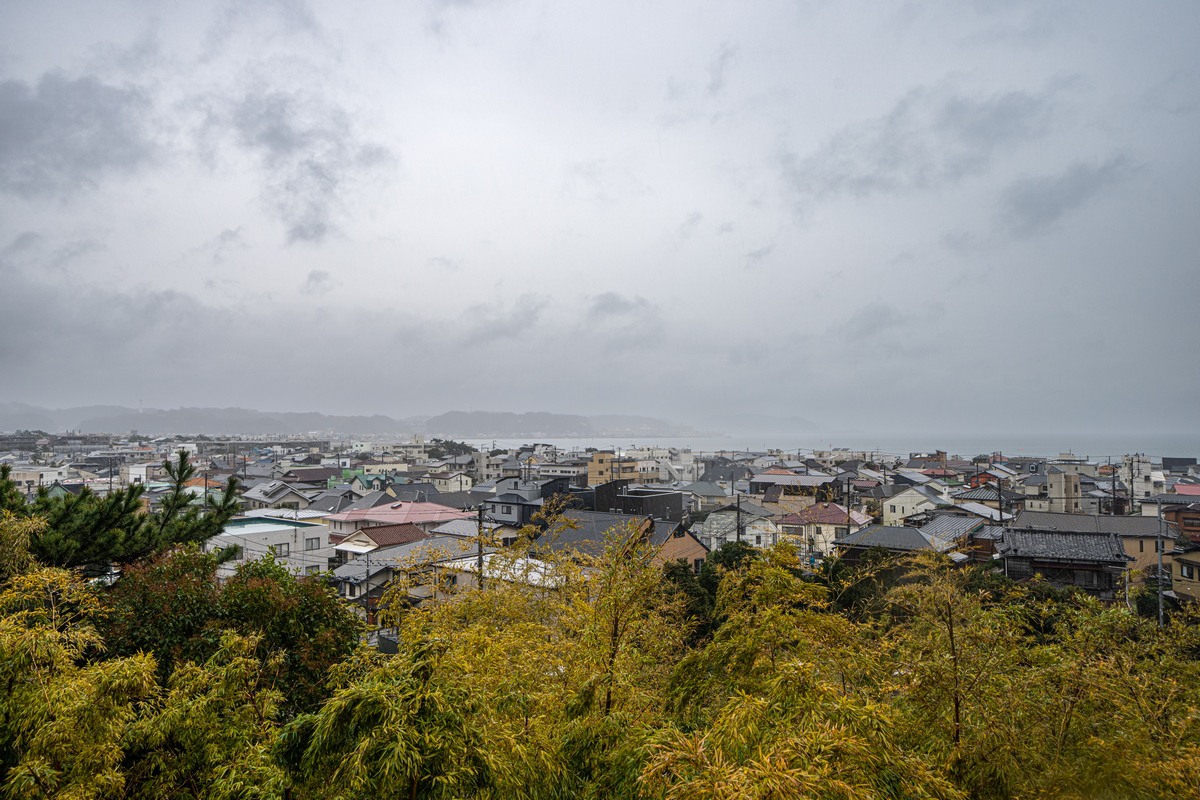 Onward… We enter this construction – not so much to inspect it and learn about its history, but more to get out of the rain for a while ->
More bamboo gardens: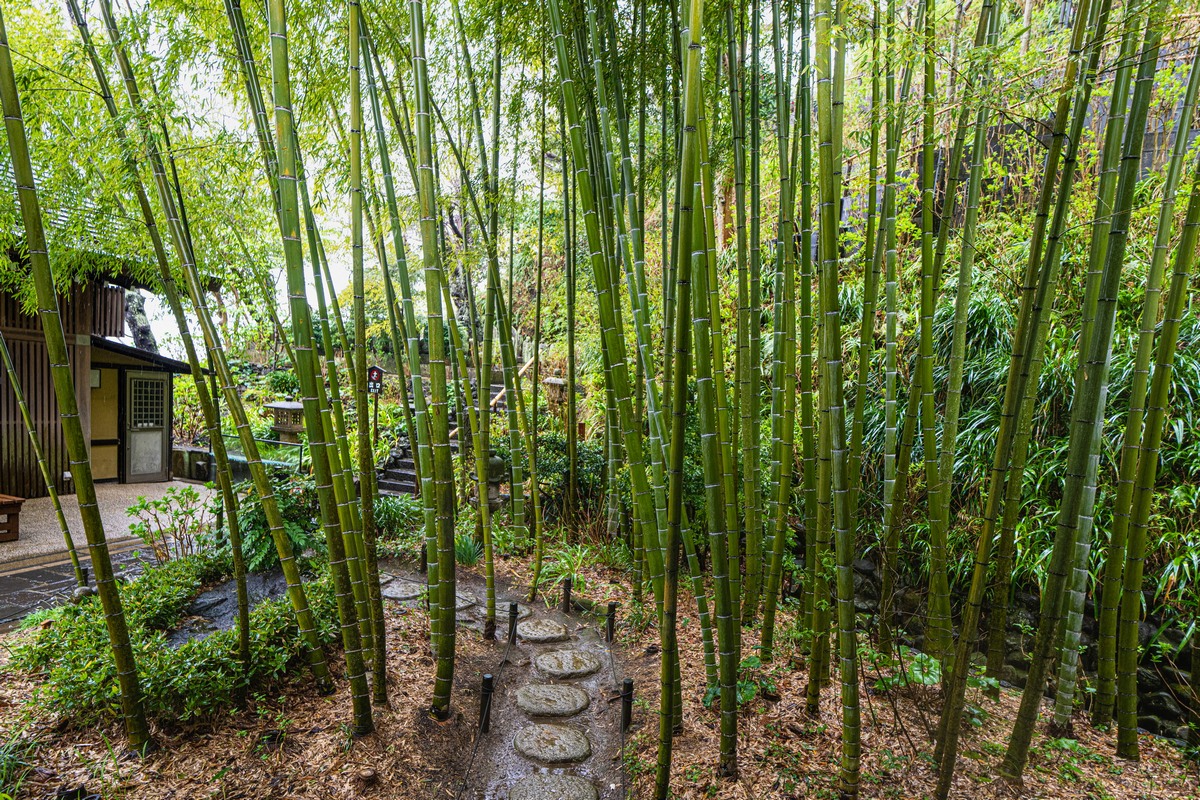 Once again – an ancient (eastern) swastika. The perfect holy symbol for when making a wish as you throw in a coin…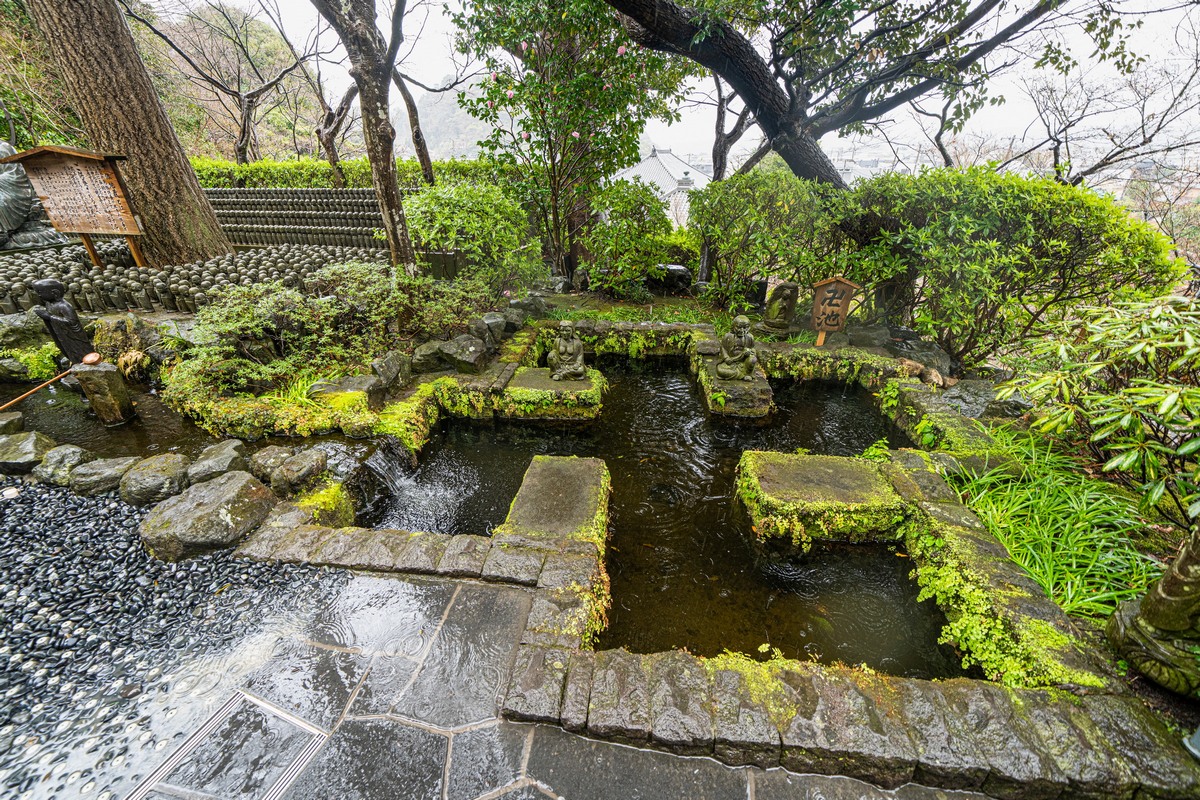 "Thank you for your visit!" "You are very welcome; thank you!"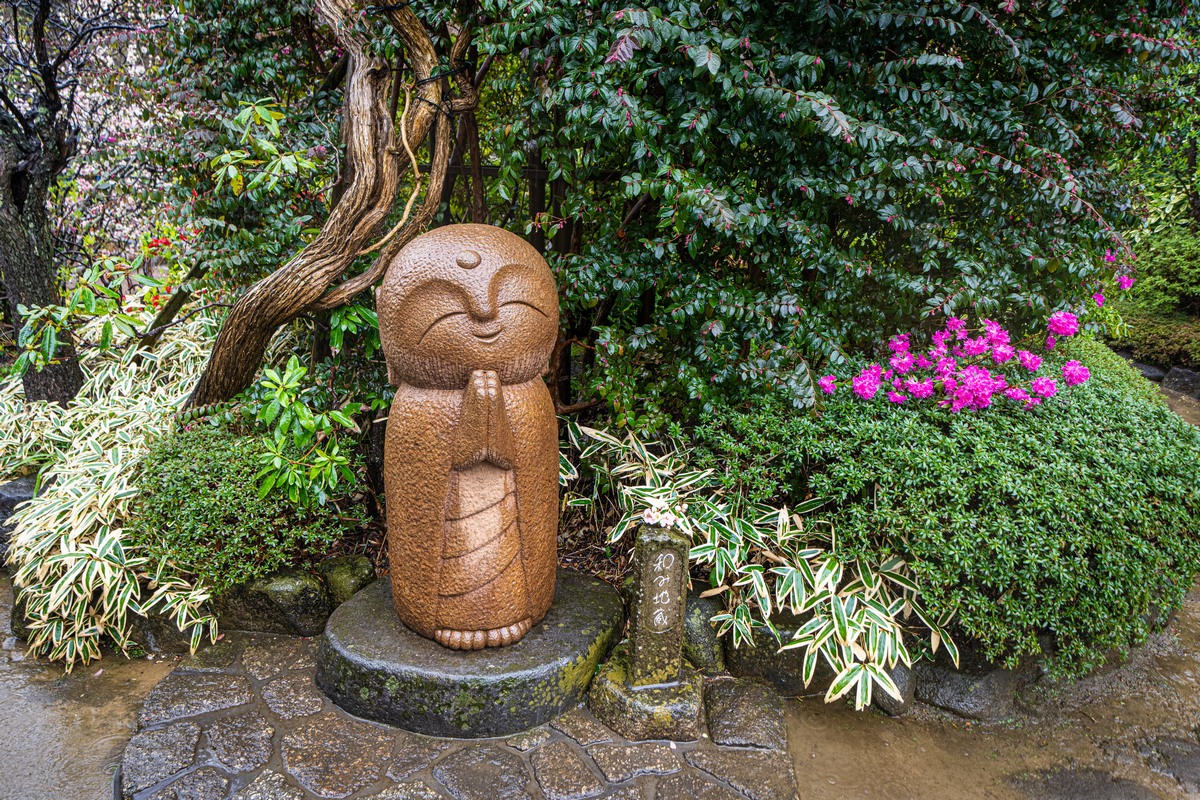 Another early-bloomer:
There are specific instructions for when interacting with this happy chappy:
Stroke his head to become… cleverer;
Stroke his barrel to become… richer;
Stoke his belly to become… fatter!
Japan, baby!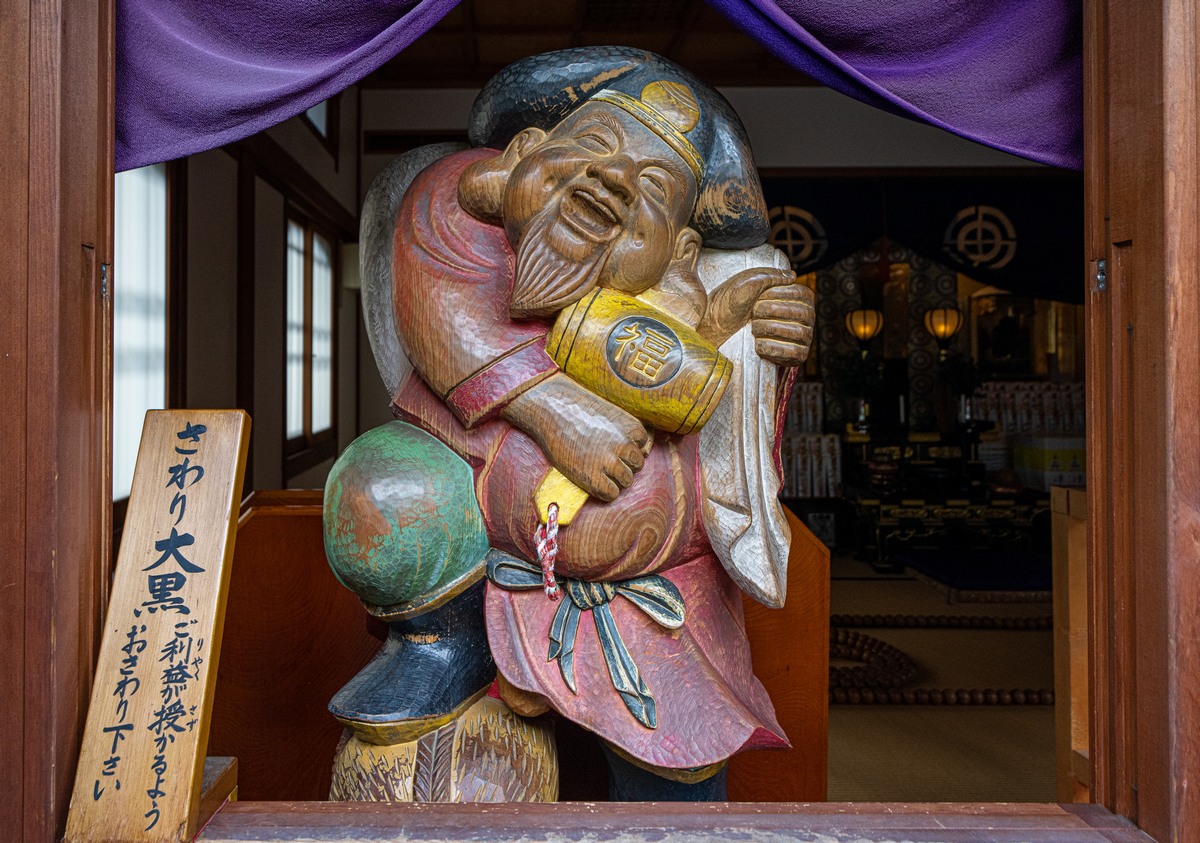 More landscaped perfection: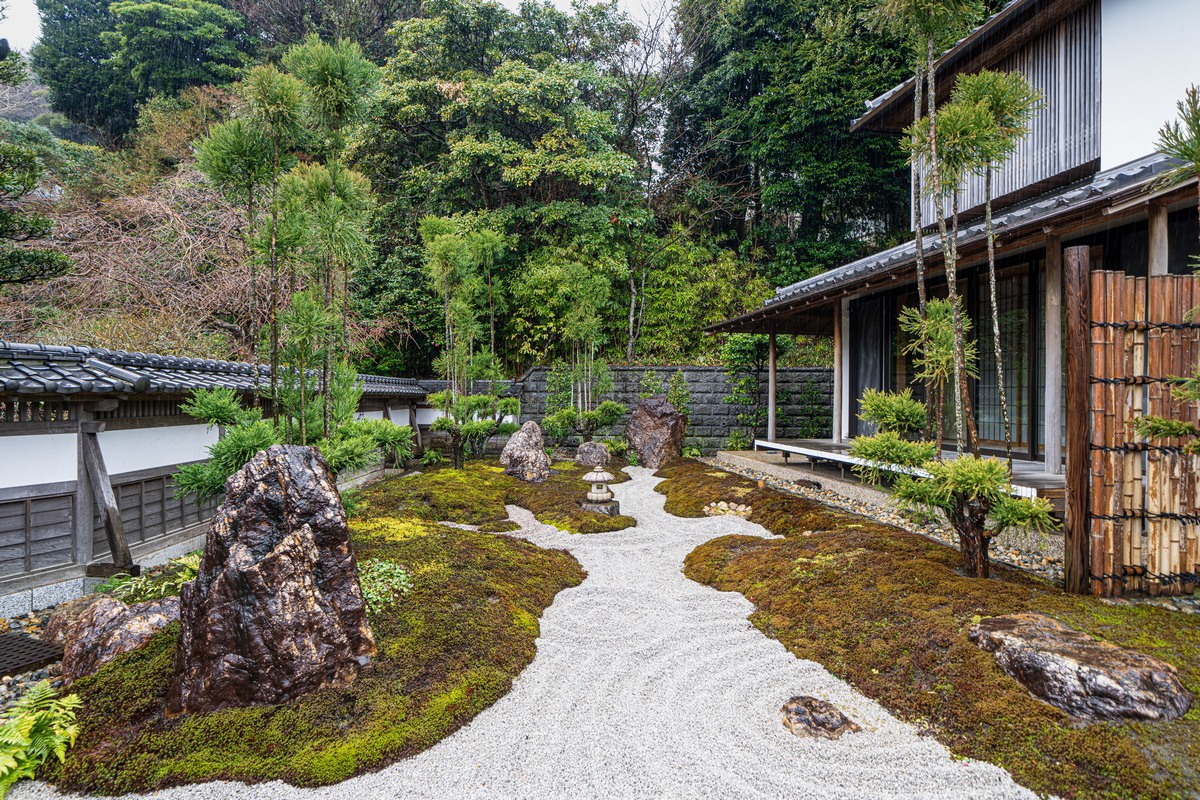 One of my mny travel companions, GG, found a heart in the mosaic! ->
Entrance to… a cave! ->
No blossom in sight ->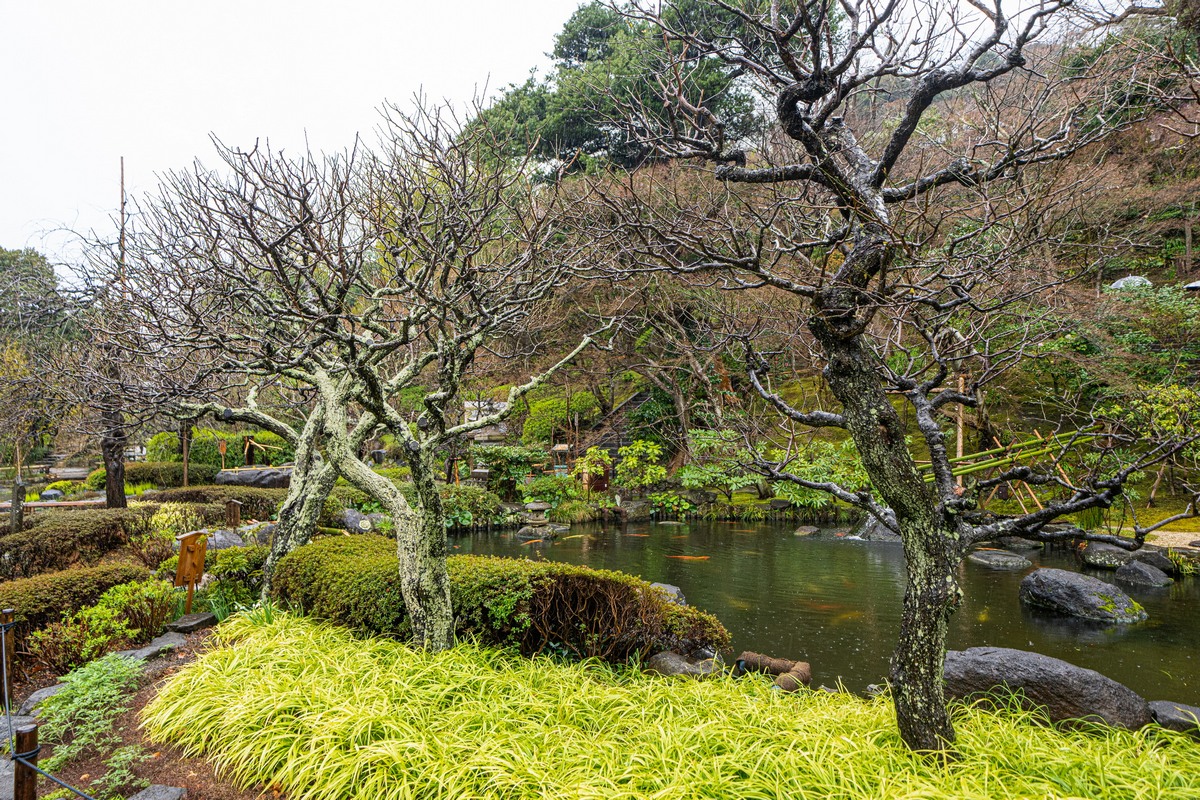 Next – the Great Buddha in the grounds of the Kōtoku-in Buddhist temple: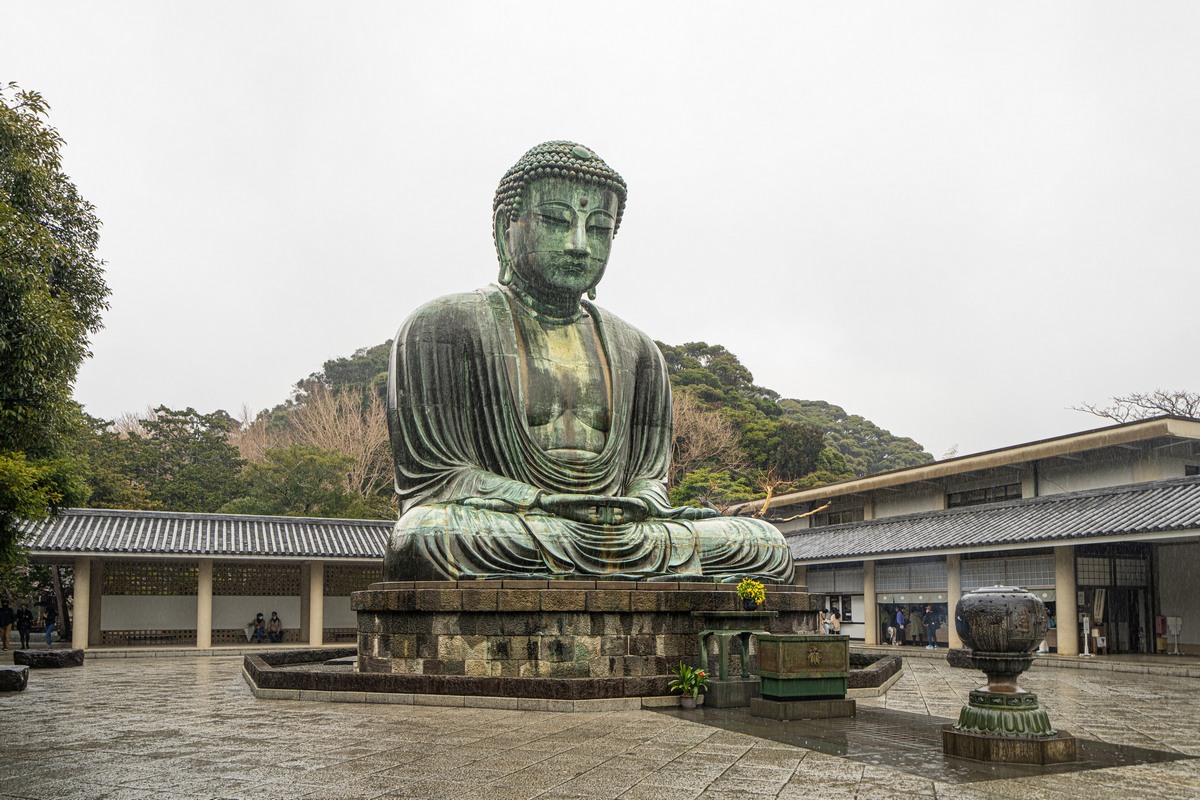 Info for the wandering tourist:
On Buddha's back – windows and a door! ->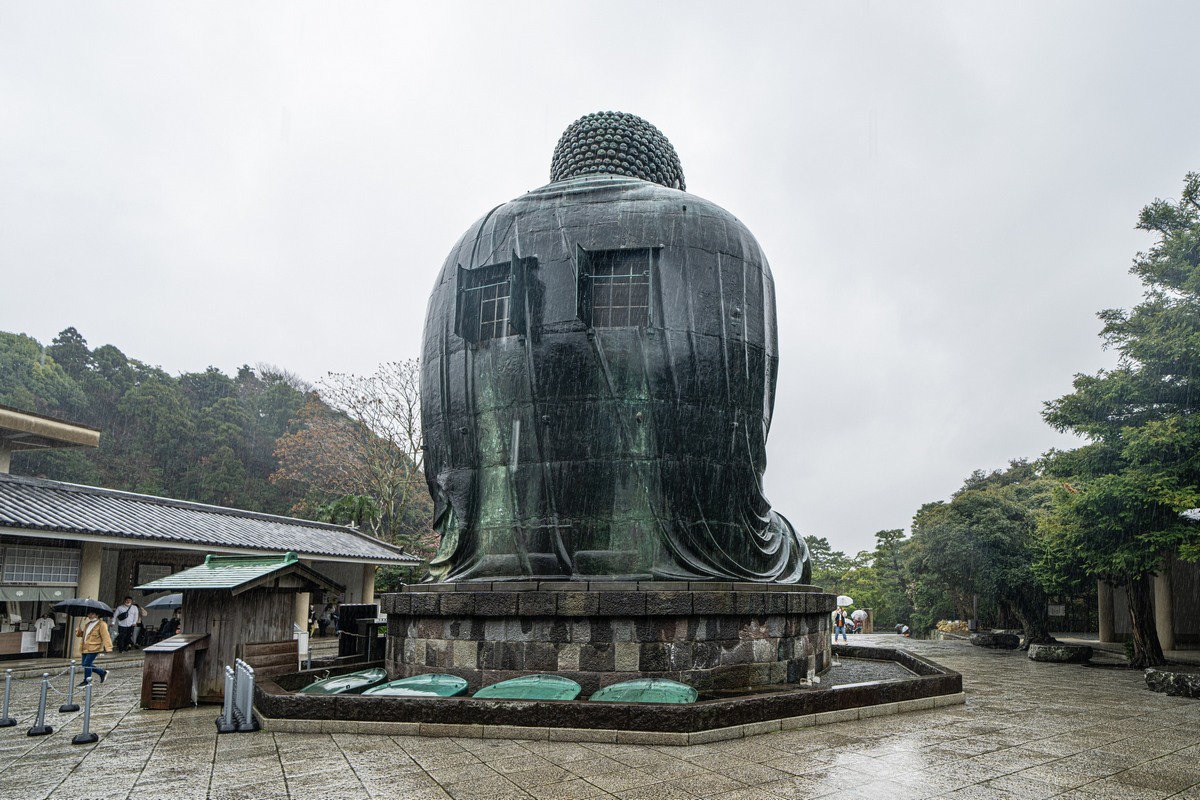 In we go – inside Buddha!
These are some slippers presented to Buddha by, I can't remember who. Local mathematicians reckon that, when Buddha one day wakes up, with such big feet in such big slippers, it will take him just an hour to walk to Tokyo!…
And on that light-hearted note, our walkabout for the day was completed, as is this post now. Hope you liked it!
PS: A couple of snaps taken by another of my travel companions, ML:
The rest of the photos from Japan are here.