Mind blown from red hot Chile peppers – and graffiti.
Santiago and Sao Paulo are both real lucky: just an hour-and-a-half from each city there's a resort town by the ocean. But while the temperature of the ocean by Brazil's Guarujá is a comfortable one, that in Chile's Viña del Mar is much less so. A cold current runs along the shore, so the water temperature is rather invigorating. Despite this, the whole shore is crammed with hotels: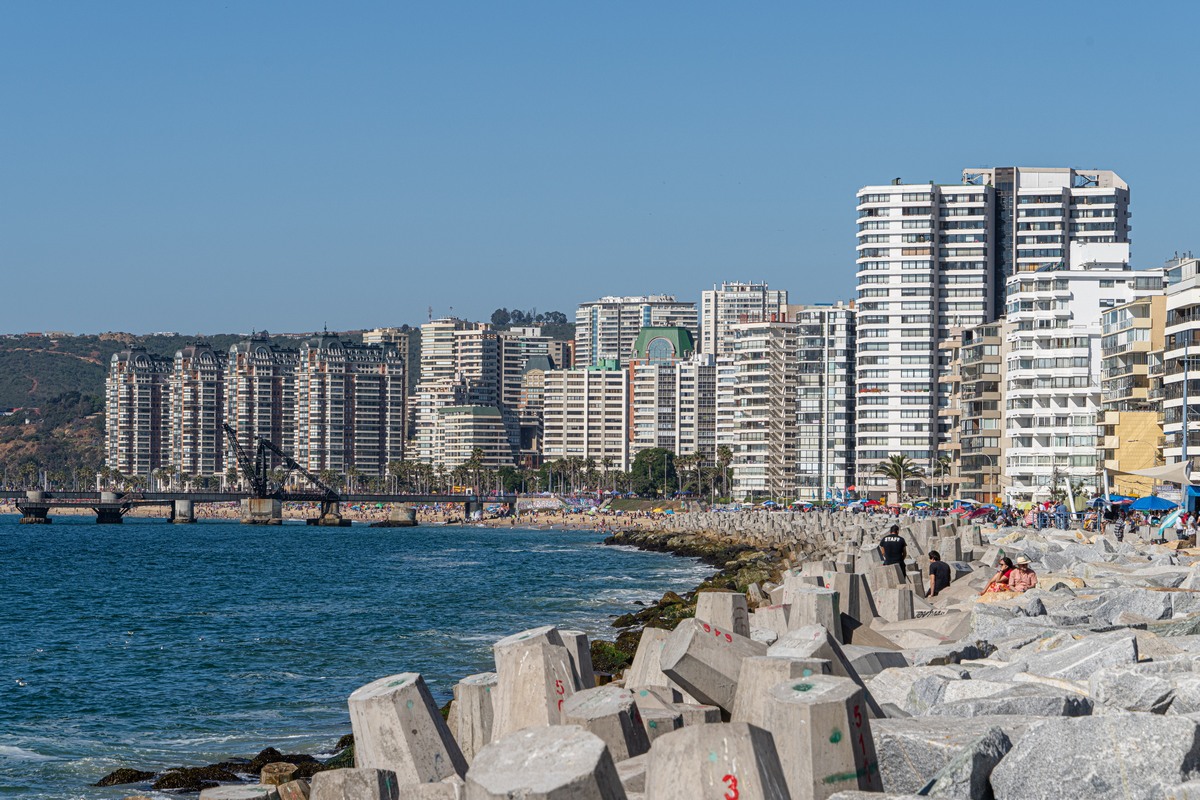 Sure, the water's cold (13-14°C), but that doesn't stop the beach becoming fairly crowded of an afternoon: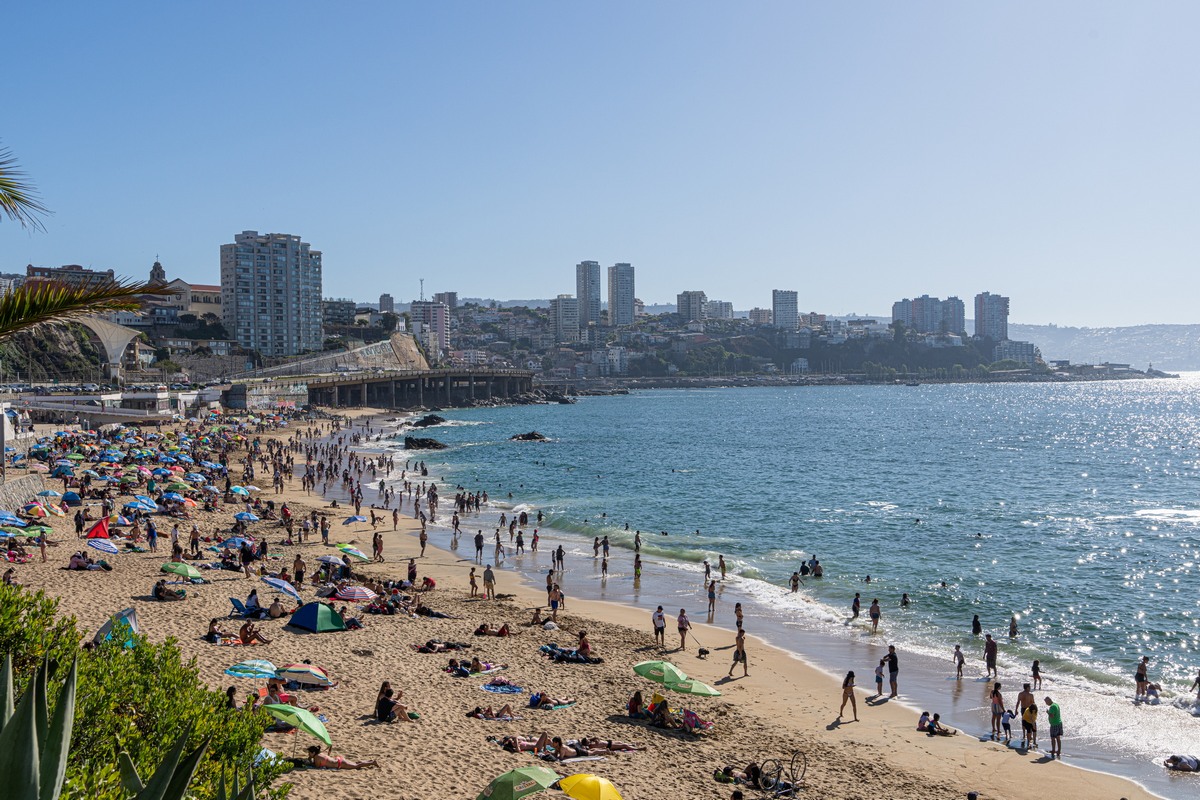 According to the internet, the temperature of the Pacific Ocean here just off the coast has never risen above 18°C. Hardly icy-water-dipping-after-a-sauna cold, or Baltic-Sea cold, or Kamchatka-cold, or Kurils- cold, but still sufficiently brrrrrrr. Accordingly, we didn't stay long…
We went for a stroll instead. First thing of curious, pretty interest we see – this here flower-clock, which, it turns out, was built/planted in 1962 for the FIFA World Cup!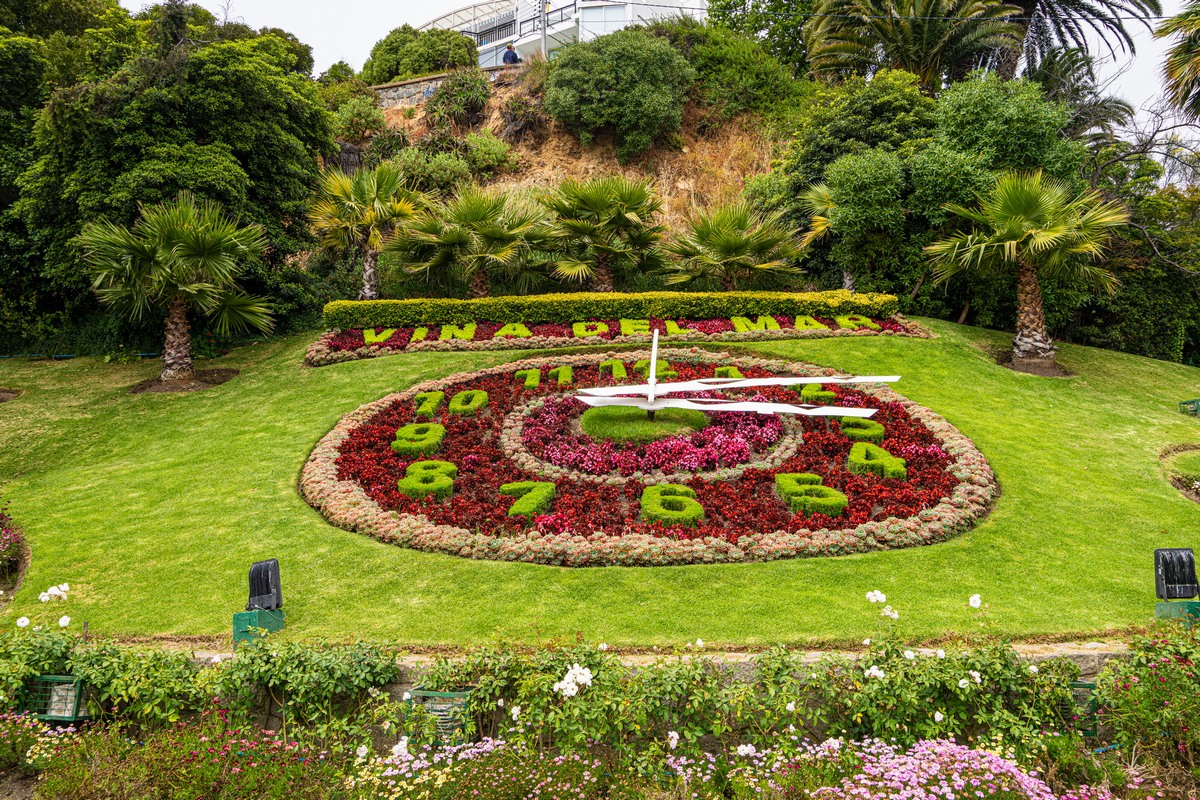 Elegant bridges: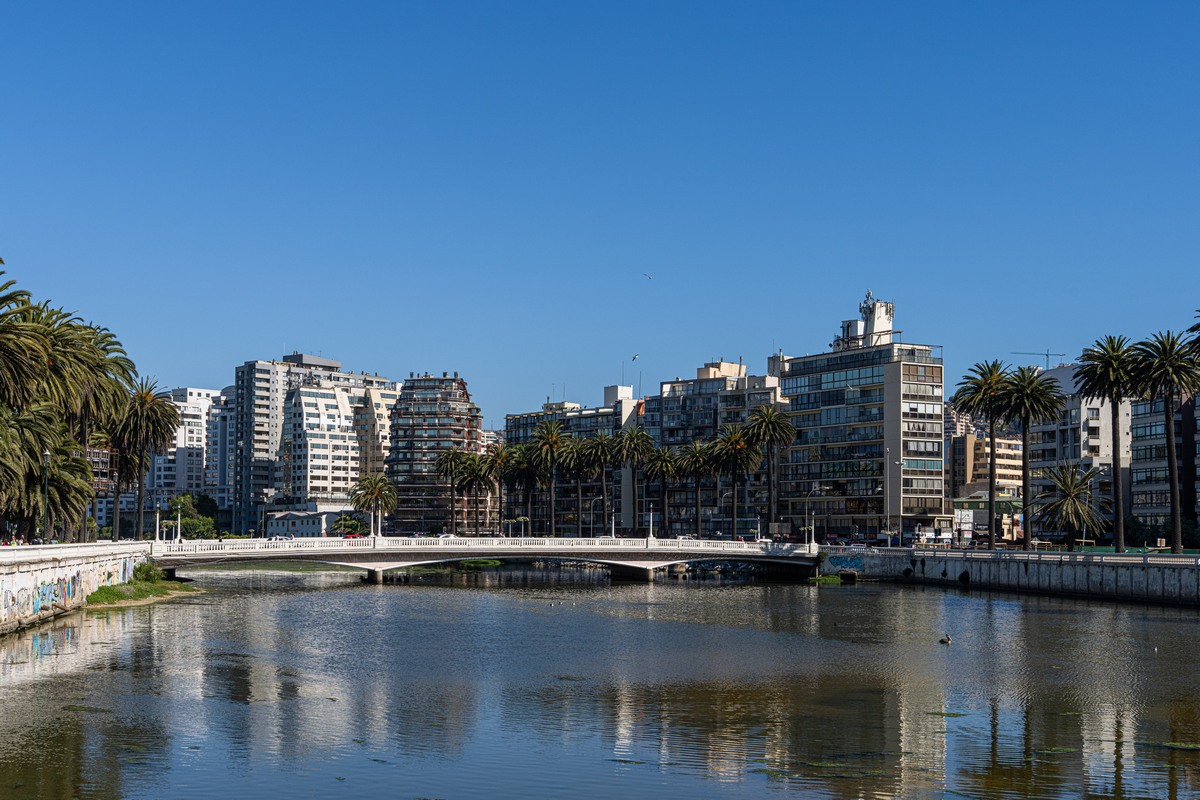 On the horizon – large dunes: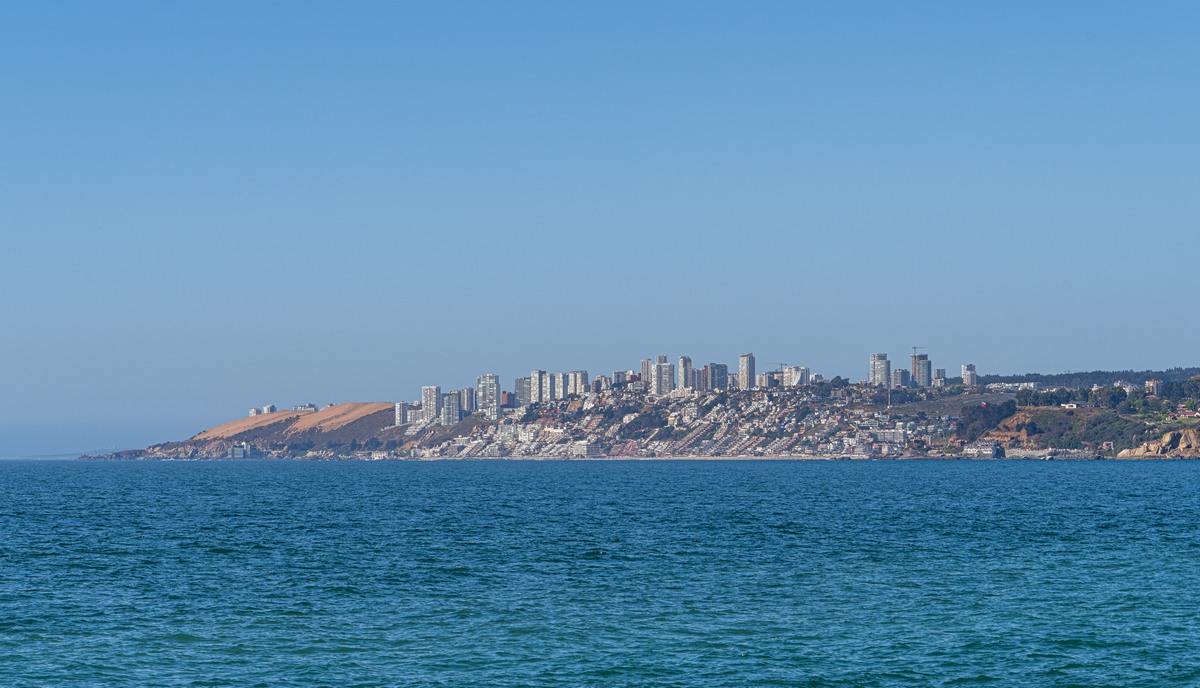 Some of the properties along the shore – very smart: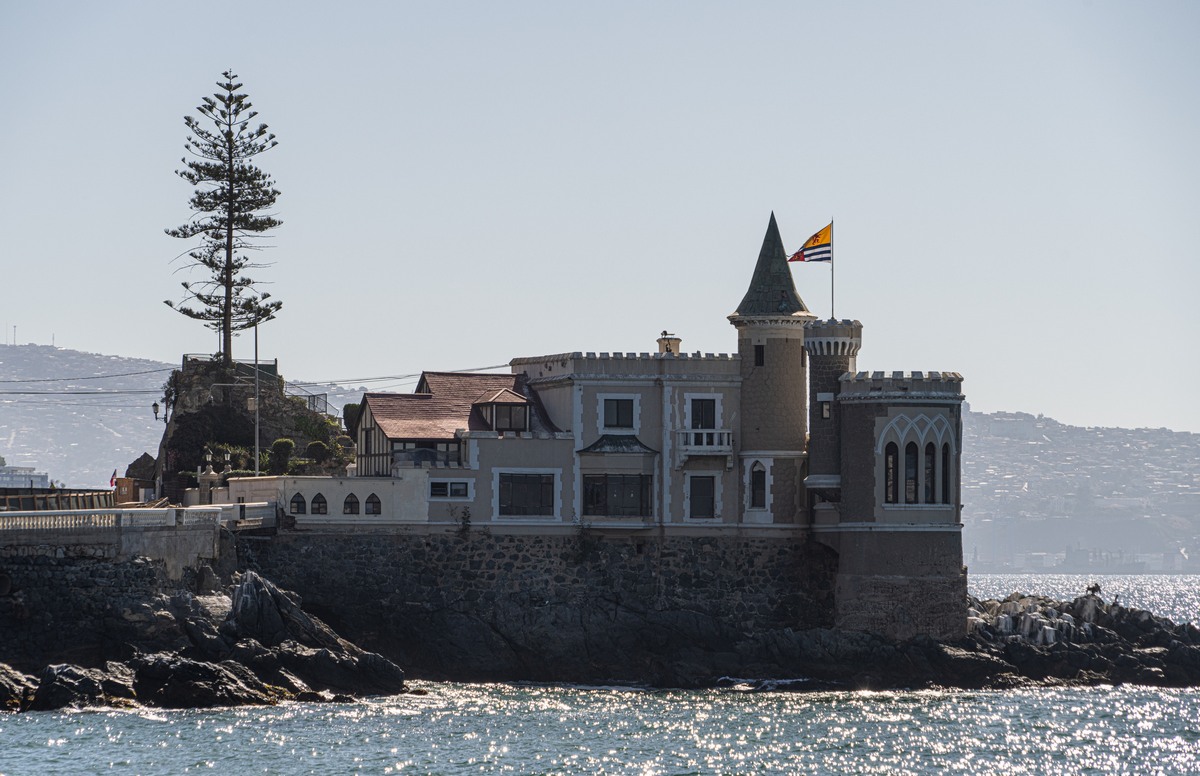 Is it a ship, or is it a hotel – or both?! :0>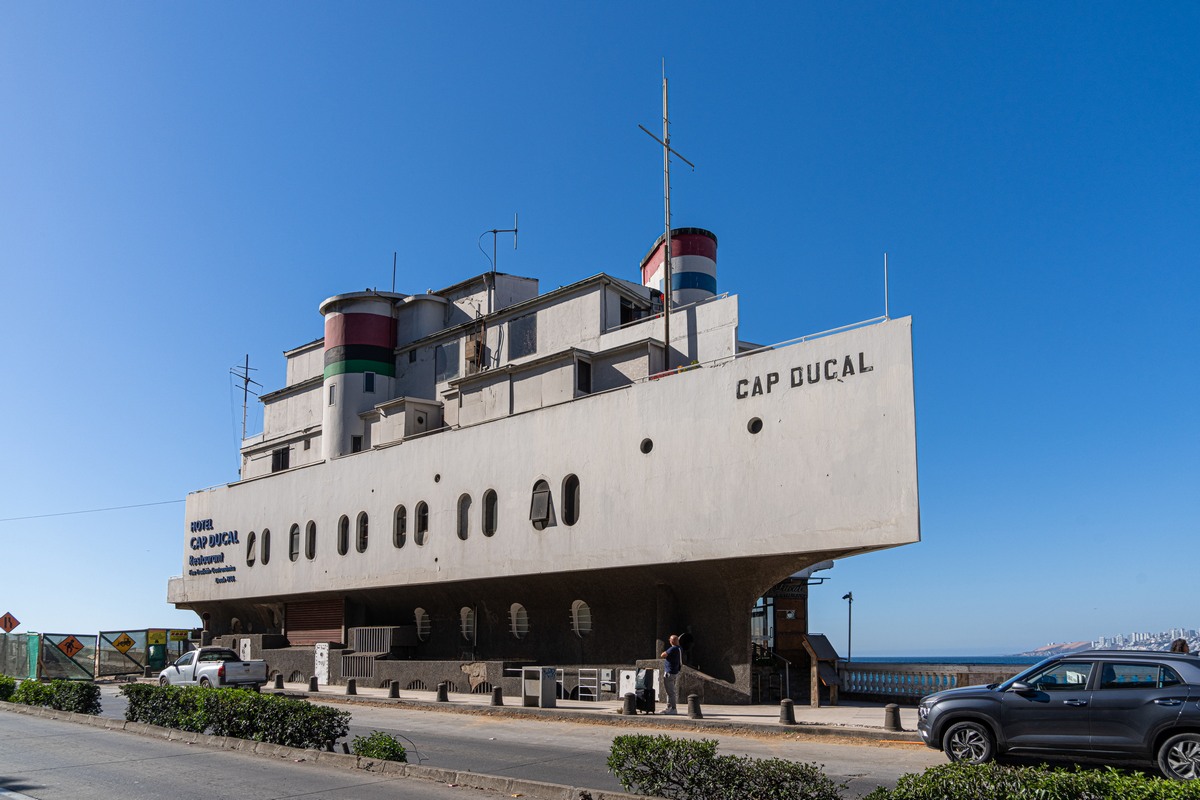 …The herons don't seem to mind which it is ->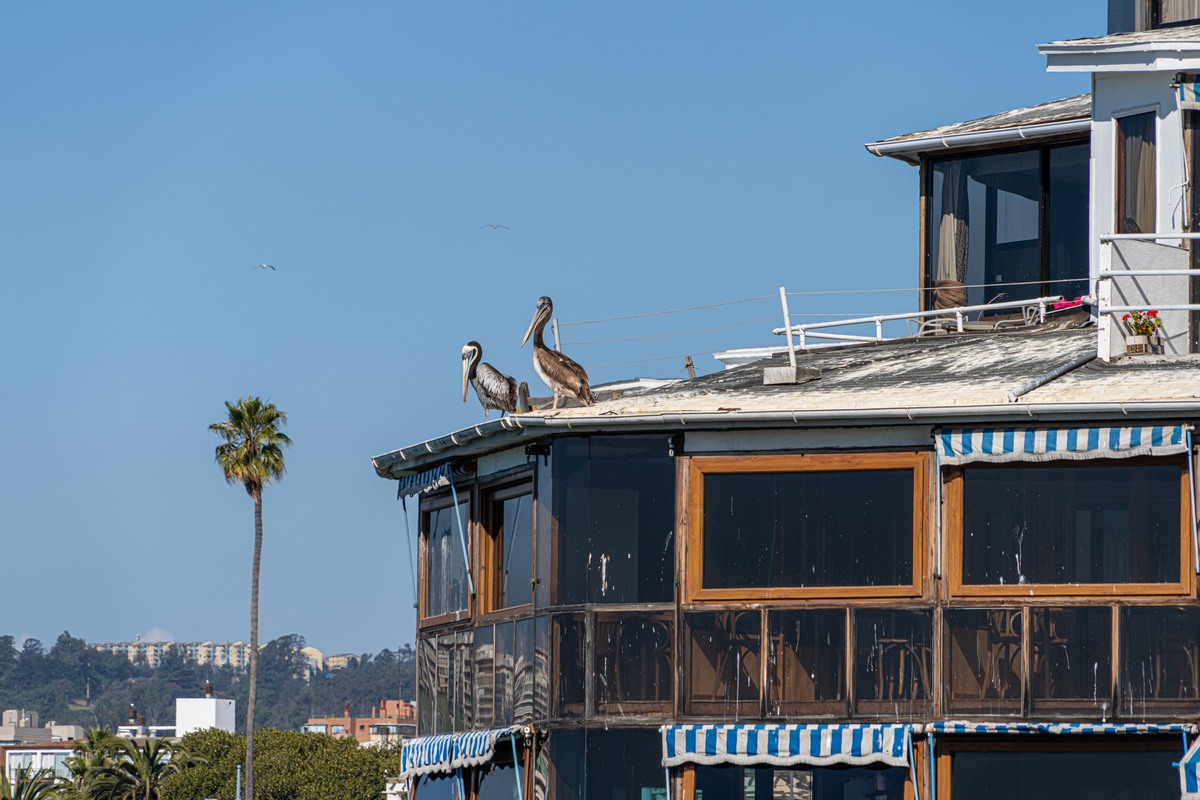 Ships at anchor:
After our brief stroll, we leave Viña del Mar and drive to the neighboring coastal city of Valparaíso…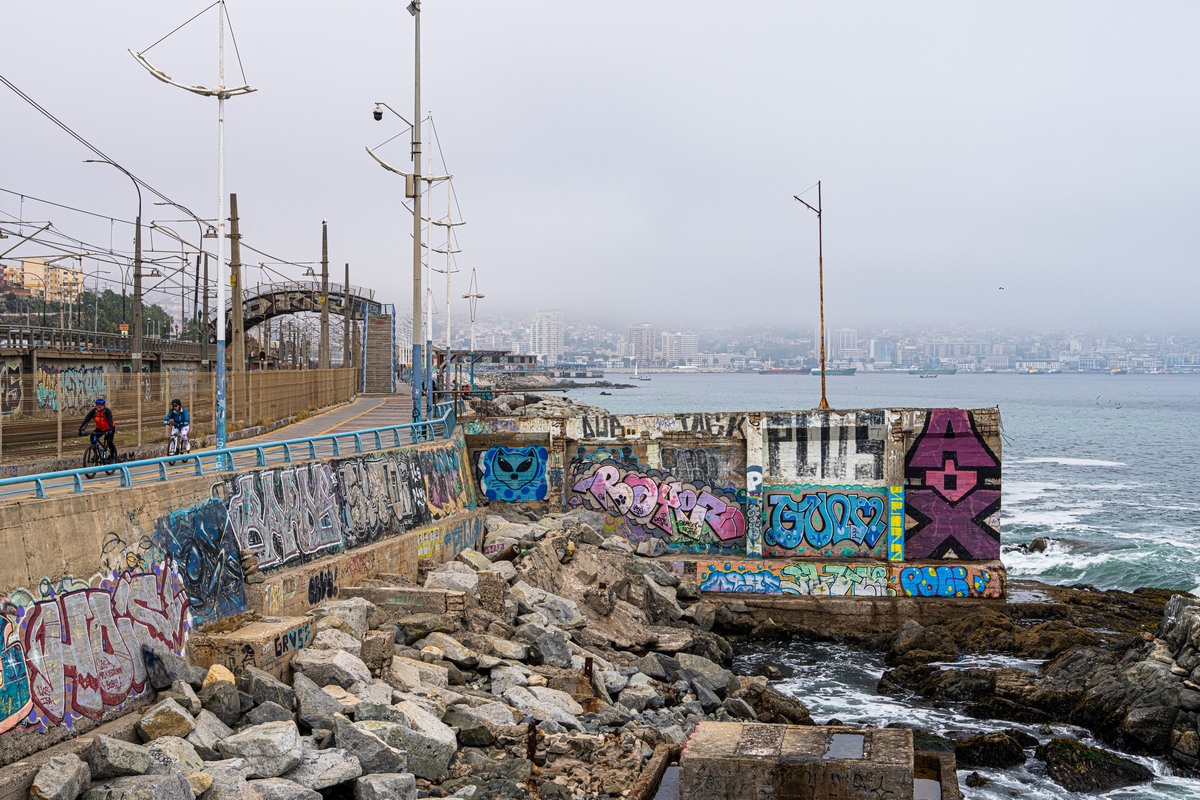 More herons. Turns out they like that spot since it's right next to a fish market, which produces plenty of offal for their breakfast, lunch and dinner! ->: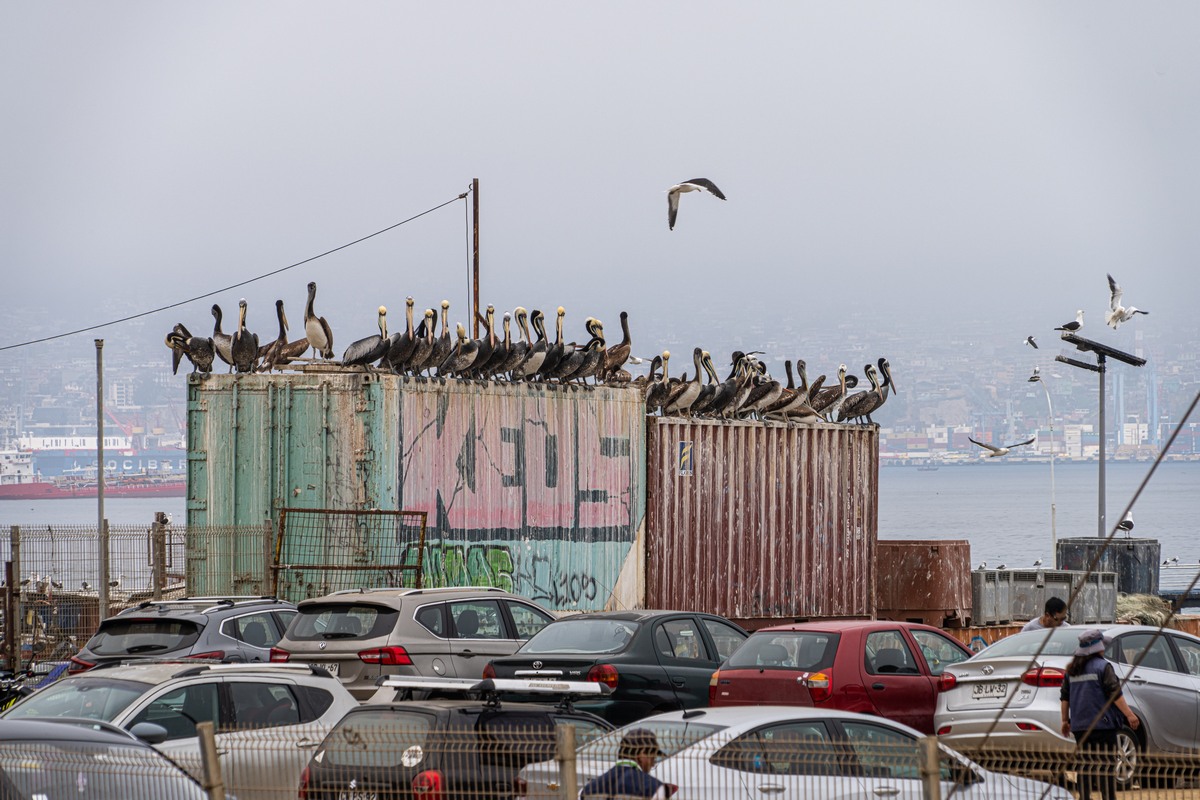 Inter-species disagreement. No animals were harmed though ->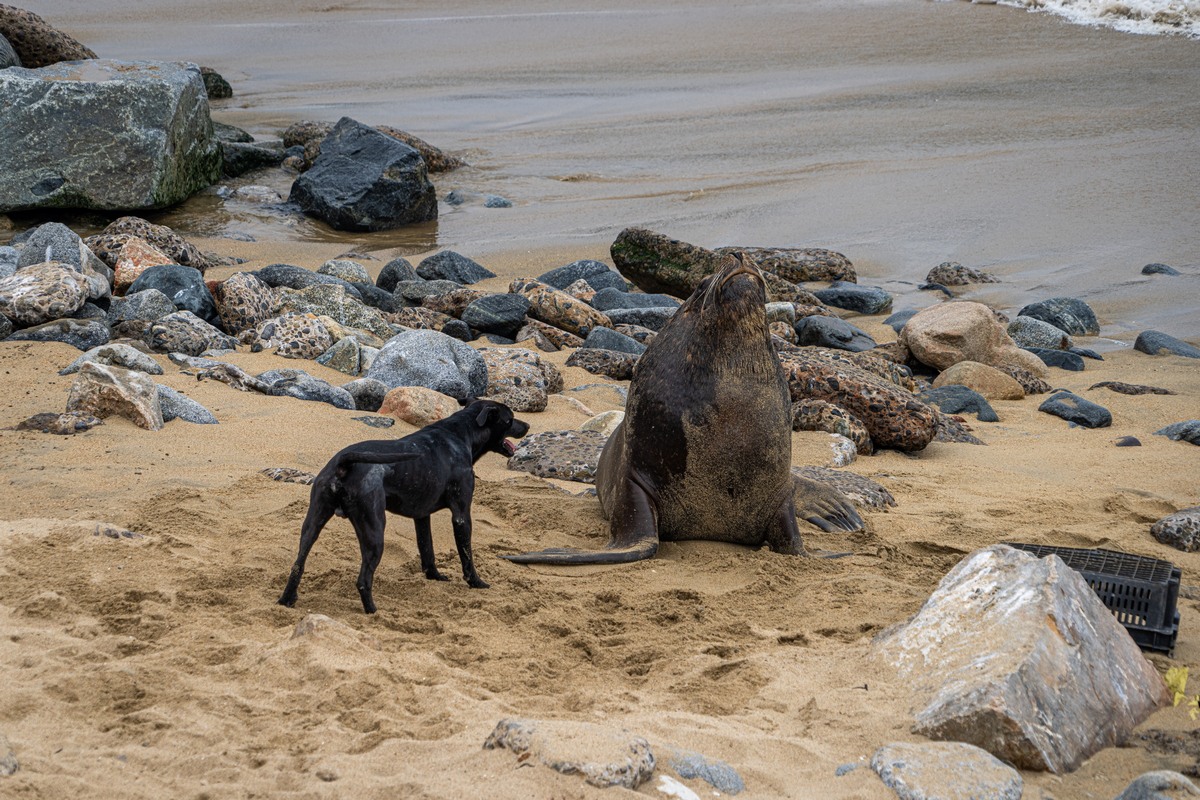 I don't know if the stray doggy wanted attention or a fight or something, but he wouldn't stop pestering the slothy seal, who occasionally would lash out at it with his flippers but miss – since the doggy was sprightly and nimble. After such a miss, the seal would try and get back down to his business of sleeping on the sand again. And the scene just kept repeating like that over and over!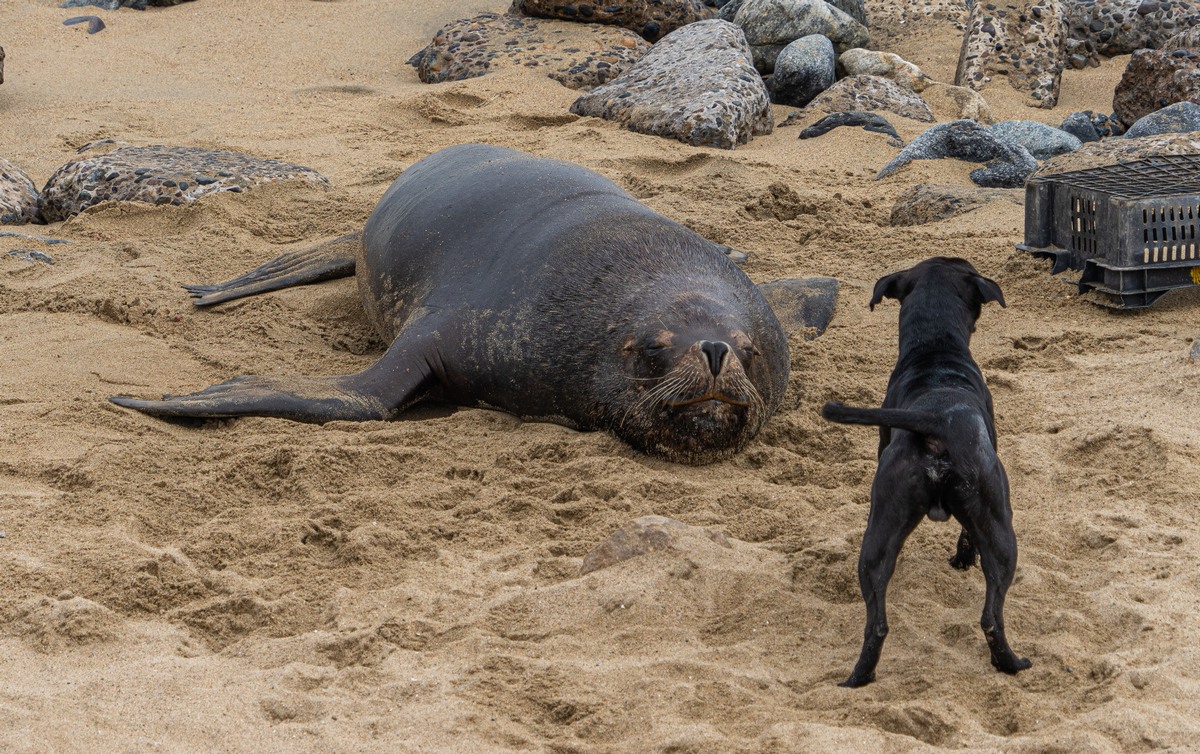 Then, the seal teamed up with another seal, and they decided to leave the beach and crawl toward said fish market looking for dinner. There, the pair tried… to push a cart with fish offal off toward a secluded place where they could dine, unrushed, in peace. Meanwhile, doggy had lost interest – not being a natural fish-eater like the seals. Animal Santa Barbara! Alas, I didn't get any pics of the whole melodrama: I was too busy enjoying the show to think about my camera!…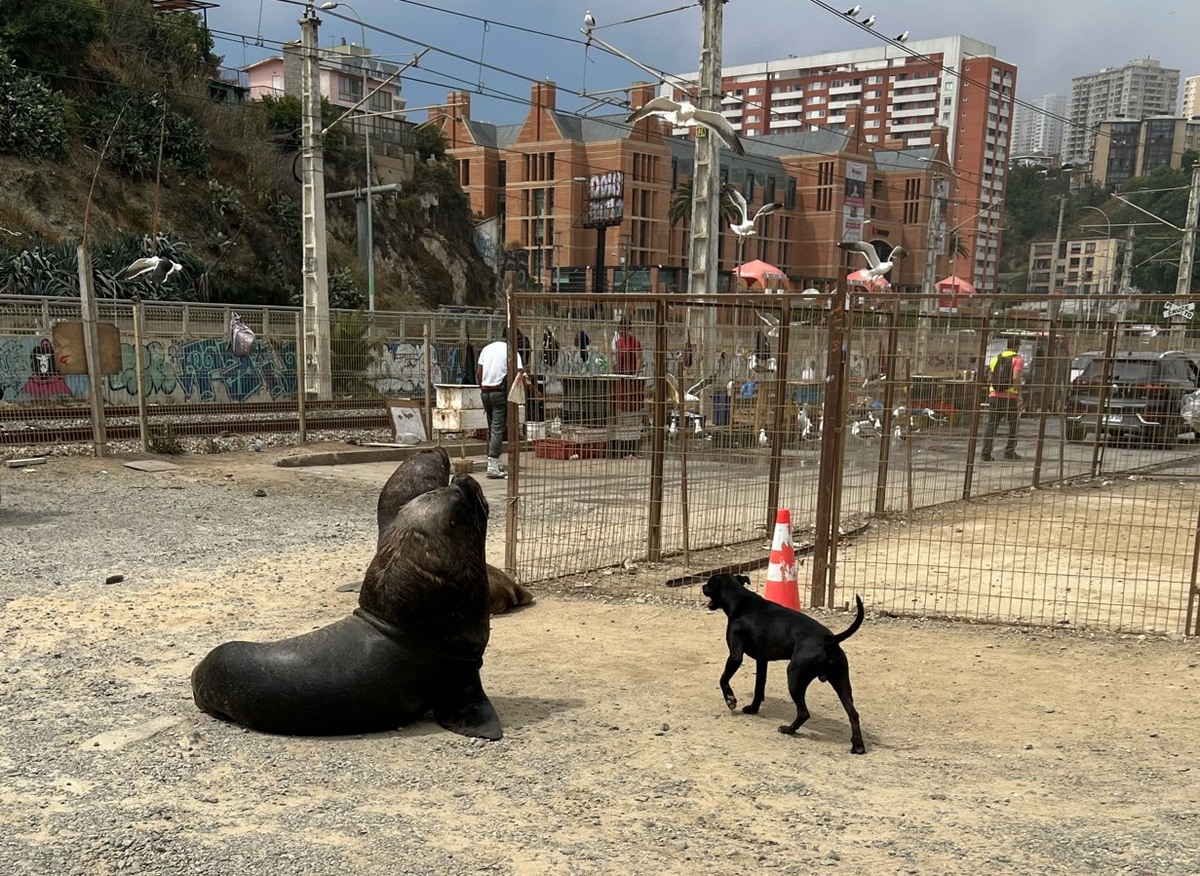 We did get a brief video shot, mind ->
Port, ships: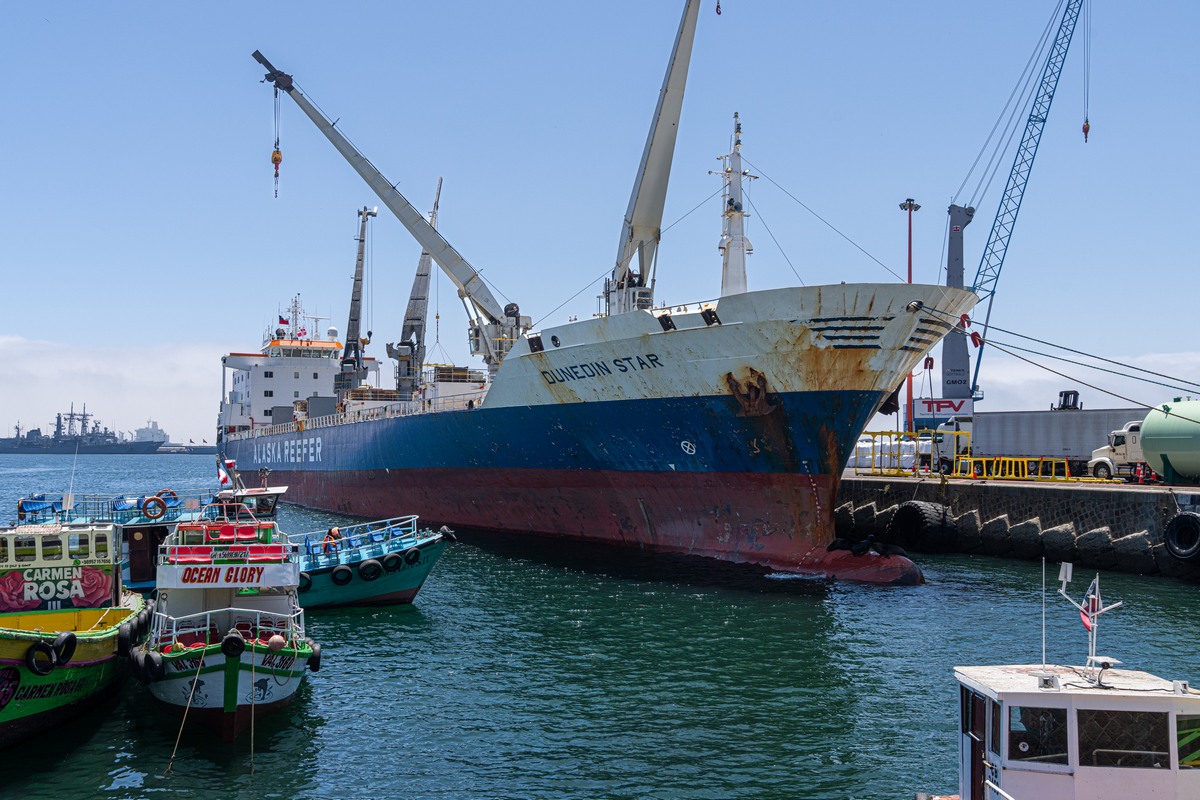 More seals: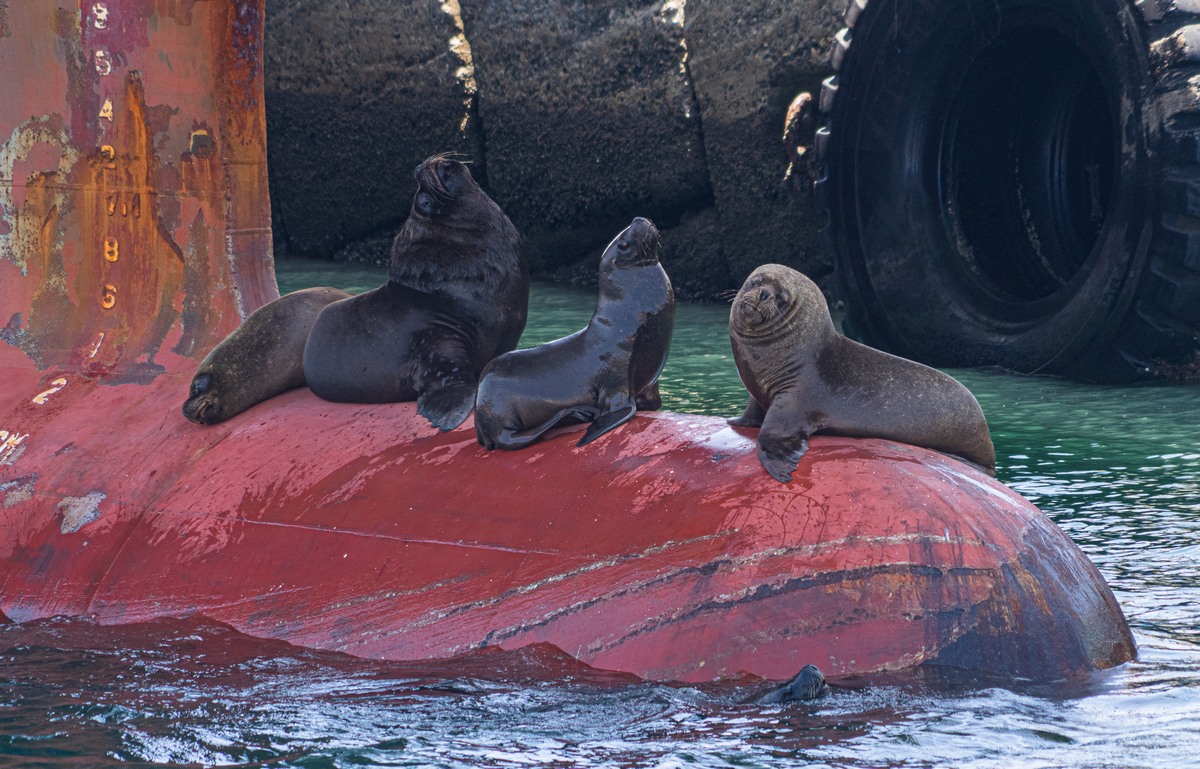 I was reminded of a photo I took right here way back in 2010 when I first visited Valparaíso (below). Not much has changed in 12 years. Seal-business as usual ) ->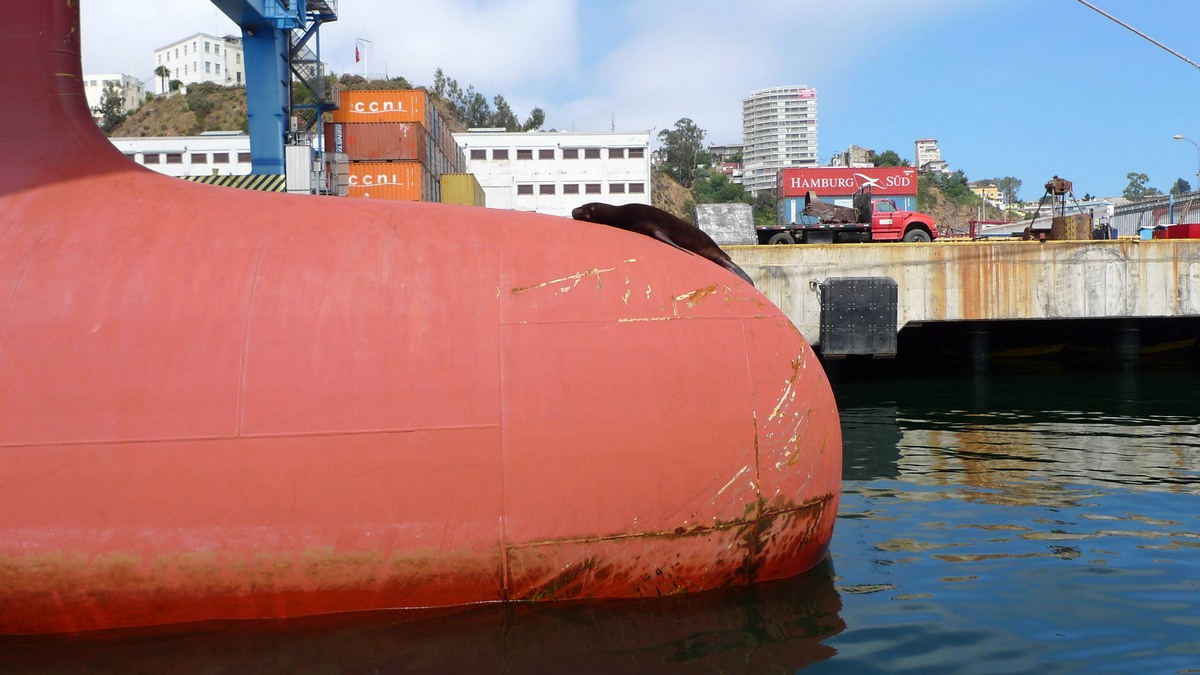 Chile's naval power conspicuous by its presence –>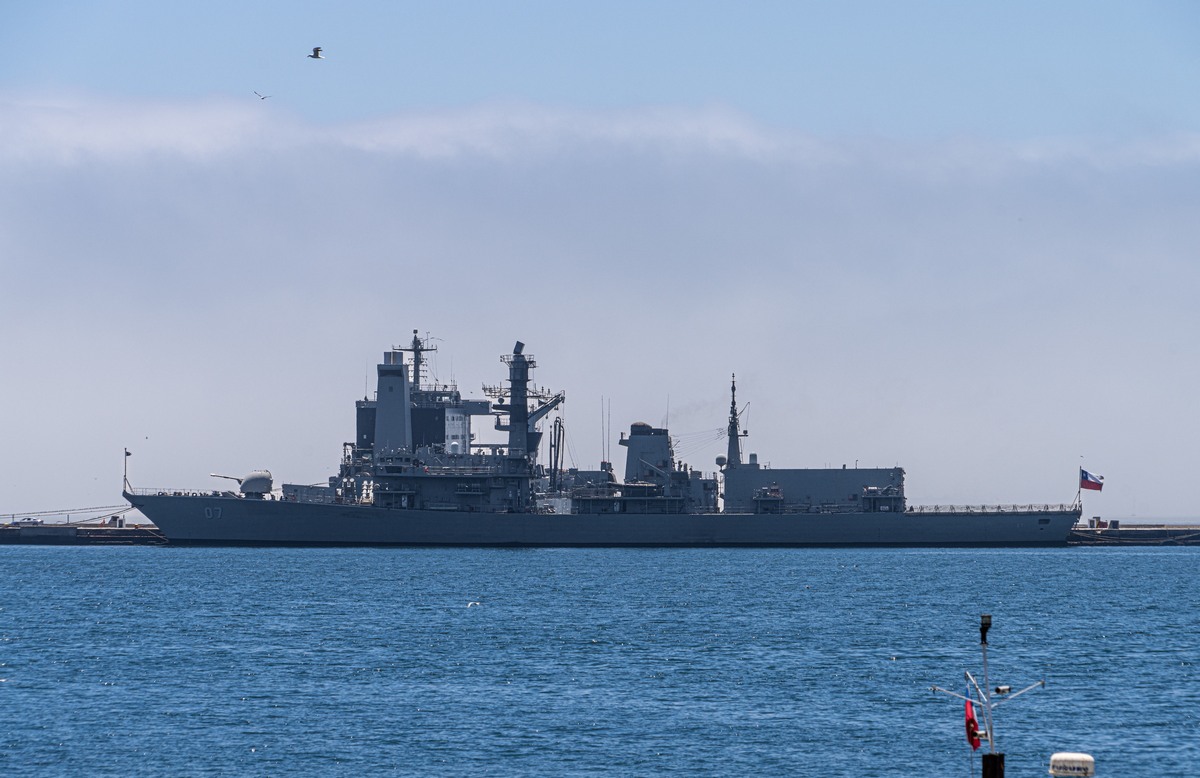 Assorted other port views:
You don't see this very often: the wind had blown up a "cloud wall". Over here it was all clear skies and bright sunshine; over there – dense fog/cloud:
From the port we took a cable-car up a steep hill (I'd walk, but… how steep?!) ->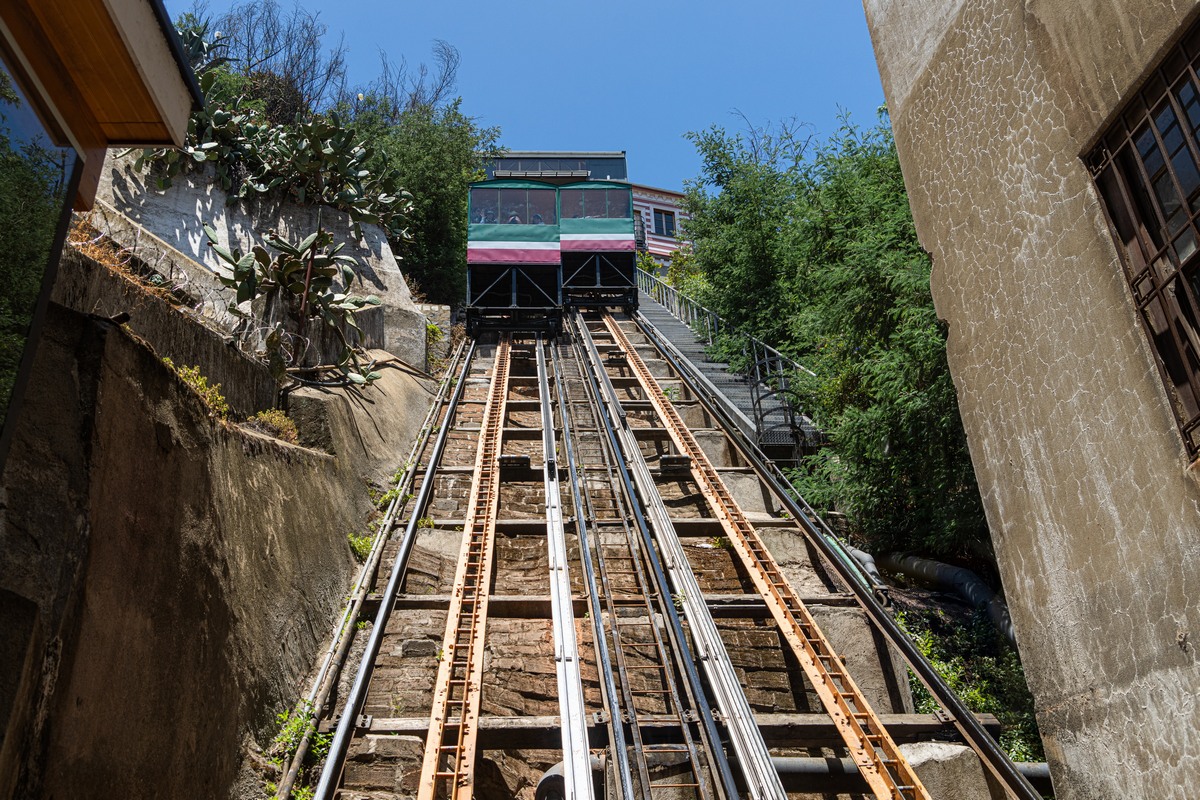 Up top – different views, mostly of multicolored houses: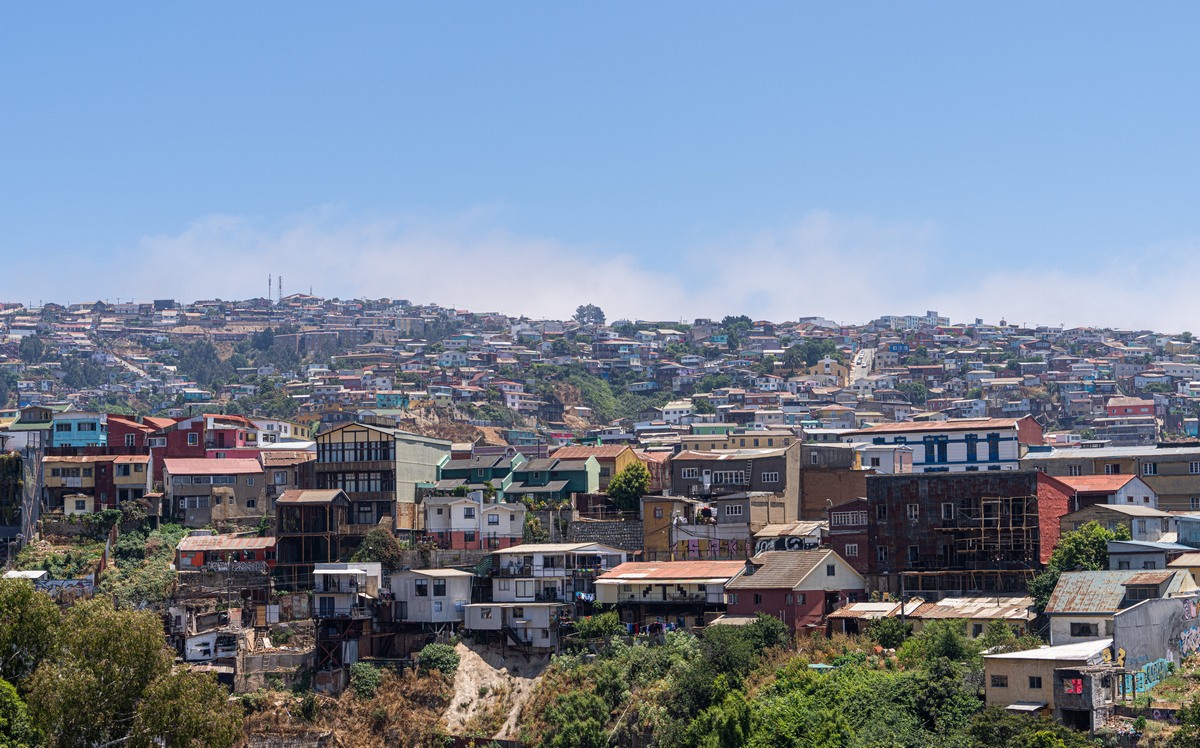 But then I noticed it…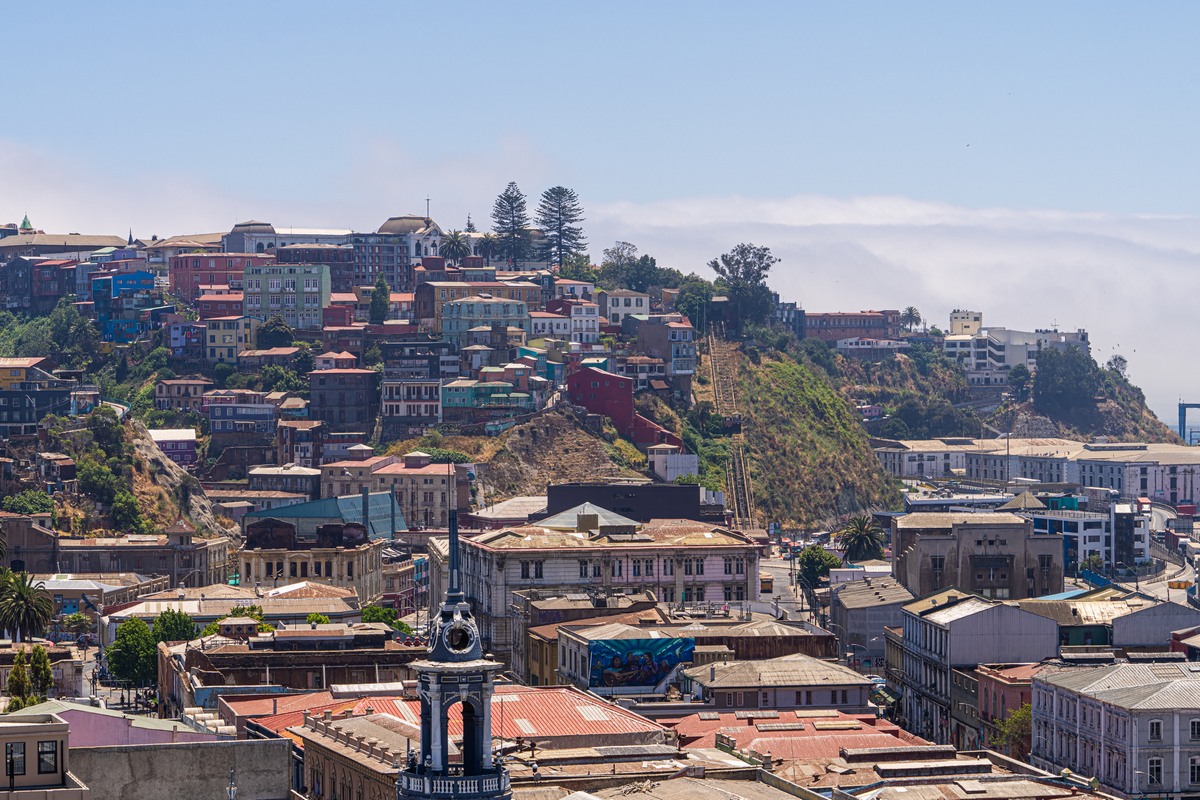 The different colors weren't just of houses painted all the shades of the rainbow…
There was also plenty of…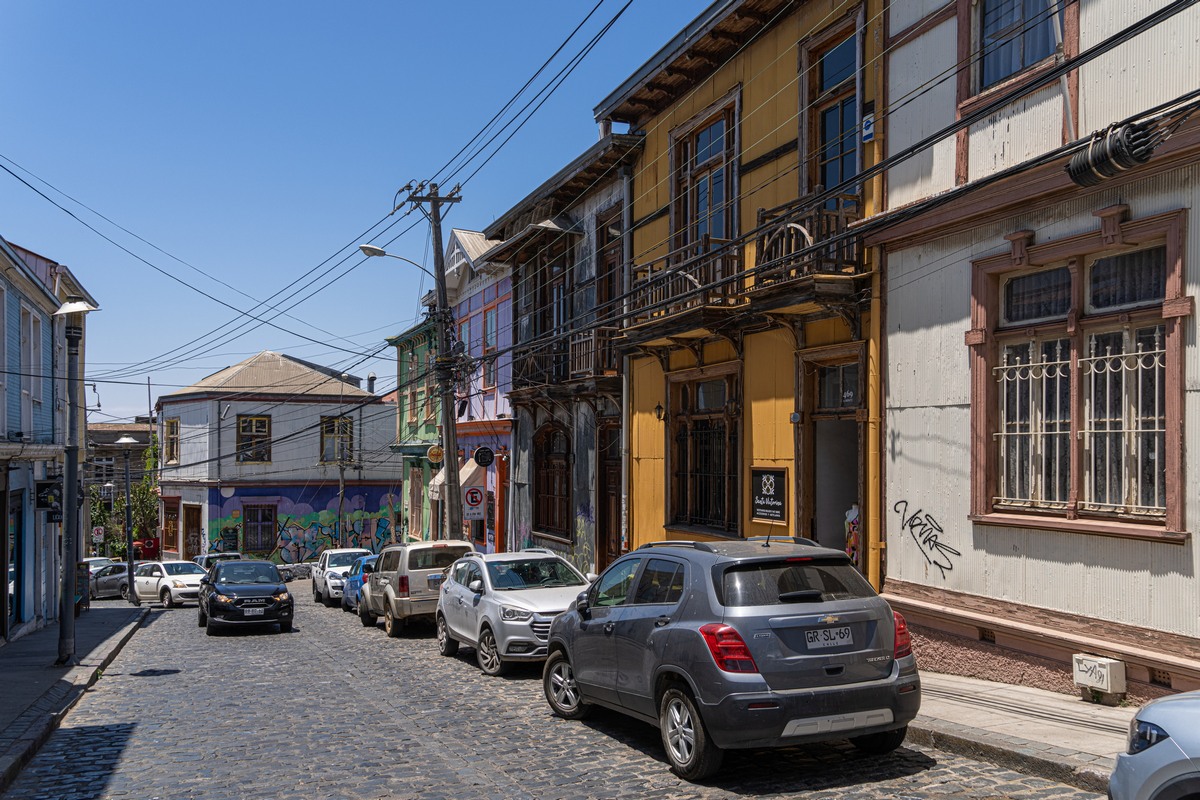 Graffiti!
Practically the whole city (at least – all the places our guide took us) is daubed in bright, colorful, street kunst!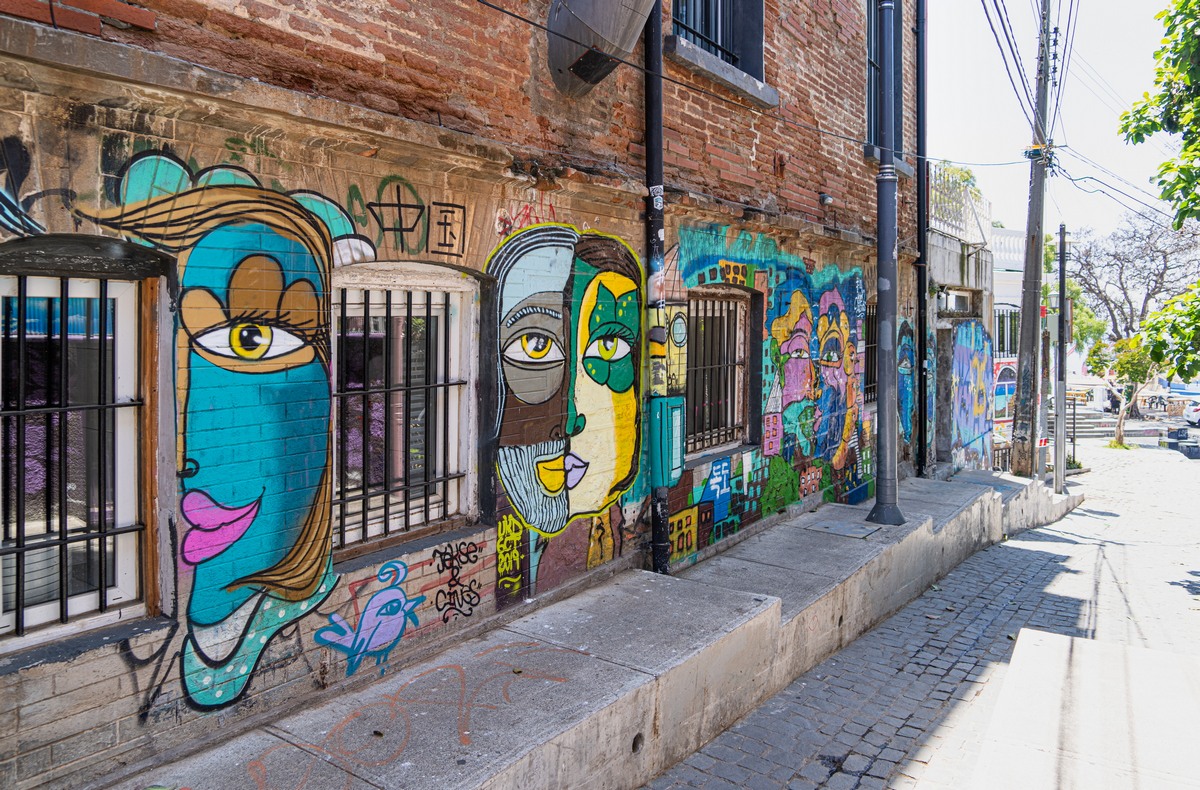 And, as you can see, not just the odd messy scrawl here or there…
…This is a graffiti artist's paradise: a whole city covered in street art, with the authorities clearly being fine with it.
I was fine with it too. And here's my travel companion, OS, being fine with it also: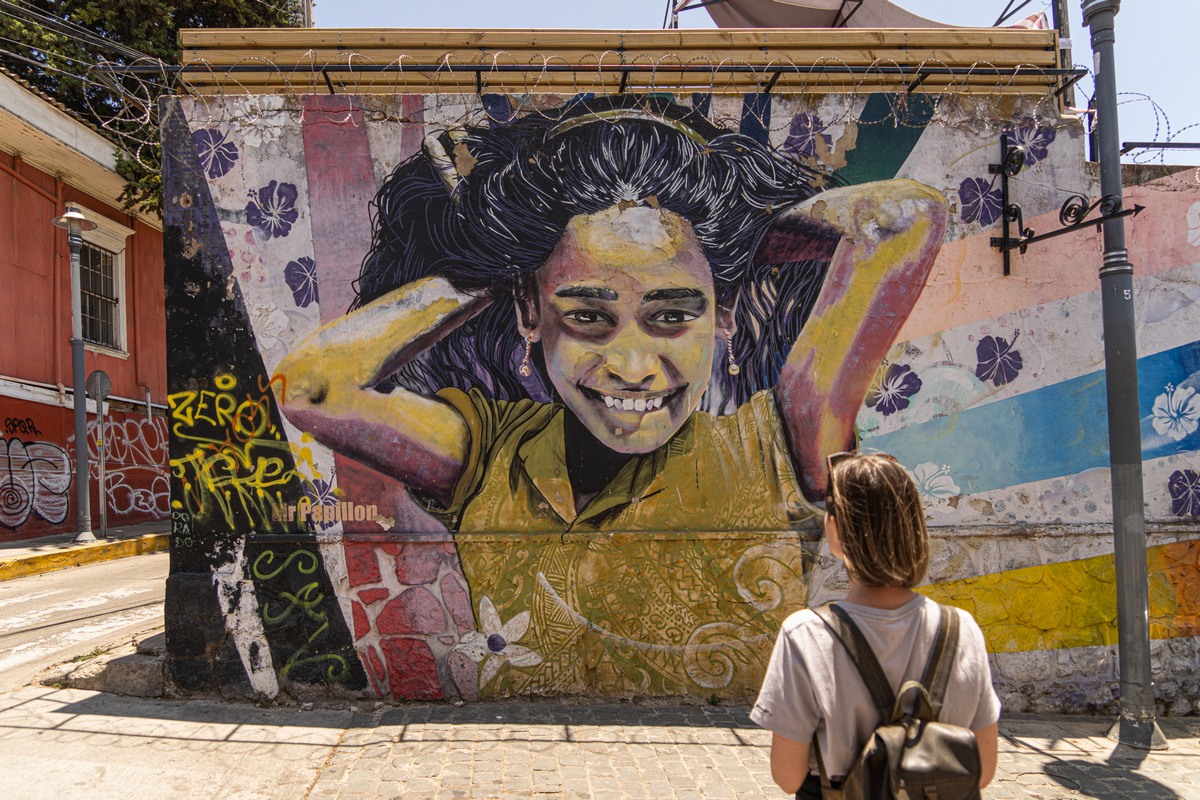 I'm sure there's encrypted meaning to all of it. But could we crack the code? Alas, no ).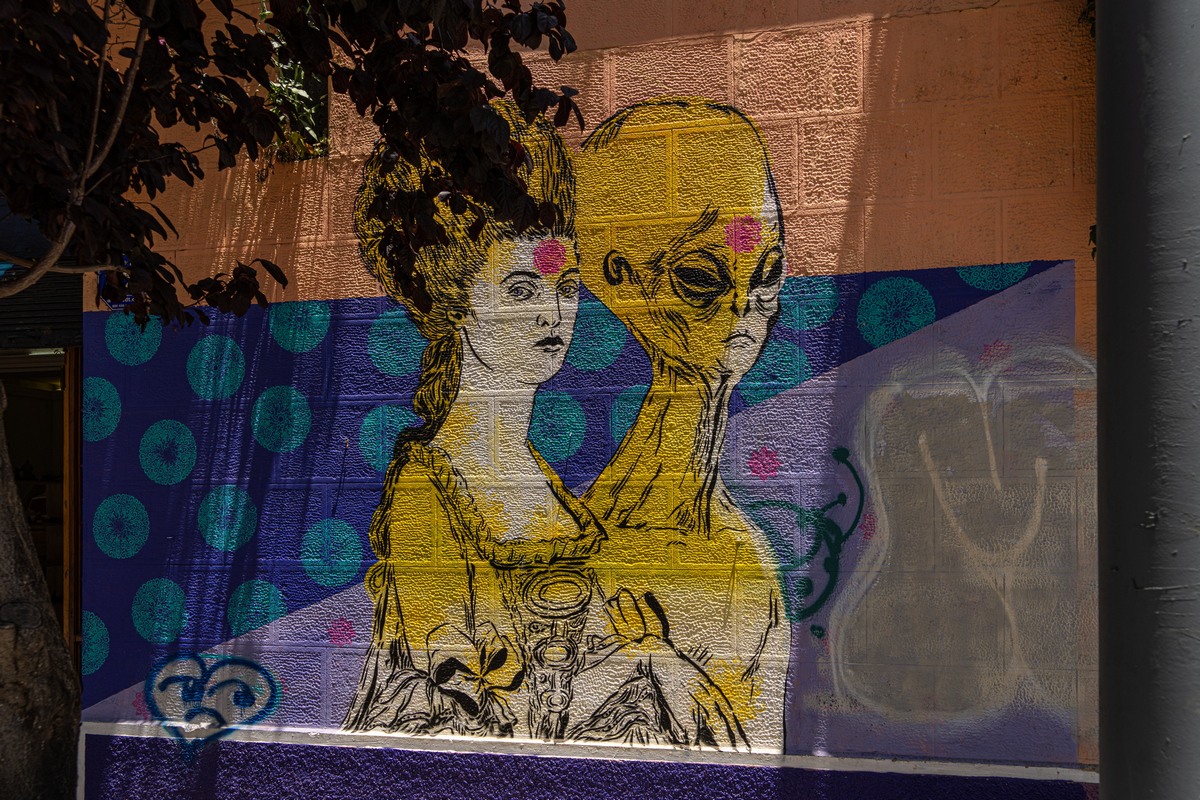 Tags, throw-ups, pieces…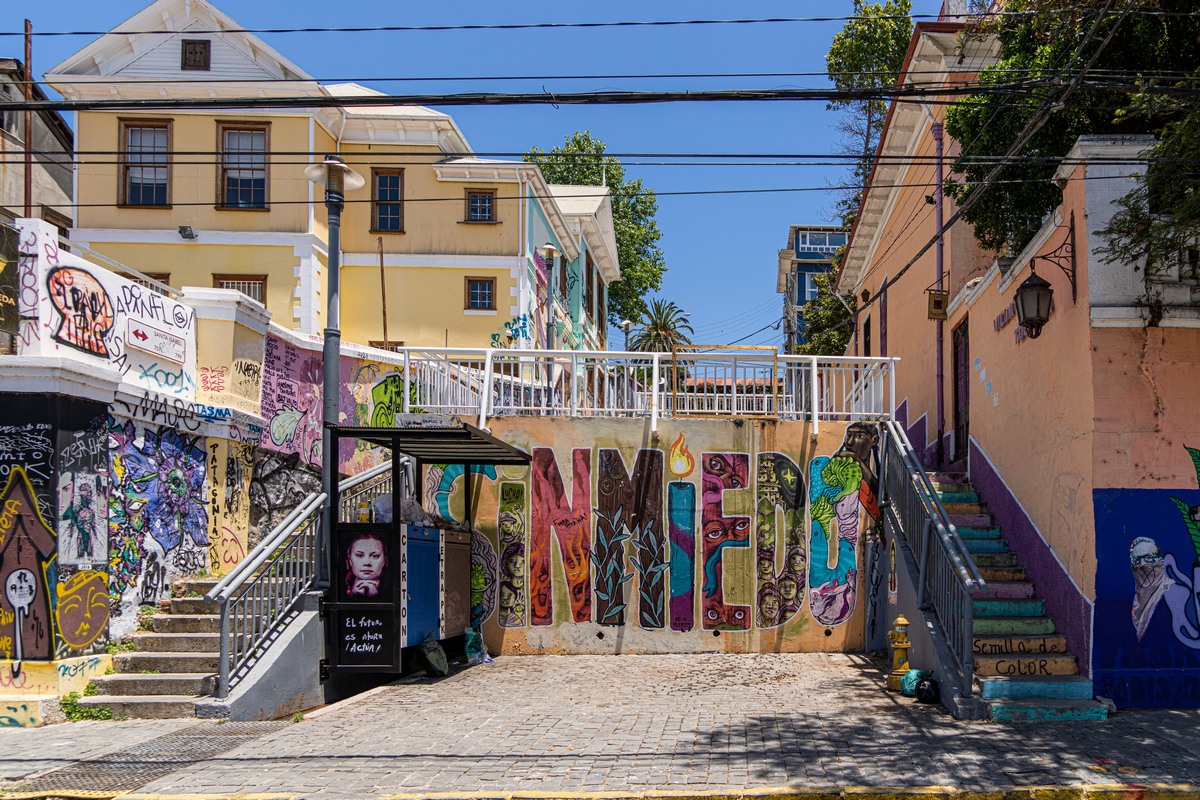 And when I say it's everywhere here – I mean it. Our guide told us we'd need three days to check it all out!
I'd always wondered how long graffiti stays up on walls – before it fades or washes away or demises in some other way. Well here we saw some works dating back to at least 2010, and they hardly looked tired or ready to peel off or fade away. Surely there's older stuff too…
How do I know they're dated at least 2010? Because I strolled these very same streets here in 2010, and in places nothing's changed! ->
Btw, here are a few more pics I took here 12 years ago. To be honest, this year's walkabout was mainly so I could check out all the graffiti again and see how it's changed or remained the same!
Much of the graffiti is of a professional level (though I'm not sure the artists get paid for their work). Some of it even made me look at certain things a little differently. In the following scene, for example, I suddenly understood that small children look up at their parents from below, observing them in a different perspective! ->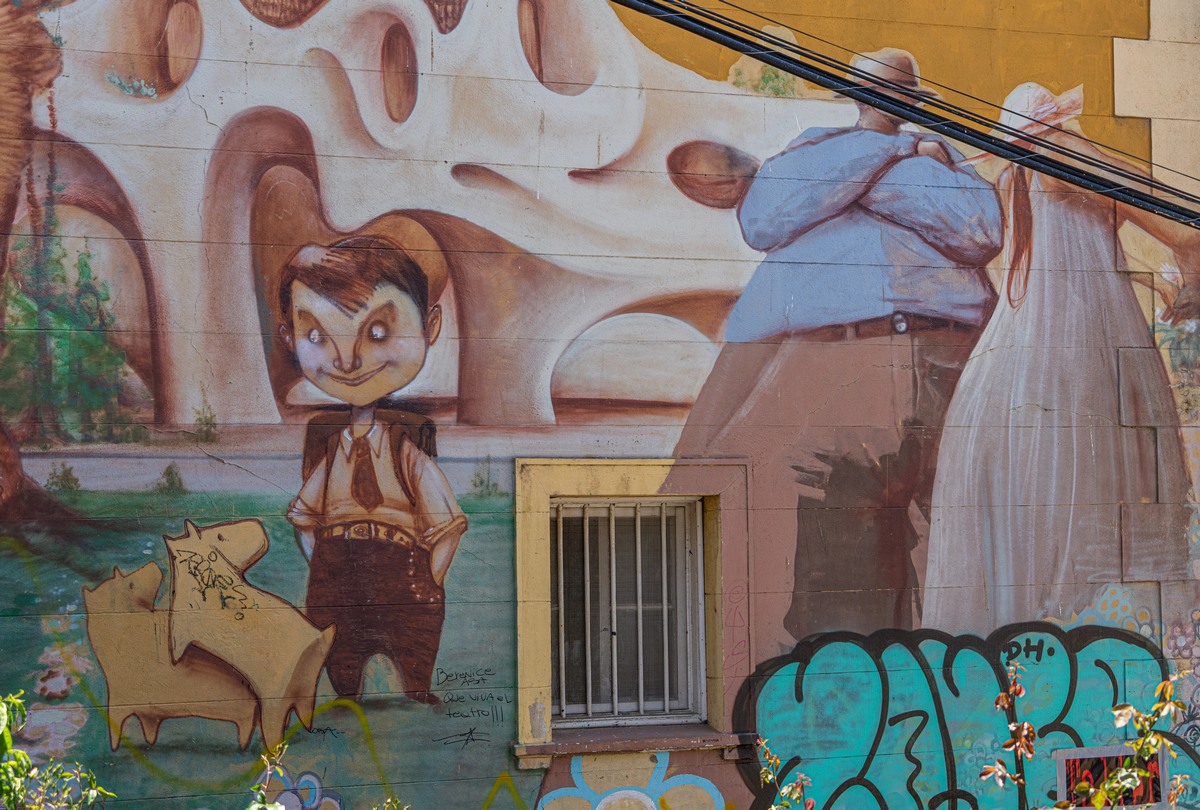 No comment! ->
There follow plenty of photos. These we took in the half-day we were there. Imagine how many there'd be if we did the full three-dayer?!…
Careful where you park your car!…
Cables – too many thereof. Ugly. Incongruent. Shame…
What on earth's being depicted here? I have no idea! ->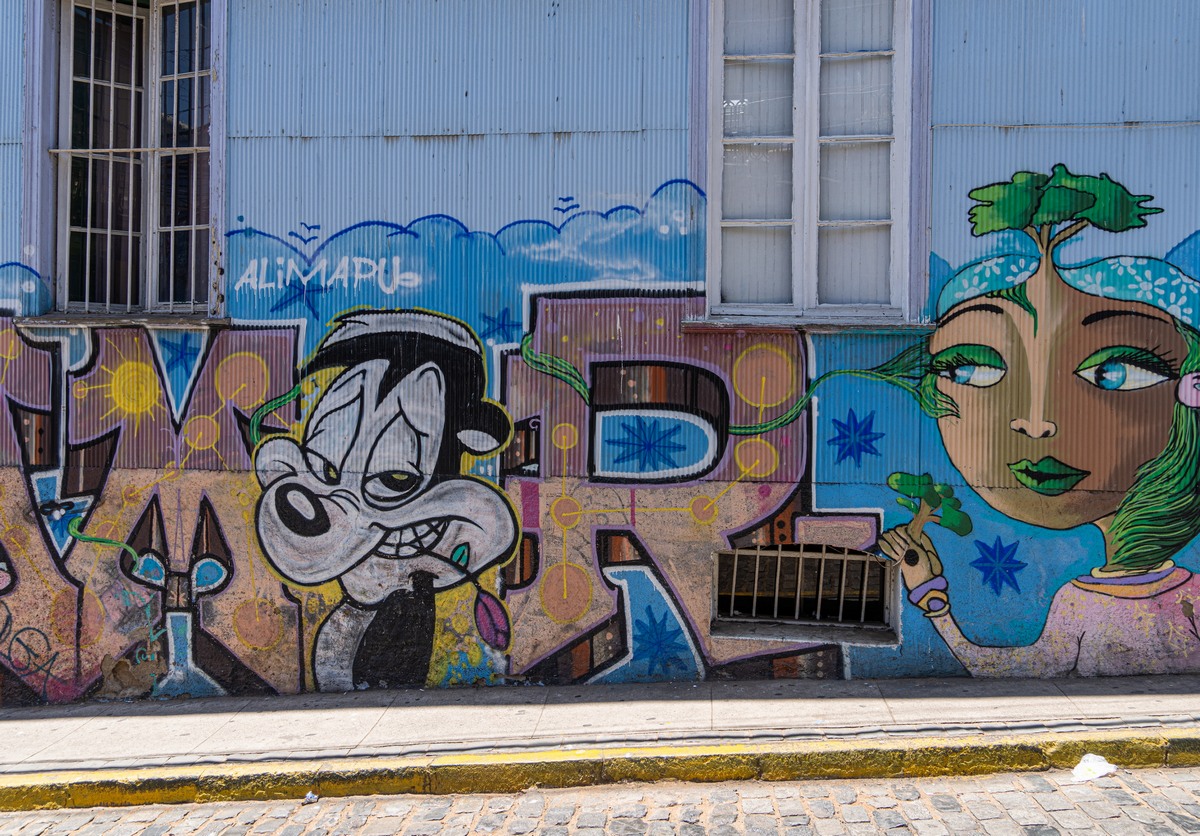 When cables come together to form a dense, messy web, I can't pass by without snapping them. Not quite as dense and messy as in, say, India or Nepal, but… almost ->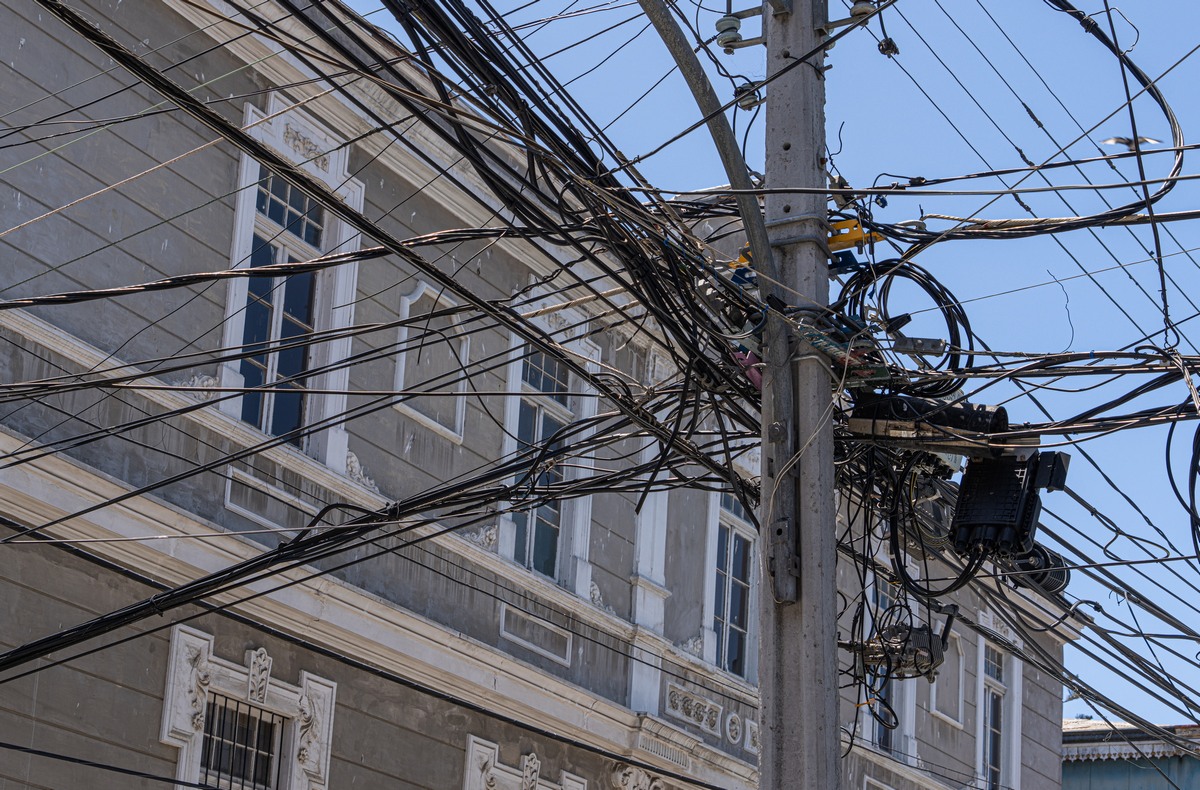 Btw – these streets aren't the safest in the world. We were thankfully with a local guide who kept us away from the less salubrious areas…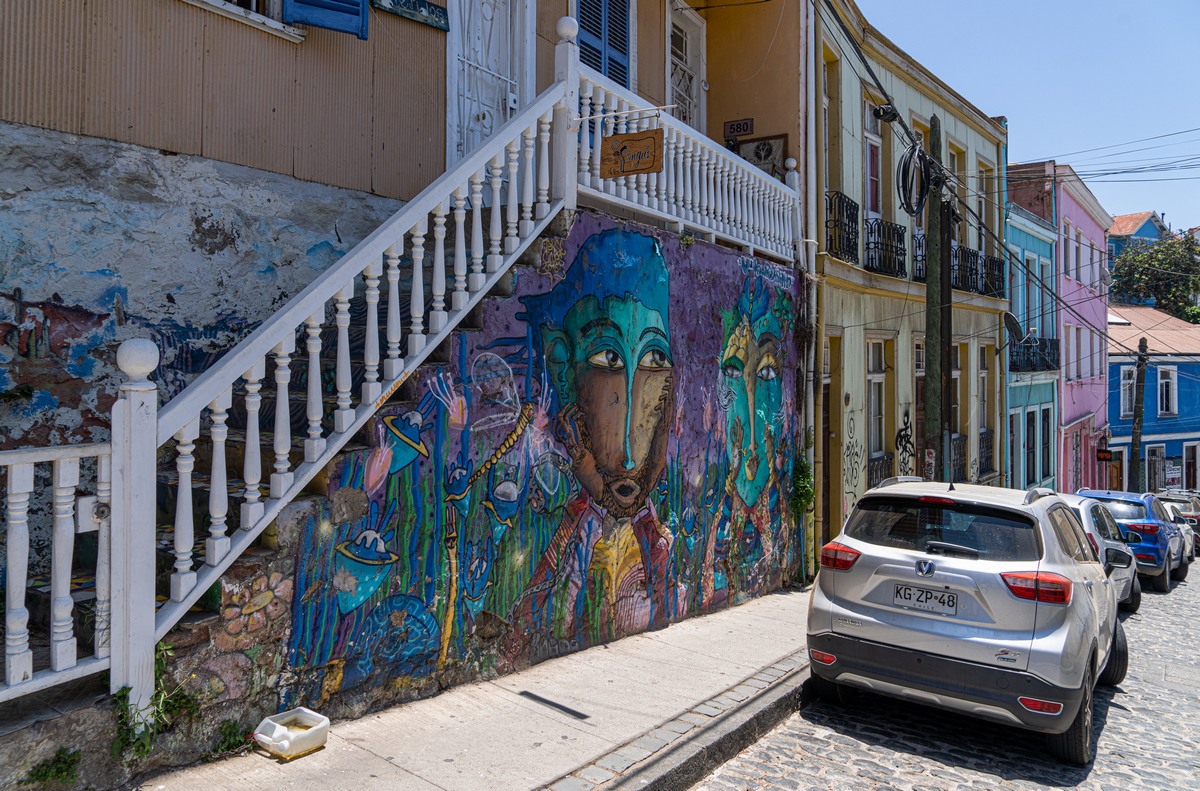 It's simply wonderful wandering about here (with a guide; btw: we were by far not the only tourists inspecting the graffiti with a guide) – like in an open-air art gallery that is the size of a whole city!
One of my travel companions, KA, was reminded of the work of Hieronymus Bosch here; yes – he has a point! ->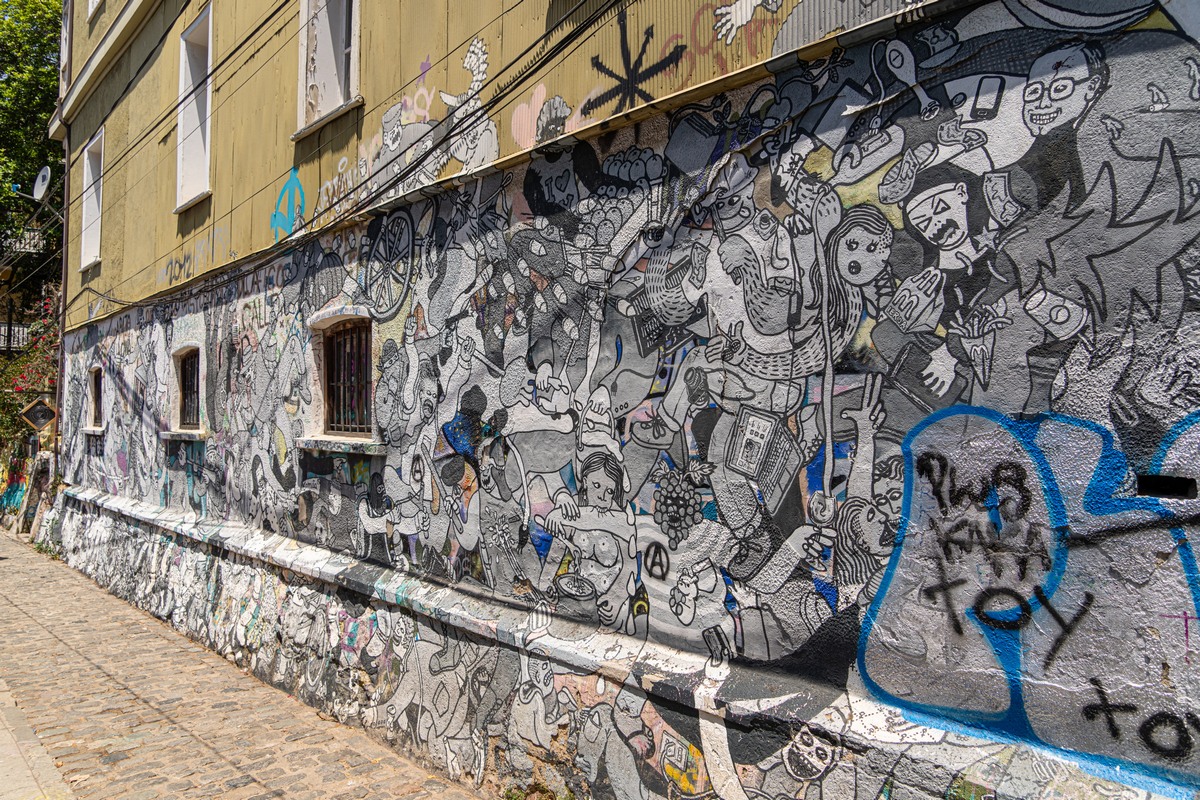 If you look closely there's literally everything in there: positive, negative, curiosity, boredom, anger, evil, kindness, love, and on and on and on!…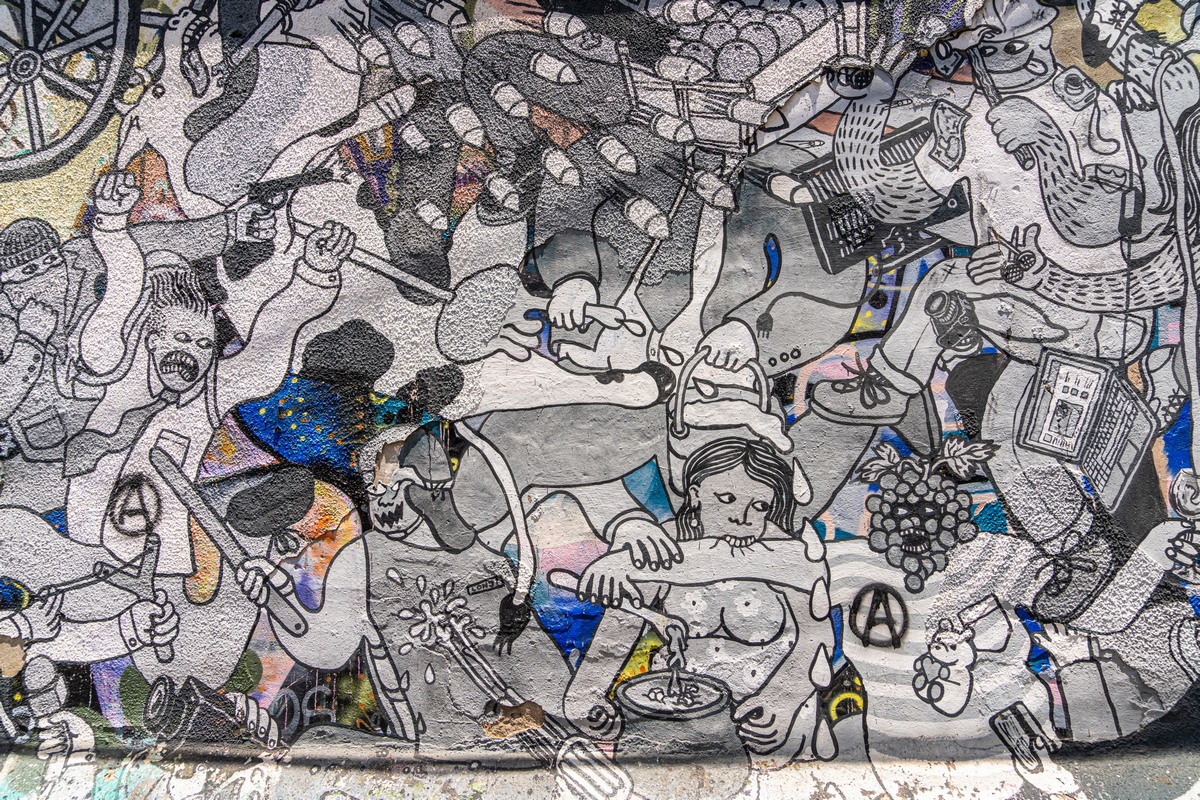 Ah – and there's a tourist with a camera!
The Three Kings? ->
Here' OS taking another masterpiece! ->
Just married?! ->
We head on back down to the port area. Down there too – also graffiti ->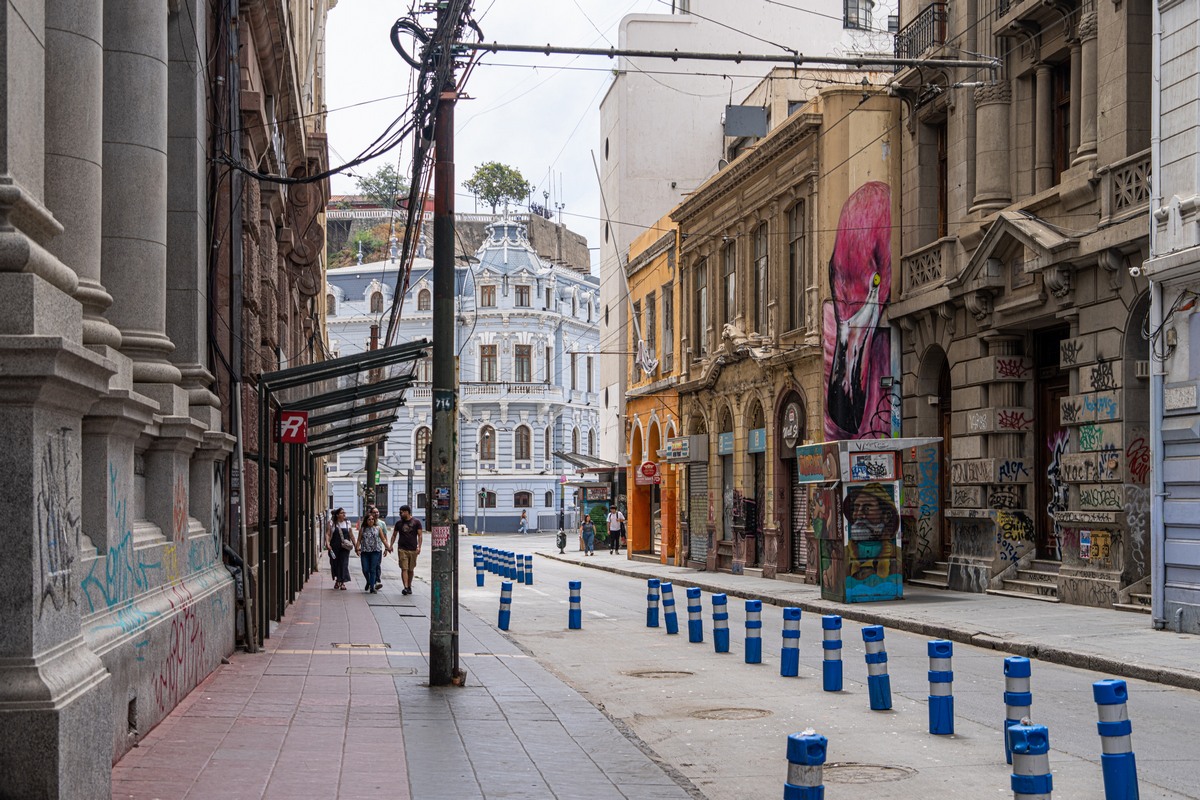 PS pix:
Unexpected guests on the hotel balcony:
Somewhere over there – Drake's Passage and Antarctica ->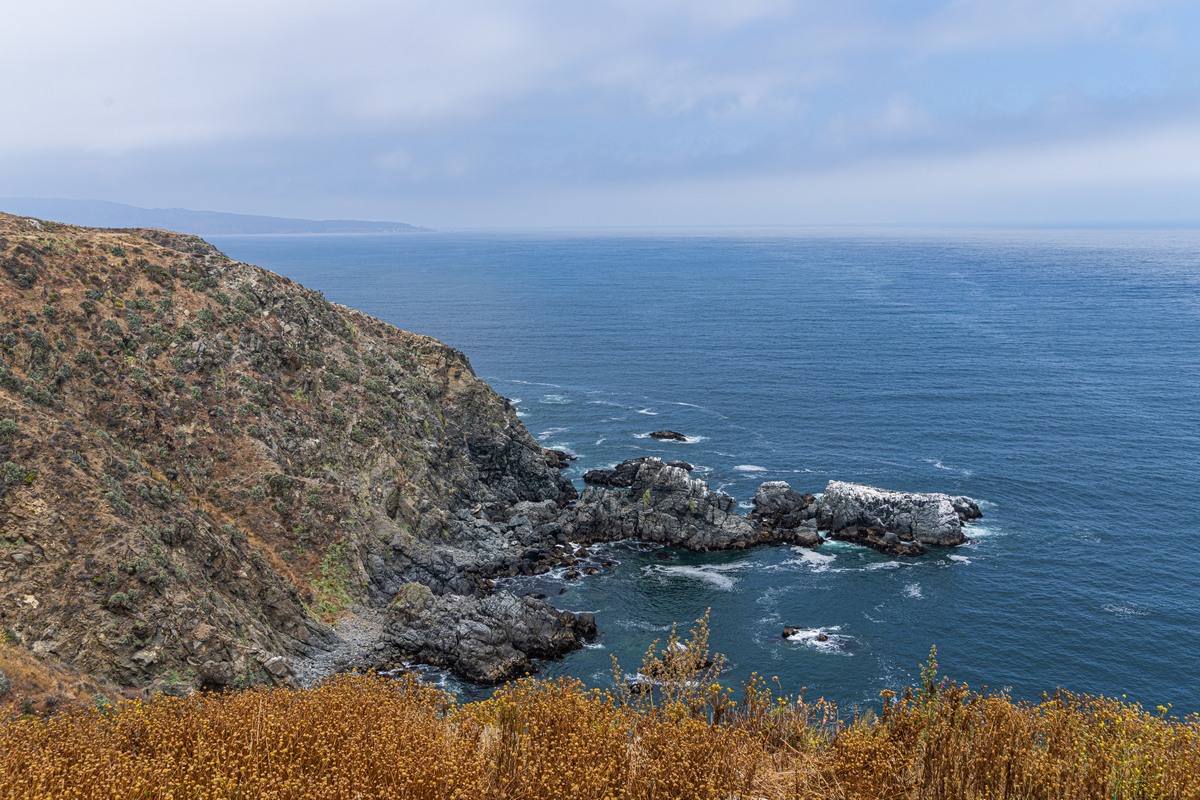 And that, really, finally, honestly, it IT from Chile. Still, if you do need more pics – here you go!
Oh, and btw, HAPPY NEW YEAR, DEAR READERS!!