Despite these hard times, we continue our work saving the world from all manner of cyber-maliciousness. We adapt; we carry on. Meanwhile, I hope my travel notes and photos will bring a little cheeriness to all who view them – because there's hardly a better way to do that than with the beauty of nature (and a spot of -50° adventure).
It's a three-day drive to get from Magadan to Oymyakon. That's if you're in no major hurry. The route goes like this: day 1: Magadan > Susuman; day 2: Susuman > Ust-Nera; day 3: Ust-Nera > Oymyakon. This means that, as I write this, we'll be spending the upcoming night in Oymyakon. As we set out from Ust-Nera, we had 440km to cover, with the highlight of the day being the most beautiful spot on the whole of the Kolyma Highway – the Olchansky Pass – completely covered in snow and hoarfrost: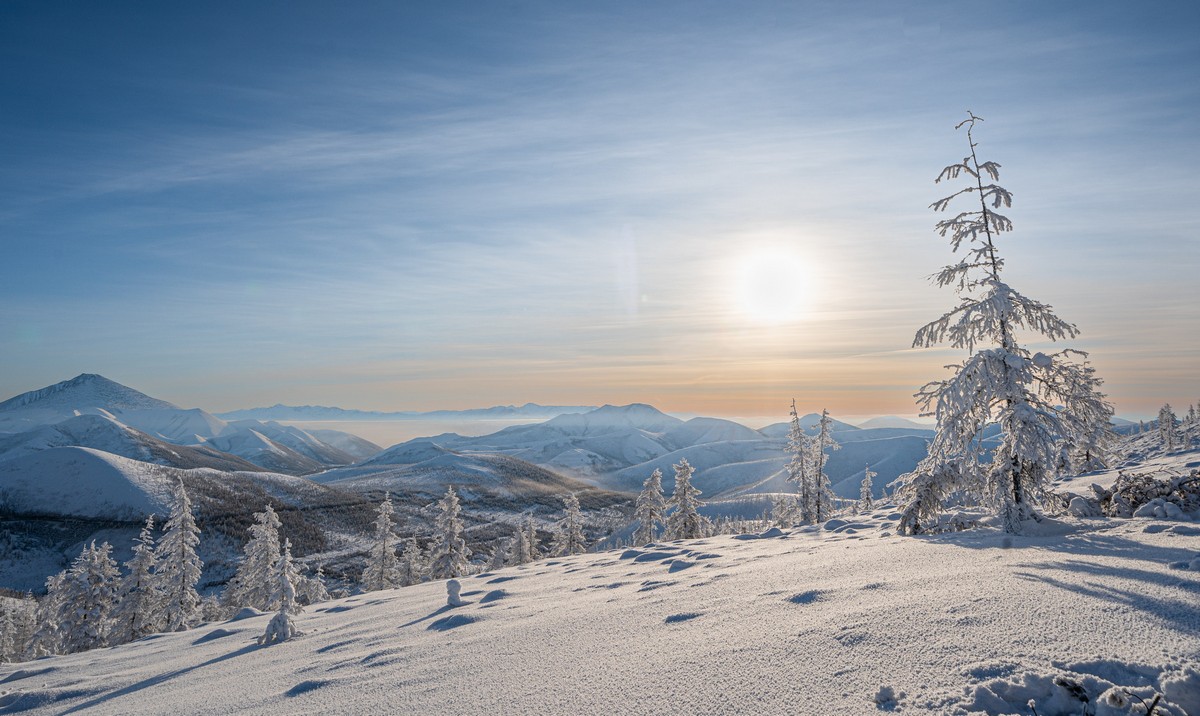 Endless whiteness in all directions. Even the roadsides – magical… both in the sunshine and in the shade:
A few atmospheric pics taken by my fellow traveler MP ->
The photos from last year are here, btw. And as per tradition, here's the day's route: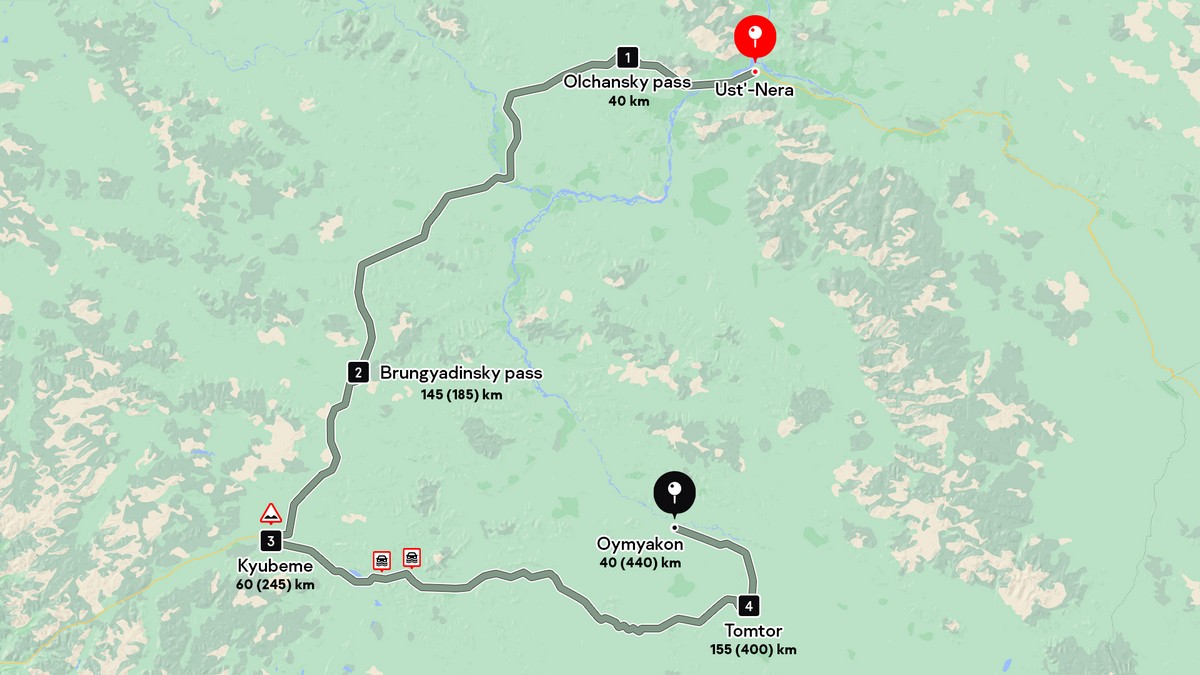 But for now we return to where we started out this morning – in Ust-Nera…
It's a relatively large town for Yakutia – home to some 6000 inhabitants (that's as of the year 2010). It has its own sports complex, a swimming pool, a soccer stadium (but I'm not sure when they play soccer – or how – given the average temperature here is -15°C!). And, handily for us, there's a small hotel. It's on the top floor of this pink building: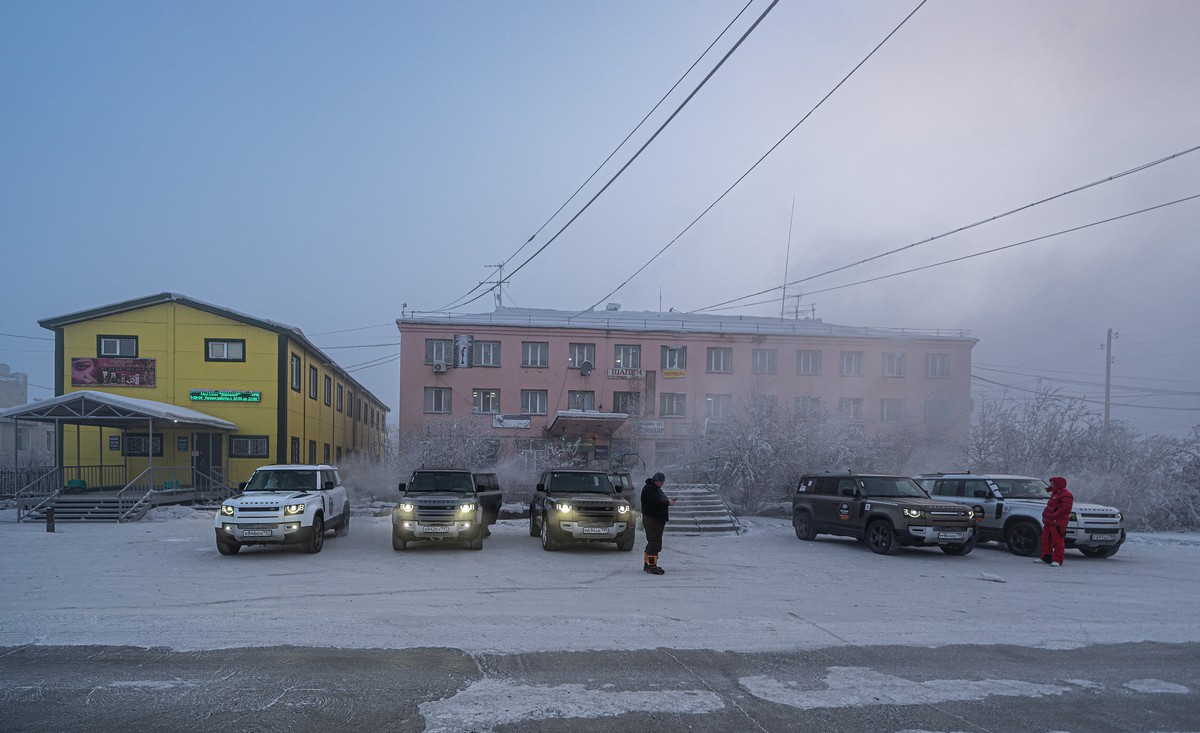 Early morning it was foggy with the mercury showing -47°C. Cold – but it could have been colder…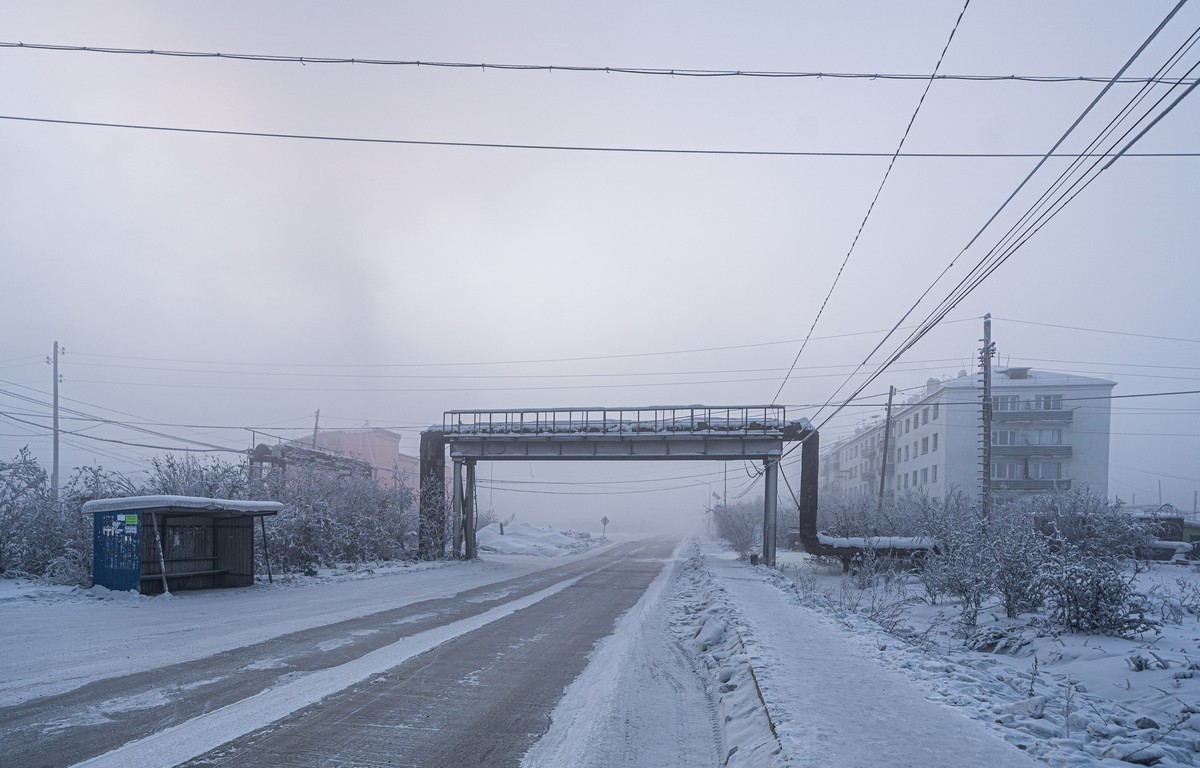 Right opposite the hotel there's this here café, where we had both dinner and breakfast. It really is the place-to-be it seems, too: at weekends it doubles up as a nightclub! I wonder – is it the world's coldest nightclub location? ).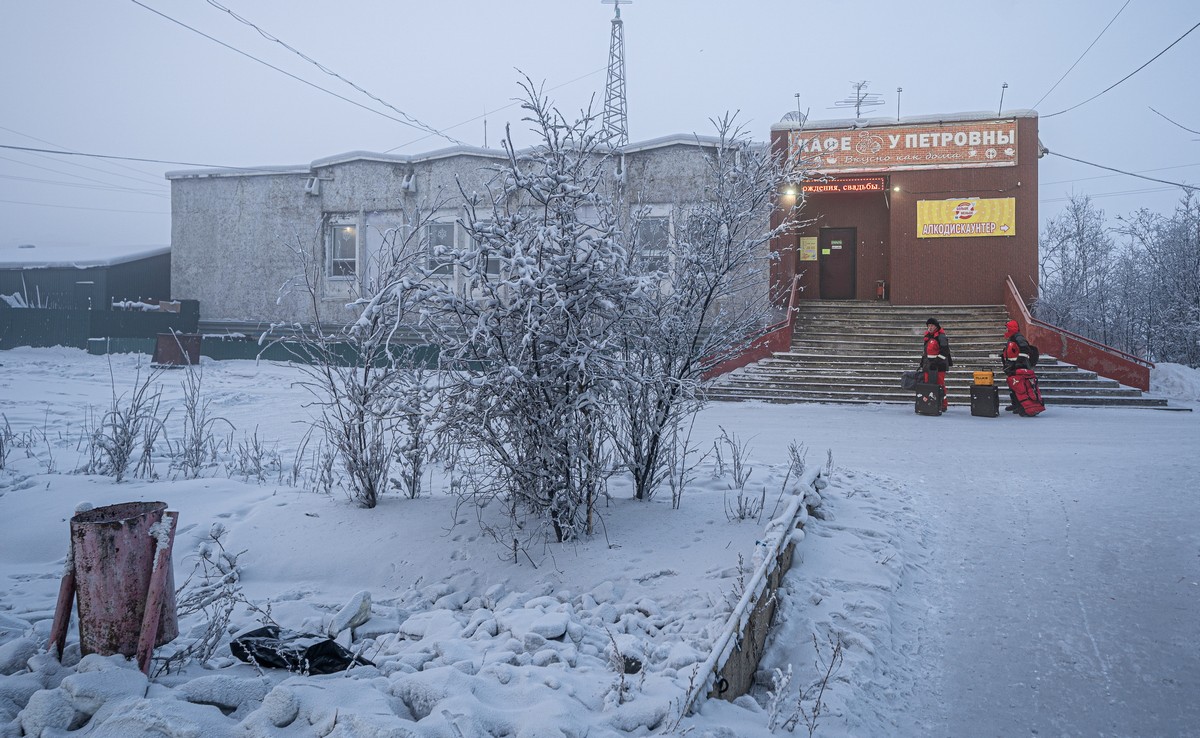 The yellow building's digital read-out here shows the temperature: handy ->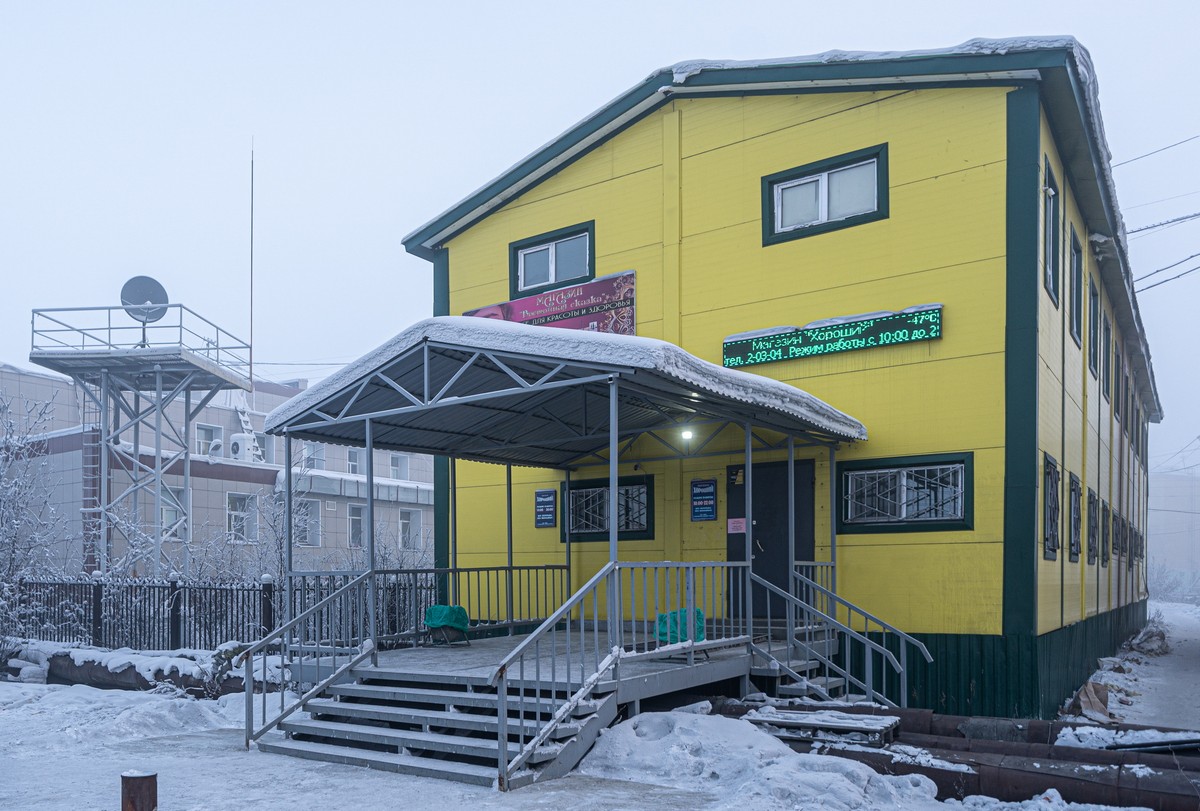 And we're off. First up – the bridge over the river Indigirka. The sun rises ever so slowly, lazily, languidly )…
A while later, and we were heading up toward the Olchansky Pass, with the surroundings getting more and more awesomely picturesque…
We make it up to the pass. Pit stop: a brief stretch of the legs, and a few snaps of the OMG-views. Not long before and after the pass – almost as beautiful. We probably took more photos here per minute than at any other time on the whole expedition:
Still with some 400 kilometers until Oymyakon, the road is almost completely smooth and the views all around continue to astonish. There was very little traffic on the highway – only rarely an oncoming vehicle; and we didn't overtake any vehicles at all the whole day. Nice!
Another mountain pass – and back into full-white mode:
Ice-mist up ahead: somewhere there's some water gushing aplenty: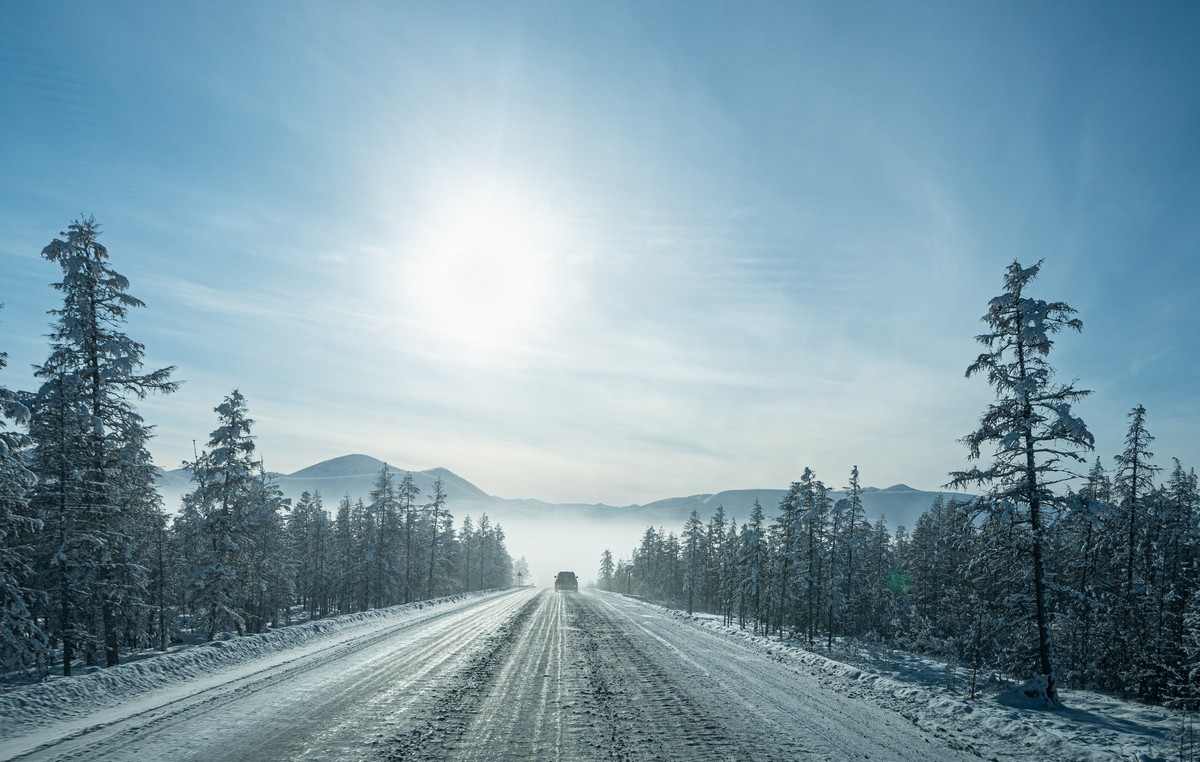 The Cuba Café (& filling station)! Time to feed both us and the Land Rovers: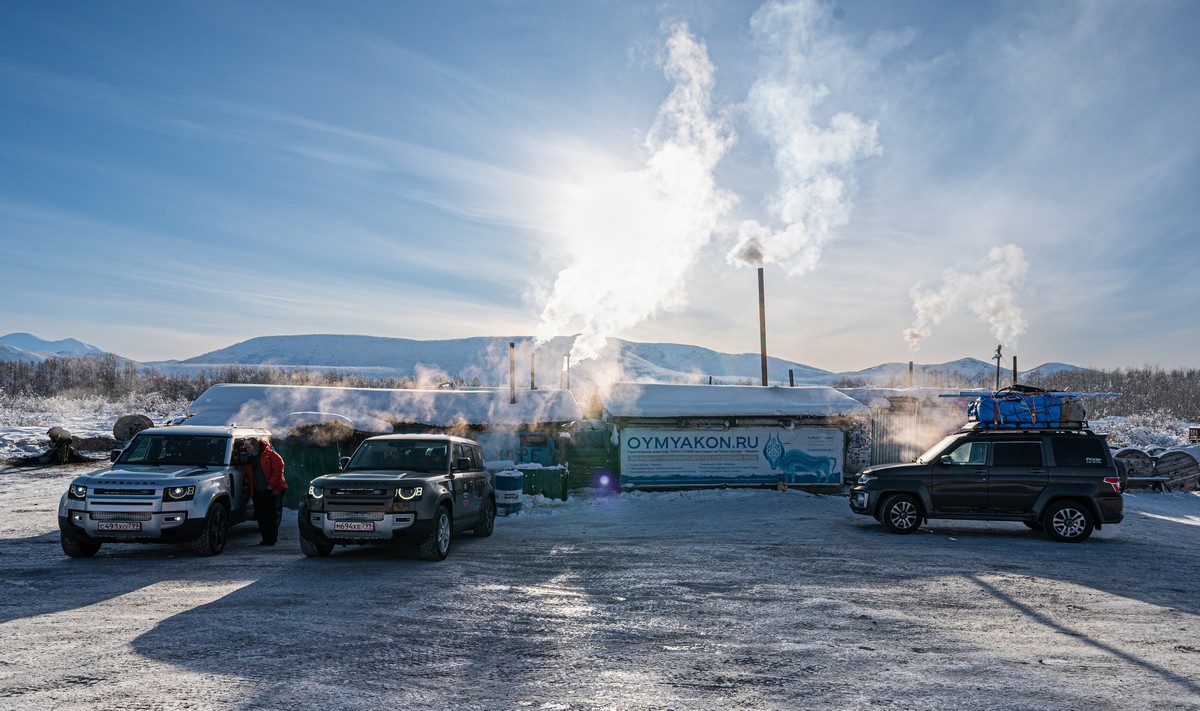 Interesting place. The service leaves much to be desired, yet simply everyone passing drops in. But then – they've hardly much choice: one way it's 240km to the nearest eatery-cum-filling-station (in Ust-Nera), the other way – 250km (in Tyopli Klyuch)!nu
I think I preferred the Cuba-themed palms, swans, ocean and island of last year. This year it's gone all Cuban… bears and salmon? Eh?! ) ->
// Btw – last year's visuals weren't Cuba. More like Bora Bora in French Polynesia!
It was here we noticed that two of our Land Rovers chassis were sagging somewhat at the back. Ouch – the fancy air suspension again playing up. That sure would explain the bumpiness of the ride the last few hours in those cars ( ->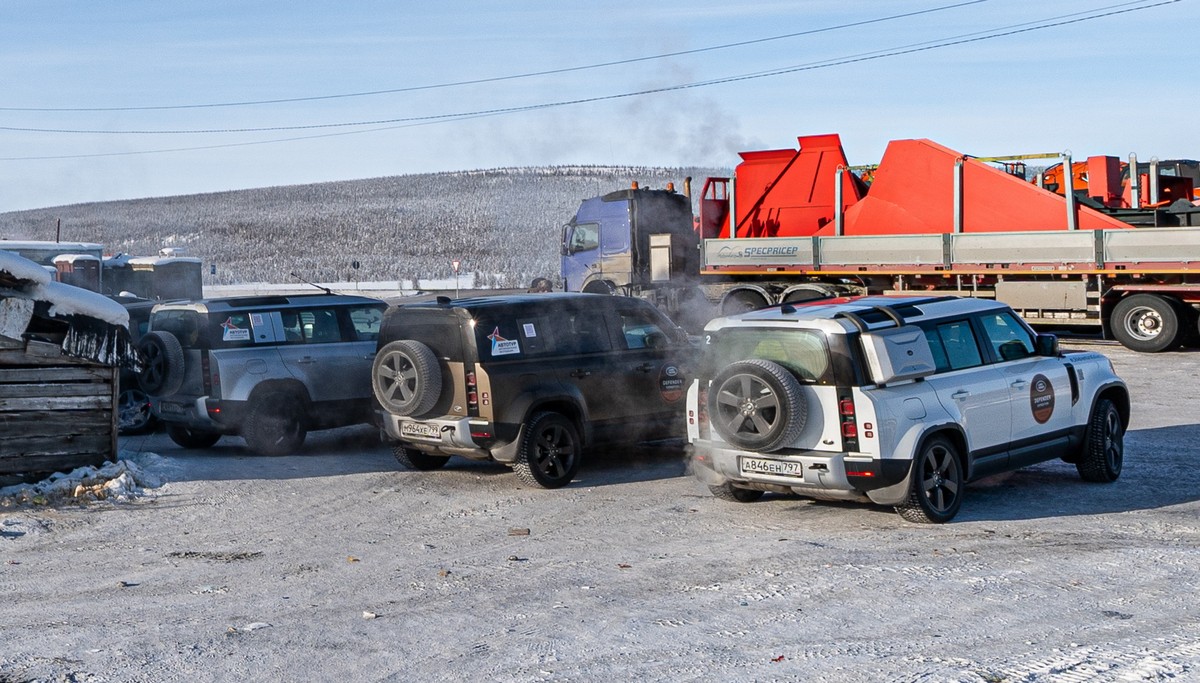 Inside – hardly spacious, but we did all fit in. Bon appetit! Not the most wide-ranging menu, but not bad quality overall – no one complained ).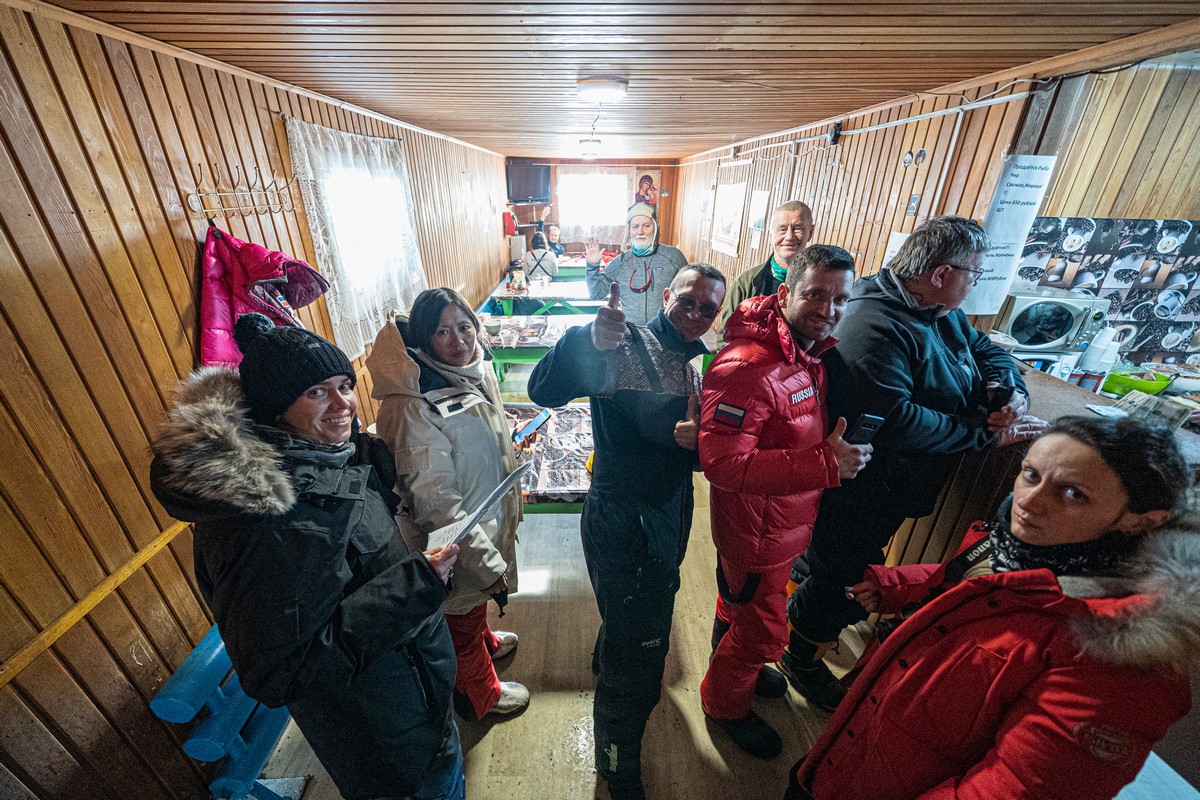 Such a well-behaved feline…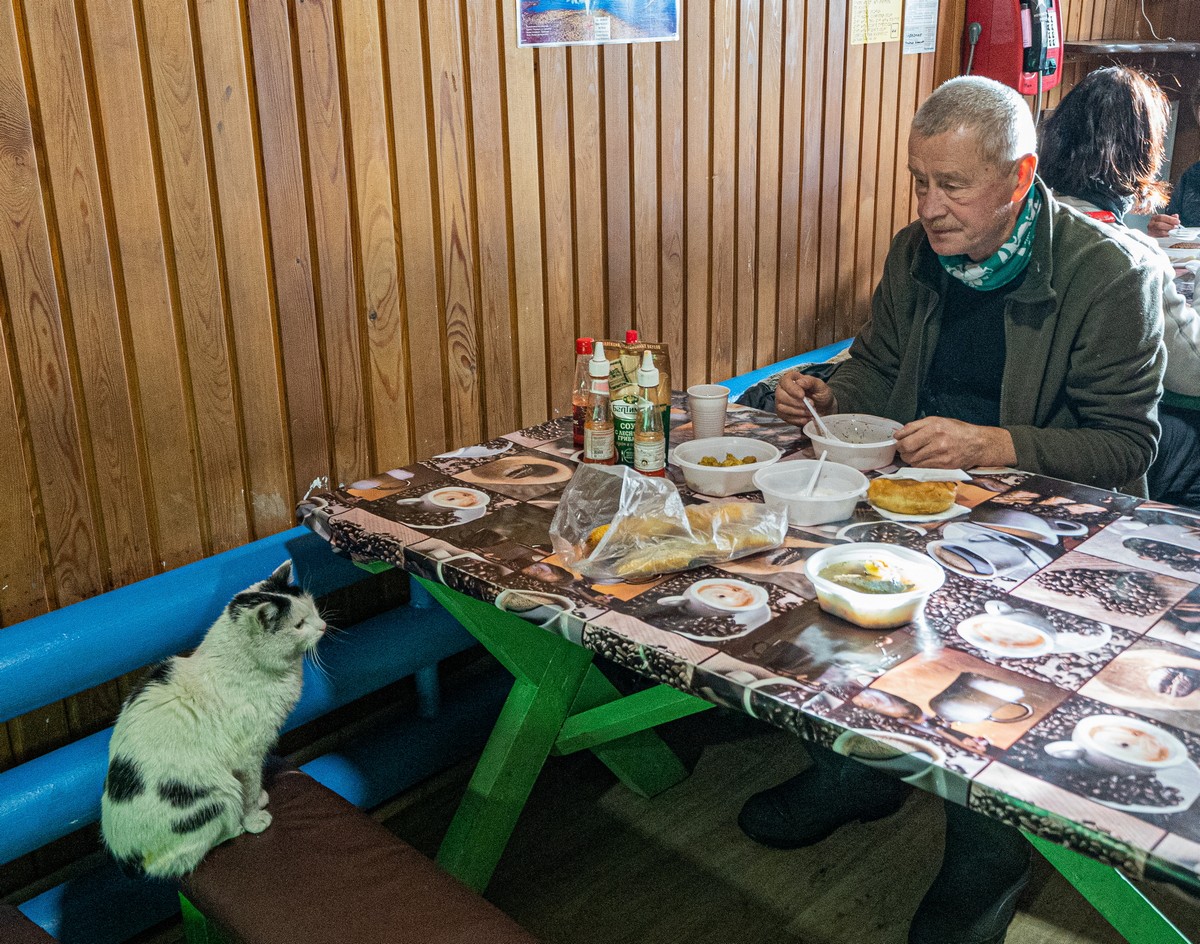 We take the turn onto the Old Kolyma Highway for a further 150km of delightful driving through forest, then another turn at the village of Tomtor, and a short way further – Oymyakon.
This road is narrow, and the bridges are single-track, but there are practically no other cars on it. Eventually (after our turn off it) the road becomes impassable (in winter) – it's no longer serviced and maintained, and is falling into disrepair. It is just about drivable in the summer, but only in customized off-road vehicles:
Technical pit stop: the two sagging Land Rovers' suspensions were getting worse and needed some rest and relaxation…
And to the side – remains of… something. Someone didn't make it along the road – but I don't think it was due to faulty pneumatic suspension: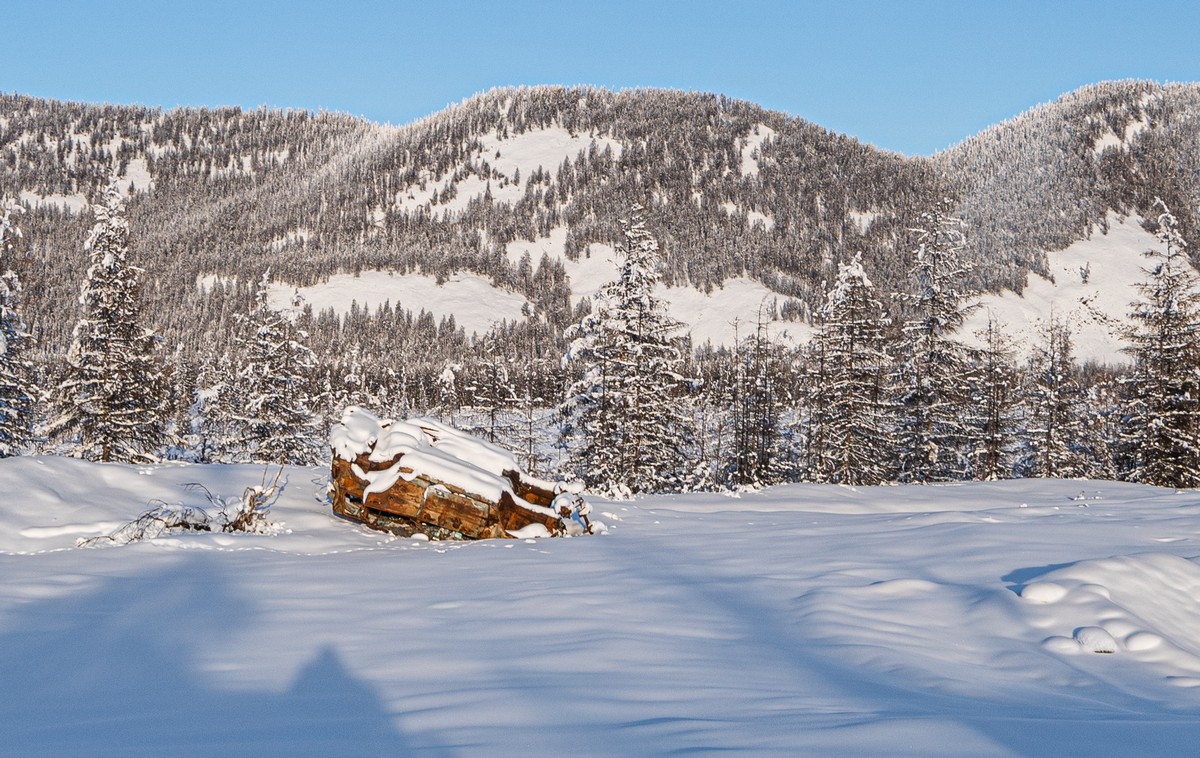 Someone else did make it along the road, but… didn't make it back (they had to be towed back). And it turned out they'd come all the way from Germany!
(You'll notice it's also a Land Rover; go figure:)
It's getting dark. Up comes the moon to give us at least some light! ->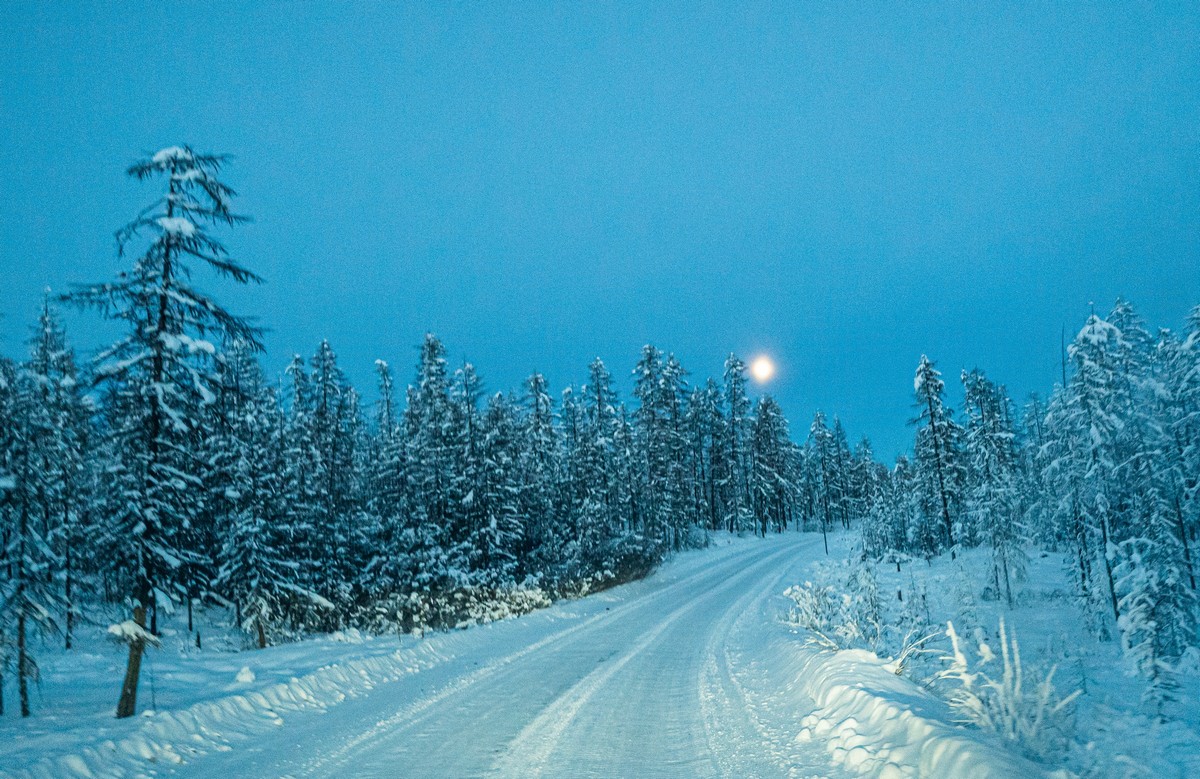 Oymyakon!…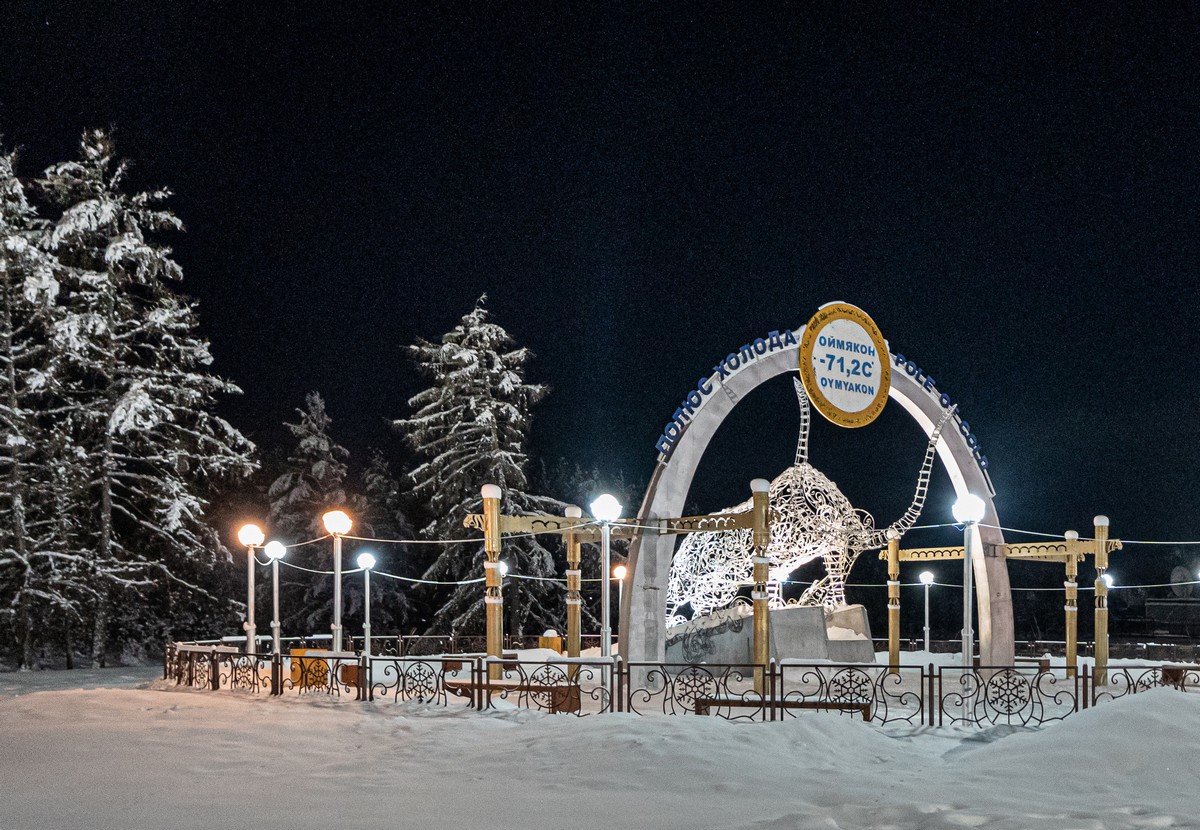 More from Oymyakon tomorrow folks.
PS: Here's the tale about the road to Oymyakon from last year, in case you're interested.
The rest of the photos from the MYB expedition are here.