Magadan–Yakutsk–Baikal (MYB): Poekhali!
Despite these hard times, we continue our work saving the world from all manner of cyber-maliciousness. We adapt; we carry on. I hope my travel notes and photos will help everyone viewing them to overcome any difficulties they may face – because there's hardly a better cure than the beauty of nature
What can I write about this year's MYB expedition when half of the route was covered – and extensively documented and photographed – a year ago on the MYM (Magadan–Yakutsk–Moscow) expedition – without repeating myself? I mulled this one over for a quite a while, finally deciding to chronicle this year's tales in diary format, with adventurous tourists – and adventurous travel agencies – as the main intended audience (that is, after all of you, dear readers – whether you're adventure tourists or not:).
From a curiously inquisitive tourist's point of view, Magadan–Oymyakon–Yakutsk as a destination looks like a winner; however, no travel agencies offer it on a regular basis. Well, Yakutsk–Oymyakon–Yakutsk is offered – in minibuses, but that hardly does this destination justice: missed are plenty of other places in this remote corner of the globe that are truly astonishing (which I'll get to later on). I guess one could of course take a scheduled bus along the highways here, but they're mostly for locals needing to get from place to place around here – not tourists; that is, though relatively quick, there are no stops for photography, etc. at the most scenic spots. And there are plenty of scenic spots, plenty of very scenic spots, and plenty of sensationally scenic spots!…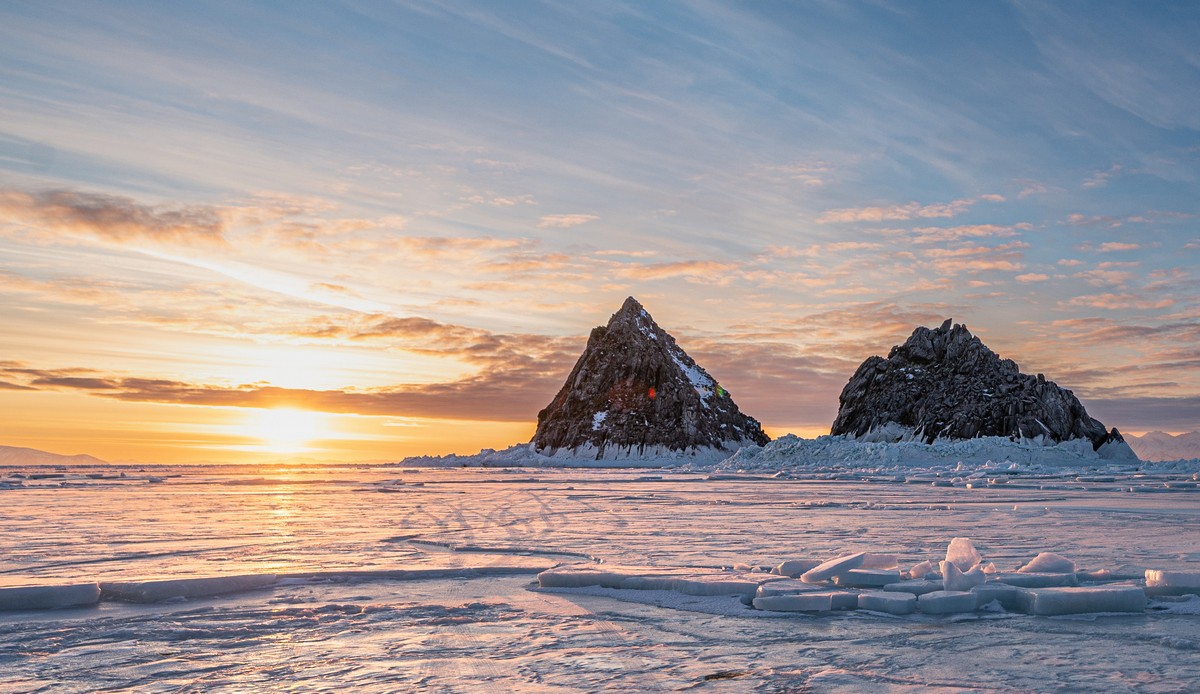 Snow, ice, roads, and endless open spaces…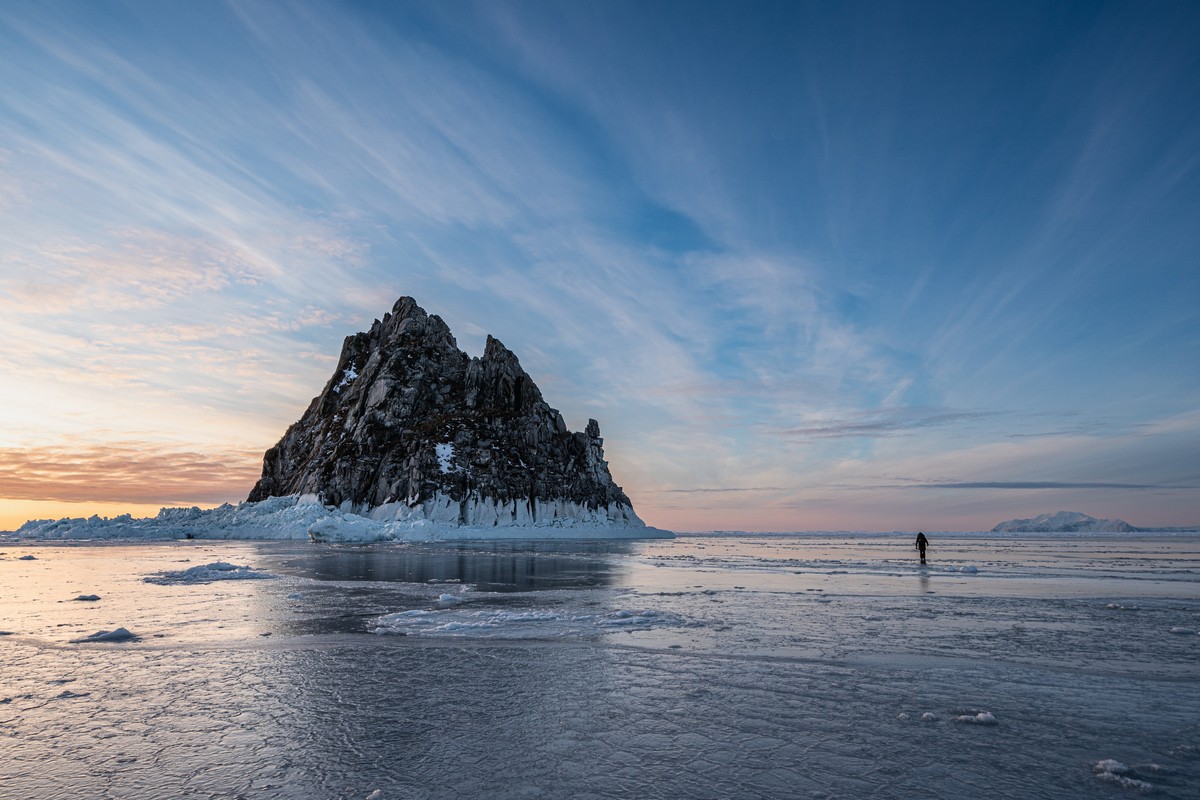 What cars were we in on our road top and how well they rose to the task given the intense cold – all coming up later. Please be patient!…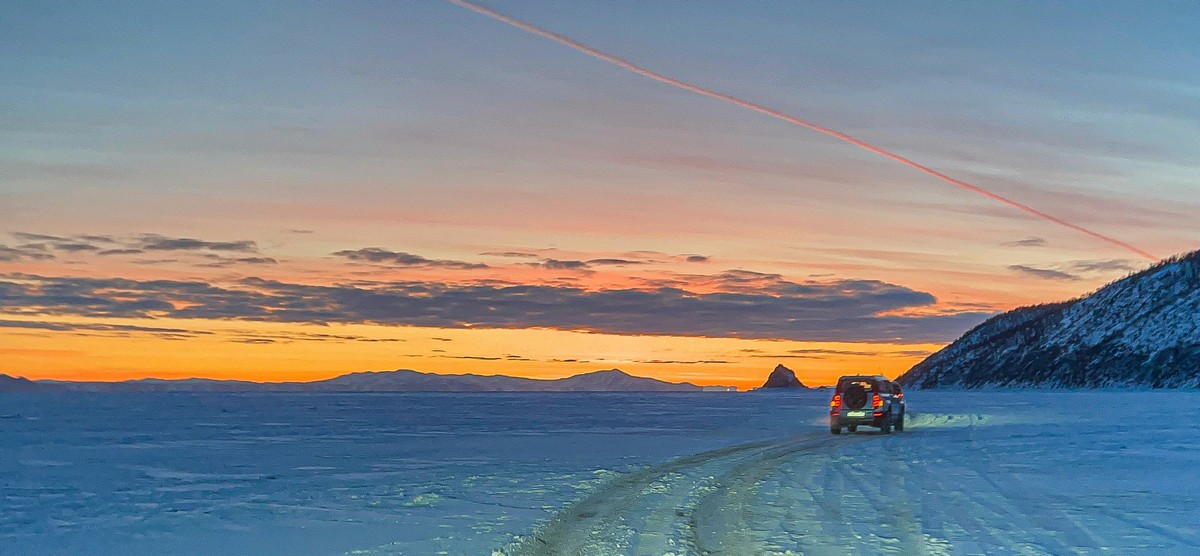 We did a bit of walking on the trip too – but not much. We only ever got up to three kilometers from our vehicles at the most. Any longer out in the extreme cold (no matter how well wrapped-up you are), it's somehow an uncomfortable chore – never the pleasant, leisurely stroll ).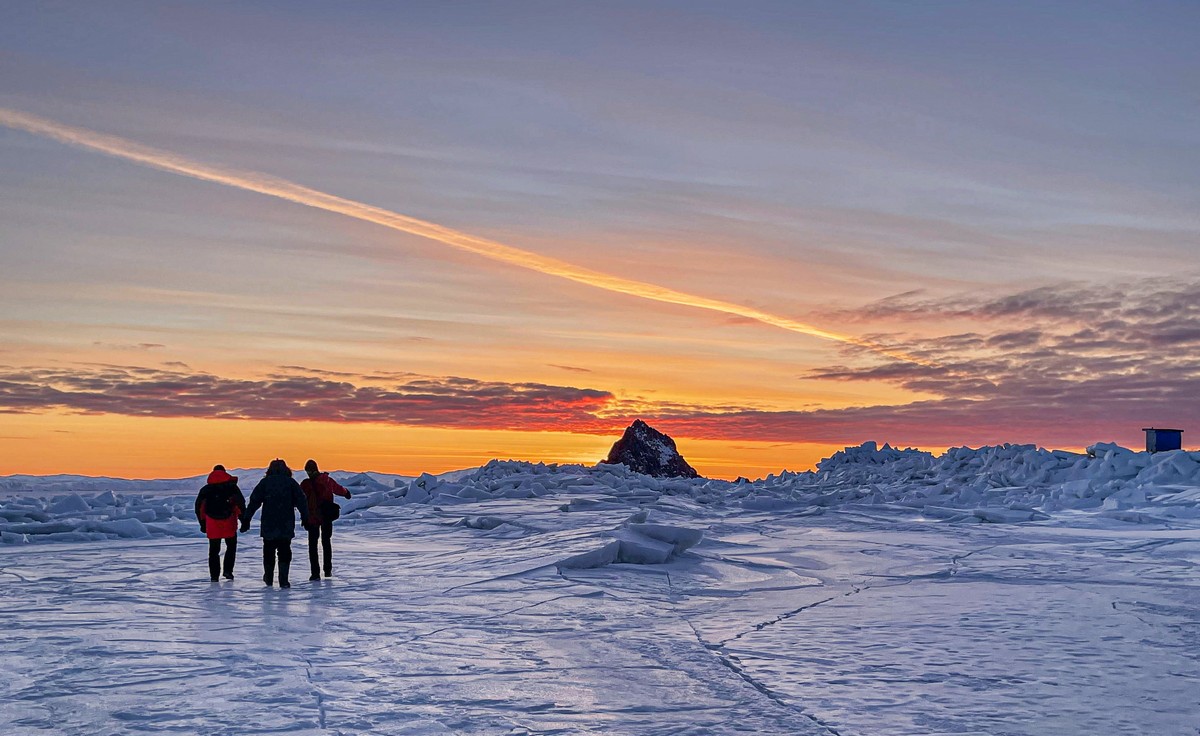 The one thing I will say for our short walks – interaction with the astounding scenery was way more immediate and direct, not to mention excitingly bracing ) ->
Ok. Let's start this logically – at the beginning, in the "M" of our MYB expedition: Magadan…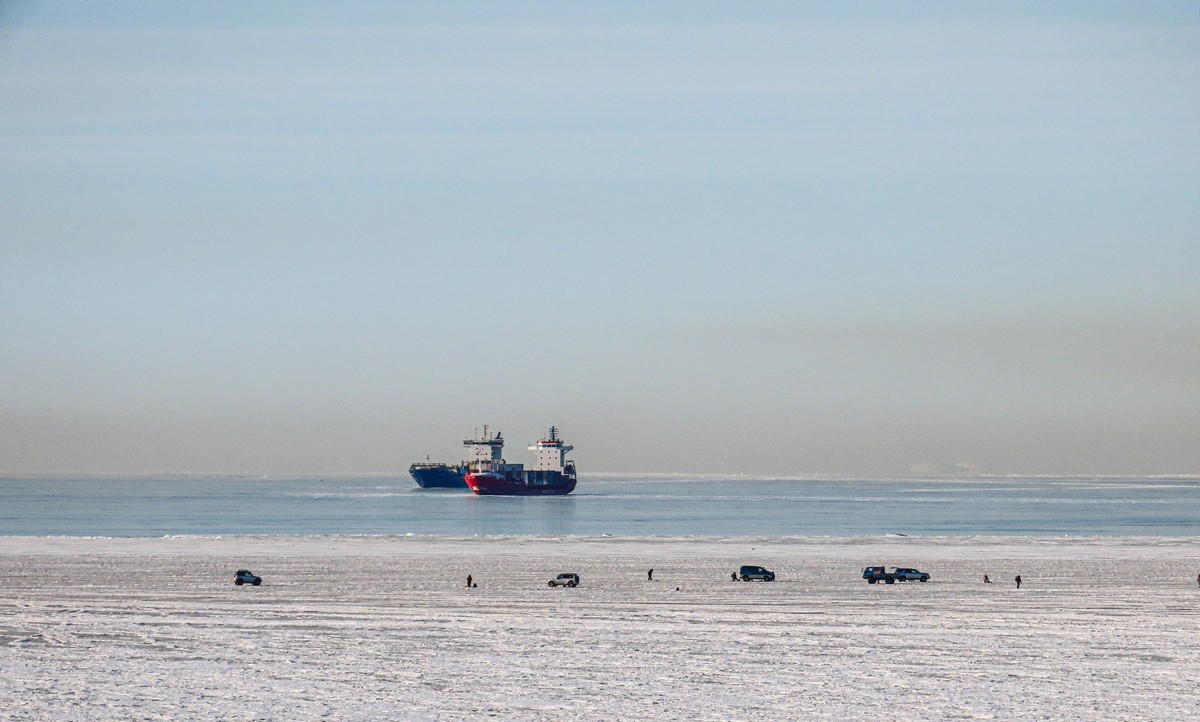 One sunny afternoon in early February of this year, we finished up our work, grabbed our cases and bags, and off we drove to Sheremetyevo Airport. This was our meeting place, where all the group met up, shook hands, and (especially those who hadn't seen each other for a long time) hugged and kissed. The plane we took was conveniently timed – allowing for plenty of sleep during the flight of several hours. Approaching Magadan – it was a bright sunny morning, with some wonderful views out the window: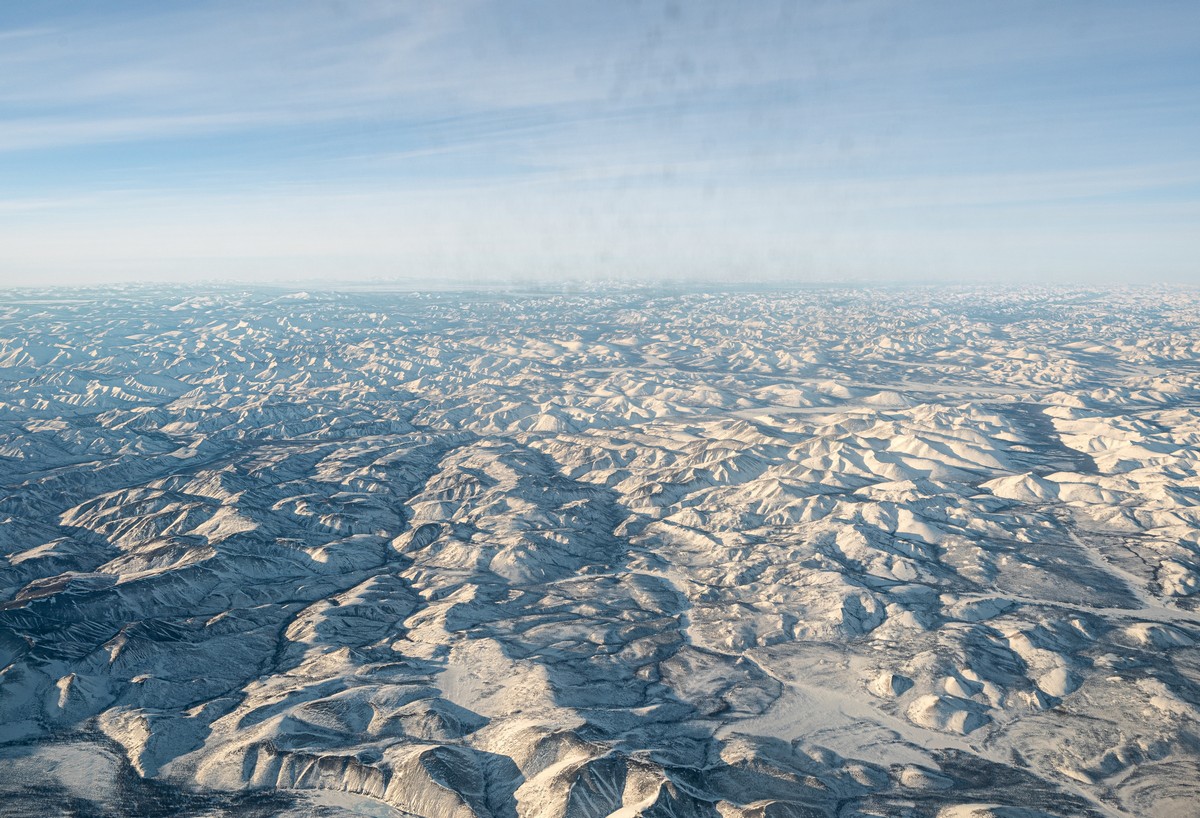 An endless sea of mini-mountains and interspersed with streams and rivers – totally untouched by man. Aaaah – just as I like it: wild! ->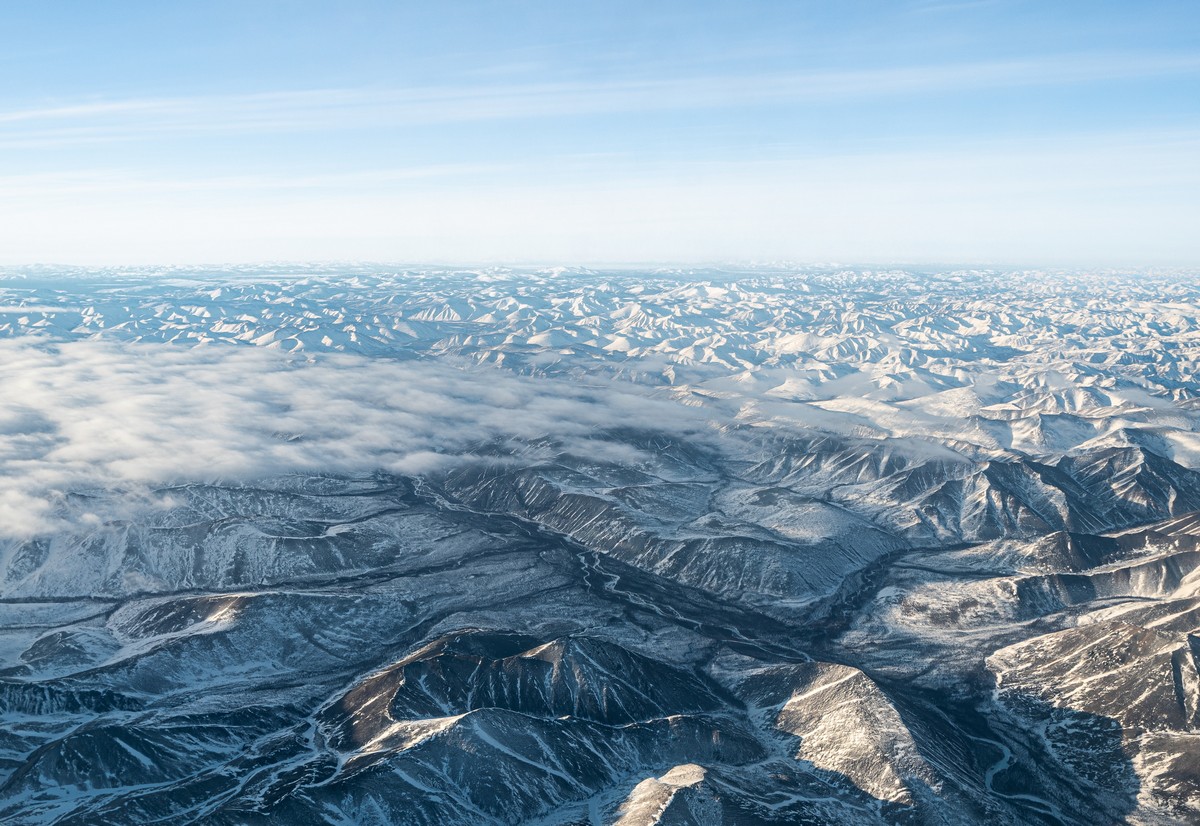 We'd be driving through landscapes like these tomorrow! ->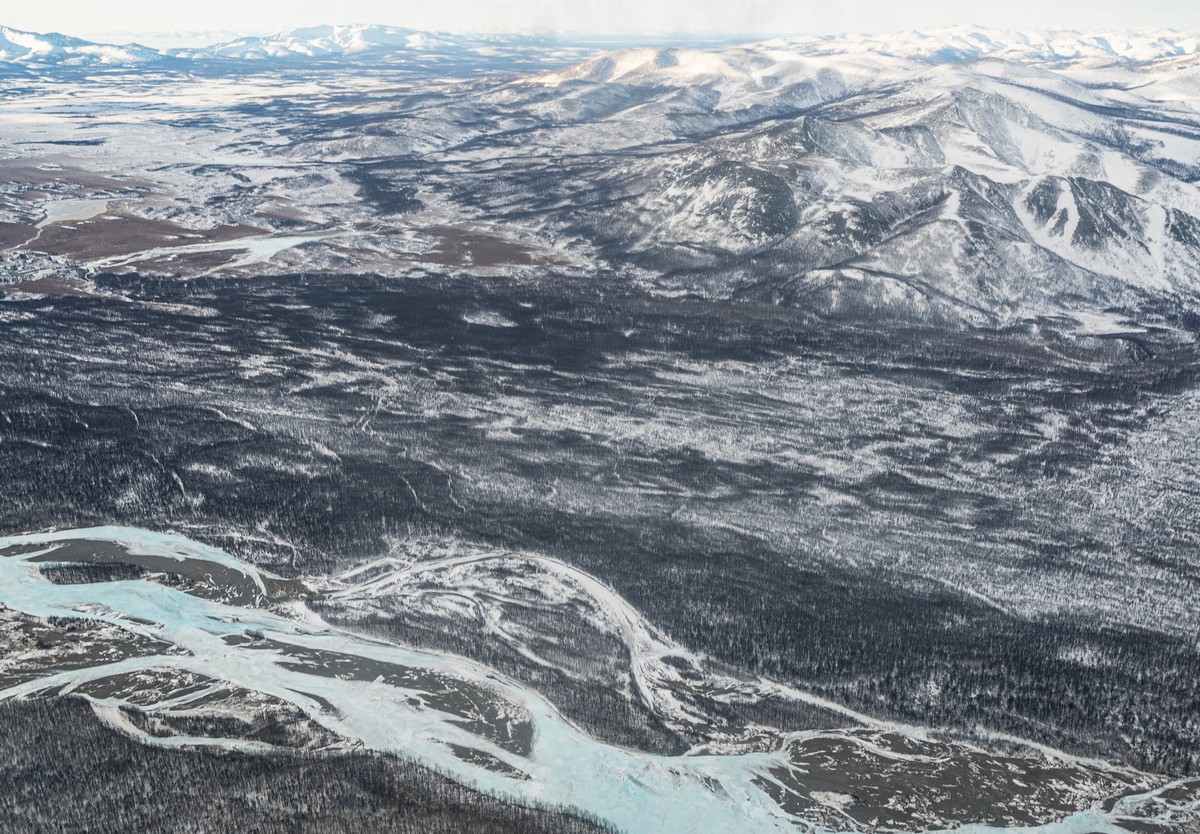 And here we were again. Magadan is a lively and upbeat city – no matter the intense cold. I wrote about the city last year so I won't repeat myself here. I will say that the view of the city from Nagaev Bay is a splendid one: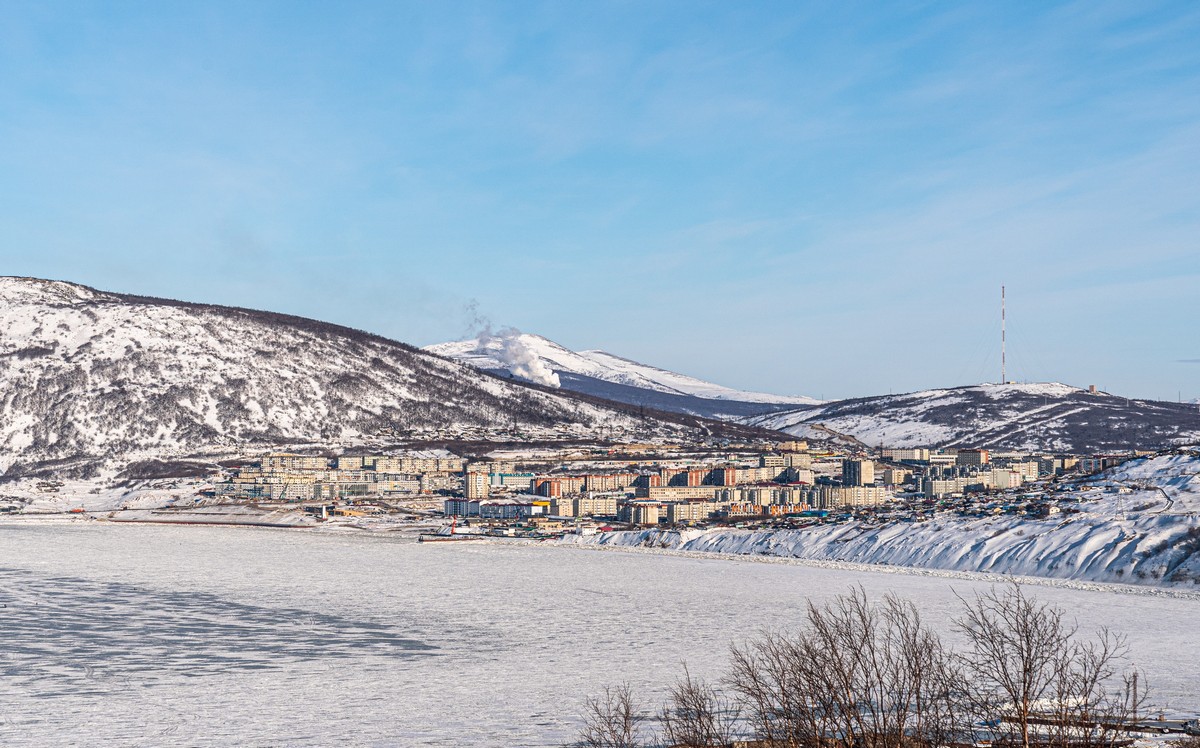 This is also Magadan! ->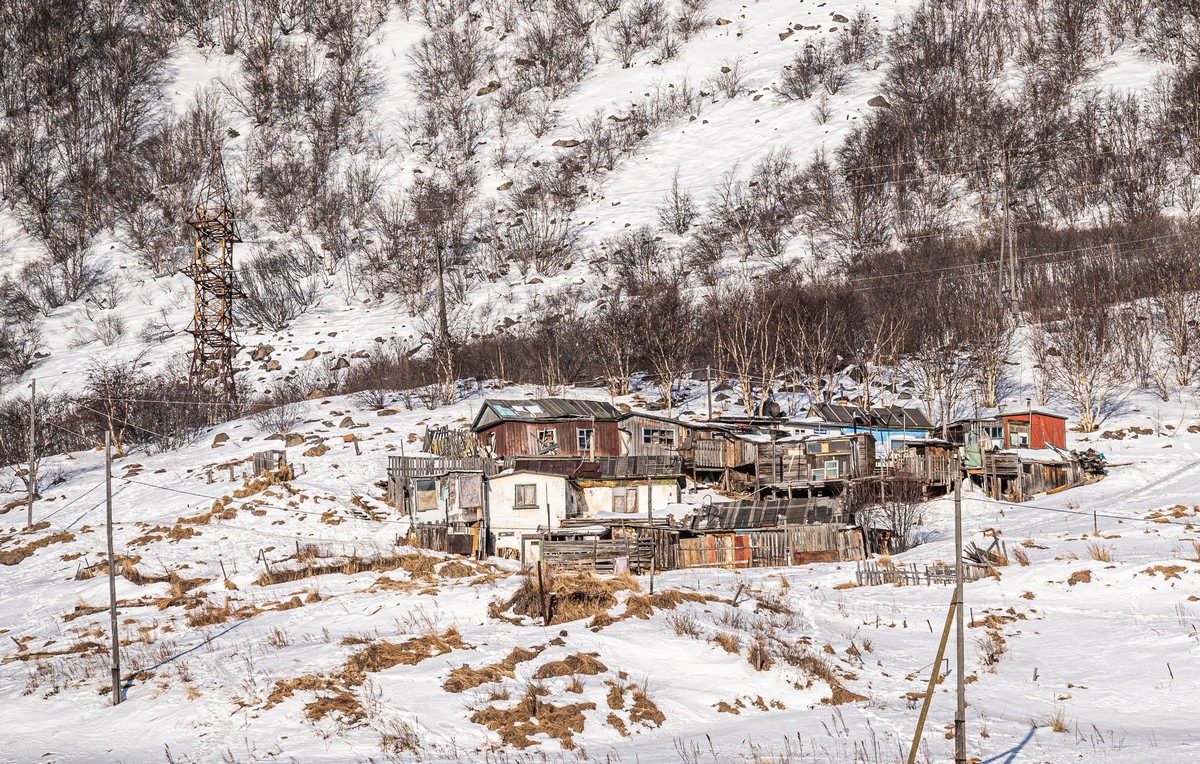 The mammoth is still there ). The beaut!
The killer whale too: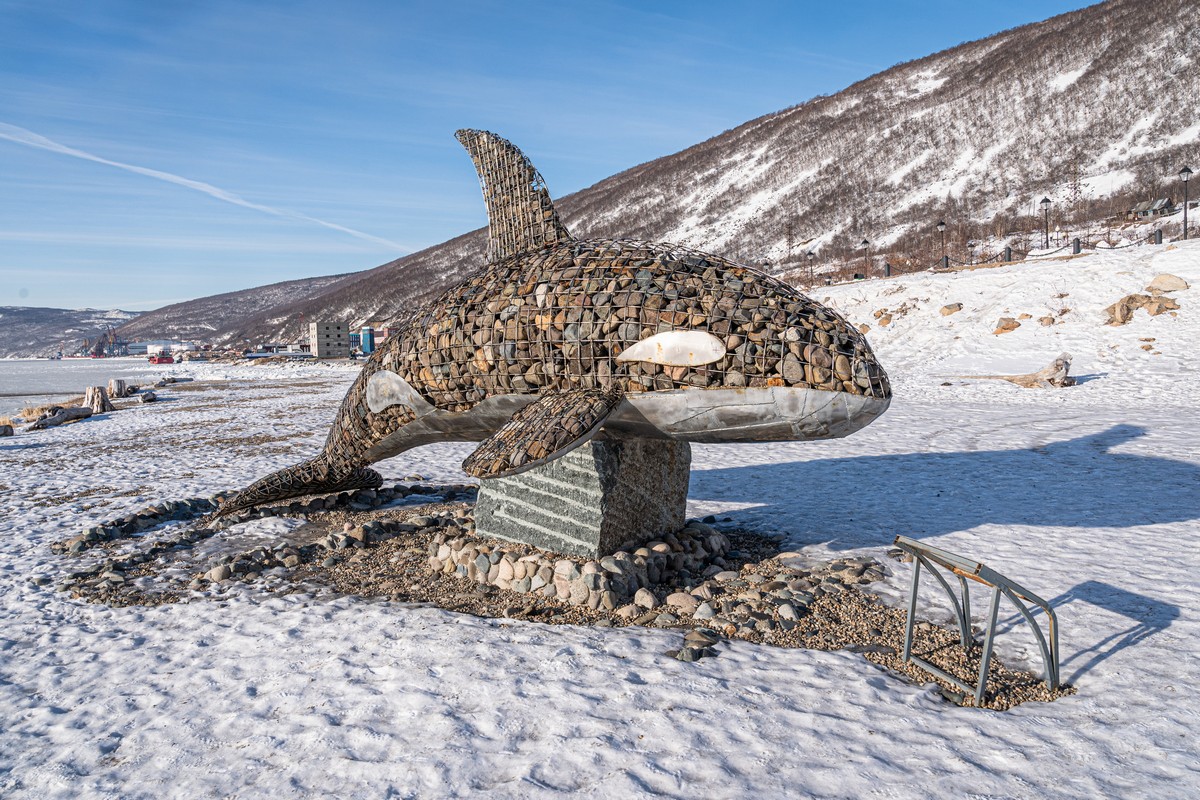 Nagaev Bay. With fishermen upon it (a topic we'll return to) ->
And here's us lot! ->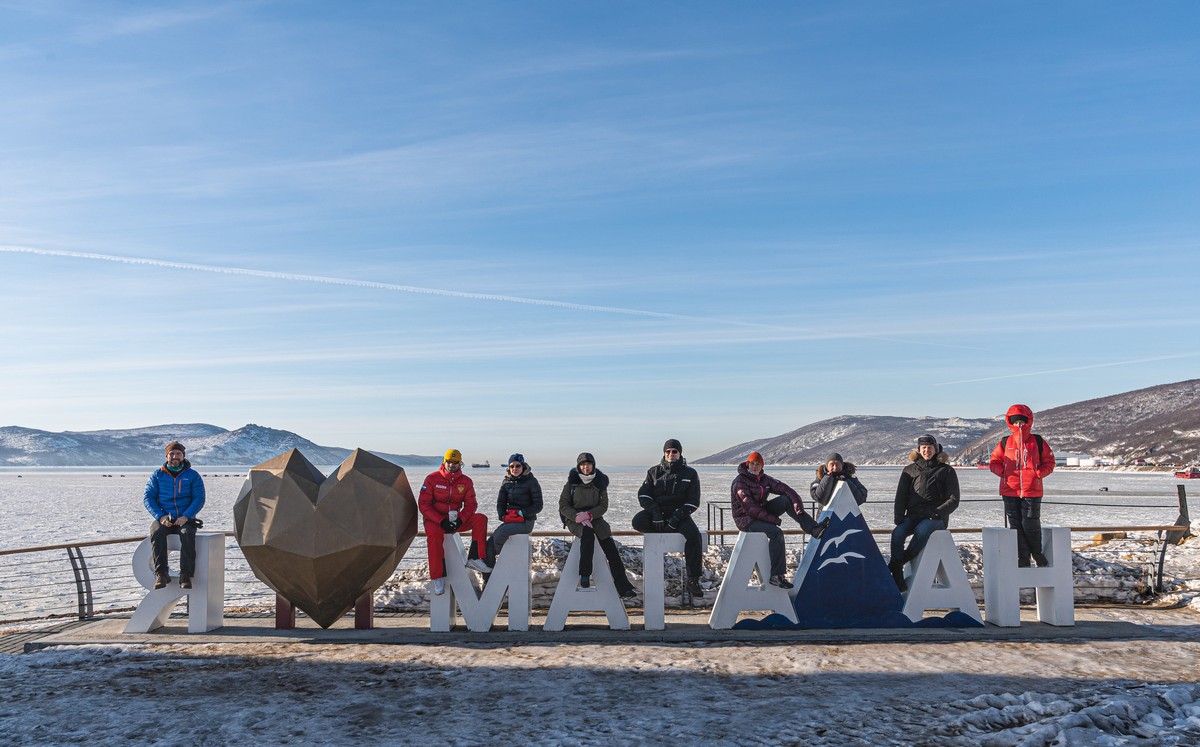 We kicked of the tourist program with a drive-then-stroll around Vesyolaya (Fun!) Bay at daybreak. A very nice walkabout it was too. But take note: driving onto the ice on the bay is best done an hour before sunrise so you can get to a certain rocky outcrop in time – where the views are no doubt better.
We headed for that rocky outcrop over there ->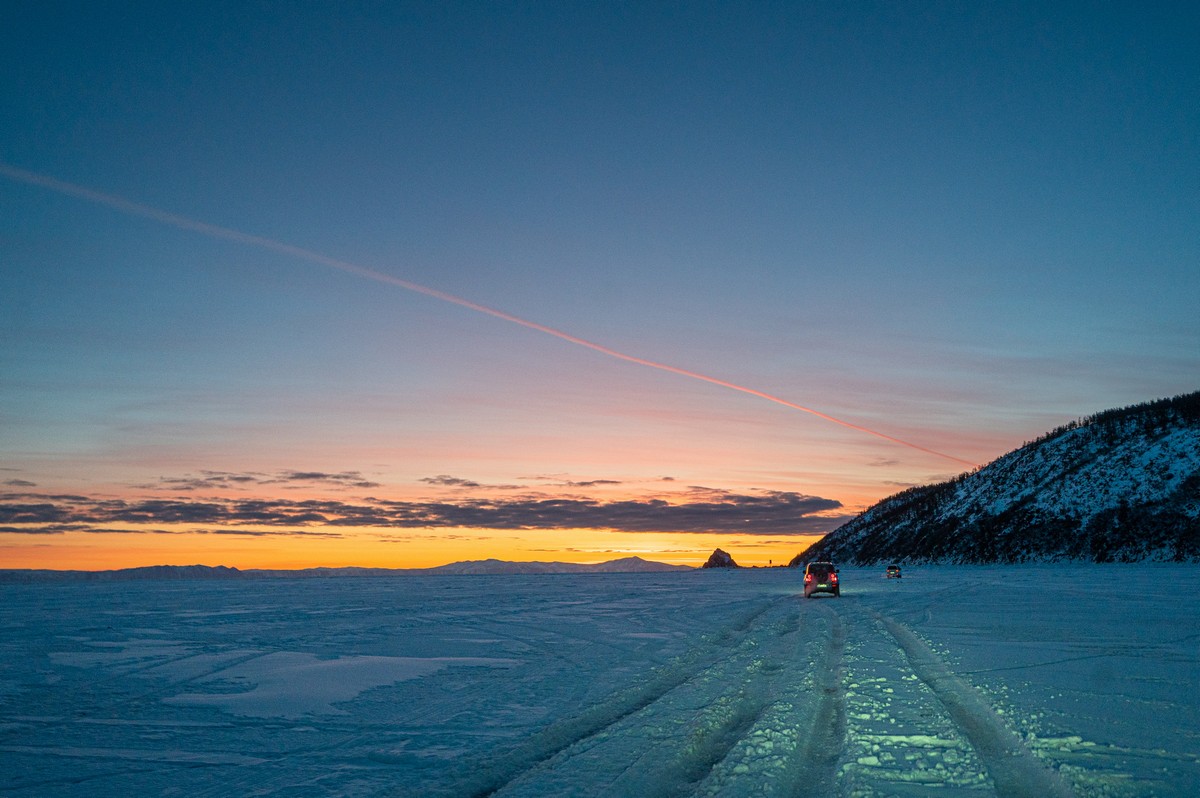 We drove as far as we could…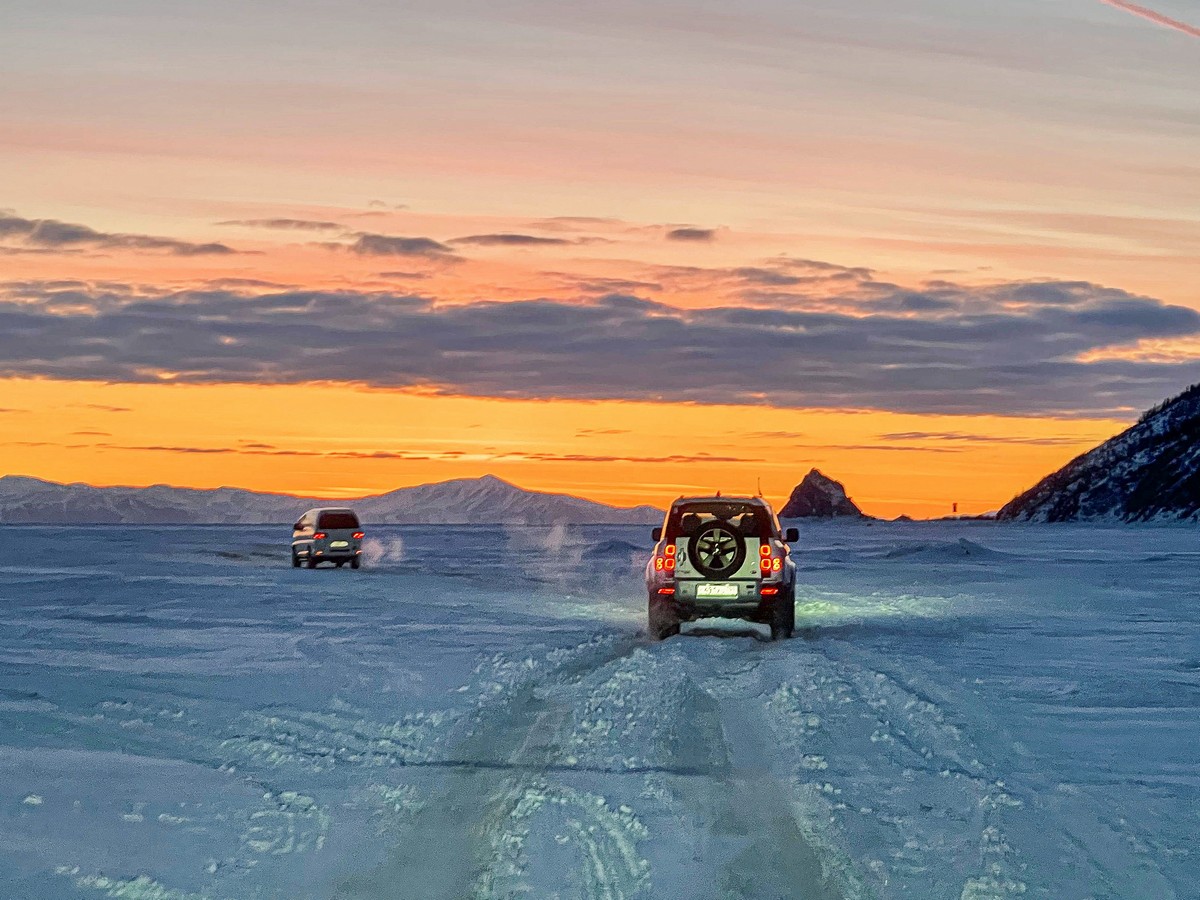 Then it was on foot: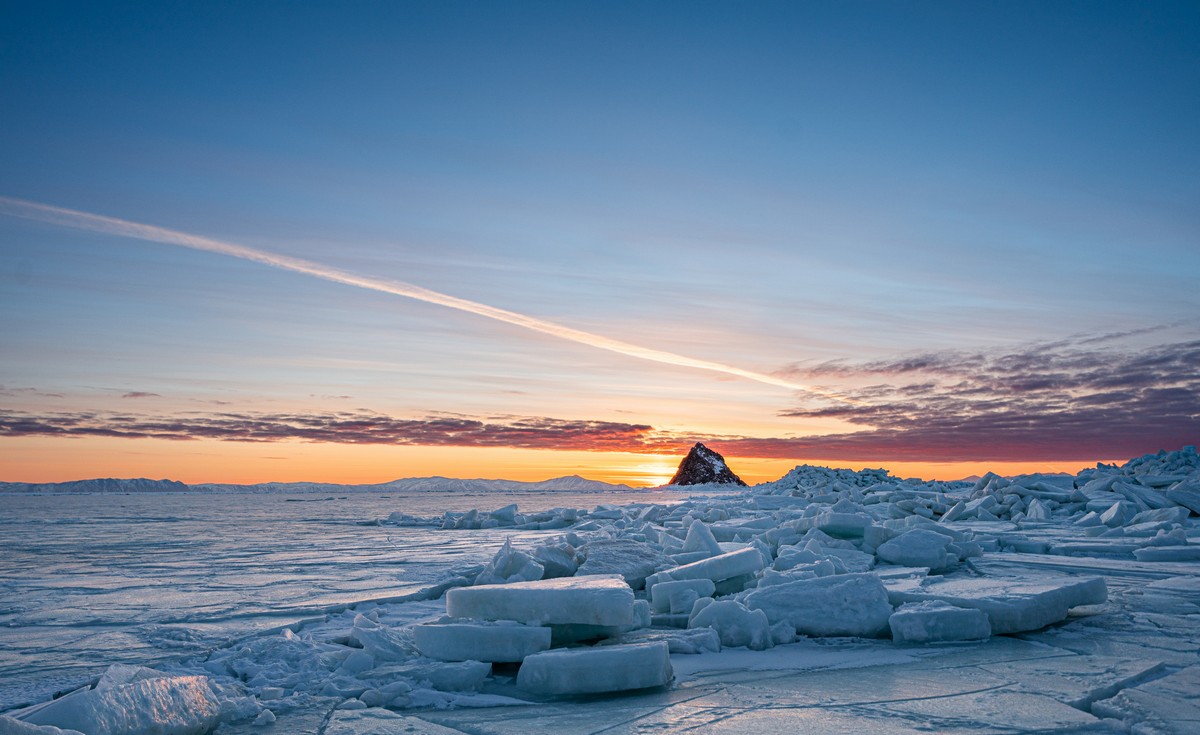 A couple kilometers walk…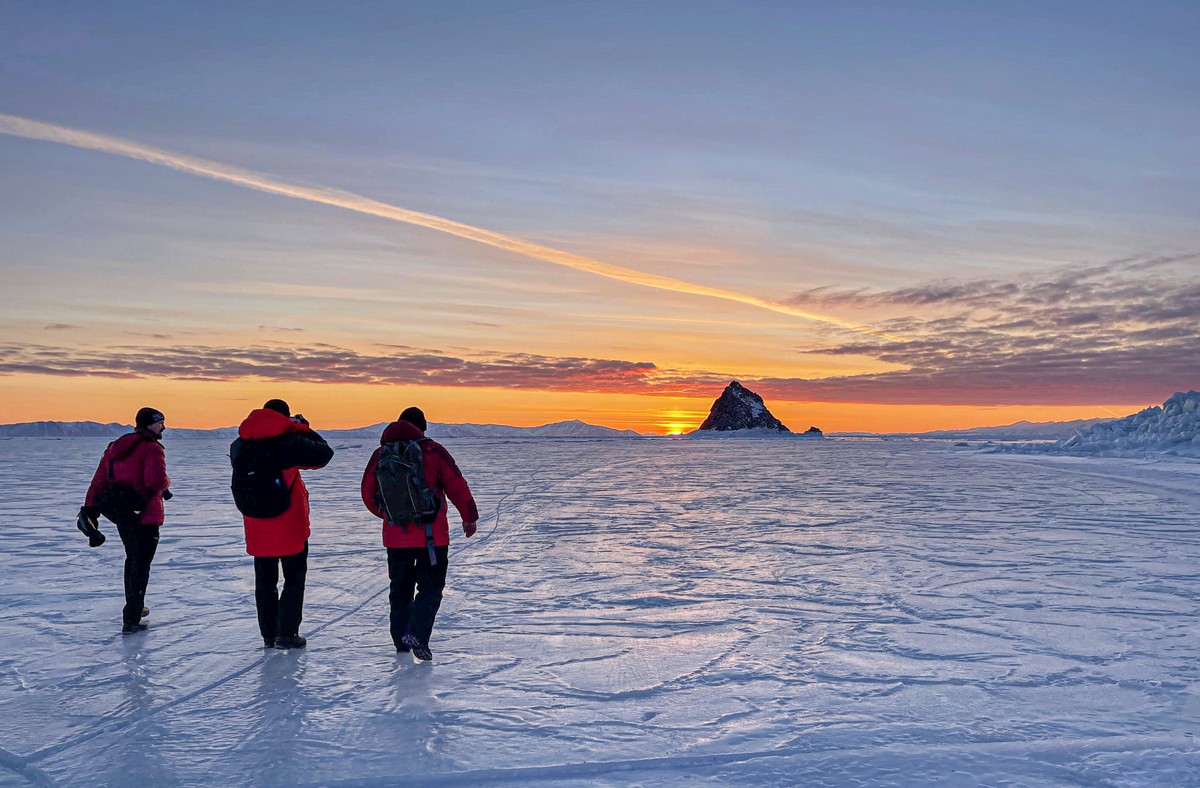 Clearly some have driven this far, despite the seemingly unpassable uneven blocks of ice: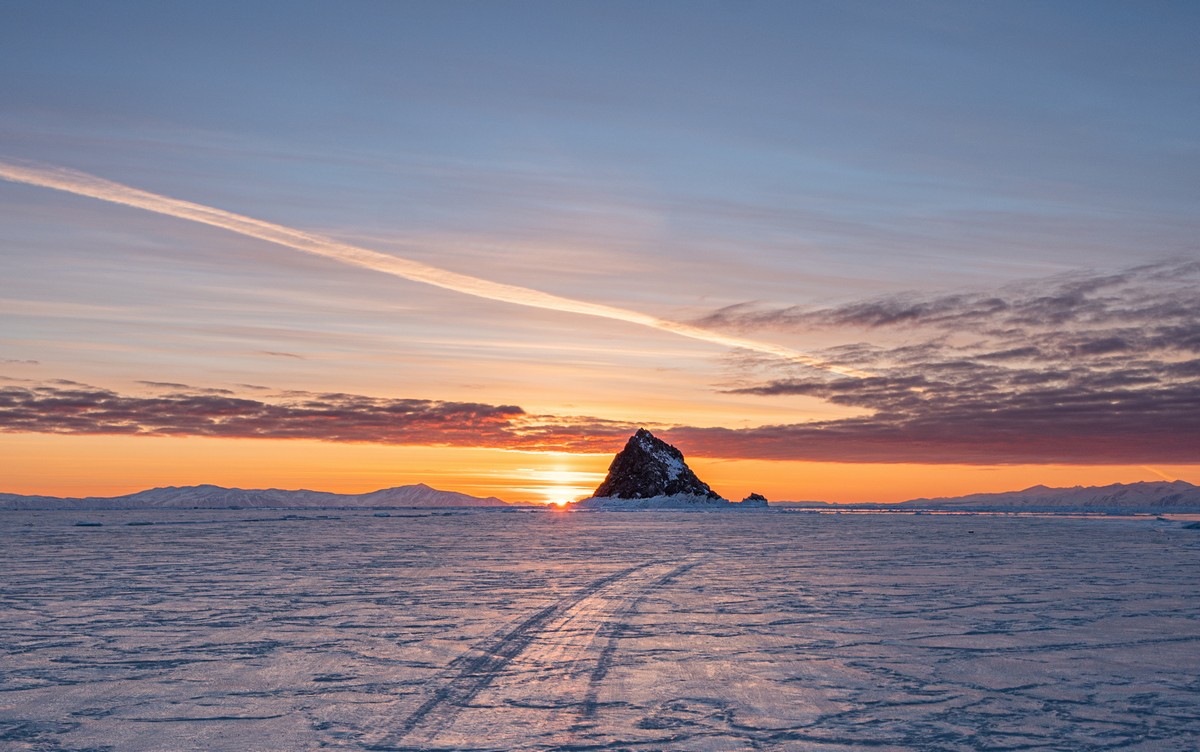 Or was it a snowmobile? ->
We didn't quite make it in time. Not the greatest start to the expedition!…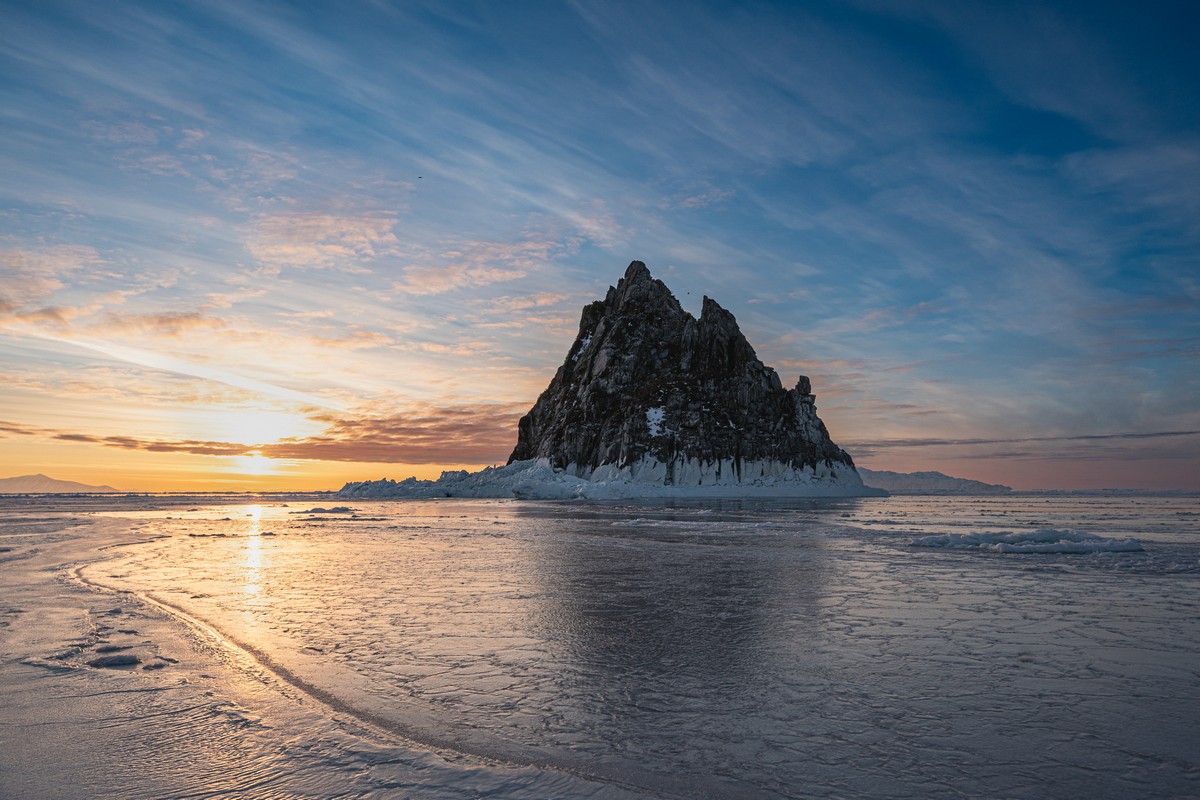 The view was still really something ->
Suddenly – water, as in: not frozen! At minus 30 degrees!
What do you see? I saw the "We Can Do It!" poster!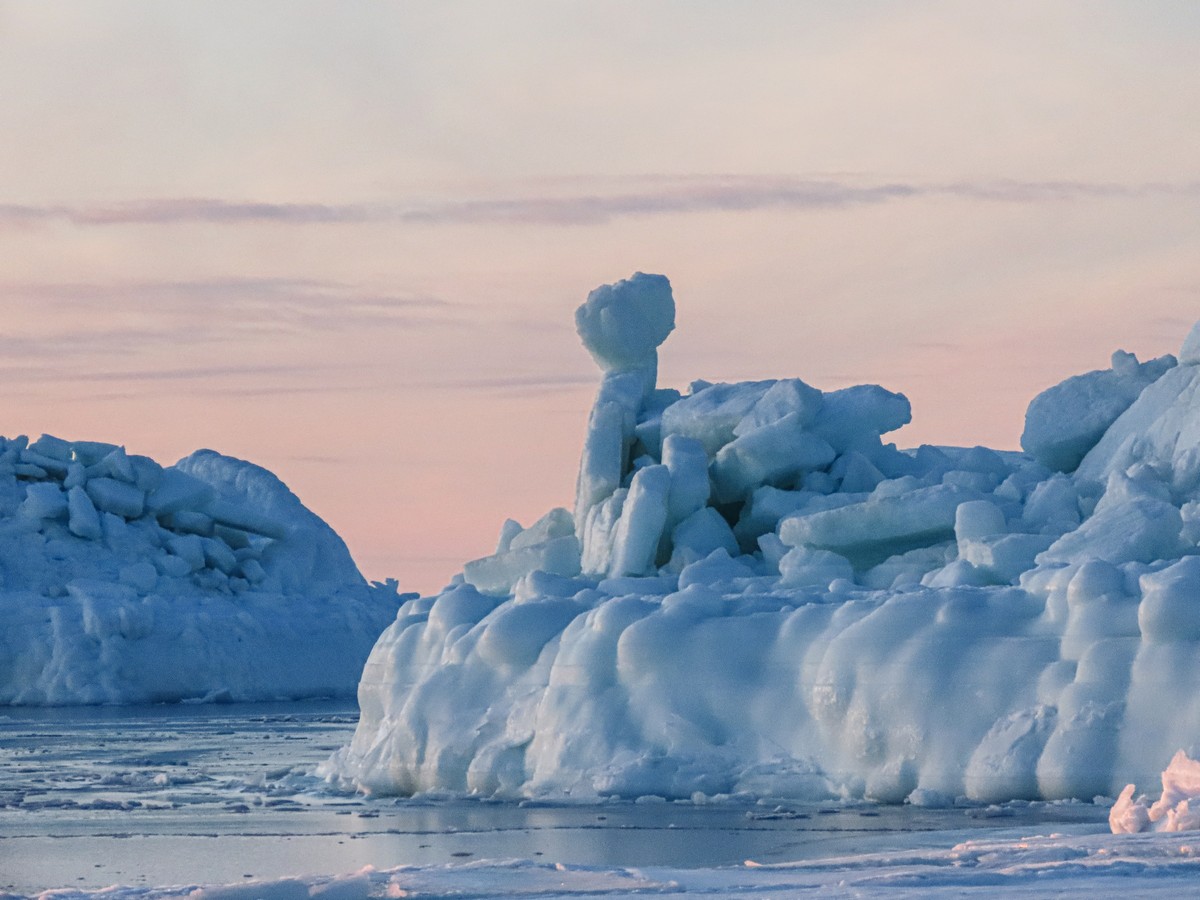 Easter Island?! ->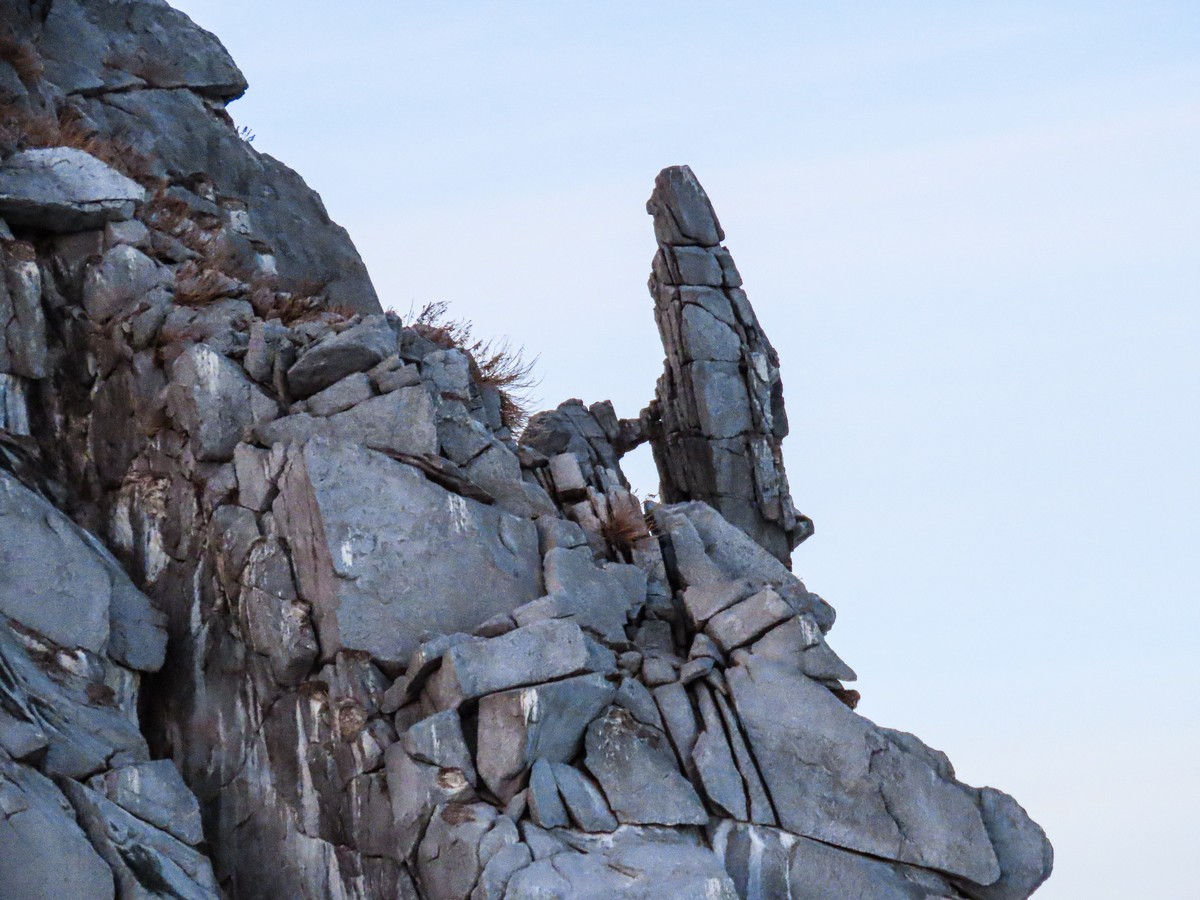 Another suddenly… frozen marine life! ->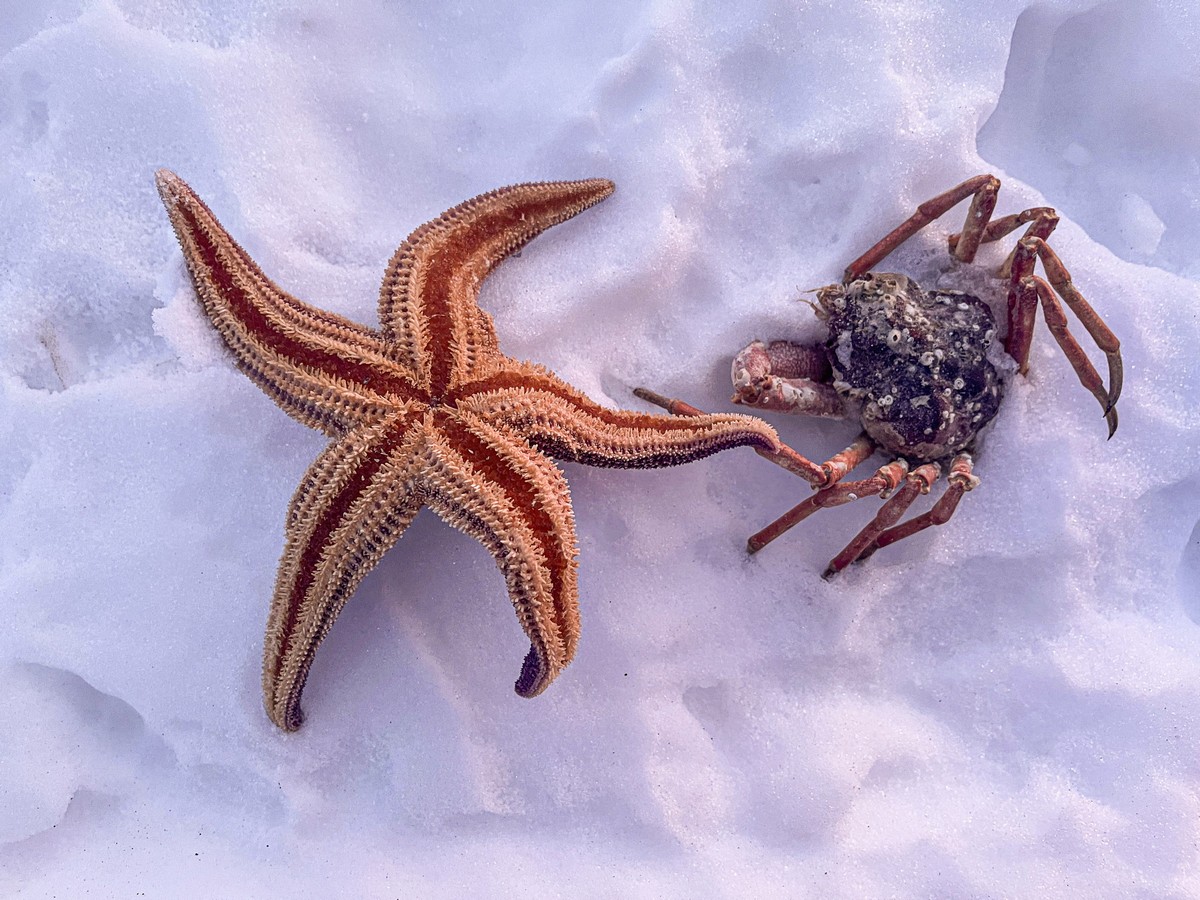 Actually, formerly live marine life. Where did they come from? They're caught be fishermen who aren't really interested in them and so they just leave them there (that's what they told us). They fish them out already dead, and they don't throw them back in: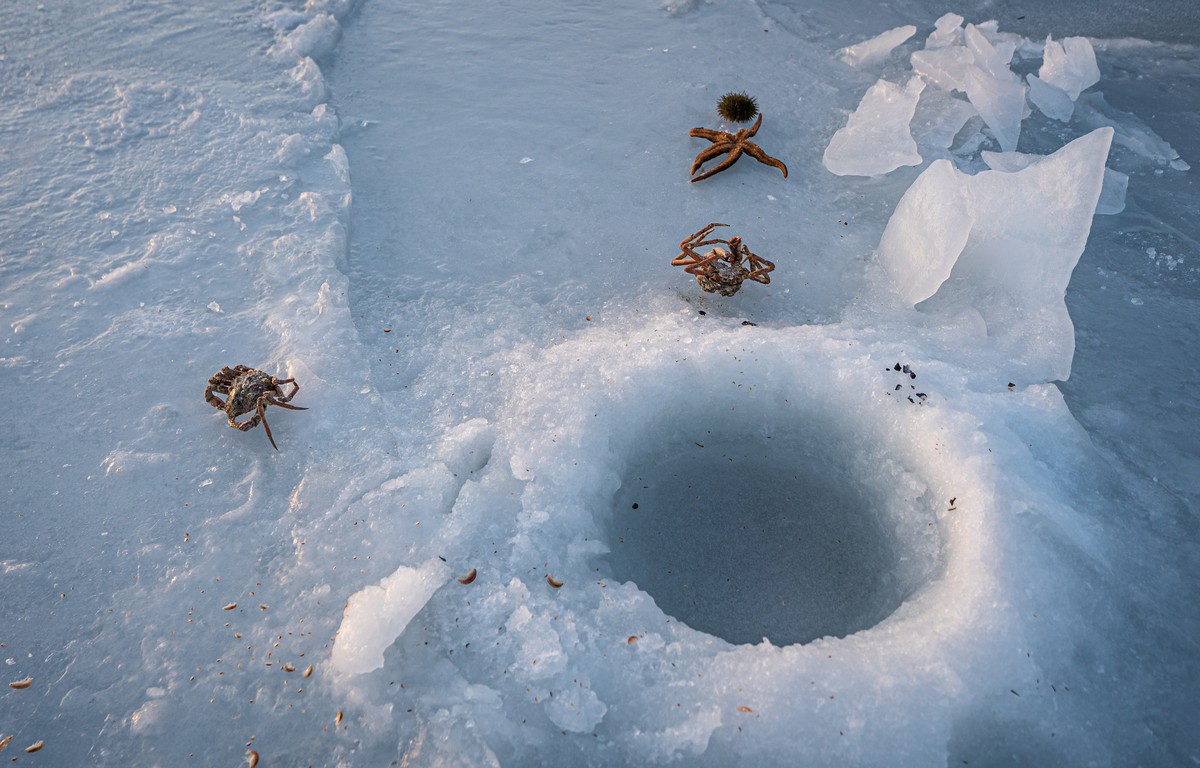 The fishermen: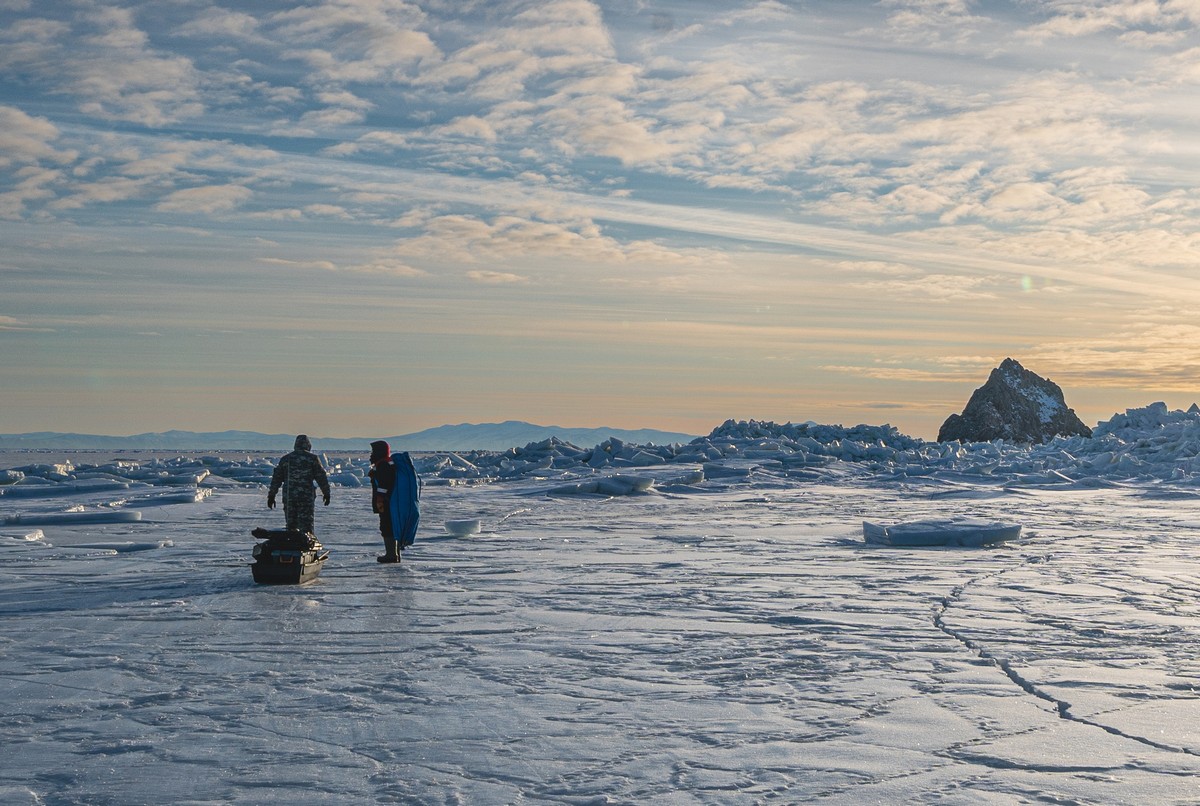 It was a Saturday, so there were plenty of them sat on the ice:
Nagaev Bay was also busy:
Mirage! ->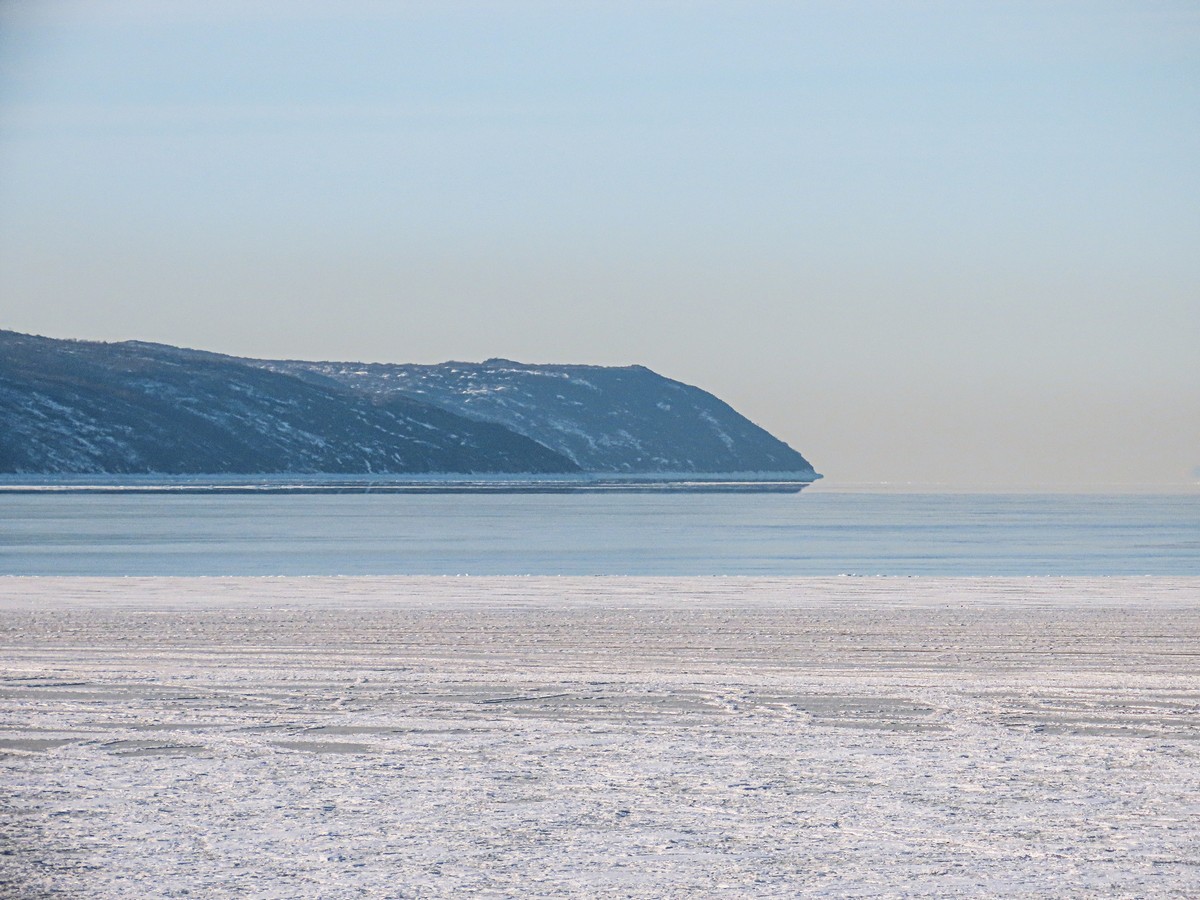 The end of the cape is skew! ->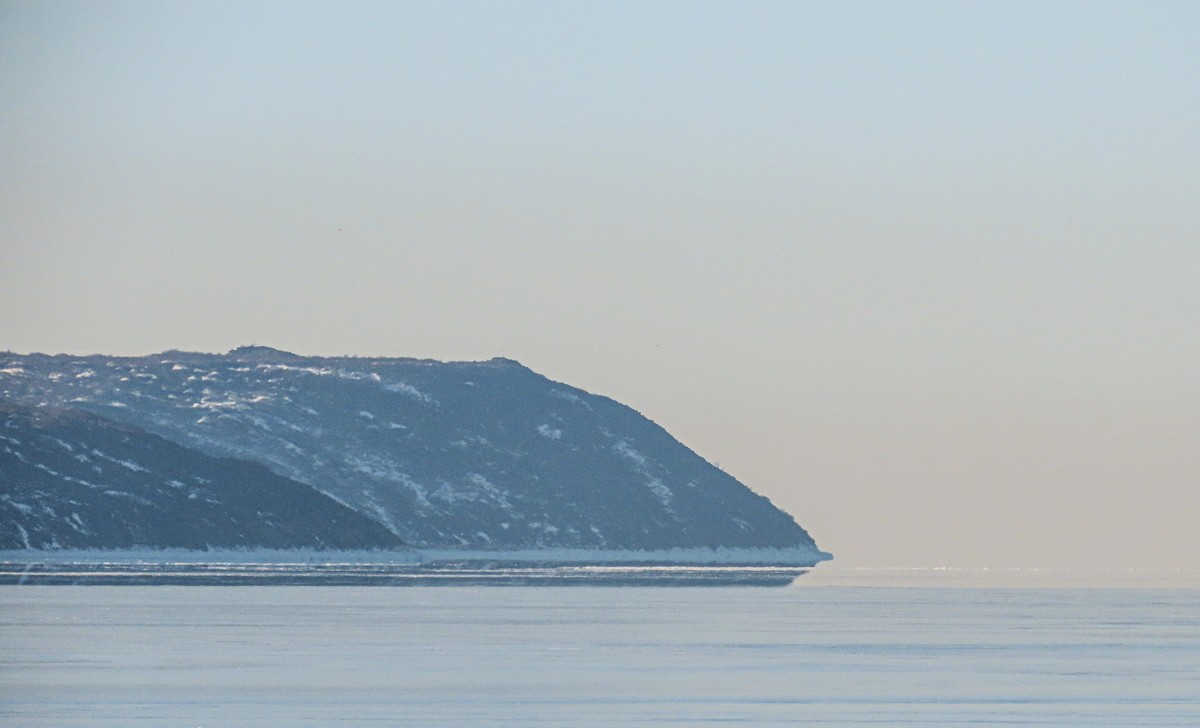 The following day was the first day of our road trip. Ahead of us lie nearly 7000 kilometers of vast whiteness, iciness and cold.
Route (over four weeks):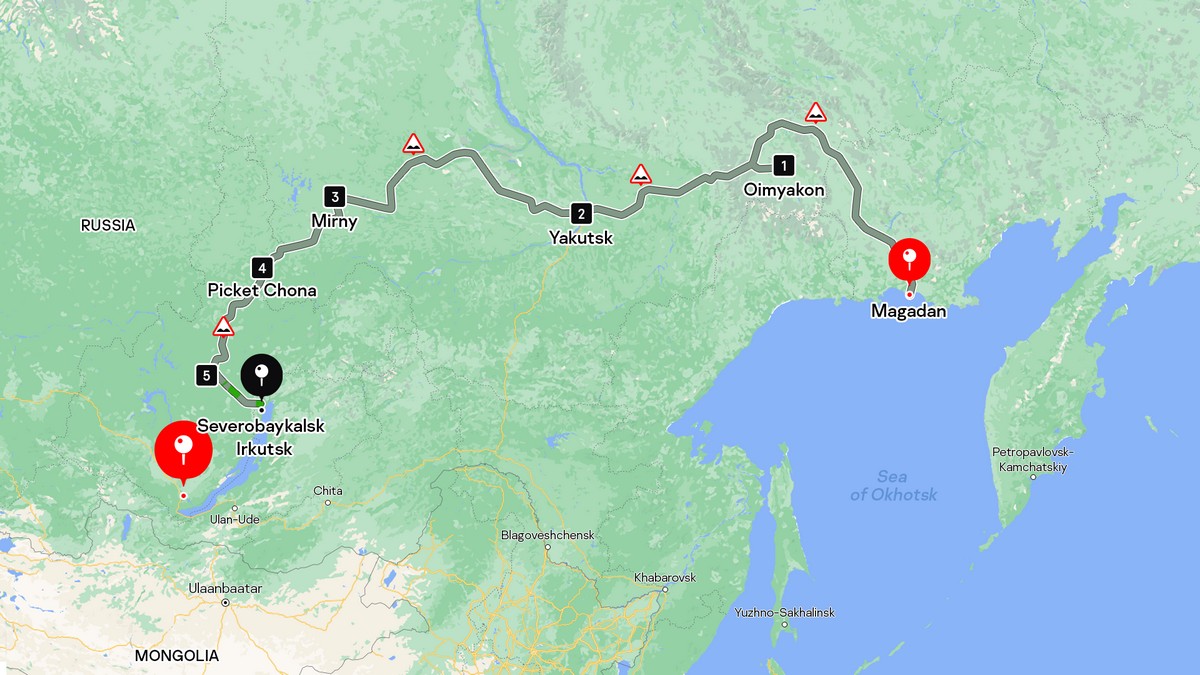 Magadan – Oymyakon – Yakutsk – Mirny – the Taas-Yurakh–Verkhnemarkovo ice road – Ust-Kut – Severobaikalsk – Ust-Barguzin – Olkhon – Irkutsk – the Circum- Baikal Railway – Irkutsk again – Moscow!

The route was split up into two parts: Magadan – Yakutsk, and Yakutsk – Baikal – Irkutsk. Here's a bit more detail on the first leg: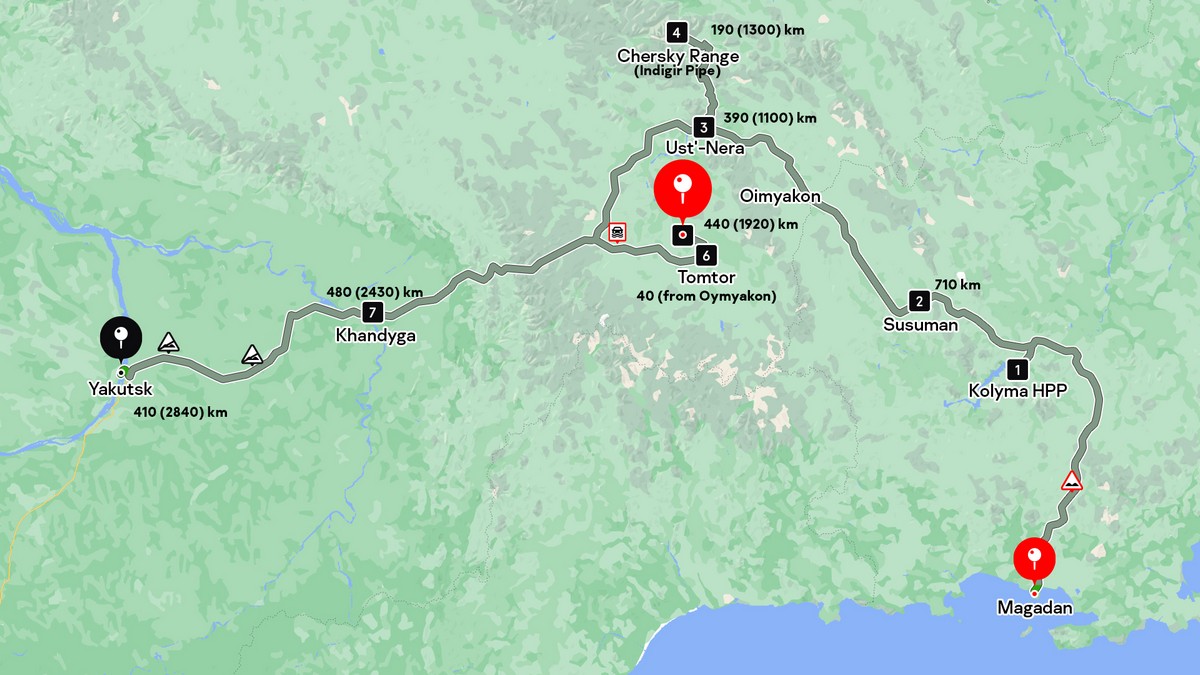 Along the way we took a few turns off the highway to take in some extra sights; for example, the Kolyma Hydroelectric Power Plant, the ghost town of Kadykchan, and the Indigirka Tube ice road.
Popcorn at the ready?
Then let's poekhali (pronounced paeeyékhalli!)
The rest of the photos from the MYB expedition are here.
Back soon folks!…