Wham, bam, thank-you Magadan.
Magadan. Maybe you've heard of it; maybe not. If you have, but haven't been, how do you imagine it?
I think words like 'remote', 'a long way away', 'cold', 'I know the name, but I'm still not sure quite where it is!' might be chosen. My descriptive words were 'middle of nowhere', 'freezing cold' and 'over there in the corner of a world map almost as far as Alaska'. But that was before I'd been. Now I've visited the city, here's how things really are…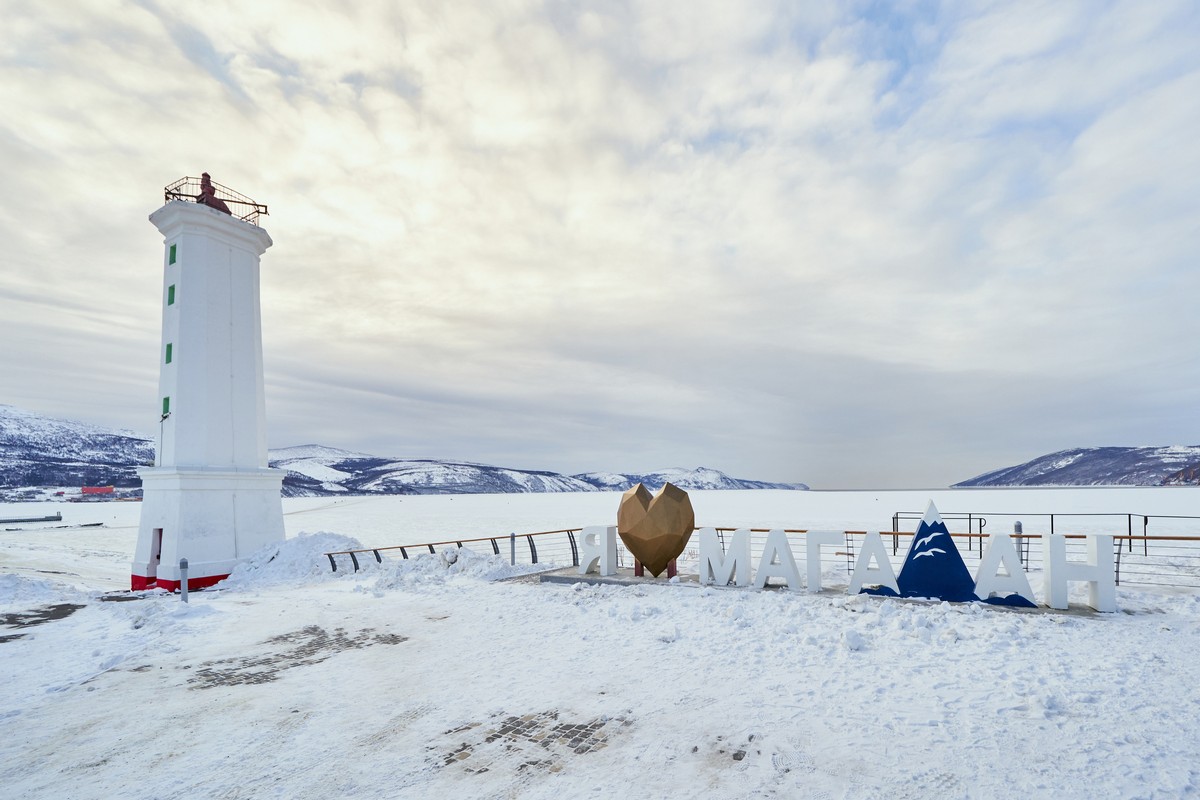 First, of course, you need to get there. From Moscow it's seven hours on a plane – eight time zones away! Yes, Russia is enormous; but you knew that ).
Coming in to land, you look down out the window and it's these frozen mountainous landscapes you see: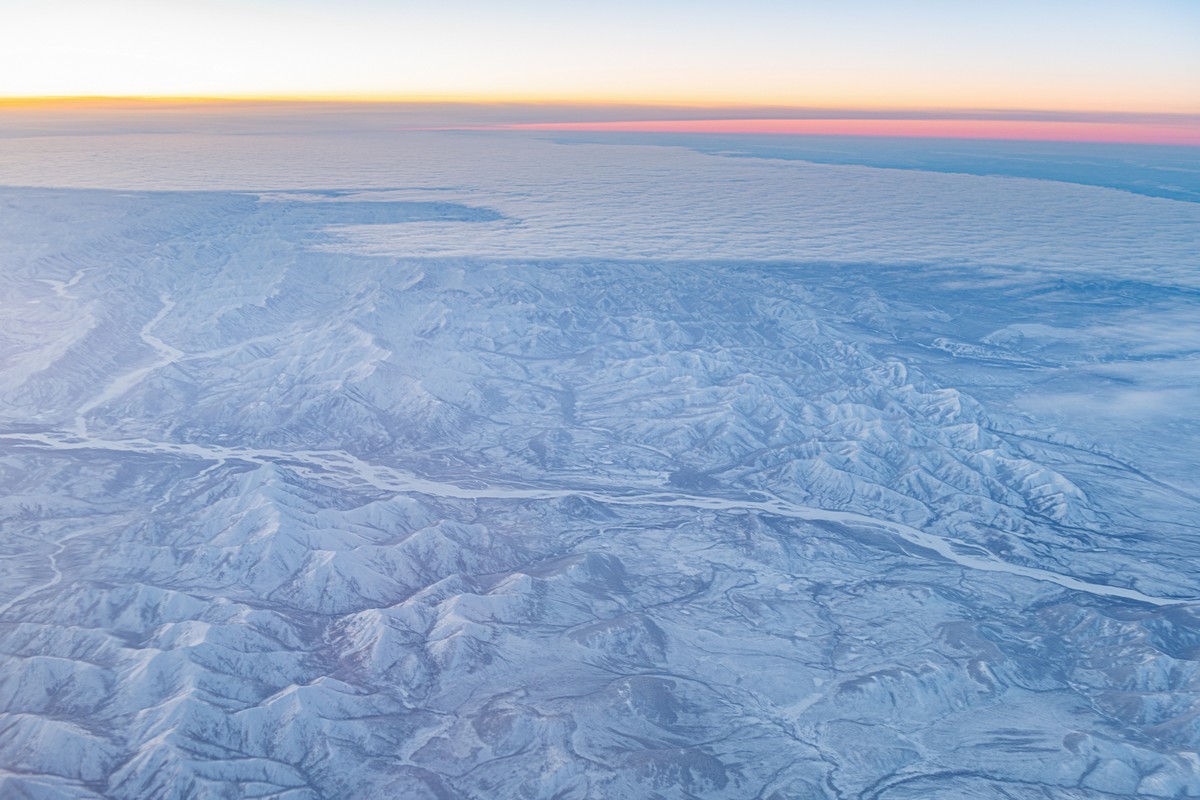 During the flight we checked out the screens in the backs of the seats in front of us, and they reported that the temperature outside the plane was less than -50°C. Yikes. But it's always crazy cold up in the sky no matter where you are. But then we remembered it will be similarly crazy cold on the ground not far from Magadan. It was then that the reality set in: this was going to be… a challenge and a half!…
We finally land. And were pleasantly surprised to see it wasn't all that cold – perfect for steady acclimatization: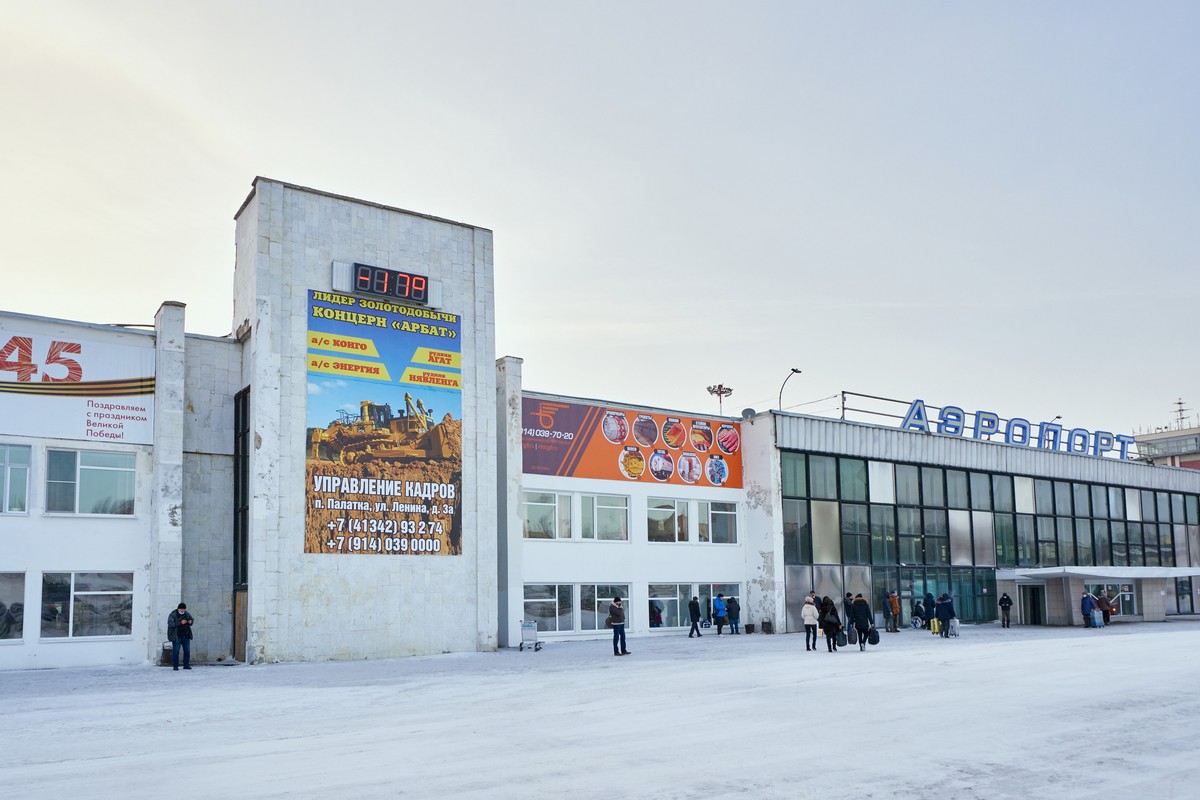 One of the first things we see while stepping off the plane was that there large poster of the HR department of the local gold-mining conglomerate seeking new recruits. Curious positioning. I wonder how many calls they get from that billboard?
So, yes, you get it within minutes of arriving: gold extraction features big in the consciousness of the region.
We head into the city. The buildings along the central streets of the city appear to all be in good condition and with a new lick of paint. In a word: encouraging. I think I was expecting less cheery urban scenes. Here's the central street – Lenin Prospect (which, as mentioned in yesterday's post, is actually the beginning of the Kolyma Highway). No surprises here: most all central streets across Russia are called either Lenin Street or Lenin Prospect. But, like I say, this Lenin Prospect is a most reassuring one (worthy of a proud dictatorship of the proletariat:) :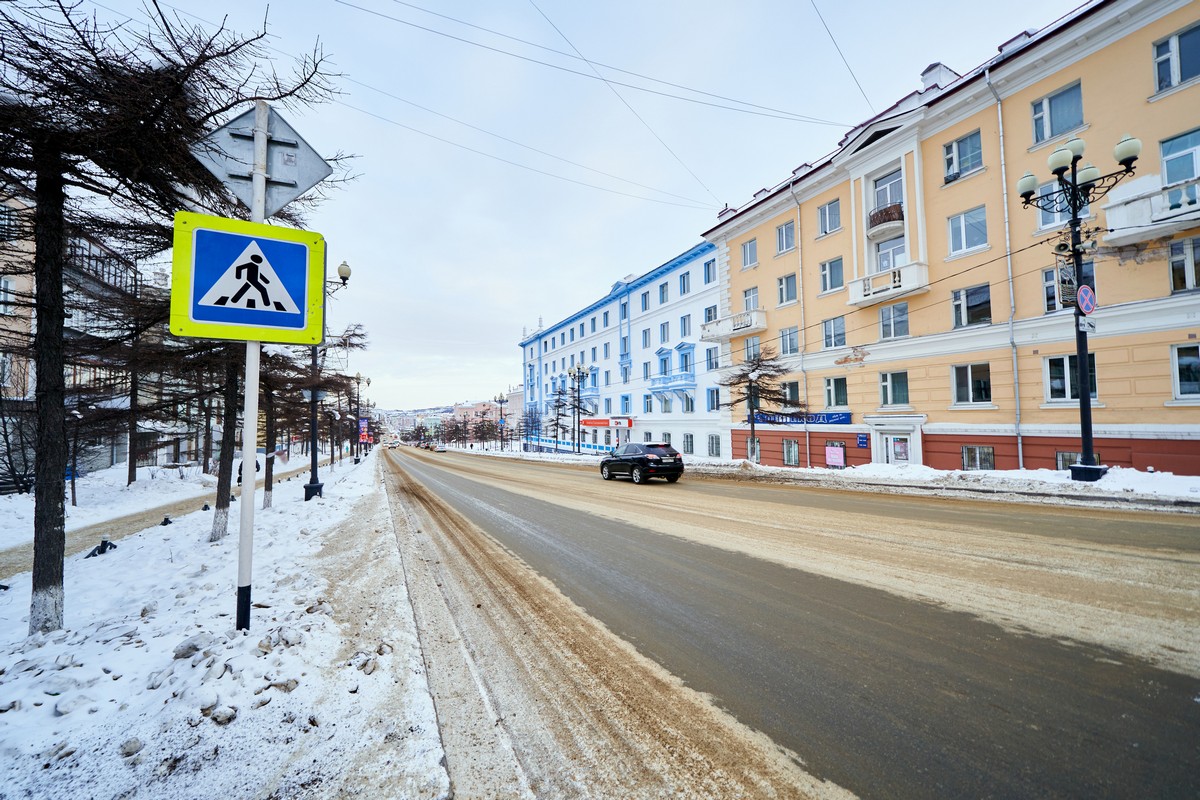 …And not just the central streets; on the other side of our hotel the large yard with a kindergarten in the middle of it looked similarly well-maintained, brightly-painted and cheerful: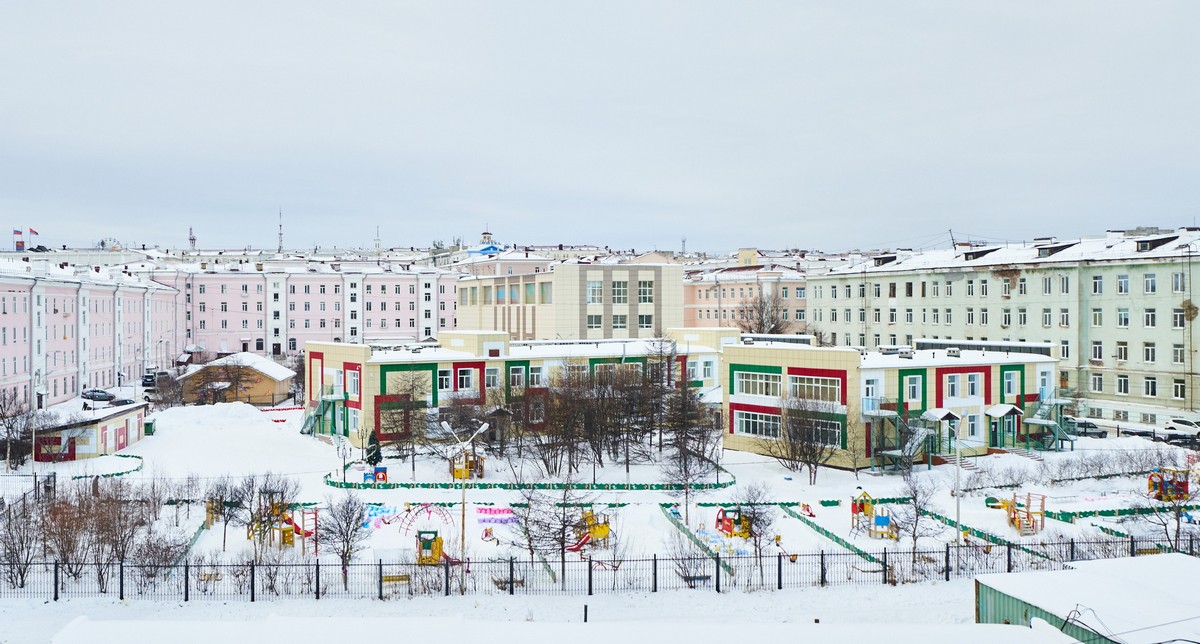 Now for some detail…
The city features a central park (which we didn't have time t0 walk around), several squares, and a long pedestrianized street (along which are dotted dozens of ice sculptures).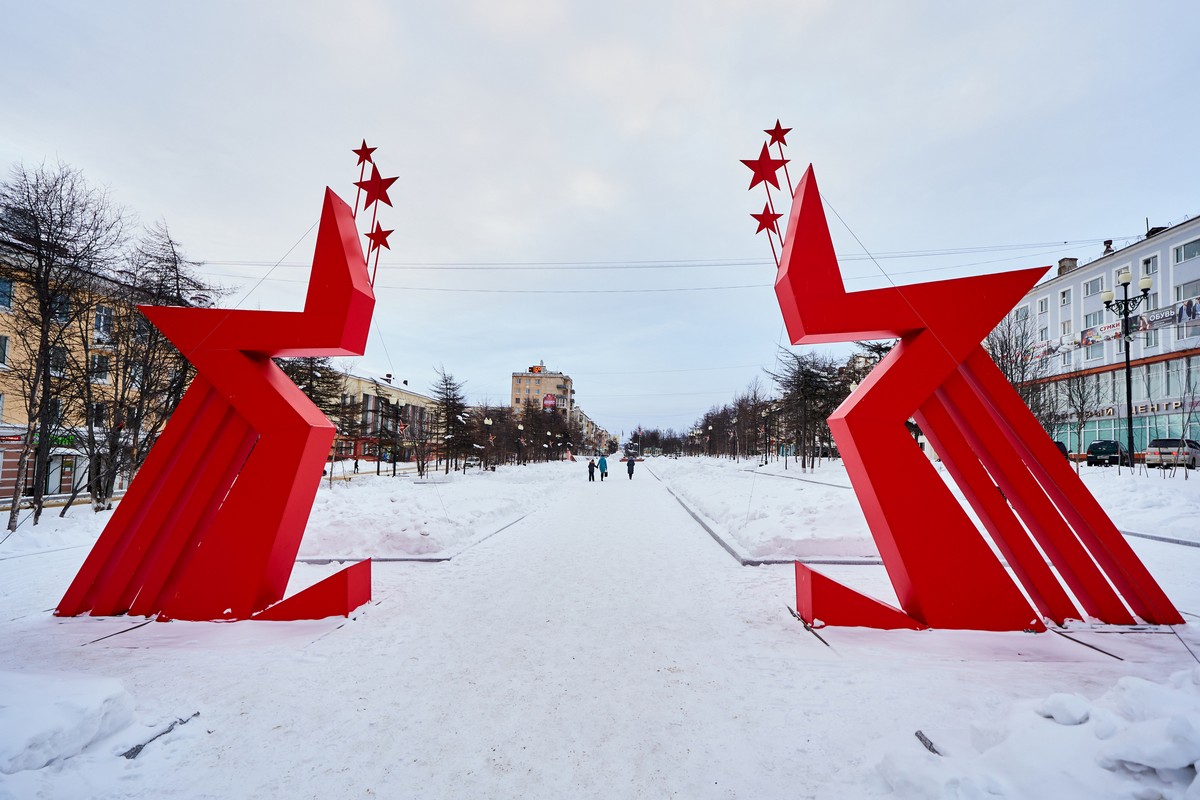 Most buildings seemed to be freshly painted. A few are still waiting in line, like this one here to the left: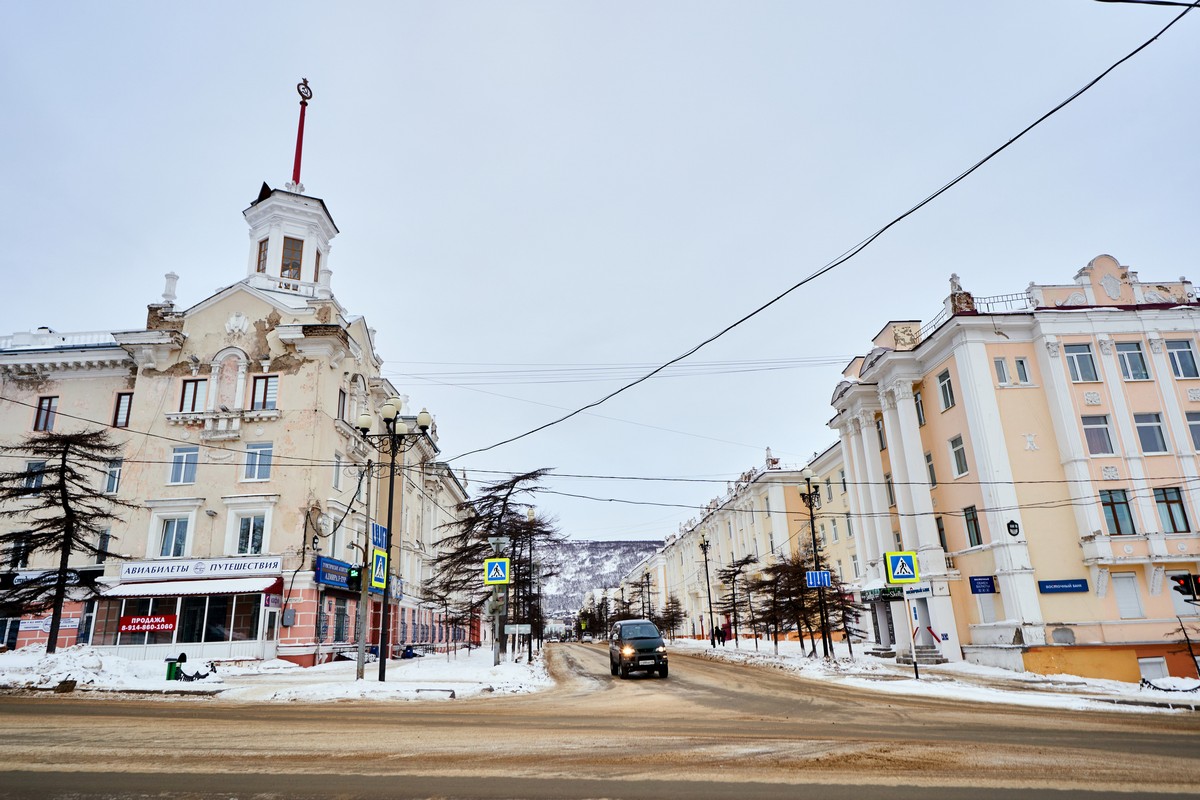 The main street of Magadan: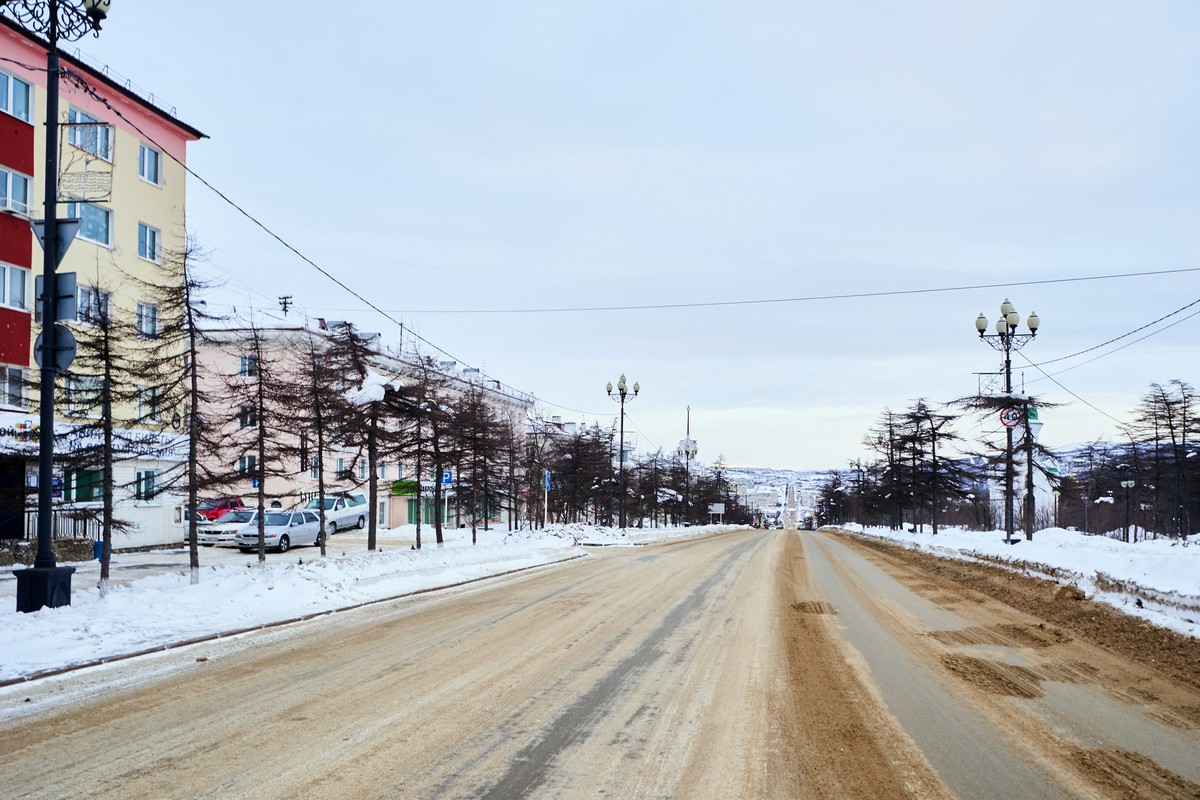 The city sure does look in good shape compared with photos from long ago – but there's still a way to go:
Similarly optimistic, the size of the population has stabilized since 2002 – at a little above 90 000.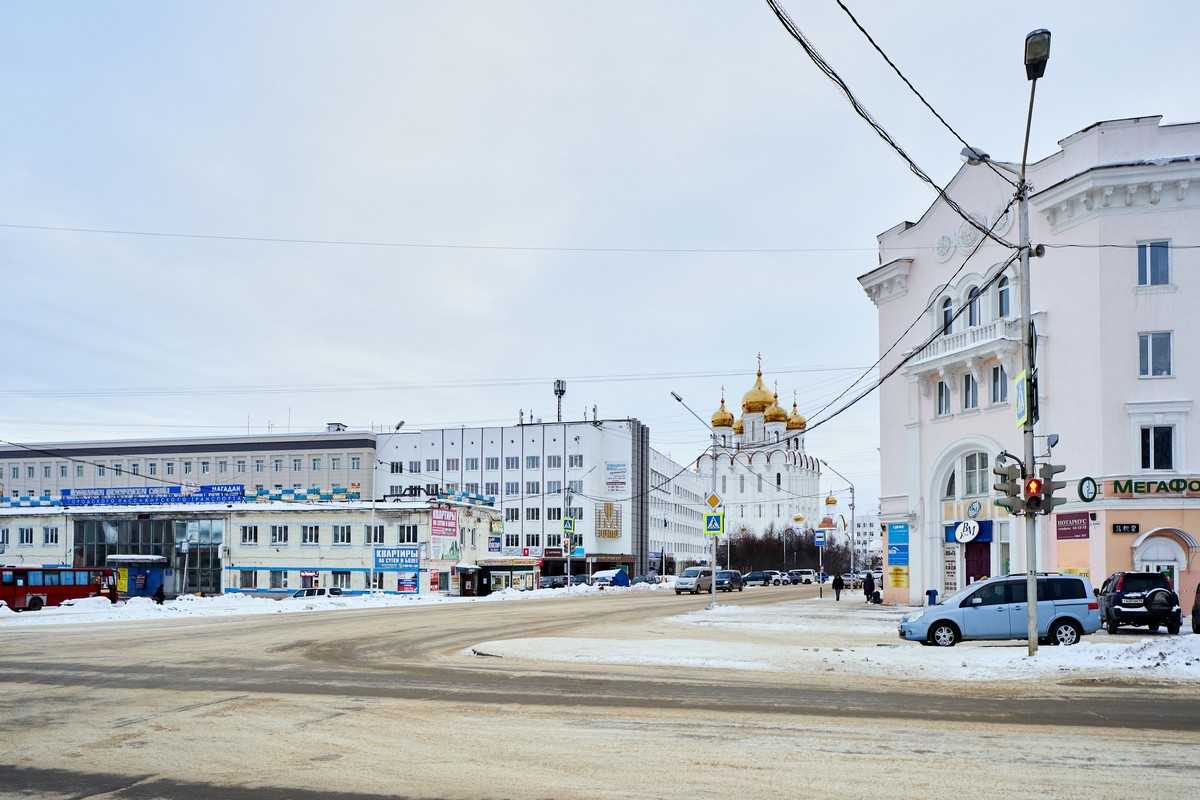 Nagaev Bay freezes over completely (as does much of the Sea of Okhotsk in which it sits), and it will stay frozen until May or June! ->
On the shore looking out to Nagaev Bay is this here mammoth sculpture – the Time Monument – made out of six tons of scrap metal! 'Atmospheric' is how I thought of it when I first saw it. Looks rather cool against the backdrop of severe, frozen landscapes:
It's said that you need to hold the mammoth's tail for good luck or to make a wish. Some tourists then, in their wisdom, decide to pull off some of the poor mammoth's 'fur' items as mementos to take home with them. I wonder if that will bring bad luck? Perhaps it should. Anyway, because of these geniuses, the mammoth has to have its fur updated occasionally. Maybe that's why he looks so sad?…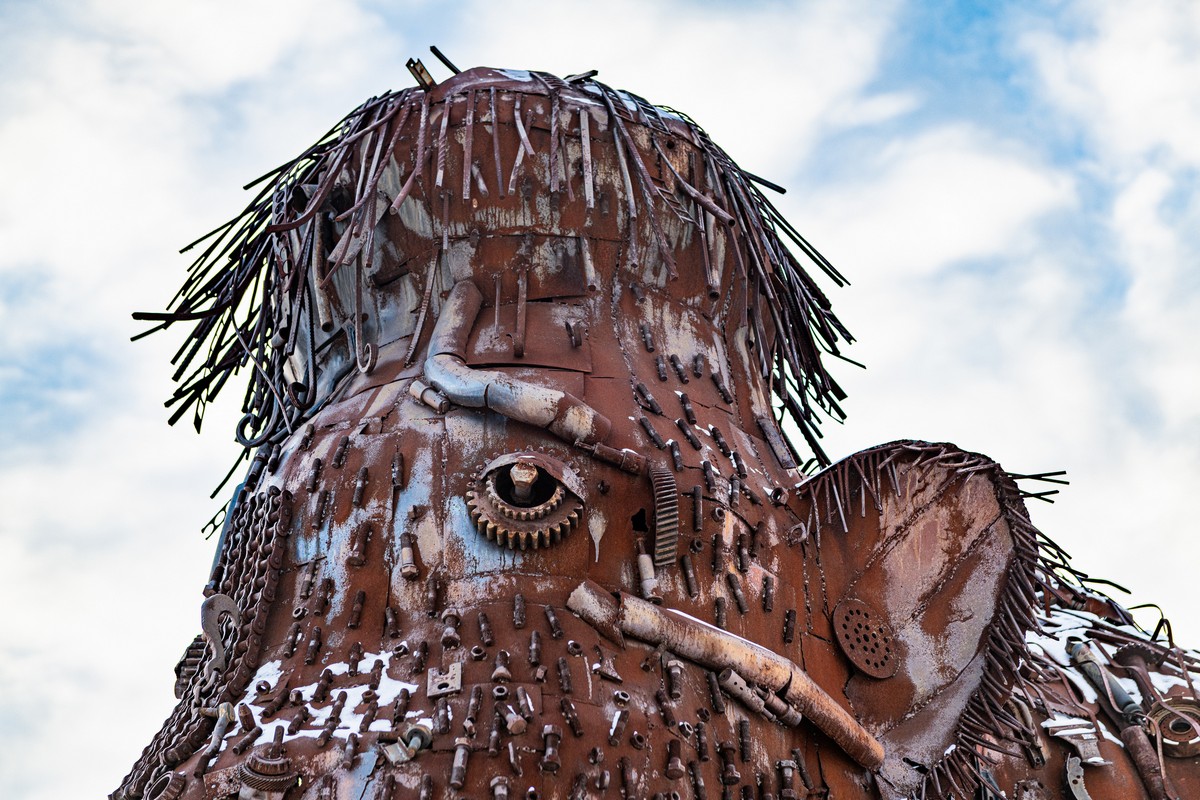 Nearby – another animal-themed sculpture: a killer whale made out of stones in a frame: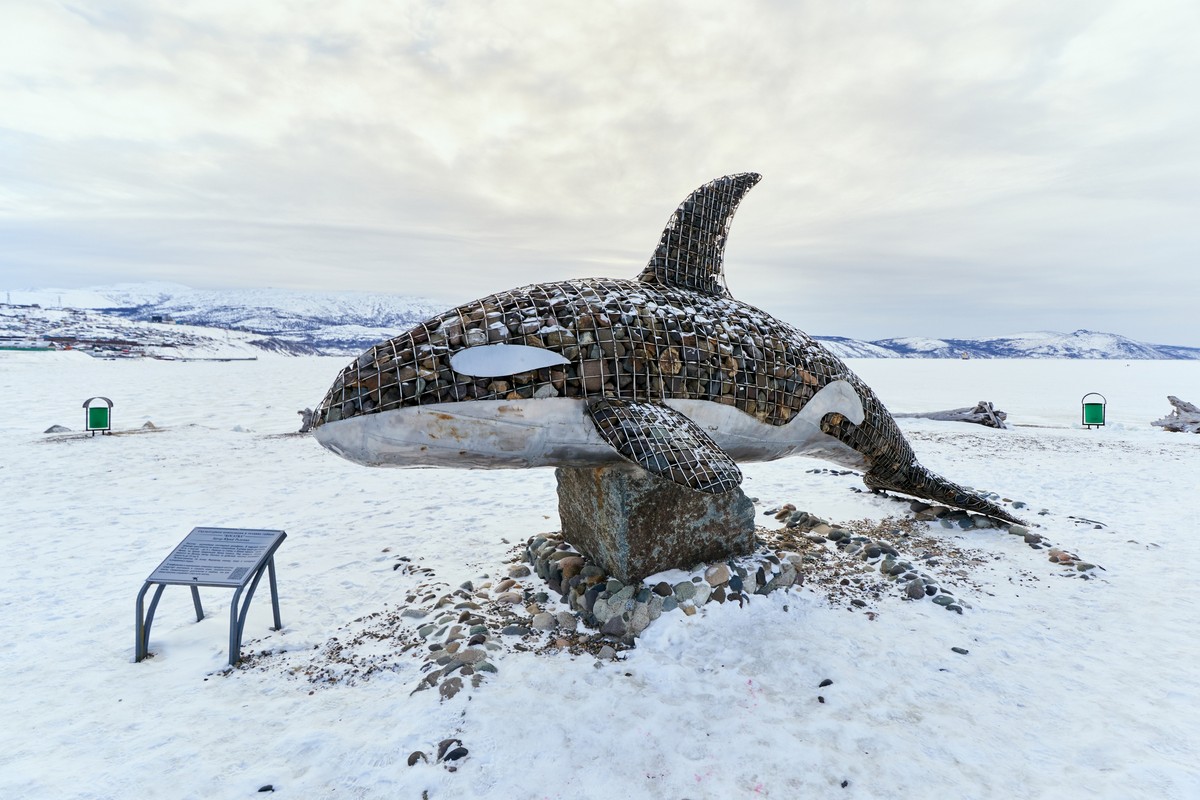 Next to the mammoth – someone had placed a gas canister into an uprooted tree stump. Why?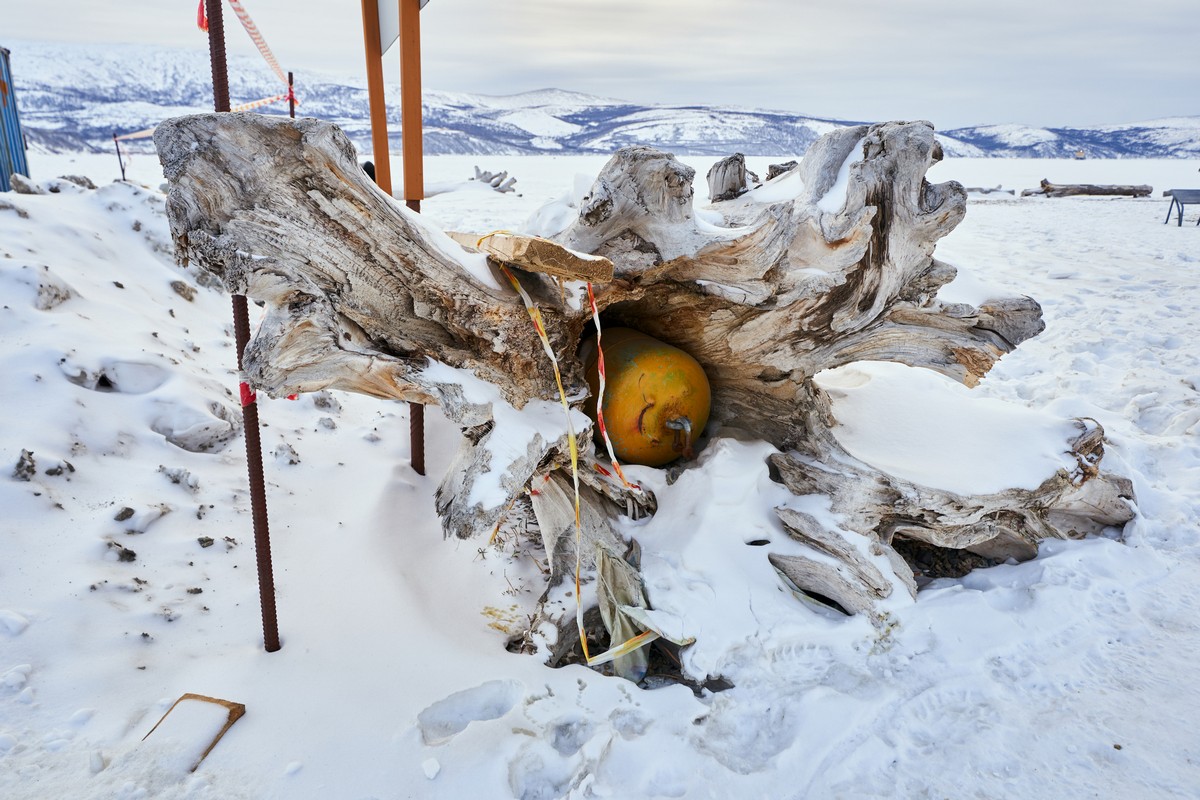 Not far away is Park Maiyak (Lighthouse Park) and… a beach! In Magadan?!! Yep – Google Maps shows it clearly. Btw – that Google Maps satellite pic is obviously quite some years old. But if you click on the photos taken to the left (still in Google Maps), you can see how much of a change the place has seen. Meanwhile, Yandex Map's panoramic photos clearly haven't been updated. Come on Yandex: keep up!
Street ice-sculptures are popular in practically all Siberian towns and cities; Magadan is no exception. In fact, I'd say it leads the way: most impressive ->
Here's a little boy slaying a dragon:
And… wait… is that a coronavirus?!! ->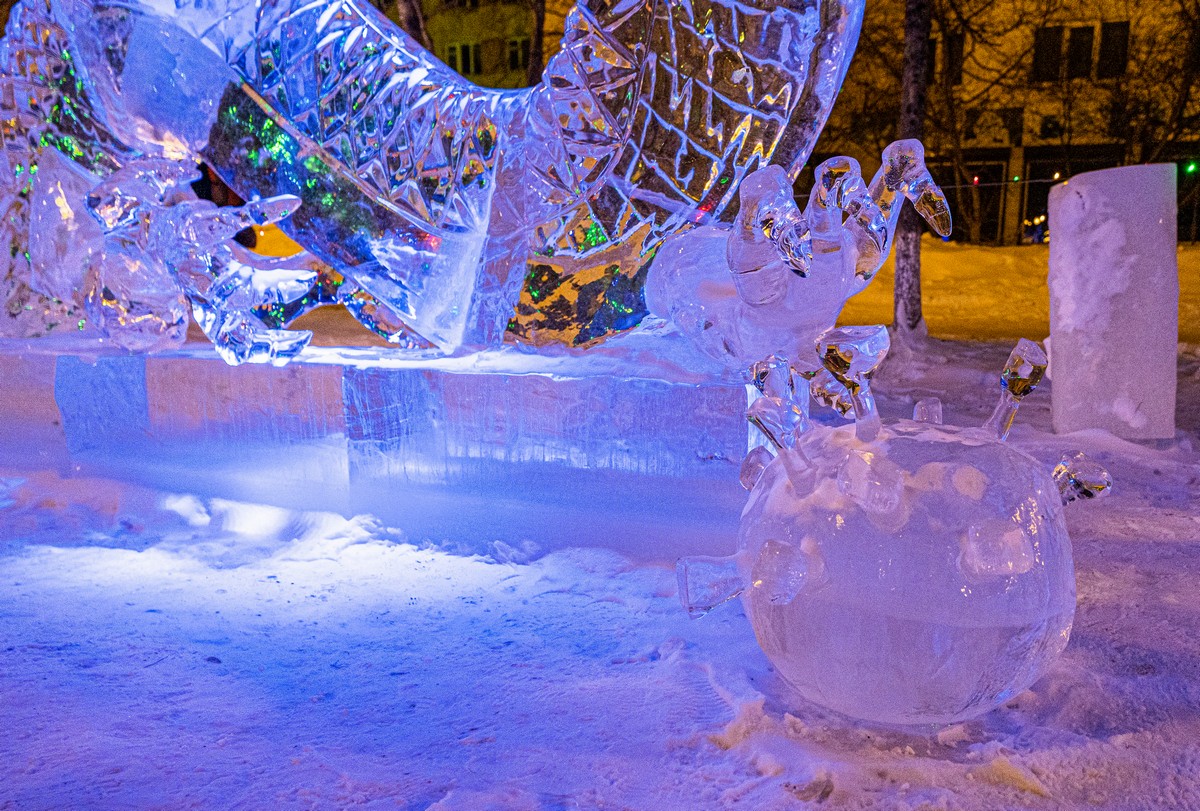 Ahh, what a wonderful winter's walk!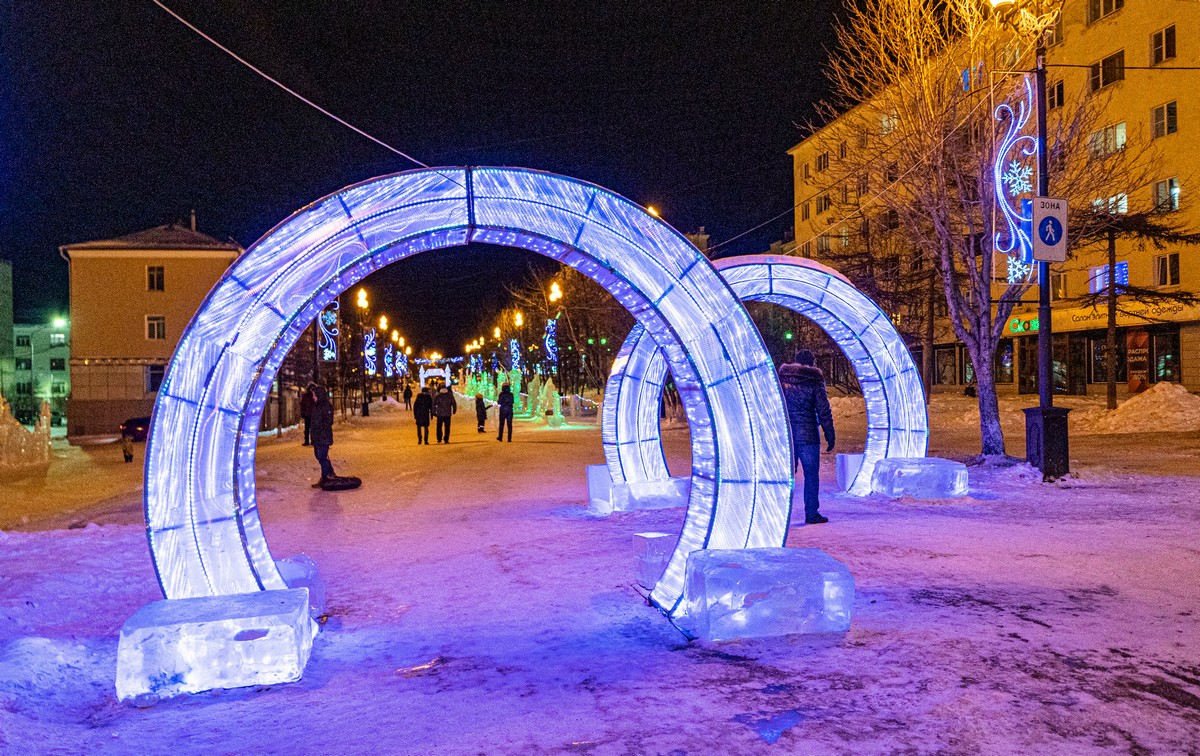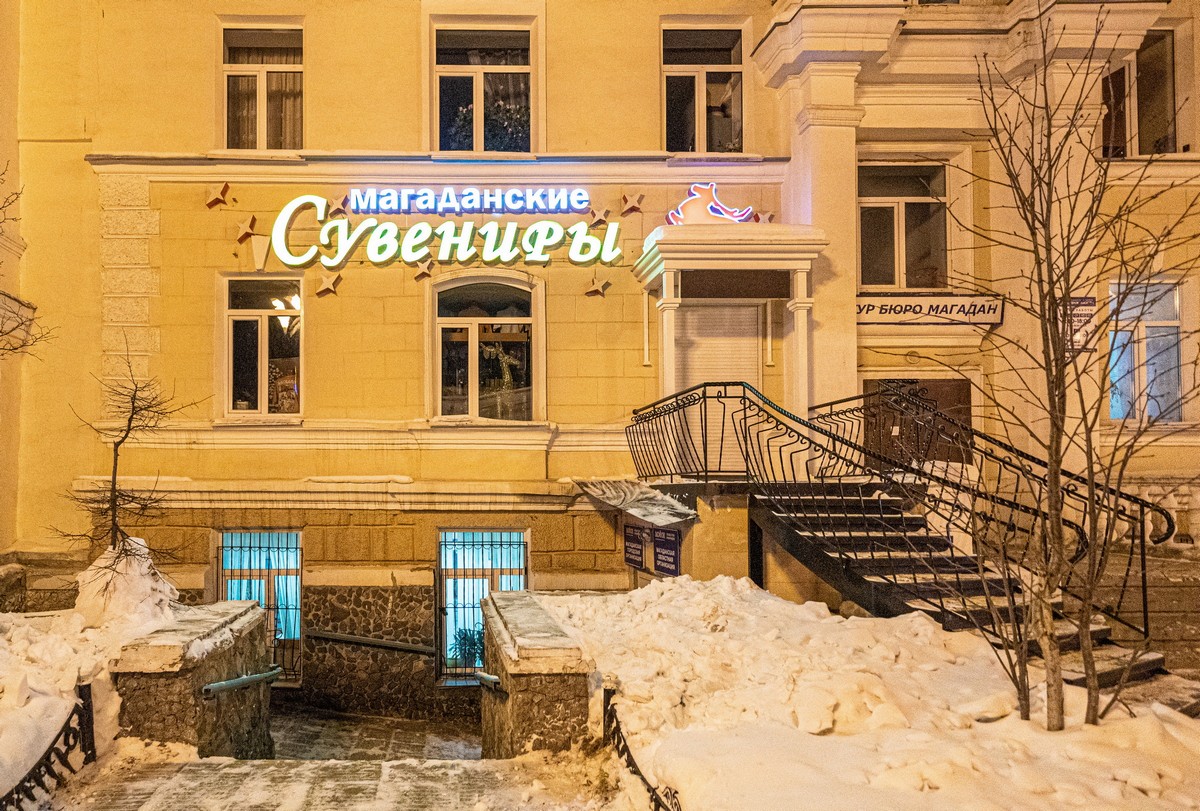 'Magadan Souvenirs'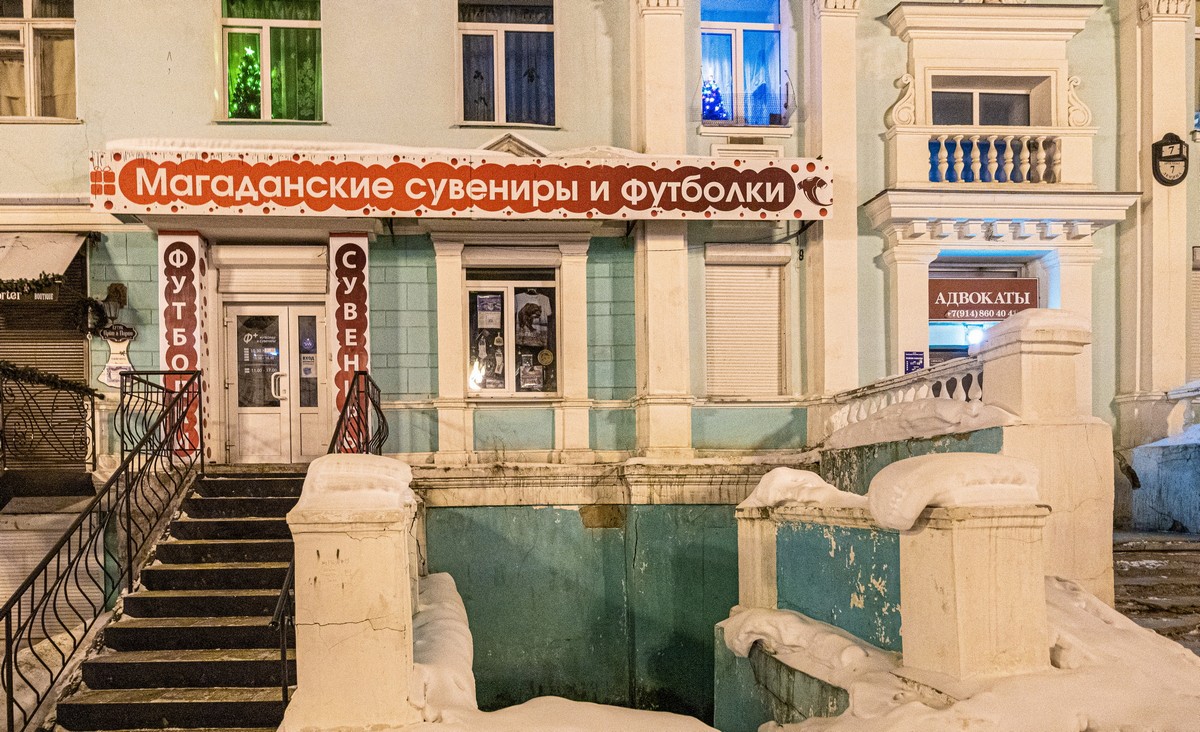 'Magadan Souvenirs and T-Shirts'!
Our posse inspected both souvenir shops. And guess what, the first one – Magadan Souvenirs – also sold t-shirts ).
And just in case the two shops' clearly fierce competition ever crosses the bounds of decorum, next door – 'Advocates' law firm, just in case ) ->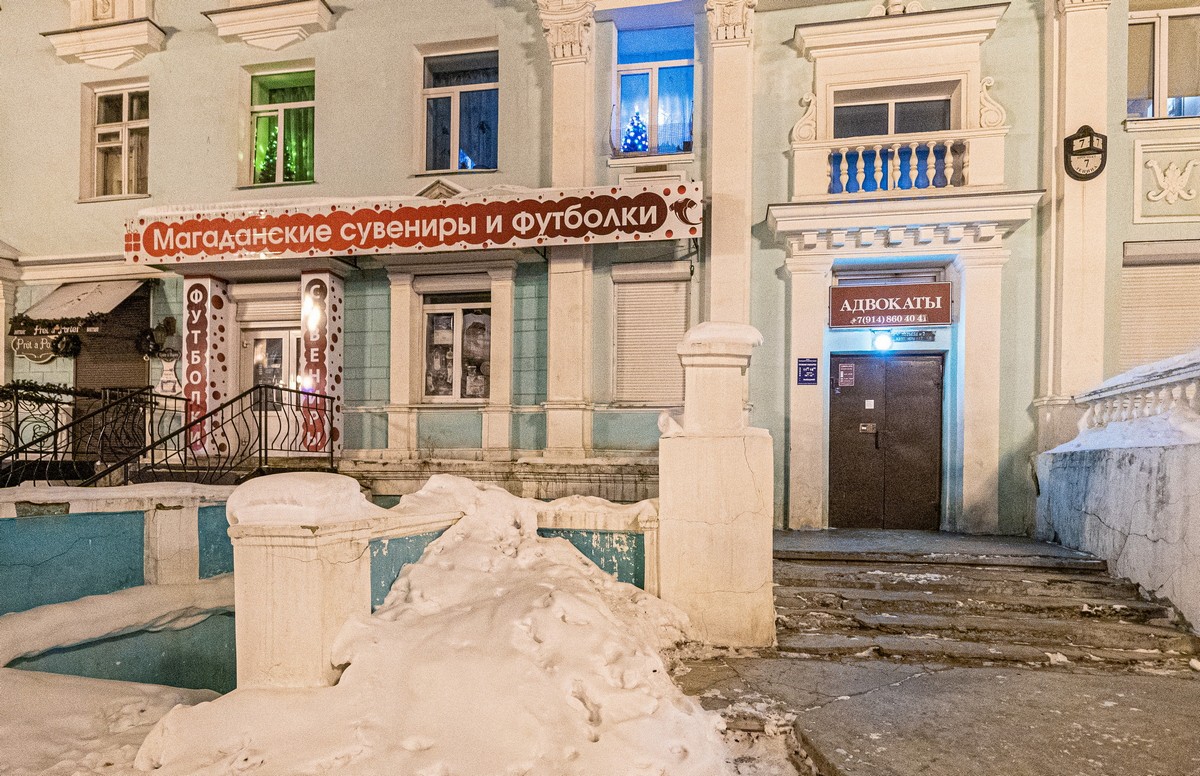 PS: Some super pics taken by DZ and Petrovich ->
And that's all from Magadan folks!
Next morning we were up early, took a somewhat basic breakfast (at least there was one available!), and it was into the Renaults and off we set – out on the first leg of our 12,000km Magadan–Moscow road trip!…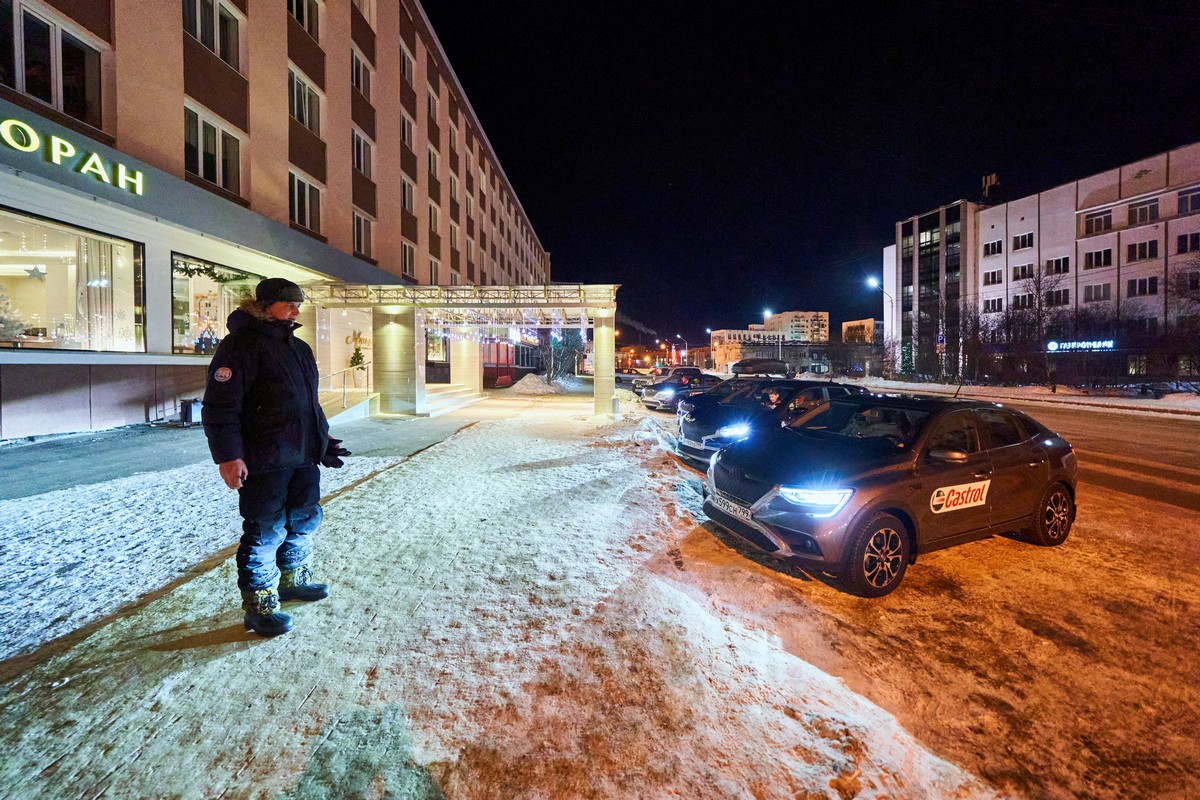 All the pics from the road trip are here.