Magadan – Yakutsk – Lake Baikal. Intro.
Hi folks!
It's been nearly a month since I returned from our mind-blowing Siberian winter-road-trip. Yes – we liked last year's winter drive from Magadan to… Moscow (!) so much, we simply had to follow up again this year with a re-run of the best bit – the first leg in eastern Russia; specifically: Magadan – Oymyakon – Yakutsk – Mirny – Lake Baikal – Irkutsk.
As we all know, in the meantime… tectonic changes have taken place in the world. And how they will play out in the future is anyone's guess. The world is now a different place, and there's no going back. We have to adapt to the new conditions. Which is exactly what we're doing here at K. But on a lighter, more personal level, hopefully to ease some of the pressure, herewith I'm starting a new series of posts. A series on… some of the coldest temperatures on earth, some of the longest roads on earth, some of the bizzarest places to stay the night on earth, and some of the most beautiful, fantastical – and very white – sights on earth that can be viewed non-stop for thousands of kilometers in all directions.
In this here intro-post, I'll be giving you the pre-meal bitters (always good for superior blogpost-series digestion down the line). Basically – some of the more striking, unusual, and – no false modesty here – amazing pics that were taken during the trip. There are plenty here just in this intro – since a great many were taken overall. So for today's viewing, I recommend dressing warmly – or at least draping a woolly blanket round your shoulders, for just looking at some of these photos can make you start to feel chilly, while a few may even bring on frostbite! You've been warned ).
All righty. All set? Magadan > Yakutsk > Lake Baikal (Feb–March 2022), coming right up…
And so, in the words of Yuri Gagarin (as he blasted off into space for the first time) "poekhalli!" (let's go!)…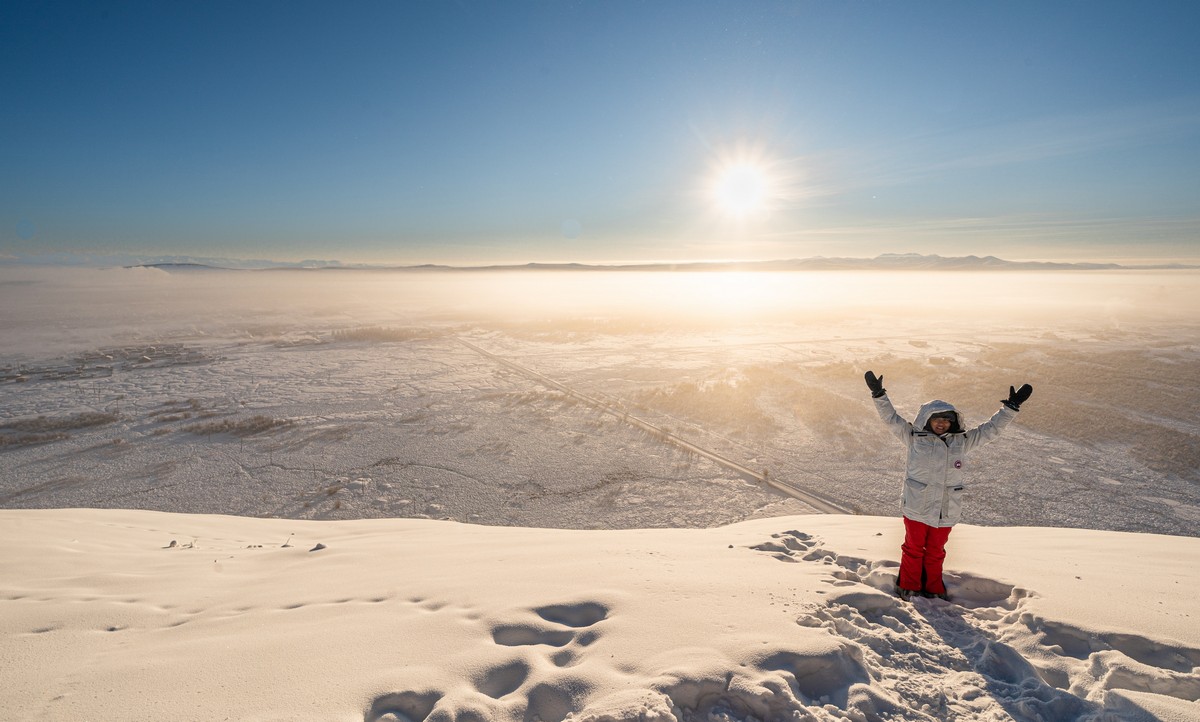 Now, if I were to be asked to describe the road trip in a nutshell (hardly appropriate given the vastness of Siberia and the tininess of a nut), I'd answer as follows: a full-on, OMG, euphoric, rapturous experience that I'll never forget. I could add a few more adjectives: magical, wonderful, fantastically beautiful, amazing, astonishing, enchanting, glorious. Freezing, frigid, numbing, polar too ).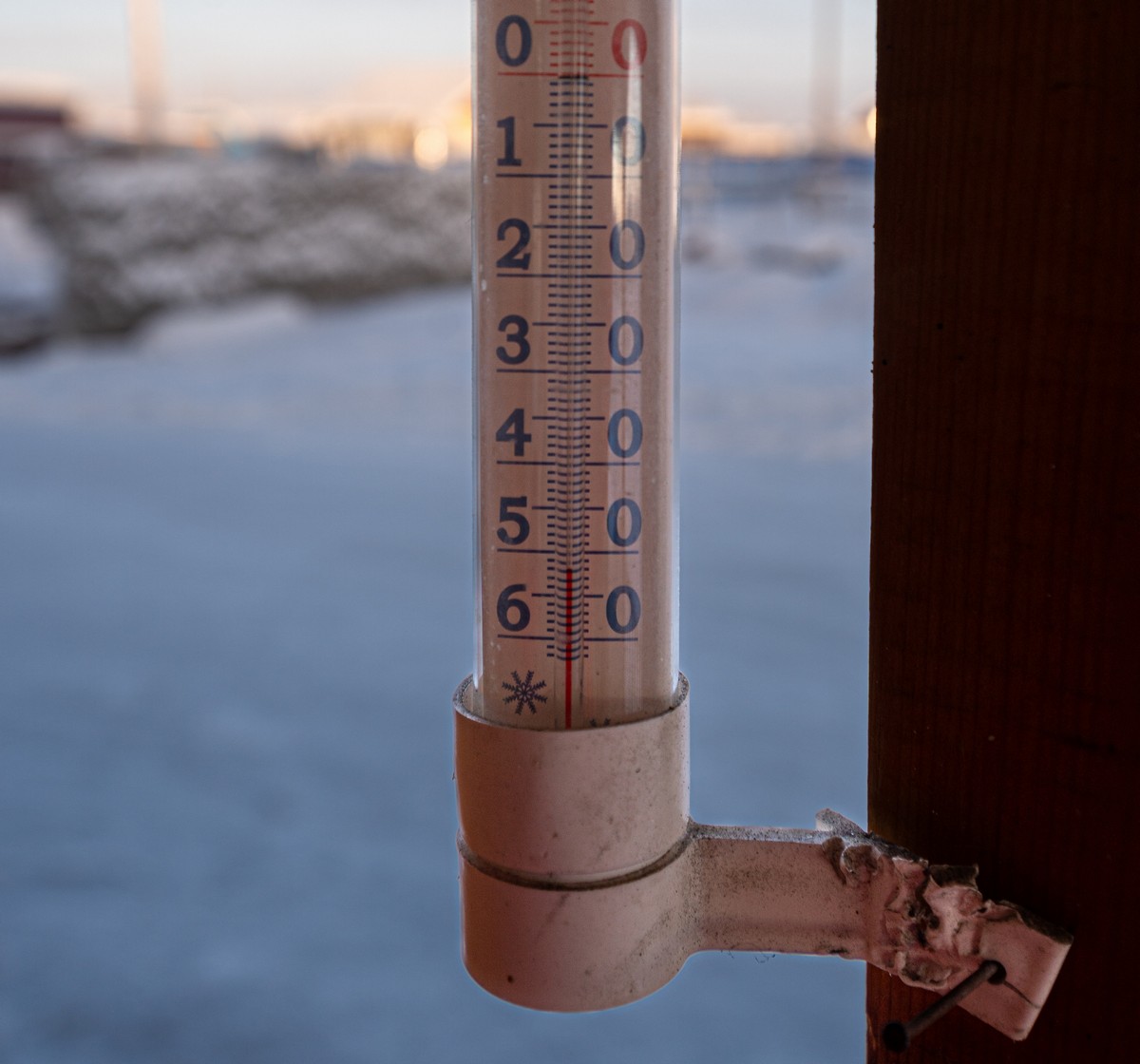 The curiously inquisitive among you, dearest regular readers, will probably straight away wonder why we were taking practically the same route as we did last year – at least as far as Lake Baikal. Sure, I stated above the short answer to that – "we liked it so much we had to follow up again with a re-run". Now, here's the long answer…
The main – original – aim of last year's expedition was to visit the Pole of Cold of the northern hemisphere – the village of Oymyakon, where temperatures in January–February get down below -50°C – sometimes even -60°C. I was expecting a miserably boring drive there from Magadan over two days on bumpy roads, arriving in and then experiencing a strange world of frightfully cold temperatures, and then another three days of bumpy roads to Yakutsk (as I opined last year). But it turned out to be just the opposite: it was a magical world of endless, mostly straight roads cutting across vast white expanses of severe steppe or forested undulating hills stretching as far as the eye can see; a white winter-wonderland fairytale that stunned the senses. So unexpectedly trance-like and other-worldly was the experience last year that I decided we just had to go back – to hopefully experience a better, more realistic, more grounded, more… explainable and relatable (to you, dear readers – and myself!) version of the white extraordinariness out there in the middle a whiter-than-white, colder-than-cold nowhere!
Like I say, our route was almost the same as last year's – as far as the world's deepest lake at least: we didn't fancy driving all the way to Moscow as it takes forever and a day, plus the experience is fairly dull – much less scenic scenery, and none of the virgin snow-covered deep-frozen vastness of the first leg between Magadan and Lake Baikal along the Kolyma Highway. I mean, I'd even go so far as to say that Kolyma is one of the most beautiful roads in the world (in terms of the scenery to be beheld from it), and I've been on some super-scenic roads in my time in all corners of the globe. Thus, it was Kolyma that was to be repeated (plus the stretch onward from its western end in Yakutsk to Lake Baikal).
Kolyma is as beautiful at night as it is by day – especially with a full-moon ->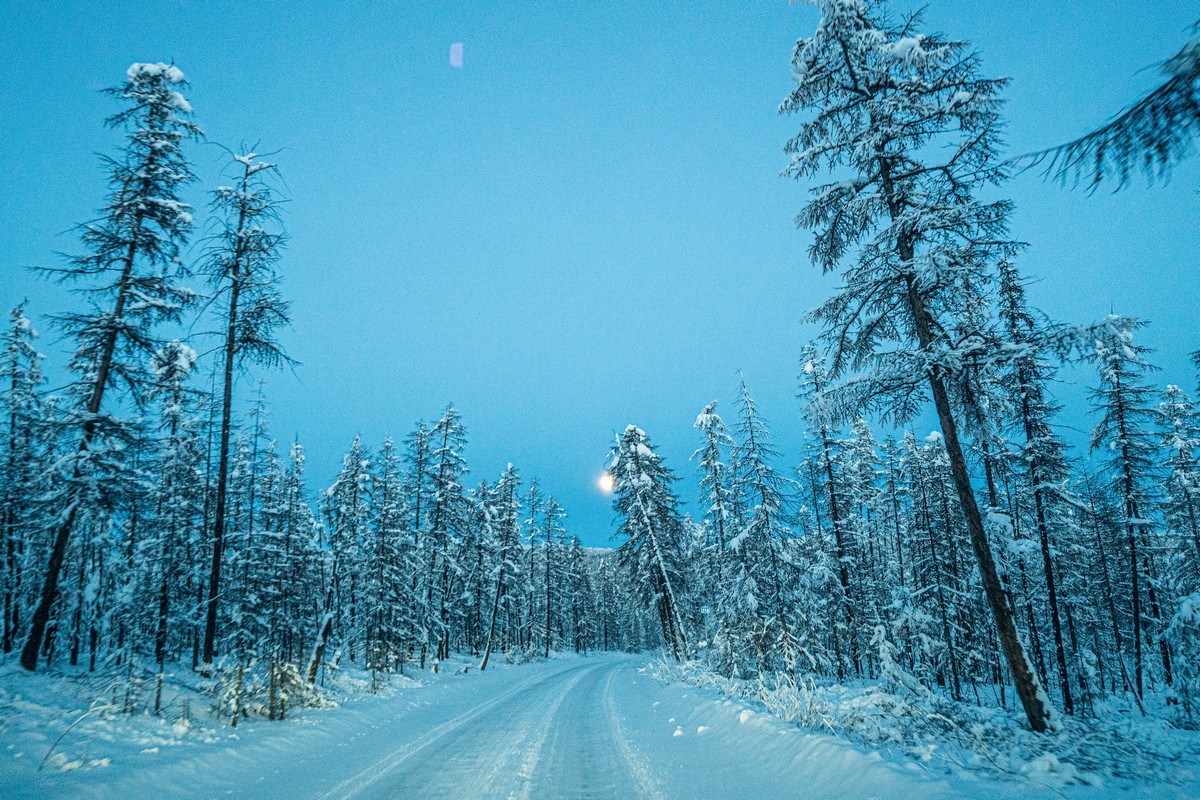 In places the trees droop to hang over the road forming a snow tunnel: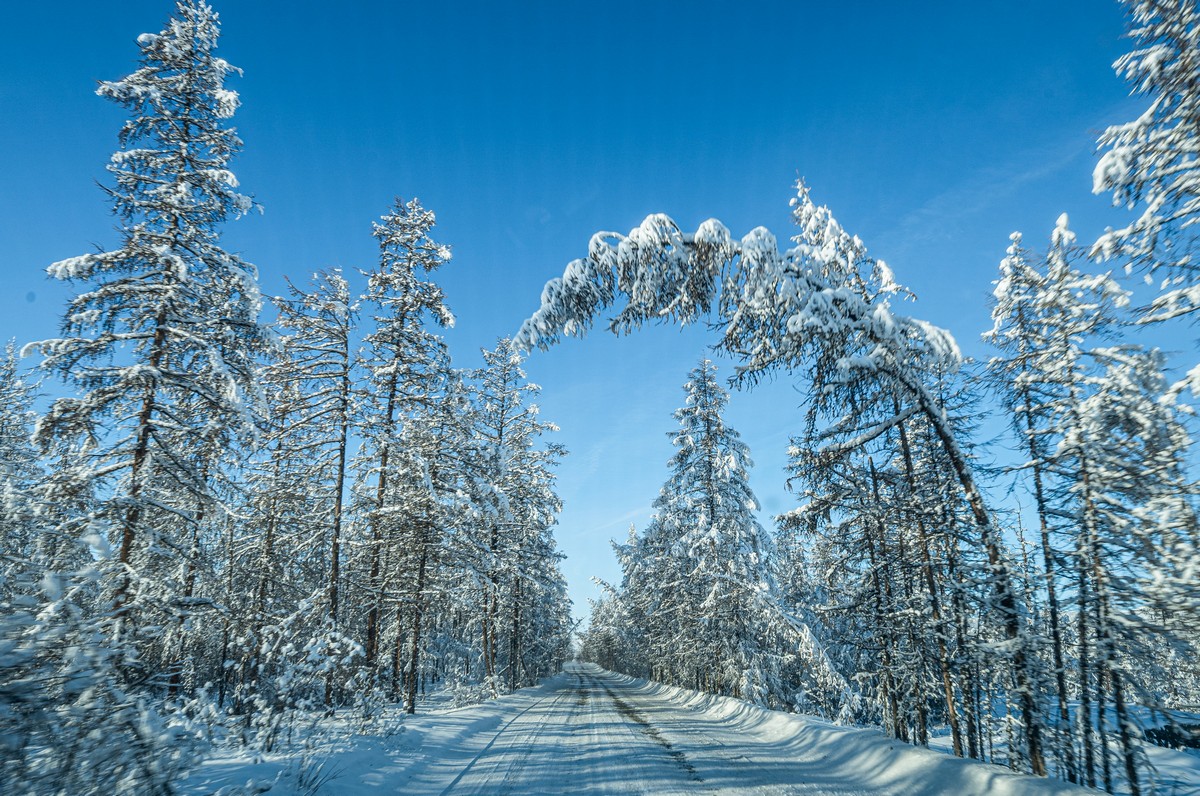 Ice walk – on Magadan Bay. Though very remote, on the whole Magadan is a lively, positive-feeling city in which you can spend a few days strolling and inspecting and relaxing and snapping. My brief 2021 report on the city is here. The 2022 update – coming soon…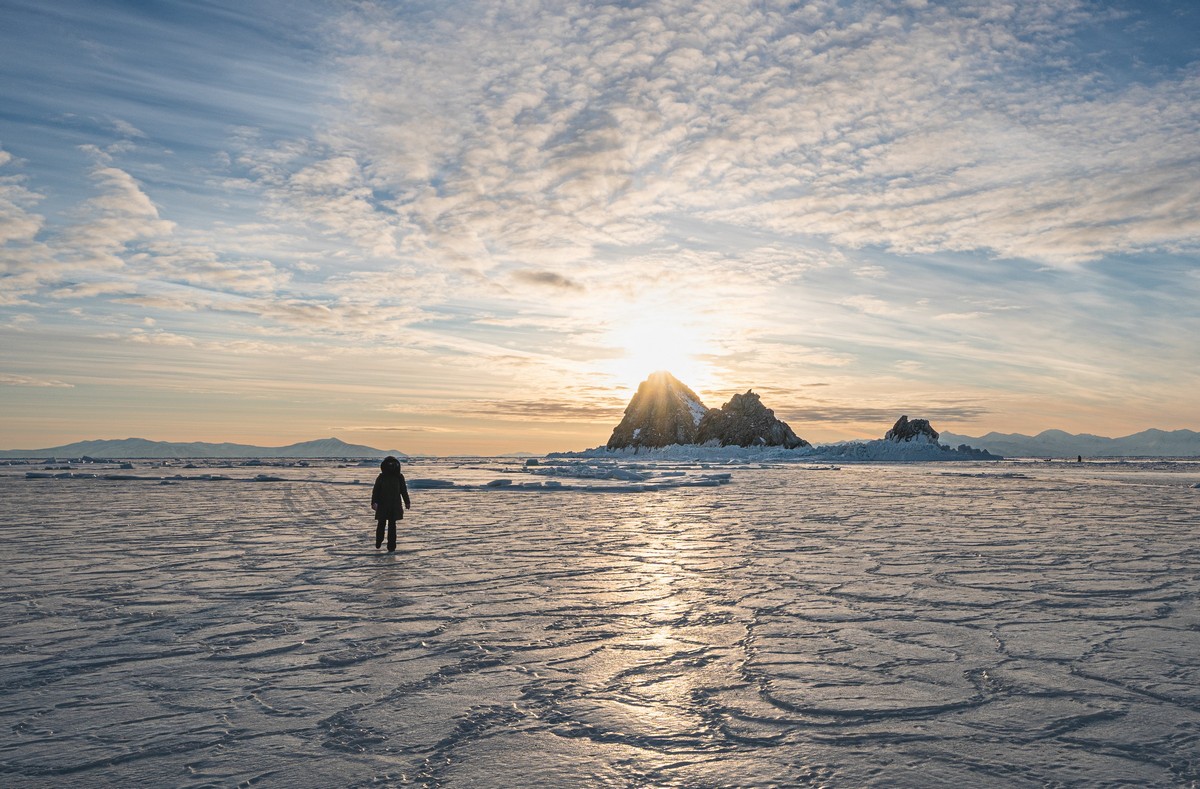 And we were off!…
Our first bridge after leaving Magadan – near the Kolyma Hydroelectric Power Plant ->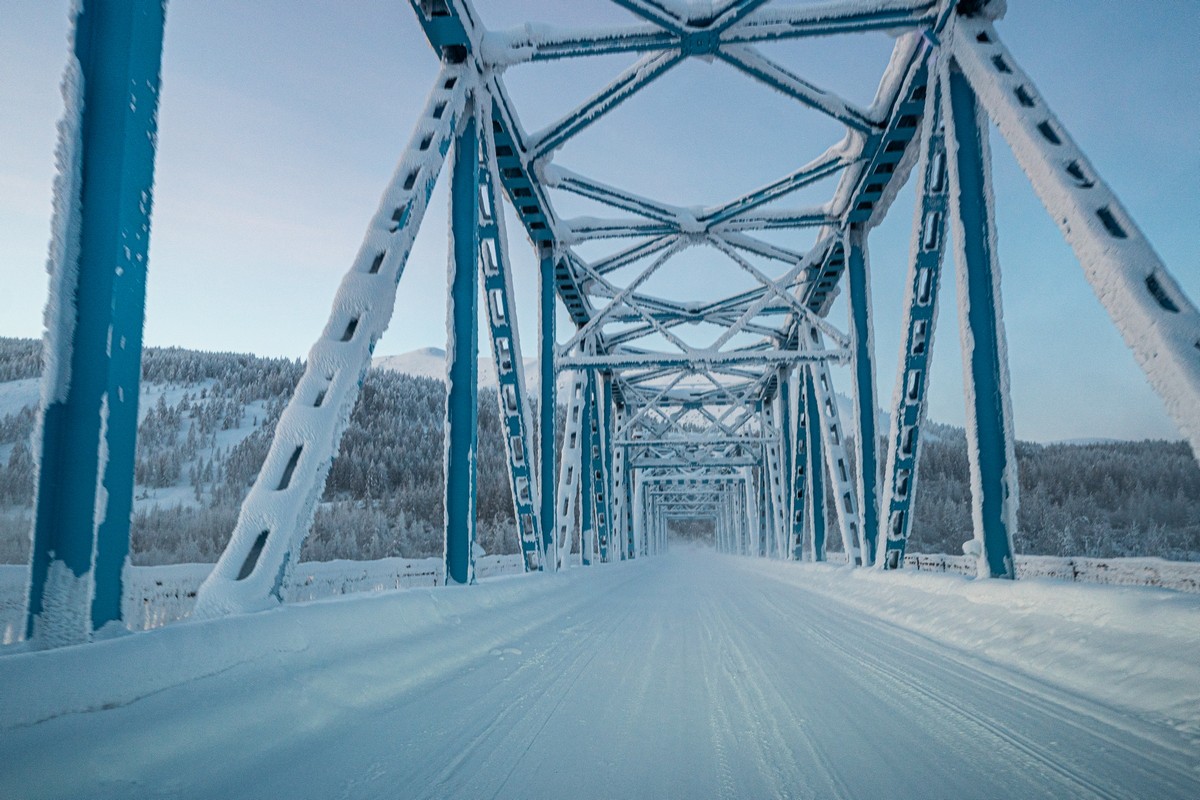 Just another day in far-eastern Siberia! ->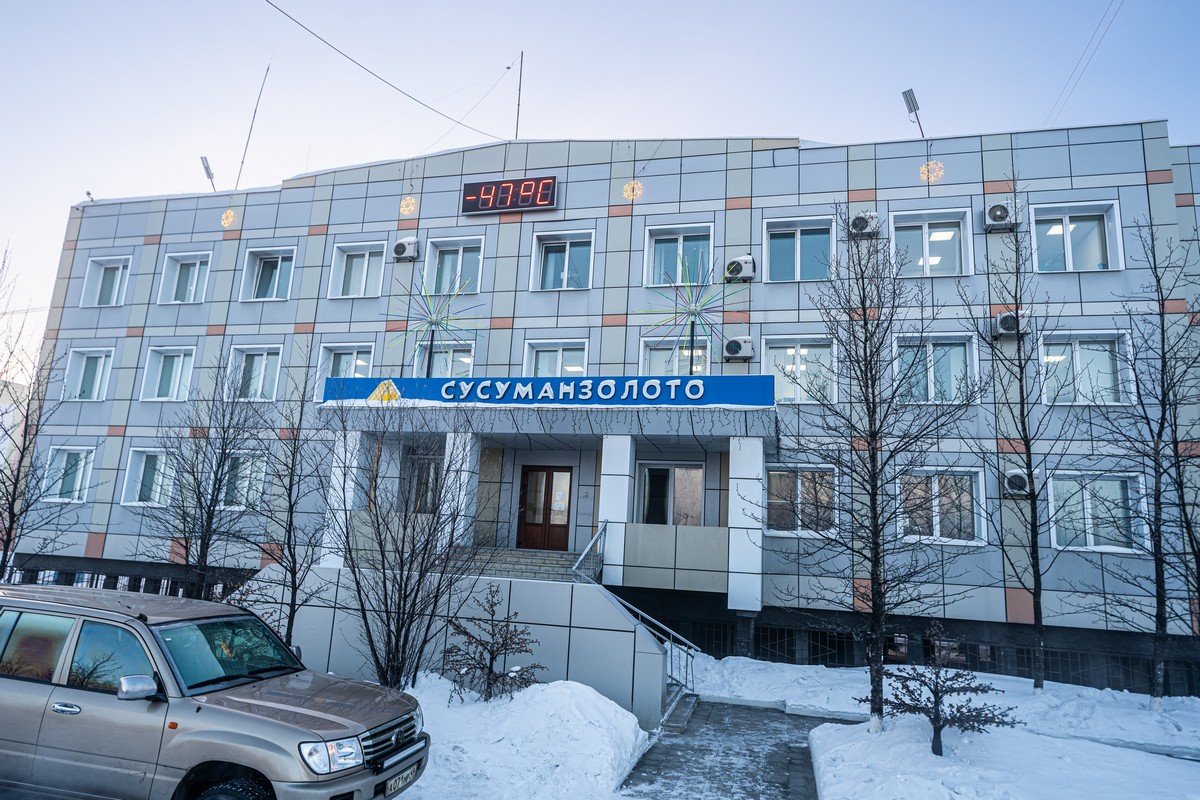 The urban comforts most of us (= office-bound metropolis-dwellers) on the expedition are used to end at Magadan's city limits, only to return in the suburbs of Yakutsk; in-between – very little civilization as we know it. Even the filling stations drop the comfort level – none of the hotdogs and coffee in the warm and cozy café in the pay-booth. And the temperatures? Yep: they start sliding fast – at first to lower than -40°C; a while later – below -50…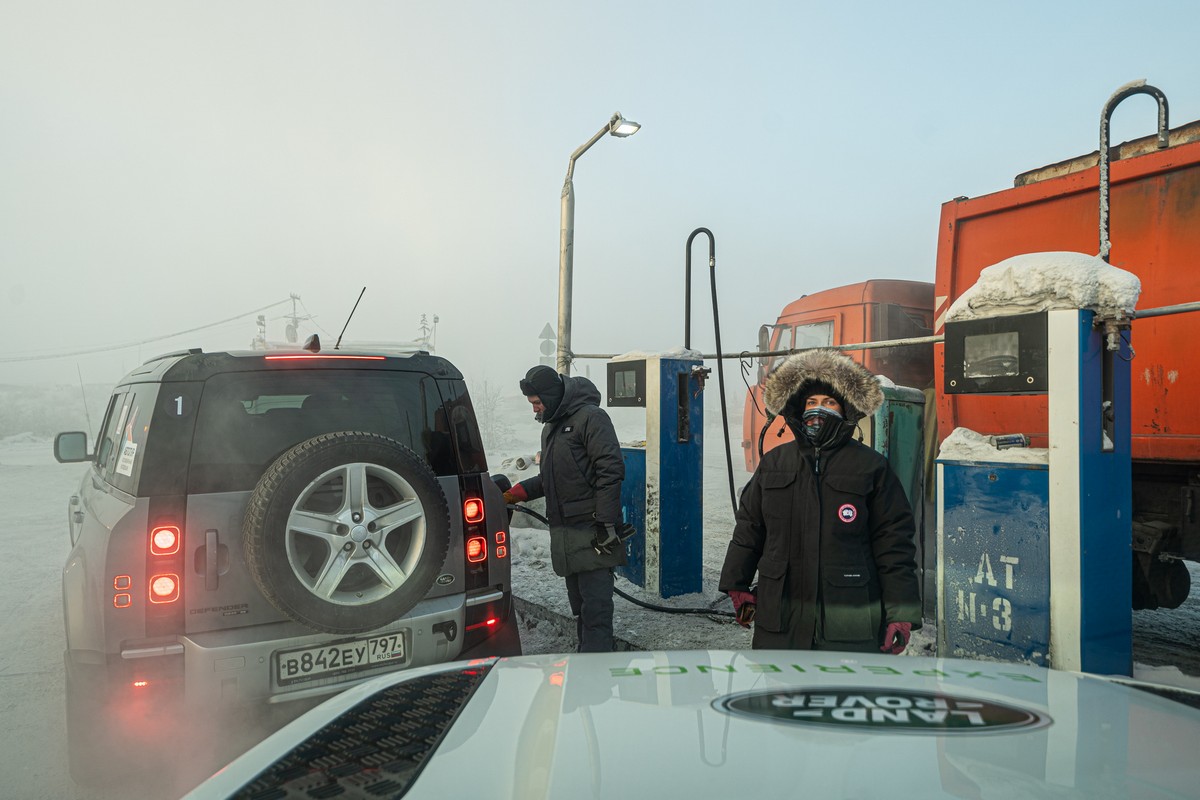 The temporary winter 'road' across the Indigirka river: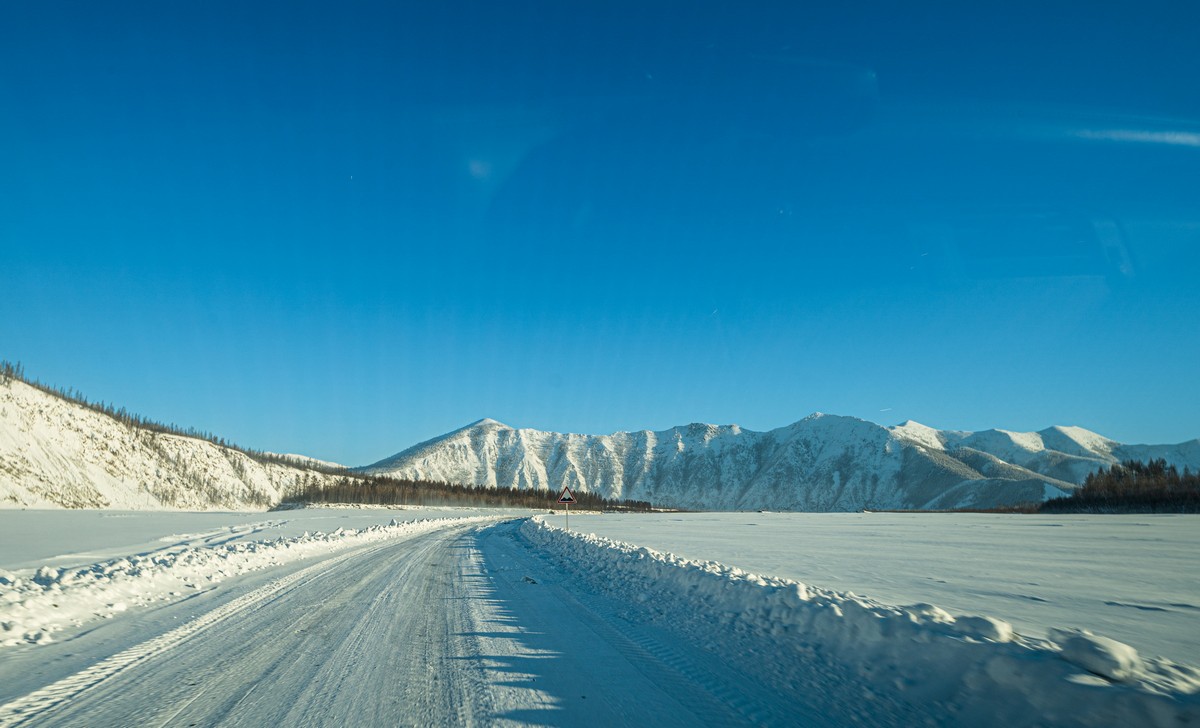 A stretch of the Indigirka (the "Indigirka Tube") in which huge rocks are suspended inside the frozen mass of water! ->
The Olchansky Pass – the most beautiful spot along the whole of the Kolyma Highway ->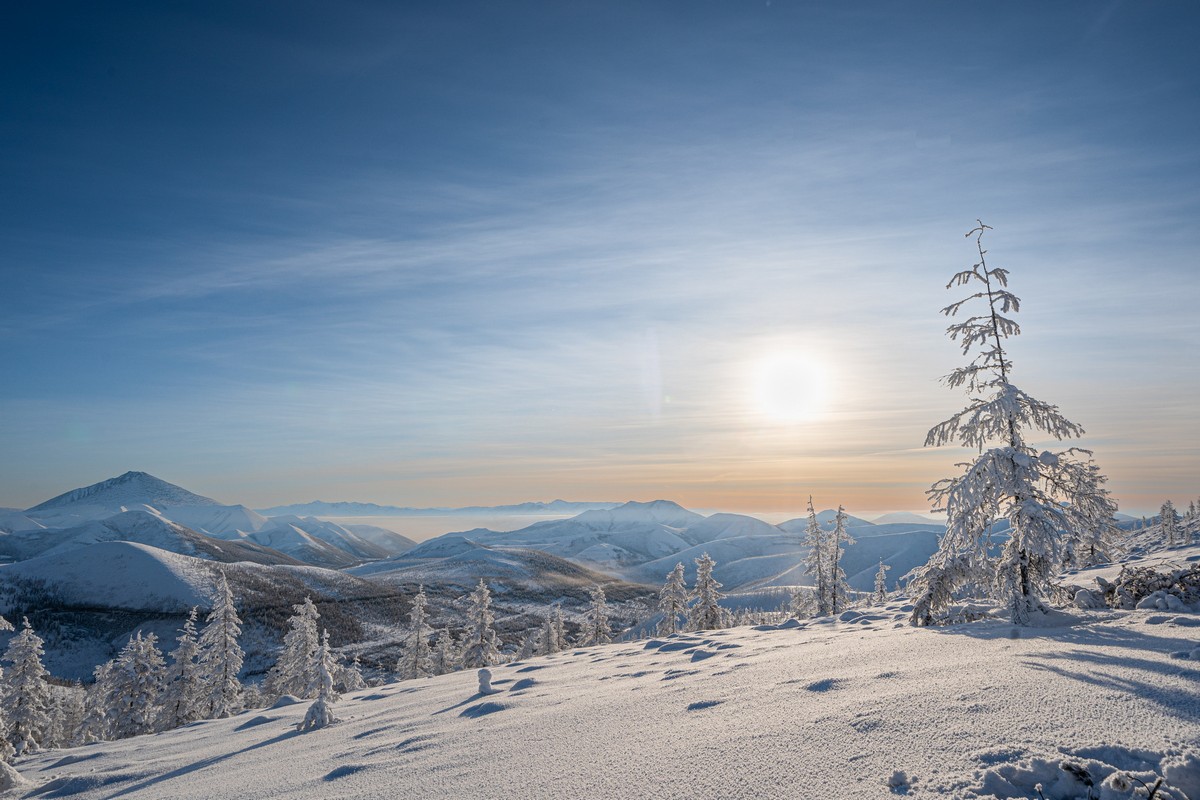 Oh my gorgeous – in all directions!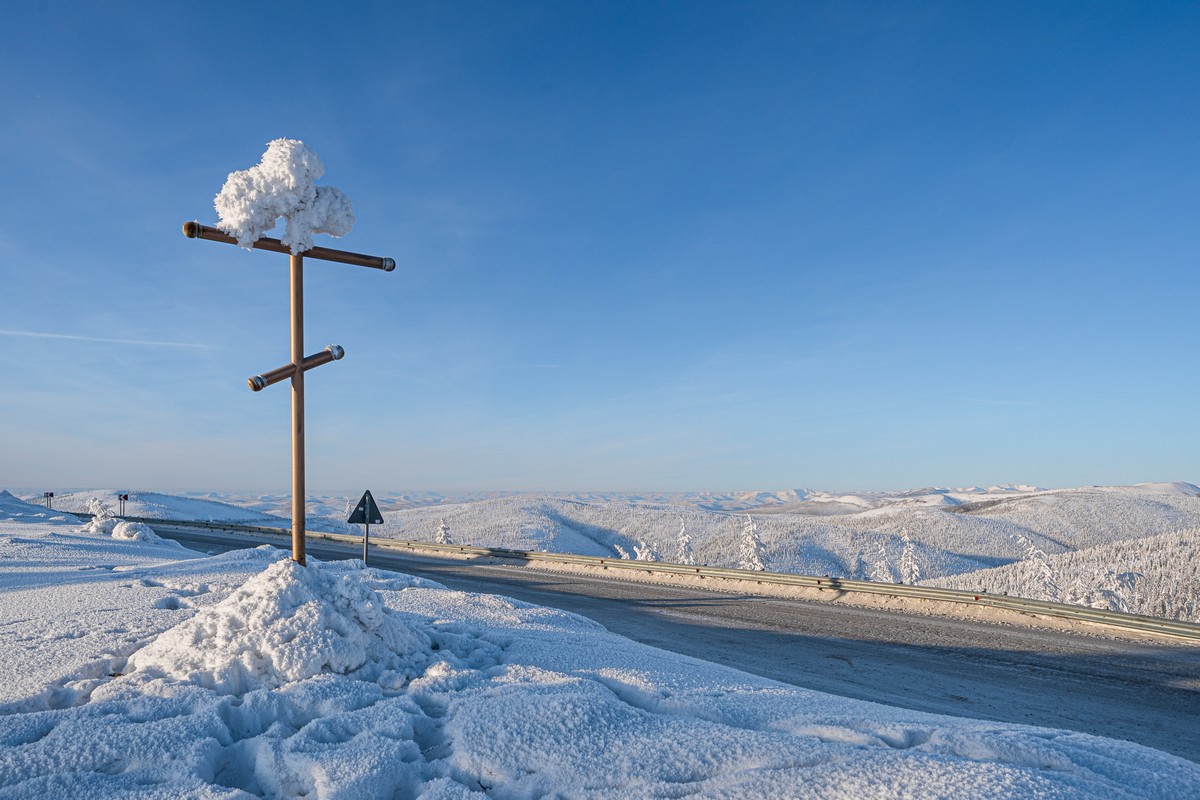 Snow or hoarfrost – it's tricky differentiating the two – covers everything.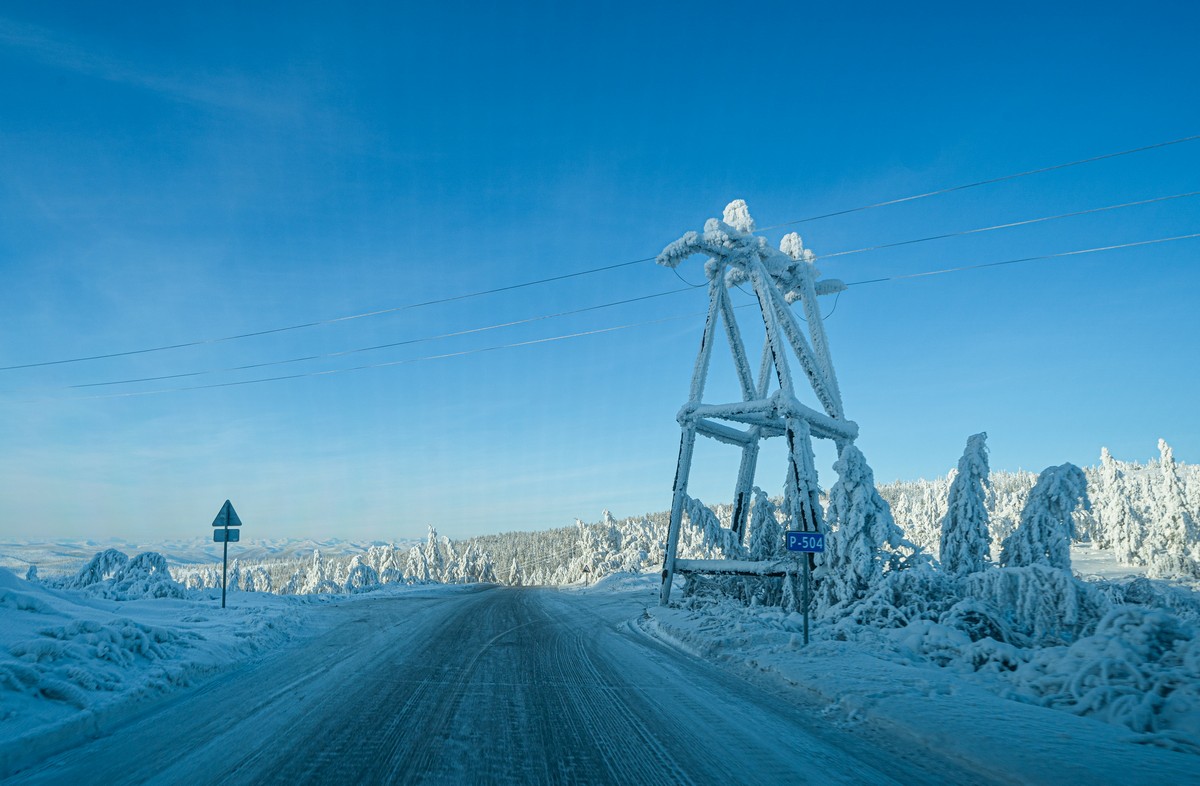 The roads – mostly in super condition: smooth, cleared of snow, well-signposted, and with crash barriers.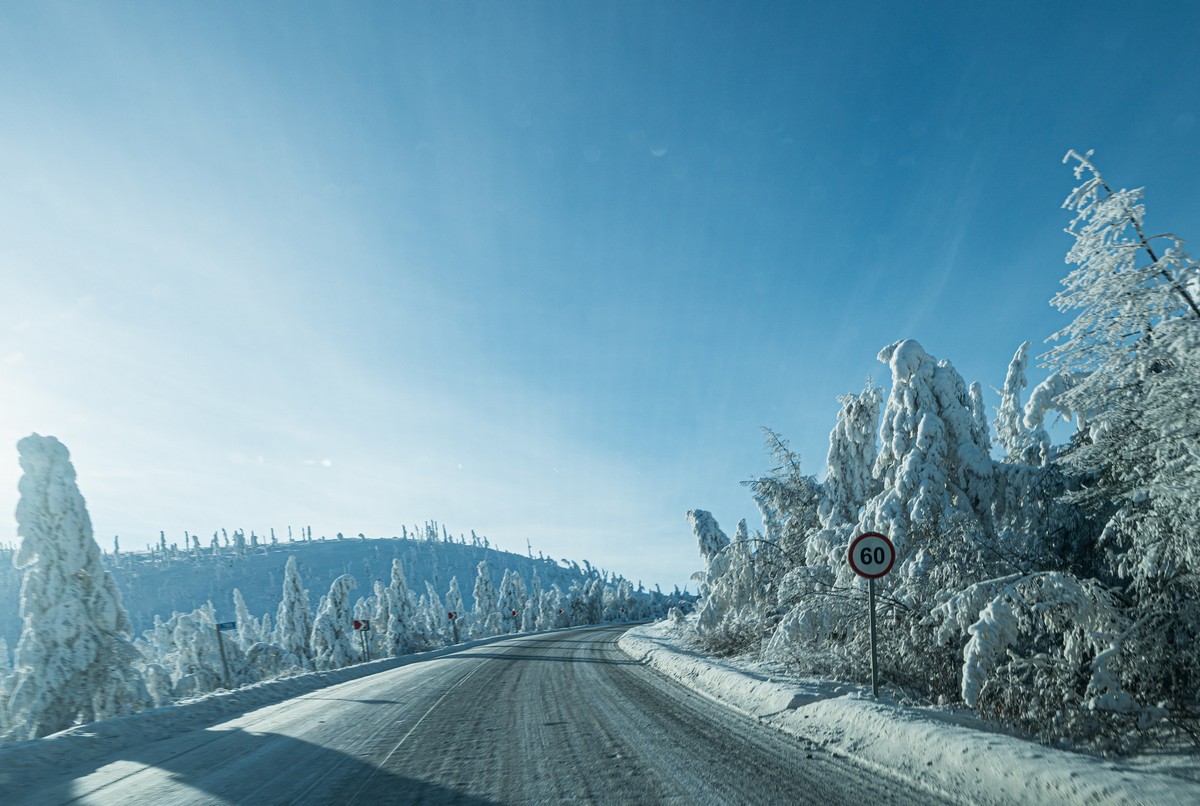 On and on, for hundreds of kilometers of a winter fairytale…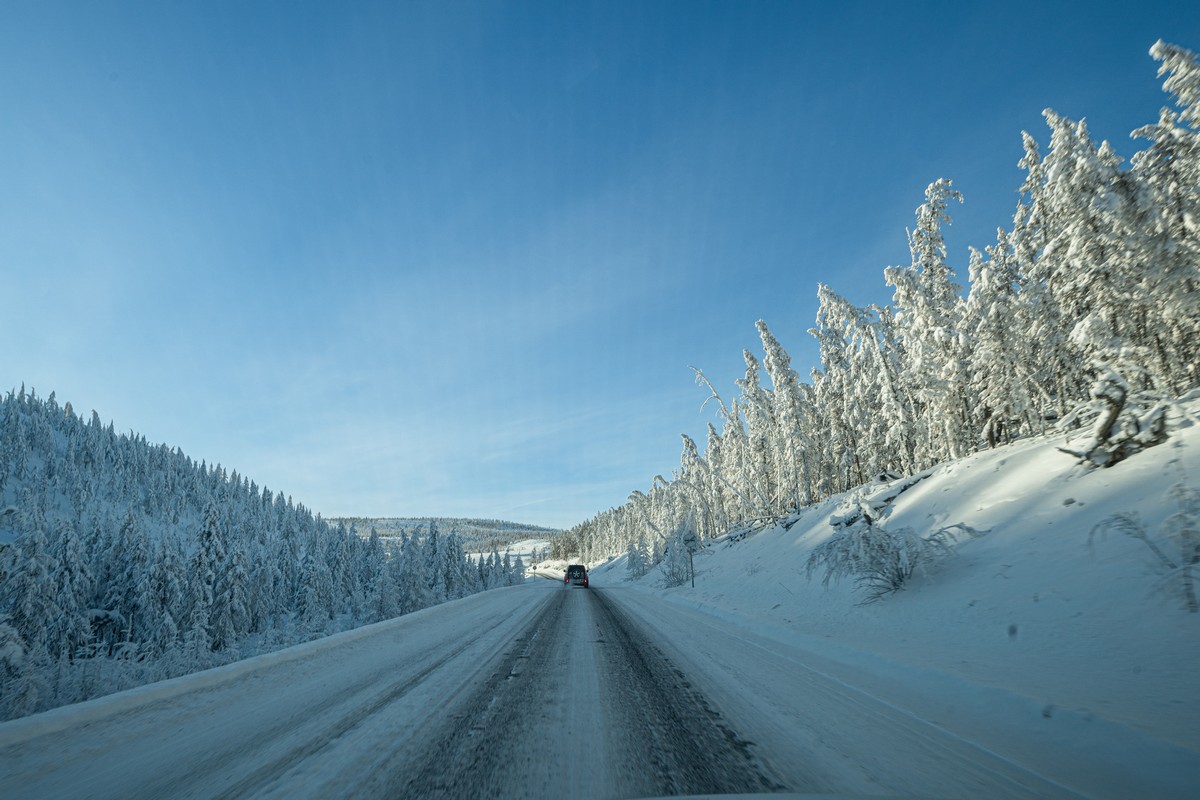 Cuba!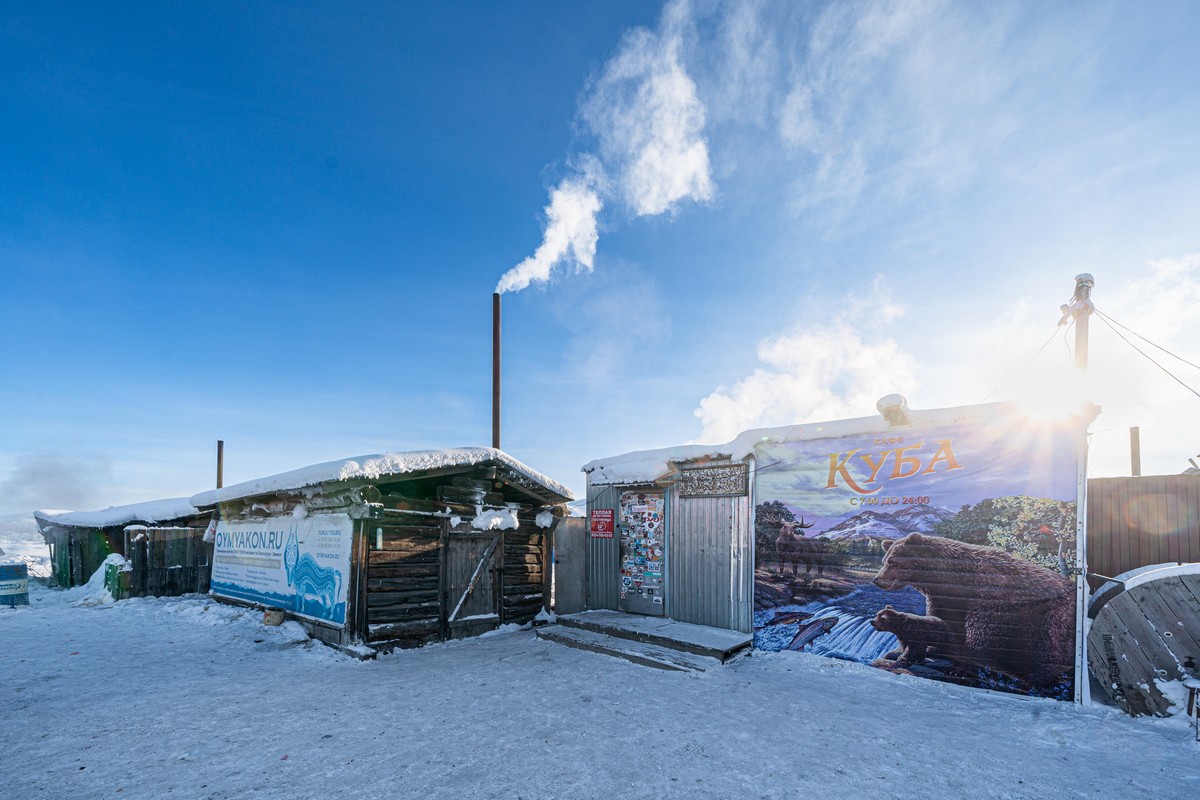 Oymyakon!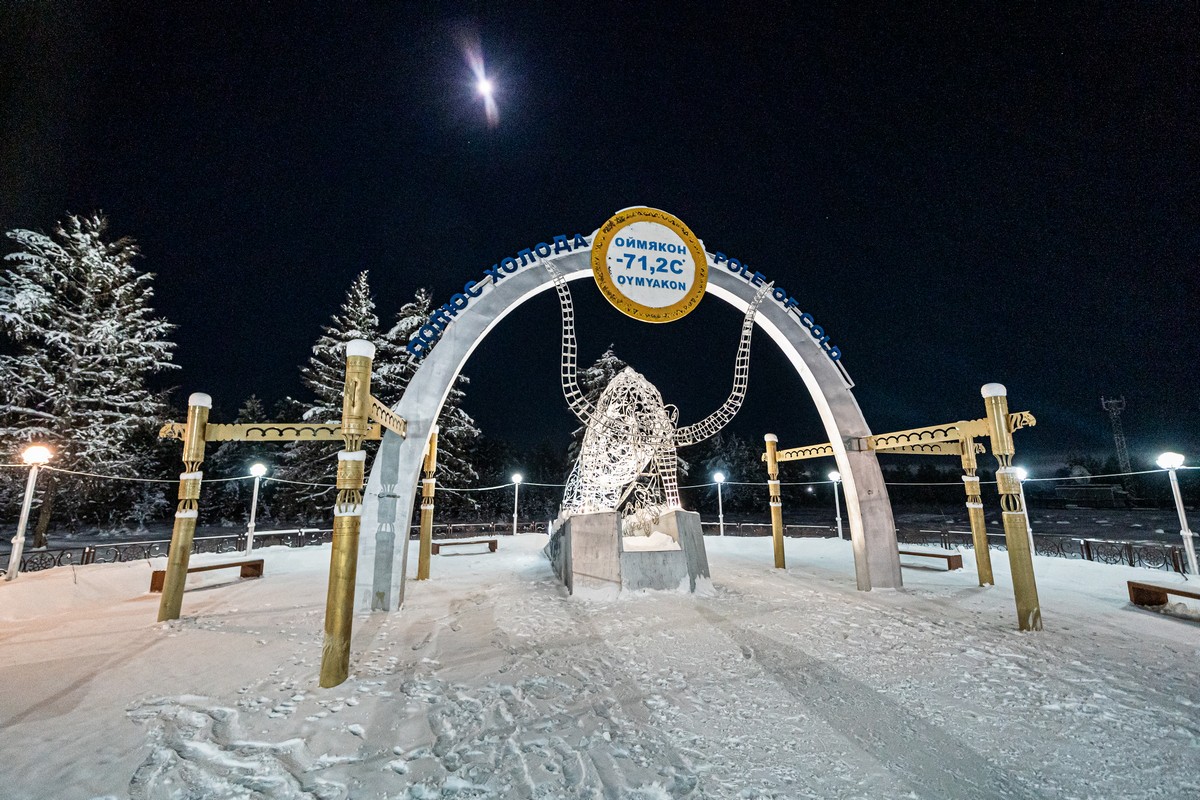 Air so cold hot water freezes before it hits the ground! ->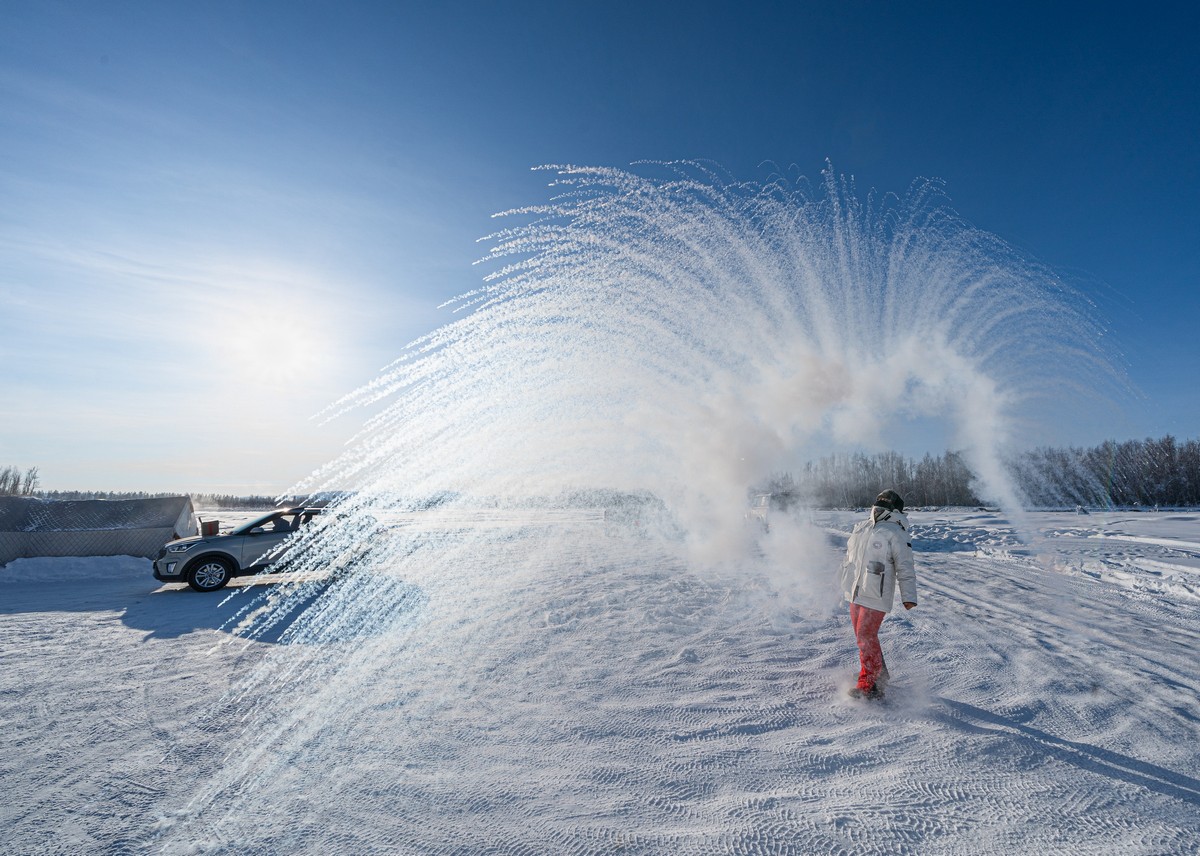 Crystallized water in disused mine tunnels:
Back on the road, heading for Yakutsk. What a remarkable road!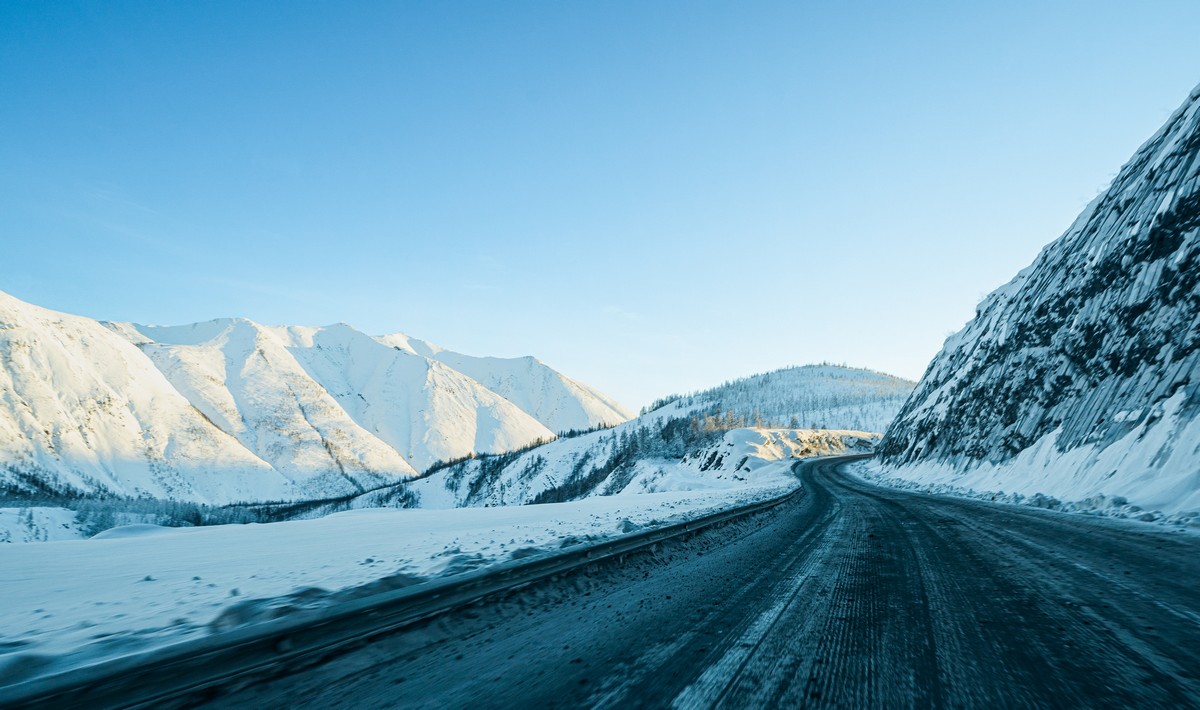 Yakutsk detail coming later. For now – it's fish market. Gives "fresh-frozen" a whole new meaning ) ->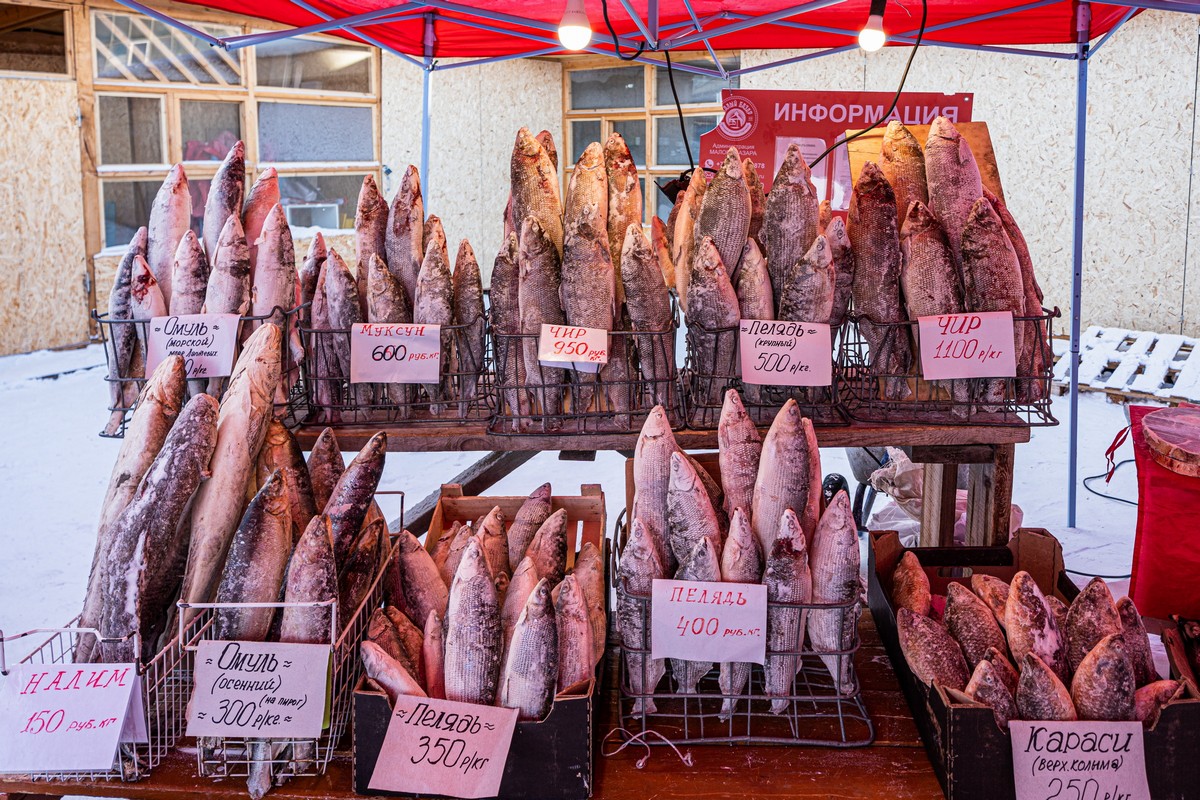 After Yakutsk, the road to Mirny is a good one, but not the most interesting. Still, you can drop in on some Yakutian horses: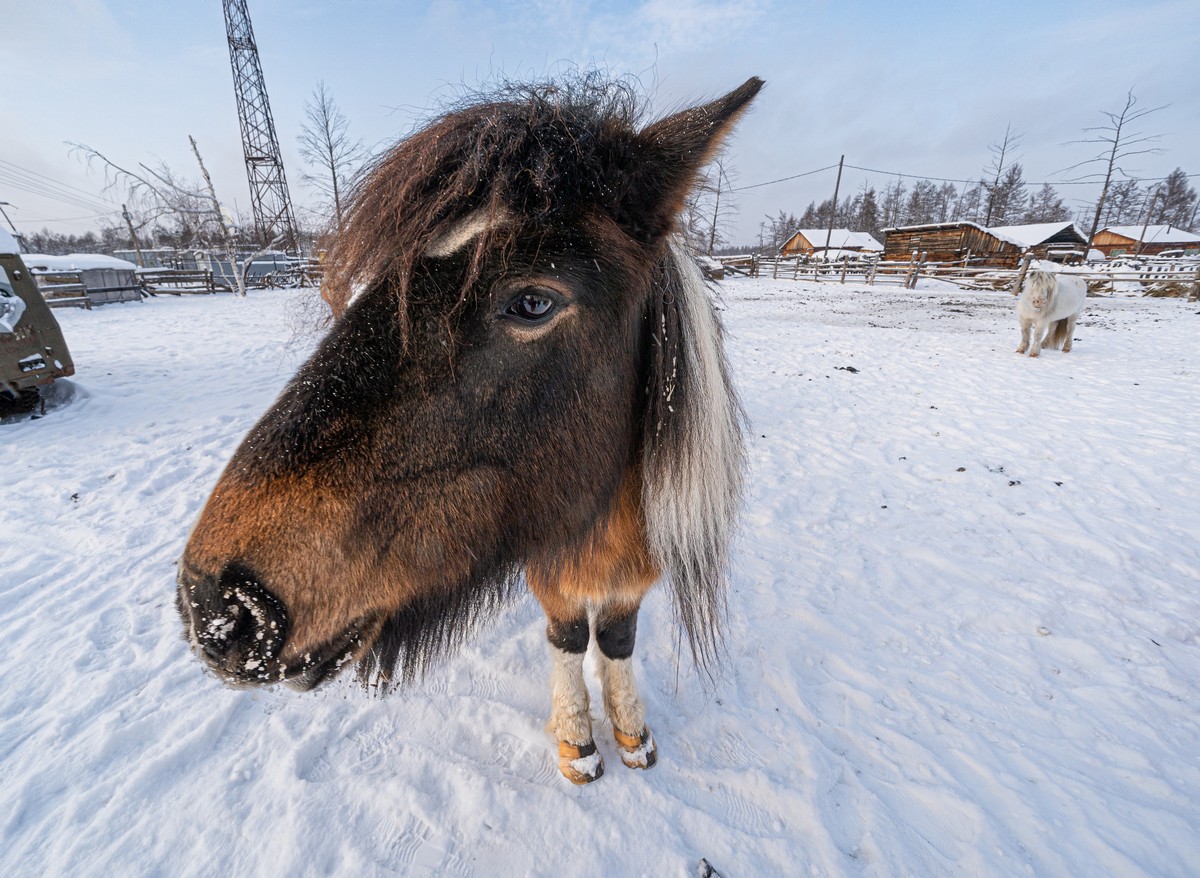 I do believe this is my best ever selfie! ->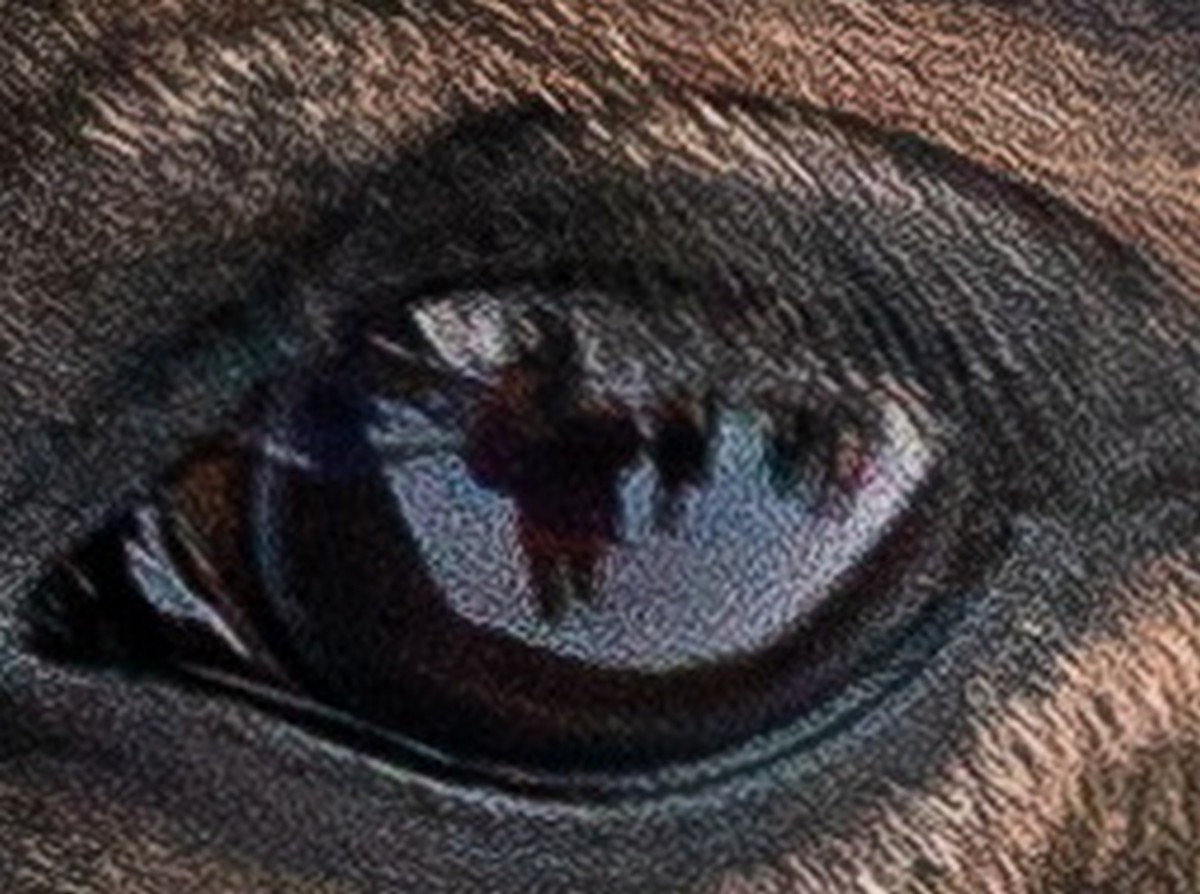 The Mir mine. Finally I saw it with my own eyes: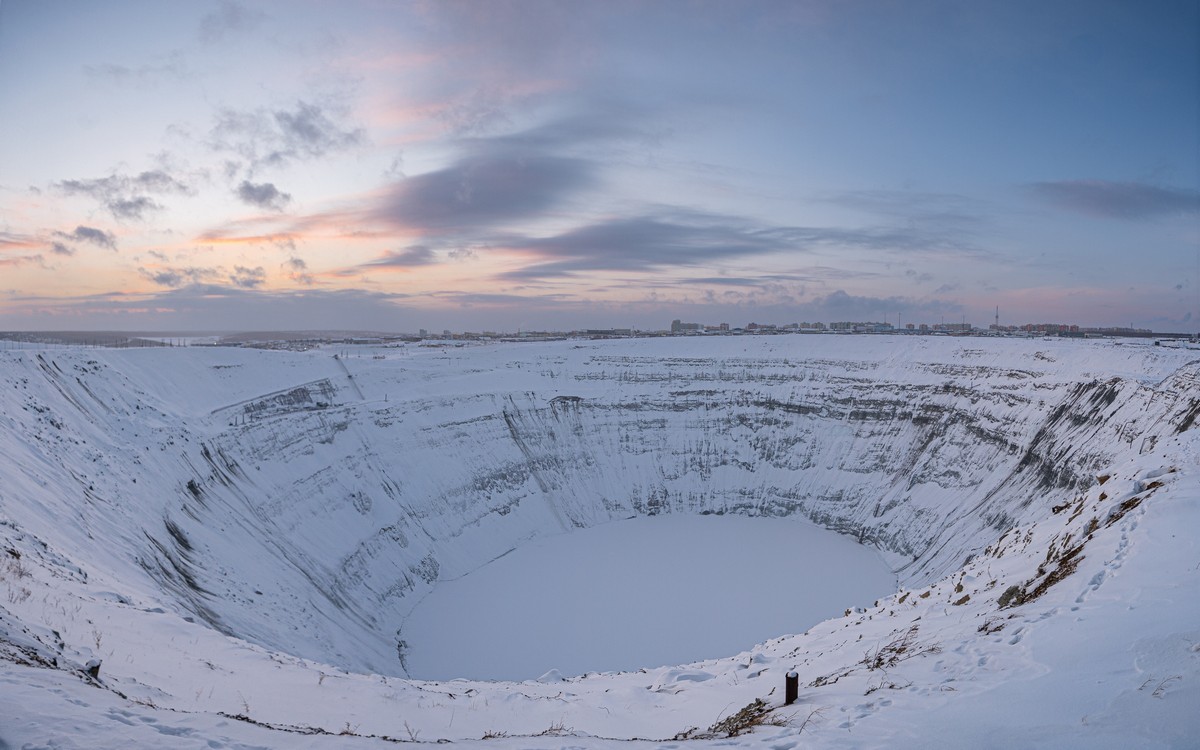 From the Mir mine we took the winter road from Taas-Uryakh to Verkhnemarkovo, where we entered not only a different world, but a completely different world – an alternative reality even. But that topic isn't for this post. Here – only photos of our Kolyma Highway road-trip, including of genuine Siberian ice roads: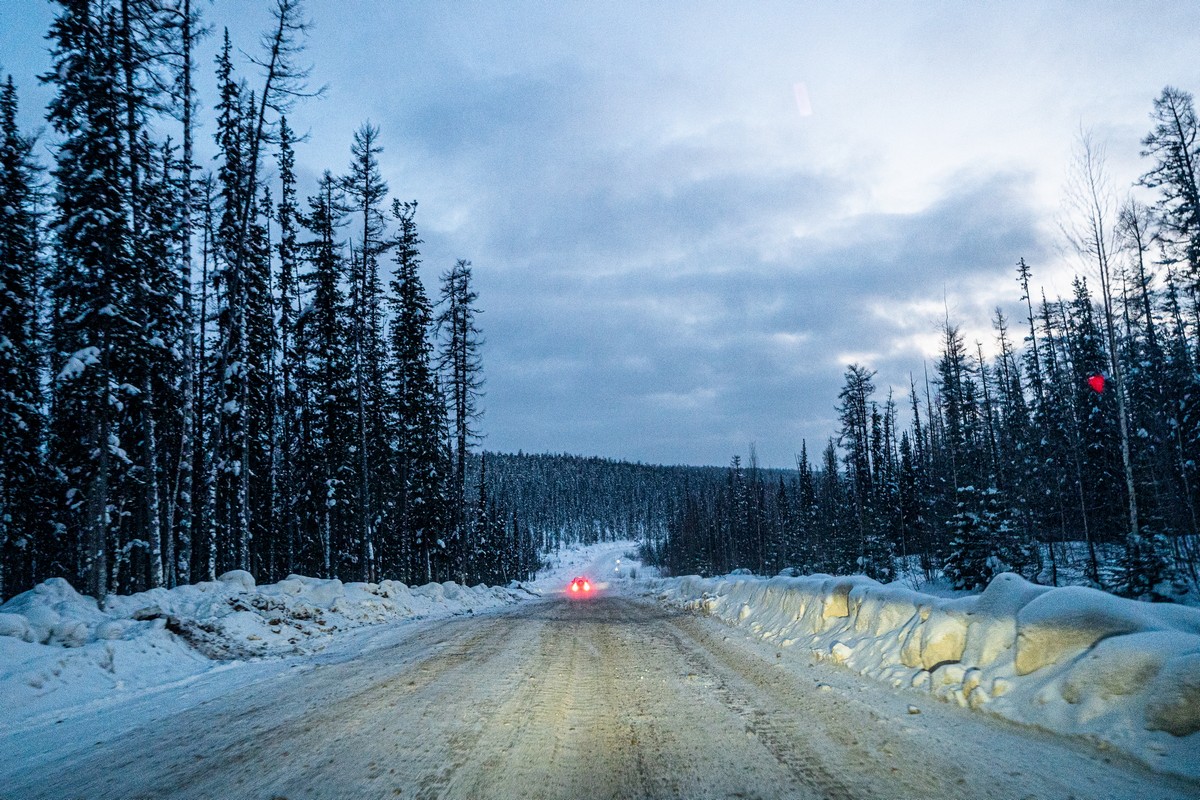 An ice road, btw, is a road that only functions as one when frozen. Typically they run atop frozen rivers, but they can also be on land – where no asphalt surfacing has been laid. For example, between April and October this one we were on is just a long narrow parting that cuts across a forest – impassable by regular motor vehicles. Between October and April everything's frozen, they level the frozen surface with grading machinery, and off in your Nissan Micra you can pop!…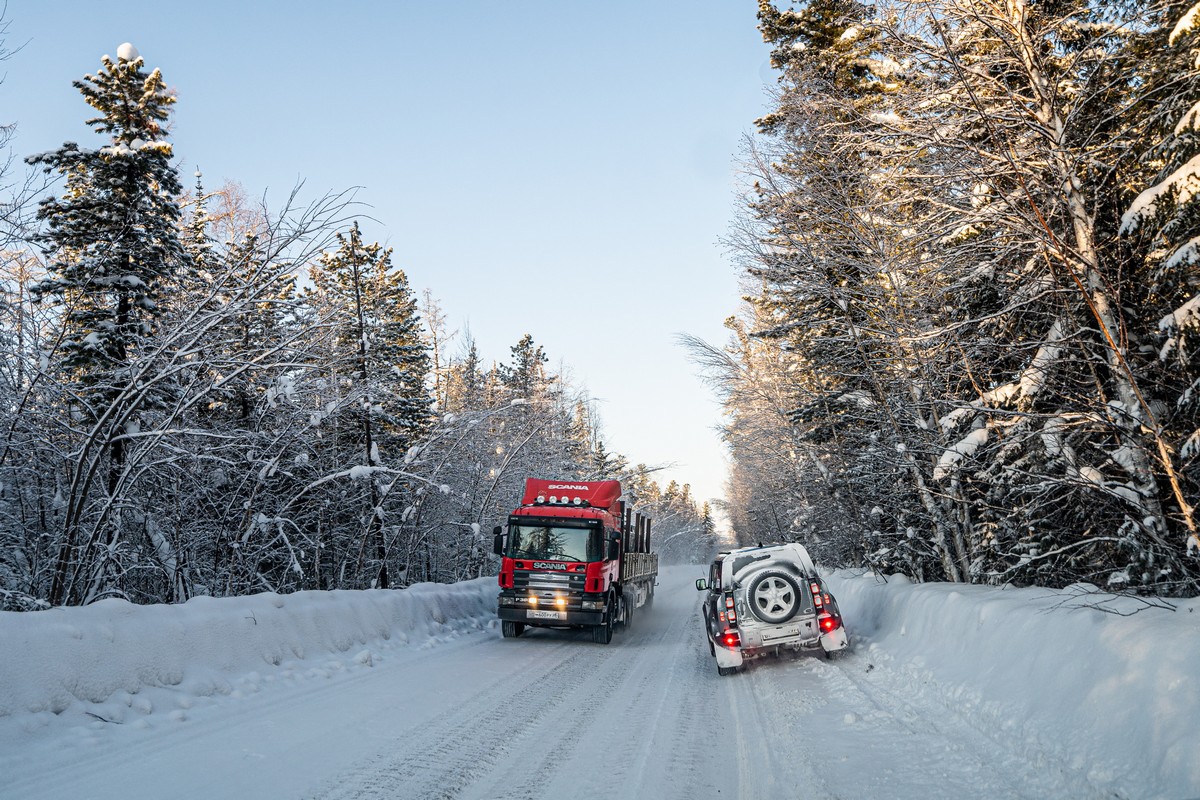 Though "graded", the surface is not all that smooth. We had to reduce our speeds to between 30 and 50 km/h. The scenes were no less breathtaking for it though – in a particularly brutal and unusual way ->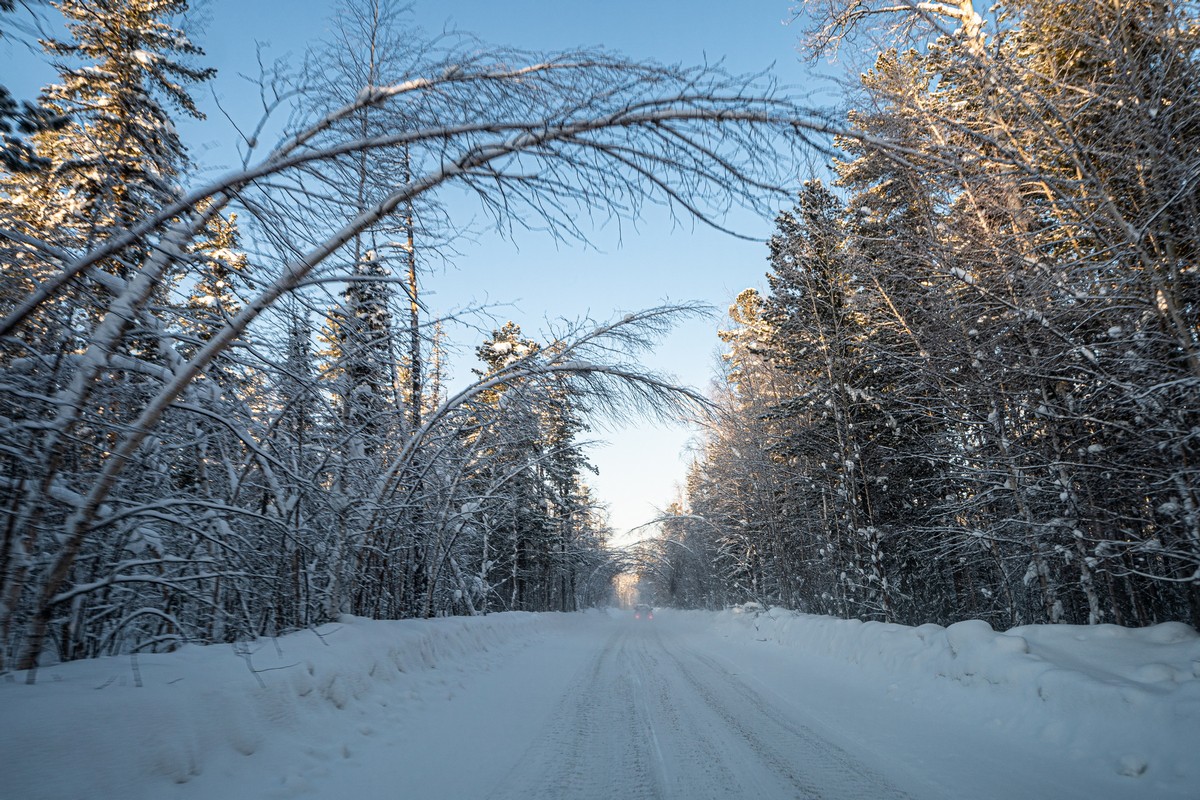 This ice road = 800km+ long. No hotels whatsoever, since it's only for long-distance trucks (and their drivers sleep in the trucks' cabins). But there are at least eateries, albeit of a very rudimentary – but no less appreciated – kind; like this one: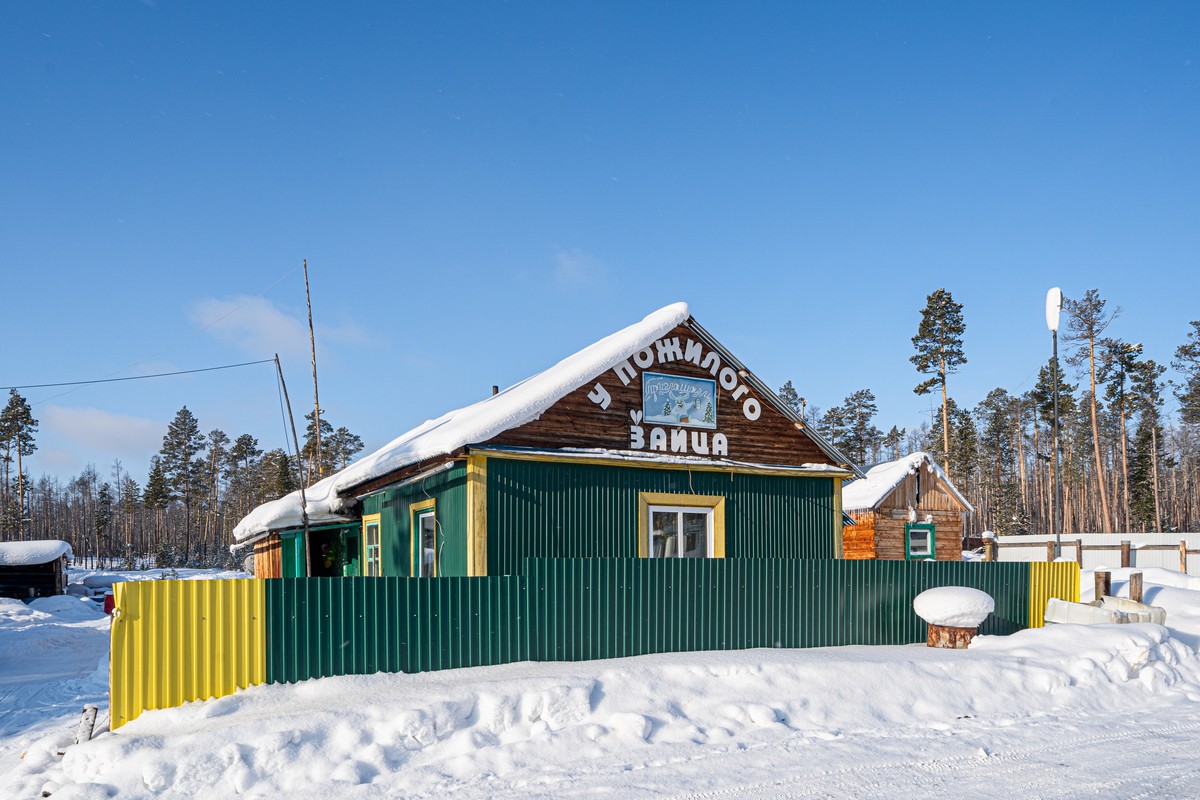 Onward along the ice road…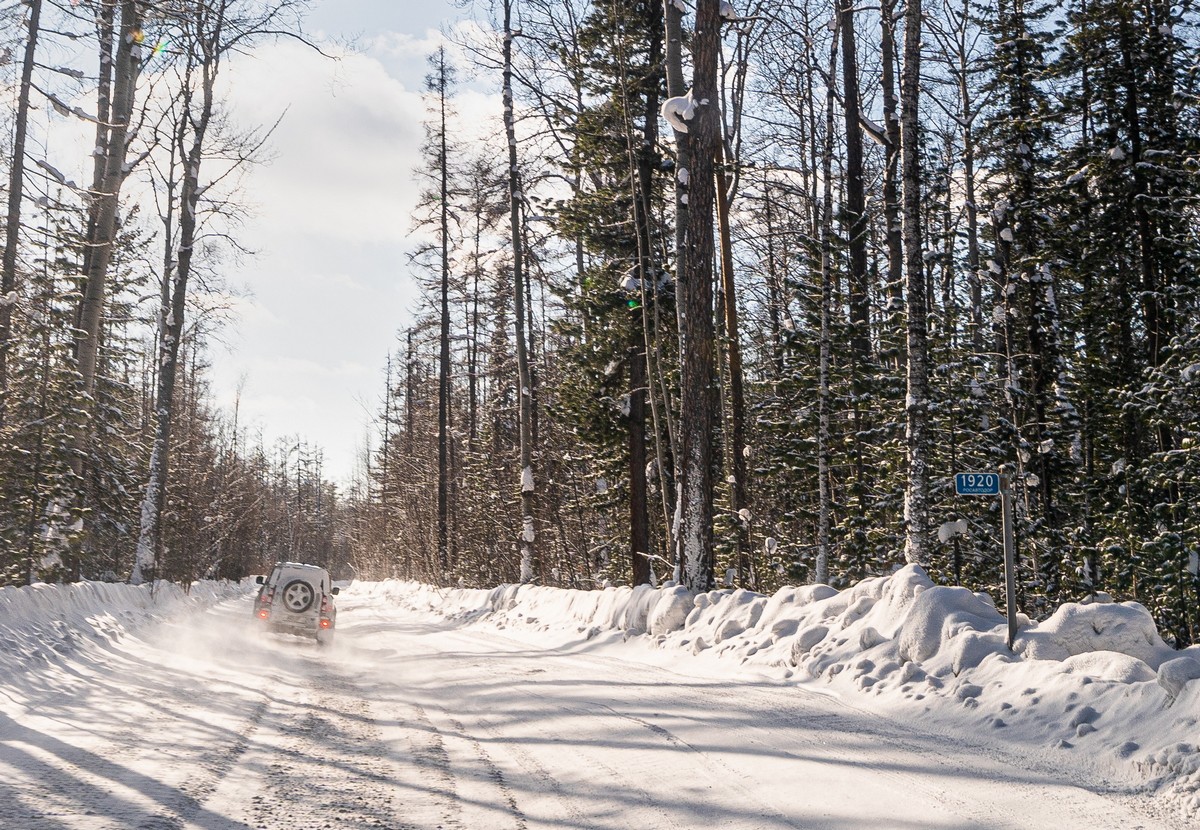 As we drive further south, the fir trees become pine trees ->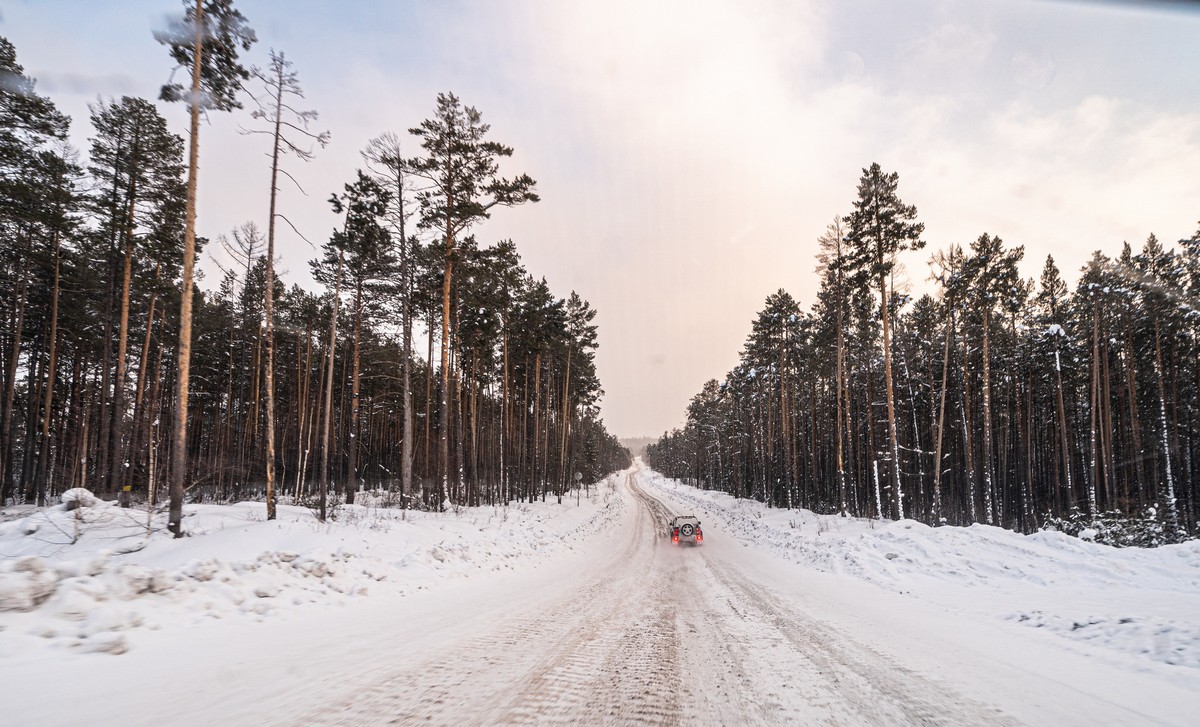 Apparently they're thinking of turning the ice road into a proper, year-round, asphalted road. But… we love the ice road! There's something uniquely amazing about it. Oh well, at least we got a final drive along the ice road while we could…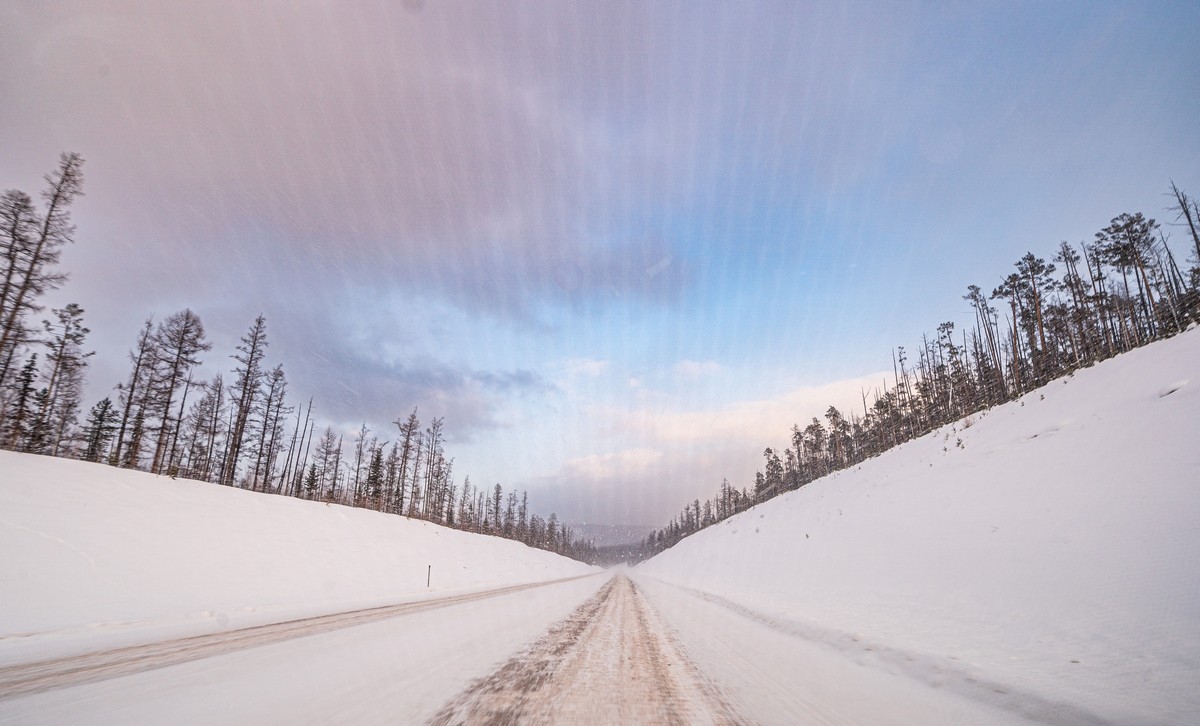 Lake Baikal!
We were lucky: this year the ice was smooth and flat, and there wasn't too much snow atop the ice. Accordingly, where we wanted to drive – that's exactly where we drove!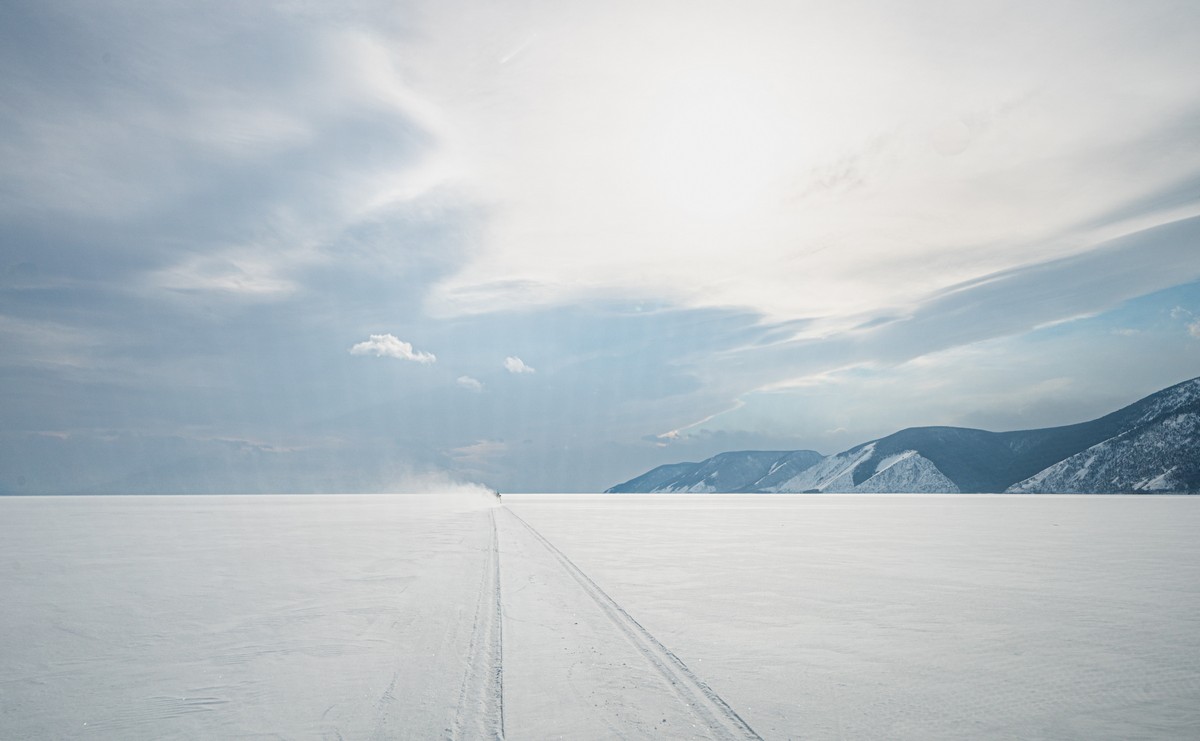 Check out this Baikal-endemic Christmas tree; it grows exclusively upon the ice of the Baikal. No one knows how or why ).
Now this is an ice road! ->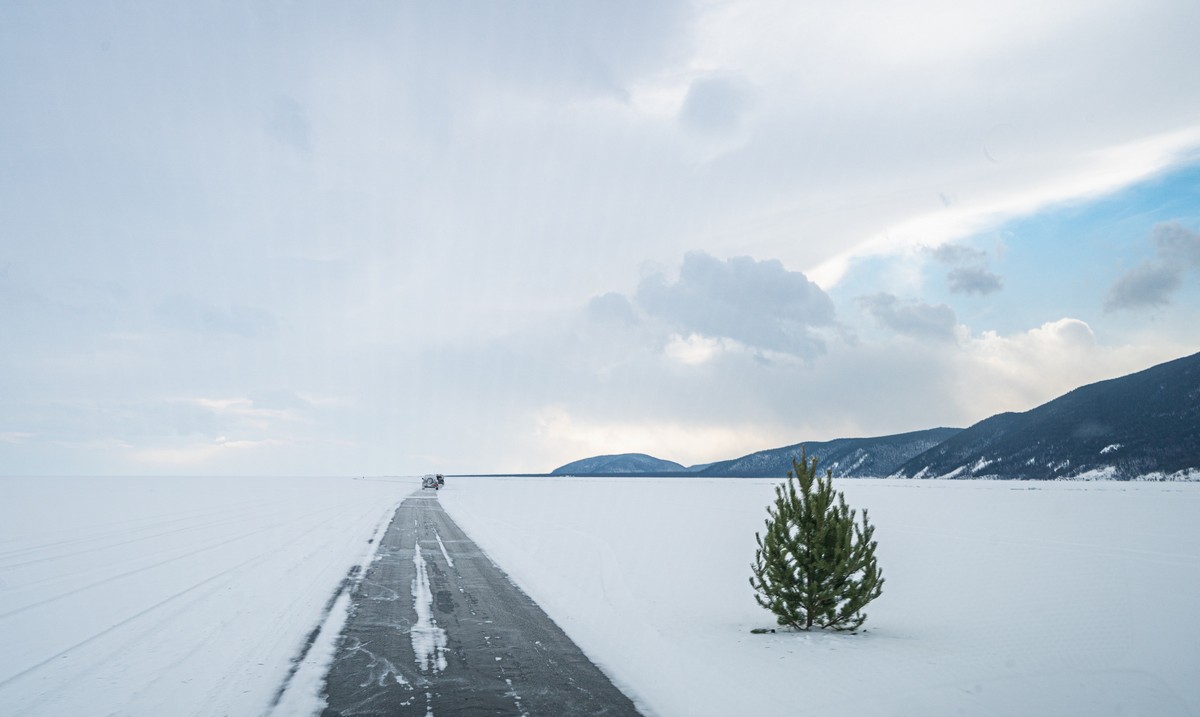 Well, well: here's something I never knew: there are some hot springs dotted around the shores of Lake Baikal! Very hot. They even have to add cold water to bring its temperature down to ~40 degrees when filling the local swimming pools! ->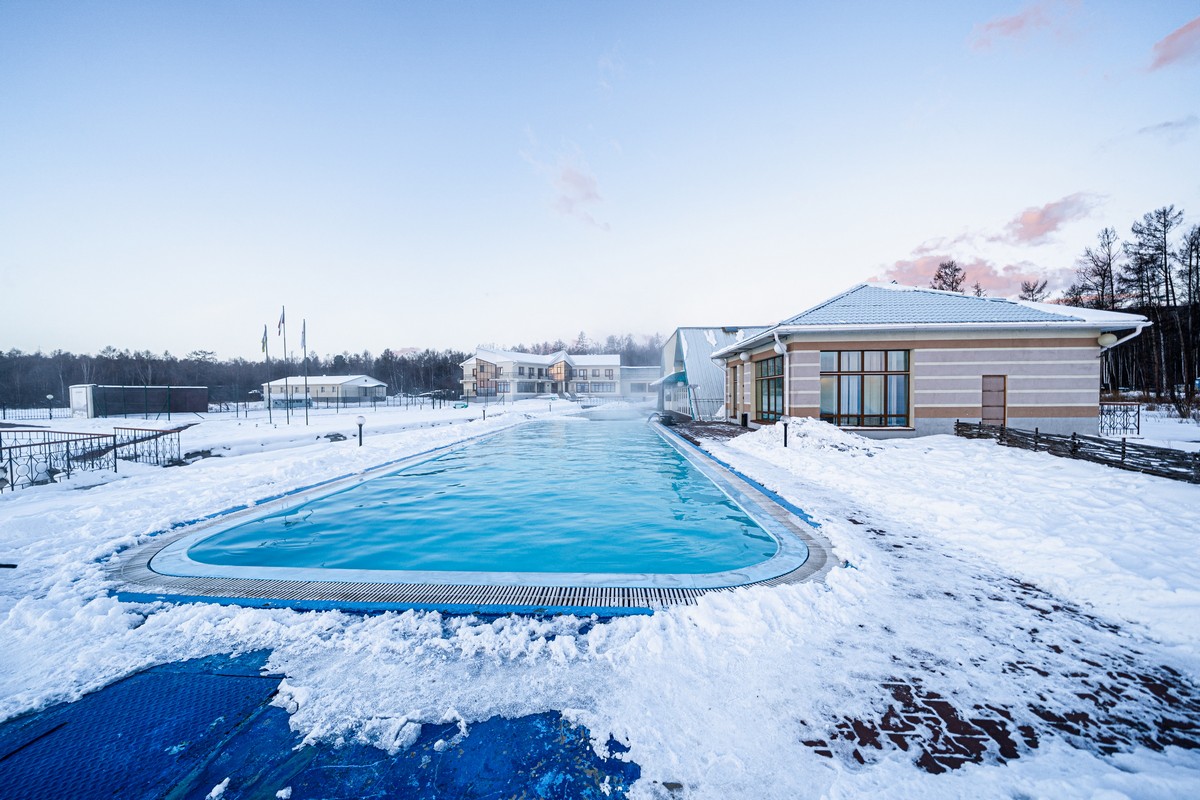 Though generally smooth this year, in a few places the scene resembles the planet Krypton. Here's Petrovich channeling his inner Superman ).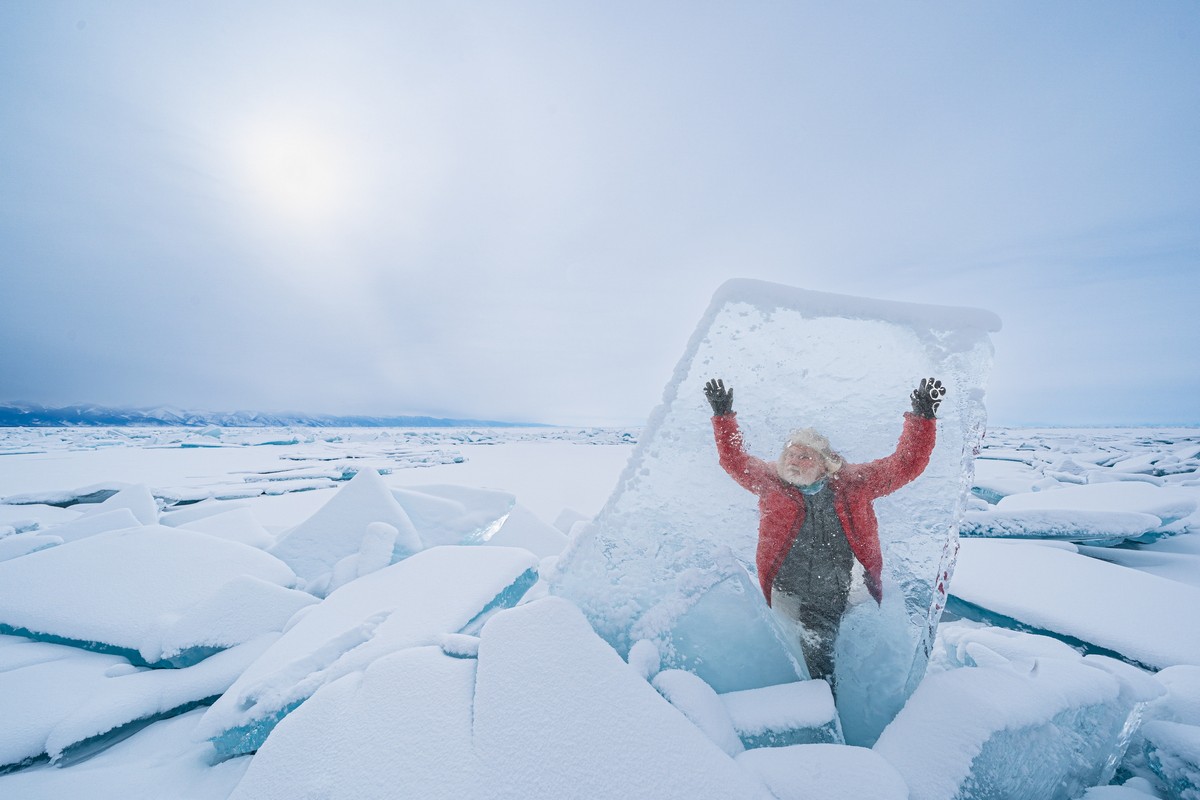 The ice on the lower parts of the cliffs is formed by stormy winds whipping up moisture from the lake as it freezes every year at the end of January:
The ice on the lake is perfectly transparent (just like K is:). And since the water in Lake Baikal is practically pure H2O – no minerals, salts, etc. – it freezes into ice that's as hard as rock. Smashing it is possible, but it takes a lot more force to do so.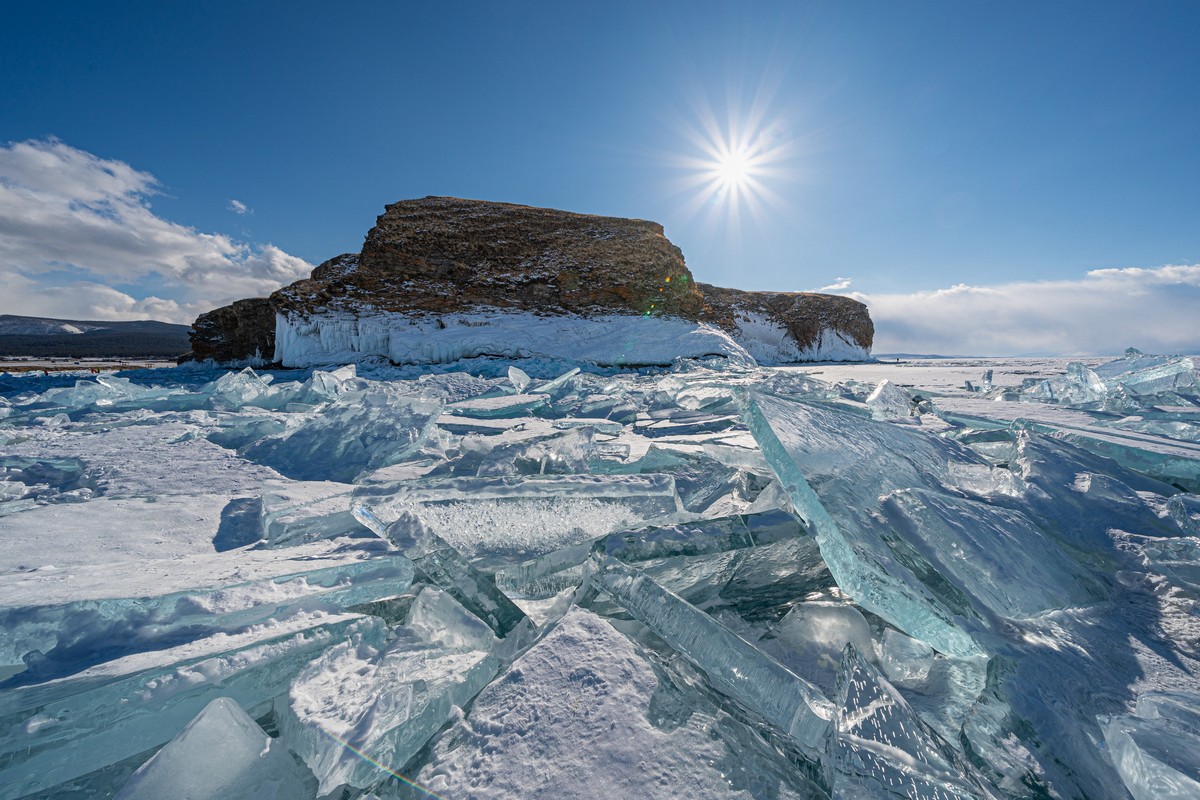 Now, with all this pure ice around, we wanted to put some in our… glasses of whisky, naturally! Thing is, it's practically unbreakable. When you give it a whack with something like a screwdriver or hammer there's no breaking up into smaller pieces as per regular ice from the freezer in your kitchen: you just create ice-dust from it. Devil's ice!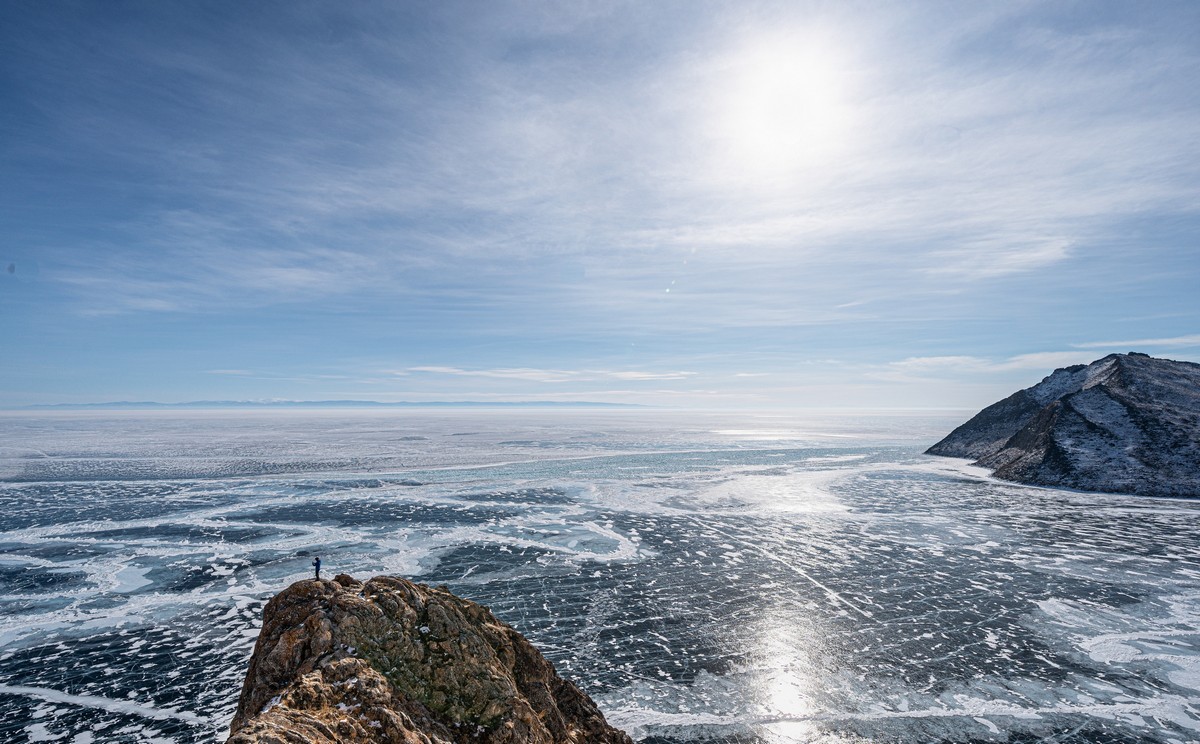 Sometimes there's snow cover; wind blows it away to reveal super-smooth ice: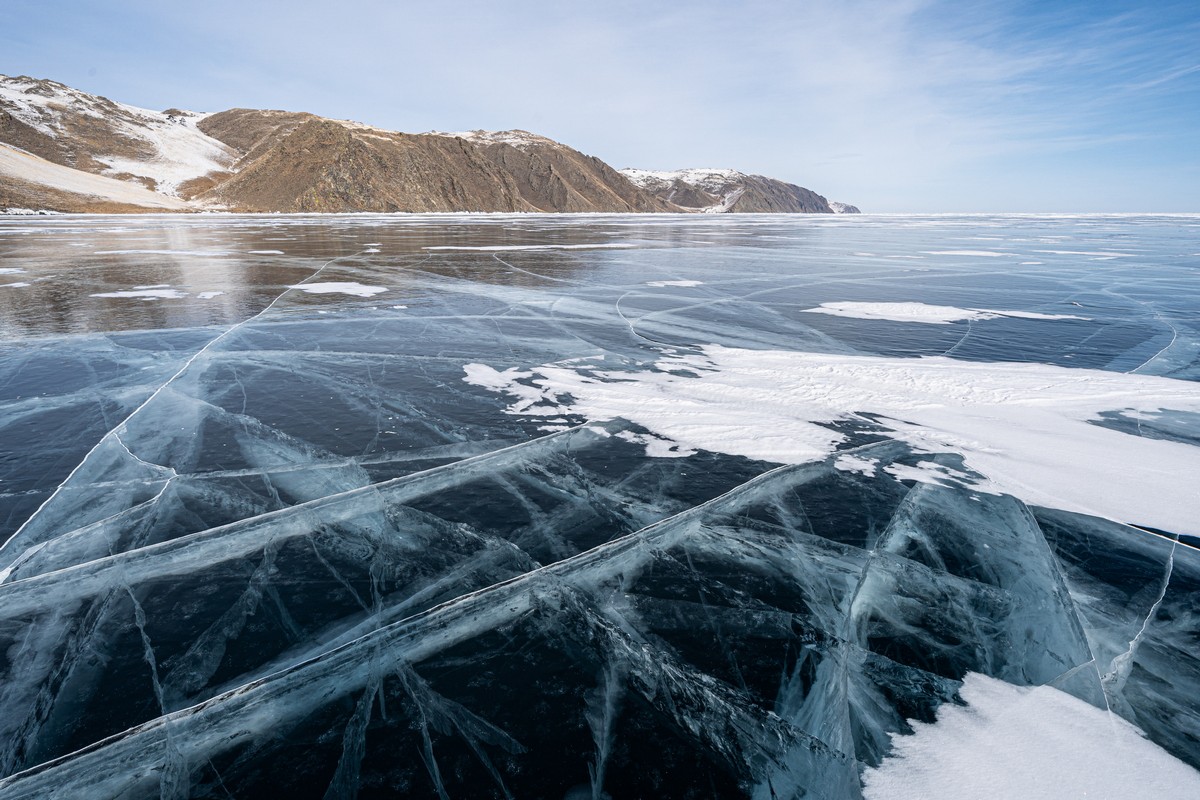 In some areas it might not be the cleanest – with a rippled surface; still wonderful ->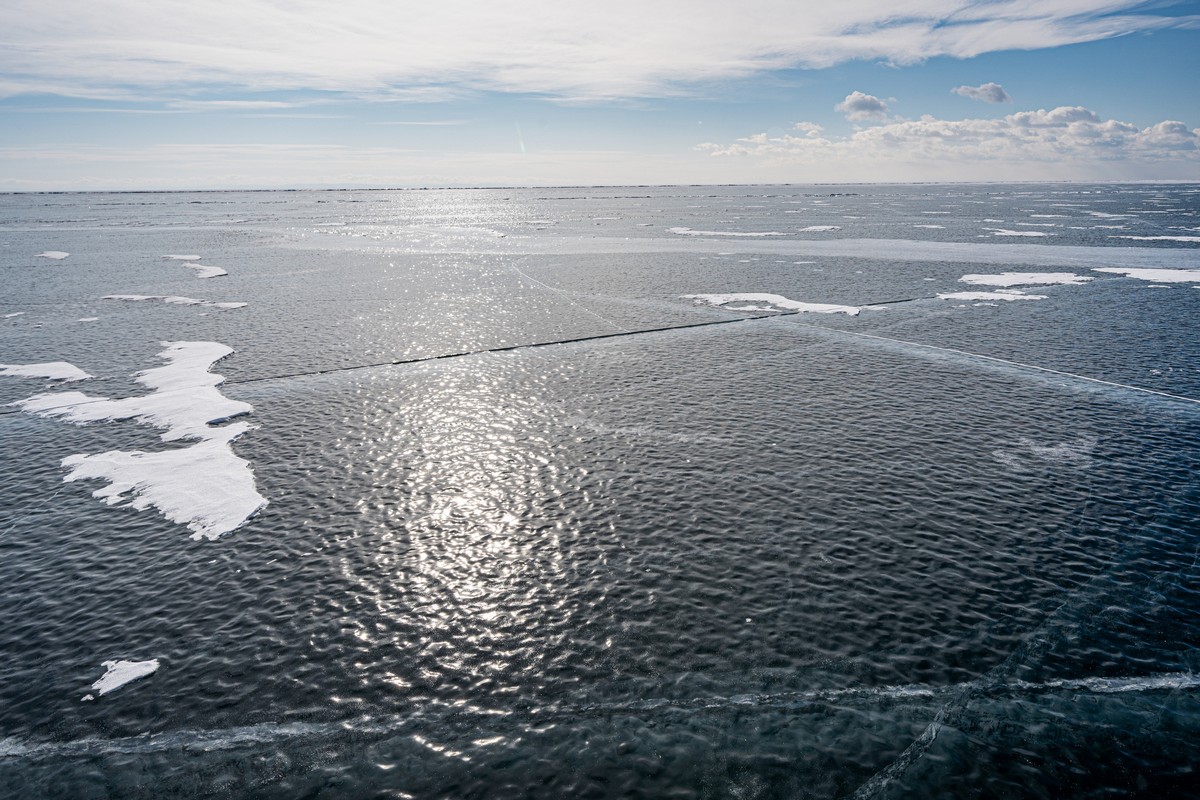 Apparently the most common injury among tourists visiting Lake Baikal is a groin pull – especially when getting out of vehicles and stepping onto the super-slippy ice. Ouch!
Driving on Lake Baikal can be super fun: with so much space to yourself you can do some serious ice-drifting – sometimes with drift-circles some 100m+ in diameter: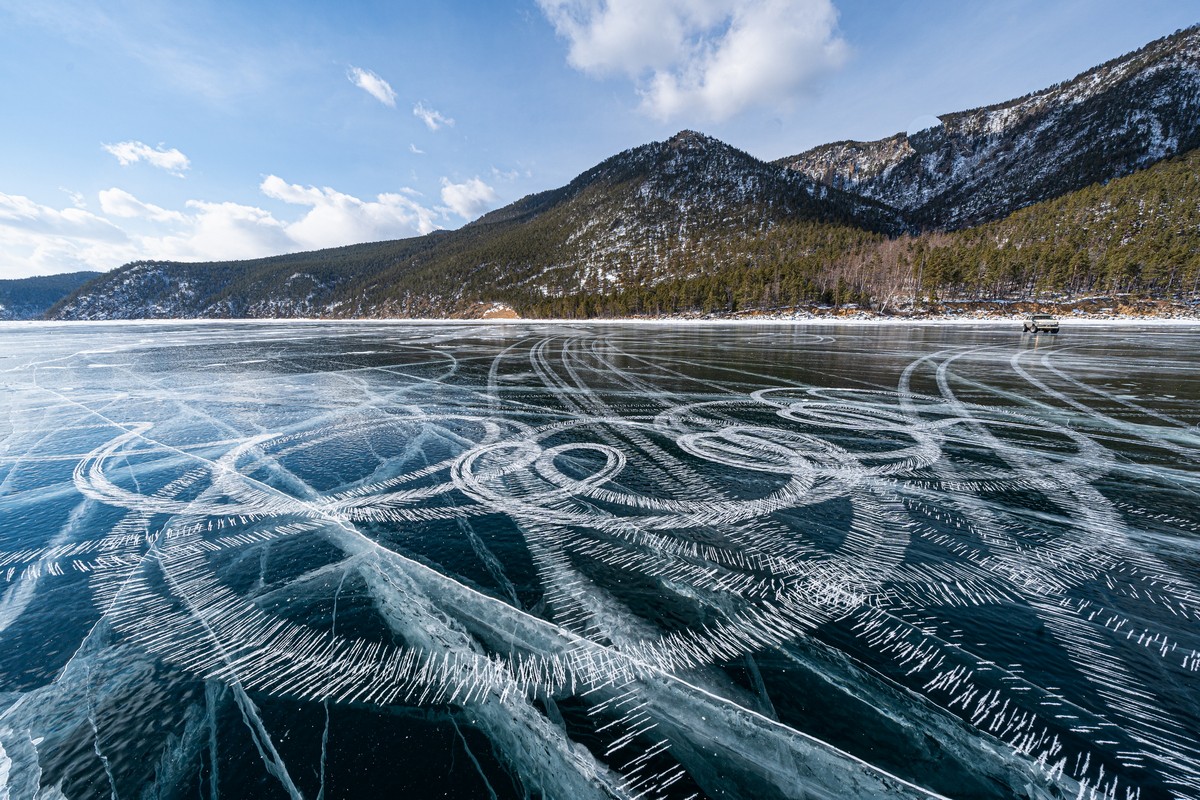 While we were having fun on the ice, others were frolicking in boats on the Angara river: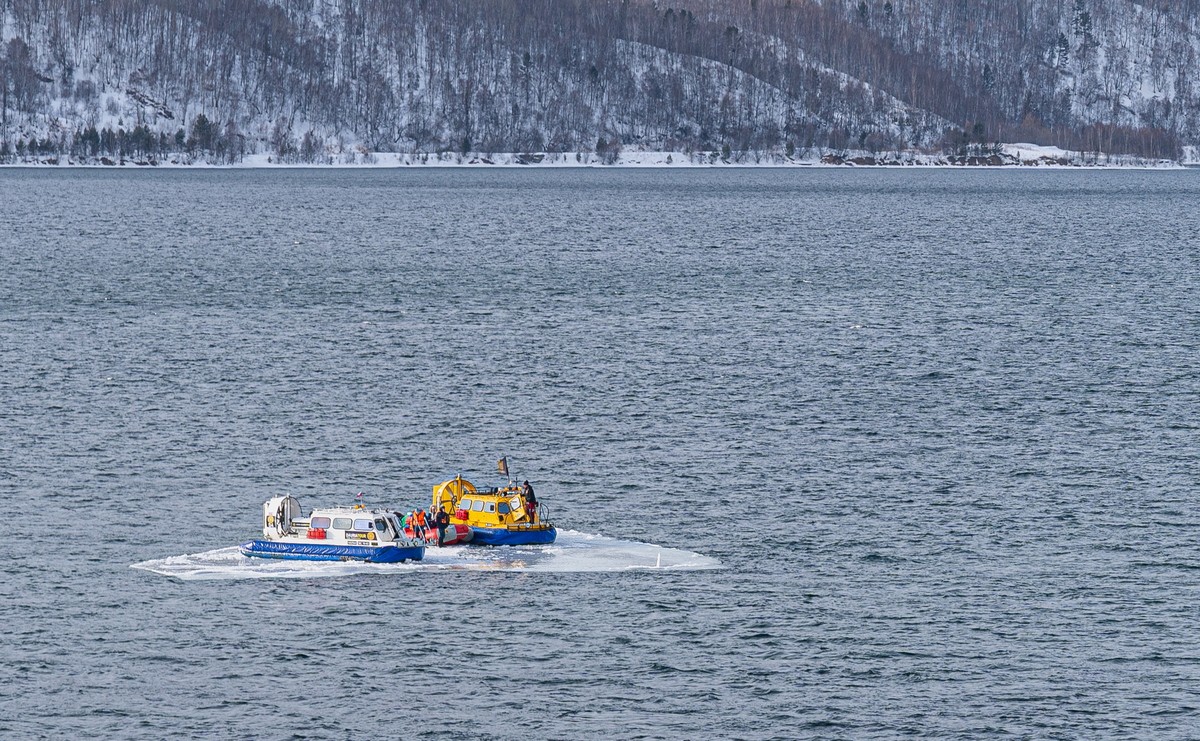 What else is there here? Ah yes – the Circum-Baikal Railway. You'd think we were in Switzerland! ->
Our route this year went like this: Magadan – Oymyakon – Yakutsk – Mirny – Ust-Kut – Severobaikalsk – Olkhon Island – Irkutsk.
Now for some photos of my travel companion, DZ…
A pic of an industrial installation near the Taas-Uryakh–Verkhnemarkovo ice road taken from a drone: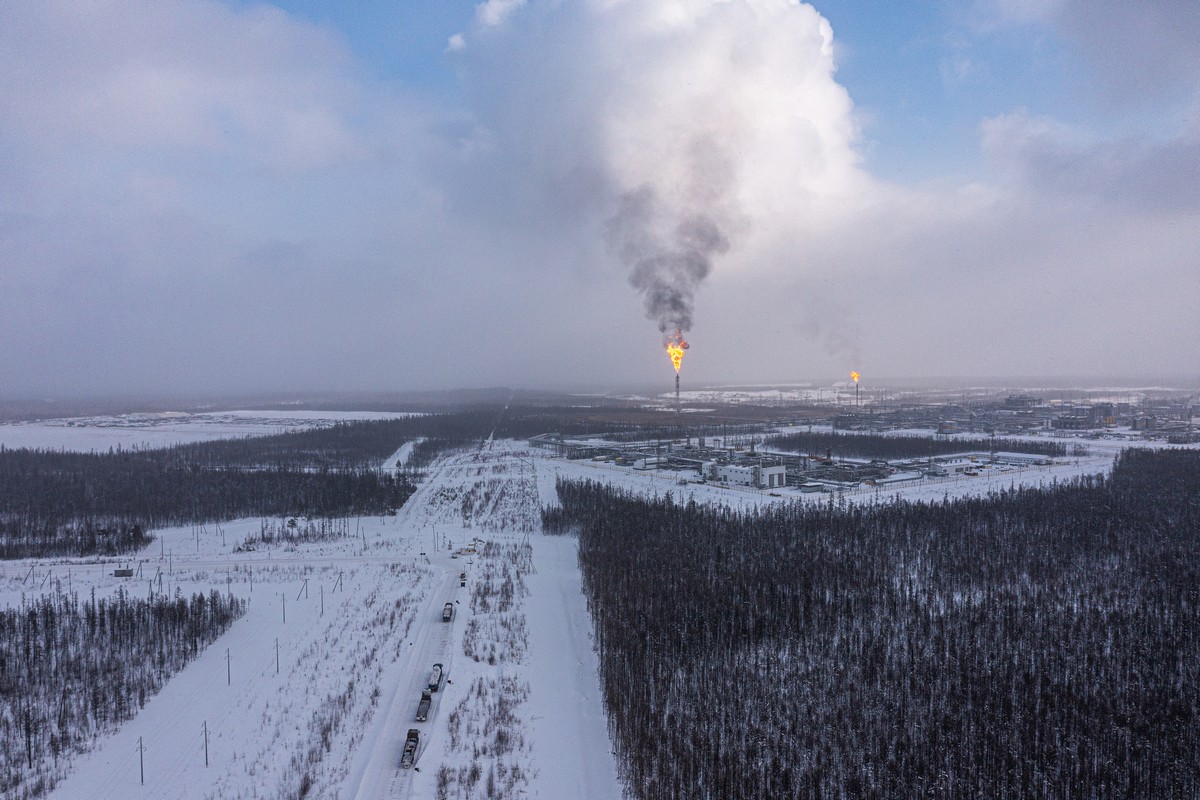 Early one morning on the ice road at the Udachny (Lucky) picket – a "picket" around here meaning a café for some unexplainable reason. Yes – just a café. Yes – you guessed it: we slept in the cars. Yes – not the best way to spend a night ).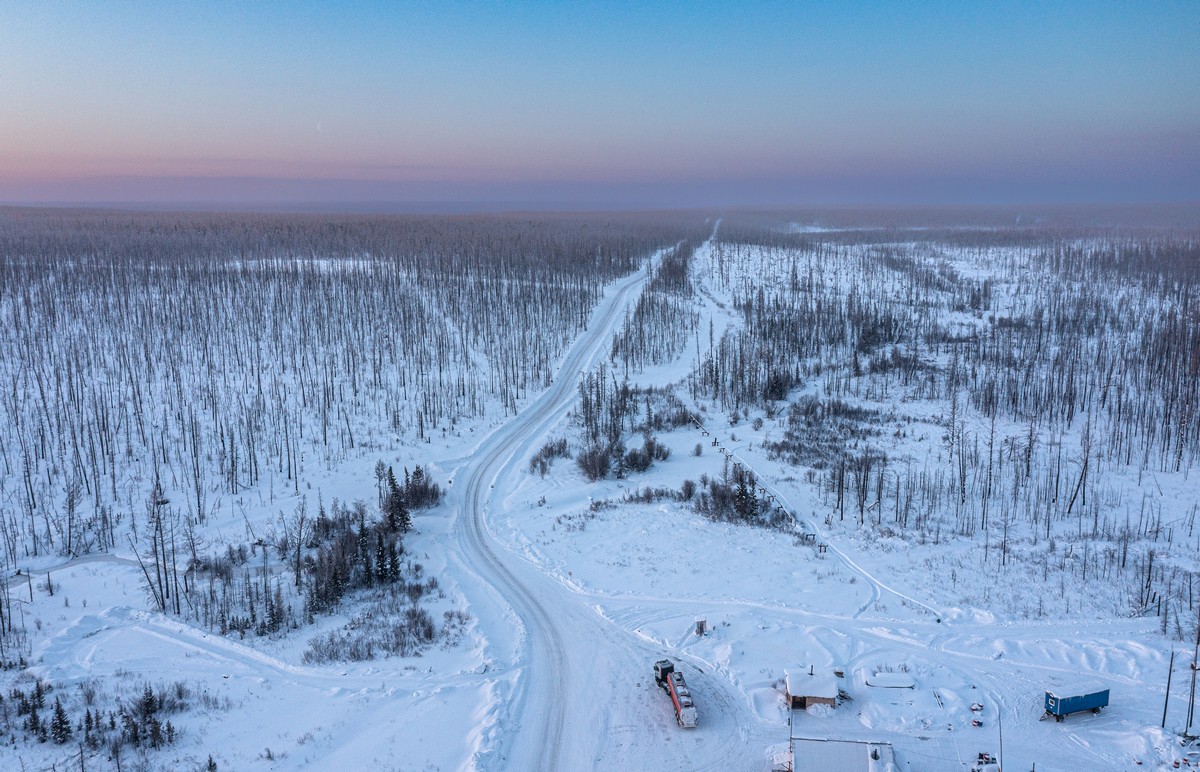 Ice road a little later in the day: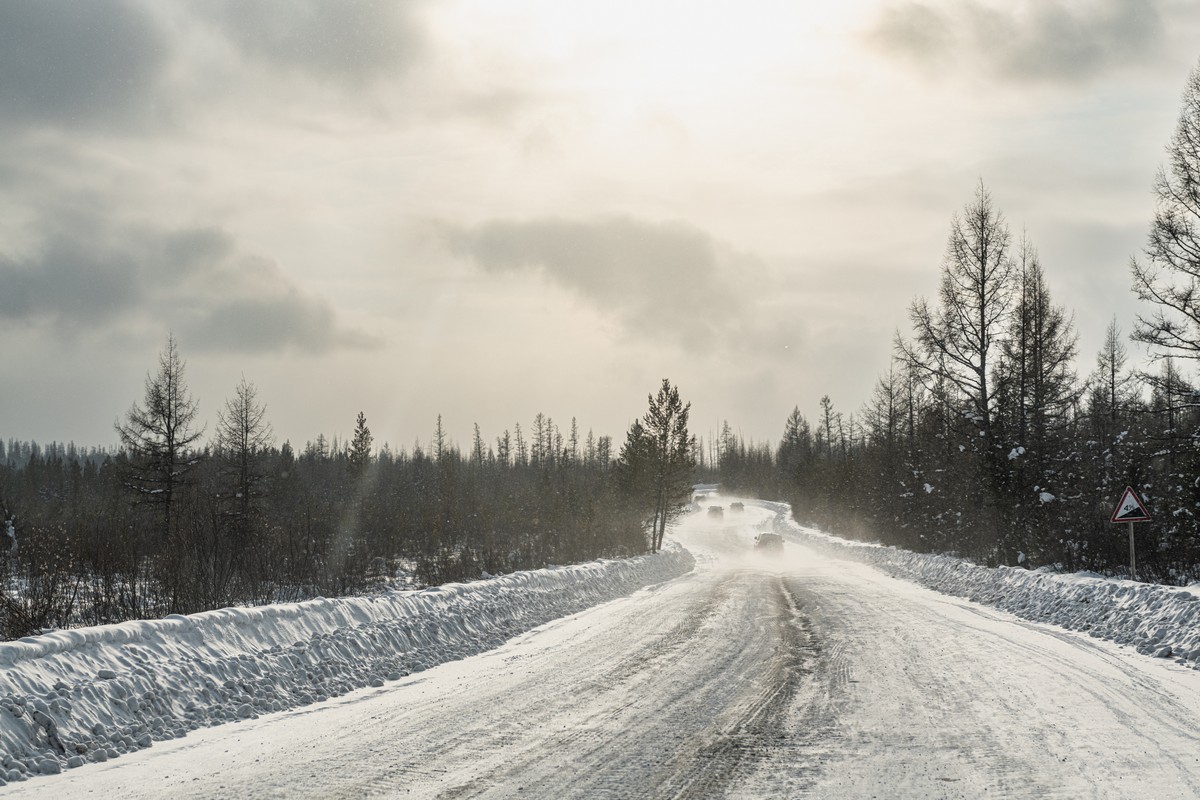 This juggernaut is a bit too big for the ice road. We had to hug the side of the road so it could pass ->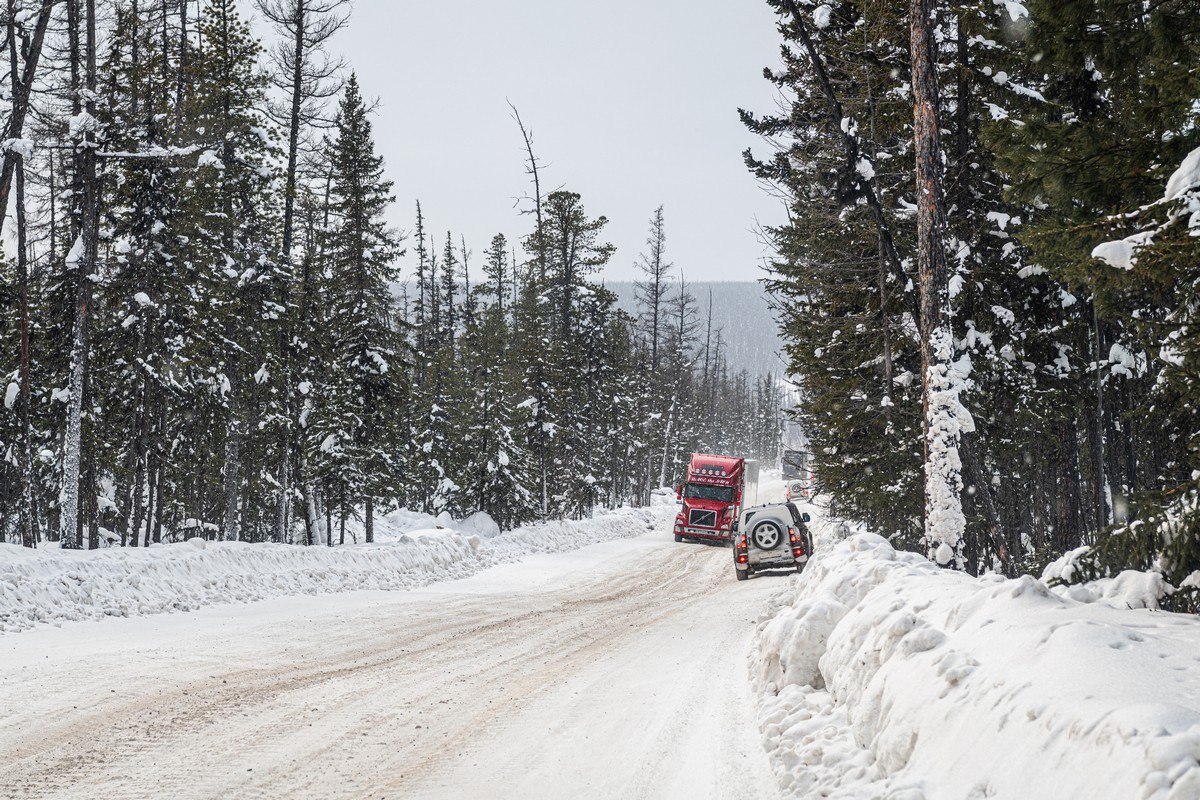 Passing this truck was done almost blind. We radioed on to who'd already passed for our "eyes" to overtake ).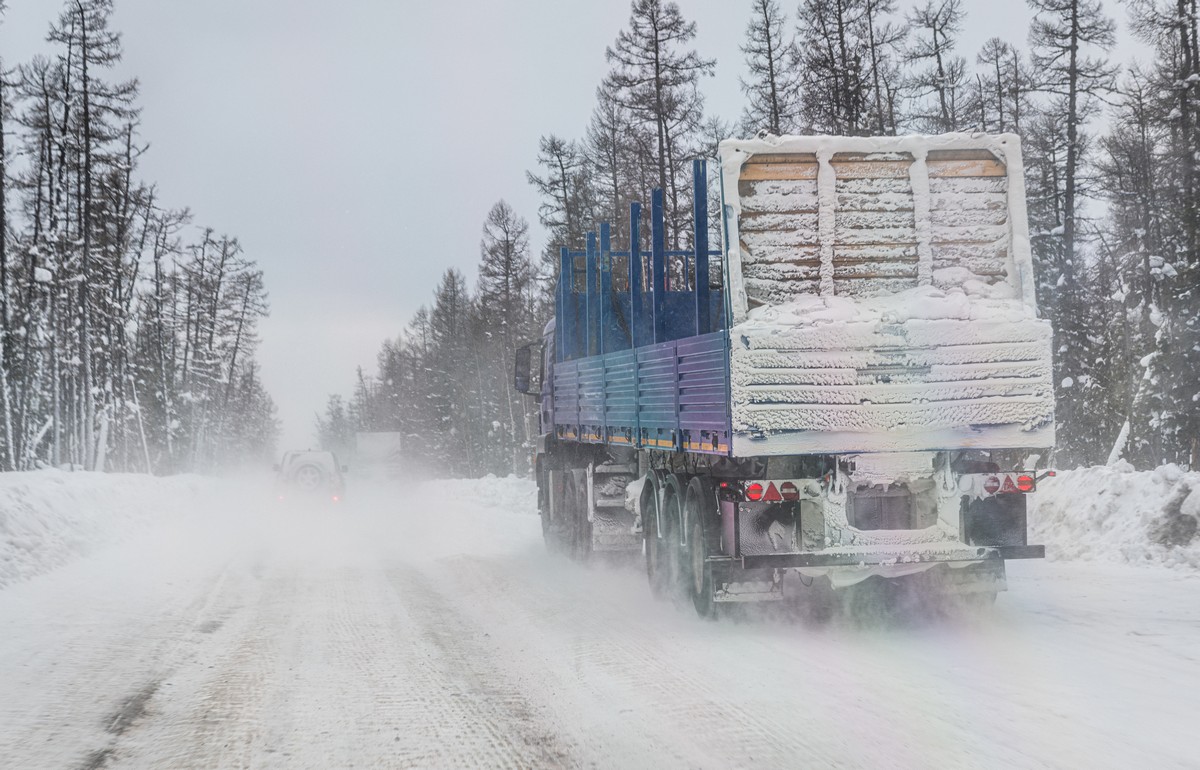 Two tankers stuck going up a hill. We drove in-between them to pass ->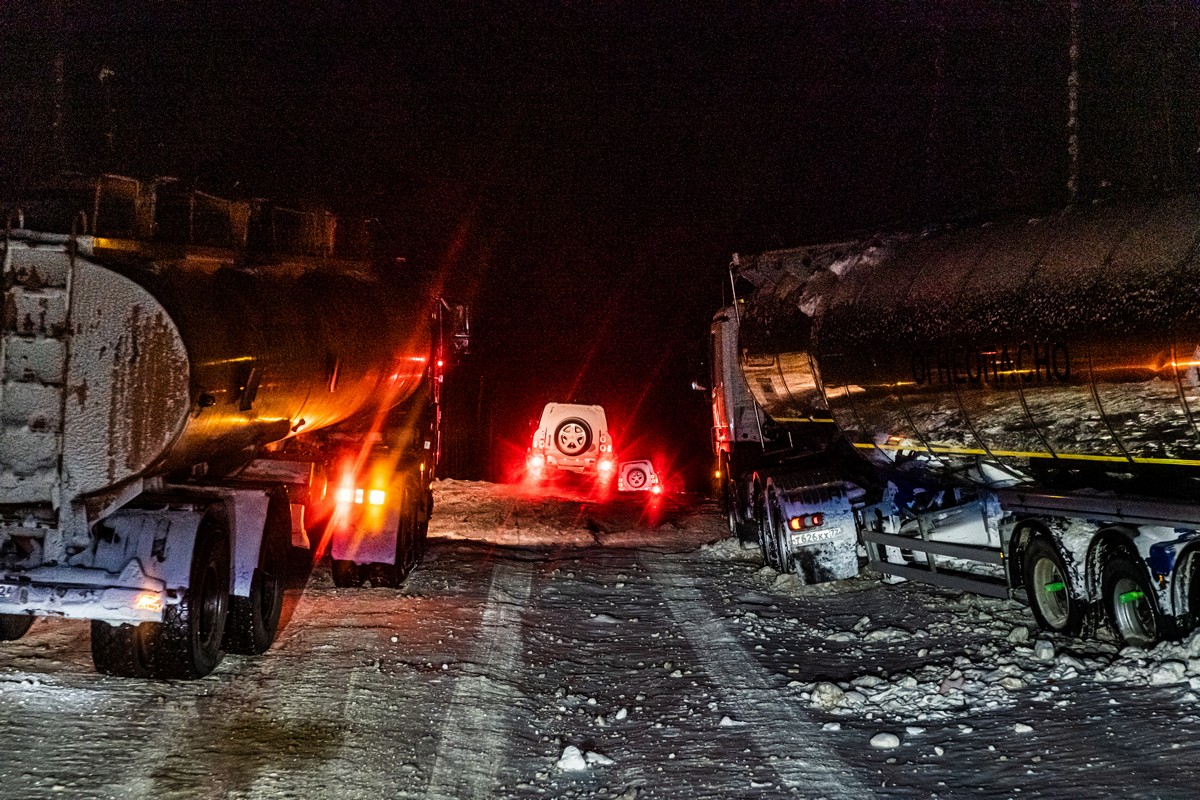 Baikal: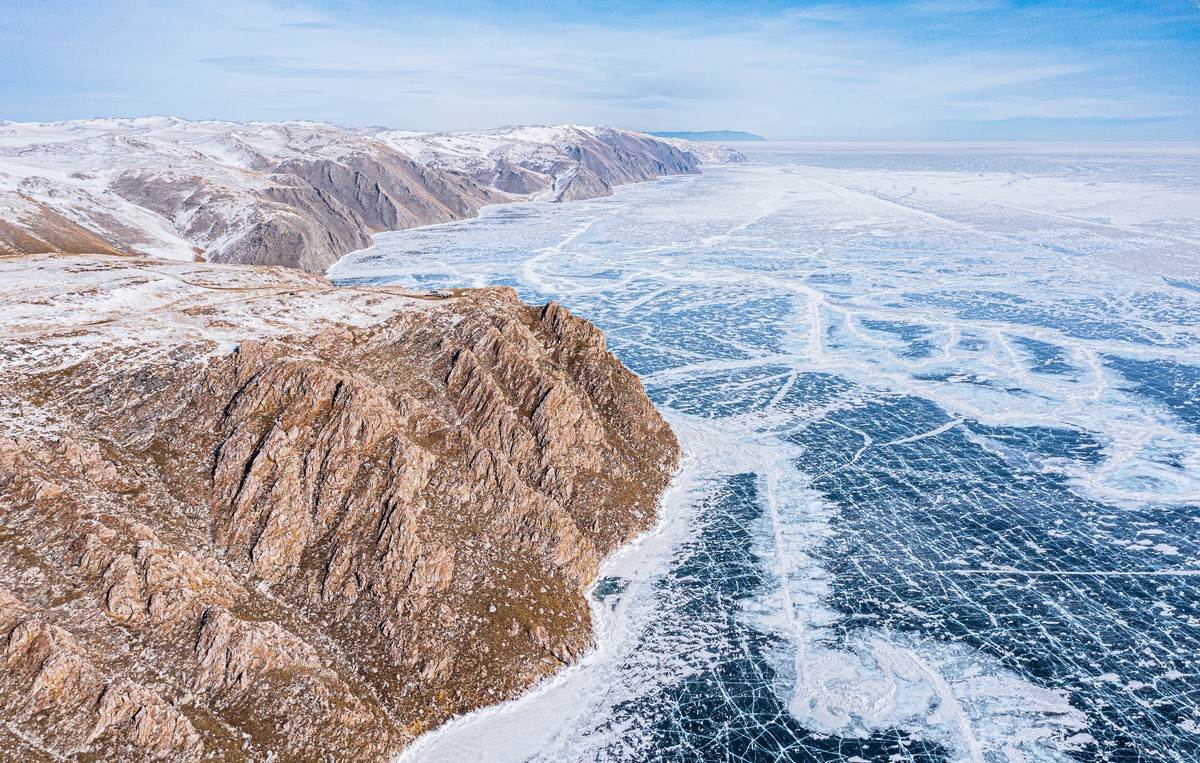 Can you see us down there? ->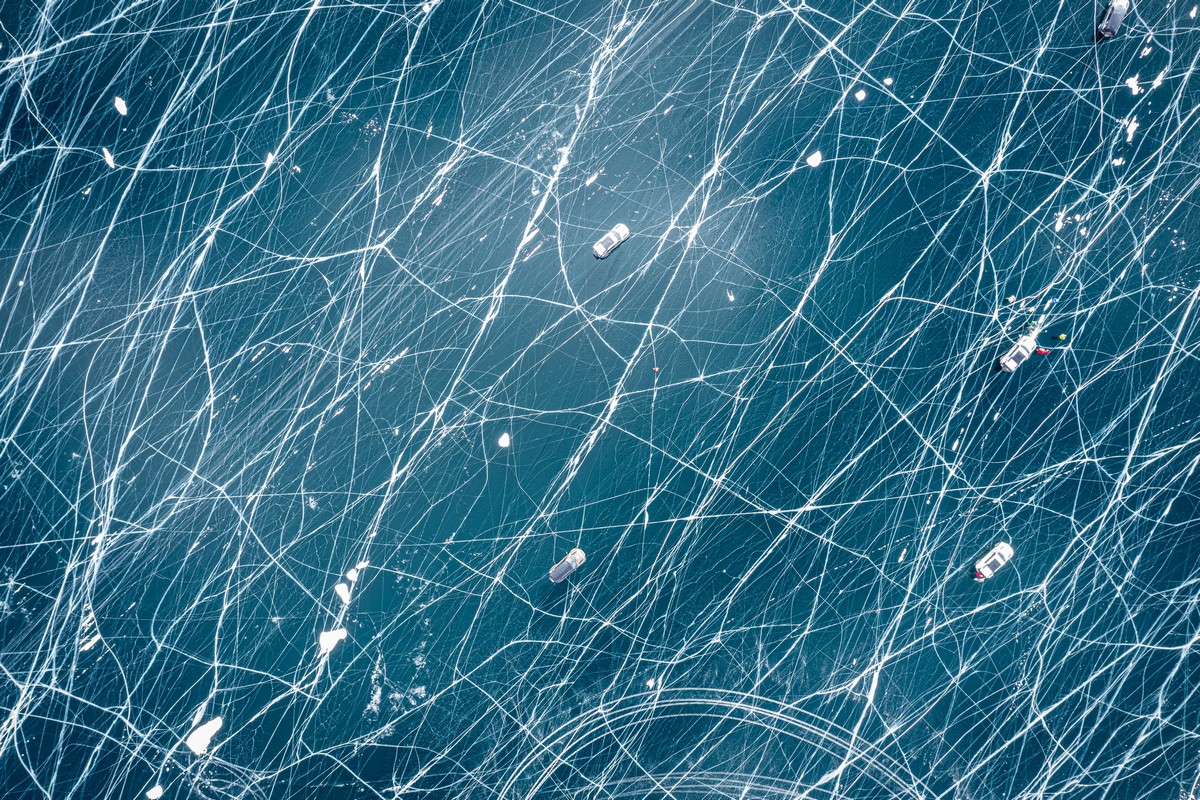 Meanwhile Midori risking a strain in his nether-regions: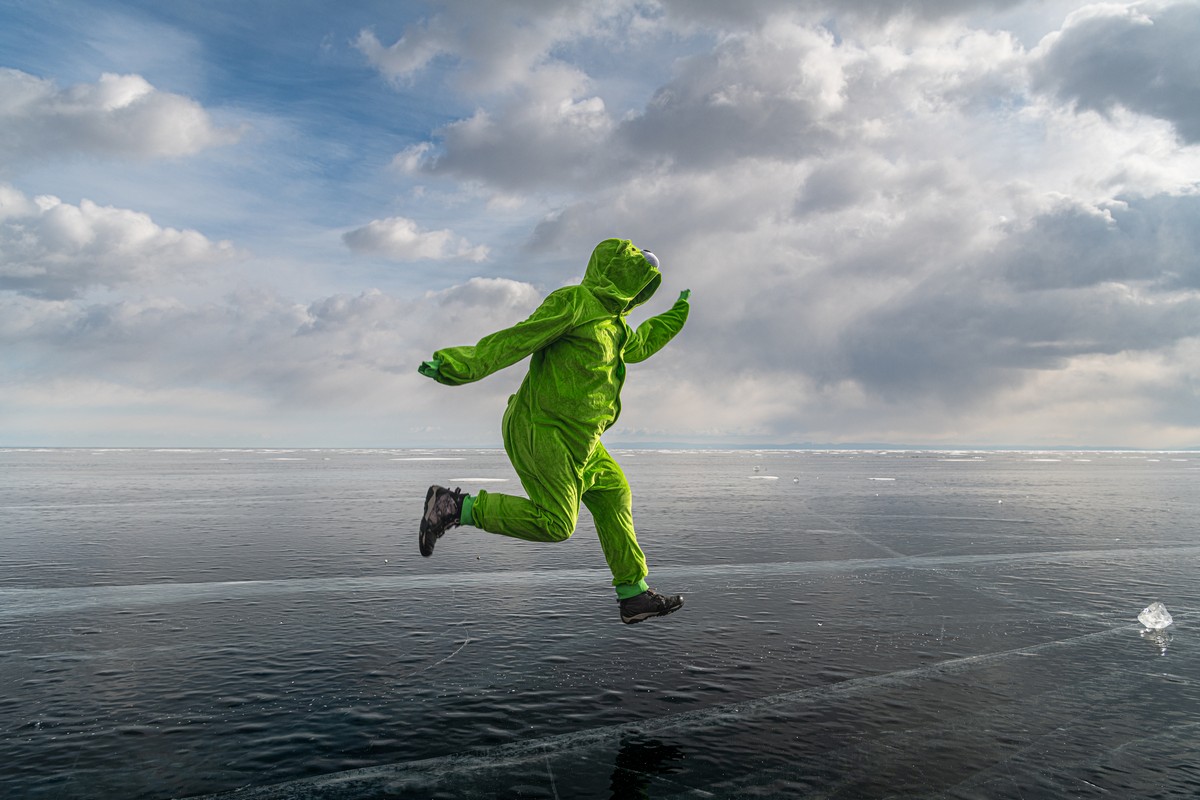 The Angara doesn't freeze at its head – apparently due to the (relatively) warm depths of the depths of the Baikal ->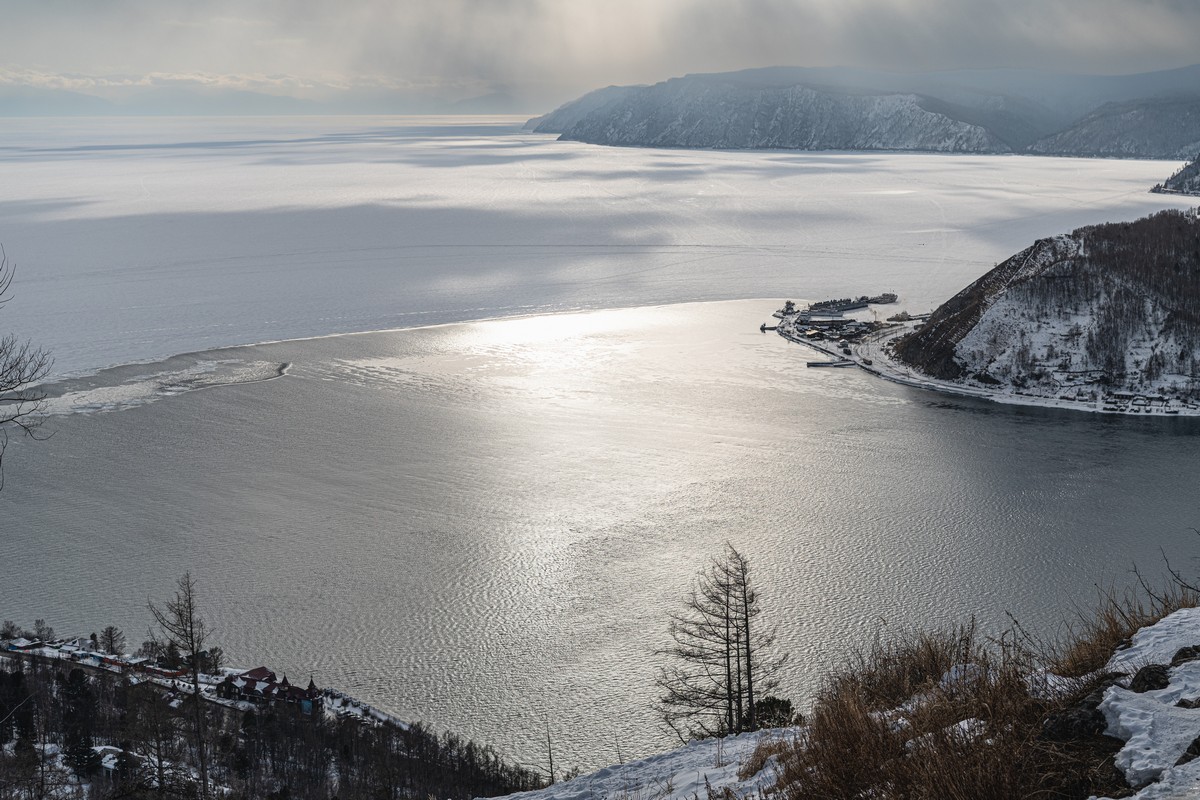 Meanwhile…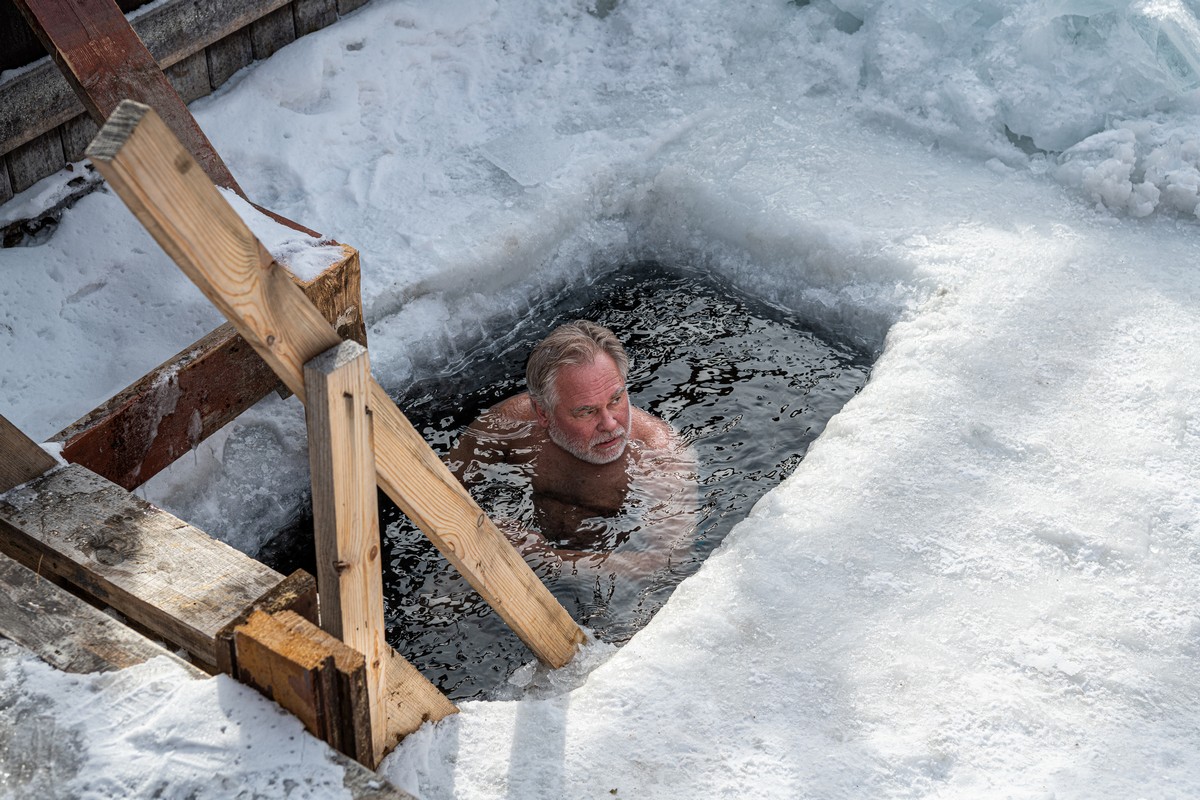 At one point I was tracked down by Yakutskian journalists…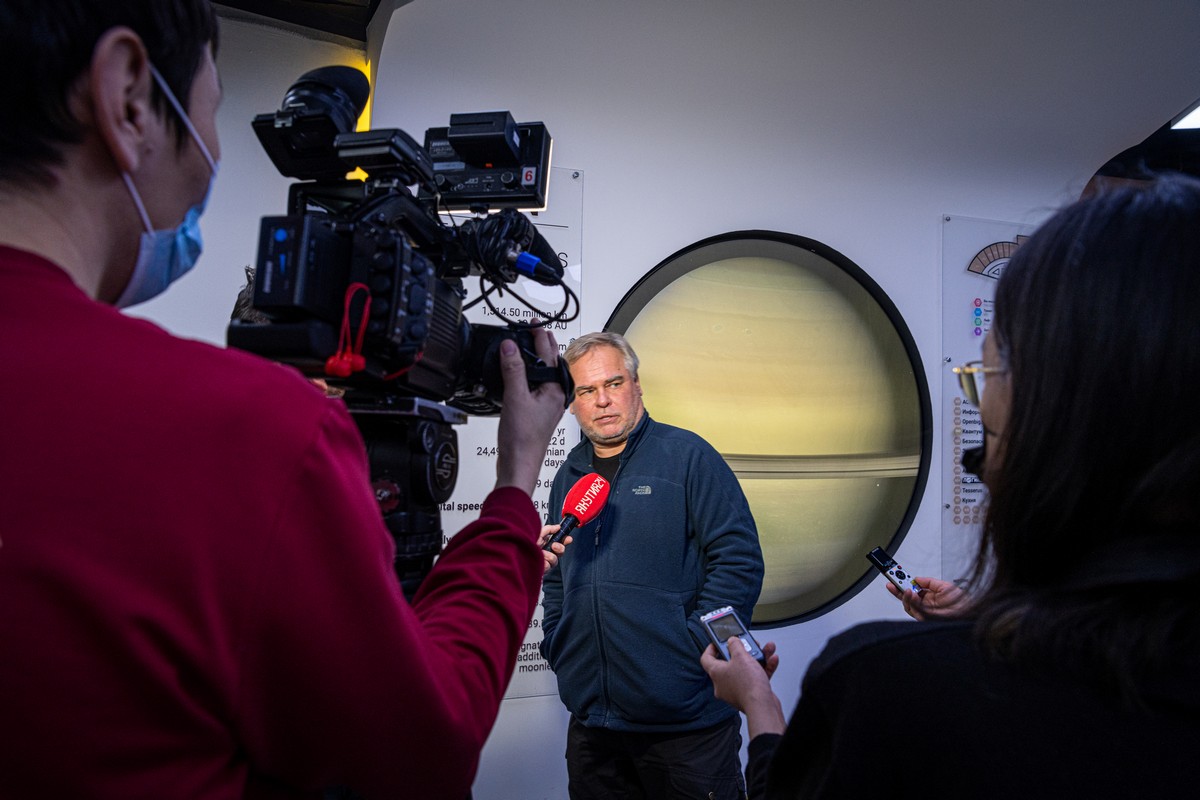 But I managed to extricate myself, and it was back on the road…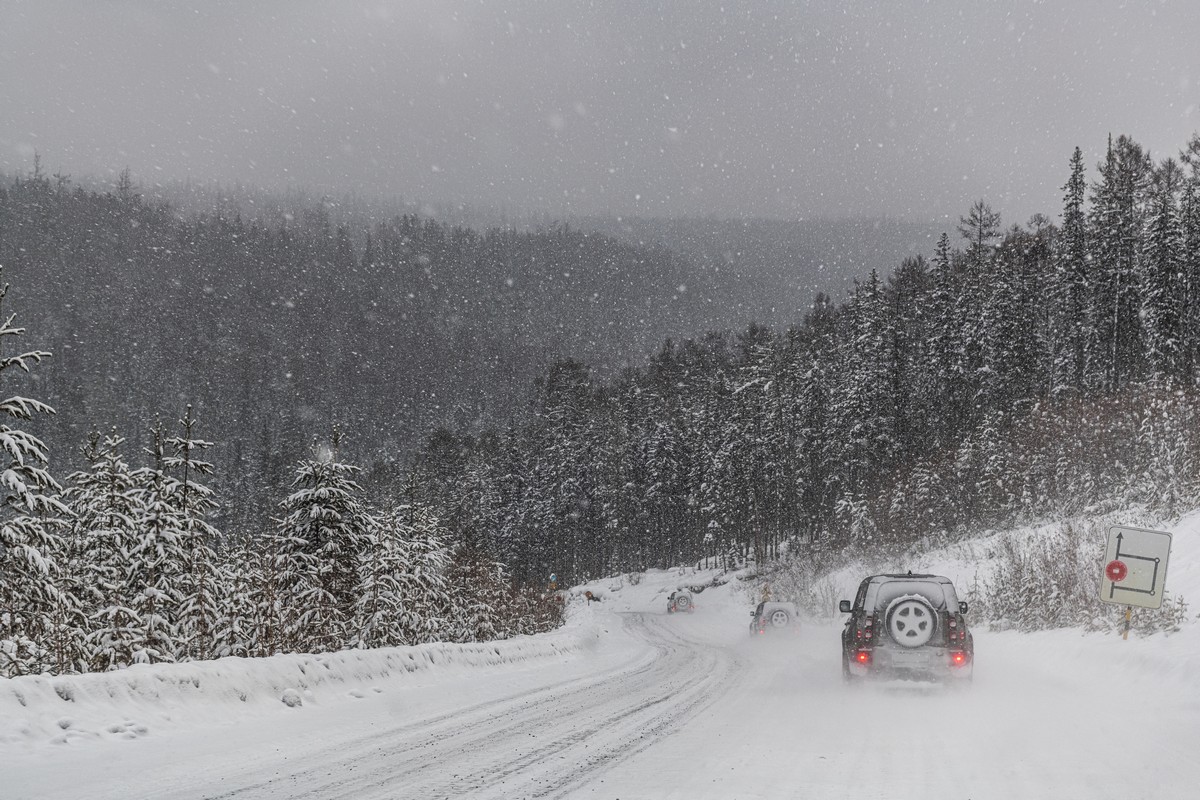 What's this? Have a guess! And for the most original guess – some original prizes!…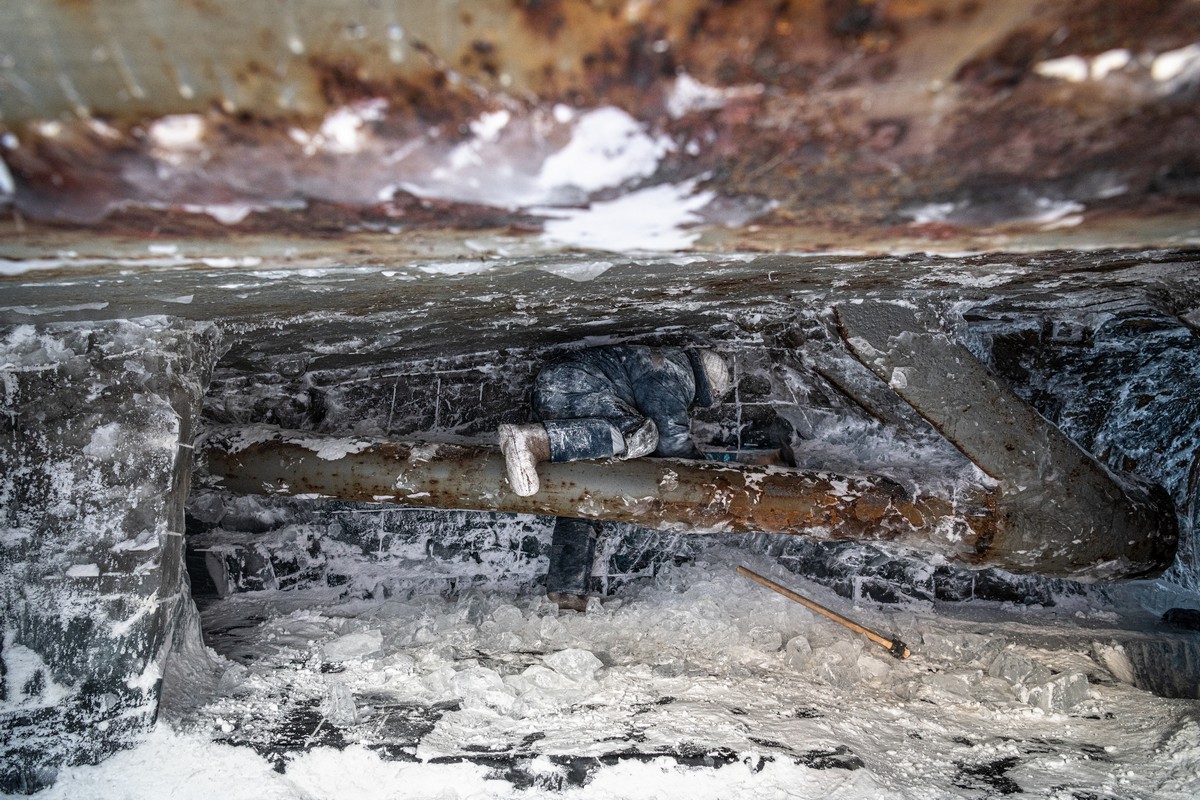 Check out our modern-kunst post-bath bathing suit installation in Oymyakon. See how everything's stood up to attention? Yes – we did get some help with that by Mother Nature; rather – Jack Frost!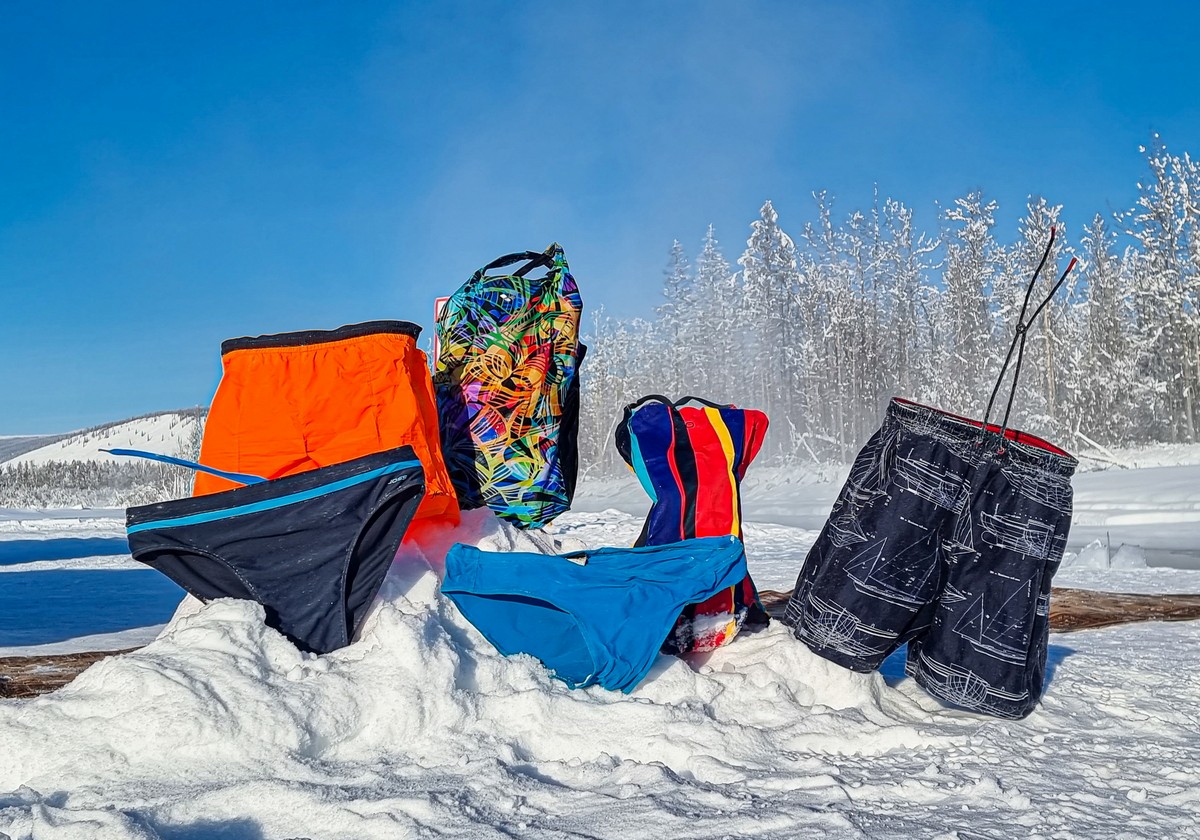 And on that only-in-Oymyakon note, I bring this here intro-post to a close. Hope you liked your digestive bitters. Coming up soon – some pre-meal canapes!…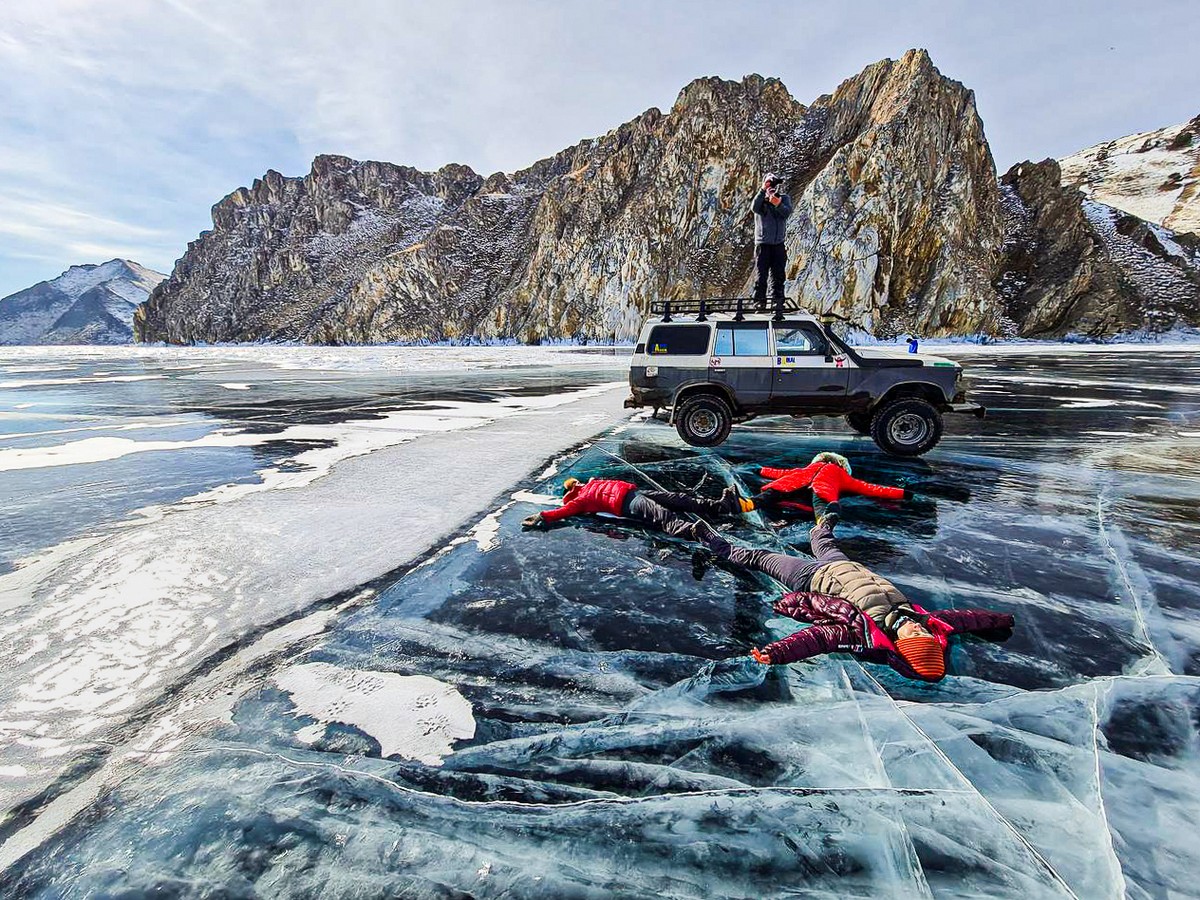 The rest of the photos from our Magadan–Baikal (2022) expedition are here.