Thames Path: from Richmond Lock & Weir to Hampton Court.
I'll start off by reminding you (since it was quite some time ago) about one of my perennial habits: whenever I'm in London, I go for a walk along the River Thames. And I don't mean a short stroll along the riverbank, say, opposite the Houses of Parliament near to the London Eye. No, no [eye roll]. I mean a quick march along a considerable length of an unwalked stretch of the famous Thames Path, the extraordinarily long – 300km! – footpath that lines one or the other bank of the river. And I add a new section every year or two (notwithstanding force majeure like global pandemics). I've already gotten as far as Hampton Court Bridge from where the path starts (or ends) – at the Thames Barrier. Time to go further!…
1) Previous portions of the route over the years – all here for your perusing pleasure.
2) The last time I walked a length of the Thames Path was in the summer of 2018; accordingly, a memory-freshener of the sights seen along the path so far…
Here's what's been covered up to and including 2018:
Segment 1: from the Thames Barrier to Greenwich
Segment 2: from Greenwich (and the Cutty Sark) to the Jubilee Bridges
Segment 3: from the Jubilee Bridges to Putney Pier
Segment 4: from Putney Pier to Richmond locks
Segment 5: Richmond to Hampton Court. We got lost! Still need to get to Hampton Court…
Next up (can you guess?!) – Richmond to Hampton Court!…
All righty. This time we'd got the route right, but it looked like we'd got the weather wrong: it was drizzling all day. Wait – we're in London. Surely that's 'right', as in – typical? )
The system of locks and weirs on the Thames is used for controlling the flow of water down the river, enabling boats to navigate along much of it. Old-school it sure is too (completely analog, with good security [no internet connection:]) – with its being documented as far back as the Middle Ages! However, the lock in Richmond is a relatively new addition, opened as it was in 1894 – 127 years ago!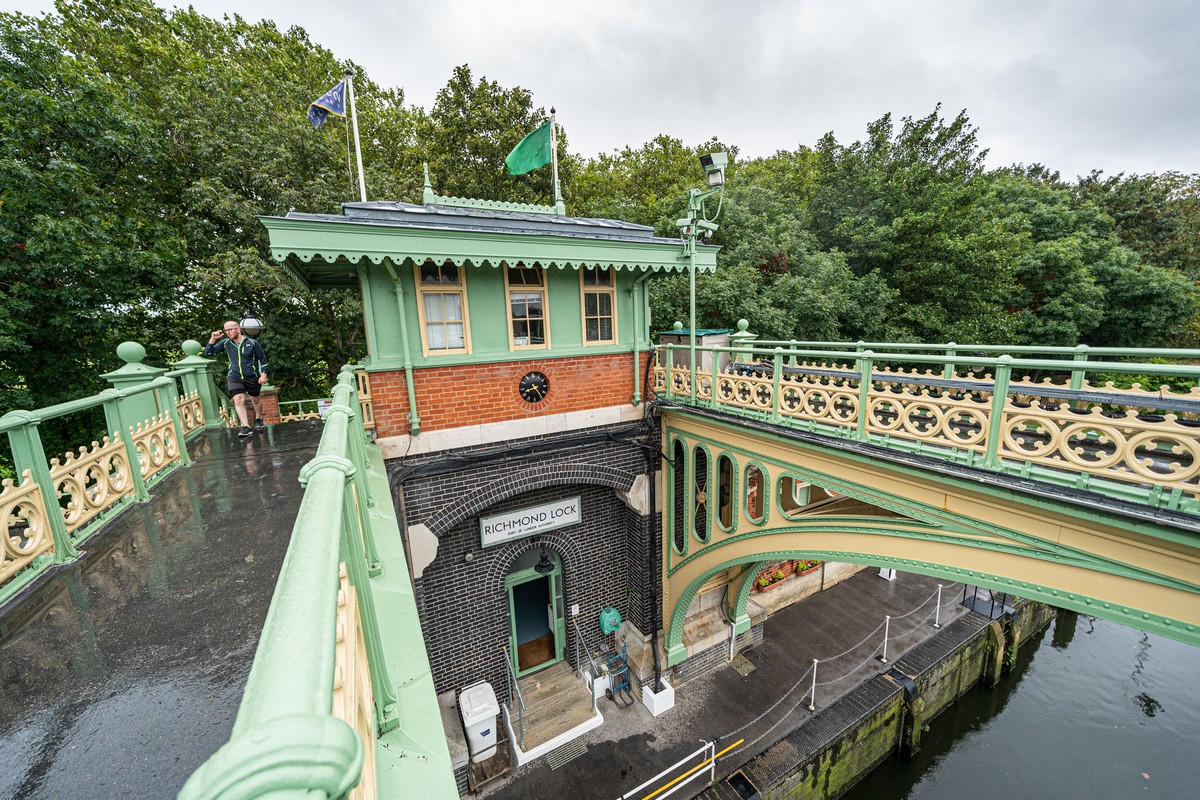 The level of the river this time was pretty high so the lock mechanism was open. The bridge over it really is a beaut ->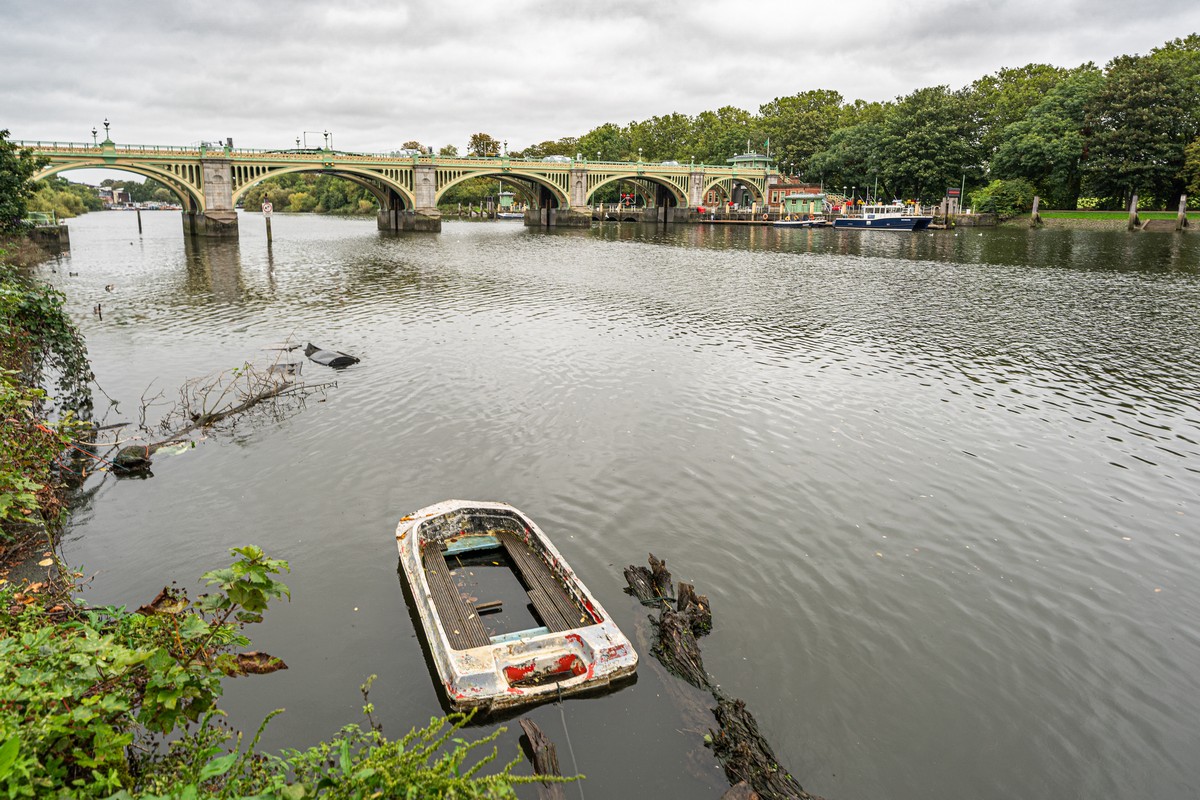 Yikes – locked gates ). But it turned out just on this side; the steps the other side (on this side of the river) – open.
Here's the lock's mechanism that descends to dam up the river when needed. Pretty neat for 19th century! ->
The floodgated side-channel helps boats out when the water's low: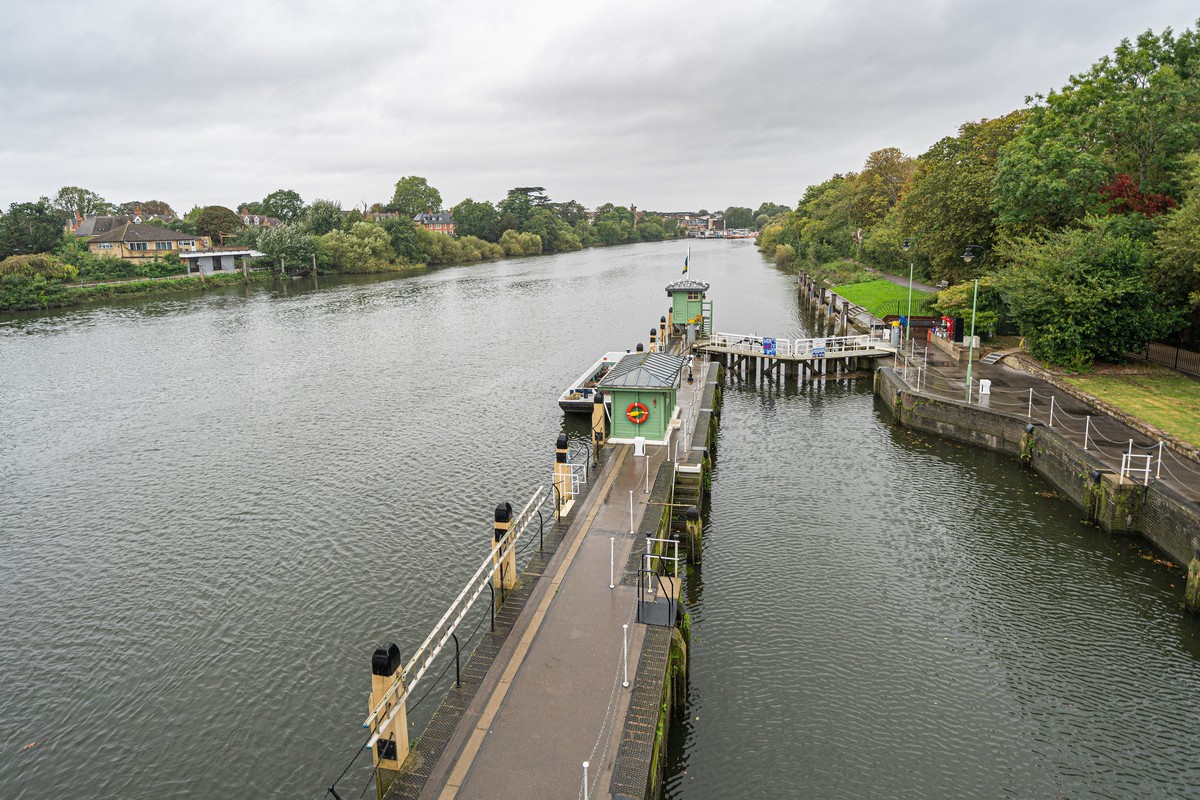 A heron looks on gloomily, reminding me of the last heron I saw – by the swimming pool of an abandoned hotel in Maldives ).
Ah – now I see why he's so gloomy: he's must have just read the weather forecast ->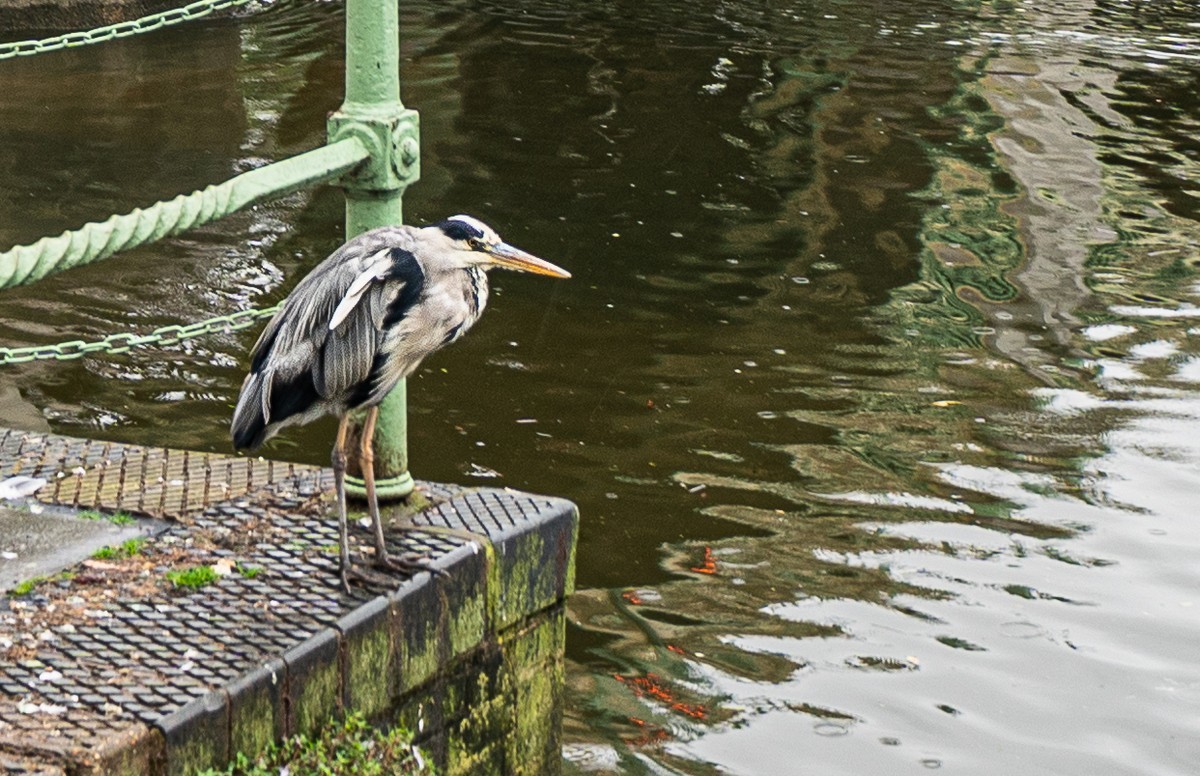 The forecast turned out correct: rain did fall – thankfully after a couple hours.
So off we set – west – toward where the Thames starts out as a stream…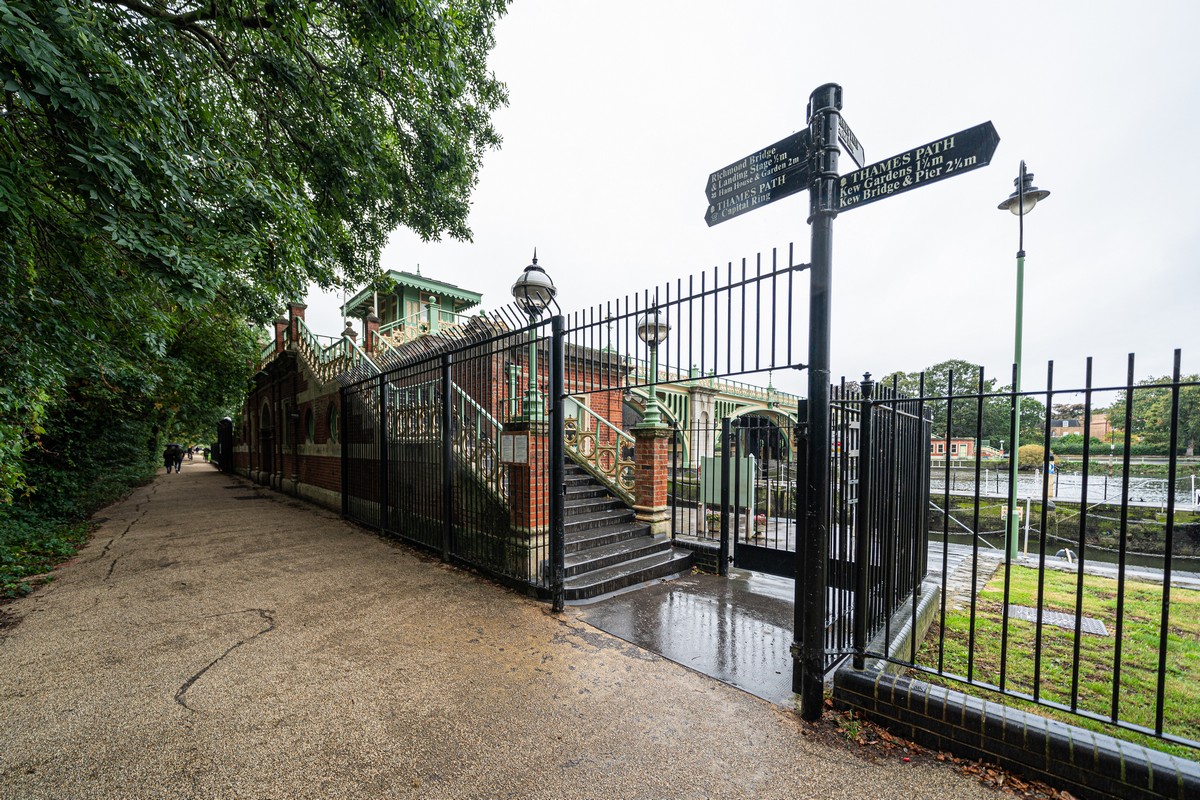 Today's segment was nicely asphalted the whole way. Perfect!…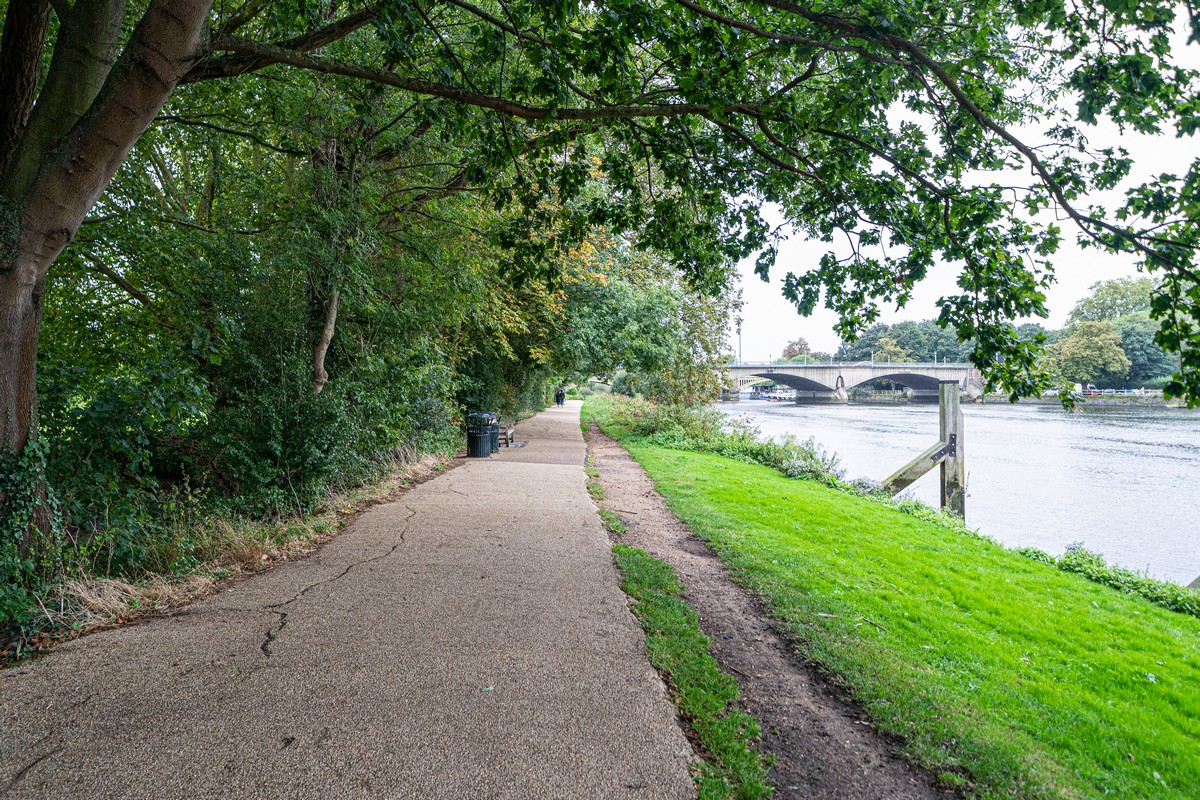 When the rain started, my travel companion, O.S., and I had a quick conference: 'Carry on, or give up?' Deciding it wasn't every day you find yourself in Richmond upon Thames with the Thames Path ahead of you – rain or no – and, let's face it, we're not made of sugar so we won't dissolve (as the Russian saying goes), our group decision was: Keep Calm and Carry On! When in Rome ).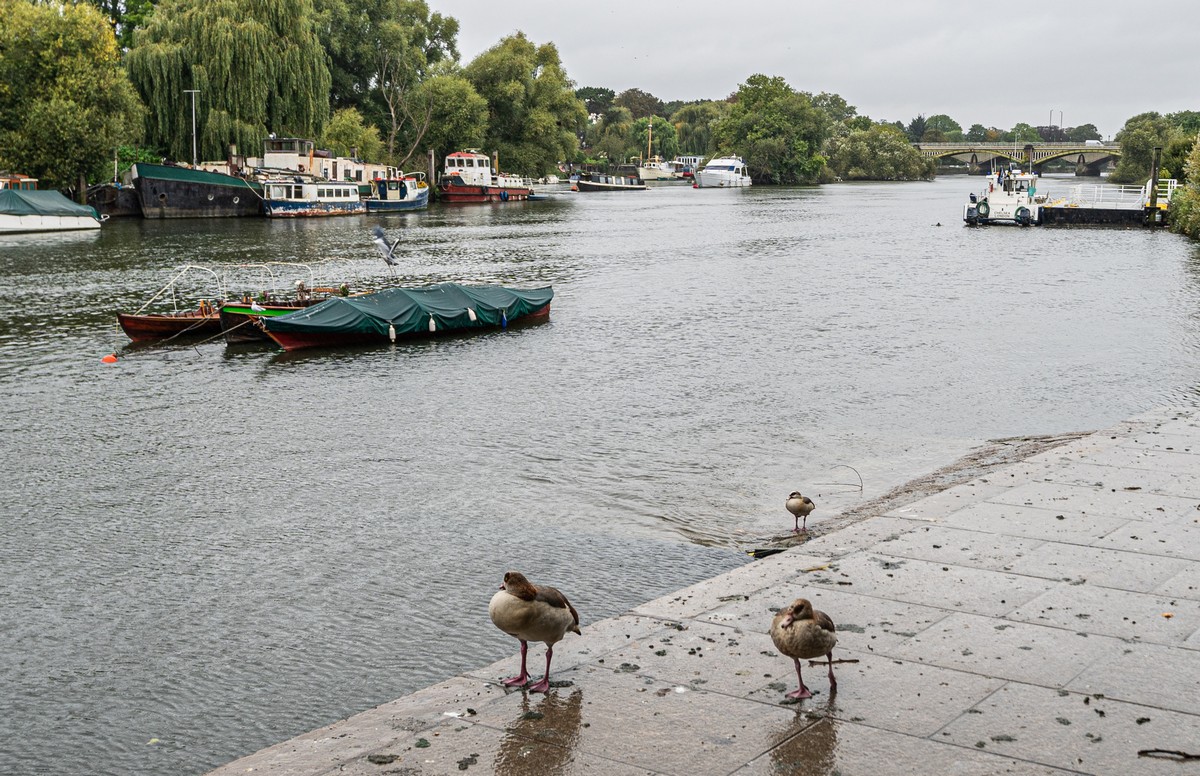 No boating this time (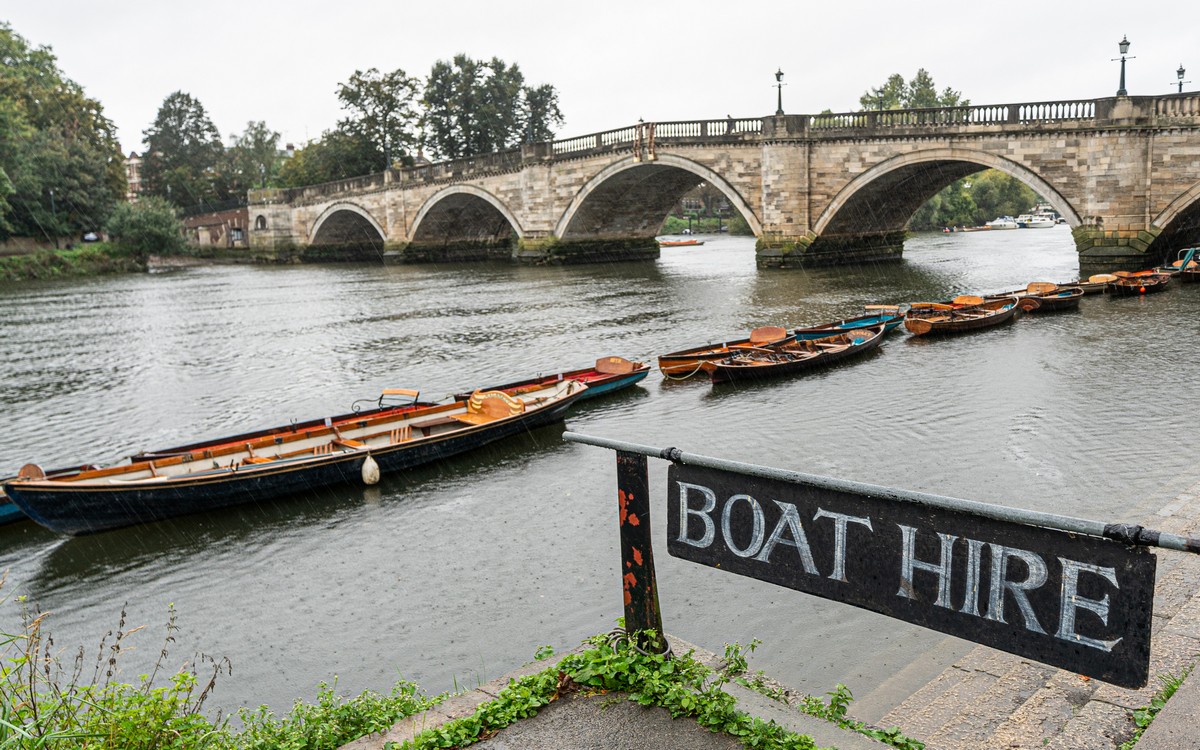 Unusual trees…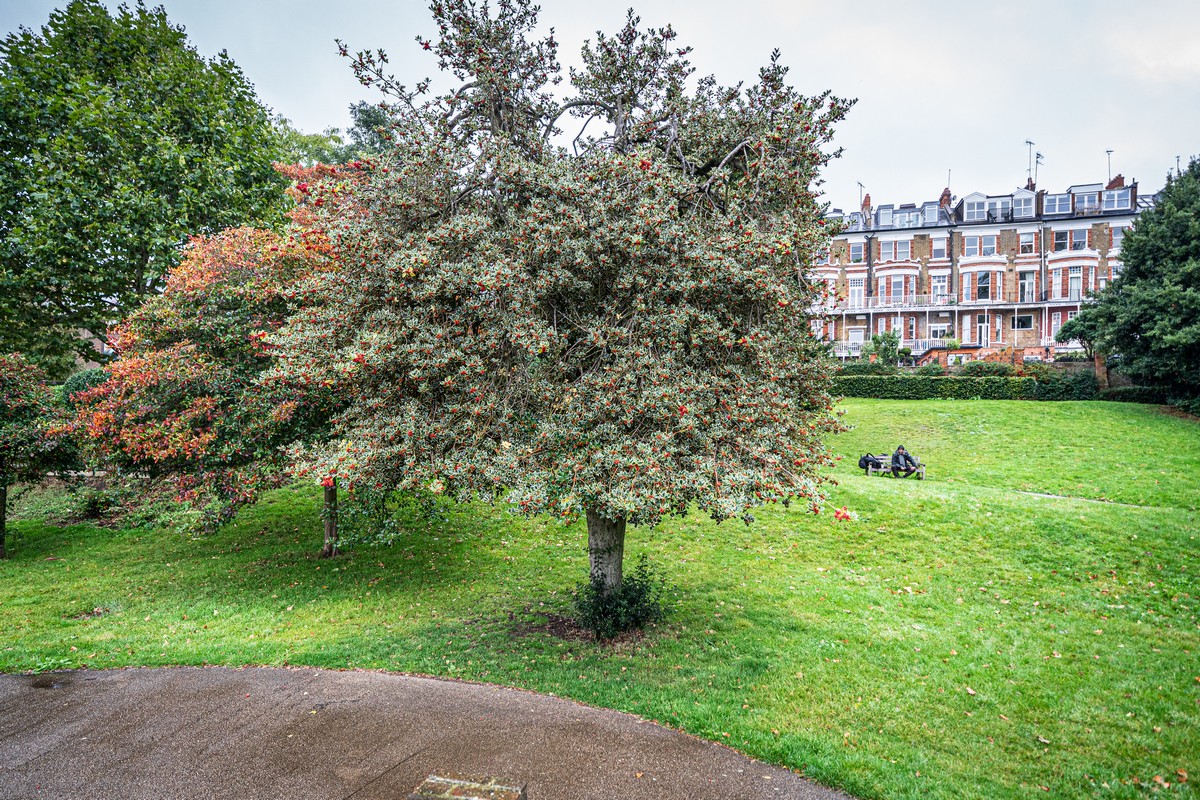 Folks still out and about; it's not just us getting wet )
Meanwhile, the Thames gets thinner and thinner, with islands appearing occasionally…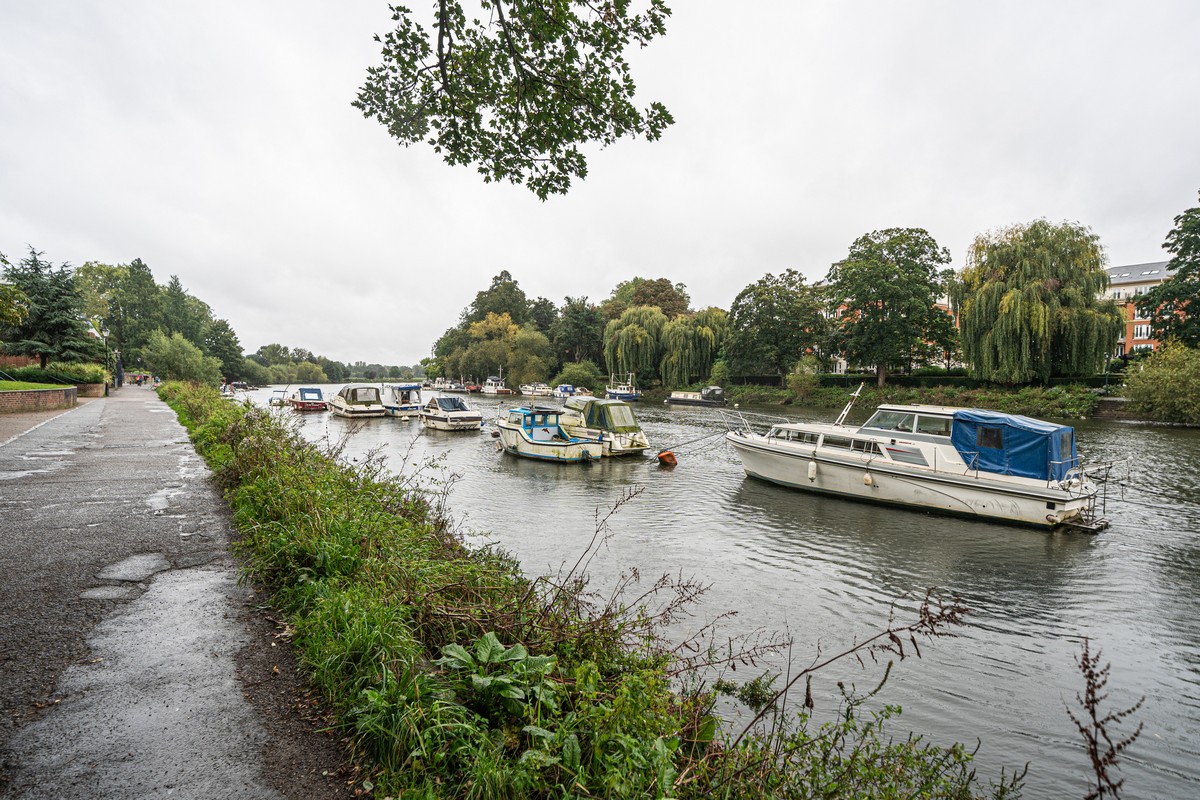 Rowing – a national sport in the UK. Even in such weather…
Kids row too – but aren't those canoes? Kayaks?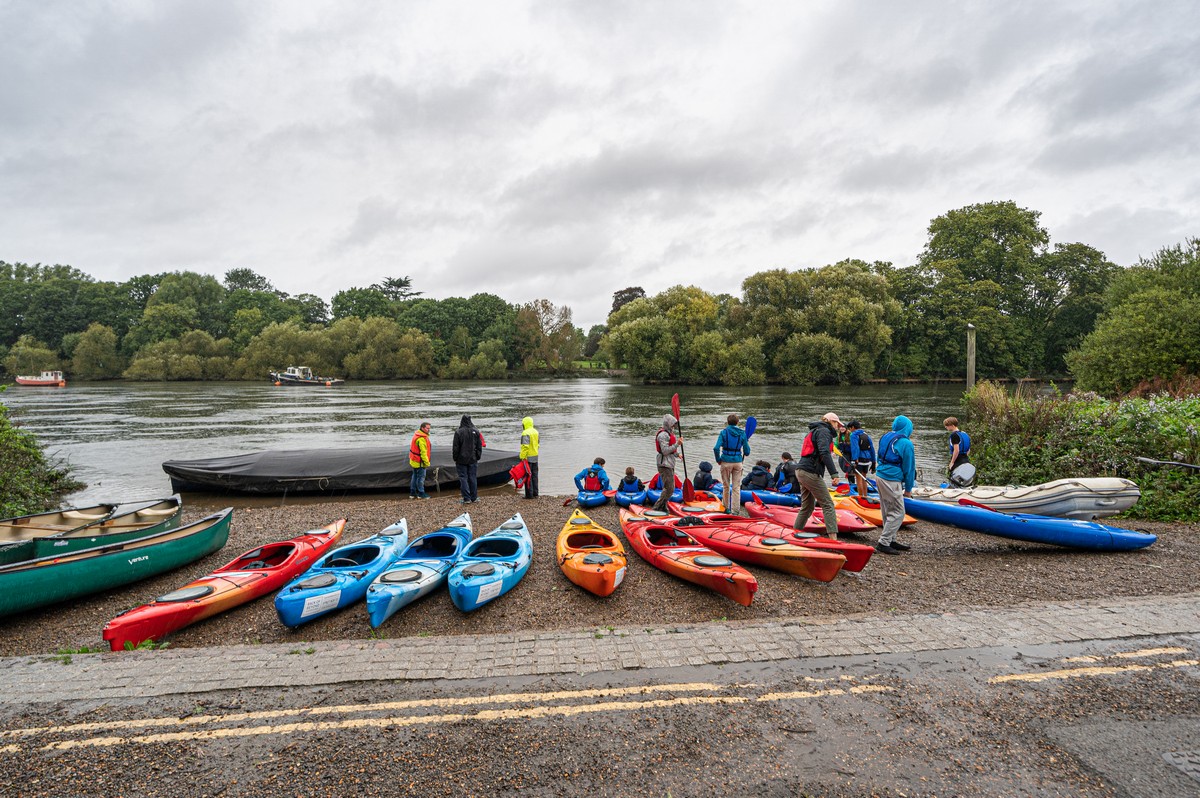 This isn't simply a mini-house…
Ferry crossing. Old-school again: check out the sign!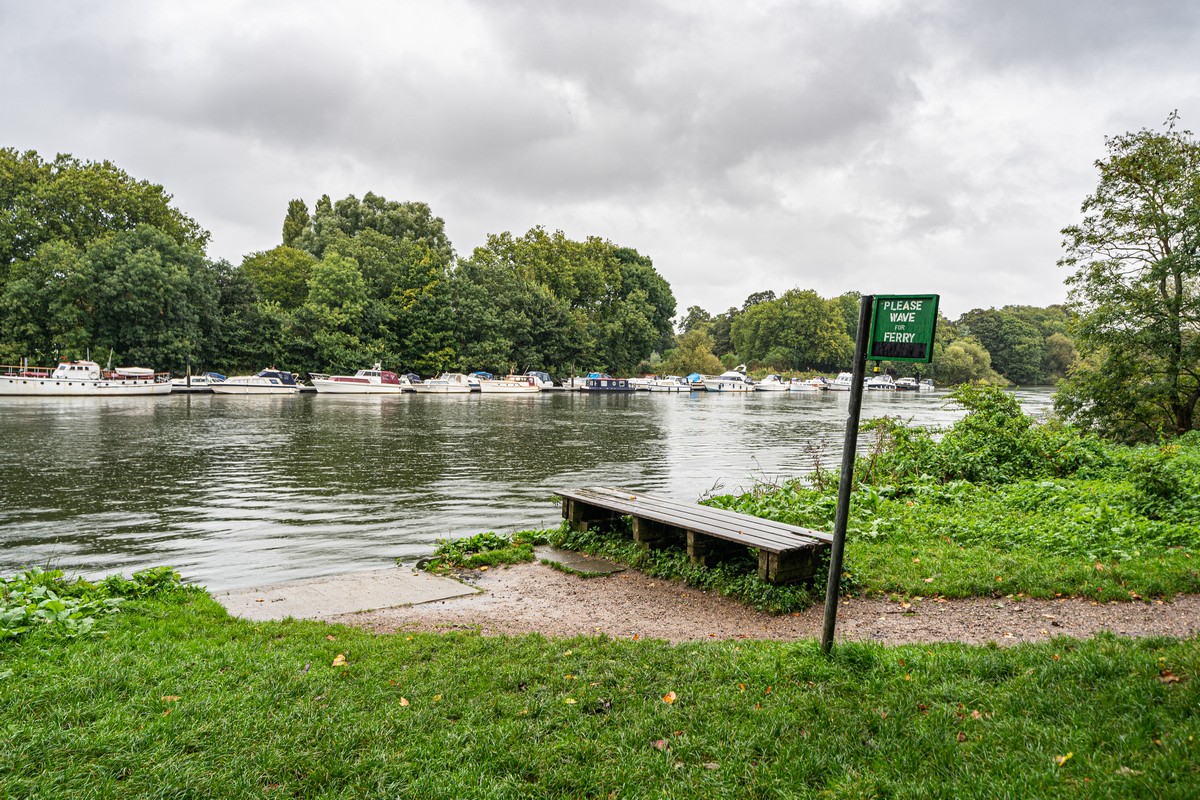 Onward. And the surrounding scenes become all the more rural. Who'd think this is Greater London?! There are even cows grazing in the fields ).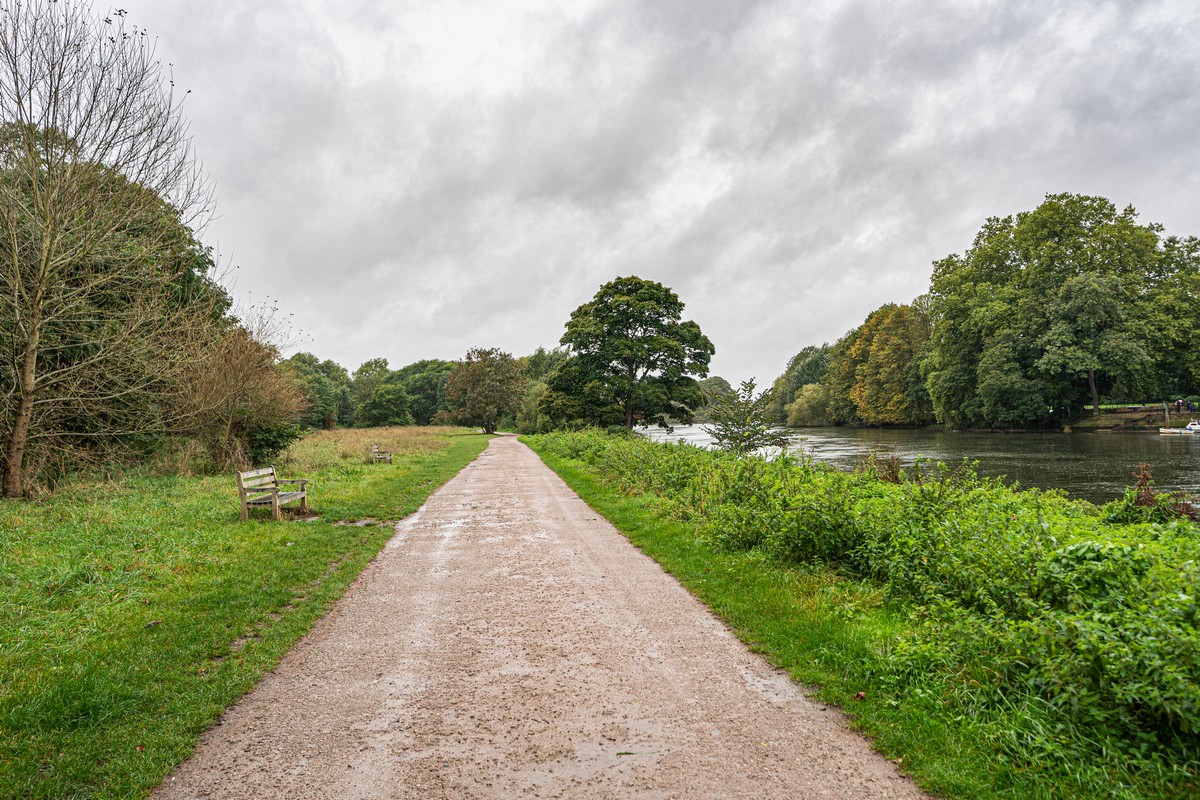 Upmarket suburbs…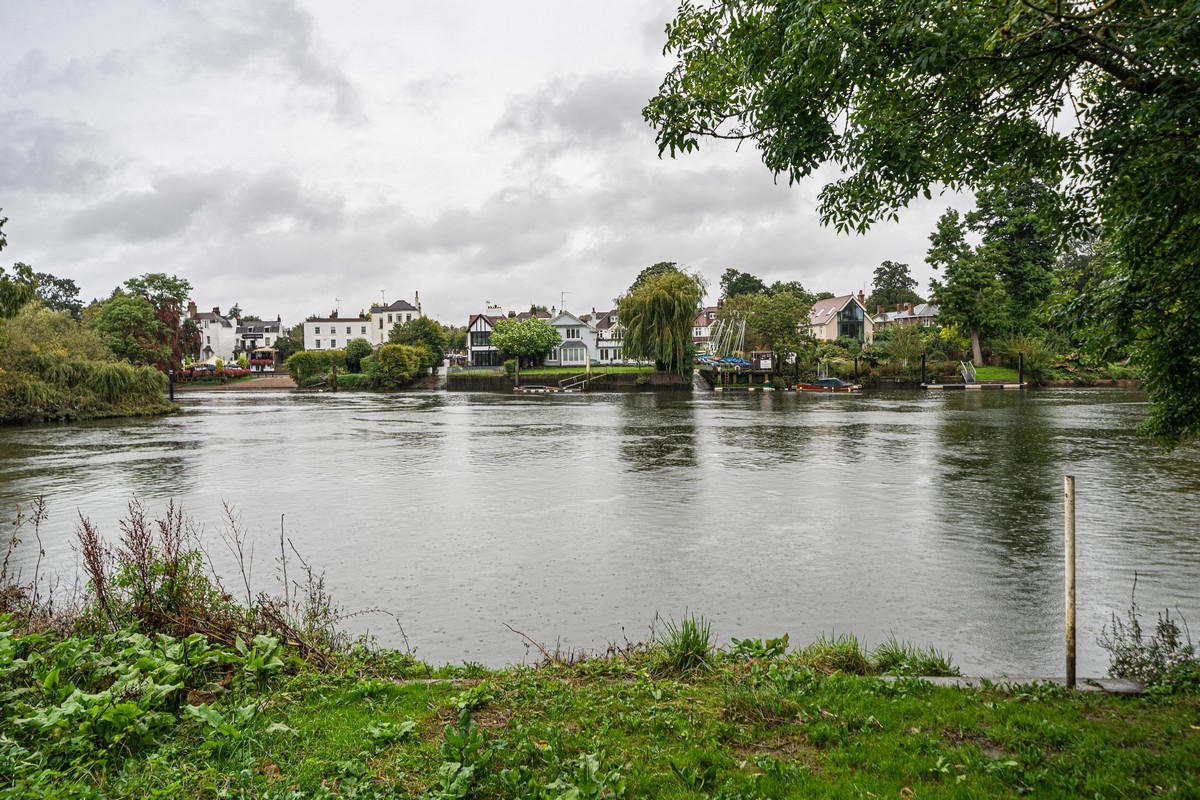 …The only downside – the near constant howl of airliners up above: Heathrow not far from here.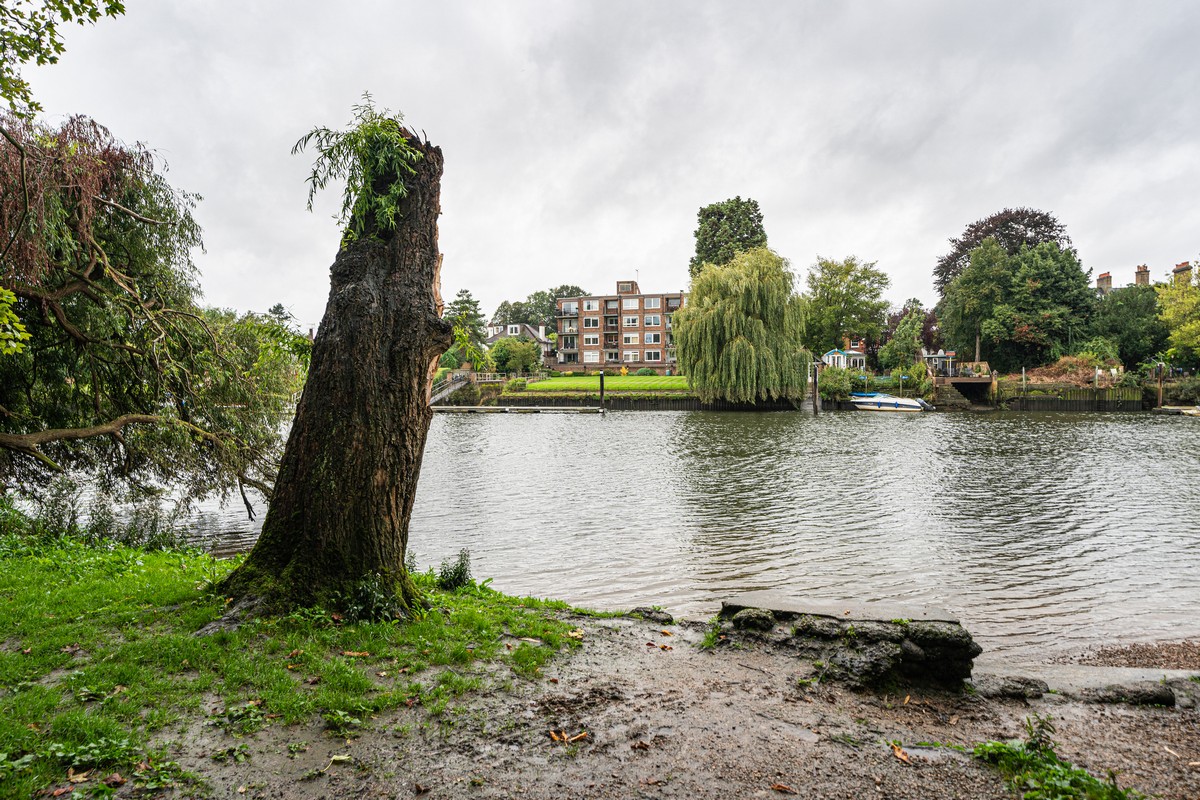 After a while the planes overhead starting to become annoying – and I'm just visiting. Imagine having to live with it? No wonder the locals protested against the third runway…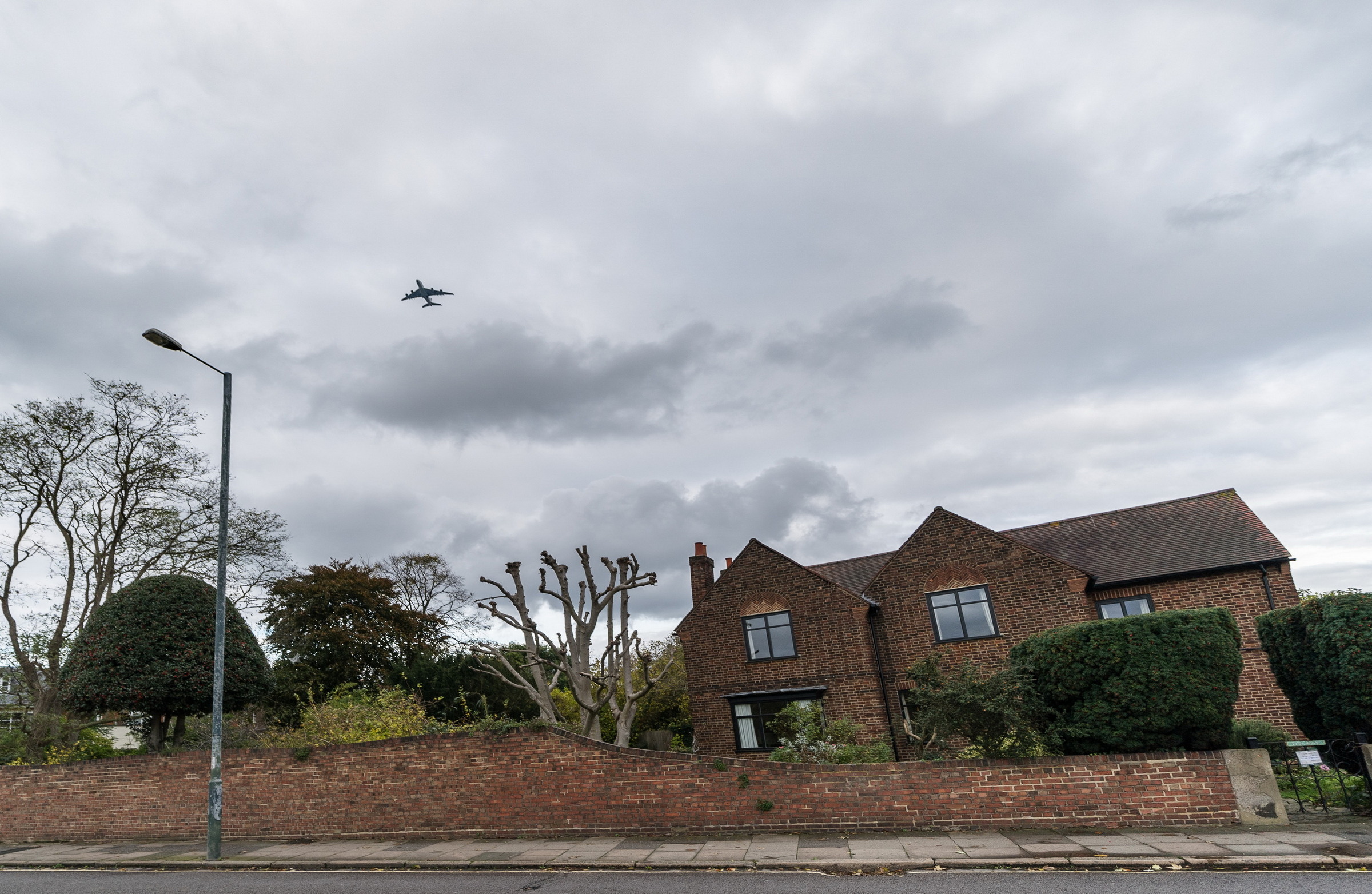 Meanwhile, we get to Teddington Lock:
These narrowboats aren't just for traveling up and down the river; some folks live in them, with some of the boats never being unmoored!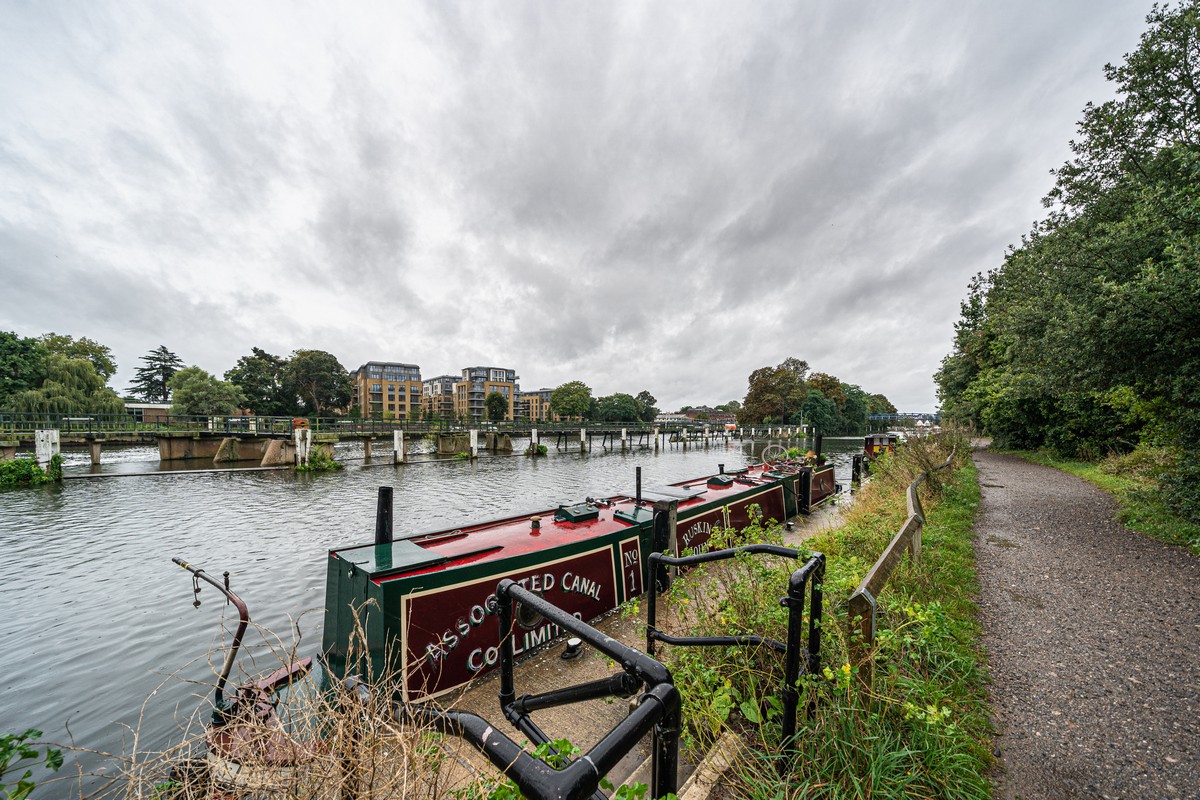 Some of the houses mansions – oh-my-Georgian!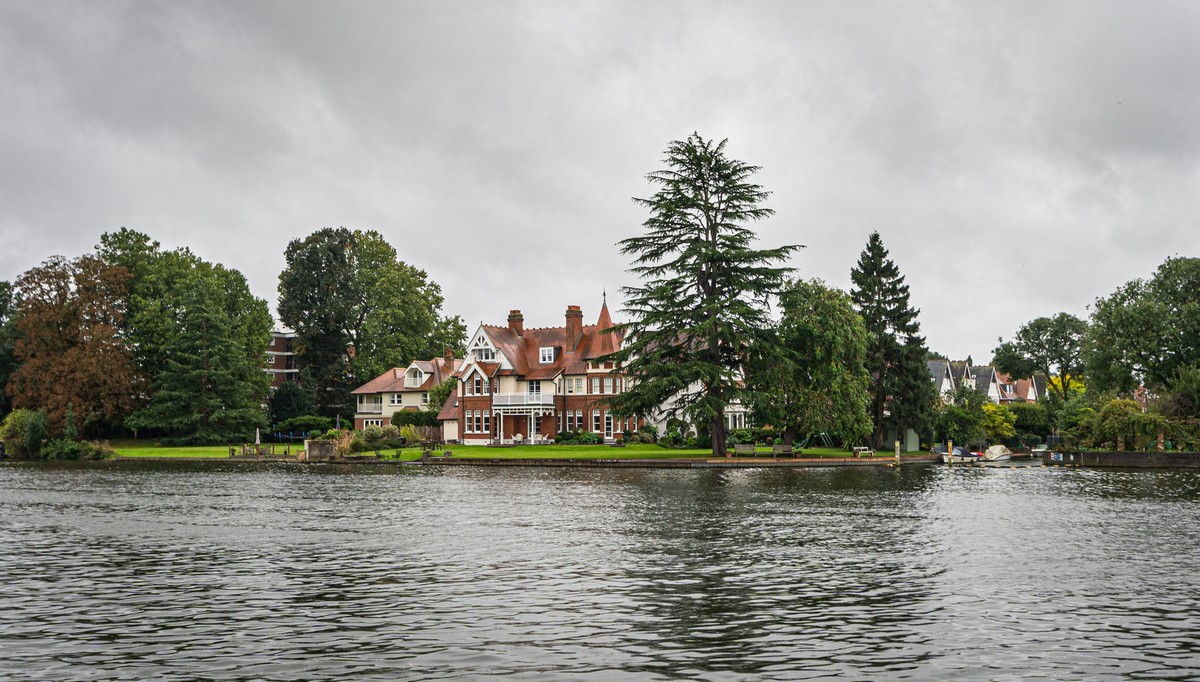 Next up – Kingston upon Thames and its Bridge!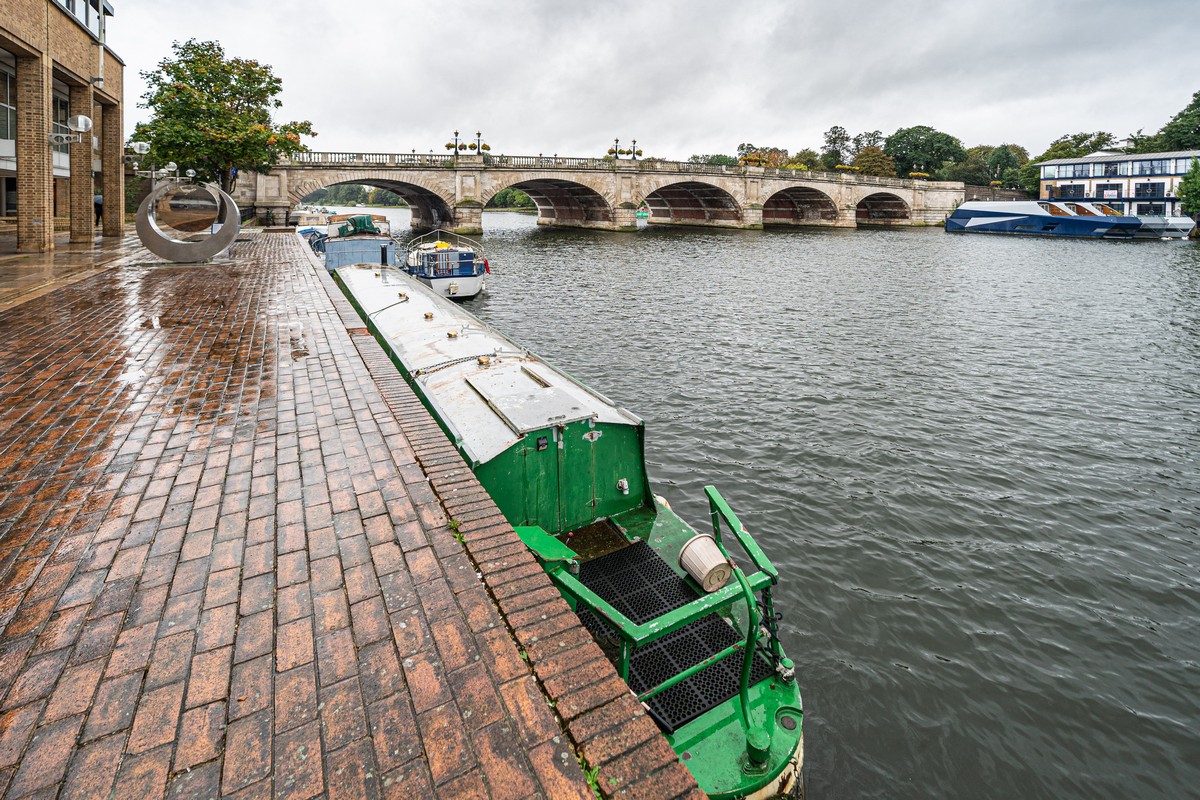 The bridge, in its current incarnation, will soon be 200 years old! It's also famous for its featuring in the immortal Three Men in a Boat by Jerome K. Jerome: it was here they set out west toward Oxford!
It was here we first crossed the river, since the Path switches banks here, as it does along its full length now and again: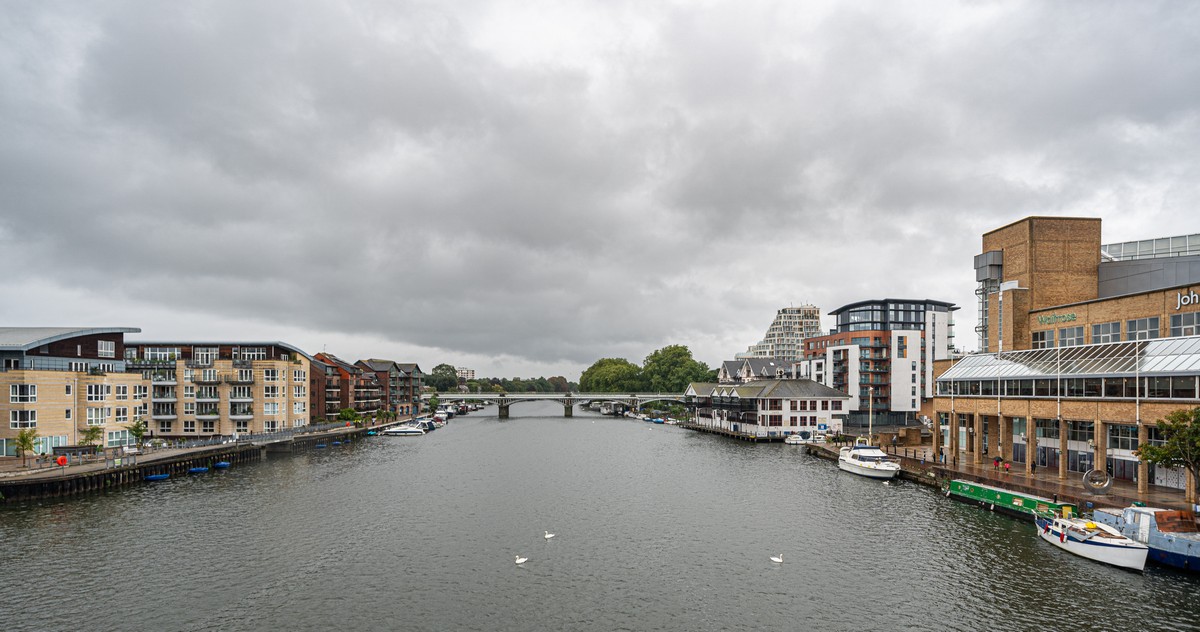 These longboats floating homes are for sale. They're so lucky here that the river never hardly ever freezes over ).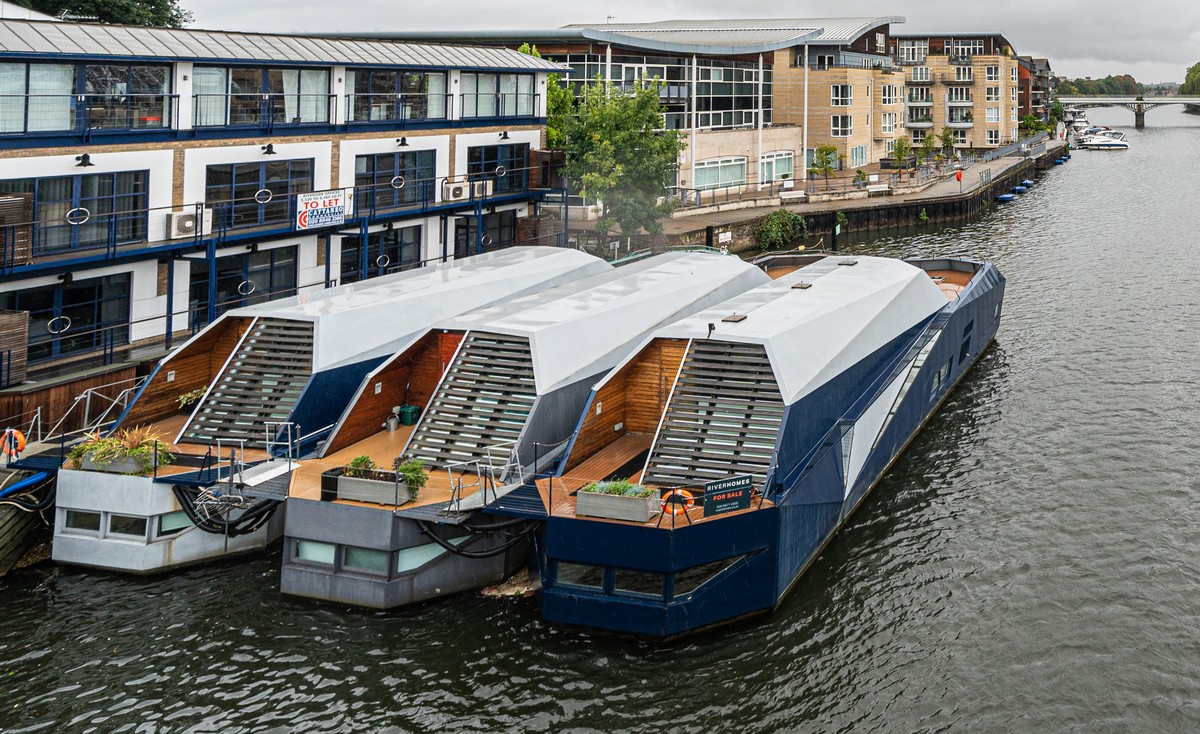 Next was a fairly dull stretch – plain urban scenes across the river, and a high wall on our side with only occasional gates through which we got glimpses of English countryside (featuring dear and hares).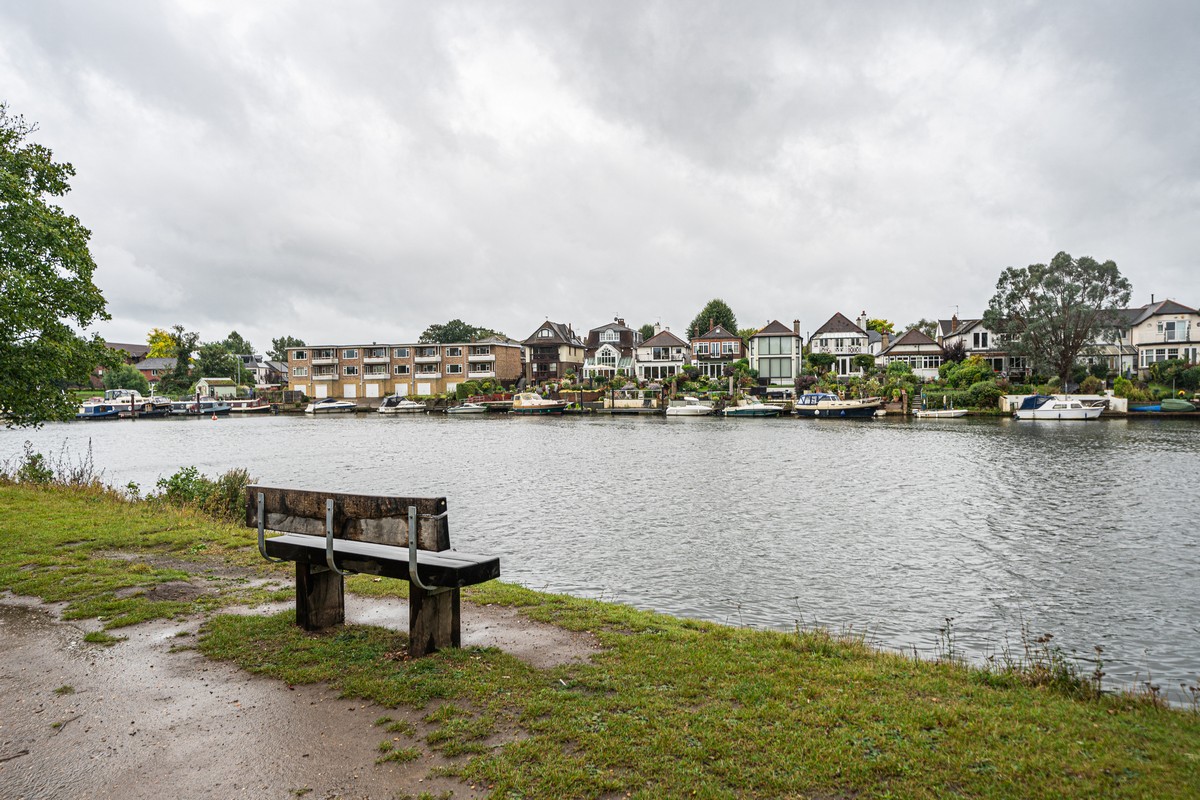 Then the rain got heavier, and we started to get soaked to the skin – not too pleasant. So we sought out the nearest… pub of course!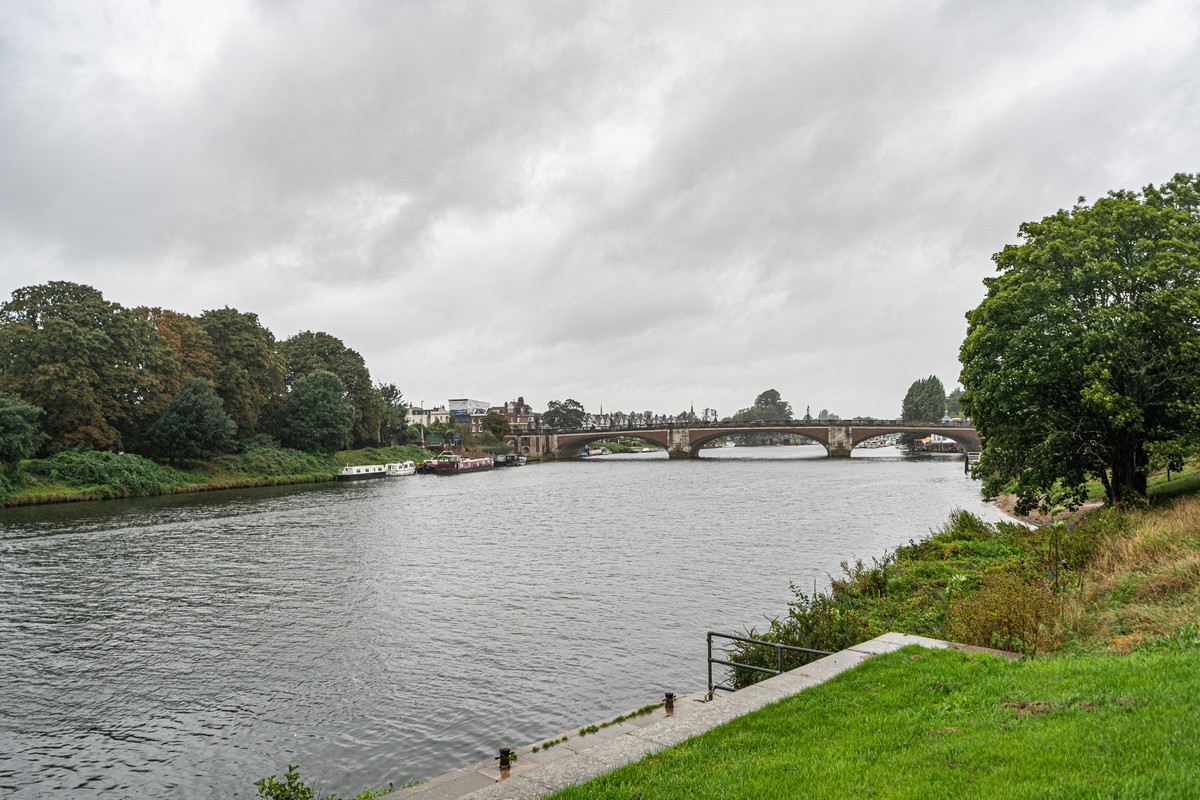 And here is that pub – the Mute Swan. We got in a few refreshing drinks and a bite to eat while drying out a little. We were planning on going further, but when looking out the window we saw the rain was coming down hard. Another conference, and – result: 'Let's call it a day' ). Quite right. We'd done our valiant bit; let's not overdo it. And it was nice and cozy in the pub too )…
In all, 13 kilometers walked. Not bad at all considering the weather ). Well done us!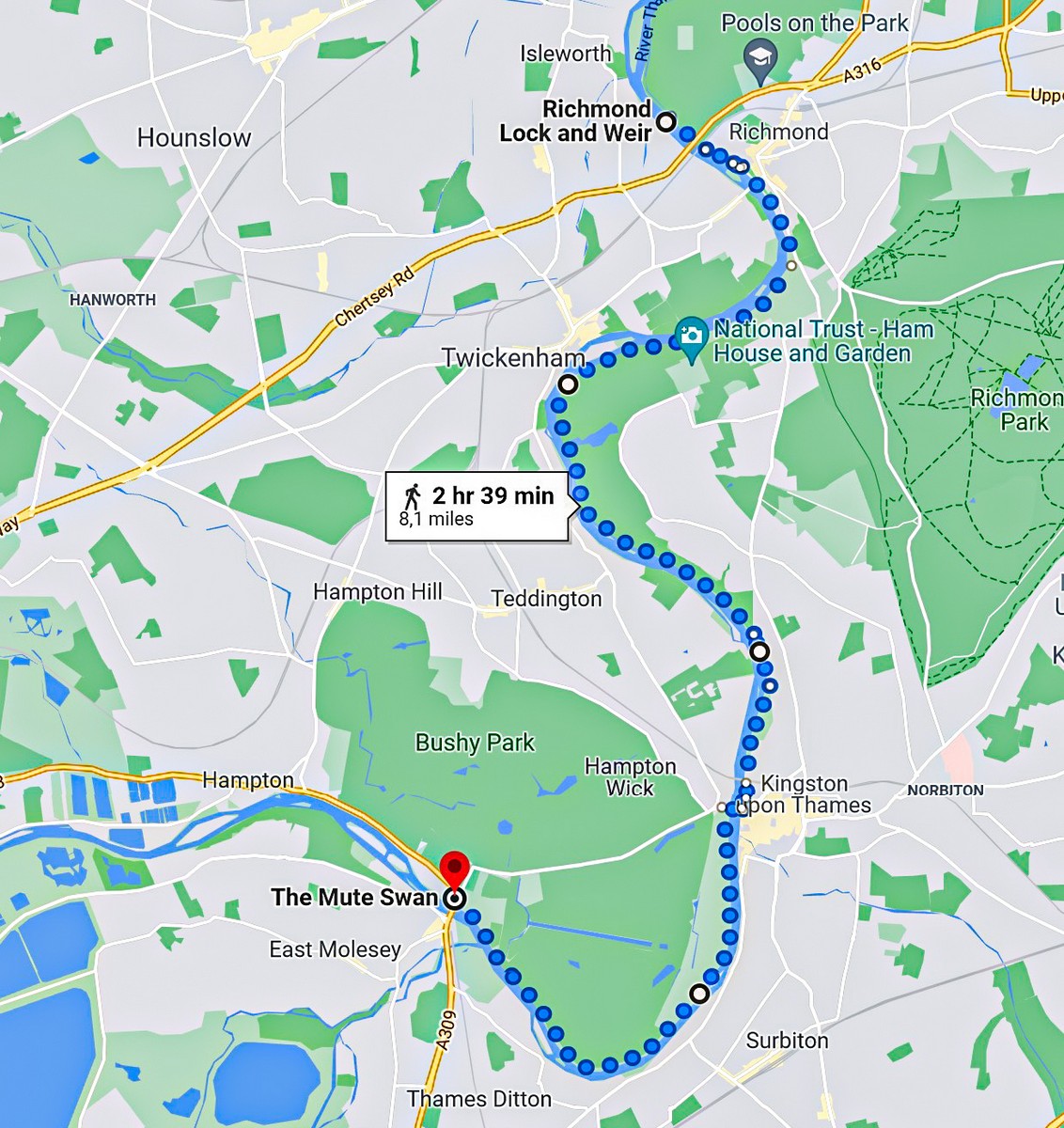 Btw, despite what you've heard about British weather elsewhere – and now in this blogpost too – just so you know, the weather can be nice here. Just not that often. Reminds me of somewhere else )…
For example, when flying in – a beautifully clear day:
And, just like in Kamchatka, the inevitable refrain comes: 'If only it'd be like this more often' ).
The rest of the photos from our 2021 Thames Path walk are here.