Modern techno-kunst of the most boggling kind.
My customary busy schedule of business globetrotting sees me visit places equipped with some really interesting art expositions. And if said busy schedule grants me two-or-so hours of free time, you can guess where I normally head to fill those two-or-so hours. This ritual has seen me squeeze in visits, among many others, to:
Art, arte, iskustvo, kunst. I love it. Mostly. But sometimes, especially when it's of the modern/moderna/sovremennoe genre, things become… less straightforward, more ambiguous, somewhat contradictory. No matter, for it still always generates unusual thought processes related to the perception of aesthetic experience. And that's just great!
Well just the other day, I had another arty outing – this time without even stepping onto a plane. It was another Moscow-based visit, and what a visit it was…
Now, do you want to boggle a little? (And, I do believe, the only thing one can boggle is a mind.) Or, rather, would you like to boggle your mind a lot? Or, rather, would you like to overboggle your mind? In that case, you need to get to the new 'May the Other Live in Me' modern techno-art exhibition at the New Tretyakov Gallery, a science-art project of the Laboratoria Art & Science Foundation, which we support. Why? Well, my mind was truly boggled, and my mind does take some boggling. So I highly recommend it to you too. Here's my brief report and pics on the exhibition – you preview…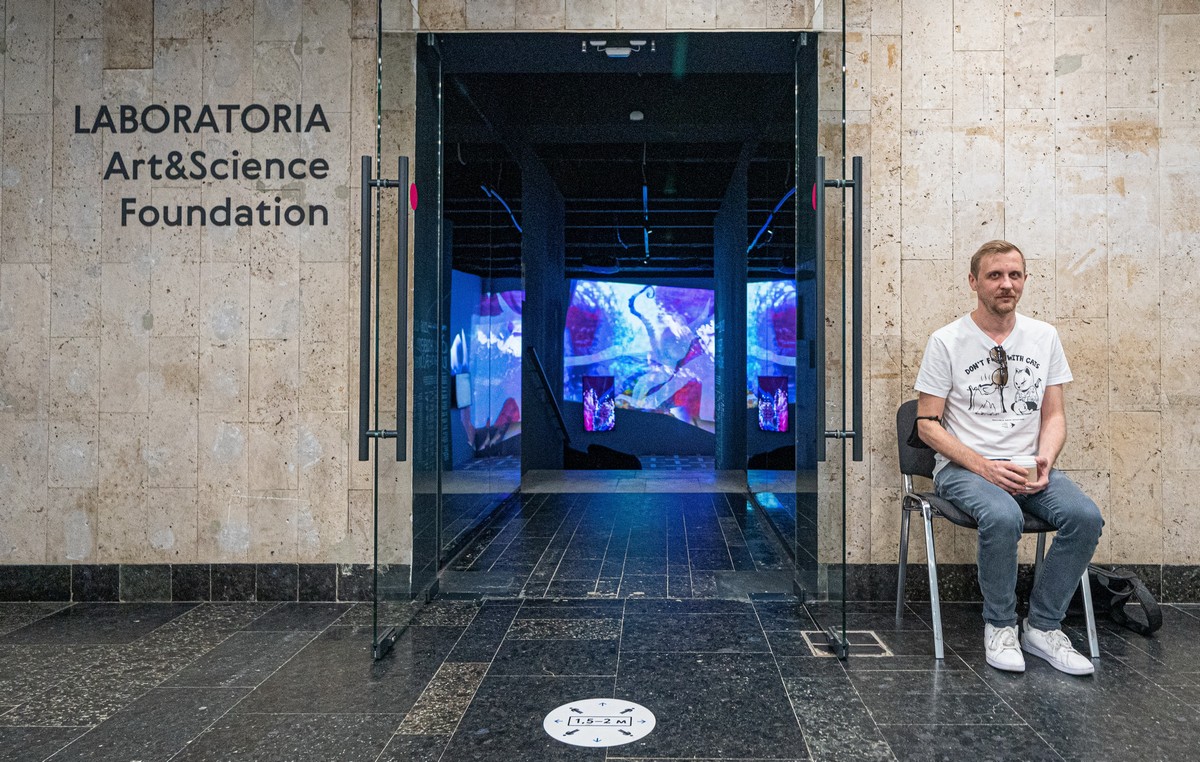 First up, a robot, prodding and probing a piece of silicon (actually, a cluster of magnetic iron crystals), and seeming to recognize itself via protomatter, out of which modern digital systems are made. A veritable techno-art philosopher: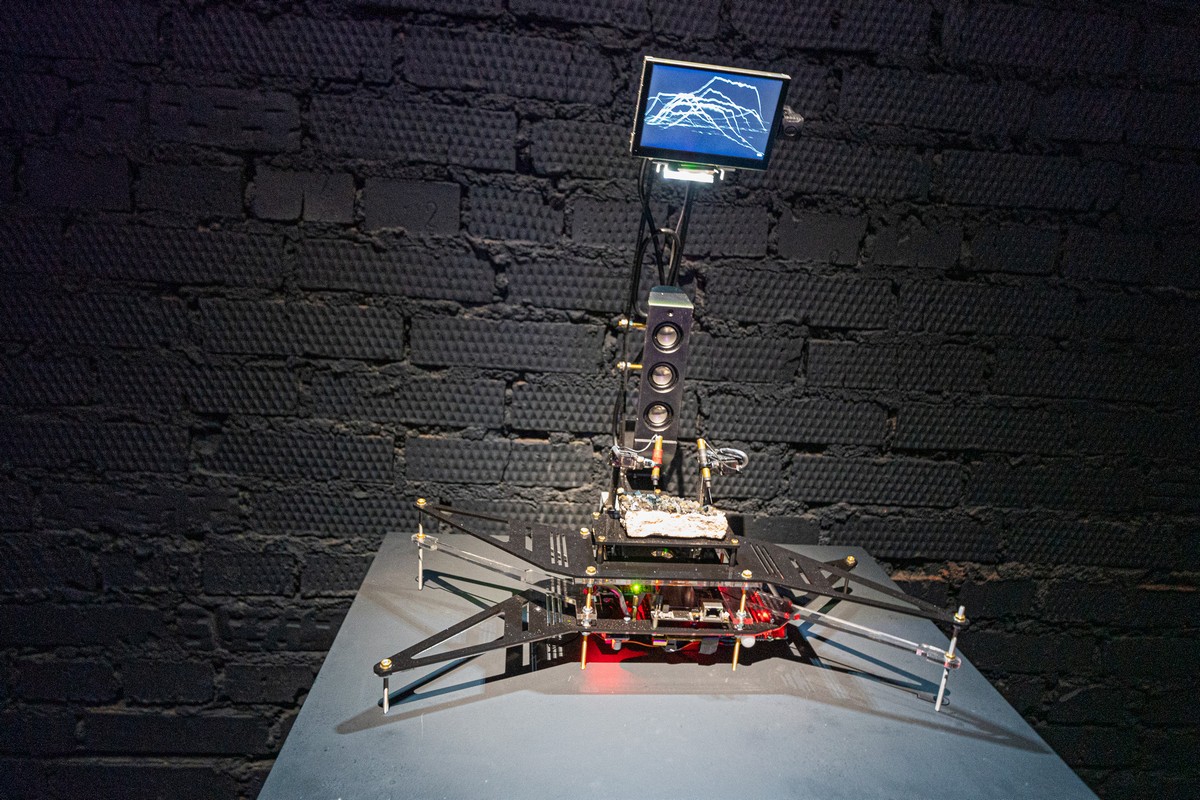 Next, a post-modern neuro-mirror. You peer into it, it takes a look at you, sizes you up – analyzes your emotions, no less! – and, applying AI machine-learning, it delivers you a text message containing a moralizing lecture poetical message tailored just for you! ->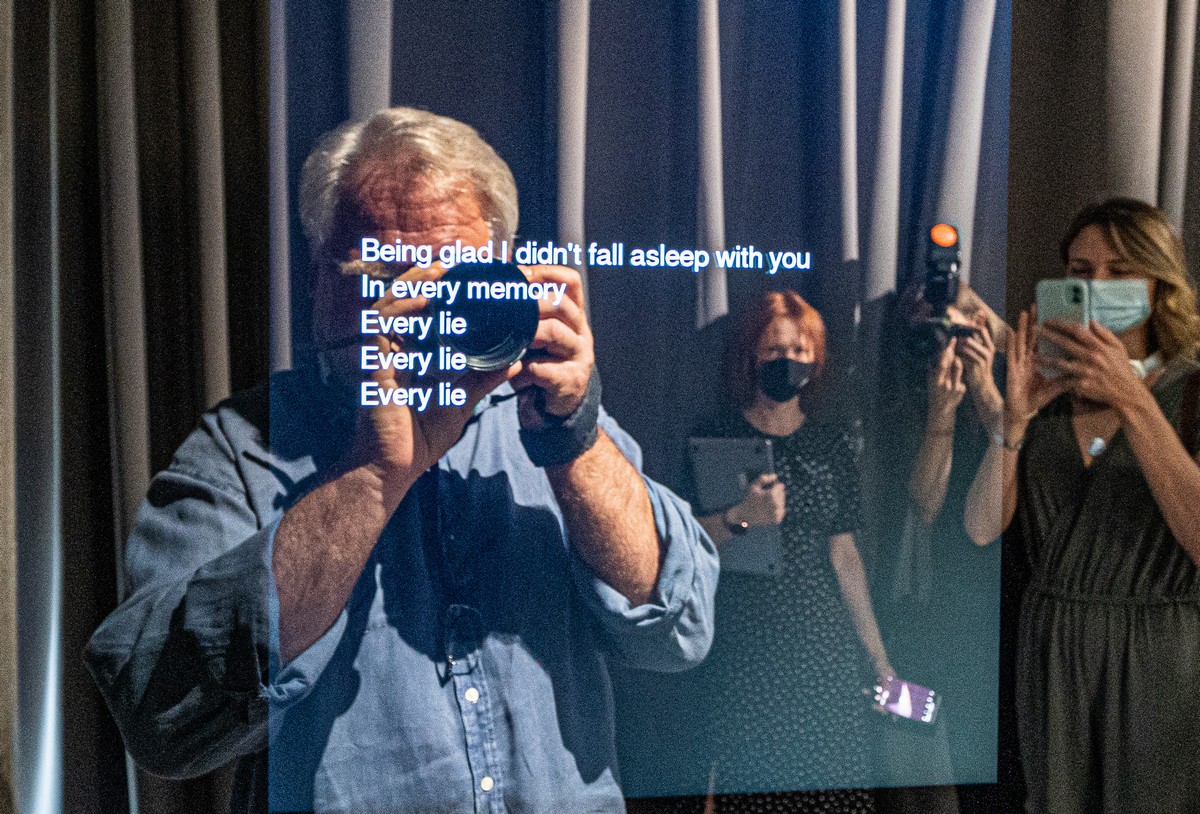 Next – from the digital world to the world of the living…
The cognition of… octopuses! As in – what would happen if AI were to be trained not based on human perceptions, but on those of octopuses. Woah!
I'd like to be
Under the sea
In an octopus' garden
In the shade… (c)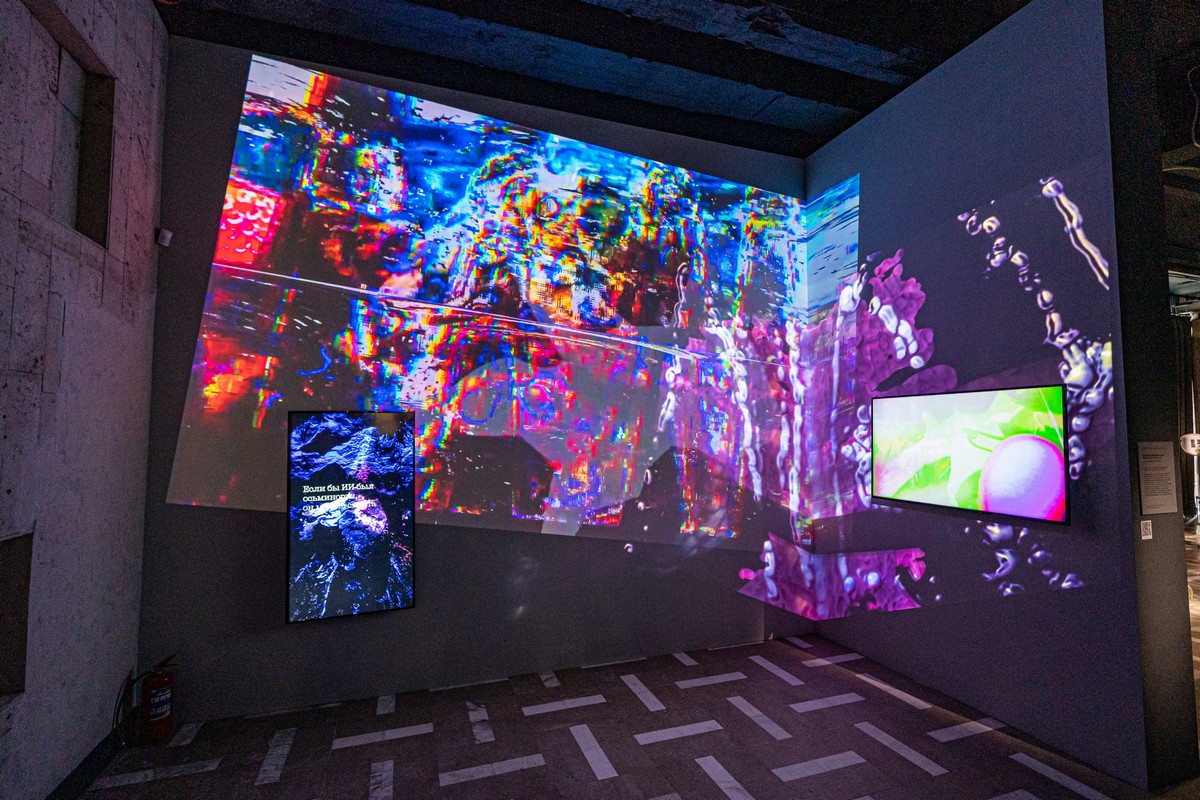 Flora themes were also noted. This installation invites you to breath in different 'cocktails' of some kind of extremely interesting molds and other plant matter so as to merge with your surrounding environment and even the planet:
If you smear some fir-tree extract onto your skin that was synthesized in a laboratory, this here tree will recognize you as another tree: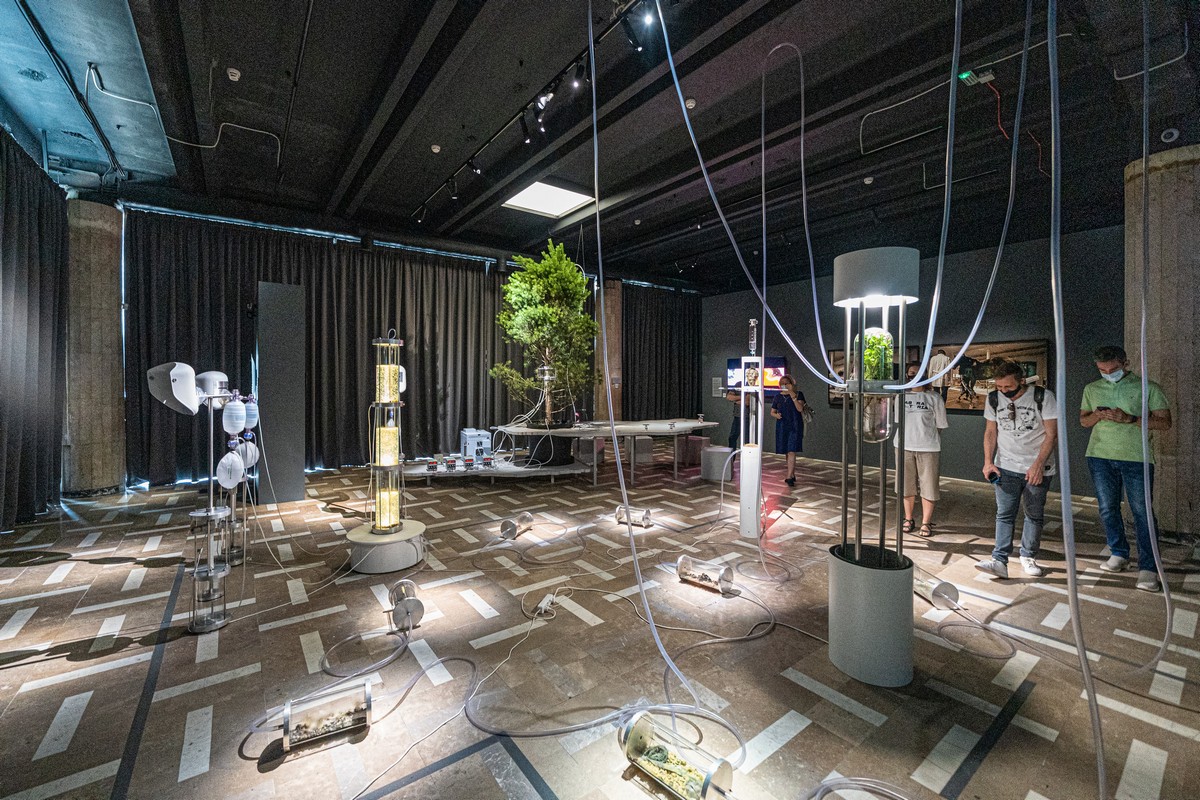 Then the tree is somehow activated, and as a result an epochal event takes place ->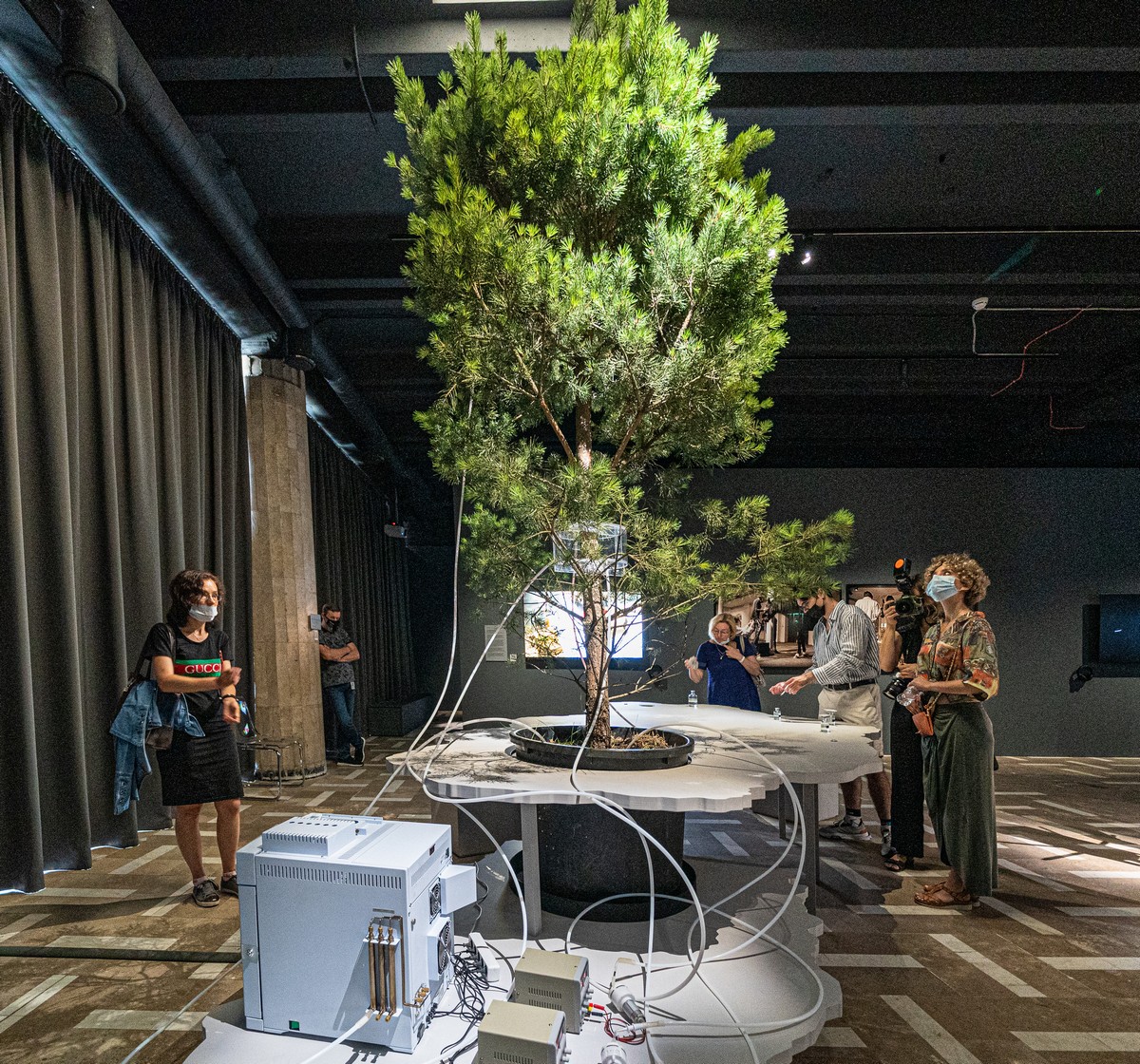 The tree should recognize you as one of its own, which is communicated via smart sensors located nearby: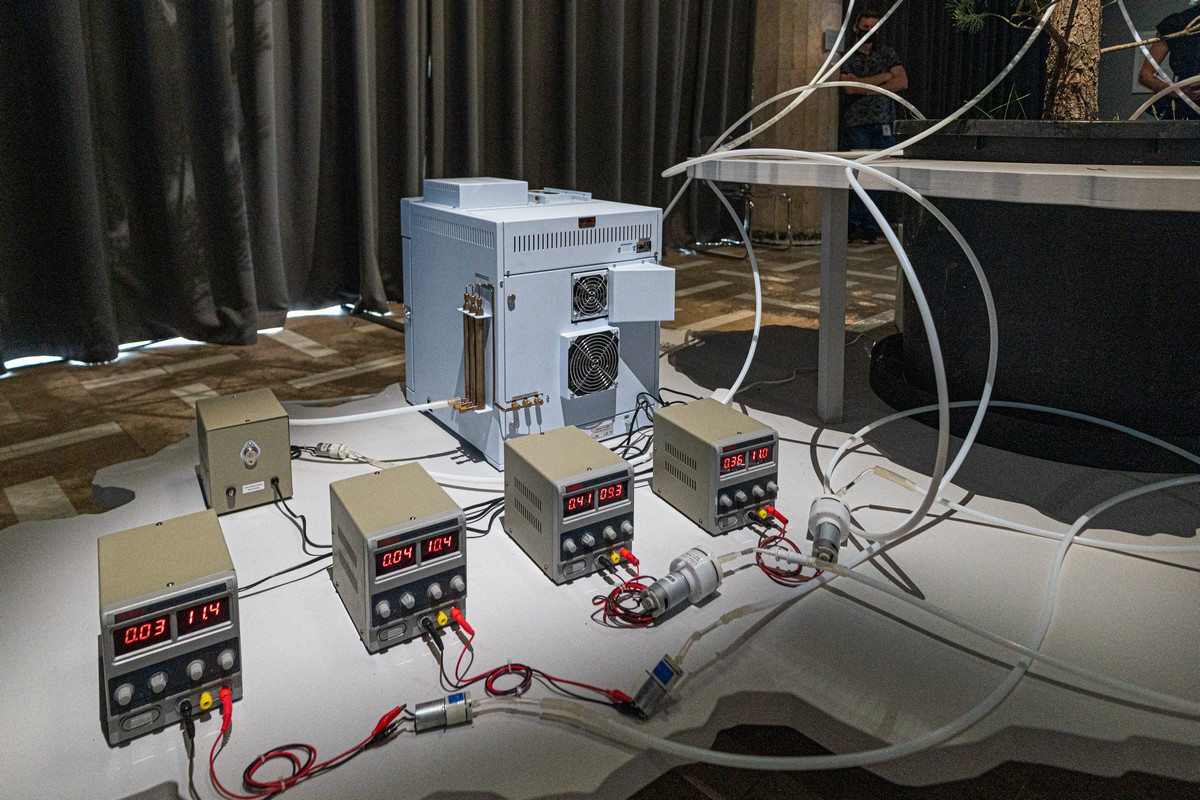 Talking bacteria able to live on Mars:
I had a few more pics – of… horse-based experiments, but they're certainly rated 18+, and are completely forbidden in all civilized countries :).
And that's that. So, as you can see, this exhibition is all about modern techno kunst of a very weird variety. Most strange. No – totally mad! But, as always, totally mind-bogglingly interesting too )…