Ongietorri here means 'welcome'. While eskerrik asko means 'thank you'. "But, isn't Bilbao a Spanish city, where they speak, like, Spanish?", I can hear some of you wondering. Yes, it is Spanish (on the northern coast of Spain, on the shore of the Bay of Biscay), but it's also the capital of the Basque Country.
I'd long wanted to visit Bilbao, and finally, on a free weekend while in Europe on business, I was able to…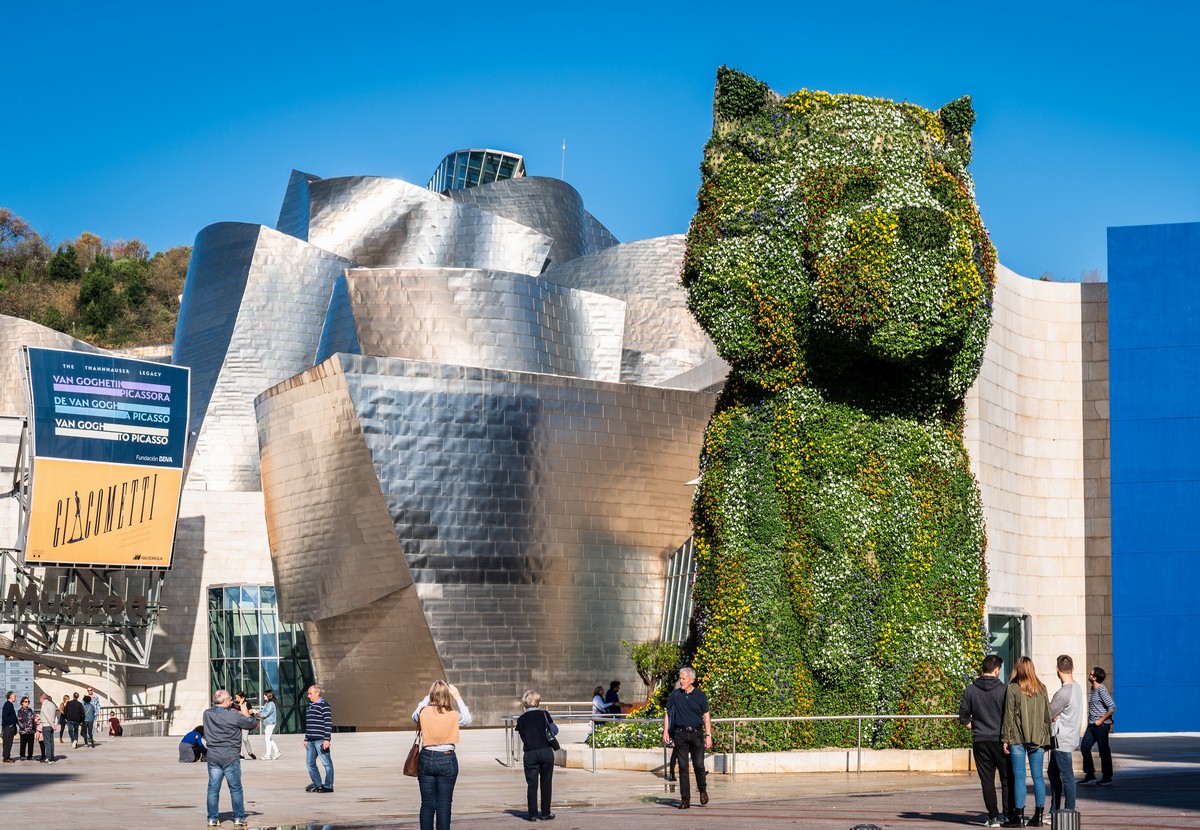 Practically every place on the planet is unique in some way or another. Here in Bilbao, the unique feature is the Basque language spoken by its inhabitants. I mean – eskerrik asko – does that sound like any other language? Nope – not one, for it's a so-called language isolate – with no demonstrable genealogical relationship with other languages or language groups. That is, it was spoken here by natives before the spread of Indo-European languages in Europe.
That means they were speaking the local tongue around 3000–4000 years ago. Hmmm, that's around the time of the Minoan civilization. So that means the Minoans and the then-inhabitants of Santorini may have spoken the same language? Could be. But I guess we'll never know – until a time-travel machine is invented. But in the meantime, we'll have to settle for a stroll around the capital of the Basque Country…
Bilbao isn't a very large city: two or three hours of up-tempo marching around the center is about sufficient. Now, if you know one thing about Bilbao, there's a very good chance that one thing is the Guggenheim Museum Bilbao. So, of course, we headed there first, which was rather a straightforward procedure since it's right in the center of the city. Out front of the museum is this here puppy (made of flowers):
By the looks of it the puppy changes its colors from time to time. But enough about puppies – let's get into the museum proper…
Cool on the outside – and cool on the inside too, it turned out: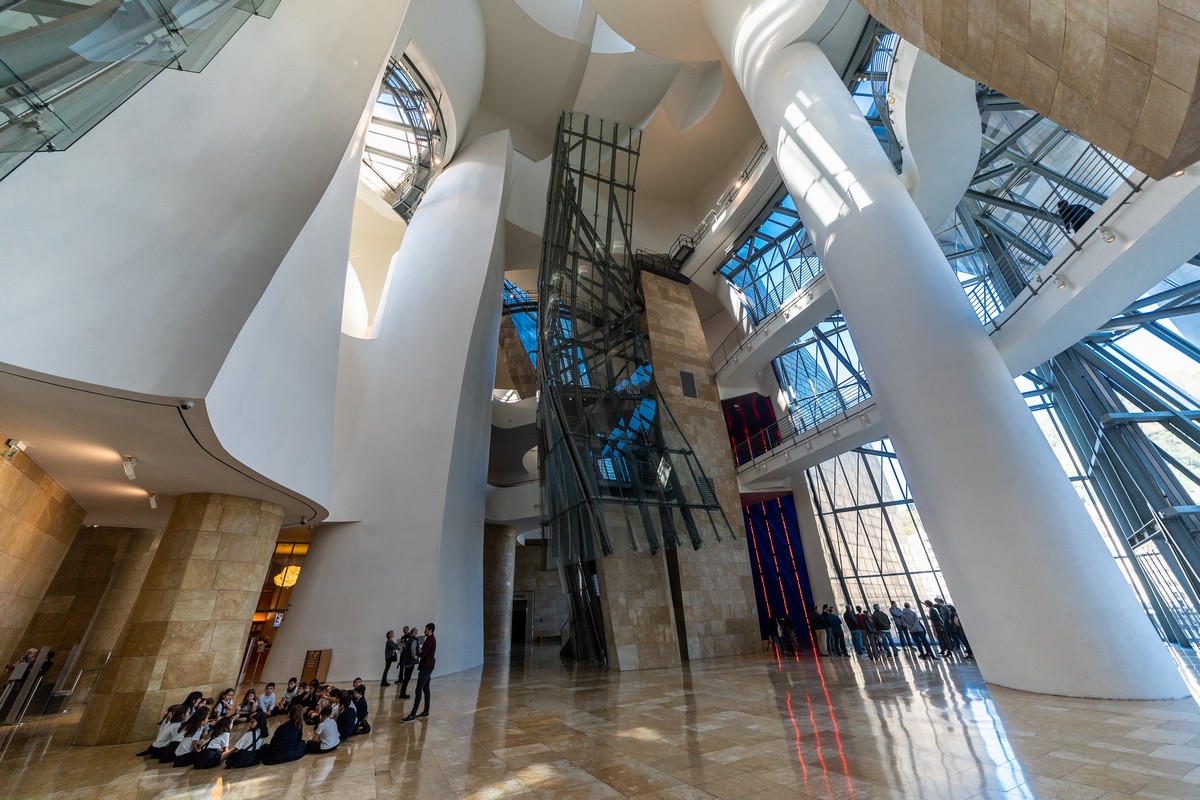 On the first floor there's a mammoth metal labyrinth called The Matter of Time. Oh my ginormously grandiose! Six separate installations – some of them you can even walk inside!
We climb a few stairs and what do we find – oh my: no photography!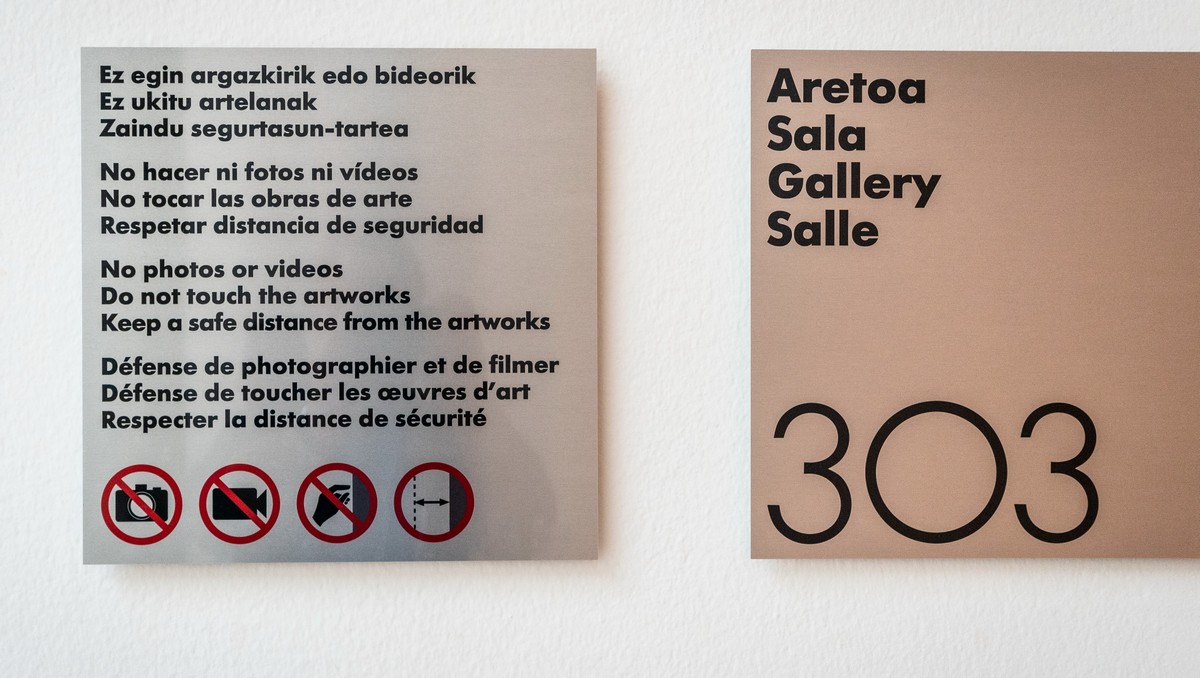 WHAT? But this is… A MUSEUM! Isn't that what museums are for? Taking pictures?! Wait – but this is a 'modern' museum too!! Ha! And the 'guards' here are everywhere – enforcing the rules. Well folks, that means just one thing: I've no more photos of the museum to share with you today! Still – that's not so bad, for thankfully the rest of the museum besides The Matter of Time wasn't all that outstanding. It turned out I wouldn't have taken any pics anyway (which only added to the puzzler re the whole no-photography rule; I mean – why bother to forbid it?:). So, earlier than expected folks, I'll say adios amigos agur lagun right here!!
We went back down for another look at The Matter of Time on our way out…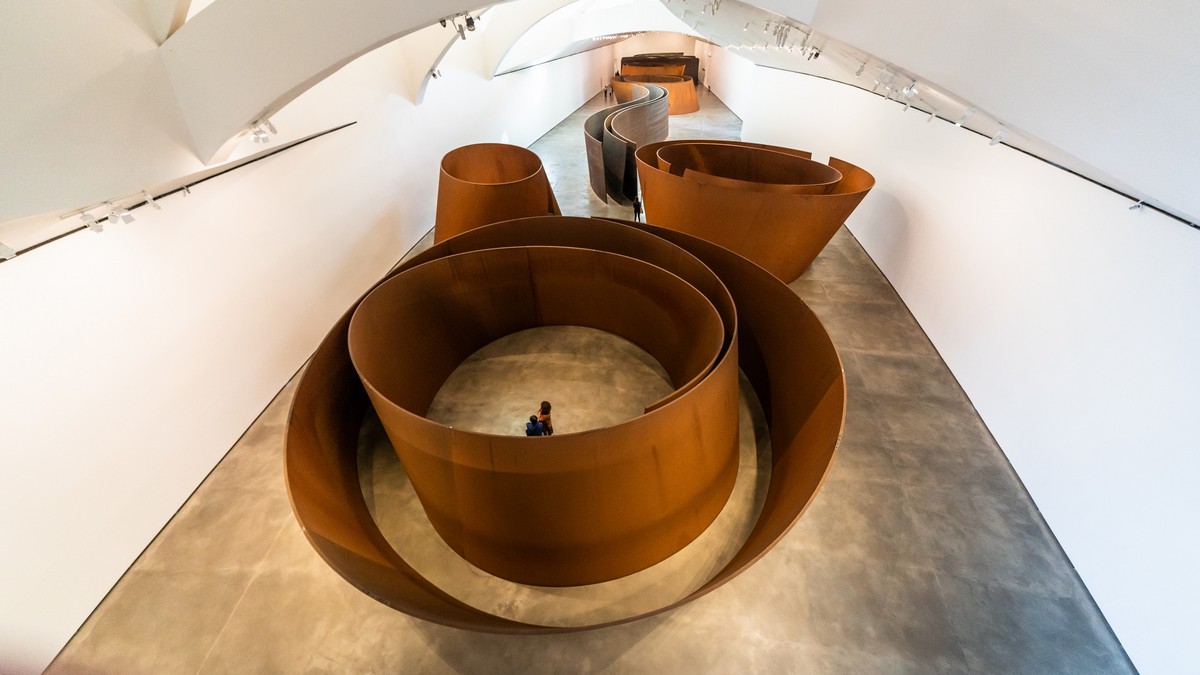 But this time we discovered another installation on the first floor worthy of mention – and, gladly (permitted) snapping: some interesting digital running messaging: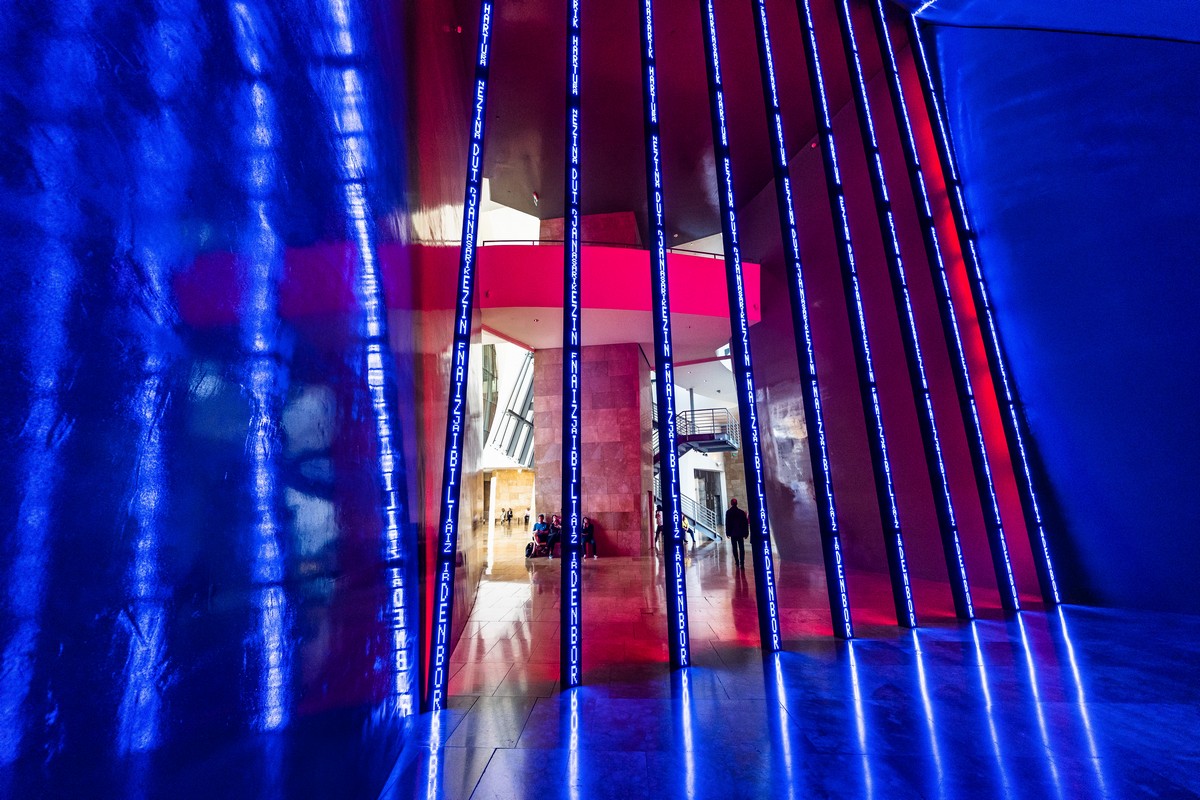 Next, my fellow traveler M.L. (in one of the pics above) and I left the building. We ended up on the bank of the river Nervión, next to some… tulips: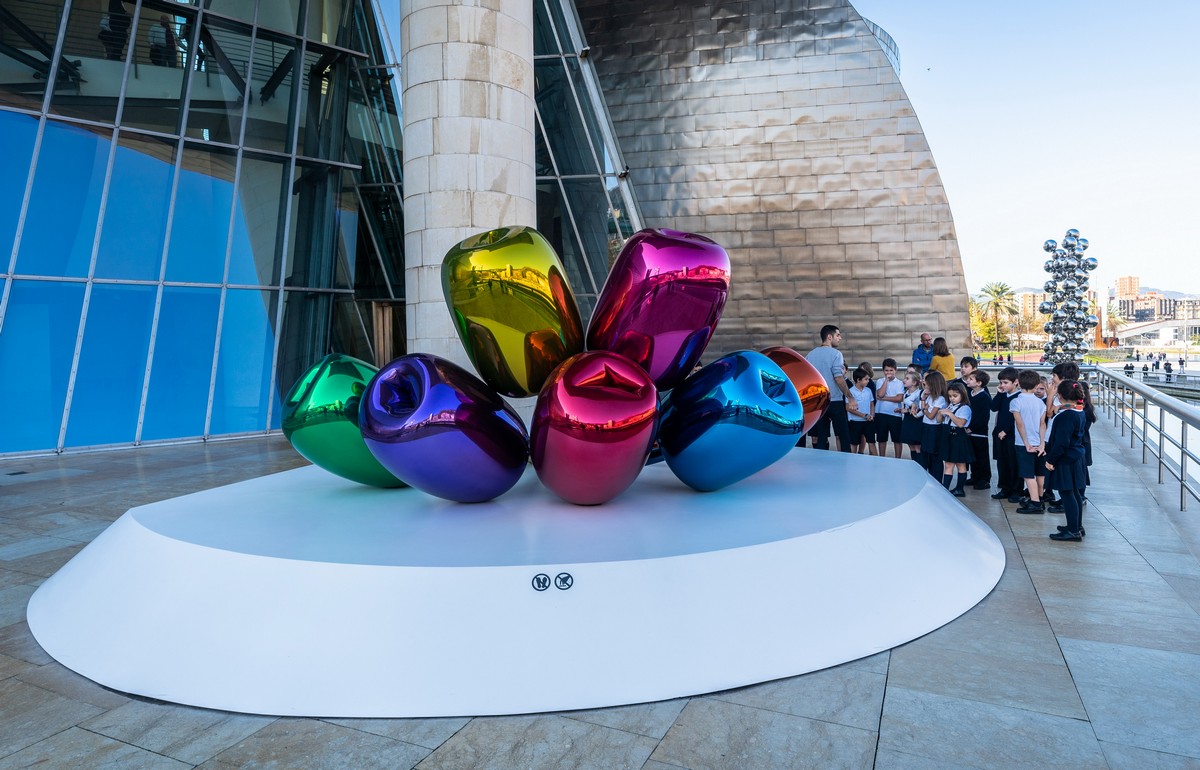 Four-way selfie! That's a first ).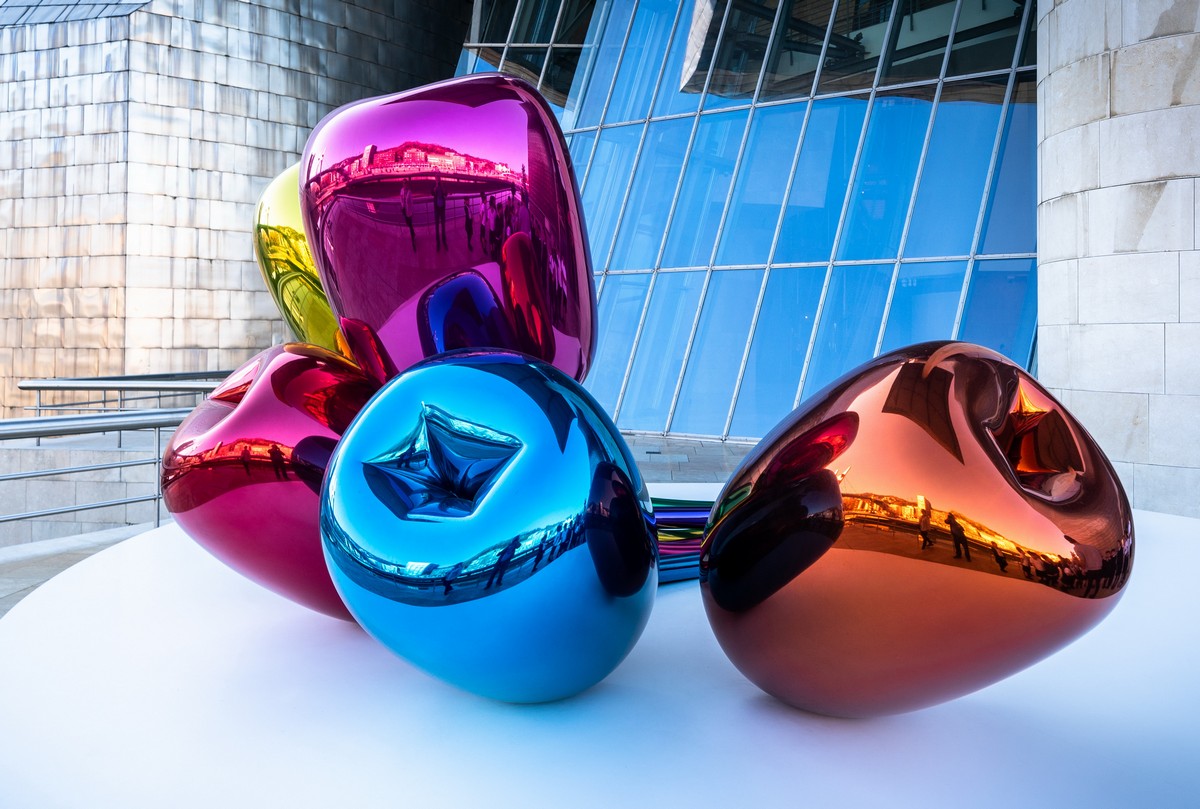 Very futuristic architecture…
Arachnophobes – look away now! Maman: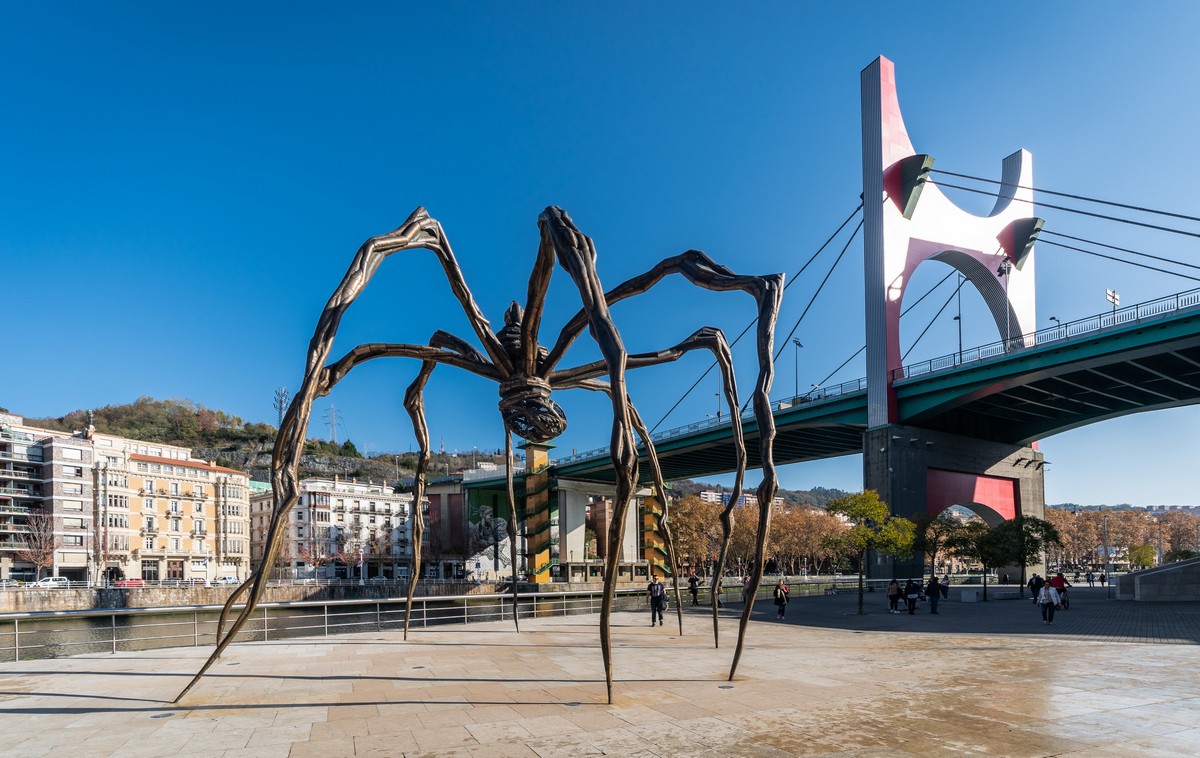 We pass Maman on a stroll along the riverbank…
It seems twisting metal in the Basque Country is something of a tradition…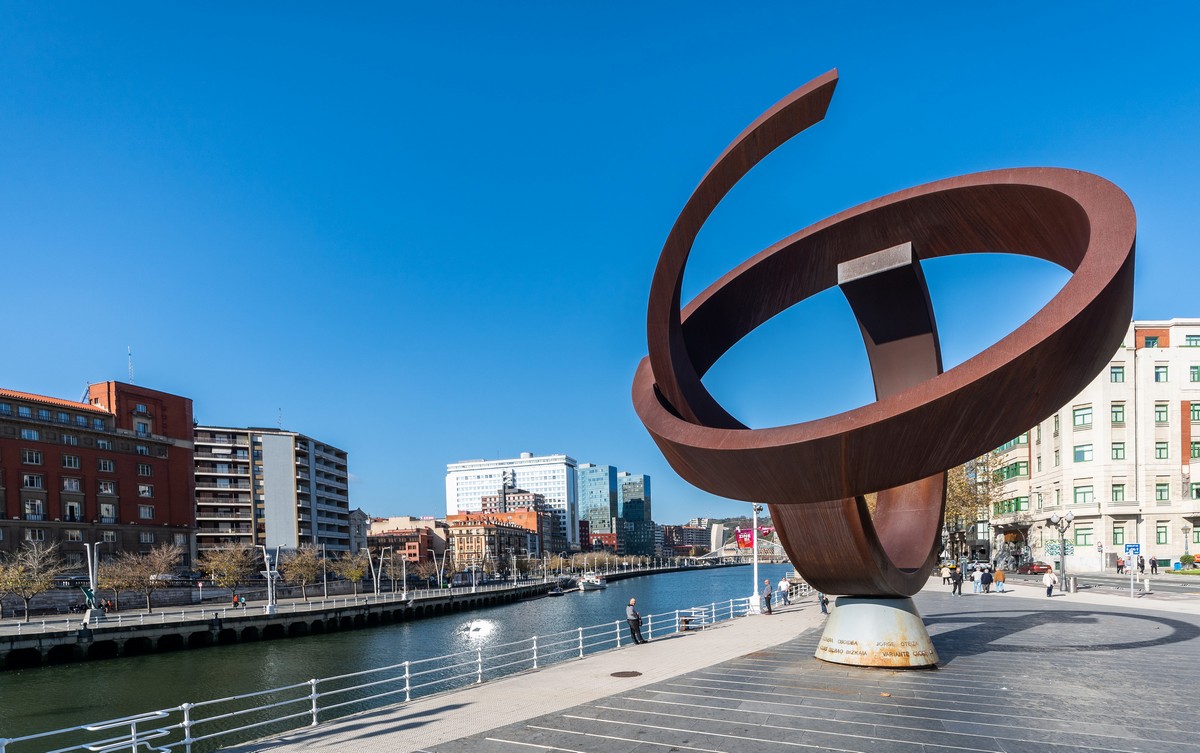 Suddenly – a march. Turned out it was organized by a local trade union protesting against some construction.
We continue our stroll along the embankment – taking in street markets and a traditional marching band:
The rather impressive train station and a view of downtown:
Looks to be a regular residential block…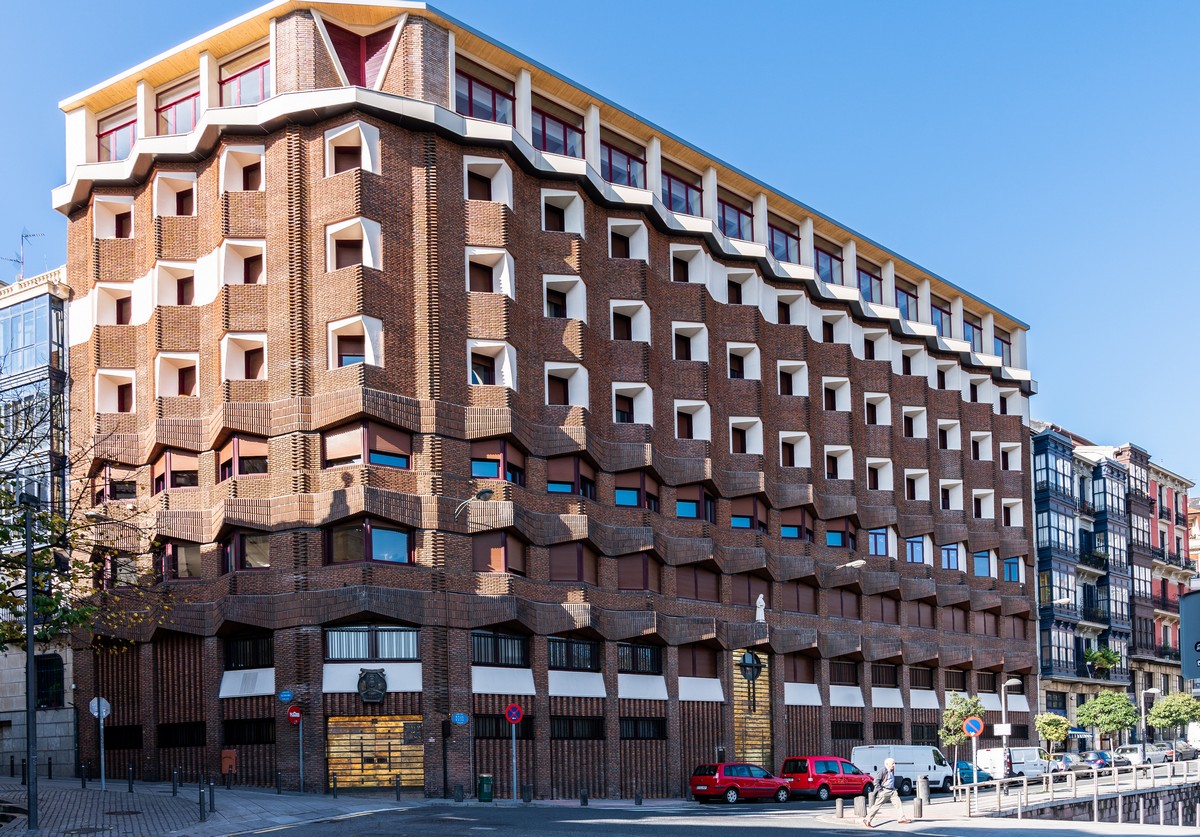 But if you look closer – it features its own church!
That proletarian red star there turned out to be simply graffiti:
And that was that. We came full circle back to the puppy, which signaled the end of our stroll. Bilbao – done; over and out.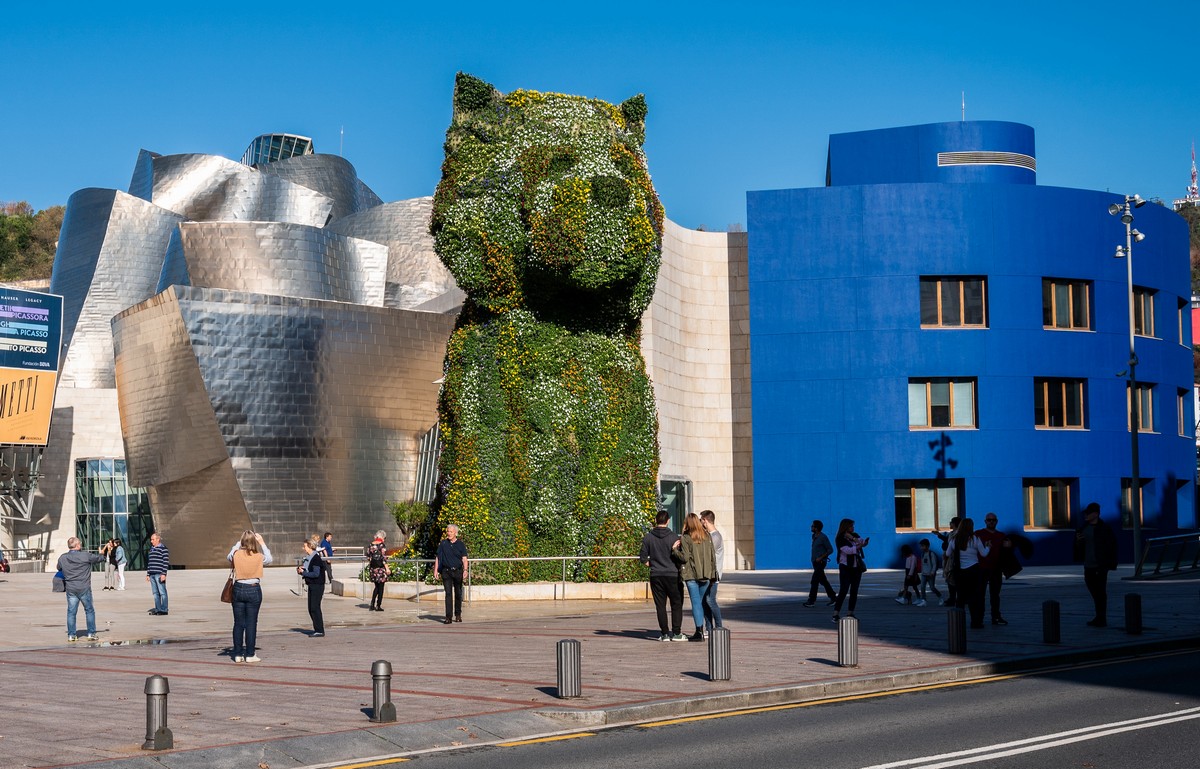 PS – nearly forgot…
While walking along the streets and around parks of Bilbao, the following thought suddenly struck me: what distinguishes humans from animals? A serious and long-debated question. Reason? But dolphins, whales, elephants, monkeys and lots of other animals are able to reason with their minds too. Collective activity? Nope: many species of animal do this – from ants to zebras. So… – what?
What got me thinking about all this? It was seeing a dog… relieving himself on the lawn in the park. So how does his brain work? And I thought – if the dog has puppies, then they've already probably forgotten about him. And that's just it! Man differs from animals in that it remembers its parents and grandparents his whole life, and arranges his relationship with them in the appropriate manner. Animals don't do this; at least – not that I know of…
Such were the philosophical musings I was toying with while in Bilbao, the capital of the Basque Country!
That's all for today folks. But I'll be back with more Basque tales tomorrow…
All the pics from this day's walk are here.