Cyber-yesteryear, pt. 8: 1998-2000 (three firsts: restructuring, overseas office, partner conference).
The first few years after the founding of the company were the toughest of all because we really had to put the hours in, aka, bust our asses. It was like we were compressing a spring for it only later to be released to take the company up high and far beyond the horizon and in the right direction of pipe dreams (be careful what you have pipe dreams of:). After the formal registration of KL in 1997, with very little we did an awful lot. We had no money and hardly any resources, but the cybersecurity conveyor waits for no one: new technologies were needed, and the market demanded new products. So we toiled and slogged, working most weekends, and with hardly ever a vacation. So what were we working on? Here's an example…
June 1998: the global Chernobyl (CIH) virus epidemic. All the other AV companies either didn't notice it or didn't bother with it, or were on vacation; we were almost the only one with a product that not only caught, but also cured systems infected with this pathogen. The www (i.e., already not just Runet:) was dotted with links to our site. That's how we were rewarded for our super-speedy reactions to new threats – that and our ability to launch quick updates with procedures for treatment of specific threats. While this specific virus-threat incredibly craftily installed itself into Windows memory, hooked file-access calls, and infected executable files – all of which required a custom-designed dissection process that would have been impossible to deliver without flexible functionality of updates.
So – tough: yes; but we were getting results and growing. And then, two months later, we received a helping hand (of fate?!) of the most unexpected kind…
August 1998: the Russian financial crisis, featuring devaluation of the ruble, plus Russia defaulting on its debt. It was bad for most Russians on the whole, but we were reeeaaal lucky: all our foreign partners paid us in advance in foreign currency. We were an exporter. Our operating/working currency – a heavily devalued ruble; our income – dollars, pounds sterling, yen, etc. We were in the money!
But we didn't rest on our 'lucky' laurels amid the financial crisis. We used the period also to take on new, professional – expensive! – managers. Soon we had commercial, technical and finance directors. And a little later we started to take on mid-level managers too. This was our first ever 'restructuring' – when the 'team' became a 'company'; when friendly, organic relations were replaced by a more formal organizational structure, subordination and accountability. The restructuring could have been painful; thankfully it wasn't: we just got on with it without too much nostalgia for the old family-like times.
// For all about this kind of reorganization-restructuring-'reengineering' – I highly recommend the book Reengineering the Corporation by Michael Hammer and James Champy. It's a real good one. Other useful books – here.
In 1999 we opened our first foreign office – in Cambridge in the UK. But, like, what with the British market being perhaps one of the toughest to crack for foreigners, why there? Actually, it was kinda just by chance (I'll tell you how below). Still, we had to start somewhere, and anyway, our first experiences – including many mistakes and lessons learned – in the UK helped in making development of the business in other countries run a lot smoother…
Our first ever press tour took place in London, as we were in the British capital anyway for an IT security conference (InfoSecurity Europe). On that press tour we proudly announced our intention of opening an office in the UK. But the journalists would simply ask why, given that there were already Sophos, Symantec, McAfee and so on already comfortably established in the country. So we switched to geek mode: we told them all about how our company was a truly innovative one, and all about our unique technologies and products and how – because of them – we're better than all the competition they'd just mentioned. All this was noted with much surprised interest (and another bonus: ever since then really silly questions have never been asked of us!). Meanwhile, at InfoSecurity Europe I gave my first ever speech to an English-speaking audience made up of… two journalists, who turned out to be from our friends at Virus Bulletin who already knew plenty about us! Still, that was the first – and last – time any of our presentations weren't full-house (btw: details – here).
As regards our first ever partner conference, here's how that came about..
Some time in the winter of 1998-1999 we were invited to the partner conference of our OEM partner F-Secure (Data Fellows). And that's how we learned about the whole partner-conference format and what a great idea it is: to gather everyone together, share all the latest information about technologies and products, to hear out partners' concerns and problems, and to discuss new ideas. Not ones to hang about – within a year (in 1999) we put on our own partner conference, inviting ~15 partners from Europe, the U.S. and Mexico to Moscow. Here we all are, on Revolution Square next to Red Square and the Kremlin: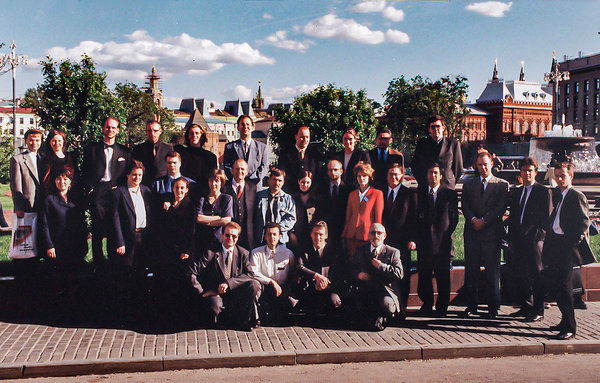 A few pics from our modest event:
One of our mottos is 'work hard – play hard'. Here – put into effect for the first time at a partner conference. The singer there – one of our partners doing a guest number ).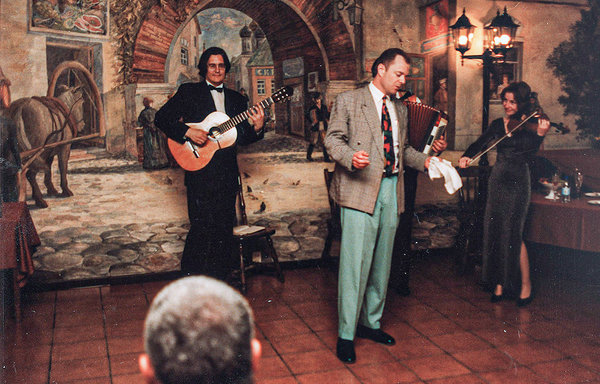 And that, dear readers, I do believe completes my chronicles up until the year 2000. Post-2000?… Actually, I reckon it's time to give my memory a rest. Let other participants of our fascinating journey to where we are today have a go – with some of their own personal recollections, emotions and anecdotes.
Meanwhile from me – over and out for this 1989-2000 section of the series. Thank you for your attention; hope you liked it.
Cyber-yesteryear – pt. 1: 1989-1991;
Cyber-yesteryear – pt. 2: 1991-1992;
Cyber-yesteryear – pt. 3: 1992-199x;
Cyber-yesteryear – pt. 4: CeBIT;
Cyber-yesteryear – pt. 5: 1996 (game-changer year);
Cyber-yesteryear – pt. 6: talking to the media;
Cyber-yesteryear – pt. 7: 1997 (Me Lab founded).