Diez cenotes, o, cenotes sobredosis!
Ingredients: the Yucatan peninsula; three free days between business events; a great desire to check out cenotes and bathe in them.
Something to be factored in: No Rio Secreto this time; been there a few times, done that, swum that – without the t-shirt.
Decision: Uno, dos, tres – let's check out 10 cenotes!
There are four types of Cenotes: Cantaro (a cave with a hole in the roof thereof); cilindricos (with strictly vertical walls); aguagas (with shallow water basins); and grutas (cave cenotes, with a horizontal entrance with dry sections). Now, for some reason, along the coast of Yucatan there are mostly the latter to be found – grutas, while if you drive further from the coast inward they are overtaken by cantaro. Why, I don't know.
Anyway, we set off to study the cenotes in the Dos Ojos park. Here, there are a full 28 cenotes, with around 10 accessible to folks for entering and bathing in. Apparently all the cenotes are part of one and the same system and interconnected as a single labyrinth (underwater river) – which runs to a total length of… 80 kilometers! And it's all just 15km from Tulum.
All righty. Off we go – to Dos Ojos…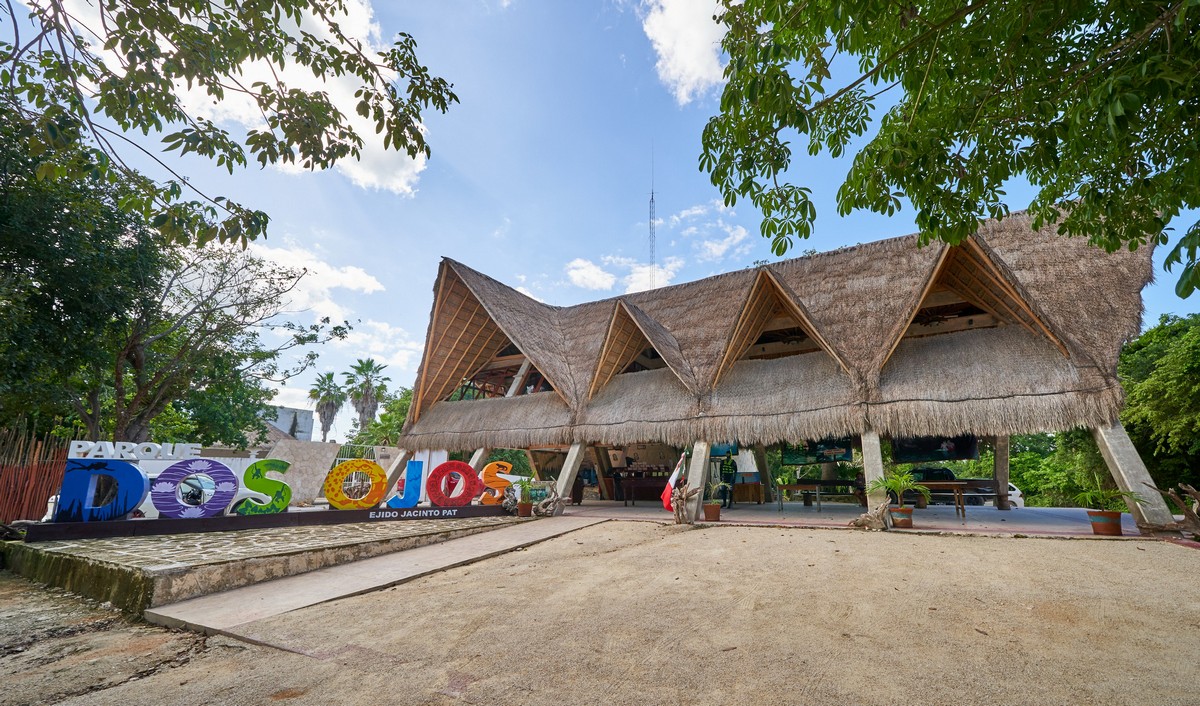 At the entrance you need to buy a ticket for a particular cenote (or cenotes), you can join a group, or book an individual excursion. Then you drive four kilometers along this here road – along which all the swimmable cenotes are located: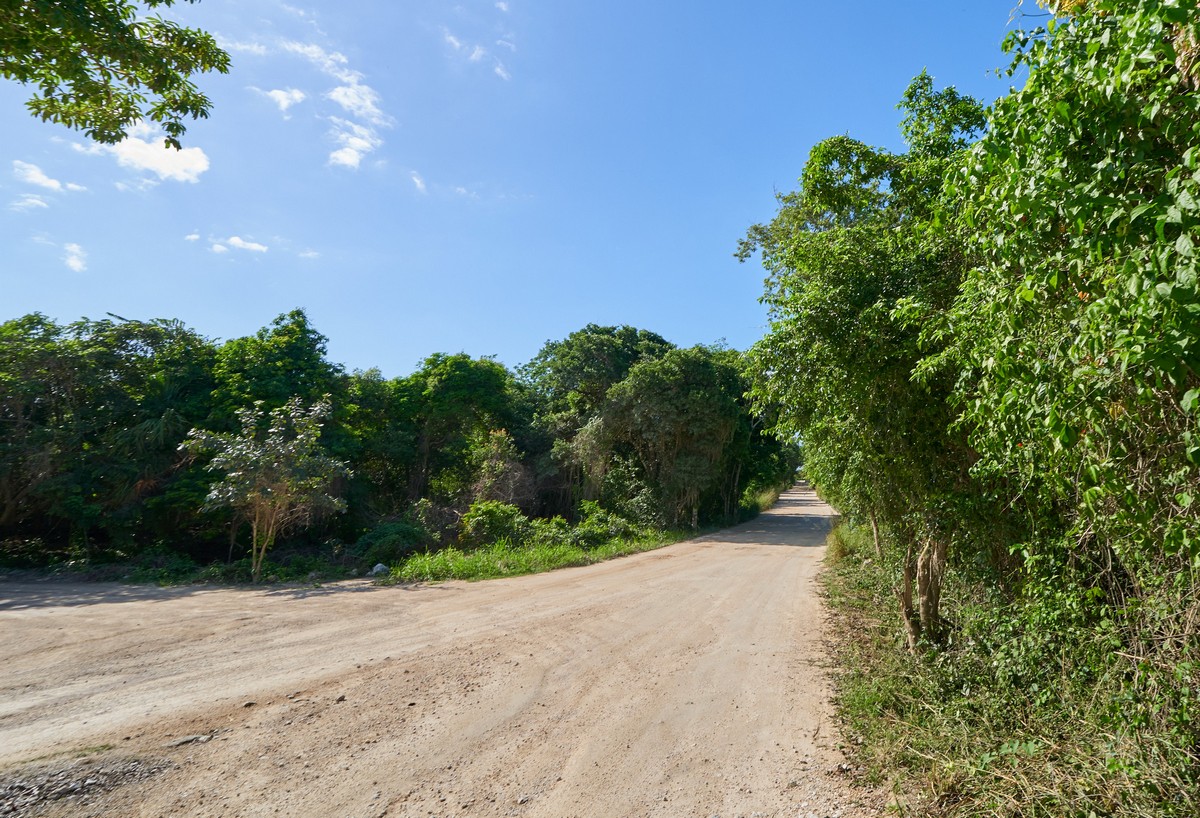 After 4km – oh my goodness: it's cenote heaven!…
The main heavenlinesses – caves. Snorkel and mask donned – flippers optional – and in you dive… Full on scuba divers dive in too, but then… they're gone! They just dive down and out of sight and don't reappear: they've swam into the next cave! Alas, our underwater photography kit couldn't manage a good pic in dark conditions (note to self: purchase new, asap). The best we could do was this:
The experience under the water here is simply magical. Tunnels, halls, stalactites, stalagmites (clearly these caves were once dry), occasional sunlight shining through the completely clear water, bats (!)…
The route we took on our cenote tour was the one recommended to us by our good friend and kindred-spirit world-traveler O.R.. She told us to get to the main cenote first – Dos Ojos (Two Eyes), which we did…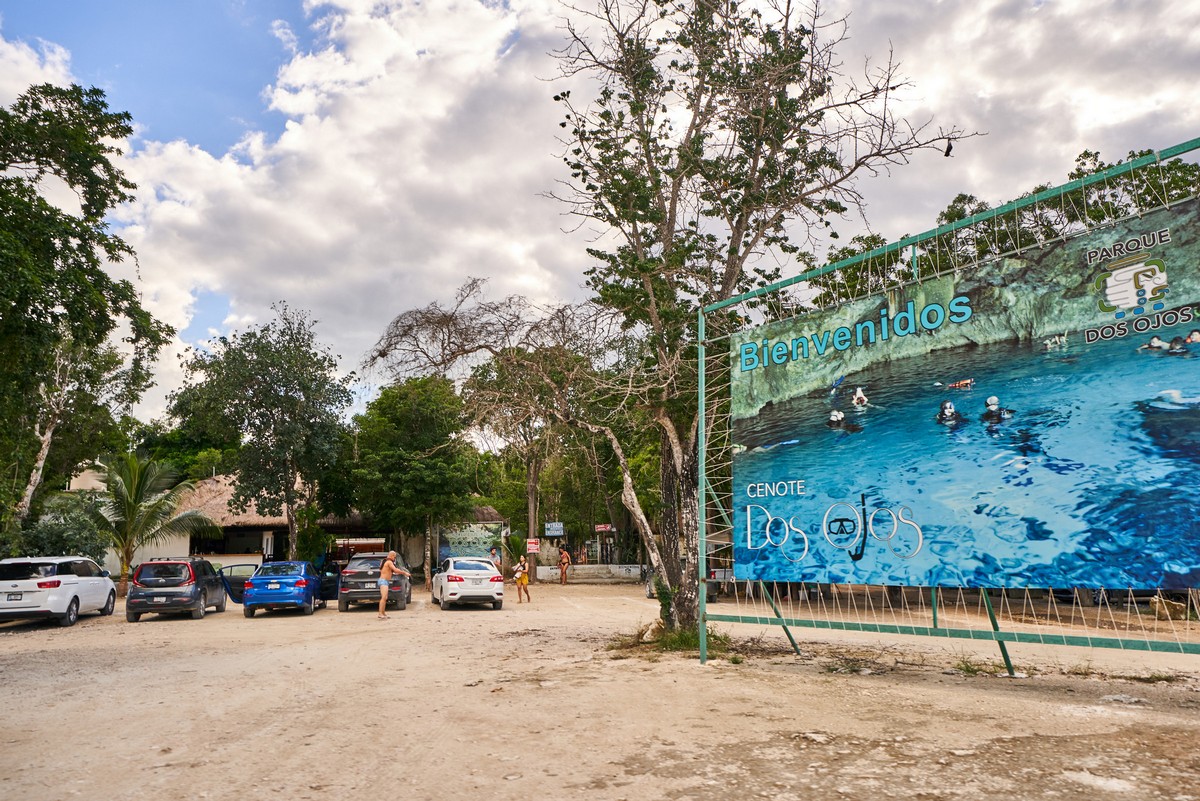 And it turned out the cenote really is two-eyed! ->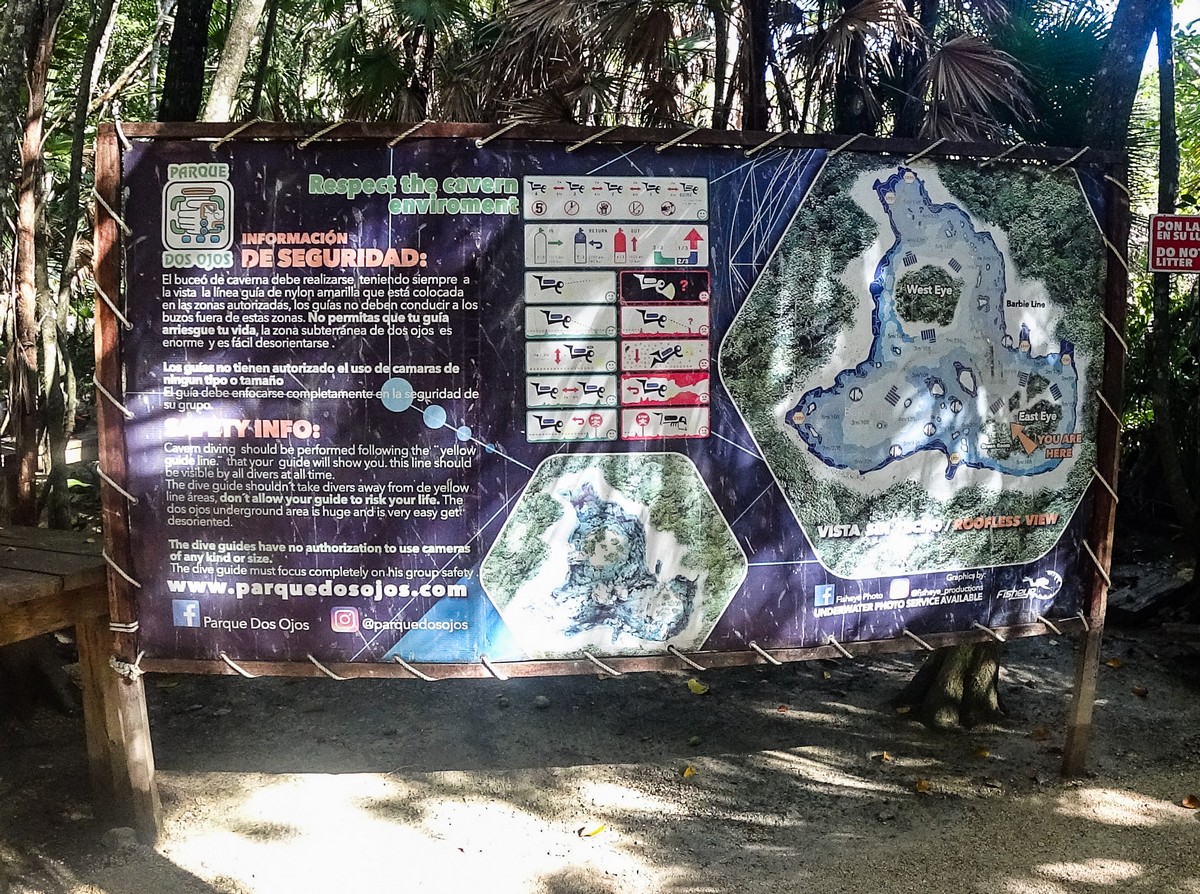 Our first impressions were not good though: treated much like cattle, you're instructed rudely to get changed and collect your snorkeling kit. Maybe we were simply unlucky with our guide, for we did see other tourists having a whale of a time with their friendly guides.
But it didn't get better! We had to leave our flip-flops, we do some diving, end up in a different cave, they bring you flip-flops – but they're not yours :). But let's not be bothered by mere trifles and petty tortures ).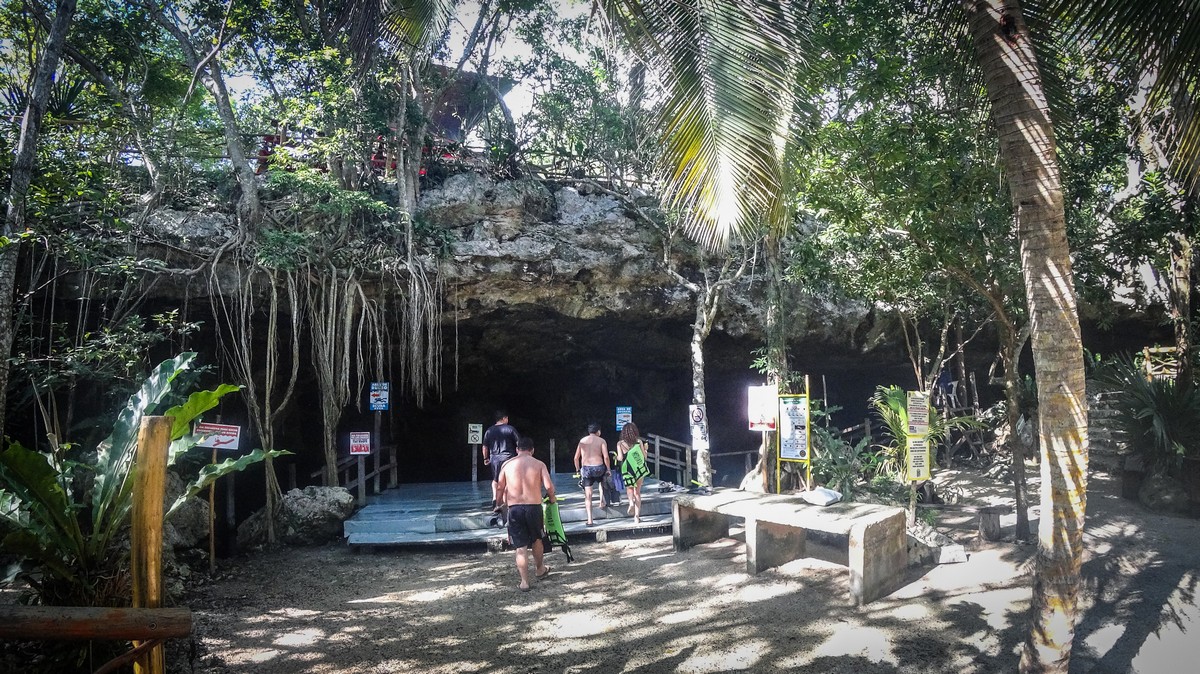 First: warm-up, and a check to see you're up to the underground/underwater experience ahead (you could have this or that fear or phobia; best knowing about them in advance:).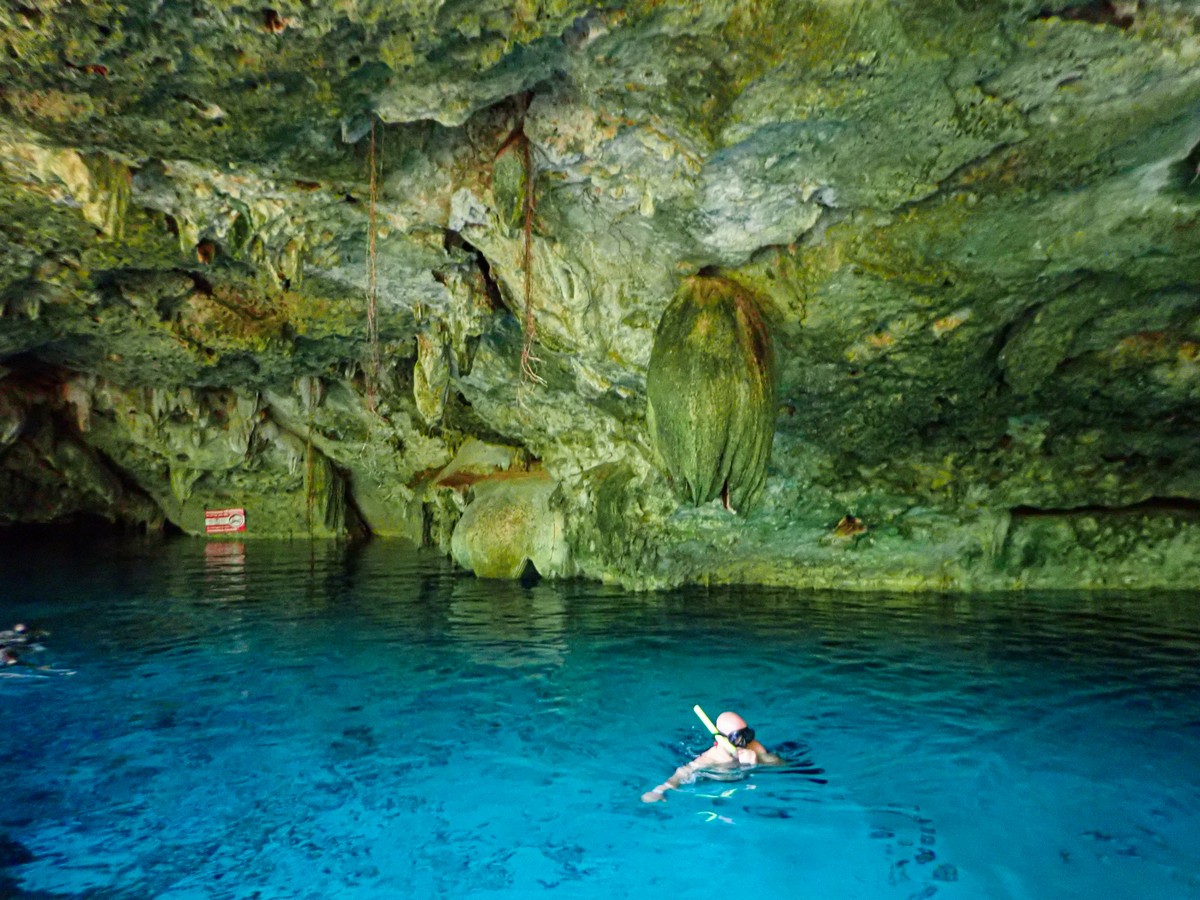 Dive!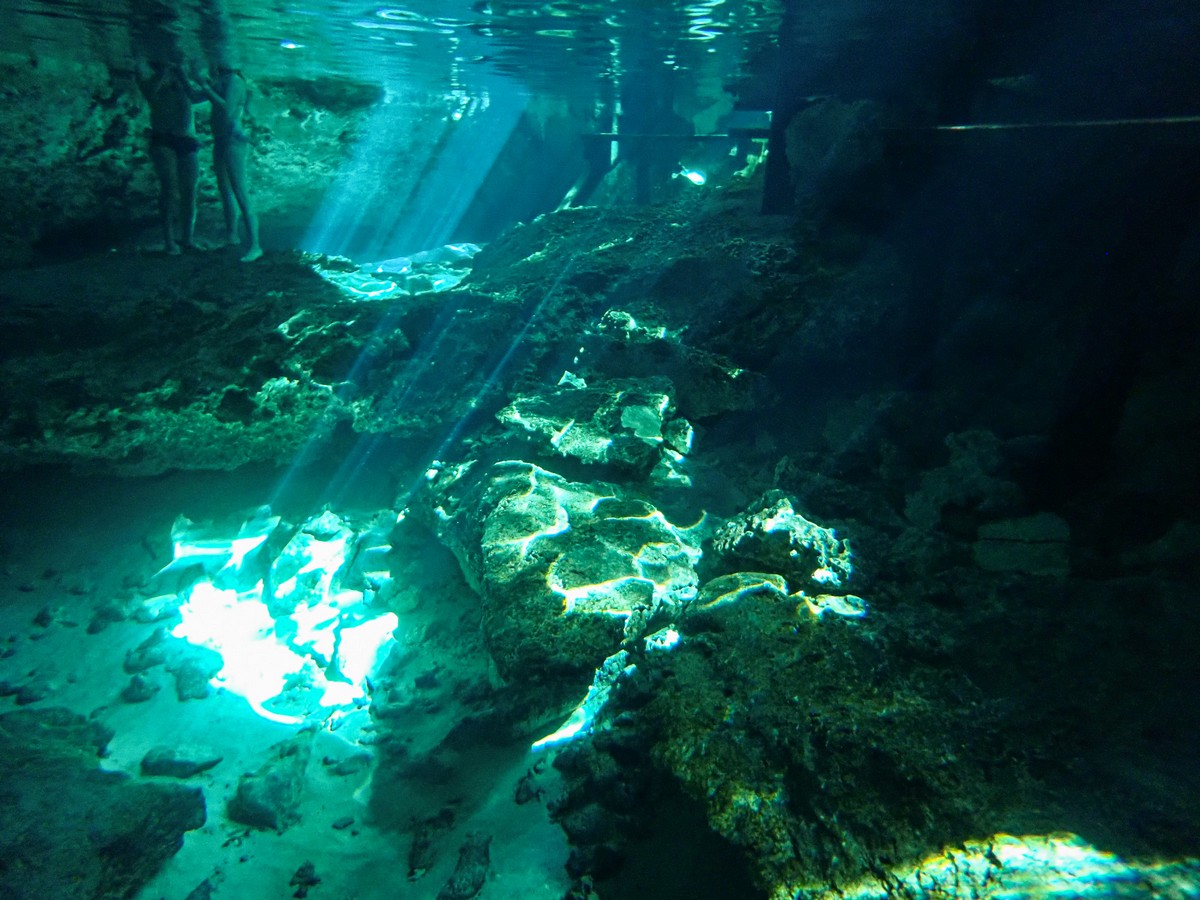 Oops: more photo fails…
Some pics weren't terrible:
Fortunately – our video kit managed quite well! ->
We came across our second cenote by chance, and were very glad we did. We were planning on Sac Actun but at the ticket office they told about Los Monos, and offered us an individual tour thereof for the price of a group tour. So we went for it. And it was fantastic!…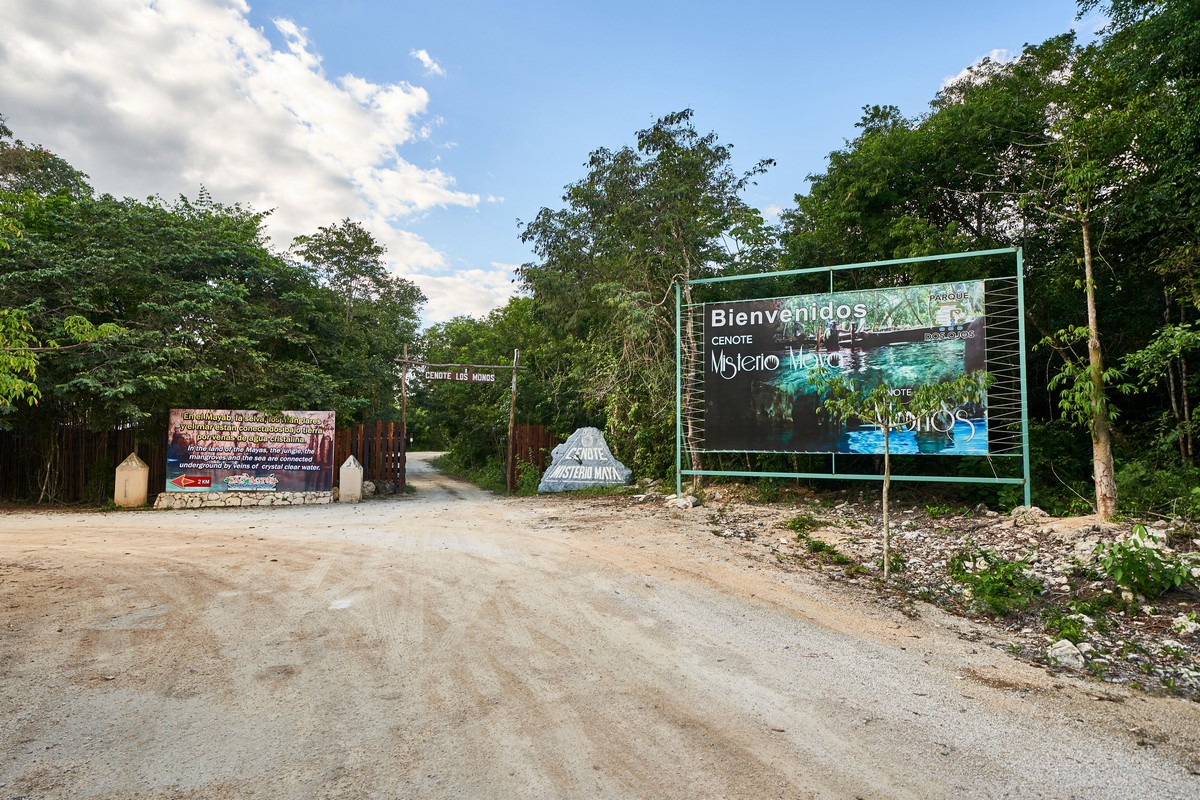 To enter it there's half a kilometer to scuba dive through first. We couldn't go that long just snorkeling, so we were limited to an hour-long 'walk' along underground paths:
Stalactites, stalagmites – underwater ones too…
Fossilized shells in the roof; age: millions of years!
Interestingly: the 'hour-long walk' lasted just 15 minutes!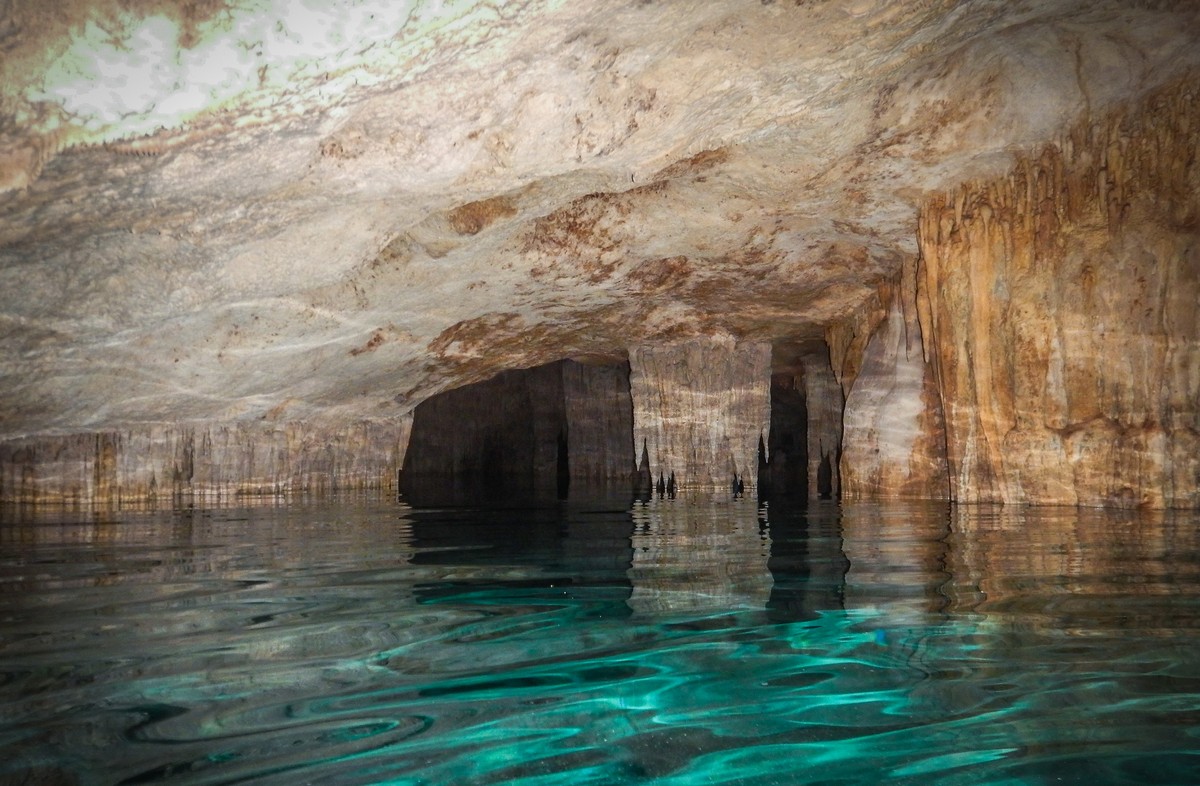 Still – those were very enjoyable minutes.
But it was time to head to the next cenote. No rest for the active 'tourism-till-you-dropper' ).
It was into our ride to head off:
We were just about to set off when we noticed something in the road ahead of us…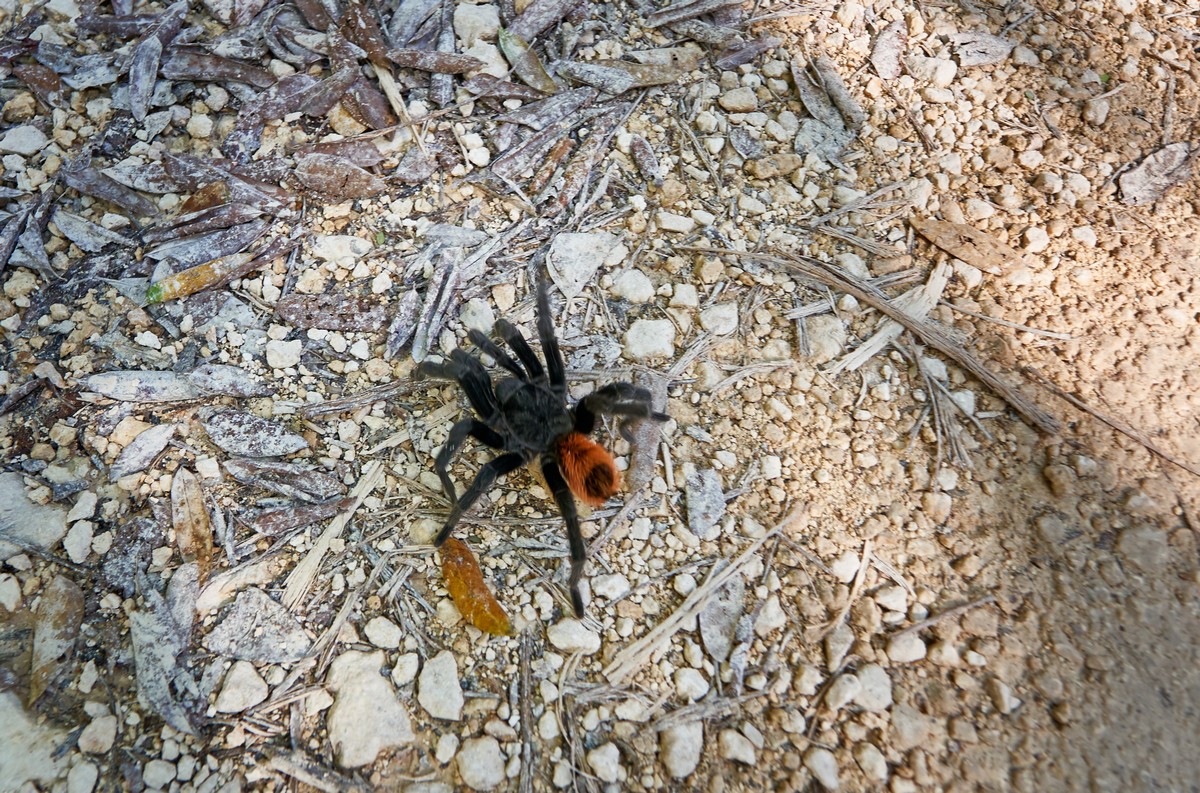 YIKES! ->
Now, I'm not normally one to be afraid of spiders, but this size? Yeeeeeiiiiiiikes. No way Jose! I was back in that car as quick as a flash!…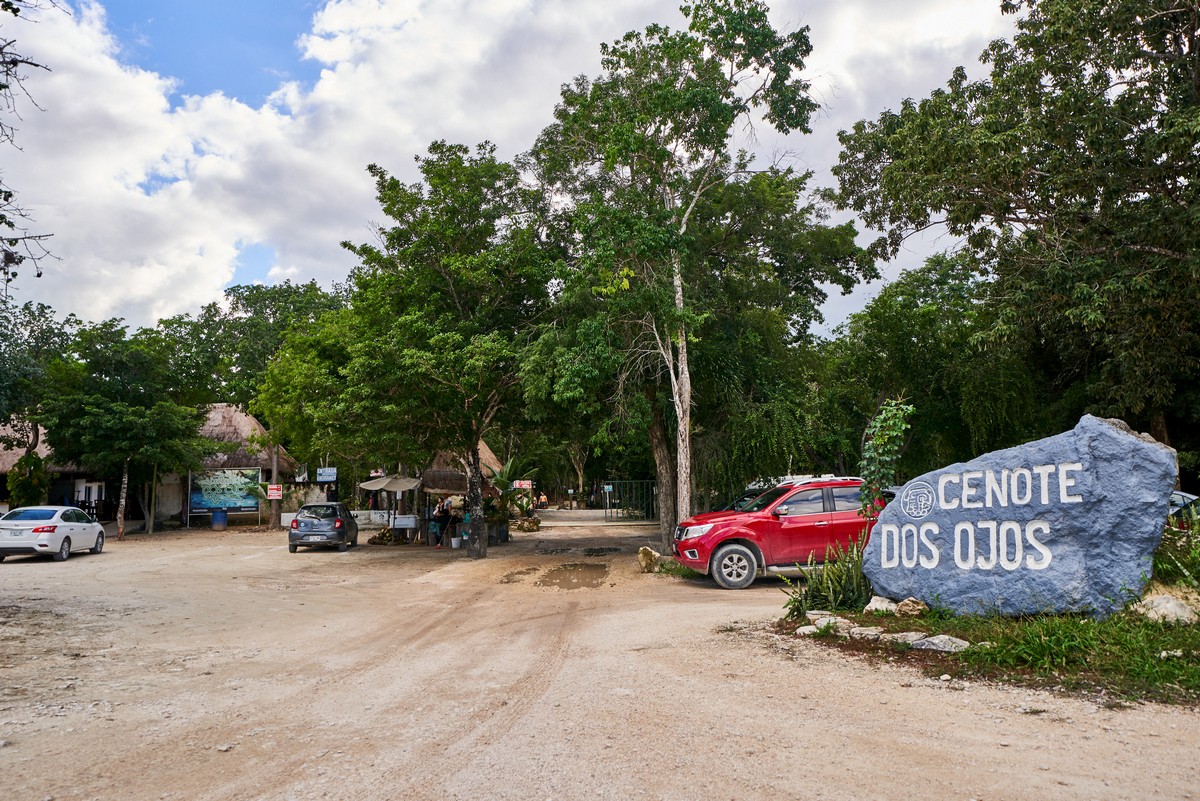 After that arachnophobic nightmare, we were back on the road…
All righty. Two super cenotes already checked out; and we had another eight (8!) ahead of us (plus more ancient pyramids too)! This was 'galloping around the cenotes; in terms of time – the very shortest!'. But DZ and I are no strangers to tourism-till-you-drop, so this format suited us just fine…
Next cenote – Calavera (Skull).
Calavera is the smallest out of the 10 we checked; but it's also perhaps the most elegant. It's simply a few holes in the ground, underneath which there's a lake, which is apparently 17 meters deep around the edges; accordingly – a hit with divers, who jump in and then either disappear for a while, or come back up to the surface rather quickly.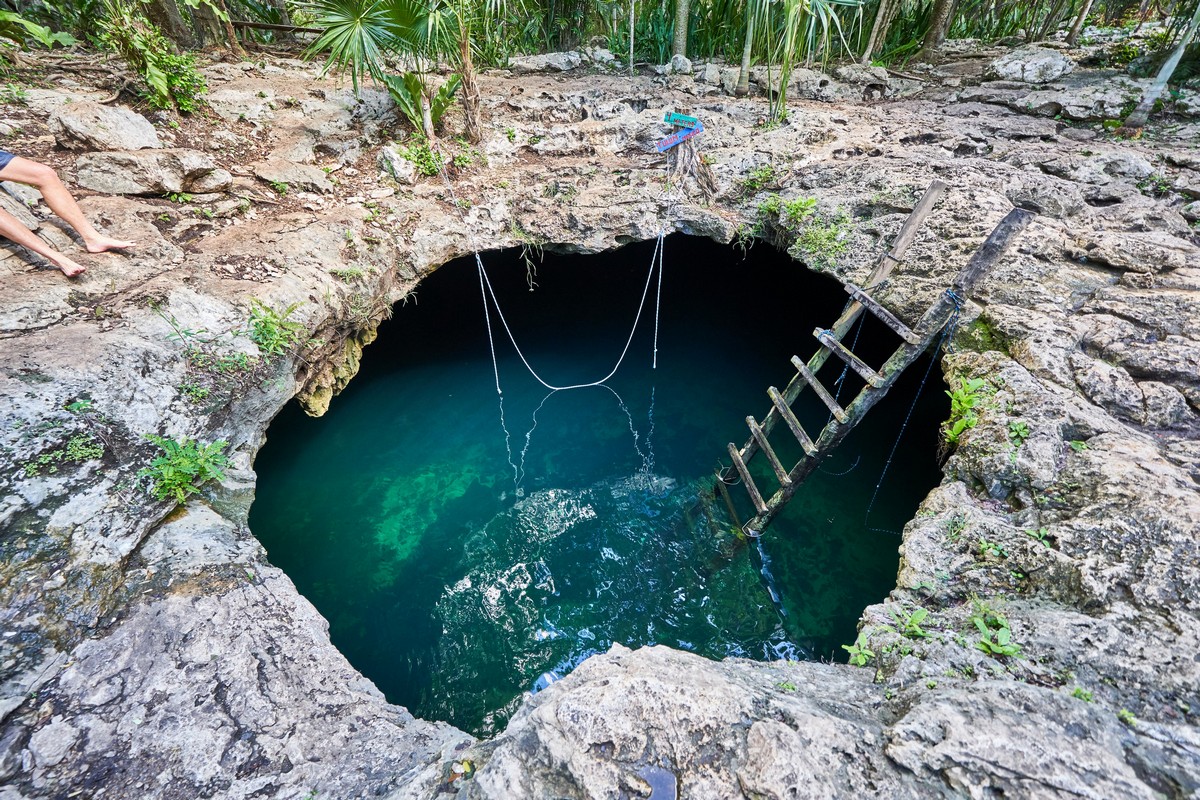 The ladder's there for folks to climb back up; the rope – for swinging on and eventually jumping off into the water below…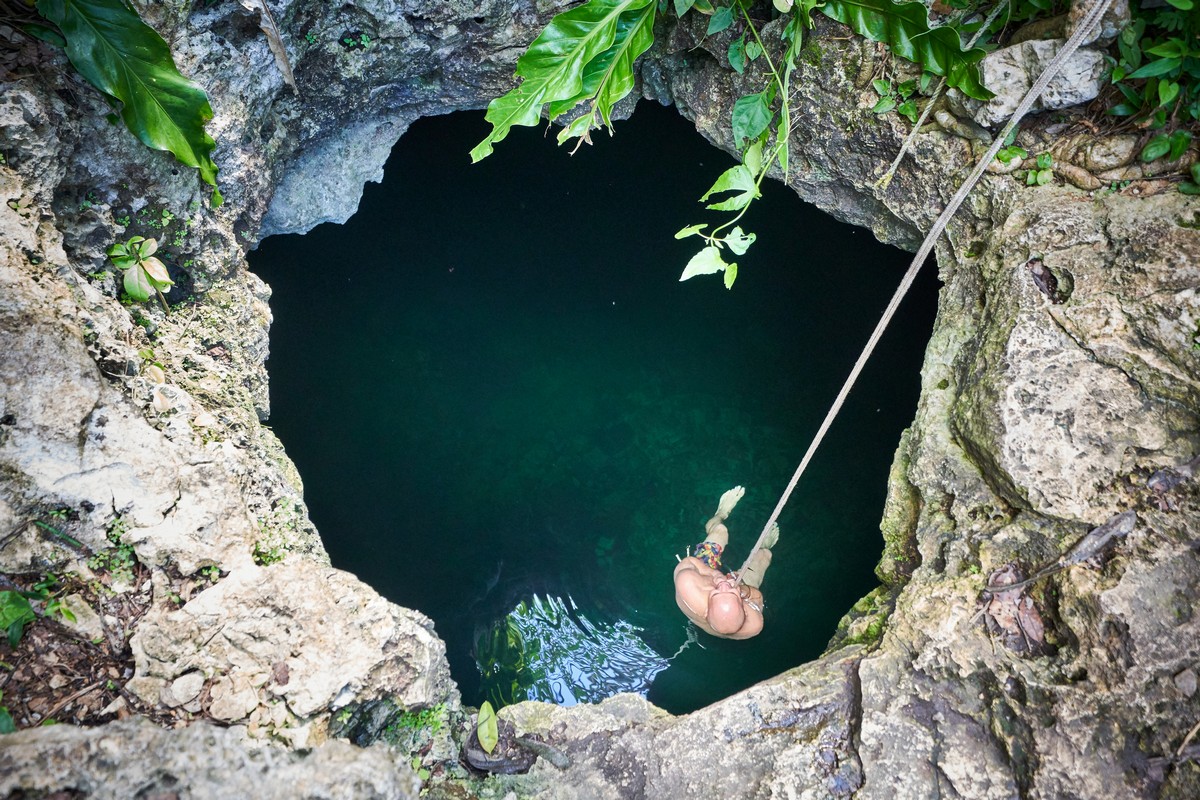 When we arrived there were around 20 folks milling about. Then lunchtime arrived, most of the folks disappeared – and the divers dived and didn't appear again – leaving the whole cenote practically to ourselves!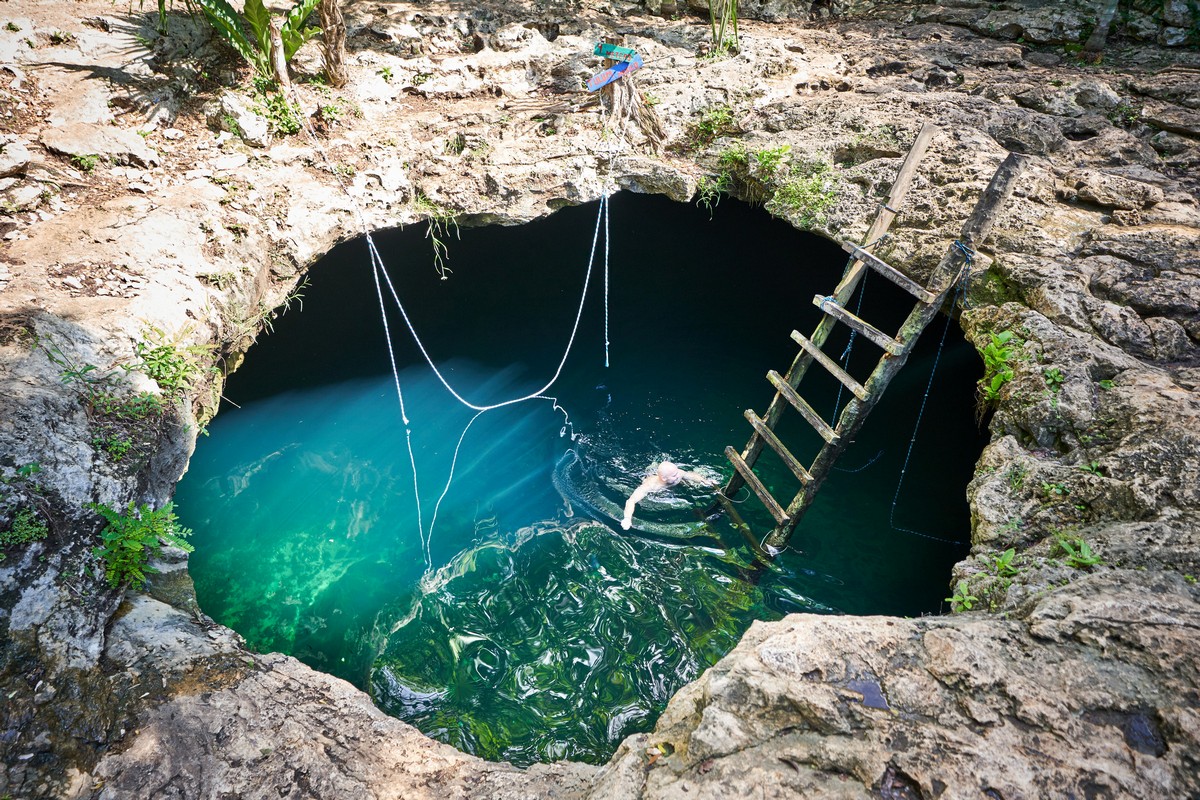 Then the water became calm – and the reflections became magnificent: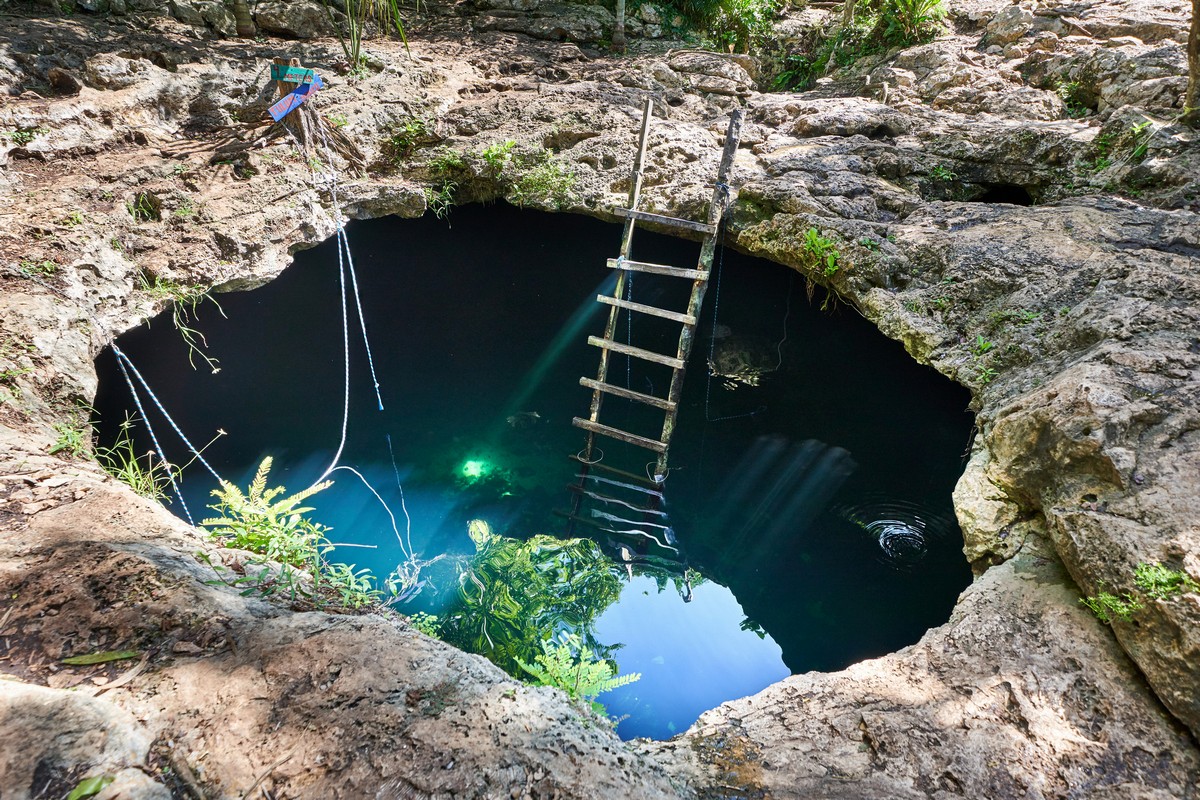 The name 'skull' comes from there being three holes – two smaller ones (the eyes) and one large one (the mouth?).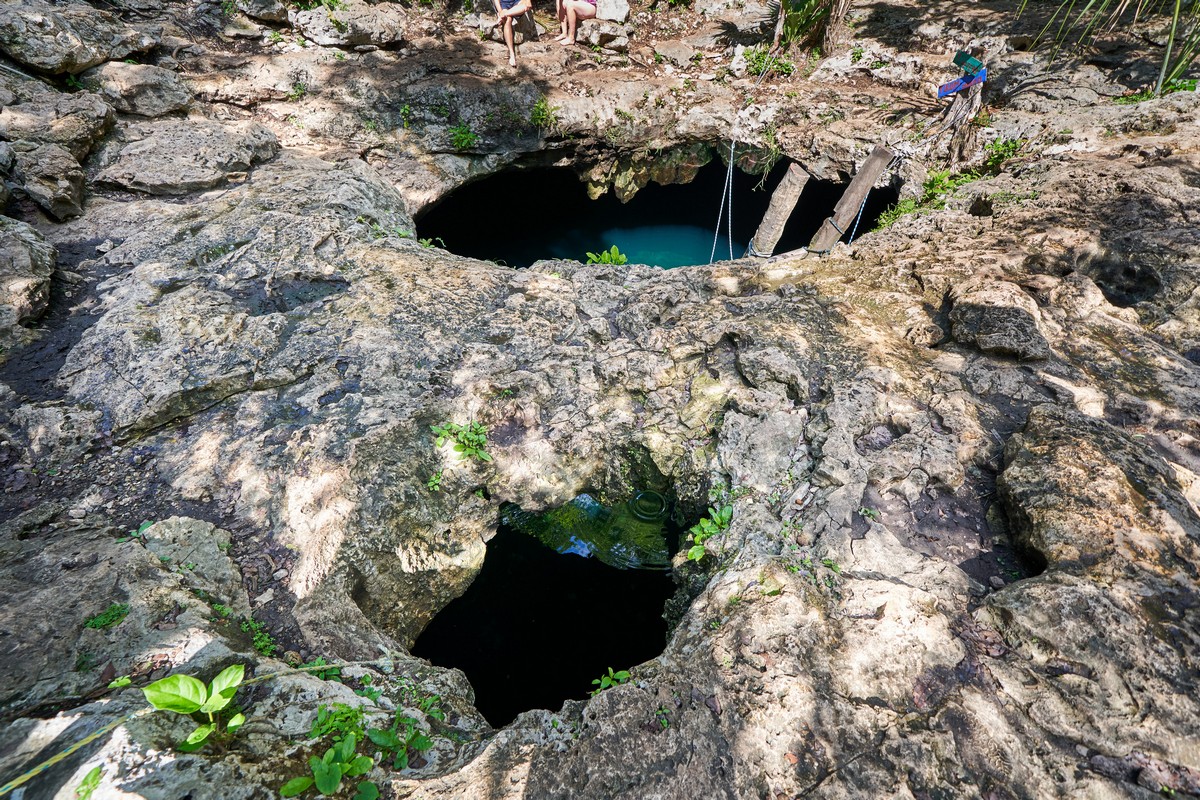 A reflection via one of the eyes: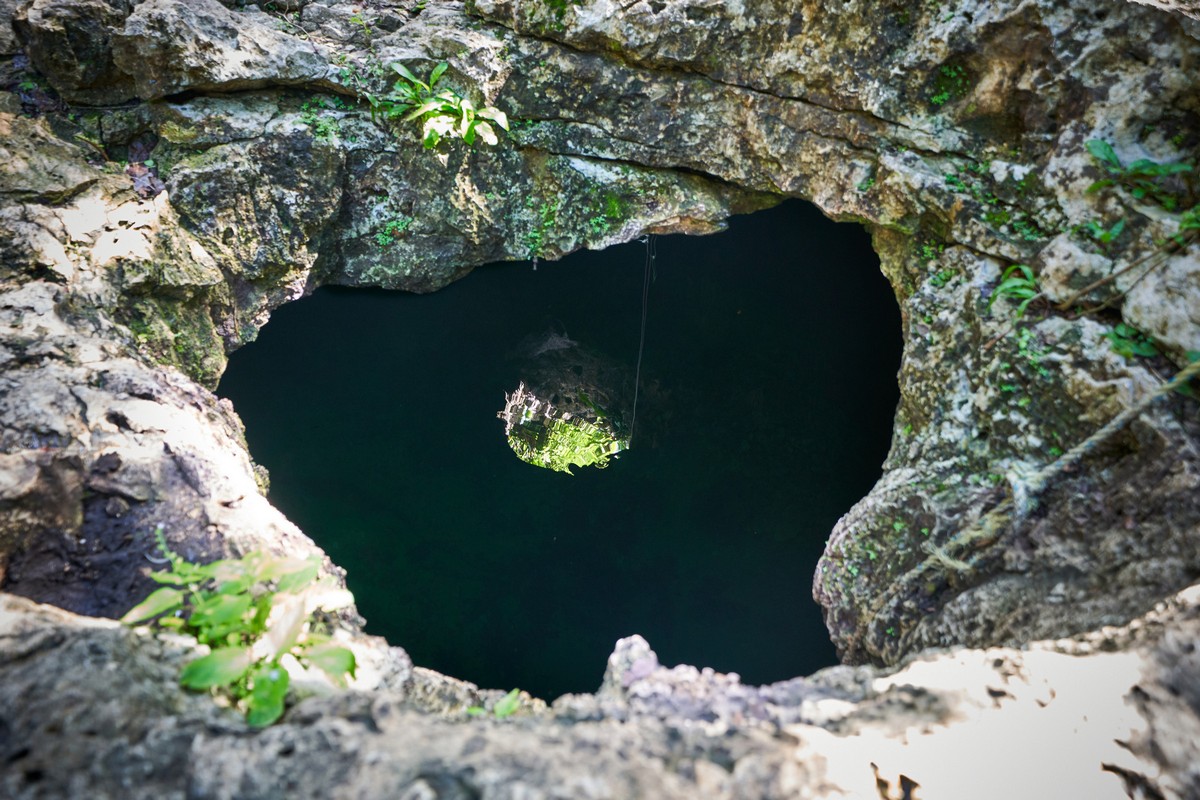 Here, the floor of the cenote is visible: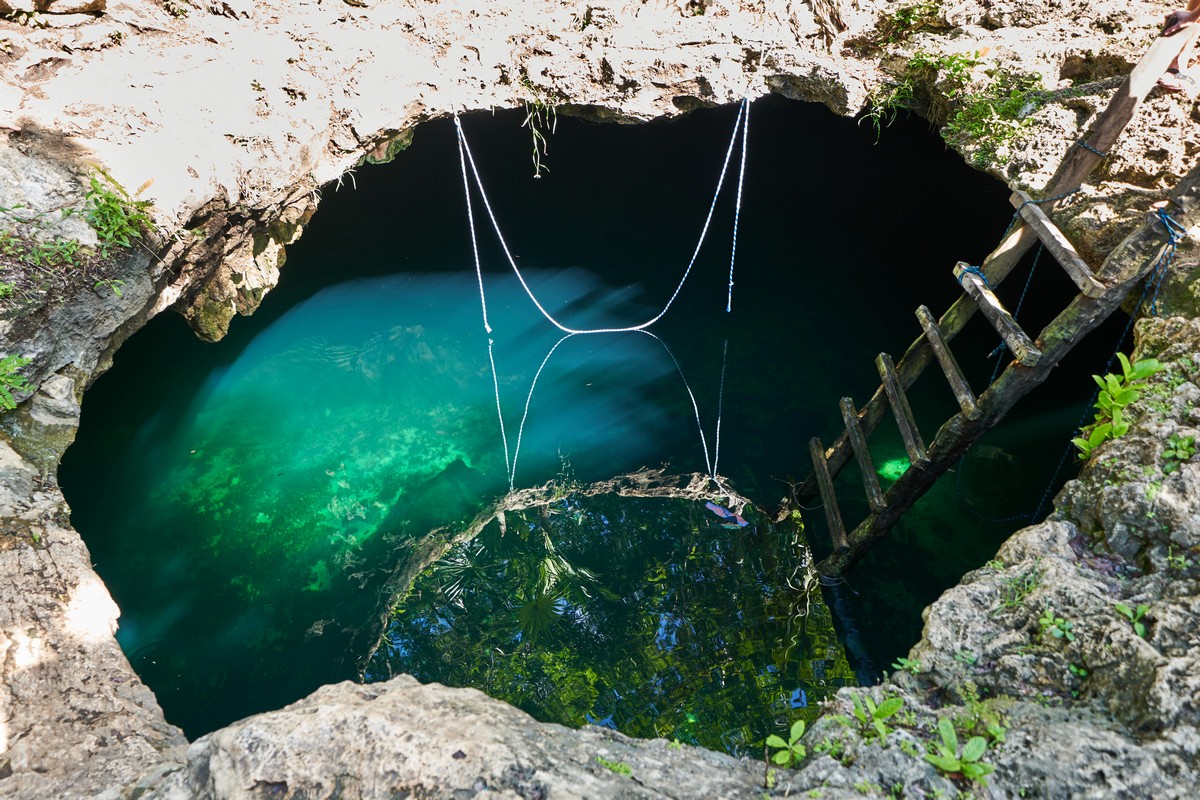 Braver souls jump into the lake through the eyes. Yikes.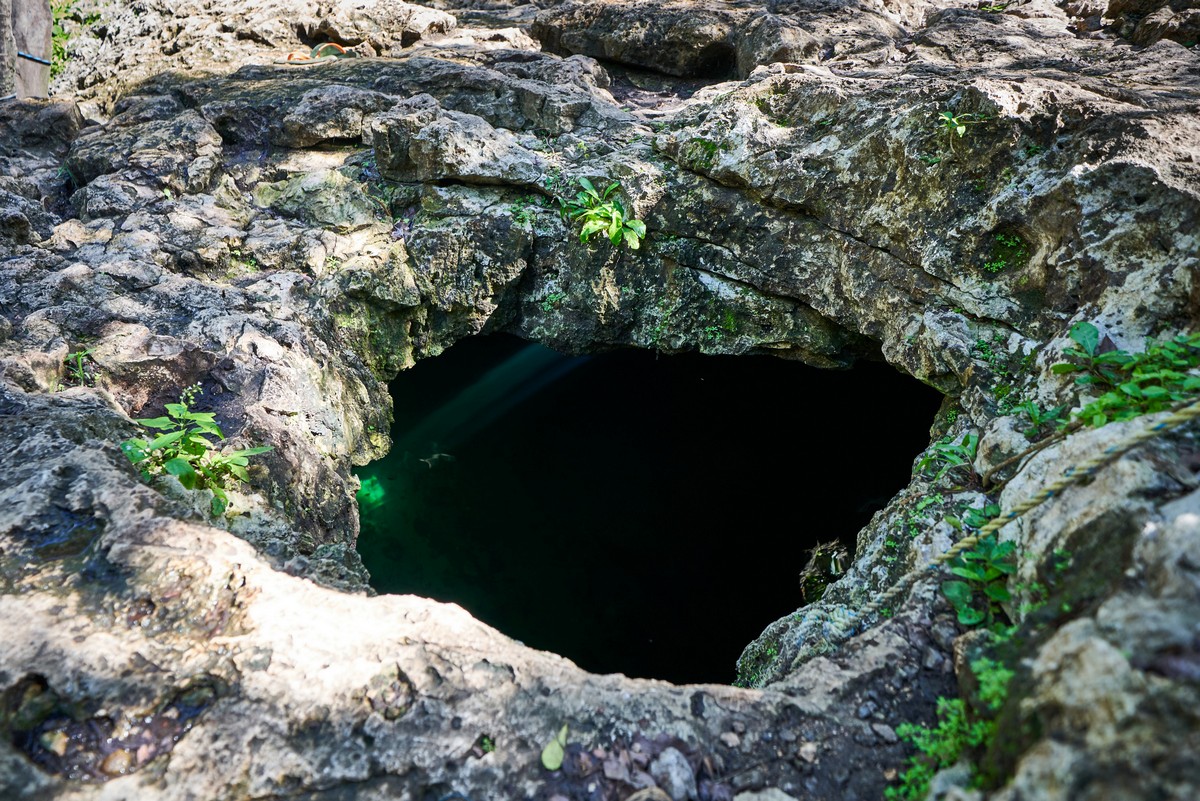 Just in case you need any encouragement – there are signs indicating the what and where!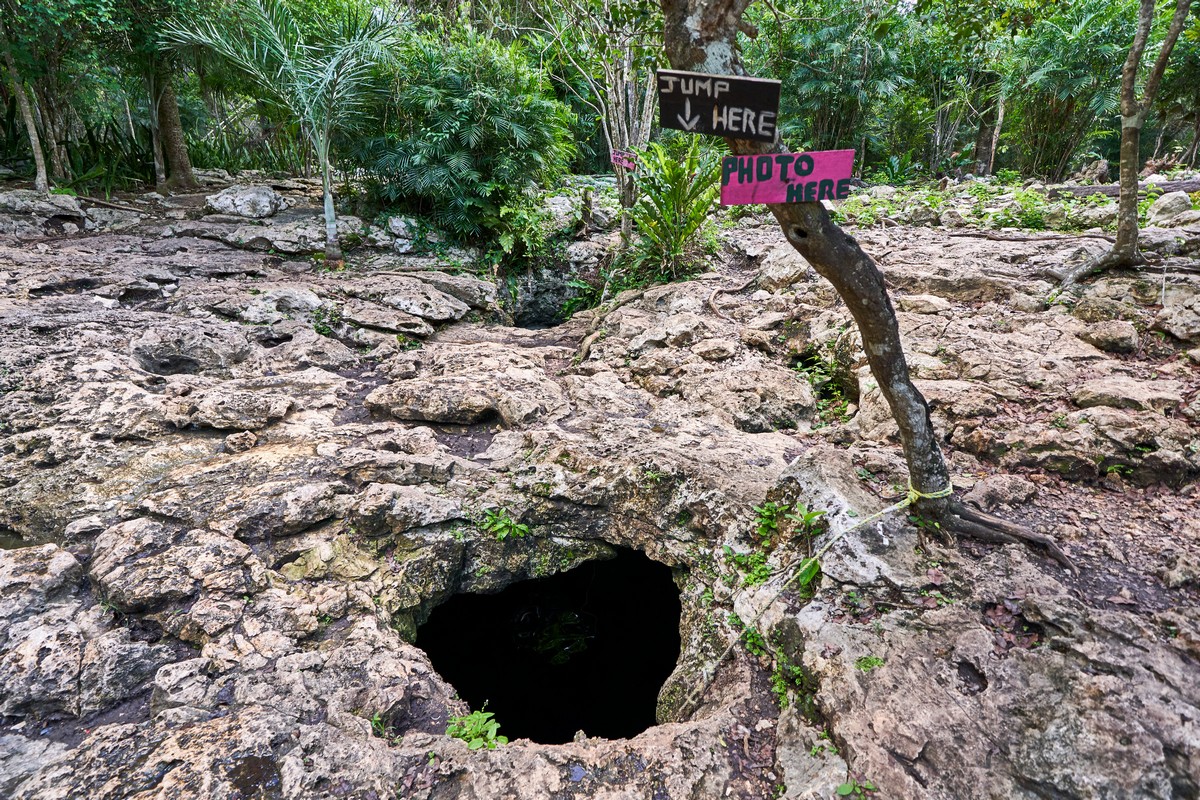 Down slides DZ! I went after him. Wonderful just hanging there for a while. Then, when you become submerged in the water, tiny fishes give you one of those peeling-massages (included in the ticket price!); well; it was lunchtime, remember? )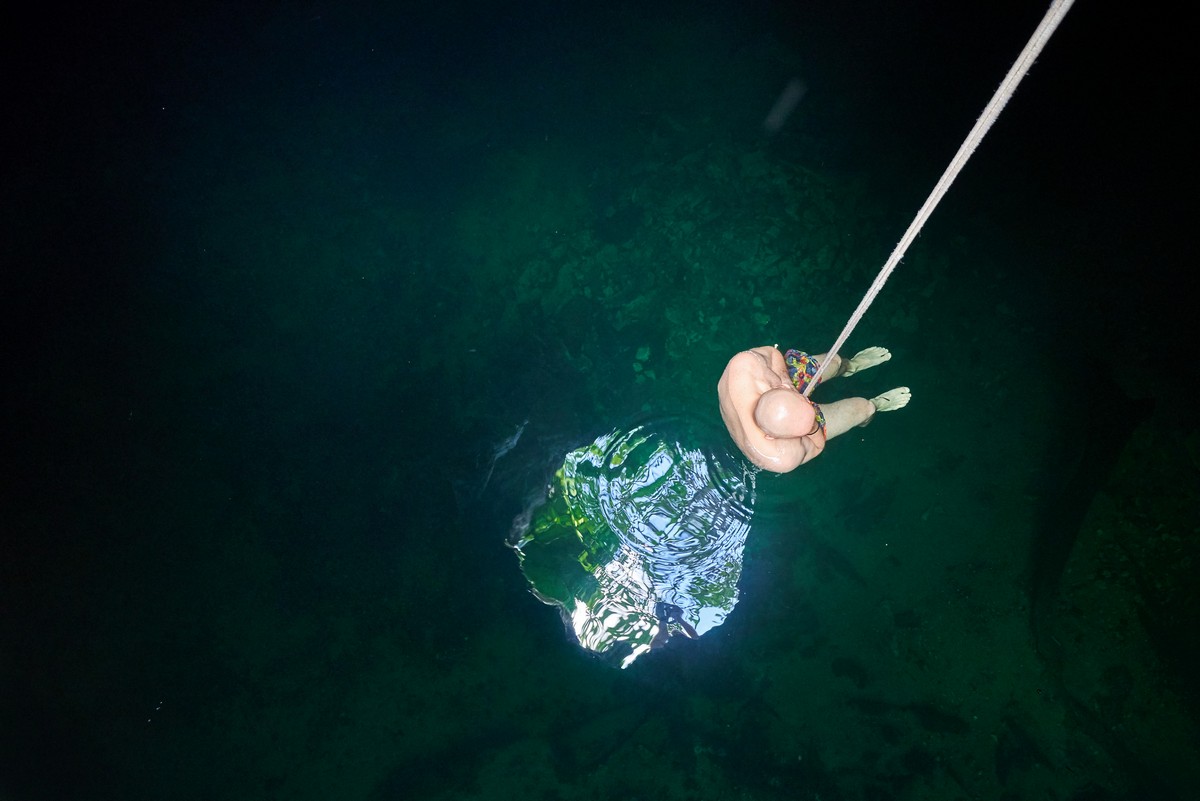 Can you see me peering down with my camera in that pic? Indeed, the water was as pure as can be.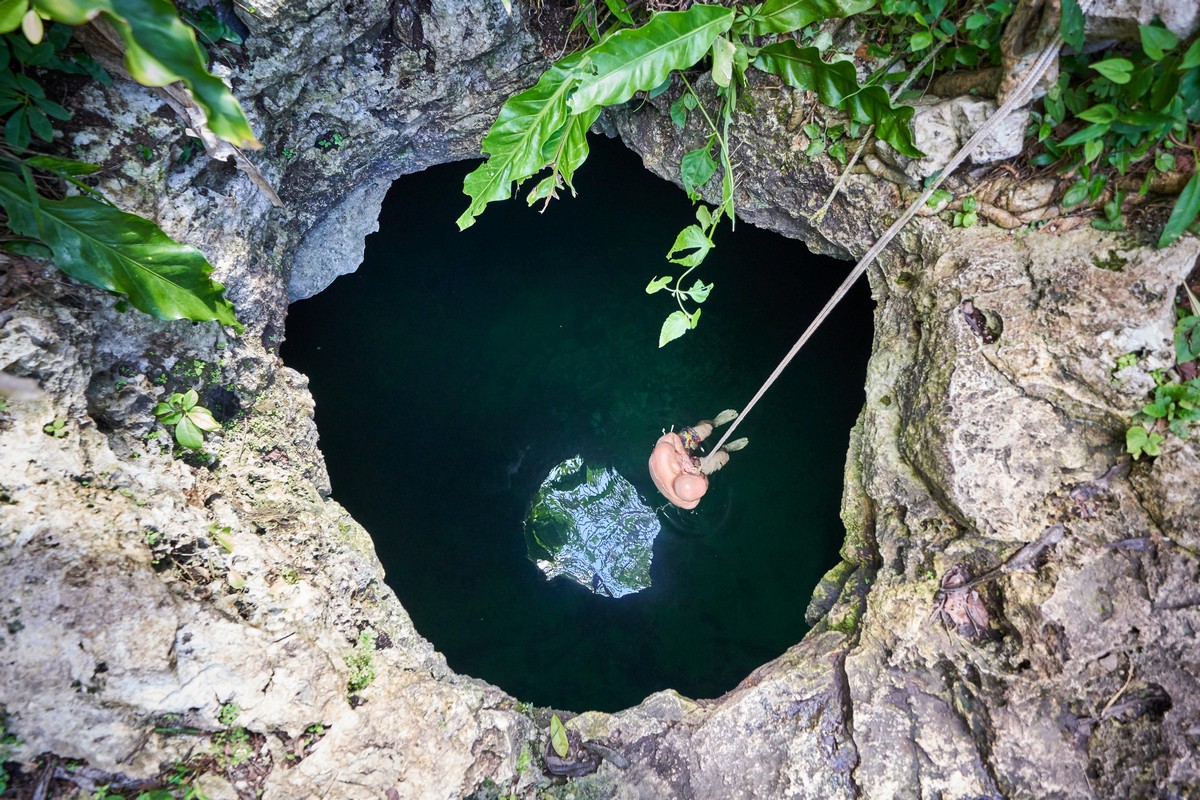 Super cenote. Highly recommended – around lunchtime.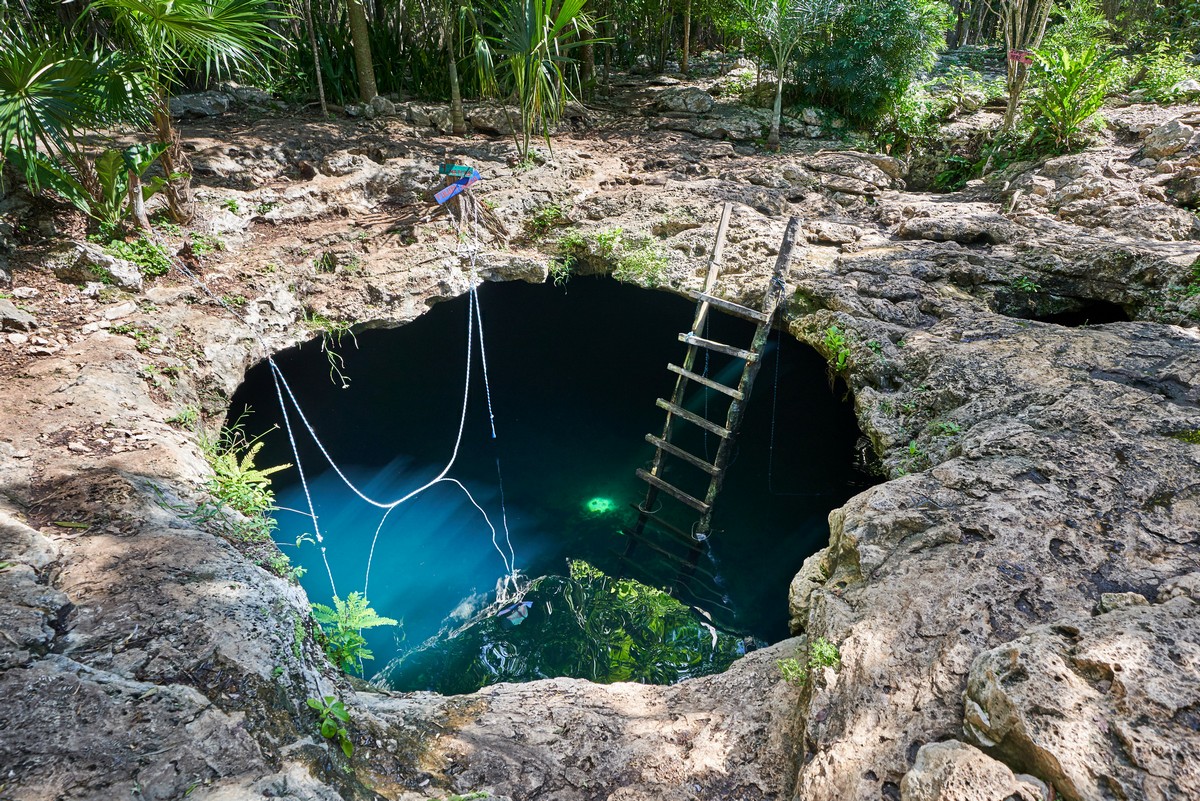 Calavera-PS: video! ->
Next – 2km north of Skull – Gran Cenote…
Btw – there are entrance fees for all the cenotes. But since DZ and I had split logistical tasks between us – I drove, he sorted cenote entrance fees – I don't recall how much the entrance fees tend to cost. Surely not much…
Check out this… entrance to a cenote! ->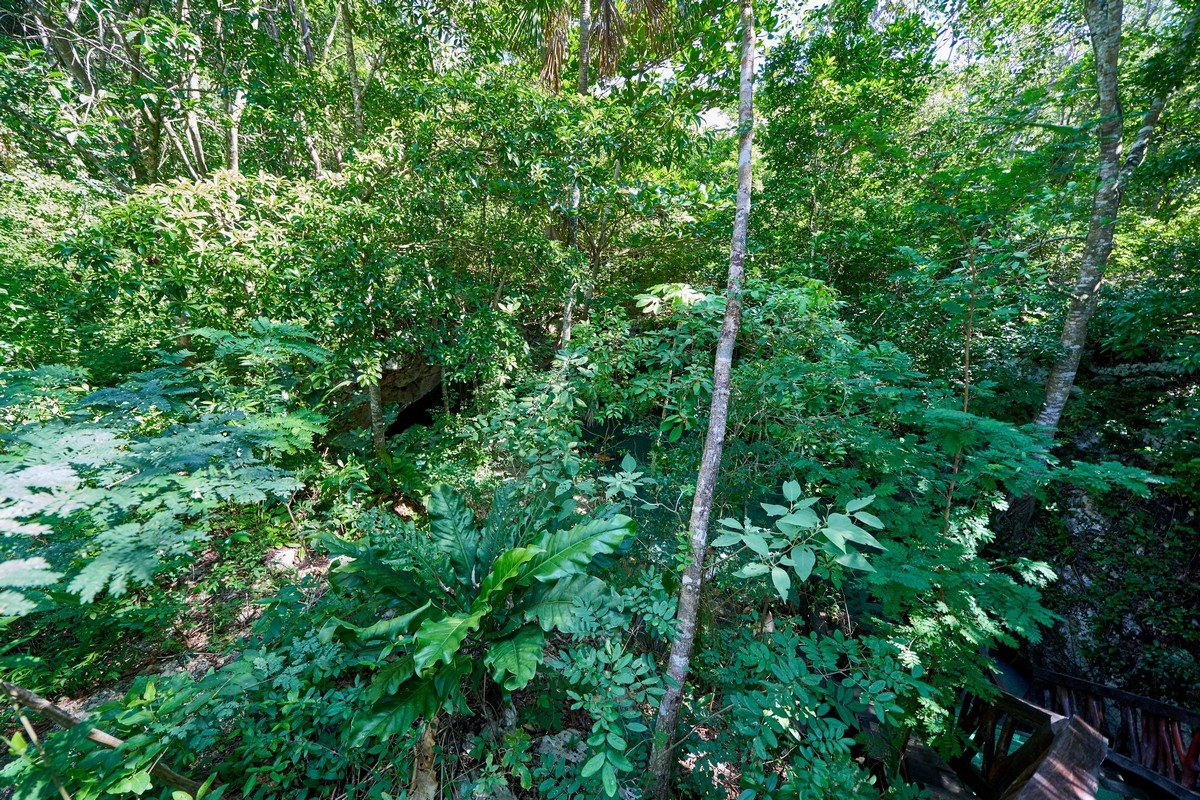 We eventually located a handily camouflaged staircase leading to the cenote itself…
Check out just how transparent the water is! ->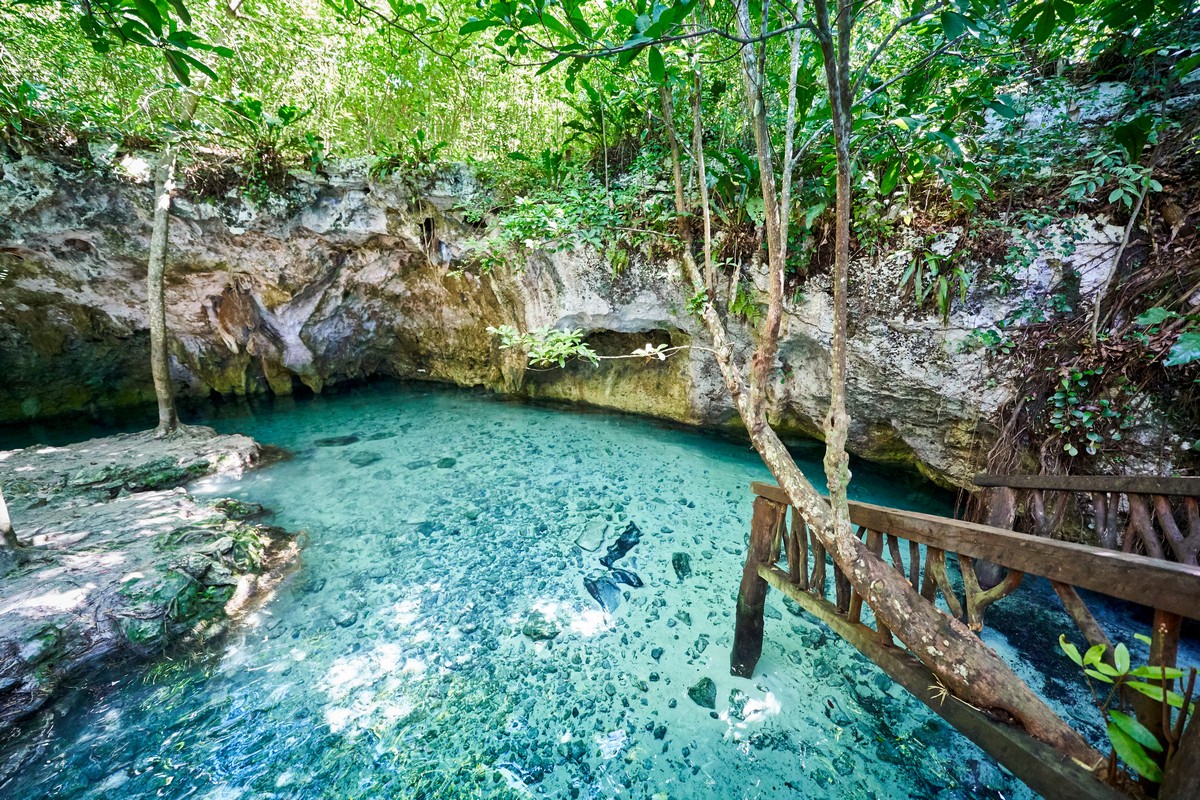 From one lake to another – via a tunnel:
And here's look back after swimming through the tunnel:
And even if your swimming ability is a bit secondary-school – there's a rope to help you out!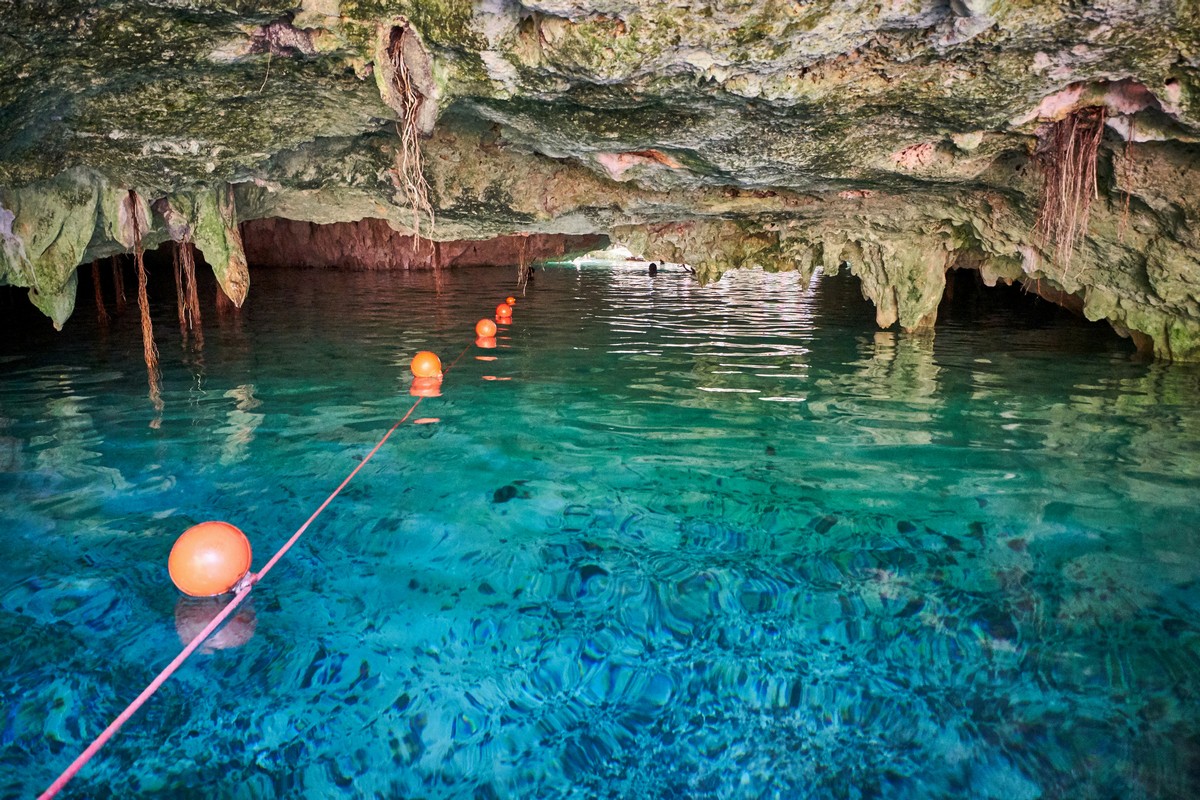 Now for the downside. And I'll start with this nice pic: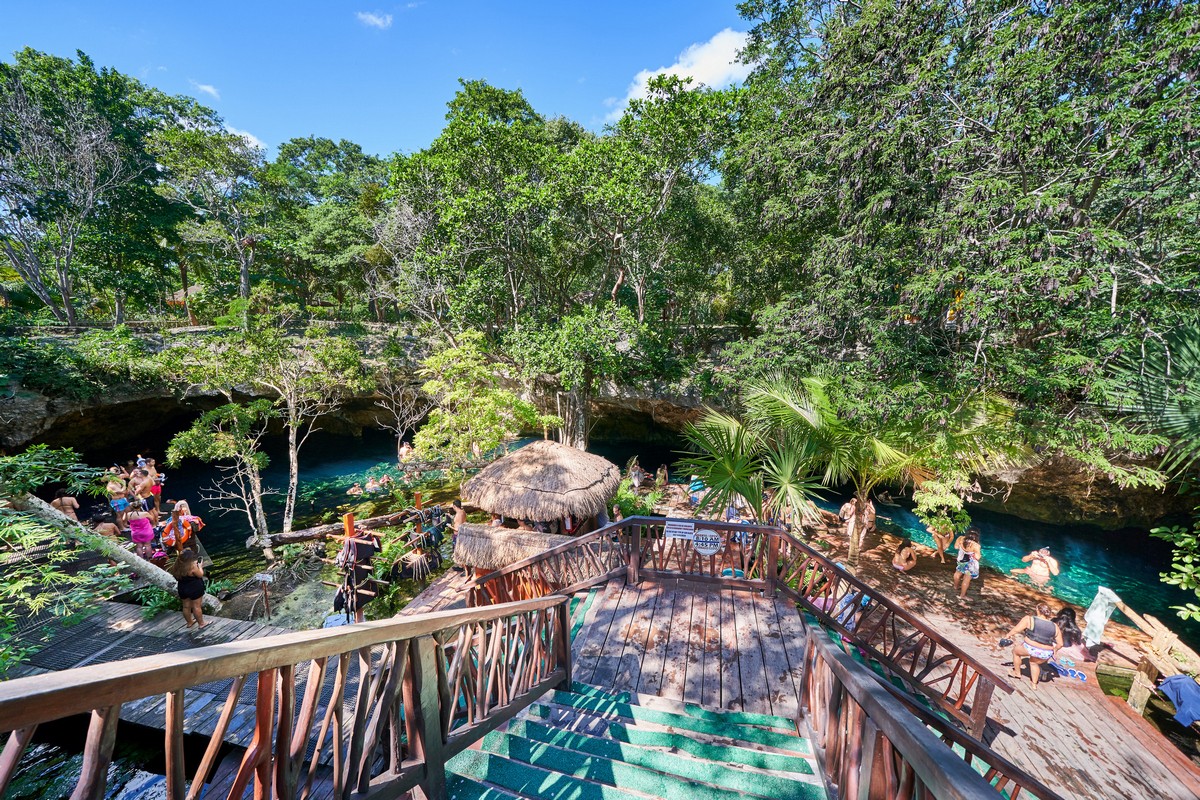 You can probably guess the downside, knowing me, but anyway…
Now, Gran Cenote is popular with the tourists. And that's not surprising. Check out the higher comfort level, including neat lawns to lie on after a dip:
All very nice and touristy-cozy up top, but down below – too many tourists. Yes: my pet hate.
So, in all, the impressions of Gran Cenote were mixed…
And it's not only two-legged bathing here; there are also the four-legged in shells!…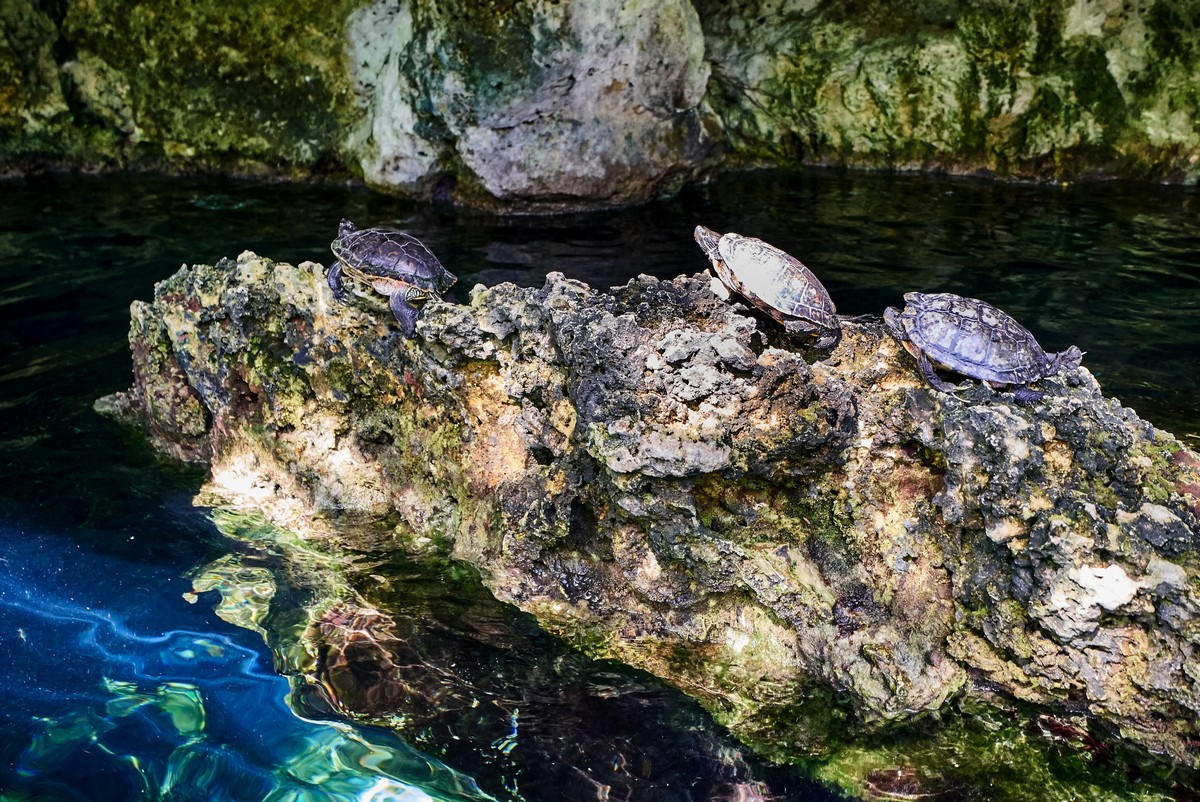 But simply too many folks; especially not long before lunch.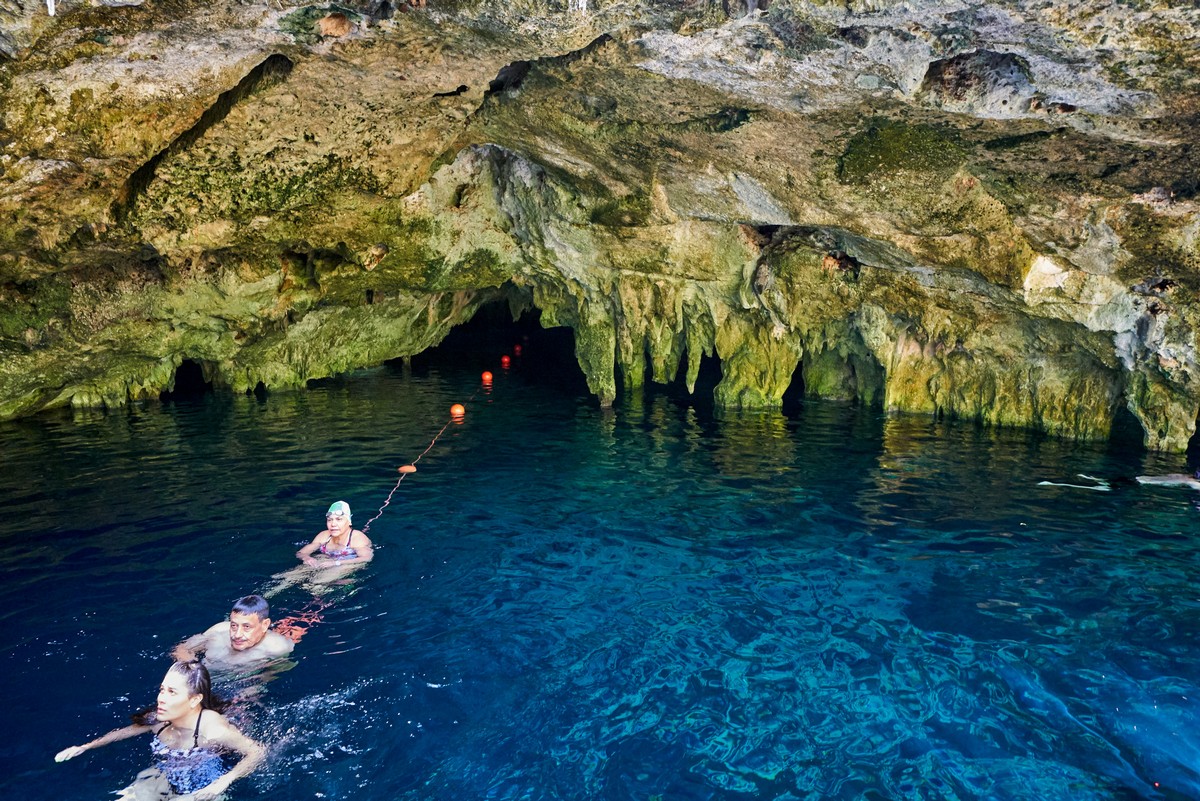 Gran Cenote PS: video! ->
Gran Cenote PPS: DZ concurs with me: 'Gran Cenote… you'd think with a name like that it would at least be big, if not both big and grand. But it just isn't. Far too many folks per square centimeter. It's only saving grace: the turtles!'
Next up – after 90km via Coba – along this route, we get to… X'ux-Ha!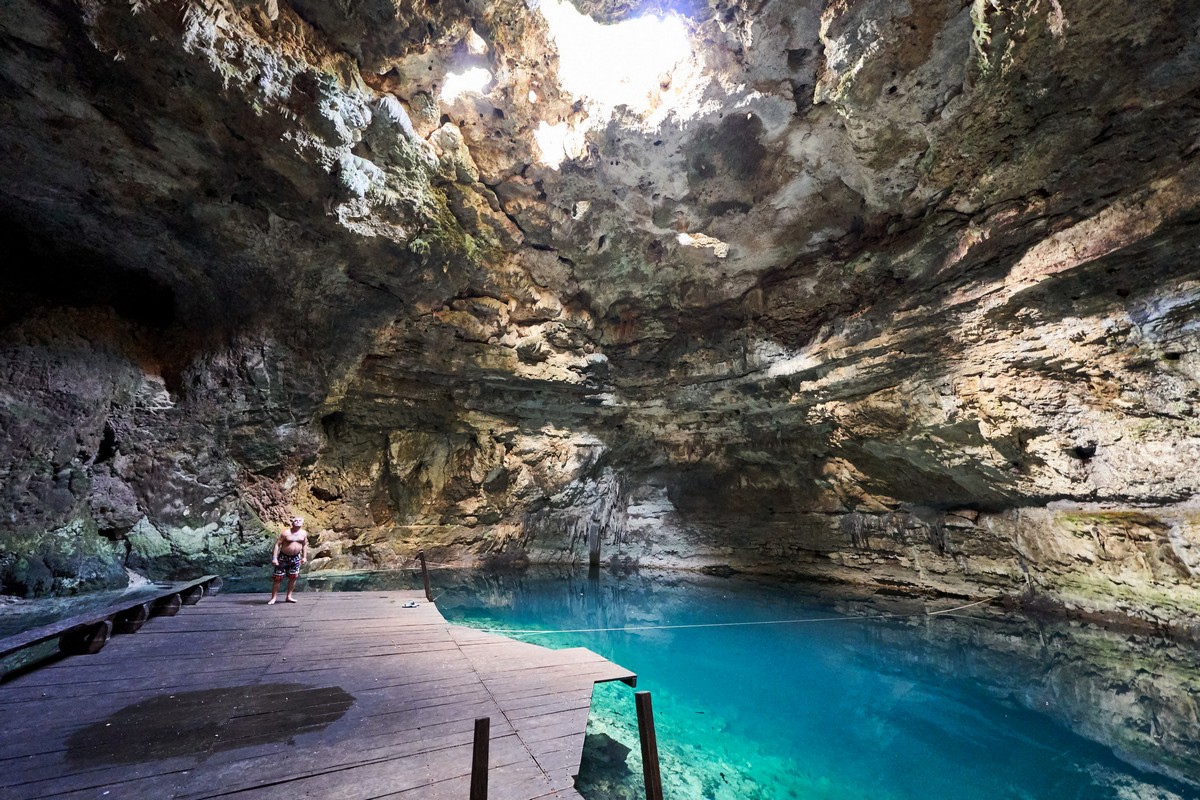 Doesn't look like much from the outside…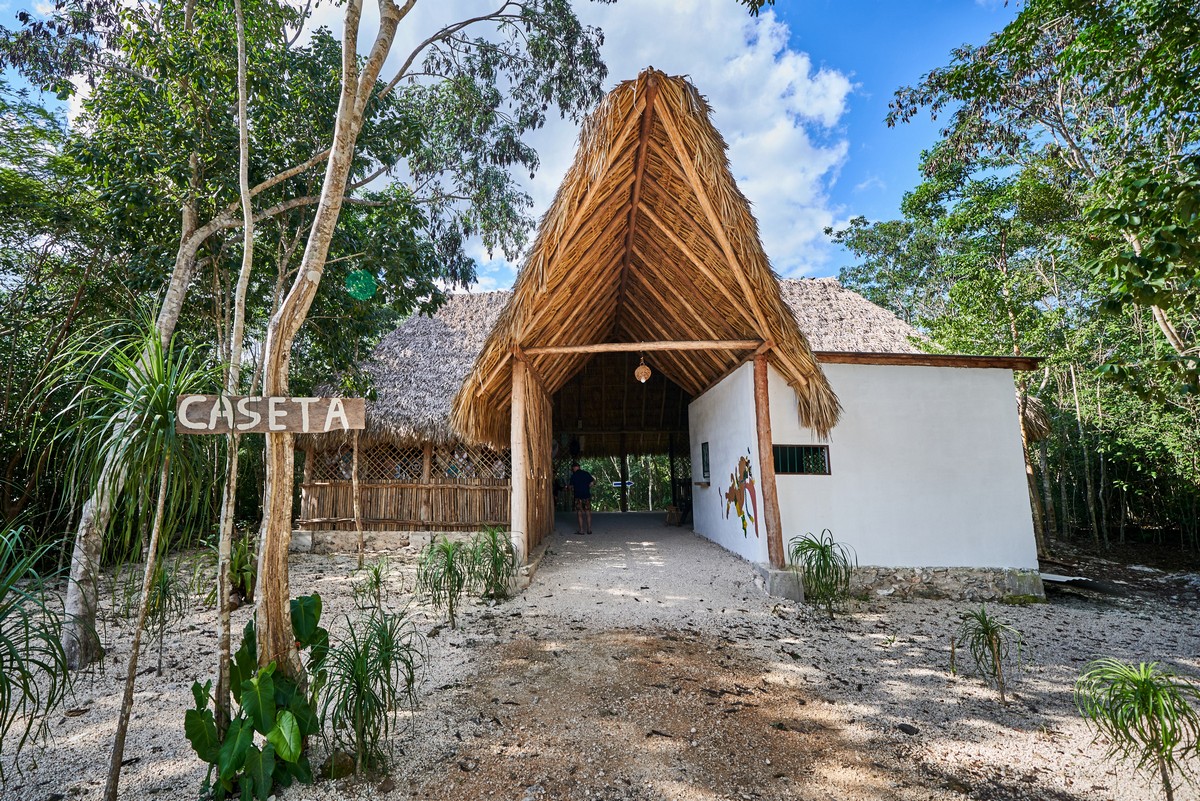 DZ buys the tickets, and we follow this short path to the cenote:
Oh my word! DZ and I felt like pioneers!…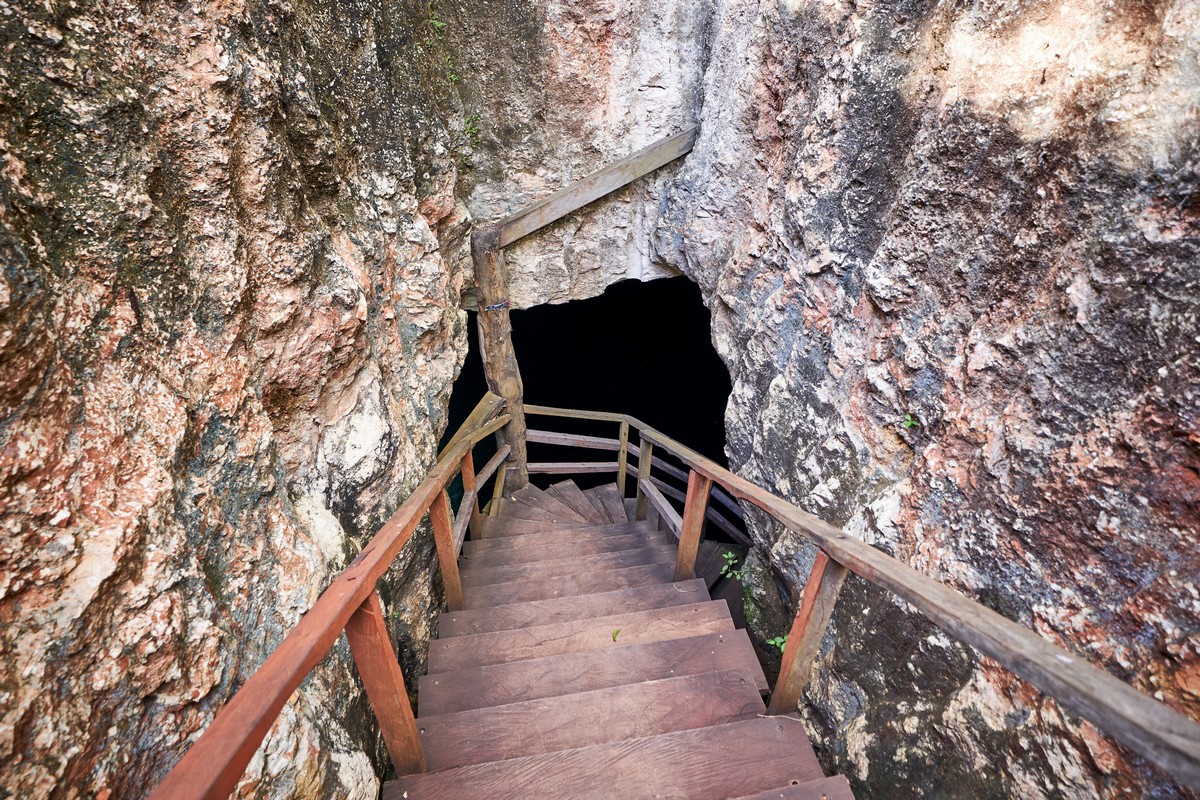 But pioneers didn't have local guides who were between the age of eight and ten. We did. A bit strange )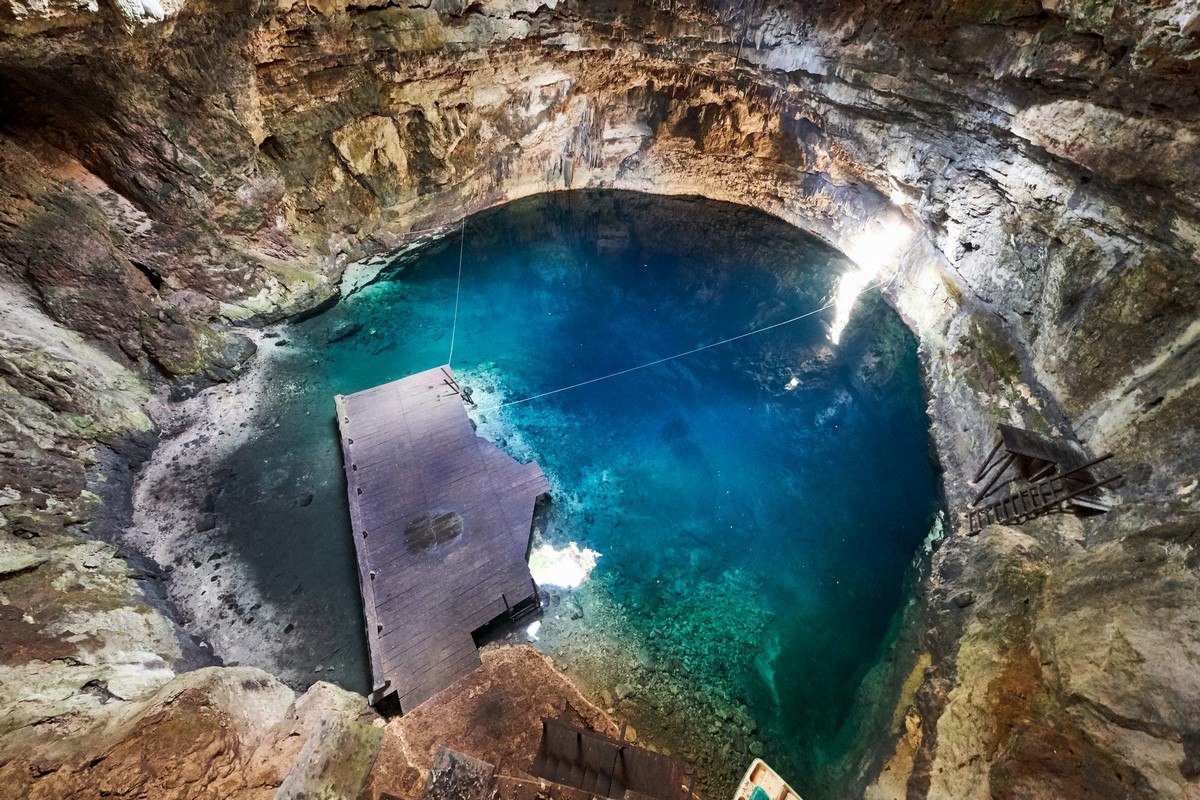 Oh my gorgeous. Simply awesome being in here…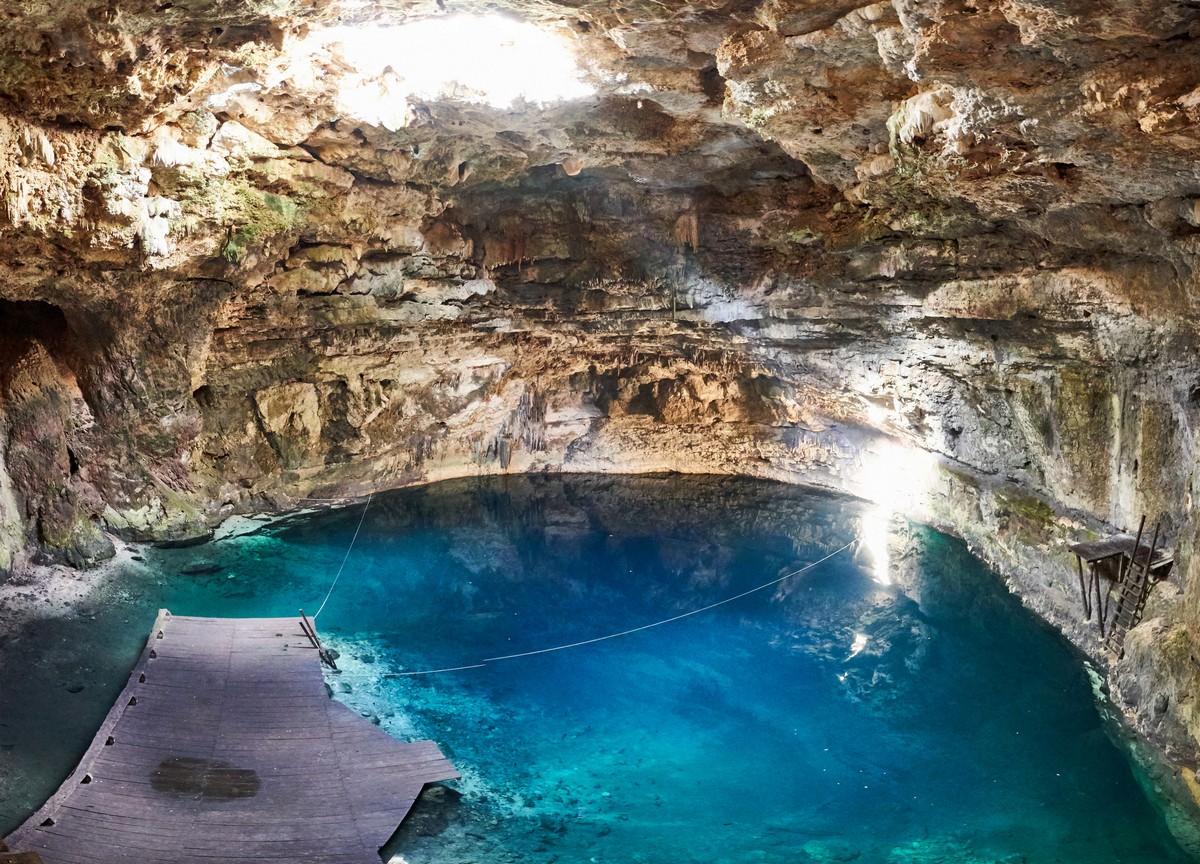 A little lower…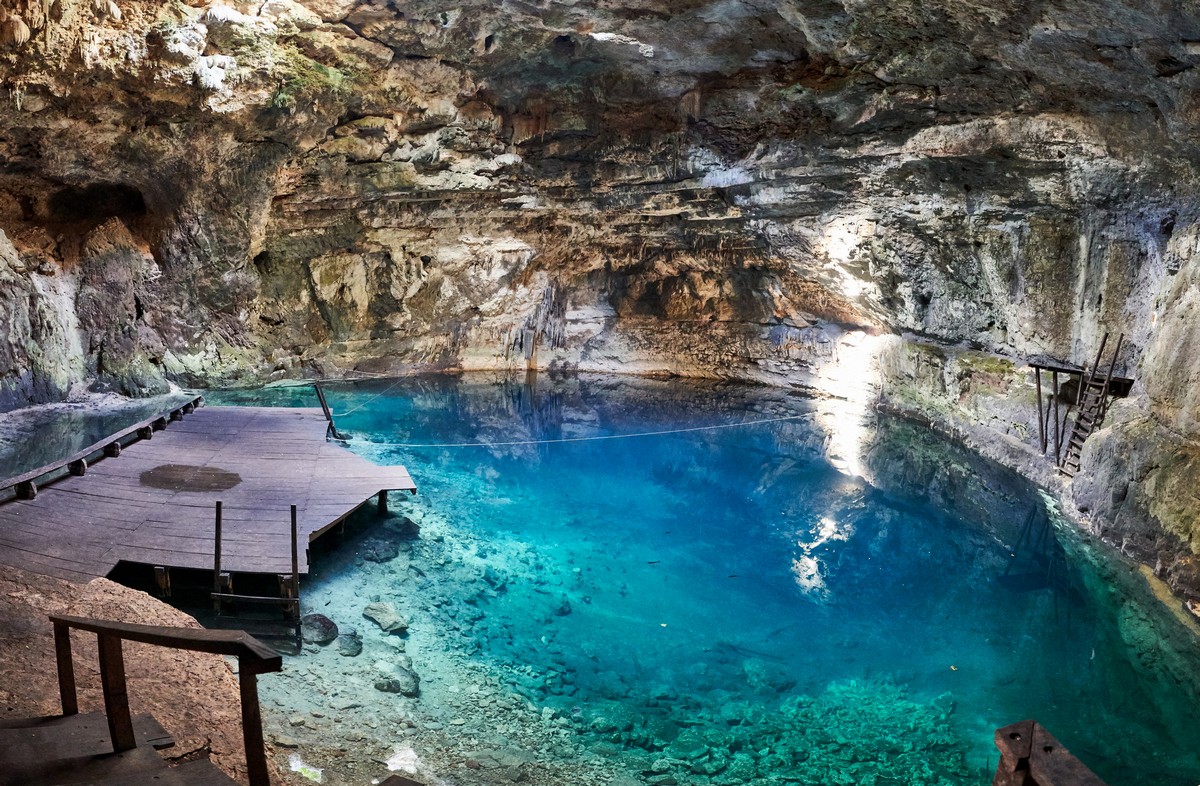 And not a soul here besides us!…
And the water – as clean as… Antarctic air, I thought )…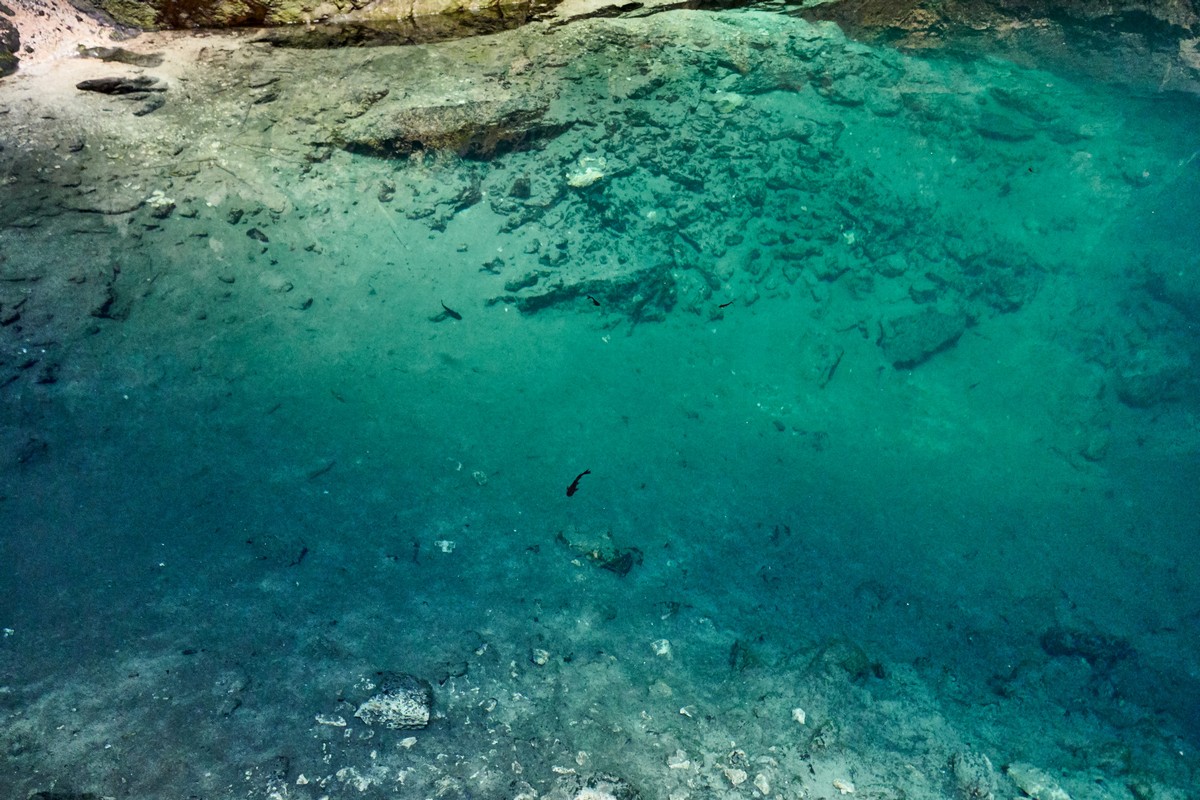 Little black mustachioed fishes dart here and there. Clearly cenotes are 'exhaust' outlets from the underground Yucatan water system.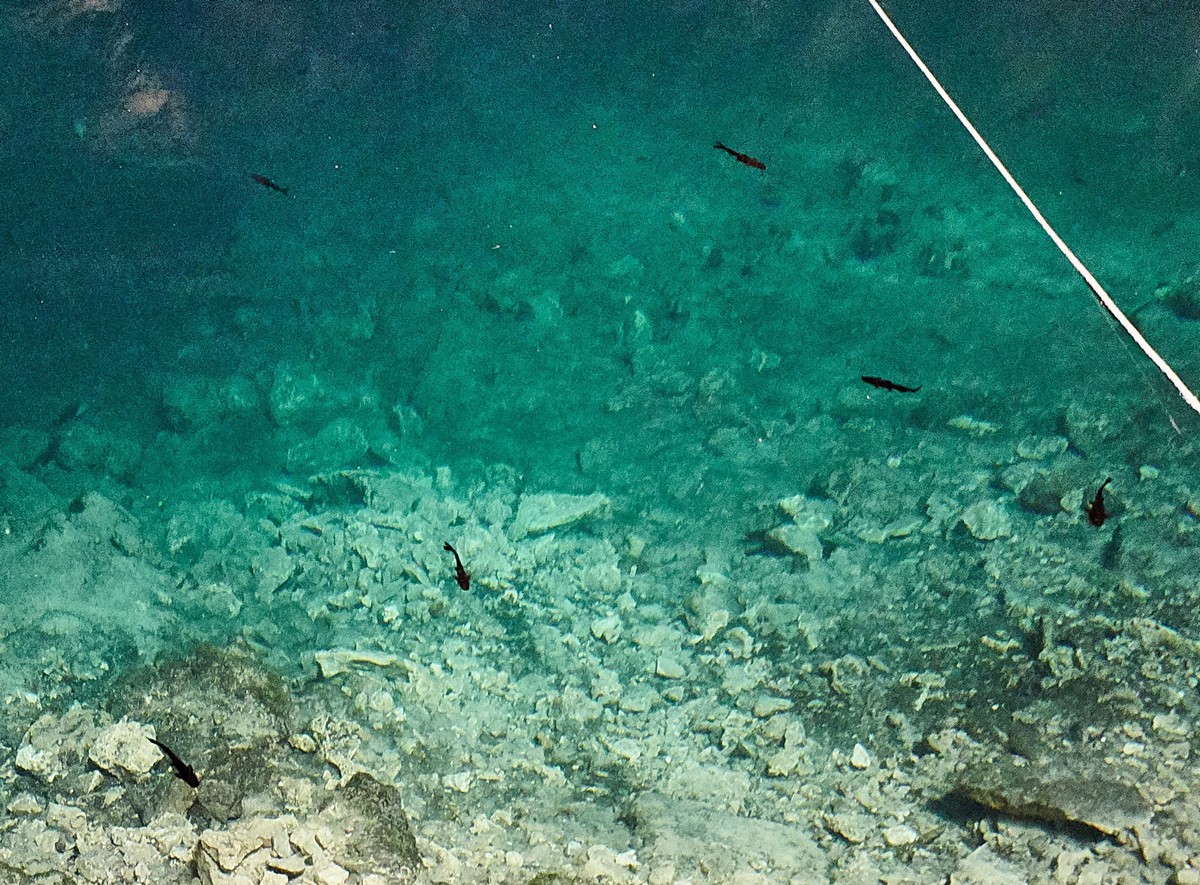 Unpeopled, you can take your time studying the lake, nice and still as its surface remains…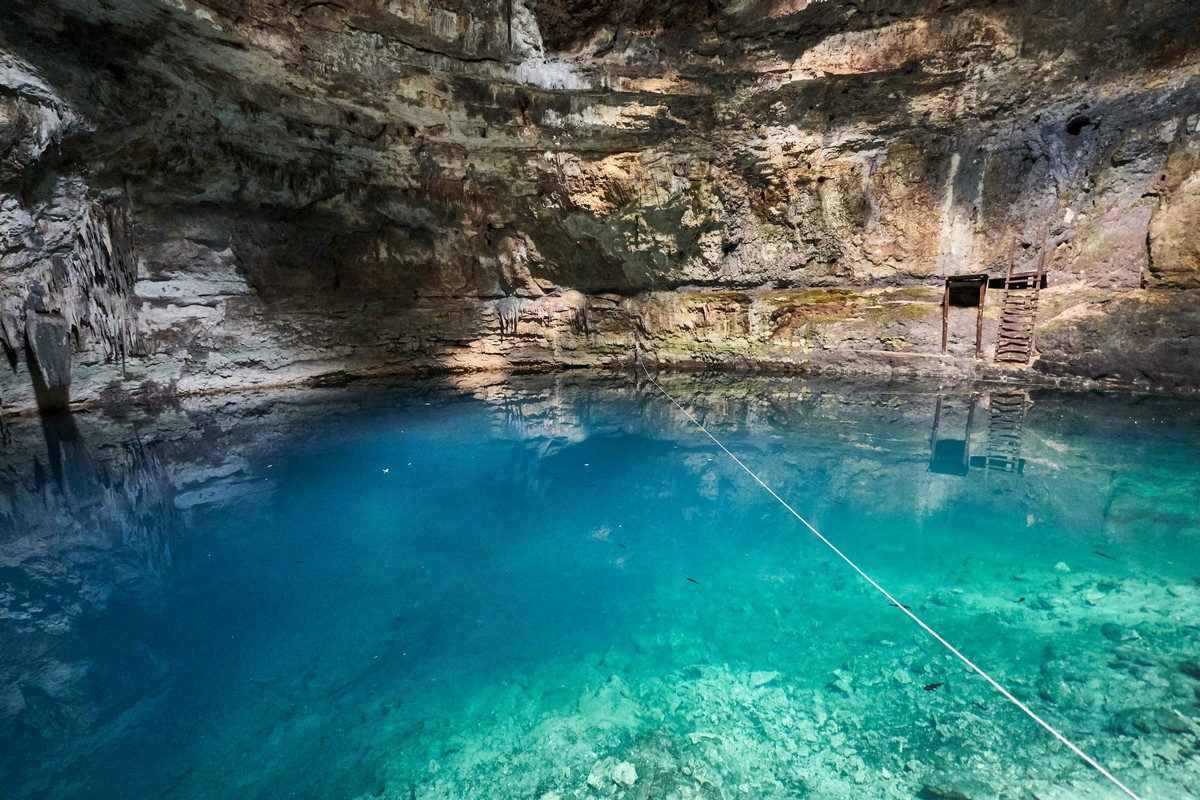 Up above – holy moly – holes! I wonder when the next piece of roof will fall?…
Yes – here: increíble. And must see!…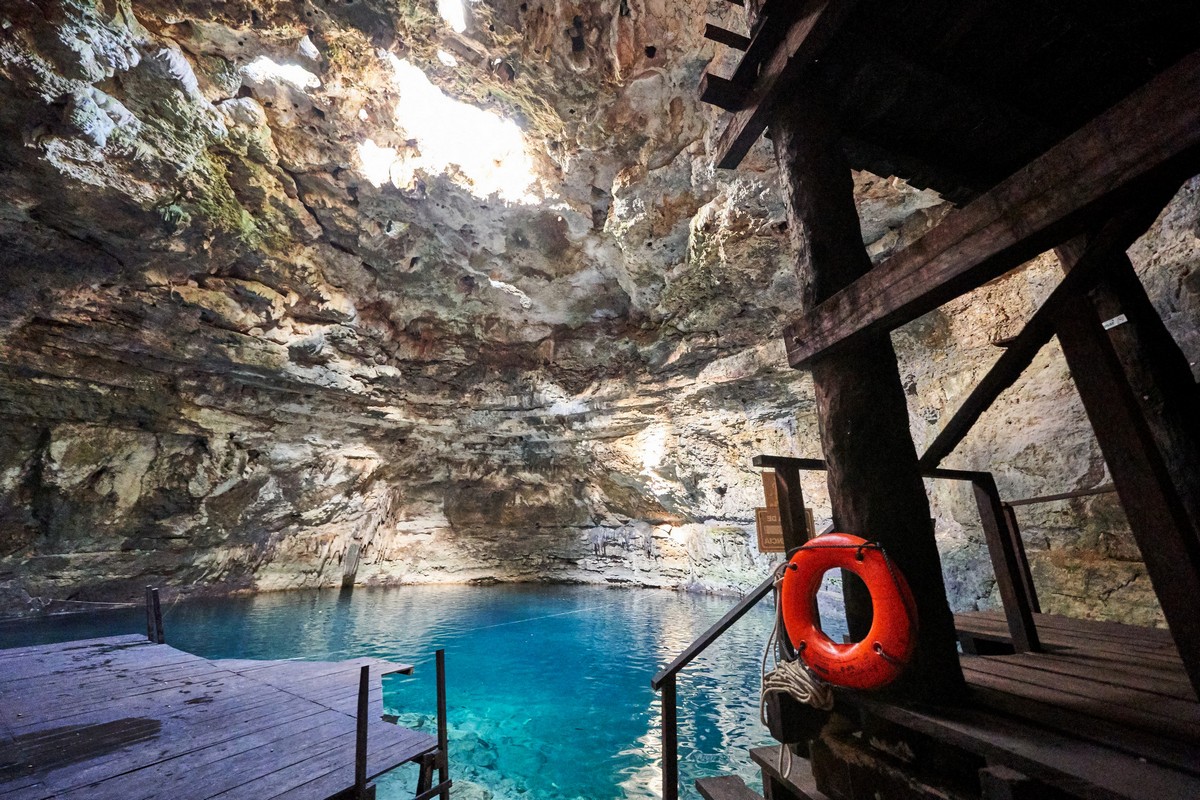 Up above the holes – just as charming…
They even installed a kind-of well around one hole: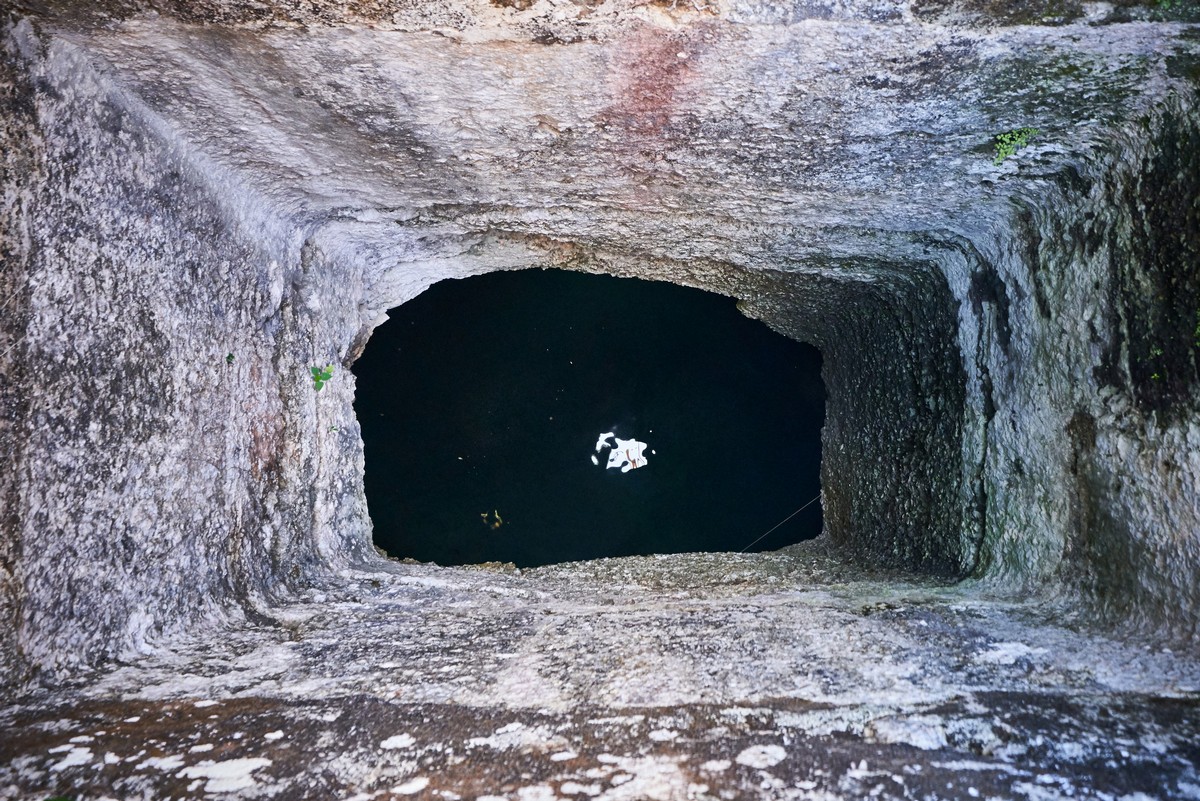 Meanwhile, we head on…
Our sixth cenote: Maya, in the Cenote Maya Native Park. One of the – if not the – most beautiful cenote(s). And just 20km further along our route…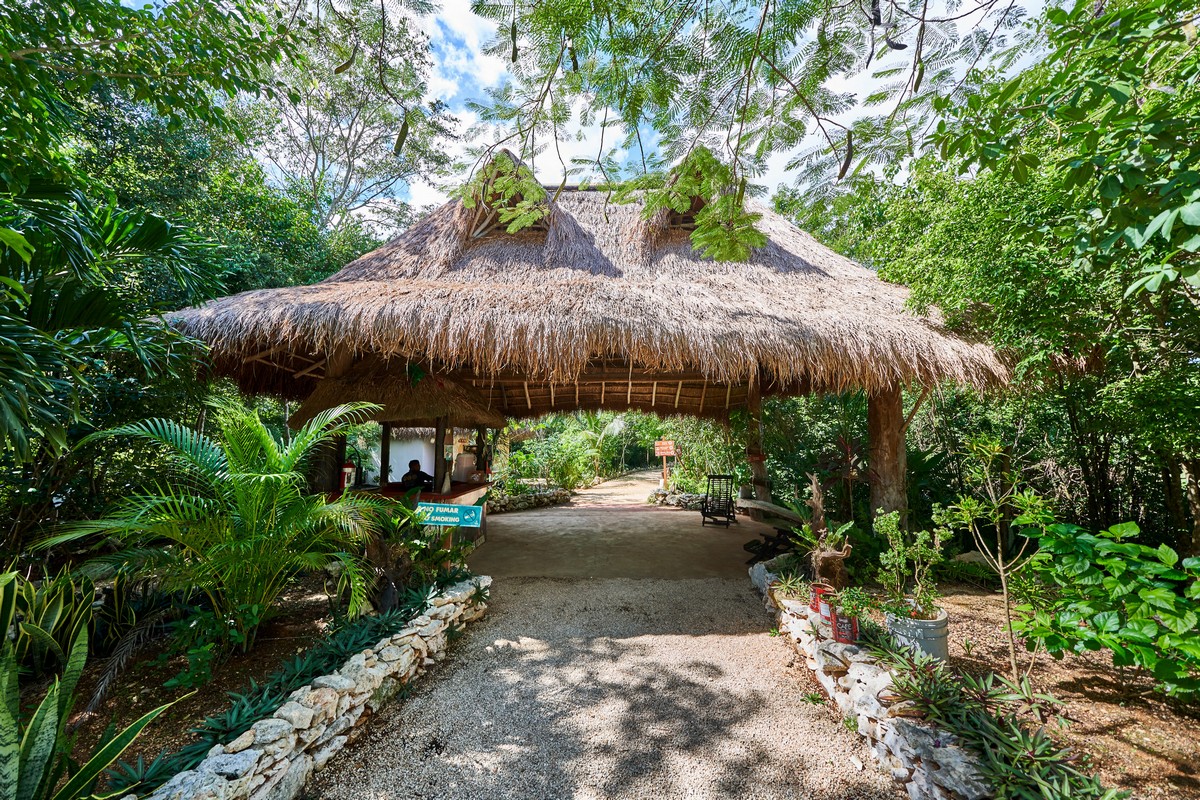 Video!
A humungous underground round hall with emerald-colored water, plus all sorts of water activities:
Lianas and roots: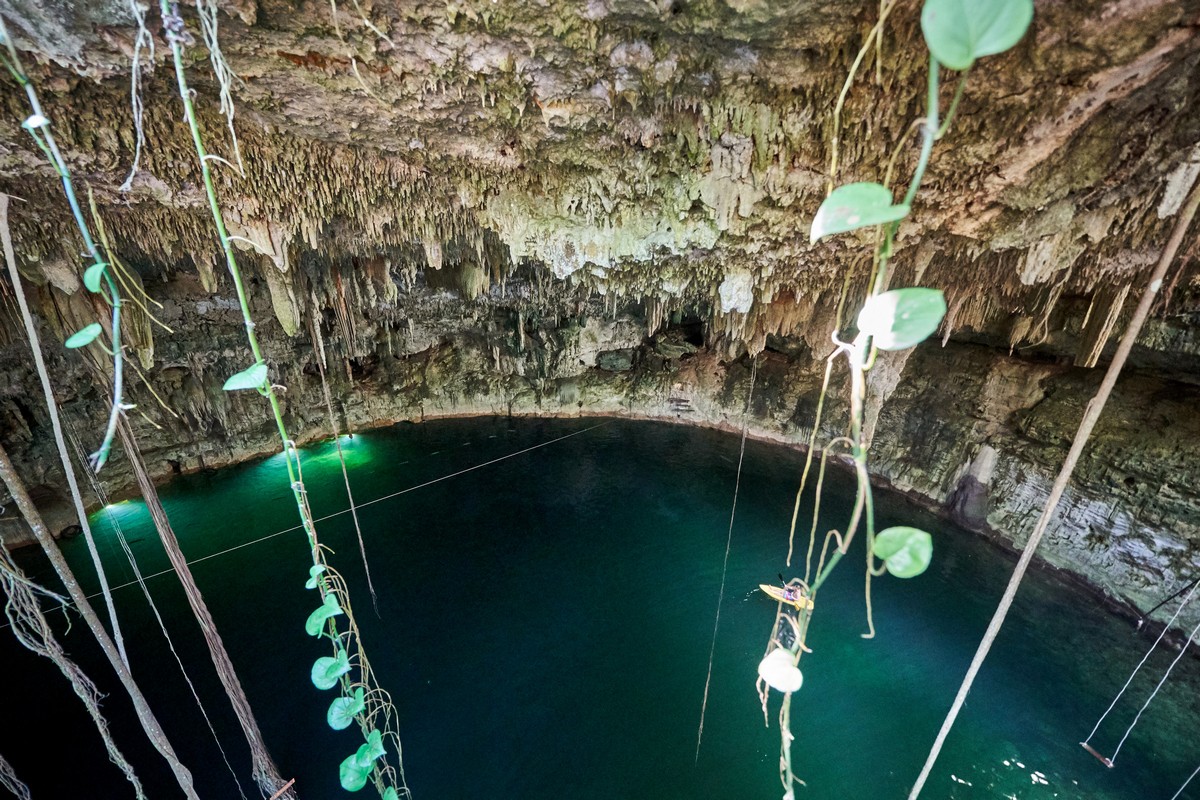 The roof is really quite thin, but clearly strong – judging by the look of those there trees hanging off it like stalactites:
You can go right down to the lake on a rope:
You can canoe, zipline, or just dive and jump:
Next – cenote No. 7: Suytun.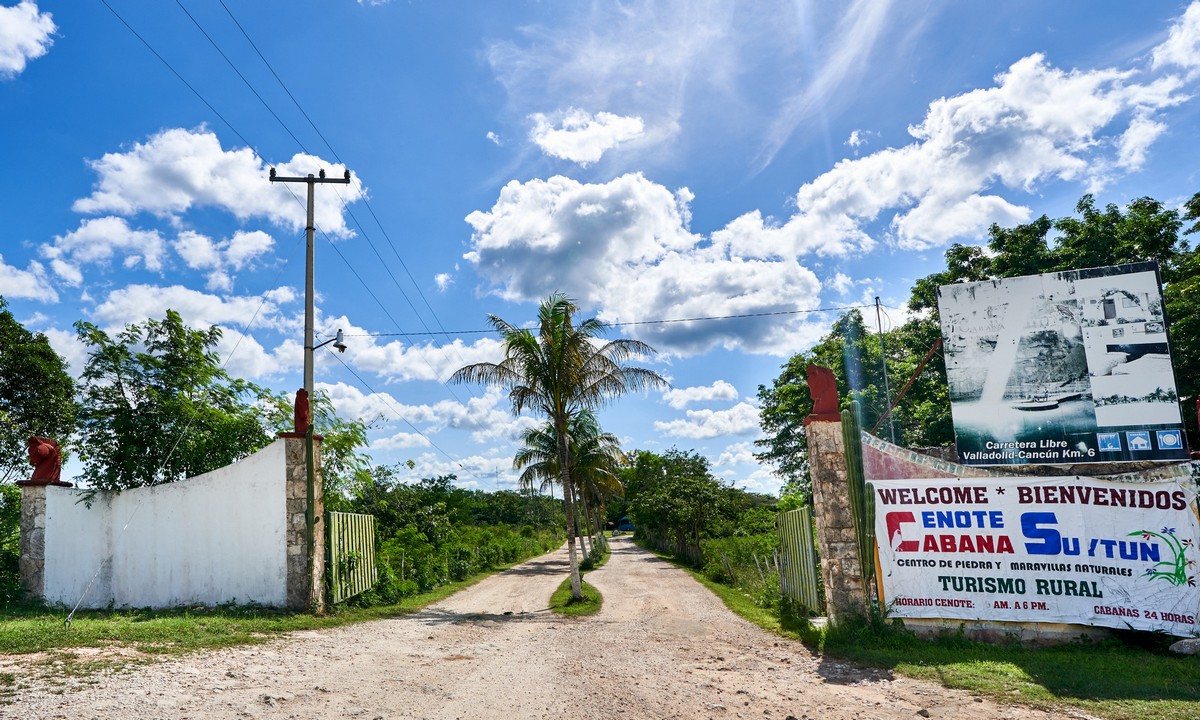 Another large round cave, but this one was the first to have water that wasn't totally pure. I wonder why?…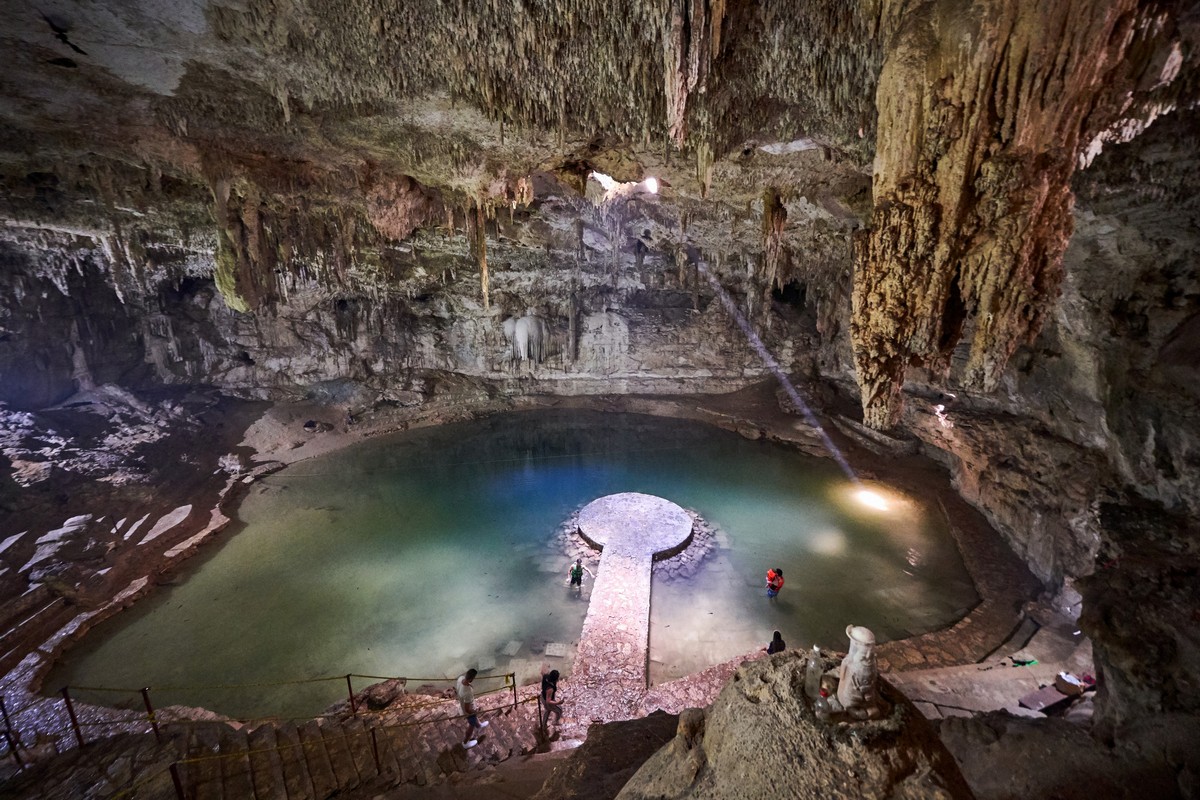 Or was it just the light? After all, those there little fish are perfectly visible…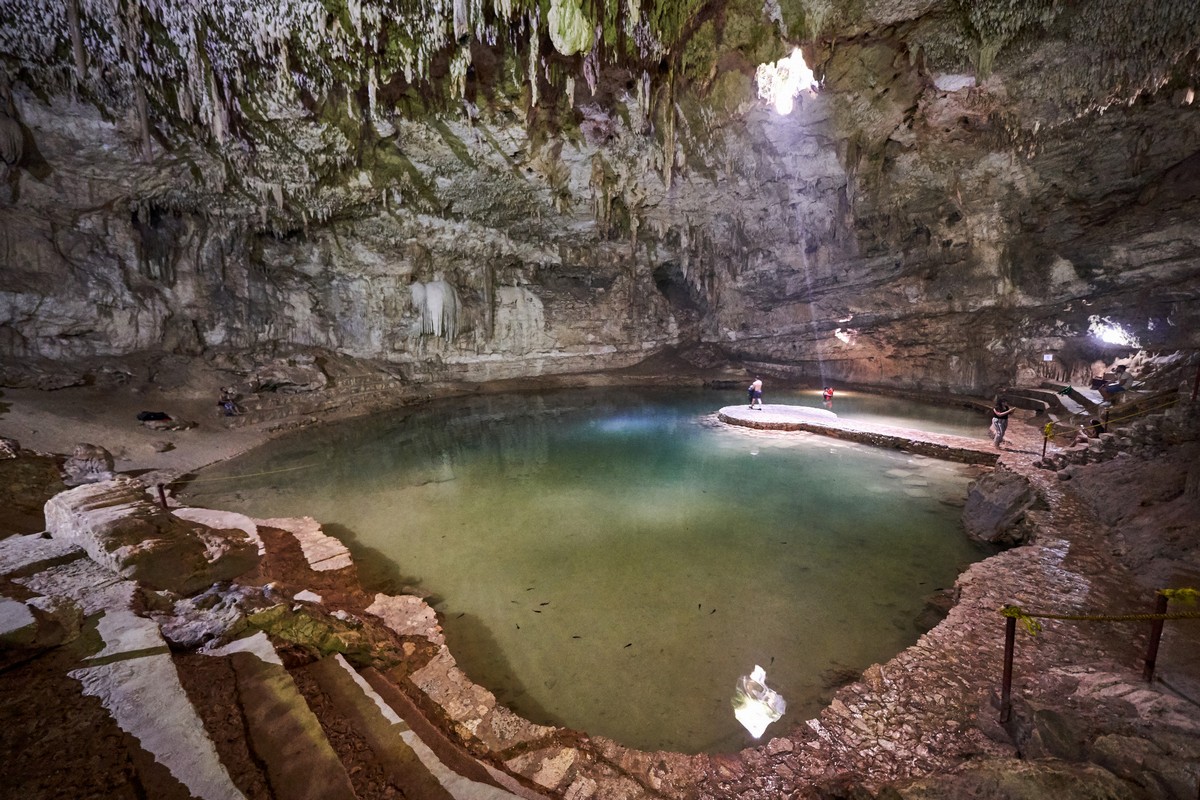 Still… – good.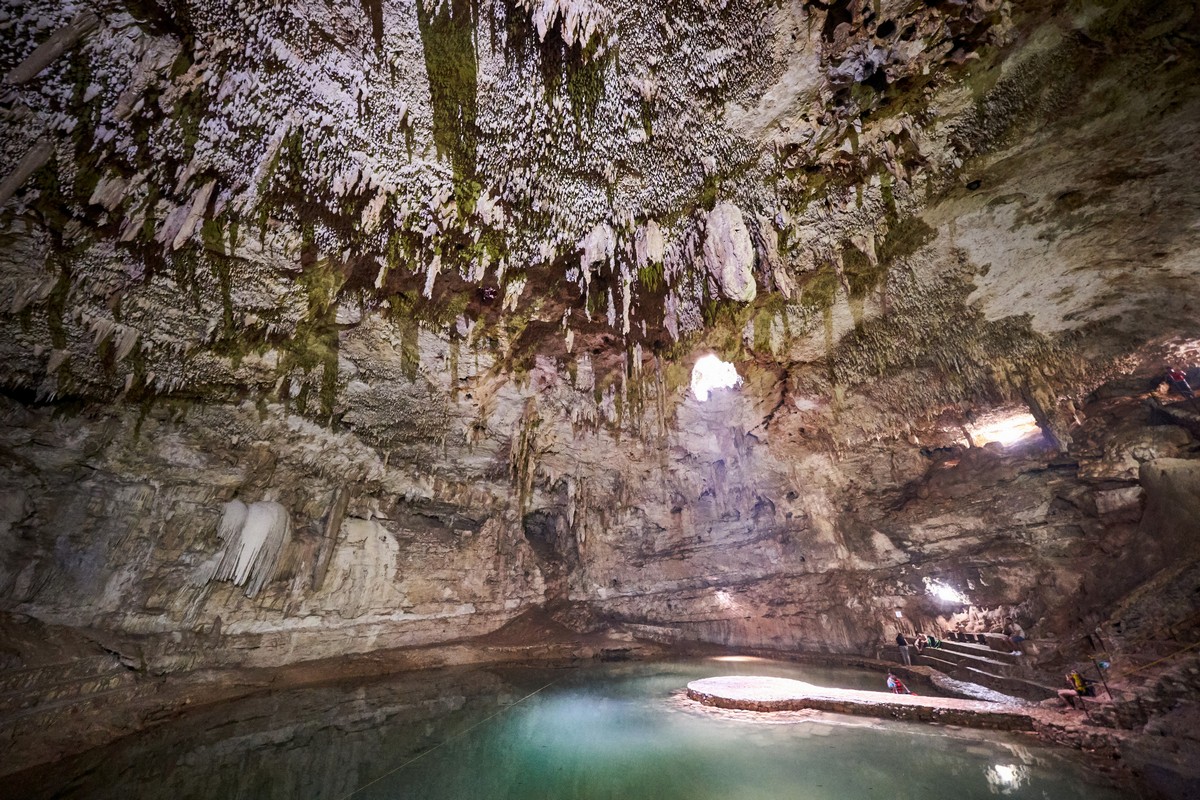 Here – lifejackets are mandatory. On paper!… ->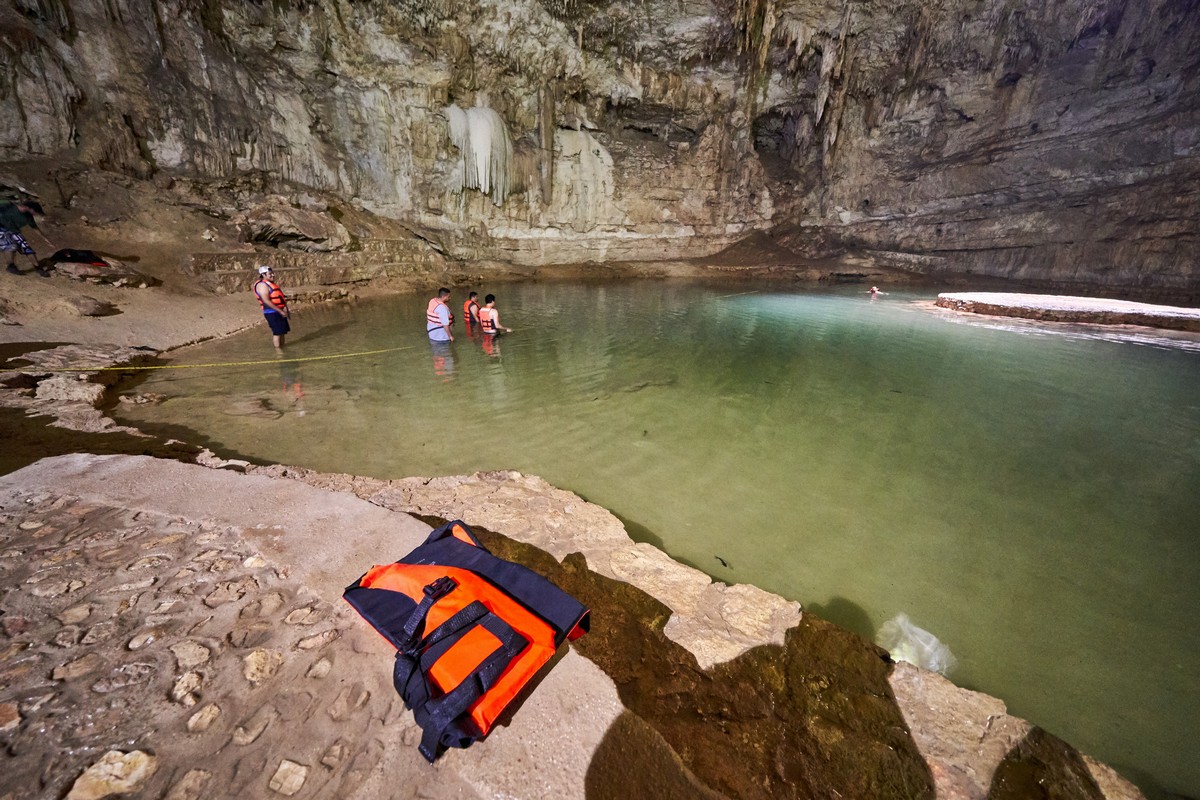 Make sure to visit here at noon: you'll be rewarded by the sunlight shining directly down through the hole:
Cenote No. 8: X-keken. My cenote commentary becoming a bit samey? Then you've come to the right place: here, no words necessary!…
Five minutes' walk from it, our next cenote – Samula: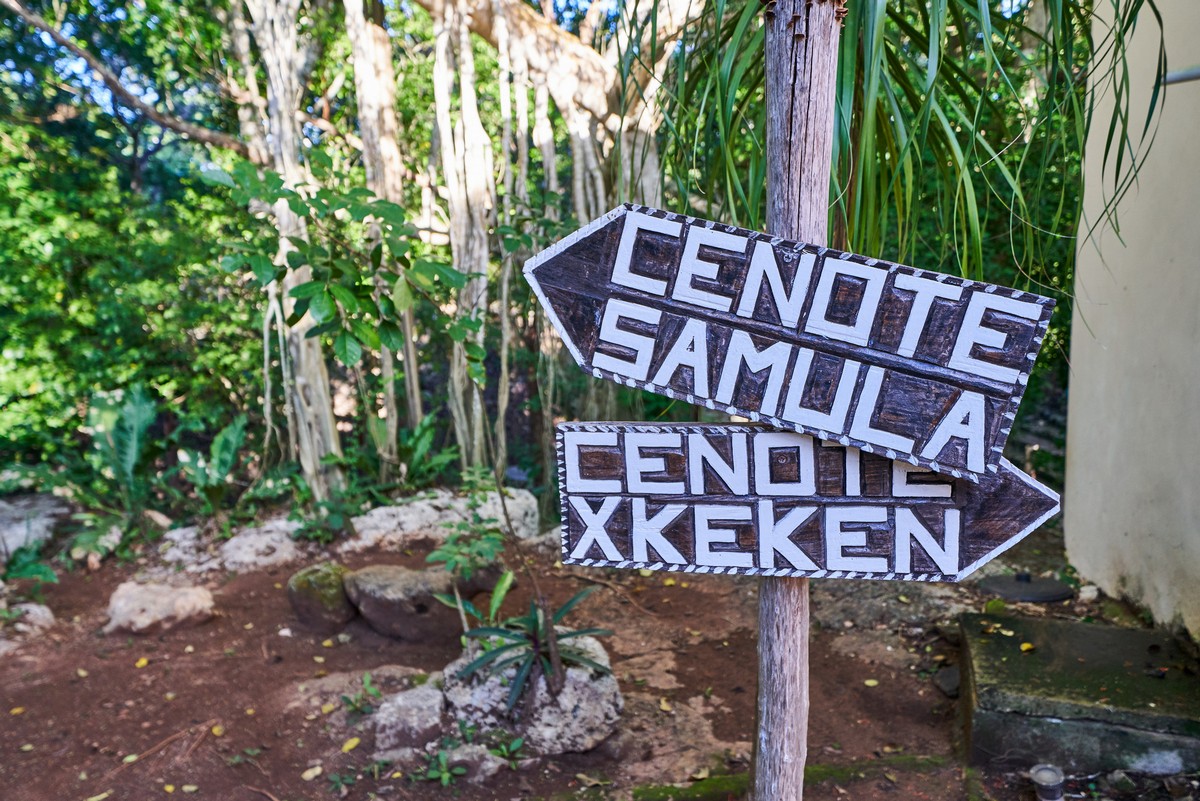 Cenote No. 9: Samula. That there well – built up around a hole in the roof:
Yet another beaut! ->
Ziplines!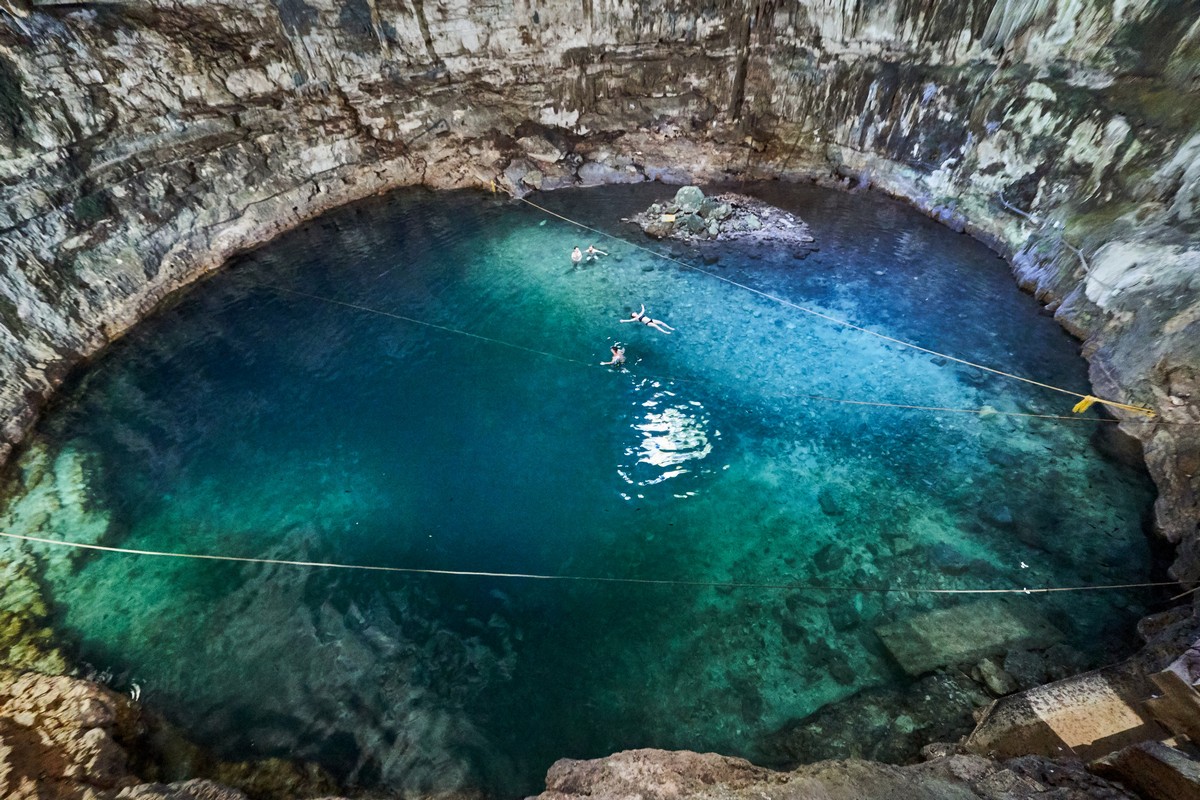 All the same, we were entering the realm of the cenote overdose. We started to feel tired, and wanted to go home even!…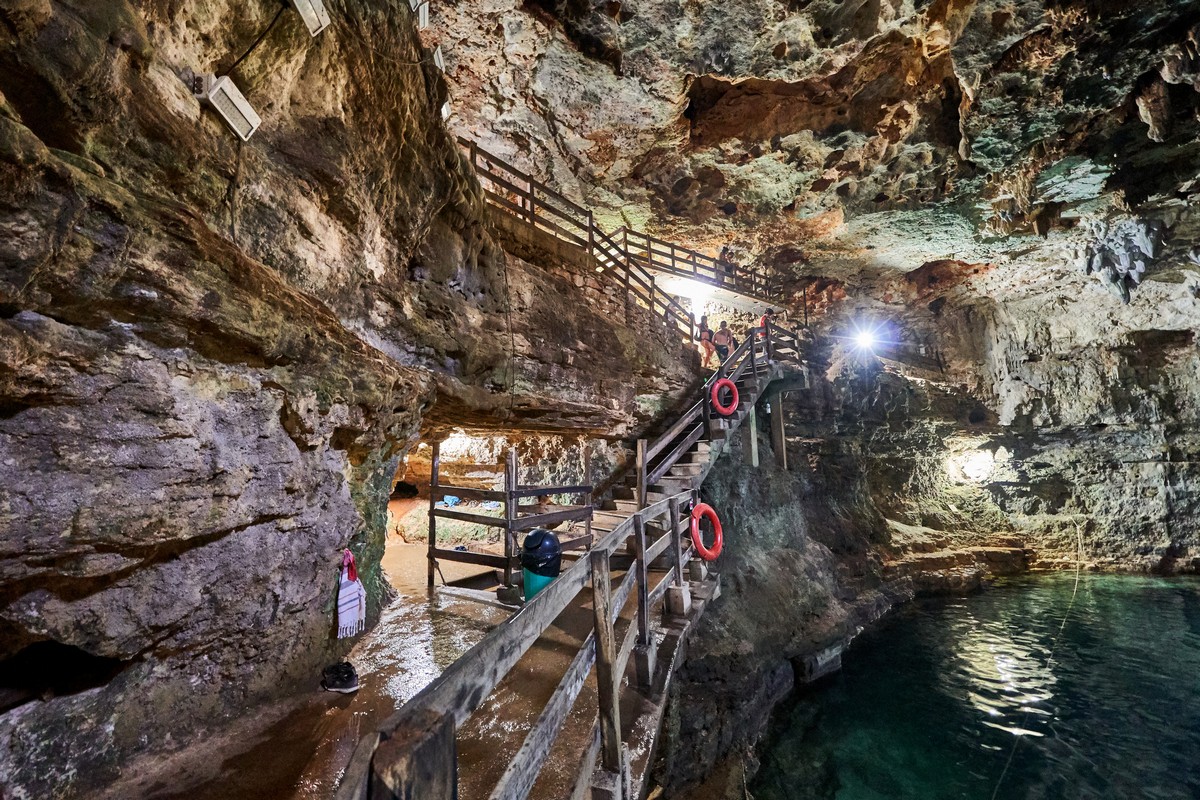 A last look back, and off we popped…
…to the next-door cenote!…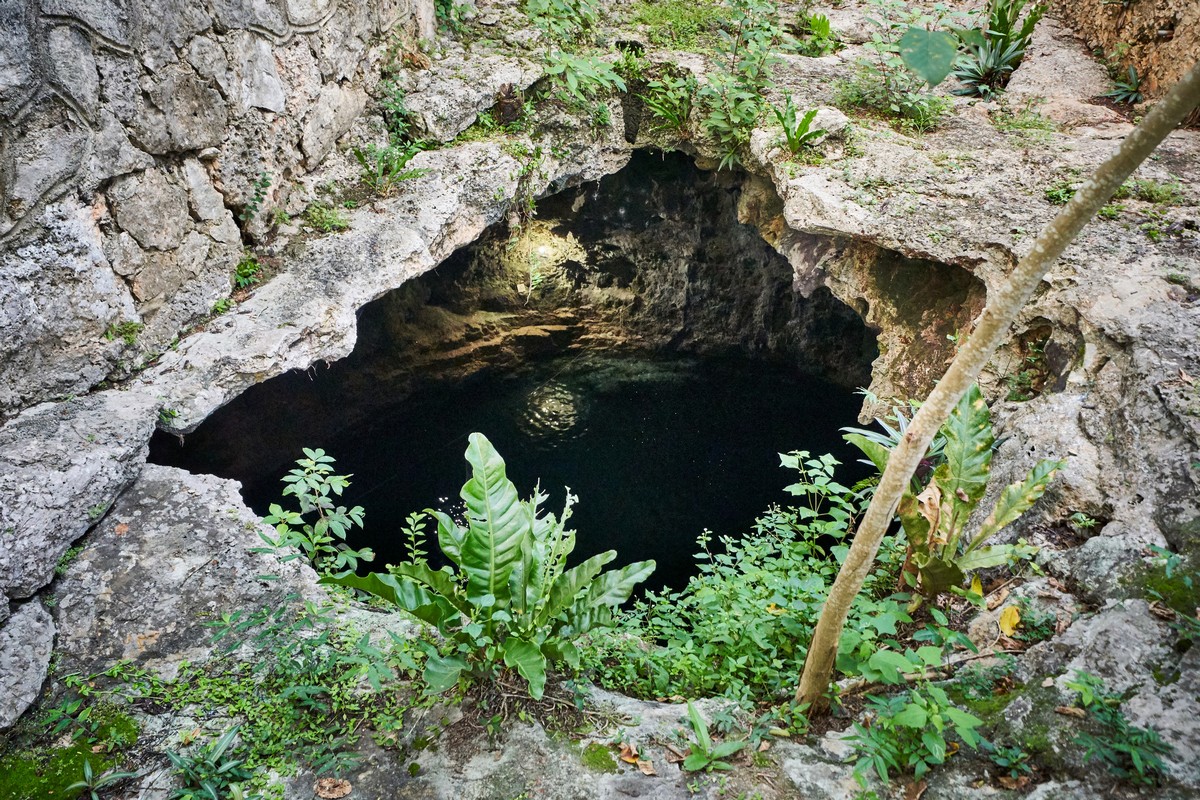 A quick BTW-question:
Why are the cenotes near the coast cave-like, and the ones inland huge round halls with vertical walls?
And finally, cenote No. 10 – Ik Kil. Probably the most famous of all the Yucatan cenotes. I mean, it even has its own Wiki-page! With all the modern touristy bits too: huge parking lots, restaurants, shops…
The views – OMG: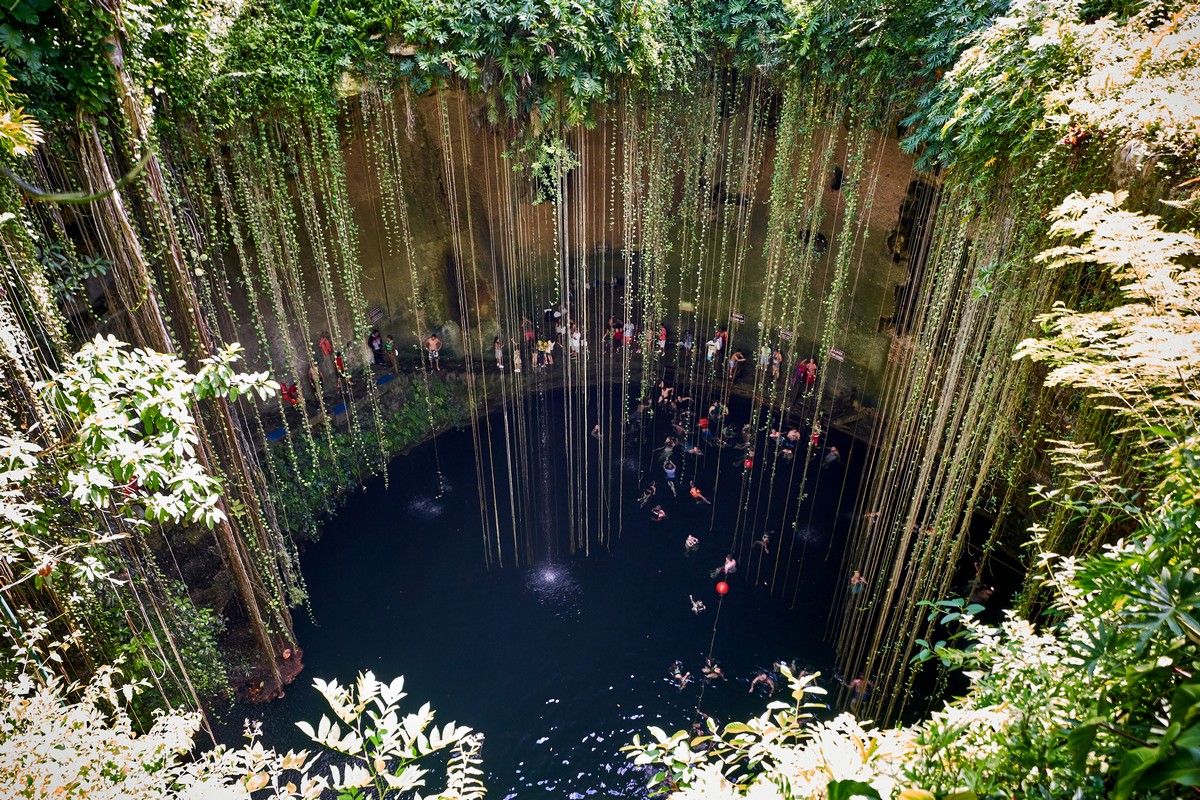 But too many tourists. 'Just like pelmeny in a saucepan', commented DZ )…
Still – OMG views are OMG views: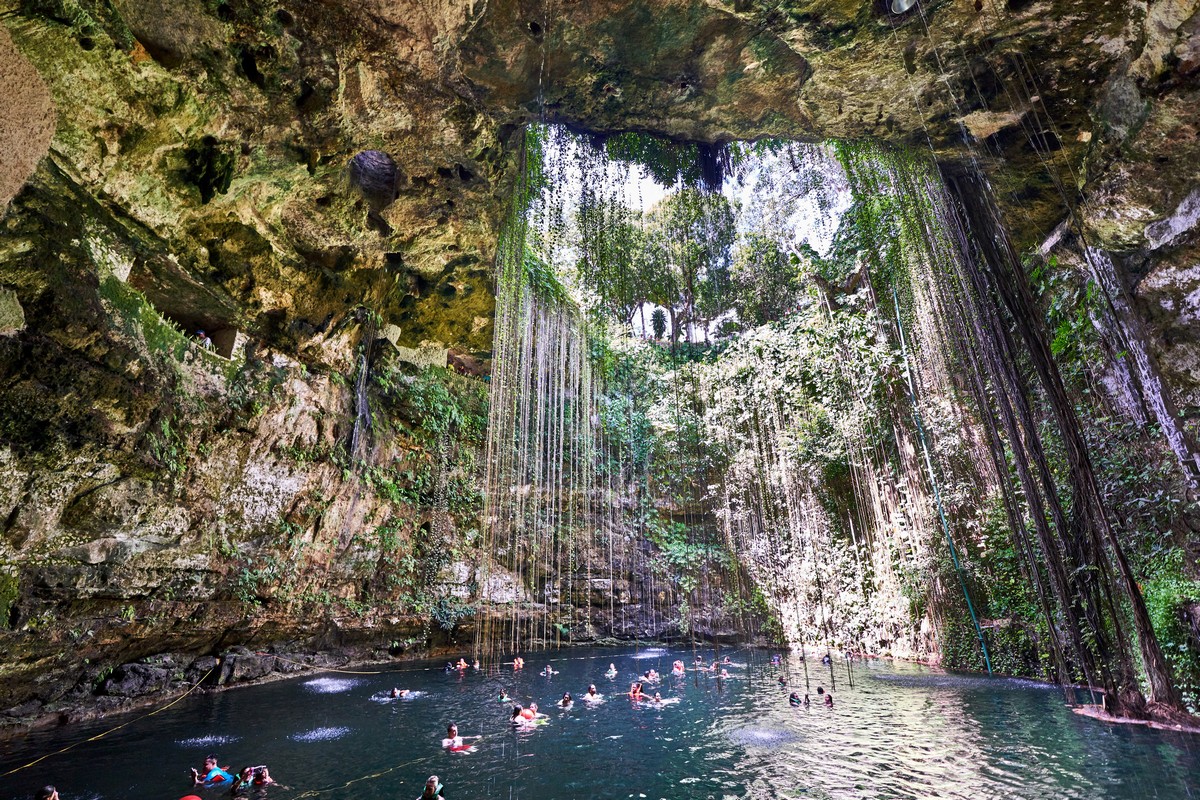 And that, folks, was that. Yucatan cenotes – done.
Next up – airport for a red-eye over to Europe.
Adios Yucatan, you were wonderful!…
All the pics from Mexico are here.