Sometimes I regret not being a historian. I mean – to study different, unusual cultures, for example the central-American ancient Mayan one, and to do it as a job, not a hobby… – sounds ideal!
Now, the Mayans existed for 3000 years! They invented their own writing system, were advanced astronomers, mathematicians and architects, but then, for some unknown reason, they died out completely – around 400 years ago. They never got round to creating a single state, yet ruins of more than a thousand towns remain to this day, scattered across the Yucatan Peninsula and further south into Central America. The number of temples and pyramids is off the scale. And talking of temples and pyramids, that's where we were headed early morning (since all architectural places-of-interest in the region open at 8am every day) on the second day of our three-dayer in Mexico recently (but we'd have been up at crack of dawn anyway for, as usual, we wanted to see as much as we possibly could – plus it would be uncomfortably hot if we'd have left it till later).
First up for us – the ancient city of Coba, whose ruins cover a large territory, and whose main pyramid is the tallest of all Mayan pyramids, at 42 meters. What the pyramid may have been called by the Mayans themselves nobody knows, but today it goes by the name Ixmoja.

And here it is. Time to get up it!…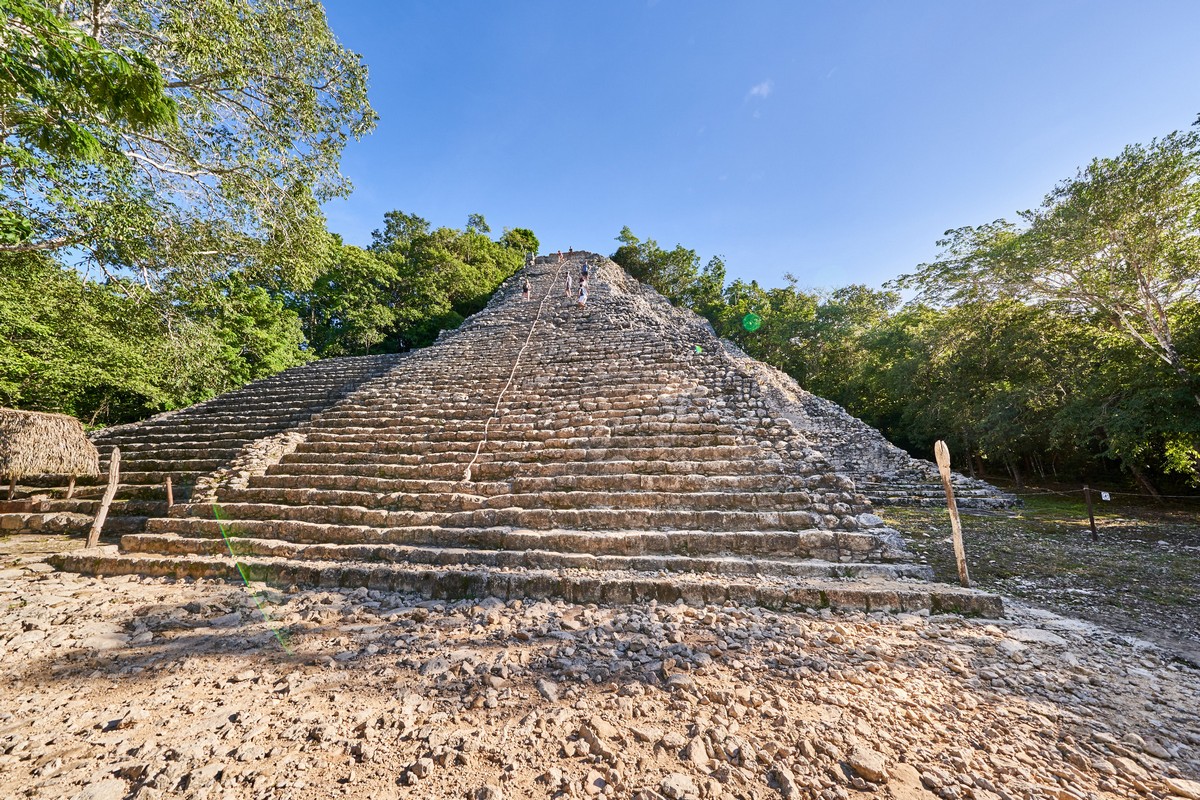 The steps are tall ones – each step is twice as high as ones we're all used to; climbing up them is therefore not easy – coming back down them is even harder! The internet tells me there are a total of 120 steps (though I counted 121!). That means each step is around 35 centimeters high!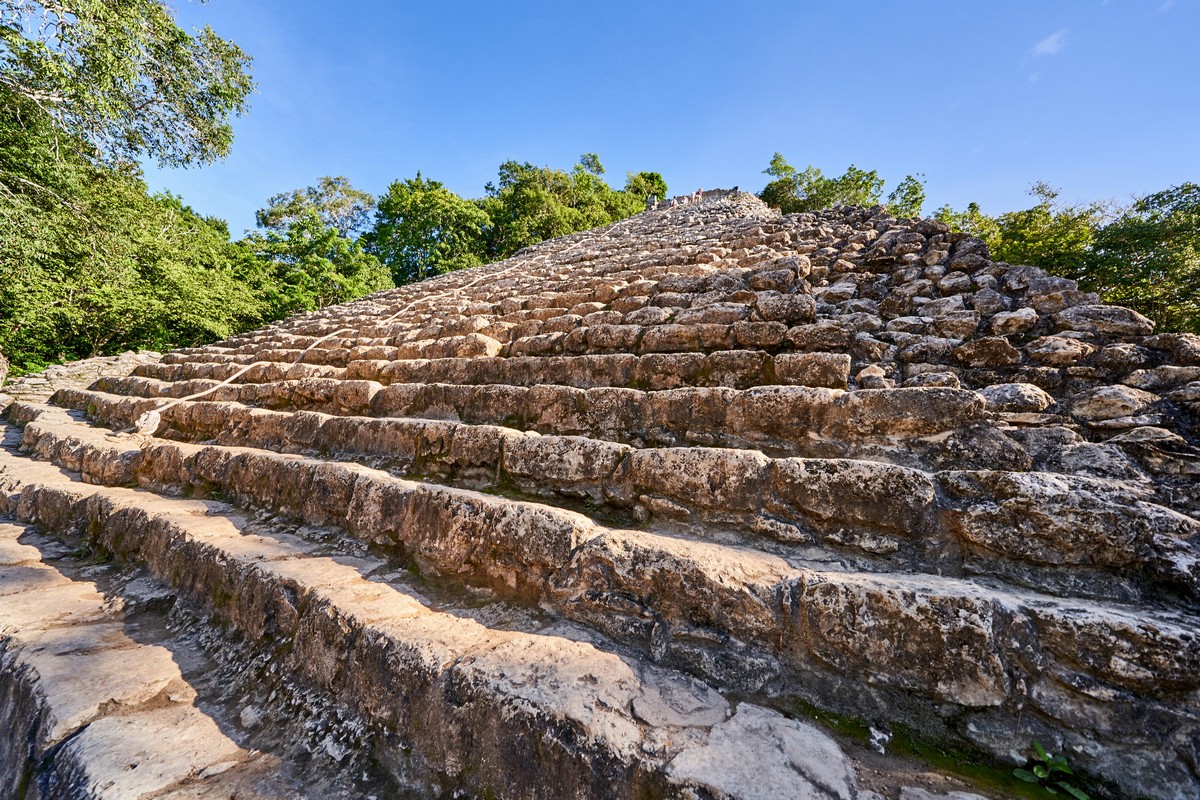 We make it to the top, and our exertions are duly rewarded: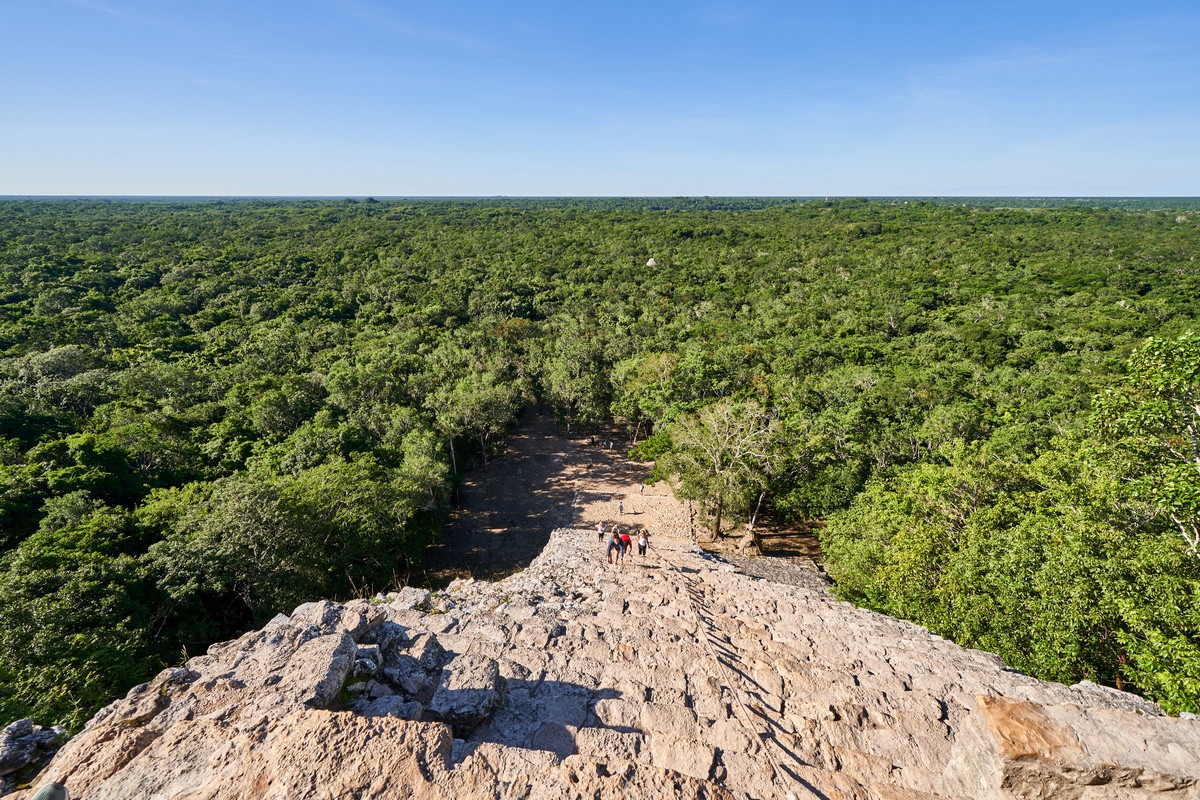 Btw: you see that rope there? Yes – that's in case you need it to help drag yourself up the slope!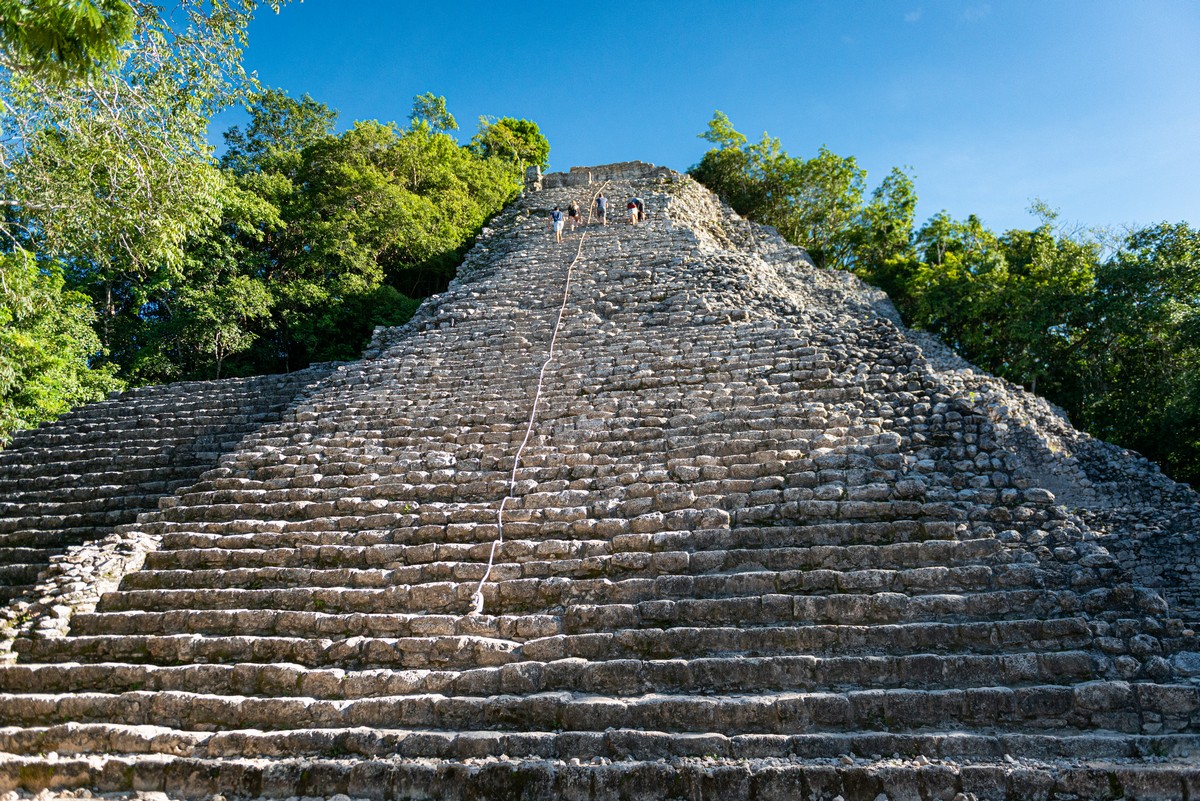 You might think coming back down again would be easier than climbing up… wrong! Most have great trouble descending, with many engaging '4WD' to do so! I really should have given them some encouragement by reminding them that at least they'd be alive at the bottom. Most Mayans who made the same descent did so very quickly: they were rolled down; what's more – head and body separately!!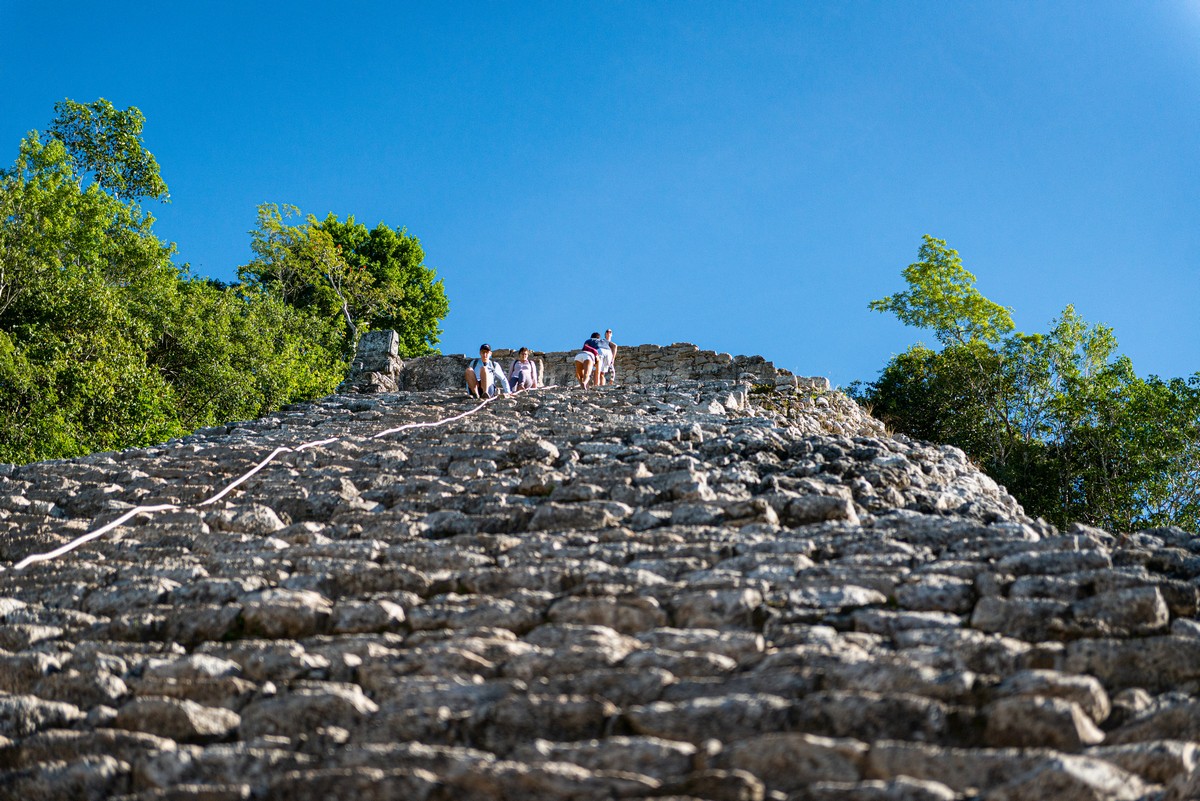 Ouch!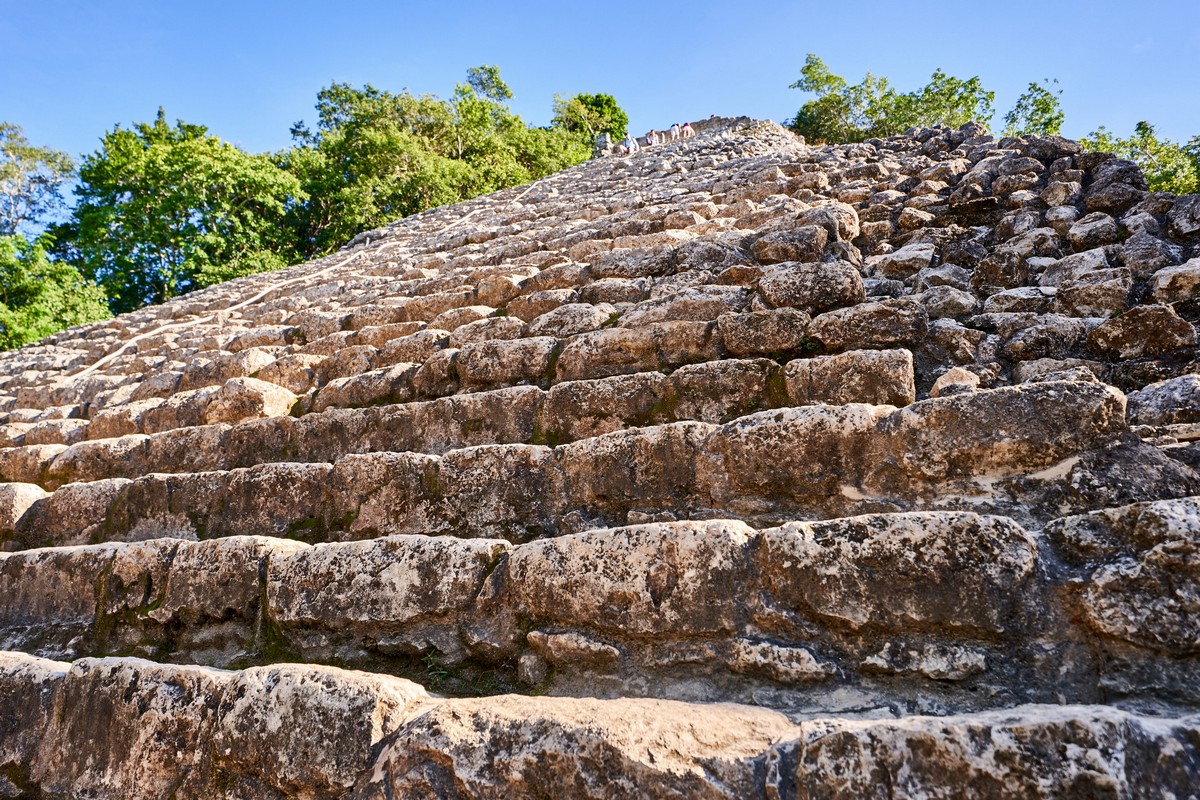 Taking in the view – as you do…
A bit like the splendid conference center I met the French President at last month in Paris (which started out as a slaughterhouse!), I shuddered somewhat to think what this place up top started out as. Surely you've heard the legend that the Mayans were fond of beheadings as part of their worship rituals?…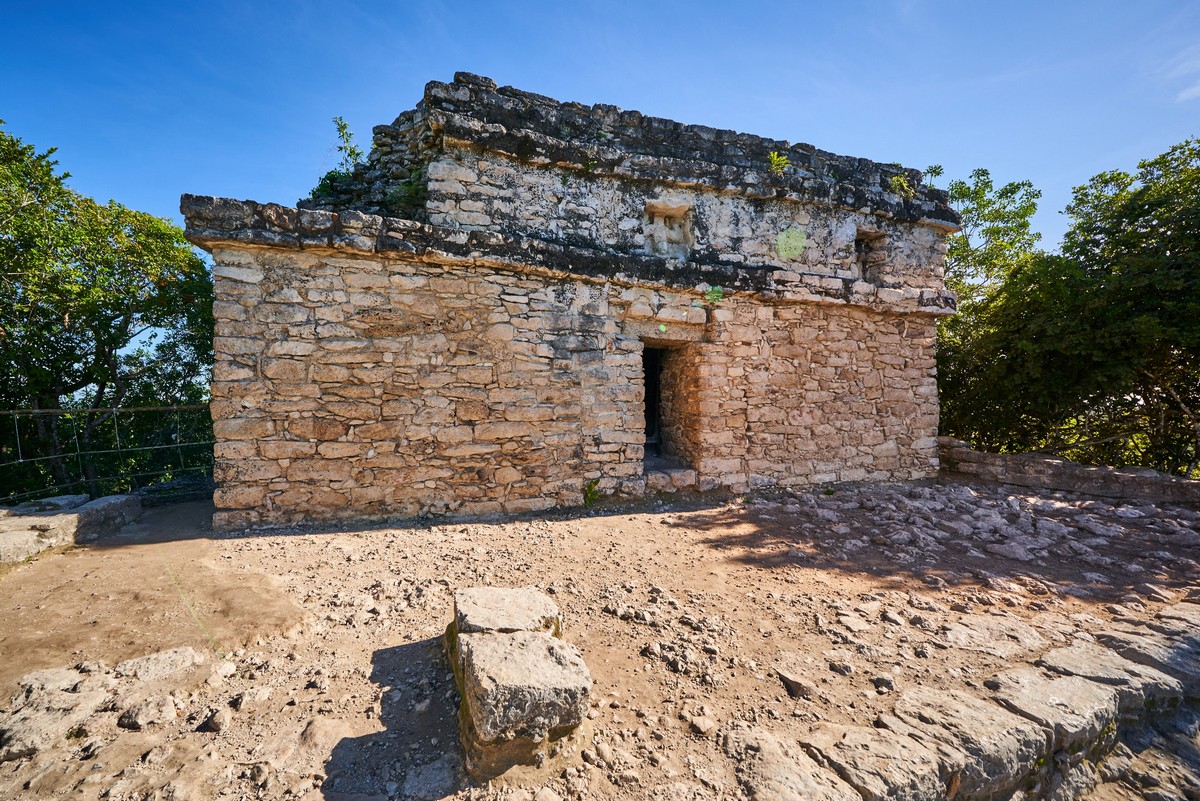 Could this be the actual chopping block? Or is it a new addition made to look like the real thing? Not sure…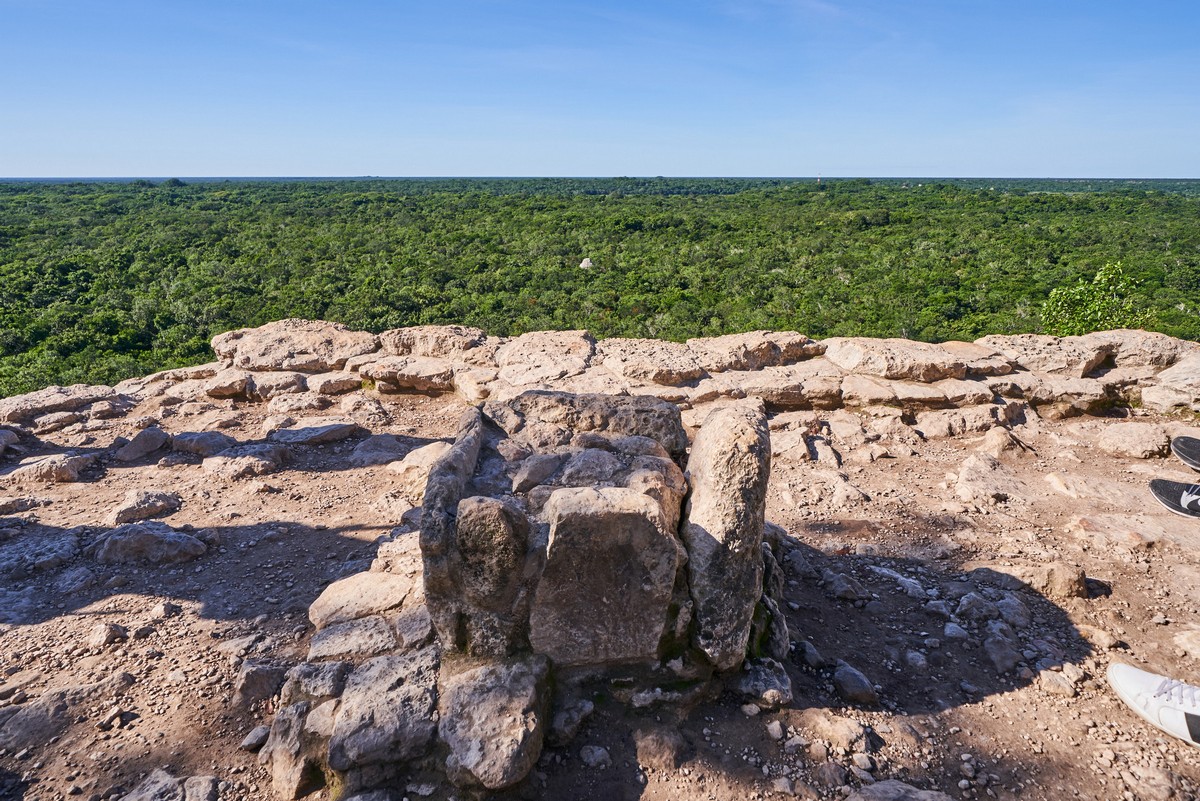 I was curious. What's round that corner?…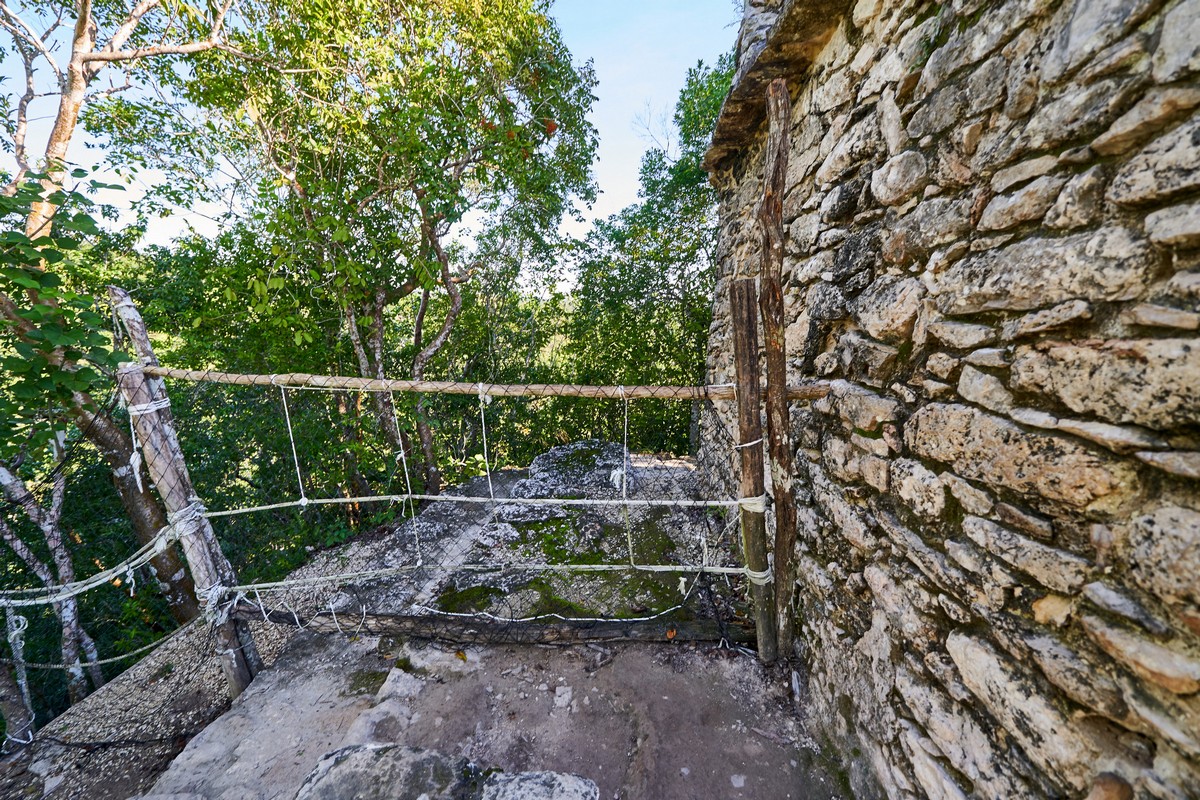 Ah. Actually, nothing but jungle – all the way up here!
Other side – just the same: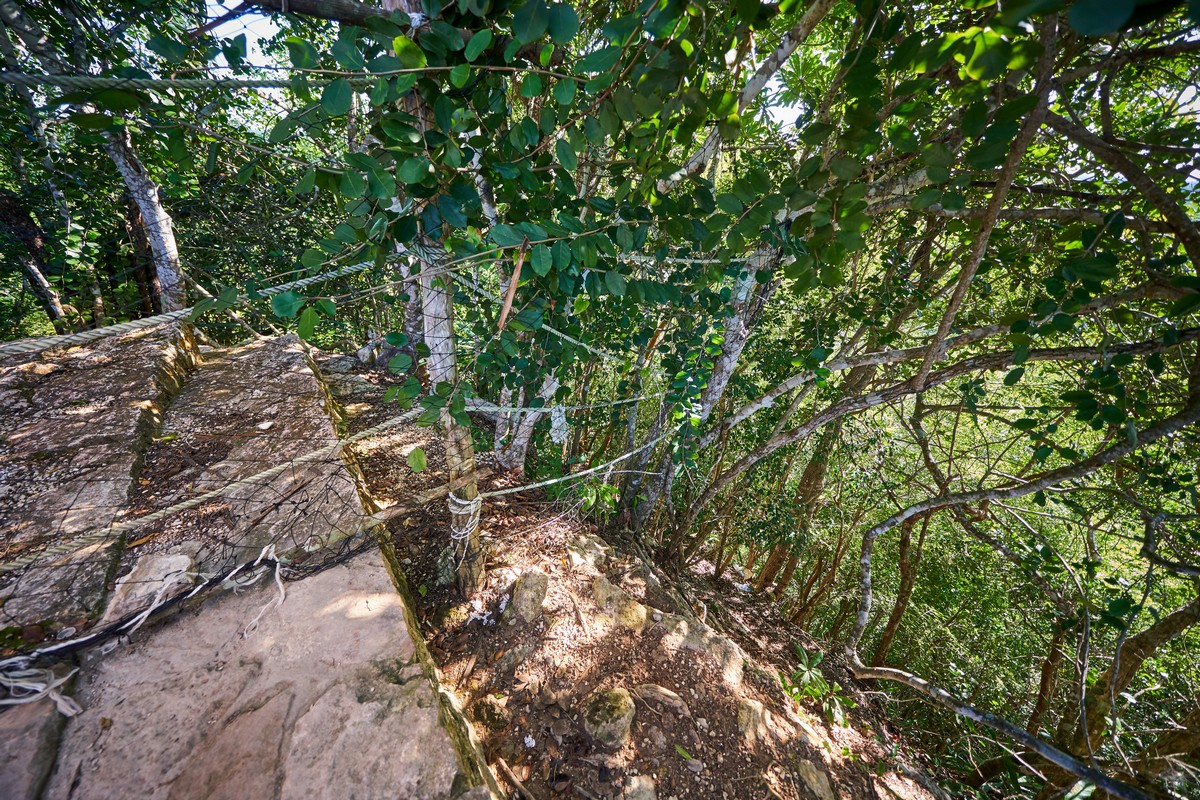 So, this means that just one side of the pyramid has been cleared and renovated. The other three sides have simply been left and, of course, after hundreds of years, become overgrown. I bet the unkempt sides look like those there lumps of overgrowth in this pic: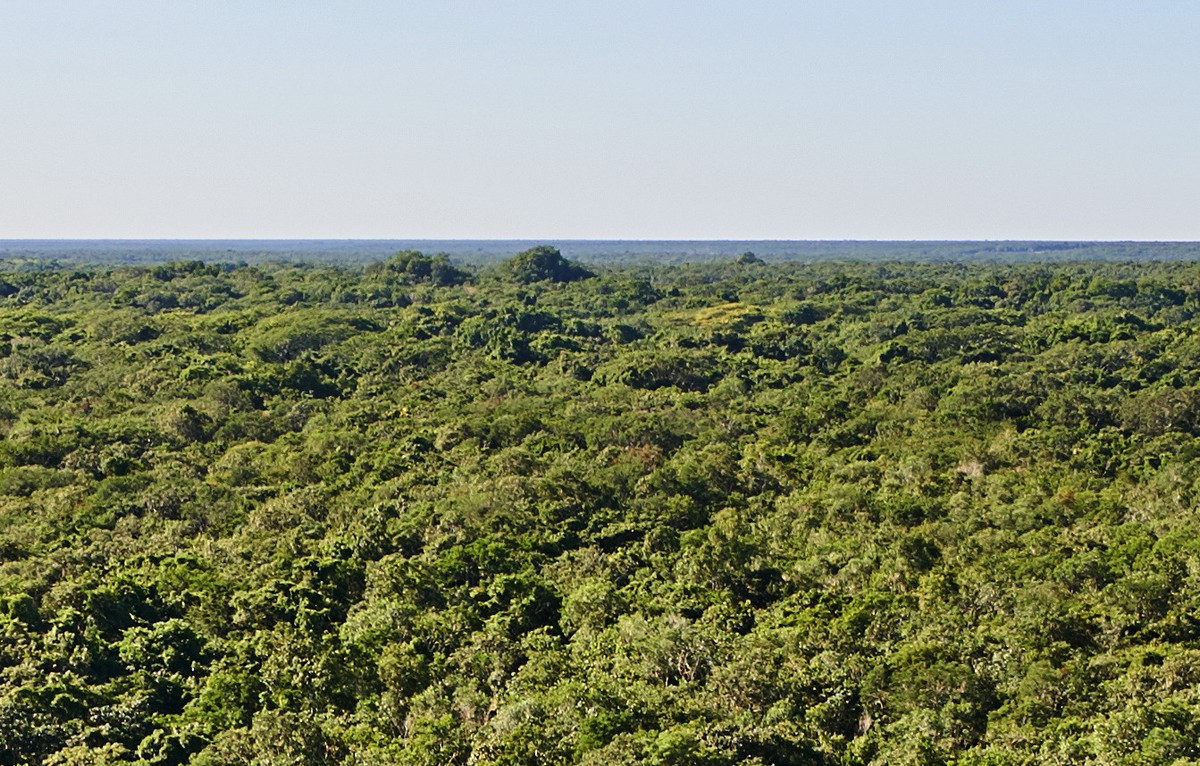 The whole city covered some 80-120km², apparently, and was home to some 50,000 Cobans. That's much bigger than most cities in Europe in the Middle Ages. This was a veritable Mayan metropolis.
According to Wikipedia, the city was split into districts, which were interconnected by Sacbeob, or white roads!
The neighborhood around Ixmoja is called Nohoch Mul. And strolling around it you come across other, lesser, ritualistic constructions – some in good condition, others not very…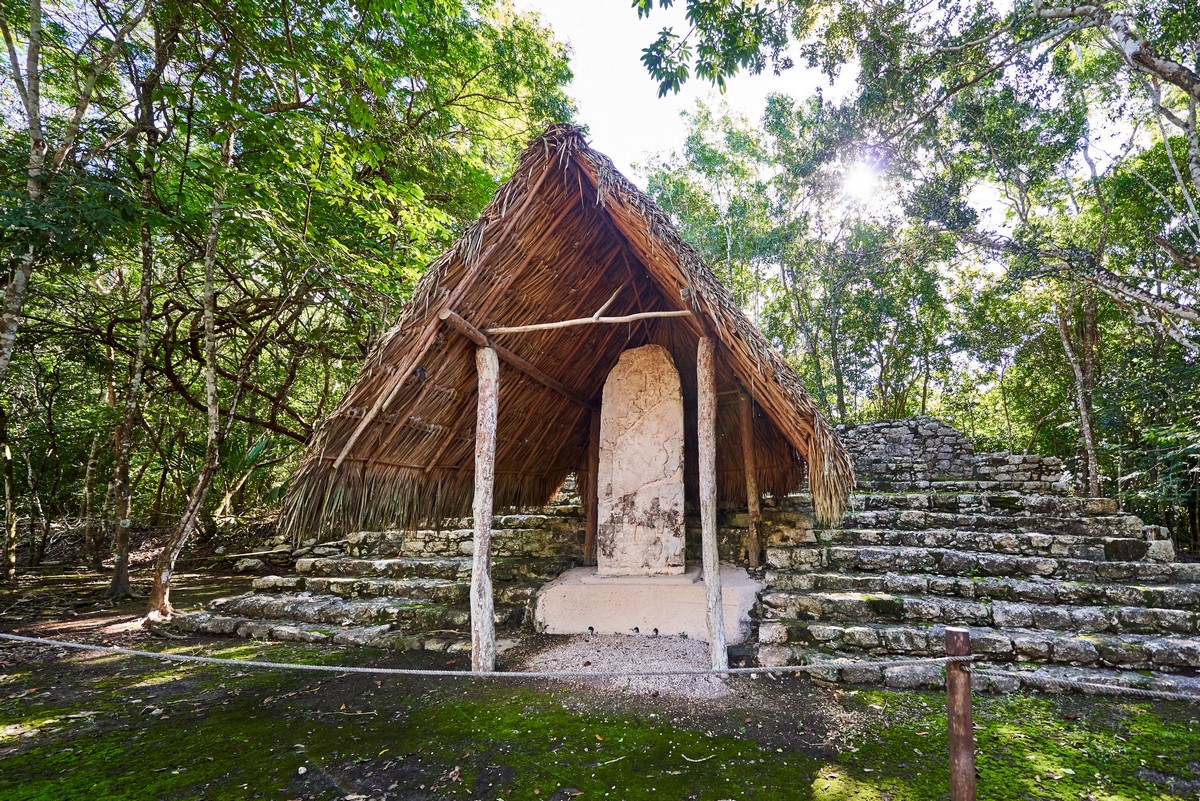 Some of the artifacts have information plaques next to them explaining what was engraved them (often – gods in extravagant clothing with flames or swords).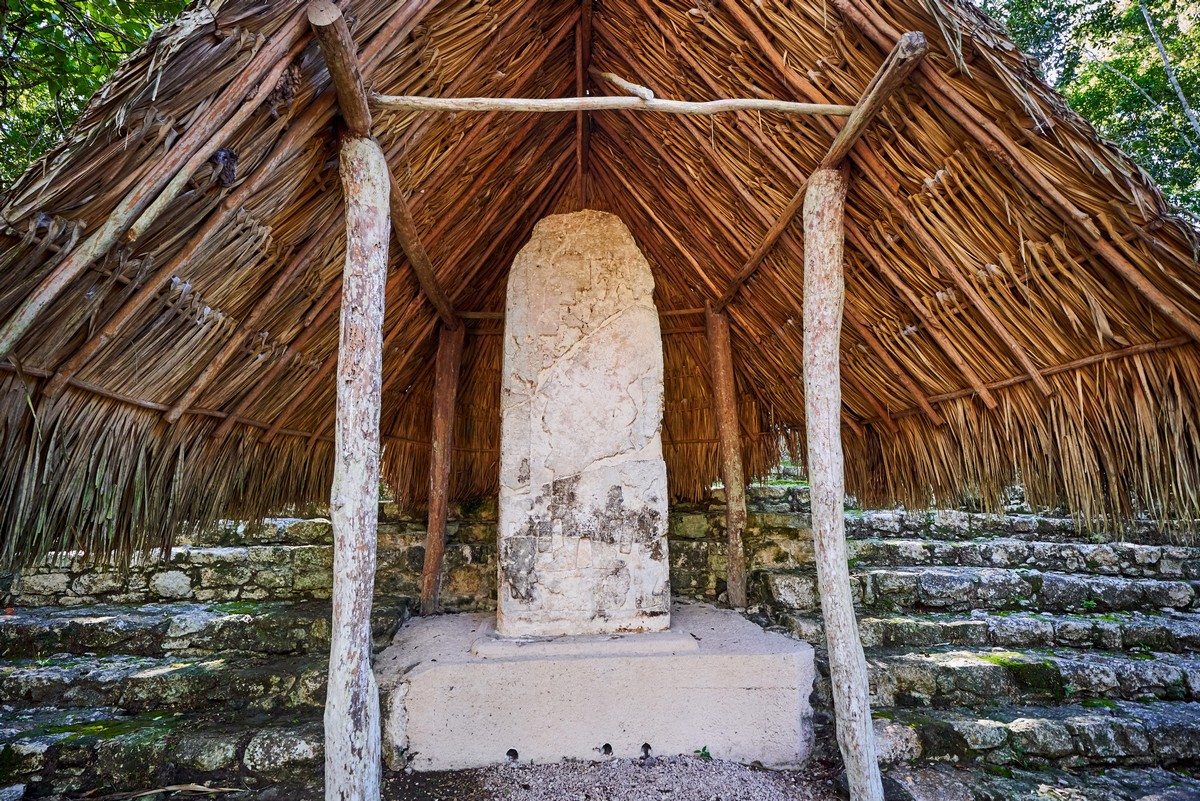 Here's another pyramid – quite a primitive one: no doors or windows; inside – just stones piled up. The Aztecs, further north, had much more advanced pyramids. And that's without mentioning the ancient Egyptians – the true masters of pyramid construction – some 3000 years before the Maya!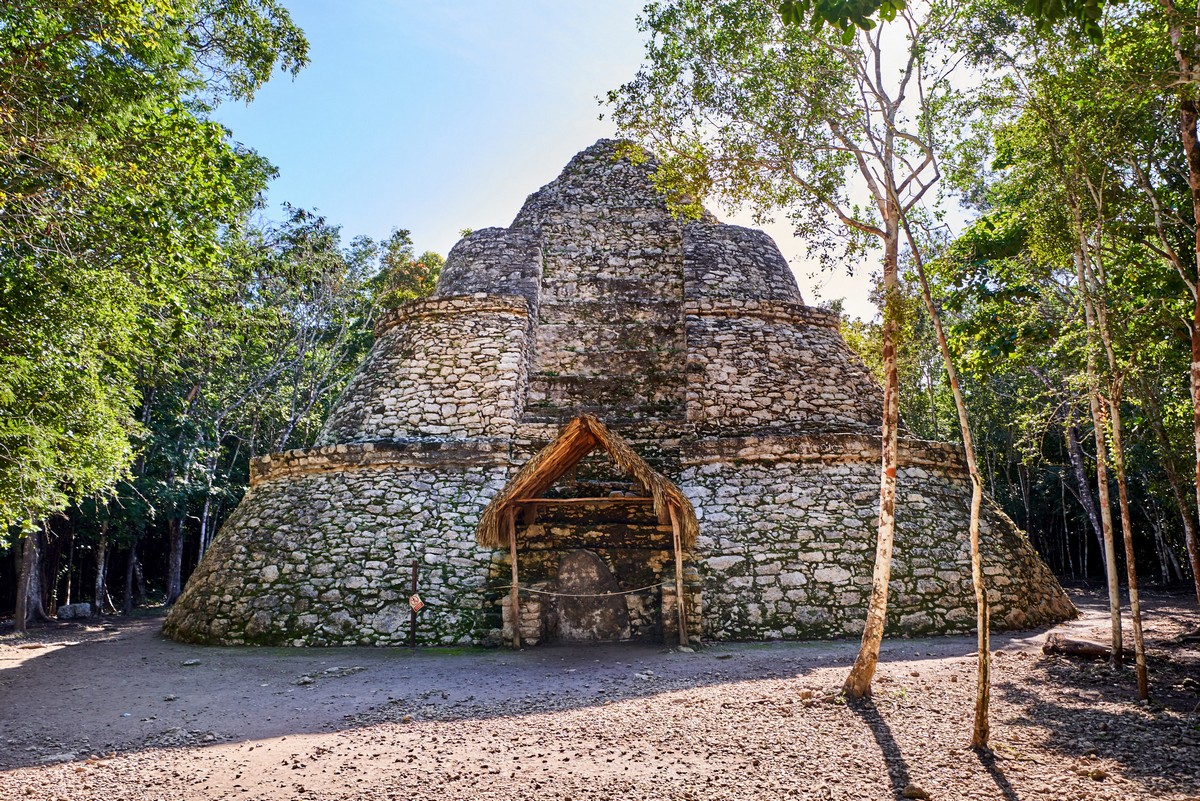 Another pyramid!…
That there stone hoop…
The Maya had their own kind of football (soccer), and that hoop was ~the goal! And legend has it that the winners of the final in the Maya championship would be rewarded for their skill and sporting prowess with… themselves becoming a sacrifice to the gods!…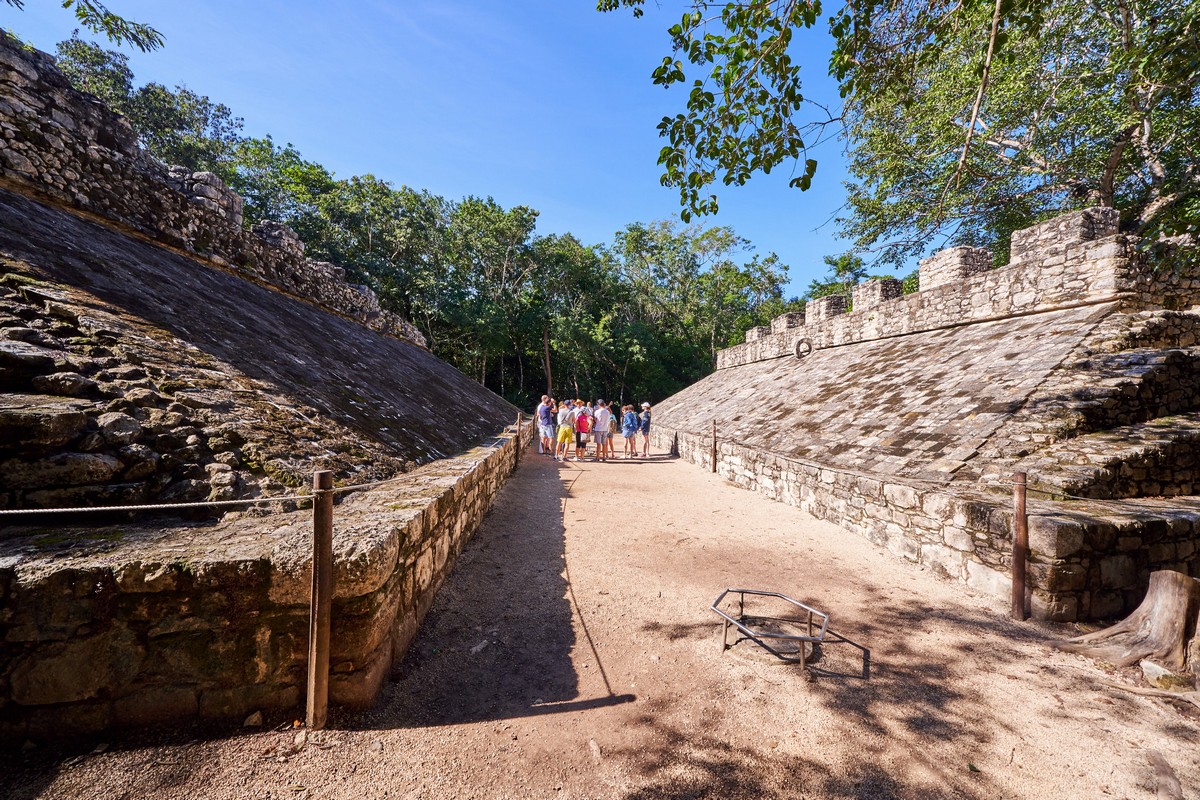 More pyramids!…
No one knows for sure what they were used for. Accommodation? Temples?…
Very ruined ruins:
These stones are still awaiting funds to arrive in the council's budget before they can be excavated and examined…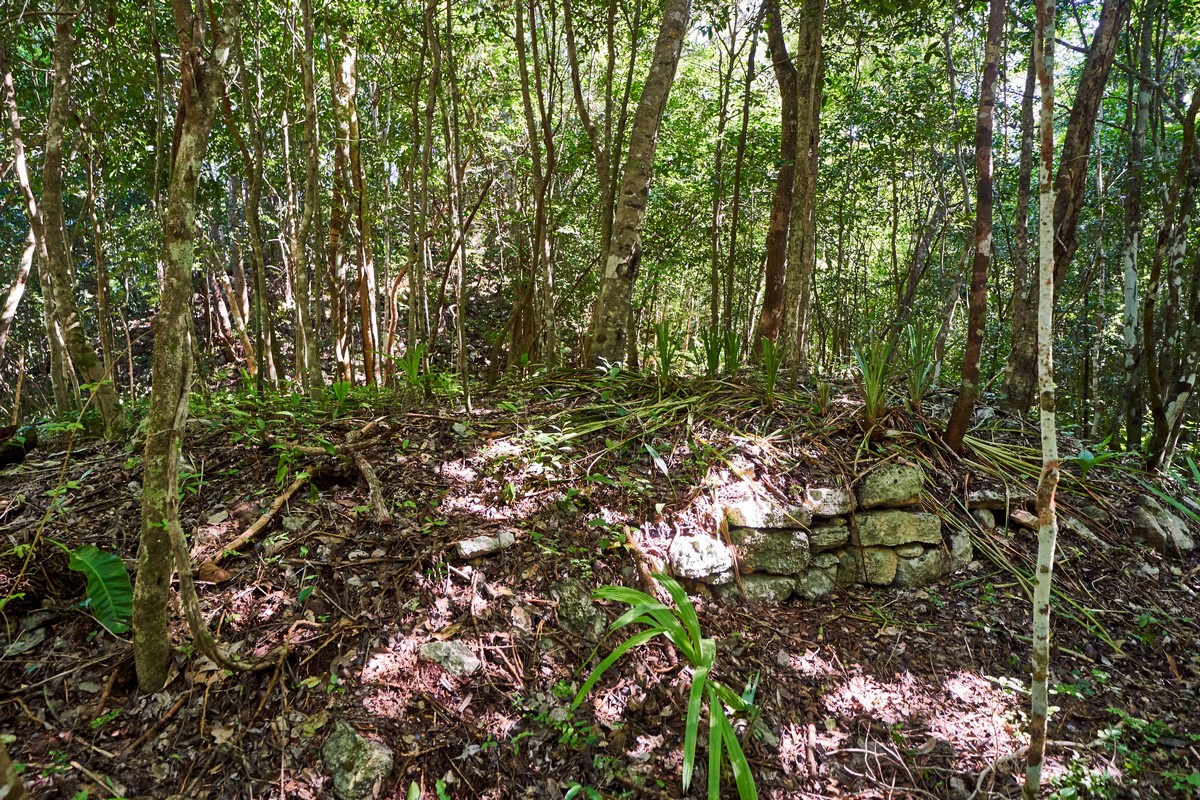 Here's a sacbe leading to the next-door district, Macanxoc: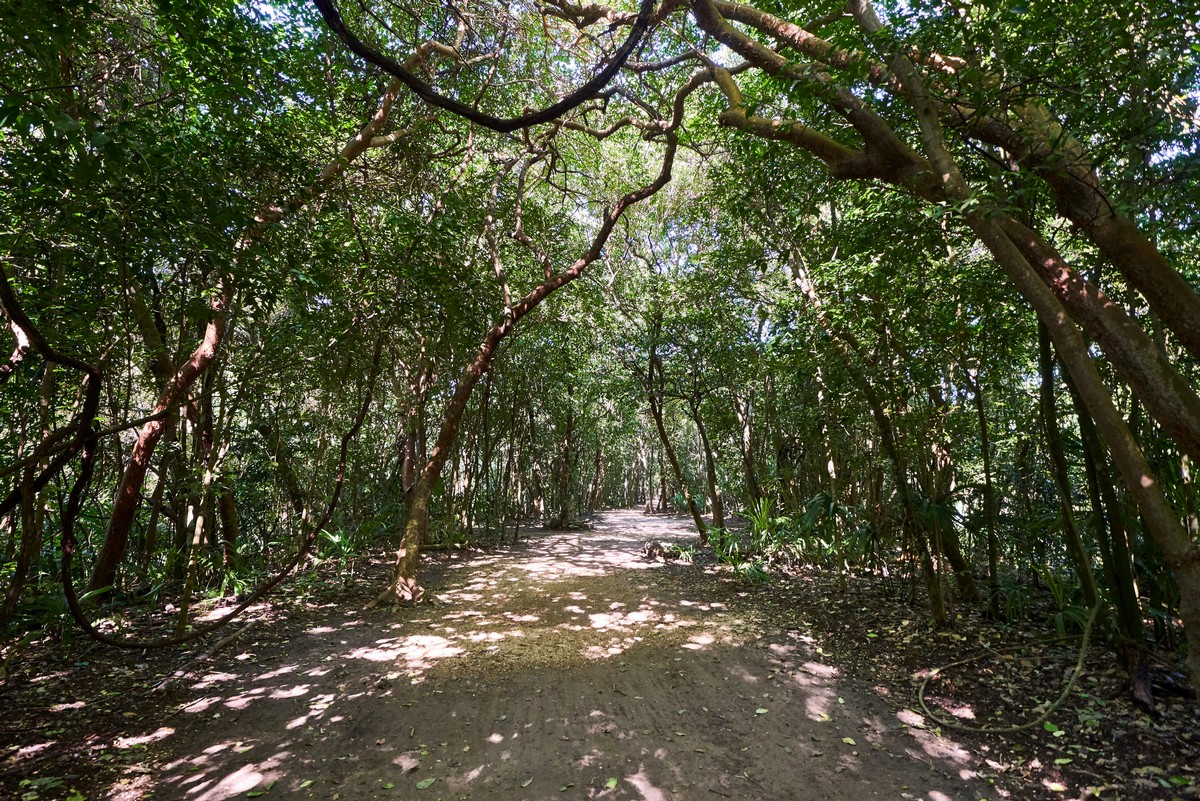 We walk along it – only to come to… yep – another pyramid!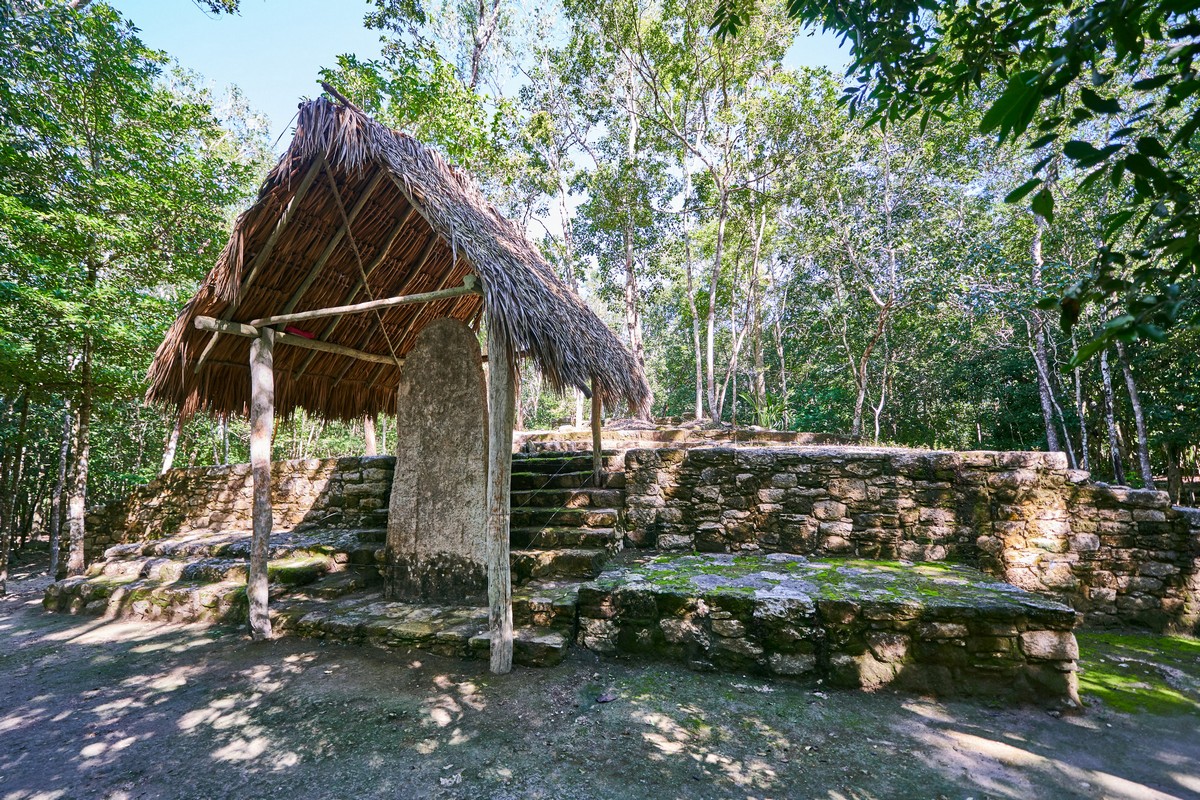 …With its own football pitch!
But this one isn't stable enough to permit tourists climbing it.
If you prefer, you can rent a bike to ride yourself or to be ferried on the front of. We preferred to walk though…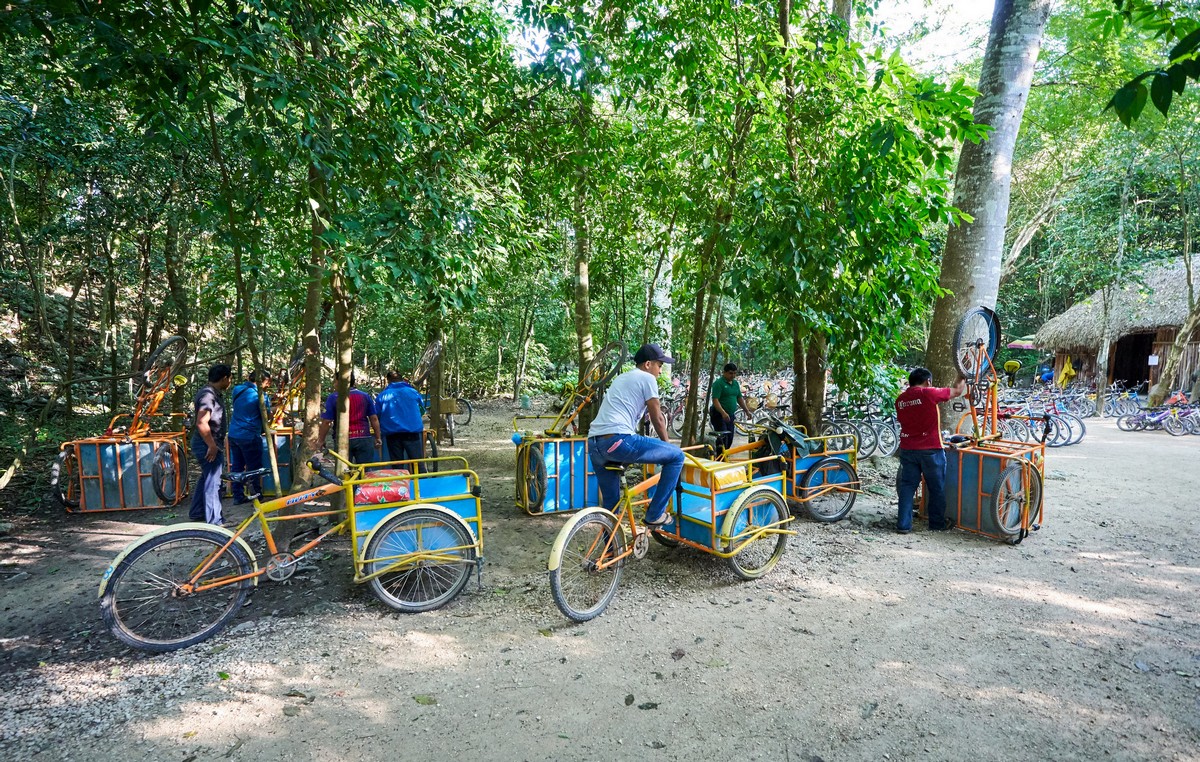 Later I realized that the bikes aren't for hire; use of them looks to be free of charge.
But cycling right up to the ruins is forbidden (and quite right too).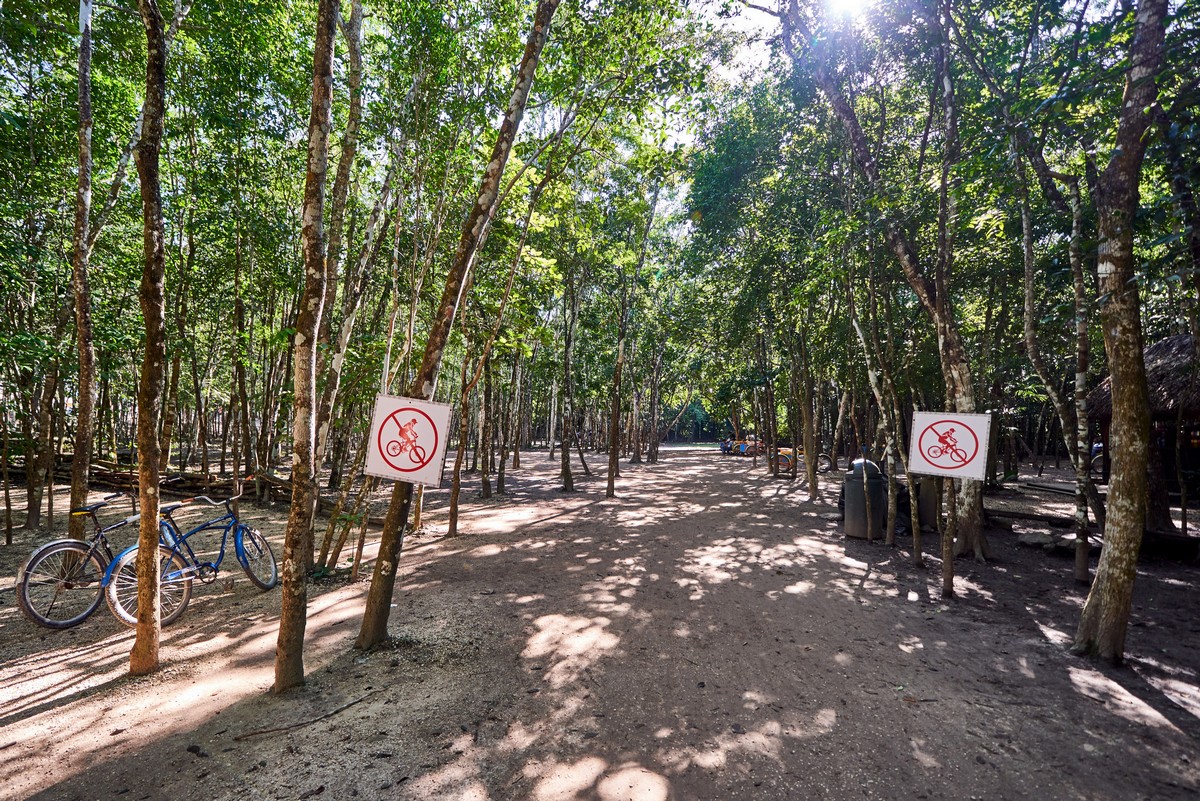 That's all from Coba folks. But there'll be more from Yucatan tomorrow…
All the photos from Yucatan are here.